10 Best Air Fryers in Singapore For Healthier Home Cooking
When we think of deep-fried foods, we immediately assume that they're not a healthy option. However, the best air fryers in Singapore can actually provide fairly health foods without dooming your arteries.
The best air fryers in Singapore let you fry food with only a small amount of oil. Despite that, they still produce the same taste and texture traditional, oil-heavy fryers.
That's something all the fried-food lovers out there will appreciate, especially if they're worried about their health. That's why today, we've gone through the trouble of finding the best air fryers in Singapore!
1. Philips HD9654/91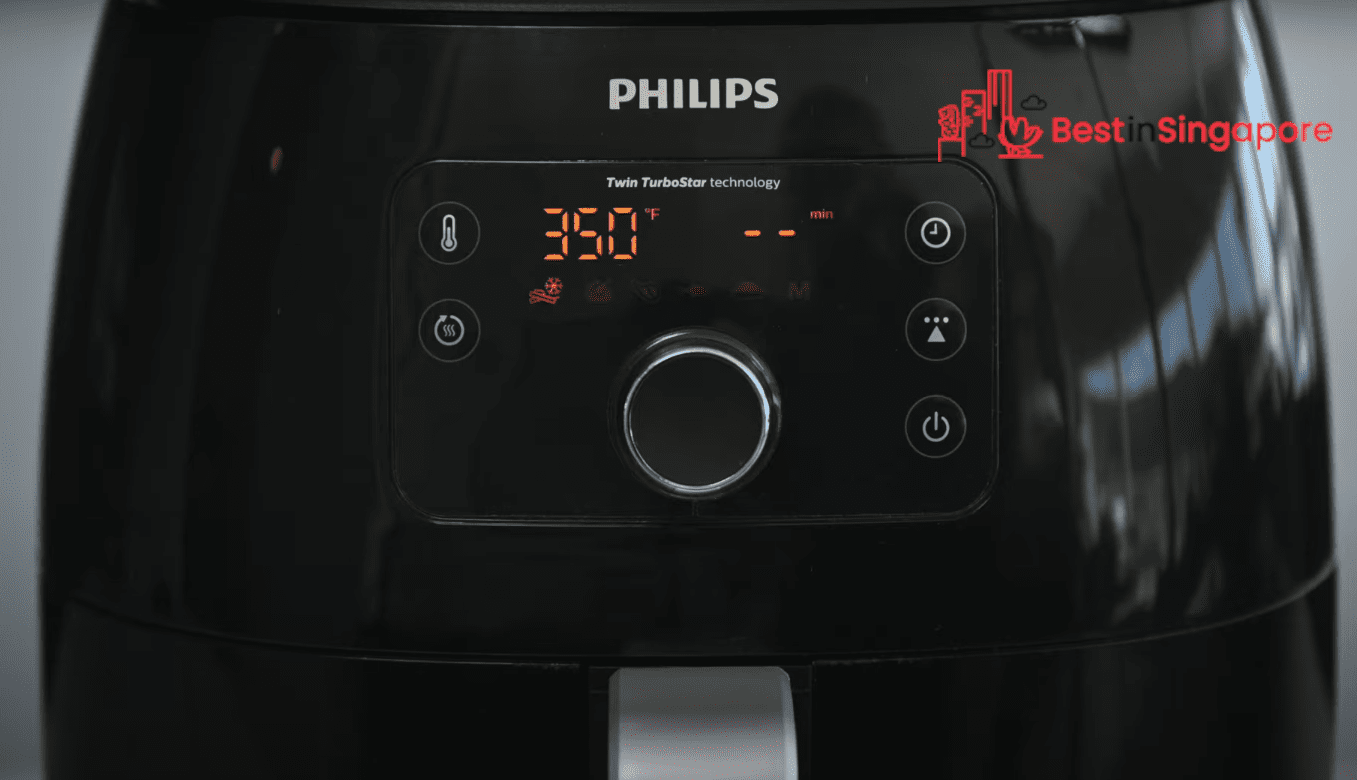 Price: $388.00
If you're hesitating over an air fryer purchase due to most of them only serving one purpose, then you should take a look at Philips HD9654/91.
Every dollar spent on this product is worth it if you're a fan of appliances being multipurpose. That's because you can also grill, bake, and toast with this air fryer.
As you cook meaty dishes with it, it removes 90% of the fat from them. Note that this is also the largest air fryer Philips offers… which makes it very convenient if you often cook large amounts of food.
With just a few clicks on the digital touchscreen, you can have your dishes ready for guests in no time. It has a total of 5 preset cooking programs too, so it will be easier for you to control the appliance even if you're new to air fryers.
A few of its features are an automatic shut-off, a keep warm function, a QuickClean basket, advanced rapid heat, temperature control of 40 to 200 °C, a 60-minute timer, and more. With all that, this product will certainly give you a great cooking experience.
Highlights
5 preset cooking programs
Keep-warm function
2-year local warranty
Customer Reviews
Since this is widely considered one of the best air fryers in Singapore, it's quite hard to find the customer complaints about the Philips HD9654/91. It's truly well-loved by many owners.
To give you an idea, here's one of the reviews stated on the brand's official website:
"I totally fell in love with my XXL Airfryer. Everybody loves it at home. It just exceeded our expectations. When we bought it we thought it would be good to eat with less fat. But when we started using it, it has so many more other benefits. First of all, the meat tastes so good because the inside remains very soft, it doesn't dry up. So we get a great taste without all the downsides of frying: No more smell of frying in the apartment, no need to stay in the kitchen while it cooks, no more cleaning of the stove with oil everywhere. I tried homemade fries also. The taste is not the same as fries but it feels so good to eat something that looks like fries without feeling guilty 🙂 From a usage perspective, it's very easy to use, easy to clean and the app has over 150 recipes."
2. EuropAce EAF 5321S Air Fryer
Price: $159.90
At first, EuropAce EAF 5321S Air Fryer may seem costly if you're just judging it for its classy, elegant design. But when you look at the price, you'll be surprised by how cheap this high-quality air fryer is.
It features an 80-200⁰C temperature setting, 30-minute timer, and additional non-stick coating food basket and pan. You can have it in either black or white to match the interiors of your kitchen area.
The main highlight is the 3-dimensional circulation around the internal cavity that speeds up the frying process. Simple yet practical products will go a long way so this is definitely the best air fryer in Singapore from a home cook's perspective!
Highlights
Rapid heating process
Non-stick coating food basket
1-year local warranty
Customer Reviews
The EuropAce EAF 5321S Air Fryer may not have the advanced controls of some of its rivals but it's still hugely useful. In fact, its simplicity may even work for it, as many customers call its manual controls easy to use.
Here are some reviews worth reading from Lazada:
"Been a few months since purchase. Works great for its price. If you plan to clean up the insides when there is oil residue, please take care as there are sharp edges esp near the air vent." 
"Really like the ease of use.  The controls are simple.  Clean up is easy as well. " 
3. Mayer MMAF88 3.5L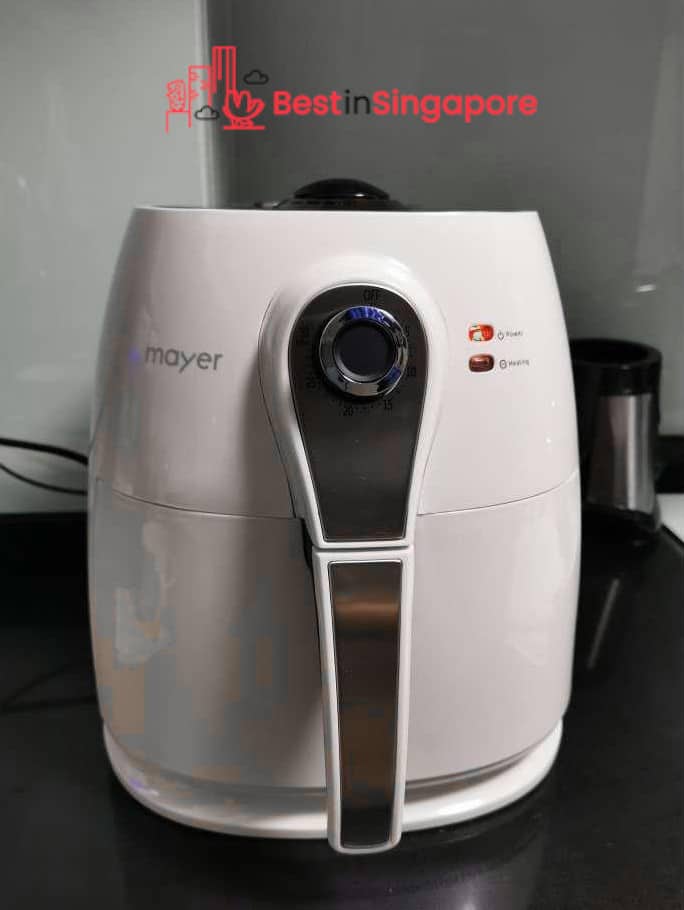 Price: $75.00
If you find some of the more advanced air fryers in Singapore too complicated to use, Mayer MMAF88 3.5L is the ideal one for you! With this product, you can save yourself the trouble of struggling with manuals and fiddly controls.
It has a rapid air circulation technology that allows you to use the minimum amount of oil to deep fry some treats such as chicken and french fries. The guests won't be able to tell whether you used an air fryer or the aditional deep-frying method because the results will look and taste the same.
It has an up-to-200-degree Celsius temperature control, 30-minute timer, non-stick inner pot, and an auto-shutoff feature. It also belongs to the group of best air fryers in Singapore for those who prefer budget but well-made options.
Highlights
Easy to clean
Affordable price
1-year local supplier warranty
Customer Reviews
Most users have grown fond of the Mayer MMAF88 3.5L because it's a great alternative to the more complicated air fryers. They call cooking with it easy and simple.
From the operation to the cooking and cleanup, most owners claim to be quite satisfied. There might be uneven results when you heat some types of food, some admit, but it's still recommended by many.
A reviewer from Lazada wrote:
"Was looking for an analogue air fryer that was not too expensive. My friend has a Mayer and has been using it for some time with no issues. This unit is soooo much easier to wash than Philips's frying basket. The Mayer comes with a stand-alone metal rack that is 100% easier to handle. The heat is not as evenly distributed as the Philips, of course, as the base is flat and not ridged. But it doesn't bother me, I always flip my food or give it a shake part-way through cooking anyway. The LED indicator light is a little frizzy now, after a year of use, but other than that, it's working A-OK. Love this unit. It was a good reasonably-priced investment."
4. Tefal FZ7510 ActiFry Air Fryer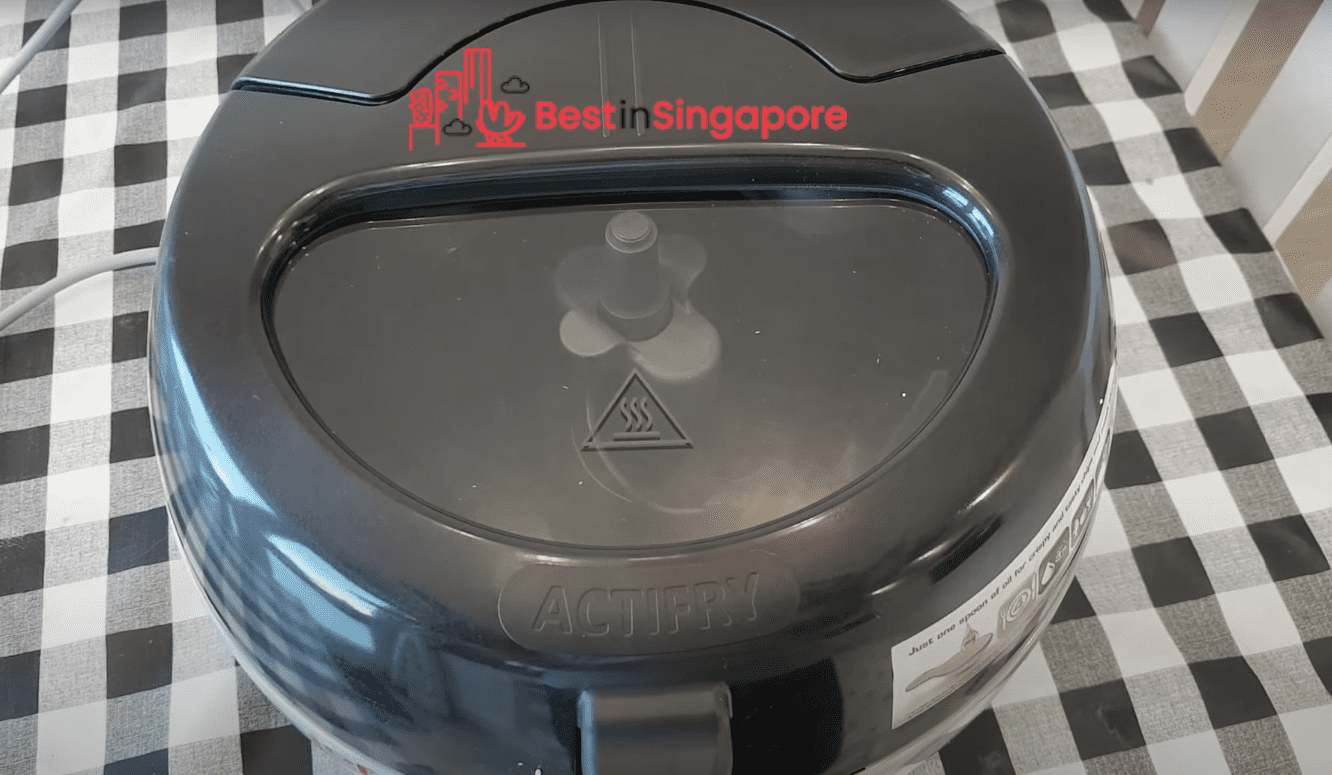 Price: $395.00
The Tefal FZ7510 ActiFry Air Fryer is remarkably compact, making it the right choice for smaller kitchens. For one kilogram of fries, you only need to add one spoonful of oil for them to come out crispy and delicious.
You can cook a variety of snacks such as nuggets and even vegetables in it as well. Snack accessories are included too, so there's no need to buy additional items.
During the cooking process, there's no need to manually shake it, for it has automatic stirring. You can also see into it while frying because it has a transparent lid.
For those who prefer to cook small portions and have it done in no time, this can be the best air fryer in Singapore for you!
Highlights
Automatic stirring feature
Transparent lid
1-year warranty
Customer Reviews
The Tefal FZ7510 ActiFry Air Fryer might not be as large as some of the other options in this list of the best air fryers in Singapore, but not every cook needs huge fryer capacity. Besides, most owners claim it's faster than most of its competitors and is ideal for small spaces.
A customer from Australia left this feedback on ProductReview:
"I have had mine for a number of years now and it's the most used appliance in my household. Every family member cooks with it. It's large enough for the 5 of us, it's healthy and easy clean. I use it with no oil. We cook everything from fries, chicken nuggets, Chiko rolls, spring rolls, fish fingers and Dim Sims. The kids also reheat leftovers from KFC and the fish and Chips shop in it and they don't go soggy like they would in a microwave and is much quicker than the oven.
I have no qualms with my kids using it as it's safe, no oil spills or hot ovens and it's so easy to use. Cleaning is a breeze, especially as the removable parts can go in the dishwasher. This appliance gets used at least 6 days a week in some form. It's the best thing I've ever bought. No more deep frying in this house." 
5. PowerPac PPAF636 1.6L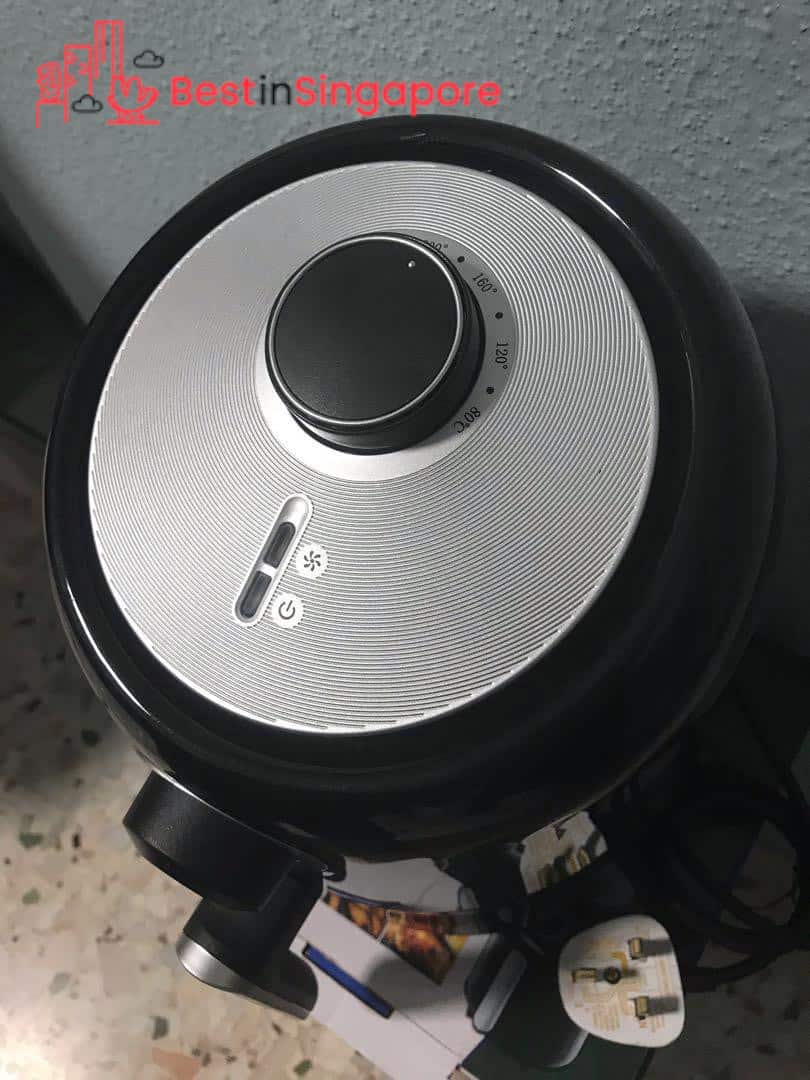 Price: S$48.90
The PowerPac PPAF636 is much taller and narrower than most of its competitors, which makes it storage-efficient without sacrificing capacity. The price is also fairly low but the quality is much higher than its price tag would indicate.
It can reduce up to 80% less fat and has a hot air-flow system that lets you fry your food and snacks with less oil. It also heats up food evenly with its high-speed hot air circulation.
The design is also contemporary and stylish, if that's your preference. For safety purposes, it includes a cool-touch handle and an overheat protection function to prevent potential damage.
Highlights
Storage-efficient
Overheat protection
Customer Reviews
Most users are very much satisfied with the singular design, features, and overall usage of PowerPac PPAF636.
As it's one of the best air fryers in Singapore, the number of positive reviews it has isn't a surprise. It's compact and light dimensions as well as the rapid heating system are particularly popular.
A reviewer from Qoo10 wrote:
"Its a bit lighter and smaller than usual fryer so can keep in a smaller place like shelves. Heat up quite fast even at not max temperature. Like the shiny black colour. Easy to clean almost like non-stick. If placed at the smooth or not heavyweight place, do pull put carefully as the fryer may go forward when pulling out the pan. Solution, just hold the top part of fryer with one hand before pulling out the pan with the other" 
6. Russell Taylors Air Fryer AF-24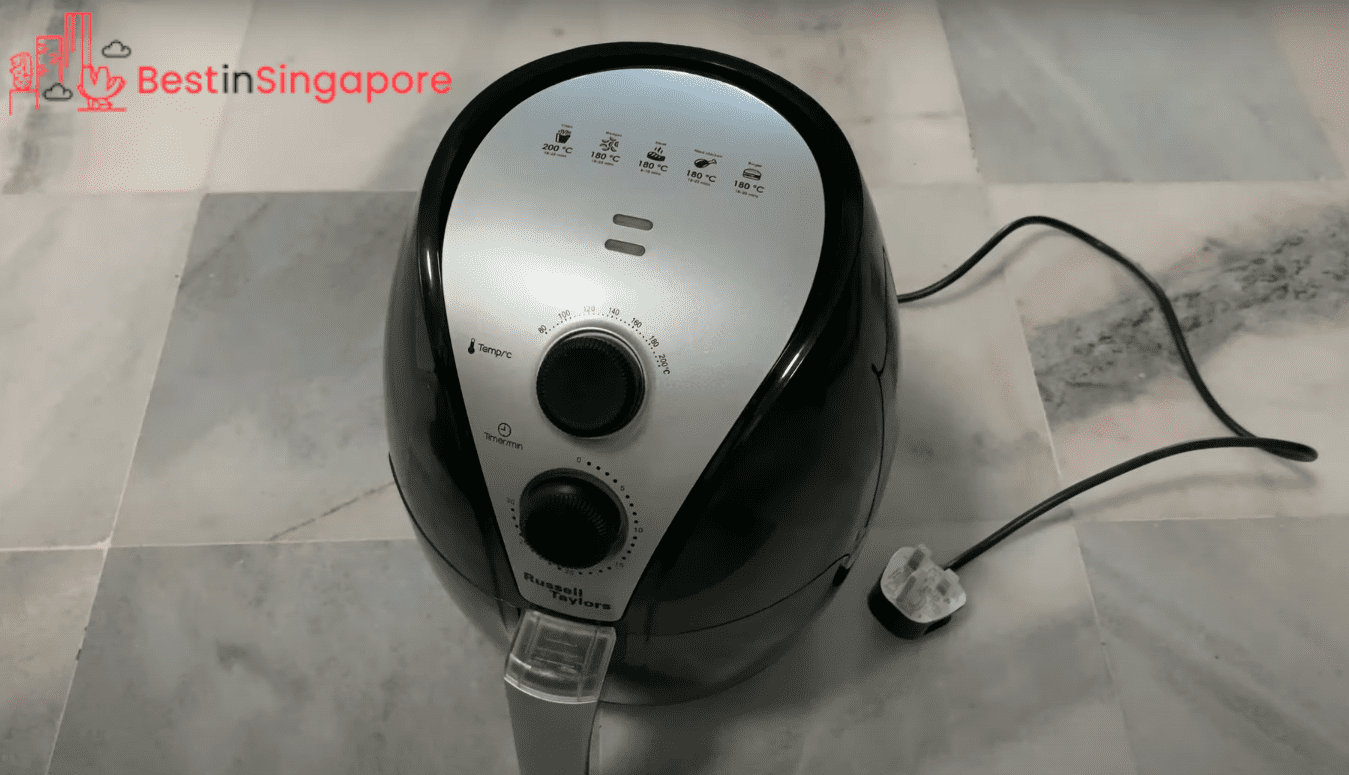 Price: $49.99
Russell Taylors Air Fryer has a design that slightly resembles the PowerPac PPAF636. However, it deserves to be considered as a unique product and one of the best air fryers in Singapore on its own merits.
It stands as a multi-cooker in which you fry, bake, grill, and toast. This dynamic air fryer can be considered as a one-stop solution for those people who want a multipurposes quick-cooking solution.
Many parts of its design are very practical too. It has an indicator light that tells you when the preset temperature is reached, an auto-off function, and a safety release button and cover for the basket to prevent from falling off the pan.
Highlights
Safety release button and cover
Easy to clean
1-year warranty
Customer Reviews
Russell Taylors Air Fryer AF-24 3.8L has only earned positive reviews from its users. Reviewers from Lazada gave these compliments:
"This appliance works well and easy to use. Tried fry sone curry puff just now for 5 minutes and turn the other side for another 3 minutes. There is no change to the taste."
"Easy to clean after used it, food has lesser oil compared to frying it, recommended"
"Worth the price, have been using it for nearly 1 year now. Easy to use and easy to clean."
7. Aztech AAF7630 5.5L Air Fryer
Price: $279.00
The most impressive feature of the Aztech AAF7630 5.5L Air Fryer is the inclusion of 7 preset cooking programs. That means you can easily practice your cooking skills with a variety of dishes using this air fryer in Singapore.
That's not the only reason we think it's among the best air fryers in Singapore, though. It's also built with a ready signal feature, overheating protection, and automatic shut-off to secure safety.
What's more, it has a modern classic design that features an easy-to-read digital LED display. The interface is simple to use and relies on a touchscreen.
Highlights
7 preset cooking programs
80% fat removal
1-year local warranty
8. Philips Daily Collection Airfryer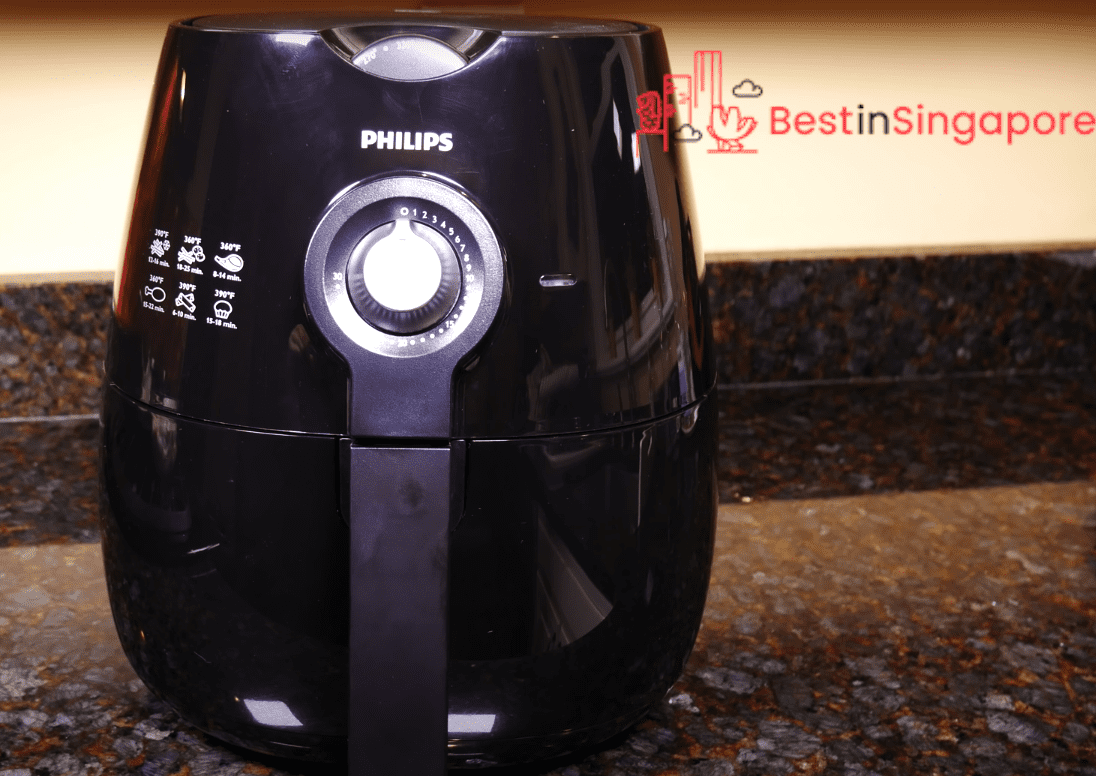 | | |
| --- | --- |
| BEST FOR | Fast healthy cooking |
| POWER USAGE | 1425W |
| COST | SGD 229.00 |
| WHERE TO GET IT | Shopee Singapore |
There's a misconception that quick cooking will usually yield in unhealthier dishes. Well this air fryer in Singapore is here to dispel that notion and further impress you.
The Philips Daily Collection Airfryer uses Rapid Air Technology which effectively circulates hot air around its mesh metal cooking basket, so that meals are evenly cooked to your liking using the least oil as possible.
It also comes with an integrated timer that allows you to pre-set cooking for up to 30 minutes. And just as it's convenient to cook with this air fryer, it's also easy to clean. Along with the mesh cooking basket, it has a removable non-stick coated drawer that you can easily pop in the dishwasher.
Hands-down, the best air fryer in Singapore we've tested for ease of use, cooking, cleaning and storage.
Pros
Minimalist design
Available in different colours
Efficient and looks good in the kitchen
Cons
Not ideal for huge batches of cooking
Customer Reviews
Looking at online reviews for this air fryer, we were amused to see that plenty of buyers and users were pleasantly impressed and surprised with the performance of the Philips Daily Collection.
Here's one review from a certified buyer and user named SylviaC:
I was reluctant to buy when they first came on the market gimmicky that sort of thing! It was one of my daughters who actually bought one and said I should try it over a weekend when they were away. So I took her up on her offer and tried it out and I was amazed at the fresh taste and crispness of the food I cooked, my husband loved it. Hence I am now the proud owner two of these machines and there used nearly every day, I would be lost without them now….the oven rarely gets turned on these days saving on my electric bill as the the air fryers are much more efficient to run….according to my smart meter.
9. Ninja Foodi Airfryer Deluxe (AF160)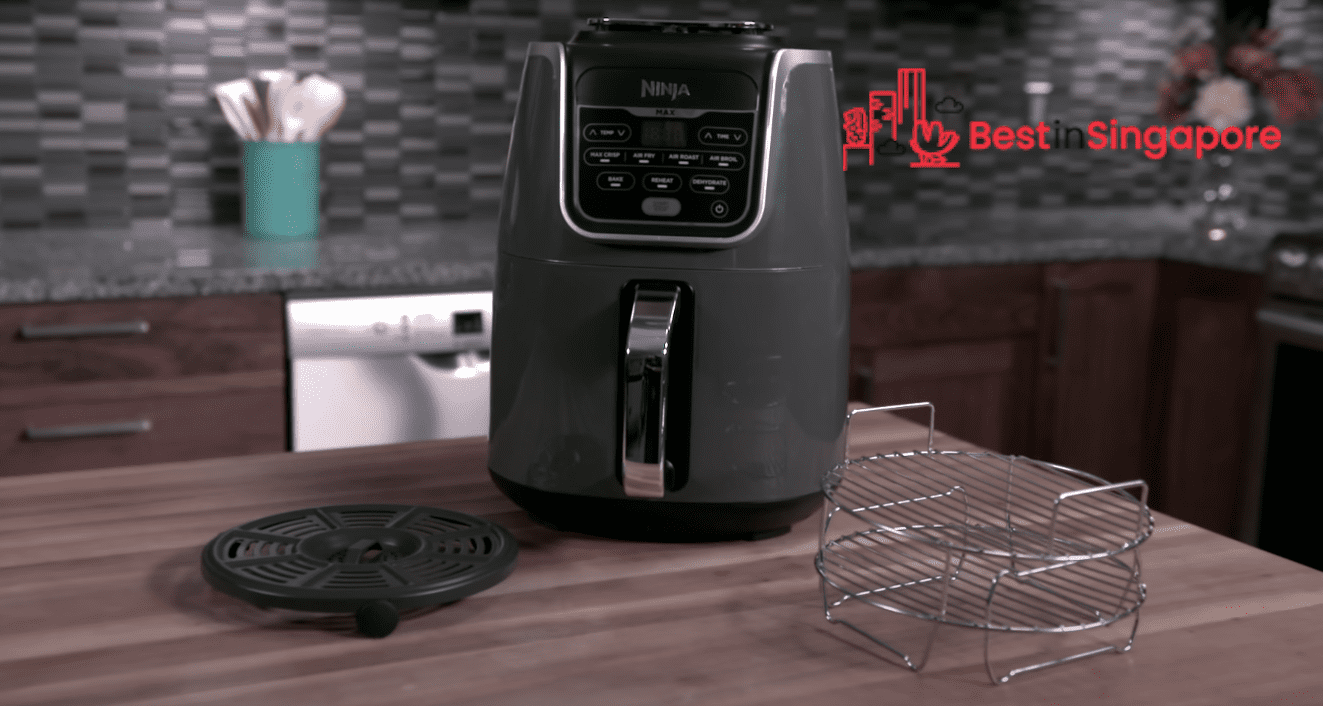 | | |
| --- | --- |
| BEST FOR | High-temperature cooking |
| POWER USAGE | 1750W |
| COST | SGD 429.00 |
| WHERE TO GET IT | Lazada Singapore |
One reason we found why some people are hesitant about getting an air fryer in Singapore is the mistaken belief that an air fryer will not achieve that crisp crunchy finish that you can get with deep frying.
We're pleased to tell you that the Ninja Foodi Airfryer Deluxe will make all those crispy finish come true. Healthy, air fried food that gives a deep-fried crunch!
The Ninja Foodi Airfryer has a Max Crisp technology that allows cooking temperature to go up to 240 degrees C. This is why it's possible to attain that deep-fried texture while maintaining the healthy elements of an air fryer.
And if that's not enough, this air fryer also has 6 cooking functions: Dehydrate, reheat, bake, roast, airfry and max crisp. Definitely the best air fryer in Singapore for those with big kitchens, big families, or if you simply want to host meals.
Pros
Multi-cooking functions
High temperature cooking
Cons
Customer Reviews
Plenty of users seem to be very impressed with Ninja Foodi Airfryer's high temperature cooking capability. This, many of them say, is what they like about the Ninja Foodi versus regular air fryers.
Here's an actual review posted by verified buyer and user named Jonally H:
Received items in good condition. Ordered item Feb 17 and delivered Feb 19. The physical quality of the fryer is really good and it consume less space in the kitchen. External part of the fryer is also high-good quality, large capacity and looks that it will last long. Air fryer have a user friendly design and easy to clean after used. Talking about performance, really excellent. First we cooked frozen fries. Taste is good, better than deep fried, crispy and no need to use cooking oil.
10. Philips HD9860 Air Fryer XXL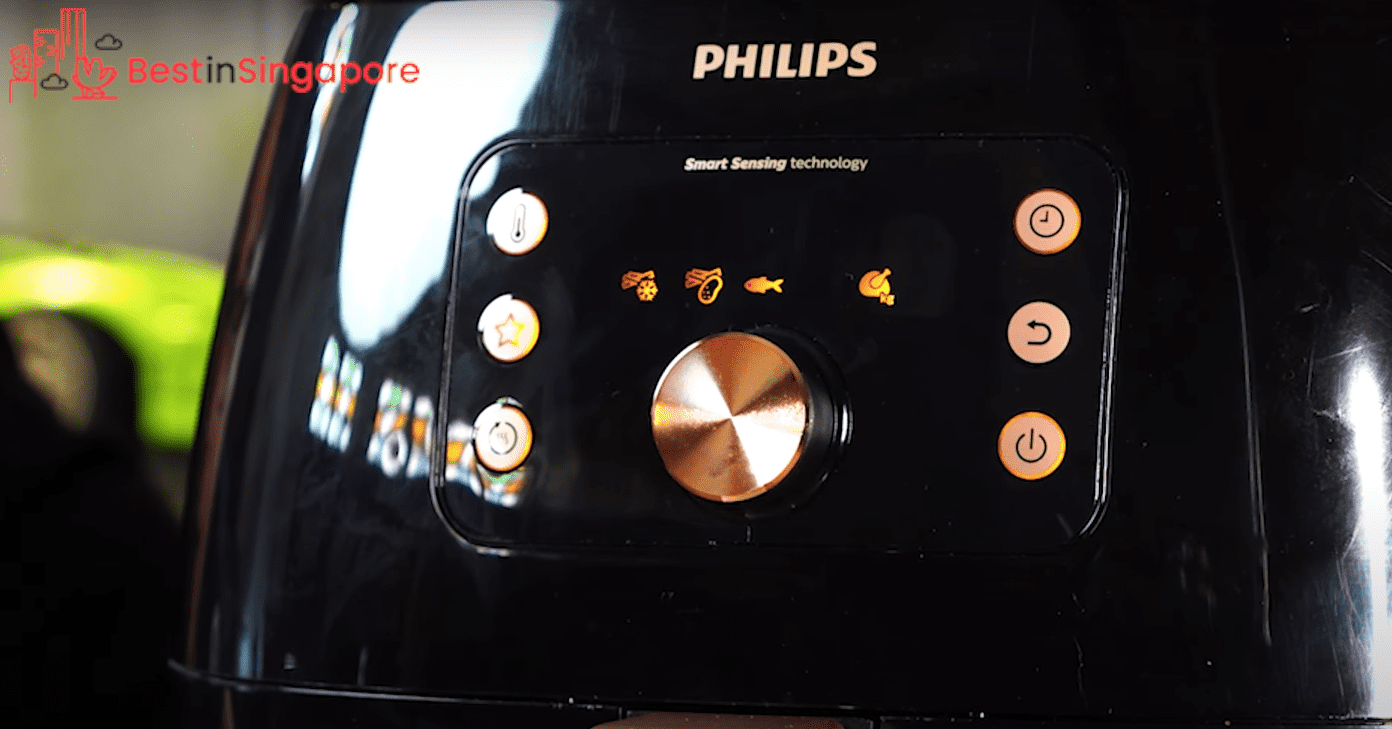 | | |
| --- | --- |
| BEST FOR | Big batch cooking |
| POWER USAGE | 2200 – 2225 W |
| COST | $416.88 – $461.88 |
| WHERE TO GET IT | Shopee Singapore |
The earlier models of air fryers were admittedly small to medium-sized. And one frustration that users had was that it was tedious to keep making several batches. Well, Philips heard that sentiment and created a solution: the Philips HD9860 Air Fryer XXL.
Based on its name (XXL) – this is your dream air fryer in Singapore if you want to cook huge portions. It has a 1.4 kilogram capacity and it fires, bakes, grills, roasts and reheats.
This air fryer has more to offer than its size. It has a Smart Sensing technology which automatically adjusts time and temperature during cooking for perfect results.
Pros
Multi-cook function
Great for big families or hosting dinners / events
Cons
Customer Reviews
Going through the reviews of this Philips Air Fryer, it's easy to see that customers weren't just impressed by its size but its cooking capabilities to.
Here's a review left by a verified buyer and user with the username ValleyGirl:
Works really well! I read other reviews before purchasing, and this sounded like a solid piece although more expensive than others. Food comes out crispy on the outside and tender inside. Love using it for salmon. There is nothing like frying in oil, so for items like french fries and sweet potato fries, it works well, but food will be different density than real oily fries. Air fried food is physically lighter.
Who says that minimal oil can't be used for foods that need deep frying? With any of the best air fryers in Singapore, you can now enjoy your favourite snacks while keeping your oil intake down.
For those who've already tried the air fryers we listed here, share your thoughts on them with use! Let us know what you cooked and how it turned out in the comments section below.
And if you're looking for further advice on kitchen equipment that can help you start a more healthy lifestyle, give our list of the best water filters in Singapore a read. When it comes to staying healthy, every little bit helps!