The 5 Best BBQ Grills in Singapore for Home Parties
Are you planning on hosting a barbeque party with your friends at your place? If so, you should get yourself the best BBQ grills in Singapore so that you can serve your guests delicious and mouthwatering food!
Luckily for you, we're here to talk about those grills today. We know some of the ones that can give your money's worth without going beyond your established budget.
But before we show our picks for the best BBQ grills in Singapore, we'll share a few important tips that will help anyone spot the right BBQ grill for their home. After all, the right BBQ grill for one person may be entirely wrong for another!
Anyway, let's get grilling!
What to Look for in a BBQ Grill
As a buyer, the top factor you should consider is the configuration of the grill. It can determine the variety of dishes that you will be able to cook using it.
Other than that, the gas type and its size are also worth noting if you want to get your money's worth.
We'll elaborate on each of those points below.
1. Configuration
Most BBQ grills sold on the island come in either of these two configurations: freestanding and built-in. Let's differentiate them below.
Instead of being built onto an infrastructure, freestanding BBQ grills are placed on top of a movable cart with enclosed storage where fuel tanks and grilling accessories can be stored.
In our opinion, freestanding grills are better if you want something mobile and portable. It is up to you where you want to position such a grill.
Meanwhile, built-in BBQ grills are the exact opposite. A built-in grill is part of a larger outdoor kitchen setup that's built for backyards. If what you want is a backyard BBQ party, then you might want to settle on this one.
2. Gas Type
BBQ grills run on either propane or natural gas, so it's up to you which one of these two you prefer. At any rate, they don't have much of a difference in terms of results and prices except in their composition.
We highly recommend going for a natural gas grill if you have an existing gas line inside your home: it will cut down the cost of buying gas tanks, which, by the way, run out quickly when used for grilling.
If you don't have an existing gas line, then opting for propane-type grillers might be the best option for you. It's not that convenient compared to natural gas types because you have an additional responsibility to refill the tank when it runs out of gas.
3. Size
In terms of cooking, size does matter. If you're planning to have a BBQ grill for house parties, considering the size of your griller will determine how much food you can cook at the same time.
The best BBQ grills in Singapore come in four sizes: small, medium, large, and extra large. In order to find the right size, you have to think about the number of people you normally grill for.
Small grillers are usually 26 inches wide, enough for a small family. Meanwhile, medium ones can range from 27 to 33 inches in width.
Large and extra large grillers are the ideal options for large-scale parties as they usually range from 40 inches to 45 inches, respectively.
The Best BBQ Grillers in Singapore
Now that you know what to consider when looking for a BBQ grill, you're probably ready to see our picks for the best BBQ grillers in Singapore.
We hope that by the end of our list, you will have chosen one that you will use for future BBQ parties!
1.   Char-Broil Classic 2-Burner Gas BBQ Grill
Best for Overall Value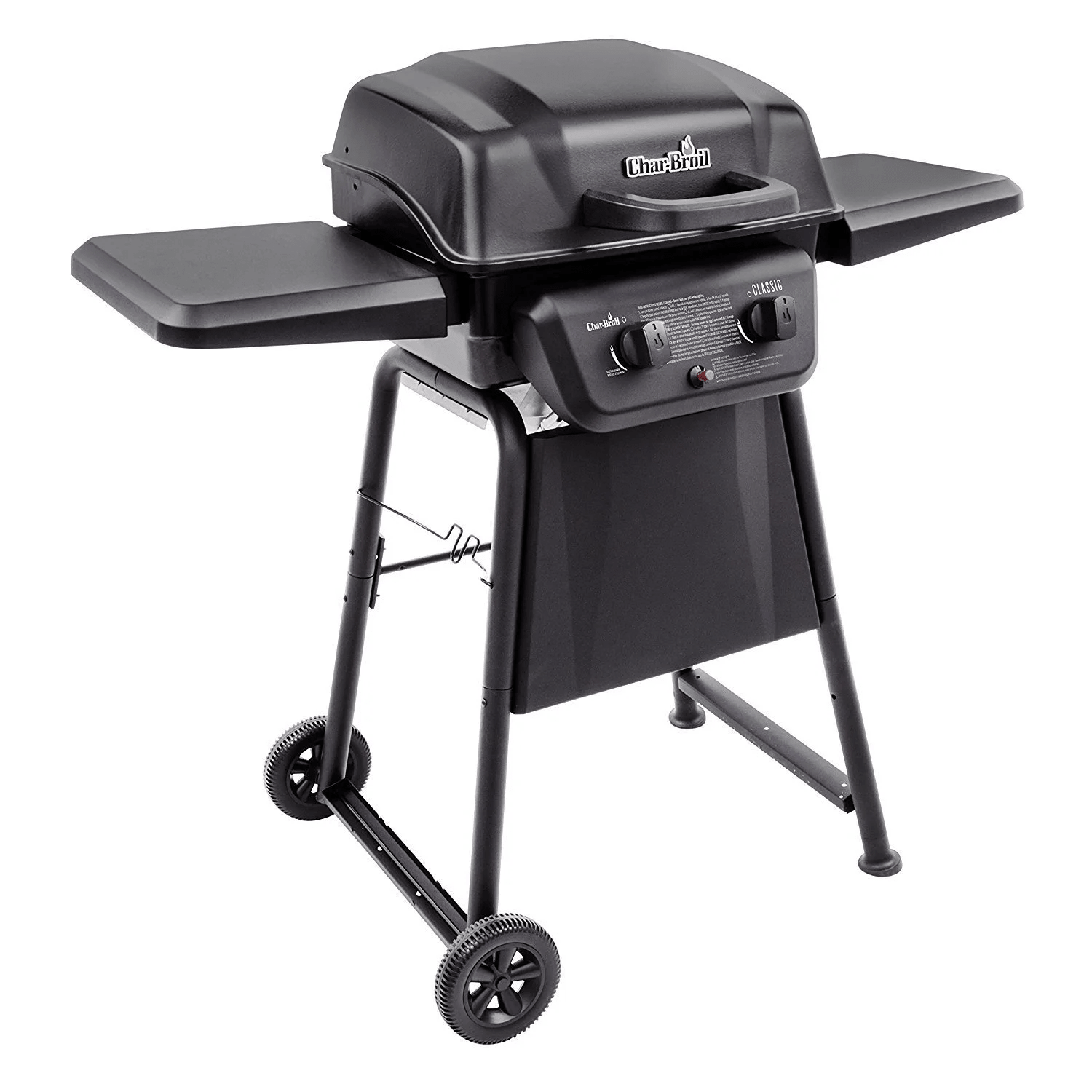 Price: $299.00
If you want a BBQ grill that can give your money's worth, then look no further than the Char-Broil Classic BBQ Grill. It's considered one of the best BBQ grills in Singapore for its affordable price and sturdy and durable build.
In terms of size, it's a bit smaller compared to other grillers on our list, so it can accommodate only one family or a small intimate party. However, its two metal side shelves make up for it for some users.
It also comes with a pair of wheels that allow users to move it around easily and without a hassle. Its stainless steel in-line burners are designed for long-lasting performance, so rest assured that you're going to be grilling with this one for the years to come.
Above all, the Char-Broil Classic BBQ Grill is extremely easy to assemble — no need to ask for help as you can do it on your own.
Highlights
Piezo ignition
Two 6-inch wheels
12-inches wide
Durable metal side shelves
Customer Reviews
As one of the best BBQ grills in Singapore, it has an average rating of 5 on Lazada, making it one of the top reviewed grillers on the website.
Most customers praised its sturdiness and durability, saying that it looks high-end and expensive despite having an affordable price. Some even commented that it works exactly as advertised.
2.   Weber Q1250 Gas Grill
Best for Portability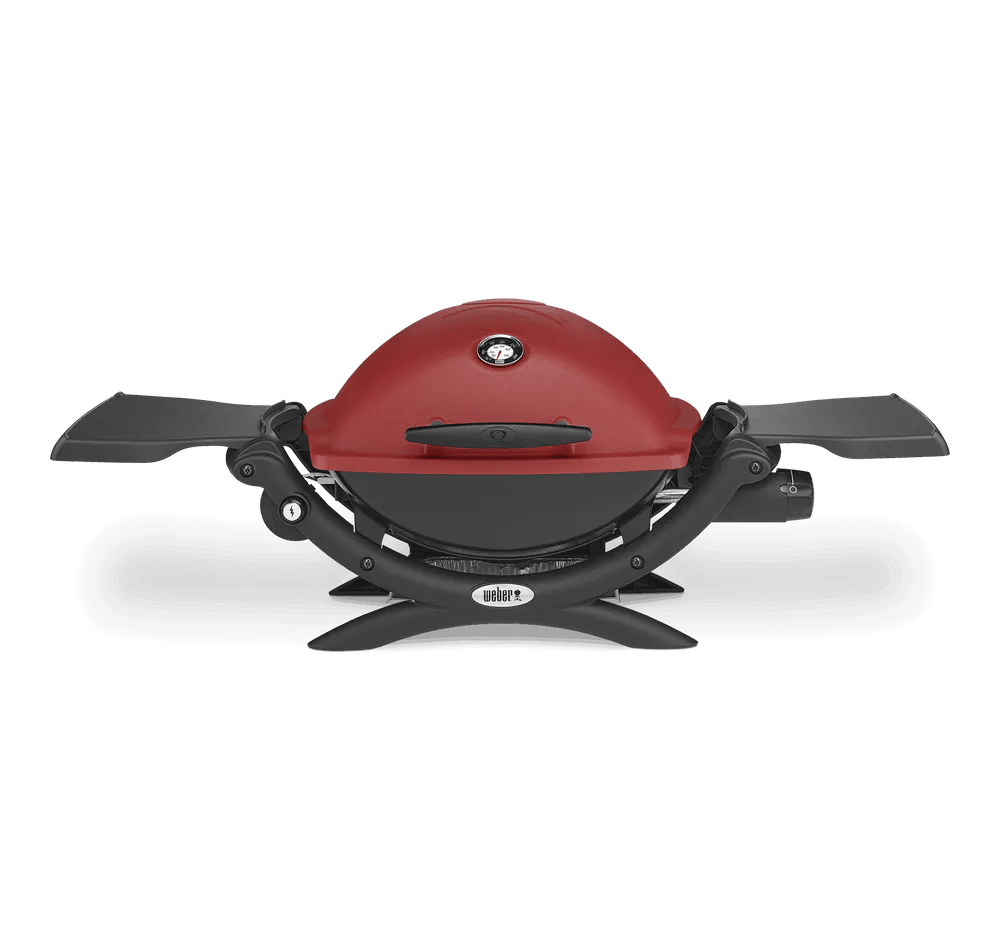 Price: $519.00
If you're searching for a portable BBQ grill, you might want to check out the Weber Q1250 Gas Grill. It's one of the most compact and lightweight grillers we've ever seen, allowing customers to use it in any part of their homes, from balconies to gardens.
What's more, it can cook food for a minimum of 6 persons, which makes it an ideal grill for small families. On top of that, it comes with a product warranty of up to 5 years, so in case it starts malfunctioning, customers can have it repaired or replaced without a charge.
The Weber Q1250 Gas Grill is perfect for direct and indirect cooking as well because of its convection lid that helps heat circulate inside the grill, resulting in juicier and smokier dishes.
It also comes with a built-in thermometer that allows users to monitor and regulate the heat according to their preference. Its cooking grates are of cast iron as well, so the heat is distributed and retained evenly — which is why we call it one of the best BBQ grills in Singapore.
Highlights
Easy heat control
Iron-cast grates
Convection lid
Built-in thermometer
3.   CADAC Meridian 4-Burner Gas Grill
Best for Large Parties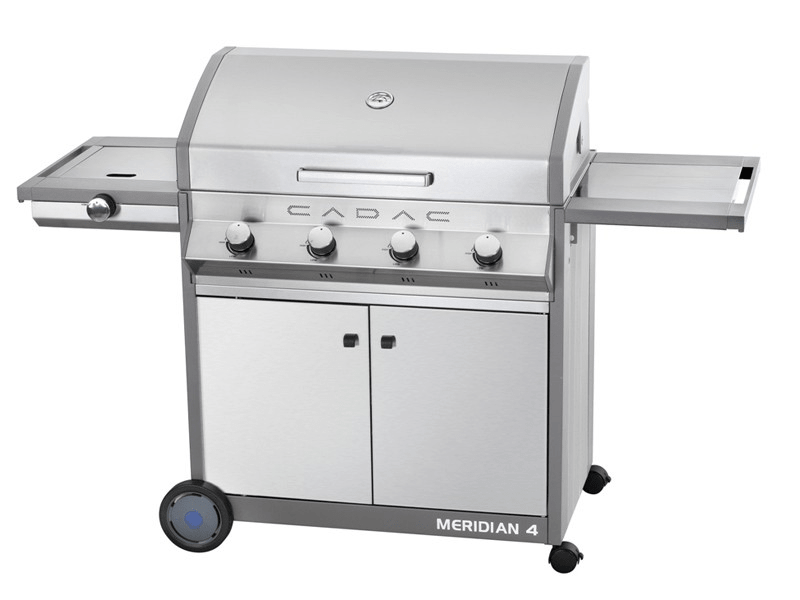 Price: $1,046.00
There's no other grillers perfect for large barbeque parties other than the CADAC Meridian 4-Burner Gas Grill. It comes with a 44 inches main grate that can grill pork, chicken, and veggies all at the same time.
More than that, it features 2 high-grade stainless steel side burners that can heat up meat and vegetables while draining the remaining oil, providing users with juicier but healthier grilled dishes.
If other BBQ grillers are hard to clean, consider the CADAC Meridian 4-Burner Gas Grill different. Despite its huge and bulky structure, it's designed for convenient and easy cleaning.
Above all, it also comes with a 1-year warranty starting from the date of purchase. In the event of a factory defect, it will either be repaired or replaced free of charge.
Highlights
Four burners
Two side burners
High-grade stainless grates and burners
Designed with an easy-cleaning system
4.   Broil King Gas Grill Royal 30
Best for Durability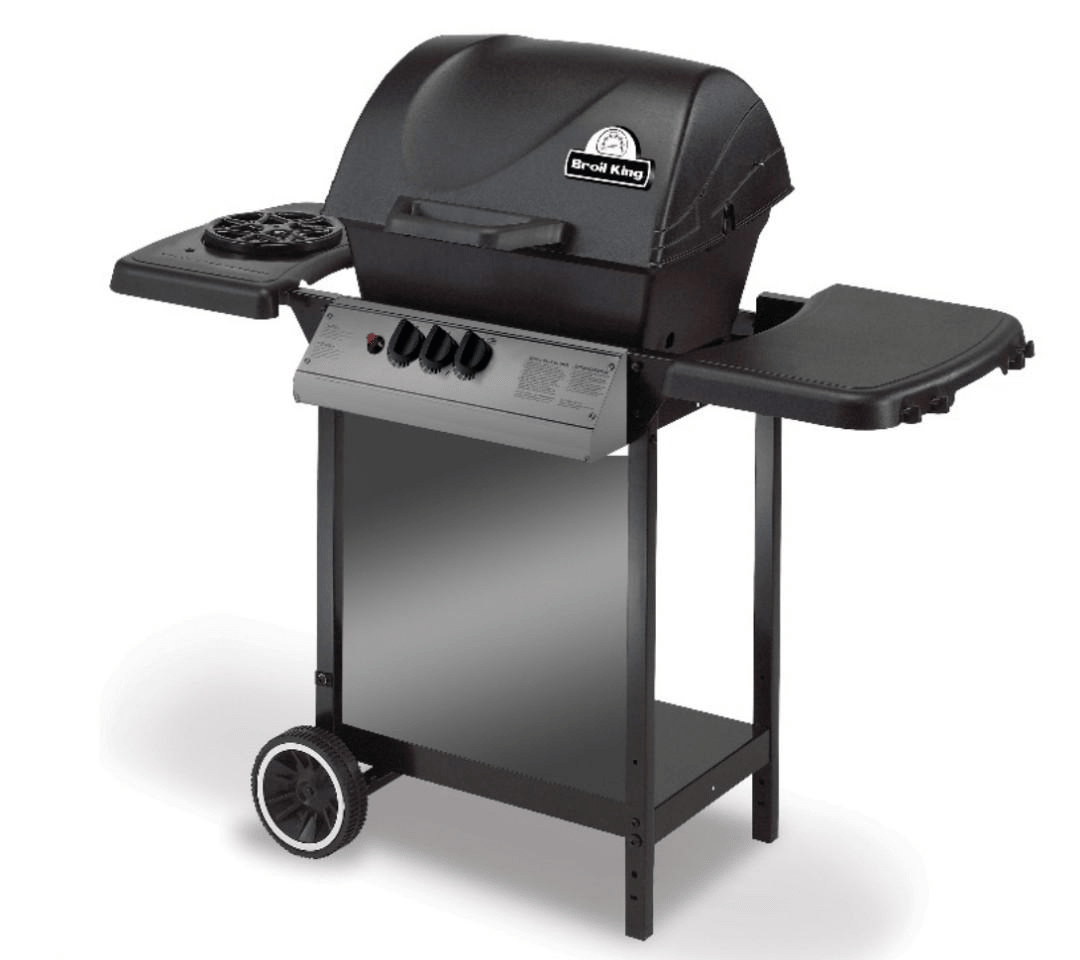 Price: $1,098.00
Considered one of the most durable grillers on the island, the Broil King Gas Grill Royal 30 is definitely a grill that can pass the test of time. It's made from premium, high-grade stainless steel that can survive regular and long hours of usage.
It also comes with a pair of 18 cm, sturdy castor wheels that make it easier to drag anywhere in your home. Cleaning it after a party is no hassle as well because it's built with an easy-cleaning system.
Beyond that, the Broil King Gas Grill Royal 30 comes with a lifetime warranty for the casting and 5 years of warranty for the main burners. It's one of the few BBQ grills in Singapore that come with such a generous warranty policy.
Highlights
Lifetime warranty
Durable structure
Sturdy castor wheels
5.   Weber Genesis II LX S-640 GBS Gas Grill
Best for Garden Parties
Price: $4, 915.00
If you have extra money to spare on an extra large BBQ grill, then you might want to get your hands on the Weber Genesis II LX S-640 GBS Gas Grill. It's the ideal griller for those who hold large barbeque parties, given its size.
Another reason we call it one of the best BBQ grills in Singapore is its GS4 high-performance grilling system that will help users to sear steak and grill vegetables perfectly. No need to waste your time coming up with an effective searing technique because the Weber Genesis II LX S-640 GBS Gas Grill is already designed with one.
Some of its features are the porcelain cooking grate, stainless steel lid and doors, grill cabinet, welded tube frame, and heat deflections. It may hurt your wallet more than the others in our list, but its countless features will make it all worth it.
Highlights
GS4 grilling system
Built-in thermometer
High-grade porcelain grates
And with that, we conclude our list of the best BBQ grills in Singapore. We hope that you were able to pick at least a few that you think can make garden barbeque parties even better!
If you know other grillers worth checking out, don't hesitate to share their names with us and where to find them.
And if you ever get tired of grilling steaks yourself, you might want to consider ordering the best steaks in Singapore. Those restaurants' perfectly seared steaks can also be a great addition to any party!