7 Best Dutch Ovens in Singapore Less Than $400
We've already listed the best slow cookers in Singapore. However, if you're looking for a traditional way of slow-cooking, deep-frying, and baking purposes, then you should look for the best Dutch oven in Singapore.
A dutch oven is a heavy pot that has thick walls that seal in heat and moisture, creating a perfectly-cooked dish. It's usually expensive, so buying the wrong one will only cost you more.
That's why it'd be wise to know the important things that you must consider before you get your first Dutch oven or a replacement for your previous one. If you already know what you want, though, feel free to leap ahead to our list of the best Dutch ovens in Singapore!
Factors to Consider When Buying a Dutch Oven
Being aware of the different materials, shapes, sizes, and other features will help you choose the best Dutch oven for your kitchen. Let's start with materials.
1. Material
The main material used for a Dutch oven or cast iron pot determines its durability as well as functionality. So, it's advised to think carefully of which one has a sturdy build and efficient heating capacity.
Here are the most common materials for Dutch ovens:
a. Stainless Steel
Dutch ovens with this type of material are known to be easy to clean and maintain. Yet they don't have the best heat retention due to their light weight.
You can still cook a lot of recipes with stainless steel Dutch ovens, of course. But for dishes that need to be heated for a long time, this might not be an ideal choice.
b. Cast Iron
Considering that it's made of heavy metal, a cast iron pot can maintain heat for a longer span of time. It's a good option for slow-cooking and deep-frying dishes.
Bear in mind that this material can transfer flavours, however. So, you have to avoid cooking tomato and acid-based foods when using the pot.
Though these might be heavier and require special cleaning and maintenance compared to others, they can also last for many years when used right.
c. Enamelled Cast Iron
This material has the qualities of cast iron but it doesn't demand special cleaning. It has an easy-to-clean interior and it also doesn't suffer from the issue of flavour transfer.
This is all because of the enamel coating that covers the bare cast iron. With these features, it's a bit expensive compared to others but the value is definitely worth it.
d. Ceramic
For baking bread and cooking stews, Dutch ovens made of ceramic material are more efficient. Ceramic is the lightest material here and it can also be placed on the stovetop or in the oven.
As we all know, ceramic has a high tendency to crack or shatter when there's a great temperature change, though. So with this one, you might need to thoroughly manage the temperature level to avoid disasters.
2. Shape
Dutch ovens come into two different shapes. The most common one is the shorter and wider type, while other pots have a taller and narrower build.
For a larger surface where you can cook big chunks of meat, you may need to choose the pots with a shorter and wider shape.
On the other hand, if your cooktop burner is small, then you should opt for the taller and narrower pot. This will provide even heat distribution.
When you consider the shape, think of the size of your burner and the type of dishes that you'd typically cook.
3. Size and Capacity
It's also important to consider the number of servings that you're planning to prepare in your dutch oven in Singapore. In this way, you can be certain that there'll be enough food for everyone and you can also avoid food waste.
Moreover, you must always check the width and the height of the pot to know if it will fit into the oven rack. In any case, here are the standard sizes and how many servings you can expect from them with most dishes.
0.5 – 2 Quart
-This is good for 1 to 2 servings, which is perfect for couples or singles. Dutch ovens and cast iron pots with this size can also be used to cook side dishes and desserts.
2 – 4 Quart
– For those who have few family members, this size would be nice. It serves 2 to 3 people and you can also prepare sauces or family side dishes.
4 – 5 Quart
– Families with 4 members can enjoy one-pot dinners with this size.
5 – 6 Quart
– If you're having a celebration with a small group of friends, then you may consider choosing a pot with this size as it can serve up to 7 servings.
6 – 10 Quartz
– For a large crowd and festive gatherings, you can prepare a maximum of 14 servings with this size.
4. Interior Colour
Dutch ovens are usually designed with a light or dark interior colour. Most people prefer the lighter one because you can easily see the progress of your cooking.
However, light colours may not be able to hide the stains or cracks that might show over time. In this case, dark-coloured interiors are better for they can hide signs of wear and tear.
5. Handles
Since these pots are heavy, you'll need an ergonomic and sturdy handle to transfer them into the oven. Make sure that the handle is big enough to let you secure a strong grip.
The Best Dutch Ovens in Singapore
While keeping the above factors in mind, take a look at the best Dutch ovens in Singapore that we could find. These are the ones we thought to be most durable and usable among the many we took a look at.
1. Lodge Enameled Cast Iron 6 Quart
Best for Overall Value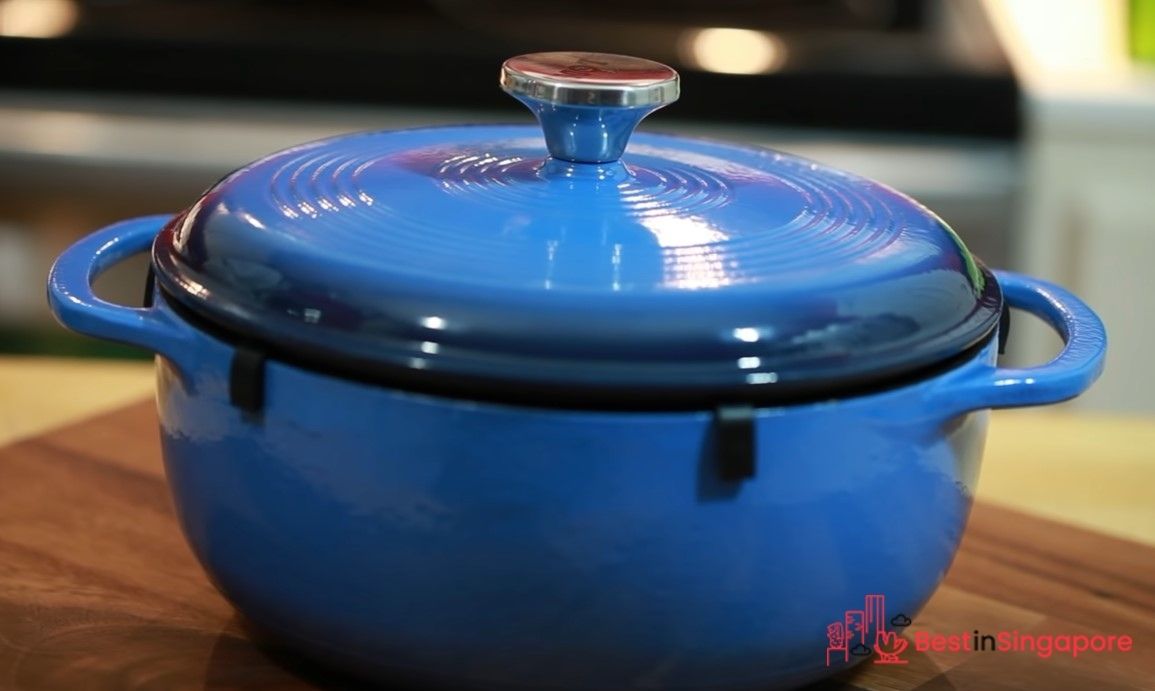 Price: $97.71
The Lodge Enameled Cast Iron 6 Quart is one of the most-recommended Dutch ovens in Singapore by reviewers and buyers. The material and size are perfect for any kind of meal!
With this one, you can cook a variety of recipes and bake some treats. Being a 6-quart pot, it can also serve a big crowd during social gatherings.
Since it's covered with an enamel matte coating, it provides a smooth surface that won't cause any changes in the flavours. It also has exceptional heat retention and produces better heat distribution than most others this size.
To transfer it easily into the oven, you can use the stainless steel knob and loop handles for a strong grip. With its design and features, it's definitely one of the best Dutch ovens in Singapore! 
Highlights
6 quarts
88 lbs
25 x 11.6 x 60 in
Light-coloured interior
Broil, fry, braise, roast, marinate, bake, and refrigerate food
Great for induction cooktops
Easy to clean
Customer Reviews
Most customers were very satisfied with the overall features of the Lodge Enameled Cast Iron 6 Quart. They said that this cast iron pot was able to last for a long time, even under regular use.
An Amazon customer wrote this feedback:
"I gave 5 stars to the Lodge EC7D33 Enameled Cast Iron Dutch Oven for many reasons. First being that it has held up great under regular use. I waited 15 months to do this review was because time slipped by so fast, but normally when I buy cookware and kitchen appliances I wait a 6-8 months to see if they hold up or fail. This one has held up fine. I have used cast iron cookware for over 30 years now. Knowing that enamel is very easy to chip I treat it like it is glass. I take extra care not to use metal utensils in them and never soak them in water for long periods of time before cleaning them. As with all cast iron I always heat them up slowly, never dry and never straight to high heat because that to can make the enamel chip or pop off. The same thing as heating them before cleaning them you need to allow them to cool down first.. For cleaning my Enameled Cast Iron only I use a worn out green Scotch-Brite Pad with some dish soap clean and scrub if needed. Mine are still nice and white inside and unchipped after many years of use. The newest one is the Lodge EC7D33 I use it weekly and I'm happy with it so far… If it holds up as long as my other old Lodge Enameled Cast Iron Cookware have, this one will be around long after I'm gone…"
2. Lodge Seasoned Cast Iron Deep 8 Quart
Best for Camping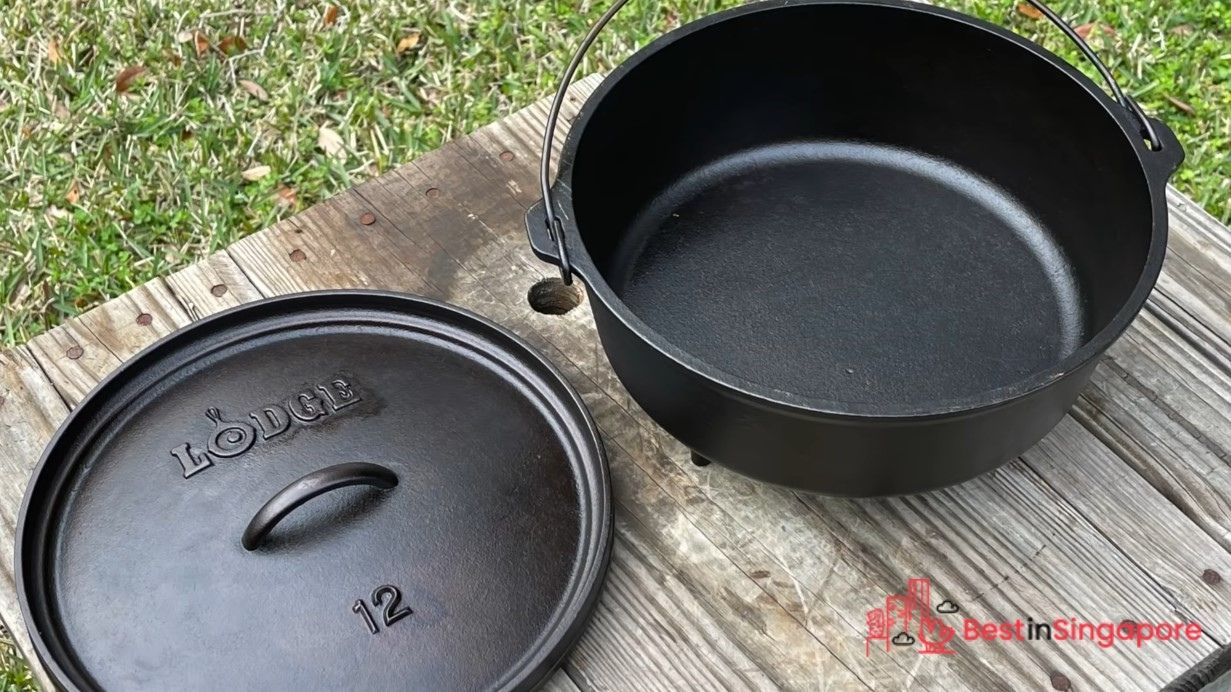 Price: $72.50
If you're looking for a durable and long-wearing lodge cast iron in Singapore, you will want to keep an eye on this one.
For those who are going on an outdoor venture with their family and friends, the Lodge Seasoned Cast Iron Deep 8 Quart is must-have cookware during your trip!
The flanged lid and integral legs make the pot suitable for use over hot coals. Additionally, the interior is seasoned with absolutely natural vegetable oil for a nicely cooked meal.
The thickness also ensures competent heat retention and even heating.
Its 8-quart size can surely cater to a larger family and guests. With its handle, you can immediately place it in the grill or hang it over the campfire.
Highlights
8 Quarts
35 lbs
2 x 13.4 x 8.6 in
Dark-coloured interior
Sear, bake, broil, braise and fry
Can be used on the grill or over a campfire
Seasoned with natural vegetable oil
Customer Reviews
The Lodge Seasoned Cast Iron Deep 8 Quart has received a lot of positive reviews saying that it's a great pot for those who enjoy doing outdoor activities.
That said, some may find it a bit confusing to clean on the first try — particularly for those new to using and maintaining cast iron cookware. A customer from Amazon posted this review:
"This is one of the best investments I have made in a long time and wonder why it took me so long to get. This is the perfect size for one person with leftovers or two without. I absolutely love cooking with charcoal using this little dutch oven but the problem I am finding now is that when I am cooking for two and want leftovers there are none – so am shopping for a bigger capacity to add to my collection. If you usually cook for one and this will be your only dutch oven then this is perfect. If you think you may need to cook for 2-3 and want leftovers for later then consider going up one size. I have used this in campfire, home oven, and with charcoal and it all works great. Cleaning cast iron seemed daunting and confusing at first but once you get the hang of it's easy. I think this would make a good gift for the backyard or outdoors person, especially if they like cooking with charcoal."
3. Cuisinart Chef's Classic Enameled Cast Iron 7 Quart
Best for Grand Celebrations and Gatherings
Price: $181.65
If you're going to host a holiday celebration or a simple family gathering at home, then you should see the Cuisinart Chef's Classic Enameled Cast Iron 7 Quart! You can prepare different kinds of dishes as it can be used on the stove, oven, and in the broiler as well.
Due to its cast iron material, it provides excellent heat retention and distribution, so there's no need to worry about uneven results. The porcelain enamel interior also prevents odour absorption and mixed flavours. Definitely the best dutch oven in Singapore for those who want to take their cooking to greater levels!
Highlights
7 Quarts
9 x 12.9 x 6.2 in
Light-coloured interior
Sear, grill, braise, simmer
Induction stovetop compatible
Porcelain enamel interior for efficient cooking
Dishwasher-safe
Customer Reviews
Customers complimented the Cuisinart Chef's Classic Enameled Cast Iron 7 Quart for its easy-to-clean surface, manageable weight, and evenly cooked results.
There were also owners who pointed out that they saw light chipping on the handles over time. However, they also said that the cooking surface itself is quite durable.
So, they still marked it as possibly the best Dutch oven in Singapore for serving large crowds. An Amazon customer left this feedback: 
"This is the third enameled iron pan I've purchased, and the combination of functionality, weight and price are very hard to beat. The two other enameled pans I compare in this review are Le Creuset and Lodge.I really like cooking on enamel iron pans because of durability, ease of cleaning, and not having to worry about the chemicals in non-stick pans. But to prevent sticking, one should use lower flames than one might be used to with other kinds of pans. Iron retains heat and gets hotter than other types of pans, which causes burning and sticking. And one must coat with oil after heating and before putting the food in the pan. 
Shape – The Cuisinart bottom is perfectly flat, whereas the center of the Lodge pan is slightly raised (imagine a dome that has been almost completely flattened, but is not perfectly flat). Consequently, the Cuisinart is better than the
Lodge for cooking omelettes because eggs gravitate to the perimeter of the Lodge and might not cook evenly. 
Shape – The Cuisinart bottom intersects the wall of the pan at an angle. The same is true for the Lodge. In contrast, the Le Creuset bottom rises gradually upwards to form the wall, so food won't get caught at the edge of the Le Creuset. Depending on your cooking technique, you might prefer one shape over the other.
 Weight-wise, the Cuisinart and Le Creuset are manageable, and the Lodge is very heavy (it is a workout to wash and dry). 
Durability – the enamel is chipping on the handle of the Lodge, but not on the cooking surfaces, where it matters most. So it's unsightly, but it does not affect functionality. There is no chipping with the other pans. 
Price – the Cuisinart and the Lodge were each about a third the price of the Le Creuset."
4. Tramontina Ceramica Deluxe 5 Quart
Best for Lightweight Pot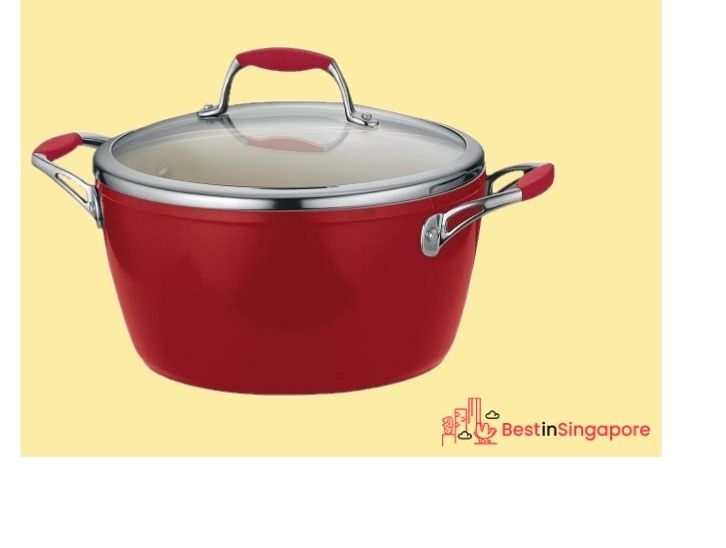 Price: $195.28
Do you prefer to use a lightweight dutch oven when cooking? If so, the Tramontina Ceramica Deluxe 5 Quart might be the best Dutch oven in Singapore for you!
As we mentioned earlier, ceramic is much lighter than others. Thus, for those who struggle with carrying heavy pots, you'll be delighted with this option.
It's built with a ceramic exterior that is also enamel-coated so it's convenient to clean. It also features an ergonomic and stainless steel handle with soft-grip silicone for more comfort.
The heavy-gauge aluminium caters to even heating. Meanwhile, the cadmium-free interior provides a healthy and eco-friendly cooking surface.
The most impressive thing about this pot is its compatibility with electric, gas, and ceramic glass cooktops. We also like the light-coloured interior.
Highlights
5 Quarts
97 lbs
6 x 13.4 x 9.8 in
Light-coloured interior
Lightweight ceramic material with enamel coating
Easy to clean
Durable
Dishwasher-safe
Compatible with gas, electric and ceramic glass cooktops
Customer Reviews
Many customers were very happy with their purchase of the Tramontina Ceramica Deluxe 5 Quart. They shared that the surface only requires simple cleaning, which is very convenient.
A few customers had some concerns regarding the heating, admittedly. However, there were also buyers who said that as long as you follow the manual, it'd heat up the food faster.
A customer from Amazon gave this review:
"I purchased this product based on rave reviews from my adult son. He said his was a year old and still looked like the day he received it. Since I don't have much luck with keeping frypans looking good I thought I'd give the Tramontina 10 inch a try. So far I am very pleased. Directions say to stick with moderate heat as the aluminum spreads heat quickly. I have been doing this. The pan wipes out like a dream and still looks brand new. If I find after months/years of used this does not remain the case I will be back to update this review. The bottom of the pan is smooth which I believe would be good for the glass-top cooking surface."
5. Calphalon Contemporary Stainless 8 Quart
Best for Large Capacity, Lightweight Design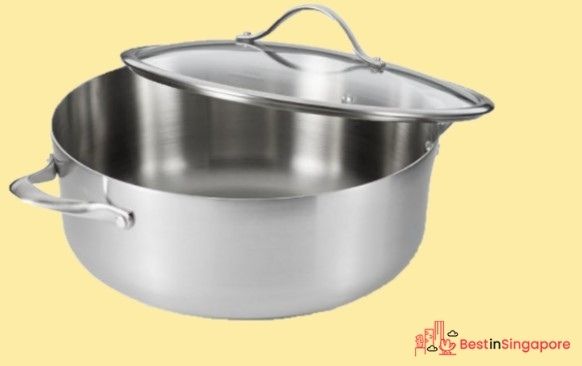 Price: $304.32
If you're looking for a pot that can cook a lot of servings but with a much lighter weight, then the Calphalon Contemporary Stainless 8 Quart can be a good pick for you.
This pot features a stainless steel design that is lighter compared to cast iron material. It's also in 8-quart size so you can cook a whole chicken or slow-simmered soup for a large group of family and friends.
When it comes to its heating system, it's also quite competent. That's because it's designed with a heavy gauge and full-aluminium core that provides even heating.
The loop handles are very easy to grasp, even if you're using oven mitts. The contemporary design also complements any type of kitchen interior.
Highlights
8 Quarts
8 lbs
35 x 14.8 x 6.61 in
Light-coloured interior
Tempered glass cover
Oven and broiler safe
Dishwasher safe
Customer Reviews
The Calphalon Contemporary Stainless 8 Quart has received compliments from many customers. Some did say they wished the handles were bigger, but were still of the opinion that it's still a decent pot.
They stated that the food doesn't completely stick onto the surface either,which is one of the reasons it may be the best Dutch oven in Singapore.
An Amazon customer shared this experience:
"I've been using my new Calphalon Dutch oven for a couple of months now and overall like its versatility. I LIKE that it is dishwasher safe and the capacity is a slightly larger addition to what I already have. I do NOT like the glass lid — I prefer a solid metal lid with a glass see-through and also lid handle padding. The handles are small for the size of the pot, especially when filled with boiling water, making it a bit unwieldy. They also do not stay cool as my other Dutch oven does with rubberized handles there as well as on the lid. It's a good enough pan and the dishwasher safe is huge to me, so though my "old" pan which I fortunately still have is better, the new one is slightly larger and more functional for big batches. (Old style no longer available in case you're wondering why I didn't just get another.) Foods cook in comparable way to other stainless pans I have — very little sticking and a short soak will loosen any particles."
6. Staub Round Cocotte 0.75 Quart
Best for Small Servings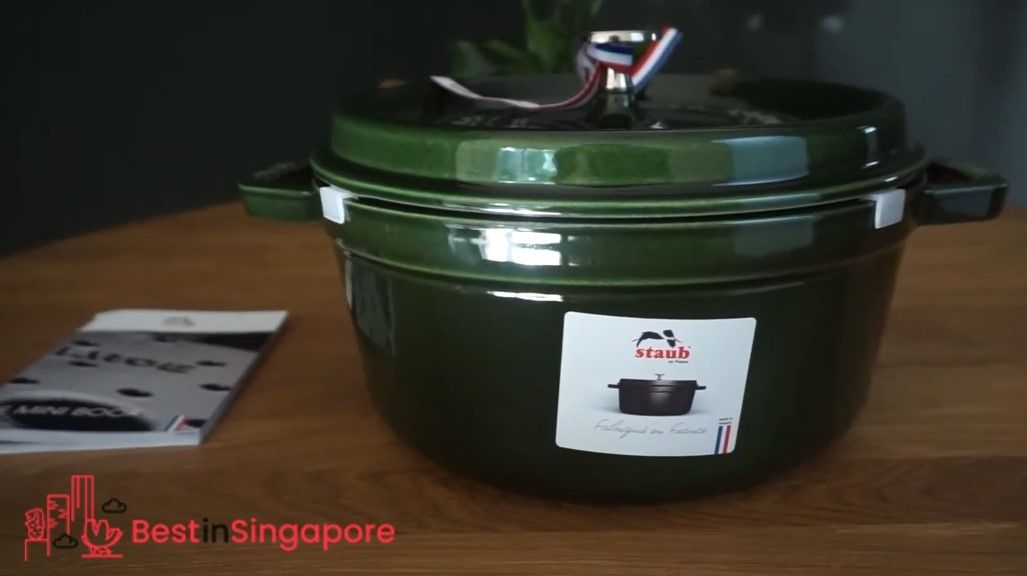 Price: $224.11
The Staub Round Cocotte 0.75 Quart might be a little pot but it's very efficient to use due to its interior matte texture, which provides satisfying cooking results.   Its size is a good option for couples or singles in particular.
The cast iron material provides great heat retention, moisture retention, and even heating. It also features a smooth enamel bottom that is compatible with many stovetops, including gas, electric, ceramic, glass, induction, and halogen.
The big nickel steel knob helps you hold the lid comfortably. On the other hand, the large handles also give a secure grip on the pot. Overall, this is the best dutch oven in Singapore for couples or those living solo.
Highlights
75 Quarts
21 lbs
4 x 5.0 x 4.5 in
Cast iron material
Dark-coloured interior
Durable
Cook meat, stews, and soups
Customer Reviews
Many customers have recommended the Staub Round Cocotte 0.75 Quart because of its high-quality build. Though there are few who found it a bit hard to clean, they still complimented its excellent cooking results.
This is why it has always been a part of the best Dutch ovens in Singapore. An Amazon customer wrote this feedback:
"This petite round cocotte oven is made with the same quality of Staub's other larger pots. The finish is very good, except on the top rim, where, as with all of their other Stuab pots I've examined, the paint is marred in four locations, where Staub apparently dry the pots upside down after painting. This is the only apparent sloppiness in their manufacturing process, and in the 16+ pots I've examined (except for one with a paint run in the groove of the lid), it's always there. The pot is about right for individual servings of rice, or soup. My wife likes to serve us at the table with two of these, but you have to be careful about burning yourself while eating if they've just come from the stove or oven. After cooking rice, they're a little hard to clean due to the painted interior that is less than perfectly smooth. Still, the superior cooking results far outweigh any other negatives. Highly recommended."
7. Le Creuset Enameled Cast Iron 4.5 Quart
Best for Durability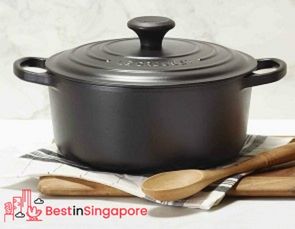 Price: $589.25
The Le Creuset Enameled Cast Iron 4.5 Quart is made with cast iron material to ensure even and consistent heat while cooking.
Aside from its appealing looks, it also features a shock-resistant and enamel-coated exterior to prevent possible chipping and cracking. Meanwhile, the interior has a sand-coloured finish that can resist sticking and stains.
For a safe and comfortable grip, it has wide loop handles and a stainless steel knob.  It's also suitable for both stovetops and ovens. This is the best dutch oven for those who want to splurge a little.
Highlights
5 Quarts
6 lbs
9 x 12.4 x 6.3 in
Light-coloured interior
Slow-cooking, braising, roasting
Shock-resistant exterior
Sand-coloured interior
Customer Reviews
Customers mostly admired the sturdy build as well as the sophisticated design of the Le Creuset Enameled Cast Iron 4.5 Quart, saying it adds to the look of any kitchen.
A customer from Amazon posted this review:
"I just purchased this dutch oven for my daughter and her husband. I am sure they will be thrilled with it, in fact my daughter asked for one based on the good service we have gotten from ours. I own three other pieces of Le Creuset as well and am pleased with them all. The dutch oven is showing its age. The interior enamel is wearing thin and the exterior enamel has some minor chips. We use the dutch oven a lot, at least one or twice per week. I bought all my Le Creuset pieces just before I married 37 years ago. It is the only cookware we bought starting out that is still with us. I am very confident it will survive us. It is the best, the very best"
Anyway, with that, we have our list of the best Dutch ovens in Singapore! These options will serve perfectly home-cooked meals for your family and friends!
Do you already have a favourite pot from the list that you'd like to buy? Let us know about it and why it's your pick.
If you're also currently searching for an oven where you can use these pots, take a look at these best ovens in Singapore. All of them are of superior quality and offered at reasonable prices, so they're the ones we'd recommend if you need an oven.