8 Best Mini Projectors In Singapore For Movie Marathons
You can never go wrong with mini projectors whenever you want to have a movie marathon in your own home. If you don't know where to go for the best mini projectors in Singapore, consider yourself lucky… because we have exactly what you're looking for.
These days, you no longer need to go to the theatres to see the latest movie releases. As long as you have a subscription to a streaming service and a good mini projector, you can watch almost anything — from movies to television series.
Before going about the best options for mini projectors in Singapore, we'll first explain the factors to consider before buying one, however.
That way, you can carefully our list and choose the one that perfectly fits your tastes. However, feel free to jump ahead to the list of mini projectors if you think you don't need that.
Factors to Consider When Choosing a Mini Projector
While mini projectors are mostly affordable, it's still not a wise decision to go for the cheapest one just to save money. More often than not, we end up spending more in the long run when we don't think about our decisions carefully.
So, we're here to help you choose the best option that will make your hard-earned money worth it. That means knowing what to look for and why it matters.
One of the first things you should consider is the type of projector. Besides this, display resolution, brightness, and portability are among the other things also worth remembering.
Let's take a deeper look at these factors for you to further understand what we're talking about.
1. Type
The different types of mini projectors in Singapore vary based on their light source. The most common types are called LCD (light crystal display) and DLP (digital light processing), and have their own mechanism in creating light to project images and videos.
LCD and DLP mini projectors can last for up to 60, 000 hours of usage, which is significantly longer compared to other mini projectors.
Meanwhile, there are other mini projectors that use a light, lamp, or LED as their light source. Unlike the previous ones, these can only last from 4,000 hours to 20,000 hours of usage.
If you plan to use your mini projector regularly, we recommend that you go for the ones that can last longer.
2. Display Resolution
If you want to make your movie marathons a much better experience, you must go for a mini projector with 1920 x 1080 pixels. Images and videos appear clearer and more vivid with this particular display ratio.
This is also perfect for gamers who want to use projectors to make their gaming sessions more enjoyable and larger than life.
Mini projectors are also helpful for office presentations. For an office setting, though, a display ratio of 800 x 600 pixels is already enough to let your colleagues see your presentation clearly.
3. Brightness
Next to display resolution, the brightness or light output of small projector is among the crucial things to take note of. A projector will not be able to display a bright image with insufficient light output.
To know if a mini projector can emit enough light, check its ANSI Lumens rating. If a projector has 1,000 ANSI Lumens or greater, then it has adequate brightness for movie viewing inside a small room.
If you've a bigger room for movie viewing with some ambient light, we think a mini projector with 5,000 Ansi Lumens rating should suffice.
4. Portability
If you intend to use your mini projector for more than watching movies, it is important that you choose one that can be carried anywhere easily. You don't want to have to struggle bringing your projector to another room
Since our featured products are mini projectors in Singapore, we can assure you that you will never have a problem with their portability. You can store them inside your bags and bring them anywhere with you.
The Best Mini Projectors in Singapore
Now that you know what to look for in a mini projector, it is time to move on to our list of the best mini projectors in Singapore! Let's see if you will be able to choose one by the end of this article.
1. BenQ GV30 Smart LED Mini Projector
Best for Cinema Experience Anytime Anywhere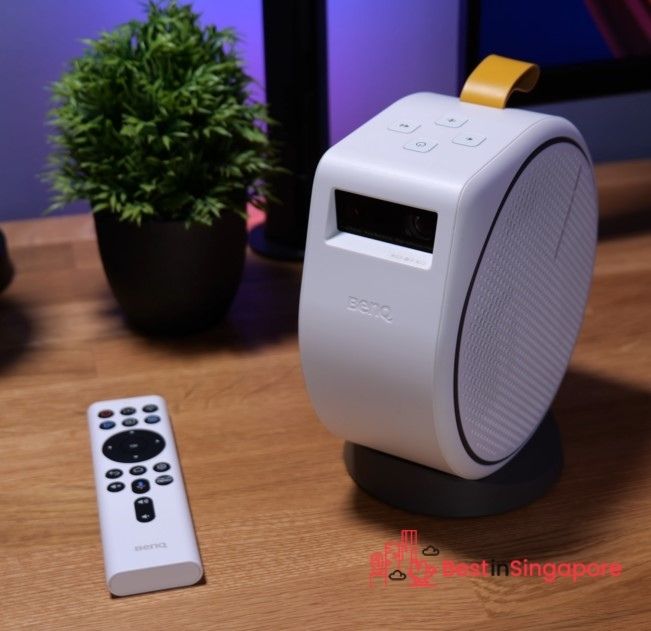 Price: $869.00
Check it out on Shopee   Check it on Lazada Check it on BenQ
Want to make your movie marathon at home even more special? Get your BenQ GV30 Smart LED Mini Projector and you will feel like you are in a cinema house.
We will give you more than enough reasons why this projector is the best among the others on this list.
First is its 2.1 Channel Bluetooth Speakers. From thrilling sound effects to mumbled dialogues, this feature, alongside Its extra bass, can articulate crisp details enhance the sound for a more cinematic experience.
In comparison to other mini projectors, it has a 135° Projection Angle with Auto Focus & Vertical Keystone. This is a projector that has a wide-angle capability that lets you project in any location and enjoy your content from unusual points of view.
It has a Cinema Mode and Day Time Mode wherein it adjusts darker areas of the screen, even under bright lighting, for amazing image quality anywhere.
Plus, with a Google-certified Android TV, you can enjoy more than 5,000 apps for movies, TV shows, live sports, news, games, music, and more! Now, you can kick back, relax, and enjoy the time you have with your friends and family.
Highlights
2.1CH Bluetooth Speakers
135° projection-angle
Google Certified Android TV
Wireless Casting
Auto Focus & Keystone
HDMI& USB-C Connectivity
Maximum 2.5-hour battery life
2. Xiaomi Mi Smart Projector Mini
Best for Huge Screen
Price: $799.00
For a very small and compact projector, it already has a throw ratio of 1.2:1. This means tha you  can easily adjust the throw distance to project to a giant screen of 60–120 inches, perfect for those who prefer watching on huge screens.
Aside from this, what's great about this product is that it can function as a bluetooth speaker as well. It can either play music over Wi-Fi, through your phone, or computer.
We can recommend getting this because of its built-in Google Assistant that supports 14 different languages. By simply pressin and holding the voice button on the remote, you will get to operate your projector immediately.
In comparison to typical projectors, the Xiaomi Mi Smart Projector Mini has a square pixel architecture which makes the details way finer and the pictures sharper.
Lastly, this mini projector supports 1920 x 1080 full HD and is also compatible with 4k resolution playing. 
Highlights
2.4G/5G dual-band Wi-Fi
Auto-focusing on startup
Automatically controls the fan, cooling silently
Can prevent dust from entering with its ssealed optical system
Four-channel LED RGB + BP increases brightness by more than 20%
3. Mirval DP8
Best for Movie Marathons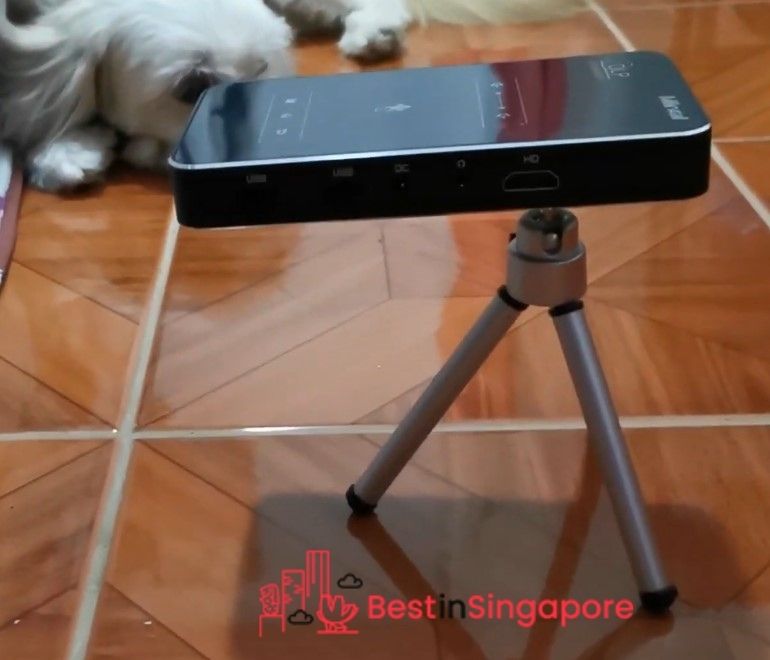 Price: $480.80
The Mirval DP8 tops our list of mini projectors in Singapore because it has a lot of special features that can make movie marathons more exciting. We also think it's worth your money despite being a bit on the pricey side.
With its DLP display technology and HD 4K decoding, movie viewings at home with friends and family will be much better because it projects clear images and video onto a 200-inch screen. No need to suffer through low-quality projections!
If you've got a bigger home, you can also enjoy a larger screen projection because this one has multiple screen sizes. The bigger the home, the bigger the projection!
Unlike other mini projectors, it is extremely easy to control. It has an intelligent, user-friendly touch panel that supports touch control and button operation.
Highlights
Intelligent touch panel
Multiple screen sizes
Screen sharing
Remote control included
4. Anker Nebula Capsule II
Perfect for Portability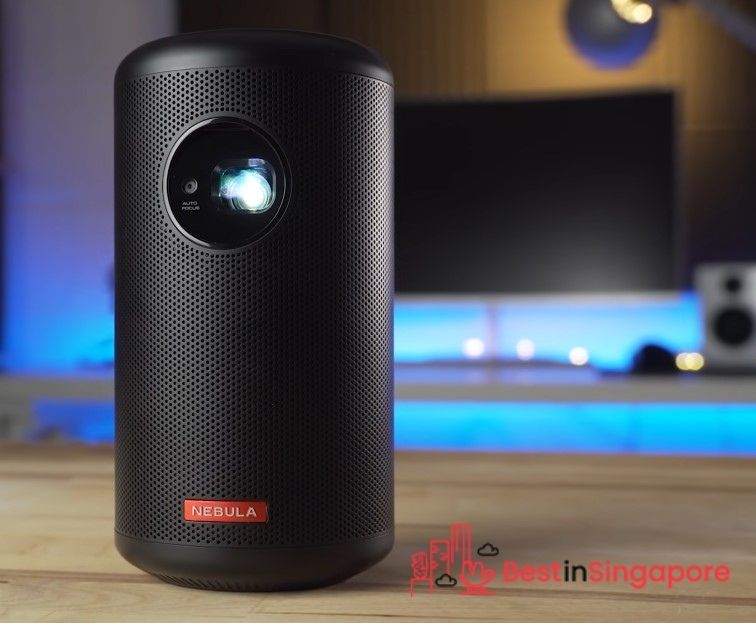 Price: $595.88
If you want an extremely portable yet stylish mini projector in Singapore, then look no further than the Anker Nebula Capsule II. Its capsule shape makes it super portable, so you can bring it almost anywhere without struggling.
It can project stunning and clear images and video onto a 100-inch screen with its cutting-edge DLP technology — perfect for intimate film viewings with loved ones. Plus, no need to adjust it manually because it has an auto-focus mechanism.
You may also bring this one outside should you decide to have a movie viewing under the stars. What we truly love about this one is that it has redefined 'portability' to provide customers with a better viewing experience.
Highlights
Immersive audio
1-second auto focus technology
Fast charging
Ultra portable
Highlights
If there's anything that users love about this mini projector, it is that they can use almost anywhere — inside their home or in their backyard.
It removes the need to carry and untangle wires just to set it up. All you need to do is to ensure that it's fully charged.
Customers also state that the sound coming from the speakers is clear and full despite coming from such a small, capsule-shaped device.
5. XGIMI MoGo Pro
Best for Gaming Sessions
Price: $830.75
If you want a mini projector in Singapore that can do more than just give you film viewings, then the XGIMI MoGo Pro is a great pick for you. With its DLP technology, it can project clear and crisp images with a resolution of 1920×1080 pixels, which is ideal for gaming sessions.
Connectivity is never going to be an issue with this one because it allows USB, HDMI, Bluetooth, and even Chromecast connections. As long as you have any of the devices mentioned, you will get to enjoy the wonders of this mini projector.
Among the products featured on our list, this one has the longest LED lifespan too, with 30,000 hours. That means you can use it to watch movies and play video games every day for (approximately) the next 10 years.
Highlights
Elegant design
Long LED lifespan
3-hour playtime
Built-in Chromecast
With Google Assistant
6. YG300 Portable Mini Projector
Best for Affordability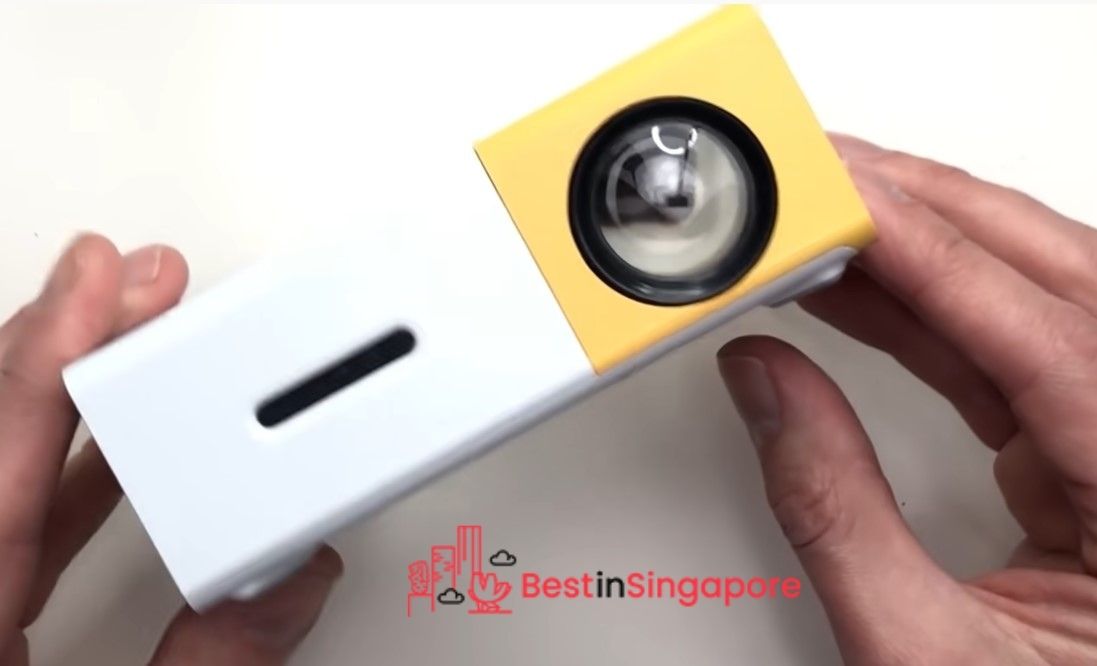 Price: $194.33
Who would've thought that you could see unlimited movies in the comfort of your own room for less than $60? With the YG300 Portable Mini Projector, it's possible, and we think it's amazing how good a steal this one is.
If you want a mini projector that won't take up too much space in your home, then consider getting this one. It's super small and portable, and you won't have a hard time finding a place to store it — you may even keep it inside your bag.
While it may be cheap, it does the job of projecting clear images and videos pretty well! You get to enjoy your favourite movies without getting distracted by the low-quality resolution found in most cheap mini projectors.
Overall, we are really impressed with what pocket projector in Singapore can do.
Highlights
Affordable price
Portable
Light weight
Highlights
Aside from its compact size and light weight, customers were really shocked by the quality of its projection for its price. They weren't expecting to get such a clear projection from such a tiny and cheap projector.
Another thing they love is that it doesn't take up too much space and can be stored pretty much anywhere. A person on Amazon who bought this for his family commented:
"I bought this to watch football and movies with my family in our backyard on the side of the garage for fun. Just arrived today; I tried it on a PC and Roku worked with no problems. Had a decent picture and the sound was ok For the price I'm satisfied; we'll be able to watch movies outside for fun and I can throw the game up to watch."
7. XGIMI Halo
Best for Durability
Price: $1,350.00
If you're feeling lucky and have some extra money to spend on a mini projector in Singapore, then consider getting the XGIMI Halo Projector. It may be quite expensive, but it has some very nice features.
Aside from its sleek and elegant design, it has a full HD and 3D resolution of up to 1920×1080 pixels and a 600-800 ANSI Lumens rating for brightness.
What's more, this one has ample internal storage wherein you can store movies and music. Hence, there is no need to access the Internet in order to project videos.
It also comes with a high-capacity battery that can last for more than 3 hours when watching a movie. If you want to use it to stream music, it can also double as a bluetooth speaker.
Highlights
Ultra-long lifespan
With multiple ports
Easy set up
Premium sound quality
8. Transjee A2000
Best for Multifunctionality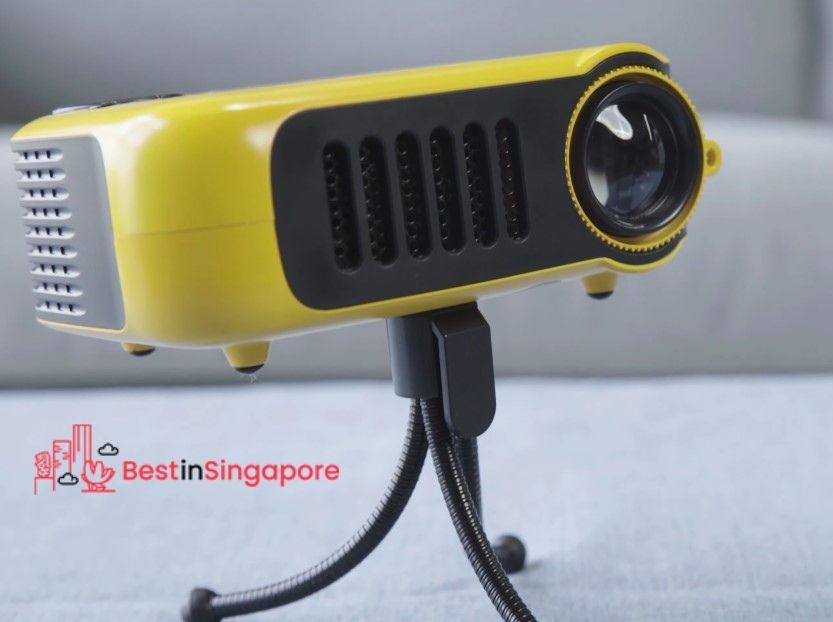 Price: $54.50
There may be a lot of cute mini projectors out there, but we think nothing comes close to how adorably compact the Transjee A200 is. It may be small on the surface, but it's extremely durable and can handle long hours of usage.
Weighing only 260 grams, it's super portable and can be placed anywhere inside the room without damaging the projection. You won't even notice that it's there!
Unlike other mini projectors in Singapore, this one's extremely safe to use when while charging! No need to suffer through an interrupted movie marathon because the projector has run out of battery.
Highlights
Affordable price
Compact size
Light weight
3-month warranty included
And that's it for our list of the best mini projectors in Singapore! If you have one in mind that wasn't included in our list, by the way, please feel free to tell us its name and what makes it great!
By the way, if you are looking for a projector screen to partner with your chosen mini projector, feel free to read our list of the best projector screens in Singapore.