A Review of the 6 Best Power Banks in Singapore
It's always handy to be carrying around a power bank, especially when you travel a lot since wall outlets aren't always accessible. But with so many choices on the market, you probably wonder which is the best power bank in Singapore.
What size should you get? Does charge your phone quickly? How much voltage is the output?
These are the questions you have to ask when picking the best power bank in Singapore. You also want something worth the price tag, whatever it may be.
To make things simpler for you, we've compiled a list of the best power banks in Singapore under $100. You can keep your phone from dying at inappropriate times with these.
Before we get into that, though, let's go over some tips for picking the ideal power bank. That way, you'll have a better sense of how to choose one that fits your exact needs.
How Do You Pick a Power Bank?
The cardinal rule in getting a power bank in Singapore is to get power banks with mAh 4 times higher than your phone. For example, A Huawei Mate 30 Pro has a 4500 mAh battery, so it'll need a power bank with around 18000 mAh.
But one shouldn't get a power bank over a certain mAh capacity because anything that's too high is susceptible to overheating and possibly exploding. Power banks that are around 10000 to 20000 mAh are preferable.
There's also the matter of charging speed. Most power banks in Singapore themselves don't charge that fast, because their input is only up to 5V.
Another factor that needs to be addressed is the size. If you dislike lugging around something bulky, get something that's small or slim that can easily fit in your pocket.
However, most of the smaller ones have lower capacity. It's pretty much an inevitable trade-off.
Best Power Banks in Singapore Under $100
Now that you have all the pointers in picking a power bank, take a look at these power banks that satisfied users all over the island. You might even find your favourite tech brand in this list!
1.   Pineng PN-920 2000mAh Power Bank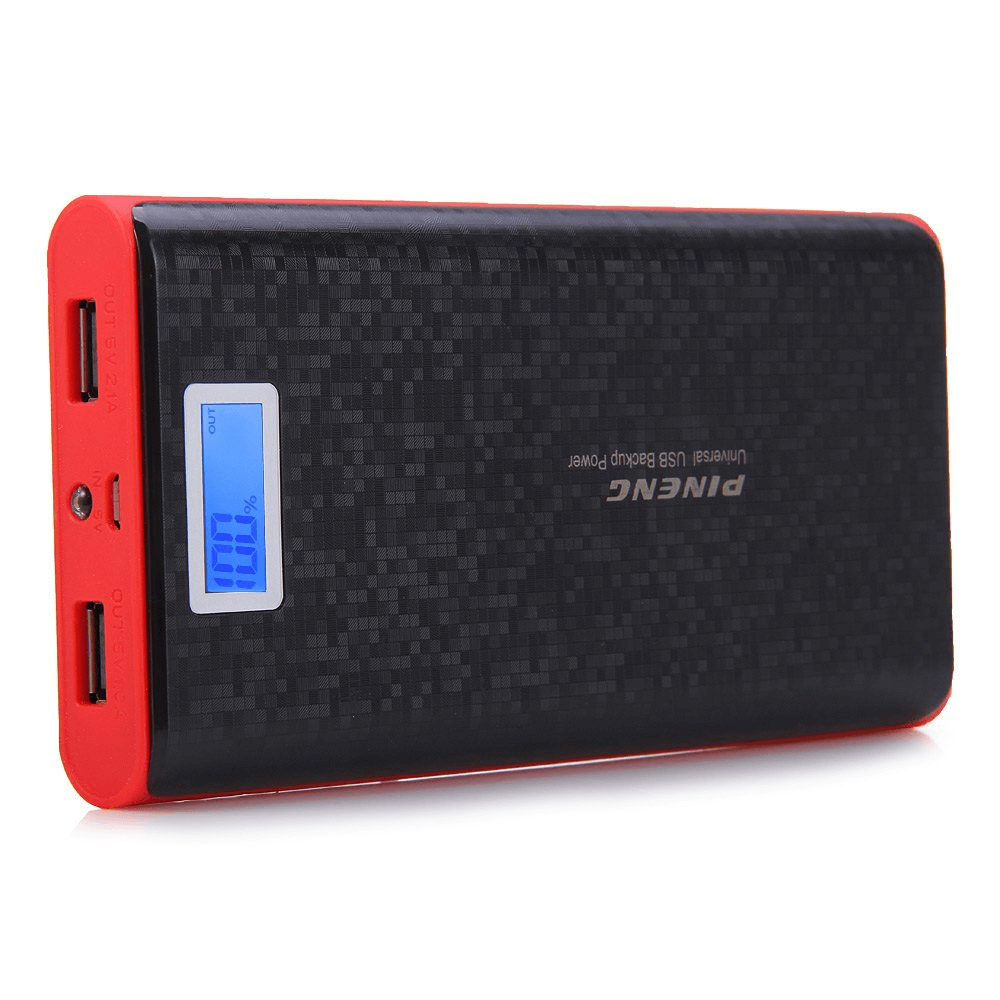 Price: $14.94
Buy On Shopee Before Stocks Run Out
If you've been reading up on Pineng Power Bank reviews, well we can clearly see why. Pineng's PN-920 is an attractive gadget because of its amazing value for its low cost. The power bank itself has a lengthy charging time because of its 5V 2A input, but due to its 5V 2.1A output, it charges devices quickly.
The LED screens display the percentage of power left. When not being used as a power bank, it has a tiny flashlight that can be used in emergency situations.
Basically, it's a good choice of power bank in Singapore for anyone who wants quality despite being on a tight budget.
Highlights
Dual output for charging multiple devices
LED display screen to show in/out battery status
Automatic voltage detection
Customer Reviews
Several customers said that this power bank charges devices quickly and that they were surprised to see that it was higher-quality than one would expect of a device with the same price tag. Some say it charges as fast as a wall-plugged charger.
There are others who say that using different charging cables might affect the charging speed.
Other customers are put off by how heavy it is, though, and some were disappointed that the wireless charging function was removed.
2.   Anker PowerCore 10000 mAh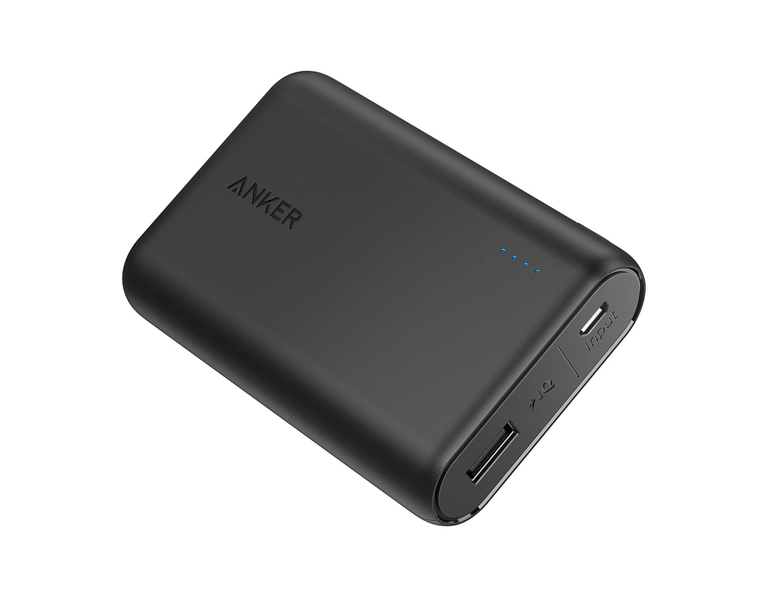 Price: $69.90
Buy On Shopee Before Stocks Run Out
If you're looking for the best power bank in Singapore and can splurge a teeny bit on the budget, you may be best off with this one. On the higher end of the price scale is the Anker Powercore. Its claim to fame is charging phones and tablets over 3 times quicker, up to 2.4 amps.
It's tiny design makes this power bank smaller than a card deck, but it still has good capacity despite its size. Though it isn't compatible with devices below 50 mA, you'll get the fastest charge possible for your phone.
Highlights
Compact design, smaller than most power banks
Great battery life
Perfect for people who are on the go
Customer Reviews
Most customers attest to its quick charging speed and how many times they can charge within the day. A lot of them say this is the perfect power bank for travelling.
However, other customers are claiming the opposite, saying that this power bank drains easily.
One of the other complaints about the Powercore is that its life expectancy is lower than advertised. Some of them say that it only lasted for a month, although this was far from a common complaint.
3.   Energea SlimPac PQ1201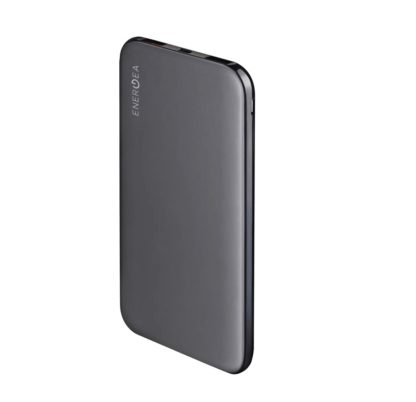 Price: $69.00
Buy On Shopee Before Stocks Run Out
If your idea of the best power bank in Singapore is lightning-fast charging, then this one's for you.
Energea's Slimpac PQ1201 charges three times faster than its SlimPac predecessors. But it all depends on the compatibility of the device with the powerbank.
Use a compatible mobile phone, and this power bank can get your phone up to 100% in 35 mins.
Its design is also sleeker than its older counterparts, and can fit into bags and pockets easily. Like most power banks, it has a 5V/9V dual input of micro USB and Type C for more options.
This power bank also has a charge of 18W, so it can power up small laptops and the iPhone 8 and above at optimal speed. Devices that support it are QC 3.0, Samsung adaptive fast charging, Huawei FCP, and MediaTek PumpExpress+.
Highlights
Sleek design, less bulky than other power banks
Can charge PowerMacs, Huaweis, & Samsungs at optimal speed
Dual-input fast charge 5V/9V
4.   Xiaomi Power Bank 2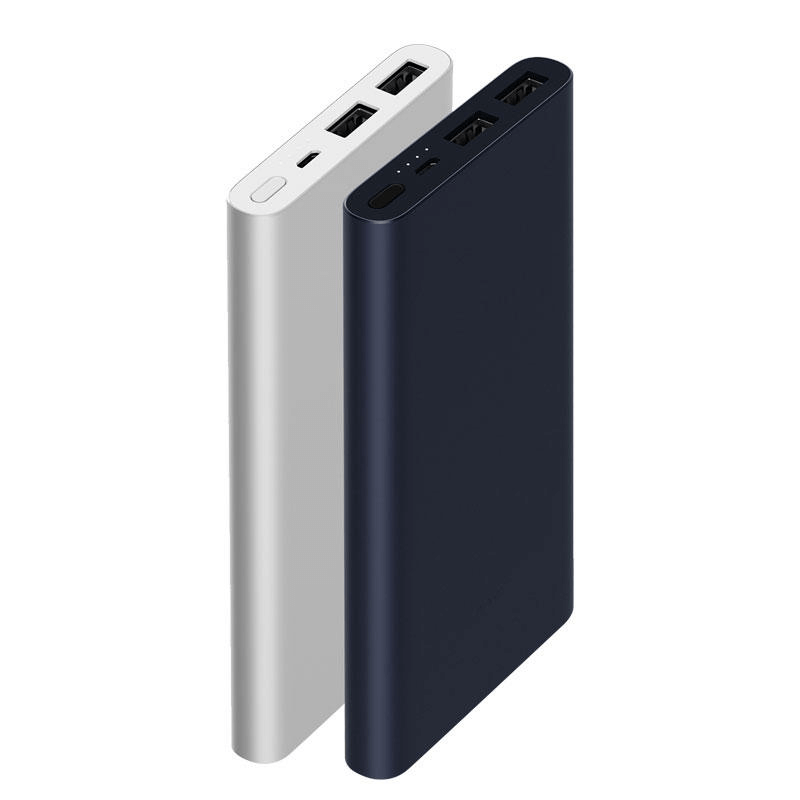 Price: $39.90
Buy On Shopee Before Stocks Run Out
Xiaomi's Gen 2 Power Bank has always been the go-to device when it comes to options that are low-cost and reliable. The top pick of several smartphone users, it's compatible with 5V/2A, 9V/2A, and 12V/1.5A.
It has a button that activates a low-power charging feature for devices that require low wattage. It's also not bad-looking… at first, anyway.
The only downside to the matte finish on the top and bottom sides of the power bank is that it scratches easily. But if you're more concerned with quick charging than aesthetics in your search for the best power bank in Singapore, then this is for you.
Highlights
Compatible with most devices
Low-power charging feature for bluetooth headsets and fitness bracelets
Temperature-resistant, has a mechanism that prevents overheating
Customer Reviews
The Xiaomi Power Bank 2 satisfied several of its consumers due to its lightweight and slim design and it outperforms some of the more expensive power banks out there.
In fact, customers still prefer the Xiaomi 2 over the new release Xiaomi 3 because of how reliable and cheap it is.
5.   RAVPower Solar Waterproof Power Bank 15000 mAh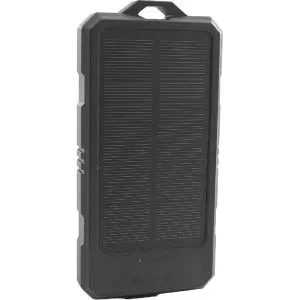 Price: $89.90
Buy On Shopee Before Stocks Run Out
If you're looking for the best power bank in Singapore to keep up with your active and on-the-go lifestyle, this is a great option. Whether you're a great outdoorsman or the wanderlusting beachbody, you'll still need your phone to connect with the world in case of sudden emergencies. And RAVPower presents a sturdy power bank that's perfect for you.
Since it's dustproof, waterproof, and shockproof, you wouldn't need to worry if it gets banged around while hiking or gets wet after a slight sunshower.
An LED Flashlight is also provided (much like the Pineng PN-920) for when you need to shine a little light on the way. Absolutely the best power bank in Singapore to have for an active lifestyle.
Highlights
Waterproof, shockproof, and dustproof
LED flashlight for emergencies
Micro-USB input for faster charging.
Customer Reviews
Several customers tested how long the power bank will charge a phone using the solar panel itself. They all claimed it takes a week to charge it using the solar panel.
This is normal with solar panel power banks due to the solar panel being small. However, its micro USB charging is guaranteed to charge devices quickly.
So all in all, it's still a very reliable gadget for the outdoors. Most users also praised its robust, waterproof design.
6. Trim 10000mAh USB-C Power Bank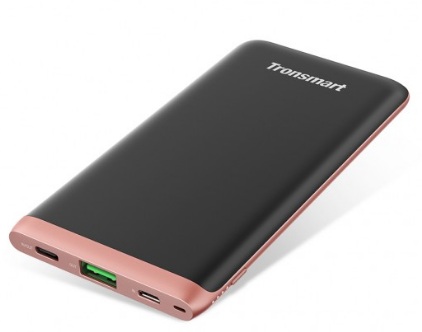 Price: $39.90
If size and weight are important factors for you when looking for the best power bank in Singapore, you cannot miss this one.
Trim is the world's thinnest 10000mAh Power Bank perfect for when you are travelling or when you are always on the go because unlike other power banks, this is one is the opposite of bulky. You can conveniently carry it everywhere because of its lightweight feature.
It is perfectly suited for smartphones including iPhone 11/11 Pro/11 Pro Max, iPhone Xs/Xs Max/XR, Google Pixel 3/Pixel 3 XL and other mobile devices, i.e. Tablets, Cameras, GoPros, Portable Fans, Portable Speakers, etc.
It's fast charging feature also allows your device to go from 0% to 50% in just 30 minutes.
Highlights
3 Ports: USB Type-C, USB-A, MicroUSB

Lightweight and slim

Fast charging
Customer Reviews
Tronsmart's Trim 10000mAh USB-C Power bank gets 5-star reviews from its users due to its portability and strong capacity to fully charge a device in two cycles.
"This real phone-shaped power bank has a small thickness, which could be easily put into my pocket and bag. The volume of 10000mAh is also big enough for me to charge my phone 1-2 times when I am outside with a low-power phone. Anyway, this power bank is quite nice."
We hope you've picked out one of our suggestions for the best power bank in Singapore for you. All of the ones we've listed offer great bang for your buck!
Did we miss your favourite in this list? Drop us a comment and we may add it to the article!
And in case you're also thinking of updating your smartphone model, give our list of the best Android phones in Singapore a try.
Or, if the reason you're constantly finding yourself running low on phone power is that you're always using yours to play tunes on the go, try our list of the best noise-cancelling headphones in Singapore. These should help you make the most of your favourite tracks!