8 Best Noise Cancelling Headphones in Singapore
If you are on the lookout for the best noise cancelling headphones in Singapore, you're in luck — we've just compiled the ones we think most worthy of your attention.
To be exact, we went looking for the best ones for music streaming sessions while also giving you seamless phone calls. And of course, we chose only those that don't feel like a vise around your head! These noise cancelling headphones in Singapore are great if you need absolute concentration with your work when working from home or your office.
But before that, we'll give you tips on how to choose the best noise cancelling headphones for your needs. That way, you'll know how to evaluate the products we're recommending here as well as any you might be eyeing yourself.
What to Consider When Shopping for Noise Cancelling Headphones
If you want durable noise cancelling headphones, you better be ready to shell out a lot of cash. However, this doesn't mean that there aren't affordable quality headphones or noise cancelling earbuds out there.
You just have to be patient in looking for the best noise cancelling headphones in Singapore and know the things to look for when picking out a pair.
You also have to know the limitations. Even if good-quality affordable noise cancelling headphones exist, you generally have to pay more if you want truly spectacular sound.
Anyway, let's take a look at some of the considerations that should go into your decision.
1. Wired or Wireless?
If you're a person who hates having to untangle wires, then you should definitely go for wireless noise-cancelling headphones. You are good to go as long as your mobile device has stable and working bluetooth!
On the other hand, wired headphones can also be great if you like fidgeting with something while listening to music. Or if you just prefer the traditional type of headphones that come with wires.
It's also worth noting that wired cans have an advantage over wireless ones in terms of sound quality. This is usually only audible if your sound files are lossless or high-quality too, though.
2. Audio Quality
We strongly believe that the quality of noise cancelling headphones in Singapore boils down to audio quality. If a pair of headphones provides low-quality audio, why buy it in the first place?
As noted above, wired headphones tend to have the advantage. Better (and pricier) builds also lead to better reproduction of sound.
The best way to check audio quality is still to test headphones, of course. Otherwise, you can check reviews done on the pair you're eyeing in particular.
3. Battery Life
Battery life only applies to wireless headphones, first off. Wired headphone users don't need to think about it
If you do have wireless cans, though, you should prioritise the battery life of your noise-cancelling headphones. You don't want to find yourself with a drained battery after using your cans for less than an hour!
A typical pair of noise cancelling headphones in Singapore have a playback of time 10-15 hours, depending on the volume, and if they're fully-charged. This varies by model, naturally.
4. Comfort
Having those noise cancelling headphones in Singapore sitting on your ears for an extended period of time can cause some discomfort… but when there are fluffy, soft pads present, it doesn't have to hurt. There are great over-ear and in-ear headphones out there that can provide maximum comfort while shutting out unnecessary noise.
Another thing that makes a pair of noise cancelling headphones in Singapore comfortable is the headband tension. You want the headphones to go over your head perfectly, not too loose and not too tight.
Overall, our recommendation is that you should personally try out the noise cancelling headphones you want to buy to see if they are ideal for long hours of use. You can get an idea of their quality from lists like ours, yes, but it's still best to test them on your own head IRL!
The Best Noise-Cancelling Headphones in Singapore
Equipped with the proper information on how to pick out the best noise cancelling headphones Singapore, you are now ready to read about the options we think are the best.
Here are the best noise cancelling headphones in Singapore!
1. Taotronics Noise Cancelling Headphones
Best for Long Battery Life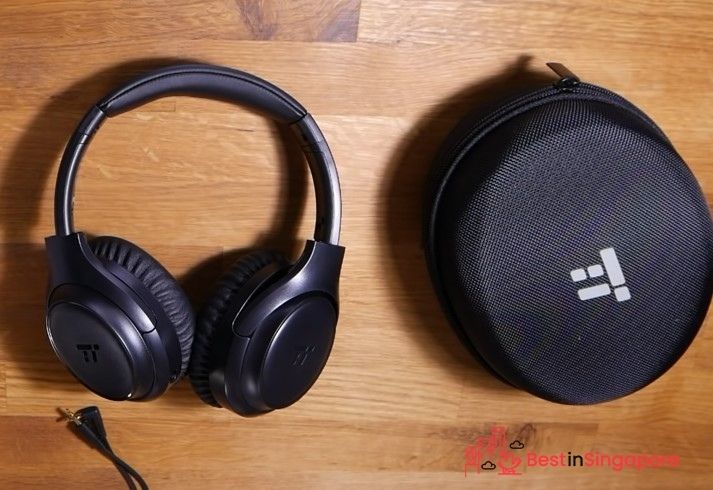 Price: $42.00
If you're looking for noise cancelling headphones in Singapore that can provide you with hours of uninterrupted use, you need to take a look at this one. Although Taotronics is one of the lesser-known brands in earphones, their noise-cancelling headphones are still worth checking out for their great audio quality and long battery life. If you want noise-cancelling headphones that give stable music streaming without draining your wallet, then this one is a great match for you.
This headphones are known for their long battery life, which can go up to 30 hours of playtime. What's even more fascinating is its fast charging system, which provides 2 hours of playtime even from a 5-minute charge.
You will not have a hard time storing this one either because it boasts an extra portable design. Convenience and great sound in one tiny package!
Highlights
Easy storage
30 hours of playtime
Soft earpads for the ears
Quick charging
Customer Reviews
One customer mentioned that he could not hear kids screaming at the mall when he tried out these noise cancelling headphones for the first time. If that doesn't prove their ability to shut out noise, we don't know what will!
Another thing that customers seemed to love is the fact that they can get high-quality headphones for an affordable price with this model. Many praised its price point and were of the opinion that it was better than would expect based on the price alone.
2. Bose QuietComfort35
Best for Stylish Design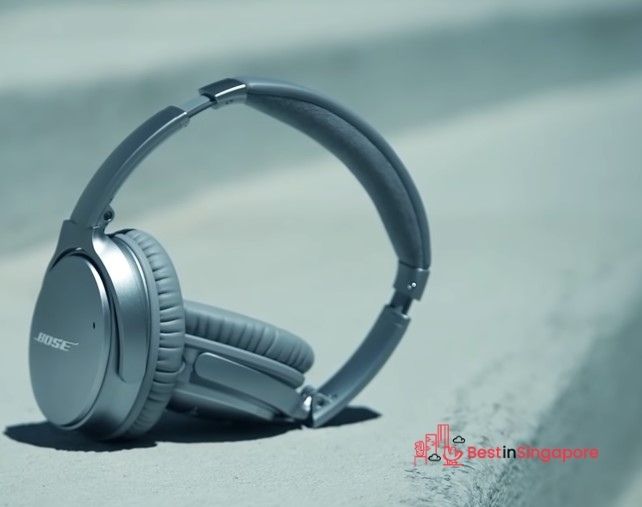 Price: $424.00
It is no secret that Bose is one of the leading brands for quality headphones in Singapore, so it's little surprise one of its products ended up on our list. This is the Bose QuietComfort 35, and we think it's amazing.
If you're on a long haul flight, these noise cancelling headphones would be ideal to protect yourself from the baby crying endlessly from across the aisle. The noise cancelling is fantastic, and works well even during calls (the mic cancels noise too).
To add to that, the Bose QuietComfort 35 deserves its name, being comfy and easy to wear. We're not very surprised that it's considered the best noise cancelling headphones in Singapore by many. A bonus: It's pretty great-looking too!
Highlights
20 hours of playtime
Impact-resistant
Noise-rejecting dual microphone system
With Google Assistant
Customer Reviews
Customers are really impressed with its extended battery life. With breaks in between, they say these headphones can last until the end of the day, which means there's no need for multiple charges a day.
Some of the reviews on Amazon read as follows:
Excellent sound quality and you get to download the Bose Connect and google Assistant apps to set up the headphone[s]. Pairing is easy. . Worth the buy. The Bose on the other hand just stops the noise. There is no delay, no white noise, just quiet and your music.
The Bose QuietComfort truly is comfortable. The earcups are soft, there is not a lot of clamping, and the top band is padded so it's less annoying on the top of the head. I am a pilot and wear a similar headset, so I'm familiar with how headphones feel after a few hours.
3. Plantronics BackBeat Pro 2
Best for Travelling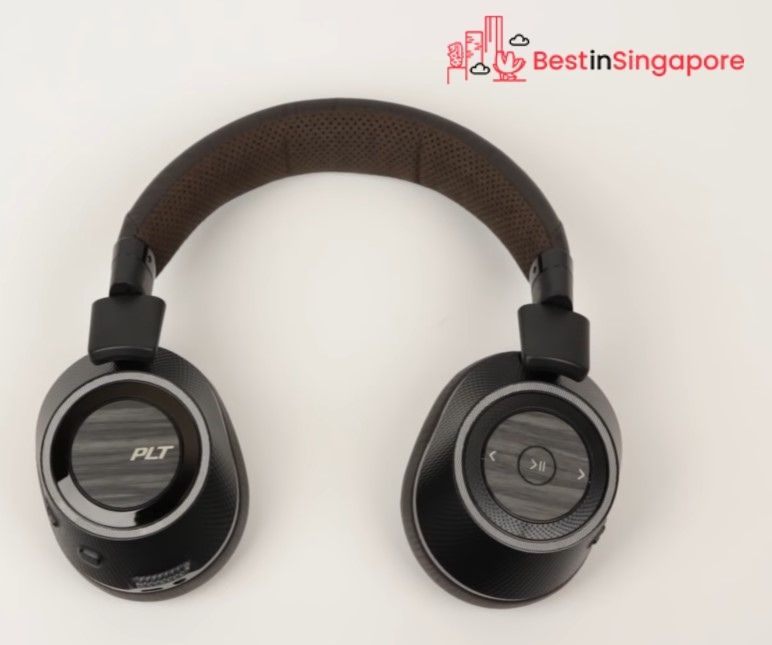 Price: $191.99
With the Plantronics BackBeat Pro 2, you will never have to be stressed out by the deafening noise of the city. Just whip it out of your bag and listen to your favorite tunes to temporarily remove yourself from what's happening!
In addition, these headphones automatically play and stop music when put on or removed, respectively. It removes the need to press buttons, giving you hassle-free music streaming.
This is the perfect choice for people who are always travelling too because it comes with a protective travel case. You can be sure that your headphones will not be damaged when stored inside your bag.
It also has an extremely comfortable cushioned, over-ear design ideal for long hours of usage. Overall, we think that the Plantronics BackBeat Pro 2 is the best noise cancelling headphones for those always on the go.
Highlights
Smart sensors
Active noise cancelling
With a protective travel case
Customer Reviews
Most customers seem to love that the manufacturer of this model is not a well-known brand but can deliver products that are at par with those from the famous brands. Some also think that they deserve more attention, because their products are really durable and affordable.
A customer from Lazada commented:
"Attractive headphone at this price level. It can easily hold its own in terms of comfort and noise insulation. Build quality is top notch and it comes with good functionality buttons. The faux-wood style pattern on the ear cups may not be to everyone's taste but I think it has a nice retro-60s thing going on that grows on you. Bluetooth connectivity is quick and I like the flat folding ear cup feature and the big bold L and R markings inside the earcups."
4. Sennheiser 4.50 BTNC
Best for Durability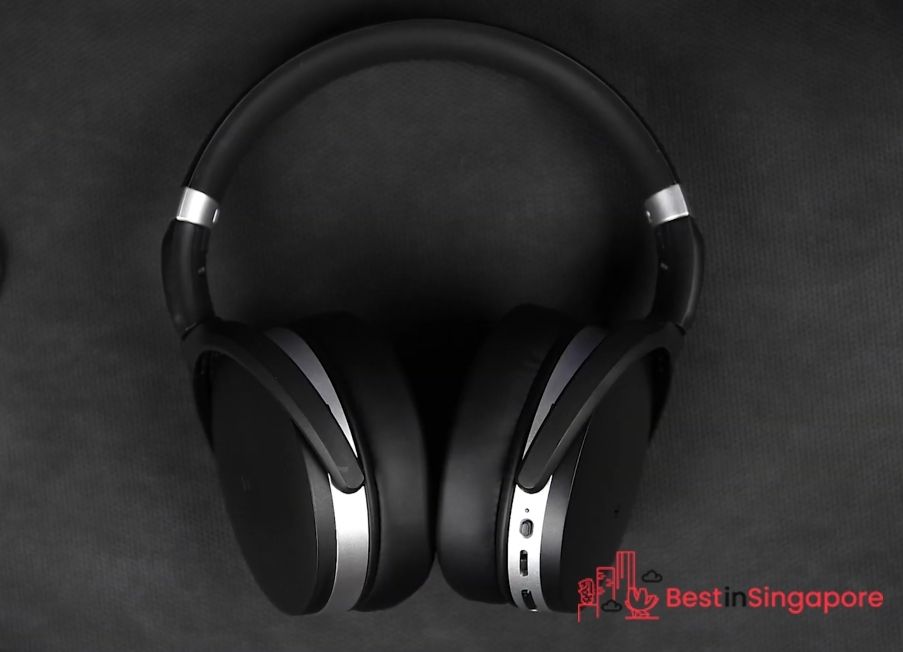 Price: $179.00
If you're looking for noise-cancelling headphones with a minimalist yet sleek design, then look no further than the Sennheiser 4.50 BTNC. In terms of durability, it has a stylish frame made with quality materials that can withstand long hours and regular usage.
It can also elevate your music streaming sessions to the next level through its effective noise and ambient-cancelling technology called NoiseGard, allowing you to fully immerse yourself in the music.
What's more, these can be the solution if you constantly worry about the battery life of your headphones. With these, you can get as much as 25 hours of battery life.
A 2-year warranty is also included if you purchase from authorised resellers, making it worth your money! The minimalist and sleek design combined with its durable quality makes the Senheiser 4.50 BTNC one of the best noise cancelling headphones in Singapore for us.
Highlights
NoiseGard noise-cancellation technology
Long-lasting battery life
Maximum comfort
Easy pairing
Customer Reviews
Generally, buyers love its patented noise-cancelling technology that is unlike what other headphones are offering. It is extremely effective in drowning out ambient and background noise. On top of this, its breathable ear pads make it perfect for everyday use.
A customer who received this headphones through the mystery box sale on Lazada commented:
"I had no trouble pairing them to my phone via Bluetooth. Sound quality is good and noise-cancelling is quite effective. The cord is included in the box too, so you can go wired and save battery life (or can still use them when you're flying). They can be folded to fit into the small case provided. Overall, very satisfied with the purchase! Definitely worth the price, might buy another one for a gift next time."
5. Sony WH-1000XM3
Best for Comfortability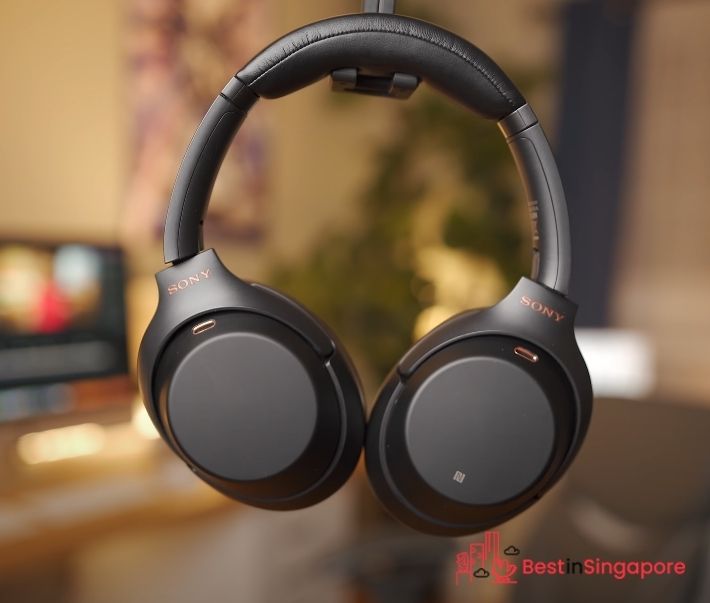 Price: $342.00
Instead of settling for cheap noise-cancelling headphones that tend to break easily, why not just save up for the best headphones proven to last for a long time? If you've got some extra cash, you may want to check out the Sony WH-1000XM3.
It's the perfect choice for those who spend long hours on their headphones because it has a long battery life. A single charge can last for up to 30 hours of playtime.
What makes this stand out is its smart listening technology. It automatically adjusts the ambient sounds to your listening activity to provide you with the best distraction-free music streaming.
It also comes with a comfortable frame and ear pads that are perfect for extended hours of usage. No need to worry about experiencing discomfort while using it!
Highlights
Ergonomic design
With voice assistant
6.  Bose Headphones 700
Best for Durability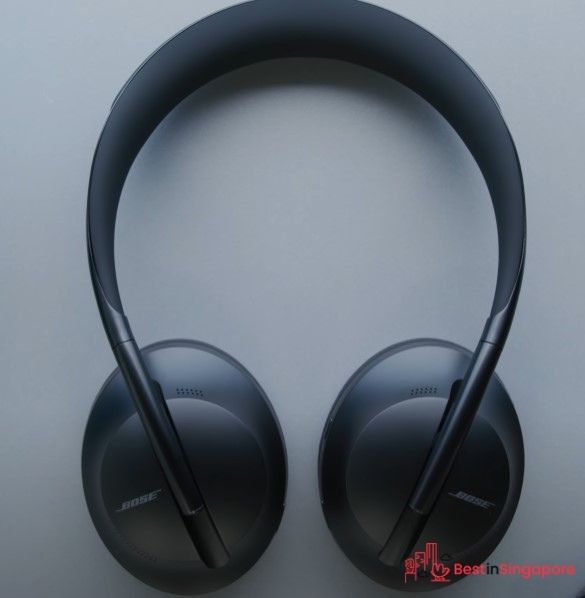 Price: $549.00
Since we just can't get enough of Bose, we've decided to include another one of their headphones on our list!
While the Bose Headphones 700 is not exactly cheap, it remains one of the most in-demand headphones today. This is due to its sleek and high-end design partnered with superior noise-cancelling technology.
It also allows you to personalise your listening experience through its 11 levels of noise cancellation. Whether you want to completely block the noise or hear minimal ambient noise, there's a level to cater to your mood.
On top of one-of-a-kind noise-cancelling technology, it also features a four-microphone system that makes phone calls even more better. It picks up your voice and drowns out the noise to provide you with a seamless conversations.
Users also get access to voice assistants like Alexa and Google Assistant, which are both extremely helpful on different occasions. It's therefore not too surprising to know that many consider these to be the best headphones in Singapore for those with a budget.
Highlights
Customer Reviews
The Bose Headphones 700 has garnered nothing but praise from its buyers, who say it has redefined what noise cancelling headphones can do.
A lot of buyers also mentioned how the Bose Headphones 700 is almost perfect for any occasion, such as studying, gym sessions, commuting, and a whole lot more.
7. JBL Everest V750NXT
Best for Studying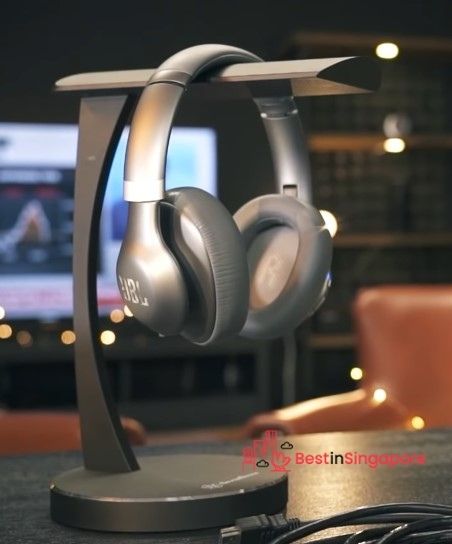 Price: $339.00
If you are a student who becomes more productive while listening to music, then you should definitely get a hold of the JBL Everest V750NXT. It will definitely make your study sessions more fruitful and is likely to be received well by the younger crowd, design-wise.
And if you're also looking for good noise cancelling headphones to concentrate on your task at hand, this could be the one for you.
With only 3 hours for a full recharge, you get to use it for almost 20 hours of listening to music, watching videos online, or extended phone calls. No need to worry about having a dead battery in the middle of the day.
It's also perfect for people who prefer minimal background noise while listening to music because it has an adaptive noise-cancelling mechanism. But if you want to completely shut out the noise, you may do so. Hands-down, one of the best noise cancelling headphones in Singapore for students.
Highlights
Affordable price
Easy storage
Comfortable fit
8. Jabra Elite 65t
Best for Superior Call Quality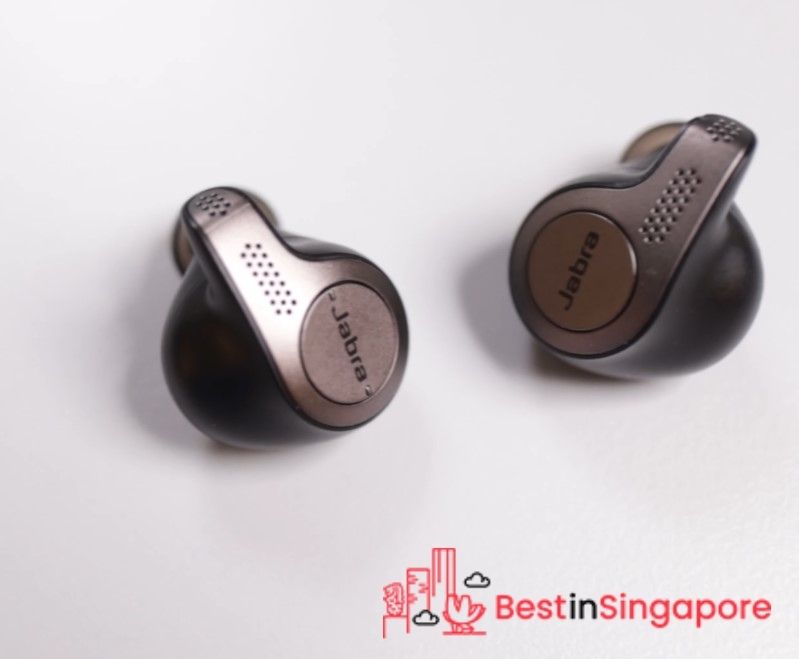 Price: $99.00
No need for you to hide at the farthest corner of a public library just to get yourself some peaceful environment because with Jabra Elite 65, you will be able to easily make busy cafés sound as quiet as a library with its high quality noise cancelling feature.
It is also best for people whose work requires taking calls all throughout the day because its 3-microphone call technology creates a noise-blocking zone – making sure your voice is made crystal-clear.
Jabra Elite 65 is also designed for its power to last the day. In just 2 hours of charging, you can be able to you use it for 8 hours with ANC on and 12 hours with ANC off. These are the closest to affordable noise cancelling headphones in Singapore as you can get.
Highlights
Voice Command

Comfortable and secured earbuds

Long-lasting battery
Anyway, no matter which of these noise-cancelling headphones you end up taking home, we promise that you'll never be disappointed. We also hope that we were able to give you information on how to pick out which noise-cancelling headphones best suit you!
If you've tried out any of these noise-cancelling headphones, don't hesitate to leave a comment below! We always want to hear about your experiences with our featured products.
On the other hand, if you're looking for more Bluetooth headphones in particular, see our list of the best Bluetooth headphones in Singapore.