9 Services for the Best Waste Management in Singapore
Signing up for the best waste management in Singapore can be everyone's contribution towards keeping the entire island clean and safe for all. Luckily, there are more than a few companies that are willing to help residents and business owners deal with their waste the right way.
Today, we're looking at the companies that offer the best waste management in Singapore, open to both individuals and corporations. These companies will collect, transport, and recycle waste in line with the proper waste management process.
Anyway, we're here to present our list of the options for the best waste disposal in Singapore to make it easier for everyone. Check out their services below to see which one offers your ideal waste disposal service.
1. Greenway Environmental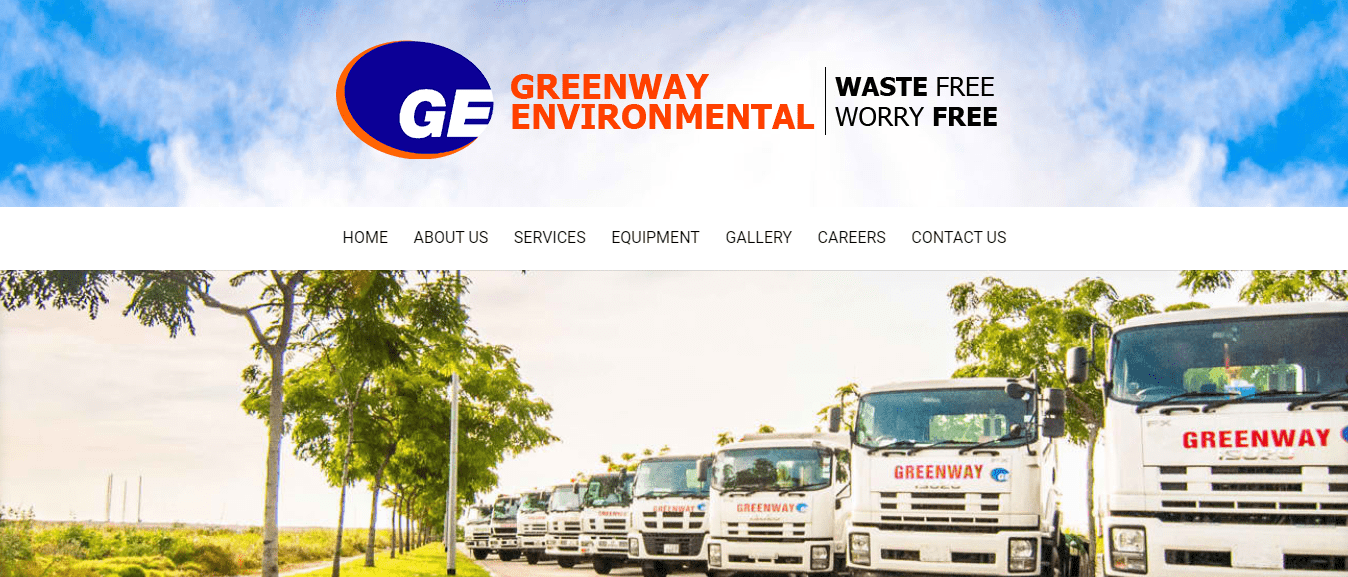 BEST FOR
Efficient Waste Management Services
SERVICES
Waste Collection and Disposal, Proper Destruction, Recycling Programs, Waste Handling, and Cutting Bulky Waste
WEBSITE
greenwayenv.com.sg/
ADDRESS
6 Tuas South Street 8, Singapore 637003
CONTACT DETAILS
66907212 |

[email protected]

OPERATING HOURS
Monday – Friday, 8:00 AM to 5:00 PM
If you're looking for a waste management company in Singapore that can help deal with all sorts of waste, then you might want to check out Greenway Environmental.
It offers a wide range of services that include waste collection and disposal, proper destruction, waste handling, recycling programs, and a whole lot more.
One reason it made the cut of our list of companies offering the best waste management in Singapore is the fact that it has an excellent customer service team. All of them are willing to guide and educate clients towards the right way of dealing waste.
What's more, Greenway Environmental is armed with heavy-duty, eco-friendly machinery such as open-top containers, compactors, scrap grapples, hook lifts, and even excavators.
Highlights
Experienced waste management team
Heavy-duty equipment
Wide range of services
2. Junk to Clear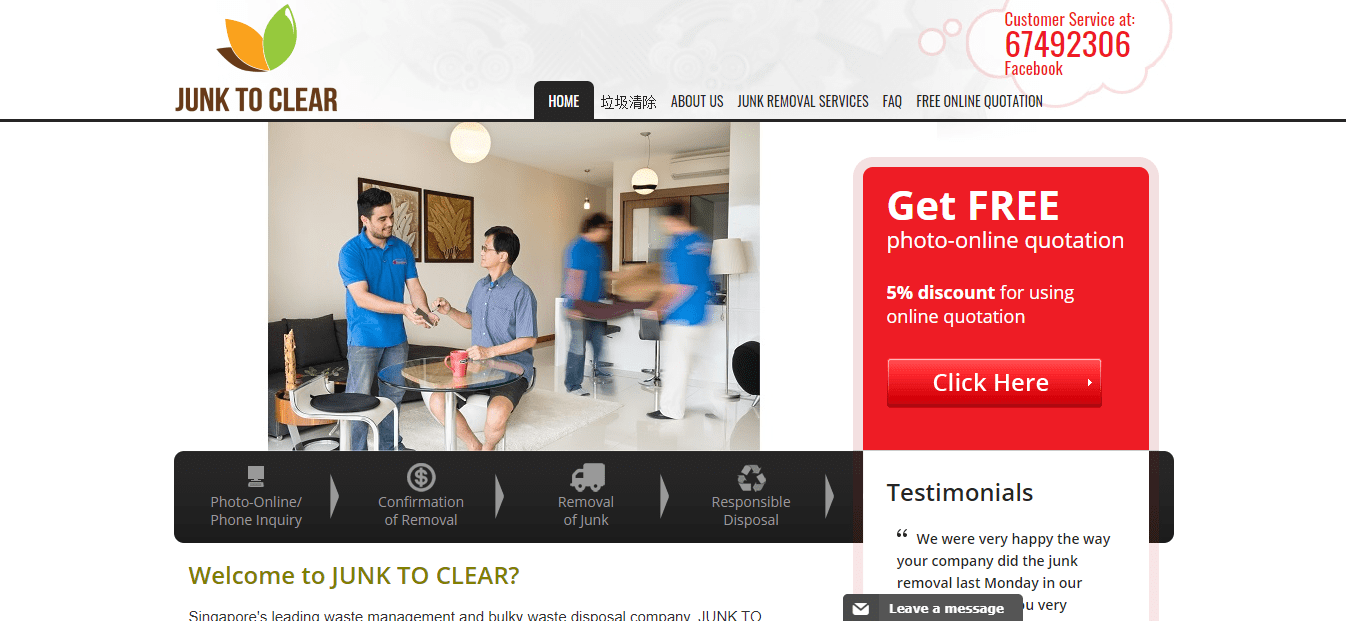 | | |
| --- | --- |
| BEST FOR | Residential Services |
| SERVICES | Junk Removal, Residential Waste, Business Waste, and Secure Destruction Services |
| WEBSITE | http://www.junktoclear.com.sg/ |
| ADDRESS | 8 Kaki Bukit Rd 2, Singapore 417841 |
| CONTACT DETAILS | +65 6749 2306 |
| OPERATING HOURS | Monday – Friday, 9:00 AM to 6:00 PM |
Junk to Clear is a waste management company that services residential and commercial clients all over Singapore. However, it's become more famous for its home waste management services because of its fast services.
If you avail of its home waste management services, you can expect that your home will be clean on the day. Broken furniture, faulty appliances, and other residential waste will be taken care of by its team of experienced cleaners.
Junk to Clear is a highly-regarded waste management company too, with accreditation from WMRAS and BizSafe. This is why we call it one of the top options for the best waste disposal in Singapore.
Highlights
Same-day services
Secure disposal
Easy booking of services
Customer Reviews
Here are some of the comments proving that Junk to Clear offers the best waste management in Singapore:
"I used furniture disposal service and also asked if they could deliver furniture from another location to my house. My queries were promptly answered and service was professional and fast! It was fuss free and quick! The teams on two separate days were very cheerful and friendly and brightened my day. Prices are reasonable after I compared several other companies. Had already recommended it to family and friends!"
"Very friendly and helpful staff. From the customer service to the crew. Three guys came to help me to remove the fridge. They were on time and efficient. Very happy with their service. One of them even took time to guide me how to make payment by pay now."
3. Tidy Disposal Service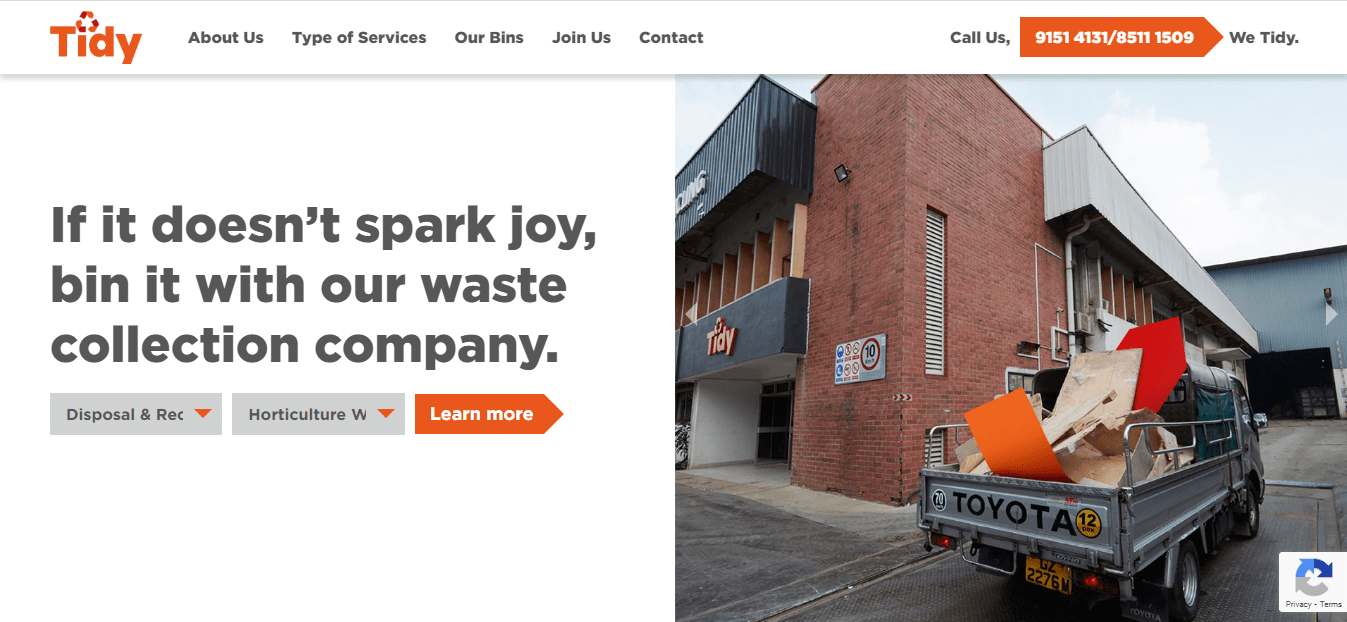 | | |
| --- | --- |
| BEST FOR | Large Fleet of Container Bins |
| SERVICES | Disposal and Recycling, Transportation Services, Furniture Disposal, and Bulk Disposal |
| WEBSITE | https://tidy.com.sg/ |
| ADDRESS | 29 Tuas Ave 8, Singapore 639244 |
| CONTACT DETAILS | +65 9151 4131 |
| OPERATING HOURS | Monday – Friday, 8:00 AM to 5:00 PM |
With more than 30 years of experience, Tidy Disposal Service has mastered the art of disposing of and recycling all sorts of waste. If you find it hard to dispose of your bulky waste, then all you need to do is call their services.
Some of the services offered by Tidy Disposal Service are waste recycling, disposal, transportation services, furniture disposal, bulk disposal, and more. All of these are offered at a reasonable and affordable price.
Tidy Disposal Service caters to both residential and commercial sectors as well, helping get rid of bulky furniture, post-construction messes, and even renovation waste.
All these are the reasons we think it deserves to be included in our list of the best waste management in Singapore.
Highlights
30 years of experience
Affordable services
Large team of waste management experts
4. Teo Bak Soah Trading Co.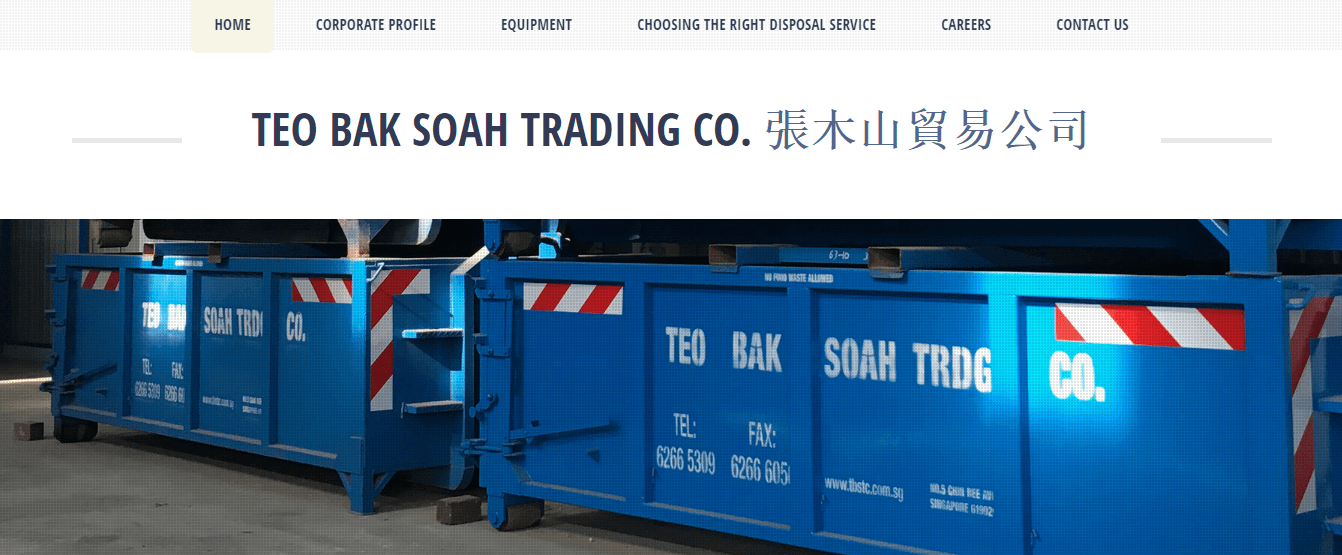 | | |
| --- | --- |
| BEST FOR | ISO Certified |
| SERVICES | Waste Disposal and Recycling |
| WEBSITE | https://www.tbstc.com.sg/ |
| ADDRESS | Bukit Batok Street 23, 01-288, 2028 Bukit Batok Industrial Park A, Singapore 659533 |
| CONTACT DETAILS | +65 6266 5309 |
| OPERATING HOURS | Monday – Sunday, 8:00 AM to 6:00 PM |
Teo Bak Soah Trading Co. has been helping both homeowners and business owners deal with everyday waste since 1977, making it one of the oldest waste management companies in Singapore.
Over its years of operation, it's been awarded Class A and B General Waste Collector Licences by the National Environment Agency, proving that it offers the best waste disposal in Singapore.
In terms of tools and equipment, Teo Bak Soah Trading Co. surely won't disappoint. It provides the most eco-friendly and best waste management in Singapore with the help of heavy-duty equipment and large waste storage bins.
Highlights
Eco-friendly services
43 years of experience
Accredited by the National Environment Agency
5. DA Engineering
| | |
| --- | --- |
| BEST FOR | Industrial Waste |
| SERVICES | Waste Collection and Disposal |
| WEBSITE | https://www.dae.sg/ |
| ADDRESS | 1 Kranji Cres, Singapore 728663 |
| CONTACT DETAILS | +65 6368 9118 |
| OPERATING HOURS | Monday – Sunday, 8:00 AM to 8:00 PM |
DA Engineering is a waste disposal company that mainly services the commercial sectors for their waste management needs. Its specialisations include waste disposal, waste collection, rubbish removal, and a whole lot more.
If you're in a rush to have your waste taken care of, then you'd definitely like the services of DA Engineering. It promises clients that all their waste will be picked up no more than 4 hours after booking their services.
Another thing we love about DA Engineering is that it employs a highly experienced team of waste managers who have been in the business for several years, so rest assured that they know how to dispose of all types of waste the proper way.
Highlights
Fast response
Hassle-free process
Experienced team
6. Environmental Solutions Asia
| | |
| --- | --- |
| BEST FOR | Environmental Coaching |
| SERVICES | Base and Precious Metals, Catalytic Converter, Wood Waste, Packaging Waste |
| WEBSITE | https://www.env-solutions.com/ |
| ADDRESS | 101, Tuas South Avenue 2, Singapore 637226 |
| CONTACT DETAILS | +65 6653 2299 |
| OPERATING HOURS | |
Environmental Solutions Asia was founded in 1999 and has since been providing top quality waste management services in Singapore.

With over 20 years of experience, they proudly tout their efficient processes in terms of environmental sustainability and recycling. Currently, they divert over 20,000 tons of waste per year away from landfills.
Highlights
20 years of experience

Recycling

Waste Management Leader
Customer Reviews
Environmental Solutions (Asia) has a perfect 5.0 rating on Google from 5 reviews. They also have an excellent 5.0 rating on their Facebook page, showing the positive response customers have towards their environmental services.
7. Eco Exchange

BEST FOR
Recycles wide range of wastes
SERVICES

Recycling, Disposal, Data Destruction, CRS Programs

WEBSITE
https://ecoexchange.com.sg/
ADDRESS
9 Fan Yoong Rd, Singapore 629787
CONTACT DETAILS
+65 9488 3995
[email protected]
OPERATING HOURS
Monday – Friday: 8am–5pm
Eco Exchange can help you with literally any waste you can think of. May it be E-wastes like wires and batteries, metal wastes like motors and aluminum, paper wastes like newspapers and documents, plastic wastes like bottles and wrappings, and even catalytic waste from cars and other vehicles!
With the aim to help lessen unnecessary wastes in the environment, the company makes sure to help with recycling and proper waste disposal. They can also help with data destruction if need be.
For more details, head on to Eco Exchange's website. Acquire their services and help recycle for the future.
Highlights
Has license from the National Environmental Agency (NEA)
Environmentally-friendly recycling
Large fleet of vehicles for disposal
8. Vibrant Recycle
BEST FOR
Recyclable waste disposal
WEBSITE
http://vibrantrecycle.com/
ADDRESS
194 Pandan Loop, #02-19
Pantech Business Hub,
Singapore 128383
CONTACT DETAILS
[email protected]
OPERATING HOURS
Monday to Friday: 9:00am – 5:30pm
Founded in 2012, Vibrant Recycle aims to cater to all paper recycling needs all over Singapore. Currently, they operate round the clock using trucks with various sizes that are available upon request.
The company's core focus is a paper waste collection for secure disposal and recycling. To provide maximum support for all customers, they accept miscellaneous requests such as dispose of furniture, and electronic products.
Vibrant Recycle's vision is to always go the extra mile and become the best in the industry, providing quality service for all our customers to support waste recycling and solving all their recycling problems. They have participated actively in schools' recycling drives, as well.
Highlights
Fast and hassle-free transaction
Quick and professional service
Wide-range recycling methods
Customer Reviews
"We have used Vibrant Recycle's services for several years now and they have always been great in their service. Reports are sent in a timely matter and their collection team is always polite and helpful. Highly recommended!"
9. Atlantic Oil Manufacturing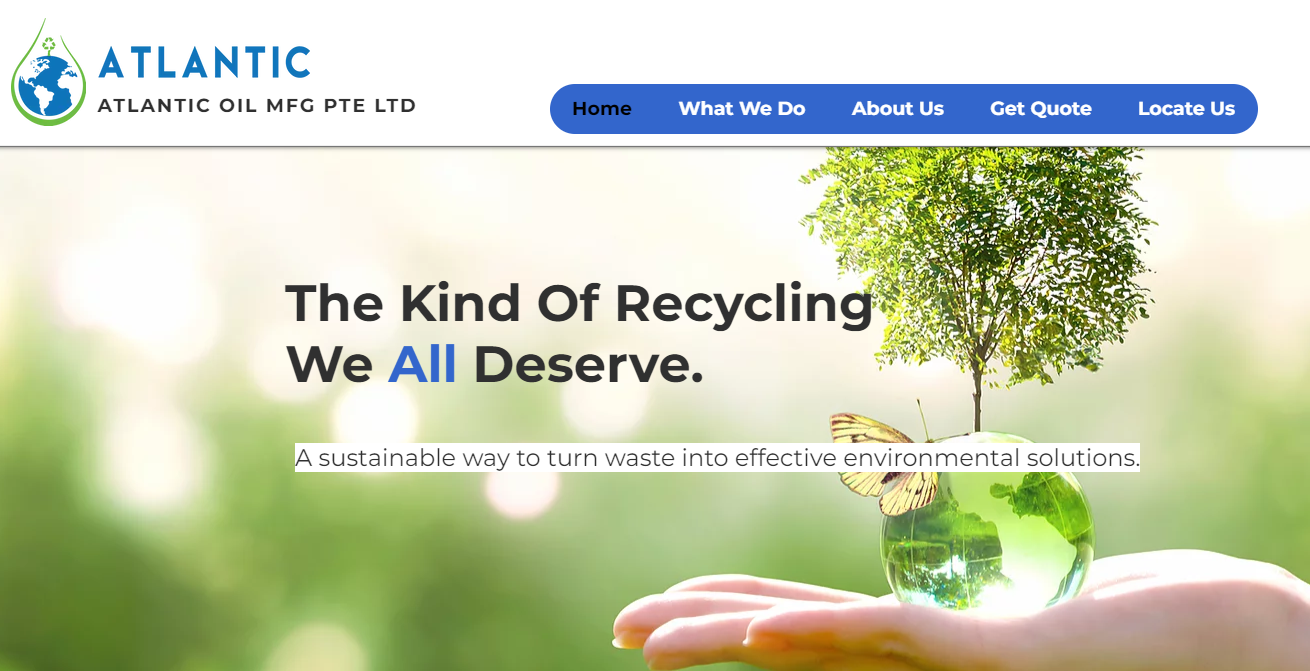 Don't know what to do with your used cooking oil? Then you must give Atlantic Oil Manufacturing a call! They specialize in turning used cooking oil into biodiesel and other products. Driven by their desire for environmental betterment, they ensure that their services are sustainable, efficient and can preserve the earth.
Their company houses the best professionals in Singapore who are equipped with great knowledge and skills. They are well-known to work with utmost professionalism and dedication. Their customer service is also available 24/7 so rest assured that you will be accommodated anytime at your own convenience.
With over years of service, they have been recognized by National Environment Agency and certified with ISCC and bizSAFE Level 3. You will never go wrong in entrusting them with your used cooking oil — they will see to it that it will be used for a good cause!
Highlights
19 years of experience
Competitive Rates
Fast and simple solutions
Reliable and flexible
24 hours of service
And that's it for our list of the companies where you can avail of the best waste management in Singapore. If you've tried hiring any of these companies in the past, share with us your experience with them!
By the way, be sure to check out our other lists of services for Singapore businesses. For example, in case you're thinking of moving your business to a different location, you're definitely going to need the help of best relocation companies in Singapore. Our list features companies that will help you clean up and move everything to your business's new location.