Our Top 10 International Movers in Singapore
Relocating to a new home or country takes a lot of careful planning and helping hands. Luckily, Singapore has a lot of reliable relocation companies that specialise in packing and moving your belongings from one place to another.
To make the moving process easier for you, we've narrowed down the top international movers in the country to give you a better idea of what's in store when you hire helping hands.
How much does it cost to hire international movers in Singapore?
You need to consider costs for transportation, customs clearance, and insurance when hiring international movers.
That said, we broke down the estimated costs of working with relocation companies across several factors below:
| Service Type | Estimated Cost |
| --- | --- |
| Domestic Relocation | $100 to $200 per hour |
| International Relocation | $500 to $1,5000 per booking |
| Temporary Storage | $50 to $400 per week |
| Deposit | $1 to $3 per loaned box used |
| Disposal | $80 to $300  |
Top-Rated Relocation Companies
We assessed the best relocation companies in Singapore based on the following criteria:
The Best Relocation Companies in Singapore
Ready to move into your new home? Check out our top relocation companies below and start packing.
1. Astro Worldwide Movers
Best for Relocation Services from Singapore to India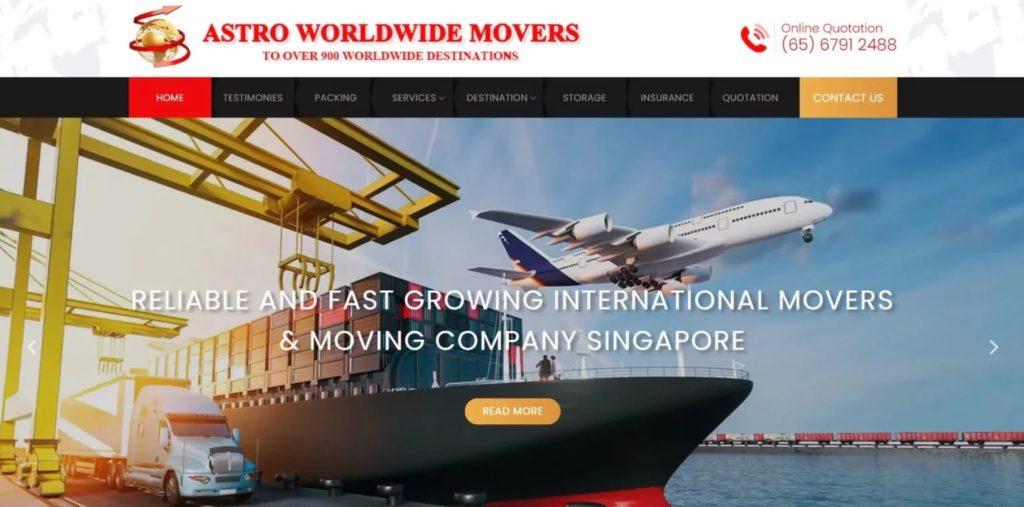 With more than 20 years of industry experience and 900 global destinations, Astro Worldwide Movers is definitely one of the best international movers in all of Singapore.
These movers in Singapore can deal with customs clearance, packing services, and international relocation consultations under a package.
They also offer airfreight services, house office moving, and car shipping. Their website even offers some useful volume calculation guidelines for your convenience!
For the quality of service, it's not surprising that Astro Worldwide Movers charge a premium for their services. Unfortunately, they may not be suitable for you if you're working with a limited budget.
We also think they could improve on strengthening their customs relations in other countries like India.
Offers packing services
Over 900 global destinations
Pricey rates
Customs relations in some countries need improvement
Customer Reviews
Professional and smooth process
"Great services. I called Astro movers to shift my belongings to my apartment last month. It was really a great experience as the staffs are very professional and handled my household goods smoothly and carefully. The shifting charges are budget-friendly. Thanks, Astro movers."—Bob R, MoveAide Reviews
Excellent communication
"I have used this company to ship my personal belongings to Australia, Communication was excellent and the rate was far more affordable than the other options I initially explored. Very happy with service and will be using again in future as well as recommending to friends. Thank you!"—Anonymous, MoveAide
2. Vimbox Movers
International Relocation Service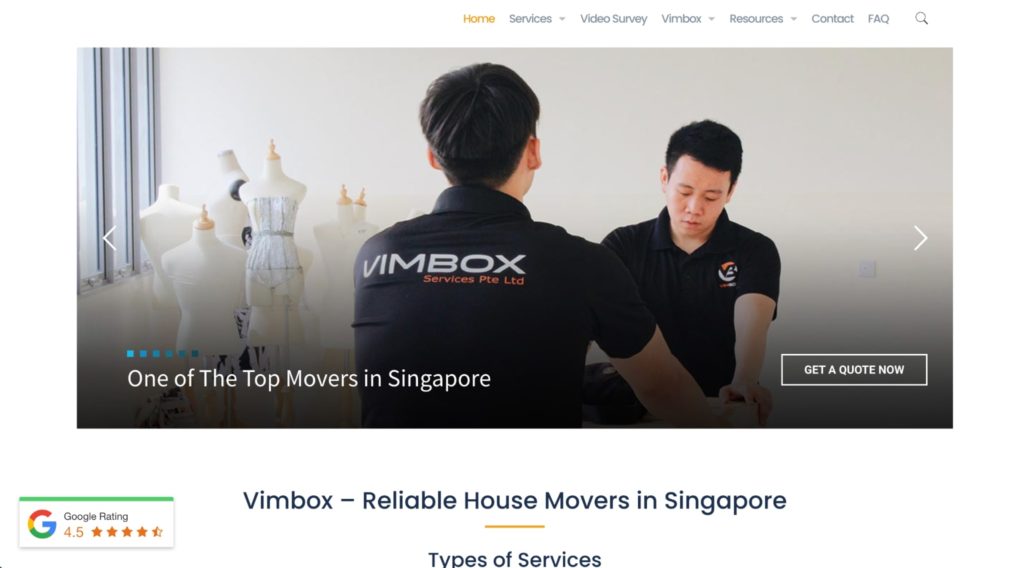 If you're looking for a one-stop relocation company, then Vimbox Movers may be a good option. This mover caters to residential, commercial, and even government clients.
This company even offers free moving boxes from small to large. The movers offer not only moving services but also storage and handyman services, so it's quite a steal to work with them.
This level of service has thus gained them numerous loyal customers and a high 80% referral rate. All of that even if their additional insurance is conducted through third parties that may incur extra fees.
That said, Vimbox still has some unsatisfied customers. One of the most glaring complaints was its relatively poor coordination.
80% referral rate
Best for moving heavy and delicate items
Third-party additional insurance coverage
Could improve on coordination and management
Customer Reviews
Clear and quick responses
"I recently engaged Vimbox Movers for moving house. All my queries regarding the move were responded clearly and quickly. Move was complete within an hour's time without any damage to our stuff. I would highly recommend their service."—Megha RM, Google Reviews
Professional and flexible
"Damian and his team of movers from Vimbox are very professional and flexible in meeting our needs. They are swift, careful and friendly. Highly recommended!"—Derek Pun, Google Reviews
3. 138 Professional Movers
International Movers and Packers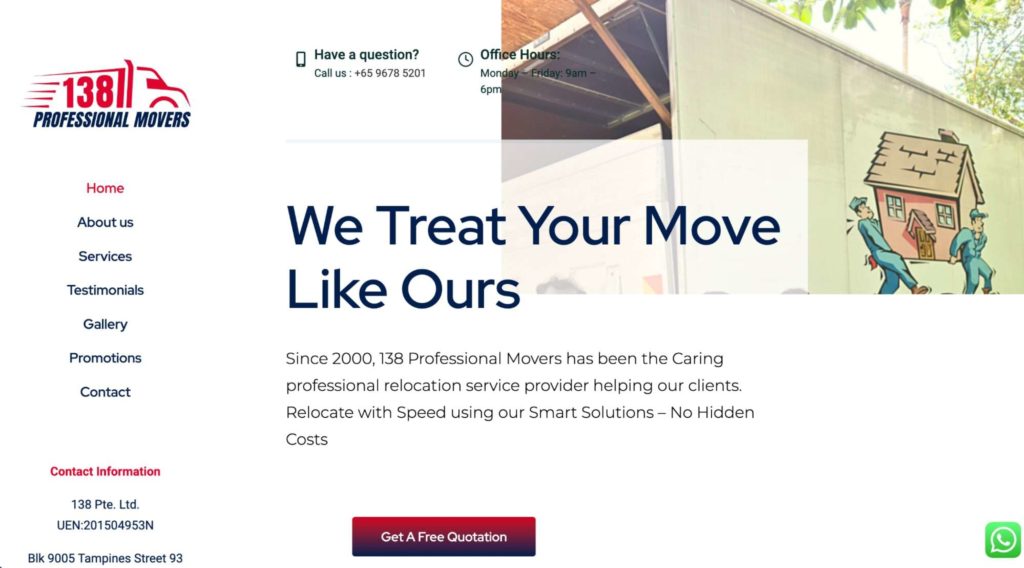 If you're moving out of your house and own lots of furniture, 138 Professional Movers is a solid relocation company to hire for help. The crew is well-versed in packing and reassembling furniture, which is a huge plus for us.
If you need to dispose of old furniture, the movers can deal with the disposables in an efficient and sustainable way. Each box loaned is deemed reusable for the next customer, and we appreciate the conscious effort to remain eco-friendly.
That said, each box requires a deposit, which means you'll pay more upfront. While their insurance policy is promising, some clients may be upset by the quote given prior to the ocular.
If you prefer relocation services that provide free quotations after an ocular, 138 Professional Movers may not be the best option for you.
Offers furniture assembly services
Best for furniture care and disposal
Deposit required for each box loaned
Inconsistencies with insurance policy
Customer Reviews
Eco-friendly service
"Very good service and productive. They provide 7-8 people to do wrapping and packing clothes, glasses, dishes and books…etc. from landed house by 4-5 hours one day before moving day. On the moving day, they come 7-8 people as well to love house- super king size bed, piano by professional moving, massage chair, long coach sofa, TV, …etc. by 7 hours in total from 7 am to 2 pm around.
Recycle all the carton box as well as all the packing materials.
Highly environment protection and social responsibility.
Highly recommend the company do the moving service."—Jackie Wu, Google Reviews
Good communication
"Had a last minute requirement due to a tenant moving out and I needed to clear up the house of a few bulky items to another location. Called 138 Movers and despite my job was a relatively small one, I was thoroughly impressed by their professionalism as well as efficiency. They managed to squeeze in a move slot on the very same day and arrived slightly earlier than the scheduled time. All these were communicated before hand and the admin gave proper updates and calls when required. Impressive service!"—Charles Chan, Google Reviews
4. CitiMap Movers
International Movers from Singapore to Malaysia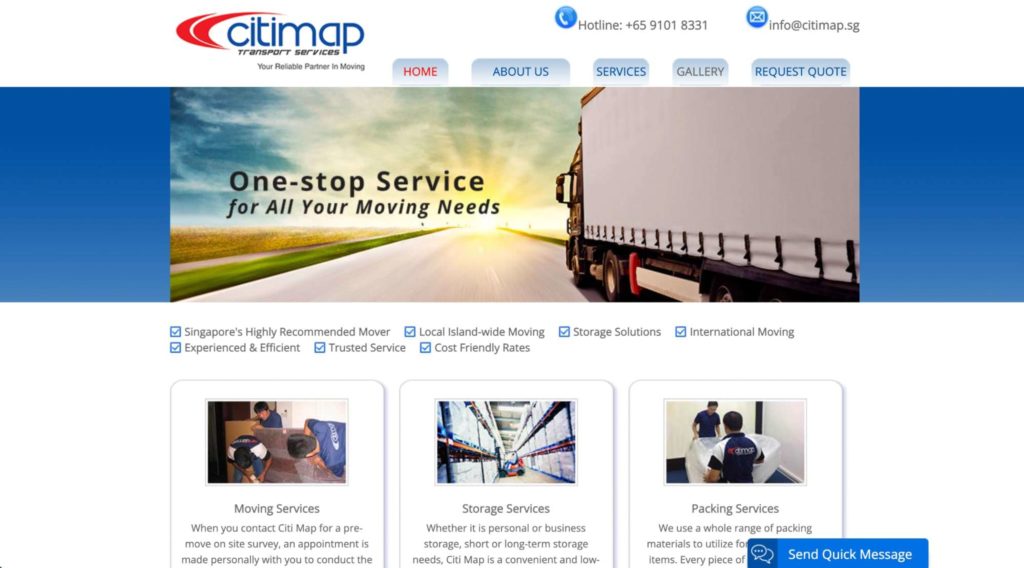 CitiMap Movers is a recommended international moving company for clients who wish to move to Malaysia from Singapore. They offer the full range of moving services, from packing to unpacking and everything in between.
While operating hours are from Monday to Saturday, once a move is scheduled, you can request the work to start on a 24/7 basis. No initial deposit is required too, so that's an advantage.
Since clients can schedule moves any time of the day, some time slots may not always be followed due to the number of bookings.
Communication-wise, CitiMap could improve, as after-sales services remain to be one of the top complaints among past clients.
24/7 pre-scheduled moving
No deposit required
Punctuality needs improvement
Communication needs improvement
Customer Reviews
Efficient team of movers
"Thanks to Andy and the team of movers, we have moved into our new house without any problems. They're very efficient and professional. Glad to have found this company."—Rosena Sim, Facebook Reviews
Good for heavy and delicate items
"The movers at Citimap were helpful and helped us pack our items into their boxes. Although there were many heavy items, they were very careful and fast in their moving. Most importantly, the items were delivered safely and without damage. The boss, Kenny, is friendly and responsible. Raja was the mover-in-charge that day and he was super helpful and efficient. Highly recommended!"—Tan Teck Chuan Darrin, Facebook Reviews
5. Red Sun Movers
International Movers from Singapore to Malaysia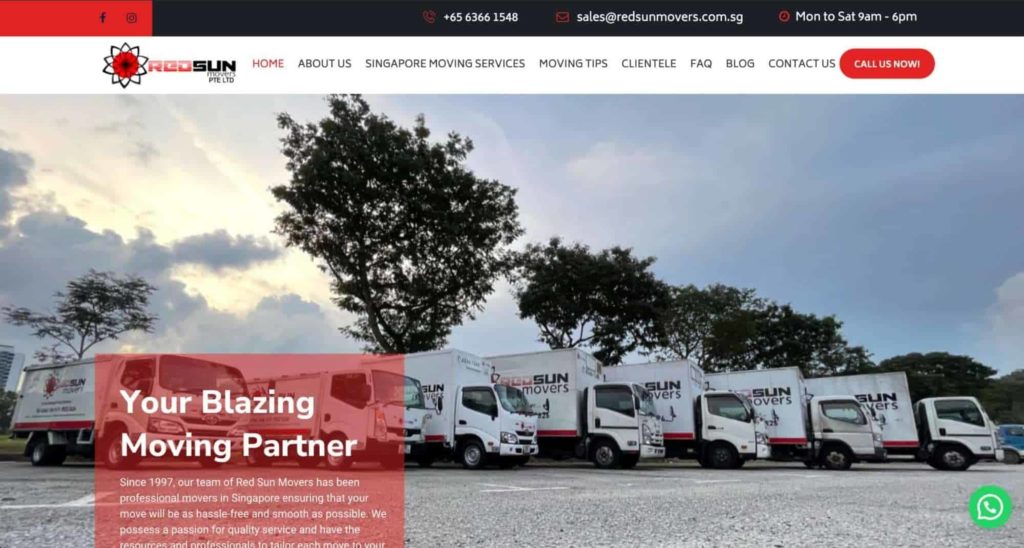 Red Sun Movers is another reliable company of movers in Singapore that are known for their services in packing and relocation to Malaysia.
Those who plan on moving after working hours may also benefit from this mover. That's because it offers moving services any time, even on public holidays, as long as it's booked early.
There's just a surcharge fee for scheduled moving on holidays. If you want to stick to a budget, consider booking a timeslot on a regular day instead.
But the best thing about Red Sun Movers is that it offers a free and non-obligatory site inspection. This inspection, however, is subject to availability, and Red sun Movers tends to get fully booked easily.
Given that, we appreciate that the company sticks to a high level of customer service by only accepting payments after the job is done.
Available on public holidays
Non-obligatory onsite survey
High surcharges for a holiday moving
Usually fully booked
Customer Reviews
Works fast
"Great experience with them! The team is very efficient, complete the job way faster than i expected! They carry my furnitures up and down stairs with ease! Also, they were fun and funny! I was laughing the whole time! They made the who process an enjoyable one. I am very impressed by their professionalism and efficiency. I would like to say, well done guys, you guys have done a great job and i would definitely engage you guys again if needed! DEFINITELY HIGHLY RECOMMEND!"—Eugene Tan, Google Reviews
Hassle-free moving
"Affordable rate, very good and hassle-free service from admin to movers! Sabrina was amazing to work with. After giving all the details, she provided me with a quote on the spot. Called her at a later date to confirm the move and she organised everything on the spot for me. On the day of the move, the movers arrived half hour earlier and it took them less than half hour to move everything out of the house! My mom has a long bench that was blocking the path for the movers to move the items to the lift; without any complaints, they easily lifted the bench and put it aside to clear the pathway, no hassle. Very efficient! I would recommend anyone to use their services."—Nonie Mak, Google Reviews
6. SIR Move Services
International Movers Singapore to UK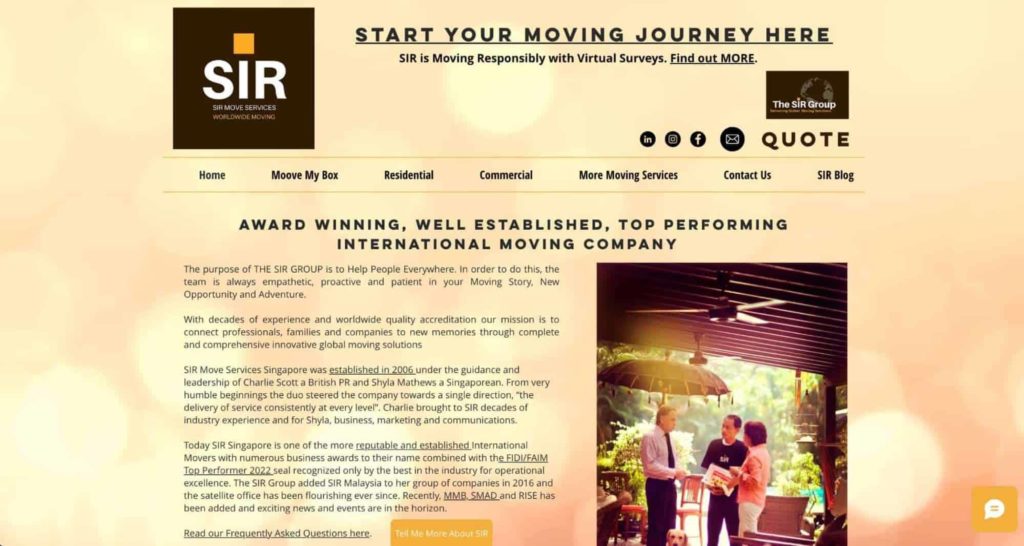 If you're looking for an international mover from Singapore to the United Kingdom, SIR Move Services is a solid relocation company to work with.
With over 20 years of industry experience helping clients comfortably and efficiently start a new life abroad, SIR Move Services has earned a great reputation among locals and expats in Singapore.
They can conduct virtual surveys and weekly meetings to ensure that clients are satisfied with the scheduled work to be done and that all moving details are properly relayed.
But with all these expert and quality services also comes a disadvantage. Some clients have shared their experiences with sudden pricing increases and delivery delays.
Nonetheless, SIR Move Services is a relocation company you can trust if you're planning to move from Singapore to the UK or other European countries.
Offers virtual surveys
Globally recognised 
Price transparency could improve
Delays in delivery
Customer Reviews
Fast and careful movers
"Movers were fast and efficient. They were very helpful with the moving process and making sure that items were moved safely with no damages"—Natalie White, Google Reviews
Care and attention at your disposal
"We really appreciate all the information, care and attention displayed by the whole team. I have moved my family all over the world and one of the things you learn pretty quickly is that Singapore's efficiency is pretty rare. Even with the big movers/brands I have some stories to tell. I am glad we chose a responsive company because at the end of the day that is what matters. If was not a perfect move… is there such a thing? My rating is for the team at SIR Move who made the whole process of leaving Singapore less of an ordeal. Thanks and hopefully we get to move back again not in too distant future."—Justin Dominique, Google Reviews
7. Asian Tigers Mobility
Best for Relocation Services from Singapore to India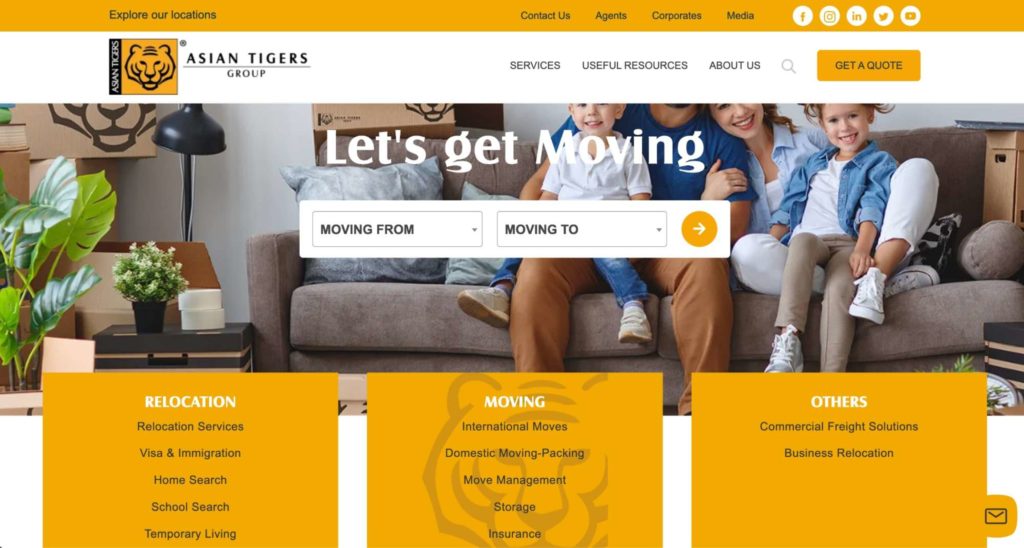 With over 45 years of experience, Asian Tigers Mobility Services is a powerhouse in the relocation industry. It's trusted by many clients across Asia, which is telling about their service quality.
Its years of service are evident in its large network within Asian countries. That said, the team offers international relocation to Asian countries only.
It's also a huge plus that Asian Tigers Group encourages eco-friendly packaging, which is impressive and thoughtful, especially for environmentally conscious clients.
While they are trusted, there are complaints about delays in packing and delivery, but the careful attention to the moving process makes up for the wait.
Large corporation and network
Eco-friendly packaging available 
International relocations are limited to Asia
Delays in packing and delivery
Customer Reviews
Polite and helpful
"MI am very happy with the service provided. Not only was nothing broken or damaged during the move but the staff were extremely polite and helpful, the were on time, careful, listened to instruction and were very easy to deal with. I would especially like to thank Steven who was my co-ordinator on the day. I would highly recommend Asian Tigers for anyone looking to make the challenging task of moving more seamless."—Laura English, Google Reviews
Outstanding service
"Asian Tigers were pretty good in shipping my container from Bangalore to Singapore. They were pretty professional. Always keep posted on the updates and punctual as ever. The articles were aptly kept and arranged in the home. They even acknowledged in moving few of the already existing articles to be moved inside elsewhere, to make room for the new items. They cleared all the packing materials and carton boxes and few of the boxes i wanted to open later. They even offered me one time packing material pickup from my home, which was an outstanding service (You know how difficult is it to dispose huge carton boxes). Overall, they were excellent and perfect in their execution. Kuddos Asian Tigers!!"—Jaisimha Seshadri, Google Reviews
8. Moovaz
Best for Expat Relocation Services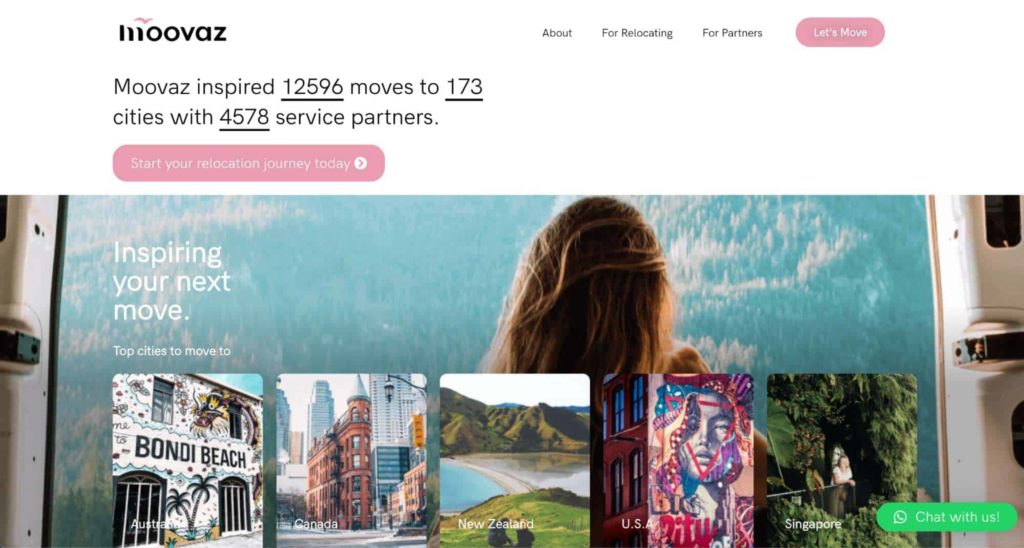 Planning to relocate to Singapore? Moovas is a trusted international moving company that supports employee relocation programmes in and out of Singapore.
What we like most about the company is that it covers almost all aspects of expat relocation, from job listings to schools for kids. If you need an extra hand with more than just moving, it has the network to get you connected with the right people.
In fact, Moovaz is available 24/7, so if you need info from its customer service, a team is on standby to entertain your concerns.
Once a quote is given, however, the company requires a payment made upfront, which some clients may not appreciate. Delays with shipping are also some main reasons for customer complaints.
Open 24/7
Covers all aspects of international and expat relocation
Payment required upon quotation
Delays with shipping
Customer Reviews
Excellent customer service
"Moovaz international Relocation provides excellent customer service, and Christopher is helping me a lot for my relocation. His engagement with the client is accommodating and friendly, always quick response to my questions. I'm very happy with their job. Highly recommended!!"—Manabu Sakuda, Google Reviews
Outstanding service
"James and Crew did an excellent job for the packing and loading. Very strategic from the start, good planning, minimal assistance from home owner required. Highly recommended!"—Jaisimha Seshadri, Google Reviews
9. APAC Relocation
International Movers from Singapore to Australia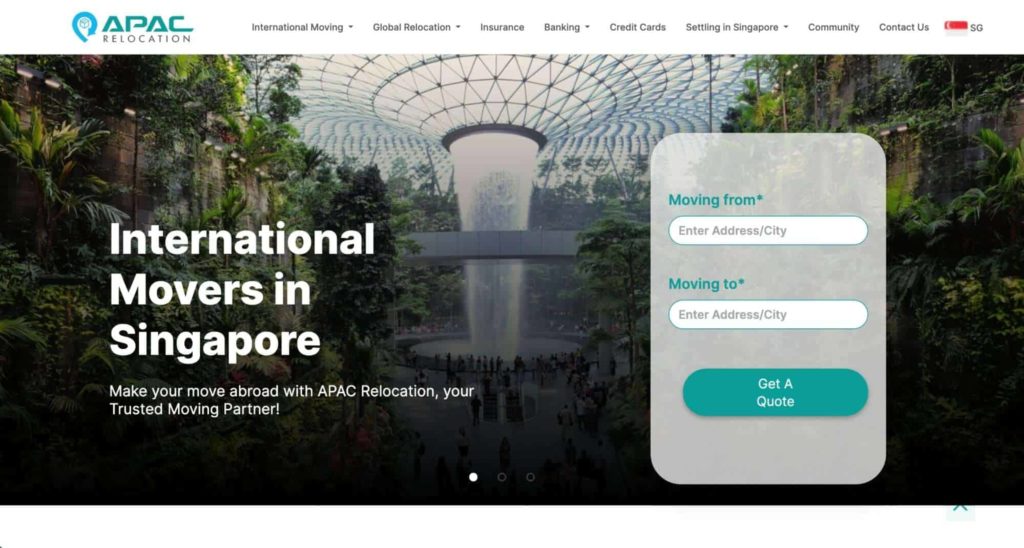 APAC Relocation helps clients manage their relocation needs. If you're searching for a reliable international mover from Singapore to Australia, APAC Relocation may have the resources for you.
One of the highlights of its services is that the company has a large network of movers and insurance companies in the selected country you're moving to.
Relocation takes a lot of work and patience, and APAC understands the significance of ensuring every packed item is safe and relocation needs are met.
There are delays in shipping, however, and the time usually depends on the location. The movers' price range leans slightly towards expensive, but the customer service and safety offset the cons.
Offers several types of insurance coverage
Large network of movers
Pricey services
Delays with shipping
Customer Reviews
Staff members go the extra mile
"I highly recommend using APAC Relocation Services. I have used them for a shipment to Australia and to Saudi Arabia and their service and commitment is outstanding as is their professionalism. I dealt with Lilli from APAC who is very professional and who went the extra mile to make sure everything for the move was organised and efficient. Lilli also recommended a pet mover when we asked her and we ended up using her recommended pet mover and were also very happy with them. I would not hesitate to use APAC Relocation Services again, especially Lilli and her commitment to getting the move happening with little stress."—Lily Sarangdhar, Google Reviews
Polite and friendly movers
"I'd engaged APAC to move about 60 boxes full of personal and familial items from Singapore to US. Anjana was super brought into the entire process, and fully understood my needs and concerns. The gentlemen who helped packed the boxes were extremely polite and friendly, and carefully sealed up my boxes on moving day. I've since received all my boxes safely, and would definitely use this service again!"—Tuck Meng Sin, Google Reviews
10. Elite Movers
International Movers and Packers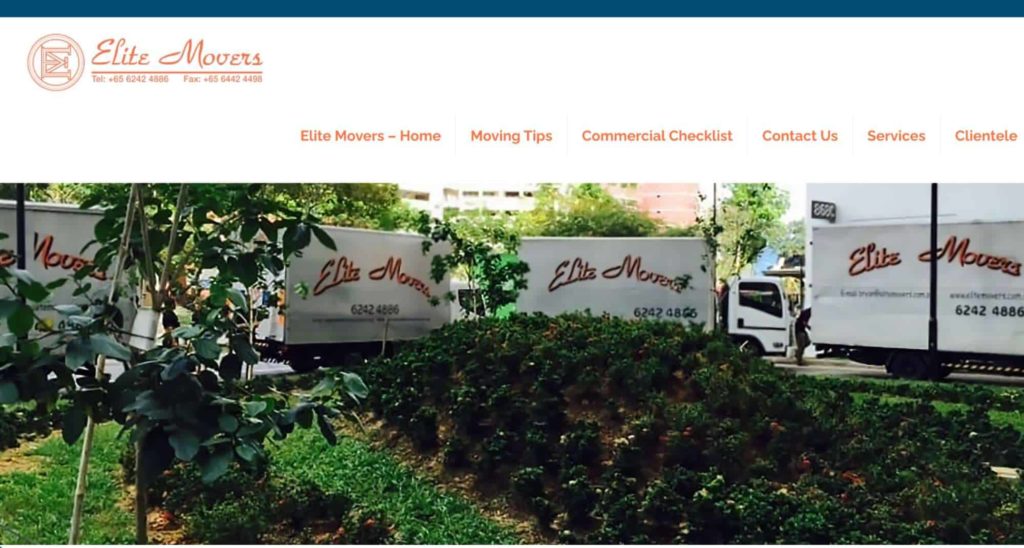 Elite Movers is a great domestic relocation company you can hire, especially if you're moving delicate or fragile items around.
These movers in Singapore offer to assemble and disassemble your furniture free of charge. It's a great deal, knowing that some other relocation companies charge extra fees for such services.
However, Elite Movers is no stranger to strong complaints about its management. Aside from poor communication, dealing with accidents and concerns takes some time before a solution is agreed upon.
This shows how much of the relocation company's customer service needs improvement. The movers are, at least, quick on their feet.
Best for domestic moving 
Free assembling services
Poor customer service
Complaints about management
Customer Reviews
Smooth-sailing moving
"Quality service, the moving team did everything efficiently and it was a painless experience with them moving my things from condo to condo. furthermore, they even helped in solving some issues about fitting our shelves into the storeroom, and moving our digital piano up a small space. would recommend their services to anyone looking for quality movers."—Dan Tan, Google Reviews
Great for packing delicate items
"Excellent and highly recommend moving service. My family used a total of 180 boxes and have many fragile items in the house. From 5 vintage grandfather clocks to hundred of bottles of wine, everything was packed extremely well with the help of their staff."—Elin Boh, Google Reviews
FAQs about Relocation
---
More Relocation Resources
Looking to start anew someplace else? Here are helpful relocation articles for different types of moving needs.