The 12 Best Family Lawyers in Singapore
Family lawyers are extremely helpful in times of trouble concerning our families… such as when settling assets, adoption, divorce, and even family violence. If you find yourself in any of these unfortunate situations, you need the support of the best family lawyers in Singapore.
If you don't know where to start looking for competent family lawyers in Singapore that offer affordable rates, then consider yourself lucky. We're listing down the ones worth checking out today.
We've focused in particular on those who have the best child custody lawyers in Singapore. We also searched for firms with the best adoption lawyers in Singapore, as adoption cases make up a significant number of family law cases.
These great lawyers can help you sort out whatever issue you're having with your family. Let's take a look at them!
1. Law Advice Now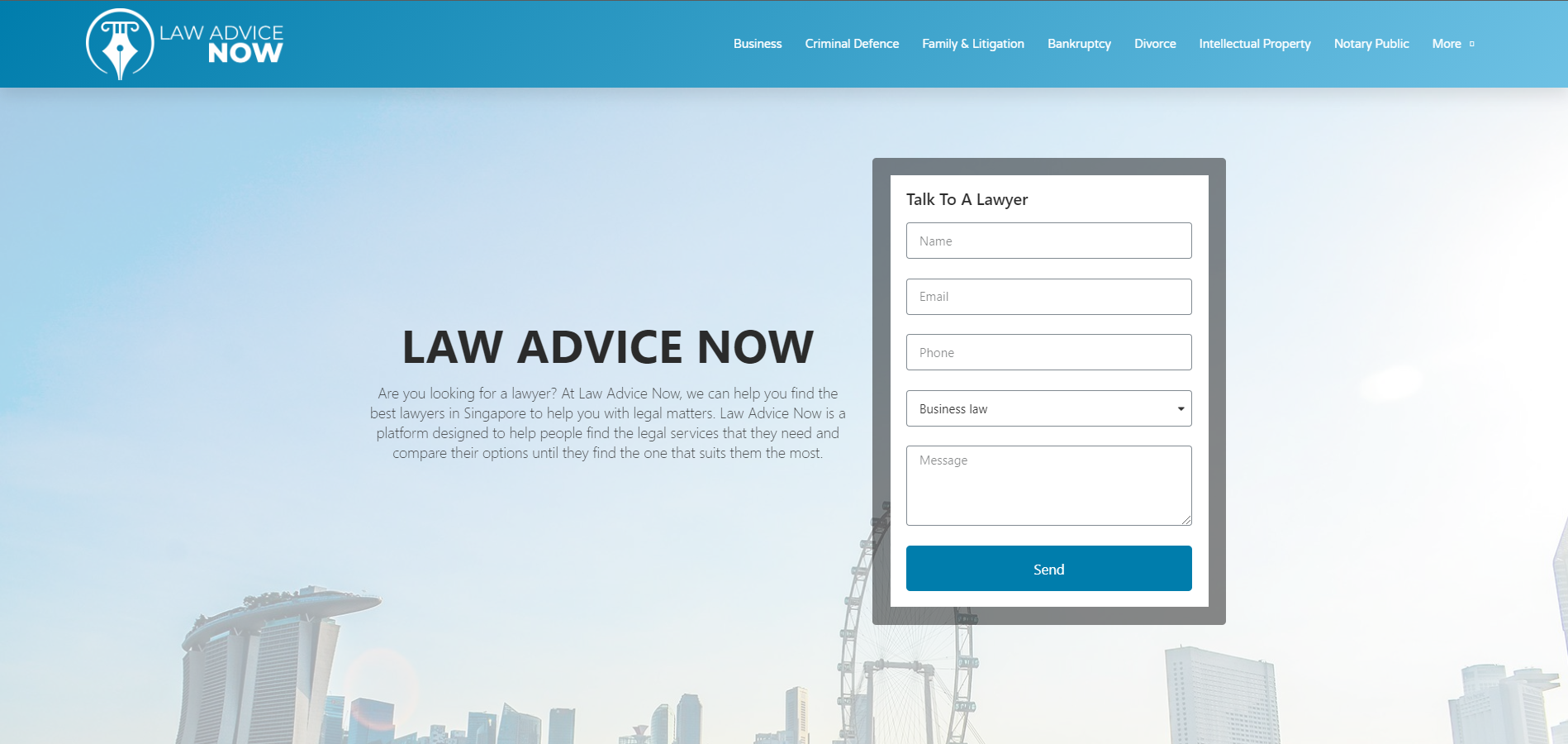 EXPERTISE
Business
Criminal Defense
Family & Litigation
Bankruptcy
Divorce
Intellectual Property
Notary Public
Conveyancing
Civil Litigation
Probate Law
WEBSITE
https://www.lawadvicenow.co/family-law-and-litigation
ADDRESS
11 Keng Cheow St, #02-05 The Riverside Piazza, Singapore 059608
CONTACT DETAILS
[email protected]
OPERATING HOURS
Monday – Friday: 9am – 5pm
Law Advice Now is one of the best law connection services to choose from when you're in need of legal aid. The portal is accessible and gives clients the opportunity to easily connect to multiple lawyers — up to five — at a given point in time.
Aside from that, Law Advice Now's range is extensive as well. No matter the field of law, Law Advice Now can help connect people in need with an expert lawyer who specialises in a specific field of law that they are concerned with.
If you are ever in need of legal services, you can always turn to Law Advice Now for reliable, trustworthy help when it comes to finding lawyers.
Highlights
Wide array of services
Easy Access
2. Populus Law Corporation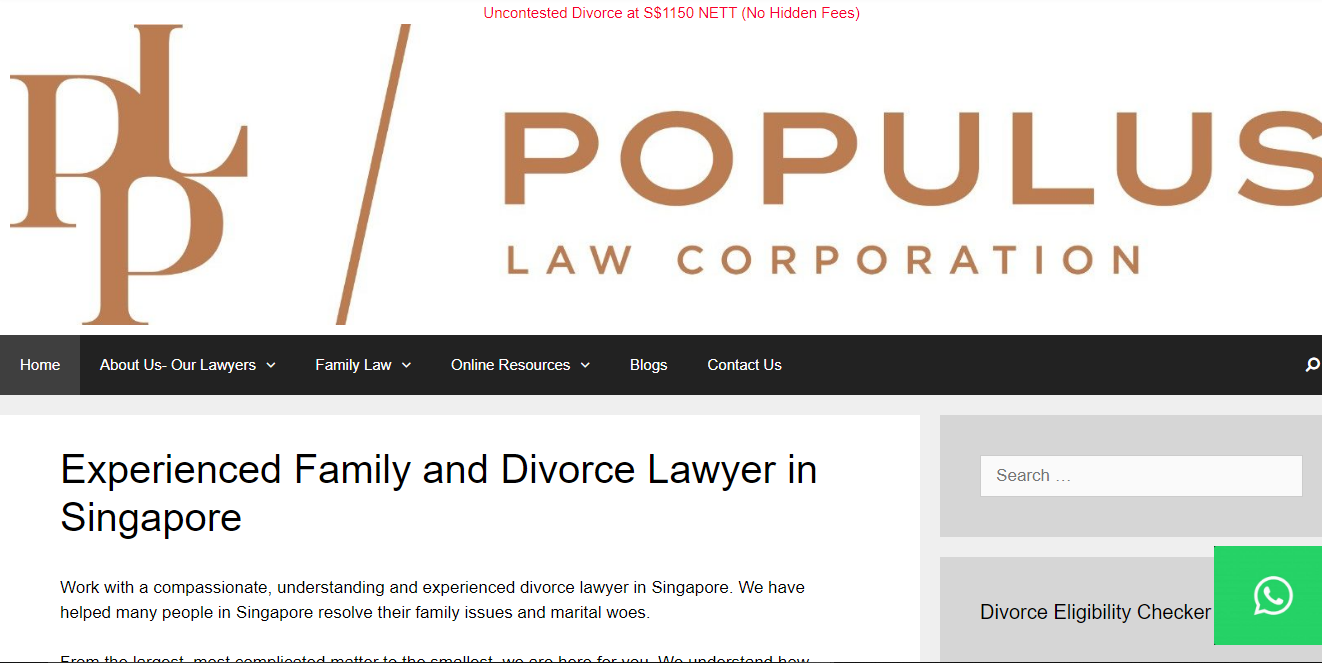 When it comes to dealing with legal concerns involving the family, Populus Law Corporation is the most trustworthy partner. It recruits the best lawyers from all over Singapore to attend to your needs with integrity and discretion.
The process of filing for a divorce, annulment, or complaint against domestic violence could be incredibly long and taxing. The lawyers of Populus Law Corporation are wholeheartedly inclined to lending you an attentive ear and helping you get through every complex procedure.
They will make sure to give you all the counsel and support you need until the entire process has been taken care of. Note that they also have some of the best adoption lawyers in Singapore.
The Populus Law Corporation possesses extensive experience and knowledge in the field of family law. By seeking their assistance, you can be sure that your matters will be addressed properly and quietly.
Highlights
Expert Family Lawyers
Family and Divorce Cases
Good at giving family advice
3. PKWA Family Law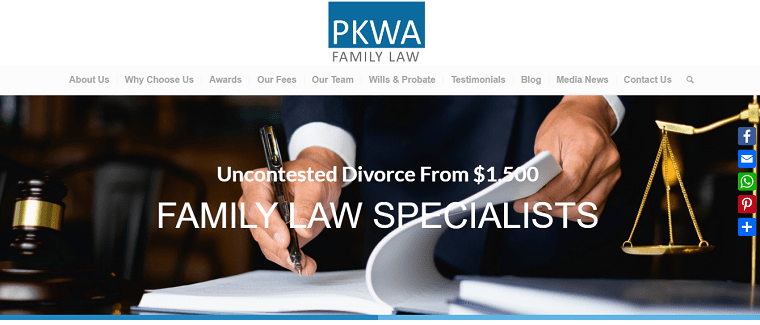 If you want a well-decorated family law firm with a great track record, then consider hiring the help of PKWA Family Law. Hailed as the fastest-growing law firm in Singapore by various publications, they specialise in a variety of legal family problems.
Despite being one of the top family law firms in Singapore, their rates are fixed and always affordable. For not more than $2,500, you can have the best family lawyers on your side — including some of the best child custody lawyers in Singapore — working to help you win your case.
Unlike other law firms, they do not shock their clients with a bill full of hidden expenses. You're only going to pay what they say the rate is going to be upfront — this way, you how much money you have to prepare.
Lastly, they have a team of professional family lawyers who are knowledgeable in a variety of family matters including divorce, adaption, and family violence. You can also find some of the best adoption lawyers in Singapore here.
Highlights
30 years of operation
Fixed affordable rates
No hidden fees
Free consultation
Customer Reviews
Here are some reviews attesting to the excellence of PKWA Family Law:
"I engaged PKWA for my contested divorce both before and after the 3-year mark and had no regrets doing so. Their fees were transparent which made financial planning a lot easier. I would like to especially thank Ms. Charlene Nah and Mr. Jason Mak for their extraordinary help during that trying period of time. Despite the circumstances, I felt that Ms. Charlene was genuinely trying to help. I would definitely turn to them in the future for legal advice."
"I have engaged PKWA services on a Grant of Probate recently. This is the second time that I have worked with PKWA on legal matters. PKWA staff have been very professional and efficient in handling my legal matters. Special thanks to Christina Lim and Charlene Nah for their follow-up on the matter. They kept me updated regularly on the progress and settled issues expeditiously. PWKA would be my preferred choice if I require assistance in legal matters in the future. I would highly recommend their services to those who need assistance in legal matters."
4. Yeo & Associates
BEST FOR
High Quality Legal Work with Fixed Fees Structure
SERVICES
Debt Resolution, Family Law, Probate Law and Property Law
WEBSITE
https://yeolaw.com.sg
ADDRESS
101A Upper Cross Street People's Park Centre #12-13 Singapore 058358
CONTACT DETAILS
+65 62203400 / +65 90303239
OPERATING HOURS
Monday – Friday, 9:00 AM – 7:00 PM
Saturday 2:00 PM – 6:00 PM
With almost 20 years of experience, it's no surprise that Yeo & Associates LLC has become an award winning, top law firm in Singapore.
Their specialisation lies in family and community law, where their team of 10 specialist family lawyers deals with family matters like divorces and family disputes. Their lawyers have also been referred to by some clients as the best child custody lawyers in Singapore.
They also have a department that deals with personal finance, debts, and bankruptcy.
They are one of the most sought-after bankruptcy lawyers in Singapore, thanks to their vast experience in advising clients on bankruptcy laws, debt management, and debt resolution.
You can rest easy knowing that if you let Yeo & Associates LLC handle your financial problems, it will be solved in the most convenient and effective way.
Highlights
Fixed Fees
Specialised Expertise
20 years Experience
5. Godwin Campos
| | |
| --- | --- |
| EXPERTISE | Family Law and Criminal Law |
| WEBSITE | https://www.godwincampos.com.sg/ |
| ADDRESS | 160 Robinson Rd, #14-06 SBF Center, Singapore 068914 |
| CONTACT DETAILS | +65 6535 1306 |
| OPERATING HOURS | Monday – Friday, 9:00 AM – 5:00 PM |
Godwin Campos is a team of family lawyers who can help you with all types of family legal problems. Established in 2003, it has grown into one of Singapore's most trusted law firms specialising in family, criminal, and employment law.
If you want a higher chance of winning your case, then consider hiring their legal team. One of the reasons they're worthy of hiring is their almost 90% success rate in their divorce cases and other cases including separation of deed and custody of children.
On top of these, they will make sure that they will be with you every step of the legal process — from filling papers down to court appearances.
Another thing you may expect from them is that they'll go the extra mile just to ensure your case goes smoothly. It's hard not to like that!
Highlights
Award-winning law firm
Transparent and affordable fees
90% success rate
6. Lam & Co.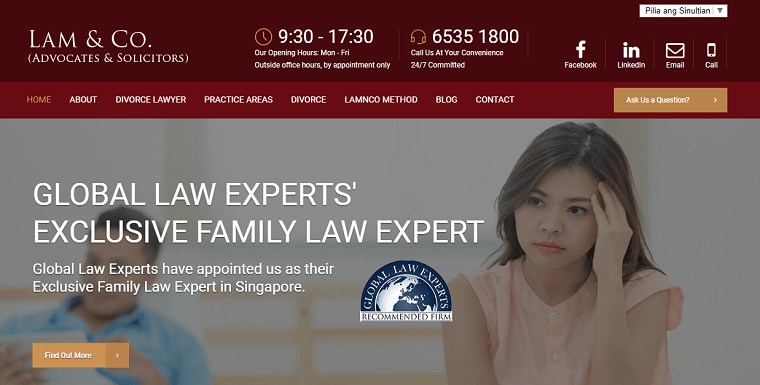 | | |
| --- | --- |
| EXPERTISE | Divorce and Family Violence |
| WEBSITE | https://lamnco.com.sg/ |
| ADDRESS | 24 Raffles Place, #20-06 Clifford Centre, Singapore 048621 |
| CONTACT DETAILS | (65) 6-535-1800 |
| OPERATING HOURS | Monday – Friday, 9:30 AM – 5:30 PM |
Going through a family legal problem is never easy, but Lam & Co. can make a taxing process less stressful. Specialising in divorce and family violence, their team of experienced lawyers is capable of offering sound legal advice that may help to win your case.
With over 25 years of experience, they have developed their own client-focused formula that helps them win their cases.
One of their strongest suits as a law firm is that they listen carefully to what their client has to say and understand where they are coming from.
However, we can only recommend them if you have extra money in your pockets. Since their rates can be high, hiring their services if you're short on money may not be a great idea.
On the other hand, money spent on their services will be worth it because they will do everything in their power to win your case. They also have some of the best adoption lawyers in Singapore, so they'd be a good bet for adoption cases.
Highlights
More than 25 years of experience
With over 3000 clients
Customer Reviews
If you're not yet sold on the brilliance of Lam & Co. as a family lawyer, then read these comments:
"Mr. Lam had gone above and beyond his duty to assist in ways he could to facilitate a smoother and sooner judgement for everyone involved. I have recommended him to a friend and he had delivered once again. Will continue to seek his services in the near future! Thank you for everything!"
"Very professional service from Lam & Co, my questions were well answered when I'm in doubt. No hiding cost, they made sure we know what we are paying for. If you have a budget to work out, Lam & Co is totally fine but if you can afford, I would recommend you to look around first."
7. Andrew Advocates & Solicitors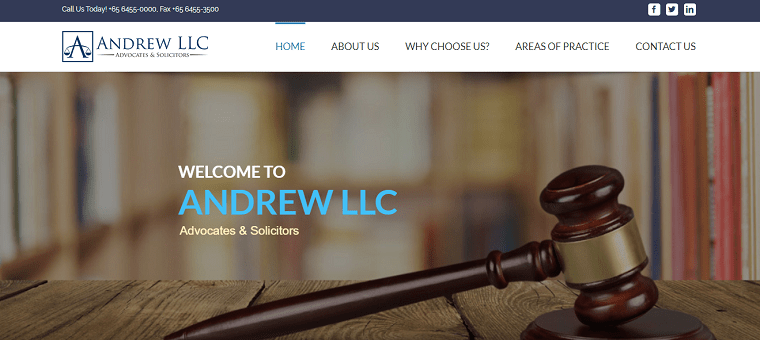 | | |
| --- | --- |
| EXPERTISE | Family Law and Personal Injury Law |
| WEBSITE | http://andrewllc.com.sg/ |
| ADDRESS | Ang Mo Kio Ave 6, #01-4152 Blk 726, Singapore 5607261 |
| CONTACT DETAILS | +65 6455-0000 |
| OPERATING HOURS | Monday – Friday, 9:30 AM – 6:00 PM |
When you have a family lawyer as good as the ones from Andrew Advocates & Solicitors, all you need to do is prepare yourself mentally. They'll do the legwork.
Focusing on family law and injury law, they're regarded as one of the most reliable law firms on the island. They're headed by Andrew Hanam, a lawyer with more than 18 years of experience defending families.
What makes them worthy of hiring is that their services are all client-centric, ensuring that all concerns and issues of their clients are addressed as early as while coming up with a strategic plan.
Highlights
18 years of legal experience
Client-centric representation
Value-added legal solutions
8. A C SHONE & CO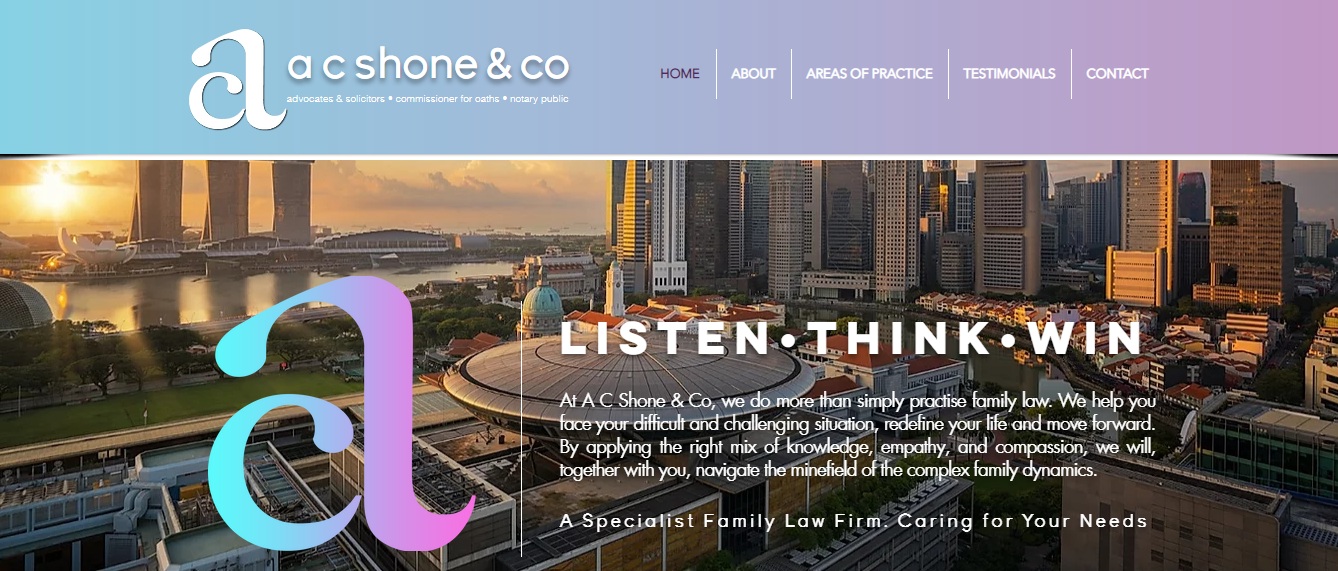 | | |
| --- | --- |
| EXPERTISE | Divorce and Separation |
| WEBSITE | https://www.acshone.com/ |
| ADDRESS | 24 Raffles Place, Singapore |
| CONTACT DETAILS | +65 6225 4456 |
| OPERATING HOURS | Monday to Friday: 9:00 am – 5:30 pm |
Dealing with family law could be really tough, good thing AC Shone could provide personal approach and professional advice to her clients.
They understand how sensitive it is to settle a dispute, especially within a family, and that's why they make sure to actively listen to their customers before giving informed legal advice. You can see in this the way their best child custody lawyers in Singapore handle cases, in particular.
Aside from dealing with family disputes, they also help people in growing their family. If you're planning to adopt a child, they have extensive experience that would be helpful in easing the process.
Highlights
Free Consultation

Expert advice and active listening

Professional and Personal Approach

Maintains client confidentiality
9. Tembusu Law LLC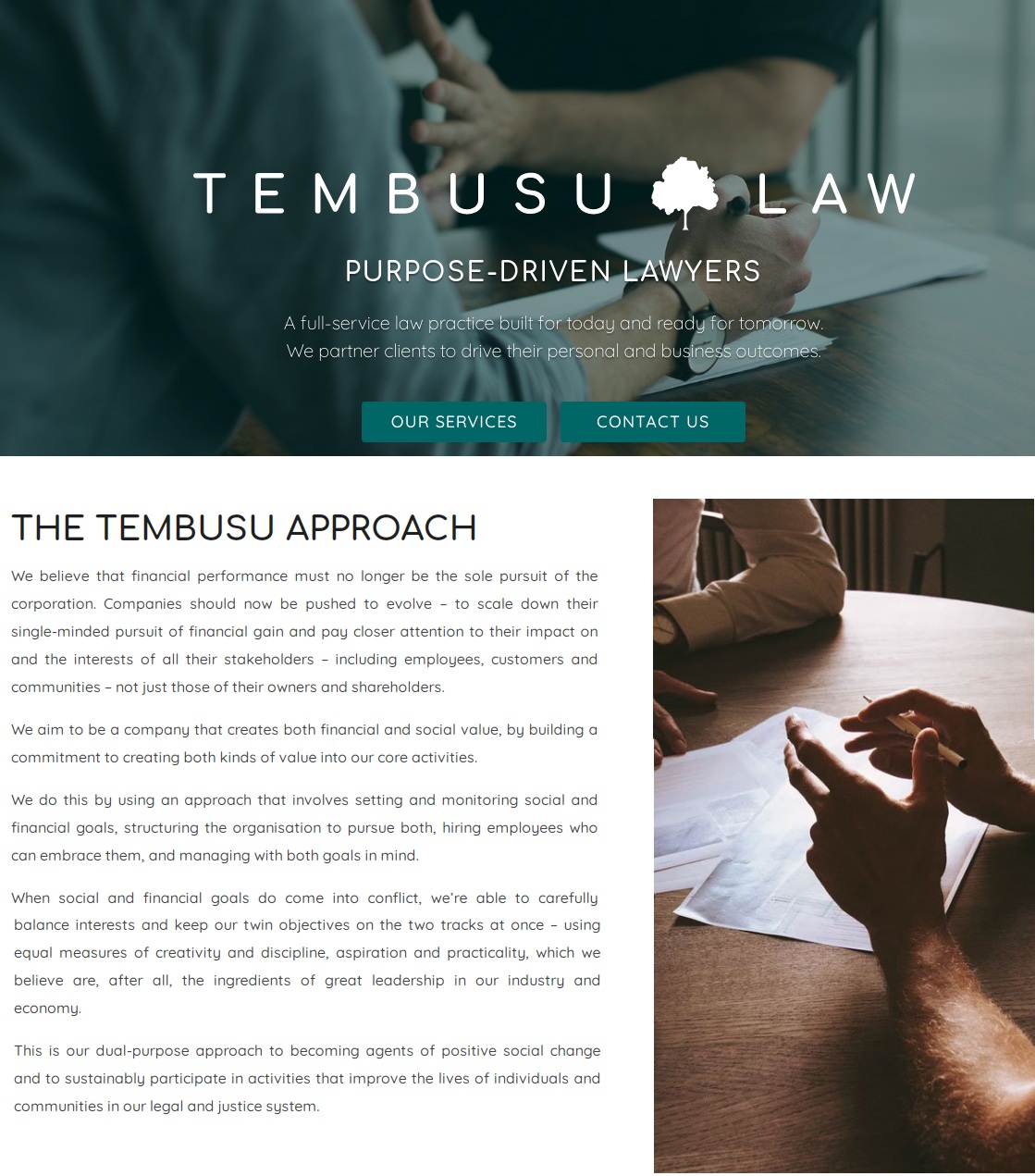 Tembusu Law LLC is known for their full range law services that are custom tailored according to their clients' needs and requirements.
While each of their clients has a different set of cases, therefore receiving personalized services, the firm guarantees that all of their legal solutions are pragmatic and cost-effective.
The firm accommodates an extensive array of law services including but not limited to Probate & Administration, Family & Matrimonial Law, Civil & Commercial Litigation, Private Equity & Venture Capital, and Criminal Law & Regulatory Offences.
Highlights
Personalized legal solutions

Reputable lawyers

High level of integrity
10. Gloria James-Civetta & Co.

| | |
| --- | --- |
| EXPERTISE | Divorce and Separation |
| WEBSITE | https://www.singaporedivorcelawyer.com.sg/ |
| ADDRESS | 3 Church Street, #15-04 Samsung Hub, Singapore 049483 |
| CONTACT DETAILS | +65 6337 0469 |
| OPERATING HOURS | Monday – Friday, 8:30 AM – 6:00 PM |
Going through a legal battle with a family member is never easy, especially when you're against a person you used to be fond of. Gloria James-Civetta & Co. aims to make this process as easy as possible by offering legal advice through their expert team of lawyers.
Considered some of Singapore's leading family lawyers, they will do all they can to ensure that their clients will receive only favorable outcomes. In addition, their team of family lawyers are so in-demand that they handle a large volume of local and expat clientele.
What's more, they offer a free consultation process in which lawyers will already come up with a strategy that suits your needs and budget.
Highlights
Prompt response
Personal attention
Sound legal advice
Free consultation
Experienced team of lawyers
Customer Reviews
Previous clients of GJC who have experienced their expertise gave the following comments:
"A divorce can never be a pleasant. However, my lawyer at GJC, Yvonne Schelkis-Sweeney, made the experience more bearable and less stressful, with her professionalism, empathy, and responsiveness. Although my particular case was not complex, it took a long time. Throughout the process, Yvonne was there to guide, and advise, and even cheer me up when I needed it. What I most valued was her ability to balance representing my interests firmly with the need to show sensitivity to other party's concerns."
"Ms Gloria and her team were very professional and handled the case referred to them in such an amicable and amazing manner that what many lawyers who handled the case previously and had failed miserably, was successfully executed by them, surpassing my expectations. I am glad I had referred the family to Ms Gloria and her team who had been not only compassionate towards their clients, but also very committed. Ms Liesel truly gained my admiration and confidence in her when she attended the case on clutches, to settle the case promptly and without delay. My hats off to her! What makes me respect her even more was her compassion towards her client and it was a difficult opponent that she had to deal with. Yet, she handled it very well. Congratulations to her! I would not hesitate to recommend this law firm to anyone!"
11. I.R.B. Law LLP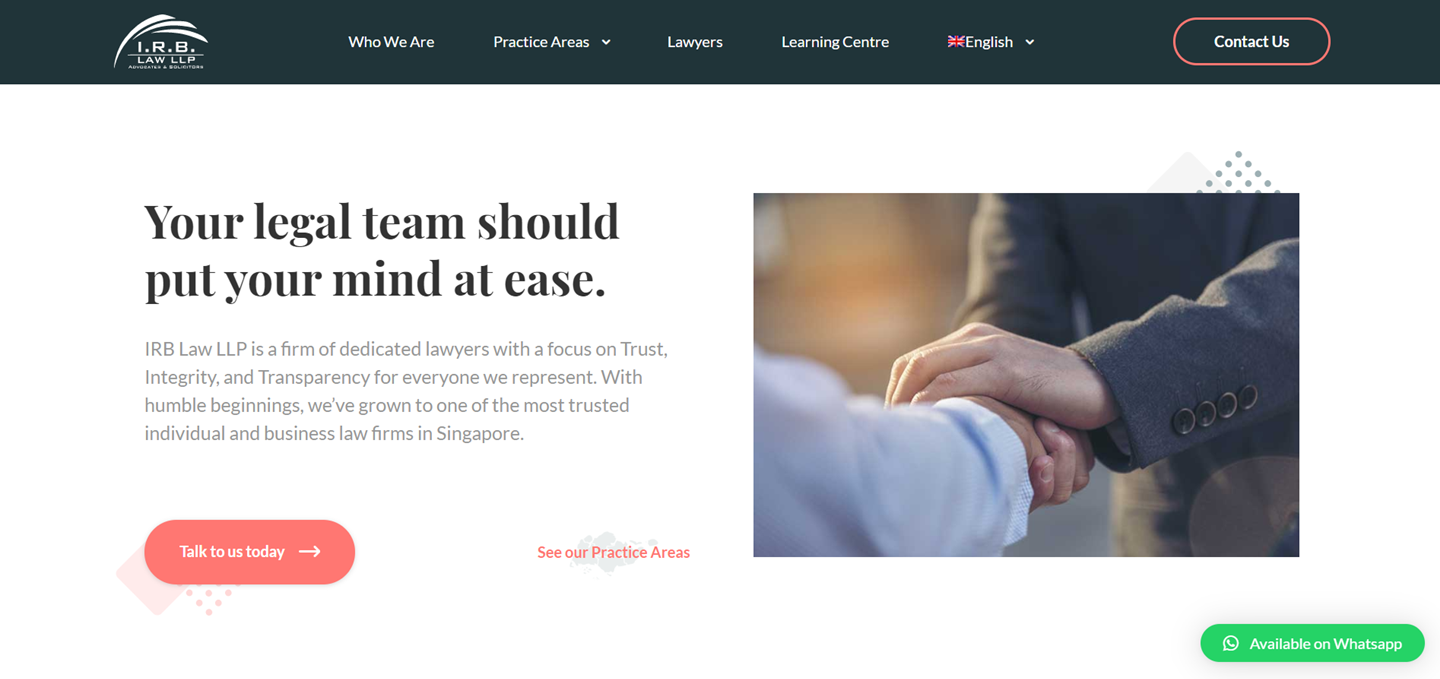 BEST FOR
Divorce and Child Custody
SERVICES
Family Law, Estate Law, Litigation & Dispute Resolution, Personal Legal Procedures, Syariah Law, Bankruptcy, Restructuring & Insolvency, Corporate & Commercial Law, Criminal Defense, Conveyancing & Real Estate, Due Diligence
WEBSITE
https://irblaw.com.sg/
ADDRESS
Collyer Quay
20 Collyer Quay, #17-05, Singapore 049319Jalan Sultan
119 Jalan Sultan, Singapore 199007[email protected]
116 Changi Road, #02-14, Singapore 419718Sam Leong Road
42 Sam Leong Rd, Singapore 207932Sultan Plaza
100 Jalan Sultan, #02-09/10 Singapore 199001
CONTACT DETAILS
https://irblaw.com.sg/contact-us/
OPERATING HOURS
Mon – Fri: 9:30am – 6pm
Sat – Sun: 9:30am – 1pm
I.R.B. Law LLP is one of the most well-rounded law agencies in Singapore, offering a wide range of legal services and having highly competent and skilled lawyers. They're easy to deal with and they provide great assistance for an affordable price.
Family Law is one of the company's strong suites, among many others. Their services under family law includes divorce lawyers, annulments, maintenance, prenuptial, agreements, and abuse.
They also have some of the best adoption lawyers and child custody lawyers in Singapore.
They have over 21 lawyers on standby, one if which is Atty. Mohamed Baiross. He's the the only managing partner in the company, with many years of experience and success under his belt. He's the best option when it comes to family disputes and the like.
Highlights
Wide range of legal services
Internationally appraised company
Highly knowledgeable and skilled lawyers
Very affordable
12. Kalidass Law Corporation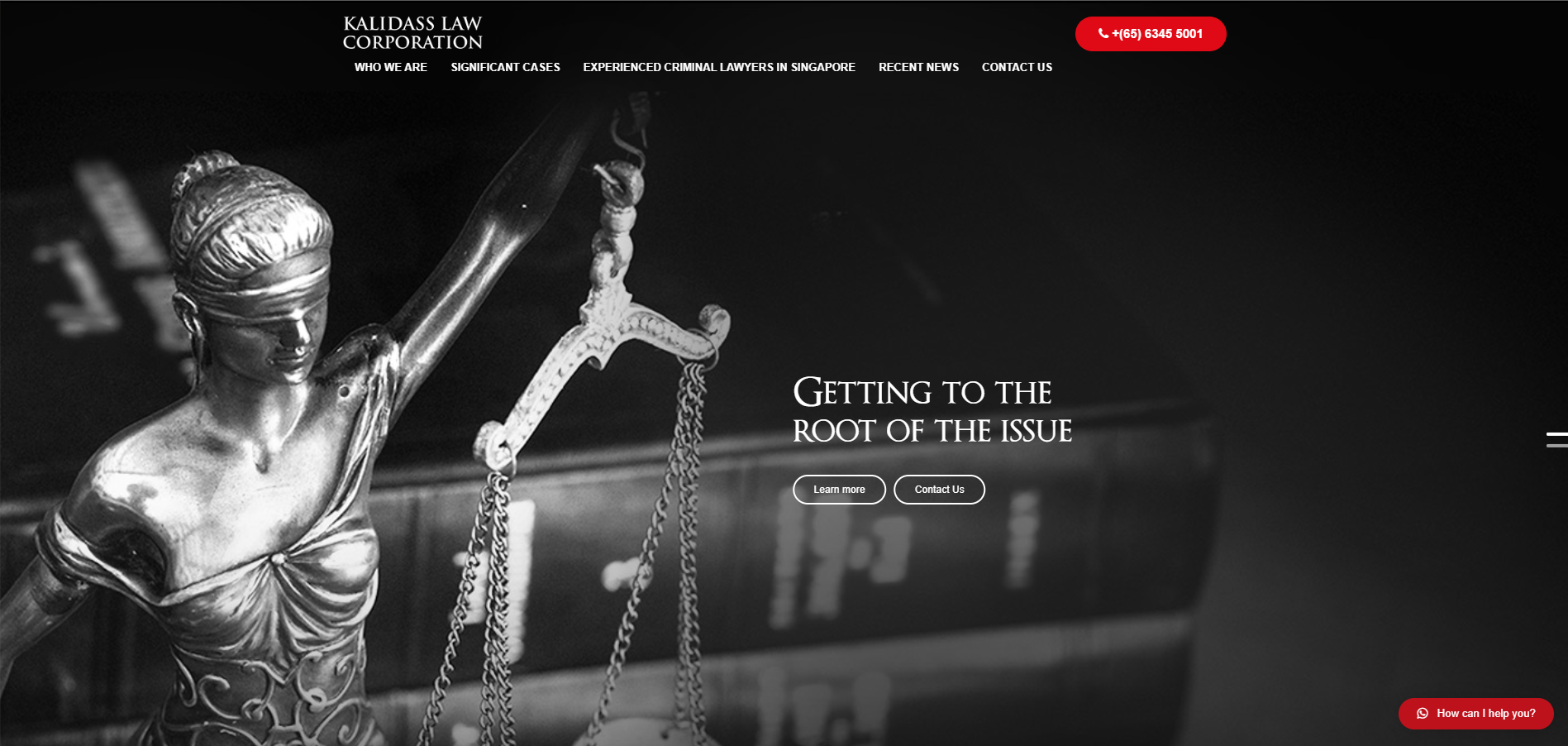 If you ever need people to represent you in the court, you should seek someone who is trustworthy and is hard as steel to give you a chance of winning in the trial. Kalidass Law Corporation just might be what you were looking for.
They always make sure to cater their clients' needs with impeccable professionalism and intelligence. They also provide unwavering support throughout the duration of the case, to assure the client that they are not alone in their predicament.
Highlights
Affordable, Quality Legal Services
Dedicated and Efficient Defence Lawyers
Highly Experienced Criminal Defence Lawyers
Customer Reviews
Here is a review left by a very satisfied client:
"An experienced, patient and compassionate lawyer. Very approachable and understanding." – Aw Yong Tian Seng
And with that, we conclude our picks for the best family lawyers in Singapore! By choosing any of these family lawyers, your legal problems will go away as quickly as possible.
If you have certain family lawyer or law firm in mind that wasn't part of our list, then leave the name below and share with us what makes it an excellent lawyer for family issues.
By the way, after a long day at court, it would be nice to relieve your stress a little. So, if you want to take your mind off your legal problems even just for a while, then make sure to visit these places in Singapore with the best massages!