9 Best Car Fumigation Services in Singapore (2021)
Aside from washing our cars to remove all the dirt and dust in our window shields and other parts, it is also important to do a general cleaning which will involve car fumigation in Singapore. This kind of service will eliminate all the pests and other potential harm in our car. They might not be quite visible because of the small and packed spaces inside the car, hence, it is advisable to do a regular inspection and cleaning. This will maintain the value which can come in handy in the future. Listed below are some of the best car fumigations in Singapore!
1. WiCleanSoon
| | |
| --- | --- |
| BEST FOR  | Deep cleaning services |
| SERVICES | Vehicle cleaning services Upholstery cleaning services Disinfection cleaning services |
| WEBSITE | https://wicleansoon.com/home/automobilepricing/ |
| ADDRESS | Singapore |
| CONTACT DETAILS | |
| OPERATING HOURS | Monday — Sunday 9am – 9pm |
WiCleanSoon offers one of the most detailed cleaning services in all of Singapore. Each team member's meticulous eye ensures that no spot, stain, or odor is left once the cleaning is through.
Clients interested in availing their services won't have to worry about complicated booking procedures and in fact, many have considered them to be one of the best car fumigation services in Singapore. Simply contact WiCleanSoon on WhatsApp and on-demand specialists will soon be on their way. 
Service Highlights
Comprehensive cleaning services for homes and vehicles
Effortless booking system
Quick and thorough cleaning procedures
Customer Services WiCleanSoon has been commended by previous clients for their promptness and thoroughness in every job taken on. Here are some feedback left behind: "Engaged them for car, sofa, carpet … cleaning. All we can say is great service, clean job, good price and definitely will engage their service again. Recommended." "Fantastic Job, very detailed and accommodating to the timing. Very recommended" "Thanks to Eddie for his hard work – car was totally refreshed and rejuvenated. If I could sum it up: Professional, Detailed, Friendly; it's really a fantastic job done – car feels brand new. Eddie also went the extra mile to share very practical and useful car care tips. 5 stars would be an understatement for the great work and effort that he has dedicated to his cleaning services! Thank you!"
2. Four Solutions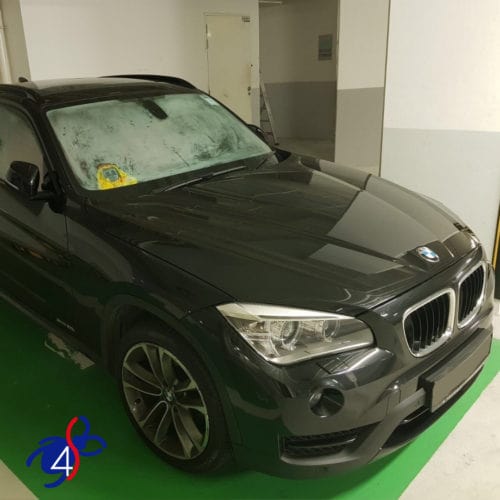 | | |
| --- | --- |
| BEST FOR  | Efficient Car Fogging and Fumigation Service Packages |
| SERVICES | https://fourpestsolutions.sg/carfumigation-2/ |
| WEBSITE | https://foursolutions.sg/ |
| ADDRESS | T-Space, 1 Tampines North Drive 1, #08-57, S528559 |
| CONTACT DETAILS | +65 3138 4490 |
| OPERATING HOURS | Monday to Friday 09:00 AM – 06:00 PM Saturday 09:00 AM – 05:00 PM Excluding public holidays |
The most unique thing Four Solutions about Four Solutions is that they have different accessible service packages for every customers' needs. They can perform their solutions at your place, at their workshop, or even pick up your car from your current location. For those who are on a travel or who got stuck in a certain area, their services are just one call away. Their treatments include safe and harmless methods. 
Their flexibility and ability to disinfect your car where you are makes them a great option to get rid of cockroaches in car in Singapore.
Service Highlights
Pick up and send back services
Same day service 24/7
Mold and fungal removal
Customer Reviews
Once you have booked an appointment, they can immediately visit your place and inspect your car to prevent further harm. The Four Solutions' specialties include bedbugs, termites, cockroaches, and rodents. These full-range treatments are the reasons for their achievements. Here are some of the testimonials from Google Reviews: "Slowed the rodent and termite infestation and eventually totally removed them. Effective as they went for the source." "Very efficient. Solve my problems. Committed to solve my little issues all the way. Good job well done. Will recommend to others"
3. 5D Solutions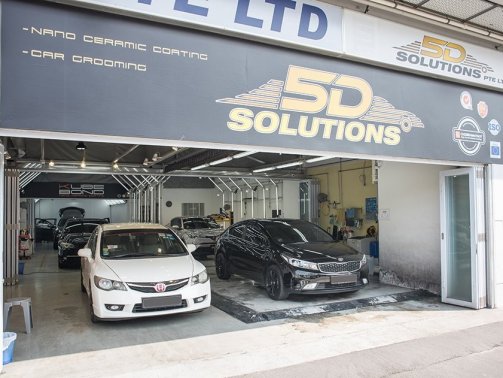 The services of 5D Solutions are claimed to be NEA approved so you can be sure that your car will be in good hands. If you are noticing some small insects such as cockroaches, flies, and other crawling insects, they'll be able to eliminate them by using effective and safe treatments. For those who have kids, there's no need to worry because their solutions contain no harm. In just a span of 2 hours, your car will be completely free from any potential damages. They also offer additional services including paint protection, foam wash, polishing, waxing, steam cleaning, and antibacterial treatment.
They're a perfect option if you have a busy schedule and need a quick car disinfection service in Singapore.
Contact their office now if you've always wondered about car fumigation in Singapore's cost. 
Service Highlights
Interior grooming
Paintwork and leather restoration
Special promotions
Customer Reviews
5D Solutions also sells different types of protection solutions which are all chemical and UV resistant. They have a 5-year warranty which is efficient for all of their customers. A reviewer recommended their services and wrote this 5-star rated feedback on Google Reviews: "They were very prompt with my request. Able to accommodate last minute appointment, was lucky enough to get a slot. I chose the pest fumigation for my car and they showed the dead cockroaches after the treatment. Car smell clean and brand new. Will totally recommend their services to family and friends. And it is in the west area (easy to locate). Area is near to Jurong point and waited till they called up when ready."
4. New Age Polish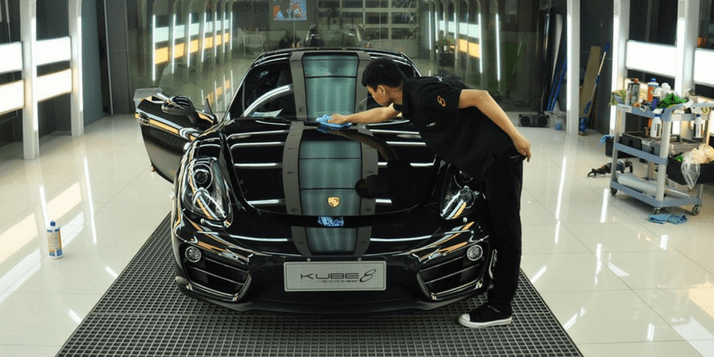 Pest problems are caused by weather, foods, and window opening so it may be quite inevitable. So if you're looking for car cockroach removal in Singapore, you should consider New Age.
New Age Polish is also NEA certified and they have a broad selection of services for overall car cleaning and maintenance. They use high-quality products which are water repellent, durable, low maintenance, and stain-free. Their team consists of experts that are well-trained and skilled when it comes to car pests removal. After the fumigation, they have additional services such as grooming and polishing. They also provide different kinds of coating protections.
Service Highlights
Kubebond exterior and interior packages
Free consultation
Steam cleaning and antibacterial treatment
Customer Reviews
New Age Polish has earned a lot of positive reviews due to their premium and fully-packed fumigation car Singapore services. They commended that it was truly worth every penny. Sherman shared this experience on the company's official Facebook account: "Gabriel was responsive and prompt to my enquiry via WhatsApp. Wasted no time in booking a slot for fumigation + steam cleaning the very next day. Brought the car and whole process started quickly. Left the car (which was in a horrible state) in his hands and was told to come back in 2hrs. Regular updates on the process were sent to me via WhatsApp.Collected the car and was definitely satisfied with the service and works. He delivered what he promised. No hard selling from them and he took time to explain the different services they provide when I enquired. Very professional and trustworthy. Recommended!"
5. Pesticon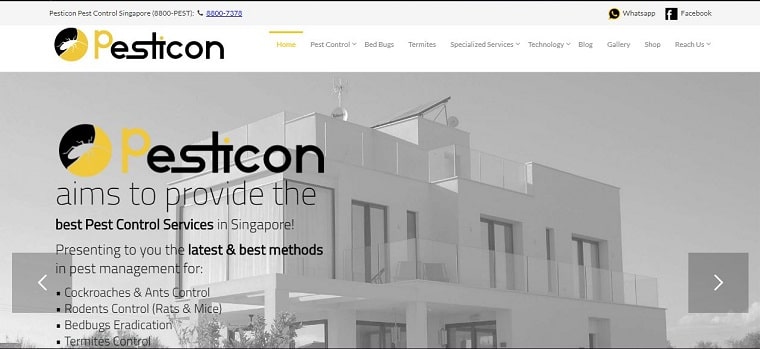 Pesticon uses fragrant non-staining formula, no oily residue, water-based, and cockroach repellent products for their fumigation process so your car will absolutely be cleaned and free from any harm. They can get rid of ants, rats, mice, flies, bugs, termites, and other pests. Their services do not only include car cleaning but they also do a general pest removal service for commercial appliances to help the business owners keep a sanctified environment. They offer affordable pest control packages and is one of the best car fumigation in Singapore to consider for both personal and business. 
Service Highlights
Bed bug steamer
Wood protection service
Commercial Pest Control
Customer Reviews
Pesticon is being recognized for their effective and harm-free cleaning methods, thorough inspection, and responsive customer service. Angelin had a very nice experience with their car sanitizing service in Singapore. She had a good  impression with their team and gave this feedback on Google Reviews: "Had problems with bed bugs after my travels. Consulted a couple of companies and Pesticon stood out to me. KC was patient asking all my enquires and guide me from the start, all the way through. Very useful and detailed guides were provided. Mr Sahri was very friendly and detailed in checking all the corners of the room and furnitures. Overall, a great experience. Thank you for everything."
6. Detail Mania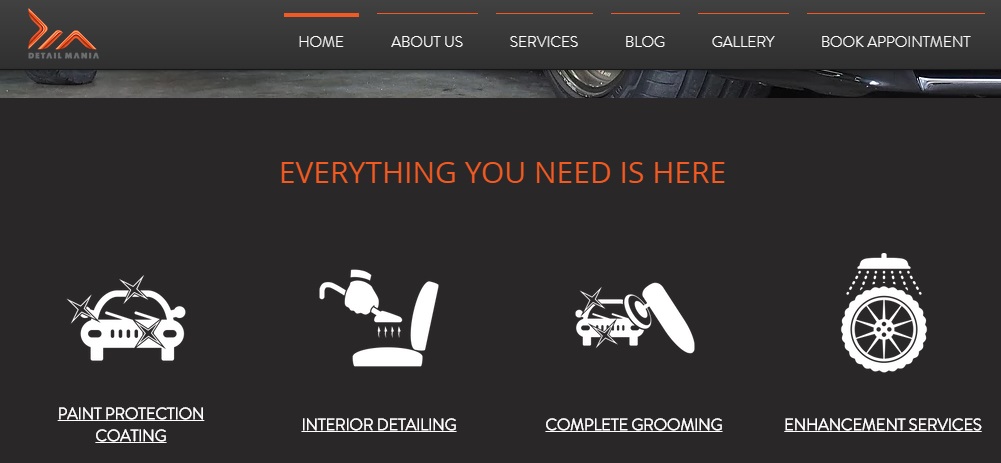 Detail Mania opened the business in 2010 and started to detail vehicles in used car dealers in western Singapore. Eventually, the shop has grown and expanded their business to which they started in specializing extra paint rejuvenation and paint protection coating.  The team sure does go the extra in providing their clients with the best service because they even went country to country just to expose themselves more into automotive detailing industry and learn about. The shop guarantees that all of the materials that they use, especially their in-house paint protection coatings were  fully tested according to the Singapore's climate because they believe that you ride only deserves the best. With ten years of experience in car detailing and paint polishing, it is without a doubt that Detail Mania can be one of your trusted service providers for car fumigation Services.
Service Highlights
High quality paint protection coating

Exquisite interior detailing

Complete and thorough grooming
Customer Reviews
The clients of Detail Mania has praised the shop for their wonderful services especially their very high attention to detail and 100% guaranteed thorough work. Here a feedback that the shop received from Holly Haglund Smith through Google Reviews. "Embarrassingly, I delivered my scrapped, sweat stain, food smelling vehicle to Detail Mania for a complete clean – and returned to find my car looking (and smelling) almost new. Interior was meticulously cleaned, all my items neatly placed in a bag, and team even repaired a seat that wasn't locking properly. The previous existing exterior scratches were removed and the finish was not only shiny but still look great after I returned home in a rain storm. The customer service was fantastic and highly recommend this service." Pest problems can cause severe damage to your car if it is not prevented so keep in mind to do not disregard any minor concerns and have your car be examined immediately.
7. KGC Workshop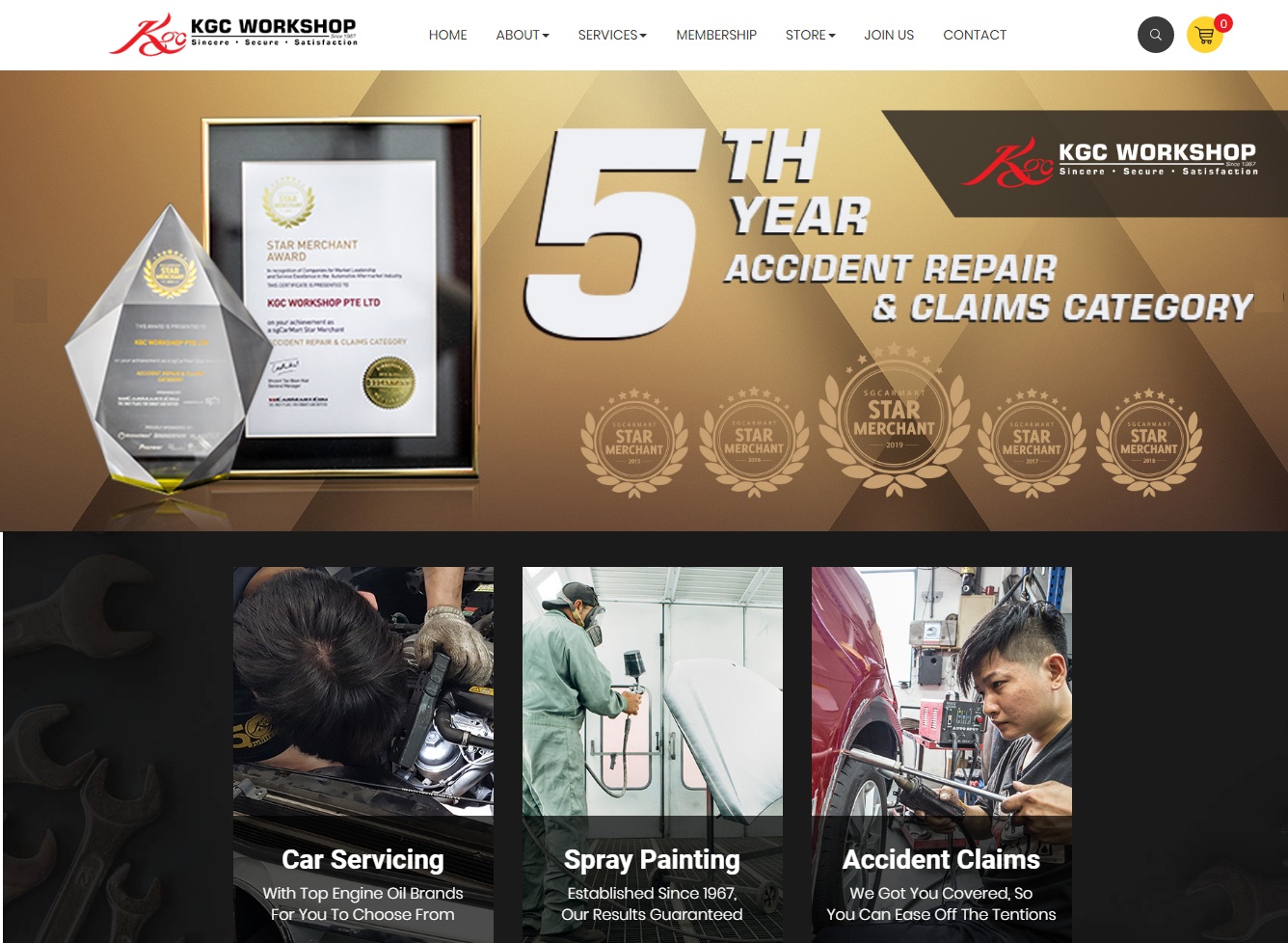 | | |
| --- | --- |
| BEST FOR | Car Servicing and Accident Claims |
| SERVICES | Car Servicing and Diagnostic, Bodykit repair & customization, Spray Painting, Car polishing & Grooming, paint protection, steam cleaning |
| WEBSITE | https://kgcworkshop.com.sg/ |
| ADDRESS | 14 Ang Mo Kio Street 63, Block B, Singapore 569116 |
| CONTACT DETAILS | +65 6453 6279 | 9321 0855  |
| OPERATING HOURS | 8.30am – 6:30pm |
KGC Workshop is your one-stop shop for automotive and grooming needs . They do car diagnostics and repair as well as polishing and grooming. They also feature some of the top branded engine oils and they give you the opportunity to choose from amongst the options.  They provide services for a wide range of car models from Asian to Continental. It can be in retail or you may avail their package deals. For more practical option, you may opt to register for membership as a lot of perks await.
Service Highlights
Car Servicing Packages

Branded products

Accurate diagnostics
Customer Reviews
KGC Workshop was rated 4.6 on Google due to their efficiency, professionalism, and accuracy. Their clients even claimed that availing services from them is considered a good investment. "Team KGC applied the 3K DEF paint protection system for my car with great effect. The job was done professionally and the team never shied away from my honest and sometimes brutal feedback to ensure that I got the most out of my investment in their service. In my opinion, that service attitude makes a world of difference in this industry. I will recommend DJ and his team of professionals."
8. Juzz for Cars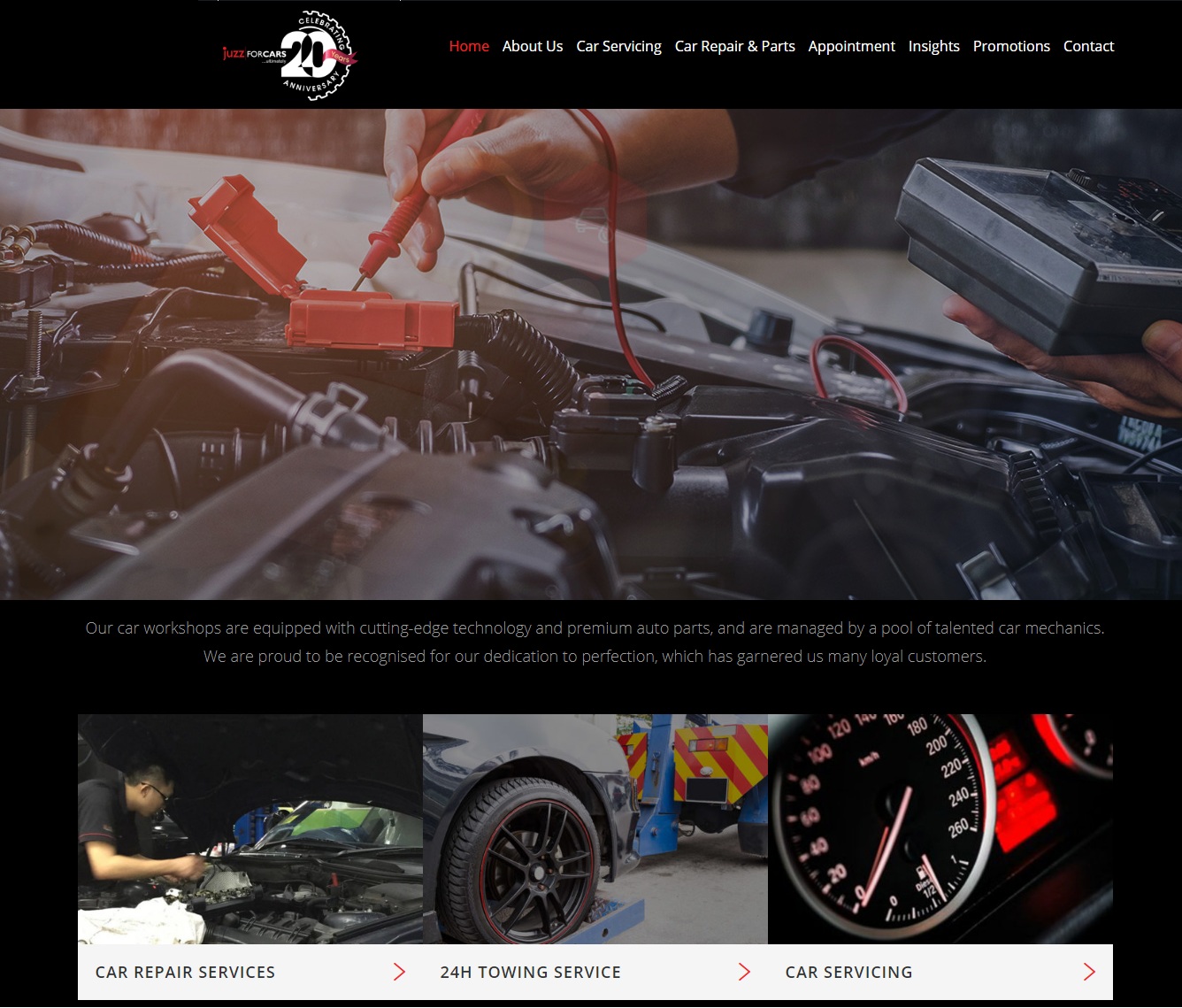 BEST FOR
Car workshop and grooming
SERVICES

Car Servicing, Repair, Towing, Aftermarket auto parts

WEBSITE

https://juzzforcars.com/

ADDRESS

Blk 176 Sin Ming Drive, Sin Ming Autocare #03-13/15/16, #05-06, S(575721)

CONTACT DETAILS

+65 6736 0303 |

[email protected]

OPERATING HOURS

Monday to Friday:9.00am – 6.00pm

Saturday:9.00am – 3.00pm
Juzz For Cars started in 1999 as just a 4-man team offering only car repairs and servicing. Through hardwork and dedication, they were able to expand their services and eventually included upgrading, car grooming, and car bodywork, as well. Now, Juzz For Cars is known as a one-stop hub for car fumigation needs. Their transparent fees and professional advice to car owners are truly reflected through the satisfaction rating given to the team. They also carry original and aftermarket premium car parts should you need to have some parts replaced.
Service Highlights
24 hour towing service

Ensures high quality original and aftermarket car parts

Transparent and reliable work
9. EA Detailer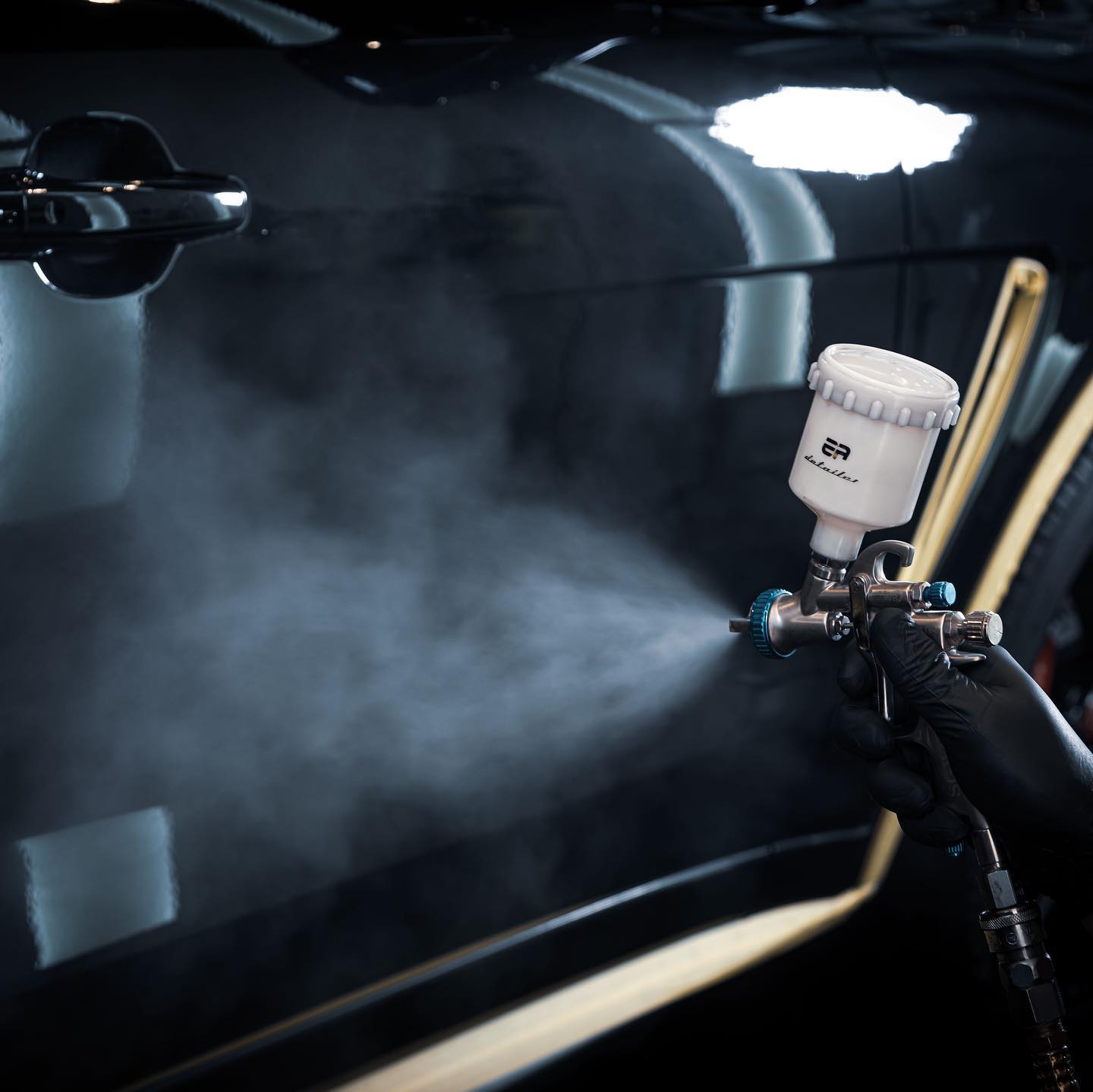 BEST FOR
Organic and biodegradable fumigation 
SERVICES

Exterior detailing
Interior sanitation
Paint protection
Glasurit Refinish
Tinting

WEBSITE
https://www.eadetailer.com/
ADDRESS
130 Dunearn Rd, Singapore 309436
CONTACT DETAILS
+65 6917 8396
OPERATING HOURS

Tuesday – Sunday: 09:30AM – 19:00 PM 

Mondays: Closed
If you're looking for car fumigation in Singapore that's plant-based and environmentally friendly, you should consider EA Detailing. Their bio-fumigation solution is made from plant enzymes and is half-lifed within 20 hours. 
This is great news if you have kids and pets that use your car frequently because their solution is safe enough to be ingested (not that you'd actually want to, but this is a just-in-case scenario). 
For the ultimate deep-clean, we highly recommend their 5-stage interior, what they consider their gold standard for interior car cleaning and sanitation. 
Pros
They have GrabPay and Hoolah installment options
They have a customer satisfaction policy
Their products come with safety certification 
Cons
Customer Reviews
EA Detailer has an impressive 4.5 average rating online from their satisfied customers. Apart from their environmentally friendly and biodegradable sanitation solutions, customers seem to be impressed with their customer service as well. 
Joseph Ooi has this to say about EA Detailer:
Came across EA Detailer on Facebook while searching for a car grooming company. As I parked my car in a harsh environment (heavy industry area beside cement factory), Bruce from EA Detailer recommended Feynland Ceramic Coating as it is more budget friendly than a full fledge PPF.
Final outcome is a car straight out of showroom, looking immaculate from every angle. Even after one week of harsh dust and weather condition (lots of dust and light rain = dust cake), a simple petrol station car wash returns it to the showroom state again.
Service from EA Detailer is top notch as well. Bruce and his team had been following up with me to find out how the coating had been holding up. A big plus is they include a free rental vehicle when I deposit the car, something that you don't get from any run-of-the-mill detailing company.
Overall, highly recommend anyone to give them a try.
Images are taken from each company's official websites/social media.