25 Options for the Best Curtain Cleaning in Singapore
Looking for the best curtain cleaning in Singapore? Well then, you've come to the right place.
Today, we're making a roundup of the Singapore companies providing the best curtain cleaning services. We also listed FAQs and the factors you need to consider when choosing a cleaning service.
How to Choose a Curtain Cleaning Company
First, you should consider what type of curtain cleaning method the cleaning company uses.
The most common way to clean curtains is by simply vacuuming to remove dirt, while others do more complex techniques such as laundry or steam cleaning. Of course, laundry and steam cleaning are better because it removes deep-seated dirt.
And if you're thinking of going to a laundry service for your curtains, make sure you're visiting a shop with dry cleaning options. With this laundry technique, you can avoid shrinkage and fading.
On the other hand, if you want steam cleaning services, you should look for a company that offers on-site services. With on-site services, you won't even have to pay additional fees for curtain dismantling and installation.
The next thing you should look out for is if the company can do proper assessment of your curtains. Every 3-6 months, your curtains will accumulate dirt, smoke, odours, and even stains, so make sure the company cleans your curtains in a way that addresses the specific type of grime on them.
The fourth thing to consider is the turnaround time, so you'll know how long you'd have to be curtainless should you choose them. Also, ask if they do pickups or deliveries.
The last factor is the cleaning service costs. Enquire about all types of costs, from the cleaning to delivery and pickup charges, so you can set a budget for your routine curtain cleaning services.
The Best Curtain Cleaning Service Providers in SG
Now, we hope you've learned something about choosing the best curtain cleaning company because we're about to tell you about our top picks! And don't worry because all of our picks have excellent curtain cleaning practices and customer services.
1. Cleaning Compare

Our first entry isn't exactly a curtain cleaning provider, but it does narrow your choices when it comes to curtain cleaning.
Cleaning Compare will give you specific quotations from at most five companies that can handle your cleaning requests. All you need to do is to list down your needs, wait for the confirmation, and you'll be good to go.
This company even caters to all types of industries as it has connections from residential, commercial, and industrial cleaning services. Thus, anyone, from homeowners to hospital managers, may benefit from Cleaning Compared.
2. Singapore Curtain Cleaning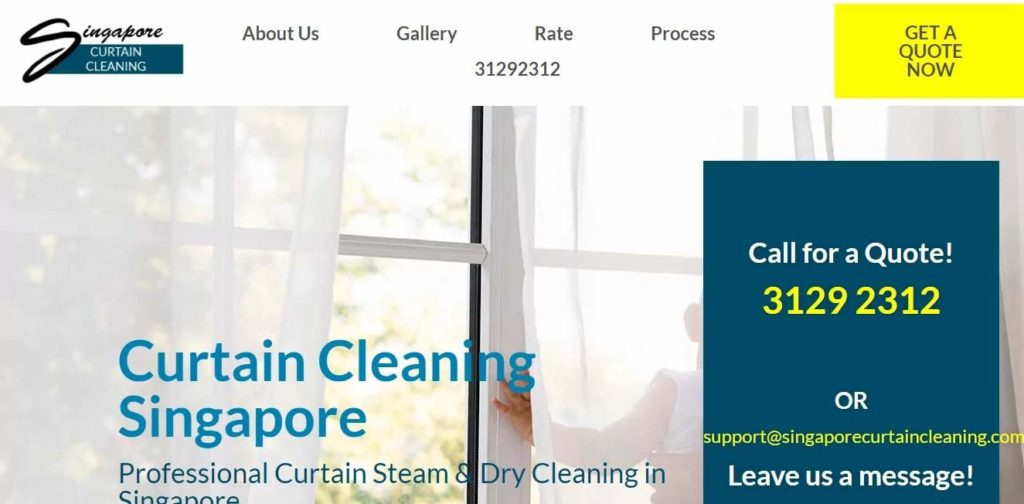 As its name suggests, Singapore Curtain Cleaning only has one task in mind. This cleaning company offers steam cleaning and dry cleaning to keep your drapes as clean and fresh as ever.
Singapore Curtain Cleaning also continuously trains its staff so clients can expect the best quality of curtain cleaning for economical prices. Its staff can even do steam cleaning on-site to reduce any additional costs and downtimes.
Another thing that Singapore Curtain Cleaning does is spot stains and deodorize curtains. The best thing about this company is that it first conducts a fabric inspection to ensure that it'll only use the most suitable cleaning services for your curtains.
Customer Reviews
Here are some reviews from customers who claim that this shop has the best curtain cleaning in Singapore:
"Big thanks to Karen for helping me to process my order. My curtains look great and my landlord is happy. I would use them again for curtain cleaning if I ever need to move again"—Edgar Mantz
"Got my curtains cleaned, and hung back up before I turned over my apartment. Great job and would use again"—Sugar Liquicia
3. Singapore Curtains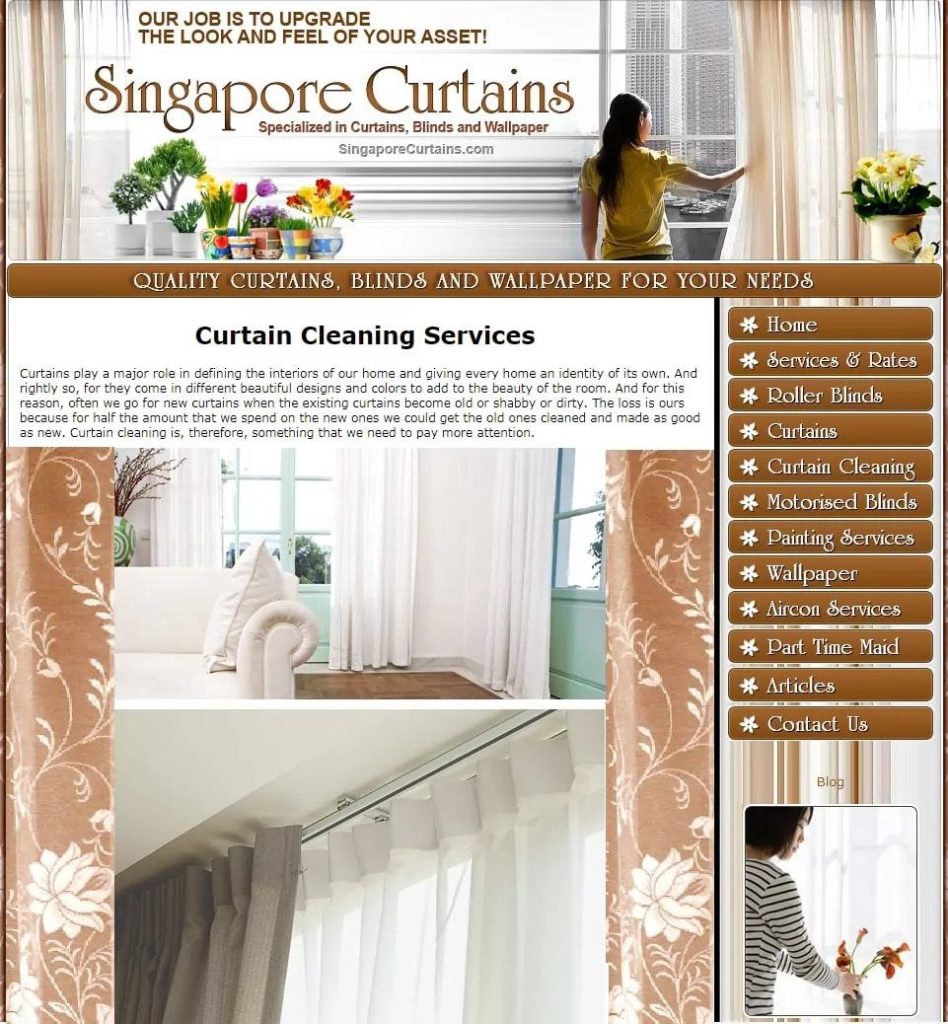 Singapore Curtains is an expert in all types of window treatments. It also claims to put its customer's needs before anything else, providing affordable prices, free quotations, and friendly advice.
What makes this company special is that it can handle all types of window accessories, including blinds and curtains. So, clients can bring blinds and drapes for Singapore Curtains to clean.
Aside from its curtain and blinds cleaning, Singapore Curtains also prides itself in selling curtains made from beautiful colors and fabrics put together with the durable stitching techniques.
Customer Reviews
Singapore Curtains' customers were truly amazed by its fast service. Here are the reviews echoing such a reaction:
"We requested for a free on site quote for the curtains and blinds in our HDB. They came and quoted us last week. We are very impressed with their workmanship. Curtains and blinds installed within 2 weeks after they quoted us. Will recommend your service to our friends."—Steven Wong
"Fast and efficient service. Got my free onsite quotation for my blackout curtain. Price quoted was good and installation was done fast also.Cindy Rivera 14 reviews 9 years ago Fast and efficient service. Got my free onsite quotation for my blackout curtain. Price quoted was good and installation was done fast also."—Cindy Rivera
4. SureClean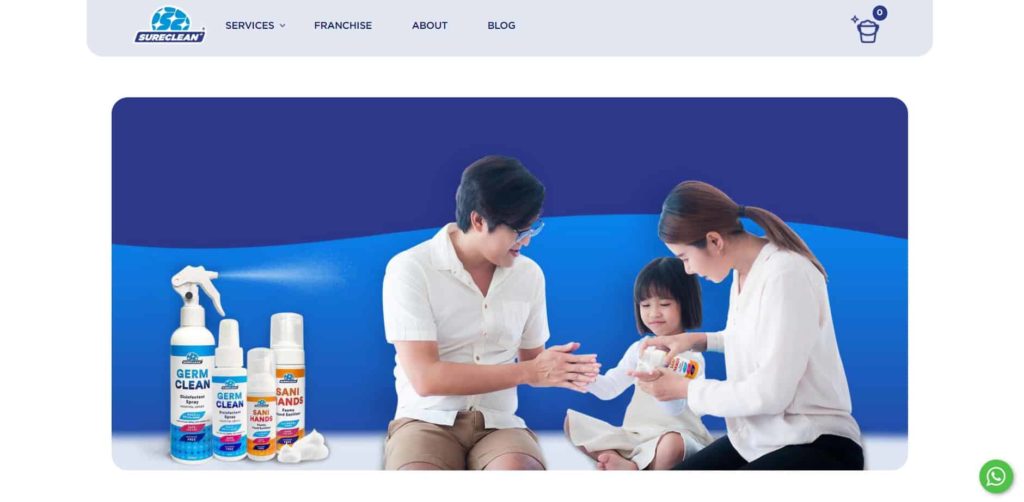 SureClean is one of the area's top suppliers of cleaning and disinfection services for homes and businesses. Since its inception in 2013, they have been constantly trusted by the medical, education, and childcare industries, which speaks volumes about their cleaning competence.
We appreciate that their products and services are evaluated and approved by organizations such as PSB Singapore and HACCP International Food Safety Accreditation for their cleaning brands, ensuring that their products are child-friendly and effective in all cleaning scenarios.
Past clients have also commended their services to be inclusive and seamless that made the whole experience with them to be smooth and convenient from the booking to the cleaning job.
Rates aren't readily available apparently so clients who are concerned with the budget the fees charged within each job they handle.
Nonetheless, with their NEA Licensed workers, laboratory-tested solutions, and long-term protection from their germs, we highly recommend them to clients in the area looking for reliable cleaning services.
Customer Reviews
Here are some reviews from their clients:
"Excellent service rendered! Cleaners were polite and even provide extra services like offering to help with my curtains and bedsheets even though they were out of their work scopes. Rather impressed with the cleaning esp cleaning of my ceiling lights and some hard to reach surfaces. Will definitely recommend to my friends and family."
"I engaged sureclean as my first cleaning company and was given 20% discount as first time customer. I'm very impressed with their service provided. They cleaned my home including my window grills, which I have hard time cleaning. I was told 2-3 cleaners, and end up with 4 cleaners. They finished their job within 4 hours. I will definitely engage with them again."
5.   Fresh & Clean Laundry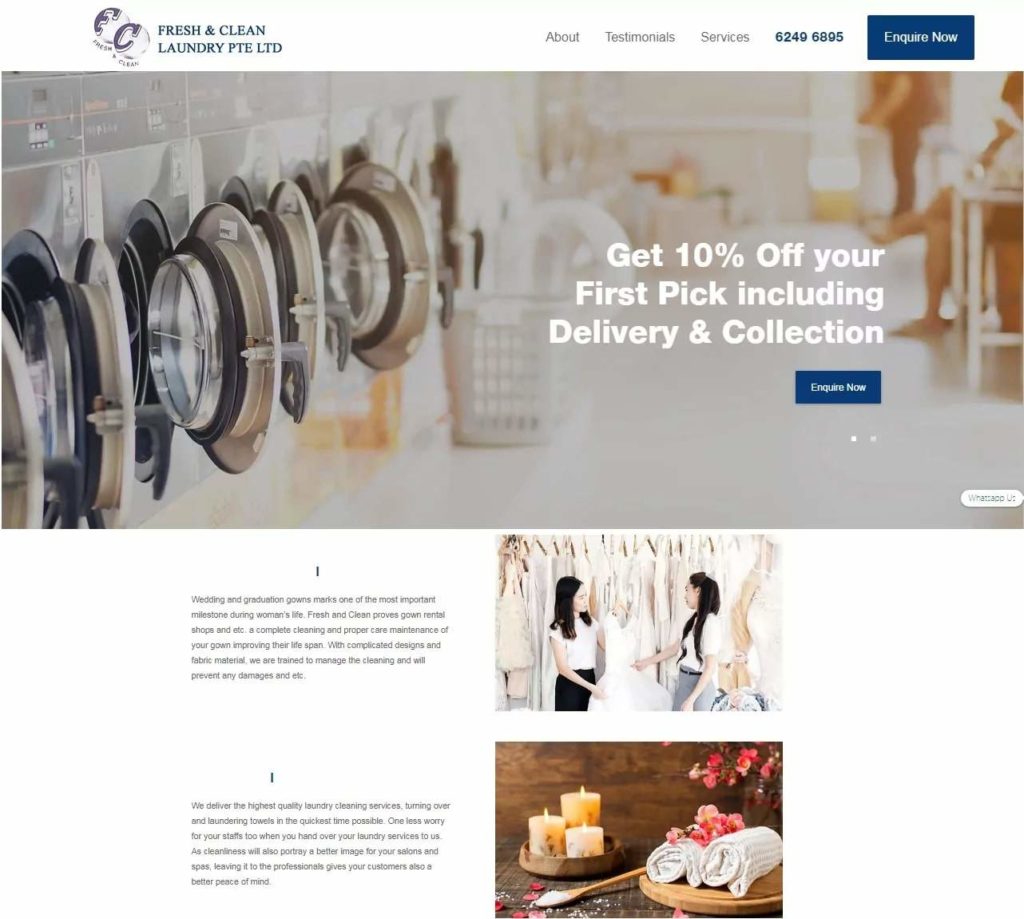 Fresh & Clean Laundry delivers nothing less than what its company name suggests. It uses only the top-rated solvents and laundry technologies to provide the best curtain cleaning in SG through dry cleaning.
This cleaning company customizes its services to match the industry it is serving. It has been serving numerous commercial establishments like restaurants, spas, and gyms since 2014.
Additionally, Fresh & Clean can handle comforters, rugs, carpets, and even speciality fabric like sheepskin. To provide its customers with a better experience, Fresh & Clean also offers a 10% discount for new customers.
Customer Reviews
Read what Fresh and Clean Laundry's customers have to say about its quality of services:
"I got them to help with my mums flat after the HIP upgrading works which was really messy.The cleaners were friendly,obliging and were very patient with my 77 year old mothers requests.Would recommend anyone to use Fresh and Cleans services!"— Nanan Wang
6.   CleanWorthy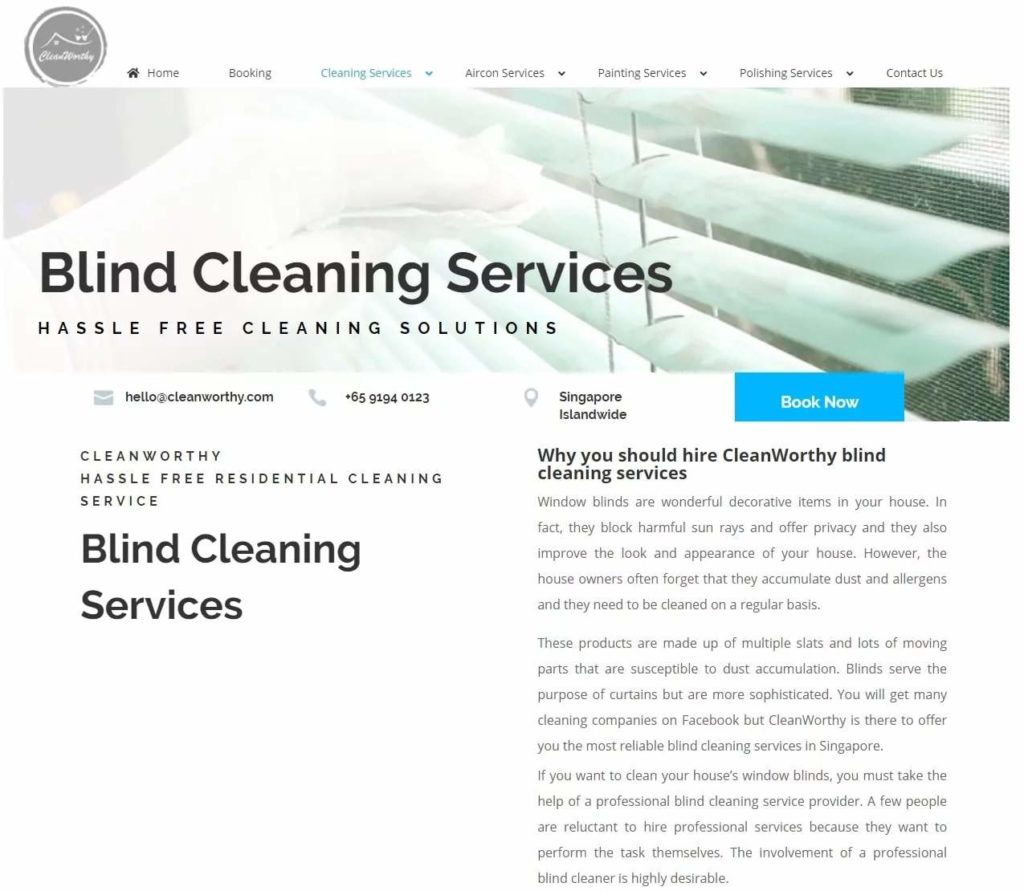 CleanWorthy is yet another expert in various types of window treatments. It provides blinds and curtain cleaning services to homeowners and business owners alike.
For its curtain cleaning, it can handle day, night, and even heavy blackout curtains. As for its blinds cleaning, CleanWorthy can handle both wooden and Venetian blinds.
Aside from these services, CleanWorthy also offers numerous cleaning services for commercial and residential settings. It's also an expert in polishing stone surfaces like marble countertops and granite floors, for instance.
Customer Reviews
Here are reviews to share with you why customers are so satisfied with CleanWorthy:
"I have used a CleanWorthy service for about two years. Service exceeded my expectations. The manager is professional, flexible and very reasonable. I trust them and their service has been consistently high quality. Highly recommend cleanWorthy to everyone. Thank you."
"CleanWorthy was the most responsive cleaning company among 4 that I contacted. The cleaners were punctual, friendly and did a thorough cleaning for my sofa and curtains."
7.   Reward Laundry
Reward Laundry prides itself in being a quick and reliable laundry service. Since Reward Laundry started in 2011, it has already helped over 25,000 households!
To cater to its busy customers, Reward Laundry offers some of the fastest turnaround times with 1-hour, 1-day, and 48-hour dry cleaning services. It also uses eco-friendly detergents that leave no lasting odour that can induce allergies.
Clients can also request on-site steam cleaning services for stage and blackout curtains. Reward Laundry even goes beyond the usual laundry services because it can also alter, repair, restore, and revive damaged curtains.
Customer Reviews
As one of the top cleaning service providers in Singapore, it's no surprise that Reward Laundry has received consistently positive reviews, such as these:
"Service provided was excellent as they were quick to respond to any queries and gave timely updates and advice on the clothing sent in. The delivery person was also very accommodating. I had a miscalculation of the number of suits sent in and when he delivered the already dry cleaned suits he was willing to pick up and send in just that one more suit. It was nice of him to do so without any extra charges and just for 1 more suit. Thank you so much!"
"Reward laundry was very prompt in responding to my order and had great flexibility to accommodate my special requests. The driver engaged was very efficient and professional. Overall, the service provided was good and the whole process was seamless and efficient.—
8.   Singapore Laundry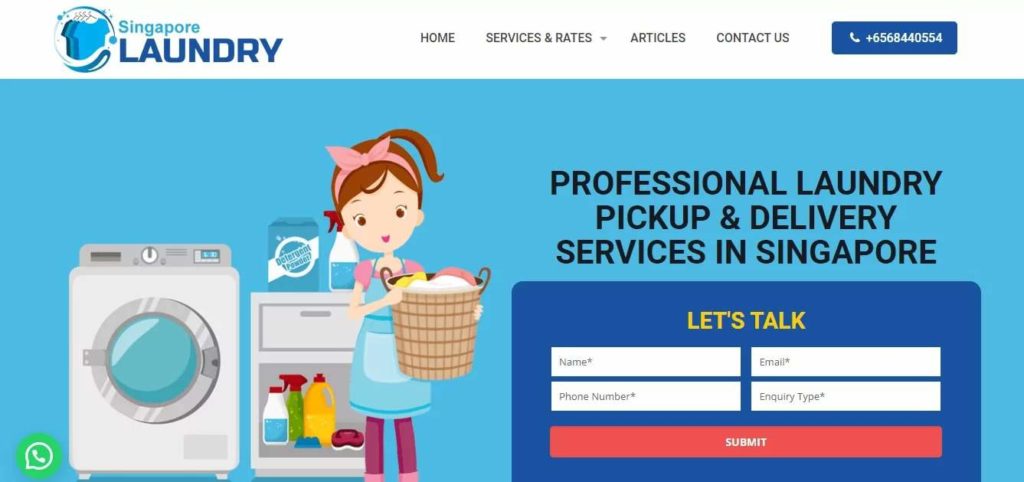 Singapore Laundry is yet another laundry shop offering dry cleaning and gentle washing. This laundry shop also provides the best on-site dry cleaning in Singapore for affordable prices, a dollar or two less per kilogram compared to others.
Singapore Laundry even imparts some care tips to clients so its customers can better maintain their curtains. It also checks on its clients after delivering its services so it can receive necessary feedback for improvement.
Its excellent customer services and affordable prices all make Singapore Laundry appealing to the Singaporean crowd.
Customer Reviews
Here are just some of their 5-star reviews:
"We booked a dry cleaning pick up service last week. Service rendered was great. We got back our laundry within a week. Will recommend your service to my colleagues."—Angel Chong
"I was recommended by my colleague Michael on Singapore Laundry. They came on 13th Jan 2013 picked up my curtain and also some laundry. I must say that they are very efficient in their work.The driver Mr Goh is very polite and pleasant."—Elvin Yeo
9.   DuoNini Laundry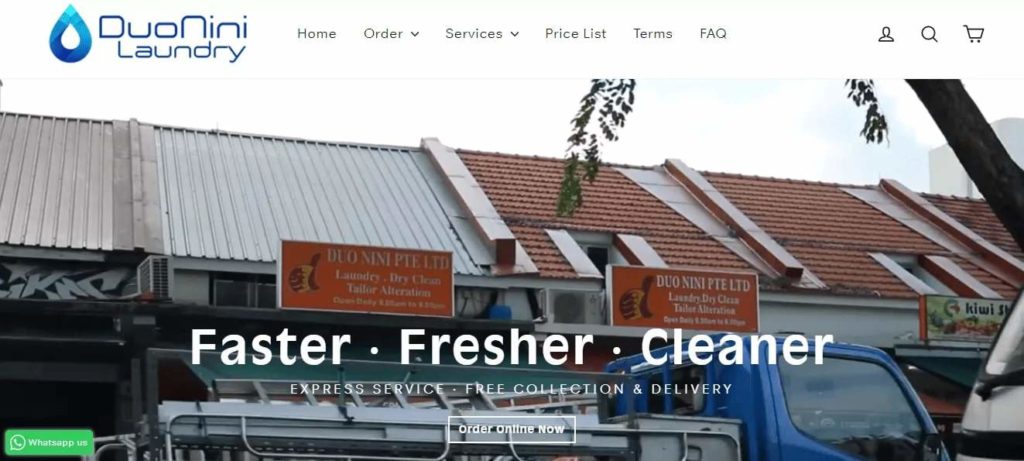 One of the most versatile laundry shops in Singapore is DuoNini Laundry. This laundry shop can handle any type of garment and linen, whether it be denim pants or heavy drapes.
Probably the best thing about this laundry shop is that it offers free delivery and collection for orders exceeding $50. And customers who have damaged curtains can also rely on DuoNini laundry for on-the-spot alteration services.
As part of its alteration services, this laundry shop will even fix rails, hooks, and tracks on the spot. DuoNini also does more than laundry services because it also offers disinfection services and home cleaning.
Customer Reviews
Customers appreciate the professionalism, responsiveness, and value of service DuoNini provides, as these reviews will tell you:
"A very proper service provider in this area. Its prices are very acceptable and fair. They completed the curtain and carpet cleaning service without any hassle for me. Not to mention, the staffs are very helpful and friendly. Will continue using their service and observe. In overall, a good work done👍🏻"—Angela Tay
"The team did a very professional and fast job dry cleaning the curtain, deep cleaning my entire flat as well as painting the flat at short notice. Absolutely satisfied with them and would without hesitation recommend Duo Nini to all my friends in SG."—Simon JDS
10.  Cotton Care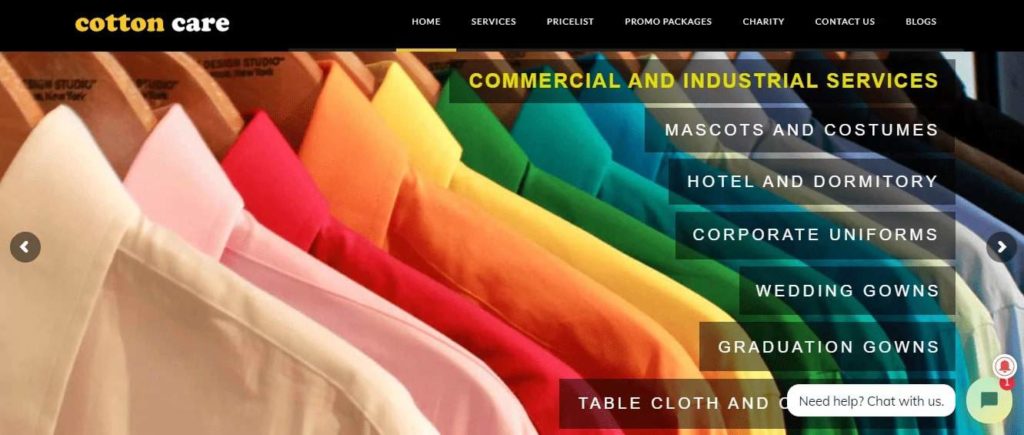 Whatever type of linen you need to wash, Cotton Care will be at your service. This laundry and dry cleaning company provides the best curtain cleaning in Singapore for curtains on a track.
Its curtain cleaning services include dry cleaning, on-site cleaning, dismantling, and installation. Cotton Care also assesses the type of fabric beforehand so it can give curtains the proper cleaning treatment.
Aside from cleaning services, Cotton Care is also capable of curtain fabrication, sofa upholstery, blinds manufacturing, and disinfection services. With this array of services, Cotton Care caters to all types of settings, from homes to offices.
Customer Reviews
Read these customer reviews to learn more about how Cotton Care may be of your service:
"I'm very happy with their service! They also have a pick-up and delivery service so you don't even need to leave your house to get your clothes cleaned. They are also very responsive if you have any questions. They will send you photos of stains and update you on the progress. The quality and the prices are great! Highly recommended!!!"
"Most professional and efficient dry cleaning company I've ever worked with. Company also updates with photos of any difficult stains to remove which is useful for me as a business owner to know. Special mention to Regine who is incredibly prompt, professional and customer-oriented. Looking forward to working with Cotton Care."
11.  Unique Express Cleaning And Repairs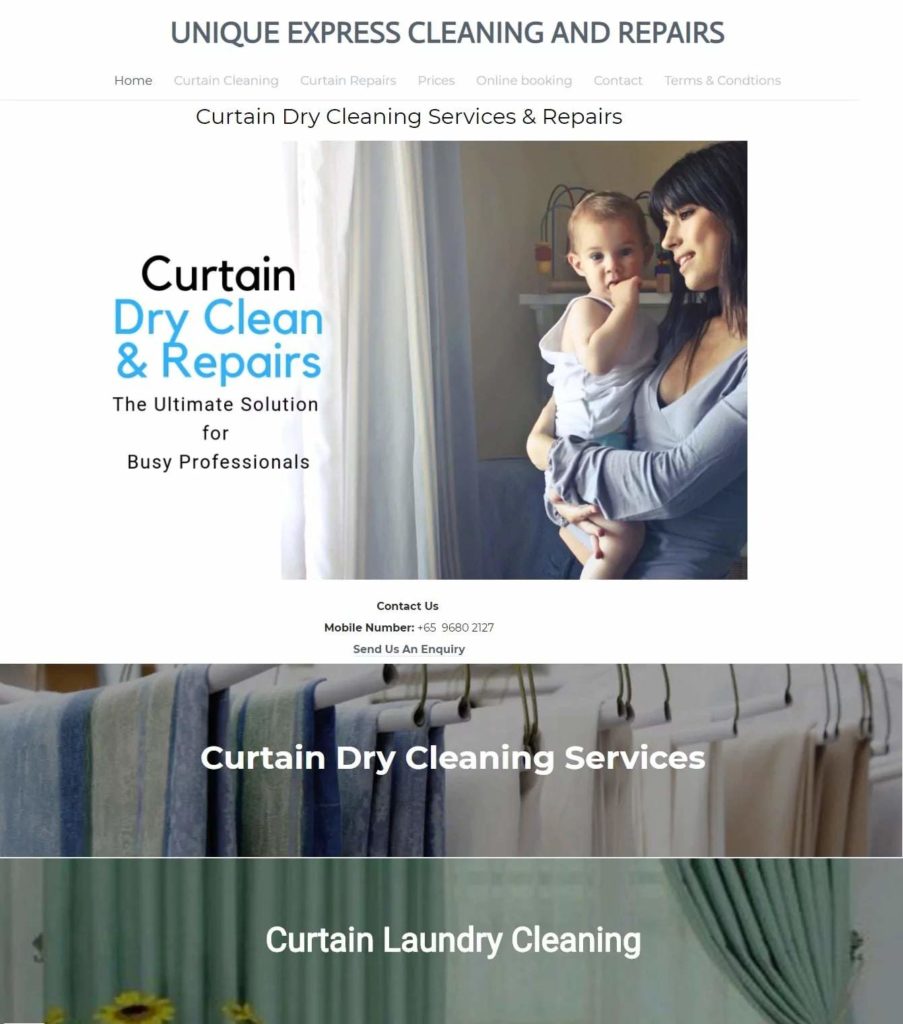 Unique Express offers all types of curtain cleaning services, including on-site steaming, dry cleaning, and laundry services. It is also an expert when it comes to repairs, so customers can call this business whenever they have damaged curtains.
The curtain cleaning company even accepts same-day bookings and collections. Additionally, it offers free delivery if the collected curtains exceed 10 kgs.
Unique Express also offers free replacements for missing hooks and pins. And the best thing about it is that it offers replacement curtain rentals, so customers can maintain privacy while their curtains are cleaned.
Customer Reviews
Customers praised Unique Express Cleaning for its punctuality and responsiveness. Here are some reviews to tell you more:
"Provides curtain dry cleaning at a reasonable price. Staff are well trained and professional. They are also responsive and reply quickly. Definitely will recommend to others! 😁"—Justin Ow
"had juice spilled onto the curtain and sent them for curtain cleaning here. i must say i am impressed with their work ethic as they cleaned it in no time and returned to me in as if brand new condition! they were responsive with my queries as well. on top of that, they offered me free curtain dry cleaning service out of their courtesy! thank you so much!"—Alex Denzel
12.  LaundryMart Pte. Ltd
Now, if you already know how to care for your own curtains and you're thinking of washing them by yourselves, LaundryMart can be a good choice. This laundry shop offers self-washing services, as well as professional dry cleaning services.
It also offers free pickup and delivery for laundry with more than four pieces of linen. Despite being a simple laundry shop, it still offers curtain dismantling and installation services.
But the best thing about this provider is that it's open 24 hours every day. So, even busy customers who can't seem to find time for their chores can still visit any of LaundryMart's locations around the island.
Customer Reviews
Read these reviews to know why customers keep coming back to LaundryMart for their curtain cleaning services:
"Laundrymart at ue square was excellent. They collected my curtains washed and dry cleaned them and returned them promptly. They also suggested that I take them down and remove the clips to save money. They were excellent so glad I found them. They couldn't have been better."—Cindy Bloom
"Great service of 24/7 pick up. Very useful for working people with long hours"—Andrew Johnstone
13.  Mr Dobi Laundry Services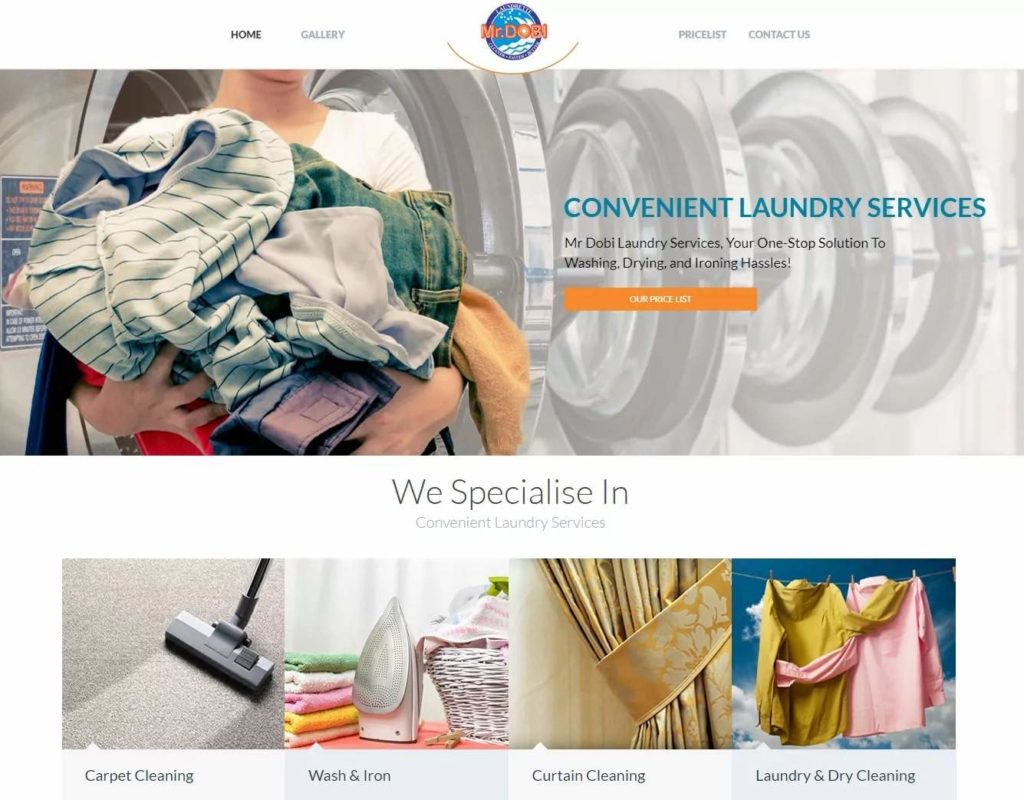 Mr Dobi Laundry Services specializes in convenient laundry services because it has washing, drying, and ironing services.
This laundry service has been in the business since 1940, so customers already trust its services. Despite being one of the pioneers in the industry, Mr Dobi still stays on top of the latest equipment, products, and laundry practices.
Besides, Mr Dobi also works beyond office hours so even busy bees can avail of its services. With its trained staff and latest equipment, this company can handle any type of fabric.
14.   Cleaning Guardian Pte Ltd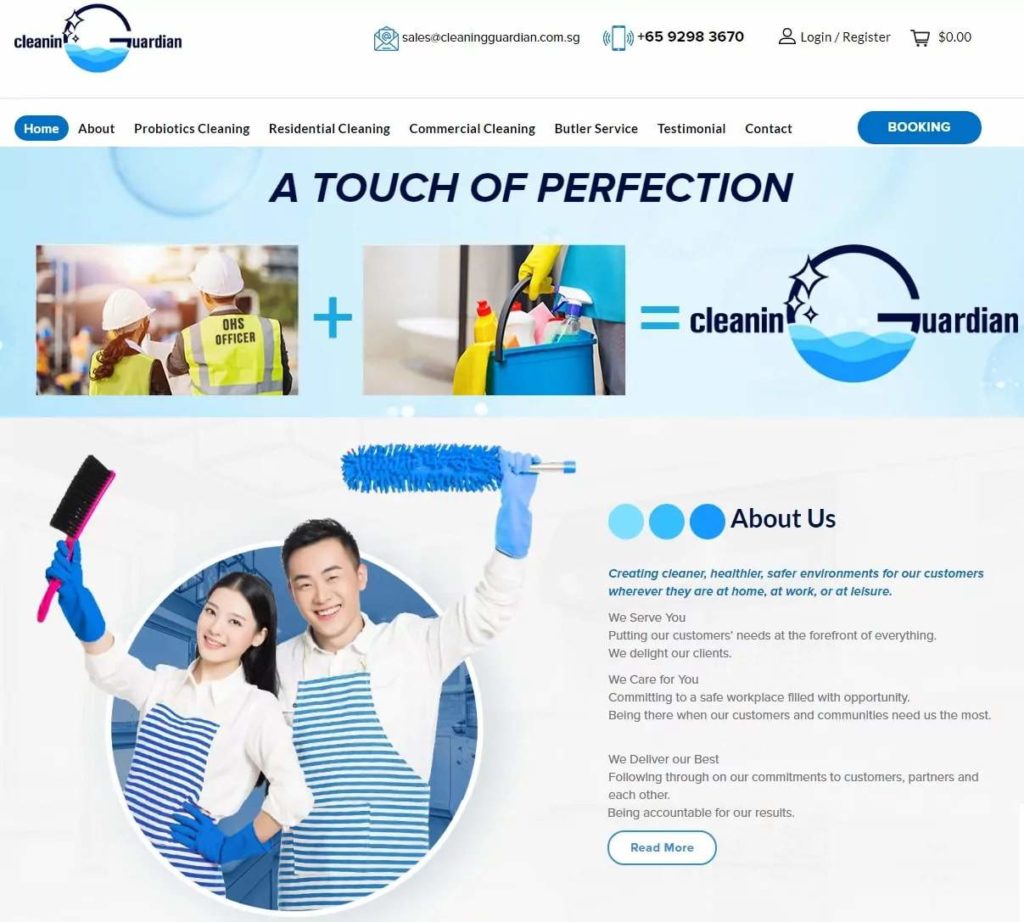 Cleaning Guardian offers all-around cleaning services to homeowners and business personnel. Its expertise isn't limited to fabrics and surfaces, by the way, as it can also clean appliances.
Its curtain cleaning services are also a part of its signature cleaning services. So, customers don't even need to dismantle curtains because Cleaning Guardian will clean them on-site.
Additionally, Cleaning Guardian also does aircon services so that clean homes can remain dust-free and well-ventilated. All of its cleaning packages are also HSE-approved, so customers can expect nothing less than healthy, safe, and eco-friendly services.
Aside from residential and commercial cleaning, Cleaning Guardian also offers butler services. Its butlers are highly trained in social etiquette and formal service, making them perfect for any occasion.
15.  Laundrymart Somerset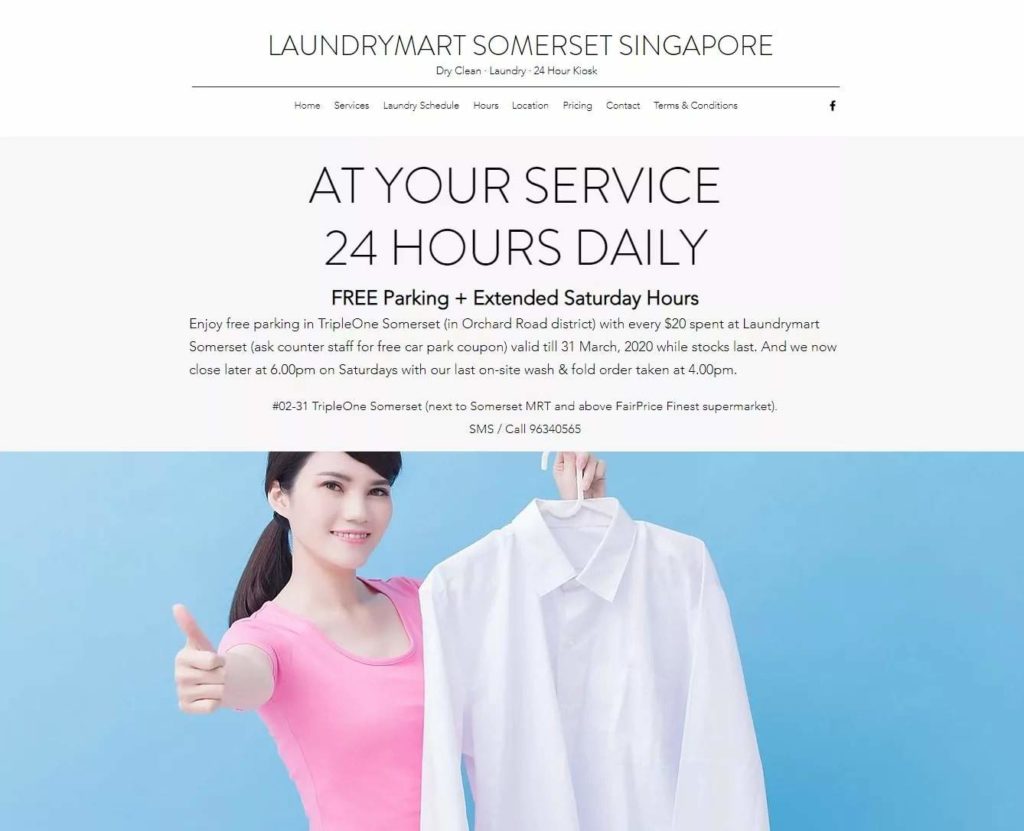 LaundryMart Somerset is yet another laundry shop that's open for 24 hours every day. Customers can come and do their self-service laundry here.
But if you'd rather have professionals handle your curtains, then you may benefit from LaundryMart Somerset's dry cleaning services too. Its regular services are available every day and already include ironing services.
This laundry shop also offers express dry cleaning services. With this feature, customers can get their clothes and linen within a day of requesting dry cleaning.
Customer Reviews
Here's what some of LaundryMart Somerset's customers have posted online:
"Didn't expect to find a laundry store in Orchard Road area that wash clothes inside their store. Took me about 2 hours to get clothes wash, dry and fold. Convenient above NTUC in TripleOne Somerset. They also do dry clean. Staff is friendly. Mall a bit quiet but easy to find next to Somerset MRT. "—Bullet Lee
"Convenient for quick wash and dryer for laundry near Orchard Rd. They do laundry in store. Somerset MRT next door. Also tried their dry clean which takes about 2 to 3 days."—Leslie Timo
16.  Laundry Shop Singapore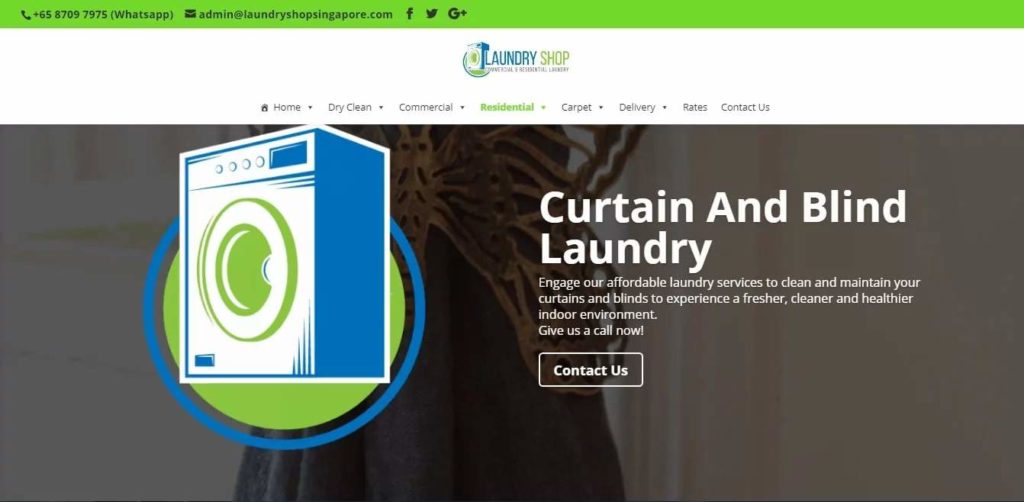 Laundry Shop Singapore is well-known for its wet curtain cleaning services. However, it also has other curtain cleaning techniques.
With curtain steam cleaning and dry cleaning services, Laundry Shop Singapore can handle all types of curtains made from any type of fabric. This laundry shop also goes beyond as it removes stains and other hidden particles to make your curtains look brand new.
Additionally, this laundry shop can handle carpets and gowns for residential customers. As for its industrial expertise, Laundry Shop Singapore can handle anything from school linen to laboratory wear.
Customer Reviews
Laundry Shop Singapore's customers were delighted with its high-quality services. Here's a customer review to tell you more:
"Great value, great service, much better than using hotel laundry service and much better than wasting your holiday sitting in a laundromat"—Paul Pinn
17.  SGcleanXpert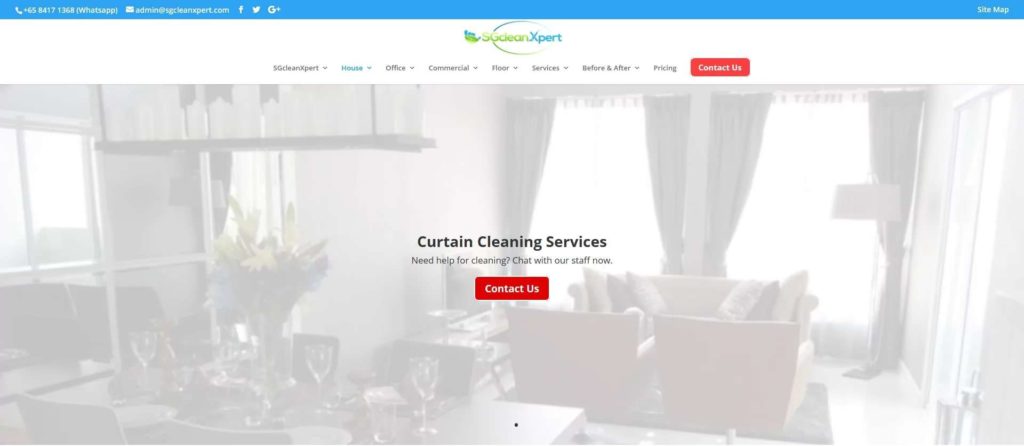 Yet another home cleaning expert, SGCleanXpert delivers some of the highest quality of curtain cleaning services on the island. It provides on-site curtain cleaning with the guarantee of removing dirt and grime.
As one of the leading companies in Singapore, SGCleanXpert uses only the latest technologies and safest sprays to avoid colour changes or shrinkages. SGCleanXpert can even handle any type of fabric, whether it be cotton, velour, velvet, or rayon.
Additionally, SGCleanXpert is also an expert in carpet and upholstery cleaning services. With these additional services, clients can receive many types of cleaning with transportation and booking costs for one.
Customer Reviews
With SGcleanXpert's Professional service, many satisfied customers say they've become loyal clients of the company. Here are customer reviews to tell you more:
"The gentlemen who helped perform the services were highly professional, detailed and even provided me advice on maintenance. Thank you :)"
"A very professional and modern approach to cleaning service and good customer service. The cleaners are well trained and of high quality."
18.  CleanHomes

CleanHomes pretty much lives up to its name because it can handle anything from curtain cleaning to marble polishing. The best thing about this company is that it also offers complimentary steam disinfection for every cleaning service booked.
It offers on-site curtain cleaning with a 100% guarantee against shrinkage and colour fading. As an expert in many cleaning techniques, CleanHomes even provides complimentary anti-dust mite treatments to protect homes from pests.
This company also has a license from the National Environment Agency (NEA). Thus, customers can be sure that it only uses sustainable products and follows eco-friendly practices.
19.  UltimateLaundry

UltimateLaundry has consistently delivered the best dry cleaning and laundry services for all types of garments. It can handle anything from silk to cotton curtains, so customers don't have to worry about shrinkage or damage to curtains.
This laundry shop also helps with high-ceiling curtains. Additionally, UltimateLaundry offers free pickup and delivery for orders exceeding $45.
Aside from its versatile laundry and dry cleaning services, UltimateLaundry also prides itself on responsive services. Its staff guarantees to respond to you within 24 hours of your request.
Customer Reviews
Most customers are highly satisfied with Ultimate Laundry's time-efficient and organised management. They praise the company for its excellent dry-wash-fold services, just as these reviews have:
"I will definitely come back to Laundry needs on all my laundry needs. They did a great job, and I come back, why not? It's hard to find a laundry company that is able to provide these services well these days."—Carol Lai
"Just had the greatest experience engaging Ultimate Laundry, I am amazed that they only took 5 days to clean them up and return to us!"—Alsong Jong
20.  Cleanshades

Cleanshades may be a relatively new company, but it has served many corporations efficiently and excellently. It offers steam cleaning and vacuum cleaning, so its customers don't even have to take down their curtains for cleaning.
Additionally, Cleanshades has experts in spot cleaning. Thus, it can transform even the most spoiled curtains in Singapore into brand-new-looking ones.
Cleanshades also delivers the best curtain cleaning in Singapore with no reassembly needed. To add to its curtains and blinds cleaning, Cleanshades also offers outdoor system cleaning services.
21.  Big Red Carpet Cleaners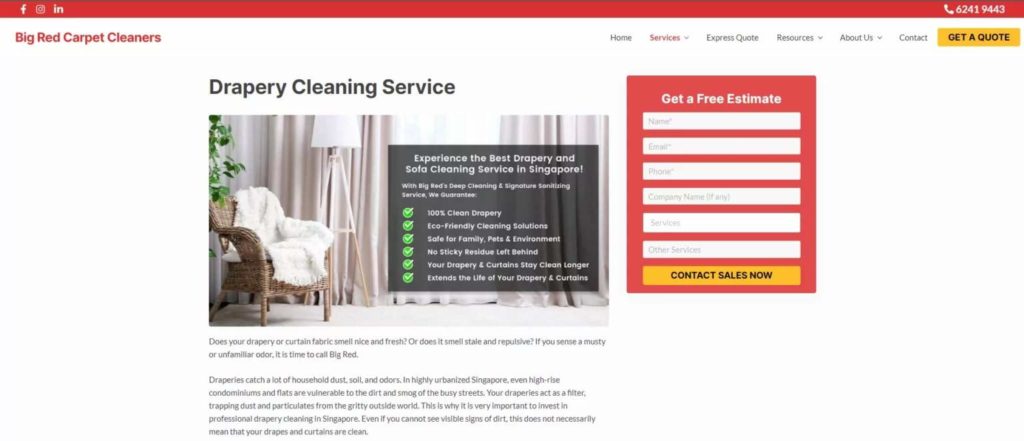 Big Red Carpet Cleaner's speciality is not just with rugs because it also offers the best curtain cleaning on the island. It promises to deliver clean and non-sticky curtains, no matter how dirty your drapes are.
Its experts also do dry cleaning on-site. This saves clients the hassle of removing and installing their curtains.
But the best thing that Big Red Carpet Cleaners has to offer is its cleaning warranty. It has a 30-day guarantee, which means clients can report dissatisfaction and have free re-cleaning services within a month of the initial appointment.
Customer Reviews
Customers have praised Big Red Carpet Cleaners for its professionalism, punctuality, and responsiveness. Read these review to know more about what customers like about the company:
"Very good cleaning services – the best by far! No corners are cut, extremely professional staff and responsive team."—Simmi Sharma
"The booking process was really easy and they were all helpful with all my queries. They also did a wonderful job! Will contact them again. :)"—Sara Dylan
22. Curtain Cleaning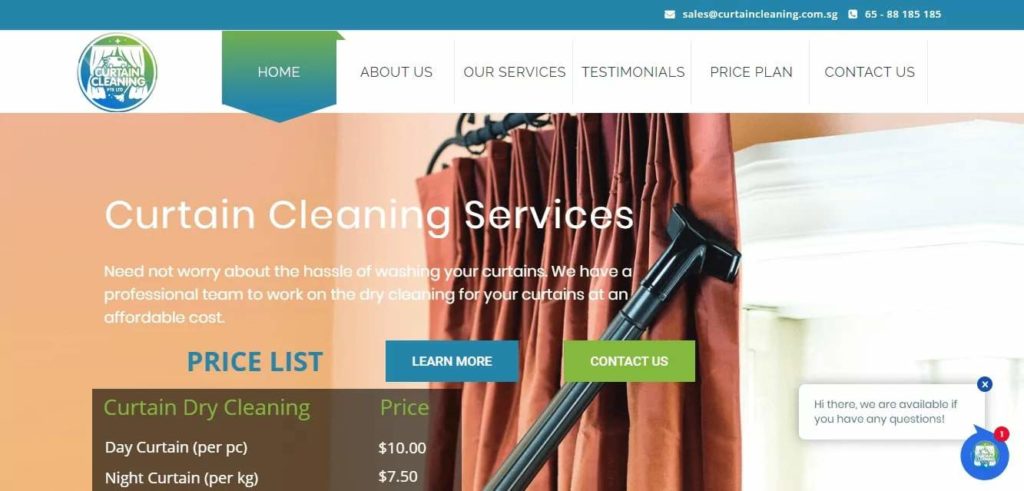 Curtain Cleaning provides both on-site steam cleaning and off-site dry cleaning services. For its steam cleaning services, it has the latest technology in the industry, namely the Supersteam.
Its team is not only responsive but is also efficient. Thus, clients can expect fast and affordable services, from curtain dismantling to cleaning and installation.
The company can also handle dry cleaning for bed covers, rugs, plush toys, and even wedding gowns. Curtain Cleaning even goes beyond being a simple dry cleaning shop because it also offers house cleaning services.
23.  Helpling
Helpling is yet another third-party helpling people get the best curtain cleaners in Singapore. Helpling has also helped over 250,000 customers get their own homes cleaned, thanks to its convenient online booking and payment system.
The best thing about this company is that it helps you find the best nearby freelance cleaners. This may be vital if you want to support those in your area.
On its website, you'll find cleaners and their respective rates, with no hidden costs. You need only supply your postal code and you'll immediately be provided the top cleaners in your area.
Customer Reviews
Helpling's cleaners are known for their professionalism. Reviews claim they are understanding, friendly, and great at their jobs:
"Helpful and very understanding. Efficient and there's no time wasting. [The cleaner] lets me feel safe to handle her tasks in my house to clean and there is no excuse at all. Hope she keeps up the good work."—Jiale via Helpling's website
24. Pressto Singapore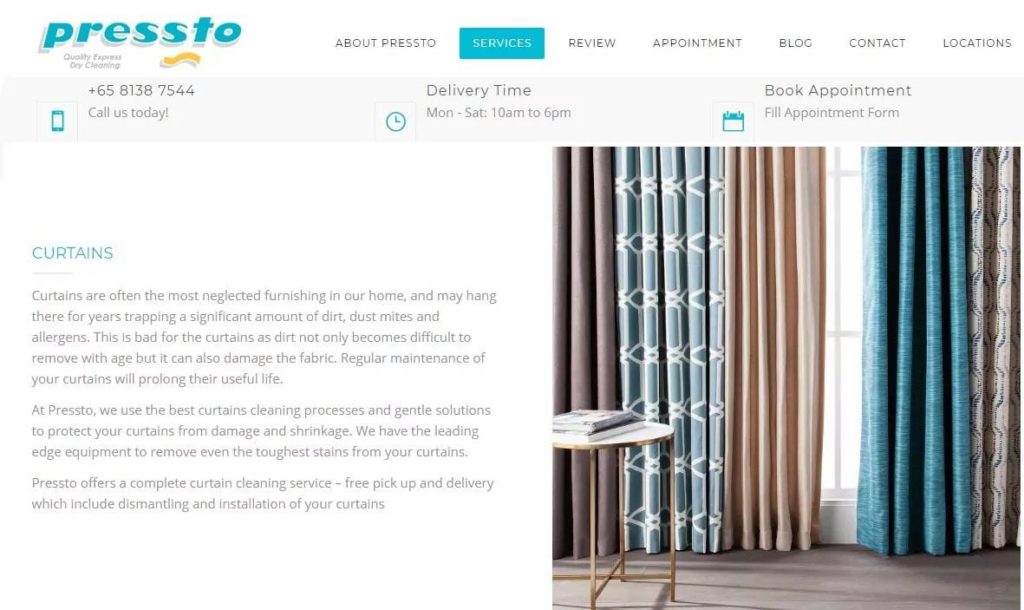 Pressto Singapore prides itself on providing the best express curtain cleaning in the country. It is part of the larger international Spain-based company that has been around since 1994.
With its long-standing history, clients can expect only the best services from Pressto Singapore. This company also only uses green products and equipment and employs only experienced and well-trained staff.
Additionally, Pressto Singapore has stain removal experts so clients can expect nothing less than fast services and spotless curtains. And if you have a damaged curtain, you may also benefit from Pressto's alteration services.
25. Clean Care Dry Cleaning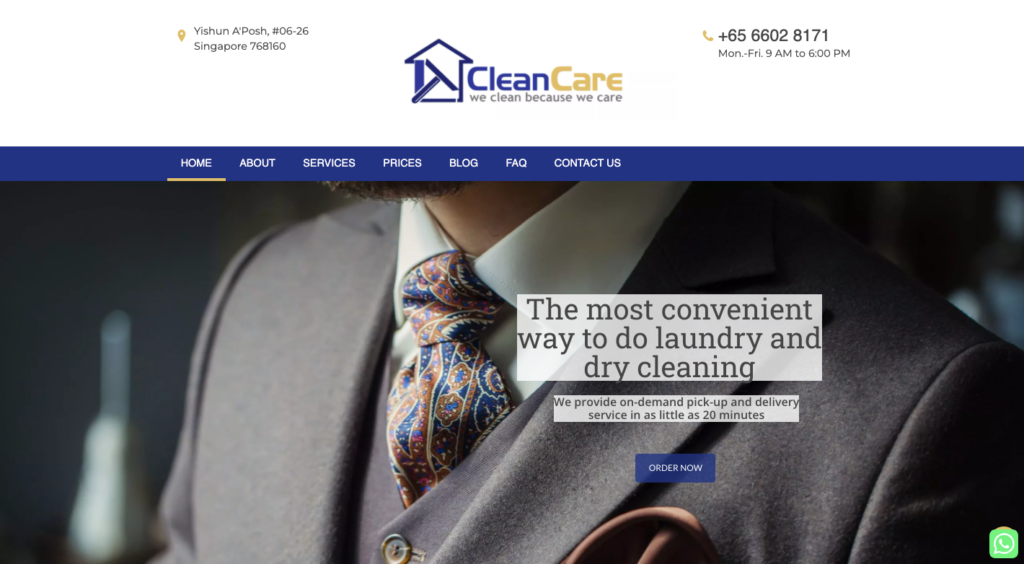 Clean Care Dry Cleaning began with a single goal in mind: to help residential customers improve their health and work-life balance, as well as to help corporate clients improve their business images.
With Singapore being a fast-paced economy and time being the essence of money, a clean and healthy working environment or home is a prerequisite for a functional environment and the foundation of well-being.
Cleanliness and hygiene are the epitomai of a healthy living environment, that is why Clean Care's goal here is to exceed your expectations by providing the quality service you deserve in all aspects.
As we work in an evergreen industry, Clean Care Dry Cleaning has been assisting their customers with laundry maintenance that not only extends the life of their upholstery but also creates a healthier environment and good branding for both employees and customers.
We are impressed with them as well for if you choose Clean Care's curtain dry cleaning service, they will see to it that you will be able to get the best value for money. Aside from providing high-quality cleaning and pressing, they will also provide the most competitively priced curtain dry cleaning, ensuring you get the most bang for your buck.
They also provide door-to-door service, so you don't have to lug your heavy curtains to the cleaners. They have flexible time slots for customers with varying schedules, so why not place a quick and simple online order? They can pick up your curtains and deliver them back to you squeaky clean within 7 working days.
They are laundry and dry cleaning professionals, which means that they are always up to date on the latest technologies, cleaning methods, and solutions for dealing with stains or delicate fabrics. So you won't worry about a thing with them.
Aside from that, they also uphold the highest standards of business integrity by adhering to local, state, and federal regulations as well as environmental safety regulations. That is why they have been a trusted and proud partner for their diverse clientele, which includes schools, cafes, restaurants, and offices.
Clean Care Dry Cleaning is driven to change the way you think about laundry!
Customer Reviews
"The process from enquiry to booking, service to final completion was of high quality. Superb customer service. I requested a curtain clean, the staff were so knowledgeable and patient with my questions. Door to door pick up and drop off, curtain installation were all part of the price plan, bonus! Before the wash, the staff also advised on the fabric and seek confirmation before they clean, truly appreciated. Thank you CleanCare team!" – Shen Yan Liow
Frequently Asked Questions about Curtain Cleaning
---
And that's it for our list of the companies providing the best curtain cleaning in Singapore.
If you've tried any of our entries above, don't hesitate to share your experience with them. We're always looking forward to hearing from you.
Now if you're looking for other lists to maintain a clean and sanitary home, check out our list of the best carpet cleaning in Singapore. With these proven cleaning service providers you can finally bid farewell to filthy and smelly carpets and curtains!