The 41 Best Aircon Servicing Companies in Singapore
Aircon servicing Singapore companies are important as the island generally stays hot and humid year-round. Aircon servicing can also prolong the lifespan of your aircon unit, keep indoor air clean and healthy, prevent water leakage, and make your unit more efficient.
In other words, aircon servicing benefits both your health and your budget! This is why it pays to have a go-to aircon servicing Singapore company.
If you don't have one yet, here are the top aircon servicing companies in Singapore. These provide a wide range of services, including normal servicing, chemical wash and overhaul, gas top-up, parts replacement, installation, and more.
Frequently Asked Questions
How much is aircon servicing in Singapore?
It depends on the type of service that you're getting.
But if we're talking about general aircon servicing, expect to pay around S$35 – S$60 for one air conditioning unit. The prices may vary depending on factors such as your aircon type, number of fan coil units, etc.
Luckily for Singaporeans, there are plenty of options for cheap aircon servicing in Singapore. And our job is to help you find which company offers the best value for you.
If your unit needs chemical washing to remove any clogs in the system, it may cost you around S$80 to S$150 for a single unit. Again, prices may differ depending on the factors mentioned above.
But for a more thorough cleaning, you may need to avail of a chemical overhaul. If that's the case, it's going to cost around S$130 to S$200 for one unit.
There are a number of other aircon services out there. Since aircon servicing companies charge different rates and have different levels of service, always make sure to inquire about their prices before booking an appointment.
How often should the aircon be serviced?
According to expert aircon technicians, you should have your air conditioning units looked at at least once a year. This is most recommended for aircons within residential units.
But if you own a business or office and heavily use your aircons, you should have them checked every quarter or every four months. 
The frequency of aircon servicing depends on different factors such as the environment, the age of the aircon unit, temperature, and type of usage.
What are the benefits of aircon servicing?
Keeping your aircon units in good health is beneficial not only for your physical and financial wellbeing but also for the environment.
Regular servicing allows your aircon to be more energy efficient. This means that your aircon will be able to perform at its fullest potential without putting stress on your electrical bills and on the environment.
Regular servicing can also add more years to your unit's lifespan, allowing you to save more money in the long run. Aside from the cooler air, you'll be glad to know that regular servicing also gives you cleaner air to breathe.
1. Aircon Servicing Singapore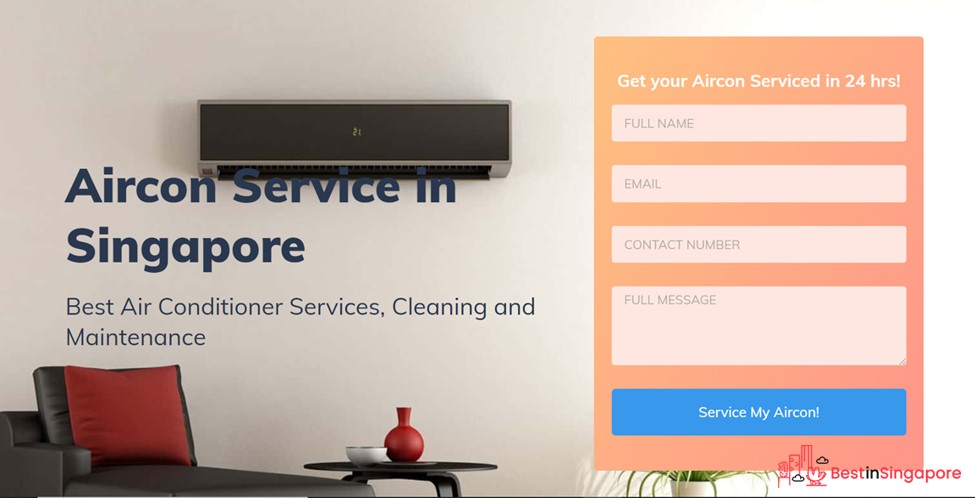 For years, Aircon Servicing Singapore has been committed to providing the best quality care for clients in need of aircon servicing in Singapore. Their technicians have decades' worth of experience in repair and maintenance and promise to deliver the highest quality of service for all clients.
For your peace of mind, Aircon Servicing Singapore also promises a 30-day workmanship warranty for any issues that may happen after their servicing. Compressor problems, coil breakage and other problems are included in the warranty, so rest assured that you'll be getting your money's worth, if not more.
Trusted by popular brands like LG, Aston Martin, Cotton On, and more, Aircon Servicing Singapore is surely the company you can rely on when it comes to high-quality services. For all-around aircon servicing, Aircon Servicing Singapore is the best aircon servicing company in Singapore.
2. National Home Helper

Save yourself from the hassle of searching and comparing home helpers. Wherever you are in the world, National Home Helper can help you find skilled providers for aircon servicing as well as many other kinds of repair work in the home.
With their contact list of various service providers around the world, they guarantee that they have the best provider for aircon servicing in Singapore. If you want to gather a list of Singapore's affordable aircon services and reviews, National Home Helper should be your go-to site.
Each of their providers is thoroughly screened by their dedicated team so they are sure that they only recommend home helpers who are experienced at their job.
3. Whissh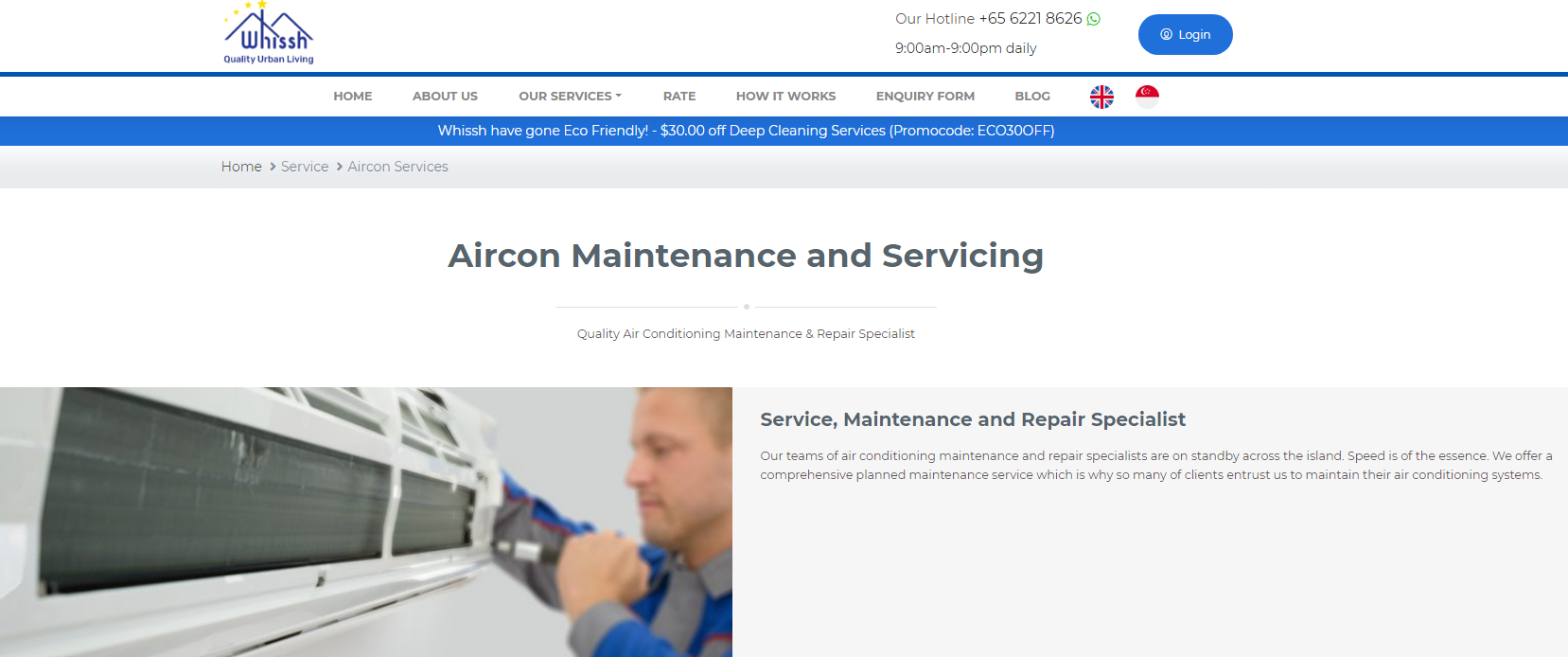 Whissh is a one-stop cleaning service provider that aims to transform urban living in Singapore into something safer and more hygienic. They intend to do so by using safe and quality cleaning techniques and equipment while addressing the cleaning needs of both residential and commercial spaces.
The company offers a wide range of cleaning services, one of which is aircon cleaning. Comprising well-trained cleaning professionals, Whissh takes time and great care to learn the specifications of each unit they are asked to clean, before applying the necessary steps to restore it to its original spotless state. 
The company is open to clean two types of aircon units: R22 and R410A. Their cleaners can come over and check the unit for a small fee of $40, which customers have waived by proceeding to avail of the company's cleaning services. 
4. Helpling SG
You might have heard of Helpling's highly rated home cleaning services but did you know they also do aircon servicing? With their fuss-free booking platform, you can book for a wide range of aircon services in less than 60 seconds. 
Their technicians are English-speaking and have more than 10 years experience in the aircon industry. Just like the helpers on their platform, the technicians undergo rigorous background checks to ensure credibility and service quality. 
Trusted by both locals and expats in Singapore, Helpling's aircon services are reliable and convenient. Perfect for those who don't want to spend time liaising with multiple contractors for quotes and appointments. 
You can even opt for a yearly/bi-yearly package at heavily discounted rates and Helpling will remind you every quarter when it's time to service your units. With regular servicing, your units will always be in tip-top condition, reducing the possibility that it breaks down and requires more costly repairs. 
Customer Reviews
Most of the reviews on Helpling are talking about their home cleaning services, but they also have many positive reviews on their aircon services as well. Here are some examples:
"The technician was very efficient and careful with the surrounding furniture. He did the servicing with minimal disruption while I was working. Great job!"
"I am very very satisfied with the aircon service! The best company out of many companies I have used in the past. They clean super well in detail and took a long time to finish 5 aircons where other companies finish in 20 mins. I would definitely recommend it to other people and look forward to the next service."
5. CleanWorthy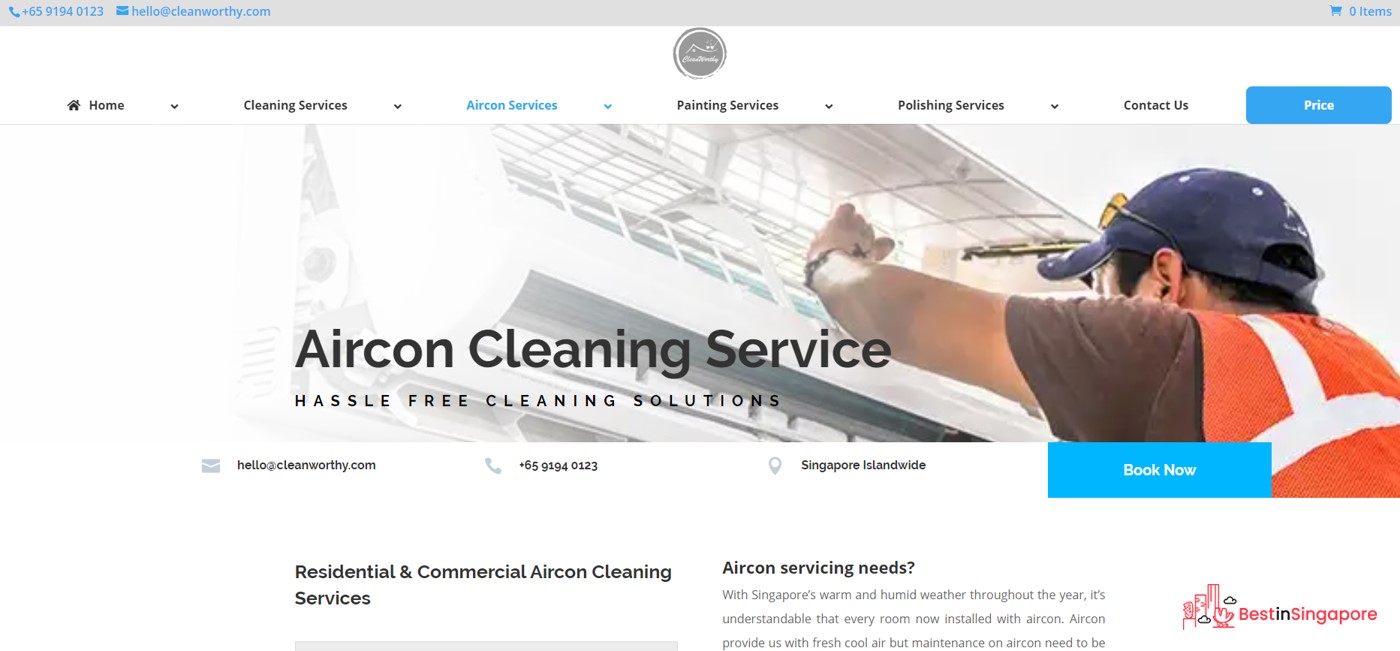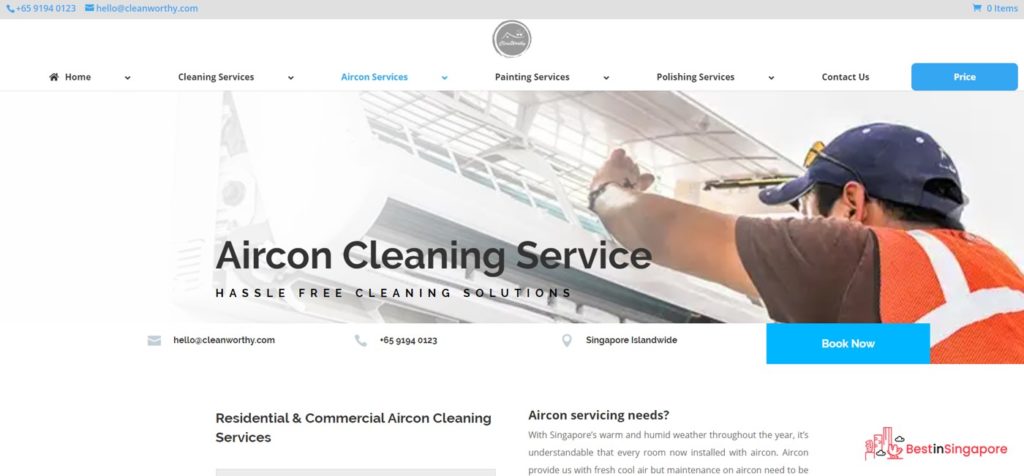 CleanWorthy is a cleaning service provider that provides hassle-free cleaning solutions for clients all over Singapore. Aside from offering the best aircon services in Singapore, they also provide a range of cleaning, painting, and polishing services.
If you're looking for a company that can regularly clean your house, store, or office space, your best pick should be CleanWorthy. They offer several contract cleaning plans suited to the different needs of their clients.
CleanWorthy believes that cleaning and maintenance services should have transparent pricing and a convenient booking system. For all the reasons above, we consider CleanWorthy to be one of the best aircon servicing companies in Singapore.
For the air conditioner brands serviced, contact the company for more information.
Customer Reviews
CleanWorthy makes it a point to send the same service team for each appointment because they know how important it is to have people you can trust to service your aircon. Read this review from a loyal customer:
"I have used a CleanWorthy service for about two years. Service exceeded my expectations. The manager is professional, flexible and very reasonable. I trust them and their service has been consistently high quality. Highly recommend cleanWorthy to everyone. Thank you."
6. Purer Fresher Air – Aircon SG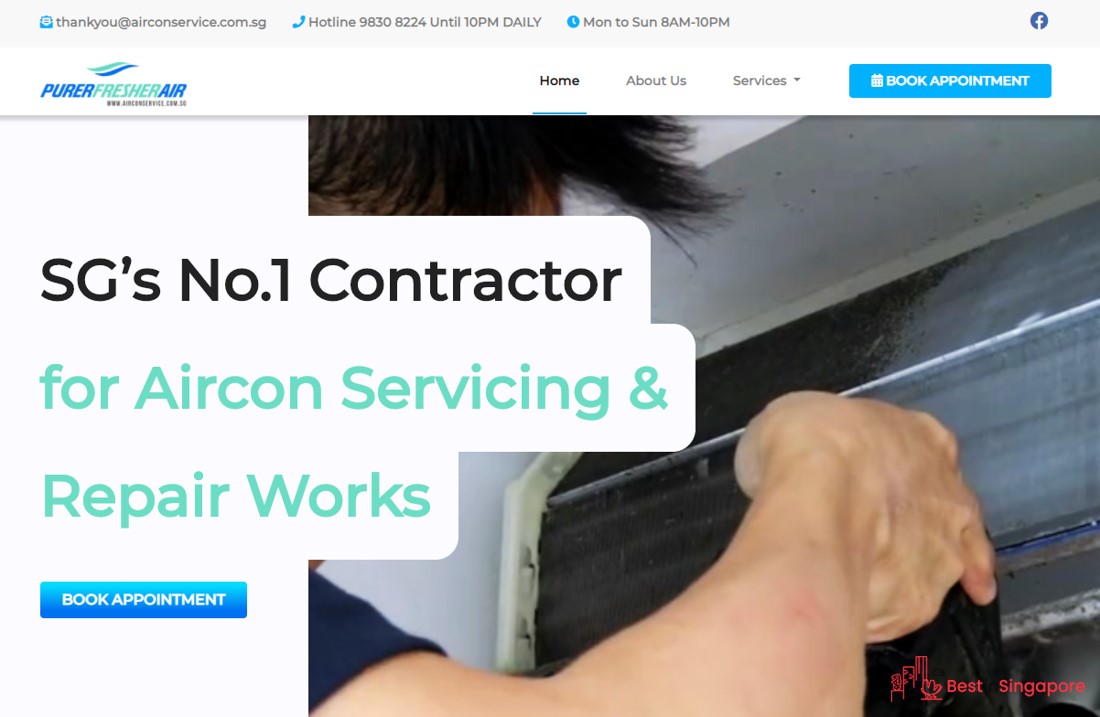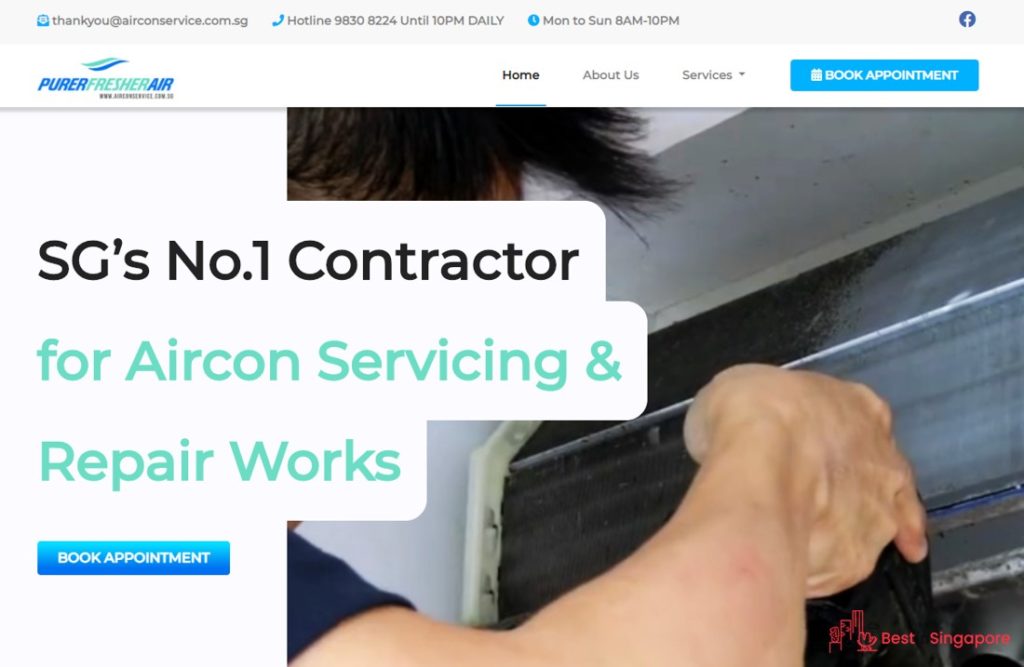 Purer Fresher Air is a Building and Construction Authority (BCA)-registered aircon service company. Since 2001, they've been an air-conditioning service provider for residential, condominiums, commercial and government tender projects. 
They only hire full-time experts and professionals to carry out their services, avoiding outsourcing to provide the best rates for customers. Each of their technicians have at least 6 to 10 years of experience in aircon repair, so rest assured that you will be in capable hands.
As one of the best aircon servicing companies in Singapore, Purer Fresher Air operates under the principles of integrity and honesty. They believe in transparent pricing and so, you can check out their full price list on their website.
Customer Reviews
By providing thousands of customers with some of the best aircon services in Singapore, it's no wonder that Purer Fresher Air has received numerous positive feedback through the years. Read what their customers have to say in these reviews:
"We engage them today. Very satisfied and thoroughly cleaning done within 2 hrs. They explain their pricing very well and shown us why chemical washing is needed. Thumbs up!"
"Andrew is punctual and a true professional, who goes about his trade in a friendly and efficient manner. He recommended a chemical wash for my unit and my family is thoroughly pleased with the outcome.. Thank you!"
7. Aircon-Service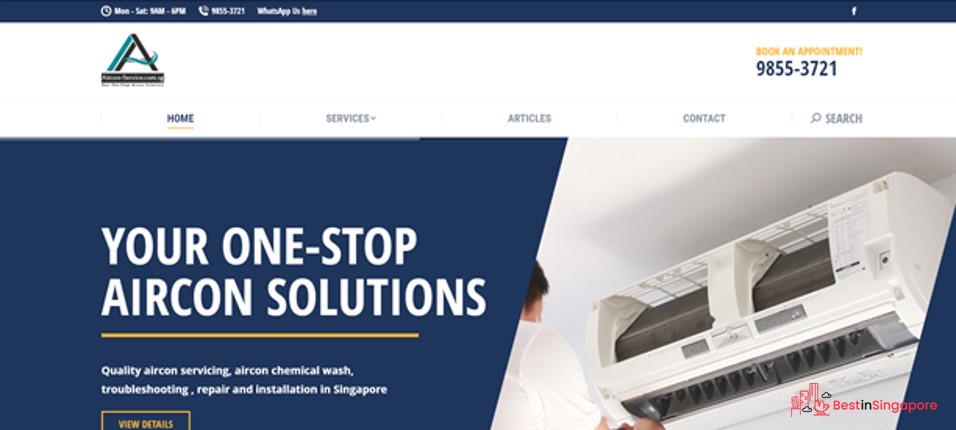 For many customers, Aircon-Service is one of the best aircon repair servicing companies in Singapore that specialises in commercial and industrial client accounts. They have over 10 years of industry experience in handling a wide variety of aircon brands.
With just one phone call, you can have their team of well-trained professionals perform aircon services from installation to troubleshooting. If you want to keep your ventilation system in good condition, you can hire them to perform regular maintenance on your units.
They perform services around the clock so you can also rely on them for any emergency aircon repairs. Hiring only reliable and experienced experts to take care of the job, Aircon-Service ensures to give its customers the best aircon services in Singapore. 
Customer Reviews
Aircon-Service has a reputation among its customers for providing quality services at affordable prices. And so, it's no surprise that there's no shortage of positive customer feedback on their services. 
Take a look at this review from a satisfied client:
"I've liaised with Winson who is very friendly and professional in handling customer queries. As I've observed, they work meticulously. They ensured that none of our personal items are damaged during the cleaning process."
8. Maxicool Services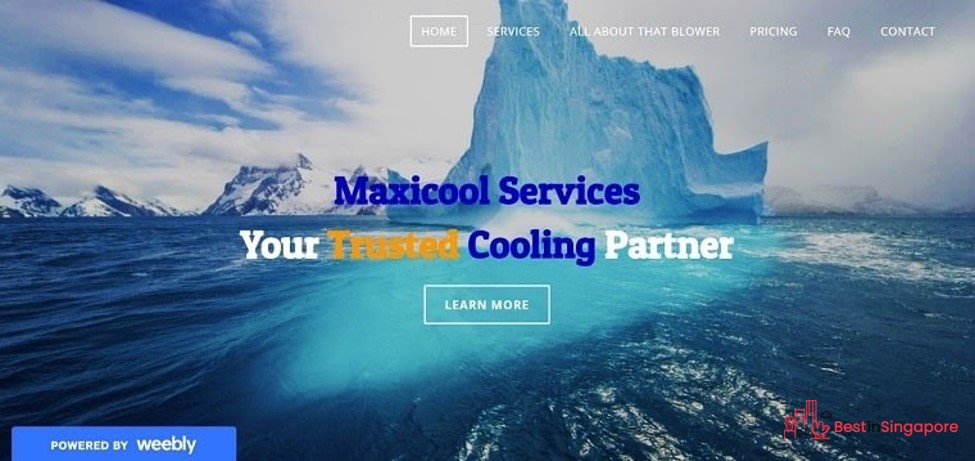 Maxicool Services stays true to its name by providing you with the best aircon services in Singapore to keep your air-conditioning units at maximum performance. The company values long-term relationships with clients and always strives to convert happy customers into return customers.
They're a trusted name in the air repair industry, having over 15 years of experience in the trade. They set themselves apart from the competition by offering blower removal cleaning services and free online diagnosis to their clients.
Maxicool Services makes it a point to not only give the best service to customers but also leave them informed and educated about their air-conditioning units and systems. For Maxicool, "Customer is King", making them one of the best aircon servicing companies in Singapore.
For the air conditioner brands serviced, contact the company for more information.
Customer Reviews
Because of their customer-centric approach, Maxicool Services has amassed a large following of loyal customers. Read these reviews that serve as proof to the quality of their services:
"Jason came on the recommendation of my colleague. I am impressed by his friendly service and honest advice on my aircon unit. He even recommended a suitable aircon model based on my requirements and what I needed to do during the installation process. Will definitely continue using his services!"
"Highly recommended for the value and honesty. Jason and his colleague was punctual for my appointment and conducted on-site assessment of my air-con before recommending the services to be rendered. Throughout the process he took time to explain the issue of my air-con and gave tips on how to preserve the air-con as well. Look no further if you are looking for a honest air-con contractor."
9. Newway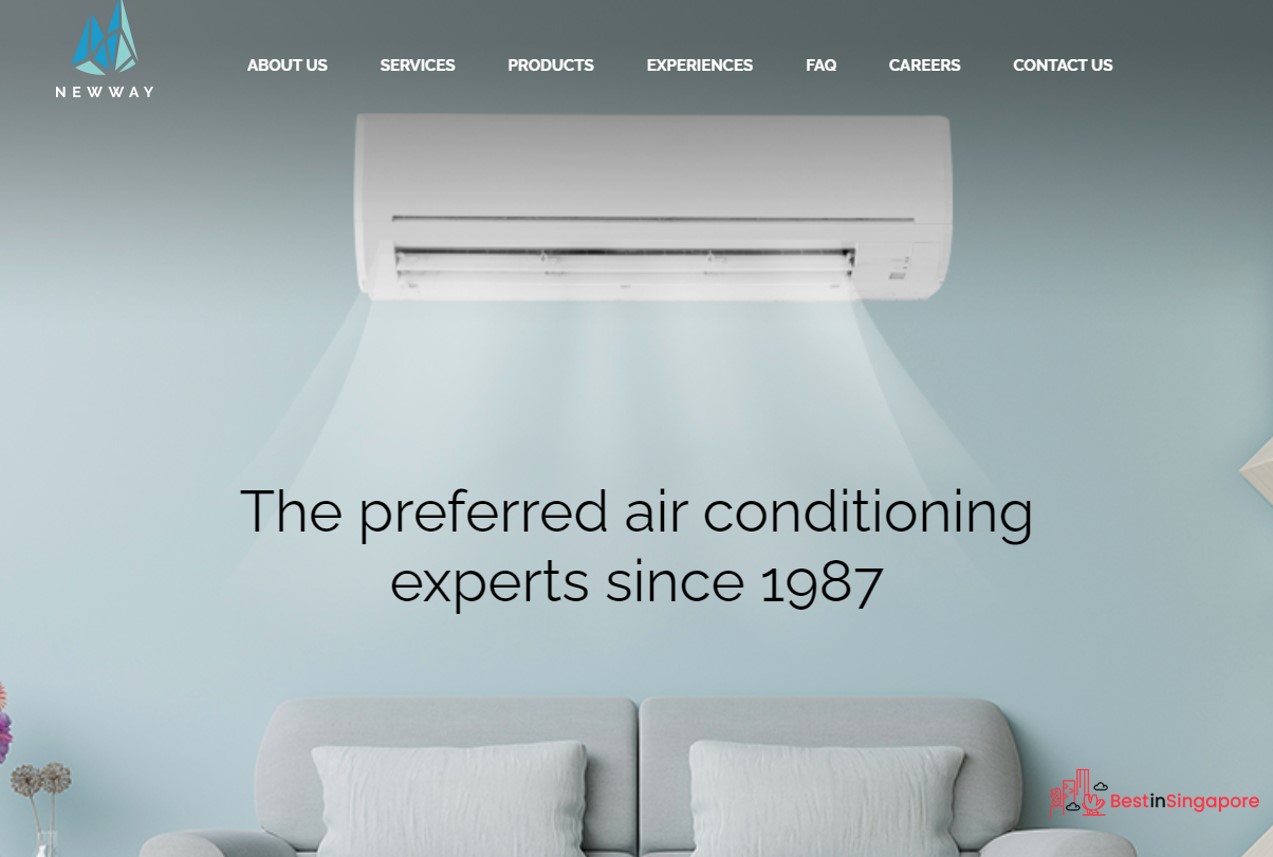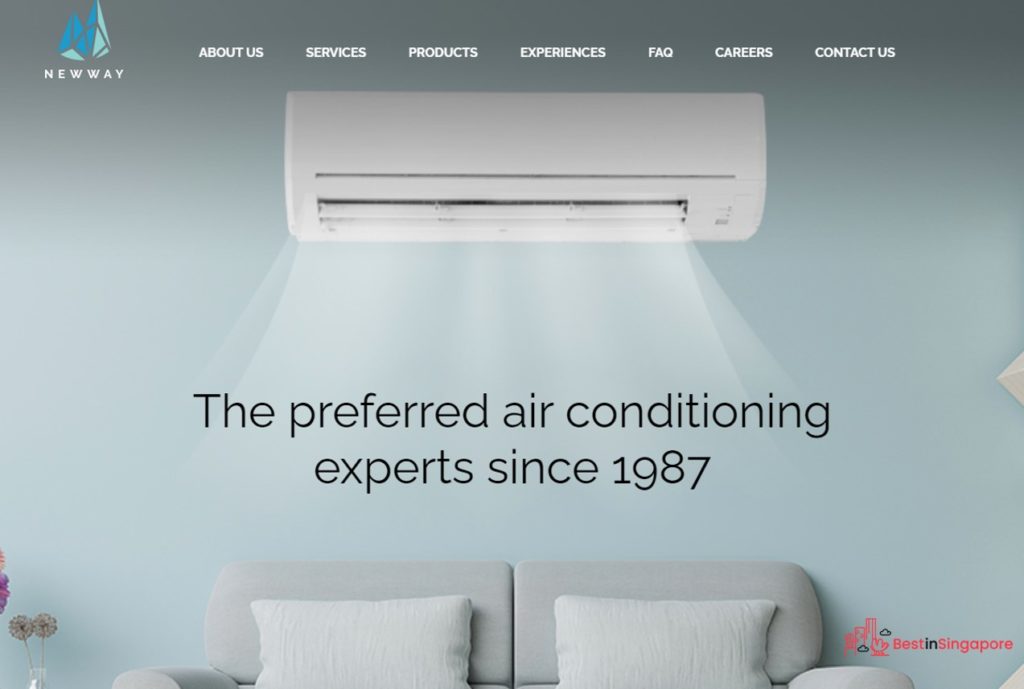 Newway is one of the most well-known aircon servicing companies in Singapore. In fact, throughout their more than 30 years of service, they've received multiple awards from award-giving bodies for their exceptional services.
When it comes to aircon servicing, Newway has no reservations. They only use the latest and proven methods and technologies and hire the most skilled aircon engineers on the island to carry out their services. 
Their clientele consists of customers from the residential, commercial, and industrial sectors. Because of their award-winning customer services, it's no wonder that many customers come to them for all of their aircon servicing needs.
Providing cost-effective and top-quality services for all customers, it's no wonder they're regarded as one of the top providers of the best aircon services in Singapore.
For the air conditioner brands serviced, contact the company for more information.
Customer Reviews
On their website, Newway showcases their impressive portfolio and list of clienteles consisting of big names like Adidas, Audi, Citibank, and more. If that isn't enough to impress you, maybe reading these reviews will:
"Newway was awarded a numerous installation of air-conditioner work in our premises. They are responsive, accommodate client requirement, meeting project schedule and possess technical expertise for the sound installation. Their prices quoted for work are quite competitive. I would strongly recommend Newway to any users who need replacement, upgrading and installation of air conditioner works."
"I seldom leave reviews for anything but this one requires special mention. I used them for the 1st time today and I love how my aircon smells after the servicing. Newway aircon servicing staff is extremely professional and polite. Special mentions of their staff Johnny who did a fantastic job. They laid new sheets at my request instead of using old sheet covers. The accompanying Indian staff( I did not catch his name) was also very cheerful and asked me to inspect the toilet they used to wash my aircon filters after he was done. And when told that there were still dust specks on the floor, he willing flushed the floor with water again. Overall a very pleasant experience! Keep it up Newway! Definitely you have a return customer and I hope your service stays great!"
10. Xool Aircon Experts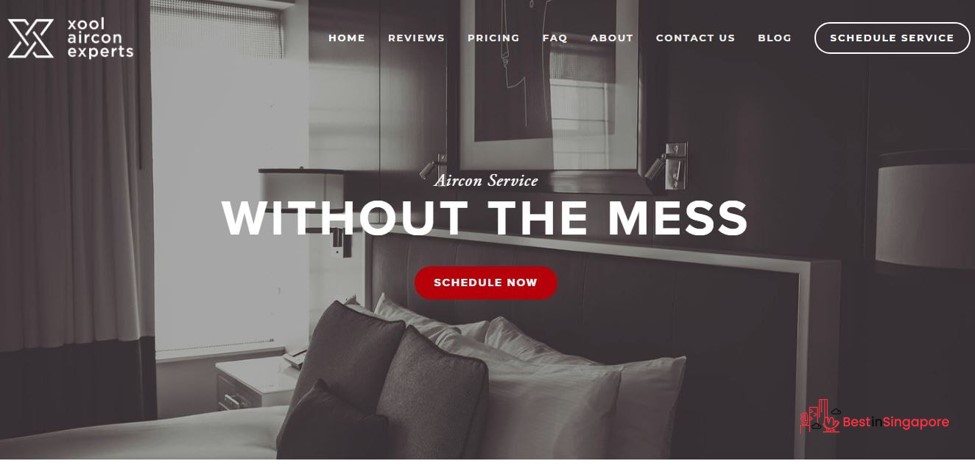 At Xool Aircon Experts, they use technology to enhance customer experience through their instant online booking and payment system. As one of the best aircon servicing companies in Singapore, their motto is "aircon servicing built around your needs".
You can easily book an appointment with Xool Aircon Experts with just a few clicks. You never have to worry about forgetting an appointment because you can opt for their automatic email and SMS reminders.
They offer a full range of aircon services for different aircon types and brands at affordable prices. They also have their entire price list posted online, so you can be sure that there will be no hidden or surprise fees when availing their services.
Xool Aircon Experts's services go even beyond aircon servicing. After the job's done, they'll make sure to leave your house mess-free through their after-service clean-up to save you from the hassle of cleaning up yourself.
Because they put customer convenience first, Xool Aircon Experts proves to be one of the providers of the best aircon services in Singapore.
Customer Reviews
Xool Aircon Experts takes pride in the work they provide to customers and proudly displays customer feedback on their website. Here are some reviews from satisfied customers that will convince you of their quality services:
"i have been a regular customer since my 1st experience with them. the team is punctual, friendly and very experienced in handling any servicing needs, and they often provide good advice on the condition of my units. thanks for the great work!"
"The timely service provided by Xool is excellent as always (no need to call them as they call up a few days before the service is due). I have been using them for the last 2 years. I also found out how well they treat their employees by talking to the guys who came to do the aircon service. I am definitely planning to continue with them for good now."
11. Mastercool Aircon Service Singapore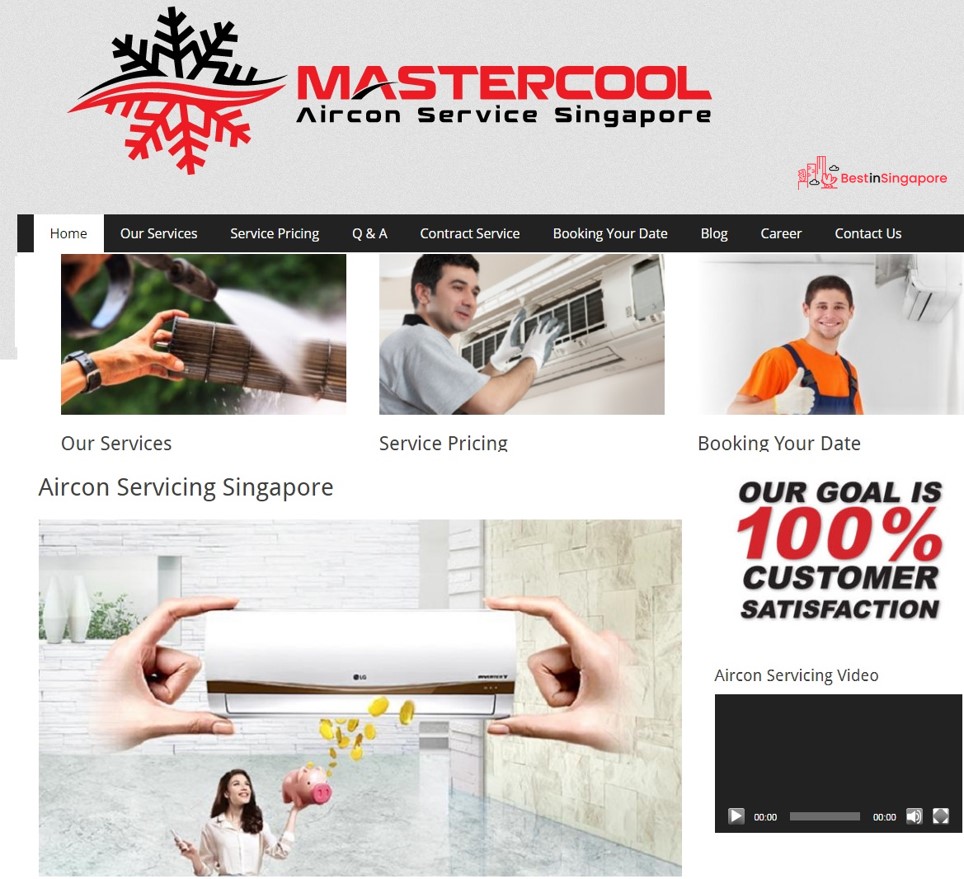 Mastercool Aircon Service recognises the importance of proper repair and maintenance of air conditioning units. This is why they promise to only deliver the best aircon services in Singapore to its customers.
They specialise in chemical washes and overhauls, only using the latest techniques and top quality cleaning chemicals for the job. Using the proper equipment and materials improves not only the health of the aircon unit but also the users'. 
Mastercool's goal is 100% customer satisfaction, and it shows through their customer-centric work ethic and meticulous services. If you want an aircon repair done and done quick, Mastercool Aircon Service is your best bet.
For the air conditioner brands serviced, contact the company for more information.
Customer Reviews
Mastercool Aircon Service continues to impress clients with their no-fuss aircon servicing. If you're still doubting whether they're one of the best aircon servicing companies in Singapore, maybe reading these reviews will change your mind:
"Fast and responsive! Submitted appointment request and got contacted within same day for arrangement. Technician Jeff is efficient in his work and able to highlight issues to note. Overall a good first time experience"
"Fast & responsive. Easy & quick to arrange appointments via WhatsApp or phone call. Appointments are arranged on the same day or next 1-2 days. Technicians arrived on-time and are efficient & responsible. They service the aircond unit which we complained and charge reasonably."
12. Cool-Aire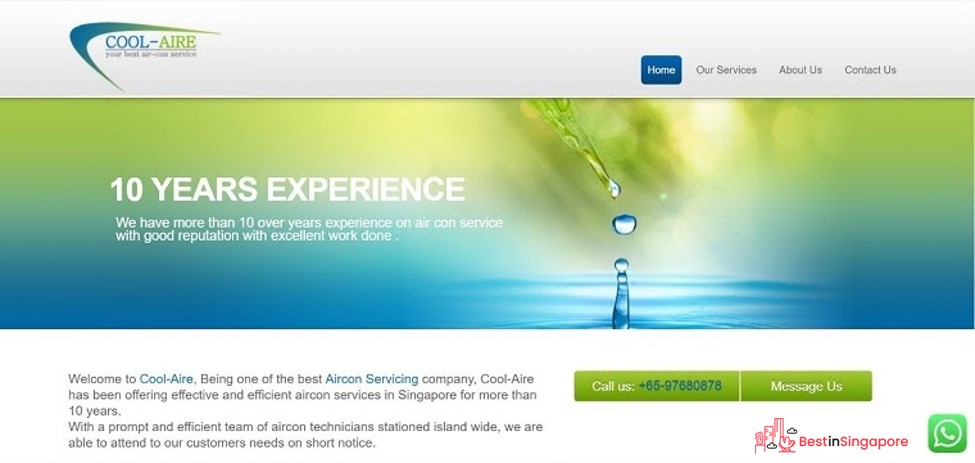 For over 10 years, Cool-Aire has been regarded as one of the best aircon servicing companies in Singapore by many of their past and regular clients. 
They offer the full package when it comes to aircon servicing from general servicing to troubleshooting. You can have peace of mind knowing that their team of experienced aircon technicians are capable of handling all types and brands of air conditioning units.
For the convenience of all their customers, they keep their website, social media accounts, and online price list updated. And if you're thinking twice about availing their services, the collection of positive customer reviews on their website may change your mind.
Customer Reviews
Cool-Aire is a popular go-to aircon servicing company for many Singaporeans because of their efficient, no-frills services. Check out these reviews that praise their aircon technicians expertise:
"David is very knowledgeable and professional in his service and repair works. He was very determined to solve problems and never give up. His charges were reasonable. I will recommend his company services to anyone requiring aircon related services and repair work."
"Very honest and experience. Others ask me to change the entire air con system but only david says, need to replace main board. Shared with me both the cost, both fixing and replacing. Highly recommended David!"
13. Wei Wei Air-Con Engineering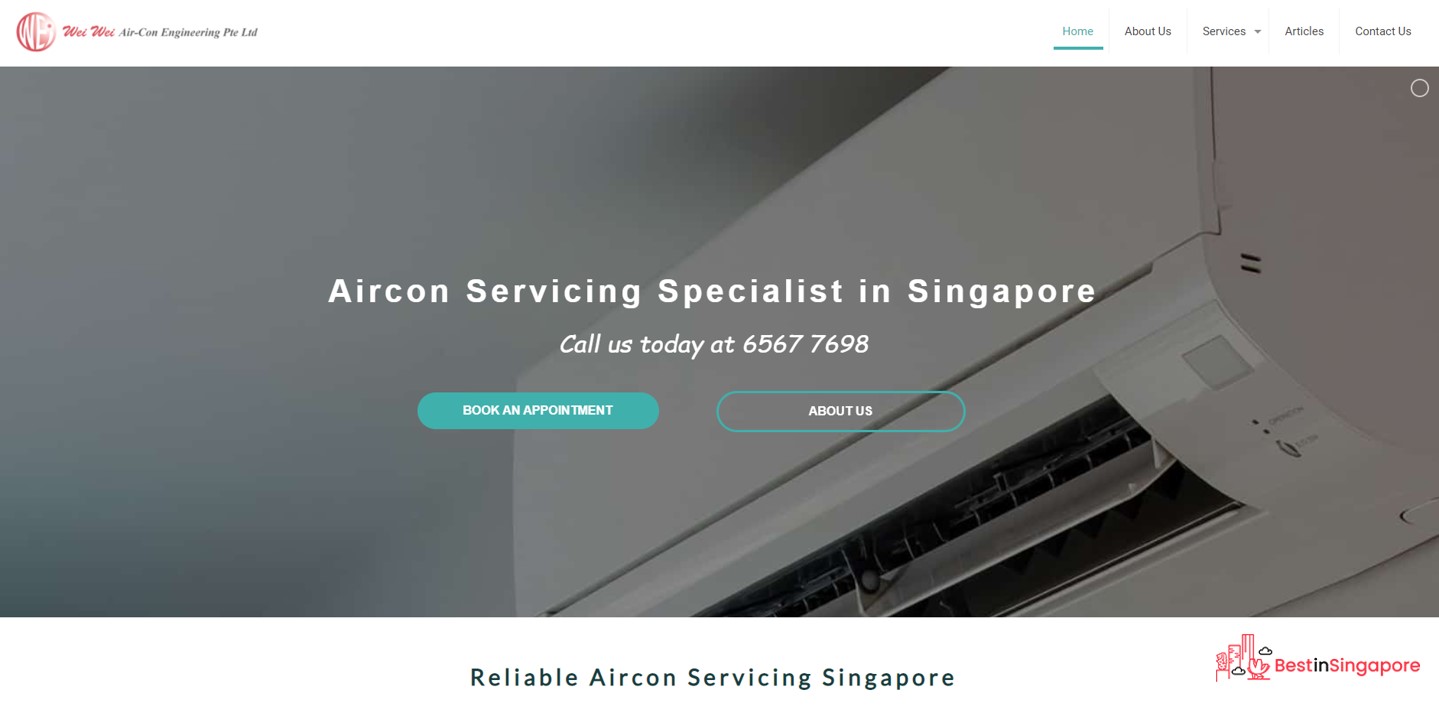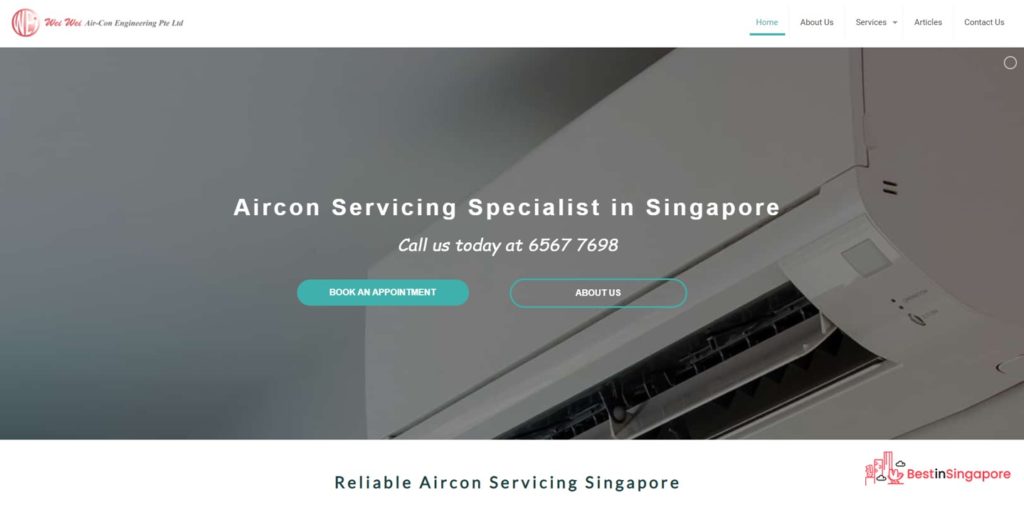 Wei Wei Air-Con Engineering is one of the big names in the aircon servicing industry, as they've been a provider of aircon services for many residential, commercial, and industrial clients. 
Combined with 20 years of industry, their team of qualified technicians aim to provide top-quality aircon servicing no matter the issue. Wei Wei Air-Con Engineering can service almost every aircon brand and type, so there's no need to hesitate booking an appointment with them.
Their proven track record of happy clients should be enough to tell you that they're one of the best aircon servicing companies in Singapore.
14. Infinity Air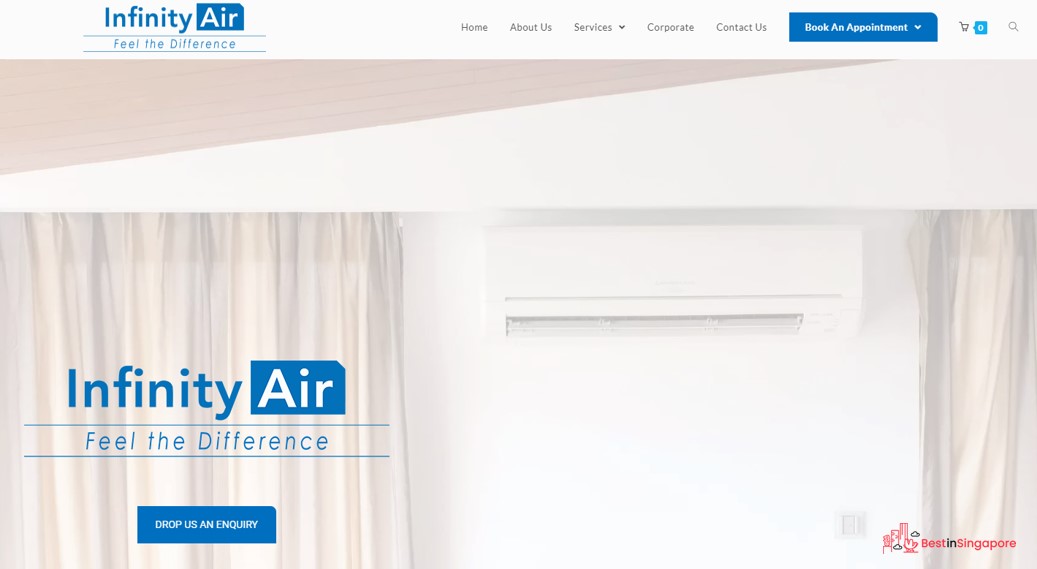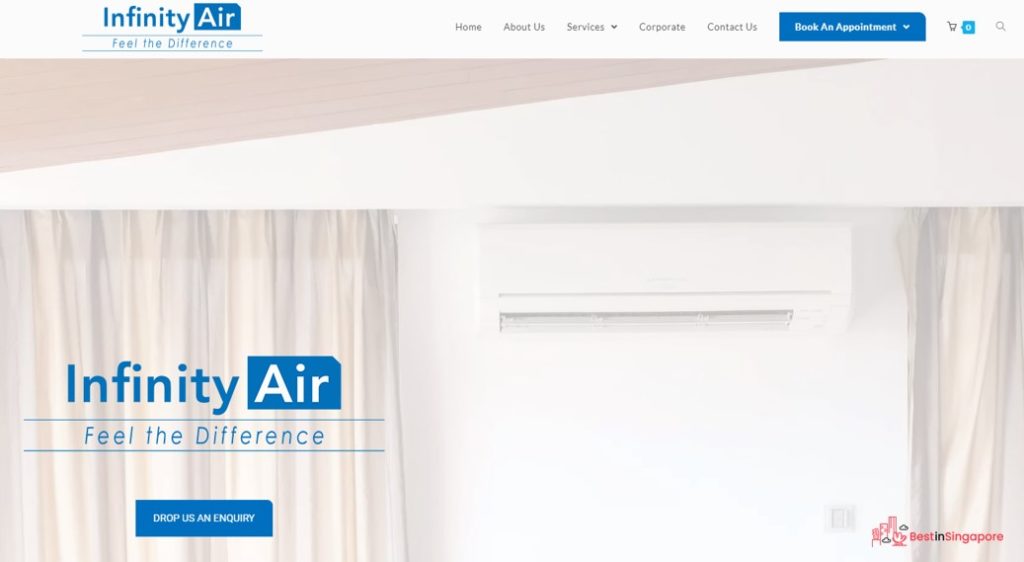 Infinity Air is an aircon servicing company that specialises in aircon repair and installation. Aside from those, they are also known to provide one of the best aircon services in Singapore.
They have worked with over hundreds of clients from the residential, commercial, and industrial sectors. Infinity Air aims to reduce the burden of working with multiple contractors by providing one-stop aircon servicing packages.
Infinity Air is confident that its teams of reliable and expert aircon technicians can handle any sort of aircon issues from leaking tubes to full-on unit replacements.
For their excellent service offerings and ample positive customer reviews, we consider them one of the best aircon servicing companies in Singapore.
Customer Reviews
Infinity Air has wowed hundreds of clients because of their efficient and quick services. To get an idea of the quality of their services, read these reviews: 
"Infinity Air's service makes me feel really comfortable as a new client. I got to know of them from another friend and I must say that they are very transparent in their pricing and services. Highly recommend them if you want to be sure of what you are paying for and serviced by a team who is knowledgeable in what they offer.???"
"Excellent service and courteous staff! Was really impressed by their professionalism and how they did their job. Would definitely choose them again :)"
15. Letscool Aircon and Services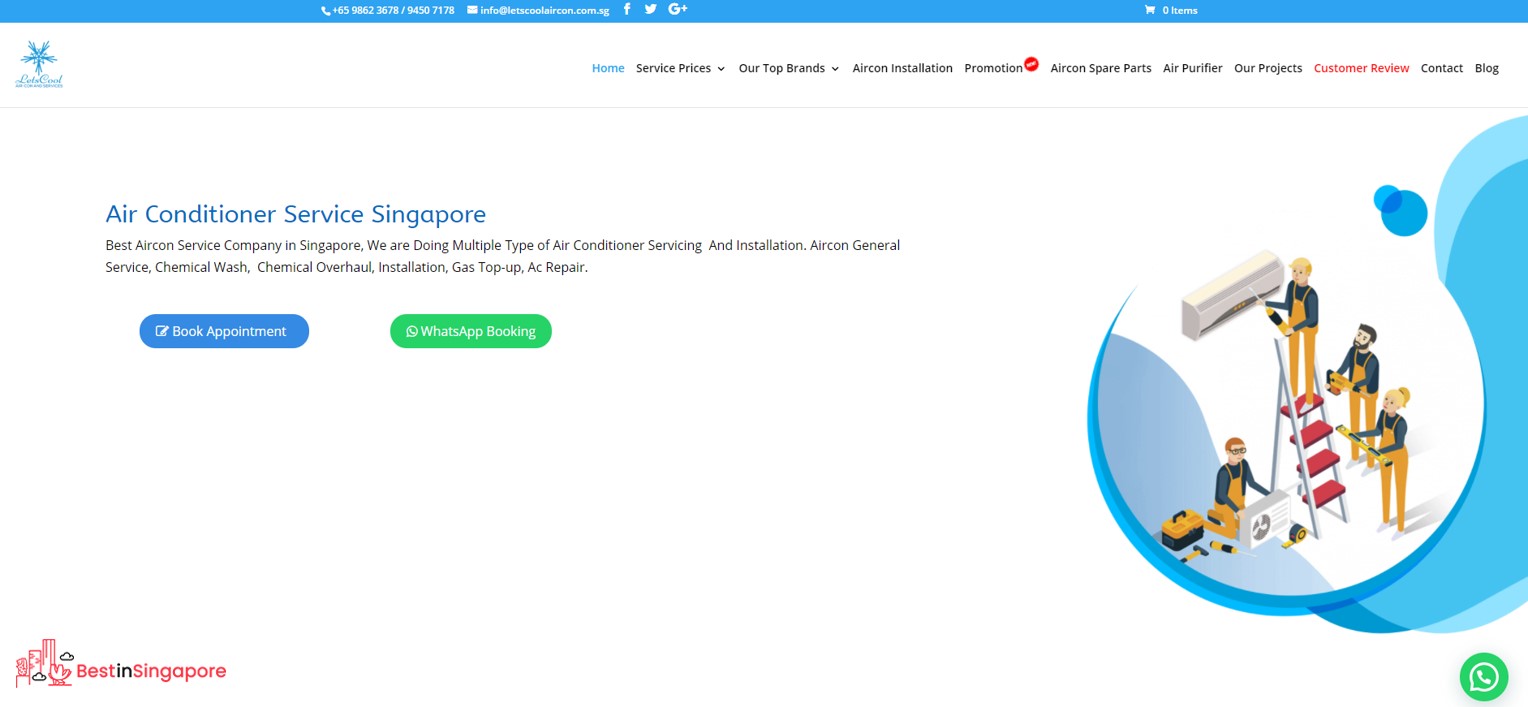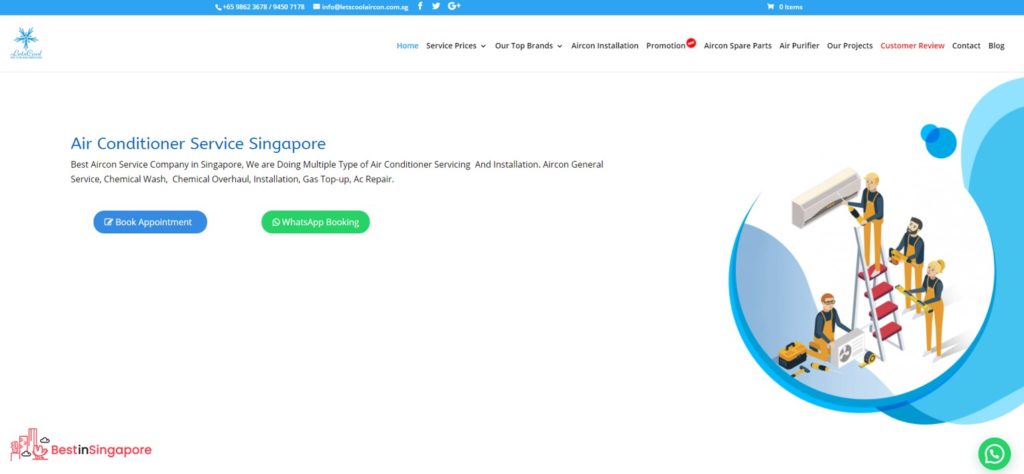 Letscool Aircon and Services is one of the best aircon servicing companies in Singapore for their wide range of aircon services and best-value promotions. For every service you avail from them, you're guaranteed no hidden charges, just quality service.
They offer just about every aircon service you can think of from chemical wash to gas-top up. They have been servicing residential and commercial clients for over 15 years and have amassed a large customer base throughout the years.
From time to time, they offer promotional deals that are too good to pass up. Aside from cheaper rates, they offer 2-years workmanship warranties, 5-year compressor warranties, 1-year fan coil warranties, and more, so make sure to check out their sites and social media accounts before booking an appointment.
Customer Reviews
Letscool Aircon and Services proudly boasts a collection of happy customer reviews on their website. Read these reviews and see what customers have to say about their services:
"Two technicians came quickly to fix a badly leaking air-conditioner. They were honest, hard-working and polite. I expected for all the work they had done, that my wallet would be aching, but the price is reasonable.  I'm impressed, and will be taking a aircon maintenance contract with this company."
"I would like to commend the service provided by the two Let's Cool Aircon service Technicians Mr Mani and Mr Pandan for their excellent servicing and customer service provided today for my home system 4 units. This is the second time I'm using the service from Let's Cool, both the techs always advise me on what needs to be serviced and do a decent job and the problem is always sorted after. They are always polite and check with the customer before performing any and every task. I have already recommended to many of my family and friends and will continue to use their services as the pricing is also very competitive. Keep up the good work and service, kudos!"
17. SmartCool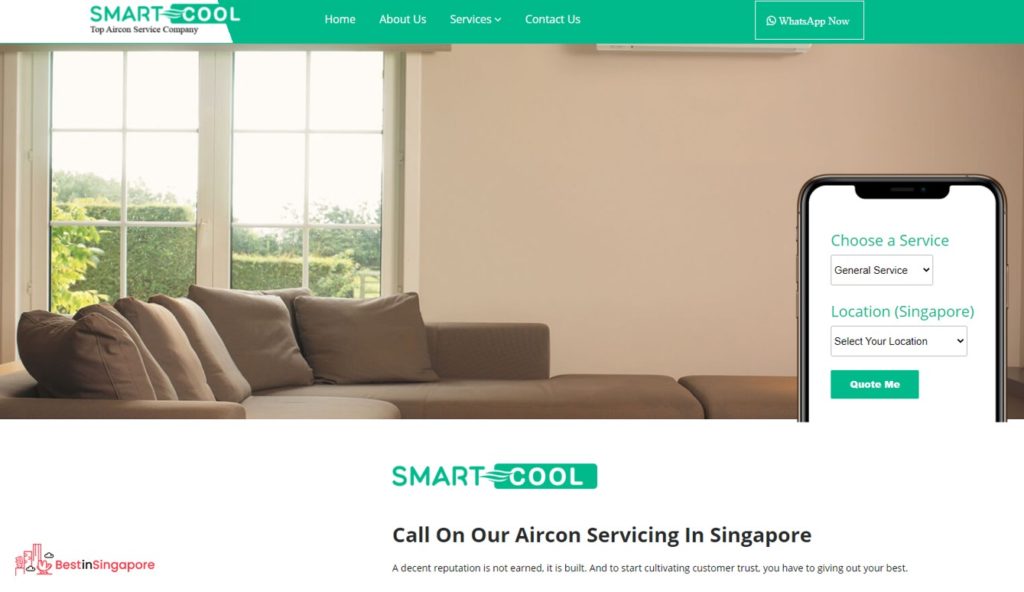 SmartCool is one of the leading providers of the best aircon services in Singapore. Having serviced thousands of clients and a wide range of aircon brands, they have become one of the most trusted aircon servicing companies on the island.
SmartCool aims to provide the best customer experience for each client through their excellent services and great customer assistance. Although their rates are already affordable, you can save even more if you avail their contract maintenance rates.
To test and see what they can do for your aircon-related issues, you can contact them for a free no-obligation quotation. You don't have to worry about any hidden charges because they'll only bill you upon work completion.
Customer Reviews
SmartCool is one of the best aircon servicing companies when it comes to customer satisfaction. Take a look at what customers have to say after receiving SmartCool's services:
"The service team came at the appointed time. Showed great deal of technical expertise and willingness to explain. Did a good job of normal servicing and chemical cleaning. Would give full marks and recommend for all Aircon related works"
"Wonderful Service! Very professional in its way of service. I would recommend this company should you need a hand in servicing your air-conditioning system."
18. GoodCool Aircon Services


As one of the best aircon servicing companies in Singapore, GoodCool Aircon Service only provides the highest quality of aircon servicing on the island. Perfecting their craft for more than 15 years, they've formulated solutions for just about every kind of aircon-related issue.
GoodCool Aircon Service not only focuses on providing quality aircon servicing but also exceptional customer service. In fact, they've even been recognised as one of the top 500 emerging businesses in Singapore in 2018 by Singapore Enterprise.
Regardless of your air conditioning units' size, brand, or type, you can count on their team of aircon specialists to provide you relief from any persisting issues. Inarguably, GoodCool Aircon Service has proven time and time again to have the best aircon services in Singapore.
Customer Reviews
Aside from their many awards, GoodCool's countless 5-star customer reviews serve as a testament to the efficiency and quality of their services. Here are some of those reviews:
"Friendly and professional brothers did a thorough chemical overhaul and gas top up for us to solve water leakage and clogging issue. Competitive rates and responsible cleaning up after they were done. Highly recommended"
"First time using GoodCool. One of my aircon was very dirty and has water sound when turned on. They didn't try to sell me unnecessary service, they just did general cleaning. Service was fast and efficient, punctual and friendly too."
19. Aircool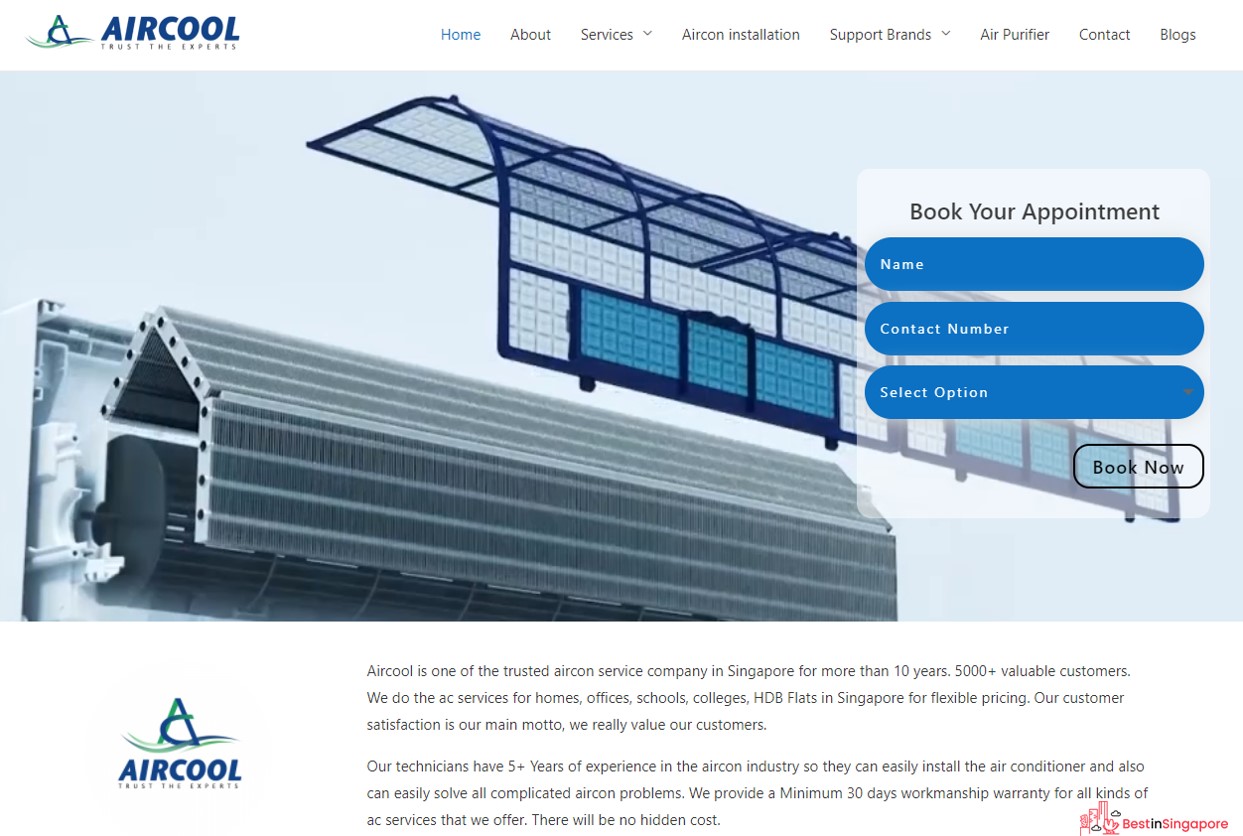 If you want peace of mind when having your home's aircon units repaired, you should hire Aircool. They're one of the best aircon servicing companies when it comes to residential aircon repairs and maintenance.
To deliver the best services possible, they only hire experienced aircon technicians with at least 5 years of industry experience. And to really ensure that no work is left undone, they offer extensive workmanship warranties for their services.
With Aircool, you can also be sure of consistent high-quality service from booking an appointment to the aftercare services. 
20. Skyzone Aircon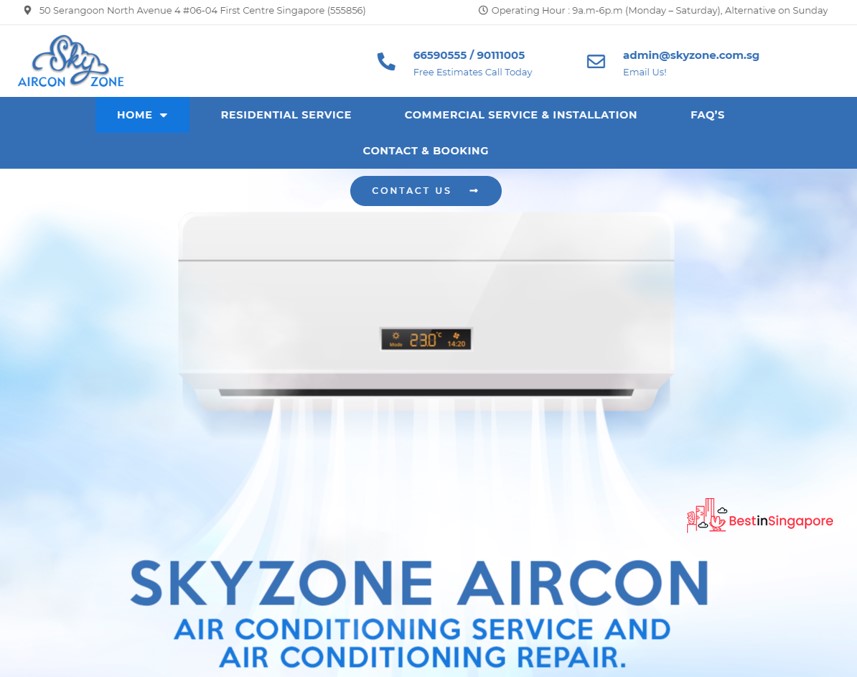 Skyzone Aircon guarantees 100% customer satisfaction with their professional aircon services and low prices. They are considered one of the best aircon servicing companies in Singapore for the repair and maintenance of residential and commercial air conditioning units.
The company aims to deal with aircon-related problems by providing efficient and cost-effective solutions through their all-in-one services. Whatever the problem may be, you can count on Skyzone Aircon to provide a fix.
Aside from aircon repairs, Skyzone also offers preventive contract maintenance to keep your units functioning properly. All of their services are handled by highly-skilled and reliable Skyzone aircon engineers.
They are also bizSAFE Level 3 accredited, so you're sure that they provide services that are well within industry standards. As their past clients can tell you, Skyzone Aircon offers some of the best aircon services in Singapore.
Customer Reviews
Skyzone Aircon is a popular go-to aircon servicing company for many household and business owners in Singapore. Here are some reviews to give you an idea of what to expect when you hire their services:
"For me this is the best aircon service that i've tried that made me impressed, although its not the lowest price however after the cleaning service my aircon became so cold again just like when I used it for the first time. Very knowledgeable, experienced and professional staffs."
"Great service, the engineers are always friendly and efficient. Their engineers turn up at the time booked carry out the service with the minimum of fuss and leave everything working perfectly and leave no mess behind. A first rate service from an excellent company I would definitely recommend this company."
21. 338 Aircon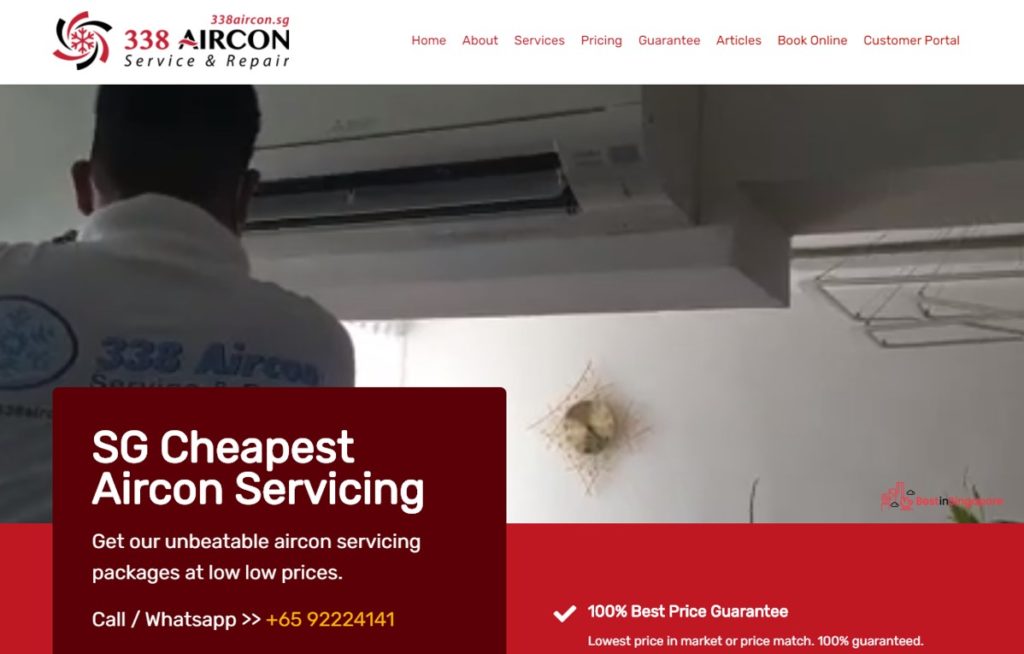 When it comes to affordable aircon services, 338 Aircon can't be beat. They're one of the best aircon servicing companies in Singapore that offer competitively cheap but quality aircon services.
Despite their low rates, 338 Aircon focuses on giving premium aircon services by only sending out experienced technicians for all jobs. In fact, they don't hire freelancers and only directly employ their technicians to eliminate price markups and substandard servicing.
Besides being a trusted aircon service providers, they're also authorised distributors of aircon brands like Mitsubishi, Daikin, and Panasonic. This means that you're guaranteed original units and spare parts at direct-from-supplier prices.
338 Aircon guarantees that no matter what issues you have with your aircon, they can fix it. 
Customer Reviews
It's hard to believe that quality can come with such cheap prices. If you're having doubts about 338 Aircon's services, you may change your mind after reading these customer reviews:
"Very professional service.  Reached on time and was able to explain the process.  My aircon was more than 10 years old and I was deliberating on whether to replace the aircon unit because it encountered intermittent leaking problem and in one room where I use regularly, the aircon isn't that cold.  Thank goodness I was advised that I can still use my aircon but to step on the frequency in servicing my aircon and what it covers to maintain the condition of the air-conditioner.  So I signed up the regular service package which I thought is reasonable priced since I can save much more as I no longer need to replace my 4-unit aircon."
"Found this place via Facebook and after reading some of  the reviews, decided to give it a go, contacted Jay and mentioned the urgency of the service.Mr Anbu came the next evening and did a good job, did a thorough chemical wash, checked the gas levels, cleared the choke. Aircon is cold again. Mr Anbu was very professional in his service and explained the process throughout. He recommended a regular  service package but at no time did he pressure me to the sale. Overall I am happy with the service. Thanks Mr. Anbu, keep up your professionalalism and service."
22. City Cooling Pte Ltd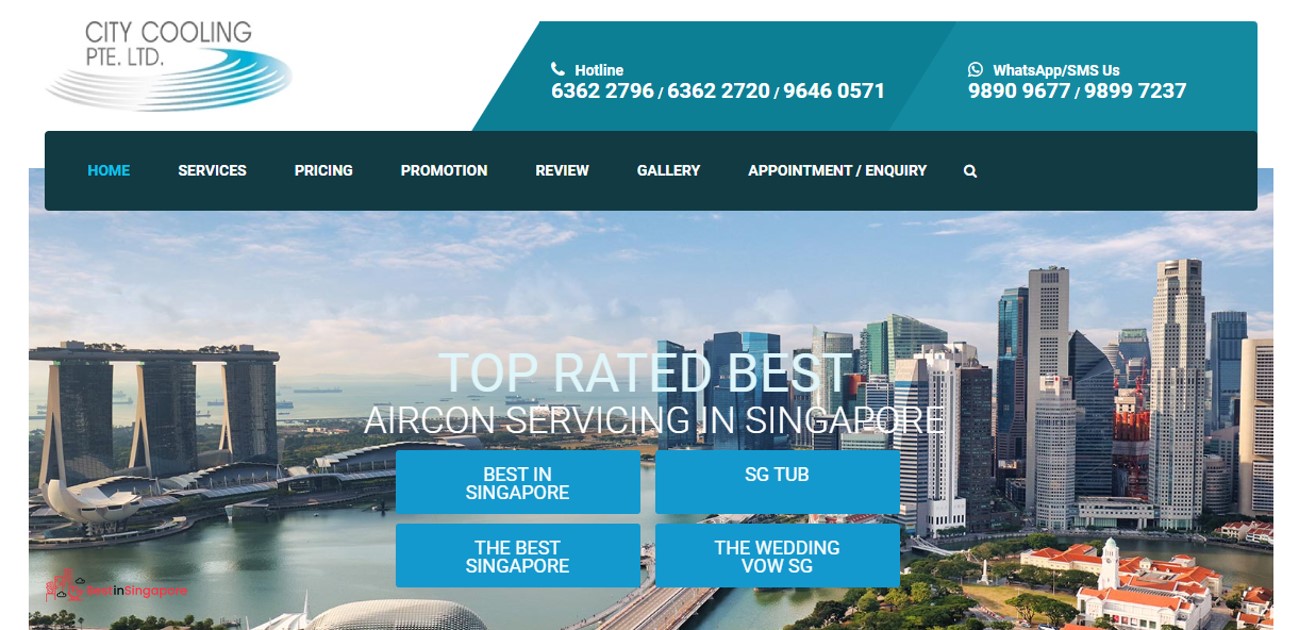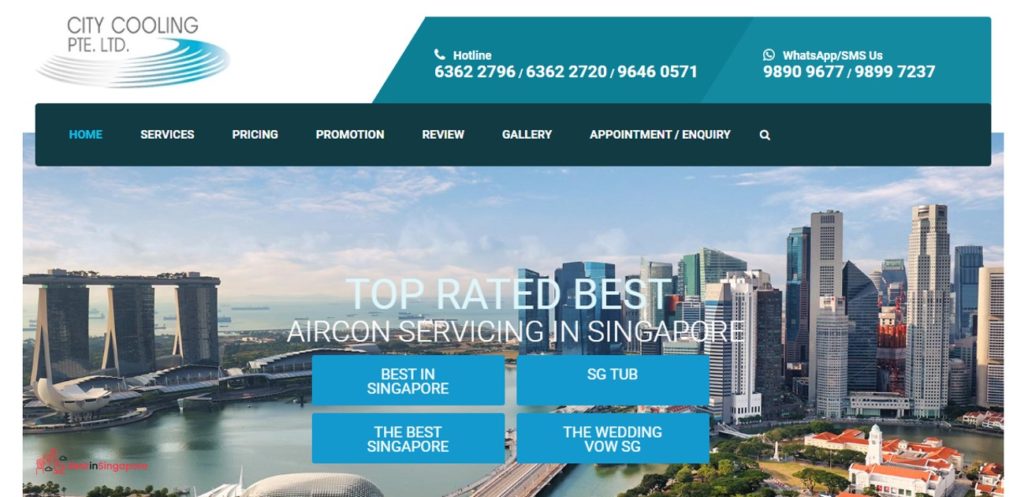 City Cooling Pte Ltd was founded in 2016 and has since then been a consistent provider of the best aircon services in Singapore. They have over hundreds of residential and commercial clients all over the island.
Aside from providing quality aircon services, City Cooling also aims to educate its clients on the proper maintenance for their air conditioning units. When you avail their services, they'll make sure to inform you and walk through the entire process.
Because of their exemplary service, many customers go to them for contract aircon maintenance. Aside from getting cheaper rates, you'll also have peace of mind knowing that your aircon units are in good hands.
Customers far and wide have praised their aircon repairmen for being punctual, professional, and efficient. Having experienced no less than quality services for them, it's no wonder they consider City Cooling to be one of the best aircon servicing companies in Singapore.
Customer Reviews
Although City Cooling hasn't been around for too long, they've quickly built up a reputation for providing premium-quality aircon services. Take a look at these rave reviews from both new and regular customers:
"Been using City Cooling for more than a year of aircon servicing and technicians who came were always professional. Replies were prompt, price is good, and service is great! Highly recommended!"
"Did an AC installation for all the rooms in my house. The professionalism and workmanship showed by the workers has been nothing short of exemplary. Will definitely recommend their affordable range of air-cons and services to my friends."
23. Aircon Brothers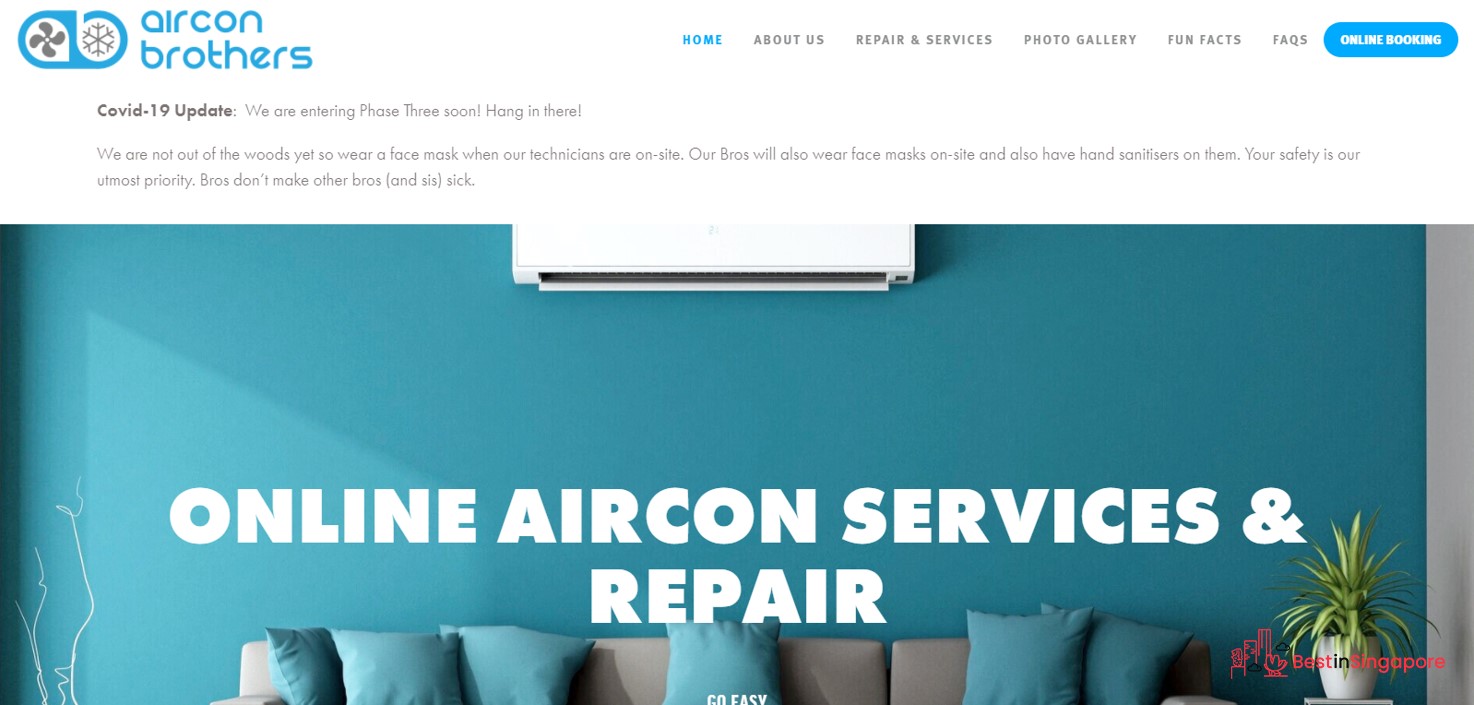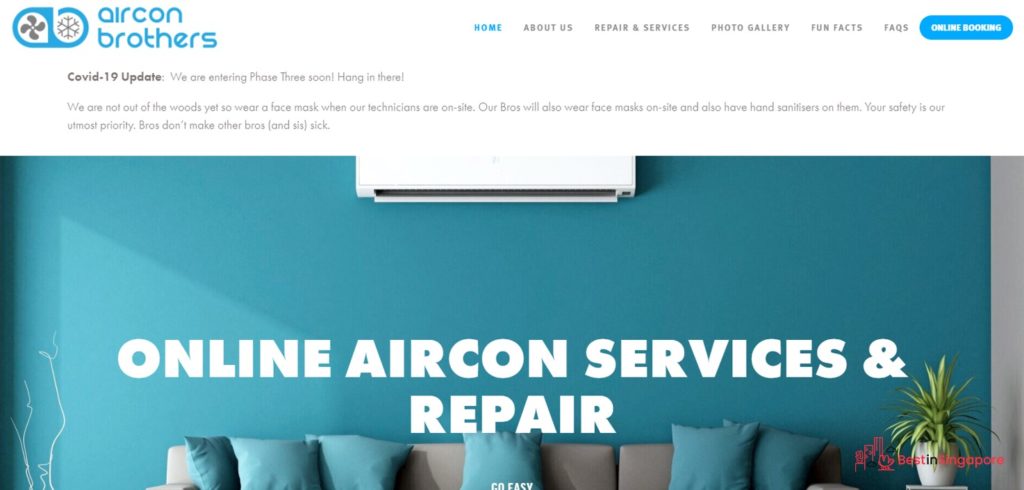 Aircon Brothers is an aircon servicing company that was established with one idea in mind—to provide hassle-free and quick aircon services.
With their easy online booking system, there's no need to pick up the phone and wait for someone to pick up—you can just go to their website, check the available slots, select the type of service you need, and pay with your credit card, if you like. 
Aside from their booking system, they can also guarantee quick but quality aircon servicing for all types of aircon-related issues. Whether you're experiencing noisy units or refrigerant leaks, they can provide the best solutions tailored to your needs.
Aircon Brothers has been a saving grace for Singaporeans leading busy lives because of their lightning-quick servicing process. And because of this, many consider them to be one of the best aircon servicing companies in Singapore.
For the air conditioner brands serviced, contact the company for more information.
Customer Reviews
Aircon Brothers enjoys consistent 5-star ratings on Google Reviews. Read up on what customers have to say about their services:
"And the lady manager who call me was very polite and she explain to me clearly of what the things they do and what are the things to be done. The company you can trust and affordable reasonable charge. Will take them as regular service to my aircon unit."
"Aircon service appointment booking was very easy through their online portal. Service engineers reached on time and they were very professional. I was really impressed by their quality of work. I would strongly recommend Aircon Bros for their excellent service."
24.  Everyworks Singapore: Aircon Services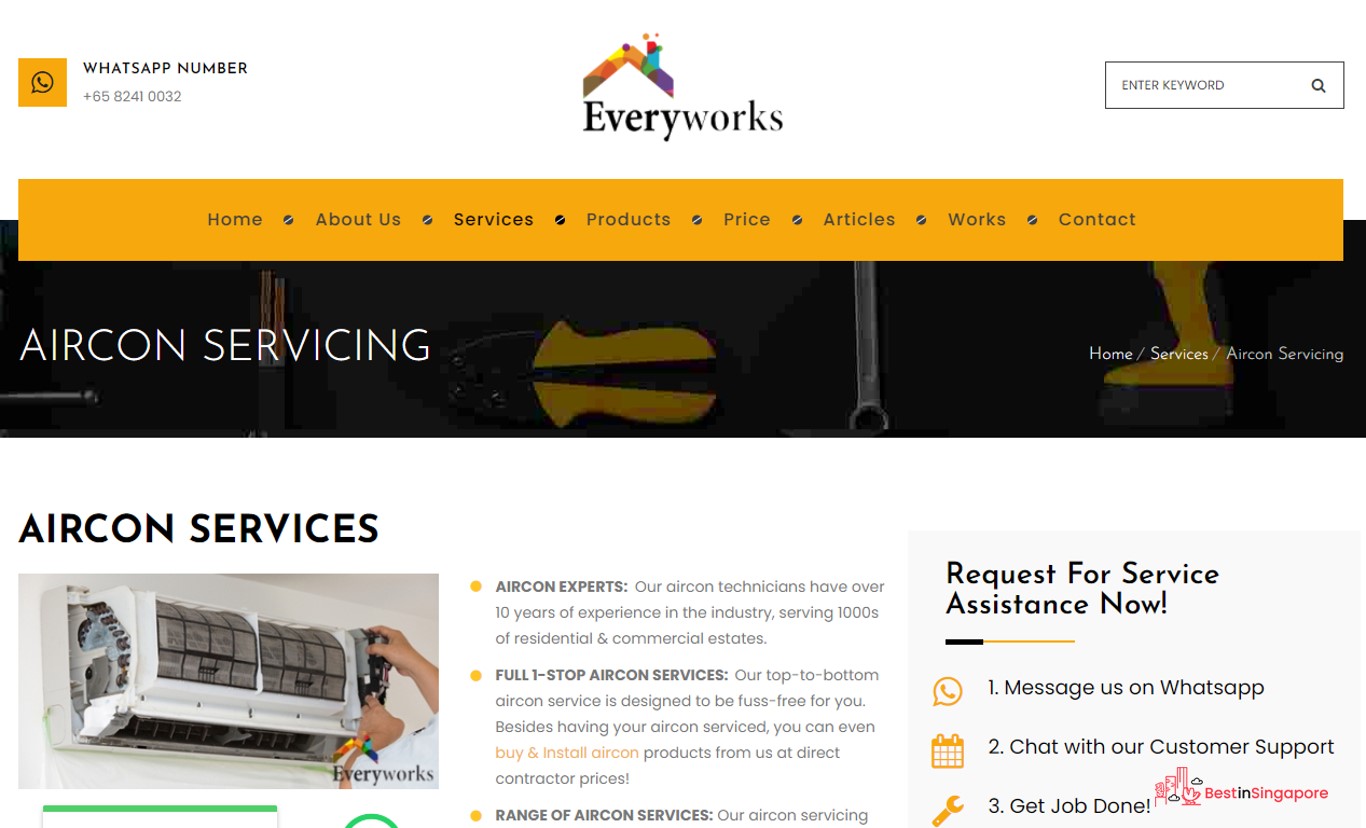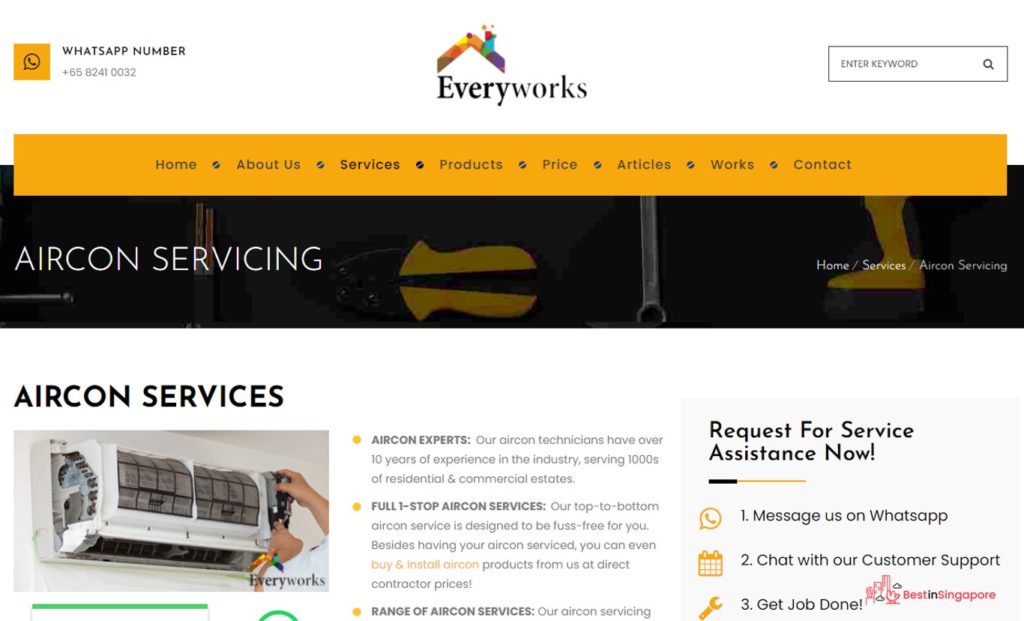 If you need more than aircon maintenance for your home, you should take a look at Everyworks Services. Aside from providing one of the best aircon services in Singapore, they also provide services for plumbing, electrical systems, and other handyman services.
Their seamless online booking system will ensure that you get the aircon servicing you need at the most convenient schedule for you. And if ever something comes up and you want to reschedule, their round-the-clock customer service will be there to assist you.
Everyworks prides itself with providing a one-stop solution for all your aircon servicing needs. And if you enjoyed their service, you can avail better rates with their quarterly aircon servicing contract.
For the air conditioner brands serviced, contact the company for more information.
Customer Reviews
Everyworks Services provides you with a one-stop solution for all your home maintenance needs. If you're thinking of getting their services, here are some customer reviews that help you calibrate your expectations:
"Had a really good experience with them. The lady who answered my call was really friendly and was able to send a team the same morning. They arrived on time and were really nice and efficient. Moreover, they diagnosed the aircon problem quickly and carefully explained every piece of information that they could. After doing the job, they even made sure to clean up. Excellent job!!"
"I was really impressed with their service. I managed to communicate clearly with the guys assigned to set an appointment. More than that, the serviceman assigned to me was really considerate in that he made sure to examine my aircon thoroughly and explained every single issue carefully. Because of this, I'd definitely recommend them to anyone struggling with aircon issues."
27. Cold Max Aircon Service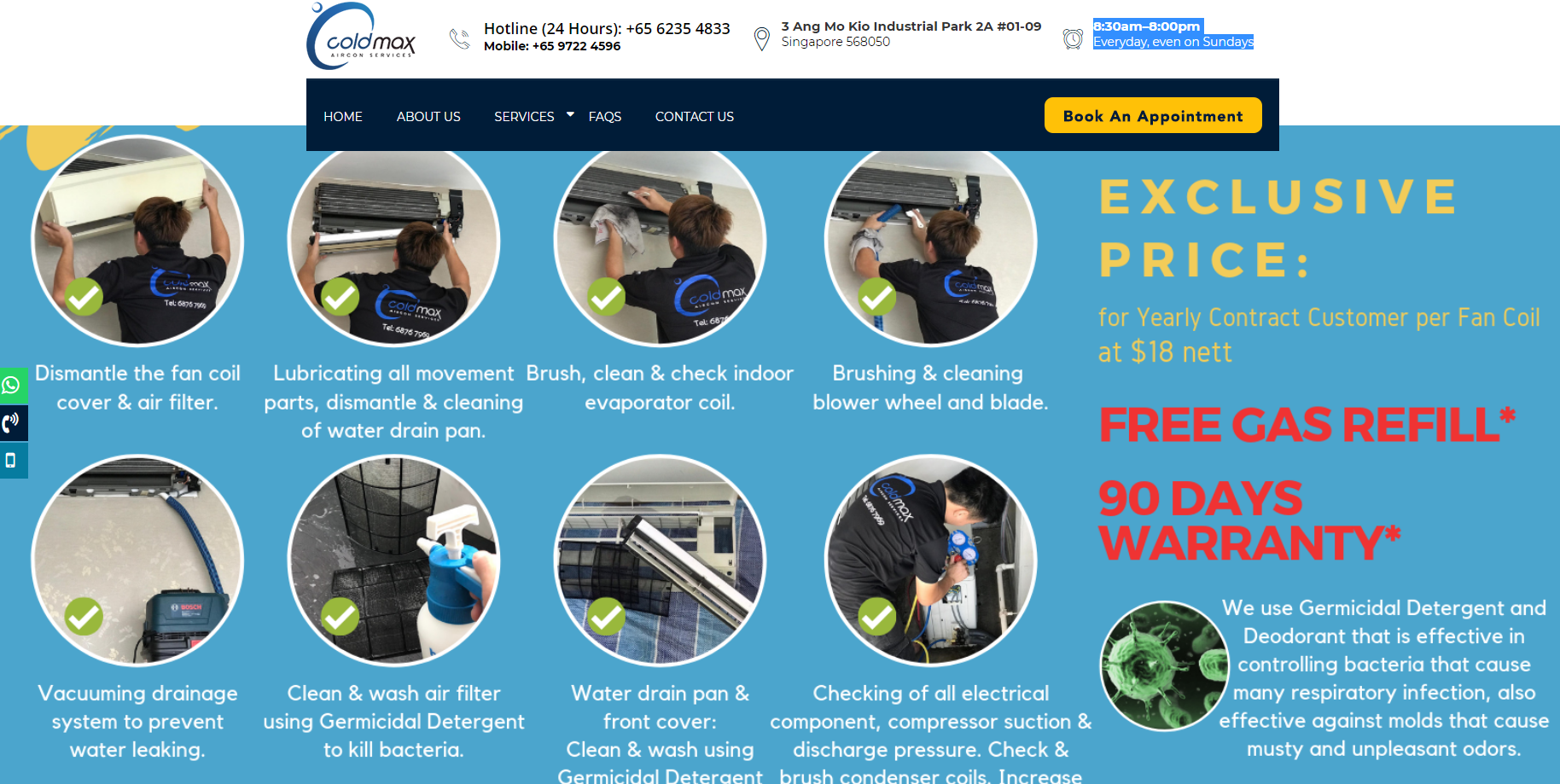 BEST FOR
Quick aircon installation service
WEBSITE

https://airconservicesingapore.com.sg/aircon-installation-price/

CONTACT INFORMATION

65 6235 4833/65 9722 4596

OPERATING HOURS
8:30am–8:00pm
Everyday, even on Sundays
SERVICES OFFERED
Aircon Servicing
Aircon Chemical Wash
Aircon Chemical Overhaul
Aircon Gas Top-Up
Aircon Repair/ Troubleshooting
Aircon Installation
AVERAGE PRICING
Contact for more information
WARRANTY
Contact for more details
Cold Max Aircon Services Pte Ltd has a team of experienced technicians providing services for Aircon Chemical Cleaning. With their reliable servicing and prices, they aim to provide with the best aircon solutions that are both effective and affordable.
They provide thorough checks, chemical cleaning and installation. Their technicians are highly experienced.
When it comes to aircon servicing and installation, they ensure all air conditioner servicing is given fast. They also are the best in making sure that installation result in aircons that work great and runs smoothly.
Mitsubishi Electric
Daikin
Panasonic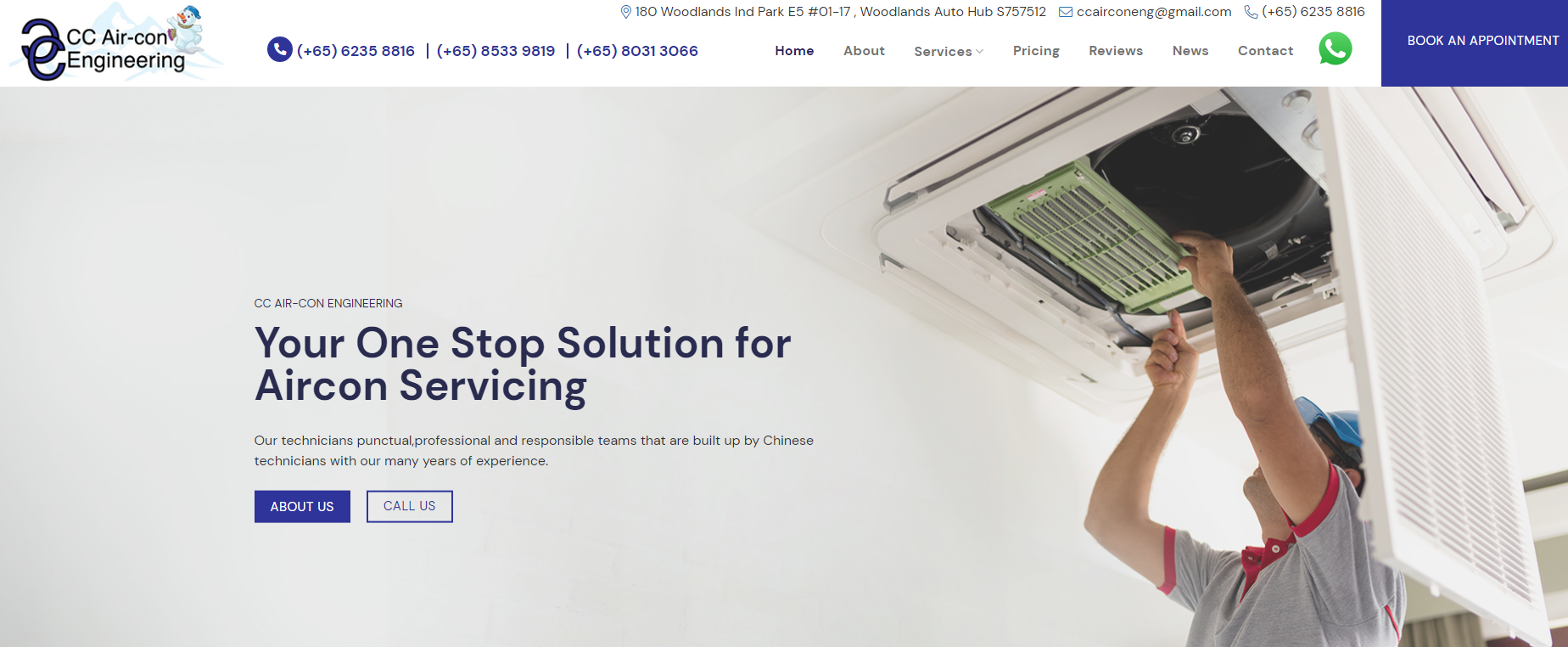 BEST FOR
Home Cleaning
WEBSITE
https://ccairconeng.com
CONTACT INFORMATION
[email protected]
(+65) 6235 8816
(+65) 8595 5977
(+65) 8031 3066
OPERATING HOURS

Mon – Fri : 9.00am – 5.30pm

Sat : 9.00am – 1.00pm (Office Hour)

Mon – Sun : 10.00am – 7.00pm (Appointments)

SERVICES OFFERED
Normal Servicing
Chemical Overhaul
Repair and Parts Replacement
AVERAGE PRICING
Pricing
WARRANTY
3 months warranty for spare part replacements
3 months warranty for water leaking after servicing/chemical overhaul
CC Air-con Engineering is an aircon servicing company that specialises in home servicing. They have been working in the industry for many years.
Their team of service technicians are skilled in their respective roles. They strive to continuously deliver punctual and professional services to their clients. 
You can count on them to keep your airconditioners in top shape. Their spare part replacements and servicing come with 3 months warranty.
PROS
CONS

Many years of experience
Punctual, professional, and responsible teams
Skilled service technicians
Warranty available for certain services

Servicing contract not inclusive of other services unless stated
For the air conditioner brands serviced, contact the company for more information.
31. Oasis Aircon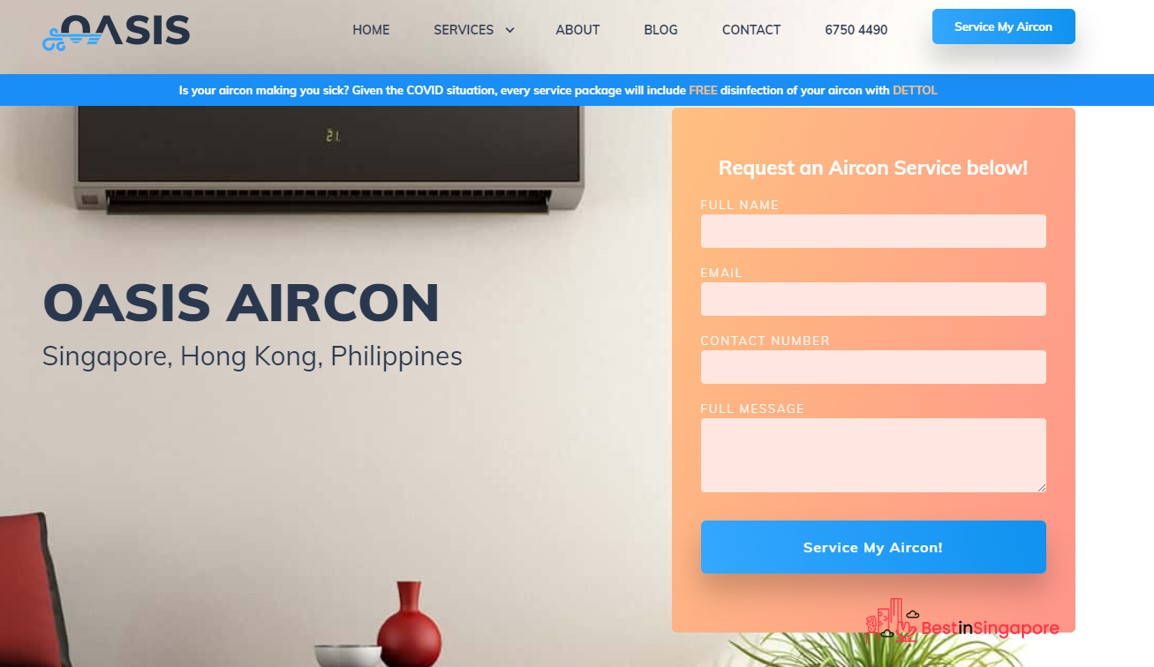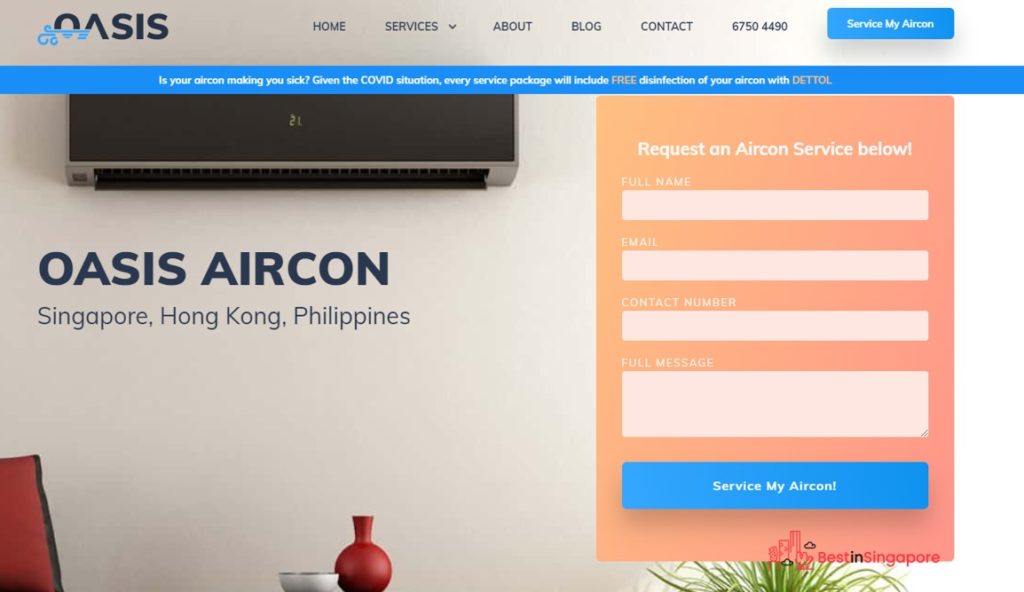 Oasis Aircon is one of the big names in the aircon servicing industry. With an impressive and long list of clients — from Fortune 500 companies to government agencies — you can be sure that they're one of the best aircon servicing companies in Singapore.
The company sends out highly trained and skilled technicians to deliver the highest quality of service for all types of jobs. Although they focus on providing excellent service, they also have a commitment to safety and provide public liability insurance of up to S$1,000,000.
Even after serving customers for over 10 years, Oasis Aircon continues to set the gold-standard in aircon servicing. To ensure that every job is done well, they also offer a 30-day workmanship warranty and follow-up services.
Customer Reviews
Although Oasis Aircon services large-scale clients, they make sure to give equal focus and importance to servicing individual clients. Take a look at these customer reviews that praise their professionalism and services:
"Highly recommended. Technician, Moe Aung was friendly. The servicing by him was well done and cleaning was thorough. Will definitely contact Oasis Aircon to schedule my next servicing. Thanks for providing such great service to customers. Christina was also super prompt with attending to my queries :)"
"Oasis is a trusted aircon servicing company. Their admin staff and technicians are courteous . They are willing to listen to your feedback and share their maintenance tips with you. Highly recommend."
32.

SoCool Pte Ltd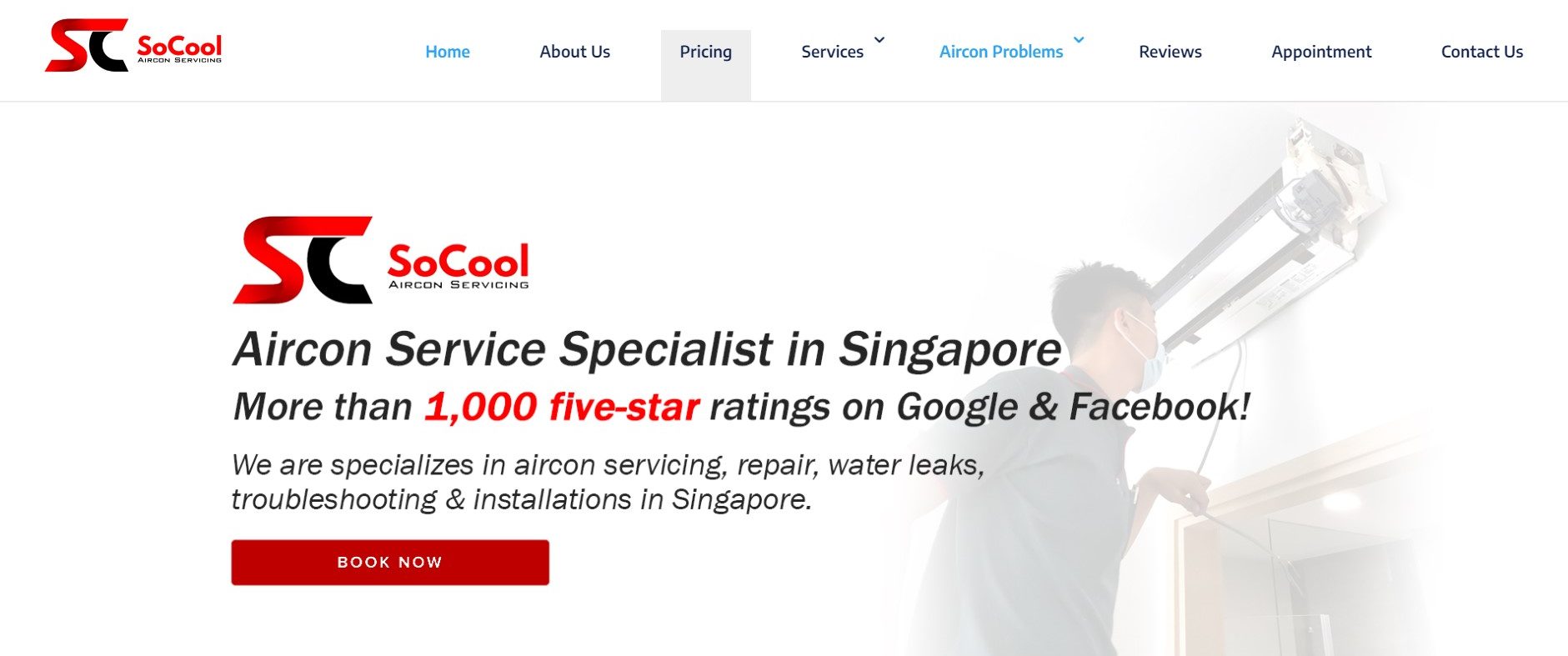 BEST FOR
24 hours servicing
WEBSITE
https://www.socool.sg/
CONTACT INFORMATION
6854 4956
6631 8348
OPERATING HOURS
24 hours support
SERVICES OFFERED
Aircon Servicing
Aircon Chemical Overhaul
Chemical Wash
Past Replacement
Troubleshooting
VRV System
Gas Top-Up
Aircon Installation
AVERAGE PRICING
https://www.socool.sg/pricing/
WARRANTY
90 days warranty
SoCool is an aircon servicing business that delivers quality assistance at all times. They have the complete range of services available, from simple repairs, installation, and even chemical wash.
What's more, is that they have the online estimates of their service rates, so you can check how much it would cost, and what type of package you can acquire base on your needs and budget.
Rest assured that you will get effective results when you opt for SoCool, and that money you spend will be worth it. Catering to the needs and satisfaction of their customers more than anything else, trust SoCool to do their job right and as fast as they can.
follow-up services.
Customer Reviews
Check out some of the feedbacks left for SoCool, proving just how amazing their services can be:
"SoCool has provided the best services since I have tried out many air con companies. Their staff do not hard sell their services and are very patient in explaining things in details. I like the technician they have assigned to me. A very patient guy and he did his work diligently. SoCool – Pls reward this staff.
SoCool is highly recommended if you are looking for a good and trusted air con company to service your air con!" – Janice Lee
"Chanced upon this company due to leakage issue with our AC on one fine day. And ever since, we have been engaging their services based on our overall pleasant experiences w them. In all – their responses (via whatsapp) were prompt and professional. They always try provide the earliest schedule if availabilities permit and our AC will be fixed in no time. Their technicians team conduct themselves professionally with a friendly demeanor and is willing to value add as such sharing of knowledge to their clients on better understanding of different areas of repairs, services and things to look out for etc.
Pricing wise is reasonable for my case.
Thanks so much, So Cool! Please continue to keep up the good work and blessings to all of you.
Cheers!"
33. Sure Cool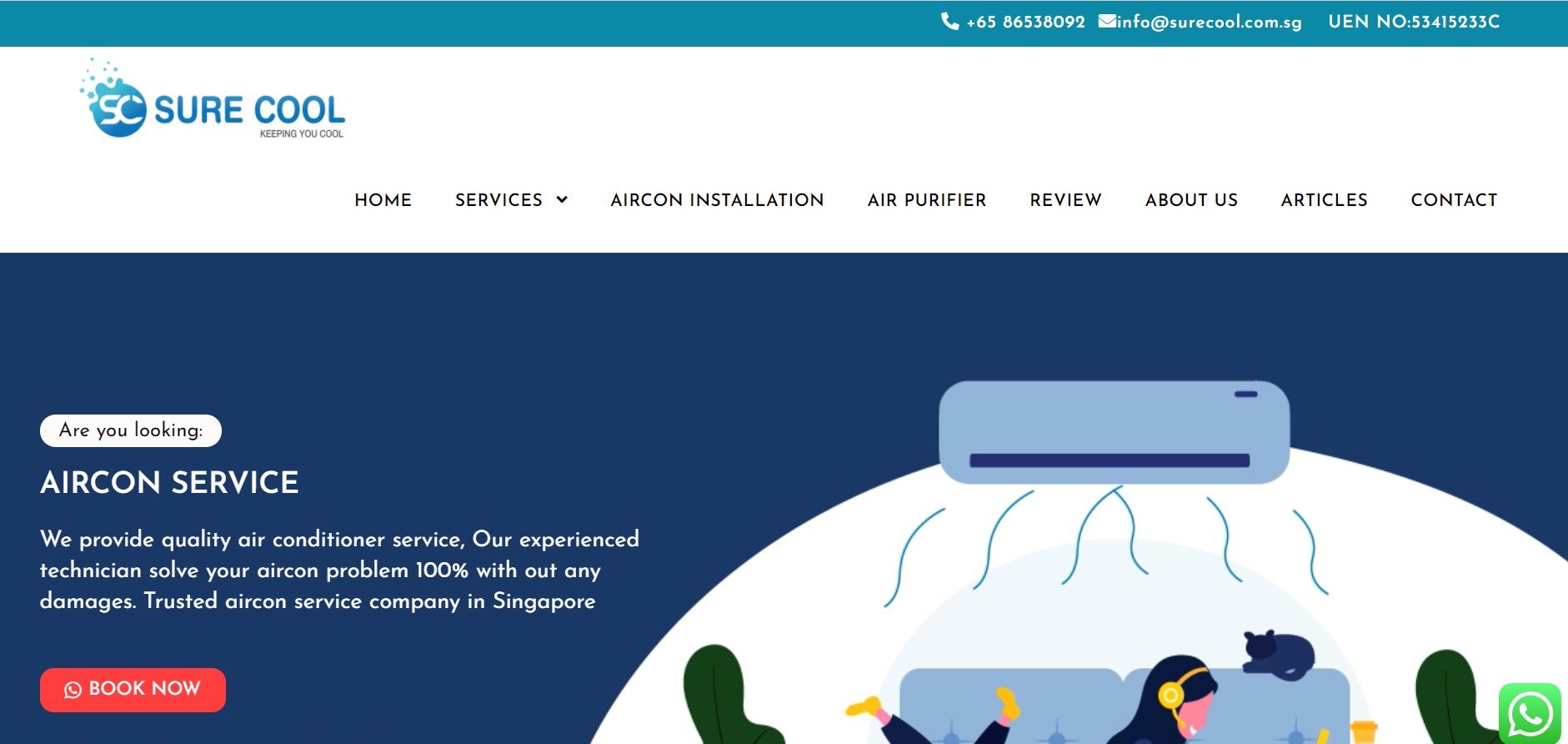 BEST FOR
Reasonable rates
WEBSITE
https://surecool.com.sg/
CONTACT INFORMATION
+65 86538092
[email protected]
OPERATING HOURS
Daily: 8AM – 8PM
SERVICES OFFERED
Aircon General service
Aircon Chemical wash
Aircon Chemical overhaul
Aircon Gas Topup
Aircon Repair
Aircon Steam cleaning
AVERAGE PRICING
1 unit – 30$
2 units – 50$
3 units – 75$
4 units – 100$
WARRANTY
Depends on the service acquired
Sure Cool offers a comprehensive range of air-conditioning services, from installment and maintenance, to repairs. Considered to be one of the best in Singapore, they always make sure to provide the fastest and most efficient ways to fix your AC problems.
Since their rates are cheaper and their quality of assistance is better, Sure Cool is always booked and busy, which can be why they're sometimes hard to come by. But still, rest assured that they will always be available to answer inquiries and calls, plus accommodate you at the earliest slot available.
More information are listed on their website. Rates, services available, and descriptions of their assistance can be seen there.
34. 7Days Aircon Servicing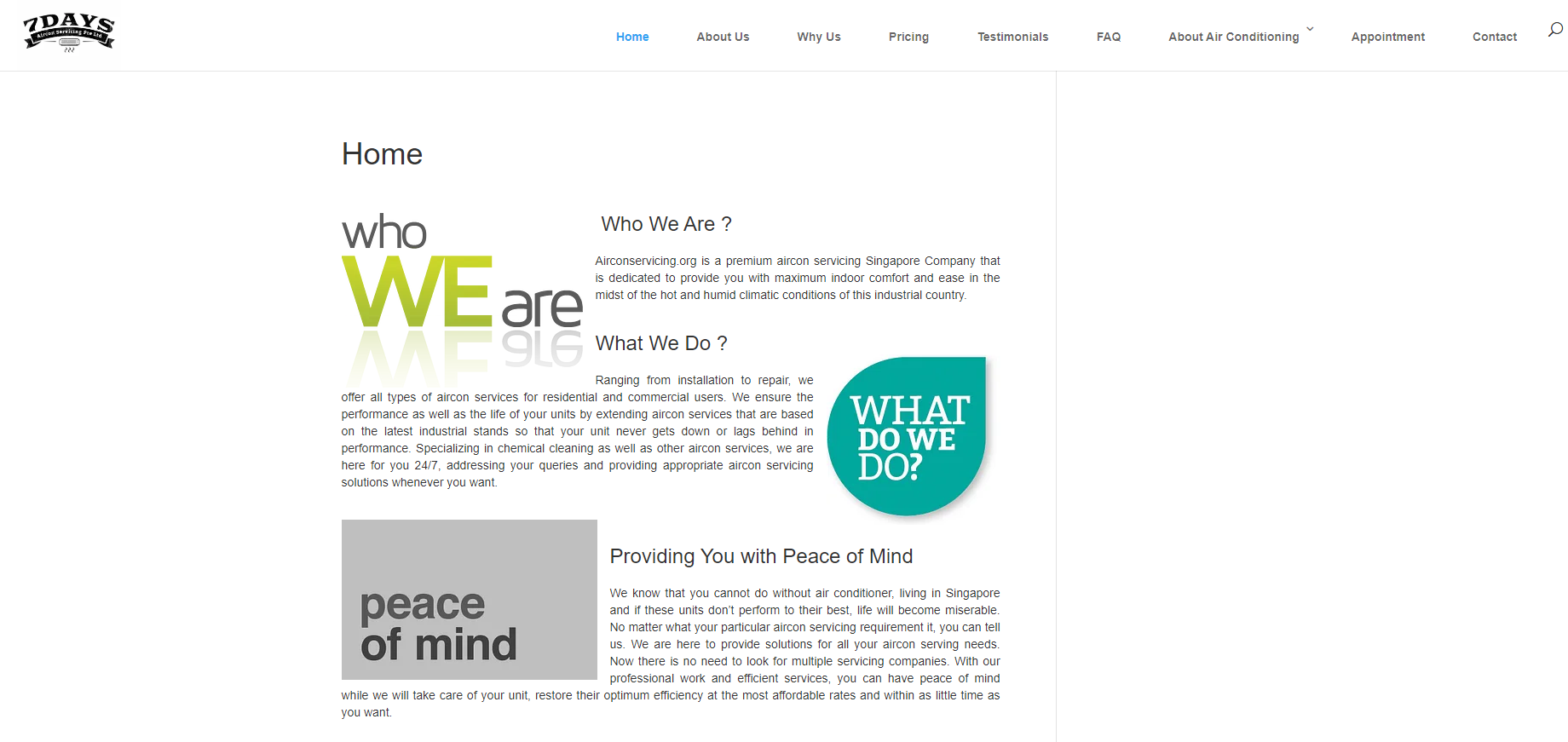 BEST FOR
Chemical cleaning
WEBSITE
https://www.airconservicing.org/
CONTACT INFORMATION
(+65) 6631 9717 | [email protected]
OPERATING HOURS
Monday – Sunday, 9:00 AM to 9:00 PM
SERVICES OFFERED

Normal servicing

Chemical wash

Chemical overhaul

Yearly maintenance

Refrigerant chage

AVERAGE PRICING

1 Fancoil unit |   $40

2 Fancoil units | $55

3 Fancoil units | $70

4 Fancoil units | $85

5 Fancoil units | $100

6 Fancoil units  & above |  $19 each

WARRANTY
Depends on the service acquired
7Days Aircon Servicing is a premium aircon servicing Singapore Company that is dedicated to providing you with maximum indoor comfort and ease in the midst of the hot and humid climatic conditions of this industrial country.
Their services range from installation to repairs and are offered to all types of aircon units for residential and commercial users. Specialising in chemical cleaning, 7Days Aircon is here for you 24/7 to address your queries and provide appropriate aircon servicing solutions whenever you want.
When it comes to pricing 7Days has designed various packages that can help you choose one that will fit your budget. 7Days gives one of the most cost-effective quotations among others in Singapore.
35. LS Aircon Servicing

BEST FOR
Servicing Residential and Business Units
WEBSITE
https://www.lsairconservicing.sg/
ADDRESS
609A Tampines North Drive 1 #12-350 Singapore 521609
CONTACT INFORMATION

[email protected]


(+65) 67978821
OPERATING HOURS
Monday – Sunday: 8:00 AM – 10:00 PM
SERVICES OFFERED
Aircon Installation, Aircon Overhaul, Aircon Relocation, Aircon Repair, Chemical Wash, Gas Top Up
AVERAGE PRICING
General servicing: starts at S$40 (depends on no. of fan coils)
Chemical wash: starts at S$85 (depends on no. of fan coils)
Chemical overhaul: starts at S$150 (depends on no. of fan coils)
For full pricing, check out their online price list.
WARRANTY
Contact for more information
Having serviced 30,000 aircon units with 2,500 satisfied customers, it is no doubt that LS Aircon Servicing provides exceptional service for your aircon units.
Their team of qualified technicians are strictly dedicated to ensuring punctuality and high-quality services. They apply the same focus and rigorous SOP to any kind of task, may it be residential or commercial.
They offer many services such as aircon installations, overhaul, repairs, chemical washes, gas top ups as well as the general maintenance.
The best part is that you'll have the best value for your money. Additionally, LS Aircon Servicing do not have hidden fees and are transparent with all the cost.
36. Airconpros

BEST FOR
Fast and reliable aircon services
WEBSITE
https://airconpros.com.sg/
ADDRESS
Singapore
CONTACT INFORMATION
[email protected]
+65 8872 3365
OPERATING HOURS
Daily, 9AM – 6PM
SERVICES OFFERED
Aircon General service
Aircon steam cleaning
Aircon chemical overhaul
Aircon Chemical wash
Aircon Gas Topup
Aircon repair
AVERAGE PRICING
Contact for more information
WARRANTY
Contact for more information
When it comes to airconditioning services, it's impossible to miss Airconpros. This humble company has been in the business for over five years, consistently delivering quality aircon services such as steam cleaning, chemical overhaul, chemical wash, and repairs.
Clients need not worry about the end state of their units because technicians at Airconpros have been thoroughly checked by the company beforehand. You can expect these technicians to be experienced all the while professional and highly communicative on jobs.
Aside from the services and technicians, we also like the fact that Airconpros isn't discriminative when it comes to the properties they work on. Airconpros caters to HDB flats, condos, residential properties and commericial properties all over Singapore.
37. Airmaxx Aircon
| | |
| --- | --- |
| WEBSITE | |
| ADDRESS | 51 Goldhill Plaza, #07-10, Singapore 308900 |
| CONTACT DETAILS | +65 9235 5800 |
| OPERATING HOURS | Monday – Sunday: 9:00 AM – 9:00 PM |
| SERVICES OFFERED | AC installation, maintenance, cleaning, repair |
| AVERAGE PRICING | $40-$150 |
| WARRANTY | 90-day installation warranty |
Airmaxx Aircon strives to provide the best value for Singaporean's money with its aircon installation, repair, and maintenance services. Its experts are skilled and experienced in numerous brands, including Daikin, Fujitsu, and other household names.
To determine which type of service each customer needs, Airmaxx first does on-site aircon consultations. And the best thing about this service is that it comes for free!
Should your air conditioning unit be beyond repair, Airmaxx Aircon is ready to help you with the installation of a new unit. This aircon technician even provides a 90-day warranty for the installation labour.
Despite all these services, Airmaxx understands that problems can arise at any time. So, it offers annual, tri-yearly, and quarterly maintenance services.
The maintenance service includes cleaning condenser coils, replacing leaky seals, and topping up the refrigerant. Additionally, Airmaxx Aircon also does chemical wash and chemical overhaul. 
To make all these services accessible to its customers, Airmaxx also offers them at discounted prices. So, those who have multiple AC units or have numerous requested services can save up with Airmaxx.
Pros
Free aircon service consultation

Discounted prices for multiple AC units and services

Three schedule options for routine maintenance

All week availability with extended hours
Cons
Relatively limited warranty coverage

May require contract
Air Conditioner Brands Serviced
Daikin, Samsung, Fujitsu, LG, Mitsubishi, Carrier, York, Hitachi, Sharp, Midea, Panasonic
Customer Reviews
Aside from being a one-stop-shop for all AC needs, Airmaxx is also known for its professionalism and responsiveness, just as these customers have said:
"Managed to book a slot with AirMaxx in the morning and technician came to repair aircon leak on the day itself. Fast response from AirMaxx. Very fast in detecting issue and was thorough in repairing and cleaning. Very satisfied with the service. Highly recommend. He was honest and didn't push for additional services that were not needed:)"—Jia Sheng Ng
"It was a pleasure having AirMaxx performed general servicing for my home's 4 unit a/cs. The guys were on time and polite. They've also informed me that my gas needed a top-up before going ahead to inform me of the additional charges. Everything was done within 30mins. Very well done. Highly recommended."—Nurani Hussein
38. AirCool & Cool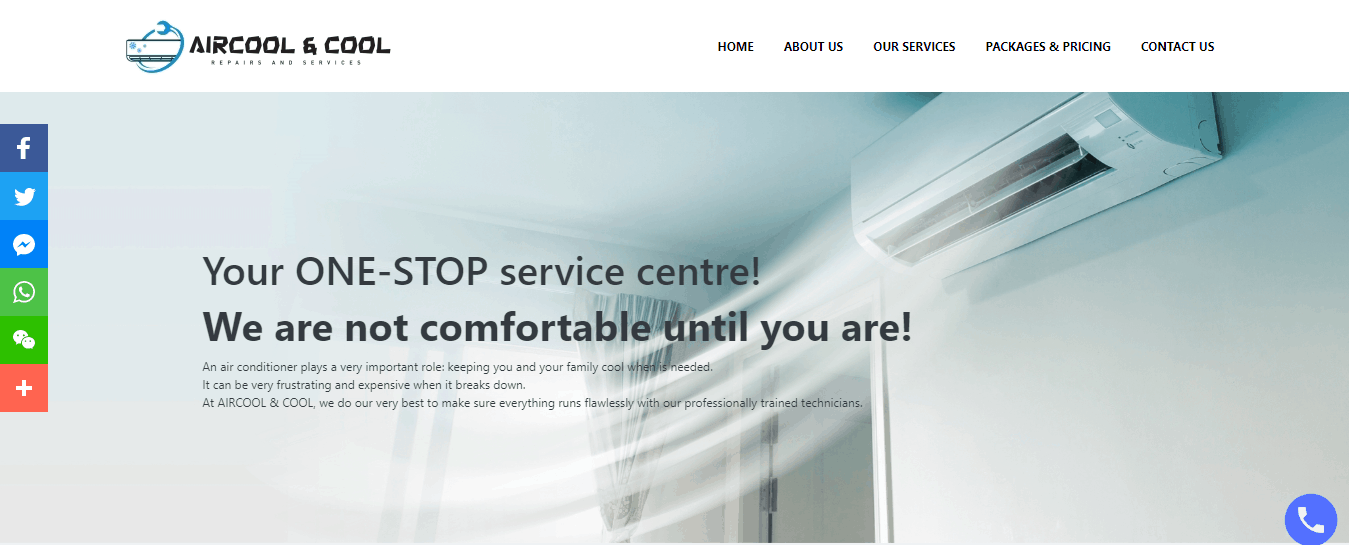 | | |
| --- | --- |
| WEBSITE | |
| ADDRESS | 619B Punggol Dr., Singapore 822619 |
| CONTACT DETAILS | +65 8262 9335 | [email protected] |
| OPERATING HOURS | Monday – Saturay: 9:00 SM – 6:00 PM |
| SERVICES OFFERED | Aircon cleaning, maintenance, and repair |
| AVERAGE PRICING | 40–$360 |
| WARRANTY | 90-day service warranty |
AirCool & Cool is one of the best aircon service technicians in the country because it provides general services that keep your AC units in top shape. It has two packages for AC maintenance, the general service and the contract service.
Both of these packages include checking of air filters, condenser coils, drainage system, fan bearings, lubrication, and other AC mechanical parts. AirCool & Cool even does the cleaning, vacuuming, and brushing of parts in need of added maintenance.
Additionally, the contract and general service packages come with a 90-day service warranty. The only difference is that the contract service requires up-front payment for its one-year contract.
Aside from these packages, AirCool & Cool also does solo services like chemical overhaul for multiple fan coil units, aircon gas top-up, and condenser services. All of these offers allow commercial and residential clients alike to keep their AC units in peak performance.
Pros
Comprehensive AC service package

Relatively affordable services
Packaged and stand-alone service options
Aircon gas top-up services available
Cons
Relatively limited coverage of warranty

One-time payment for contract service package
Customer Reviews
Aircool & Cool has received numerous positive reviews for its technical expertise and customer service. Here are some reviews to tell you more:
"I've been engaging Aircool and cool aircon services for regular servicing of my indoor and occasionally the outdoor units. They provides quality services to ensure the air con units meets the required servicing and not over-providing services to earn the money out from the customers. The customer service from Aircool and cool aircon services Pte Ltd is also efficient that the team will arrange the schedule and come in within the agreed time. During event of unforeseen circumstances, they will inform in advance to mitigate the unnecessary waiting from the customer. Last but not lease, some air con servicing company provides cheaper rate but poor quality services. Aircool and cool aircon service Pte Ltd provides quality service with reasonable rate with no hidden or additional charges."—Seah Sze Leong
"Young and professional team of engineers which was trusted by my parents to service their A/C units. The engineers will assess the situation onsite and provide advise and the necessary cleaning required. Minimal supervision is required and they clean up our toilet after use for cleaning. Would recommend to others to try."—Haoping Tan
39. ACool

WEBSITE

ADDRESS

531A Upper Cross Street

#04-98 Hong Lim Complex,

Singapore 051531

CONTACT DETAILS

+65 8229 2047

OPERATING HOURS

Monday – Sunday: 8AM – 10PM

SERVICES OFFERED

Normal Servicing

Repair & Troubleshooting

Aircon Chemical Overhaul

Aircon Installation

Gas Top Up

Parts Replacement

AVERAGE PRICING

Contact for more information

WARRANTY

Contact for more information
Next on our list is Acool Singapore, one of the most prominent aircon servicing companies on the island.
Acool Singapore currently offers a variety of aircon services, including repairs, troubleshooting, maintenance, installation, cleaning, chemical overhauls, and gas refills. If the aircon is not cold enough, smells strange, drips water — whatever problem one may encounter, Acool Singapore will do their best to address the issue.
Aside from the extensive list of services, Acool Singapore is also noteworthy because of its team, which consists of experienced technicians with vast experience and knowledge in the aircon sector. 
Those who wish to learn more about Acool Singapore's services can reach the company by phone. 
Pros
Extensive list of aircon services

Trained, highly professional technicians

Quick response to enquiries
Cons
Air Conditioner Brands Serviced
LG, Panasonic, Daikin, Mitsubishi, Samsung, Toshiba, Sanyo, Sharp, Fujitsu, Hitachi, Carrier, Midea, York, Europace, Koppel, Kolin, Electrolux, Fujitec, Gree, National, Kelvinator, McQuay, Trane, Condura, Teco
40. Cool Horizon

BEST FOR
Wide range of services
WEBSITE
http://coolhorizon.com.sg/
CONTACT INFORMATION
Tel: +6566816733
Email: [email protected]
OPERATING HOURS
Monday – Saturday: 8:30am – 8:00pm
SERVICES OFFERED

AIRCON SERVICING
AIRCON CHEMICAL WASH
AIRCON CHEMICAL OVERHAUL
AIRCON GAS TOP UP
AIRCON REPAIR/ AIRCON TROUBLESHOOTING
AIRCON INSTALLATION
AIRCON VRV SYSTEM
CERAMIC FLOOR TILES
WALL TILES
FALSE CEILING
WALL PARTITION
ELECTRICAL WORKS
PLUMBING WORKS
WARDROBES AND CABINETS

AVERAGE PRICING

Starts at $40 for one unit, and $140 for 6 units

WARRANTY
Residential units – 1 year warranty
Compressors – 5 years
Cool Horizon knows everything on airconditioning units, making them one of the best companies in Singapore. They house only experienced and expert technicians, to guarantee the quality of service, making them worth the price.
Also offering a comprehensive range of AC servicing, they can do it all for you, may it be a repair or an installation. Discounts apply for more than one unit, and if acquiring subscription to their services.
With that, you can also hire Cool Horizon for basically anything you can think of as they have electrical, plumbing, and woodwork assistances.
PROS
CONS

Effective aircon solutions
Reliable servicing
Free gas top-up for new customers

Checking for aircon servicing does not include gas leaking problems
For the air conditioner brands serviced, contact the company for more information.
41. Fixwerks

Got a problem with your air conditioner that you can't seem to solve? Fixwerks has got you covered!
They provide affordable and comprehensive aircon services for a large range of issues including breakdowns, leaks, temperature and loud coil noises. Their repair technicians are experienced in handling all major air conditioner brands and models in Singapore.  
Regardless of whether you require repairs or just servicing, Fixwerks ensures they serve you promptly and effectively! Additionally, all of their repair works are guaranteed for up to a year. 
Air Conditioner Brands Serviced
Daikin

LG

Samsung

Electrolux

Midea

Techno

EuropAce

Mitsubishi

Toshiba

Fujitsu

Panasonic
41. DW Aircon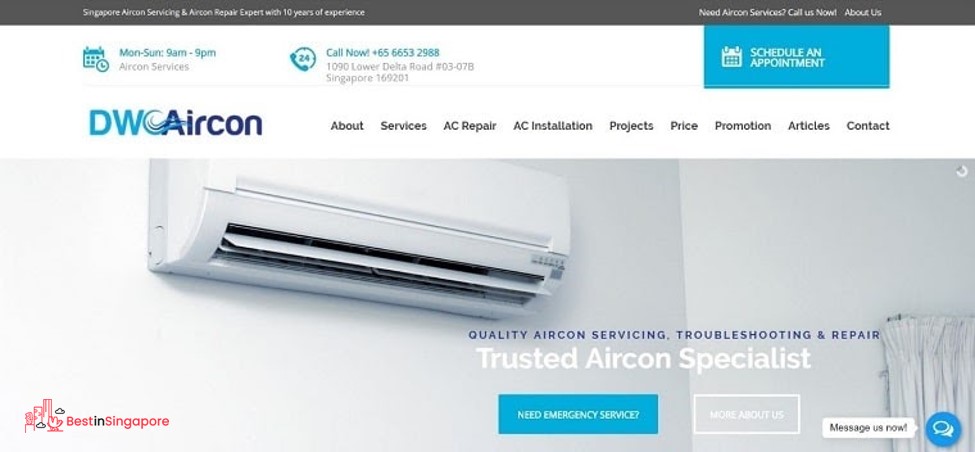 If you want the best aircon cleaning service in Singapore for both residential and commercial, DW Aircon could be the one for you. They offer an extensive range of aircon installation, repair, and maintenance services for all the trusted aircon brands in Singapore.
DW Aircon is one of the veteran aircon service providers in Singapore, with over 10 years of giving the highest standards of service to clients across the island. 
They've achieved this by constantly acquiring the latest technology in aircon servicing to make sure that they can meet any kind of client request.
Their focus is to provide quality service for competitively cheap prices. As such, always check their website for any promos and discounts.
Through the years, thousands of clients have turned to DW Aircon for their aircon servicing and repair needs. With a proven track record of satisfied customers, it's safe to say that DW Aircon provides some of the best aircon services in Singapore.
Customer Reviews
Here's what some of their past customers have to say:
"I found DW through Google search and online review.
The booking process is detailed and a little time-consuming, but understand it is a process to understand better what needs to be done. Overall, the booking process is good as setting expectations right.

The guy came alone, solo, he is friendly, and the service is great and best. To add-on, the question I asked about the aircon-related matter, he spent time assessing, checking, and explaining to me one-by-one logically."

"Excellent service. I have used them every quarter, and I am always met with a very professional manner and advice in how to maintain my aircon unit.

I will be moving apartments soon and I'll definitely be using them again in my new home 🙂

Special thanks to Mr. Rajan and Ms. Rose"
And that's the end of our list of the best aircon servicing companies in Singapore! With these companies, you're assured of nothing but the best aircon services around.