The 17 Best Aircon Servicing Companies in Singapore Reviewed
If your A/C unit has conked out, getting the best air conditioning servicing is a must. We've assessed reliable aircon servicing companies in Singapore for you to call.
But first, take a look at the typical fees of common air conditioning services.
How much does aircon servicing cost in Singapore?
The cost of servicing and aircon maintenance will depend on different factors like your unit's model and its main issues.
However, general air conditioning servicing can cost anywhere between S$35 and S$60. The final invoice will of course be influenced by things like the A/C type and the number of fan coils.
As for aircon maintenance, you can expect to pay somewhere between S$80 and S$150 for a single unit. One of the most common services require chemical washing to remove clogs in the system.
And if you need a more thorough cleaning, it can set you back S$130 to S$200 for just one unit.
This price is typically influenced by a chemical overhaul, which is why it falls in the expensive spectrum of aircon maintenance.
The Best Aircon Servicing Companies in Singapore
We selected the best aircon servicing in Singapore using the following criteria:
1. Xool Aircon Experts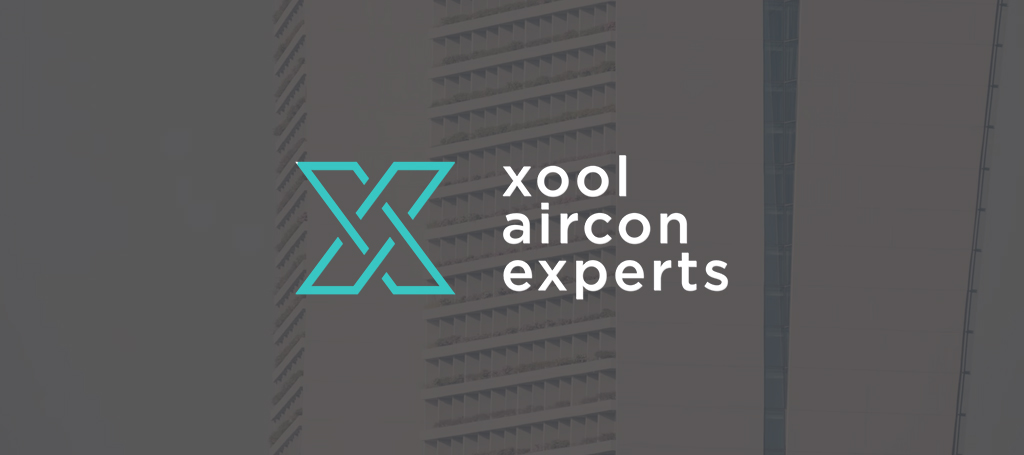 Finding a reliable, clean, and efficient contractor for aircon service could prove to be a challenging task. Oftentimes, aircon service providers produce substandard work so we took it upon ourselves to look for some of the best for you.
It's a great thing that we came across Xool Aircon Experts. Their team has a strong background in technology so there's nothing to worry about in that department.
What we like about their team is how they focus on customer experience. They've taken the time to list down all the main challenges customers face with contractors and came up with plans on how to address these.
We're amazed by the fact that they're the first aircon company in Singapore that allows customers to book an instant appointment and pay online through credit card.
You can pick a time and date, change or cancel your schedule through their website without even giving them a call!
We like that they send email, SMS and calendar reminders so you don't miss an appointment with them.
Their team also understands that their customers are busy and want the job done quickly but done well and clean. This is why they ensure that they send a team of two certified and experienced technicians who will deliver the job speedily and cleanly.
We know what a big turn off it is when a company delivers poor customer services. With this team, you'll get great attitudes who will do everything and anything to make you happy.
We think you'll benefit and be pleased with the full range of aircon services they offer.
What's more is they provide transparent pricing so each and every one of their customers know how much their services cost to show how they will never overcharge.
Speaking of their prices, we find them to be competitive as well.
All in all, we highly recommend!
Customer Reviews
"Undeniably the best AC maintenance provider I've engaged to date. Hassle-free booking of aircon appointments online, even as late as the night before and they turn up punctually without fail. The servicing experts did a good quality job quickly and thoroughly. I am glad that I chose them and will continue to use their services for my future Aircon needs." – Melissa Loh
"Was recommended Xool and had a 10/10 experience. Appointment booking was fuss free and the maintenance guys were professional. would definitely engage them again!" – Jun Hao Hoe
"Have been a customer for last 4+ years and much appreciate the work and professionalism. The technicians know what they are doing and are able to solve some issues with much ease which otherwise I have known other companies suggest changing trunking/insulation etc. Keep up the quality of your technicians and scheduling ease." – Naresh
"It's always a breeze contacting the professionals at Xool for aircon related services. Appreciate the prompt responses of Jasmine and her professional team as mine was an urgent request to dismantle the aircon units. Thank you so much for accommodating my urgent request and visiting the site with the technical team on a weekend afternoon." – Celine
2. Airconman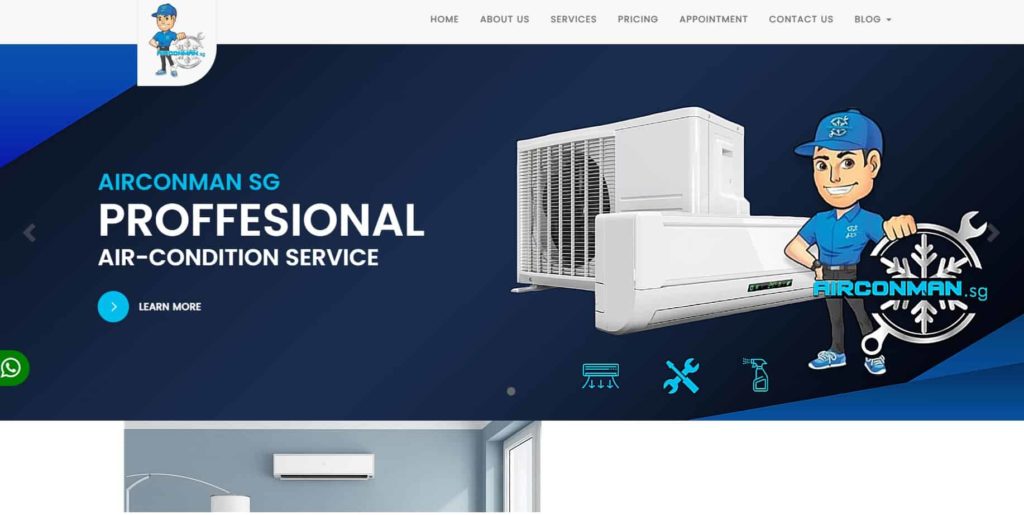 Airconman is a company that provides its clients with comprehensive and sustainable airconditioning unit maintenance services such as chemical washes, troubleshooting, and installation among others.
We like that their team of technicians is highly equipped for the job wherein they are diversely experienced in the field to provide sound and practical troubleshooting and proper installations for all sorts of AC units clients may have.
Past clients who have experienced their services have commended them for their professionalism and efficient services that ensured a safe and smooth appointment with them at all times.
Note though that service rates and packages aren't readily available on their website so interested clients may need to inquire further for more information on this matter beforehand.
Nonetheless, with their exemplary experience and expertise in the field, well-equipped technicians, and diverse AC unit servicing offered, we highly recommend interested clients to check them out.
Customer Reviews
Here are some reviews from their clients:
"Am very satisfied with Andy who came over to help on the 4th day of CNY (we had water flowing from our aircon and required urgent help). He came to unclogged our draining pipe and did a chemical overhaul for our aircon. Was very surprised as our last servicing with another agent was just in September, the chemical wash removed dust and dirty which accumulated like hairy moss on our coil, it was such a relief to see it being removed thoroughly. Looking forward to future aircon servicing with Andy. Thank you once again for helping!"
"A very smooth service from recieving quote to delivery to installation. Your installer will call/text you directly on regards with installing and come down to site to look at how to run trunking neatly and placement of aircon. Will advice you accordingly. Installation was done proffesionally and everything was top notch 👍🏻"
3. DW Aircon Servicing Singapore
"Best rated aircon service specialist in Singapore"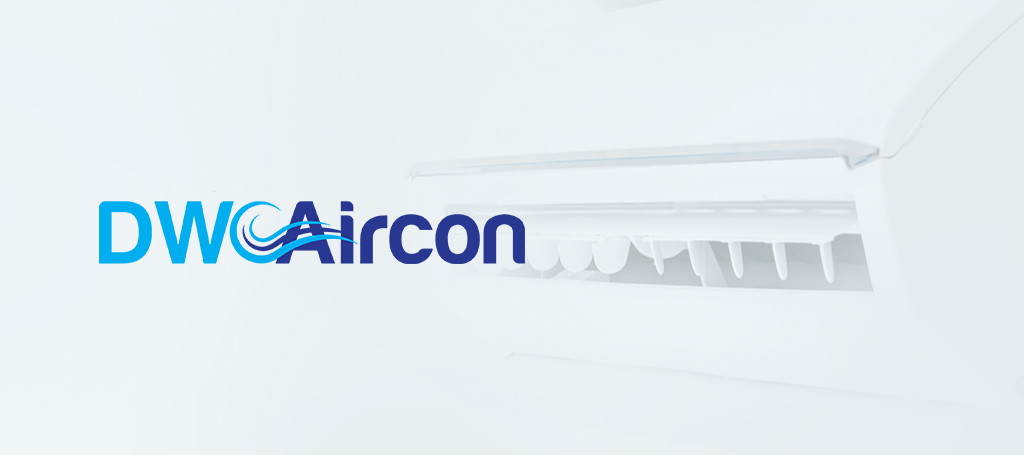 DW Aircon Servicing Singapore has been an air conditioner service provider for over a decade now. Its menu of services ranges from simple maintenance to more complex chemical overhaul.
The company has licensed technicians that can do a wide variety of aircon services, including installation for HDB flats and multi-storey properties. It also offers a 30-day workmanship warranty, which lends credibility to its service quality.
DW Aircon Servicing is open daily, but servicing is strictly by appointment only.
The only downside we can see with this company is its lack of emergency services. It's not unheard of to have A/C units conk out in the middle of the night, so getting the aircon up and running ASAP is a welcome feat.
And while we understand that rates are subject to change for a number of reasons, it would be reassuring to have the most current pricing matrix readily available to refer to.
Customer Reviews
Did a good job and gave advice on aircon compressor
"I am pleased with the service from the Customer service officer name Richard provided to me. He is fast and efficient in answering my questions. Keep it up! Technician Mr Udaiyar came to service my aircon, reached early than the scheduled time. He did a good job and did advise me on my Aircon compressor too. Recommending and highlighting a few issues. Thank u so much for the suggestions given. Will continue to look out for your company services when the time needed." – Linda Hamid
Technician arrived ahead of the scheduled maintenance
"Mr Ramesh – the technician arrived early ahead for the scheduled maintenance. He is professional and able to advise me on the type of cleaning required for my A/C. Service was smooth and clean. Kudos to Rose and Valerie – Admin staff for their quick responses and for arranging the maintenance based on my time schedule. Highly recommended!" – Chee Ho Lim
4. Oasis Aircon | Luce Aircon Servicing
"All of your aircon needs under one roof"
Oasis Aircon | Luce Aircon Servicing is another company that offers a 30-day workmanship warranty. But that isn't the only reason why it made it to our listicle today.
For starters, it services all types and brands of wall and ceiling-mounted airconditioning units. For another, it can do most aircon services in about half an hour (or less).
The company also takes special precautions about the COVID situation, especially since its technicians will go to clients' homes.
It takes pride in fully complying with pandemic regulations and requires its entire staff to wear masks and wash their hands at all times.
Still, it's a bit disappointing that Oasis doesn't accommodate clients with portable aircon or those with central air conditioning systems. And it also doesn't do emergency services.
Customer Reviews
Customer service is very responsive
"Price reasonable. Customer Service is very responsive. They keep a record of your details even if you engage them on an ad-hoc basis. The technician comes on time, cleans up after servicing and is friendly." – Azura Yusoff
Well trained, patient, and with a good working attitude
"They have some of the best aircon service technicians. Well trained, patient and good
working attitude. Price is reasonable as well." – Ken Loy
5. Jetstyle Aircon Services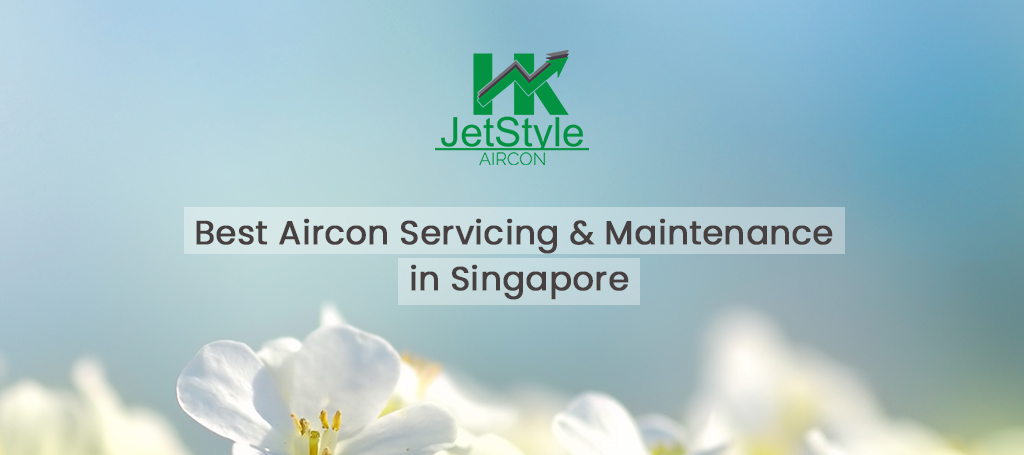 Jet Style is proved to be one of the best aircon services in Singapore. They pride themselves in having chemical-free processes that still promises a thorough cleaning– proven to get rid of almost all dirt and substances. Not only that, they are also great with repairs, with their aircon specialists proving to have managed a lot of brands and systems in their years of experience. No aircon is too hard for them to clean or fix. With that in mind, you can rest easy knowing that Jet Style Aircon Services can provide the best for you and your family.
Customer Reviews
With an average of a spot-on 5 star rating in google review, previous clients of Jet Style praises the company's punctuality and efficiency in their work. Here's some of them: "Very good in servicing aircon. Very good in greeting customer also.. will definitely recommend friends and family to them.." "First time ever having an aircon servicing team arrive early. I appreciate their honesty in evaluating the gas levels in the condenser units. I've had other aircon servicing companies try to con me into topping up the gas when it wasn't necessary. Good and clean servicing of the aircon units as well."
6. LetsCool Aircon and Services
"Best aircon company in Singapore"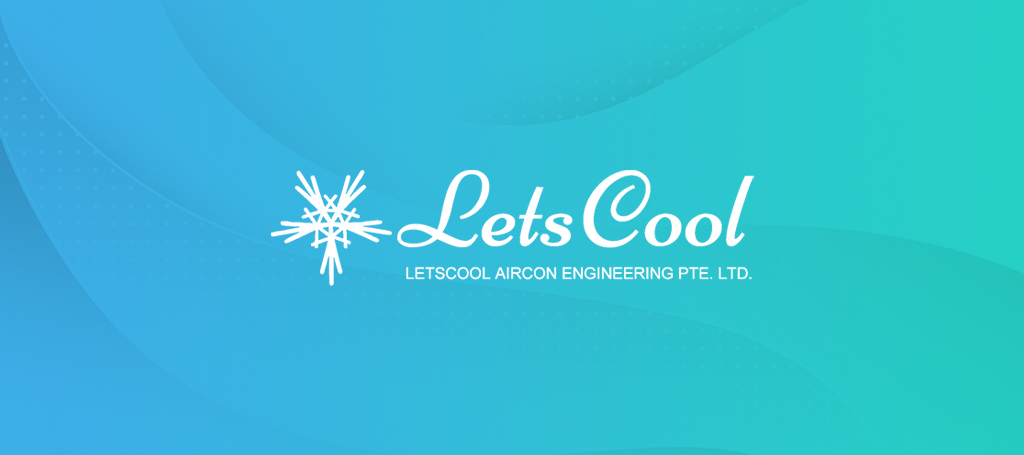 Letscool Aircon and Services has been around for over 25 years and has served over 50,000 customers thus far. Maybe that's why it can so generously provide many promos and special offers.
But while it's great to have group buy discounts along with free gifts and vouchers, the company only has promos for known brands like Daikin, Mitsubishi, and Panasonic. Those with lesser-known brands might not even be accommodated for general services.
Still, the company presents its pricing upfront, which helps a lot for clients who are canvassing for services. The rates are fair at S$100 per unit for a chemical overhaul and S$25 per unit for general services.
And we like that LetsCool can be reached at all hours of the day, all week. Those with sudden air conditioning issues can rest assured that their concerns are at least being heard.
Customer Reviews
Everything was done nicely and punctually
"A very much appreciated thanks to chewy and the team for the outstanding service and super affordable aircon given. although the slots for appointments were super long, nevertheless chewy never fails to accommodate our schedule. everything was done nicely and punctually. Hiring LetsCool aircon services was the best choice. simply no regrets." – Saiful Sirhan
AC works like new each time
"Very good service as always. Been using their service for a few years now for my AC. Chemical overhaul of one unit and normal serviced one unit. They definitely know what they are doing and my AC works like new each time." – Imran Becks
7. Infinity Air
"Feel the difference."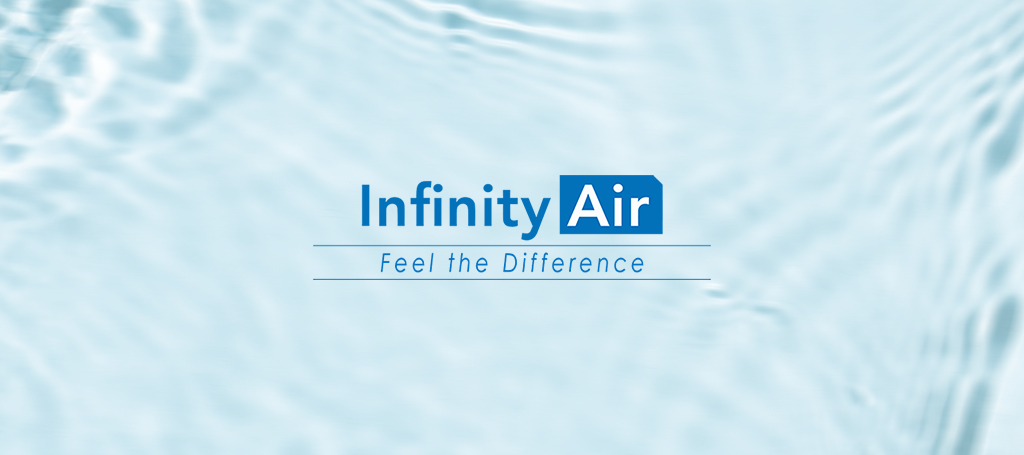 Specialising in A/C repair and replacement, Infinity Air offers clients its team's decades of expertise to address any problems. It has repaired issues like water leakage, unusual sounds, the unit not turning on, and even bad smells.
It's only open on weekdays, which is disappointing. But for emergency repair services, Infinity Air can send a technician to the location ASAP.
This service is done on a case-by-case basis, however.
Another concern for us is they require a S$60 booking fee. Thankfully, it's waived when you confirm the slot.
The good news is there's a 30-day workmanship warranty to assure clients of the technician's skills and expertise. And the company doesn't just cater to residential customers but to some pretty notable commercial and industrial ones as well.
We like that Infinity Air encourages potential clients to contact them in case their brand isn't a popular or common one. We find this gesture inclusive and thoughtful.
Customer Reviews
Great job on the professionalism displayed
"Great service on my aircon today! Great job on the professionalism displayed. Let me know if you've any annual packages. Thanks!" – Peter Seow
Very transparent in pricing and services
"Infinity Air's service makes me feel really comfortable as a new client. I got to know of them from another friend and I must say that they are very transparent in their pricing and services. Highly recommend them if you want to be sure of what you are paying for and serviced by a team who is knowledgeable in what they offer." – Jayden Soh Jun Xing
8. @bsolute Aircon Pte Ltd
"Absolutely the leader in the aircon industry"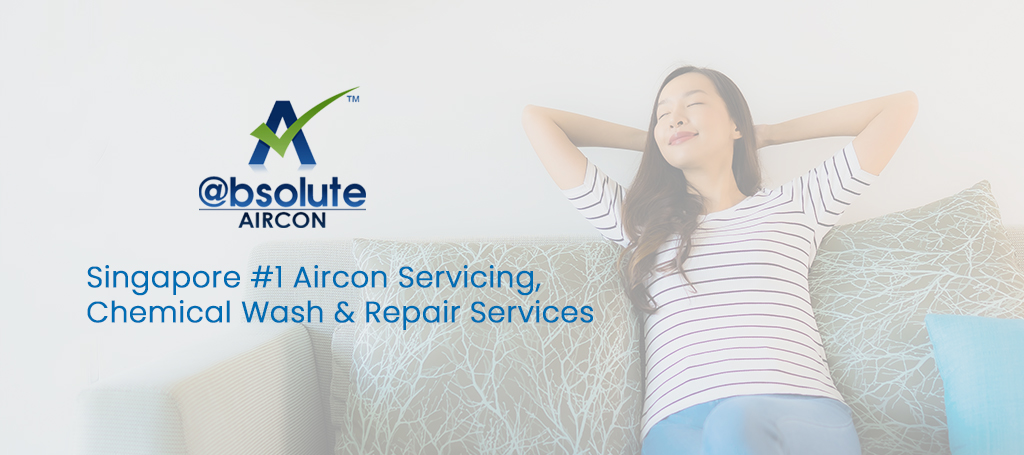 @bsolute Aircon Pte Ltd is first and foremost an aircon clinic in Singapore. So if you're looking for someone to simply install a new air conditioning unit, you might have to look elsewhere.
But if you need your A/C unit to be overhauled, you'll be pleasantly surprised to discover that it will only cost around S$160 per fan coil. You can thank the company's promotional rates for this affordable deal.
It's also open daily, which is convenient. However, appointments are on a first-come, first-served basis, so any rush jobs or emergencies would have to wait.
It's also good to note that for troubleshooting or checking, a booking fee of around S$53 will be required. But it will be waived upon confirmation or job completion, anyway.
Customer Reviews
Price has value for money and the customer service is professional
"I've been with absolute air con for 5 years now, and never once have they failed me. The price has value for money, the customer service is professional, and Sara and his team are thorough.
I highly recommend absolute to those who have yet to find their air-con servicing perfect match and those that are shopping for one. Thank me later." – Frances Sy
Very happy with the work rendered
"My aircon was not cold. Suspect no more gas. The guy who was assigned to my unit is very hardworking and professional, suggesting that I do a pressure test to check whether any pipe leaks. And sure enough, there was a leak and suggested ways to rectify the problem. He makes sure that the service job is done well. I am very happy with the work rendered." – Desmond Tan
9. Aircool
"One of the best aircon service company in Singapore"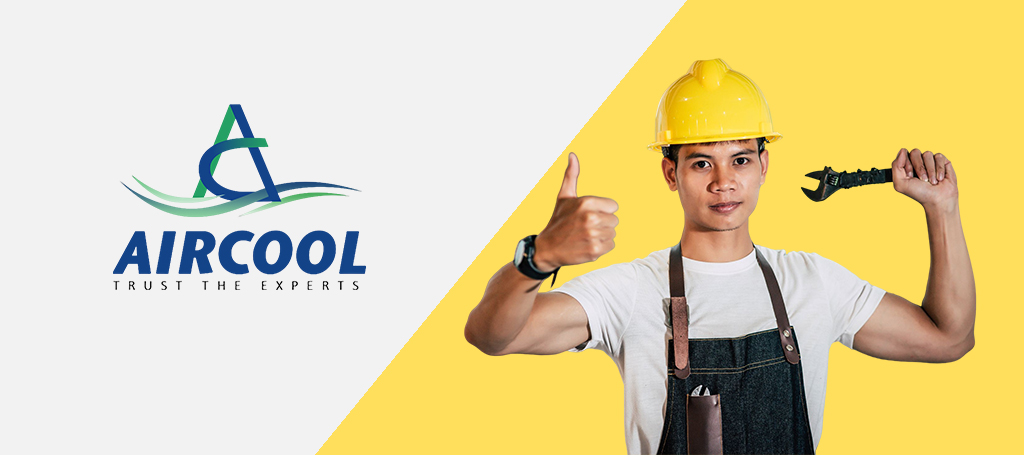 Aircool makes it to our list of best aircon servicing for several reasons. For starters, it offers up to 90 days for its workmanship warranty, which gives its service quality a boost.
Another thing we like about this company is its warranties for A/C installation. With each service comes more than five years of compressor warranty, a one-year fan coil warranty, and two years of workmanship warranty.
We also appreciate how the company offers secondhand A/C units for those on a budget. And these used units also come with a warranty for clients' peace of mind.
But while Aircool has 24/7 chat support, services are strictly by appointment only. And the office is closed on Sundays, which might prove inconvenient for those with aircon emergencies.
Customer Reviews
Value for money
"First time try to engage Aircool for aircon servicing. The Technicians are very professional and helpful. Never hard sales any unnecessary service. Good service! Value for money." – Lem
Aircon installation properly done
"Will continue to use your service again and recommend it to friends and family. Keep up the great work! The aircon installation is properly done." – Alexander FX
10. Skyzone Aircon
"We target quality service, experience, affordable price, safety work practices."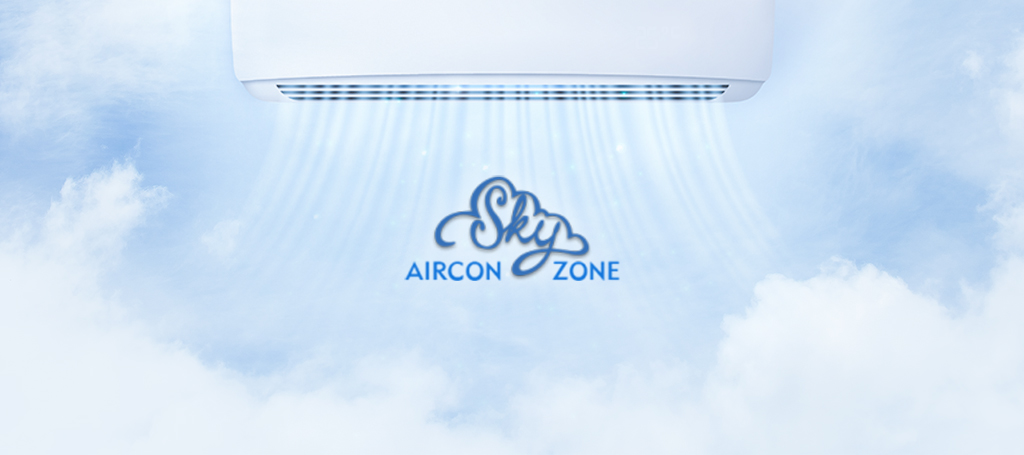 Established in 2012, Skyzone is an air conditioner service provider specialising in regular preventative contract maintenance and corrective aircon services. It also does office A/C installation.
Residential service rates are already inclusive of GST and transportation costs. Each service also comes with a 90-day service warranty, which is quite generous.
Skyzone's general service rates start at S$42.80 for one-off sessions, which is still affordable. However, it's a bit higher than others in this list (which go for around S$25).
But the scope of work that this company offers clients makes it a shoo-in for our listicle of best aircon service providers in Singapore. We just wished it carried more A/C brands beyond ones that are considered popular.
Customer Reviews
Did a wonderful job installing and cleaning up the place after
"I would like to write to thank the team, Eddie Loong and his teammate (I didn't get his name), who came to install the new aircon systems in my home on Saturday, 2 April 2022. Both of them did a wonderful job installing and cleaning up my place after installing the aircon. Eddie was very patient to explain the new features of the aircon, even though they both seemed tired after the installation. I have been using Skyzone for aircon maintenance since 2016, and am very pleased with the company's service and their friendly staff like Eddie and his teammate." – Jonson Ng
Came at the exact time and was polite and professional
"Write to thank the team..Eddie & Mr Loong, 5 stars service from them. They came at the exact time, polite & professional. Happy with their servicing work. Thumbs-up!" – Irene Ang
11. 338 Aircon
"Singapore's cheapest aircon servicing"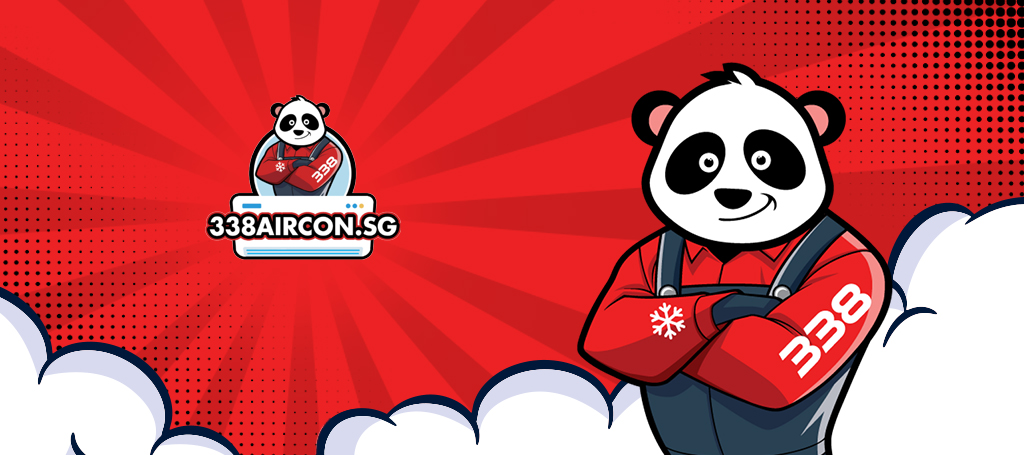 We like airconditioner service providers who can do same-day servicing, which is why 338 Aircon and its cute panda logo makes it to this review list.
Its 15 years of experience have paved the way for wholesale prices for clients minus the middleman fees. And it takes pride that each technician only requires a single trip to fix any A/C issue.
Unfortunately, 338's one-time service rates do cost higher when compared to other companies. One unit will already cost S$55, and blower removal comes with an extra fee.
However, if you're a first-time customer, you'll automatically get a discount. At the time of writing, there's a promo of just S$75 (all-in) for four units if you book your slot ASAP.
Customer Reviews
Amazing and friendly workers
"Amazing worker and friendly, Shahin and Suresh are doing a good job, teach me how to use all aircon and have a good service." – Nhon Nhon
Gave professional service without compromise
"Cheap and good service is what I liked. But they give professional service without compromise." – Abral Lim
12. City Cooling Pte Ltd
"Reliable aircon servicing in Singapore"
City Cooling has been around only since 2016 but has proven its mettle when it comes to airconditioner-related services. Its menu includes general aircon servicing through to chemical overhaul.
Its rates are quite reasonable too. One-time general cleaning services start at just S$35, while a chemical overhaul for a 9/12K BTU unit is only $130.
City Cooling's service quality can be underlined by the kind of warranty it offers. Those who've had servicing or chemical overhaul can count on a three-month warranty for water leaking afterwards.
And when it comes to spare parts replacement, customers will be assured of three to six months' worth of warranty for spare parts!
There's very little to nitpick about this company's services, save for the first-come, first-served rule it has. That, and it doesn't have a customer service hotline on Sundays.
Customer Reviews
Patiently answered any questions raised
"A girl named Chloe was very responsive and arrange for the servicing ASAP for me. I am very grateful to her. And the servicing man Andy and Min, both are so professional and Andy will update me on the dirty part and how he cleaned it with chemicals. Pic show below. I like the way they work and patiently answer any questions that customers raised. Thanks for the Team! Definitely, I will engage their service again and will look for Andy and Min. Thanks so much for the excellent service!" – Joanne Yeo
Staff did the job well
"This is my First time engaging city cooling the staff are Jimmy &Selva did the jobs well, before I engage city cooling my aircon keep 2 weeks or 3 weeks water leaking problem the previous contractor are not able to fix it. So I try to use city cooling cause I saw the review was good when they come and check my aircon give me advice, an explanation and told me that my aircon was conditioned. Now already 3 weeks my aircon was not come up the 'problem' of leaking. thumb up good jobs." – Kwong Weiquan
13. SG City Aircon
"Trusted. Reliable. Efficient."
SG City Aircon wants to take care of clients' air conditioning systems because it believes that it paves the way for a better quality of life.
As people who absolutely can't work in perpetually humid conditions, we agree with this premise wholeheartedly.
And in this day and age when hygiene and sanitation are extra-valued, we're glad that this company has all of its servicemen swab-tested on a regular basis.
Since site surveys and installation require personal interaction, we as potential customers, are at least given this assurance.
SG City Aircon offers reasonable rates for both one-off services and maintenance service contracts. But unfortunately, services are strictly by appointment, which is still subject to availability.
We'd also like to caution you that they've worked with limited brands. If you have an uncommon unit, we recommend reaching out to them to ask if they're familiar with your model.
Customer Reviews
Prompt service, knowledgeable technicians
"Prompt service and managed to solve my Aircon issues. Knowledgeable technicians." – Khairul Amin
Technicians were fast and efficient
"The technicians were fast and efficient! Very satisfied! No hassle at all." – Roderick Sean Pillai
14. GreenCool
"Enjoy cleaner air for healthier living."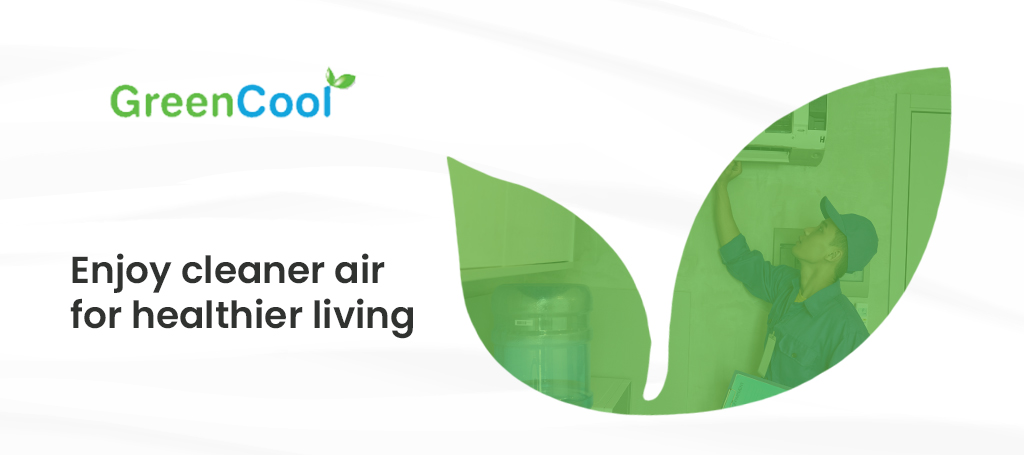 Another company that offers free quotes and inspections make it to our listicle. Green Cool has a wide menu of A/C-related services ranging from general servicing to commercial routine maintenance.
Its beginnings stretch back to the year 2000 when its founders were aircon technicians themselves.
Today, the company has evolved to offer both residential and commercial clients a three-month service warranty, along with monthly and quarterly maintenance services.
Green Cool also offers promo rates for air con servicing. At S$25 for the fourth unit onwards, it's not bad.
And if you need regular upkeep of your A/C, you can sign a yearly maintenance contract.
For the latter, though, you'll pay S$80 for a minimum of three fan coil units, but we think this is quite fair.
Do keep in mind that they're closed on Sundays, so you if you have an emergency on this day, cross them off your list.
Customer Reviews
Conscientious, patient, and professional
"I recently had my aircon installed and my experience with GreenCool has been very positive.
I would like to commend GreenCool staff, May, for being conscientious, patient and professional. She answered all my queries, recommended different aircon model options and offered competitive pricing.
The technicians were punctual on the day of installation and managed to install it within the stated time. Will recommend to my family and friends!" – Preston T
Fast and efficient in the job
"Technician is very punctual & provides quality service. Fast & efficient in his job including proper cleaning of Aircon & checking of the compressor. Quite honest and provides good advice." – "hoseithx"
15. CoolCare
"Get trusted best aircon servicing."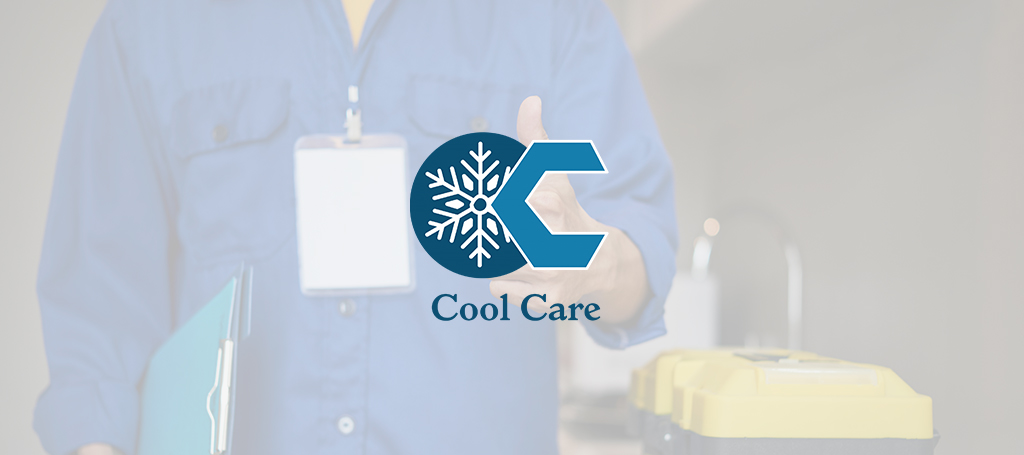 CoolCare Aircon offers practically everything aircon service-related, from installation to providing spare parts. The company also has a workmanship warranty for up to 90 days!
With more than a decade of experience in aircon maintenance, CoolCare can accommodate clients at any time via 24/7 messaging. And yet its rates start at just S$25, which is quite an affordable price these days.
Potential clients can take advantage of the company's free enquiry and site survey. And if they like what's being offered, CoolCare can also remove and dispose of their old A/C unit at no charge.
The only issue we see is that those with off-brand or unknown air conditioning units might not be accommodated by CoolCare.
So far, it can install only known brands like LG, Panasonic, Sharp, and the like. It would be worth an enquiry to know for sure, though, as they may make exceptions.
Customer Reviews
Efficient process from booking to payment
"I was really satisfied with the technician who managed to clean up my aircon efficiently. Great work! An efficient process for booking and payment. Thanks!" – Ellie Bong
Technician came on time and did aircon servicing thoroughly
"Impressed by your excellent service. Submitted a WhatsApp inquiry and was able to schedule for the very next day. The technician came on time and did aircon servicing with a thorough cleaning. keep it up!" – Simon Lee
16. Dr. Cool Aircon Services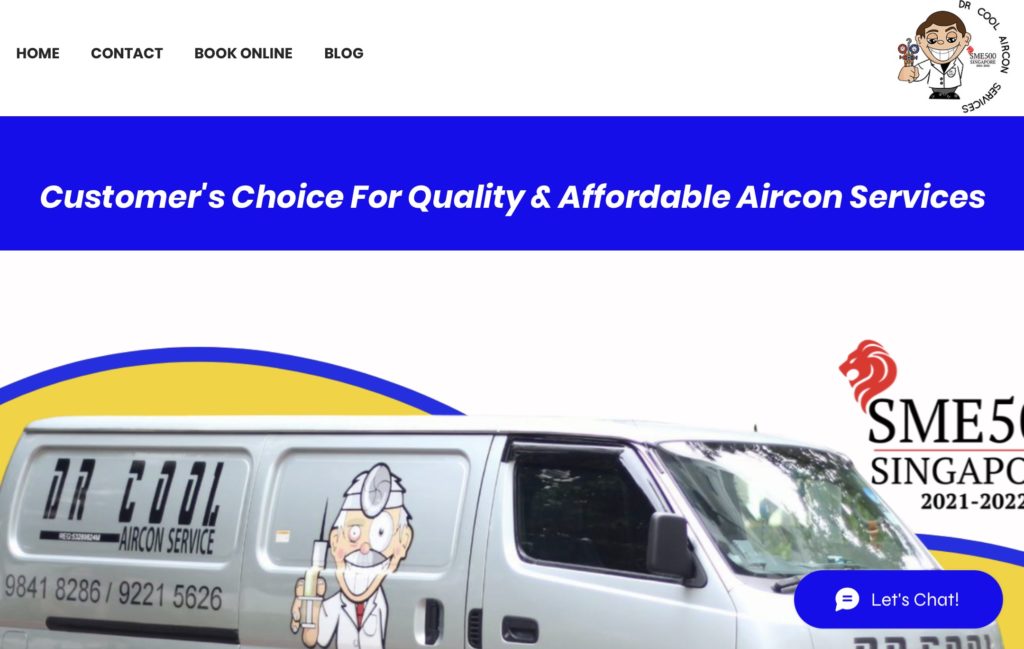 When it comes to keeping our cool, we entrust none other than Dr. Cool Aircon Services. With an impeccable reputation, unbeatable convenience, and reasonable costs, they're the remedy for all your aircon woes.
Our encounter with Dr. Cool was nothing short of transformative. Their services go beyond the ordinary; they're aircon aficionados!
From installation to maintenance, they handle it all with finesse. Their technicians are like aircon whisperers, diagnosing issues with precision.
Our units have never been happier!
In our fast-paced world, convenience is king, and Dr. Cool wears the crown. Scheduling appointments was as easy as a summer breeze.
They respect your time, arriving promptly and armed with tools of the trade. Plus, their efficiency ensures minimal disruption to your daily routine.
Convenience? Check!
Dr. Cool Aircon Services has cultivated a stellar reputation for a reason. Word of mouth buzzes with praise for their professionalism and expertise.
We can confidently say, they're the coolest cats in the aircon game. Our trust in their reputation was not misplaced; they exceeded every expectation.
Affordability without compromising quality—that's Dr. Cool's mantra. We were pleasantly surprised by their transparent pricing.
No hidden fees, no sneaky add-ons. Dr. Cool knows a happy wallet makes for a happier customer. Our pockets are grateful, and our aircons are thriving!
Unfortunately, they don't offer promos yet. We suggest checking their website for other affordable deals.
17. Aircon Astiquer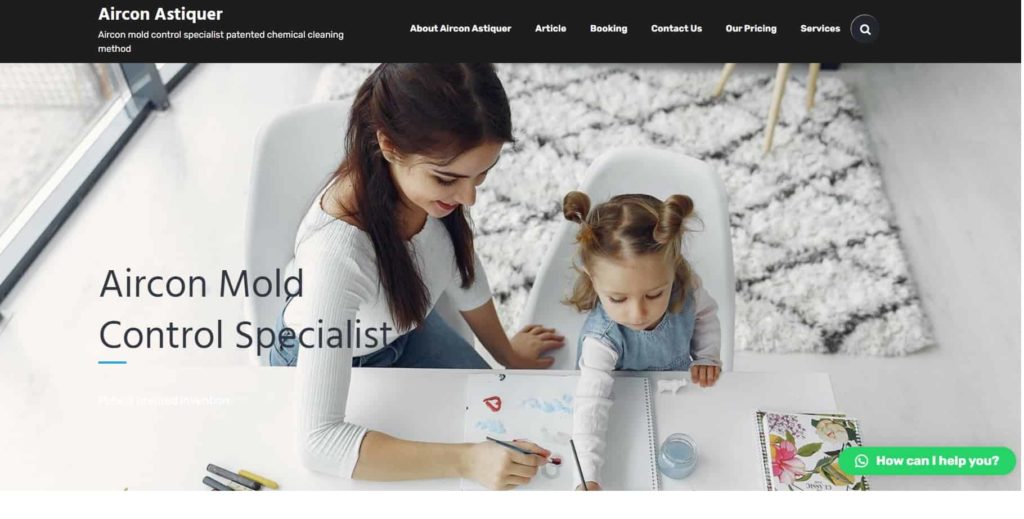 Aircon Astiquer is a company that provides its clients with an exemplary array of specialized and professional aircon cleaning and disinfection services ideal for those units suffering from mold, bacteria, and virus issues and has been the pioneer for high-pressure jet cleaning with a patent awarded since 2012.
Established back in 2001 with over 20 years of experience, we like that they have such diverse and extensive experience in the field to ensure clients that they know how to handle each unit as well as the best and most competent approach when it comes to cleaning procedures best for the said unit.
Furthermore, their personnel are also very knowledgeable in assessing when it comes to troubleshooting, repairing, and cleaning AC units to ensure that clients get cost-effective services and the most effective one to resolve their specific concerns and problem along with other communication skills for an overall smooth experience.
Note though that rates of their services aren't readily available on their website which interested clients may need to inquire further when it comes to their pricing.
Nonetheless, with their diversely experienced personnel on the job, exceptional and patented AC cleaning methodologies, and professionalism in the field, we highly recommend interested clients to check them out for more information on this.
Customer Reviews
Here are some reviews from their clients:
"I had the great pleasure of receiving exceptional pre-service aircon troubleshooting via the phone from Kevin of Astiquer. Even though we ultimately did not engage his service due to a misunderstanding, I have to say Kevin's technical knowledge, professionalism and communication skills were commendable! He prides himself on doing "real work" and I have no doubt about his authenticity and dedication to getting the job done. If you're looking for reliable and efficient assistance with your air conditioning needs, this is it."
"Kevin was very kind to come to my house within an hour of calling, arriving at 8pm. He was extremely professional and knowledgeable and quickly identified and fixed the problem. Very happy with the service."
FAQs about Aircon Servicing in Singapore
Let's look at some aircon servicing FAQs to address common issues and concerns.
---
More Aircon-Related Guides