The 17 Options for the Best 3D Printing in Singapore
If you're ever in need of items that simply can't be bought around your area, you may want to consider seeking services from the companies with the best 3D printing in Singapore. As long as there's a 3D printer, even unusual items or components won't be impossible to get a hold of.
If you're clueless as to where to find the companies with the best 3D printing in Singapore, worry no more because we have you covered. We combed through the island in search of the companies that offer 3D printing for an affordable price.
Check them out below to see which one's closest to your area.
1. Siege Advanced Manufacturing
BEST FOR
Mass Manufacturing
SERVICES

3D Printing, Rapid Prototyping, Small Batch Manufacturing, Mass Manufacturing, FDM & DLP 3D printing

WEBSITE
http://www.siegeadvancedmanufacturing.com/
ADDRESS
38 Ang Mo Kio Industrial Park 2
Lobby A, #04-12
Singapore 569511
CONTACT DETAILS

[email protected]

OPERATING HOURS
Monday – Friday, 9am – 7pm
Excluding Public Holidays
Siege Advanced Manufacturing is one of the best 3D printing companies to consider in Singapore. They have an array of 3D printing machines that are ready to produce your outputs, and powerful printing management software that ensures its high quality.
Not only are you guaranteed with premium quality, but you can also get it at a much lower price compared to other companies.
Siege Advanced Manufacturing's optimised rates that are an economically viable option for small to mid quantity mass manufacturing assures you that the price is matched with just that of the injection mouldings. And if you're wondering, that's very cheap.
To top it all off, Siege Advanced Manufacturing can also ensure fast manufacturing as they are equipped with a fleet size of 60 3D printers (and counting).
All in all, you're getting all the best features at such an affordable price. So don't think twice, send Siege Advanced Manufacturing your concepts and watch it come to life.
Highlights
Different kinds of 3D printing
Premium quality prints
Customer Reviews
Below are some of the feedbacks left on Siege Advanced Manufacturing's Google Review:
"Very satisfied with their quality prints and impressive customer service rendered. Would recommend to any who needs a trusted and efficient 3D printing service."
"Quick and efficient printing with very friendly people to help with the design of my 3D print. Recommended and will print with them again!"
"Managed to get my customized prints quickly and of excellent quality. Customer service was efficient and friendly. Awesome company!! Will definitely print again."
2.  Zelta 3D

| | |
| --- | --- |
| BEST FOR  | Affordable Services |
| SERVICES | Rapid Prototyping and Design Analysis |
| WEBSITE | https://www.zelta3d.com/ |
| ADDRESS | 18, 09-151 Boon Lay Way, Tradehub 21, Singapore 609966 |
| CONTACT DETAILS | +65 6259 3309 |
| OPERATING HOURS | Monday – Friday, 9:00 AM – 8:00 PM |
If you're looking for a shop that can offer quick 3D printing services, then look no further than 3D Zelta. It's been tagged as one of the top options for the best 3D printing in Singapore for its competitive pricing and topnotch services.
Another reason we trust 3D Zelta with our 3D printing needs is that it makes use of the most advanced industrial 3D printers, allowing its team to recreate and produce quality parts in no more than 1 business day!
It's also one of the few shops that offer delivery services. Customers can order 3D parts online and have them delivered to their doorstep within the day.
Highlights
Advanced industrial printer
1 business day lead time
Delivery services
Customer Reviews
Here's some feedback posted by customers on Google Reviews:
"Recently I ordered 3D printed prototypes from Zelta 3D for my project. I love how the Zelta3D team is very particular down to even the finest details of my prototypes. Also, their service and efficiency is commendable. I got my 3D prints in a perfect condition and they were exactly what I've requested for. People looking for 3D printing services whether in Singapore locally or overseas should definitely reach out to Zelta3D!"
The team at Zelta3D has been very helpful and patient with the queries that I have. They also displayed great thoughtfulness when delivering their products to me. Excellent service, excellent quality of work, excellent prices. Definitely my go-to for future 3D printing.
3.  3D Print Singapore

| | |
| --- | --- |
| BEST FOR  | 24-hour Services |
| SERVICES | Product Design, Architectural Model, and Agile Tooling |
| WEBSITE | https://www.3dprintsingapore.com/ |
| ADDRESS | 970 Toa Payoh N, #01-18, Singapore 318992 |
| CONTACT DETAILS | +65 9764 6275 |
| OPERATING HOURS | Open 24 Hours |
3D Print Singapore offers a wide range of services that can cater to anyone's printing needs, such as product design, software development, PCB design, prototyping, laser cutting, and many more.
As one of the top options for the best 3D printing in Singapore, it's gathered a long list of clients that includes engineering firms, design firms, architecture firms, and even schools in Singapore.
It's also one of the few 3D printing services whose doors are open to customers 24 hours a day, so feel free to drop by their shop even during the wee hours of the night.
Highlights
Open 24 hours
Wide range services
Customer Reviews
Take a look at what a satisfied client had to say about its services:
"Would definitely recommend my friends to visit this place if they require any 3D printing services! Francis was really friendly and helpful throughout the entire printing process. He provided advice and tips on how to refine my design to ensure I get the best outcome for my print. The website also has a useful feature which allows you to get an instant quote where you can find out how much your print might cost."
4.  ECS

| | |
| --- | --- |
| BEST FOR  | Wide Range of Services |
| SERVICES | 3D Printing, 3D Scanning, 3D Design Software, and Haptic Devices |
| WEBSITE | https://ecss.sg/ |
| ADDRESS | #03-161/163, BLK 19, Kallang Avenue, Singapore 339410 |
| CONTACT DETAILS | +65 6295 3566 |
| OPERATING HOURS | Monday – Friday, 8:30 AM – 6:00 PM |
If full-range 3D services are what you're after, then ECS Singapore comes highly recommended. It offers an extensive list of 3D rendering services, from 3D printing to 3D design software — which is why we call it among the top options for the best 3D printing in Singapore.
In terms of software and technology, it surely doesn't disappoint. It makes use of the latest and most advanced 3D printing and scanning equipment, allowing it to cater to the varying needs of its clientele.
Highlights
3D scanning
Free quotation
Latest rendering software
5. MahaChem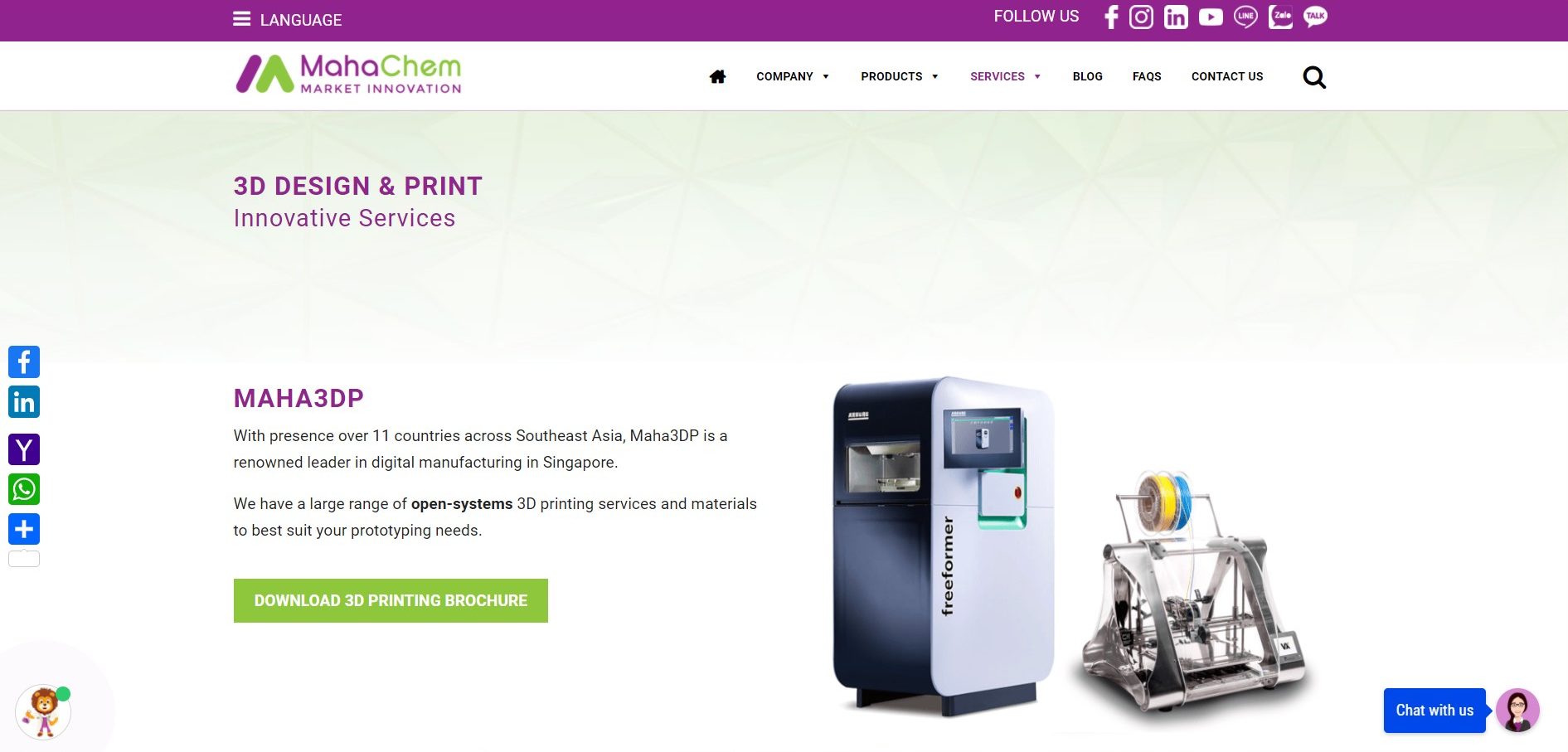 BEST FOR
Additive Manufacturing
SERVICES

LOGISTICS SERVICES
Warehousing Value-Added Services
Shipping from China
Private Labeling (OEM)
Distribution License

LAB SERVICES
Coating Formulation
Care Formulation
Cosmetic Testing
Construction Formulation

INNOVATIVE SERVICES
3D Design & Print
Outdoor Weather Exposure Testing
Custom Made Plants & Fruit Extracts
Nanotubes Conductivity Advisory

WEBSITE
ADDRESS

MAHA CHEMICALS (ASIA) PTE LTD
51 TUAS WEST DRIVE SINGAPORE 638415

CONTACT DETAILS
Tel : +(65) 68631808
Fax : +(65) 68631819
Whatsapp : +(65) 98101181
Email : [email protected]
OPERATING HOURS
Weekdays: 8:30 AM – 5:30 PM
MahaChem offers state of the art services, may it be for logistics, lab, or even innovative needs. They're known for having a vast range of 3D printing services that is open-system, allowing a more flexible process that can be used for a lot of things.
With the MAHA3DP, users can have their prototypes printed in all kinds of industry required for it. They've already done some for marketing, aerospace, medical, and so much more.
Any polymer can be used as main material for their processing, so MahaChem's 3D Printing truly is customized to fit your needs.
And seeing as their services are very much in-demand, it would be better for you to send your design file and wait for the quotation and timeline.
Highlights
Open material additive manufacturing technology
Available for wide spectrum of industries
High-tech facilities
6.  Chemtron

| | |
| --- | --- |
| BEST FOR  | 3D Solutions |
| SERVICES | 3D Printing, 3D Scanning, and 3D CAD Modelling |
| WEBSITE | http://www.chemtron.asia/ |
| ADDRESS | 203A Henderson Road, Henderson Industrial Park, 159546 203 A, #02-03 Henderson Rd, Singapore 159546 |
| CONTACT DETAILS | +65 6273 7252 |
| OPERATING HOURS | Monday – Friday, 9:00 AM – 6:00 PM |
If you're looking for a 3D service provider with an excellent track record, you might want to check out Chemtron. Some of the names in its clientele are EnvisionTEC, Markforged, Bigrep, Cellink, and many more, proving that it's among the top options for the best 3D printing in Singapore.
Beyond that, Chemtron offers different types of 3D-related services as well, including printing, scanning, and even modelling. Recently, it has branched out to provide the materials needed for robotics, engineering services, and dental clinics.
Highlights
24 years of experience
Different kinds of printers
Authorized providers for a number of companies
Customer Reviews
With an average rating of 5 on Google Reviews, it's one of the best-reviewed 3D printing service providers on that platform. Take a look at some of the comments:
"I have been in close contact with Chemtron for over a year, interacting with everyone from their management, to their support and technical staff. They are among the most knowledgeable 3D printing businesses you can find on the planet, and their customer support is second to none. Everyone at Chemtron is friendly, personable, and eager to help, no matter how small an issue may be."
"A professional, well organised and top notch solution which has helped our company increase productivity by almost 50% at the same time it has helped us lower our costs to produce and end use part by multiples!"
7.  3D Bots

BEST FOR 
3D Printer Supplier
SERVICES
Professional 3D Printers, Industrial 3D Printers, Bioprinters, Large Format Printers
WEBSITE
http://www.3dbots.sg/
ADDRESS
#02-03 Henderson Industrial Park
Singapore 159546
CONTACT DETAILS
Phone: +65 6273 7252
Email: [email protected]
OPERATING HOURS
Monday to Friday: 9 am to 6 pm
Saturday: 9 am to 3 pm
For companies that heavily rely on manufacturing, the costs of outsourcing from suppliers can get quite high. Sometimes, it's better for you to invest in 3D printers of your own. If that's the case for you, then you might want to consider getting 3D printers from 3D Bots.
3D Bots is a printing machine supplier well-known around Singapore. They offer 3D printers for many purposes, including models for large formats and industrial use. They also provide printing consumables such as plastics, photosensitive resins, and composite materials.
If you're in need of 3D printers, you deserve the best– 3D Bots is the only company you should consider.
Highlights
Provides 3d Printers with numerous functions
Supplier of various 3D printing materials
8. Print IQ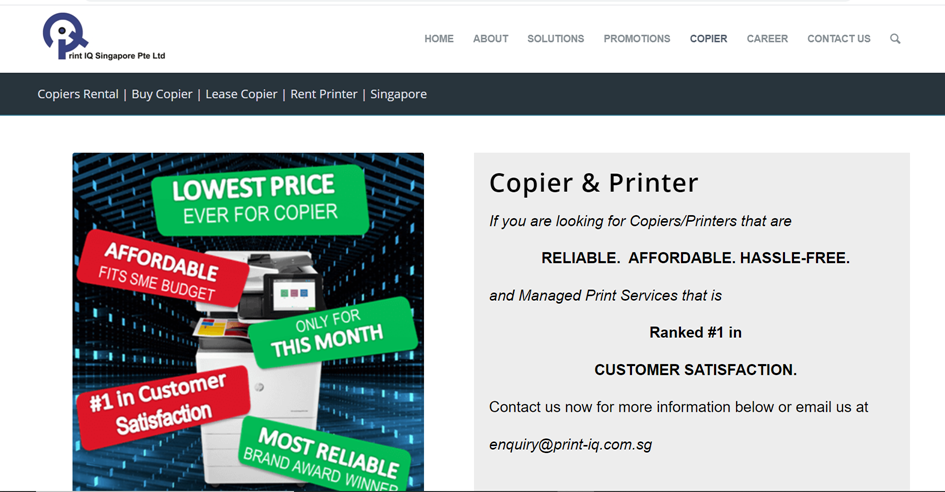 BEST FOR
MFP and 3D Printing
SERVICES

Software solutions, Document services, HP secure print, Large format printing

WEBSITE
https://www.print-iq.com.sg/piq/copiersingapore/
ADDRESS
11 Changi North Way
Serial I-Tech Building
Singapore 498796
CONTACT DETAILS
Email: [email protected]
Phone: 6100 7746
OPERATING HOURS
Monday – Friday: 9am–5:45pm
Considered to be the leading channel partner for copy machines and printers in Singapore, Print IQ is a premier partner of HP and Ultimaker, the best 3D printing device maker. It proves how great they are in the field, gaining the trust of established companies for redistribution and maintenance of the machines.
Print IQ offers a wide range of services from your normal document printing, to large scale products, and of course, 3D prints. You can have them produce your output in no time, and in the best quality for a more affordable price.
Check out more of their information and rates on the site if ever you're interested in having Print IQ provide you with their printing services.
Highlights
Proven high-quality services
Different types of printers available
9. Prototype in Asia

BEST FOR
Prototype Products
SERVICES
Reverse Engineering, Design & Engineering Service, Rapid Prototyping, Testing & Quality Insurance, Injection Molding, Industrial Sourcing
WEBSITE
https://prototype-in-asia.com/
ADDRESS
91C Lavender Street
338719 Singapore
CONTACT DETAILS
+65 69090461
OPERATING HOURS
N/A
Prototype in Asia is your best partner when it comes to releasing your products to the market. They specialise in rapid prototyping, a type of manufacturing where the latest technology is used to produce items more efficiently.
Unlike other manufacturing methods, rapid prototyping produces fewer defects and therefore, less waste. Besides reducing your costs, it will increase your revenue– high-quality products will not only warrant a better price, but also appeal more to the market.
When it comes to prototype production, Prototype in Asia is who you should count on. Contact them now!
Highlights
Works with various materials
Uses the latest manufacturing technology
Fast and accurate processes
10. Build It Full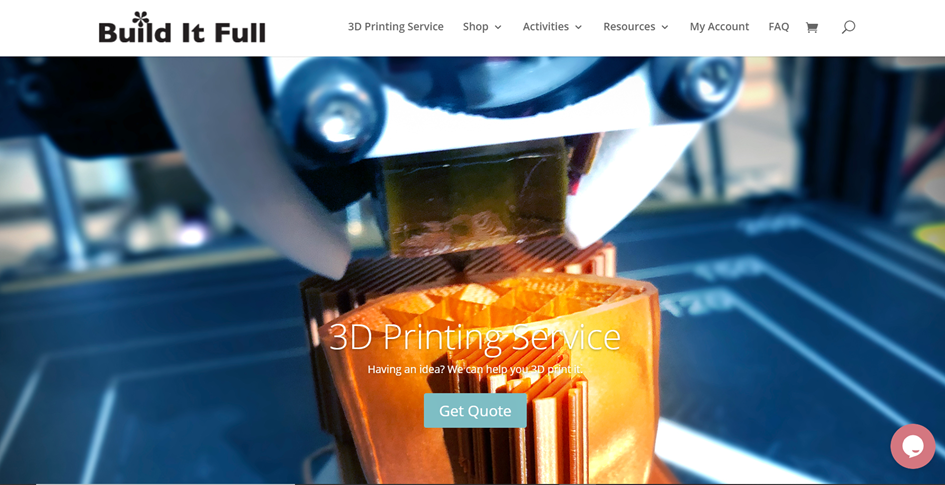 Build It Full is one of the best 3D printing services in Singapore. They're easy to talk to and has an efficient process of taking in orders.
You can simply send them the files of the image you'd want to print, and they'll be able to give you the price and lead time. As soon as you give them the green light, Build It Full will complete the task and hand it over to you in no time.
You have the option to choose among the materials Build It Full has to offer. You can decide on having your item be made from PLA, resin, or nylon. All three are amazing and have different strengths, so you can just consider the price and the actual physical appearance of the output.
Highlights
High-quality printing
Fast and efficient process
Customer Reviews
Here's what a customer had to say about Build It Full's 3D Printers:
"3d printed parts are within spec and the final product is quite good quality. Lead time is short too. I print only small items and they are printed in a working day. Then sent for shipping on the next day or on the printing day itself."
11. Additive 3D Asia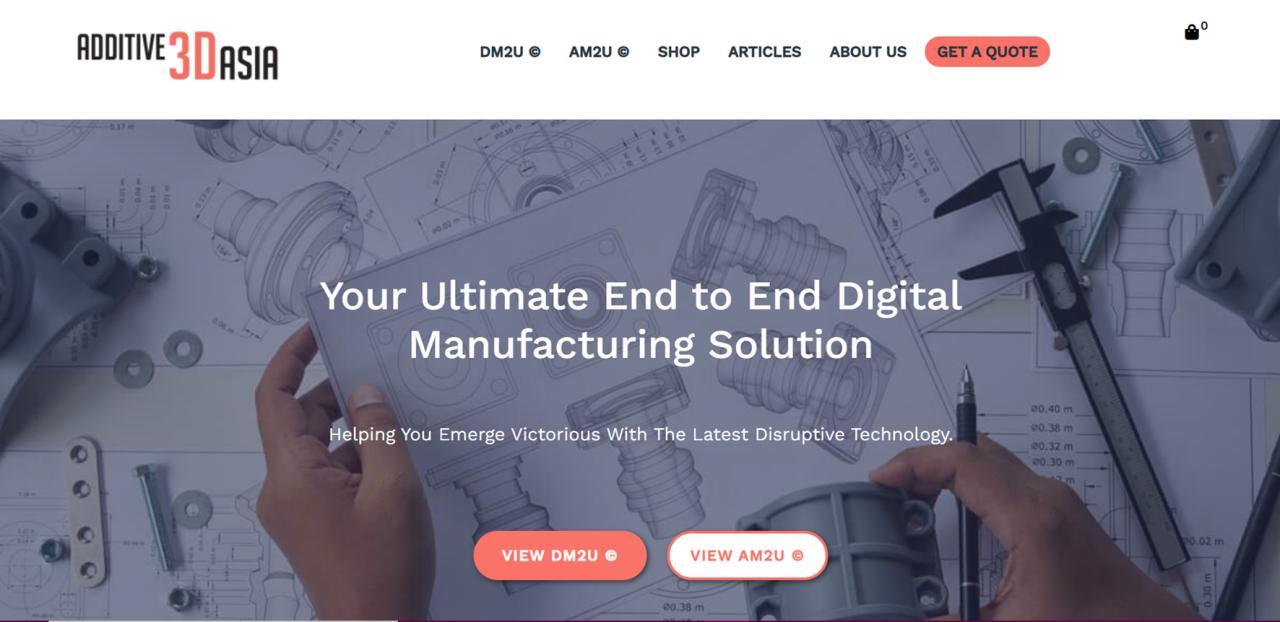 | | |
| --- | --- |
| BEST FOR | Personalised 3D Printing |
| SERVICES | CAD as a service, Digital Part Analysis, Reverse Engineering, 3D Printing Service, Vacuum Casting |
| WEBSITE | https://additive3dasia.com/ |
| ADDRESS | 7 Kallang Pl, #02-05, Singapore 339153 |
| CONTACT DETAILS | +65 6635 2265 |
| OPERATING HOURS | Monday – Friday: 10am–6pm |
Additive 3D Asia offers one of the best 3D printing service in all of Singapore. Known to use only state-of-the-art equipment and materials, you're sure to only receive the highest of quality from their work.
For the 3D Printing Service, you can choose among these types: FDM, SLA, Polyjet, SLS, and MJF.
Contact Additive 3d Asia for more information and requests, and they'll be sure to accommodate you.
Highlights
Over 20 materials offered
High-quality finish
ISO 9001:2015 certified
Customer Reviews
All of Additive 3D Asia's clients have been nothing short of impressed with their services. Take a look at some of the feedbacks they sent to the company:
"Very impressed with the quality of the print as well as the service. The staff is ever ready to answer questions and help us understand about the 3D printing, the possibilities and the limitations. Additive3D is a Solutions Provider. It's more than just a printing service or a scanning service. I have been working with them for 2 years now. And it's definitely someone I will continue to work with."
"WOW! Response and Production Time is Very Fast! Not only that, the people there are literate in engineering. They really are committed in providing the best solution in producing a 3D-Printed part of Utmost Quality and fulfilling clients' requirements. For anyone doing prototyping and needs functional parts to be made reality, 3D Printing Studios will without failure deliver your requirements."
12. 3D Generation

BEST FOR
Customer-centric 3D printing service
SERVICES

3D Consultation, 3D Modelling, 3D Printing, Prototyping and Post-production

WEBSITE
https://www.3dgeneration.sg/
ADDRESS

87 Defu Lane 10, #03-10, Singapore 539219

CONTACT DETAILS
+65 64932688
[email protected]
OPERATING HOURS
Monday – Friday: 10am–6pm
Turn your dreams into reality with 3D Generation's help! As a one-stop solution provider, you can bet that from conceptualisation and printing to prototyping and mass production, that the company will assist you every step of the way.
3D Generation specialises in commercial-grade, large-format 3D printing, but can process anything you want to create; it doesn't matter if it's a simple idea, or a need to manufacture products.
To top it all of, you can have your concepts created with different types of material other than plastic, with 3D Generation. Send them your files, and they'll surely deliver it in the highest quality possible and in a timely manner.
Highlights
One-stop solution
Large scale 3D printing
High-quality prints
Customer Reviews
Here's what a customer has to say about 3D Generation:
"Extremely good and efficient service. I met with Johnson, he was super professional and friendly. Had an issue with a 3D printer that I could not solve for months while working with another company, he diagnosed and resolved it within a few hours. Definitely recommend working with them."
13. iCreate.3D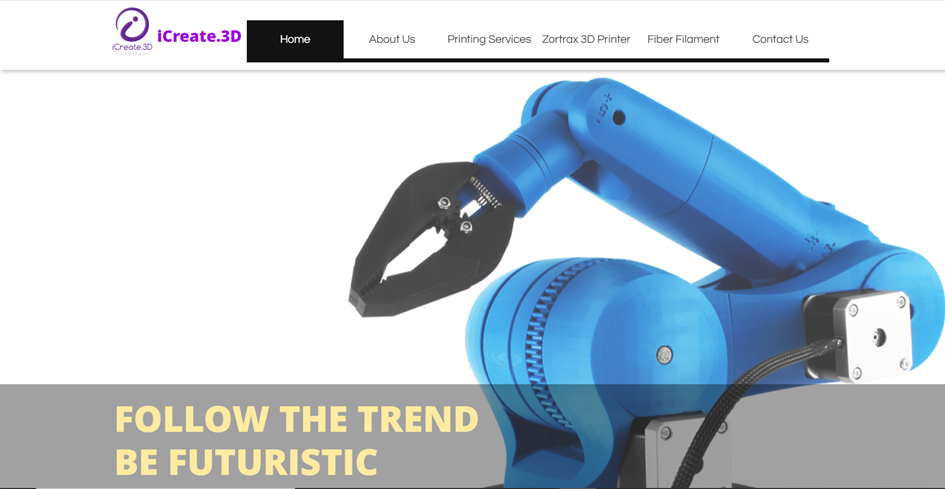 BEST FOR
Coloured 3D prototype
SERVICES

Design service, 3D printing service, Touch-uo and beautifying service

WEBSITE
https://www.icreate3dprint.com/
ADDRESS
38 Ang Mo Kio Industrial Park 2
#03-34
Singapore 569511
CONTACT DETAILS
Tel.: 9030 5133
Whatsapp: 81027837
Email: [email protected]
OPERATING HOURS
Monday – Friday: 9am–10pm
Use iCreate 3D's printing services to bring your creations to life! They know how unique your idea is, and they wouldn't want it to be left in the drafts.
Enjoy fast and efficient 3D printing services with iCreate. Ensured customer satisfaction is a plus, so you won't have to worry about anything else.
Not only that, but you'll only be getting Zothrax's premium quality printing services with iCreate 3D as they're the only official reseller and distributor of the brand in Singapore. So what are you waiting for? Send iCreate 3D your great concepts and watch them be made with your own eyes.
Highlights
Amazing print details
Various colours available
Accurate and durable
14. 3D Matters

| | |
| --- | --- |
| BEST FOR  | Fast Prototyping |
| SERVICES | Manufacturing, Consultancy, Design, and Material Advisory |
| WEBSITE | http://3dmatters.com.sg/ |
| ADDRESS | #03-161/163, BLK 19, Kallang Avenue, Singapore 339410 |
| CONTACT DETAILS | +65 6295 3566 |
| OPERATING HOURS | Monday – Friday, 8:30 AM – 6:00 PM |
3D Matters is known for being one of the pioneers of 3D printing and other related services not only in Singapore but in neighbouring countries as well. It offers a wide range of services, from product manufacturing down to design consultancy.
One reason we consider it among the top options for the best 3D printing in Singapore is that it's capable of producing scale-accurate models in a short period of time, so clients don't have to wait for weeks in order to receive their materials.
More than that, 3D Matters is a company whose services meet the standards set by leaders in the manufacturing industry, so there's no denying that it's one of the leading options for the best 3D printing in Singapore.
Highlights
ISO certified
Long list of clientele
Fast prototyping
15. Hexar Creations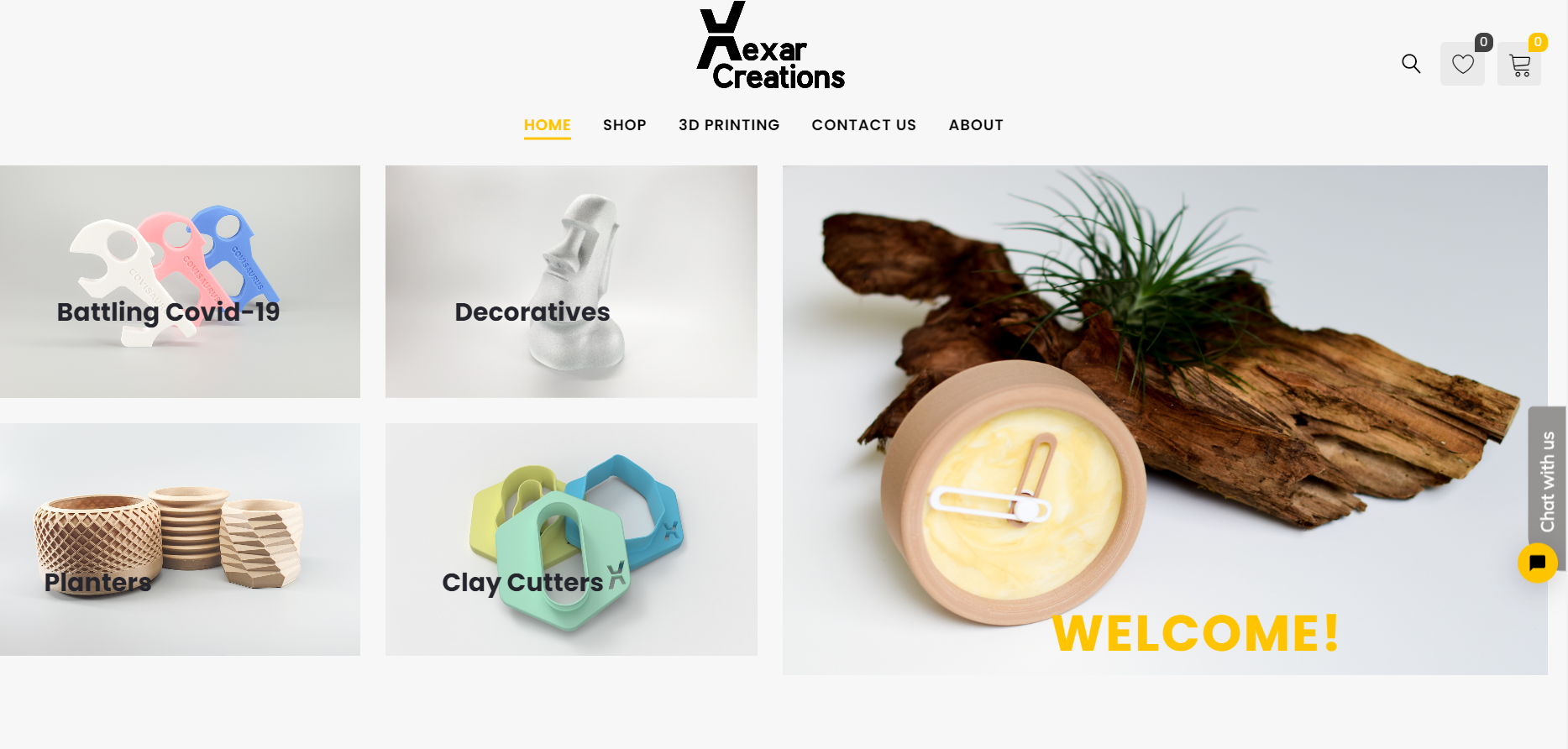 BEST FOR
Bespoke 3D Printing Services
SERVICES
Designing, 3D Printing
WEBSITE
https://hexarcreations.com/
ADDRESS
Jelapang Rd, Block 526, Singapore 670526
CONTACT DETAILS

[email protected]

| +65 97969681
OPERATING HOURS
Daily:10am–10pm
Hexar Creations is a 3D printing company that offers individually curated services of the highest standards. With their help, you'll be able to receive all your requirements and more, at a very reasonable price.
One of the factors that should help you consider this company is that they use the most advanced technologies to ensure that production is fast-paced, but they still make sure that the quality isn't compromised. They can assist you in fixing your old models or aid in creating a brand new prototype.
For a hassle-free service, you can just fill-up the form on their website with all your requests and information, then you're good to go! Experience premium 3D printing, only with Hexar Creations.
Highlights
Fast producing printers
High-quality produced prototypes
Amazing designers
16. ELH Tech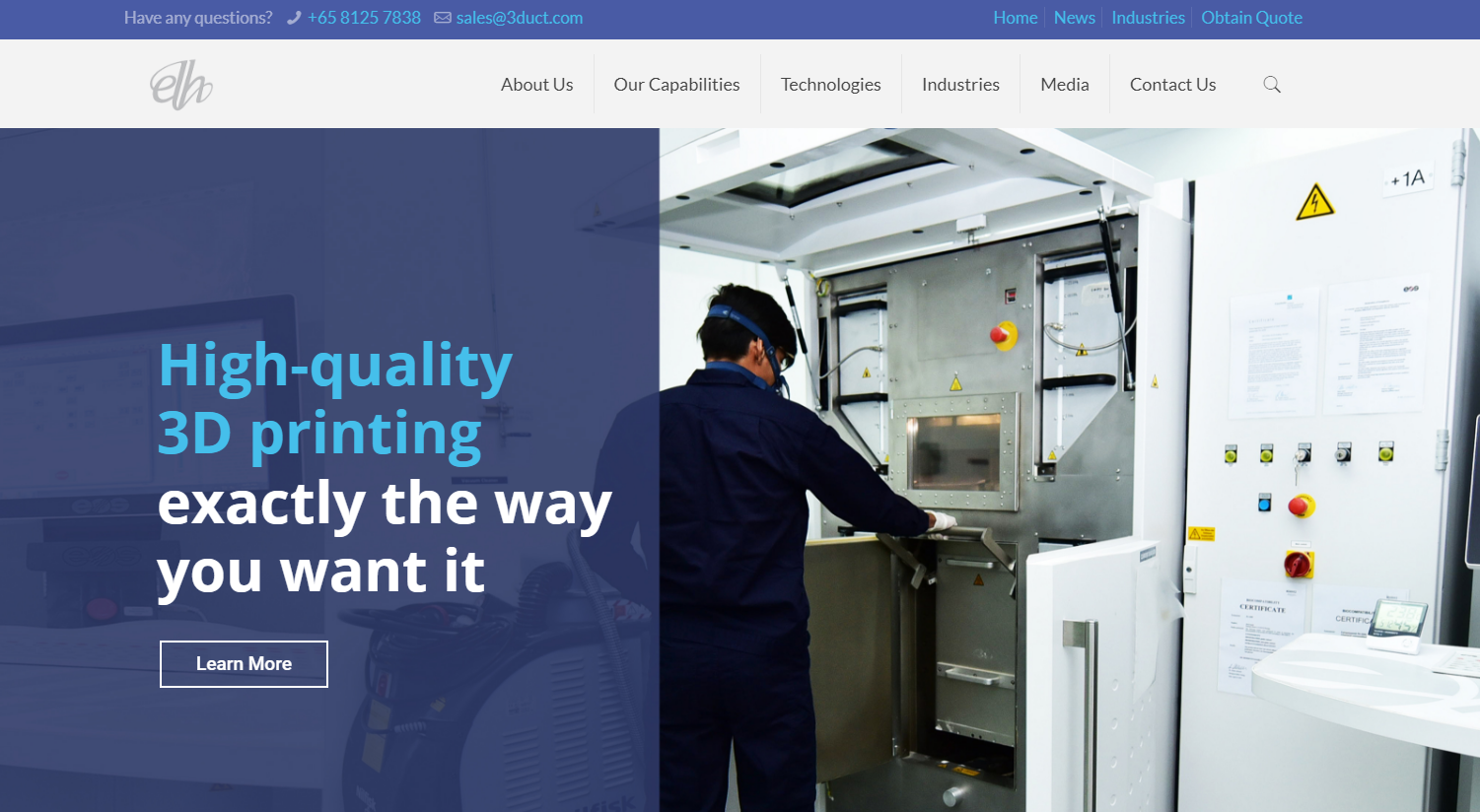 BEST FOR
Expert rapid prototyping and specialty manufacturing solutions
SERVICES
3D Printing
Engineering Services
Metal AM Finishes
Plastic AM Finishes
R&D
WEBSITE
https://elh3d.com/
ADDRESS
ELH Additive
Manufacturing Centre
2 Woodlands Sector 1
#05-22 Singapore 738068
CONTACT DETAILS
Tel: +65 8125 7838
email: [email protected]
OPERATING HOURS
Contact for more information
ELH Tech was first established in 2009 with the goal of manufacturing high-quality fixture and high-complexity tooling for the Aerospace, Oil and Gas and Semiconductor industry. It has now grown to be one of the leading commercial 3D printing companies in Singapore, specialising in expert rapid prototyping and specialty manufacturing solutions.
Aside from that, ELH Tech also manufactures key components in specific builds with the use of their top of the line 3D printers.
The reasons for why ELH Tech is on this list doesn't stop there, though. What we like most about this company is its understanding of the 3D printing scene and how shapes work.
The ELH Tech team possesses diverse skills that allow them to confidently and competently manufacture items their clients have requested. On the other hand, they also know that 3D printing is not a complete replacement for traditional manufacturing but rather complements your manufacturing process by efficiently reduce manufacturing time with improved design parts.
With that said, the ELH Tech team is still prepared to go above and beyond to deliver their clients' requests. The team members are highly professional and communicative; and aspires to provide prompt work each and every time.
Highlights
Top of the line equipment used for manufacturing
Caters to industries such as Aerospace, Healthcare, Injection Molding, Manufacturing, and Semiconductor
Prompt and professional team
Fast and accurate printing services
17. Beyond Bynd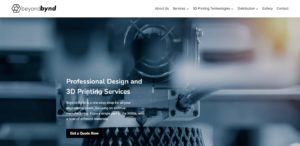 Beyond Bynd is an engineering shop that is ideal for clients who are especially in need of professional design, 3D printing, manufacturing, and fabrication among many other interrelated services. Comprised of a small team of professionals, they have since then been specializing in providing manufacturing to start-ups such as MNCs and SMEs.
We like that they can possess and properly utilize various methodologies when it comes to printing technologies to achieve all sorts of finishes such as FDM, SLS, and SLA.
Though note that their services currently do not have any flat pricing available and thus they are only able to give quotations online.
Apart from this, they have fast turnaround times when it comes to processing the said products and their experts are able to guide clients from consulting stages down to the final distribution as well.
Overall, with their extensive usage of the latest 3D printing technologies and experts who are able to utilize each in professional manner to execute each stage timely, we highly recommend them to clients looking to produce and manufacture a specific part.
Highlights
Various finishes available
Employs a wide range of technologies
Ideal for start-ups
And that's it for our list of the top options for the best 3D printing in Singapore. If you've availed of the services of any of these companies, share with us your thoughts about their services!
By the way, if you're in need of durable steel items for a project you're working on, you might want to check out our list of the best steel fabrication in Singapore. Any of these contractors can provide quality steel products for all purposes!