There are many things that may have brought you to this list of the best printing services in Singapore.
Maybe you've experienced being lost in a deadline rush because you can't seem to find the nearest and cheapest printing services. Or maybe you're organising something that will require printed materials and you want to be prepared for it.
Whatever the case, we've made it easier for you by identifying the most reliable and professional printing outfits on the island. Below are our top picks and details showing why they're among the best printing services in Singapore.
1. IPrint Express Pte Ltd

BEST FOR: Commercial printing services
PRICING: Rates
WEBSITE: http://www.iprint.sg/
ADDRESS: 158 Kallang Way, #01-03, Singapore 349245
CONTACT DETAILS: +65 6258 9595 / +65 6258 9895 / +65 8809 9895
OPERATING HOURS: Monday – Friday: 9:30 – 18:30 (Closed on Sat, Sun, & Public Holidays)
IPrint Express Pte Ltd started with a humble beginning as a small in-house printing service. As they extended their services, they became one of the best-known companies in the printing industry.
For business purposes, they offer marketing materials such as brochures and posters. You can rely on them for they have digital, offset, large format, display stand, and installation services.
They take orders online (great news for those who want convenience). They also do personalised brand design printing for effective marketing.
SERVICE HIGHLIGHTS
Online printing services
Talented and creative designers
Modern printing technology
No hidden charges
CUSTOMER REVIEWS
iPrint might only be four years in the business but they've already gained the loyalty of many business entrepreneurs and have been established as a trusted brand. Rishi Kesan left these compliments for them on Google Reviews:
"Professional and meticulous. They always check my artwork and make sure everything is in proper printing standard before proceeding. I can rest assured I get my prints on time when printing with them. Keep it up!"
2. Print City

BEST FOR: Event management services
PRICING: Rates
WEBSITE: https://www.printcity.com.sg/
ADDRESS: 1 Genting Lane #03-01, Singapore 349544
CONTACT DETAILS: +65 6274 8171
OPERATING HOURS: Monday to Friday, 9am to 6pm
Regardless of the size and quantity, Print City will always be at your service! They also offer offset, large formats, installation, and digital printing services.
Aside from these, exhibition rentals, signage, apparel, and corporate gifts are also part of their product range. They've provided products for exhibitions, events and roadshows too.
They've even partnered with several large companies before, including Accenture, Mitsubishi, H&O, and Fortes Innovations. Despite being a high-profile brand, they still offer special discount prices for more affordable services.
SERVICE HIGHLIGHTS
Short turnaround (48 hours)
Online printing shop
Direct factory price
CUSTOMER REVIEWS
Print City has impressed both prominent and start-up businesses through their professionalism and a wide range of services. Customers say they even provide guidance on the ideal printing service to select for a particular task or project.
Charyn Lim wrote this review on Google Reviews:
"I have been working with a lot of printing companies in Singapore and my experience with Print City is so far the best! I'm not based in Singapore but most of my clients were, so all the collaterals are must be done in Singapore. From the 3-4 printers I have worked with, Aden(who assisted us with our project from Print City) is super efficient in replying and is very helpful from our first inquiry email, test prints, helping in printing guides to the final product! He has provided us assurance, high quality and ease with our booklets and bookmarks, my client is super pleased! Definitely will work with them again and highly recommend them!"
3. Gogoprint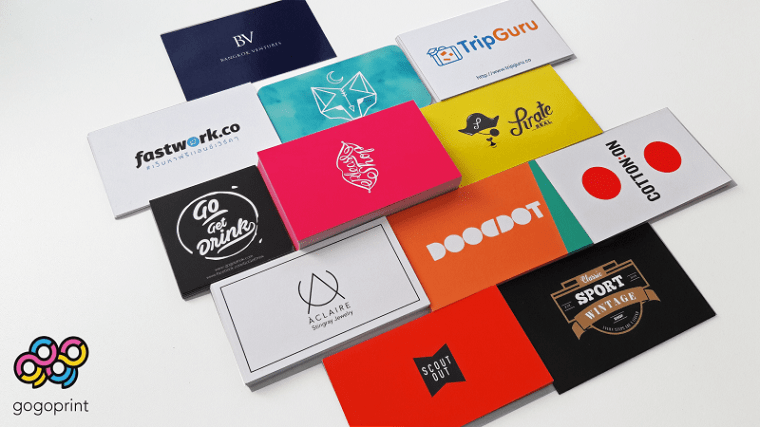 BEST FOR: Affordable and wide-range printing services
PRICING: Rates
WEBSITE: https://www.gogoprint.sg/
ADDRESS: 21, Bukit Batok Crescent, #15-75 WCEGA Tower
CONTACT DETAILS: +65 3159 3042
OPERATING HOURS: Mon – Fri, 9AM to 6PM
Are you a beginner when it comes to creating effective marketing materials or not familiar with the right template to use for your school project? If so, Gogoprint has all the answers you've been looking for!
They offer free-of-charge templates and designs for their clients. They can print business cards, brochures, flyers, leaflets, and other products, as well as deliver the items to the customer (including ones overseas).
One of the best testaments to their professionalism is the list of customers they have had. For example, they've served many prominent companies like Lazada, Honda, and Lion Air.
SERVICE HIGHLIGHTS
Free design services and online templates
Fast and free global delivery services
Broad range of products
CUSTOMER REVIEWS
Gogoprint has received a lot of compliments for their accommodating customer service. Clients say they go above and beyond to meet all the needs and preferences of their customers.
Shahrin Rashid recommended the company and wrote this on Trustpilot:
"My first try of 50pcs stickers for my team. I gave them 5 stars for all category. CS was efficient. Even gave me a call to check my email on the suggested revised artwork. Process and delivery was fast and efficient too. Product came out fantastic. Material was good, color and printing were sharp! I will definitely order more from them. Gonna try other materials."
4. Colorful Printing

BEST FOR: High-quality printing and packaging services
PRICING: Rates
WEBSITE: http://colorfulprinting.sg/
ADDRESS: 152 Beach Road #14-03 East Singapore 189721
CONTACT DETAILS: +65-65890006
Colorful Printing offers a variety of featured products such as name cards, stickers, paper bags, and booklets. These products are the ideal marketing items that you need for excellent advertising!
Together with your ideas and suggestions, this company will help you create innovative and creative designs for your brand. Aside from the aforementioned products, they also print flyers and brochures.
 Colorful Printing has also introduced a unique way of designing to customers that many of their clients have praised. With their expansive list of services, you'll be sure to find new printing options you may not even have thought possible.
 SERVICE HIGHLIGHTS
Production samples
Graphic design works
Diverse product range
5. FotoHub

BEST FOR: Photo journal printing services and customised gifts
PRICING: Rates
WEBSITE: https://www.fotohub.com/
ADDRESS: https://www.fotohub.com/locate-us/
CONTACT DETAILS: https://www.fotohub.com/locate-us/
OPERATING HOURS: https://www.fotohub.com/locate-us/
If you are fond of customised calendars, mugs, and coasters — or want to gift someone a photo book or canvas — FotoHub is your ideal choice!
For those who are interested in photography and would love their snaps to be displayed at their place, FotoHub offers many photo printing options. They provide  a great solution for those wondering where to get their top photo memories printed.
They also do soft-cover printing for academic and personal purposes. You should visit their website and see all the amazing gifting options that they have!
SERVICE HIGHLIGHTS
Mobile printing services
High-definition photobook
Wall decorations
CUSTOMER REVIEWS
Unlike other companies, FotoHub focuses on providing customised gifts with personal photos designed on them. It is a one-stop gift shop for the whole family!
Soh Hui Tan gave this top-rated feedback on Google Reviews:
"I would like to give my fullest compliments to your great team of staff at FotoHub (FORUM). The team of staff (Ivy and all at FotoHub (FORUM), they are very professional, efficient, suggestive and knows what the customer wants. I live in Marine Parade and my workplace is at Tai Seng. But I will travel to FotoHub (FORUM) just to develop my photos for memory keepsake. It is very worth all my every effort to patronize FotoHub (FORUM) as the team of staff is really very customer oriented, always smiling, helpful, suggestive and sincere to all their customers. This team of staff at FotoHub (FORUM) definitely deserve to be complimented and I sincerely hope that the Management can convey to them this message. It is very great that FotoHub (FORUM) has this fantastic team of staff. Thank you very much. Warmest Regards, Tan Soh Hui"
6. 6999 Media Printing

BEST FOR: Artistic and responsive website design services
PRICING: Rates
WEBSITE: http://6999media.com/
ADDRESS: 50 East Coast Road, Singapore 428769
CONTACT DETAILS: +6581021093
OPERATING HOURS: Monday to Friday, 9am to 6pm
6999 Media Printing is actually well-known for their website design services, the perfect solution for the startup business entrepreneurs who are just building up their website. However, they're also a professional printing company.
You can go to them to print brochures and other marketing materials, among other things. Their clients include the National University of Singapore, Tan Tock Seng Hospital, Humanist Society, Art Front Gallery, and other institutions.
SERVICE HIGHLIGHTS
Offset printing services
Free delivery service
Artwork designs
Free (1) Year Web Hosting.
CUSTOMER REVIEWS
6999 Media Printing may not have the widest range of products, but since they have website design services, they provide an all-in-one solution for many startups or businesses seeking multi-channel-marketing assistance.
Ashley Lim, a landscape designer, wrote this on the company's official website:
"6999 Media Printing, I just wished to write this testimonial and to reveal my thankfulness to your sales team. I am a landscape designer, and I recently purchased 1000 copies of accordion fold brochures through your website, using the sales brochure as a self-promotion marketing tool to promote my business services. The accordion fold brochures printouts are excellent, and the entire procedure was smooth and easy!"
7. Ho Printing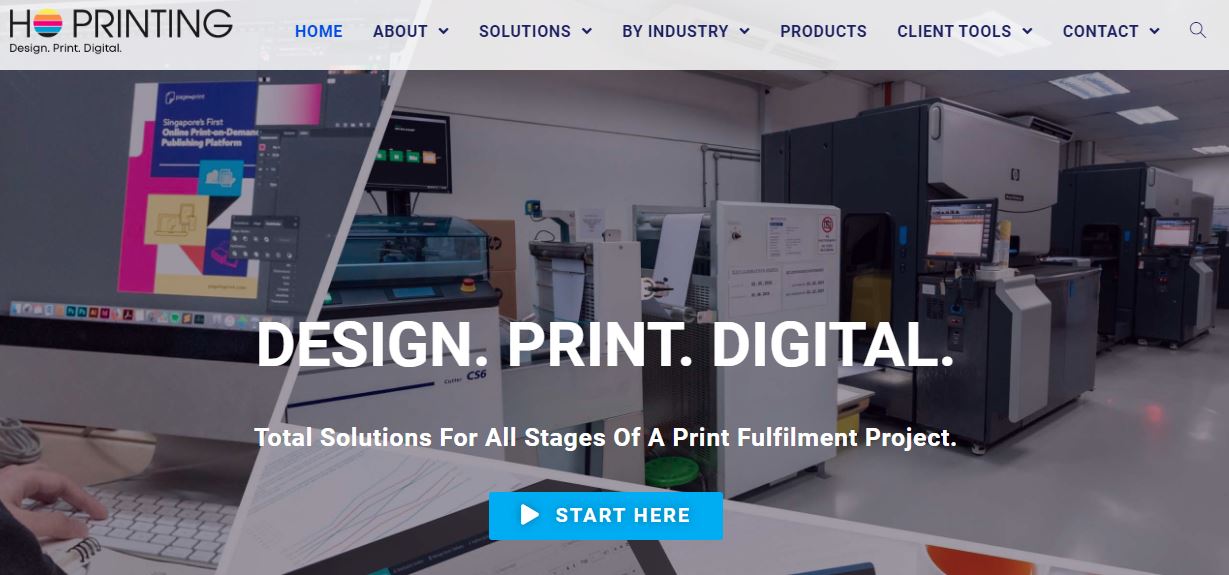 BEST FOR: The only mid-to-large printing company in Singapore that offers total design, print and digital solutions
PRICING: https://www.hoprinting.com.sg/solutions/
WEBSITE: https://www.hoprinting.com.sg/
ADDRESS: 31 Changi South Street 1, Singapore 486769
CONTACT DETAILS: +65 6542 9322 | [email protected]
OPERATING HOURS: —
Ho Printing has over 68 years in the experienced, completing over 32,000 projects and helping an impressive number of 11,000 clients and counting! Their size and integrated solutions give them the right combination of capability and agility to handle projects of almost any size and complexity.
SERVICE HIGHLIGHTS
Variable printing and mail management capabilities
One-stop marketing communications and direct marketing print fulfilment with a focus on data security
They are also one of the very few local printers certified with ISO 12647: ProcessStandard Offset (PSO) that was developed by Fogra in co-operation with the German Printing and Media Industries Federation.
CUSTOMER REVIEWS
Here's a moving customer testimonial from Farheen Chinoy, Senior Manager, Operations for Asia at The Economist:
"We consider Ho Printing a partner in every sense of the word. The staff is a pleasure to work with, and their attention to detail is greatly appreciated! Whether a large order or last-minute request, we know that they will deliver a flawless product."
8. PrintVolution

BEST FOR:
PRICING: Rates
WEBSITE: http://printvolution.sg/
ADDRESS: 60 Paya Lebar Rd, #B1-35 Paya Lebar Square, Singapore 409051
CONTACT DETAILS: +65 6655 0989
OPERATING HOURS: Mon-Fri: 10am-8pm; Sat-Sun: 11am-7pm
PrintVolution makes it easier for individuals and companies to print their materials in the highest quality and a wider range of options for paper types because of their advanced technology and skillset.
They also offer different kinds of finishings to totally achieve your desired output. Whether you are printing business cards, invitations, brochures, or even coasters and button badges, PrintVolution guarantees to provide you the best quality printing services.
You may also opt to be in their list of VIPs, given that you are an official business entity registered with ACRA with at least $50,000 paid up capital; has been operating in at least 5 physical store location; and has annual printing volume is more than $3,000.
To know more about this wonderful promotion, you may visit their website or pay them a visit.
SERVICE HIGHLIGHTS
Customer focus

Transparent services with honesty pervading every action

Proactiveness

24 hour service available

First class service
CUSTOMER REVIEWS
The shop has provided printing services to hundreds and thousands of people in Singapore and with that, they have made a name in the industry as one of the most trusted shops in the area. As a matter of fact, here are some proof taken from Google Reviews showing that their clients were actually satisfied with their work.
"Great work and design. Very happy with my purchase!"
"Printed some items. Got it on the spot. Thank you"
9. Print That Now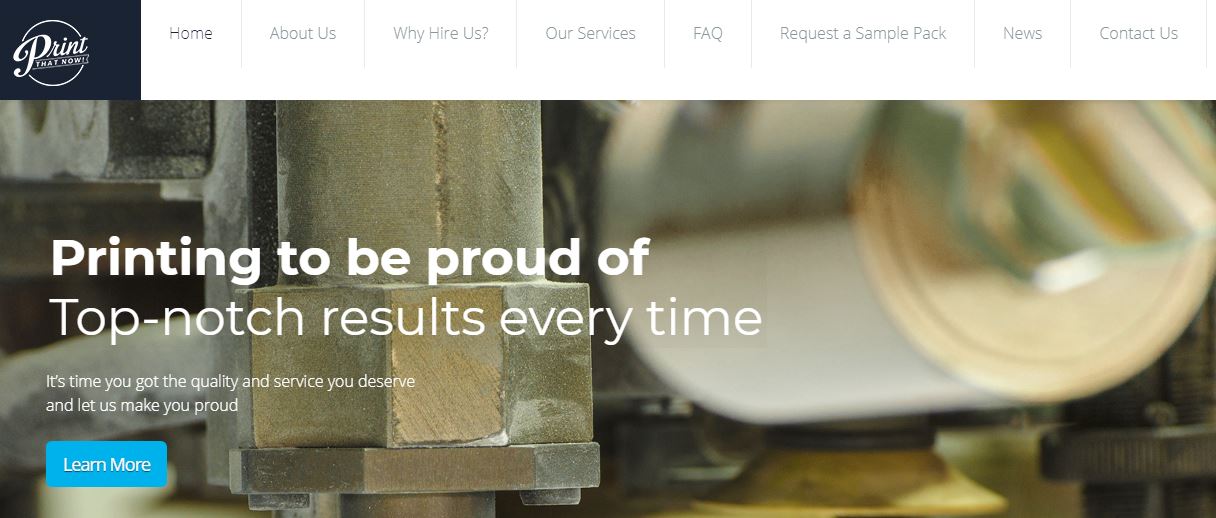 BEST FOR: Printing company with in-house design team
PRICING: https://printthatnow.com/services/
WEBSITE: https://printthatnow.com/
ADDRESS: Sunshine Plaza, 91 Bencoolen Street, #01-71 , Singapore 189652
CONTACT DETAILS:
Office: (+65) 6337 9789
Telegram: @PrintThetNow
Whatsapp: (+65) 8107 0561
[email protected]

OPERATING HOURS: Monday Friday: 10 am – 8 pm; Saturday: 11 am – 7pm; Closed on Sundays & Public Holidays
Print That Now has an in-house support staff sits on the front lines, helping their customers solve problems and replies instantaneously to their concerns with their state-of-the-art printing solutions.
SERVICE HIGHLIGHTS
Print That Now uses the latest in printing services technology 

No project is too big or small, they can get your printing request done

Expert design and printing service combined
CUSTOMER REVIEWS
With 4.1-rating on Google from 67 reviews, here's a 5-star review from Kevin Ho:
"Nowhere better to print. Unbeatable prices and great service. Kevin was really nice and professional. I'm coming back here for life for all my printing needs."
10. United Graphic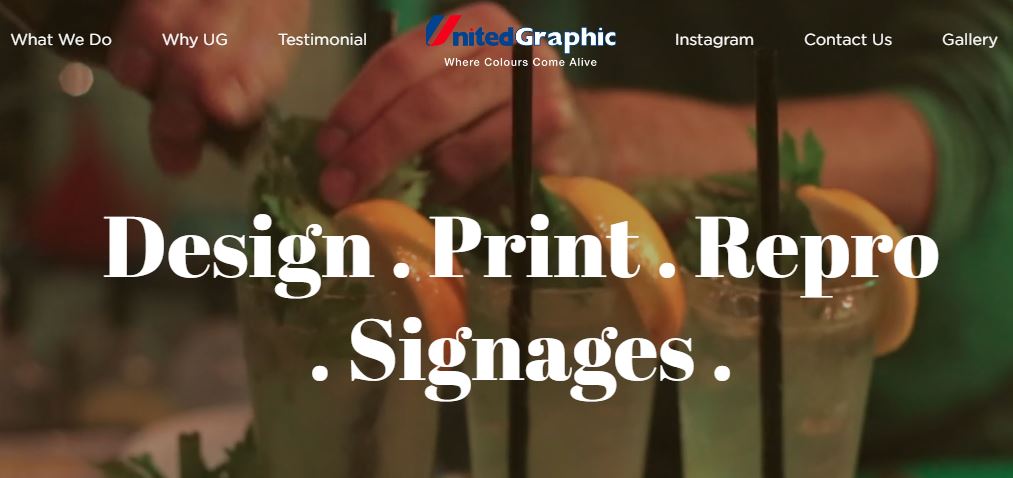 BEST FOR: Colour Separation, Design, Printing and Large Format/Signages in Singapore.
PRICING: Contact for more information
WEBSITE: http://www.unitedgraphic.com.sg/
ADDRESS: Lorong Bakar Batu, #04-12, Singapore 348743
CONTACT DETAILS:
+65 6745 7633
[email protected]
OPERATING HOURS: 
Head Office
Mon- Fri | 8:30am to 6:00pm
Production Team
Mon- Fri | 8:30am to 9:00pm
Sat | 9:00am to 3:00pm
United Graphic offers a wide range of printing services for publishers, printing press, ad agencies, and even construction companies. These include Pre and Post Press Services, Wet Proofing, De-Screening, Design, Color Retouch, DTP, Lightbox Signages, Large Format Print & Installation.
SERVICE HIGHLIGHTS
Strict Intellectual Property Protection Procedures
Alignment of their products to meet the latest Fogra Digital Printing Standard (ISO 15311).
CUSTOMER REVIEWS
United Graphic has a history of having established connections in the printing industry. Here's one customer testimonial from Donna McCarthy, a long-standing client relationship from the US for over 19 years:
"Thank you and your team for focusing on this title. It is a very high-profile and important title, with a large print run."
11. Print for Fun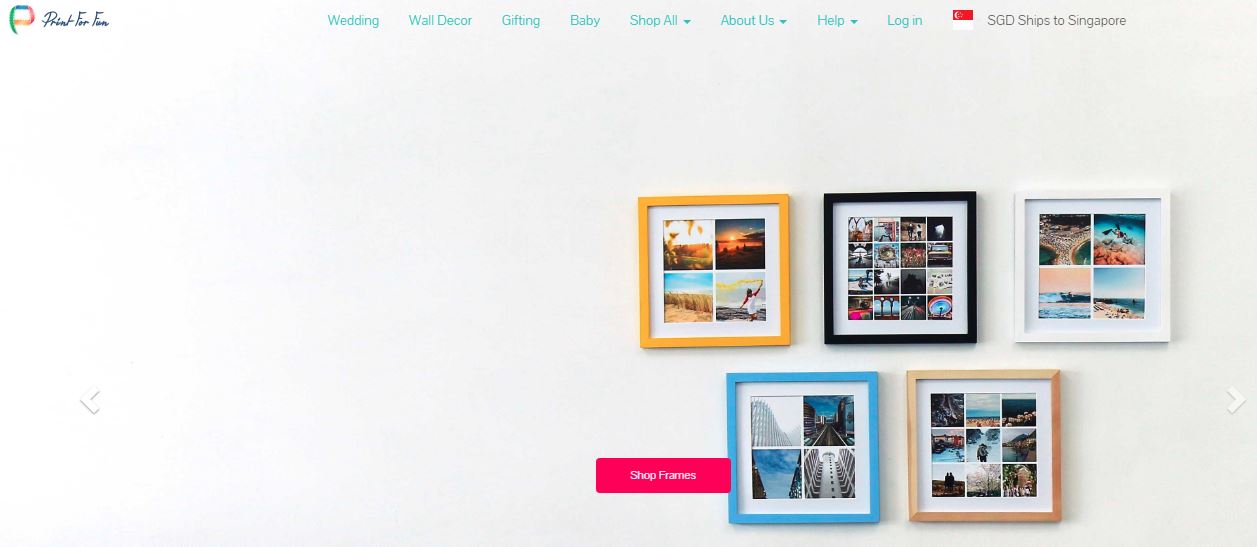 BEST FOR: Photo printing services
PRICING: Contact for more information
WEBSITE: https://www.printforfun.sg/
ADDRESS: Block 3025, Ubi Road 3, #01-153, Singapore 408653
CONTACT DETAILS:

+65 6547 1733
OPERATING HOURS:  Collection timings are Mondays – Thursdays 930am – 530pm, Fridays 930am – 5pm, excl. public holidays. They are closed on weekends.
Print for Fun is a startup focusing on providing the best online photo printing service and we are based in the sunny island of Singapore. They want to make the process for photo gifts and photo printing simple and convenient. They put the very best to create beautiful artifacts of your memories, using our industry-grade photo printers with lovely customer service.
SERVICE HIGHLIGHTS
Gifts and Creative Prints
Standard Printing Services
Home Decor
CUSTOMER REVIEWS
5-star Facebook review from Cherry Morales:
"Received my order in 3 working days even if it is just a local standard delivery. The quality of the pictures were very very good and it was packed nicely. I will definitely order more prints here in future."
12. El Print Pte Ltd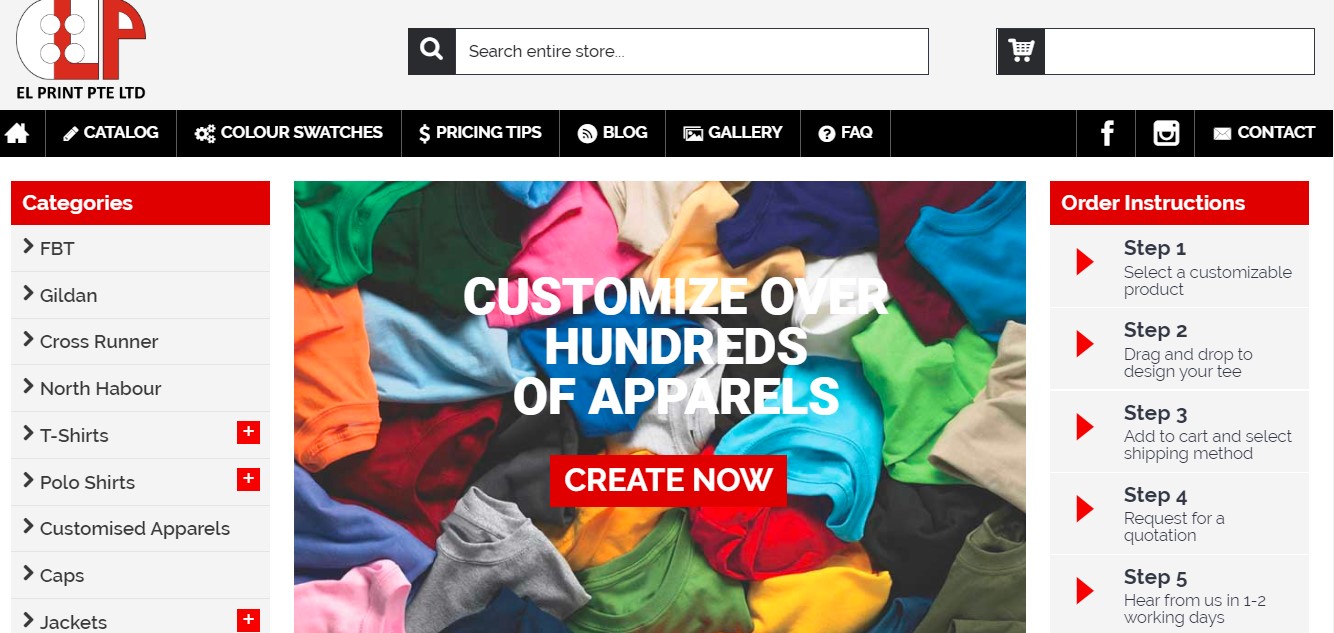 BEST FOR: Rush printing services
PRICING: Contact for more information
WEBSITE: https://elprint.sg/
ADDRESS: 15 Lorong 8 Toa Payoh #07-08 Braddell Tech, Singapore 319262
CONTACT DETAILS: 6100 5225
OPERATING HOURS:  Contact for more information
EL Print Pte Ltd aims to provide customers with affordable and hassle-free printing experiences. To do this, they will work around your budget to bring to you a product that supersedes your expectations. Their strict protocols also prevent faulty batches from reaching your hands
SERVICE HIGHLIGHTS
Island-wide Shipping
Rush Orders Welcome
Design-It-Yourself Lab
Strict Quality Control
CUSTOMER REVIEWS
Customer review from Nina Tan of Night Owl Cinematics:
"If you're looking for a T-Shirt printing company, you have to go with El Print! They print Friendship Tees, Class Tees, CCA Tees, Soccer Jerseys, Hoodies, and more! They are not only prompt in service, their T-Shirts are also of good quality 🙂 NOC's Tees are printed by them!"
13. You Print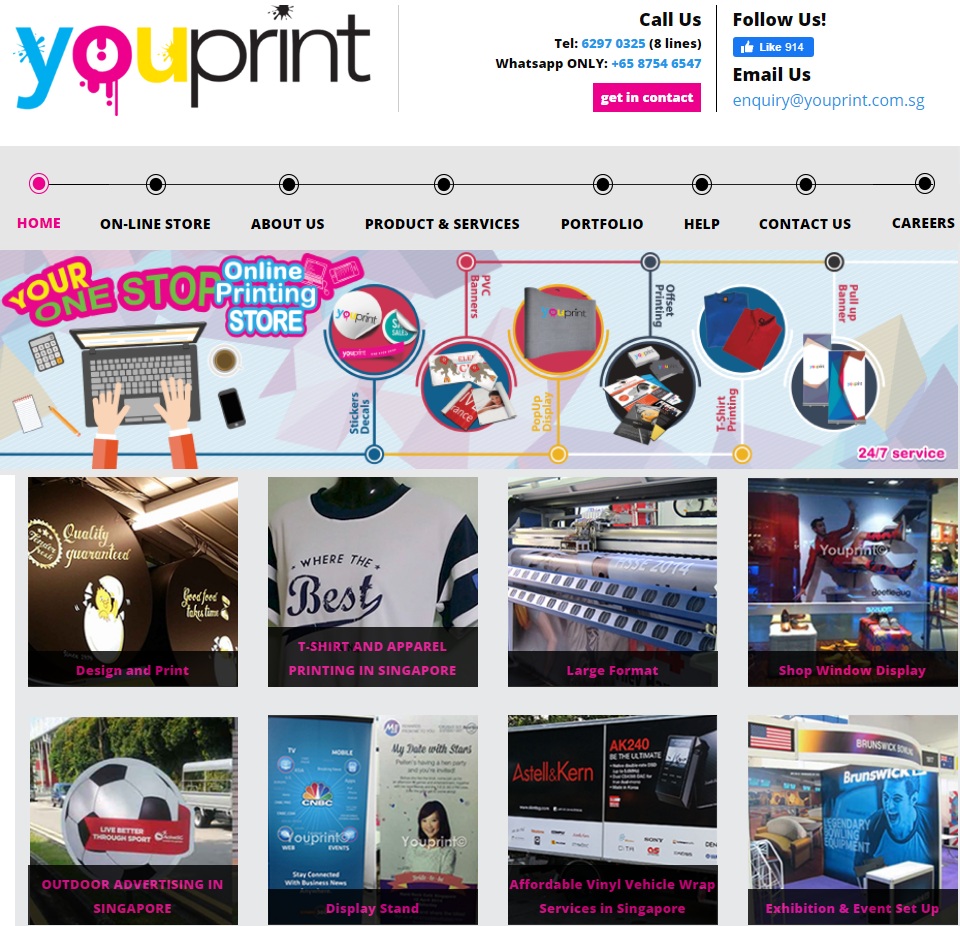 | | |
| --- | --- |
| BEST FOR | Corporate Apparel, Designing & Printing |
| PRICING | Services |
| WEBSITE | https://www.youprint.com.sg/ |
| ADDRESS | Youprint Productions Pte Ltd 30 Kallang Place, #03-12, Singapore 339159 |
| CONTACT DETAILS | +65 6297 0325 | [email protected] |
| OPERATING HOURS | Monday to Friday 09:00 to 18:00 |
If you are looking for a printing company that can accommodate corporate accounts and other marketing-related endorsements, You Print can definitely help you. 
They are one of Singapore's most sought after digital printing service providers most suited for Corporate Apparel, Designing & Printing and Outdoor Advertising / Media Services.
Their state-of-the-art and advanced technology and equipment make their production high in quality, cost-effective, and quick in service. 
More importantly, their services are offered at very affordable prices so there really is no reason for you not to hire them for your next printing session.
SERVICE HIGHLIGHTS
High quality products

Fast turn-around time

Affordable pricing
CUSTOMER REVIEWS
You Print astound their clients with their quick delivery of work while keeping their standards high. Here's a review posted on Google by one of their clients.
"Highly recommended, particularly Elvan from their team. He's kind, efficient, professional and very patient! Competitive pricing and high quality work – which makes YOUPRINT always our preferred choice!"
14. DIVERSE SOLUTIONS PTE LTD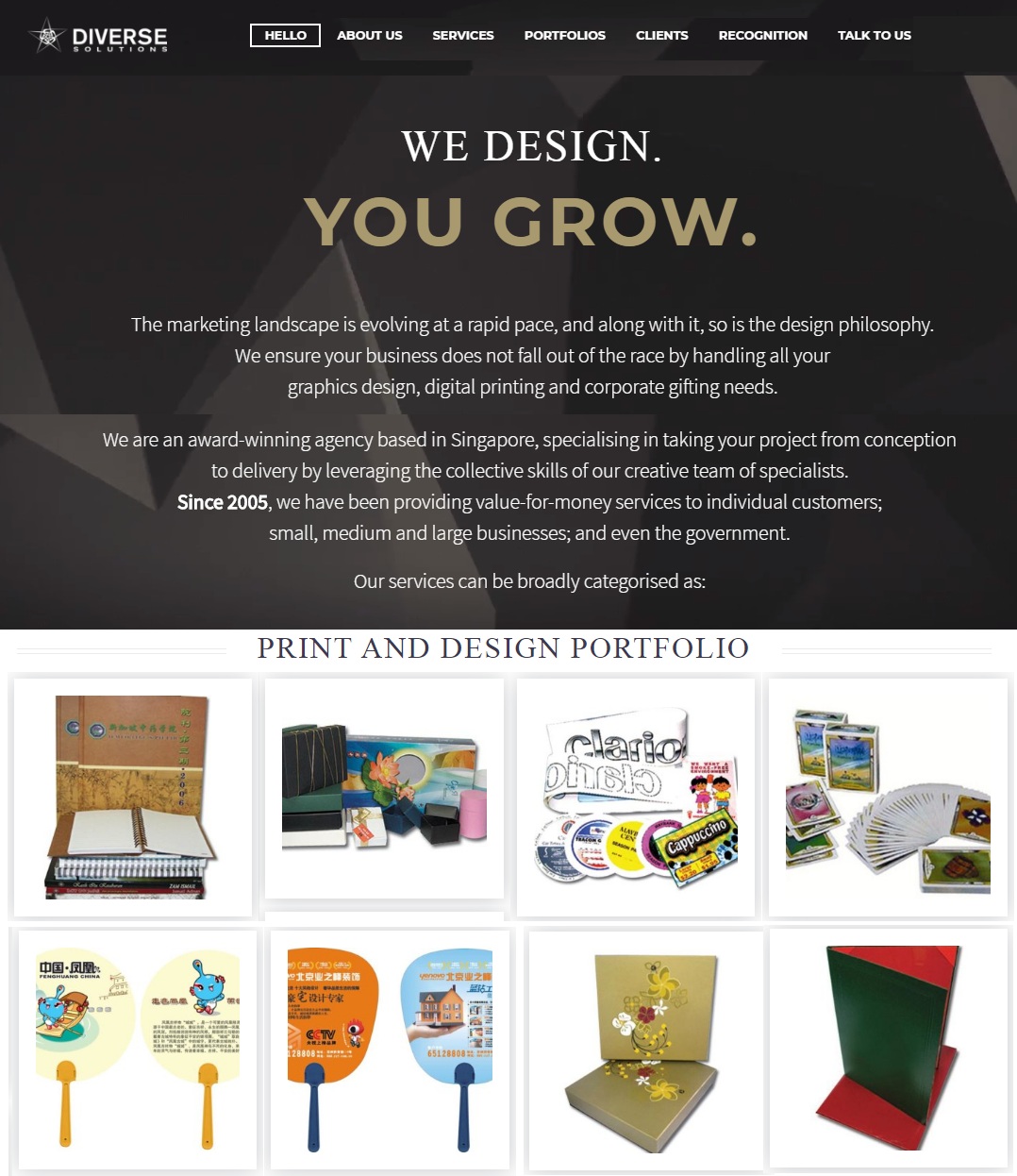 BEST FOR: Corporate printing
WEBSITE: https://diversesolutions.com.sg/
ADDRESS:55 Ubi Ave 1, #03-01 Singapore 408935
CONTACT DETAILS:+65 6749 4491
OPERATING HOURS: Monday – Friday: 9:00 am – 6:00 pm
Diverse Solutions Pte Ltd aims to keep abreast with the changing media preferences of a lot of people brought by technological advancement. The revolutionary emergence of digital media has greatly affected the design preferences and people's reach. 
They provide high quality design, printing and other creative services to corporate accounts. They design, print, and provide other gifting services. 
Aside from that, their company also provides other creative services like web design, professional photography, translation, copywriting, and many more. Be sure to check their site if you are interested. 
SERVICE HIGHLIGHTS
Beautiful and original design

Interactive designs

Signage & wallpaper services

Premium corporate gifts
15. Express Printing Shop

Express Printing Shop is best for businesses who'd like to have their business cards and brochures printed in high quality. Should you need some professional template and artwork designer, they will also happily do so.
You can browse their website to know more about the printing services that they offer that can help ease and fasten your production. Instant price check is also available to help you work around your budget.
Highlights
Premium quality printing

Design service available

Accepts bulk orders
Customer Reviews
"Expressprint is the most helpful printing shop that I have ever met!
I use their services twice to print banners that needed on the next day. Their fast respond to my enquiry showing their professionalism.  They are align with their shop name, they really do express printing and I always get my banner on time even though was a last min request.
surprisingly with reasonable price and last min request, they still manage to deliver good  quality product!
Thanks Express Print for always been so helpful. I have great experiences with your services :)"
---
Anyway, that wraps up our list of the best printing services in Singapore. If you do go with one of our picks, please tell us how it went and what you appreciated most about your printing company!
Oh, and in case you want more resources for your traditional marketing or printing needs, try our list of the best t-shirt printing services in Singapore too!