The 5 Best Laser Printers in Singapore
Looking for a home printer that can keep up with your daily printing needs? As there are hundreds of options in the market, finding the right one will be easier said than done!
But we're here to change that. In this guide, we share our list of the best laser printers in Singapore that can be used at home and in the office. We've even answered some FAQs about laser printers.
Before we get to that though, we'll go over the crucial factors to consider when choosing a laser printer. It'd be a lot easier to pick from our list if you knew what to look for, after all.
How to Pick the Right Laser Printer
Different laser printers carry different specs and features. Some can handle large volumes of printing every day, while others are designed to handle smaller printing volumes.
In the same manner, some laser printers could be more budget-friendly compared to other models, but that doesn't mean that they're always the better option.
So how can a person choose the right laser printer for their needs? Well, we'll answer that with this guide to some of the most important factors for a smart buyer.
1. Colour
Laser printers can either print monochrome or coloured output. Your choice will ultimately come down to the types of files you deal with on a regular basis.
A monochrome laser printer is perfect for school and office documents that contain large volumes of text. It's best for clear and crisp text, so its printing mechanism isn't designed for photo-quality images.
On the other hand, a coloured laser printer is ideal for printing graphic designs or presentations with images and colours that need to pop out. This type of printer adds colour to prints by using four toners: red, black, cyan, and yellow.
If your job requires you to go through multiple pages of text-heavy documents, you're better off with a monochrome laser printer.
If you're dealing with lots of images and designs every day, then go with a colour laser printer to make your task a whole lot easier.
2. Speed (PPM)
A laser printer's speed is measured through paper per minute (PPM), or the number of pages it's capable of producing in one minute. PPM varies largely between different models, but it does affect the price.
Generally, lower-cost printers will have a printing speed of 25 to 35 pages per minute… which isn't bad. Printing that many pages in just a minute may be enough for many, actually.
That said, there are others who need to get a hold of thousands of printed materials as fast as possible.
In that case, going for a high-end laser printer would be the perfect move. Some expensive models can produce 100 pages in a minute or even more! That means there's no need to wait for even hundreds of printed materials.
Basically, you might want to take a hard look at your printing habits to help you assess how quickly you need to print and what speed can accommodate that. After all, not everyone needs to print hundreds of pages every day.
3. Monthly duty cycle
All types of printers are engineered to carry a certain workload — going above it means frequent technical errors and a shortened lifespan for the unit.
Once a laser printer has reached its maximum printing capacity per month, it'd cease to operate at its optimal level, which can affect its performance in the long run. It means that users need to be aware of its monthly duty cycle in order to avoid overusing it.
In line with that, you're going to need to determine how much you print on a monthly basis and look for a laser printer that can keep up with that.
If a laser printer can print only 10,000 pages per month, ask yourself if your monthly printing habits exceed that threshold. You wouldn't want to overwork a laser printer and end up breaking it.
4. Cost per page
While the initial cost of laser printers may be low for some units, it's the total cost of ownership and purchasing ink cartridges that actually matters.
You wouldn't want a budget-friendly laser printer that consumes large amounts of toner while printing. You'd end up purchasing more toner cartridges than usual, which will hurt your pockets in the long run.
As such, you need to check the cost per page of a printer. It tells you how much you're going to be spending on toner cartridges in the next few months.
In order to know a laser printer's cost per page, you divide a printer's page yield (means how many pages you can expect to print with one cartridge) by the cost of the ink cartridge. Lower is obviously better!
5. Paper handling
Another equally important factor to consider is a printer's paper handling. It pertains to the consistency, efficiency, and smoothness with which the printer moves each paper from the loading tray up until it gets printed.
For example, most types of printers will be able to handle papers up to the A4 size, so using them to print documents on A3 size papers may result in paper jams — and nobody wants to deal with that.
On top of that, a laser printer with a tray that can carry up to 250 pages will be convenient for everyone, especially those who regularly need multiple pages of printed materials. It's such a hassle to have to fill up the trays every day.
6. Connectivity
Multiple printer connectivity options will come in handy when you have no access to a computer, only a mobile device. A laser printer with wireless connectivity makes it possible to print documents via mobile phone, even if you're not anywhere near it.
What about plain USB connectivity? It's great! However, having an extra connection option will make it easier for anyone to print documents using only their phones.
On top of that, if there are more people who need access to the printer, then look for a printer with an Ethernet connection. It connects the printer to the network router, allowing it to be used by other people in your home or office.
The Best Laser Printers in Singapore
And with that, it's time to reveal our top picks for the best laser printers in Singapore. Check them out below to see which one can cater to your daily printing needs at home or in the office.
1. HP M28W All-In-One Laser Printer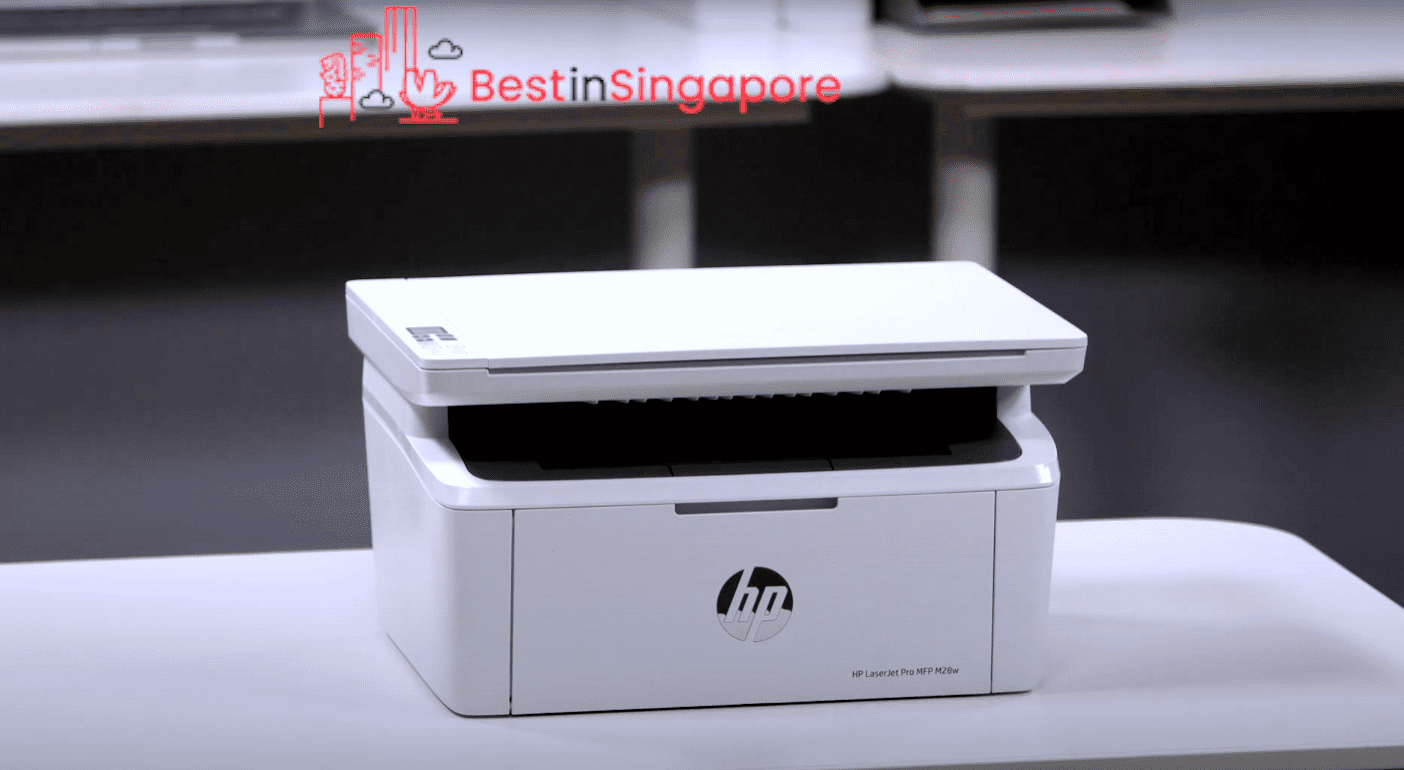 | | |
| --- | --- |
| TYPE | Monochrome |
| RESOLUTION | 600 x 600 dpi |
| SPEED | 11 to 20 pages per minute |
| CONNECTIVITY | USB and Wi-Fi |
| DIMENSION | 360 x 264 x 197 mm |
| PRICE | S$184.00 |
The HP M28W is a multifunctional office tool that merges the functions of a laser printer, copier, and scanner in one machine, saving users a huge sum of money.
It's more expensive compared to the previous option, but that's understandable as it comes with more functions and features. It also carries a print resolution of 600 x 600 dpi and scan resolution of 600 ppi, so all printouts and image files will appear crystal clear.
Another feature worth noting about The HP M28w is how portable and lightweight it is, so there's no hassle in transferring it from one table to another.
It has an average print speed of 11 to 20 pages per minute for a letter-sized document, which is at par with other low-cost laser printers. That's also the standard speed recommended for students and regular office workers.
In terms of capacity, the HP M28W can carry up to 150 sheets at once and can print up to 8,000 pages per month. There's no limit for copying and scanning documents, though.
You will be able to print documents using your smartphone as it also allows Wi-Fi connectivity. It's now possible to print documents even if you're not present in the office.
Finally, the HP M28W is compatible with any smartphone as long as there's either an Apple AirPrint™ or Google Cloud Print 2.0.
Doubles as a copier and printer
Printing through smartphone is possible
Portable and compact build
Password-protected network
Customer Reviews
Take a look at what some customers had to say about the HP M28W:
"I bought this MFP 6 months ago, and it has worked well. It doesn't have everything, but it scans, copies, and prints. Setup under Windows 10 S-mode is a bit of a pain, but that's S-mode. Scanning with the HP Smart app is easy. And the wireless printing is great when you have half a dozen devices to print from. For the price, you can't beat this."
"I bought this printer 8 months ago. I primarily use it for scanning. I love the HP Easy Scan app. It scans in color, but only prints in black & white, which is what I wanted. I got so tired of dried-up toner cartridges. The printer came with a toner cartridge. I'm just having to replace the toner cartridge. I do sometimes have problems with paper not feeding properly. I'm sure it's the cheap paper I'm using."
2. Brother HL-1210W Laser Printer
| | |
| --- | --- |
| TYPE | Monochrome |
| RESOLUTION | 2400 × 600 dpi |
| SPEED | 20 pages per minute |
| CONNECTIVITY | USB and wireless |
| DIMENSION | 340 mm x 238 mm x 189 mm |
| PRICE | S$98.00 |
We have to begin our list with one of the cheapest laser printers we could find and like: the Brother HL-1210W. It's a monochrome laser printer with a resolution of 2400 x 600 dpi, so it's capable of producing clear and high-quality print outs.
Unlike other budget-friendly laser printers, the Brother HL-1210W is relatively cost-efficient when it comes to toner cartridges. Each cartridge costs no more than $50 on various websites, and it has a page yield of approximately 1,000 pages.
Aside from printing documents, it can scan all types of documents and images directly to your smartphones, so there's no need to transfer the file from your computer.
Users will reap the convenience of dual connectivity because it's designed with an improved range of wireless and wired LAN connectivity options, allowing multiple people to use it. In line with that, it can be a perfect office printer.
It can only go as fast as 20 pages per minute, so it's not really the faster laser printer on the island. Still, it gets the job done quite well.
It weighs only 4.6 kg too, making it easy to transfer from one place to another. You wouldn't have a hard time carrying to another room as it's compact and lighter than most printers.
One of the cheapest models in Singapore, so friendly to budget buyers
Multiple connectivity options
Affordable toner cartridges
3-year warranty
Portable build
No Wi-Fi connectivity
Slow printing speed
Customer Reviews
Here are some comments from customers who got it it from Amazon:
"Very good value. Produces good crisp prints. I wish it had a direct photocopy feature rather than having to scan documents and then print them. It is very quick to do this however. The function display cannot be seen without a torch and it is very small but to be fair most functions are selected by using the PC or laptop controls The lack of a tray to capture copies is inconvenient and you have to stand over the printer to prevent them from spooling onto the floor. There is no on/off indicator light so unless it is switched off at the mains plug you never know if it is on or off. It does not seem to use power when it is off."
"There's nothing exciting about this printer — it just works. It has sat in my home office for 9 months, has printed 170 pages, and I've never had any problems or frustrations with it whatsoever. Thinking about it, being able to say that about any printer is actually quite exciting. I don't remember the setup process well, but it's sat happily on my wifi network since I bought it. I can print from various Apple Macs without having to download an installer, and from Windows without much trouble. There is also an Android app which is fairly basic, but works. Print quality is fine, speed is good. The toner cartridge that came with the printer."
3. Fuji Xerox DocuPrint P285DW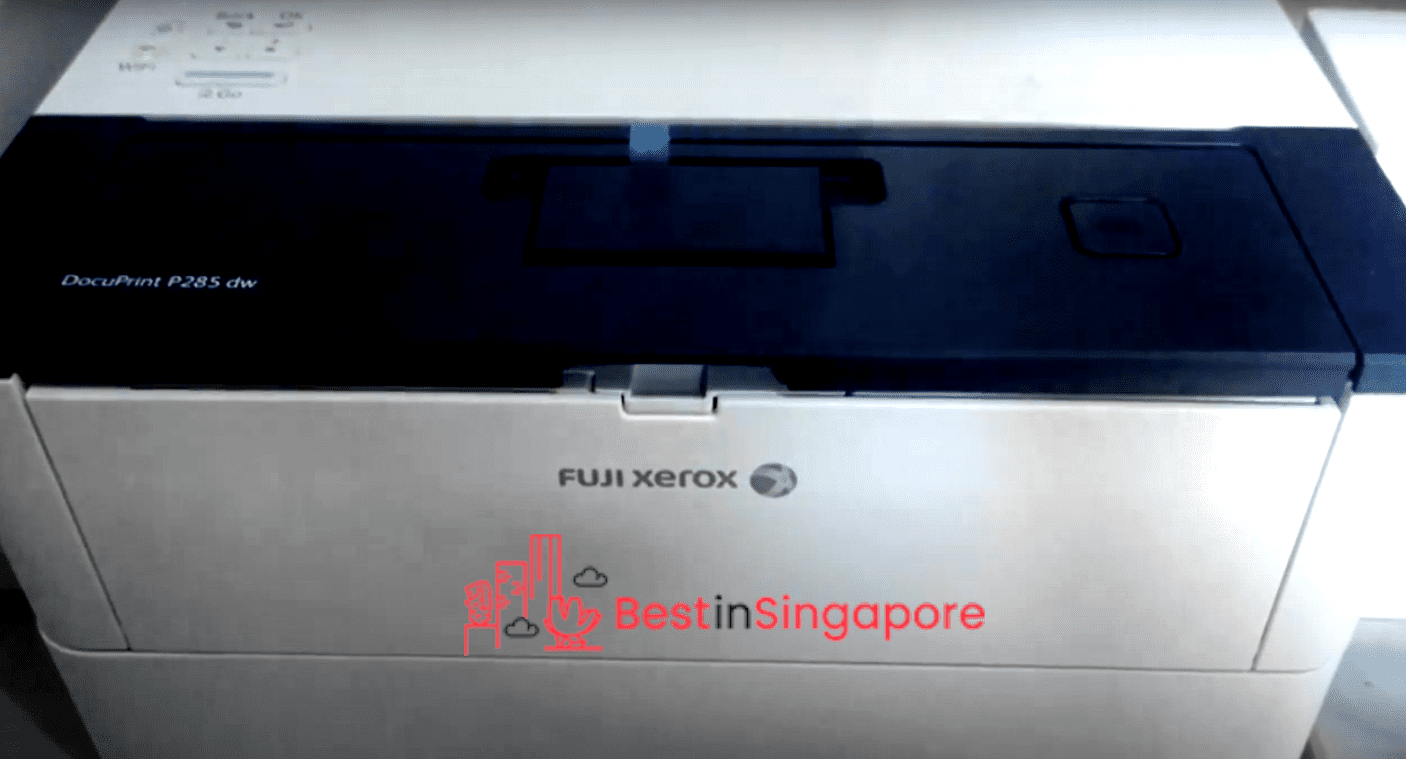 | | |
| --- | --- |
| TYPE | Monochrome |
| RESOLUTION | 1200 x 1200 dpi |
| SPEED | 34 pages per minute |
| CONNECTIVITY | Wireless, 10 Base-T/100Base-TX Ethernet, USB2.0 Hi-Speed |
| DIMENSION | 356 x 388 x 183 mm |
| PRICE | S$268.68 |
There's probably no better printer for small and medium-sized workplaces than the Fuji Xerox DocuPrint P285DW. It's a laser printer designed to improve office productivity through fast monochromatic printing and flexible connectivity.
For one, the Fuji Xerox DocuPrint P285DW is capable of printing up to 35 pages per minute with a resolution of 1200 x 1200 dpi. It's not only fast, but can deliver high-quality and clear text documents as well.
If other laser printers are difficult to operate, consider this one different. The Fuji Xerox DocuPrint P285DW comes with a control panel that's very easy to use, in our experience.
It's also equipped with a 50-sheet feeder for faster and easier scanning of multiple-page documents. You don't have to manually feed the tray papers after scanning a single page.
It's also considered one of the most cost-efficient laser printers in Singapore, as it's designed to keep overall running costs lower using either a 3K toner or 4.5K toner. It even comes with a toner-saving mode that extends the life of the toner cartridge.
More than that, the Fuji Xerox DocuPrint P285DW can print multiple pages on a single sheet of paper, so it reduces the cost of printing even further. It's why we call it one of the best laser printers in Singapore for workplaces that value efficiency.
Decent printing speed
Has a toner-saving mode
Doubles as a copier
Good print resolution
Has a 50-sheet feeder
Easy setup
Quite expensive
Not the most portable printer
Customer Reviews
A customer posted the following comment on a popular review website:
"Set-up was straight-forward and the LCD interface was intuitive. I configured the network first and pointed a browser at the IP address to tinker with the remaining settings. Went with static IP settings as others have reported issues with DHCP connectivity – no problems so far. Print quality is decent with both text and graphics (quality set to HQ1200). With features like duplex printing, wireless connectivity and AirPrint, this mono laser is hard to pass over given the price. Lots of inexpensive, compatible toner cartridges available so this should work out to be an economical choice for light to medium printing requirements."
4. Canon imageCLASS LBP621CW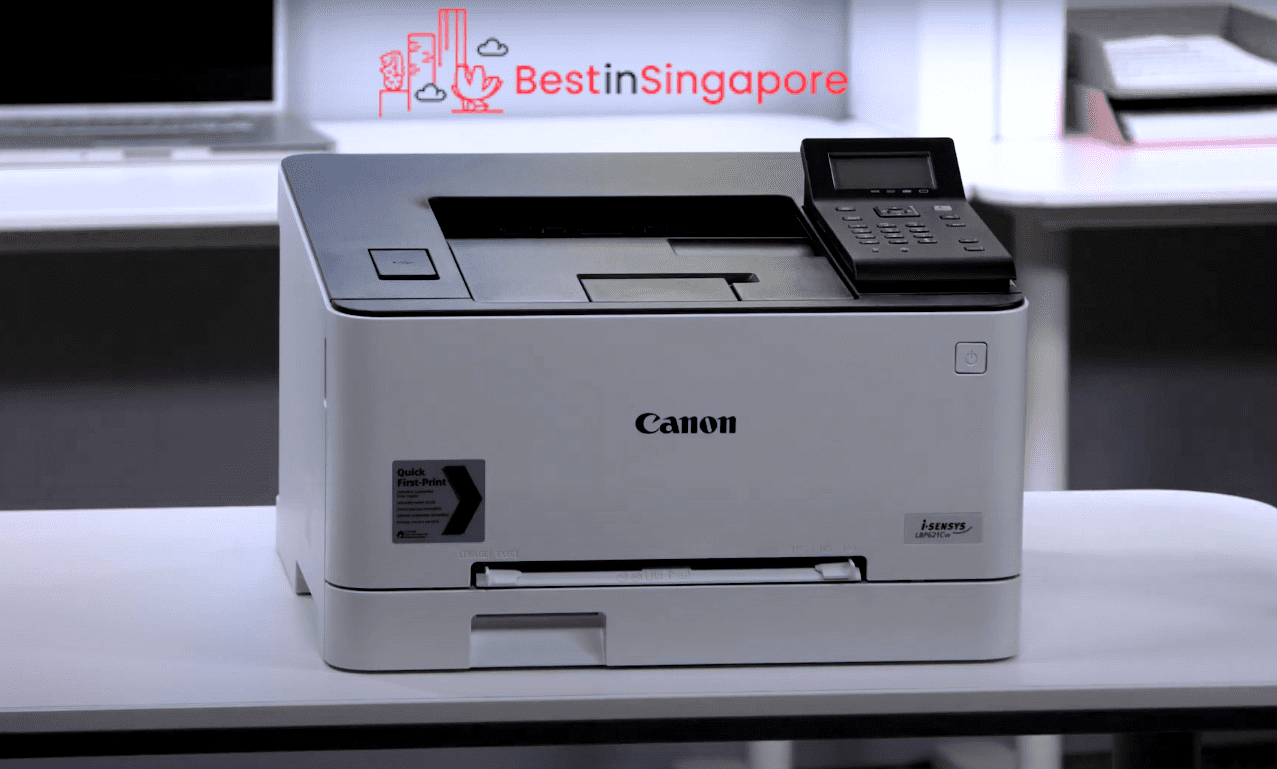 | | |
| --- | --- |
| TYPE | Colour |
| RESOLUTION | 600 x 600 dpi |
| SPEED | 18 pages per minute |
| CONNECTIVITY | Gigabit Ethernet, Wireless, Direct Connection |
| DIMENSION | 430 x 418 x 287mm |
| PRICE | S$292.00 |
The Canon imageCLASS LBP621CW is a colour laser printer that's designed for convenient and high-quality printing. It comes with a 5-line LCD display that displays all the relevant information, including the printing status and remaining amount of toner.
With a printing speed of 18 pages per minute, the Canon imageCLASS LBP621CW is not as fast as other laser printers, but every bit of text and every image is printed with 1,200 x 1,200 dpi resolution to ensure clarity, even of the smallest elements.
It's common for laser printers to be high maintenance, but this one's not one of those printers. It comes with fuss-free and low-maintenance operation toner cartridge design that lowers the frequency of cartridge replacement.
The Canon imageCLASS LBP621CW can also handle up to 250 sheets of paper at once. It's compatible with a variety of paper types as well, including B5, A5, letter, legal, statement, executive, and of course, A4.
Its multiple connectivity options make it more convenient for users who want to print documents anytime and anywhere – even if they're nowhere near the printer. It can even be shared wirelessly within your network, allowing it to be used by a group of people.
Excellent overall print quality
Low-maintenance printer
Compatible with different types of paper
Works with Windows and Mac out of the box
Impressive print resolution
Mobile printing
Quite expensive
High running costs
Customer Reviews
Most buyers of the Canon imageCLASS LBP621CW only had positive comments to say about it. Here are some of the comments from satisfied customers:
"I had to work on a large report with many exhibits that included photographs, colored maps and diagrams. The printer printed them all quickly with good (but not super great photo) quality in a manner where necessary details were easily readable. It is fast and easy to set up. The laser toner cartridges it comes with seemed good for several hundred pages and you may want to consider some third party replacements, as the Canon ones are very expensive. The printer has a larger footprint and is heavier than an inkjet color printer, but the benefit of getting many more pages at a lower cost makes it worth it. I chose this model because I did not need an "all in one" already having another black and white laser printer and a color inkjet printer that both fax, scan and copy."
"I needed a suitable laser printer for projects my officejet printer couldn't do. The Quality, efficiency and expediency of this printer will please most and I couldn't be happier with this purchase. Easy to set up and install as a network printer, now my partner can print from her devices directly via Bluetooth w/o asking me to do it (via email). For those seeking a printer that will work with image transfer to wood, THIS WILL WORK WONDERFULLY!"
5. Brother MFC-3750CDW Laser Printer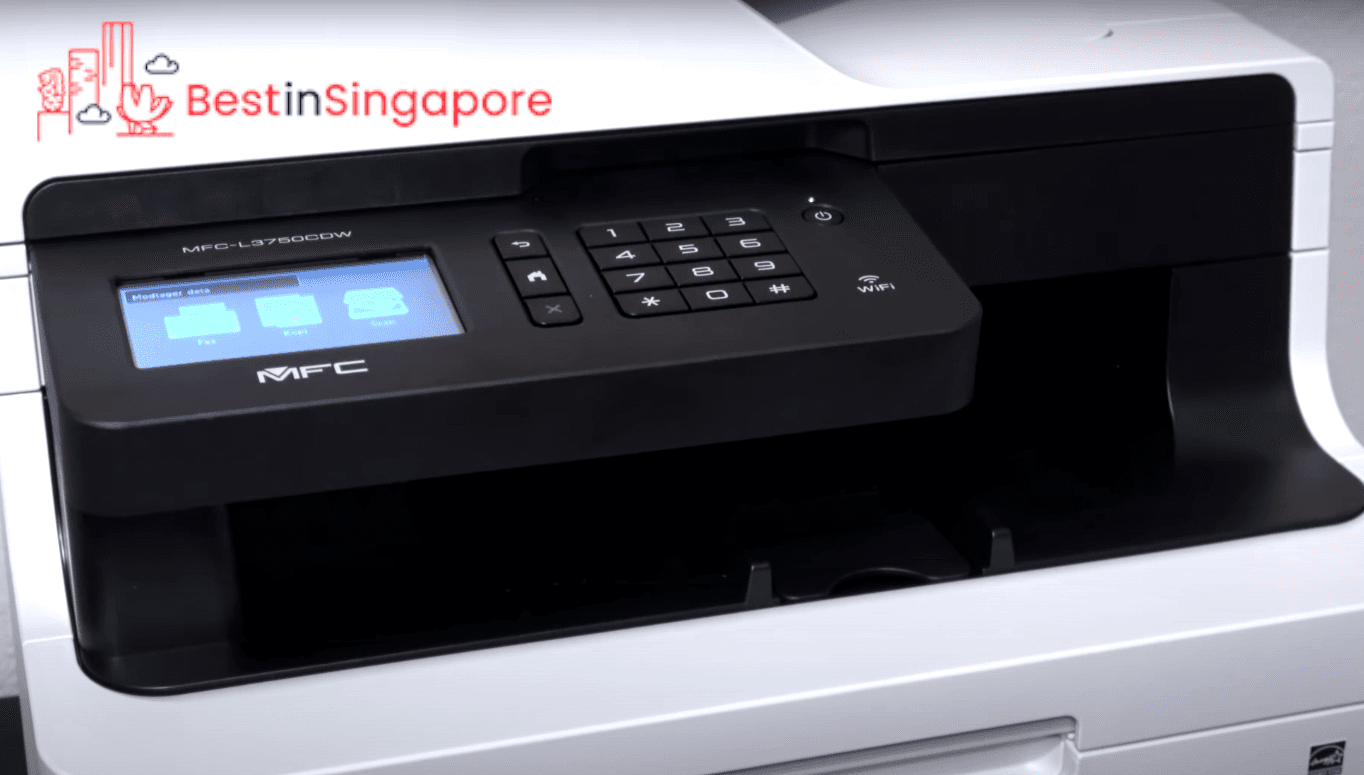 | | |
| --- | --- |
| TYPE | Colour |
| RESOLUTION | 2400 x 600 dpi |
| SPEED | 24 pages per minute |
| CONNECTIVITY | Ethernet and wireless networking, mobile connectivity |
| DIMENSION | 410 mm x 475 mm x 414 mm |
| PRICE | S$508.00 |
Priced at a little over S$500, the Brother MFC-3750CDW is definitely the most expensive option in our list. It's a colour laser printer that also functions as a copier, scanner, and fax machine.
If there's one thing that the Brother MFC-3750CDW can promise to its users, it'd have to b productivity. It can print up to 24 pages per minute and scan up 27 impressions per minute
It comes with an auto document feeder that scans multiple-page documents in a single pass. Its paper tray, on the other hand, can carry 250 pages at once, so there's no need to refill it with papers several times.
The Brother MFC-3750CDW may be our most expensive pick, but it can reduce your paper and toner costs in the long run. That's since has a toner-saving mode that uses less toner without compromising the quality of printouts.
You can even reduce your paper waste through its automatic 2-sided printing. It's truly one of the most cost-efficient laser printers in Singapore, we think.
It also doesn't create as much noise as other heavy-duty laser printers because it operates under 47dB, which is as quiet as your daily conversations with officemates.
For its connectivity, users will be able to print any type of document using their mobile phones. There's an Ethernet connection as well that allows it to be used by multiple computers connected to a single network.
Fast printing
Quick scanning
Has a toner-saving mode
2-sided printing
Integrated USB readers
The priciest laser printer in our list
Bulky and heavy
Customer Reviews
As one of the best laser printers in Singapore, the Brother MFC-3750CDW has received a lot of praise from its users. Take a look at some of the feedback:
"After many years of inkjet printing, I decided to try this printer based on my needs for reliability and efficiency. After being leery of laser printing from the olden days when color laser printing was either poor quality or absurdly expensive, I was very pleasantly surprised with this product. I have been printing at a moderate load level since I purchased it and have experienced no problems, a significant improvement on my previous experiences with inkjet printers. The customer service resources are also superior to my experiences with my prior printers."
"Bought this for home use, setup directions were excellent. It was fully functioning within 30m. Including unwrapping, downloaded/installed software, connected to personal WiFi, tested printing and scanning on windows computer and multiple mobile apple devices. This is about the 10th printer I've purchased in my lifetime (and first Brother and this was hands down the easiest one to install and use. Bottom line: I highly recommend it!!!"
FAQs about Laser Printers
---
Already found the right laser printer that perfectly matches your printing needs? Or do you have another laser printer in mind that's worthy of being checked out? Share it with us!
For more printer options, you might want to take a look at our list of the best office printers in Singapore too. These printers are ideally used for an office setting, but there's nothing to prevent your using them at home as well.