Top 7 Shops for the Best Dried Flowers in Singapore
Some people prefer a long-lasting set of flowers to short-lived fresh ones. If you're one of them, then you might probably want to see a great collection of the best dried flowers in Singapore.
Dry flowers in Singapore is not as dull and dry as it sounds. This kind of bouquet is highly preserved so the scent and its aesthetic will remain for a very long time. Luckily for you if you want such flowers, we've listed the most notable florists that have the best dried flowers in Singapore.
1. Bloomback

BEST FOR
Aesthetic glass domes
PRICING
Shop
WEBSITE
https://bloomback.org/
ADDRESS
33 Ubi Ave 3, The Vertex #05-70, Lobby A Singapore 408868
CONTACT DETAILS
+65-8749-4806
OPERATING HOURS
Weekdays: 10am–7pm

Saturday: 10am–2pm
From the choice of flowers to the colours, design, and even up to the packaging, Bloomback always makes it special with unique flower glass dome styling and other dried flower gifts in Singapore
Their collections are unique and creative: they have charms, glass domes, jewellery boxes, and even Bluetooth speakers! Each is made with your chosen type of flowers, colours, as well as a personalised message.
No matter what the occasion, their floral arrangements and collections are perfect for anyone and any season. This is why this shop is widely known to have some of the best dried flowers in Singapore.
Highlights
Seasonal gift sets
Personalised gifts
Same-day gift delivery
Free delivery
Customer Reviews
Many customers loved the gorgeous floral designs of dome collections. They also mentioned the fast dried flower bouquet delivery services of Bloomback.
A customer from Google Reviews wrote this review:
"Great and fuss free purchase! Swift delivery as well ended up with a great surprise for my wife! The dome was beautiful and glad to contribute to a great cause as well! Keep on going u guys are doing great!"
2. One Olive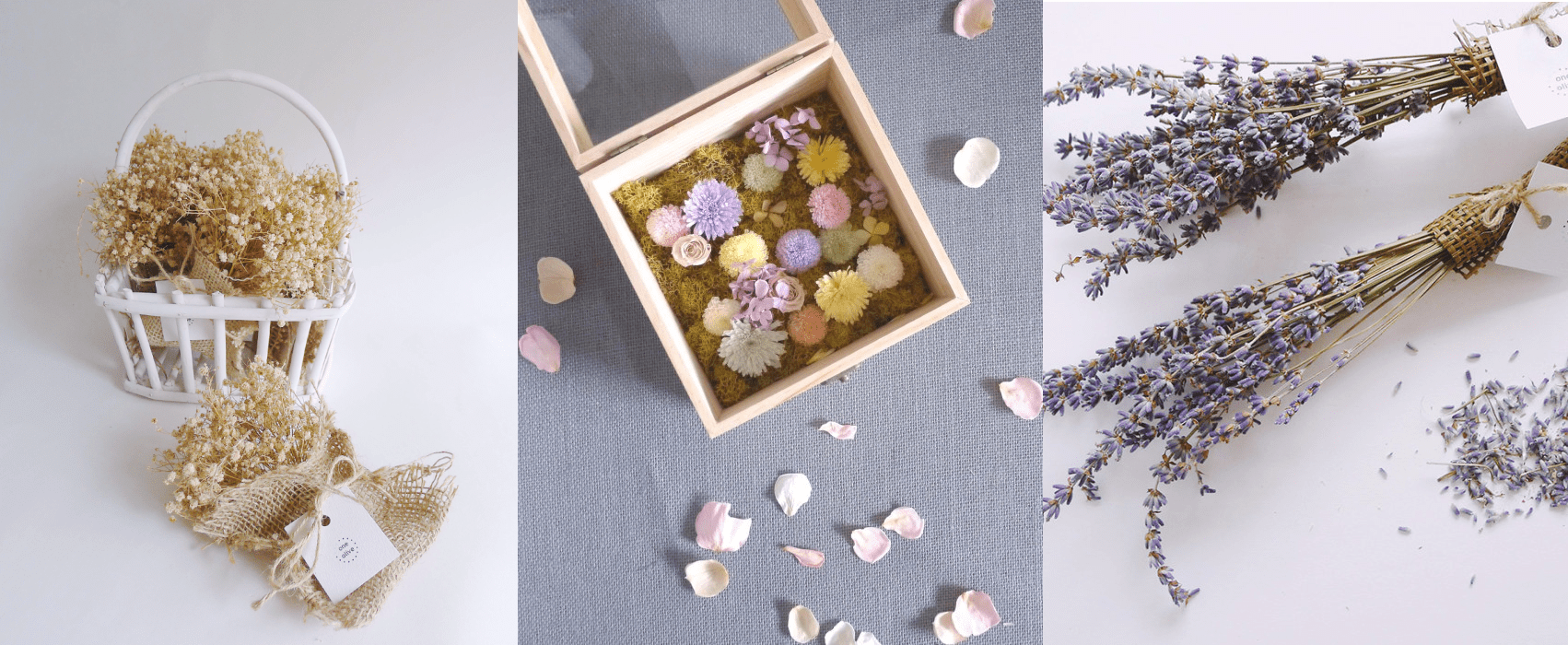 BEST FOR
Wide range of dried flower collections
PRICING
Shop
WEBSITE
http://oneolive.net/
ADDRESS
61 Seng Poh Lane 01-01, Singapore 160061
CONTACT DETAILS
(65) 6779 3543
OPERATING HOURS
Tuesday to Saturday: 11:30 am – 7:00 pm

Sunday: 11:30 – 4:00 pm
If you've been wondering where to buy dried flowers in Singapore that's open on weekends, here's your answer. Open from Tuesday to Sunday, One Olive is known to be an all-around florist shop that offers a variety of flower arrangements, potted plants, and more.
For their dried flowers in Singapore, you can choose between a bouquet or a basket. They have lavender, baby's breath, etc.
Moreover, they also provide bloom boxes and vases. One of the greatest things about this shop is that they have bridal bouquets, corsages, and a whole bridal package for all wedding floral arrangements. So if you have any events or occasion that calls for arrangement for dried flower bouquet in Singapore, you know where to go.
Highlights
Customer Reviews
One Olive has received a lot of compliments from most customers who experienced a beautiful wedding reception thanks to their decorative arrangements of dried flowers in Singapore. A customer wrote this feedback on Google Reviews:
"Amy delivered absolutely beautiful floral arrangements for my wedding in July, and we were so impressed with her work. One Olive uses only seasonal blooms, so everything that we received looked incredibly fresh and vibrant. From my incredibly messy Pinterest board and a couple of conversations about how I wanted a riot of colour, she was able to create a look that was at once striking, yet extremely exquisite and tasteful.
Designing for both my theme and the wedding locations, she helped us to refashion the flowers from the church wedding for our wedding dinner so we were able to stay within budget, and on the day itself, she surprised us by sneaking in a few extra premium blooms into my bridal bouquet. Everything was so artistic and lovely, that at the end of the night our guests were very happy to bring the table arrangements back with them."
3. Dawn Q

| | |
| --- | --- |
| BEST FOR | Variety of dried flowers bouquets |
| PRICING | Shop |
| WEBSITE | https://www.dawnq.com/ |
| ADDRESS | 22 New Industrial Road #07-05 S536208 |
| CONTACT DETAILS | (65) 91796689 |
| OPERATING HOURS | Weekdays: 10am to 6pm |
Wanting to get an arrangement of dried flowers in Singapore that will be envied by family and friends alike? Dawn Q creates lovable and Instagram-worthy bouquets of dried flowers your loved ones will absolutely admire!
Their collections include dainty jars, flower boxes, and more. They also offer other arrangements such as congratulatory, sympathy, and wedding flowers.
Also, if you prefer a minimalist design or simple bouquets that contain only one type of flower, then they might have the best dried flowers in Singapore for you!
Highlights
Seasonal specials
Wedding florals
Workshops
Customer Reviews
Customers have recommended the overall services of Dawn Q and praised their amazing arrangements and choice of colours. A customer left this feedback on Google Reviews:
"It's a really beautiful & calming space. The owner is nice and very helpful, you can discuss what type of flowers you need. Just give her a budget and she can pull something together really quickly. I like that the fresh bouquets carry an air of sophistication, and the combi of colours/textures is very unique. I also bought some dried flowers for my room – it looks really great! 🙂 Would come back for more soon!"
4. SKfleur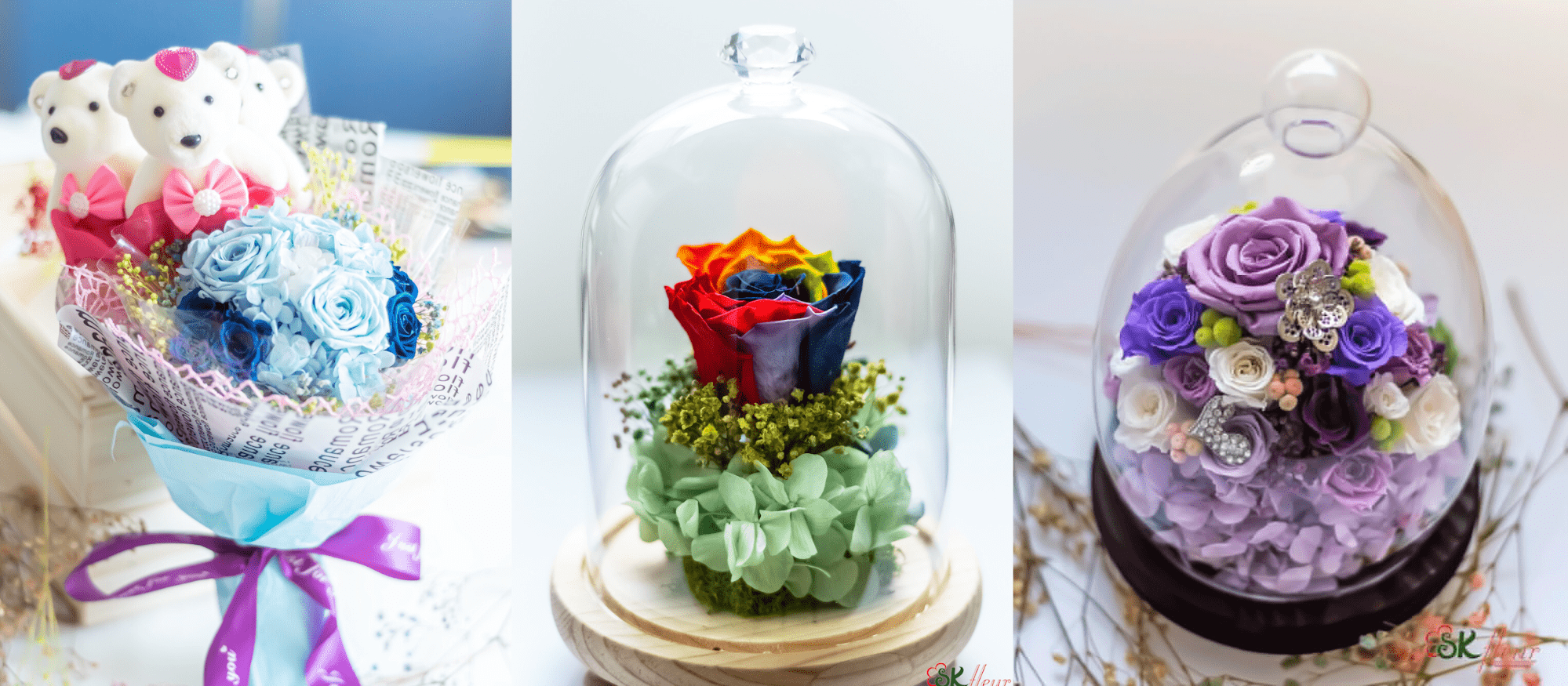 BEST FOR
Bouquet gift sets
PRICING
Shop
WEBSITE
https://www.skfleur.sg/
ADDRESS
01-89, 183 Jalan Pelikat, The [email protected], S 537643
CONTACT DETAILS
65-82656855
OPERATING HOURS
Weekdays: 1pm – 6pm

Saturday: 2pm – 6pm
SKfleur offers bell jars, bouquets, and table arrangements of dried flowers in Singapore. They specialise in making floral designs for everlasting flowers — that's why they're one of the leading florist shops that have the best dried flowers in Singapore.
If you're in a hurry to buy a special gift for your family or friends, you can rely on their same-day delivery services. They'll surely love a hand bouquet full of gorgeous flowers!
Highlights
Special gift sets
Free same-day islandwide delivery
Special promotions
5. First Sight

BEST FOR
Korean-style bouquets
PRICING
Shop
WEBSITE
https://firstsightsg.com/
ADDRESS
1 Marne Rd, The Citron #01-05, Singapore 208380
OPERATING HOURS
Weekdays: 10am–7pm

Weekends: 10am–1pm
Whether you like to give a big bouquet or a mini vase full of attractive preserved flowers, First Sight has everything you may be looking for in dried flowers in Singapore.
They also do wedding events, creating beautiful bridal bouquets. They've been featured on many media publications, making them one of the most well-known shops that offer the best dried flowers in Singapore.
Highlights
Grand flower bouquets
Wedding events
Customer Reviews
Many customers have mentioned the unique and cute floral arrangements of First Sight. A customer posted this review on Google Reviews: 
"One of the best florists for dried flowers in Singapore. Their baby breath bouquets are so beautiful and they are the first ever florist to come out with the cute and dreamy unicorn bouquet as well as the fairy light bouquet"
6. SJO Flora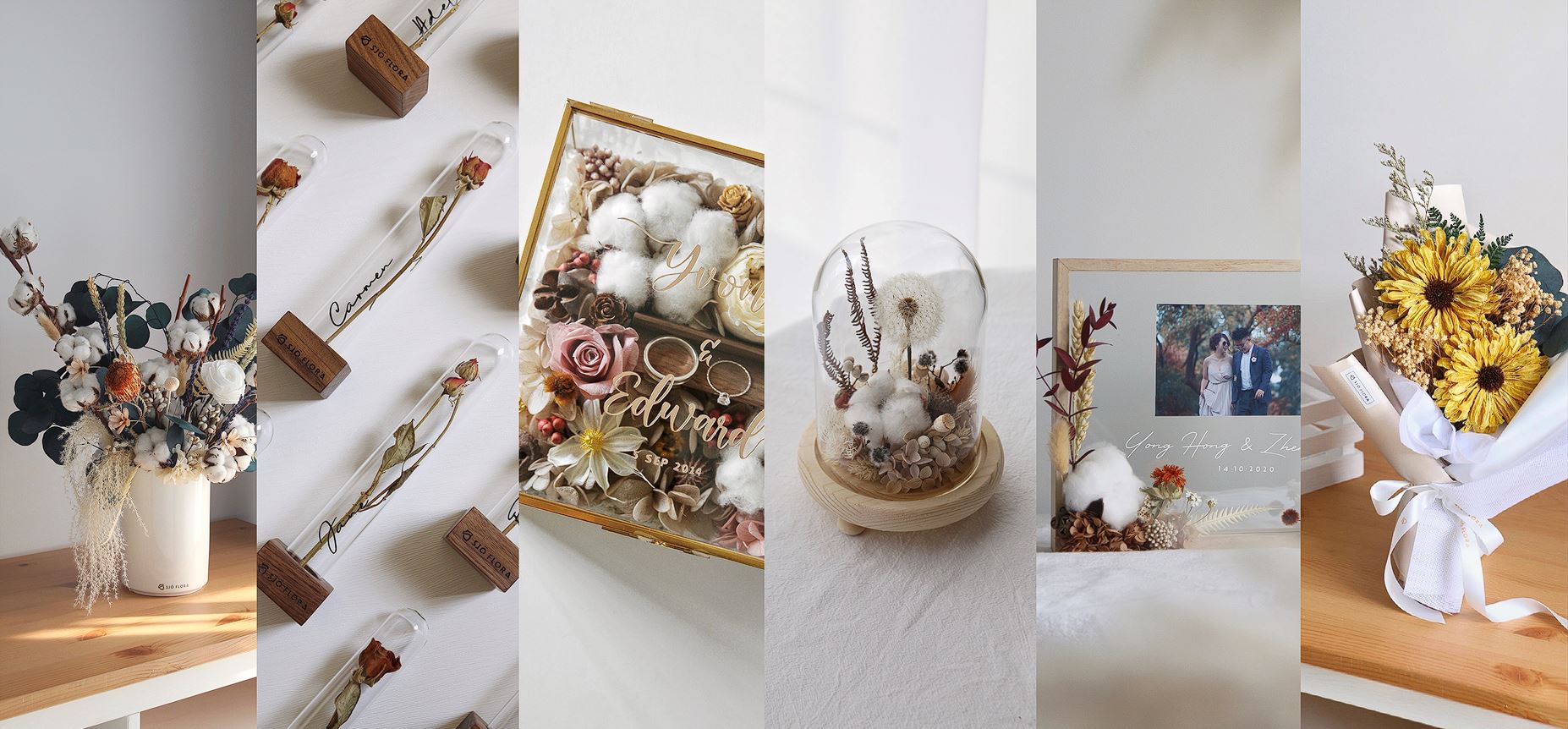 | | |
| --- | --- |
| BEST FOR | Personalised preserved and dried flowers arrangement beyond bouquets and vases |
| WEBSITE | https://www.sjoflora.com/ |
| ADDRESS | Home Studio at Serangoon |
| CONTACT DETAILS | [email protected] |
| OPERATING HOURS | Sunday – Friday 9am – 6pm |
With the love of nature, minimalism and Iceland, SJÖ Flora intentionally creates preserved and dried flower arrangements that make you happy.
Hence, their product range has moved beyond bouquets, vases and flower stands to jewellery boxes, frames and mirrors. All their flower products are meticulously produced and require highly skilled craftsmanship.
They put lots of time and effort into crafting it for you because we know it will definitely be worth it.
SJÖ Flora understands that it is the thoughtfulness and effort behind each gift that counts. Every gift is a visual representation of love and is treasured greatly.
The shop's range has moved beyond preserved flower bell jars to terrariums, bouquets, and keychains. They also explore using dried flowers and fresh flowers in SJÖ products to cover all your occasions such as birthdays, anniversaries, weddings, valentine's day, mother's day, graduations and more.
Highlights
You'll be able to personalise most of our products including bouquets with your or receivers' name and/or a short quote
Provide same-day, next-day and free standard delivery
Minimalism style that suits any occasion
LGBTQIA friendly
7. Flower Cart

Get access to an extensive selection of flower arrangements through Flower Cart. For over 30 years, this flower shop has been spreading the love through their beautifully created flower designs.
Their experience in the flower industry has honed their skills and services. They were able to make flower arrangements that most people would like to receive. And they were able to formulate services that would guarantee customer satisfaction.
So if you're planning to order a special flower for someone special, be sure to checkout Flower Cart.
Highlights
Preserved flower collection
Traditional design of flowers
Unique standing floral arrangements
Have you already chosen which shop from our list has the best dried flowers in Singapore? If you have, tell us about it and we'd like to hear about your experience with their services!
For additional options, take a look at these shops that have the best preserved flowers in Singapore! You'll definitely love this list, for each option has a variety of gorgeous collections!