16 Florists for the Best Preserved Flowers in Singapore (2021)
Some people prefer choosing fresh flower bouquets because it would be more delightful to have them delivered with a natural look and scent. However, taking care and maintaining them can be a hassle that is why flower shops have extended their services and are now offering preserved flowers in Singapore. Since it is preserved, the aesthetic look and mesmerizing scent will be maintained for as long as possible. If you are not quite familiar with the thought of giving preserved flowers, here are some of the best flower shops that provide preserved flowers in Singapore!
1. Rainbowly

BEST FOR
Fruit Bouquet Arrangements
PRICING

Rates

WEBSITE
https://rainbowly.com/
ADDRESS
11 Sin Ming Road, Thomson V Two, 575629
CONTACT DETAILS
+65 69002188 (Whatsapp or Call)


[email protected]

OPERATING HOURS
By Appointment Only
Rainbowly has been Singapore's number one fruit arrangement specialist since 2013. Every product in their edible bouquet and fruit box collections are of the highest quality you can find.
Get creative with your gift-giving options with Rainbowly! Instead of giving typical flower bouquets and fruit baskets, this is the perfect chance to give out one-of-a-kind edible flower bouquets that can sweeten any celebration.
In comparison to other shops, since their products are made up of fresh fruits, every purchase is made to order. This is to ensure that all their clients would receive their order in perfect condition.
Aside from edible bouquets, they also offer traditional flower bouquets and even dried flower bouquets.
On deliveries, they are one of the few that work with professional delivery personnel to make sure that your edible flower bouquets arrive safely at the doorstep.
Service Highlights
Newest Addition: Money / Banknote Flower Bouquets
Best Value: Preserved and Dried Flower Bouquets
Fuss-free Order and Delivery
Customer Reviews
Here are some of the testimonials of their previous clients:
"It was a last minute delivery request on Sunday but the team was kind to accept my order. Really professional and prompt response. Recipient was both surprised and fascinated by the cute tweety bird! Love them to bits!"
"Not only are their products amazing but also their customer service! They are tremendously accommodating throughout the process, and responds in a timely manner with all my inquiries! Truly love the time and effort they take out for each customer. I have nothing but positive remarks for Rainbowly. Will continue to use them many more times in the future!"
2. Fleuriste
Fleuriste is one of the premium floral boutiques in Singapore that specialises in rustic everyday arrangements as well as wedding and events styling. The shop was founded by Joan Chua and Sarah Ching in 2015, both are reputable and professional florists that always deliver excellent floral designs in their collection.
Fleuriste is also accessible via online wherein you can browse through their collection of flower arrangements that are also appropriate for different occasions. Aside from fresh flowers, they also feature preserved everlasting blooms.
Are you interested in learning how to create such wonderful arrangements like preserved roses in Singapore? You may enroll in their workshops where you can learn different designs and approaches featuring their best florists and designers. Their workshop schedule is posted on their website.
Service Highlights
Stunning flower arrangements

Floral subscription

Engaging workshops
Customer Reviews
The shop is applauded for their collection of stunning wedding flowers as well as their wonderful customer service. A client left this feedback at Google Reviews:
"Would definitely recommend Fleuriste, I had a hand bouquet on my wedding day. Thank you so much for the beautifully arranged bouquet and to accommodate to my last minute request. The flowers were fresh and in the right colours that I hoped for!"
3. Bespoke Fiore

Bespoke Fiore is a boutique store that offers a wide selection of best preserved flowers in Singapore.  They have different kinds such as roses, lavenders, hydrangeas, and many more. For the roses and hydrangeas, their arrangements are packaged into either a square or a round box. The round box comes with a handle so it will be easier for you to carry them. While for the lavenders, they are usually placed at a simple yet classic vase. They also have their signature arrangements that feature a combination of all of their offered items such as preserved flower bouquet in Singapore.
Most customers have enjoyed their experience with the customer service and professional florists at Bespoke Fiore. They were able to cater to the demands and needs of their clients and produce a very compelling product.
Service Highlights
Preserved bridal hairpins
Same-day delivery
Special requests and orders
4. Petite Fleur

| | |
| --- | --- |
| BEST FOR  | Sophisticated, Stylish and Handcrafted Designs |
| PRICING | Rates |
| WEBSITE | https://www.petitefleursg.com/ |
| ADDRESS | Studio @ 22 New Industrial Road #03-18/19 |
| CONTACT DETAILS | +65 9270 8473 |
| OPERATING HOURS | Weekdays, 8am–5pm |
At Petite Fleu, they have all types of flower gifts to choose from and this includes their dried and preserved flowers in sg. They have a variety of forms available that feature bouquet, box, vase, and glass dome. They are all designed with ribbons, laces, and even balloons. They are also provided with affordable prices which costs less than $200. Most of the colors they use are not too vibrant, creating a formal, pleasant, and creative presentation. Aside from these, they offer a lot more options with different flower types.
We personally think that this is a place for affordable preserved flowers in Singapore
Service Highlights
Wedding and corporate flowers
Workshops
Perks of corporate accounts
Customer Reviews
Petite Fleur is a one-stop-shop for those who want to see a larger collection for all kinds of celebrations and events. A customer was very impressed with their responsive team and same-day delivery service and left this feedback on the company's official website:
"Ordered late last night & made special request for a dreamy, pale pink bouquet. Team replied before 9am next morning & delivered an impressive looking bouquet by late afternoon! Absolutely will order again !!! Well done"
5. Bloom Back
BEST FOR 
Gorgeous and Elegant Glass Domes
PRICING
Rates
WEBSITE
https://bloomback.org/
ADDRESS
33 Ubi Ave 3, The Vertex, #05-70, Lobby A, Singapore 408868
CONTACT DETAILS
+65-8749-4806
OPERATING HOURS
Weekdays – 10am–7pm

 

Saturday – 10am–2pm
Bloom Back is known for their decorative floral arrangements styled inside a glass dome. Unlike other preserved flower Singapore shops, this place has a wide collection of glass domes and preserved flower charms. This will certainly be a one of a kind and memorable gift for your loved ones. Their products are suitable for many occasions such as birthday, anniversary, congratulatory, wedding, and graduation. They also have several collections including luxe, customized, lifestyle, and living collection. Each arrangement and charm can be personalized with your messages or name initials. Additional gifts like frames, plates, balloons, soaps, trays, and pens are also available.
Service Highlights
Same-day flower delivery
Exclusive promotions and gifting ideas
Corporate workshops
LED glass domes with Bluetooth speaker
Customer Reviews
When it comes to classic and remarkable collections, Bloom Back is considered to be one of the most creative and innovative. A reviewer from Google Reviews wrote:
"Beautiful preserved flowers and very human idea for starting business like this, glad i could help by buying beautiful flowers which makes my wife so happy, flowers which will not end up in garbage after couple of days."
6. LavieFlo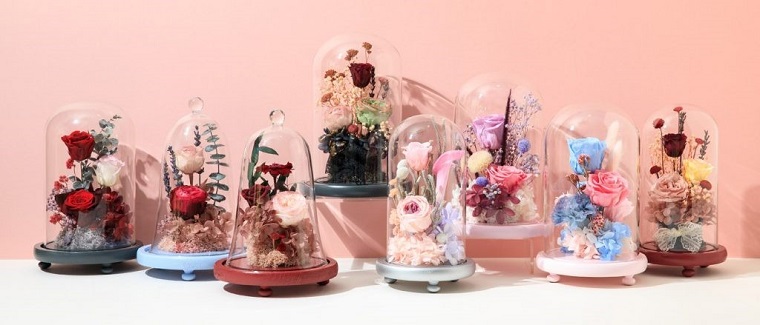 BEST FOR 
Terrariums / Jewelry Boxes
PRICING
Rates
WEBSITE
https://lavieflo.sg/
ADDRESS
#09-01 Eastgate @Katong, 46, East Coast Road, 482766 Singapore.
CONTACT DETAILS
+65 6344 3912
OPERATING HOURS
Mon-Fri: 10:30am-7:00pm

 

Sat: 10:30am-2:30pm

Sun and PH: Closed
If you fancy your preserved rose in Singapore encased in a glass jar ala beauty and the beast, it's best to have LavieFlo under your watch.
LavieFlo also specializes in preserved flowers that are packaged into bell jars, terrarium, and hand bouquets. They are one of the few shos that offer terrariums which can also be used as a jewelry box or storage. This would be the perfect gift for the ladies who enjoy decorating their vanity table. They also provide wedding bouquets, home and office decorations, as well as corporate gifts. Their bell jars are also customizable in which you can opt to choose between two features including LED lights and Bluetooth speakers.
LavieFlo has been continuously proving their customers with artistic flower designs in different forms. This has made them be widely recognized in Singapore.
Service Highlights
Signature collections
Special promotions
Corporate and retail decor customization
7. Skinny Blooms

Skinny Blooms takes pride in their unique series of collections that changes every season. None of their creations stays the same after the season changes, which is why most customers keep on coming back and waiting for their new releases. Their preserved flowers in Singapore come in handy bouquets, vases, and baskets. The best thing about this shop is that they offer gift sets so aside from the flowers you can also include other items. They have also expanded their business by creating products for fashion, beauty, home, and lifestyle.
Skinny Blooms' customers loved the one of a kind and original designs that can be considered as valued pieces for they are only limited and such design will never be made again.
Service Highlights
Wedding arrangements
Gift sets
Workshops
8. My Eternal Roses

My Eternal Roses offers a lot of variations that are categorized into acrylic series, bloom boxes, occasional themes, doll series, floral frames, mini dome series, puppy lovers, and many more. Their products are not only aesthetically pleasing, but they are also useful and durable enough to last for many years. They make sure that their floral arrangements are not for display only. You can use it as a jewelry box, photo frame, and many more.
Take note that they offer free delivery so this is one of the places to get the most affordable preserved flowers in Singapore. 
Service Highlights
Free delivery
Handcrafted designs
Customer Reviews
My Eternal Roses has a group of certified preserved flowers specialist that always make sure that all of their creations are made and delivered to you with quality and care. Justin Seah gave this feedback on the company's official Facebook account:
"Product – the flower dome was what I expected it to be. Beautiful and very well designed. I purchased the large white rose, and boy, was the white stunningly clean and gorgeous. No blemishes on it whatsoever.
Service – Very good especially after sales. Owner came down to swap the glass dome for me as I didn't like the first one. No complaints.
The owner was quick to respond and showed patience in answering all queries."
 9. Outerbloom Florist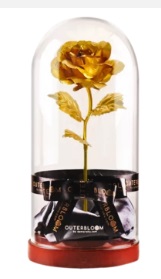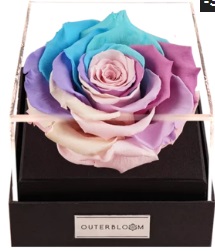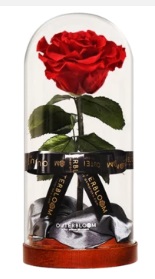 Outerbloom proves that forever does exist through their wonderfully made preserved flowers. These long-lasting flowers are guaranteed to be always in premium quality, as well as their collection of fresh blooms which are perfect for all kinds of occasions.
The shop is also known for their reliable delivery system that caters the entire country of Singapore. So, wherever you are in the area, for as long as you need a shop that could provide you with all your flower needs, Outerbloom is always more than willing to help.
They also offer same day delivery services for those who do not have the luxury of time to place their orders ahead of time. You can avail this service for as long as you order no later than 3PM.
If you're wondering where to buy preserved flowers in Singapore with unique casing and decor, this would be it. 
Service Highlights
Reliable delivery

Long-lasting flowers

Flowers for all occasions
Customer Reviews
The shop is applauded for their great customer service and easy-to-order features. Grace Natalia left this 5-star rating on Google Reviews:
"Seamless purchase, Very attentive and professional customer service, Beautiful and functional website. They offer fresh, artificial, and preserved flowers and can deliver all over Indonesia. Definitely my go-to florist!!! <3"
For those who want to give their loved ones a gift that will last forever,  preserved flowers in Singapore with same day delivery is always a good idea. 
10. Dawn Q
Dawn Q is a floral design boutique locally based in Singapore that specializes in bespoke flowers. The business has opened its doors to the public in 2014 aim of providing premium quality of flower arrangements and excellent services in event styling.
The shop showcases plenty of flower collections in different arrangements and style, of which includes fresh blooms, dried flowers, sympathy flower stands, etc. They have also unleashed their creativity by crafting dainty jars which mainly include dried flowers and flower boxes which may include both dried or fresh blooms.
The shop also holds floral workshop so you could also get a chance to arrange and design one yourself with the guidance of their best florists and designers.
Service Highlights
Available wedding florals

Floral workshops

Elegant floral designs

Free delivery
Customer Reviews
Dawn Q has received great feedback from their previous clients highlighting their excellent service in assisting their clients in choosing the perfect set of flowers for their respective events. Many of their clients who are preparing for a wedding are very satisfied with their job. Here are some of the positive reviews that they got from Google Reviews.
"Dawn has an excellent eye for complementing flowers and colours. She makes it a point to provide insightful information on how to create aesthetically pleasing combinations within the constraints provided (my fiancée prefers more green and less flowers for our wedding). I am extremely satisfied with her expert service, and I'd highly recommend her for your floral needs :)"
"'It's a really beautiful & calming space. The owner is nice and very helpful, you can discuss what type of flowers you need. Just give her a budget and she can pull something together really quickly. I like that the fresh bouquets carry an air of sophistication, and the combi of colours/textures is very unique. I also bought some dried flowers for my room – it looks really great! 🙂 Would come back for more soon!"
11. Gerbil's Garden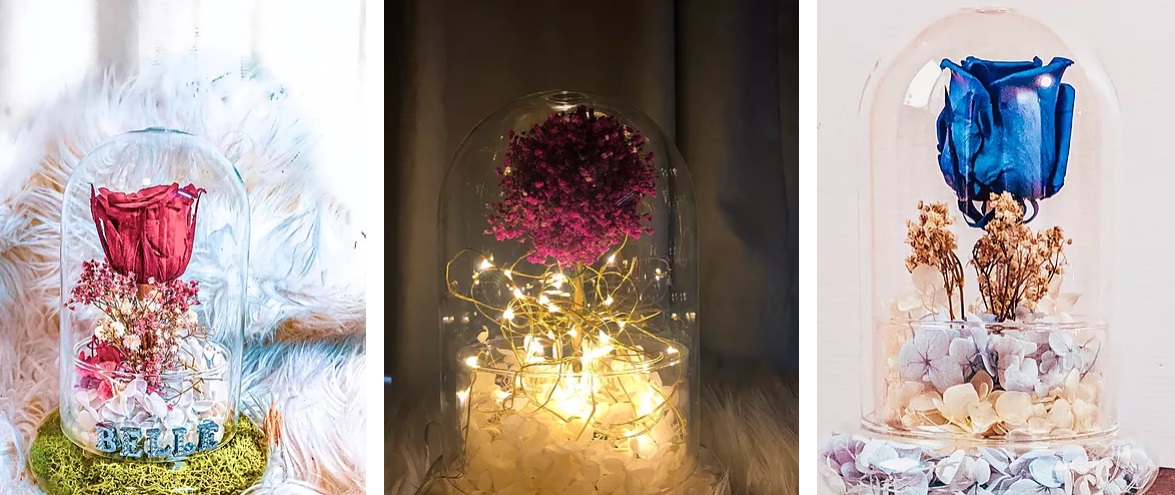 Strange & Deranged is the shop's motto and everyday they make this possible and true by offering their clients with the most stunning and never-before-seen floral arrangements, particularly bouquets, that will totally make your hearts melt. 
Their online shop is your one-stop shop when it comes to exquisite floral designs. They have a wide range of selection like fresh bloom bouquets, elegant vase arrangements, preserved flowers, etc. They also extend their service by decorating event setups, most particularly weddings.
With Gerbil's Garden's team, you are guaranteed to have the most beautiful wedding of the century.
Service Highlights
Wide range of choices for event setup

Reliable floral subscription

Trusted brand collaborations
Customer Reviews
The shop is most applauded for their elegant collection of preserved flowers and their very prompt and reliable delivery. Here's a review that their previous client left on their testimonials page.
"Requested for a specific and limited flower, and they got it for me within a few hours. Delivery was fast and flowers received are more than gorgeous! Experienced an amazing and personalised service. Looking forward to deal with you again. Never been happier with a seller. Thank you!"
12. BLANC ARTISAN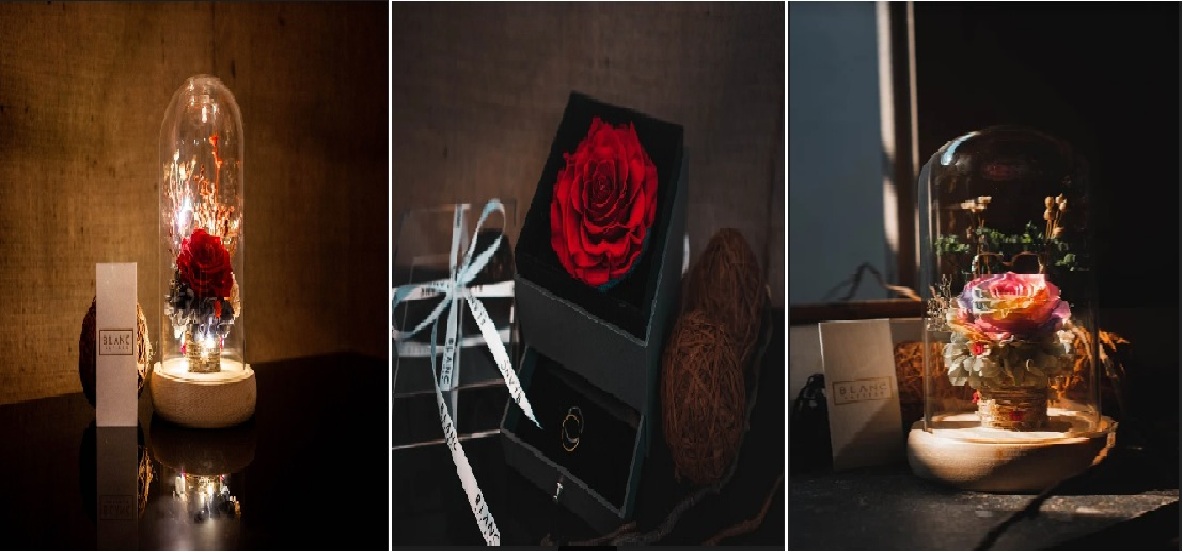 BEST FOR

Elegant design

PRICING

WEBSITE

ADDRESS

Wellington Cir, Singapore 751510

CONTACT DETAILS

+65 8580 9956

OPERATING HOURS

Open 24 hours

 
Blanc Artisan provides flowers for different occasions or events. They have bouquets and other floral arrangements which you may buy for your loved ones.
Aside from fresh flowers, the studio is well-known for its preserved blooms. As a matter of fact, they are considered as one of the top preserved flower designers in Singapore. That being said, you will not go wrong with choosing Blanc Artisan. 
What makes this a good choice is that they offer flower delivery all over Singapore. Furthermore, the shop is open 24 hours a day. So, you can visit the shop anytime you want. 
Service Highlights
Top notch preserved flower design

Provides flower delivery

Open 24 hours
Customer Reviews
Nothing needs to be said with how Blanc Artisan decorates their preserved flowers. Well, it is evident on the reviews the shop is garnering, like this one
"I found this florist on carousell and I bought their preserved rose glass dome. The dome is absolutely stunning, it came with a nicely wrapped gift box, even batteries are included." – Imma Gerico Garcia
Images are taken from each company's official websites/social media.
13. DAISIES FIELD
At Daisies Field, the first online and retail store of preserved flowers in Singapore, you will find the classy and bespoke preserved flower art pieces made to last longer than fresh cut flowers. The Japan-imported preserved flowers are able to last for about a year with little maintenance required.
All art pieces are curated by certified preserved flower artisan who would be able to customise for your special occasions and interior deco. For those who are interested to learn, individual and corporate workshops are available too.
Service Highlights
Bespoke elegant preserved flower art pieces from bouquet to dome.
First in providing individual and corporate workshops as well as certified preserved flowers diploma course from Japan
Preserved flower materials supplier for students to DIY their own flower art pieces
14. SJO FLORA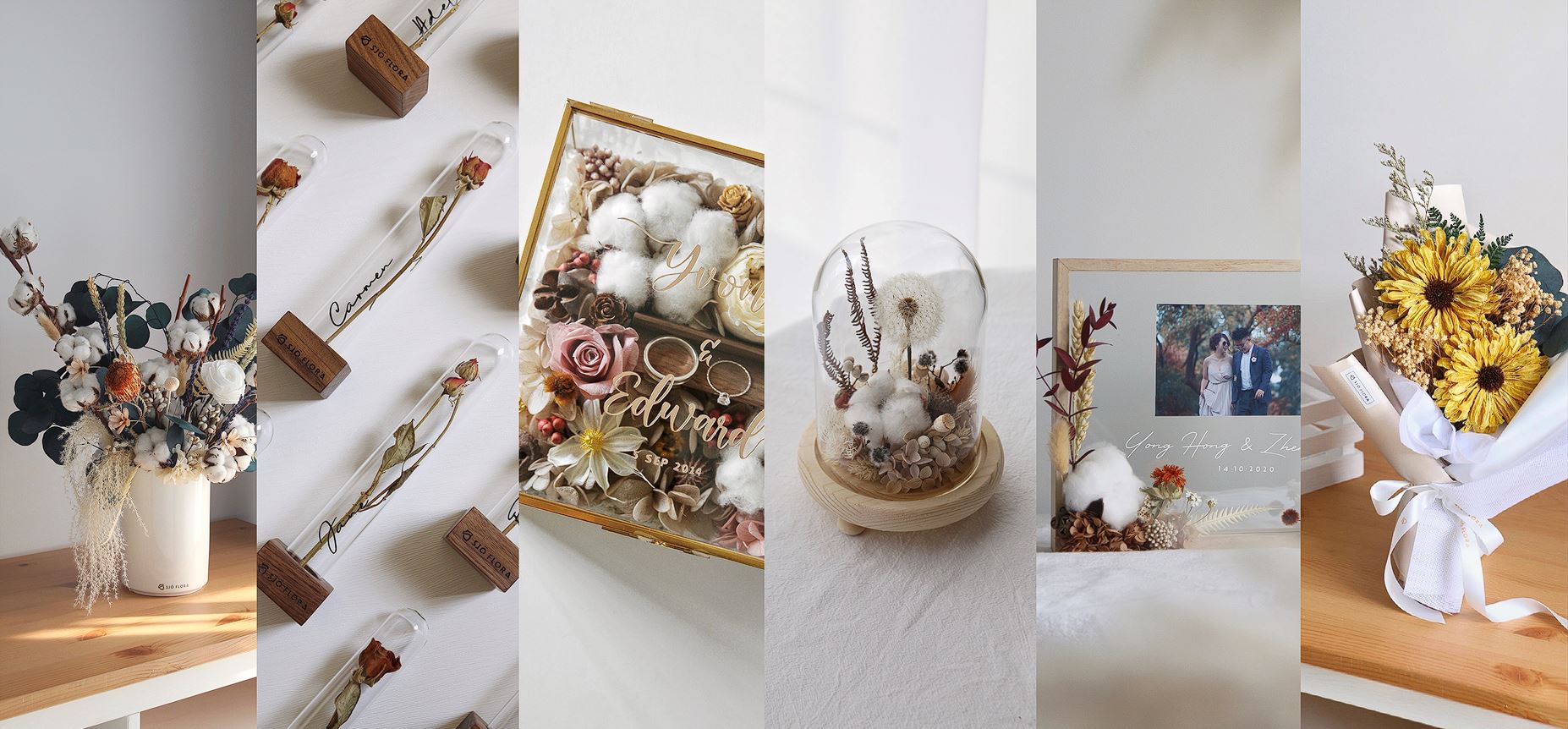 | | |
| --- | --- |
| BEST FOR | Personalised preserved and dried flowers arrangement beyond bouquets and vases |
| WEBSITE | https://www.sjoflora.com/ |
| ADDRESS | Home Studio at Serangoon |
| CONTACT DETAILS | [email protected] |
| OPERATING HOURS | Sunday – Friday 9am – 6pm |
With the love of nature, minimalism and Iceland, SJÖ Flora intentionally creates preserved and dried flower arrangements that make you happy.
Hence, their product range has moved beyond bouquets, vases and flower stands to jewellery boxes, frames and mirrors. All their flower products are meticulously produced and require highly skilled craftsmanship.
They put lots of time and effort into crafting it for you because we know it will definitely be worth it.
SJÖ Flora understands that it is the thoughtfulness and effort behind each gift that counts. Every gift is a visual representation of love and is treasured greatly.
The shop's range has moved beyond preserved flower bell jars to terrariums, bouquets, and keychains. They also explore using dried flowers and fresh flowers in SJÖ products to cover all your occasions such as birthdays, anniversaries, weddings, valentine's day, mother's day, graduations and more.
Service Highlights
You'll be able to personalise most of our products including bouquets with your or receivers' name and/or a short quote
Provide same-day, next-day and free standard delivery
Minimalism style that suits any occasion
LGBTQIA friendly
15. First Sight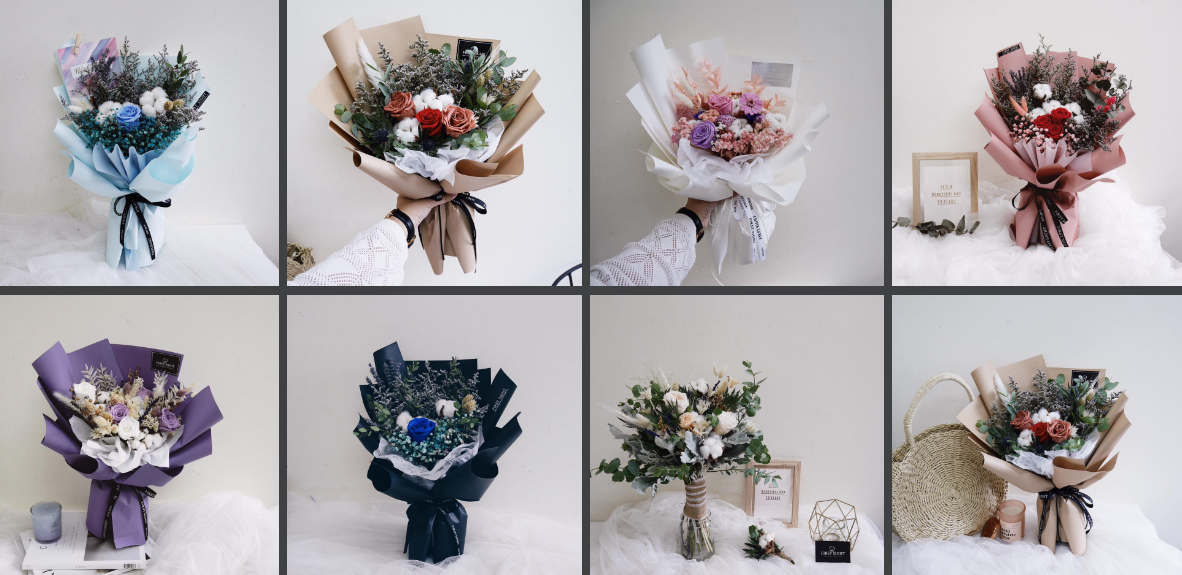 First Sight is an online floral boutique that offers exquisite and unique preserved flower arrangements for your loved ones. Not only that, but they offer the freshest and finest blooms and flowers as well. 
You can choose among their collections and order from their site. This was founded because of the belief that flowers can portray and convey emotions or feelings. 
The owners of First Sight travelled to South Korea to learn and master the art of arranging flowers. And this journey was not put to waste as now, they are considered as one of the best flower studios in the area.
Note: Still delivering and even ran a promotion where they donated a meal to someone needy for every bouquet sold in April.
Service Highlights
Nationwide delivery
Wide range of flowers
Event services
Customer Reviews
Customers have praised the shop for its wonderfully curated preserved flower arrangements. One customer shares:
Bought a bouquet of Everlasting Love (preserved hydrangeas) for my fiancée's birthday. The flower arrangement was lovely and the handwritten birthday card was a nice surprise!
Seller's response was prompt and she even accommodated to my last minute change of delivery timing on a weekend.
16. The Wallflower Bud

For simple yet tasteful flower arrangements, a shop that we highly recommend is The Wallflower Bud.
The Wallflower Bud specialises in both fresh and dried flower pieces, with the shop's expert designers taking inspiration from the act of picking flowers through fields.
Customers will find that pieces from The Wallflower Bud typically showcase the flower's beauty and makes use of quality materials that ensure the longevity of the arrangements without taking away the attention from the flowers.
Aside from bouquets, vases, and flower baskets, The Wallflower Bud also offers customised pieces as well.
Clients are invited to book consultations with The Wallflower Bud team wherein the designers can learn more about the type of flowers the client prefers, colour theme, size and budget.
Another noteworthy offering of The Wallflower Bud are flower workshops. Here, the people of Singapore can try their hand at floristry, making use of either fresh or dried flower arrangements to create flower boxes, flower jars, wreaths, bouquets, or flower vases. 
Service Highlights
Offers bespoke flower arrangements
Flower workshops available
Does not deliver on Mondays
Accepts credit cards and debit cards for payment