14 Best Grand Opening Flower Stands in Singapore (2021)
Having a business launch or a similar event? If so, you'll need the best grand opening flowers in Singapore to add a touch of flamboyance to the occasion! Fortunately for you, we're here today to talk about the best places to get such flower stands in Singapore.
We took a look at the florists on the island and selected all of those with extensive experience providing grand opening flowers. After that, we checked user reviews as well as their services to see which ones offered the best deals and products.
At the end of it, we came up with the following florists. Here are your top options now if you want the best grand opening flowers in Singapore:
1. A Better Florist

| | |
| --- | --- |
| BEST FOR  | Compelling and elegant styles, convenient and efficient delivery services |
| PRICING | Rates |
| WEBSITE | https://www.abetterflorist.com/ |
| ADDRESS | 12 Dunlop St, Singapore 209342 |
| CONTACT DETAILS | +65 3163 1525 |
| OPERATING HOURS | Open 24 hours |
A Better Florist is the perfect choice for those who want to send congratulatory flower stands in Singapore with a compelling balance of stylish and elegant designs.
The choice of colours, flowers, and additional decorations are carefully created to match the event. Their delivery services are quite accessible as well and run island-wide, to clients' delight.
This is probably the best florist if you want arrangements sent quickly and reliably for grand launches or events. They're especially well-known for their customer service, for one thing, as well as the fact that they're reachable at all hours of the day.
Service Highlights
Free delivery
24/7 customer service
Same-day delivery
Customer Reviews
A Better Florist lets their products be purchased and received anytime and anywhere, which is the reason many customers have praised them. Chris Mercado wrote this positive review on Google Reviews:
"A lovely flower arrangement is always a given with A Better Florist; but what's also impressive is their very responsive and accommodating customer service. Can't thank them enough for facilitating my last minute requests and changes for my recent order (delivery in Bangkok while I am overseas). Keep up the good work!"
2. Little Red Dot Florist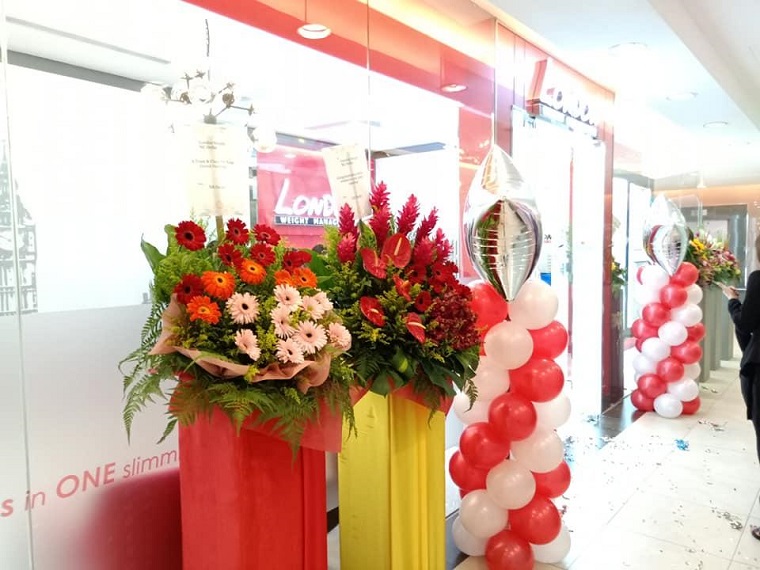 | | |
| --- | --- |
| BEST FOR  | Simple yet sophisticated grand opening flowers |
| PRICING | Rates |
| WEBSITE | https://www.littlereddotflorist.sg/ |
| ADDRESS | 23 New Industrial Rd, #02-06 Solstice Business Centre, Singapore 536209 |
| CONTACT DETAILS | +65 9367 3118 |
| OPERATING HOURS | Daily, 9am–5pm |
Regardless of the type of event, Little Red Dot Florist has all the options you need. They have colourful and gorgeous flowers that include lilies, roses, and many more.
When it comes to their opening ceremony flowers in Singapore, you can either choose a wooden or a metal base and it will be covered with a fabric that will match the colour of the flowers and theme of the event.
They also offer customisation of grand opening flowers in Singapore if you have an idea  of how the overall arrangement should be. Just visit their office to discuss your suggestions and collaborate with them.
Service Highlights
Floral workshops
Corporate floral consultancy
Event styling
Customer Reviews
Little Red Dot Florist caters to all kinds of occasions and they can also accommodate your detailed and personal requests with regard to the choice of flower, design, and other essentials.
A former customer was very impressed with their responsive and fast delivery and left this feedback on the official Facebook account:
"Thank u so much for providing excellent service even in the last minute. Actually, I was worried that I made order very last minute, late night & want it to deliver early next day, no florists be available to do that. However, you did it with excellency and I really appreciate it. Wish you more success and will order again from you."
3. Hilton Gifts
BEST FOR 
Grand and decorative flower arrangements
PRICING
Rates
WEBSITE
https://hilton-gifts.com/
ADDRESS
7030 Ang Mo Kio Ave 5, #05-55 North Star @ AMK, Singapore 569880
CONTACT DETAILS
(+65)   6382 3771
OPERATING HOURS
Weekdays, 9am–6pm

 

Saturday – 9am–2pm
At Hilton Gifts, you will be able to see a variety of options in their grand opening flower stands in Singapore. Most of their products are decorated with stylish designs and are arranged with special add-ons such as balloons, banners, and ribbons.
Their vibrant and cheerful designs can fit the bill if you need flowers that speak strongly of optimism. Despite the fancy arrangements, they are still offered at a reasonable price too, so they might be the best choice for those who want to send grand opening flower stands in sg. 
Service Highlights
Creative designs
Special promotions
Affordable rates
Customer Reviews
Hilton Gifts has always been consistent in giving their customers satisfying service and high-quality products. A reviewer recommended them and gave this feedback on their official website:
"I would like to commend on the excellent and customized service that I have received from your wonderful and proactive staff.
It is the first time ordering from Hilton Gifts Collection and the response  was prompt and personalized and was able to accede to my request(s) like:
1)  Personalising and printing the Congratulatory message for our client.
2)  Timely updates on the status of the order and ensuring that what was delivered is as per what was shown on Hilton Gifts Collection's website. 
And I would say that our order really stands out . It looked really grand and very presentable.I will definitely be ordering from Hilton Gifts Collection again for any future occasions."
4. Prince's Flower Shop


| | |
| --- | --- |
| BEST FOR  | Classic floral arrangements |
| PRICING | Rates |
| WEBSITE | https://prince.com.sg/ |
| ADDRESS | 53 Sungei Tengah Road, Singapore 698998. |
| CONTACT DETAILS | 6766 7000 |
| OPERATING HOURS | Monday to Saturday – 8:30am–5:30pm |
Prince's Flower Shop provides bouquets and stands in their section for grand opening flower stands in Singapore. Most of their arrangements are also sophisticated, which is perfect for exclusive, private, and first-class events.
For the stands, you can include the logo of the company or your personal messages. They also have a grandstand, which is a little bit wider compared to the usual flower stand.
Every option is exceptional, so take your time to choose the most appropriate one for the event.
Service Highlights
Shuttle delivery
Reasonable prices for as low as $48
24/7 customer support
Customer Reviews
For over 50 years, Prince's Flower Shop has been creating well-curated flower arrangements for different types of events and purposes. This has made them one of the longest-running flower shops in Singapore.
A former customer wrote this on Google Reviews:
"I have never heard of this florist but chanced upon them online and decided to try them out by placing three orders with them at one go. They rose to the occasion with aplomb. The first order of a wreath was magnificently done. The second order of a bouquet of 50 stalks of tulips was so splendid that the recipient's Husband labelled the bouquet as " spoil market". The third order of a bouquet of purple roses was sweet and delighted the birthday gal. I like the selection of the flowers and the colours that they use. Will definitely engage the service of Prince's Flower Shop in the near future again." 
5. That Flower Shop

| | |
| --- | --- |
| BEST FOR  | Premium grand opening flowers |
| PRICING | Rates |
| WEBSITE | https://thatflowershop.co/ |
| ADDRESS | 82 Telok Blangah Dr, Singapore 100082 |
| CONTACT DETAILS | +6569887427 |
That Flower Shop offers a broad range of selections that range from the most basic up to the fanciest flower stands for grand openings in Singapore. Aside from the designs, their prices are also flexible, so you can choose which one is suitable for your current budget.
They serve their congratulatory flowers with bouquets, baskets, and stands. You can choose the flowers, colours, sizes, and arrangements.
On top of it, you can also add your sincere and heartfelt messages to express your feelings and thoughts.
Service Highlights
Ribbon cutting ceremony supplies
Table flower basket arrangement for the official opening
Personalised messages
6. Star Florist

BEST FOR 
Corporate grand opening stands
PRICING
Rates
WEBSITE
http://www.starflorist.com.sg/
ADDRESS
11 Woodlands Close #07-30 Woodlands 11 (1,477.59 mi)

 

Singapore 737853

CONTACT DETAILS
+65 6734 3313
OPERATING HOURS
Daily, 9:00 AM – 6:00 PM
Whether it is for personal or business purposes, Star Florist offers a wide range of opening stands. No matter how big or small the launch is, their congratulatory flower stands will surely lighten up the mood and create a very pleasant vibe within the venue.
They also have their own selections for corporate events, which is convenient since the choices are already presented to you and you don't have to wonder which one is more suitable and formal.
For their ease of ordering and quick service, they are considered one of the best grand opening flowers in Singapore. 
Service Highlights
Affordable prices
Wedding store
Free delivery
Customer Reviews
Star Florist has been receiving praise from their customers for years because of their excellent staff service. A reviewer left this feedback on Google Reviews, to illustrate:
"Go set the wreath this morning. This flower shop staff is very helpful. Try to give my needs. Delivery is fast. Goods look beautiful than imagined. Very satisfied with this flower shop to buy flowers"
7. SMILE FLORAL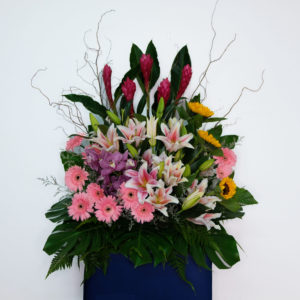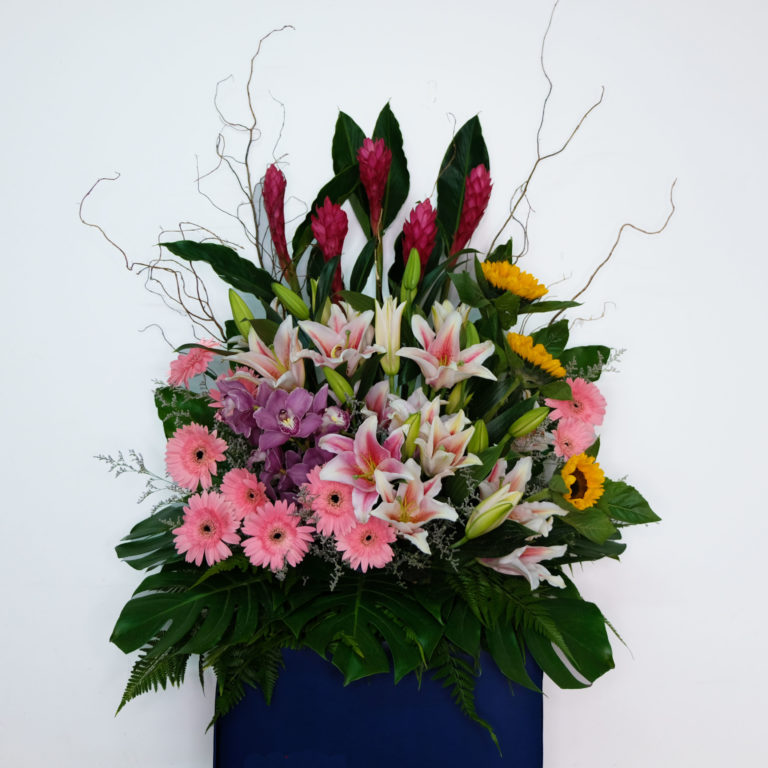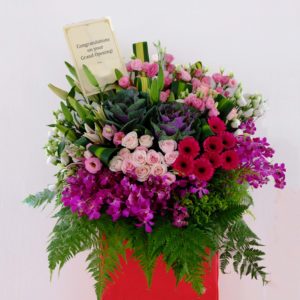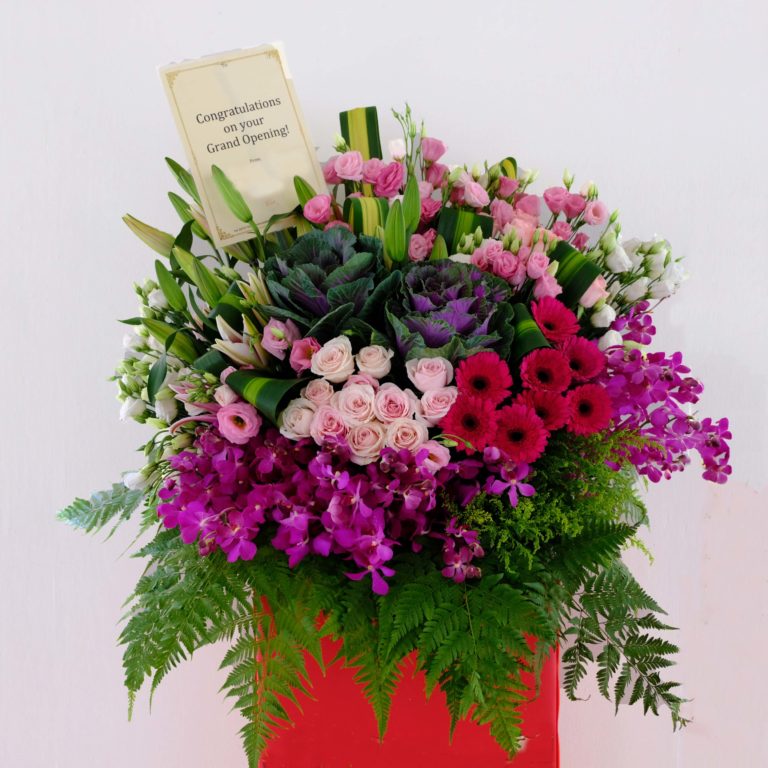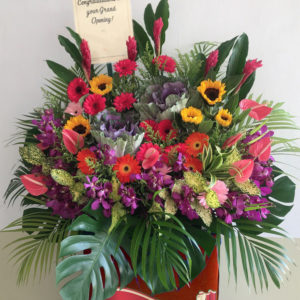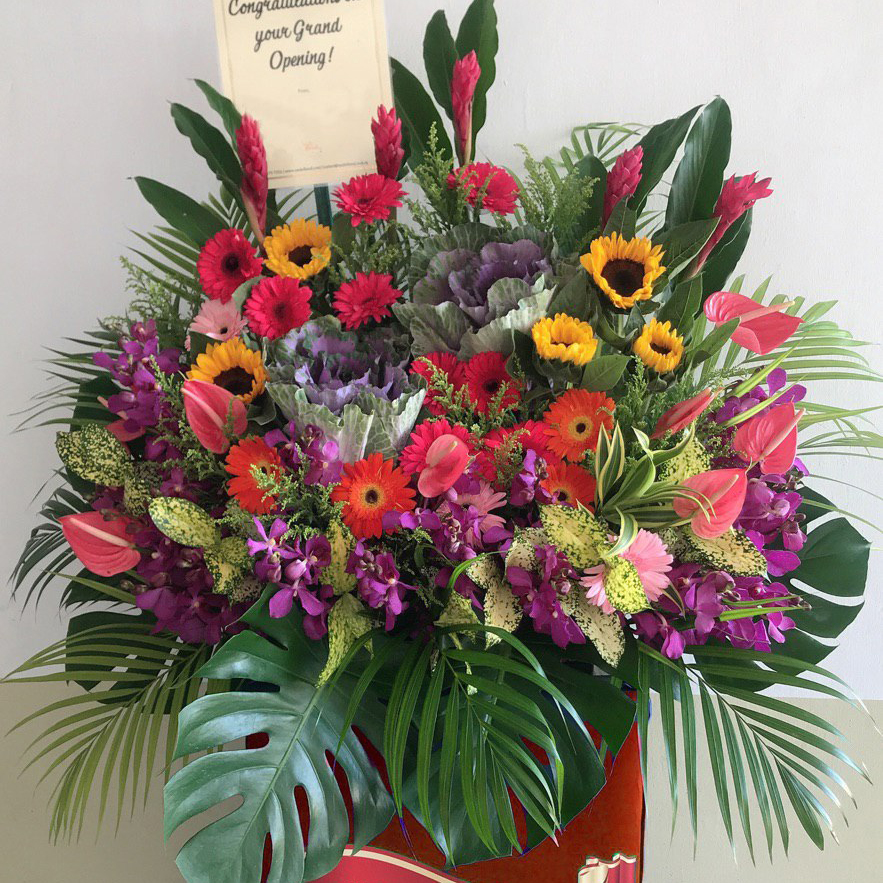 Smile Floral offers flower arrangement customisations, including unique grand opening flower stands in Singapore.  They let their customers dictate what they want to best create the flower arrangements that would lead to customer satisfaction. 
The flowers here are affordable, convenient, and beautiful! They're also dedicated to ensuring quality, which is why they've been in business for so many years.
Moreover, speciality flowers are also available in their shop. You can get everything from them, from birthday flowers up to funeral flowers. 
Service Highlights
Customised design of flower arrangement

Elegant bouquets

Large selection of flower design
Customer Reviews
Smile Floral receives a lot of praise from their local customers thanks to the quality of their services and products. You could check out the review page in Google Maps or just read the feedback below:
"Very satisfactory customer services and flowers were delivered on time, very beautiful as well!"
"Customized bouquet for graduation is good, easy collection and reasonable price, will buy again"
8. SG Petals

BEST FOR

Handcrafted flower arrangements

PRODUCTS

Flower arrangements & Fruit Baskets

WEBSITE

https://petals.com.sg/

ADDRESS

63 Hillview Avenue

 

#01-09 Lam Soon Industrial Building

Singapore 669569

CONTACT DETAILS

+6563668000

OPERATING HOURS

Schedule
SG Petals has three retail shops across Singapore now. They started as a small shop in Bukit Timah Plaza and have since become one of the most respectable flower shops in Singapore. 
Aside from fresh flowers, plants, artificial flowers, and other gift ideas are also available in this shop. They make speciality flowers for every occasion. 
SG Petals has an extensive flower design catalogue fit for different occasions and for every budget, including grand opening flower stands in Singapore. They accept major credit cards too.
Service Highlights
Beautiful flowers

Fresh fruit baskets

Speciality celebration flowers
Customer Reviews
SG Petals makes every occasion memorable and special, say their customers. Here's what one previous customer experienced from SG Petals 
"I am truly glad that this flower shop exist in Hillion mall. Bought a bouquet of flowers for my wife's bday. The shop assistant is very sincere and helpful!"
9. Outerbloom Florist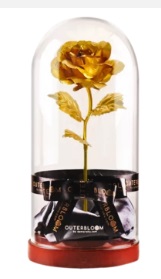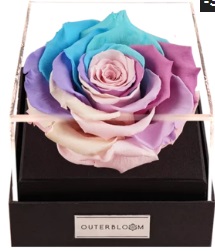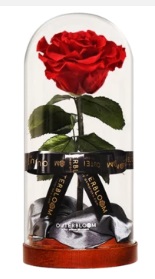 Outerbloom proves that forever does exist through their wonderfully made preserved flowers. These long-lasting flowers are guaranteed to be always in premium quality, and the same is true of their collection of fresh blooms, which are perfect for all kinds of occasions.
The shop is also known for their reliable delivery system, which caters the entire country of Singapore. So, wherever you are in the area, for as long as you need a shop that can provide you with all your flower needs, Outerbloom is always more than willing to help.
They also offer same-day delivery services for those who do not have the luxury of time to place their orders in advance. You can avail of this service for as long as you order no later than 3PM.
Service Highlights
Reliable delivery

Long-lasting flowers

Flowers for all occasions
Customer Reviews
The shop is applauded for their great customer service and the ease with which clients can place orders with them. Grace Natalia left this 5-star rating on Google Reviews:
"Seamless purchase, Very attentive and professional customer service, Beautiful and functional website. They offer fresh, artificial, and preserved flowers and can deliver all over Indonesia. Definitely my go-to florist!!! <3"
10. Floral Singapore


BEST FOR

Customisable grand opening flower stands

PRODUCTS

Fresh flowers, gifts, hampers, and wedding floral decorations

WEBSITE

https://floralsingapore.com

 

 

FB: FloralSingapore.com

IG: floral_Singapore

ADDRESS
2 SIMS CLOSE, [email protected], #02-12, SINGAPORE-387298
CONTACT DETAILS

+65 6741 3088

OPERATING HOURS

MON-FRI 9 AM-5 PM

 

SAT 9 AM-3 PM
When it comes to flowers for Grand Opening, it's a given that they should always be eye-catching. After all, it's the first thing the guests would see upon entering the venue. The quality of the flowers you present will influence what they'll expect of the event. 
So, for fool-proof flower stands, trust Floral Singapore to whip out the most stunning ones that will capture), which is a big plus.
Service Highlights
Beautifully wrapped hand bouquets

Extravagant grand opening flower stands
24/7 customer service
Customer Reviews
Prompt delivery and beautiful flower arrangements are the reasons Floral Singapore is one of the best florists on the island. If you don't want to take our word for it then let this review change your mind.
"Really happy for choosing these florists, Eddie & Melody, as they are very efficient and would go the extra mile for you. I was just thinking of buying flowers that morning with a little customization from what they actually had and they did an excellent job!!! Thank you guys! You are awesome!"
11. Craftway Floral

Craftway Floral is one of the longest-standing flower providers in Singapore, having been established in the 1990s. It offers a wide range of flower arrangements that vary in style, many types of flowers, and designs that they guarantee to all be stunning and in the highest quality. 
The shop prides itself in their highly skilled and talented florists, who always go the extra mile when providing services for their clients. Aside from designing arrangements, they also offer to deliver flowers, artificial plants, table arrangements for events, and even offer bridal car decorations anywhere in Singapore.
The shop always opens its doors for whoever needs their assistance in picking the best flowers for events. If you want to have a clearer idea of what kinds of arrangements they offer, you may always browse their collection through their online catalogue.
Service Highlights
Beautiful wedding decorations

Wide range of selection for flowers

Reliable same day delivery services
Customer Reviews
Craftway Floral is praised for their quick and reliable services, especially when delivering their clients' orders. Their wonderful customer service is also highly appreciated, especially by clients who needed assistance.
Here are some of the reviews that their clients left in Google Reviews:
"The reservation has been made from day to day, the chat is quick and there are many options for choosing bouquets. Thank you so much for the service!"
"A recommended destination to buy flowers in the area. This shop is surprisingly big and has all sorts of flowers available: fresh, dried, potted, artificial, with a large range of selections. Plus: reasonable pirce, tailored packages, friendly and helpful staffs."
12. Nicole's Flower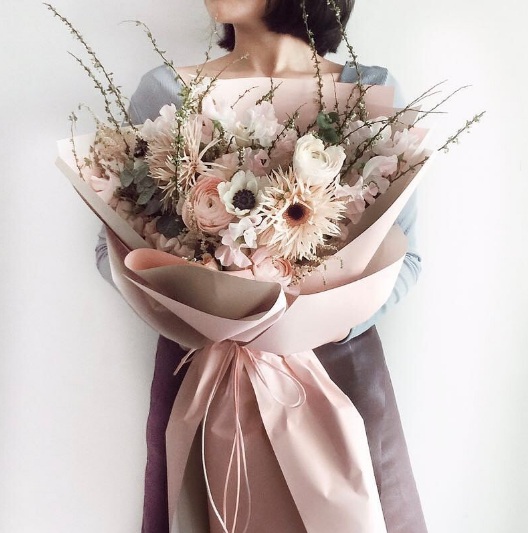 BEST FOR

Boutique-style flower stands 

PRODUCTS

Flowers for all occasions 

WEBSITE

https://www.nicolesflower.com/

 

ADDRESS

224 Telok Kurau Rd, #01-01, Singapore 423836

CONTACT DETAILS

+65 8338 8511

OPERATING HOURS

Weekends, 8 am – 9 pm

 

Tue to Fri, 9 am – 8 pm
Gorgeous flower stands that scream luxury. This is something you should definitely expect from Nicole's Flower.
All their creations are downright stunning, but their Grand Opening collection is by far their most elegant catalogue. This is the shop we'd recommend if you want only the absolute best and are willing to pay for it — it's high-end, but high-in-flair too.
Service Highlights
Dramatic flower stands

Efficient delivery service

Expert flower designs
Customer Reviews
Nicole's Flower is one of the most popular flower delivery service providers in Singapore, so it's no wonder there are tons of reviews for their company online. Most are overwhelmingly positive, like the one below:
"I engaged Nicole's flower as my wedding florist! They use their professionalism, perfect sense of beauty."
13. FLOWERS IN MIND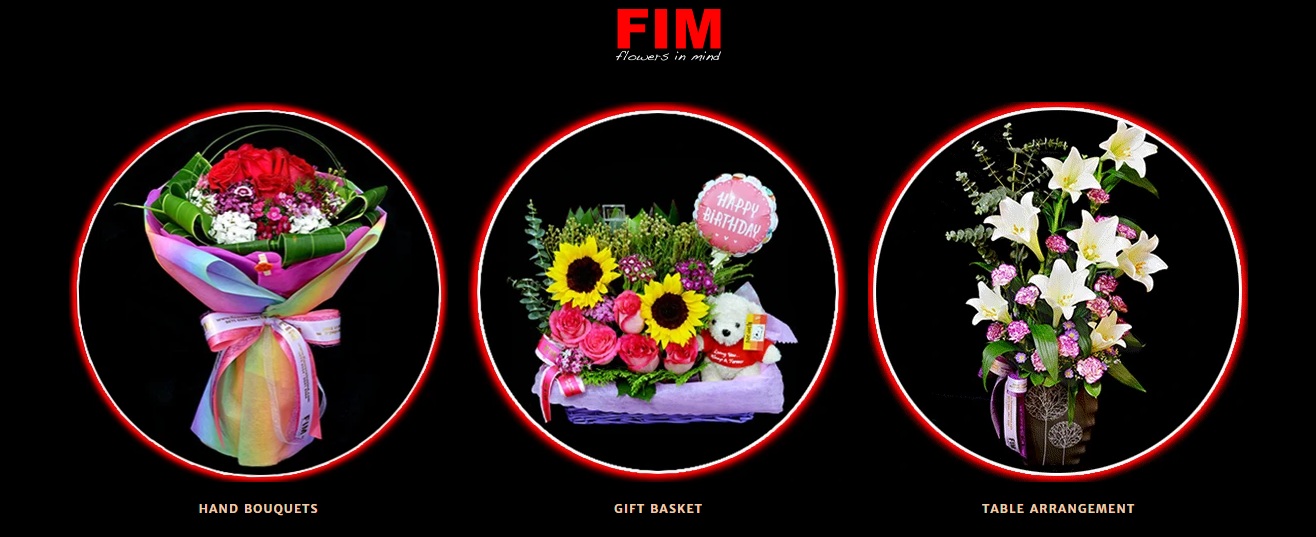 If you are looking for affordable but still quality grand opening flowers, then Flowers in Mind is the one for you! They make sure that they use fresh flowers and they offer a variety of designs that will surely suit your taste.
They also have a knowledgeable floral designer to ensure that the flowers you receive are beautiful and perfect for the occasion.
Highlights
Flowers are always fresh

Offers next day free delivery in Singapore

Offers midnight flowers delivery
Customer Reviews
With their reliable and professional team, customers are happy with the prompt response to their questions and requests. They make sure that their customers are happy with their selection and delivers their products promptly. Here are some reviews left by customers of Flowers in Mind:
"Flowers In Mind Team was very responsive to my inquiries and selection; sending over photos of card layout and overall hamper. Pricings were quite reasonable and tracking service provided. Will consider them the next time if there's event of my company and even my personal." – Stella A.
"Reliable, prompt delivery, good service and responsive to every request. Highly recommended  ?" – Zack C.
14. FLOWERS CHIMP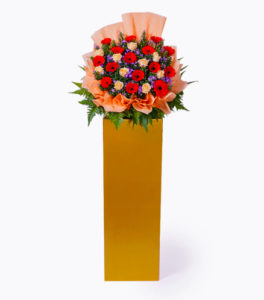 As one of the top rated florists in Singapore, Flower Chimp is one of your best bets for your floral needs! 
If you want to show your support and send someone your congratulations for their grand opening, Flower Chimp has the perfect flower stands for the occasion. 
What makes Flower Chimp a great option for you is that they have a same-day delivery option as long as you order by 2PM. So, if you forgot to order flowers prior to the day of the event, you still have some time to place an order. 
They guarantee the freshest blooms with superior quality that last for at least a week, and with this, we think that they're a safe and sure choice for you. 
Highlights
High quality flowers
Flowers stay fresh for at least a week
Same day and nationwide delivery 
Customer Reviews
"Very good prices, easy-to-use website, good choice of flowers and good quality. Very happy with first purchase years ago and have been buying from Flower Chimp only ever since."
"Both received and also sent flowers from this florist. Prices comes in a huge range. Both bouquets are really pretty. And the people receiving it loves it too."
And with that, we have our top choices for where to get the best grand opening flowers in Singapore!
All of these florists offer more than grand opening flowers, of course. Should you need sprays for other occasions, say Valentine's, you can also head to them for your needs.
If you need florists that do flower delivery in particular, though, you may want to look at our list of the best flower delivery services in Singapore. That way, you won't have to go through the trouble of picking up your bouquet!
---
*Images are taken from each company's official websites/social media.