Top 16 Ideas for the Best Baby Gifts in Singapore
Searching for that perfect gift to bring for a baby shower or a baby's birthday celebration can be quite hard. We've got your back, though, as we've gatheredall the greatest shops that offer the best baby gifts in Singapore!
When we go on a shopping spree, there's a lot of options to choose from, right? This is why you need to look for certain places that specialise in creating the ideas for baby gifts in Singapore, including newborn baby gift!
See our list below to find out which one has the most attractive yet affordable gift sets!
1. Hey Momo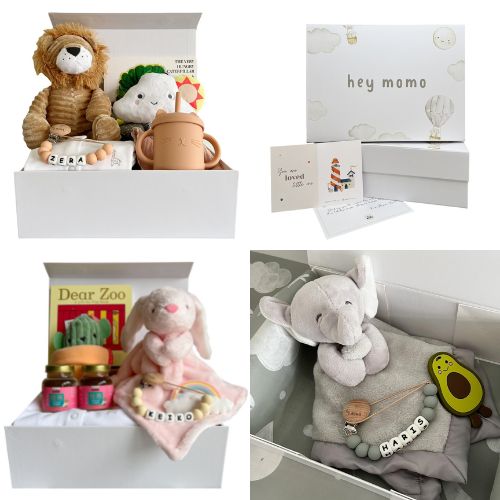 Looking for a unique and affordable baby gift set? Hey Momo offers a wide range of stylish baby gift sets and it starts from as low as $30!
Unlike other shops, their signature range of Scandinavian-inspired products has everything you need to make picking the perfect present that much easier. You will find baby essentials designed to soothe little bubs – from personalized pacifier clips to teethers and wooden toys.
We think they are great because the design of their items is very minimalistic and pleasing to the eyes. 
You will absolutely love the way the gift sets arrive – beautifully packaged and eco-friendly with no unnecessary plastic!
Highlights
Personalized baby gift sets
Stylish and affordable
Free and fast delivery within 3 days for all orders within Singapore
2. Kaiby Box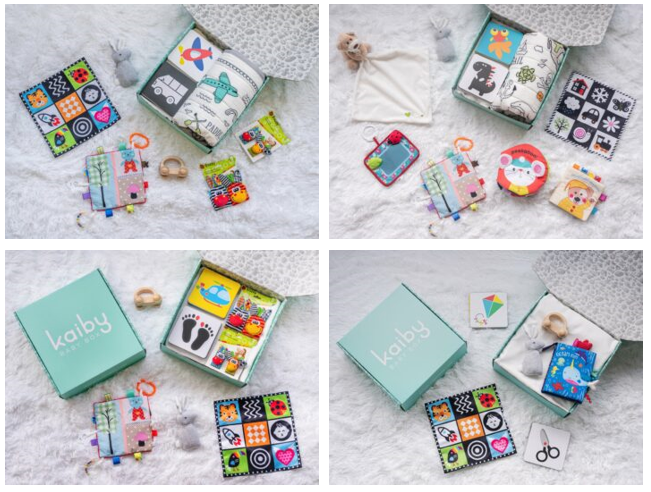 BEST FOR 
Newborn, Baby Shower, 100 Days Celebration, and Baby's First Birthday Hampers
PRICING
Prices
WEBSITE
https://www.kaibybox.com/
CONTACT DETAILS
Tel: +65 8874 3740
WhatsApp: +65 8874 3740
Email:

[email protected]

OPERATING HOURS
Contact for more information
Kaiby Box is one of the most affordable shops that offer boxfuls of curated toys that can help new parents in starting their baby's learning journey.
Unlike others, their starting price is from SGD 34 only! You will have the chance to choose different kinds of hampers you want from their medium-sized selection. 
Their hampers are named based on the items inside. Some examples of these are:
Gym – To train your little one's muscles
Discoverer – To introduce them to the wonders of the world
Traveller – To make them feel like they are travelling across the globe
In comparison to other shops,  they have a popular demand, thus, their products are sold out easily. For orders in Singapore, they do free delivery and for international orders, they only process orders if they are above $100.
Highlights
Wide range of products
Unique items per hamper
Customer Reviews
A lot of customershave rated them 5-stars on their Facebook page and here are some of the reviews:
"Just ordered a box for my friend who is a mum to a newborn. Easy to navigate website with budget options too. Best would be free delivery islandwide in Singapore!"
"Smooth free transaction online. Item received in good condition. Bought this as a gift and quality is exquisite and the items were well thought. Well-liked by the parents. Highly recommended."
"Received this as a gift and the gifts are really useful for me. Bought it as a gift for a friend and it is really pretty and useful!"

| | |
| --- | --- |
| BEST FOR | Korean Skincare Gift for Pregnant Friends or New Moms |
| PRICING | Starts at $25 |
| WEBSITE |   |
| CONTACT DETAILS | [email protected] | Instagram.com/eunogoshop |
| OPERATING HOURS | 24/7 |
Baby's getting all the love, why not show mama some love as well? Sleepless nights tending to a new baby can take a toll on the mother's skin. Eunogo's carefully curated K-beauty treatments and products will make the best gifts for new mothers.
Know what they like? Pick from our range of skincare products, which are all safe for pregnancy and breastfeeding mothers, as well as babies' sensitive skin. Unsure of what to pick? Send her a gift card and she can pick her favourite beauty treatment or skincare product!
This unique and customised mother / baby gift idea will surely be appreciated.
Highlights
Dermatologist-tested skincare products that are safe for mother and baby
Authentic Korean skin treatments that rejuvenate the skin
4. Printcious

If you want a gift to celebrate the birth of a new life, Printcious might have what you're looking for. It's a printing shop that personalises any item that you can think of, from baby rompers down to coffee mugs.
Other people may consider personalised items a thing of the past, we think giving one is a sweet and sincere gesture. It's a common gift idea among older people, so surprising your friends that just had their little one with a personalised mug or shirt will definitely make them smile.
Printcious also offers personalised gift sets, which typically include a shirt, mug, mouse pads, and a set of pins. You can add other items to the set as well, like phone cases, keychains, cushions, puzzles, and even pillows.
Another reason to consider giving personalised gifts is their budget-friendly price. On top of that, Printcious rewards its customers with discounts as large as 80% off, proving that there's no need to spend hundreds of dollars for a gift.
Highlights
Custom-made gifts
Frequent promos and discounts
Responsive customer service
Customer Reviews
Here are some reviews from their previous customers:
"Good quality and nice printing"
"Love the quality and fast services"
"Super satisfied with the outcome"
5. Streaks n Strokes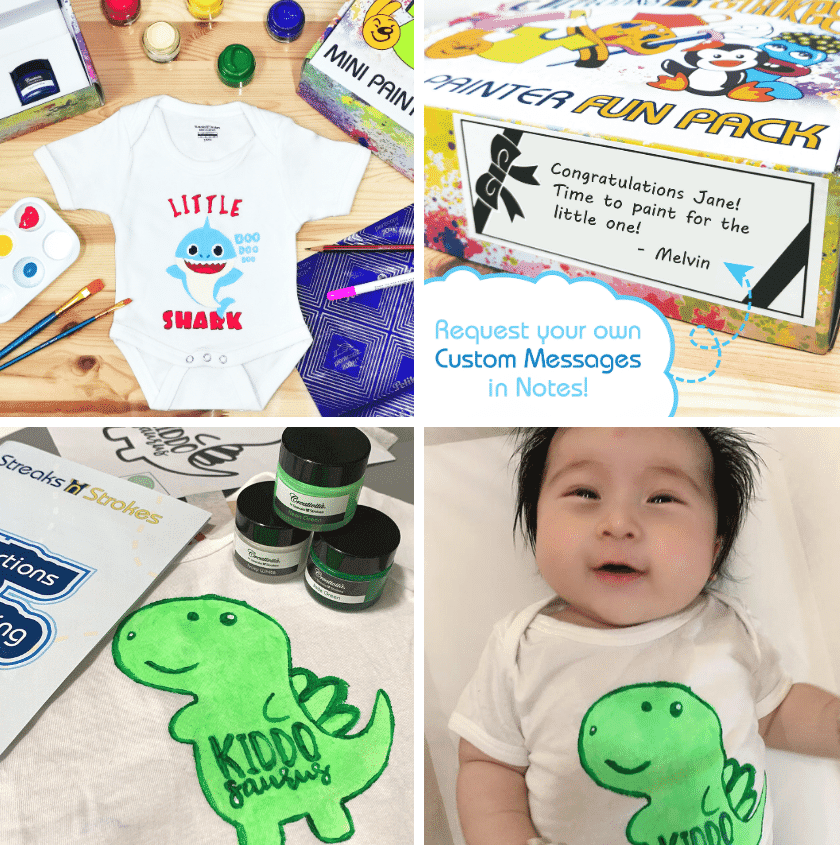 When it comes to baby gift sets in Singapore, there's nothing more cute and useful for a mum than a painted baby romper!
With Streaks n Strokes DIY Baby Romper Painting Gift Set, you have two options:
Paint the baby romper for the baby you are gifting.
Gift it to the baby's mum for her to paint the romper for her baby.
Each DIY set comes with premium quality, durable fabric paints, soft and comfy baby rompers, paintbrushes, an instruction booklet, and all other materials, even for complete newbies in painting to get started. 
Not sure what to paint? 
Five cute pre-printed designs are also included in the gift set, so mums can trace the design before painting for their babies! The baby romper gift set will come with a vibrant gift box too. 
We absolutely love that this is not just a brilliant idea for personalised baby gifts in Singapore but it also practices creativity!
Note: Free standard delivery within 2 to 3 working days is included for all baby gift set orders and you can top up $2 for their gift wrapping service too.
Highlights
Paintable baby rompers
Vibrant gift boxes
Customer Reviews
It is clear from their numerous 5 Star Facebook reviews and amazing customer photos that their customers love their DIY painting gift sets. They have also been featured on various media outlets like The Smart Local.
6. A Better Florist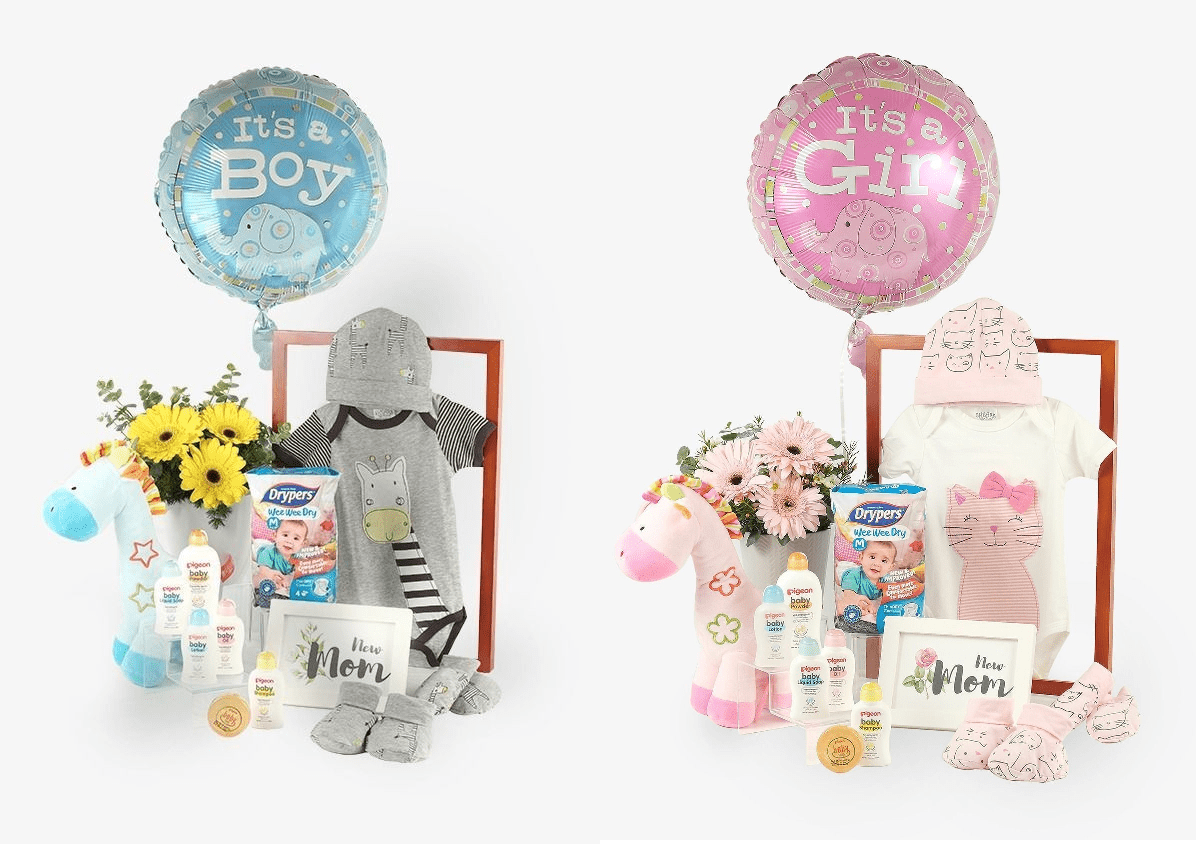 Besides curating the freshest and most aesthetic floral arrangements, A Better Florist also offers charming and admirable baby hampers: the perfect idea for a baby gift set in Singapore. 
Each baby gift set hamper represents a celebration for a newborn baby, which is why it comes with healthy treats, useful items, and cute teddy bears. They have diapers, baby bottles, bath towels, socks, and onesies — and all hampers are either designed with ribbons, flowers, or balloons! 
As there a lot of products and goodies in every gift set, they've become known as one of the shops that offer the best baby gifts in Singapore. 
Highlights
Various baby items included
Same-day, islandwide delivery
7. Burabi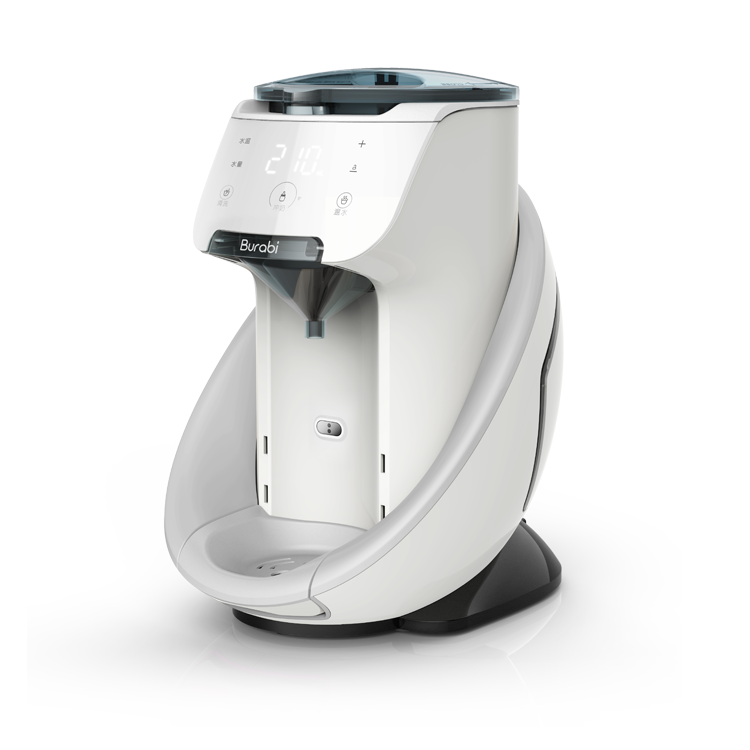 The Burabi Instant Formula Milk Maker PLUS is the best newborn gift for busy mothers and couples who need milk for their babies with consistent concentration, temperature, volume while tracking their babies feeding data using Burabi+ App iOS and Android.
No sleepless nights, messy preparations, inconsistent feeding, human errors, scalded skins or tongue, clumpy or bubbly milks for infants. 18 sensors & wifi connected apps for flawless preparation of formula milk. Creating more time for loving babies than on routines.   
Highlights:
Official distributor
Free delivery within Singapore
Manufacturer warranty
Local after sales support
BPA free baby safety materials with FDA approval
Very popular in USA, Europe, Israel, Japan & Korea
Customer Reviews
Here are some reviews left by satisfied consumers:
"it's the best baby gadget IMO. When baby need the milk, just press the button on the machine or use the phone app to start remotely. This formula maker mix milk within ONLY 10 SECOND!!! For the record, my best try before this machine is 2-3 minutes, but it feels like taking forever when the baby is crying"
"I absolutely love this. My baby is 8 months old now and we still use this daily. We have had absolutely ZERO issues with this product. As long as you clean it regularly and take care of it as instructed you will 100% get your money's worth out of it. I am SO glad I bought this, it makes my nights and even days so much easier. When your baby is crying because they're hungry they don't have to wait 5 minutes for you to make the bottle, and beat it up in the warmer. It does all of that for you. And you can even use your phone to make a bottle it's awesome. I can't recomend this enough."
8.  Noel Gifts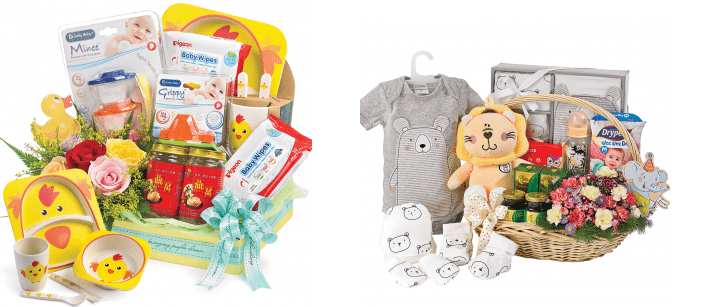 BEST FOR 
Wide range of baby hampers
PRICING
Collections
WEBSITE
http://www.noelgifts.com/
ADDRESS
21 Ubi Rd 1, #03-01 ESR Building, Singapore 408724
CONTACT DETAILS
+65 6299 1133
OPERATING HOURS

Weekdays: 8:30am–6pm

Saturday: 8:30am–2pm
 Noel Gifts offers a variety of personalised baby gifts in Singapore that are full of healthy treats, lovely goodies, and adorable designs! Due to their extensive selections, they indeed have the best baby gifts in Singapore!
The hampers are categorised into organic essentials, for mothers, nursery items, travel goods, as well as playmat and toys. You can also include some add-on items such as diapers, wipes, plushies, hangers, even and balloons. 
Note: Delivering as usual, but has also closed all retail outlets until further notice.
Highlights
Customised hampers
International delivery
Special deals
9. Revel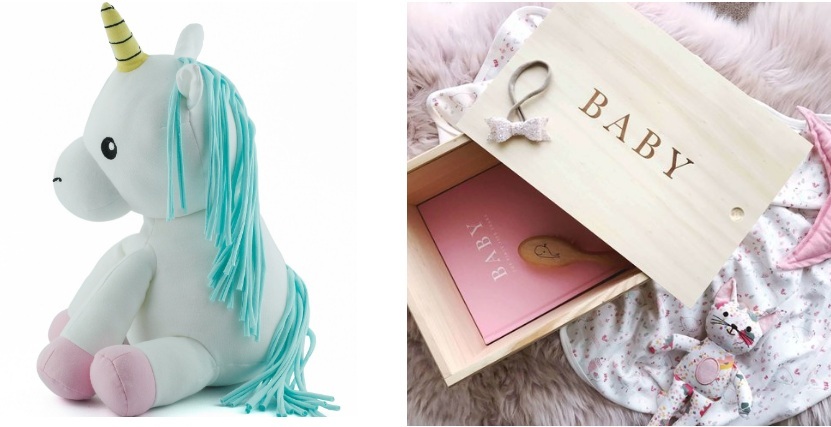 BEST FOR

Self-development products

PRICING

Collection

WEBSITE

https://revel.sg/

CONTACT DETAILS

[email protected]

OPERATING HOURS

24/7 Online

Open at UE Square on Wednesdays (10am to 12pm) and Saturdays (10am to 1pm).Wednesdays (10am to 12pm) and Saturdays (10am to 1pm).
If you want a newborn gift set in Singapore that's one of a kind, this is a great place to start.
Revel is a unique kind of shop. It is not merely a place to go shopping for gifts but is rather deeper than that. They aim to empower their clients to have and lead a purposeful and powerful life and to help them self-develop with the help of their products and services.
In Revel, you will find a selection of gift products including stationeries, journals, planners, that will guide you in talking about your dreams and plans. 
Their products are perfect for expecting and new mothers who wants to plan out their journey with their little ones. On the other hand, friends of these pregnant ladies can also avail greeting cards and journals to send their thoughts and love to the mother and child.
Highlights
Affordable gift products

Stylish and high quality journals and planners

Organic toys for babies
10. Babybrands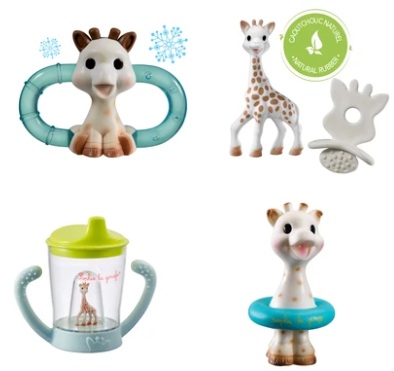 Babybrands Asia is the ecommerce arm of Sophie & Friends Singapore which houses hundreds of different baby gifts supplied only by the most trusted and high quality brands. 
They have items from infant to toddler that your kids will definitely enjoy like baby bottles, teethers, clothes, playmats, baby carriers, and a lot more.
You also need not to worry about purchasing and taking home huge and bulky items because the shop offers delivery services across Singapore. What's even better is you can avail their free delivery if you purchase a total amount of only S$60.
Highlights
Wide range of product selection

Free delivery

Products are available in top stores all over Singapore, Malaysia, Indonesia and Brunei
11. Adertek Baby & Kids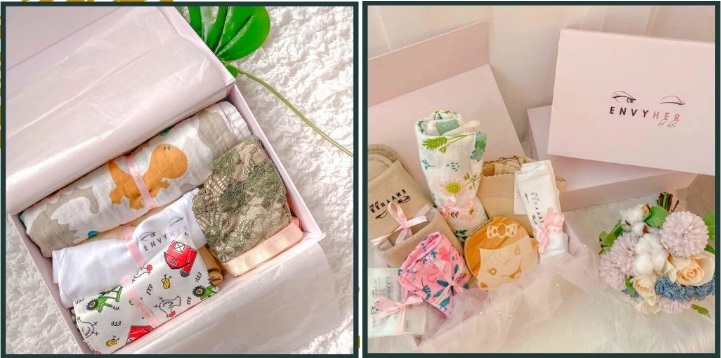 In case you are looking for safe toys or gift items, you can check out the collections of Adertek Baby & Kids. They have a play yard with doors that you can install at your home. You can also find storage for your kids' things from their site. 
The good thing about this shop is that they offer installment payment. This means that you can buy from the shop and pay on a staggered basis. Some of their items can be bought for installment within 3 months. 
Highlights
Free delivery for orders above $70

Interest-free installments

Numerous choices of gifts and items
Customer Reviews
Adertek Baby & Kids makes sure that their buyers are informed about the item that they're buying. Here is an attestation to that:
Thank you for being so patient on explaining every single queries we have. My girl(9months old) love the play yard and enjoys being in it. Thinking to get another item for her to keep her books and toys 🙂 – Nicole Kin
12. Little Kooma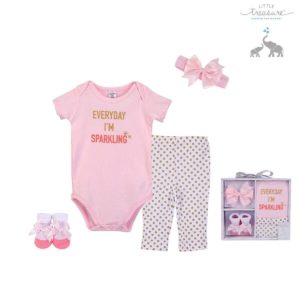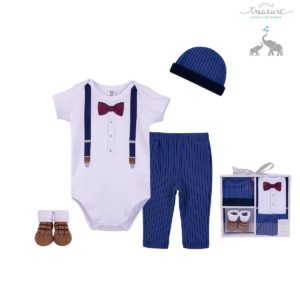 If you're looking for a stylish and chic shop for baby gifts in Singapore, this will be useful. Little Kooma is a brand dedicated to providing comfortable and stylish clothing to babies, toddlers, and pre-teens.
Their collection consists of children's wear that takes inspiration from Koreans.
It's worth noting that Little Kooma has everything for kids — feminine and masculine wear, plus baby essentials and toys.
The numerous digital platforms you can buy their products from makeup for the lack of a physical store.
Through their official website, Lazada, Shopee, and Social Media, you can easily avail of their chic collection.
Highlights
Kid collection available
Free shipping for orders worth SGD $50 and above
13. Raph & Remy
Raph & Remy offers an alternative way to get high-quality newborn baby gifts while contributing to the environment's well-being. They're the first in Singapore to have bamboo baby essentials and eco-friendly textile products. They want all the mothers and their babies to feel the utmost love and care using their personalised items, making sure that each one is sustainable and safe to use.
Definitely a great place to get baby shower gifts in Singapore that's friendly to the environment. 
Highlights
 Wide range of gift options
High-quality gift materials
14. Diaper Cakes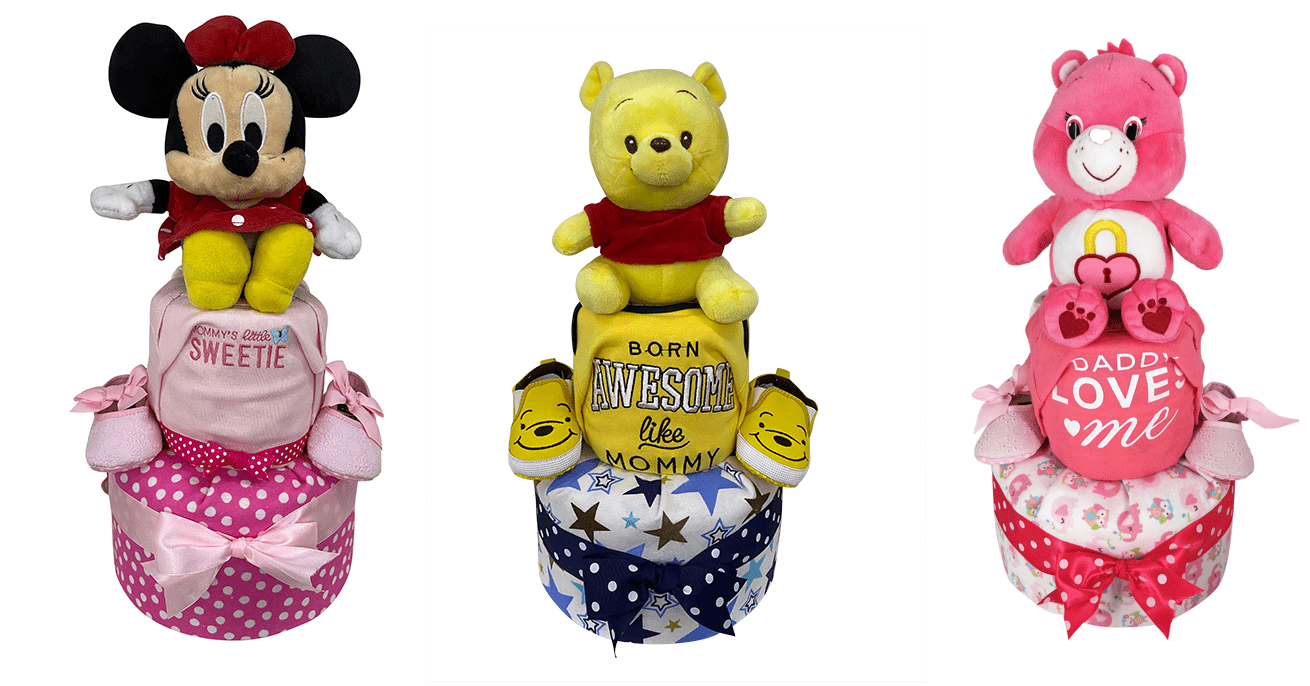 Diaper Cakes are known for packaging diapers in a very cute and lovely way, using baby items as their design. This includes famous characters and more items. People looking for unique baby gifts in Singapore surely will be impressed with these.  
They make sure that all added items are reusable so the gifts are practical and useful. This has made them a gift shop that has some of the most efficient and best baby gifts in Singapore.
They offer endless items like bib, shoes, socks, onesies, and soft toys! Their products are categorised between boy and girl collections, so it'll be easy for you to find the perfect one!
As they've been featured on several media outlets, Diaper Cakes has indeed impressed their customers with delightful gift sets.
Highlights
Same-day delivery
Overseas delivery
Special promotions
15. The Elly Store
BEST FOR 
Seasonal-themed gift sets
PRICING
Collections
WEBSITE
https://www.theellystore.com/
ADDRESS
#02-31/33 Cluny Court, 501 Bukit Timah Road Singapore 259760
CONTACT DETAILS
+65 6466 8718
OPERATING HOURS

Weekdays and Saturday: 10am to 7pm

Sunday and Public Holidays: 10am to 6pm
 If you prefer to give clothes as a gift, then you should look into The Elly Store. They make their own baby and children's clothes that promote comfort and efficiency.
These clothes can be included in their newborn baby gift sets. Each box is customised with the name of the baby and you can also add your personally chosen icons to decorate it. 
The newborn baby gift sets are presented with pacifiers, dresses, shirts, blankets, and shoes. They also have separate collections that involve toys and more goodies. 
Note: Has closed the retail store until further notice, but continues to send out deliveries for orders. Note that because they've been reduced to 2 persons working from home due to Circuit Breaker, they may take as long as 6 days to deliver now. International shipping has also ceased indefinitely.
Highlights
Childrenswear collections
Personalised packaging 
Customer Reviews
The Elly Store has gained a lot of loyal customers because of their premium quality clothing, practical gift sets, and friendly staff. Hence, they've become known to have some of the best baby gifts in Singapore.
A customer from Google Reviews recommended the shop and gave this review:
"Always a lovely experience shopping at The Elly Store. Their products are not just beautiful to look at, but comfortable to wear – and most importantly, both the colour and sizing last and do not come off/shrink/expand in the wash! The staff is also always helpful and polite – even when the store gets busy. Would absolutely recommend shopping for your kids at The Elly Store."
16.  My Baby Gift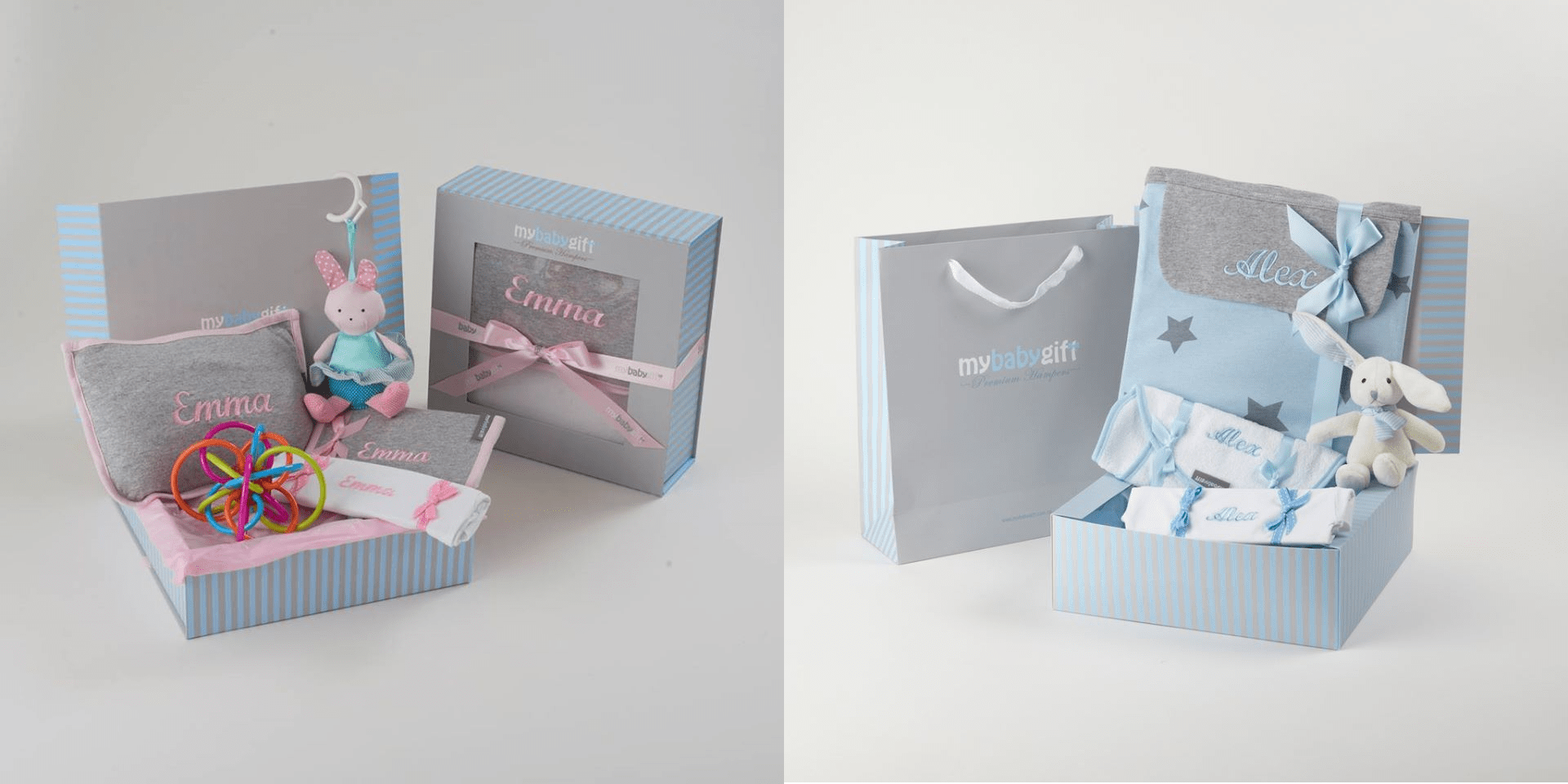 There's nothing more special than a personalised newborn baby gift set! So make your own custom baby hampers with My Baby Gift. 
Their newborn baby gift set customisation services include embroidery of the baby's name on selected products. They also have certain selections such as corporate ones, for baby showers, for mommies, and even a gift set of toys! From breast pumps to onesies, they've got everything for mums and bubs.
A gender fluid collection is also provided. When you order from them, all products will come with signature newborn baby gift boxes. 
Note: Delivering, but notes that customers may have to wait as long as 2-3 days for an order to be filled on occasion, due to transport issues caused by Circuit Breaker.
Highlights
Customised baby hampers
Signature gift boxes 
Customer Reviews
Many customers loved the quality gift sets, fast delivery, and overall services. A customer from Google Reviews wrote this feedback:
"Amazing products and great service, my friend received her beautiful gift set on the same day!! she was so excited!"
That's it for our list of the places that provide the best baby gifts in Singapore! Would you like to recommend more shops? If so, then let us know so we can include them here!
For additional options, here are the best hamper delivery services in Singapore. Some of these shops have special baby gift sets so you might find a good one with these selections!
*Images are taken from each company's official website/social media.