The 17 Options for the Best Disinfection Services in Singapore
As the COVID-19 pandemic continues to change our lives in the most unexpected ways, it's ideal to be proactive in protecting ourselves and our loved ones from the virus. One way to do this is by hiring the best disinfection services in Singapore.
Luckily, we found some of the top cleaning companies that offer the best disinfection services in Singapore. We made sure to include those with trusted services, experienced cleaners, and affordable rates in our list.
If you want to know how to get in touch with these cleaning companies, make sure to read our list until the end!
1. HVAC Engineering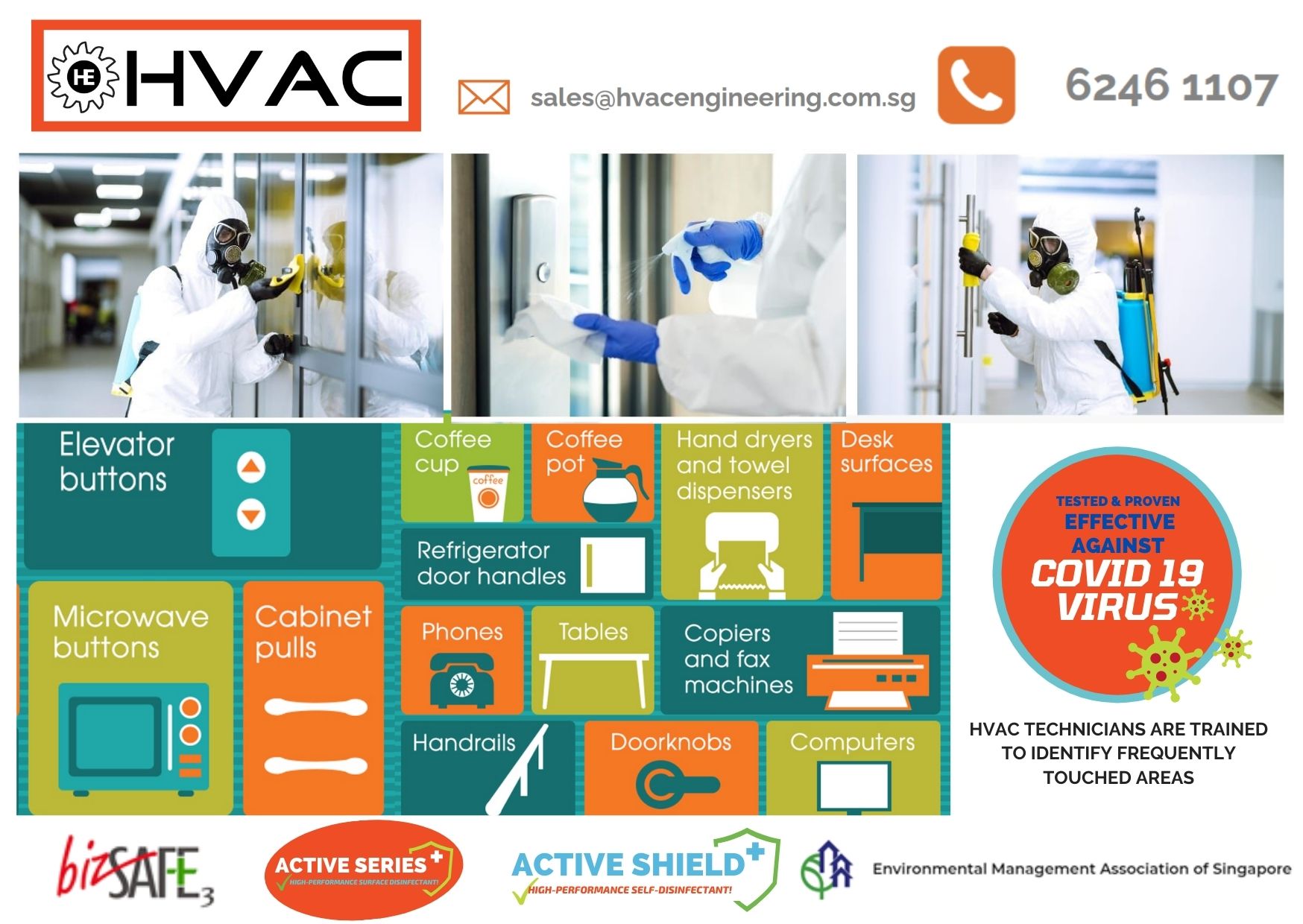 HVAC is an approved vendor in NEA's List of companies that can carry out disinfection works for C+ cases, suspected cases and cluster decontamination.
As such, they can assist you in the grant or the reimbursement process for disinfection, if your premises qualify.
Active Clean, their virucide disinfectant has been included in NEA's Interim List of Household Products Effective against Coronavirus. Their process and approved methodology is aligned to NEA / MOH Interim Guidelines for Environmental Cleaning and Disinfection of Areas Exposed to Confirmed Case(s) of COVID-19 in Non-Healthcare Premises Revised on 10 May 2021.
They will provide a certificate of disinfection and or a decal to state that your premise has been disinfected. Further more, they have UVC Sterilization and air purification solutions as well.
Highlights
Preventive and maintenance contract
Decal and certificate provided
Chemicals (NEA approved and kids safe)
NEA approved Vendor
Self-Disinfecting Coating
Customer Reviews
Here's what people have to say about them:
"I have hired HVAC for disinfection and deep cleaning for my office, AJ has explained the process in details and the team carried out the job well. I really appreciate the professional and friendly service provided. I do strongly recommend !"
"AJ was superb!! He guided me through the entire process meticulously and I had no worries about his standard of work throughout. Highly recommended for anyone looking for mould and disinfecting solutions!"
"Feel protected and motivated To be in our office During this pandemic period! Thanks"
"The team was very hardworking and friendly. The came on time and clean up everything before leaving."
2.  Whissh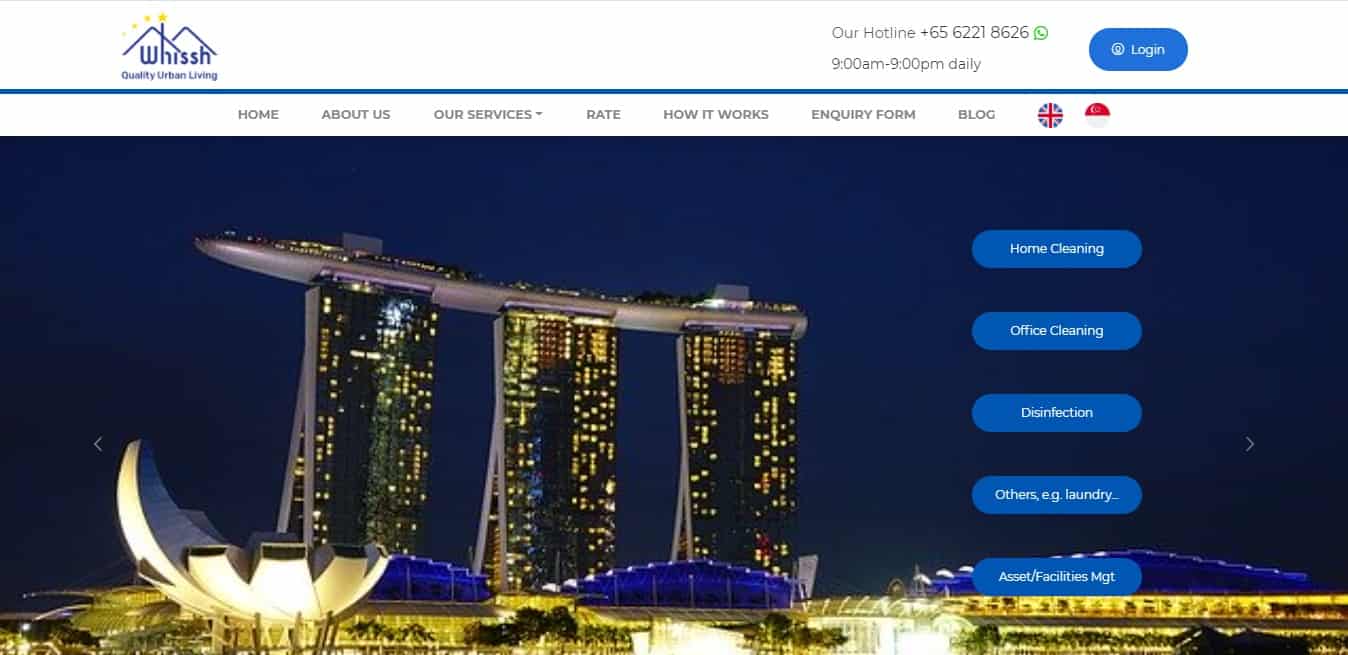 | | |
| --- | --- |
| BEST FOR | Residential and commercial cleaning |
| SERVICES | Disinfection services, home cleaning, office cleaning, laundry services, aircon cleaning, electrical works, and plumbing services |
| WEBSITE | https://www.whissh.com.sg/ |
| ADDRESS | 140 Paya Lebar Road, #07-26, AZ @ Paya Lebar, Singapore 409015 |
| CONTACT DETAILS | +65 6221 8626 |
| OPERATING HOURS | Monday – Sunday, 9:00 AM – 7:00 PM |
If you're looking for a reliable disinfection cleaning company with a wide range of services, you might want to check out Whissh. It's a one-stop home and commercial service provider that aims to cater to the needs of residential and commercial spaces.
Some of the other services offered by Whissh are home cleaning, office cleaning, laundry services, aircon cleaning, electrical works, and of course, the best disinfection services in Singapore.
As a company, Whissh intends to transform urban living in Singapore to something safer and more hygienic by using safe and quality cleaning services. It's made up of trained and professional technicians who can deal with all sorts of filthy homes and offices.
Highlights
Eco Friendly Company (1st in the industry)
One-Stop Service Provider
High Quality and Trained Crew
Customer Reviews
Here are some reviews proving that Whissh offers the best disinfection services in Singapore:
"Their customer service team was very helpful in ensuring that his team proceeded to my office the very next day on an urgent basis. They knew and were very familiar with the mall's requirements despite the management saying otherwise prior. Very professional and a very detailed report was given. Will definitely engage them again in future! "
"Our restaurant needed disinfection services, they were able to mobilise a team that same evening for us. Entire booking process and instructions were clear on what was required on our end, applying permits etc. Very experienced customer sales staff and cleaning team. My sincere thanks again to all involved."
3. Nanotech Cleaning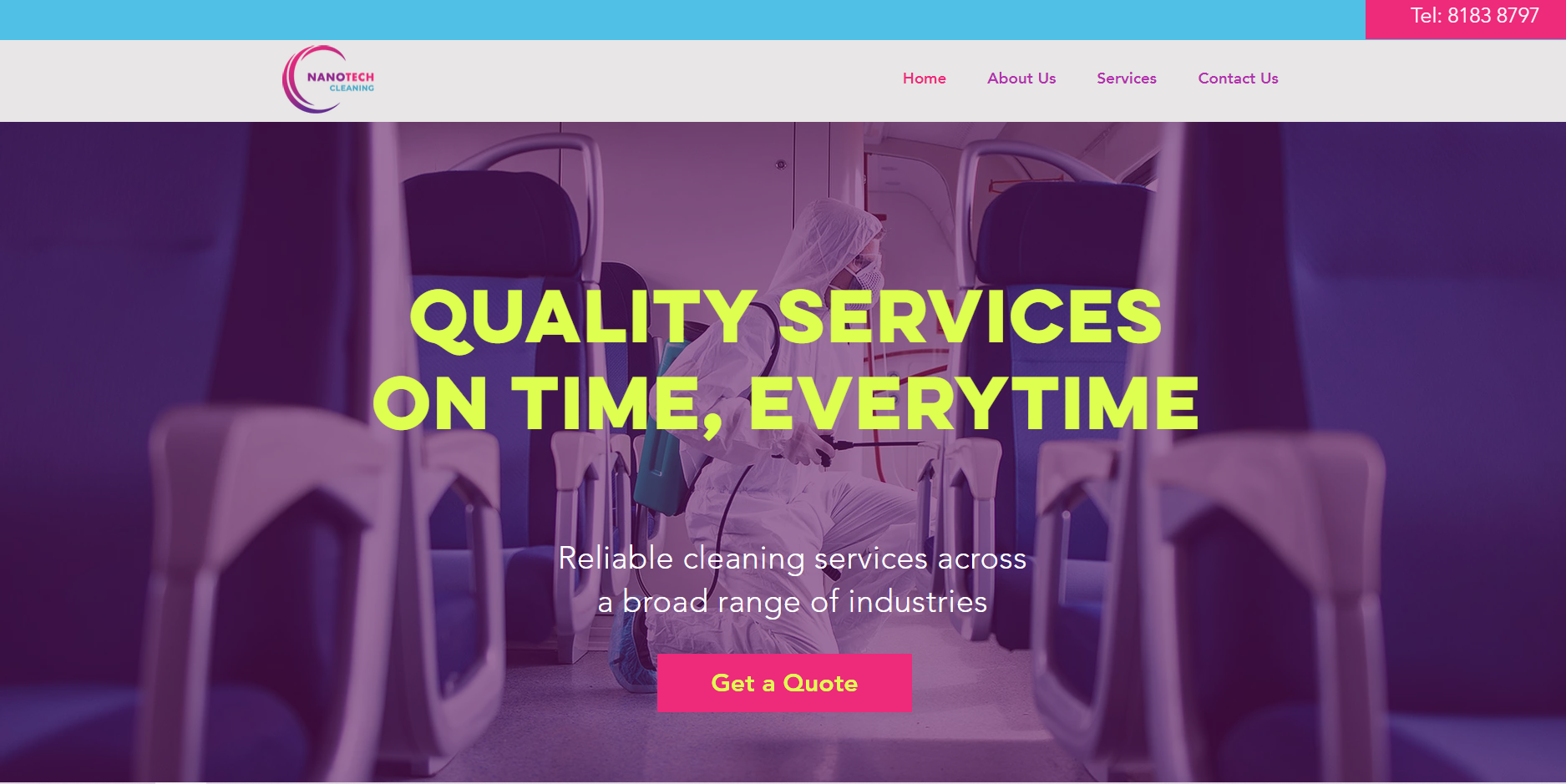 BEST FOR
Disinfection services for all industries (including residential properties)
SERVICES
Comprehensive Disinfection
Preventive Disinfection
WEBSITE
https://www.nanotech.com.sg/
ADDRESS
10 Anson Road, #10-11
International Plaza
Singapore 079903
CONTACT DETAILS
Tel: 8183 8797
Email: [email protected]
OPERATING HOURS
Mon – Fri: 9am – 8pm
​​Saturday: 9am – 6pm
​Sunday: 9am – 6pm
Nanotech Cleaning is a 100% Singaporean owned cleaning company specialising in disinfection services across a broad range of industries, including office or commercial, aged care and retirement, education, childcare, retail, medical, industrial, sports, and hospitality.
Their team is committed to providing the highest quality of commercial cleaning available by exceeding the expectations of their clients. They strive to create and maintain a safe and enjoyable environments where performance can thrive.
Over the years, their company has built an impressive reputation for the quality of their work.
Based on their past projects, they strictly follow and adhere to the highest level of sanitisation and disinfection practices that a workplace requires. Their standardised disinfection systems create a hygienic outcome every time, which is why they have built a client base of loyal customers.
Highlights
German nanotechnology antimicrobial coating with warranty
Specialises in surface disinfection and airborne disinfection
Proven Test Reports effective against Covid-19
Environmentally friendly non-toxic & non-corrosive products
4. WiCleanSoon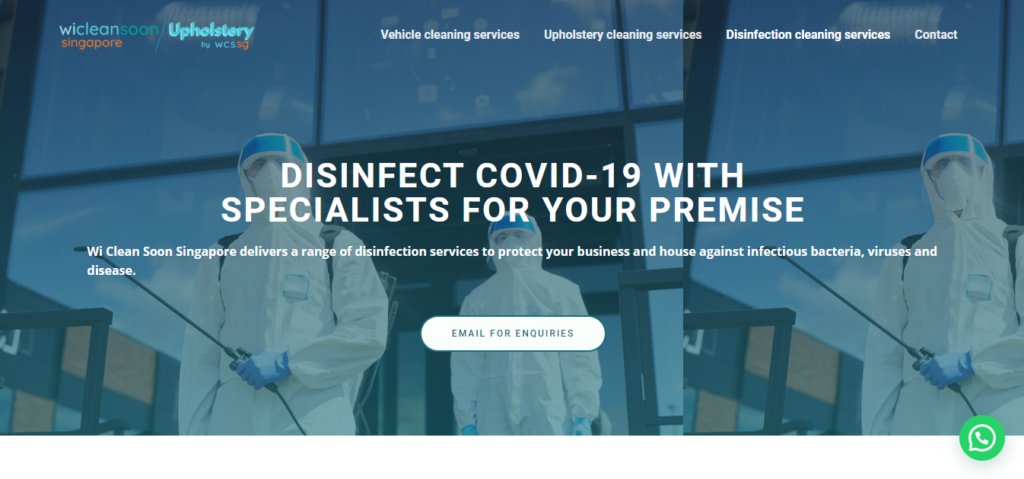 WiCleanSoon offers Singaporeans a range of disinfection services that can help protect your property against infectious bacteria, viruses, and diseases.
They offer three types of disinfection, Pre-Cautionary Disinfection, Confirmed Cases Disinfection, and Self Disinfecting Coating. With the COVID-19 pandemic, they are the best company to call if you want the best disinfection services that will keep you and your family safe.
Unlike other companies, they have a list of viruses, bacterias, yeast, and fungi that their products can kill.
Part of their bacteria kill list are Staphylococcus Aureus, E. Coli, Pseudomonas Aeruginosa, and Enterococcus. Their products can also kill Canadida Slbicans and Aspergillus Niger.
In comparison to others, their chemicals meet the regulatory requirements that can disinfect your area from the viruses of COVID-19. The viruses they can kill are the Infectious Bronchitis virus, Respiratory Syncytial virus, and Rubella virus.
Highlights
Competitive pricing
Disinfection is based on international guidelines
Self disinfection coating that can last up to 90 days
Customer Reviews
Here are some reviews from their previous clients:
"Fantastic Job, very detailed and accommodating to the timing. Very recommended"
"booked a last min slot on the same day and was accommodated. very friendly and definitely top notch service! most recommended!"
"Highly recommended, won't go wrong if you engage their services. Thanks for hard work!"
5. Clean Lab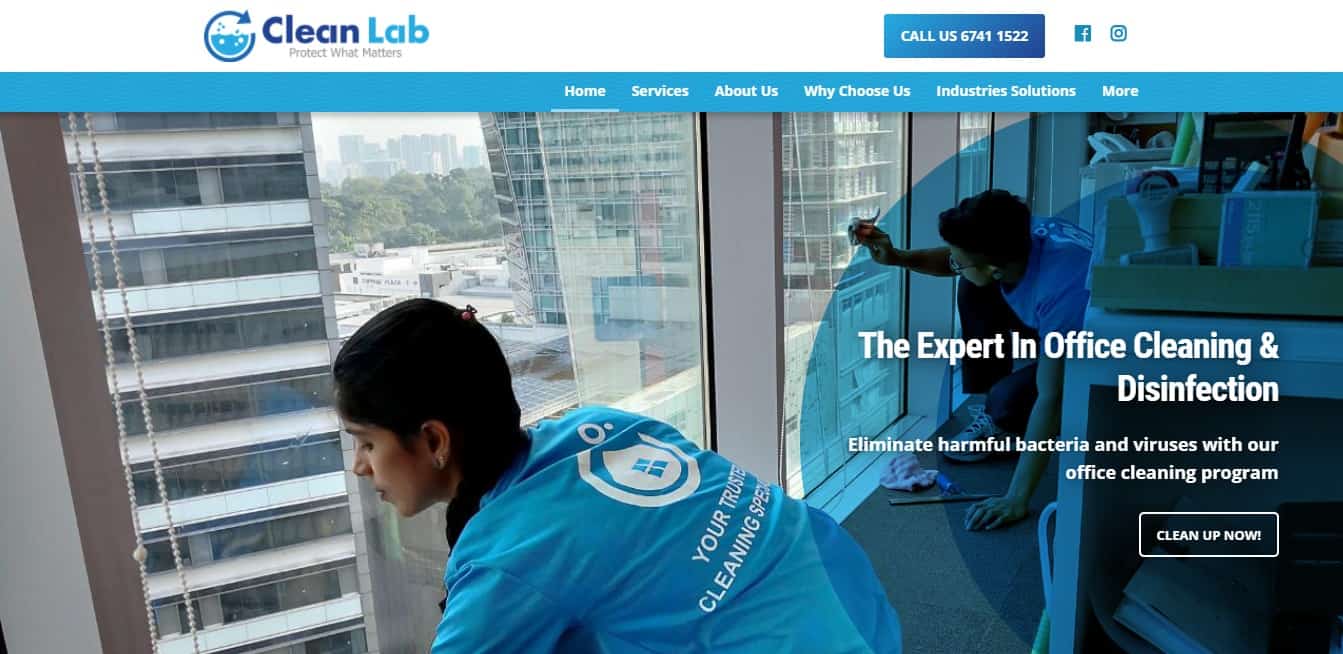 | | |
| --- | --- |
| BEST FOR | Comprehensive professional cleaning services |
| SERVICES | Disinfection services, carpet cleaning, event cleaning, infection prevention, mattress cleaning, moving in/out cleaning, office cleaning, post renovation cleaning, and upholstery cleaning |
| WEBSITE | https://cleanlab.com.sg/ |
| ADDRESS | 25 Kaki Bukit Pl, Singapore 416203 |
| CONTACT DETAILS | +65 6741 1522 |
| OPERATING HOURS | Monday – Friday, 8:30 AM – 6:30 PM |
As one of the most trusted cleaning companies in Singapore, Clean Lab provides clients a wide range of cleaning services.
Some of the services it's known for are carpet cleaning, upholstery cleaning, infection prevention, office cleaning, mattress cleaning, and of course, the best disinfection services in Singapore.
Clean Lab doesn't limit its services to just residential spaces: it's also open for offices, retail spaces, gyms, hospitals, and even academic institutions. It's indeed an all-around cleaning company worth checking out.
Another reason Clean Lab ended up on our list of the best disinfection services in Singapore is the fact that it employs a team of experienced and skilled trainers. No matter how filthy or smelly your space is, its cleaners will know how to deal with it.
Highlights
Expert cleaners
Wide range of services
Safe cleaning products
Customer Reviews
Take a look at what customers have to say about its services:
"Richard & colleague were on time and did an excellent job cleaning the store room and 2 mattresses within 2 hours! They were very thorough during the whole cleaning process too. My sister is very happy and satisfied that she can sleep on a dust mite free mattress after it is completely dry. Recommend cleaning company!"
"Recently engaged the service of Clean Lab for my mattress cleaning and sanitizing and the Specialist that came down was very thorough. I was shocked when they showed me the amount of dirt extracted out from my mattress. Will definitely engage their service again and will recommend them to anyone in need of a deep mattress cleaning."
6. Getz Cleanz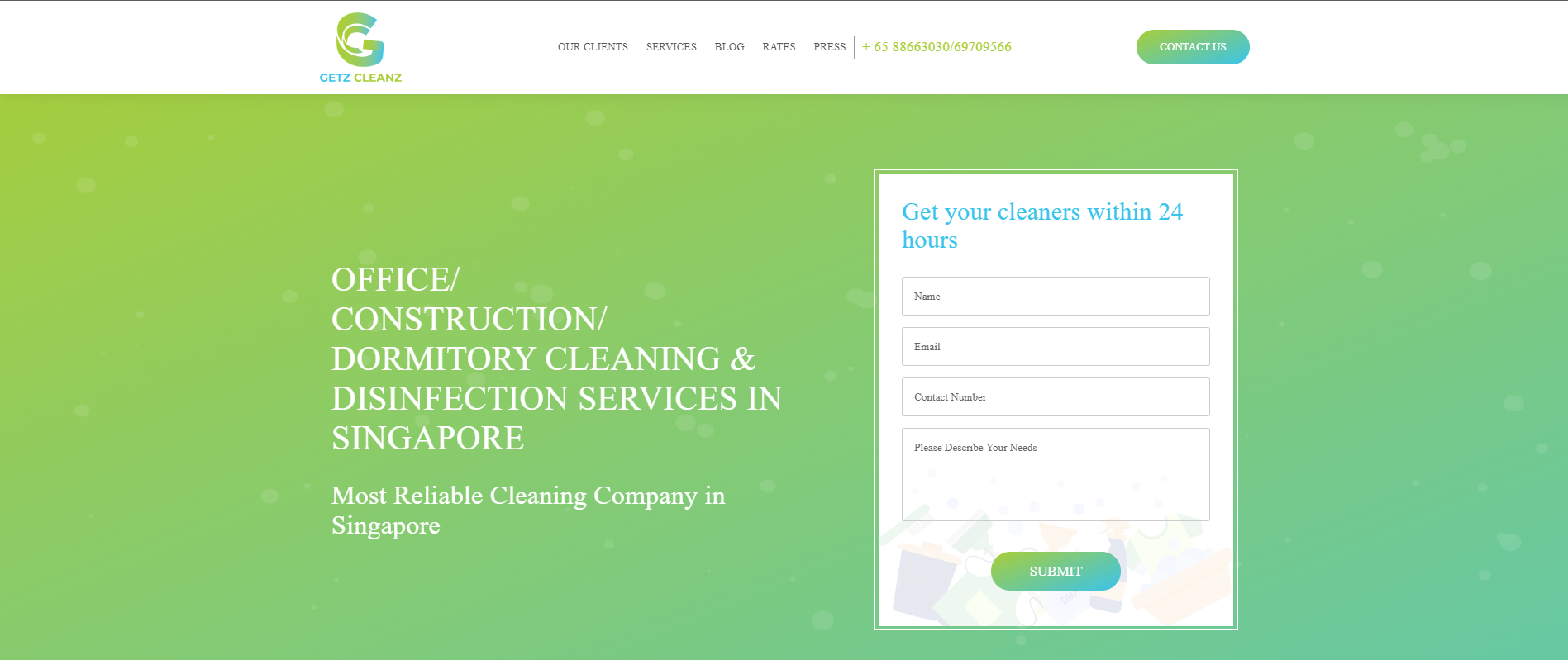 BEST FOR
Commercial Cleaning Services
SERVICES
Cleaning services, disinfection services
WEBSITE
https://www.getzcleanz.com.sg/
ADDRESS

10 Ubi Crescent, Ubi Tech Park, Lobby B, #05-31 Singapore 408564

CONTACT DETAILS
+ 65 88663030/69709566
[email protected]
OPERATING HOURS
Monday – Friday: 9:00 AM – 6:00 PM
Getz Cleans is the leading commercial cleaning services provider in Singapore. It's no surprise, given that they're continuously committed to fulfilling their customer's cleaning needs.
Their team of professional cleaners keep up with the latest cleaning techniques and technology. As a licensed office and commercial cleaning company, you can rest assured that they will be able to get the job done.
Highlights
Professionally certified
Trained and experienced crew
7. Arising Cleaning Management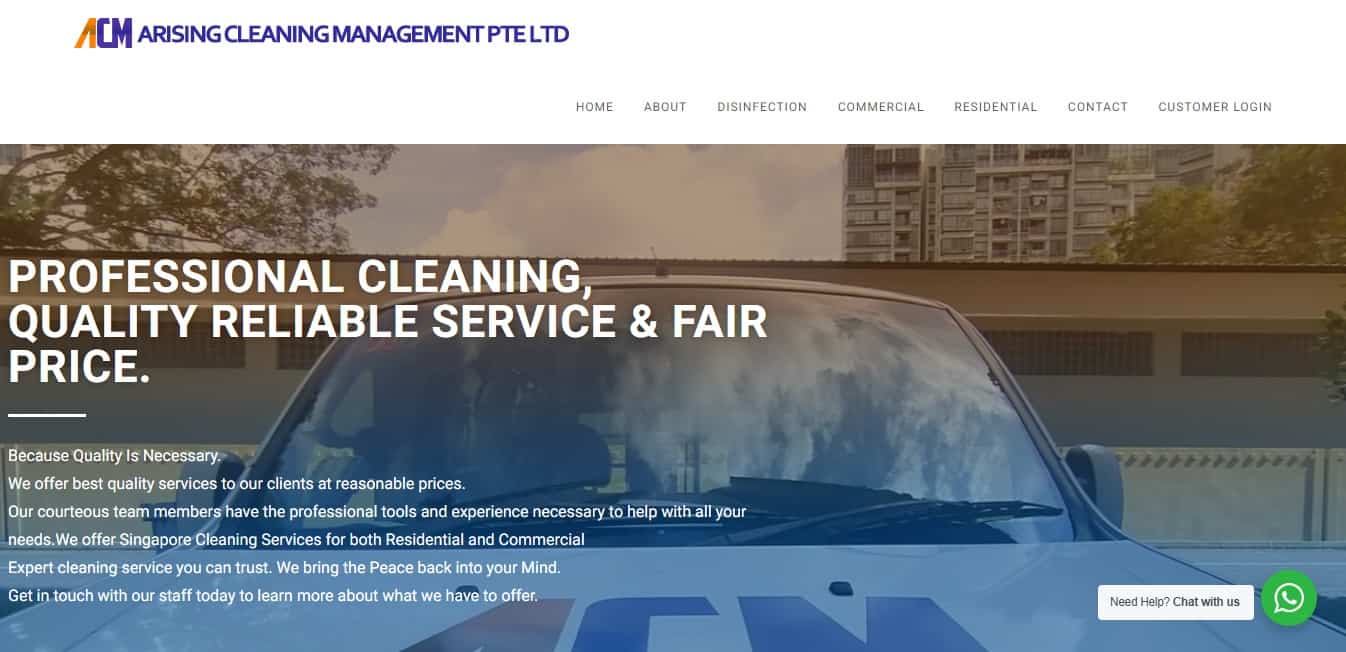 | | |
| --- | --- |
| BEST FOR | Reasonable price |
| SERVICES | Disinfection services, home cleaning, office cleaning, industrial cleaning, and general cleaning |
| WEBSITE | https://arising.com.sg |
| ADDRESS | 27 Woodlands Industrial Park E1, #03-09A Hiangkie Industrial Building, Singapore 757718 |
| CONTACT DETAILS | +65 8498 1216 |
| OPERATING HOURS | Monday – Friday, 8:30 AM – 6:30 PM |
If you're after a cleaning company with low, affordable rates, Arising Cleaning Management comes highly recommended. It's a trusted cleaning service provider that offers cleaning services to residential, commercial, and industrial spaces.
It's known for employing some of the best and friendliest cleaners and technicians on the island, one of the reasons customers seem to love their services. Who wouldn't love to have a chat with friendly technicians, right?
On top of that, Arising Cleaning Management uses only cutting-edge cleaning technologies to ensure that homes will be left spotlessly clean and fresher than ever! It also uses only safe and environmentally friendly cleaning products
Highlights
Friendly cleaners
Safe cleaning products
Quality, reliable cleaning services
8.

SGDisinfect
BEST FOR

Carpet, curtain, fabric chairs, sofa disinfection / cleaning, preventive disinfection and covid disinfection and sanitising cleaning services for both residential and offices with quality products

SERVICES

– PREVENTIVE DISINFECTION

– COVID DISINFECTION

– PROFESSIONAL CARPET AND OFFICE CHAIRS CLEANING – Disinfect and deep clean

– SELF-DISINFECTING COATING

– DE-DUSTMITE HIGH TEMPERATURE MATTRESS DEEP STEAM CLEANING

– DE-DUSTMITE HIGH TEMPERATURE SOFA DEEP STEAM CLEANING

– ONSITE HIGH TEMPERATURE DRY CLEANING OF CURTAINS

– CUSTOMISED PROFESSIONAL CLEANING

– SANITISING PROFESSIONAL CLEANING SERVICES

– STEAM MOPPING OF MARBLE / TILED / LAMINATED / VINYL / PARQUET FLOORING

WEBSITE

ADDRESS

89 Rosewood Drive,
#02-96
Singapore 737792

CONTACT DETAILS

Whatsapp or call +65 64062062
[email protected]

OPERATING HOURS

Mondays to Saturdays 10am to 8pm
SgDisinfect – a leading disinfection specialist under NEA's panel – with their wide range of disinfection and sanitising solutions and their local Singaporean teams, serves both commercial and residential sectors.
Bilingual staff, both mandarin and english speaking. They are happy to speak with you and provide sound advice on your needs.
Highlights
Efficient and reliable
Hassle-free service
Uses quality, nontoxic products
One-stop service
Quick turnaround time
9. Sureclean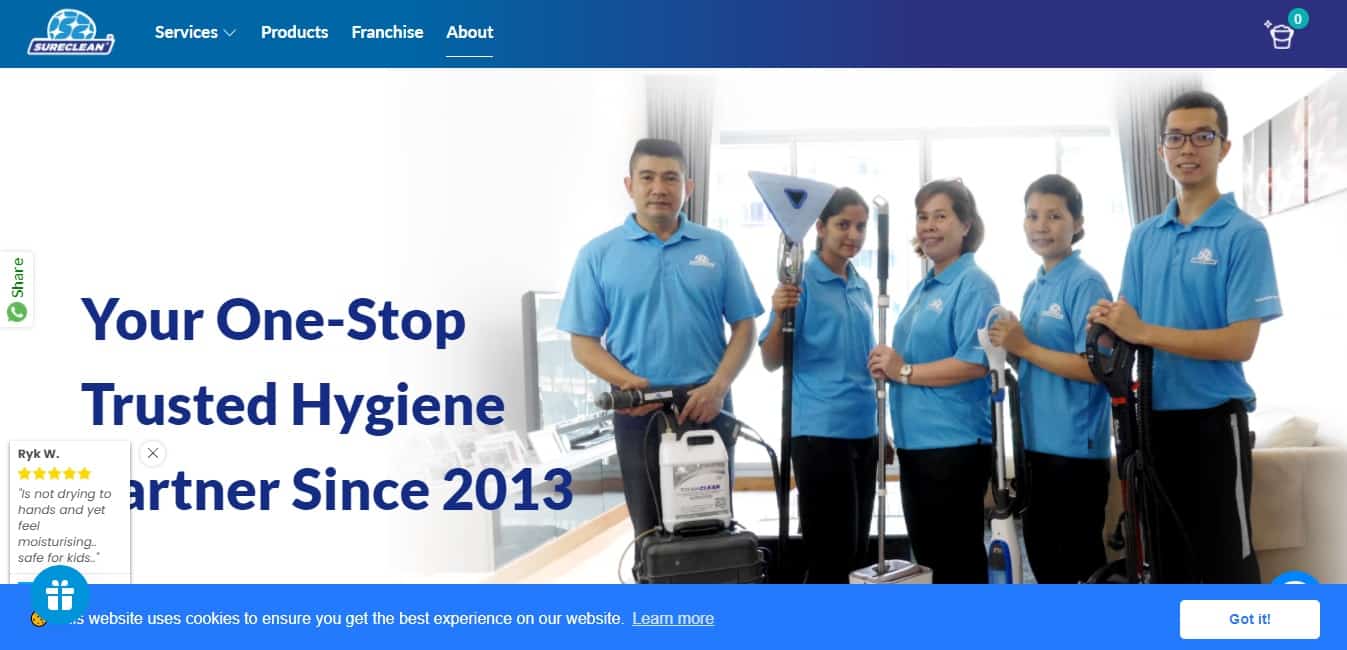 | | |
| --- | --- |
| BEST FOR | Effective cleaning products |
| SERVICES | Disinfection services, professional home cleaning services, and mattress cleaning |
| WEBSITE | https://sureclean.com.sg/ |
| ADDRESS | 25 Bukit Batok Cres, #09-11 The Elitist, Singapore 658066 |
| CONTACT DETAILS | +65 6899 8643 |
| OPERATING HOURS | Monday – Friday, 9:00 AM – 6:00 PM |
Sureclean was primarily known as a supplier for safe and effective cleaning and disinfection products, but over time, it's extended its scope to provide the cleaning services themselves.
It's open to cleaning residential homes, commercial spaces, hospitals, academic institutions, and even restaurants!
Since Sureclean has long been a source of safe cleaning products in Singapore, so hiring their services comes with the guarantee that your family, employees, and customers will not be exposed to potentially harmful cleaning chemicals.
Another reason we call it one of the top sources of the best disinfection services in Singapore is its excellent track record. It's received multiple awards for its work in the cleaning industry.
Above all, all their cleaning services come with warranty. If you're not satisfied with their work, their team will clean your space again for free.
Highlights
Non-toxic cleaning products
Proven track record
Experienced cleaners
ISO certified
Customer Reviews
As one of the top cleaning companies in Singapore, it's received countless praise from past and current customers. Here are some of them:
"It was a pleasant experience with them. We are impressed with their prompt response, professional advice, and the services provided on-site. Hui Heng has been attentive, dedicated and committed to his roles and responsibilities. We are more than happy and satisfied with the service rendered and will engage them in future. KUDOS to your great work!"
"Engaged Sureclean Germclean 30 days protection for my post renovation cleaning. Peggy was understanding, helpful and patient providing me details of the services. Hui Heng and his team were punctual, competent and professional. I am very impressed with the cleaning and efficiency. Will definitely engage Sureclean again for their cleaning & disinfection services!"
10. Eco Deep Clean

16 Raffles Quay, #41-01 Hong Leong Building, 048581​
BEST FOR
Cleaning Services
SERVICES
Room Disinfection Office Cleaning
Carpet Cleaning Spring Cleaning Mattress Cleaning
Floor Polishing
WEBSITE
https://ecodeepclean.com/
ADDRESS
16 Raffles Quay, #41-01 Hong Leong Building, 048581
CONTACT DETAILS
8892-6352 | [email protected]
OPERATING HOURS
Monday – Friday: 9:00 am – 6:00 pm
Saturday: 9:00 am – 1:00 pm
Starting in 2007, the Eco Deep Clean team has been providing quality deep cleaning services using eco-friendly products, earning the company one customer at a time. Their work ethics focuses on delivering consistently excellent cleaning services.
Their cleaning team undergoes rigorous training programs to ensure that each member understands their task well. They value the overall performance of their team– they need it to guarantee good customer service after all.
After being in the industry for many years, Eco Deep Clean's services are not just used by home owners, but also by other establishments islandwide– like hotels, retail shops, factories, nursing homes, and commercial buildings.
Highlights
Eco-Friendly
Experts
Complete Tools
Economical Price Point
Customer Reviews
Here is a review left by a very satisfied client:
"EcoDeepClean took over our janitorial services after we had a bad run in with the previous company. We were skeptical and jaded, but took a leap of faith on this company and found out that they far surpassed our expectations. Everything was clean, orderly, and efficiently done. Their staff is friendly and easy to work with. " – Stephanie
11. De Hygienique

| | |
| --- | --- |
| BEST FOR | Safe Cleaning Technology |
| SERVICES | Mattress Cleaning, Carpet Cleaning, Sofa Cleaning, Upholstery, Rug Cleaning, Dining Chair Cleaning, and Leather Cleaning |
| WEBSITE | https://www.dh-asia.com/services/dehygienique-disinfection-service |
| ADDRESS | 53 Ubi Avenue 1 #03-44 Paya, Ubi Industrial Park, Singapore 408934 |
| CONTACT DETAILS | +65 6749 1950 |
| OPERATING HOURS | Monday – Friday, 6:00 AM – 8:00 PM |
With their 17 years of experience, De Hygienique has become one of the most trusted carpet cleaners in Singapore– with clients coming from both residential and commercial areas. They pride themselves on being the first company in Asia to ever use chemical-free, non-toxic, and safe cleaning products and technologies.
Highlights
Effective treatment
Safe and non-toxic
Experienced cleaners
Customer Reviews
Here's what clients have to say about the services of De Hygienique:
"Amazing service indeed! My husband & I feel very fresh with our king size mattress and my sofa looks brand new now! The two service men were very neat and kind, even to my fur-kid, thanks! They were time punctual as well. This company's service is really reliable & I strongly recommend it to you!"
"After an initial mess up with my appointment De Hygienique made good by offering a 20% discount to compensate me for the inconvenience. Whilst not ideal at least this was an acknowledgement that a mistake was made and I'm happy to report that the cleaning service thereafter was very good."
12. Ikari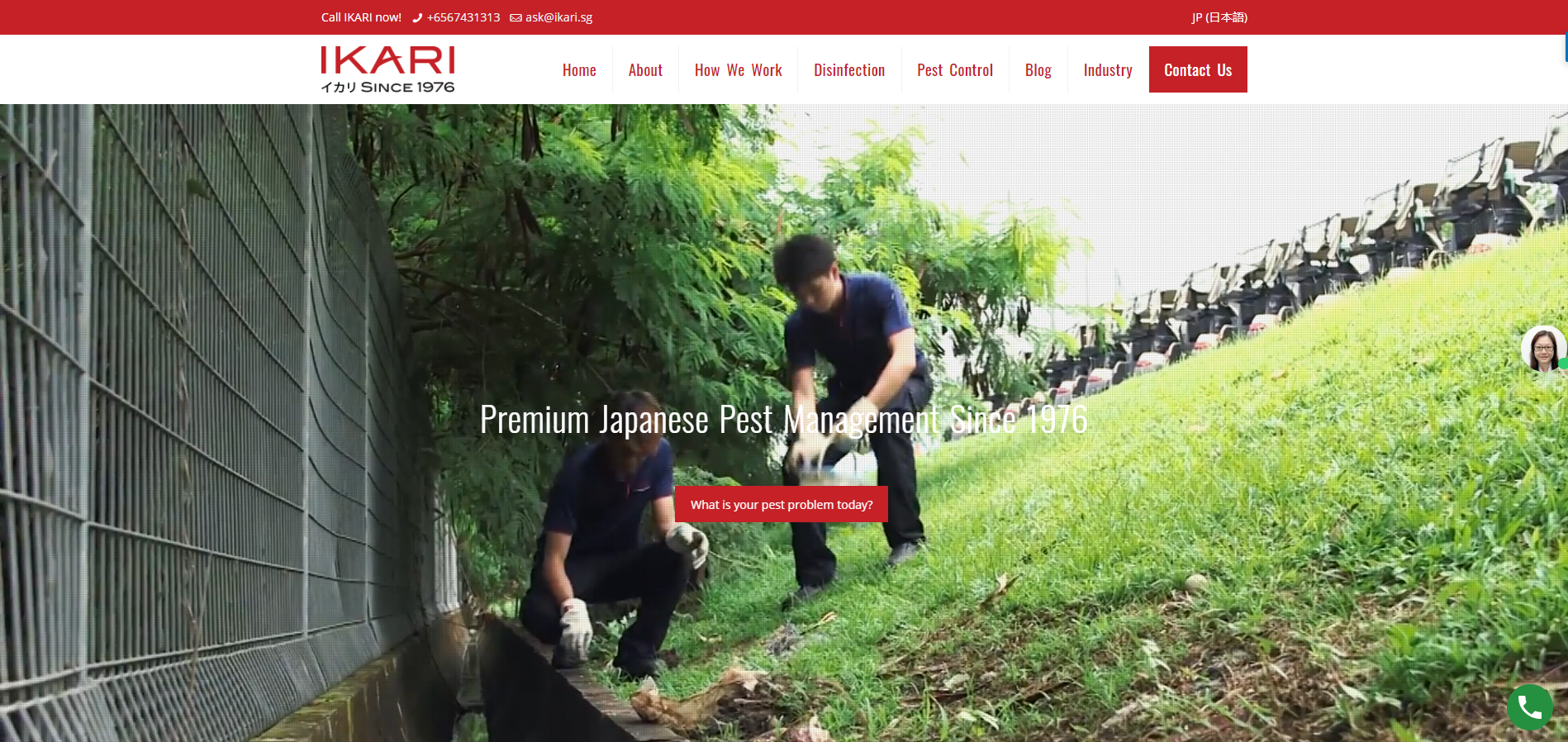 BEST FOR
Eco-friendly products
SERVICES
Disinfection, Pest Control
WEBSITE
https://ikari.sg/
ADDRESS
625 Aljunied Road #03-07
Aljunied Industrial Complex
Singapore 389836
CONTACT DETAILS
+(65) 6743 1313
+(65) 6741 3267
[email protected]
OPERATING HOURS
N/A
Unlike other companies, Ikari uses a human-safe and non-toxic approach to pest control and disinfection. With this in mind, they've pioneered the Integrated Pest Management method.
Integrated Pest Management takes a look at the main source of a pest problem instead of merely spraying an area with pesticide. As a result, their disinfection services remain unrivalled due to their lasting effects.
Highlights
Pet-friendly pest control methods
Efficient and responsive
13. Just Cleanlah


BEST FOR
Professional House Cleaning Service
SERVICES
Sofa Cleaning
Carpet Cleaning
Mattress Cleaning
Office Cleaning
End of Tenancy Cleaning Singapore
Disinfection Services Singapore
WEBSITE
http://www.justcleanlah.com/
ADDRESS
22 Sin Ming Lane #06-76
Midview City, Singapore 573969
CONTACT DETAILS
+65 9362 9200
OPERATING HOURS
Everyday 9am-9pm
If you're searching for a company that provides high-quality cleaning services at a more affordable price, then make sure to check out Just Cleanlah. They offer residential and commercial cleaning assistance to ensure fast and efficient results that will guarantee you as their future loyal client.
Just Cleanlah uses soap-based cleaning products that are proven to be useful against bacteria and viruses. A piece of German equipment, broad-spectrum viricide misting and fogging technology is also utilised to disinfect rooms thoroughly.
Don't waste time on other companies, make sure to head to Just Cleanlah's site and check out their full list of services. You may receive a free, non-obligatory quotation if needed!
Highlights
Low cost
Eco-friendly cleaning
After party cleaning
High-quality services
Customer Reviews
Here is a review left by a satisfied client:
"Regularly get these guys to clean my mattresses as my kids have sinus issues. Once I called them on a short notice in the late afternoon to do an urgent deep mattress cleaning as my son was sneezing and coughing. They arrived 30 minutes! Highly recommend them. Their prices are very competitive for such an outstanding job they provide." -Brian Chiam
14. Anticimex
BEST FOR
To Prevent and Protect Clients from Viruses
SERVICES

Anticimex Disinfection Solutions for Offices, Hospitals, Schools, Hotels, Kindergartens, Shopping Malls, Childcare Centres, Residential Homes, Public Areas
General Pest Control for Individuals and Businesses
Garden Pest Control for Individuals and Businesses
SMART Pest Control for Individuals and Businesses

WEBSITE
https://www.anticimex.com.sg/our-services/powerful-virus-protection
ADDRESS

3A International Business Park,

#11-01 [email protected],

Singapore 609935

CONTACT DETAILS

Telephone:+6568623828

Mobile: 93826363

OPERATING HOURS

Monday – Friday, 8:00 AM – 6:00 PM
Anticimex Singapore can disinfect your office and workplace by delivering a broad-spectrum disinfection misting service, targeting both surfaces and inaccessible areas. Regular disinfection services should form part of your action plan to prevent the spread of harmful bacteria and viruses.
Their expert selection of broad-spectrum disinfectant enables the company to sanitise large areas in short periods of time, achieving maximum effectiveness and minimal downtime for your home and business.
The disinfectants Anticimex utilises are the same industrial grade, safety rated ones selected by governments worldwide for Emergency Disease Control and are listed in the biosecurity guides of the United Nations Food and Agricultural Organisation.
Their disinfectant has a broad-spectrum, non-selective range of oxidation reactions which ensures they have achieved destruction of their target organisms, with studies showing kills to pathogens in seconds.
Anticimex Singapore offers quality services with value for money, get a quote and obtain expert advice on disinfection services today.
Highlights
Modern Disinfectant
Worldwide Choice
Superior Safety
Environmental Profile
15. Primech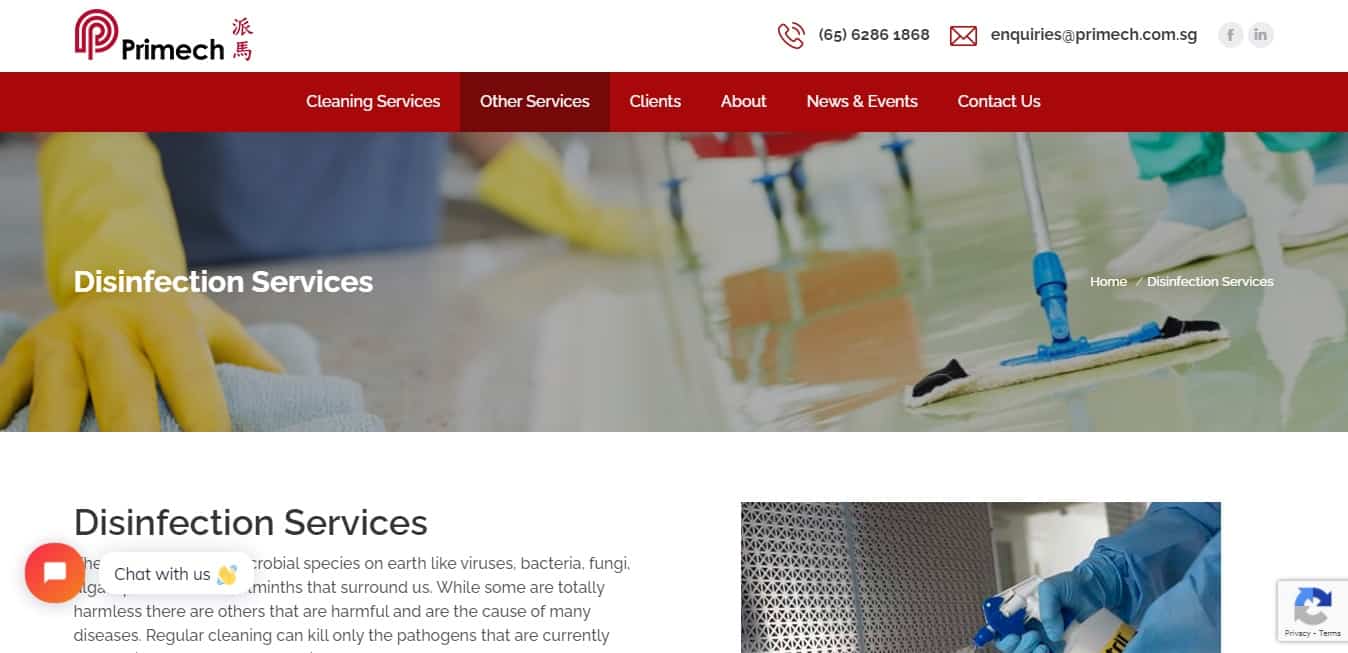 | | |
| --- | --- |
| BEST FOR | Cleaning services for all industries |
| SERVICES | Disinfection, general cleaning, office cleaning, retail store cleaning, hotel cleaning, and industrial cleaning |
| WEBSITE | https://www.primech.com.sg/disinfection-services/ |
| ADDRESS | 18 Howard Rd, #10-01 Novelty BizCentre, Singapore 369585 |
| CONTACT DETAILS | +65 6286 1868 |
| OPERATING HOURS | Monday – Friday, 8:30 AM – 5:30 PM |
Primech offers the best disinfection services in Singapore for residential homes, commercial spaces, hotels, schools, restaurants, clinics, and even sports centres. It isn't called an all-around cleaning service provider for nothing.
Its team of experienced cleaners uses different disinfection cleaning methods depending on the needs of the space. All of its methods have been proven to be effective in combating viruses, germs, and other contaminants.
It's no secret that most cleaning companies use harsh and strong cleaning products, but consider Primech different. It promises clients that only safe and non-toxic products will be used during the disinfection.
Its cleaning products are proven to be safe for children and pets, so no worries about your beloved pets getting exposed to harmful cleaning chemicals.
Highlights
Experienced cleaners
Varied cleaning methods
Safe cleaning products
16. Disinfection2u
BEST FOR
Commercial cleaning services
SERVICES
Commercial Disinfection
Warehouse Disinfection
Advanced Antimicrobial Coating
WEBSITE
https://www.disinfection2u.com/
ADDRESS
SPACES Clarke Quay,
Level 4, 21 Merchant Rd, Singapore
CONTACT DETAILS
+6588153055
OPERATING HOURS
Contact for more details
Disinfection2u is a leading provider of disinfection and office-readiness services related to COVID-19. They are a business unit of ServisHero.com, one of ASEAN's leading building services companies.
They provide expert services from disinfection to medical testing and everything in between. Due to their reliability and quality of work, leading organizations trust them for their virus-containment and prevention solutions.
You can turn to them for professional fogging and misting of approved disinfectants to sanitize your office or factory effectively. They provide preventative and urgent crisis-response services with professionally trained technicians in full PPE.
Using a proprietary application method, they can also coat high-touch surfaces with advanced ceramic nanocoating to provide up to 1 year protection from viruses and other microbes.
Their team of qualified medical staff can provide COVID-19 PCR swab testing to your team. They have various options available for on-site testing as well as drive-thru at one of their approved clinics.
Lastly, they supply a wide range of products to prepare your office for the return of employees. From Acrylic Desk Shields to UVC Sterilization Robots, they can offer these to you at competitive prices.
Highlights
24/7 customer service
Easy-to-use mobile application
Customer Reviews
Take a look at what customers have to say about their services:
"Initially I was apprehensive about using ServisHero as this is my first time engaging a handyman online not by referral but Shah exceeded my expectations and it was a fuss-free process! He was prompt in responding, punctual, polite and meticulous in his work! Would definitely recommend his services to anyone who needs it! Cheers ServisHero, you guys have a gem in your company! :)"

"Reliable service. The mobile application is easy to use and handy. Took me less time to find a cleaner than traditional websites. The service centre was fast to respond as well. Would 100% recommend to family and friends."
17.  ABANA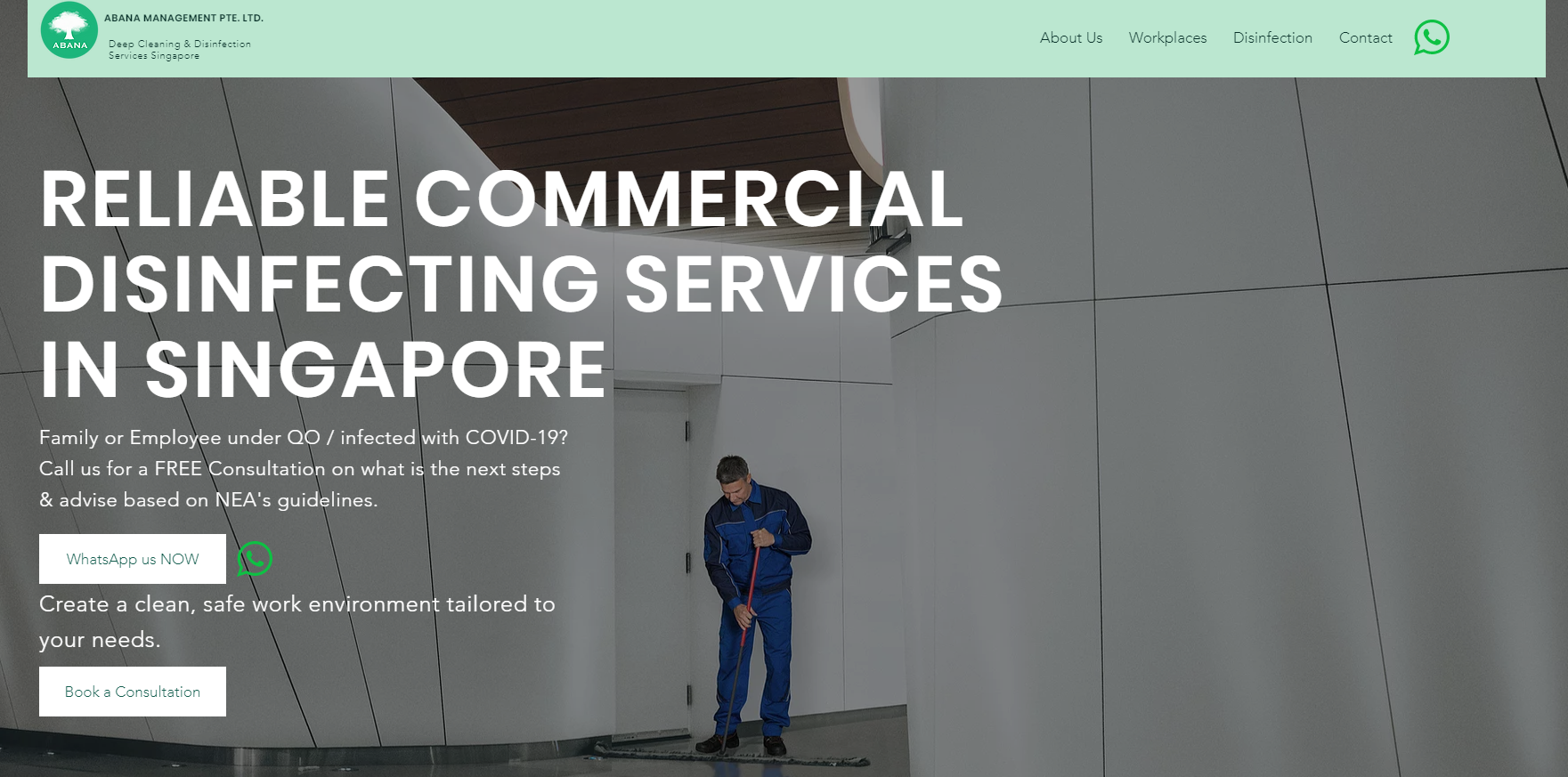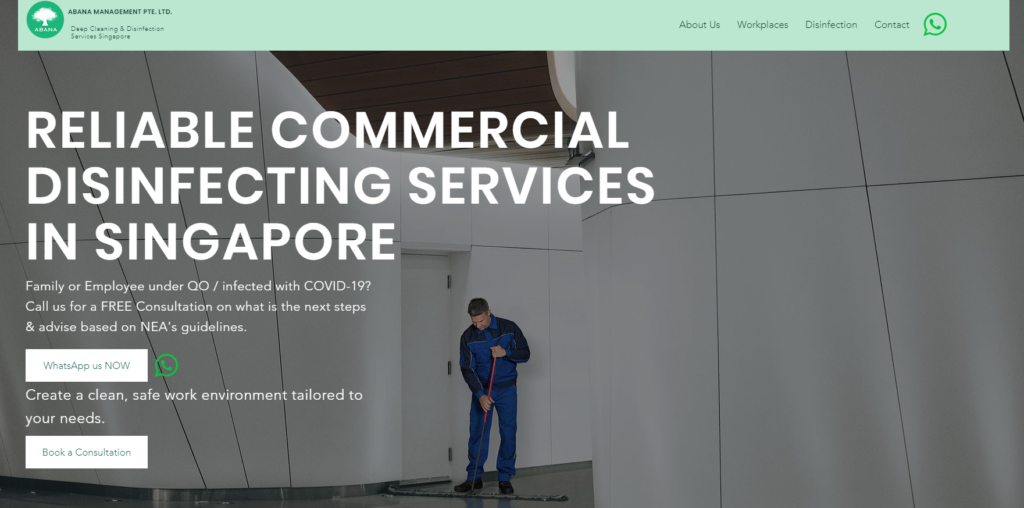 BEST FOR
Commercial Disinfecting Services
SERVICES
Precautionary Disinfection Service
Confirmed Covid-19 Case Disinfection Service
Customised Cleaning and Disinfection Services
WEBSITE
https://www.abanamgmt.com
ADDRESS
7030 Ang Mo Kio Ave 5 #01-25
CONTACT DETAILS
+65 6100 7111 


[email protected]

OPERATING HOURS
Contact for more details
It would be remiss not to mention ABANA Management while on the topic of best disinfection services in Singapore.
Established over 10 years ago, ABANA Management is a specialist cleaning company most known for their customised cleaning and disinfection services. The company typically works with commercial clients and properties, such as industrial buildings, condominiums, and various commercial complexes including offices in Singapore.
ABANA Management's team consists of highly qualified cleaning professionals that have access to high-tech equipment and environment-friendly cleaning and disinfecting products. These professionals are known to effectively apply disinfectant to all surfaces of the clients' property, eliminating viruses, bacteria, and other unwanted pathogens.
Aside from being highly efficient and effective, ABANA Management also makes a noteworthy choice given how the company values the clients' time and schedules. The company accommodates specific time and day requests for jobs, and also works to reply within 24 hours or as soon as possible.
Highlights
Offers free consultation

Customisable cleaning and disinfection services

Mainly caters to commercial clients
And that's the end of our list of cleaning companies with the best disinfection services in Singapore. If you've already chosen which one to hire, tell us all about your pick!
There are lots of cleaning companies in Singapore, so we might have missed on a few ones worth checking out too. If you know of some trustworthy cleaning companies, share their names with us and we'll check if we can add them to this article.
For more options, we recommend checking out our list of best cleaning services in Singapore. Our list features some of the most in-demand cleaning companies on the island that offer all sorts of cleaning services.