5 Best Mosquito Control Services in Singapore Reviewed
Already tried spraying, electronic repellents or other DIY solutions, but you still can't get rid of the mosquitos around your place? If you're experiencing this problem, then it's probably time to ask for professional help and get the best mosquito control in Singapore!
Unlike traditional mosquito control methods, skilled technicians use advanced solutions to exterminate mosquitoes. Some Singapore mosquito control companies even develop their own treatments for more effective results.
So to save yourself from spending too much on temporary solutions, here are some of the top pest control companies that provide the best mosquito control in Singapore!
1.  Mosquito Management System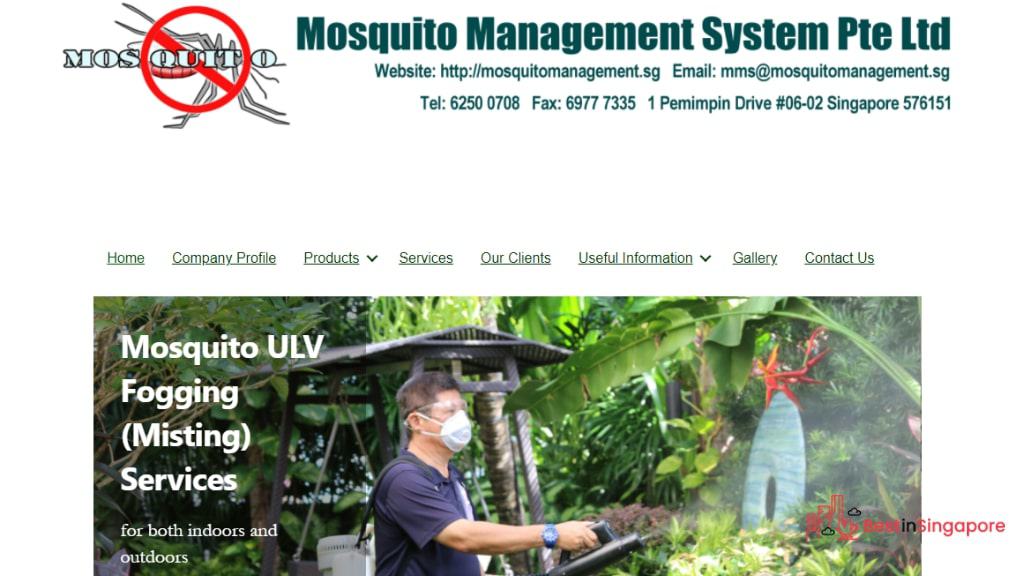 | | |
| --- | --- |
| BEST FOR    | Automated mosquito misting systems |
| WEBSITE | https://mosquitomanagement.sg/ |
| ADDRESS | 1 Pemimpin Drive #06-02 Singapore 576151 |
| CONTACT DETAILS | +65 6250 0708 |
| OPERATING HOURS | Monday – Friday: 9:00 AM – 5:00 PM |
Mosquito Management System is known for using advanced solutions such as automated mosquito misting systems which come in two different types. 
These systems feature pumps, insecticide solutions, and nozzle circuits that'll be installed around the place. They ensure constant protection by applying the mosquito misting system on a predetermined schedule.
Their other treatments include environment-friendly mosquito traps that are made to run 24/7—making sure that your place is fully protected against mosquitoes.
Aside from these, they also use portable ULV fogging/misting equipment that sprays a fine mist of insecticides which drifts and spreads around the premise before dropping on the ground. This is an effective way to provide long-lasting protection and fully terminate the mosquitos.
Overall, this is one of the best mosquito control services in Singapore if you want 24/7 protection against the annoying buzz!
Highlights
Specially designed mosquito traps
Portable ULV fogging/misting equipment
Free consultation and quotation
Customer Reviews
Many customers were impressed with the wide range of treatment options of Mosquito Management System. They also said that the offered rates were mostly dependent on the size of the area which is highly fair and honest.
These are the reasons why the company has been recognised for providing the best mosquito control in Singapore. A customer gave this feedback:
"Worked with Mosquito Management System to install a whole house solution for mosquito abatement.  A very easy experience, as they were responsiveness and professional.  From first call to installation, was only one week.  We have definitely seen an improvement in our overall mosquito presence."
2.  ProServ Pest Control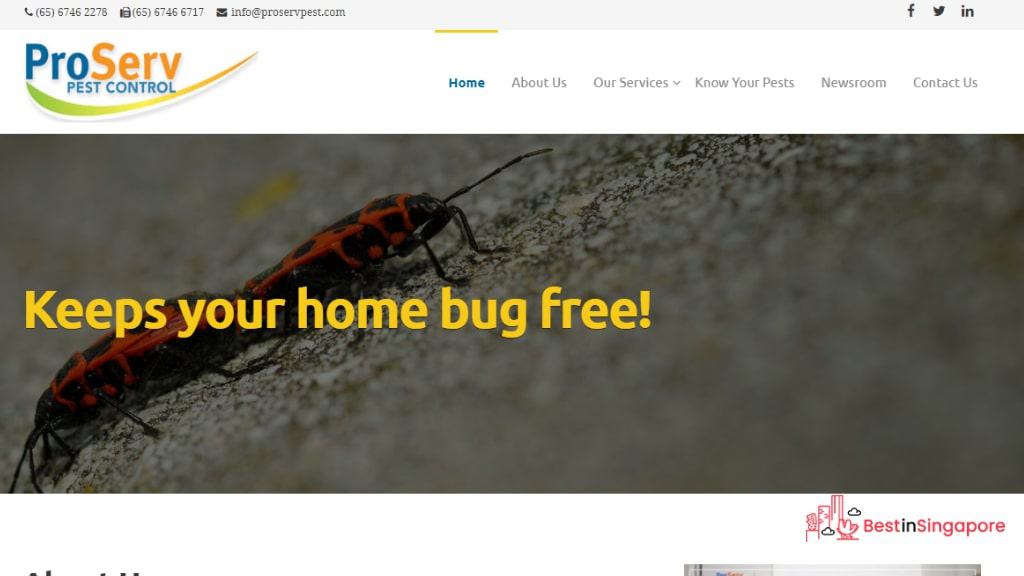 | | |
| --- | --- |
| BEST FOR    | Old and modern mosquito control techniques |
| WEBSITE | http://www.proservpest.com/ |
| ADDRESS | 1 Bukit Batok Crescent #07-30 Wcega Plaza S(658064) |
| CONTACT DETAILS | (65) 6746 2278 |
| OPERATING HOURS | Open 24 hours |
Unlike the previous option that solely focuses on mosquito control, ProServ Pest Control offers a great range of treatments for all kinds of pests.
When it comes to their services for mosquito control in Singapore, they use various techniques that aren't only effective but also safe and long-lasting. This includes larviciding, water-base or thermal fogging, outdoor misting, and barrier treatment.
Their treatment process consists of initial inspecting of pest infestation, conducting all necessary solutions and additional recommendations to further eliminate the breeding grounds of mosquitoes.
Due to their comprehensive preventative measures and experienced professionals, they've become known for having the best mosquito control in Singapore.
Highlights
Environment-friendly solutions
Proactive prevention measures
Residential and commercial services
3.  Absolve Pest Control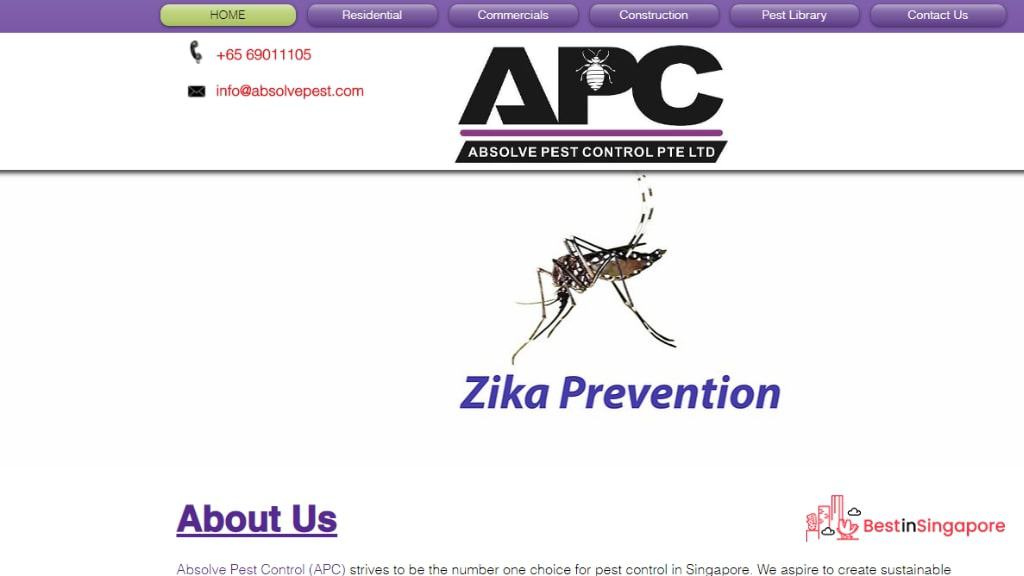 | | |
| --- | --- |
| BEST FOR    | Construction services |
| WEBSITE | https://www.absolvepest.com/ |
| ADDRESS | 3 Soon Lee Street #04-12 Pioneer Junction Singapore (627606) |
| CONTACT DETAILS | 69011105 |
| OPERATING HOURS | Open 24 hours |
Absolve Pest Control's sustainable solutions aren't only for residential and commercial sectors.  They also accommodate the needs of the builders before and after a construction project.
Most importantly, they provide customised treatments to make sure that their service would be the best mosquito control in Singapore for you.
They specialise in conducting larvae control to eliminate the habitat of mosquitoes, thus preventing the growth of its breeding sources. Then, they'll do power misting for fast and full extermination of mosquitoes.
There's no need to worry about possible health hazards because their misting solutions are non-toxic and don't emit smoke.
Highlights
Larvae control and powerful misting treatments
Residential and commercial services
Onsite quotes
Emergency services
4.  Top Pest Control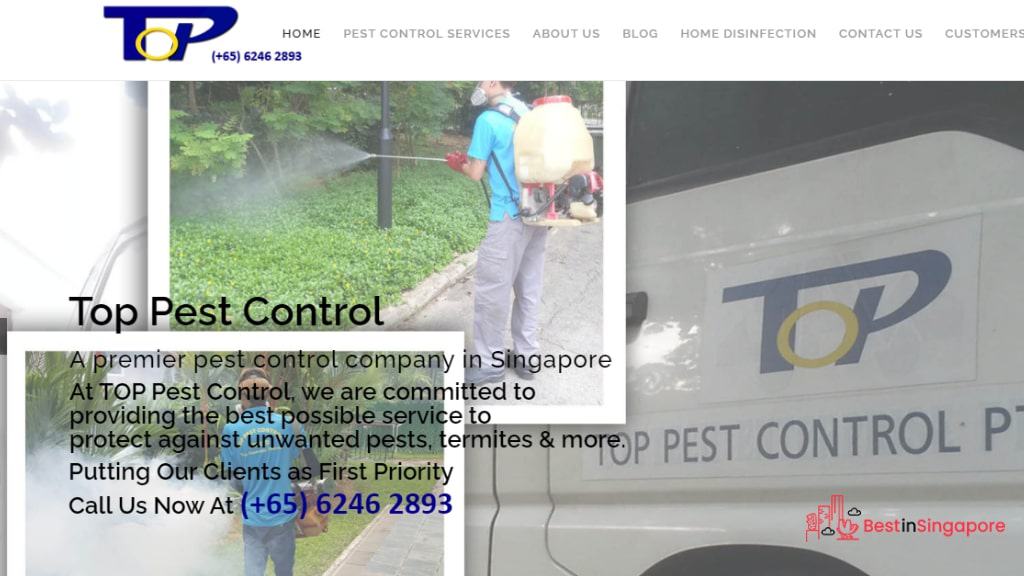 | | |
| --- | --- |
| BEST FOR    | Commercial and industrial services |
| WEBSITE | https://www.top-pestcontrol.sg/ |
| ADDRESS | 3791 Jalan Bukit Merah #08-12 Singapore 159471 |
| CONTACT DETAILS | +65 6246 2893 |
| OPERATING HOURS | Open 24 hours |
Top Pest Control uses a specialised program to meet the specific needs of every building. Their trained technicians have dealt with countless pest problems for both residential and commercial clients so rest assured that they can help you, regardless of how major the issue is.
As the provider for the best mosquito control in Singapore, they'll be able to immediately determine all potential breeding grounds and eliminate all existing mosquitoes permanently. In case of urgent treatment, they also serve emergency assistance.
 Highlights
One-off treatments
Emergency services
Multi-site service agreements
Free consultation and quotations
Customer Reviews
Due to the multi-site service agreements, most customers mentioned that the mosquito control treatments of Top Pest Control are highly suitable for corporate facilities.
A customer left this feedback: 
"Excellent service. They done the work as they committed and in a very competitive price. Good practical advice and obviously very aware of and considerate of the environment. Absolutely recommend Top Pest Control and if we ever need to, will definitely use them again."
5.  Origin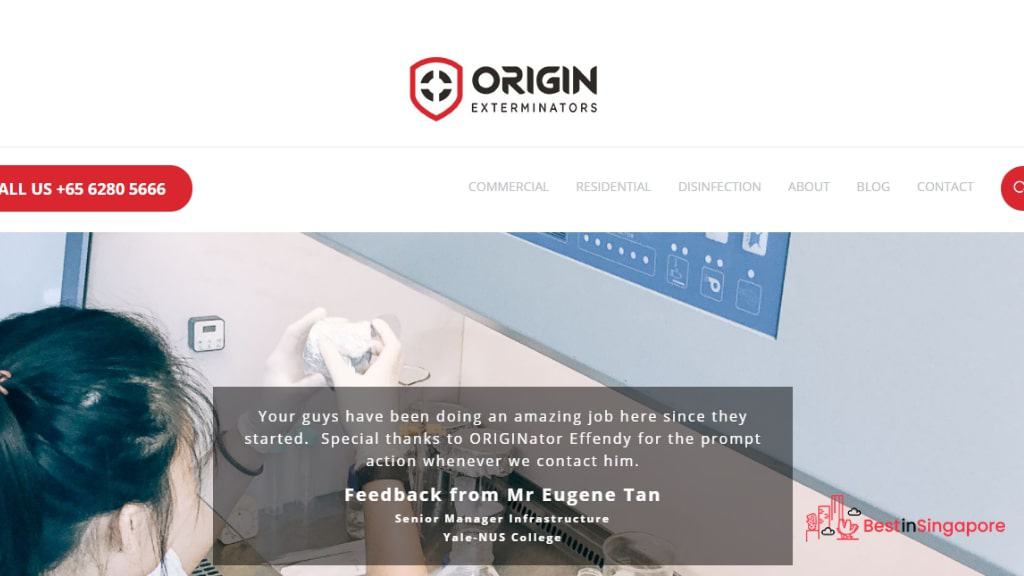 | | |
| --- | --- |
| BEST FOR    | Customised and innovative mosquito control treatments |
| WEBSITE | https://www.origin.com.sg/ |
| ADDRESS | 39 Jalan Pemimpin #01-01 Tailee Industrial Building Singapore 577182 |
| CONTACT DETAILS | +65 6280 5666 |
| OPERATING HOURS | Monday – Saturday: 8:00 AM – 6:00 PM |
Origin specialises in conducting sustainable pest control techniques for every household. You may simply send a photo of the current situation at your home, then they'll immediately identify the problem and provide treatment recommendations.
With their in-house biologists, entomologists, and environmental science professionals, they're able to produce their own mosquito control solutions. They use flush-out treatments that consist of gentle non-staining water-based solutions for both indoor and outdoor areas.
They also have larviciding programs that'll quickly eliminate the mosquitos. All of their treatment options are chemical-free and asthmatic-safe.
We like their tech-friendly service so it's the best mosquito control service in Singapore if you have a very busy lifestyle.
Highlights
Sustainable baiting system
Water-based mist
Non-conventional smoke fogging
Free consultation
And that's our list of places with the best mosquito control in Singapore! If you'd like to suggest more options, feel free to share them with us in the comments below!
For additional protection, you may also try buying the best mosquito net in Singapore and install it for your place. This will help keep the mosquitos away—be it day or night!