The Top 17 Services for the Best Termite Control in Singapore
Termites are among the worst pests that can infest a building. That's why we're here to help you find a great service company that offers the fastest and best termite control in Singapore.
To spare you the trouble of doing the search, we did it ourselves. We went all over the island looking for the most dependable, most professional, and most technologically-advanced options.
At the end, we narrowed down our selections and came up with these few businesses that have unfailingly reliable work and some of the best termite control in Singapore.
1. Termite Specialist Pte Ltd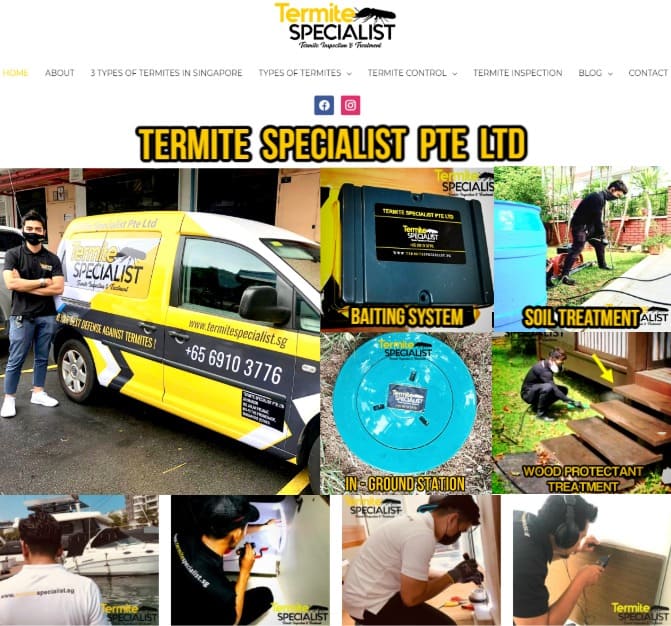 BEST FOR

Specialized In Termite Control & Prevention

WEBSITE

https://www.termitespecialist.sg/

ADDRESS

61 Bukit Batok Crescent #05-04, Heng Loong Building Singapore (658078)

CONTACT DETAILS
+65 69103776 (Office) |

[email protected]

| 8754-7562 (Whatsapp)

OPERATING HOURS

09:00 AM – 22.00 PM

Monday – Sunday
As their name suggests, Termite Specialist takes pride that they are the only company in Singapore in which termite prevention and control is their primary focus. They bet that their service is the best in termite control and provides free assessment before they take on a project.
Highlights
Dedicated termite control and prevention programme

Free site assessment
Customer Reviews
The company has a 5 star rating in Google reviews. Here are some of the comments:
"We had a termites infestation which we tried to DIY ourselves using off the shelves spray. It killed them initially but eventually it got worse! Hence we searched around the internet for the best termites pest control in Singapore. We called several pest control companies but Roy, Termite Specialist Pte Ltd provided the most reassuring customer services and of course pricing. From the 1st inspection till the final inspection, just 1 word PROFESSIONAL! We are very pleased with their services and best of all they give 1 year warranty after the final inspection full eradication. Don't bother looking for other termites companies! We reckon they are the best in services and pricing. Thanks Roy."
"i decided to terminate my existing pest control. I google and found termite specialist pte ltd. Called them and Roy came for inspection. I was impressed when they came my house for inspection with all their tools."
2. Pest Control Compared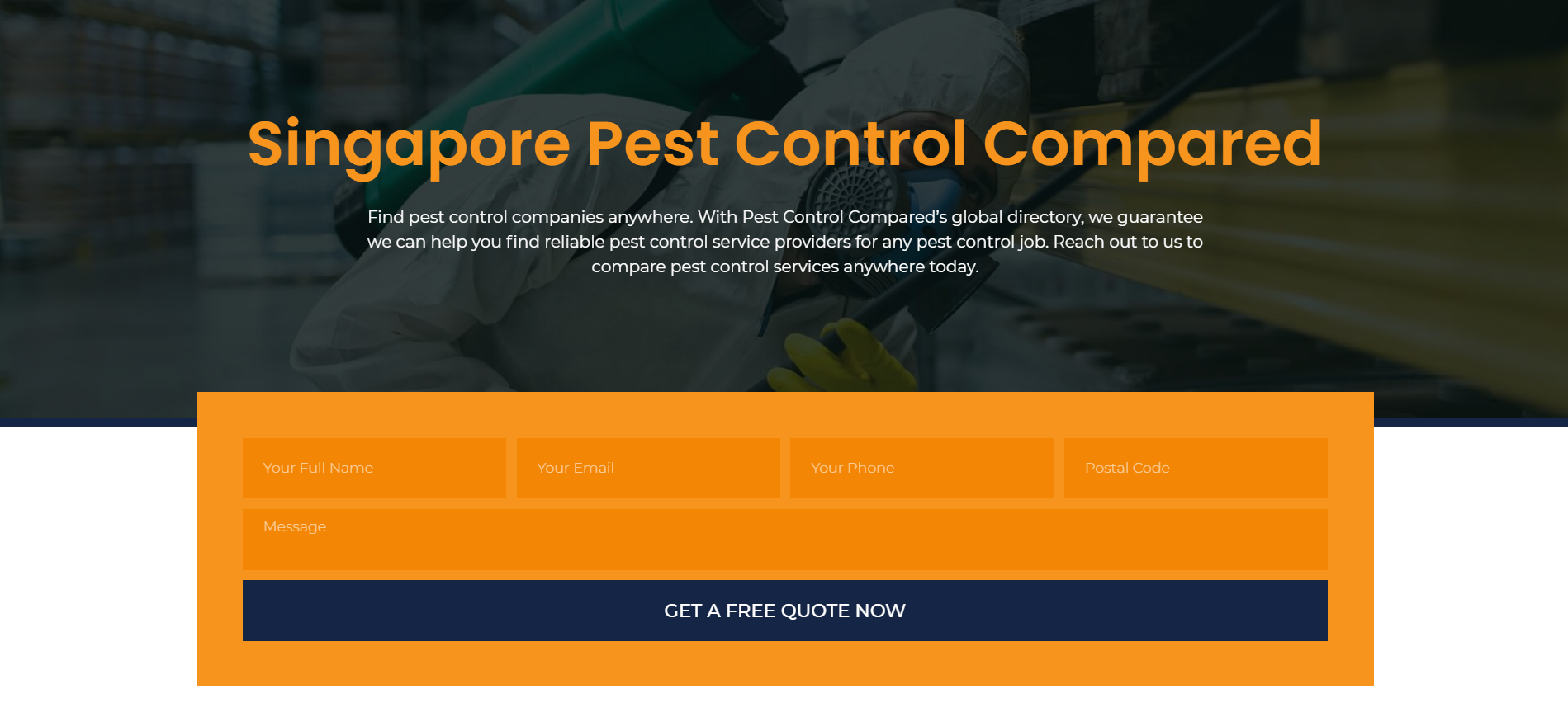 Pest Control Compared is a platform that will help you find the best pest control companies in the area. No matter where you may be, they will be able to help you compare and choose the best pest control service provider for your property.
Their comprehensive directory is composed of only the most skilled and reliable companies, so you won't need to worry about getting poor work done. With their help, no pest control problem will be left unresolved. Check out their website now!
Highlights
Find pest control anywhere in Singapore
Compare pest control anywhere
Comprehensive directory
Skilled and honest contacts only
3. Singapore Pest Control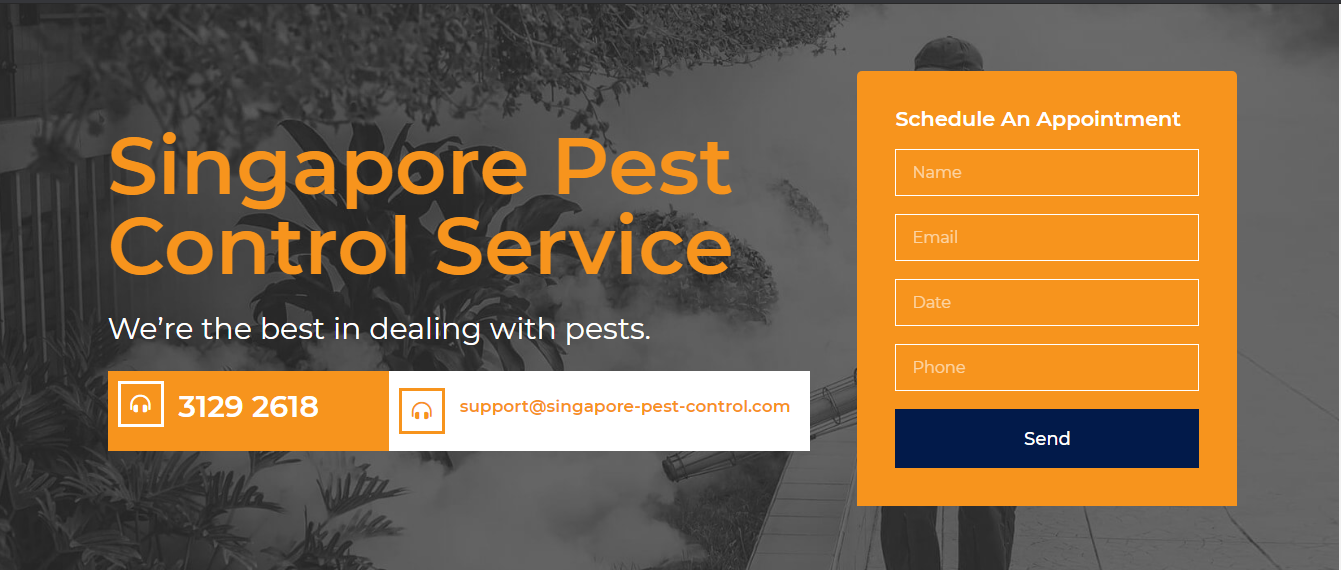 If you are bothered with the pests wandering inside your homes and offices, Singapore Pest Control can provide the most reliable assistance. They offer a wide range of services, as well as fully trained and professional staff that will surely meet all your standards. They can handle many varieties of uninvited pests, from creepy crawlies to furry rodents.
There are a lot of things involved in pest control besides driving critters away from your place– Singapore Pest Control can cover all those bases. They offer initial check ups, which allows them to assess the damage to your place and helps them plan the next course of action. They also minimise the chances of an infestation from happening again, by surveying your place thoroughly and giving you tips on how to keep it critter free.
Best of all, their services are available 24/7. If you encounter any nighttime critters, you can call Singapore Pest Control for immediate extermination. Contact them now and reward yourself with a pest-free area that is certain to make you feel comfortable and unbothered.
Highlights
Highly trained personnel
Offers regular check-ups
Open 24/7
4. Pest Busters

| | |
| --- | --- |
| BEST FOR | Innovative pest management |
| WEBSITE | https://www.pestbusters.com.sg/ |
| ADDRESS | 22 New Industrial Rd, #02-03 to 08 Primax, Singapore 536208 |
| CONTACT DETAILS | +65 6432 8288 |
| OPERATING HOURS | Weekdays, 8:30am–6pm |
Pest Busters offers different kinds of pest management strategies including fumigation, termite, and mosquito control. They also cater to both residential and commercial areas.
During operations, they use reliable products that'll surely eliminate all types of pests. They have several international branches, proving that they're among the services with the best termite control in Singapore!
Highlights
Commercial and residential
Fumigation
Mosquito control
5. Origin Exterminators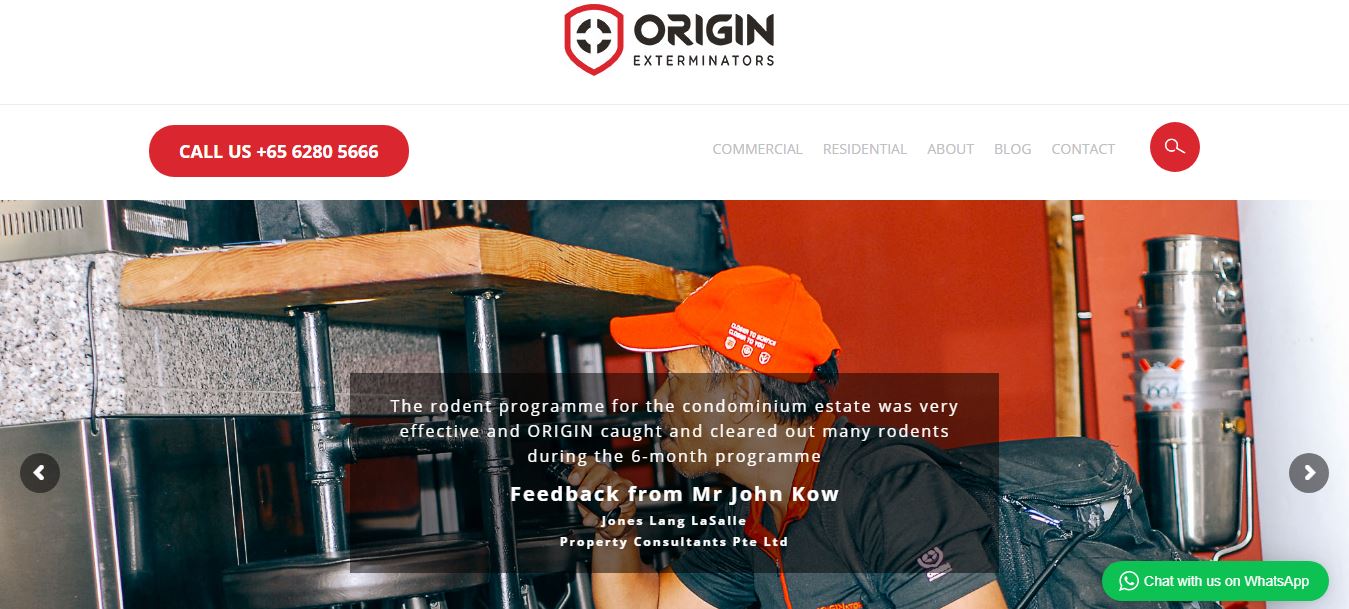 BEST FOR
Residential and commercial areas
WEBSITE
https://www.origin.com.sg/
ADDRESS
39 Jalan Pemimpin #01-01, Tailee Industrial Building Singapore 577182
CONTACT DETAILS
(65) 6280 5666
OPERATING HOURS
Weekdays, 8am–6pm

Saturday, 8am–6pm
If you're a business owner looking for the best termite control in Singapore that can protect your work area against harmful pests, then you should see the services of Origin Exterminators.
All of their treatments are environment-friendly, so they're very safe to use. They eliminate ants, bed bugs, cockroaches, flies, mosquitoes, rodents, termites, and other pests.
For the commercial areas, they cater to offices, factories, pharmaceuticals, schools, hospitals, retail locations, and other types of real estate.
Highlights
Sustainable treatments
Residential and commercial areas
Customer Reviews
As Origin Exterminators has been in the industry for more than a decade, they've become one of the most well-known companies that have the best termite control in Singapore.
Though there are some who mentioned delayed responses, most clients still complimented the improvements in their environment. A client posted this feedback on Google Reviews:
"ORIGIN assisted me in a very serious bed bugs case. They were very responsive, thorough in going through the treatment plans, patiently addressed all my questions and concerns. Have been through a few pest control vendors, but Origin's treatment was the one that I really saw visible improvement to the pest issue. Thank you to the wonderful team!"
6. Rentokil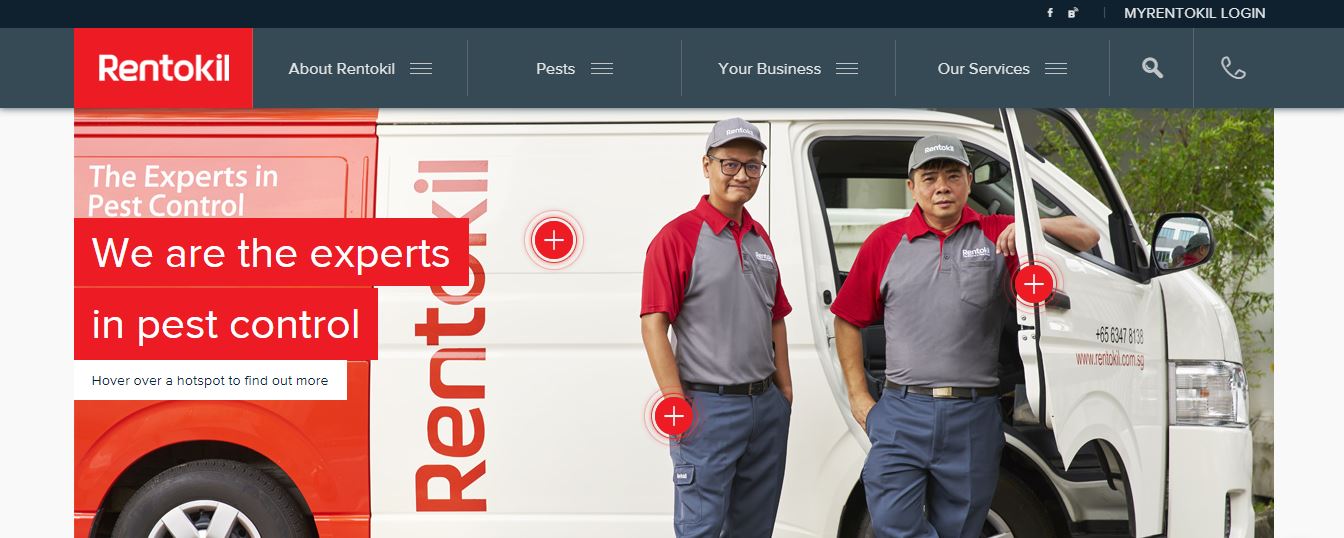 | | |
| --- | --- |
| BEST FOR | Wider range of pests than most pest control businesses |
| WEBSITE | https://www.rentokil.com.sg/ |
| ADDRESS | 16, 18 Jln Mesin, Singapore 368815 |
| CONTACT DETAILS | +65 6347 8138 |
| OPERATING HOURS | Open 24 hours |
Rentokil can prevent a wide range of pests from causing harm at your home and business operations. Their services include terminating termites, insects, as well as rodents and other wildlife.
Another good thing about them is their online services such as digital reporting and eBilling. In this way, monitoring the progress of their operation and your payments would be more convenient than with the average pest control company.
Highlights
Online services
Business and residential areas
Customer Reviews
Many customers showed positive reviews because of the responsive actions and effective solutions of Rentokil. That's why they're considered among the top options when it comes to the best termite control in Singapore.
A customer shared this feedback on Google Reviews:
"Positive: Punctuality, Quality, Responsiveness, Value
My company operates food chain business and have been using Rentokil Pest Control Service for several years. Samuel and Fyn provide good services and fast response on the follow up treatment. And, i would recommend this pest control service provider for my company's future outlet too. Great job!"
7. Killem Pest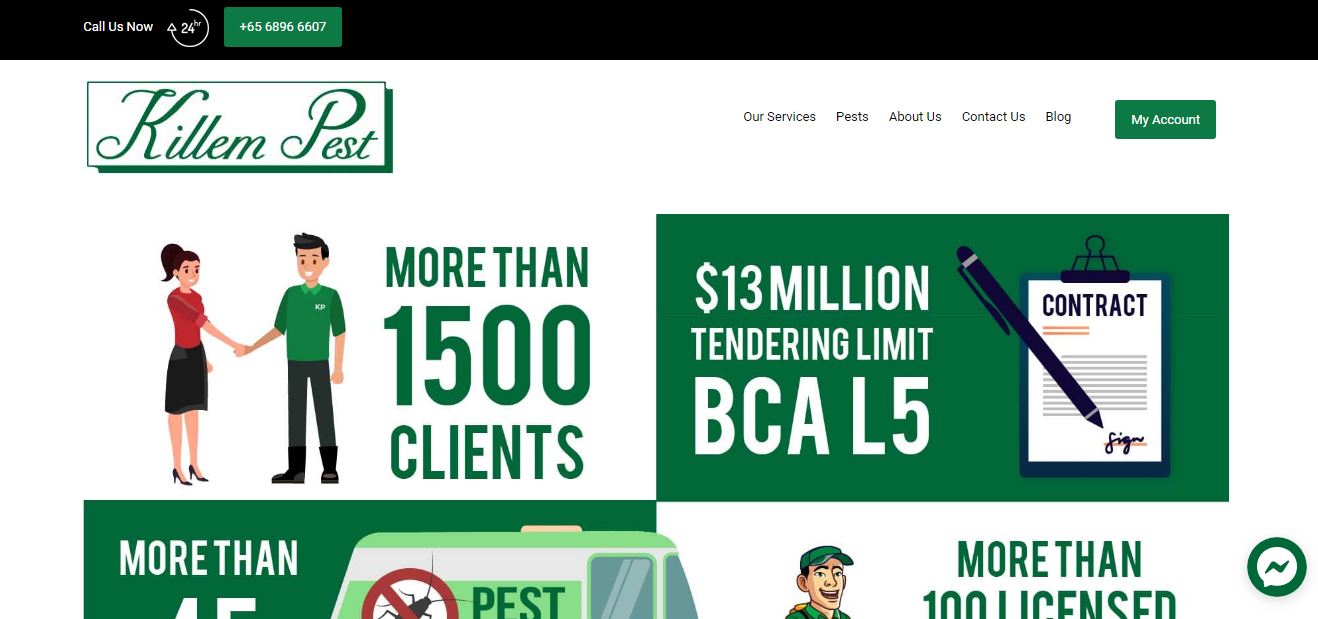 BEST FOR
Government properties
WEBSITE
https://killem.com.sg/
ADDRESS
48 Toh Guan Road East, #04-99 Enterprise Hub, Singapore 608586
CONTACT DETAILS
6896 6607
OPERATING HOURS
Weekdays, 8am–6pm

Saturday, 8am–1pm
The award-winning Killem Pest company has also been recognised on the international scene, proving that they indeed provide the best termite control in Singapore. Most of their clients are big institutions such as Marina Bay Financial Centre, Nanyang Technological University, and more.
They offer full coverage when it comes to their services. They also specialise in residential, commercial, and government properties.
Highlights
Residential and commercial
Pest audit
Experience serving government properties
Customer Reviews
Most clients praised the well-trained and skilled technicians of Killem Pest. Because of their services, many public institutions have totally become pest-free.
A business owner gave this review on Google Reviews:
"Thank you so much for the impeccable service carried out at my home. The service technicians are very professional and well trained. Not only was the service carried out in a very orderly manner, the technicians highlighted some concerns and have provided me with very valuable advice.Heart felt gratitude, many thanks."
8. EndTimesPest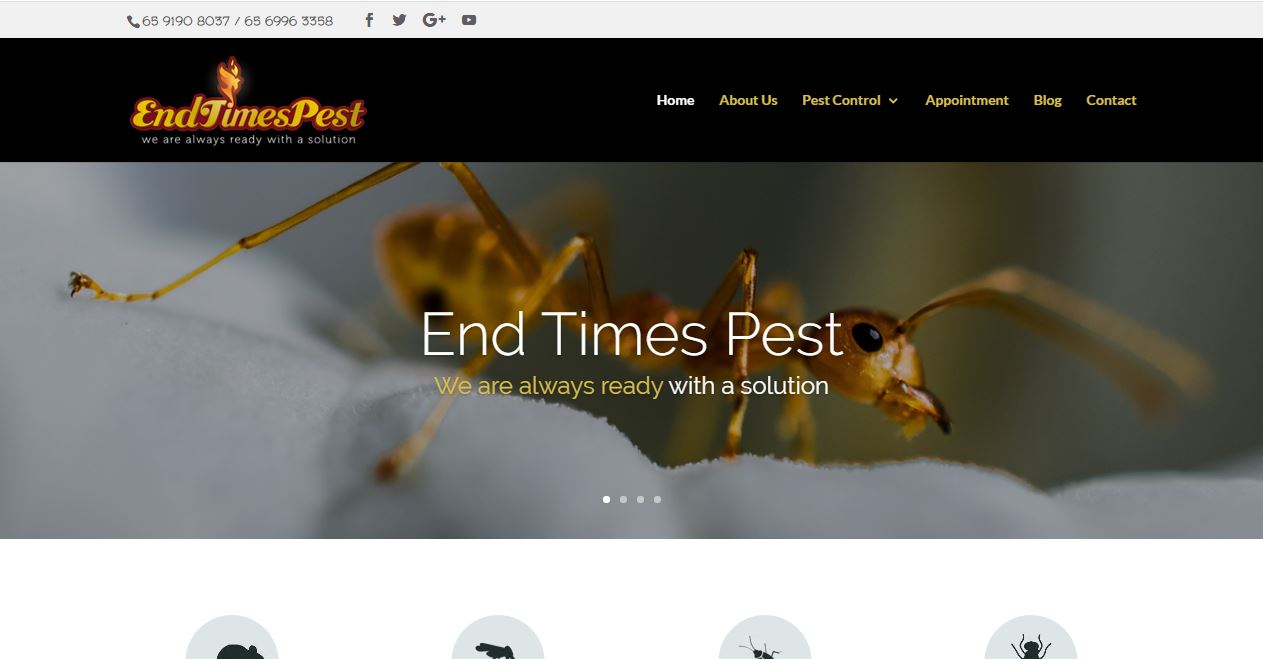 | | |
| --- | --- |
| BEST FOR | One-stop pest control solutions |
| WEBSITE | https://endtimespest.com.sg |
| ADDRESS | 10 Anson Road # 10-11 International Plaza. Singapore 079903 |
| CONTACT DETAILS | +65 9190 8037 / +65 6996 3358 |
No bed bugs, cockroaches, termites and any other pests will be lounging on your house after you avail the services of EndTimesPest Management.
Their team of well-trained and professional technicians guarantees to provide high quality services to make sure that every corner of your house will be free from pests and any other unwanted insects.
The products are family-friendly so you don't need to worry about some health-risks because their insecticides spray are only meant to incapacitate pests and insects and nothing else— not even your oldest furniture and other home appliances.
Highlights
Family-friendly spray products

Faster response in urgent situation

Professional services at reasonable prices
9. Four Solutions
BEST FOR

Pest and Air Management

WEBSITE

https://fourpestsolutions.sg

/

ADDRESS

T-Space, 1 Tampines North Drive 1, #08-57, S528559

CONTACT DETAILS
+65 87788080 | [email protected]
OPERATING HOURS

Monday to Friday 09:00 AM – 06:00 PM

Saturday 09:00 AM – 05:00 PM

Excluding public holidays

(Since they offer 24/7 service, other timing will be considered as an emergency, and additional charges may apply)
Four Solutions Pest & Air Management offers a wide array of pest-control service, as well as air management. They use the most effective methods and pesticides to ensure that your termite problem is gone.
They offer 24/7 same day service. They also guarantee that they respond within an hour of your request.
Highlights
24/7 same day service

Fast response time
Customer Reviews
Four Solutions Pest & Air Management has a 5 star rating in Google reviews. Here are some of customers' thoughts about their service:
"Slowed the rodent and termite infestation and eventually totally removed them. Effective as they went for the source".
"Engaged them to clear our office of pests and sanitise the place and they did a wonderful job!".
10. EcoSense

BEST FOR

Pest Control and Decontamination Services

WEBSITE

https://www.ecosense.sg/

ADDRESS

531a Upper Cross Street #04-95, Hong Lim Complex, Singapore 051531

CONTACT DETAILS

+65 9819 8432 |

[email protected]
Giving 'A Clean Sense of Life' is what EcoSense is working towards. As their contribution, they offer a wide range of pest control and decontamination services to easily get rid of unwanted bacteria and viral pathogens that ruin residential and commercial areas and the environment in general.
EcoSense makes sure to do their job thoroughly while using only environment-friendly products and procedures. They also conduct their daily operations while keeping in mind that they need to help reduce energy consumption, air and noise pollution.
For urgent concerns and emergencies, EcoSense keeps their lines open 24/7.
Highlights
NEA & EPA Approved Chemicals

Commercial Grade Equipments

Certified & Professional
11. Fumida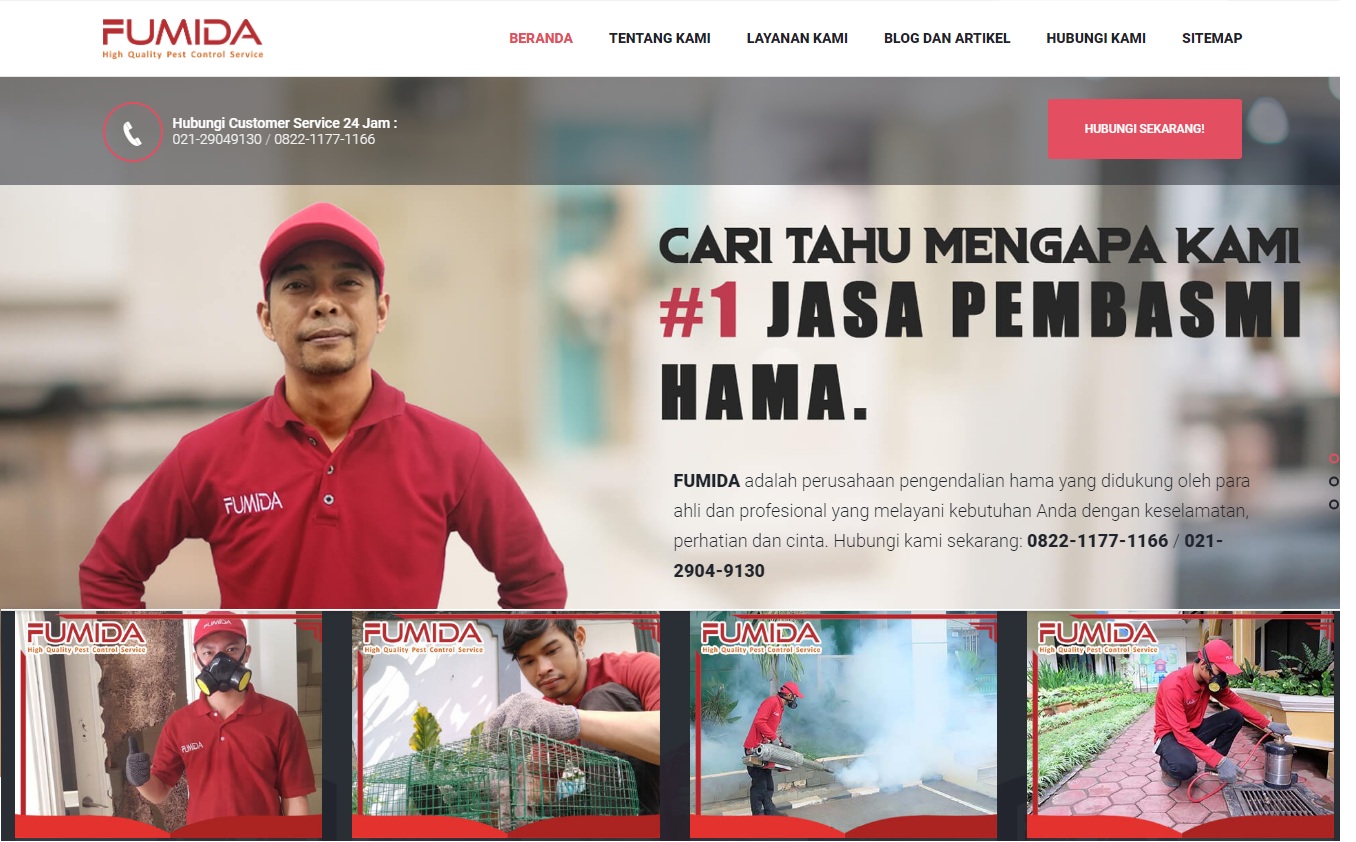 BEST FOR

Anti-Termite Piping System

WEBSITE

https://fumida.co.id

CONTACT DETAILS

+622129049130 | +6282211771166

OPERATING HOURS
Monday – Friday:

9:00 am – 6:00 pm
In case you have termite problems at your home or office, then you may consult Fumida. This is a "pest control service provider" which has always offered its customers with their reliable and trustworthy service. They provide pre-construction and post-construction termite control; thus, making sure your home or office is safe from possible infestation.
The company uses various ways to eradicate termite. One of which is through the installation of PVC sites to distribute chemicals to the ground. Another is through what they called "termite baiting." Whatever you choose, you are guaranteed to have 100% satisfaction about their service and treatment.
Highlights
Always on time
Skilled workers
Affordable and reasonably priced
12. Ikari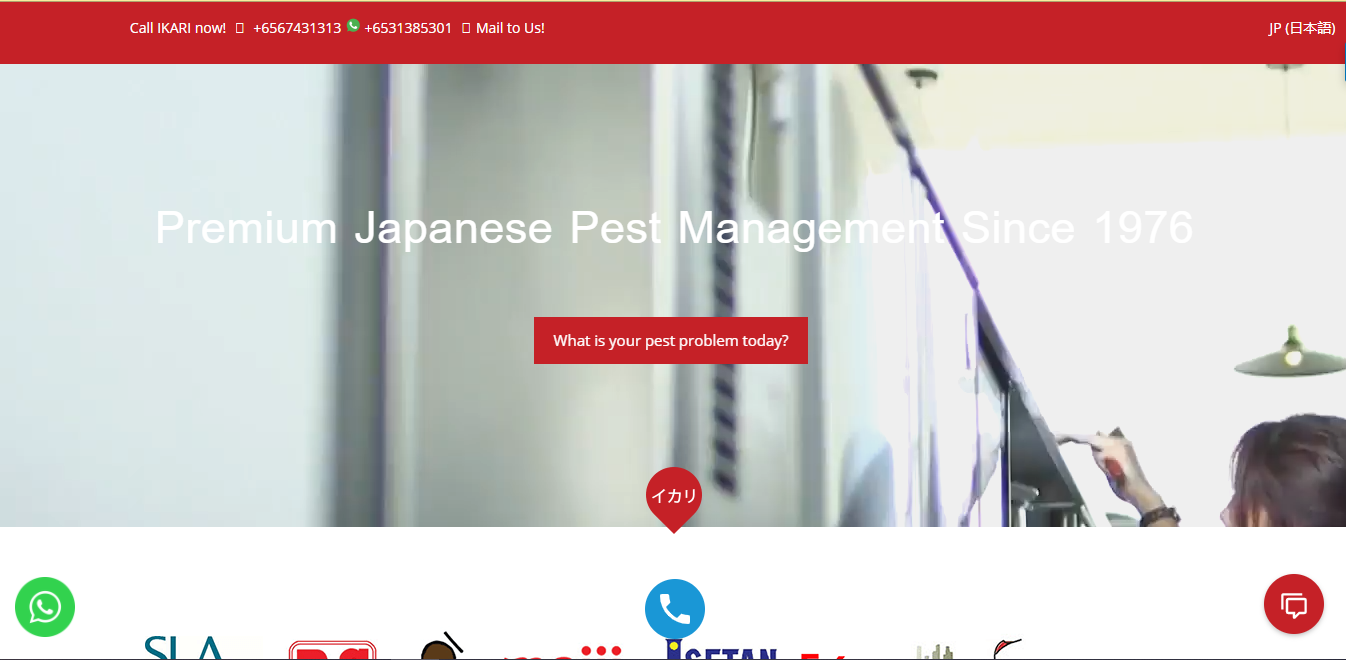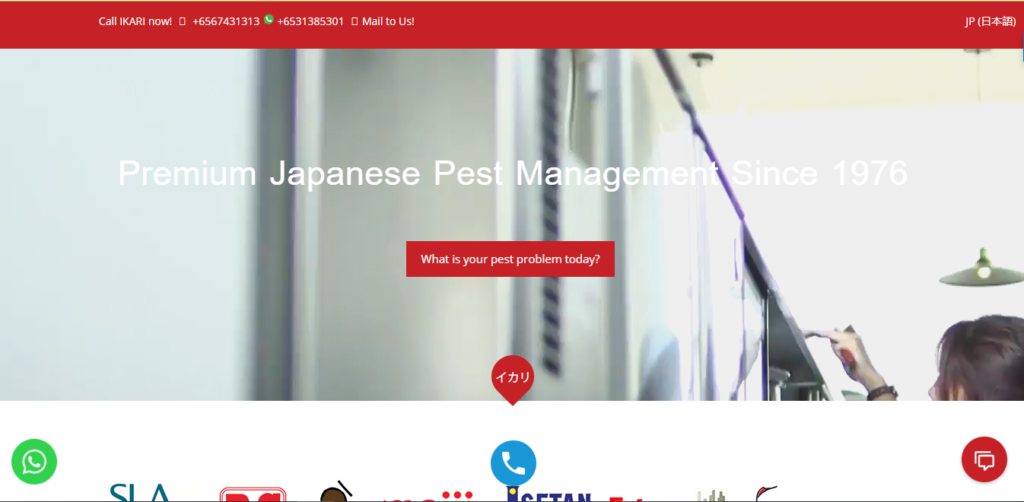 BEST FOR
Eco-friendly products
SERVICES
Disinfection, pest control
WEBSITE
https://www.ikari.sg/
ADDRESS
625 Aljunied Road #03-07 Aljunied Industrial Complex Singapore 389836
CONTACT DETAILS
+(65) 6743 1313
+(65) 6741 3267


[email protected]

OPERATING HOURS
N/A
Ikari Singapore has been one of the most reliable pest control services since 1976. They value health and safety as the top priority, which is why they strictly follow their 5-step process.
Their methods and materials are of low toxicity and are thus safe for kids and pets.
And with the latest technologies and modern equipment, they can terminate termites without tearing down your walls.
Ikari Singapore is an expert in dampwood, drywood, and subterranean termites. Besides termites, they are also experienced with ants, bed, bugs, cockroaches, rodents, and many more pests.
Highlights
Multi-awarded services
Safe and non-toxic methods and materials
Termite extermination without tearing down walls
Residential, F&B, and commercial services
Customer Reviews
Here are some reviews to help you understand how Ikari has stayed in the pest management business for a long time.
"Ikari offer contracted services to my work place with competitive price . All employees I have dealt with have always been helpful, friendly and professional. Any pest call outs have been addressed promptly with full investigation.—"Desmond Teo
"Highly recommend them for the efficient, meticulous and fast response. Contacted them on a Sunday and got a reply immediately. The customer service by Angelia was very professional, prompt and very fast. The team that came down next day included Mr Wong and Mr Sherman. Their checking was extremely thorough and I was impressed by their level of detailing and inspection. Mr Wong's experience of over 30 years was clearly evident and I feel assured the decision to select Ikari was the right one."—Abilash Nair
13. EcoSpace Pest Management Pte Ltd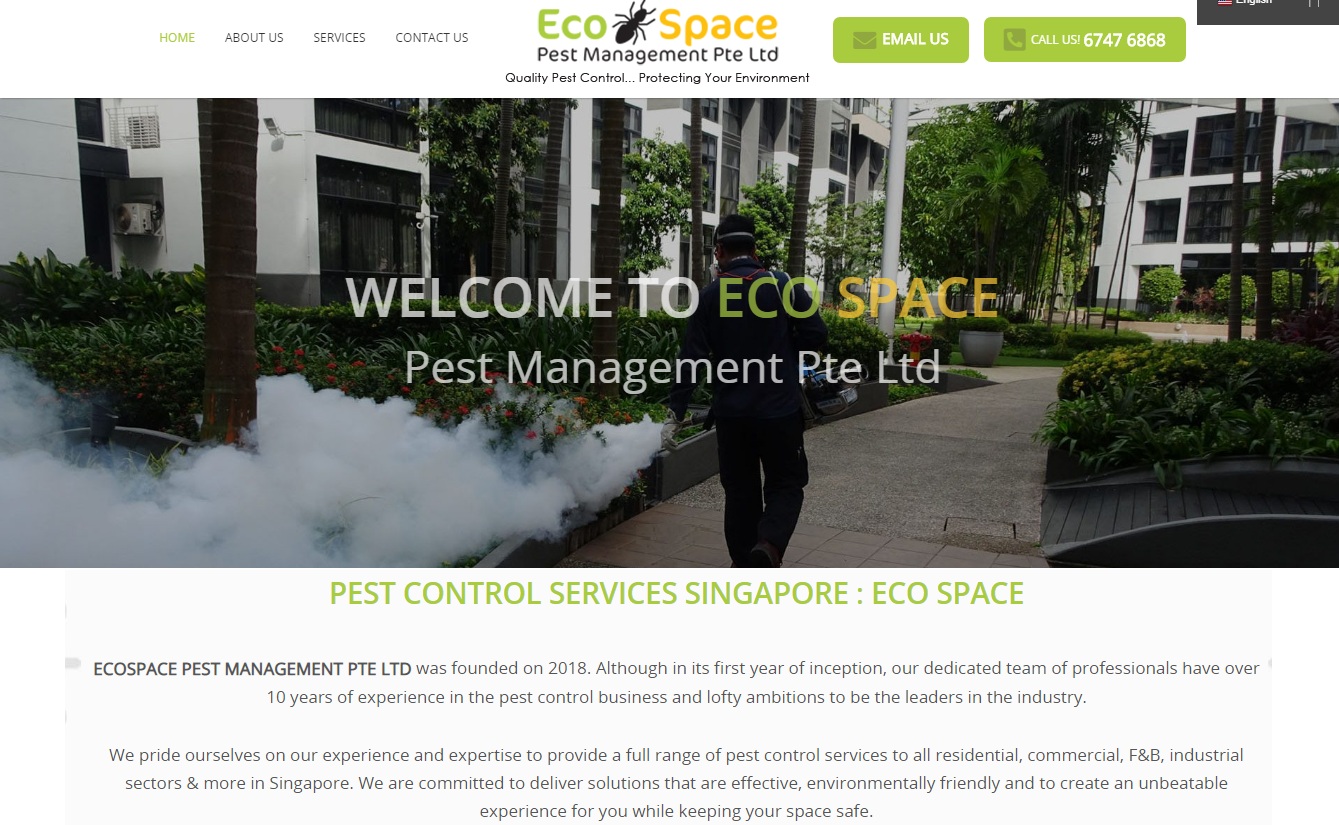 Although EcoSpace Pest Management has just been established in 2018, its in-house staff have a combined 10 years of experience exterminating pests like termites all over Singapore.
These guys have the knowledge to deal with any kind of critter and they'll take measures to make sure those pests don't come back.
They offer a full range pest control services that do not only deal with termites but with other pests and insects as well as such as cockroaches, mosquitoes, rodents, bed bugs, etc.
Highlights
Caters to residential, commercial, F&B, industrial sectors

Environment-friendly solutions

Easy to communicate and book appointments
Customer Reviews
"Top-notch service rendered by Victor and Kelvin. They responded almost immediately to my problem. He found the root of the issue and was able to provide an immediate solution. Highly recommended. Quality service at a reasonable price."
14. The Pest Man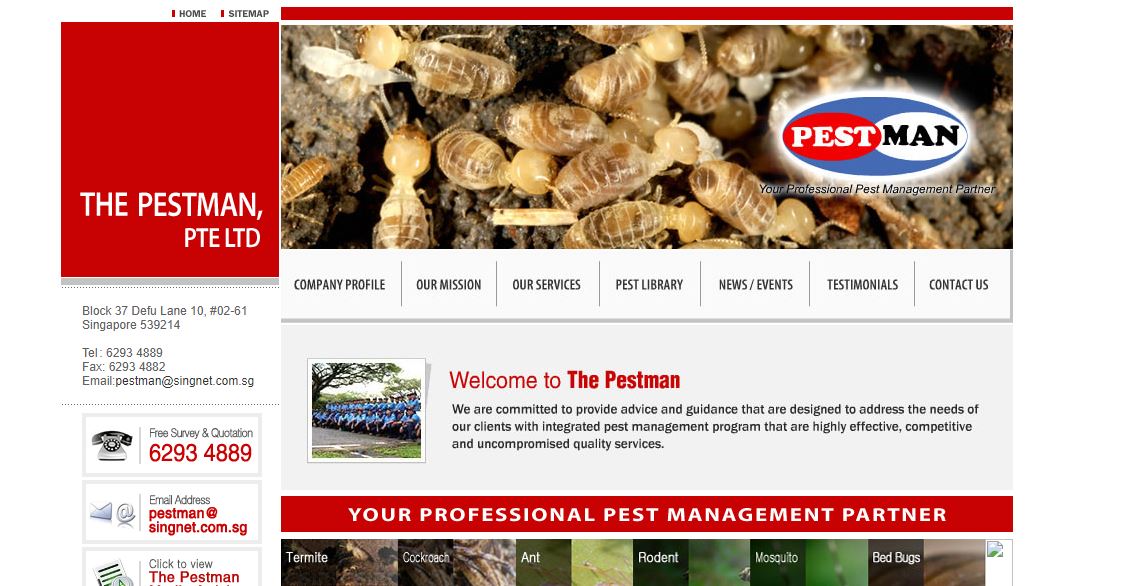 | | |
| --- | --- |
| BEST FOR | Customised pest treatment |
| WEBSITE | http://www.thepestman.com.sg/ |
| ADDRESS | Block 37 Defu Lane 10, #02-61 Singapore 539214 |
| CONTACT DETAILS | 6293 4889 |
| OPERATING HOURS | |
If you're currently searching for the best termite control in Singapore that serves industrial areas, then you should take a look at the services of The Pestman.
They have termite treatments for industrial, domestic, residential, and commercial properties. They provide effective and environmentally-friendly pest controls that are all offered at reasonable prices.
Highlights
Customised treatment plans
Industrial properties
15. Simon Jr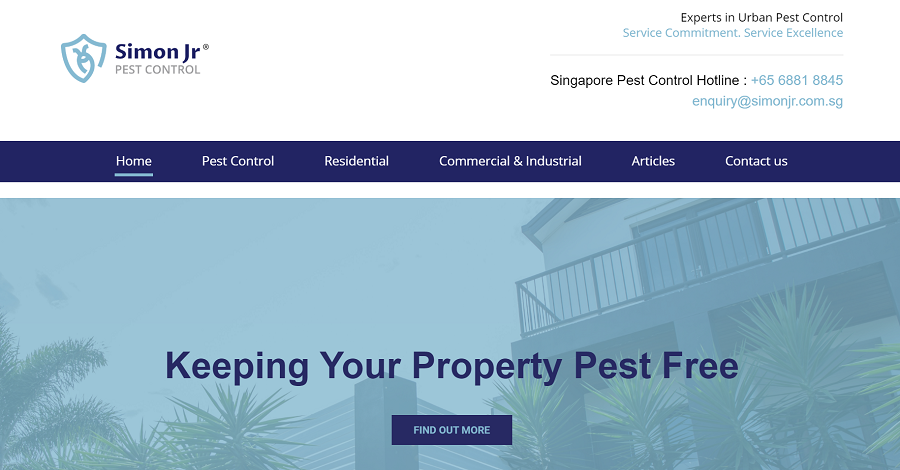 | | |
| --- | --- |
| BEST FOR | Pest Control and Aerial and Surface Disinfection |
| WEBSITE | http://www.simonjr.com.sg/ |
| ADDRESS | 1B Trengganu StreetSingapore 058455 |
| CONTACT DETAILS | Tel: 6881 8845 |
Simon Jr is a homegrown business that has over 10 years worth of experience in pest control. Their time in the field has led to them being one of the best termite control companies in all of Singapore.
What's great about Simon Jr is that they're organised in their services. Their team of experts follow a strict timeline, starting with Fundamental Risk Assessment to figure out how bad the infestation is before deciding on which game-plan to take.
Doing so allows Simon Jr's team to provide all clients with the highest quality services, ensuring that no pests will be left behind once they're through.
Highlights
NEA Prepared
10 years of experience in the field
Island-wide services
Services residential, commercial, and industrial properties
16. Proserv Pest

Founded in 2008, Proserv Pest is a company that has more than 30 pest control professionals who are service-oriented and passionate about what they do. Not only that, but they're NEA certified, too.
The main reason why Proserv Pest is on this list is their quality of service. The team at Proserv Pest dedicates itself to being the best pest control team in the entire island.
They're thorough in their work, ensuring that no pest is left alive on your property once they have completed their services.
Another great thing about Proserv Pest is that the company is environmentally conscious. The team makes use of products that aren't harmful to the environment to minimise the hazards.
Highlights
NEA certified technicians
Services residential and commercial properties
Offers control and prevention services
Provides support in all related aspects of health & safety, housekeeping and proactive prevention measures
17. Termibug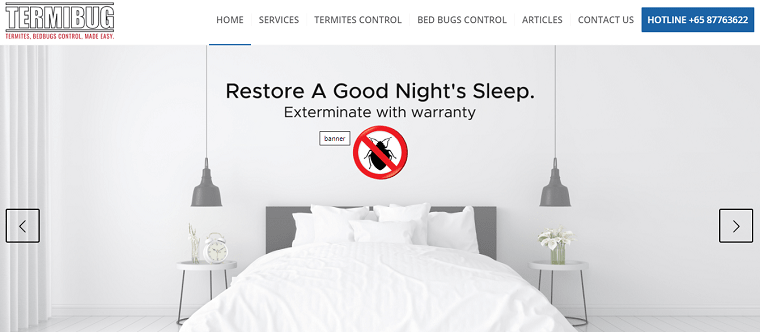 If you want an exterminator that works every hour of the clock, then look no further than Termibug. As one of the most dependable exterminators in Singapore, they have managed to collect a huge pool of clients from both residential and business owners.
While other exterminators have expensive services, Termibug ensure that their rates remain affordable by everyone. What makes them ideal is that they believe that everyone deserves quality services that should be priced accessibly.
Moreover, they strive to make their services as safe as possible by using only eco-friendly solutions to exterminate all types of pests. You may also consult with them about the pest situation in your home for free!
Lastly, their team of technicians are all NEA-certified, so you know that the people you let into your home are the best ones for the job.
Highlights
Reasonably priced
Eco-friendly solutions
Comprehensive follow ups
24-Hr hotline
Non-toxic solutions
Have you already decided which service has the best termite control in Singapore for you? If so, let us know and share with us why you chose to inquire with them.
And for more options (in case you want to deal with more than termites), check out our list of the best pest control companies in Singapore. They'll help you get rid of annoying pests and keep your place clean and safe.