13 Clinics to Get the Best Braces in Singapore
The best braces in Singapore can correct teeth misalignments, bite issues, overcrowded or spacey teeth, and even speech-related problems. So, if that's what you're looking for, then you've come to the right place.
We've also written a guide to give you an idea of what braces you may need and how to choose a dentist. But before anything else, let's talk numbers.
How Much Do Braces Cost in Singapore
Before getting the braces, you will pay around $50–$250 for consultation fees and other pre-diagnostics.
Usually, orthodontic or dental clinics require a 50% downpayment before the start of the treatment. You will then pay for your remaining balance throughout your treatment.
| | |
| --- | --- |
| Type of braces | Expected price range |
| Metal braces | $2,000–$4,200 |
| Ceramic braces | $5,000–$6,000 |
| Lingual braces | $8,000–$13,000 |
| Invisible braces (depending on brand) | $2,400–$9,500 |
| Self-ligating braces | $5,000–$7,500 |
The Best Clinics for Braces in Singapore
Here are our top picks of dental and orthodontics clinics providing nothing but the best braces in the country.
Nuffield Dental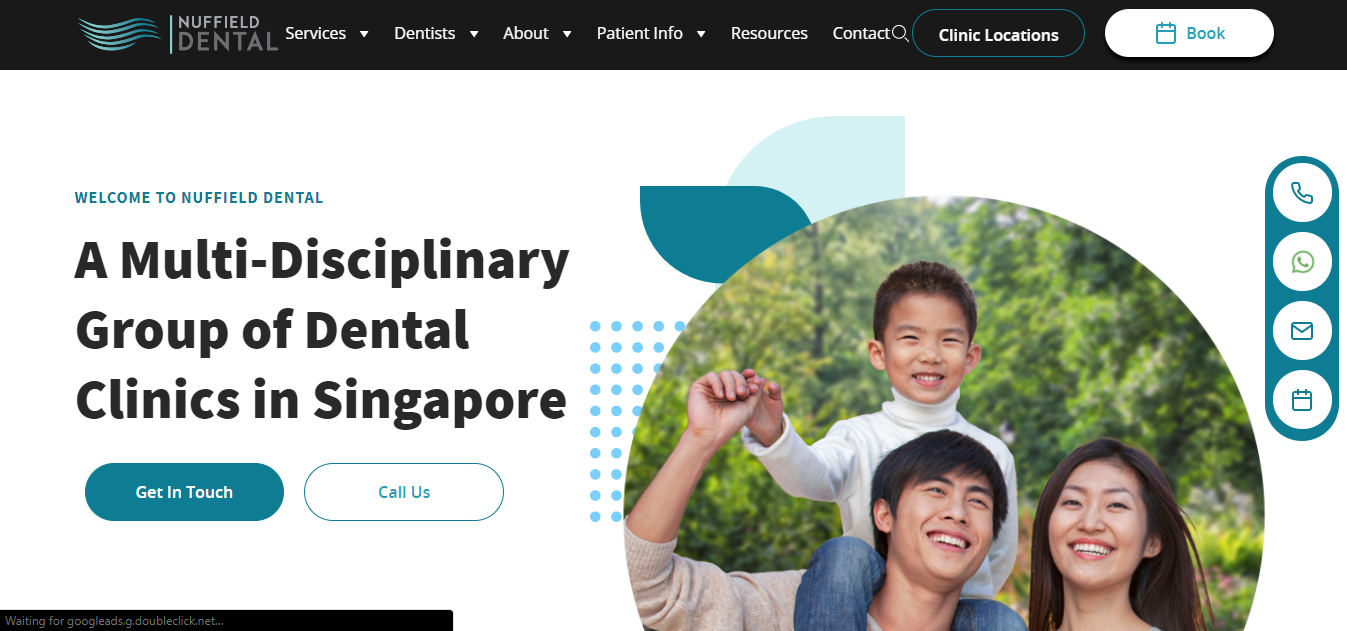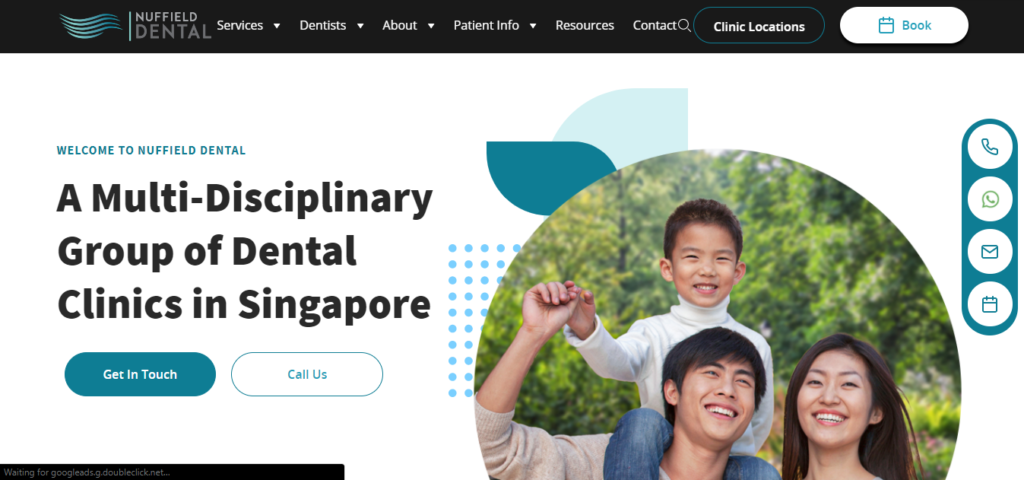 SERVICES
https://www.nuffielddental.com.sg/our-services
WEBSITE
https://www.nuffielddental.com.sg/
ADDRESS
HarbourFront
Nuffield Dental HarbourFront
1 Maritime Square, #02-64A,
HarbourFront Centre,
Singapore 099253

Kovan
Nuffield Dental Kovan
2 Kovan Road #01-03,
Simon Plaza,
Singapore 548008

Novena
Nuffield Dental Novena
09-26 Novena Medical Centre,
10 Sinaran Dr,
Singapore 307506

Orchard
Nuffield Dental Jewel
05-01, Wheelock Place,
501 Orchard Road,
Singapore 238880

Raffles Place
Nuffield Dental Raffles Place
1 Raffles Place, #05-19,
Singapore 048616

Central
Nuffield Dental Central
2 Serangoon Rd, #02-27/28,
Tekka Place,
Singapore 218227

Seletar
Nuffield Dental Seletar
1 Seletar Road #01-07/08,
Greenwich Village,
Singapore 807011

Serangoon Gardens
Nuffield Dental Serangoon Gardens
57 Serangoon Garden Way,
Serangoon Garden Estate,
Singapore 555953

Siglap
Nuffield Dental Siglap
914 East Coast Road #01-03,
The Domain,
Singapore 459108

Simpang Bedok
Nuffield Dental Simpang Bedok
430 Upper Changi Road #01-63,
East Village,
Singapore 487048
CONTACT DETAILS
HarbourFront
+65 6264 0422
+65 9230 7343
[email protected]

Kovan
+65 6281 4313
+65 9830 3286
[email protected]

Novena
+65 6397 2739
+65 9823 7556
[email protected]

Orchard
+65 6950 2866
+65 9657 4331
[email protected]

Raffles Place
+65 6532 2644
+65 91711955
[email protected]

Central
+65 6293 0355
+65 98308497
[email protected]

Seletar
+65 6481 4261
+65 98360452
[email protected]

Serangoon Gardens
+65 6280 7909
+65 98307847
[email protected]

Siglap
+65 6636 1303
+65 98307325
[email protected]

Simpang Bedok
+65 6702 3238
+65 98307396
[email protected]
OPERATING HOURS
Contact for more information
Nuffield Dental is a one-stop and multi-disciplinary dental care clinic. We think they are great because they always provide personalized services for each paptient.
They have been serving Singaporeans since 2014. With their different locations across the island, from Serangoon Gardens to Siglap, you can experience their great services no matter where you are.
In comparison to other dental centers, they carry out their assessments thoroughly. This enables them to provide their clients with comprehensive information that can help them in making decisions about their treatment plan.
They are one of the clinics we recommend because of their state-of-the-art technology. Their clinic places a strong emphasis on integrating technology to increase the exact of our procedures: digitalising manual procedures, incorporating 3D printing, intraoral scanners.
They invest in these to gain a better understanding of their patient's unique oral conditions and treat them better.
Need braces? Wisdom tooth extraction? Root canal treatment? Or any other dental services?
They can help you for they offer almost all the services an individual can need.
Has a lot of branches in the country
Devise treatment plans that are suited to each client's needs
Dentists have specialized in implant dentistry and oral surgery for more than 20 years
Rates are unavailable online
Customer Reviews
Here's what past patients had to say about their experience with Nuffield Dental:
"Easy to book dental appointments online and over the phone.
Dr. Menon is great and humble, kind, the way he explains dental procedures to patients, more patiently😁"
"Wow got the best experience at Nuffield dental Siglap , yesterday just got my wisdom tooth removed by Dr Unni , I was a person who was really afraid of going to dental have not been to a dentist for almost 15yrs because of bad experience last time but Dr Unni was so experience that I feel 0 pain , 100% recommend Nuffield Dental at Siglap and a great Thank You to Dr Unni great experience Thank You so much"
Zenyum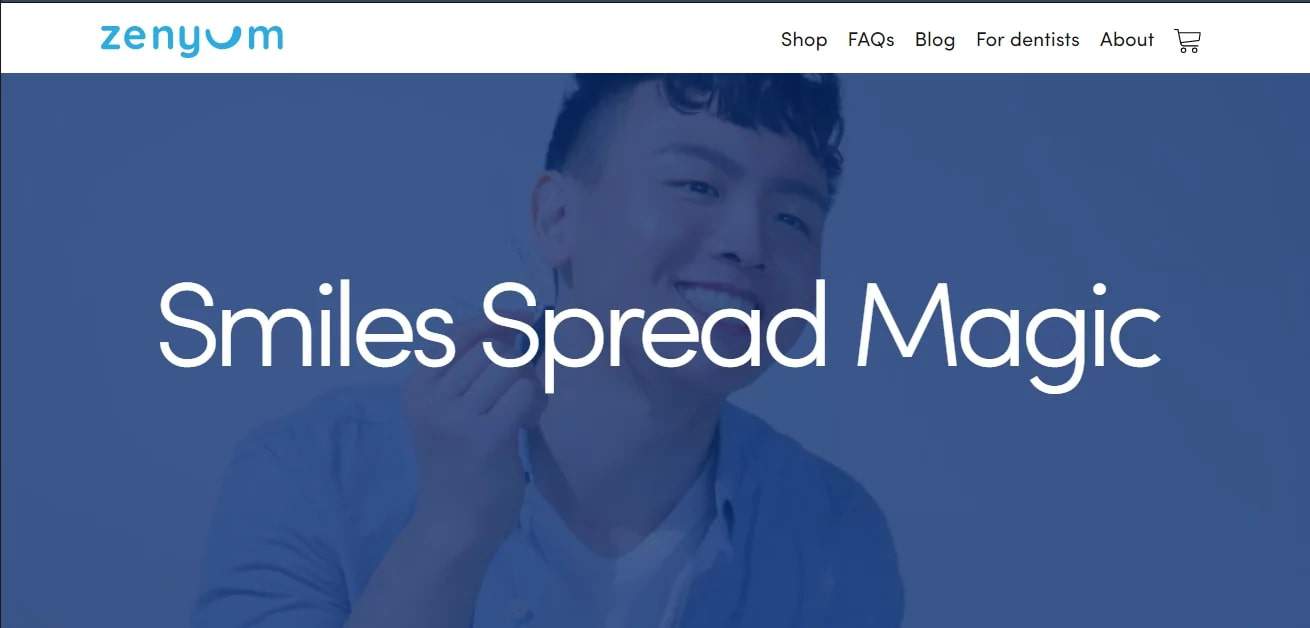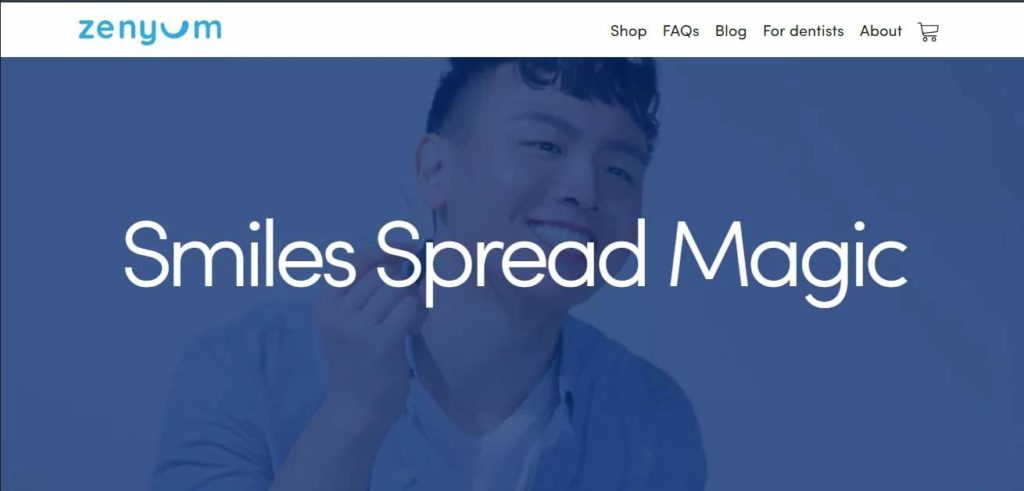 Invisible braces are all the rage nowadays, but they can be extremely expensive, especially since there's become a bit of a monopoly of such products. But this is where Zenyum comes in with its treatments that are as short as 3 to 15 months.
Zenyum offers invisible braces for a low cost of $2,400. All clients need to do is send pictures of their teeth to this dental expert and pay the necessary pre-treatment fees.
From there on, Zenyum then inspects your teeth to determine whether you need a ZenyumClear or a ZenyumClear Plus. You can also use the promo code BestSGAligners to get $100 off your purchase for whichever treatment they suggest to you.
But what really makes Zenyum stand out as a brand is that it has its very own mobile application where its patients can connect with dentists and orthodontists around the country. With this technology, you no longer have to travel to a clinic for the standard braces check-ups.
However, you should know that Zenyum only offers its clear braces products to patients above 18. So, if you plan on getting braces earlier, then this may not be the best choice.
Luckily, Zenyum can still be beneficial for just about anyone as it also offers other products like the ZenyumFresh toothpaste, ZenyumSonic toothbrush, and ZenyumBright gel.
Numerous signature products for dental health
Convenient mobile application for orthodontic check-ups
Available promo code
Fast treatments
Applicable only for 18 and above
Limited to minor dental corrections
My Braces Clinic

Now, if you want innovative services, then My Braces Clinic may be the clinic to call. From the consultations alone, this clinic already commits to paperless transactions by storing all client files electronically.
My Braces Clinic even does digital 3D impressions using the award-winning Trios 3Shape Scanner. This way, it won't even need traditional moulds to give you the best orthodontic treatment.
This orthodontic clinic has numerous partners, including Invisalign and Incognito, to give clients under-the-radar options. Before Invisalign starts, My Braces Clinic even provides a simulation of expected results using iTero.
But those with severe orthodontic problems may not be eligible for invisible or lingual braces, so they also offer ceramic braces. My Braces Clinic even caters to those who want faster treatments through Damon braces.
Finally, My Braces Clinic also offers other services such as jaw surgery and tooth replacements.
Numerous options for subtle-looking braces
Paperless transactions
3D digital scanning
Simulation of treatment results
Kid-friendly dental clinic
No metal or self-ligating braces
Only one orthodontist on site
Some complaints about overcharging and long waiting times
Customer Reviews
Read these reviews to know what to expect should you choose My Braces Clinic for your orthodontic treatment:
"Just started my invisalign treatment here, so I suppose it's a good time to give a review. Honestly, I am so relieved! The team is AWESOME. Everyone is friendly, helpful and very professional. They really made me feel at ease at every visit.
I have to say, you guys are really changing my perception of how a dentist practice is supposed to be: inviting, comforting and NOT SCARY. Hahaha. Also, special mention to the front desk team for making appointment bookings so fuss-free!"—Bel Heng
"Dr poon is so amazingly professional. She had made my entire braces journey a smooth sailing one. I went to so many other dental clinics they told me that i had to extract my crooked front teeth before i can put on the braces but with Dr poon's skills and braces specialty, none of my teeth was extracted and now, i have straight beautiful teeth. Receptionists and staff were also all so friendly and smiley. I have BRACED through it! Would definitely recommend this place to any of my family / friends."—Swen Aunn
G Dental Center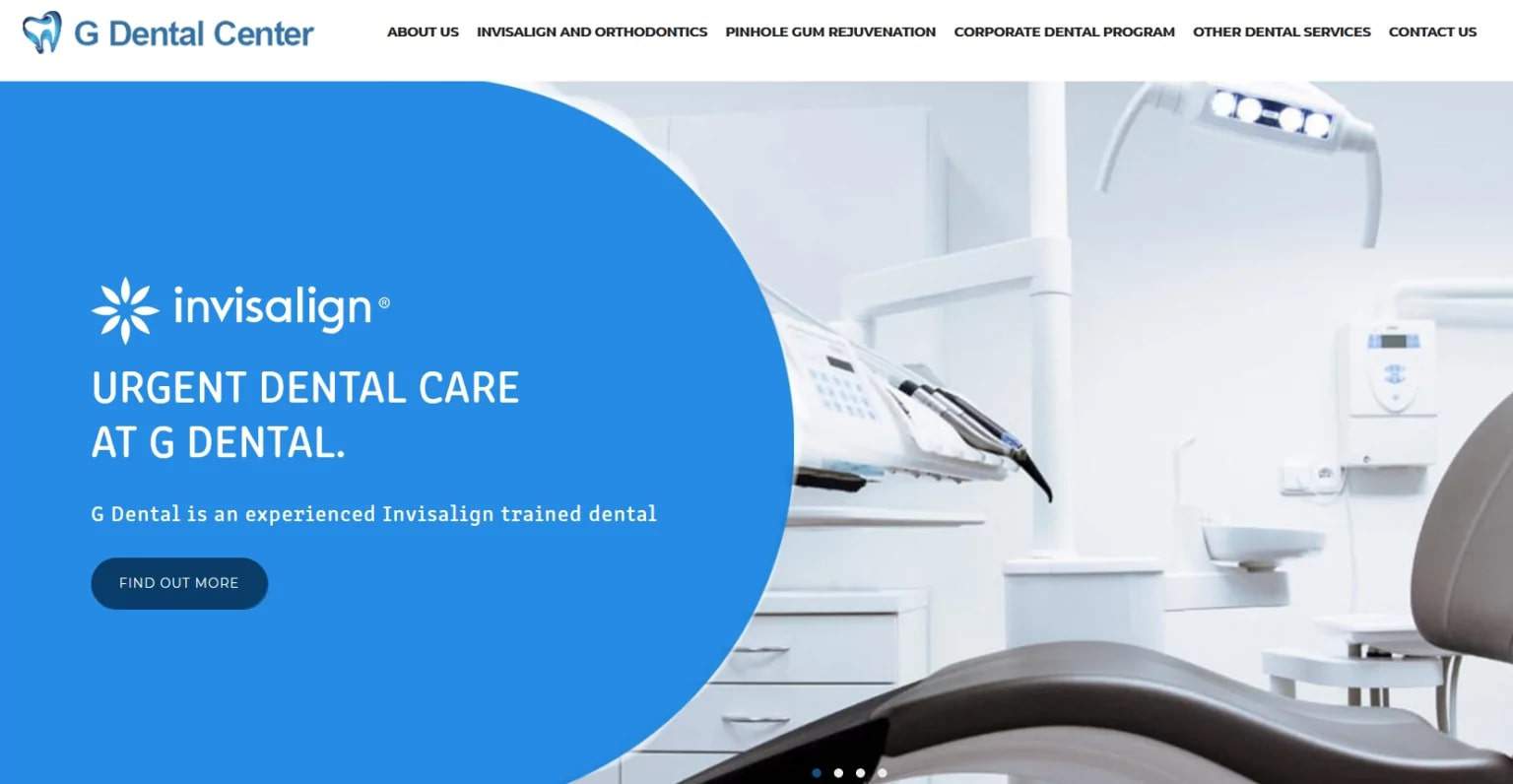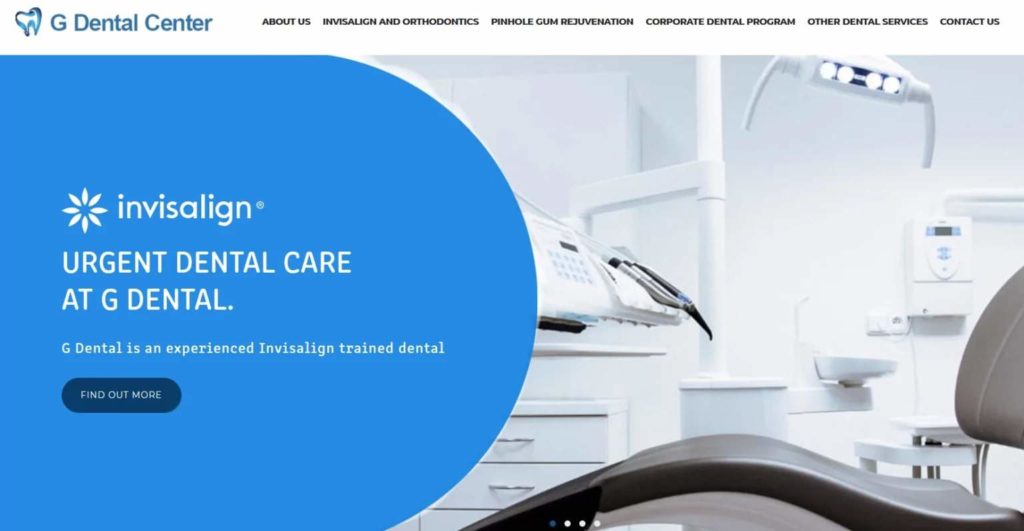 SERVICES
Invisalign
WEBSITE
http://www.gdental.com.sg/
ADDRESS
25 Ghim Moh Link #01-04, Singapore 270025

Camden Medical Centre: 1 Orchard Boulevard #02-01 Singapore 248649
CONTACT DETAILS
+65 6262 1580 / Fax: +65 6262 1581 |

[email protected]

OPERATING HOURS
Monday, Wednesday, Friday: 10:00 AM –6:00 PM
Tuesday, Thursday: 10:00 AM – 8:30 PM
Saturday – Sunday: 9:00 AM – 3:00 PM
G Dental Centre claims to be Singaporean families' go-to clinic for Invisalign braces. Dr James Ho, a platinum elite provider of Invisalign and well-known pinhole surgeon for gum rejuvenation and reverse gingival recession treatment, leads this clinic.
So, when it comes to braces, G Dental Centre offers invisible braces that work just as efficiently for correcting minor tooth gaps and bite problems. The clinic offers four different treatments, namely Invisalign Express, Lite, Moderate, and Comprehensive.
To determine which plan is best for its clients, G Dental Centre does comprehensive consultations where its experts will assess your dental condition as well as learn about your lifestyle.
During this assessment, its dentists also do iTero dental scanning. With this technology, G Dental Centre avoids the need for uncomfortable moulds and even provides you with simulated results for your personalized Invisalign treatment.
But while Invisalign offers aesthetics and fast treatment that last only a maximum of 1.5 years, it still can't fix large gaps or even angled teeth. So, this clinic may also not be able to cater to more complex orthodontic problems.
4 different Invisalign packages
iTero dental scanning with computerized simulation
Considers patient lifestyle
Fast treatment
Limited choices for braces
Limited applications
Some complaints about rude staff
Customer Reviews
Most of G Dental Centre's reviews were focused on general dentistry services, but there were also numerous praises for its orthodontic treatments. Here are some of those reviews:
"Best dental services ever. Did my Invisalign treatment with Dr James Ho and am very satisfied with the results. Was previously an underbite case with some crooked teeth, he managed to help me attain straight teeth without having to do jaw surgery, pluck any teeth or use elastics (which is usually the case among my friends with similar conditions as me). He is very experienced and friendly, always reassuring me and providing professional dental advice when I have any doubts. Would recommend to anyone looking to straighten out their teeth or who are generally afraid of dentists."—Jessica Ho
"This is my 2nd experience with Dr. James Ho. 1st experience was 5 stars when they took care of my daughter, although I never posted a review for him. This time around I came in to have my own invisalign treatment. Our family is very happy with professionalism, service, pricing and everything in between! Thank you, Dr. James and Thanks to your wonderful Staff!!!"—Elaine Li
Expat Dental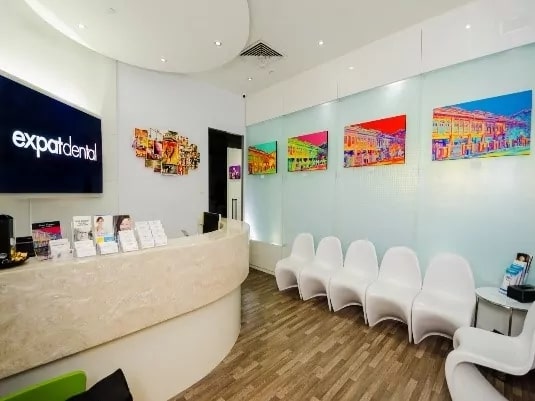 SERVICES
Metal braces, ceramic braces, Invisalign
WEBSITE
http://expatdental.com/
ADDRESS
Novena Medical Center, 10 Sinaran Drive Square 2, Singapore
CONTACT DETAILS
+65 6397 6718 |

[email protected]

OPERATING HOURS
Monday – Tuesday: 10:00 AM – 7:00 PM
Wednesday – Friday: 8:00 AM – 5:00 PM
Saturday: 9:00 AM – 2:00 PM
Expat Dental is a global dentistry practice offering excellent patient care and effective dental and orthodontic treatments. It has a large team of dentists who are active in the dentistry scene in Singapore, the UK, and Australia.
When it comes to orthodontics, the clinic offers metal braces, ceramic braces, and Invisalign. This variety of braces options make Expat Dental a suitable option for adults, preteens, and even someone who migrated to Singapore before finishing their orthodontic treatment abroad.
Its dentists are also known for pediatric dentistry, so kids and adults alike can likely benefit from the clinic. For this reason, Expat Dental also offers early assessments for children as young as 7 years old to detect any developing orthodontic problems like bite issues or teeth overcrowding.
Besides braces, Expat Dental also offers other dental services to improve both function and aesthetics. So, clients can also get teeth whitening, cosmetic surgeries, and restorative dentistry treatments.
Since it has lots of offered services, Expat Dental also has this tendency to push or oversell—at least, that's what we've heard from some of their previous clients. Although, most of its reviews talked about dental services other than braces.
Numerous treatments options for aesthetics
Accepts transfer patients
Use of ceramic braces and Invisalign for subtle appearance
Some complaints about overselling
More focus on other dental treatments
Customer Reviews
Previous customers have mostly praised Expat Dental for its excellent patient care. From the staff to the dentists, Expat Dental's experts seem to know how to calm anyone down, just as these reviews have shared:
"Didn't know going to the dentist could be so pleasant. From receptionists, nurses and dentist – all so kind and caring. Totally trust their expertise. Best experience I've had at the dentist worldwide."—Francesca Lam
"A good experience at the dentist! Yes, it is possible. Very professional and knowledgeable staff. Dr. Priya and her support team treated me with most care and sympathy. Special thanks to Jill, Shani, and Dr. Priya and the staff at Expat Dental for a safe and painless experience."—Mohamed El-hamdi
A Line Dental Braces Clinic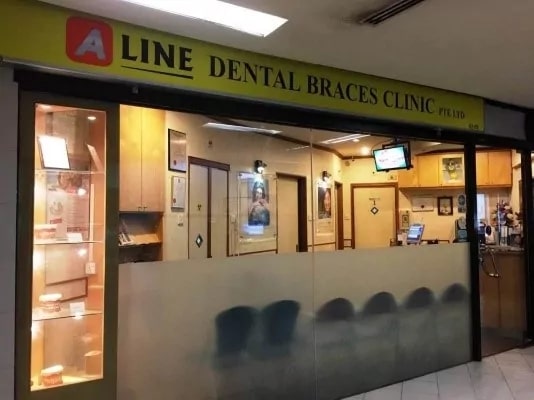 | | |
| --- | --- |
| SERVICES | Metal braces, ceramic braces, clear aligners, removable braces |
| WEBSITE | https://www.alinedental.com.sg/ |
| ADDRESS | 1 Coleman Street, #03-01, The Adelphi, Singapore |
| CONTACT DETAILS | (65) 6837 2722 |
| OPERATING HOURS | Monday, Wednesday – Saturday: 10:00 AM – 7:00 PM |
A Line Dental Braces Clinic's name says it all, so one can expect nothing less than the best braces in Singapore from the clinic. A Line only focuses on orthodontics, which is why it also offers a wide range of braces options.
So, clients can freely choose between metal braces, ceramic braces, and even alternative types of braces. A Line also caters to patients who are conscious about their orthodontic treatment's appearance as it has numerous invisible braces options.
These options include the well-known Invisalign treatment, as well as the more affordable Maestro clear aligners. A Line even has removable braces, which is simply a combination of plastic plates and metal wires.
With these options, A Line can help fix any type of orthodontic or dental issue. Besides, this clinic also accepts patients who had their braces fitted abroad, and are even willing to do this service for reasonable prices.
Additionally, A Line is also well-known for its affordability, not only for its treatments but also for its $25 initial consultations. Its packages also come with numerous add-ons, including 2 sets of post-braces retainers, an orthodontics kit, free scaling and polishing services, 3D intra-oral scanning, and hygiene assessments.
Numerous braces types
Affordable invisible braces options
An efficient online scheduling system
Accepts transfer patients
Complimentary services and products
No lingual and Damon braces
Customer Reviews
Here are some reviews to tell you why customers continue to choose A Line Braces Dental Clinic for their orthodontic treatment:
"I did my braces in Malaysia because of the covid-19 I can't go back to Malaysia and adjust my braces. During this time one of my brackets is broken then I try to find a clinic to stick it back, I went at least 4 clinics to check whether they can help me or not, some of the clinics don't accept cause my braces are did in Malaysia, 2 of the clinic want to cost me 550++ and another one 650++ just to stick it back, check and change the rubber😭. Lucky I found this Braces clinic the nurse is helpful and friendly, the fee is very good for me when they tell me the fee I though I get wrong because the last 2 clinic is too expensive for me just for stick it back. I have to say the Doctor is very nice and professional he very quickly to understand what I want and even help me changed my rubber🙏. Thank you so much.
Just let some of you if have the same situation as me, you may go to check this clinic maybe can help you, at least you have one more option."—Arron Liu
"Had a great pleasant experience here throughout my 2yr braces journey with them! The treatment had minimal pain and I could ask them any queries I had esp when I had many concerns in the beginning. Till today I will go back to do my regular scaling and polishing of teeth with them as they are really gentle during the cleaning of teeth👍"—Audrey Ong
NTUC Health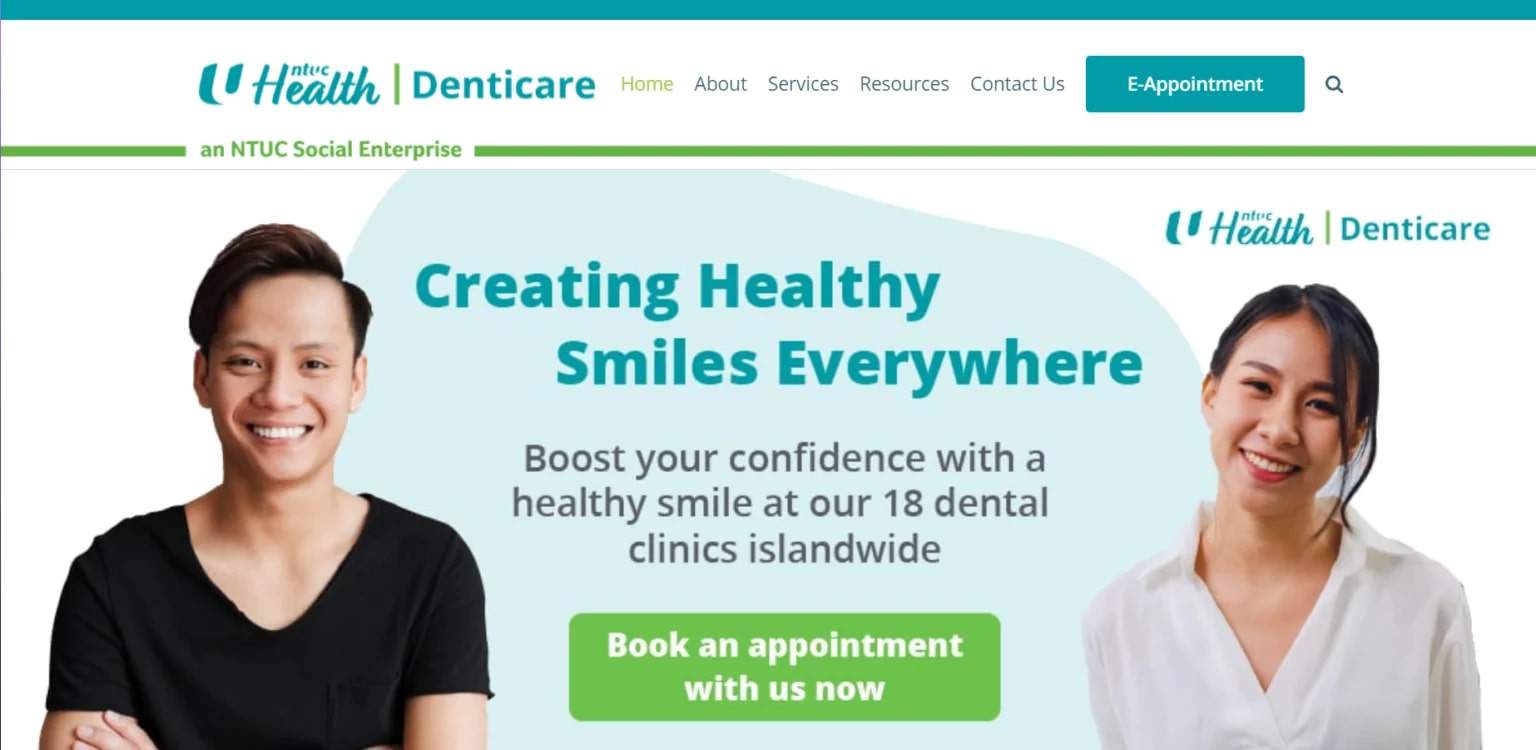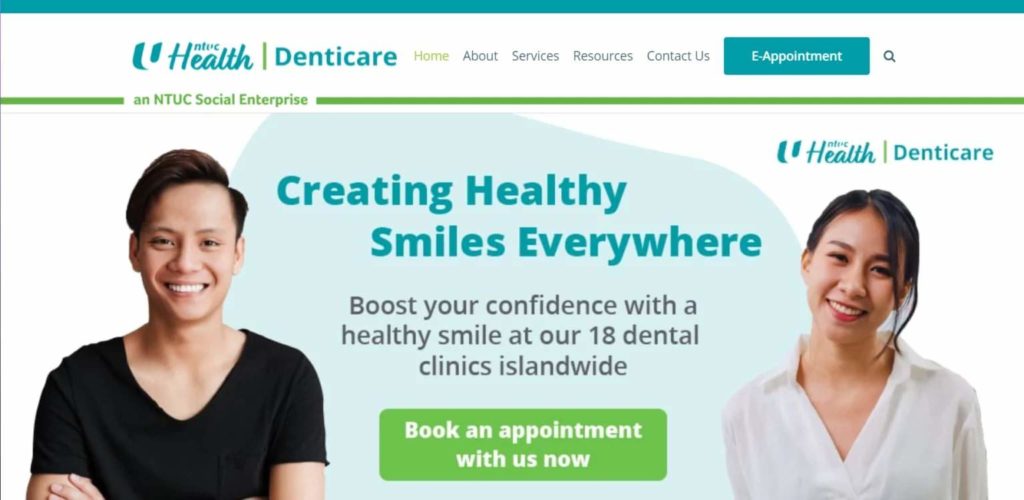 SERVICES
Damon braces
WEBSITE
https://ntuchealth.sg/denticare/
ADDRESS
55 Ubi Ave 1 #08-01 Singapore 408935
CONTACT DETAILS
+65 6590 4300 / +65 6590 4389 (Fax)
OPERATING HOURS
Monday – Friday: 8:30 AM – 6:00 PM
Saturday: 8:30 AM – 12:30 PM
NTUC Health is yet another full-service dental clinic as it offers everything from the best braces to the best gum treatments and wisdom tooth removal. For its orthodontic treatments, NTUC Health offers self-ligating braces or the famous Damon braces.
This orthodontic treatment is perfect for students or workers with schedules tight and busy enough for the dental appointments required for traditional types of braces. Damon braces also result in relatively faster treatment of just about any type of dental problem.
What makes NTUC Health's Damon braces is that they come with transparent brackets, thus making them low-key and natural-looking. Additionally, NTUC Health also provides the choice for single or double archwire, so clients who need to fix either only their upper or lower teeth can get affordable treatments.
Aside from affordability, NTUC Health also offers rewards. For every dollar you spend on any of its clinic locations, you earn 1 Linkpoint in return.
NTUC Health is also very accessible as it has over 18 locations in town. But because of that, NTUC health has also received mixed reviews, with some previous clients citing poor customer services from doctors and even staff – it may well depend on which branch you visit.
Options for single archwire available
Faster treatment requiring fewer dental visits
Option for transparent-looking brackets
Linkpoint rewards
18 locations in Singapore
Limited to Damon braces
Some complaints about poor professionalism and customer services
Neo Smiles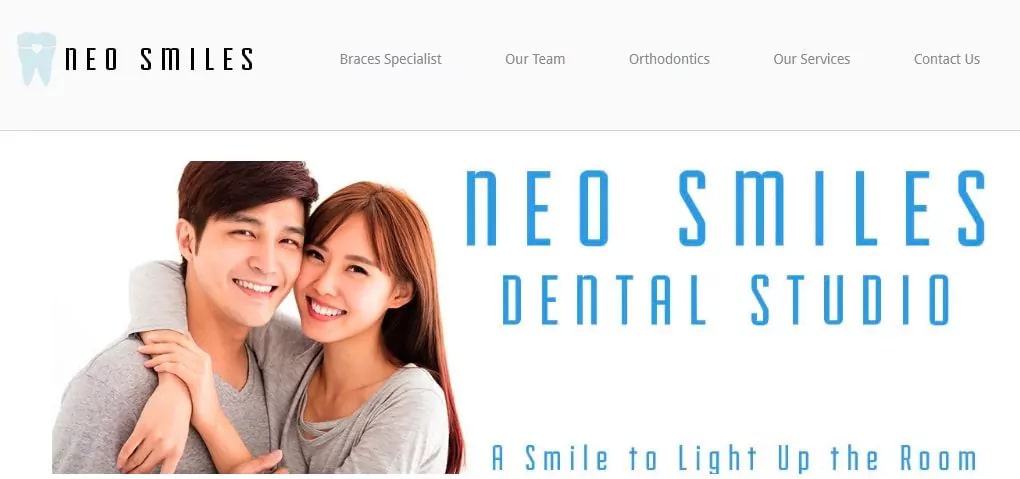 SERVICES
Metal braces, ceramic braces, Invisalign, Damon braces
WEBSITE
https://neosmiles.com.sg/
ADDRESS
Bedok branch:
214 Bedok North St 1, #01-153 Singapore 460214

Kovan branch:
210 Hougang St 21, #01-273 Singapore 530210
CONTACT DETAILS
Bedok branch: +65 6481-0800
Kovan branch: +65 6386-0700


[email protected]

OPERATING HOURS
Monday – Thursday: 10:00 AM – 8:00 PM
Saturday : 9:00 AM – 5:00 PM
Sunday : 9:00 AM – 2:00 PM
Neo Smiles is also among the dental clinics that use innovative technologies like iTero dental scanning and 3Shape Trios instead of traditional and often uncomfortable teeth mouldings. Additionally, the clinic has x-ray equipment to give each client a full range of in-house diagnostic options.
It has two branches in Singapore, one in Bedok and one in Kovan, with each providing orthodontic treatments. Each clinic also has numerous entertainment options like free WiFi, overhead TV, and soothing music.
However, Neo Smile's team is divided into these two locations. This may be the reason some clients have complained about poor scheduling practices, saying there have been occasions when the staff booked the wrong day or the doctor wasn't around despite a scheduled appointment.
But the good thing about Neo Smiles is that it offers almost all types of braces to cater to both aesthetics and function. First of all, it provides metal braces as well as the Damon self-litigating braces to accommodate just about any type of orthodontic problem.
And to cater to those who don't want any drastic changes in their appearance during treatment, Neo Smiles provides ceramic braces and Invisalign. The clinic even offers removable orthodontic appliances as an alternative
Offers removable orthodontic appliances
A large team of dentists and braces specialists
iTero dental scan and 3Shape technologies
Available entertainment features during treatment
Some complaints about poor scheduling
Braces specialists rotating between two locations
Customer Reviews
Read these customer reviwes to know what makes Neo Smiles among the best clinics for braces in Singapore.
"Wanted Invisalign treatment to close my gaps and went to Neo Smiles as they had a braces specialist/ortho. Dr Neo digitally took imprints of my teeth, was nice to have it done comfortably and without gagging due to gooey stuff. Great that I could see how my smile would look like at the end of my treatment, recommend."—Cheryl Tan
"Doctor Neo is a sincere and professsional dentist. She is also very patience in handling queries and feedbacks from her customers. Along with the rest of the crew, they has shown genuine care and concern as well. They remembered my occupation, my birthday and requests i have put up. Its a honour and a great experience to do up my braces over Neo Smile Dental. I will be introducing their services to my friends and family for years to come."—Ray
Koh Dental Surgery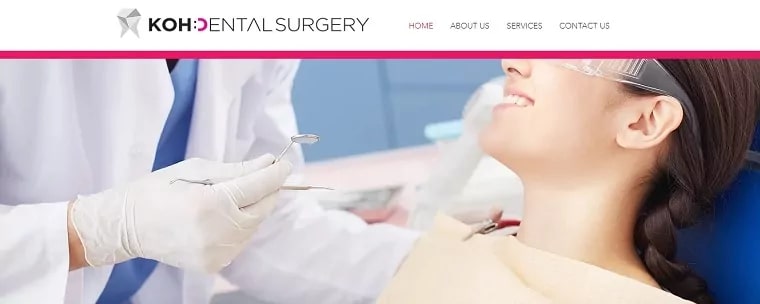 Koh Dental Surgery may focus on dental surgeries, but it still offers orthodontic treatments. For those seeking ways to improve their smiles, Koh Dental Surgery provides metal, ceramic, and invisible braces options.
Additionally, Kohn Dental Surgery offers dental implants, prosthodontics like veneers and crowns, and teeth whitening services. With all these treatments under one roof, patients can get the perfect pearly whites they've always wanted.
The best thing about Koh Dental Surgery is that it has a large team of dentists. Each of these dentists also attends training and workshops from time to time to stay on top of the latest technologies in dentistry.
Besides, every single one of these doctors also offers compassionate yet professional patient care. Because of such patient care, Koh Dental Surgery also receives numerous repeat clients and even referrals.
A large team of dentists
Offers numerous braces options
Updated with latest orthodontic and dental equipment
No self-ligating braces
More focused on dental surgery
Customer Reviews
All thanks to its wide variety of dental treatments and excellent customer services, Koh Dental Surgery has received numerous 5-star reviews, including these:
"Chose to come Koh dental to do my braces as my cousins and mum having been visiting them for years. Having been with the clinic for about 3 years now and was seeing Dr Koh Chin Nam. He's skilled and friendly.The front counter staffs are always helpful, friendly and will try their best to assist on our requests. Highly recommended clinic to come to with a team of professional staff. Thank you!"—Xue Ling Ng
"The overall experience at Koh Dental Surgery is very pleasant. Dr Khor is very experienced and gentle with my braces treatment. He is able to take away all my anxiety of visiting the dentist. Additionally, he patiently went through all the braces options for me to consider so that I could make the best choice. Ms Vivian is also really friendly and kind. She is very helpful in accommodating to my needs amidst my busy schedule. She always serves with a big smile which really makes my day after a long and tiring day at school."—Mok Song En
Mount Elizabeth Orthodontic Clinic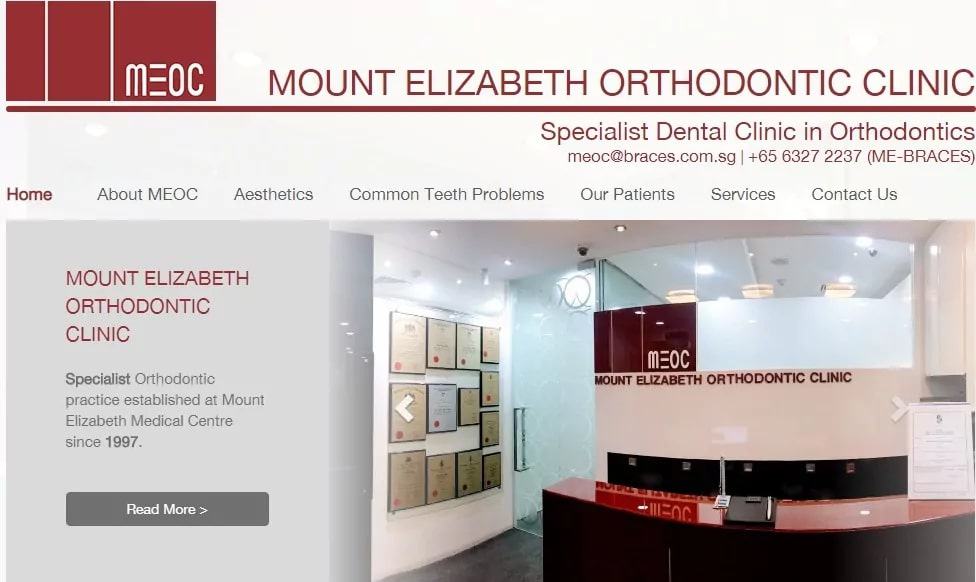 SERVICES
Metal braces, ceramic braces, Invisalign, lingual braces
WEBSITE
https://www.braces.com.sg/
ADDRESS
#10-03 Mount Elizabeth Medical Centre 3 Mount Elizabeth, Singapore 228510 (Lobby A1 / A3)
CONTACT DETAILS
+65 6327 2237 / +65 8201 9019
OPERATING HOURS
Monday – Friday: 9:00 AM – 6:00 PM
Saturday: 8:30 AM – 2:00 PM
For more than two decades now, Mount Elizabeth Orthodontics has been providing braces and jaw surgeries for Singaporeans who want to improve their smiles. Its braces options include metal, ceramic, lingual, and invisible braces.
Among its efforts to give patients the best possible orthodontic treatment for the best price, we think their hybrid treatments to be most interesting. For example, a client can get lingual braces for their upper teeth and ceramic braces for the lower part of their jaw.
This mix and match option helps clients receive the benefits of treatment while avoiding its cons as much as possible. For further treatment, Mount Elizabeth Orthodontics also offers numerous options for relapse treatments, including Niti bonding, social six braces, and active retainers.
Mount Elizabeth Orthodontics also encourages and conducts orthodontic assessments for children as young as 7 years old. This treatment allows for healthy jaw and tooth development.
Aside from catering to young children, Mount Elizabeth Orthodontics also accepts international patients as well as transfer patients who had their braces fitted abroad.
Interceptive orthodontics for early diagnosis and treatment
Accepts transfer and international patients
Option for hybrid braces available
No self-ligating braces
Limited weekend operating hours
Customer Reviews
With its level of customer service and professional treatments, Mount Elizabeth Orthodontics has gained numerous 5-star reviews. Here are some reviews to tell you more:
"I had my braces done here a decade ago and couldn't be happier with the results and subsequent services. They have a comprehensive system including bespoke fixed and clear retainers to maintain your teeth as close as possible to their post-braces appearance. In my regular visits over the years, they have been caring and meticulous in reviewing my dental maintenance and suggesting potential solutions and ideas for any issues present. I would highly recommend this clinic for long term dental care."—Sowndarya Kalyan
"I would highly recommend Mt Elizabeth Orthodontic Clinic if you or your loved ones need some braces work done. Got my braces done here between 2017-2020, and I cannot be happier with Dr Lim and his entire team, who are all friendly, kind, patient and extremely professional. I have not had a single even remotely negative experience despite coming here every few weeks for an entire 3 year period. Thank you Dr Lim and team, very sincerely."—Joel Ong
Align Braces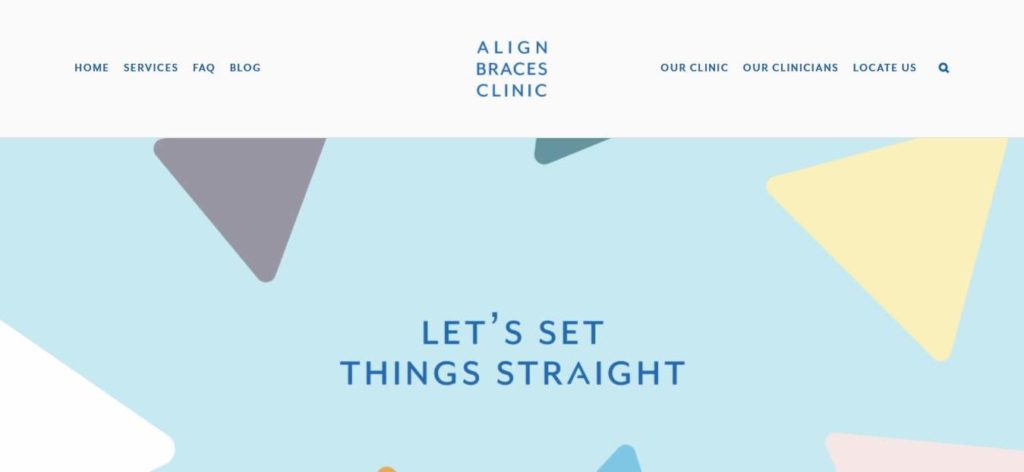 SERVICES
Invisalign, Damon braces, metal braces, ceramic braces
WEBSITE
https://www.alignbracesclinic.com/
ADDRESS
68 Orchard Road, Plaza Singapura #04-33, Singapore 238839
CONTACT DETAILS
+65 6513 0686 / +65 8348 0708 (WhatsApp) |

[email protected]

OPERATING HOURS
Monday – Friday: 11:00 AM – 8:00 PM
Saturday – Sunday: 10:00 AM – 5:30 PM
Now, if you're looking for another Platinum Elite provider of Invisalign, then Align Braces may be the perfect option for you. This clinic offers quick and convenient solutions to orthodontic treatments with Invisalign and Damon braces.
And to cater to more complex cases, Align Braces still offers traditional metal braces along with the more aesthetically pleasing ceramics braces. Those with added jaw or bite complications can also pair braces with jaw surgery for faster results.
This orthodontic clinic also uses numerous innovative technologies, including iTero dental scanning and simulations. What's more, Align Braces also guarantees accessibility for its services, not only geographically, but also financially.
We say this because we like how the clinic offers no-interest instalment plans for their Invisalign treatments. Additionally, Align Braces has student-friendly prices for its braces.
Most importantly, Align Braces is open 7 days a week, with its weekday hours extending up to early evening. Besides, the clinic also accepts walk-ins, especially emergency cases.
However, not everyone may find Align Braces suitable since we've read some reviews citing poor customer service. Luckily, this clinic still values accountability and has been said to be quick at fixing bad impressions.
iTero dental scanning
No-interest payment options and student prices
Available all week with extended hours
Accepts walk-ins
Jaw surgery option available
Late opening hours
No lingual braces options
Some complaints about poor customer services
Customer Reviews
Read these customer reviews to know what customers think about Align Braces' services:
"I'm currently ~9 months through my Invisalign journey with Align Braces Clinic, and the experience has exceeded my expectations. Dr Stanley is very patient, gentle and comprehensive in his treatment. While I was initially concerned about the level of discipline required for Invisalign to be effective, integrating it into part of my daily life has turned out to be straightforward after the first 1-2 months. In my experience, maintaining the habit (of removing/replacing aligners during meals) is relatively easy once it has been formed. Prices for both Invisalign and generic dental treatments are also competitive / reasonable, in my view."—Timothy Koh
"Great service, comfortable waiting area and patient staff! Highly professional and experienced orthodontics – Dr. Lydia, who makes sure to align your teeth to the best of your requirements and explain the various options, and pros and cons. Scaling is very gentle, felt almost no pain at all! Central location is an added plus as well!"—Edmund Kai
Coden Specialists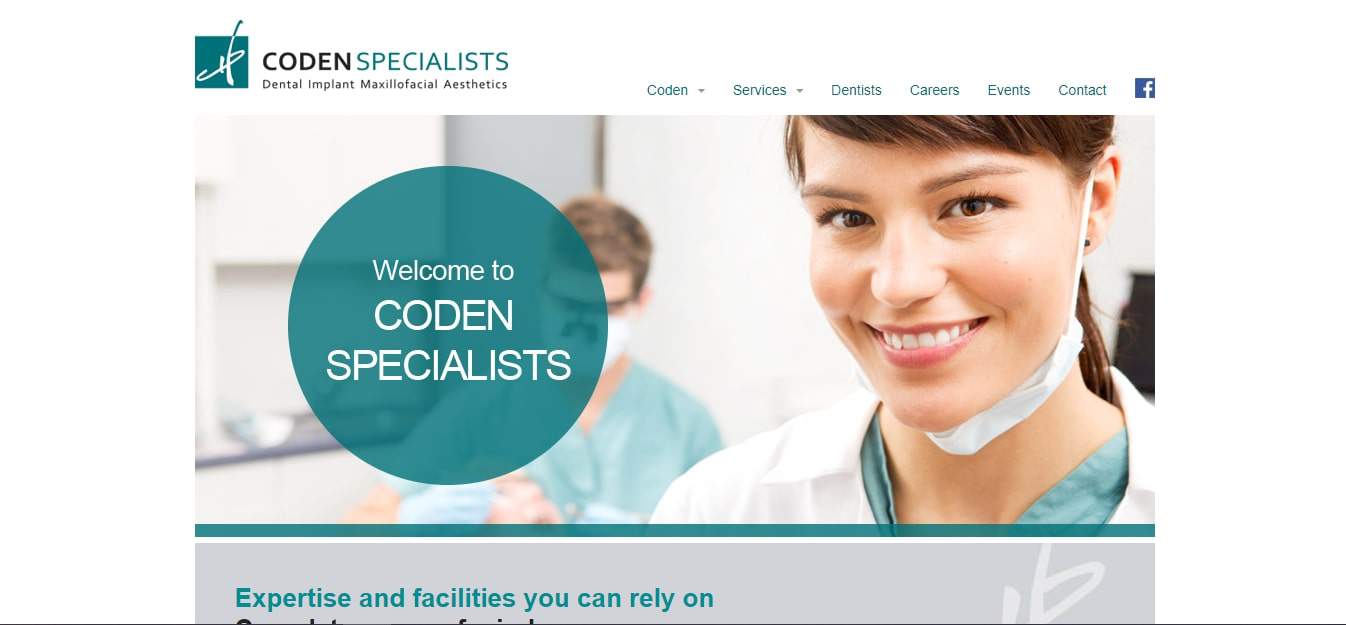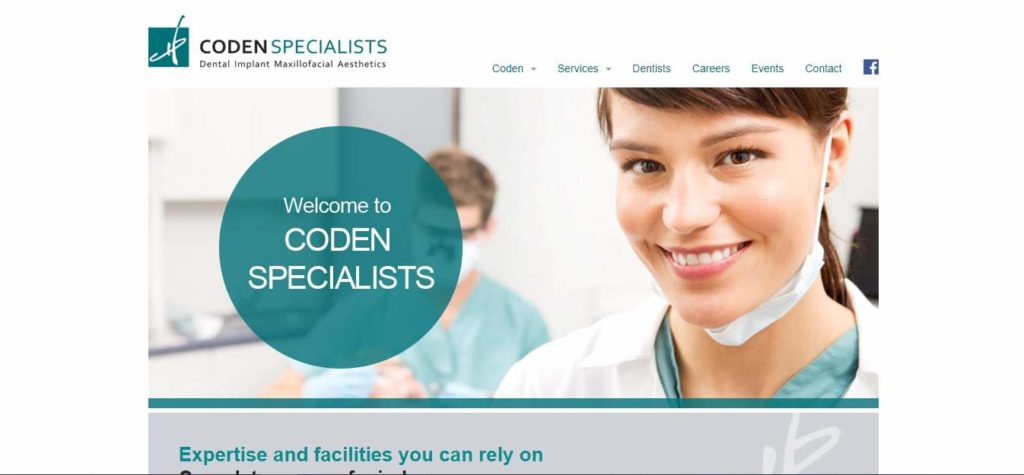 SERVICES
Metal braces, ceramic braces, Invisalign
WEBSITE
http://www.codenspecialists.com
ADDRESS
290 Orchard Road, Paragon Medical Centre, Suite #13-10/11/12, Singapore
CONTACT DETAILS
+65 6235 7498
OPERATING HOURS
Monday – Friday: 9:00 AM – 6:00 PM
Saturday: 9:00 AM – 1:30 PM
Coden Specialists has oral maxillofacial surgeons, orthodontists, and just about any type of dental expert. With three orthodontists in its large team, this clinic offers metal braces, ceramic braces, and Invisalign clear aligners.
After each treatment, Coden Specialists even provides numerous types of retainers. So, its clients can choose from among invisible retainers, Hawley retainers, and bonded retainers to maintain their treatment results.
Coden Specialists also does teeth whitening, jaw surgery, and prosthodontics so clients with numerous dental problems can receive just about any treatment under one roof. Besides improving smiles with braces, Coden Specialists also offers facial aesthetics like Botox therapy.
Despite its comprehensive treatments, Coden Specialists is still more focused on oral and maxillofacial treatments. So, you may have to compete with other clients when trying to book them for an appointment.
All-around dental services
A large team of dental specialists
Jaw surgery for complex cases
Numerous options for retainers and braces
No lingual braces
More focus on oral and maxillofacial issues
Relatively expensive services
Ocean Dental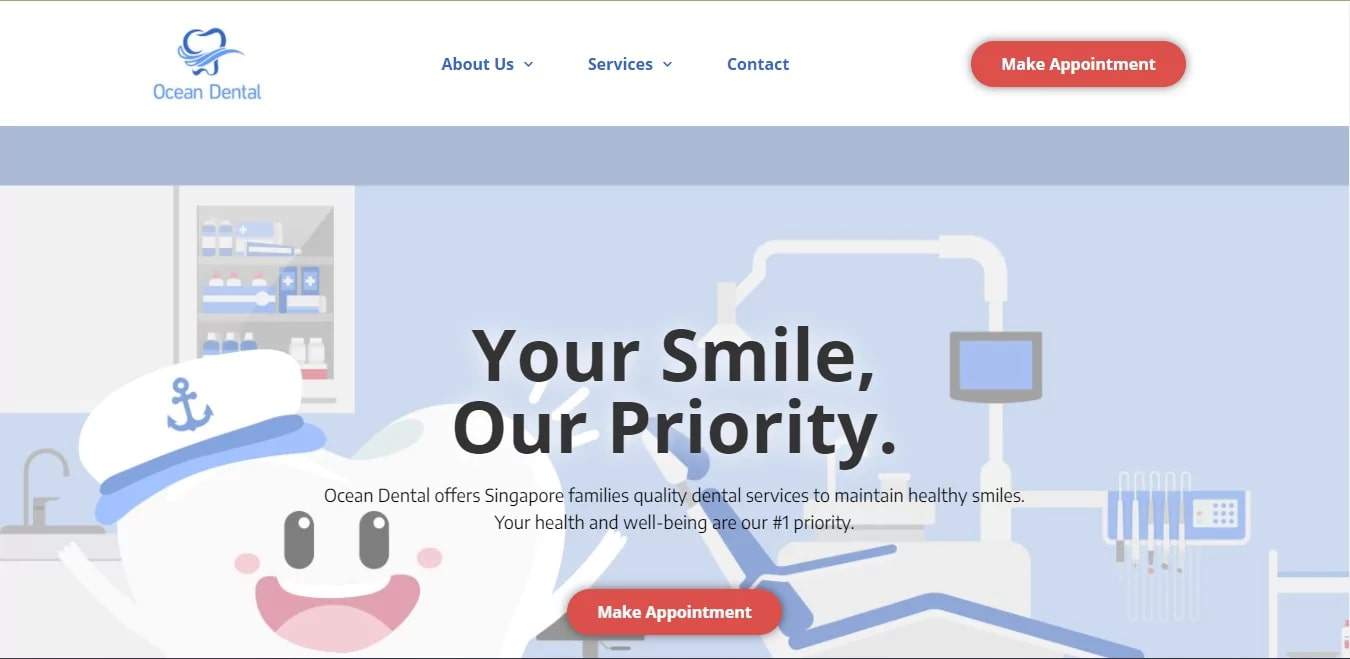 Ocean Dental is a family-friendly all-around dental clinic with general dentistry and orthodontic treatments. Aside from its welcoming and warm atmosphere, this clinic is also open every day, complete with extended opening hours on weekdays.
Its braces options include metal braces, ceramic braces, self-ligating braces, and Invisalign clear aligners. With this variety of treatment options and all-week accessibility, Ocean Dental can cater to even to the busiest Singaporean.
To determine which type of treatment will work best with its clients, Ocean Dental conducts two X-ray assessments during the initial consultation. And to ensure that the treatment results last, Ocean Dental also provides free retainers for all treatment packages.
Unfortunately, Ocean Dental doesn't really have in-house orthodontists. Thus, its braces are only available for those with simple cases.
Luckily, Ocean Dental still helps patients with complex cases by referring them to orthodontists.
Open on weekends
Extended weekday opening hours
Complimentary retainers after each treatment
No lingual braces
No in-house orthodontist
Can't handle complex cases
Customer Reviews
See what one client thought of them:
"I was told by other dentist that I would need to extract two teeth for braces, so I was really glad when Dr Terence told me that he could do it without any extraction. Now, I have a complete set of straightened teeth, all thanks to him.. I got to know later that he would try to preserve every original tooth to the best of his abilities, as nothing is better compared to our original set of teeth. Nothing beats having a dentist with good moral values and reasonable charges."—Hui Zehn Lam
Joy Dental

SERVICES
Metal braces, ceramic braces, damon self-ligating braces, invisalign, dental implants, teeth whitening, crowns and bridges, general dental check, wisdom teeth removal, digital radiography, root canal treatment
WEBSITE
https://joydental.sg/
ADDRESS
164 Bukit Merah Central #01-3641 Singapore 150164Buangkok Square Mall. 991 Buangkok Link #02-17 Singapore 530991Canberra Plaza. 133 Canberra View #02-15 Singapore 750133
CONTACT DETAILS
Bukit Merah Branch Tel/Whatsapp: 6909 3088 / 9021 4939
Buangkok Branch Tel/Whatsapp: 6909 5461 / 9101 4502
Canberra Branch Tel/Whatsapp: 6909 8595 / 9106 2564
Email : [email protected]
OPERATING HOURS
Mon to Sat 9am-6pm (Bukit Merah Branch)
Mon to Fri 10am-9pm, Sat/Sun 10am-6pm (Buangkok and Canberra Branches)
Joy Dental Centre has a close-knit team of dental surgeons and orthodontists, and can thus offer a wide range of dental services. Its services include Invisalign and metal braces, root canal treatment, dental implants, teeth whitening, crowns and bridges and of course, general dental check-ups.
For its Invisalign treatments, Joy Dental centre uses the ClinCheck software to simulate every step of your treatment, from initial teeth alignment to your expected brand-new smile. That said, its Invisalign package is among the more expensive treatments in the country.
Luckily, Joy Dental Centre still has a budget-friendly braces package and a student braces treatment plan. While these treatments are affordable on their own, they don't include costs for retainers and teeth removal.
Aside from having some affordable treatments, Joy Dental Centre is also accessible all thanks to its numerous locations scattered across Singapore. Each clinic also has a large team of experts and staff.
With such compassionate teams per location, we also found that Joy Dental Centre delivers patient-centric dental treatment and can soothe patients with dental-related phobias.
Open on weekends
Student dental brace package
Wide range of dental services
A large team of dental specialists
Packages don't include tooth extraction and retainers
Limited to two types of braces
Customer Reviews
Read these customer reviews to know more about what you can expect from Joy Dental Centre's orthodontists and staff:
"Highly recommended!!! Appreciate Dr. Kenneth advised me to do braces before do the crown bridge because my teeth are not neat. He is very friendly and sincere to give me his recommendation. Dr. Lim Mei Yian is my orthodontist. She is a meticulous and friendly dentist. She will tell you what will happen next and let you prepare for it. I feel very comfortable and peace of mind. I am so surprised I just want to tell her my worries, but she already voices out and tells me what she will do for me.
The receptionist and the dentist assistant also very friendly, they will reply whatapps queries promptly also. I am very happy with their service and looking forward for their continuing good services for the next 18 months."—Joan Lee
"Did my Invisalign as recommended by Dr Nicholas Tan. Best decision ever
1. Transparent braces. Straightens teeth without the metal bits. Nobody could even tell I had it on unless i specifically told them!
2. No pain at all. Heard of multiple horror stories from friends whereby their metal braces cuts their teeth. Didn't have the problem with Invisalign
3. Absolutely 0 downtime. I have friends then can only eat soft food (porridge) after tightening the braces from the aches. You won't get that issue.
Dr Nicholas Tan was also v gentle throughout our multiple sessions (like braces every few weeks/months must go back review). Staffs were also polite and caring throughout. I was a little early for my appointment once and when the staff found out I haven't had dinner she actually told me to have dinner first. I ended up being late and no complaints from the staffs."—Natalie Tan
Types of Braces
Now, we're going to help you choose the best type of braces for your specific situation. Note that for all these, you may need to wear retainers after treatment to maintain results.
Metal braces are the cheapest and most common option for solving any type of dental and orthodontic issue. The downside of this is that they are very noticeable, especially since they also require coloured bands now and then.
Here are the usual things metal braces can fix:
Overbite or deep bite
Underbite
Crowding
Spacing
Open bite
Crossbite
Overjet or protrusion
Abnormal eruption
For such braces, you'll have to take your dental hygiene up a notch to avoid getting food stuck in your brackets. You'll also need to visit the doctor once every 4 weeks.
If you want the benefits and practical applications of metal braces without having to deal with their unattractive look, then ceramic braces can be a sound option.
The ceramics used are usually the same colour as your teeth while the rubber elastics and the archwire can be transparent. These give your braces a natural look.
However, you should know that ceramic braces are more brittle, and are thus more prone to breakage. They're also prone to staining, so you'll still need to improve your dental practices.
Like metal braces, ceramic braces require adjustments at least once every 4 weeks.
Next, we have self-ligating braces, which look and function much like metal braces, but without the rubber elastics. This type is also called the Damon system braces.
Damon braces usually result in less pressure and thus reduced discomfort for the wearer.
Since they self-adjust, self-ligating braces only need professional services once every 5-6 weeks. Despite these infrequent visits, Damon braces usually result in faster treatment.
But with all these benefits also come the disadvantage of being more costly.
Now, if you don't want any visible braces, then lingual braces can be a good choice. For this treatment, your doctor will attach metal brackets to the back of your teeth.
But with its benefit of invisibility, lingual braces come with numerous disadvantages. Lingual braces are more expensive, more difficult to clean, and can cause tongue abrasion and even speech defects.
Lastly, lingual braces can also take longer than your traditional braces. For this type, you'll also need an orthodontist to adjust your braces every 4 weeks.
But if you don't really want any metals or wires in your mouth, then invisible braces should be your choice. For this treatment, you'll have to wear a BPA-free plastic mould for at least 22 hours a day throughout the treatment duration.
There are many different brands for this type of braces, but the most famous one is Invisalign.
Because of its non-pressuring nature, Invisalign offers minimal discomfort and even less frequent visits to the dentist. Your appointments will be around 2-3 months apart.
However, this option is also expensive and is usually limited to solving only minor cases of teeth misalignment. And since it's removable, you may run the risk of losing it after eating, drinking, or brushing your teeth.
Frequently Asked Questions about Braces
---
And that concludes our guide to getting the best braces in Singapore! We hope our article helps you decide on the best type and the best clinic to visit for your orthodontic treatment.
You can also leave us a comment once you get your desired pearly whites, so we can also improve our list. And if you have any other dentists or orthodontists in mind, please let us know!
Like we've said earlier, maintenance during braces also involves proper dental hygiene. As such, make sure you also only go to the best dental clinics in Singapore to get advice, and services to keep your dental health at its prime.