29 Best Software Development Companies in Singapore
Are you in need of a digital technology professional who can create your ideal platform for your business? Then you must be in search for the best software development company in Singapore!
IT agencies are becoming more powerful as they continue to build progressive and functional platforms, designed to ease the hassles of major business transactions. However, you do need a good IT firm or agency to ensure optimum gains from such platforms.
To help with that, we've scoured and gathered the top software companies in Singapore that we think are worth checking out. 
1. PROTEUS-DT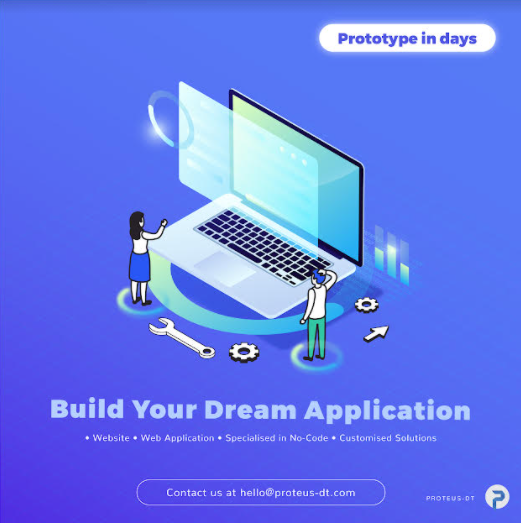 BEST FOR 
No-Code Technology
WEBSITE
https://proteus-dt.com/
ADDRESS
30 Tuas South Ave 2
Tuas Bay Industrial Centre
Level 2, Singapore 637542
CONTACT DETAILS
+65 9777 4132


[email protected]

OPERATING HOURS
Contact for details
PROTEUS-DT is one of the handful companies in SEA that uses no-code tools like Bubble.io. This technique requires minimum to no programming skills, resulting in extremely fast development timeline compared to those who use traditional coding.
Since they can develop quickly, the price for their services is way lower than other companies. This is great especially if you've just starting a new business.
Their services include Web Application Consultation, MVP/Prototype Building, and Full Web Application Development.
We think that they are recommendable because of their specialisation in UX Design which is a huge bonus to application development. Another great reason is they can integrate with almost any existing platform you may be using through API integration, which can further automate your workflow.
Highlights
Has worked with various industries
Competitive pricing
Can build your dream web applications in days
Customer Reviews
They are rated 5 stars on Google.
2. TechTIQ Solutions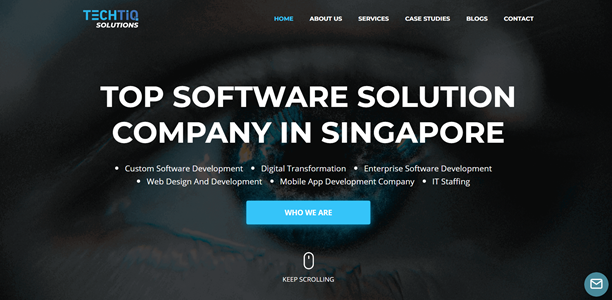 BEST FOR 
Digital Transformation Consultant
WEBSITE
https://techtiqsolutions.com/
ADDRESS
22 Sin Ming Lane, Midview City, #03-78 Singapore 573969
CONTACT DETAILS
[email protected]
(+65) 8251 0251
OPERATING HOURS
Monday – Friday: 9am–6pm
Considered as the top software development companies in Singapore, TechTIQ Solutions always makes sure to create cost-effective developments that are still high in quality.
They make sure to involve their clients in the process as satisfaction is the aim of their business. They've encountered customers from various fields, like banking, transportation, health, and media, so you know that they are definitely one of the software services in Singapore with a vast clientele range.
TechTIQ Solutions' services include, but are not limited to, Custom Software Development, Digital Transformation, Enterprise Software Development, Web Design and Development, IT Staffing, and Mobile App Development.
Highlights
Professional Tech Team
Wonderful Customer Service
Competitive Rates
Customer Reviews
Most of their clients are impressed with how professional and amazing TechTIQ Solutions is in their work as a software development company in Singapore. One specific client had said their immense gratitude over the company's assistance. It reads:
"TechTIQ's inspiring work ethic played a huge role in allowing us to complete our project within an extremely tight schedule. They kept us updated constantly and implemented changes quickly. Really great to find a team of developers and project managers like Michael and his team."
3.  Singsys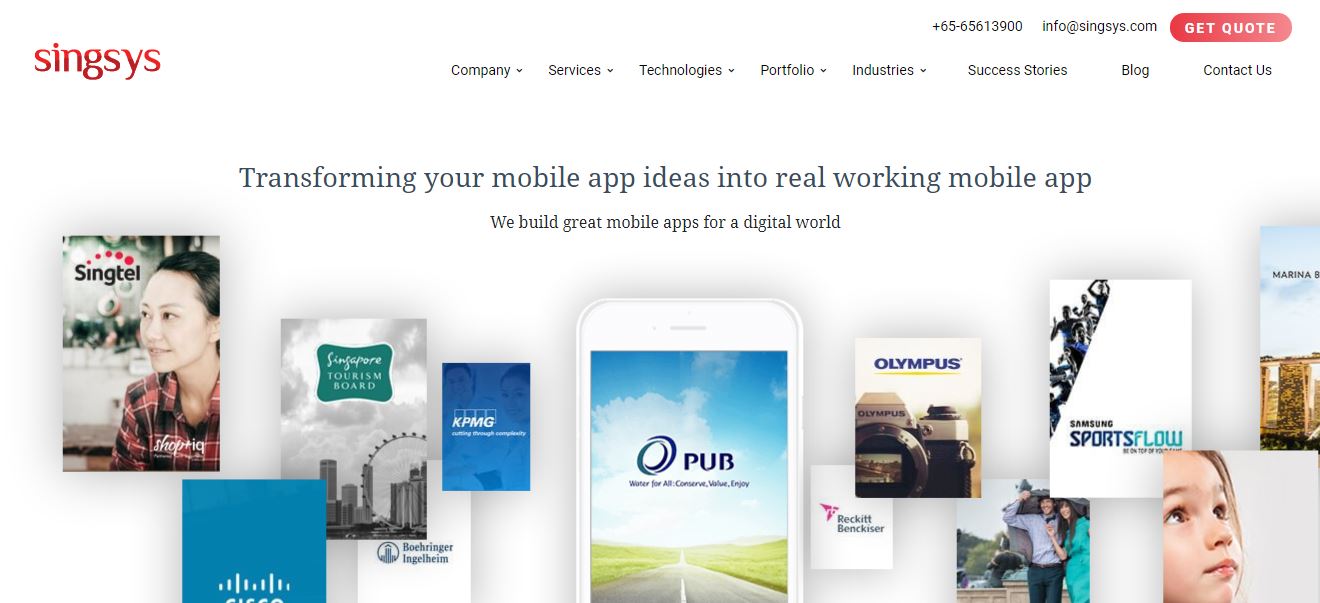 BEST FOR 
Attendance management and inventory management system
WEBSITE
https://www.singsys.com/
ADDRESS
1 North Bridge Road #17-10 High Street Centre Singapore (179094)
CONTACT DETAILS
+65-65613900 |

[email protected]

OPERATING HOURS
Weekdays: 9am–6:30pm
When it comes to software development services in Singapore, Singsys has become well-known for its excellent ERP solutions. With their well-designed platform and advanced database management, you can organize transactions with an easy, fast, and accurate process, letting you have progressive business growth.
Their solutions will help you manage the payroll, attendance, and inventory system of your business. They've worked with prominent global enterprises such as Olympus, Fujifilm, HOOQ, Samsung, Cisco, and many more — proving that they can do the best software development in Singapore for you!
Highlights
Quality control system
Flexible standard report
Customer Reviews
SingSys has earned a lot of praise from their clients who've experienced competent services. A client wrote this feedback:
"SingSys is fast, effective, highly responsive, and highly competent.  They are one of the best in this game. I can recommend them to all my friends with total confidence.  They are the best in this game, knowledgeable, efficient, and dedicated beyond fault. My experience with them has been uniformly superlative. Five Star fellows!!"
4.  Codigo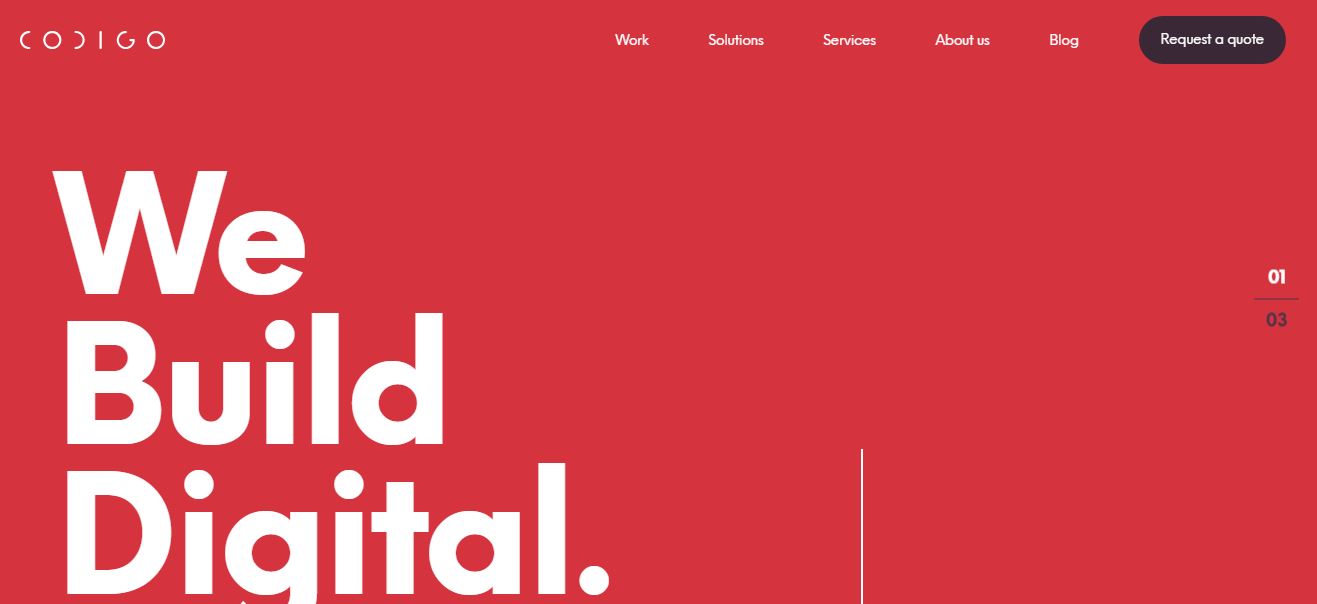 | | |
| --- | --- |
| BEST FOR  |  Mobile app software development |
| WEBSITE | https://www.codigo.co/ |
| ADDRESS | 26 Sin Ming Ln, #07-115 Midview City, Singapore 573971 |
| CONTACT DETAILS | +65 6455 9790 |
| OPERATING HOURS | Weekdays: 9am–6pm |
Codigo is an award-winning software development company in Singapore that has been continuously recognised for its innovative mobile apps that focus on enhancing user experience and managing business operations with fast and convenient processes.
They specialise in creating web and mobile platforms, accessible through all operating systems. They provide competent solutions helping you manage all the activities of your business.
Whether you need a management system for logistics, service provider, or reward programs, they have a full range of ready-made and customisable platforms, leaving you with the best software development in Singapore.
Highlights
Platforms for service providers
Web and mobile software development
5.

Buuuk

BEST FOR
Mobile App Development and Software Development
SERVICES

Mobile App Strategy, Design, Development, and Maintenance

WEBSITE
https://buuuk.com
ADDRESS
WeWork ARC 380 Jalan Besar
Singapore, 209000
CONTACT DETAILS
[email protected]
(+65) 98735984
OPERATING HOURS
24/7
If you want a software development company in Singapore that thrives on solving problems, then this one's for you. If there's an interesting problem to solve, they'll take it on — that's Buuuk's motto. They will not only work to resolve the issue, but also do so in the most effective and efficient manner.
Many know them for their bespoke design and innovation services. As a plus, they are capable of working with businesses who work in various industries, may it retail, real estate, financial services, or others.
Their partnerships with the leading technology leaders ensures that they're able to keep up with the latest developments in the field of software development in Singapore. You can count on them to work with you in developing the perfect digital solution for your problem.
Highlights
Customised digital products
Strategic and effective methods
Up-to-date with the latest technology
Works with a wide range of industries
6.

Vinova
BEST FOR 
Mobile Application Development
SERVICES

Strategy
Design
App Development
Lifecycle Maintenance

WEBSITE
https://vinova.sg/
ADDRESS
18 Sin Ming Lane #08-21
Midview City
Singapore 573960
CONTACT DETAILS
Phone: +65 6707 3597
Email: [email protected]
OPERATING HOURS
N/A
Vinova is among the top software development compabies in Singapore. Having worked in the IT industry for a decade, they are well known for rendering services of superior quality.
The professionals of Vinova are innovative, efficient, and dedicated.
They are capable of providing clientele with strategies, solutions, and advice fit to address any of their needs. Moreover, they keep themselves updated on the latest trends in technology, ensuring that the assistance they give remains highly reliable at all times.
Vinova knows what is best for your business, and as a trusted partner they offer their valuable support through the creation of top-notch applications in any Web-based or mobile platform. With the help of their team, you can be sure that your business will improve in profit, productivity, and appeal to customers.
Highlights
Expert and thorough app developers
Excellent post-development upkeep
Extensive array of profesional IT solutions
 
Customer Reviews
Here is a comment from a satisfied client:
"They are specialists that have the skill sets that are needed to complete projects in a timely manner."
7. AB4 Systems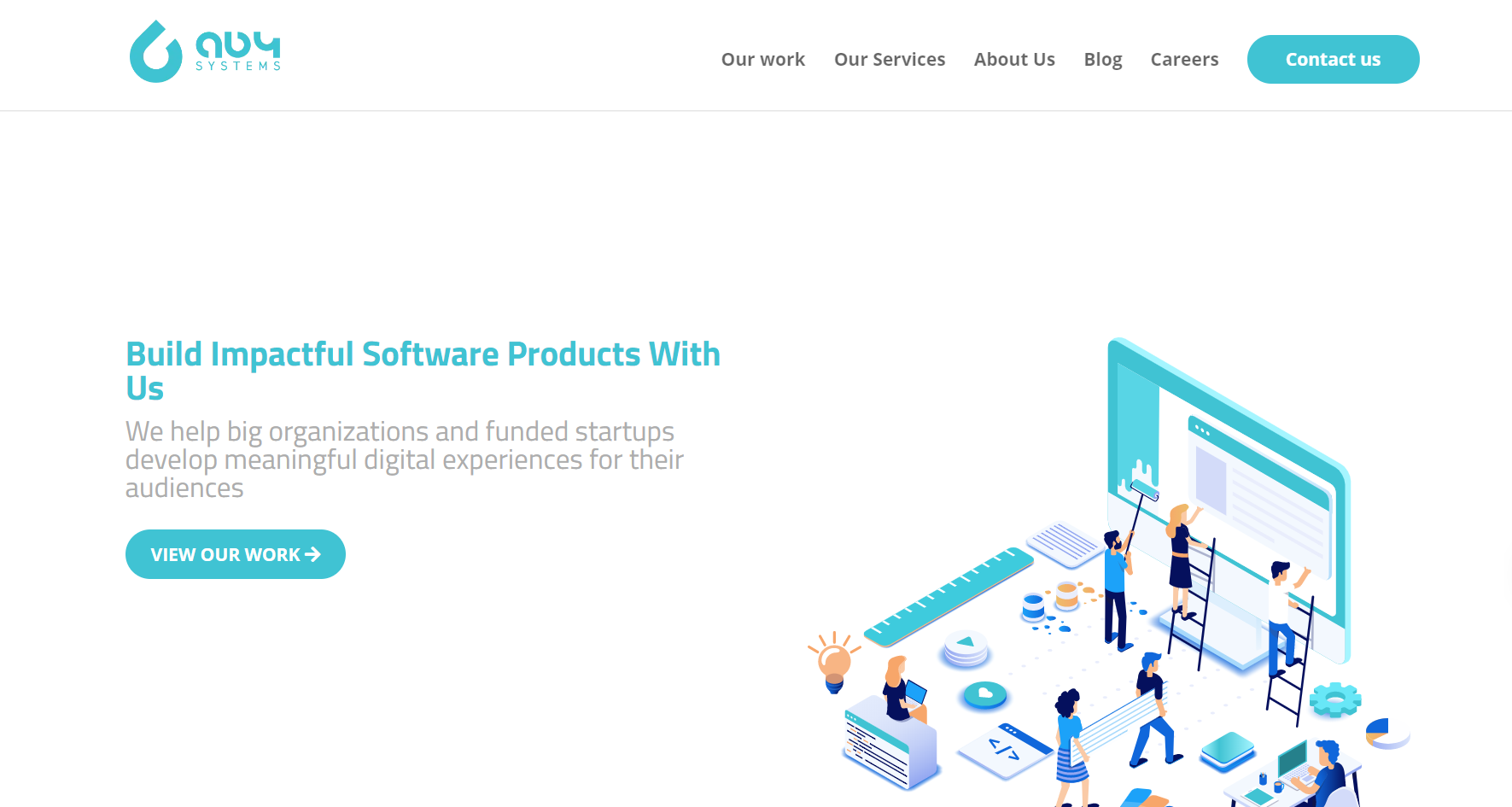 | | |
| --- | --- |
| BEST FOR  | Software engineering |
| WEBSITE | https://ab4.systems/ |
| ADDRESS | 331 North Bridge Road, #22, 188720 |
| CONTACT DETAILS | +65 3163 1801 | [email protected] |
| OPERATING HOURS | Mon – Fri 9:00 am – 7:00 pm | Sat 12:00 pm | 7:00 pm | Sun 9:00 am – 7:00 pm |
AB4 Systems helps big organizations and funded startups develop meaningful software development in Singapore and digital experiences for their audiences. At AB4 Systems, right from the start, they focus on two things: your product and the relationship with you.
They like to assume technical and product responsibility and deliver a world-class experience to your target audience. They create meaningful software products for their customers' audiences and they are driven by the impact and value created for the people we work with and aim to be world leaders in our field.
Highlights
Affordable rates
High-quality services
Tailored end result to the client's want
8. Calvin Seng Co

BEST FOR 
Technology And Business Strategies
WEBSITE
https://calvinseng.com/
ADDRESS
280 Woodlands Industrial Park E5, [email protected] 757322
CONTACT DETAILS
 +65 9234 8807
OPERATING HOURS
Monday – Friday:  8:30am–6:30pm
Saturday:  8:30–11:30am
Extending your business online is a smart move, but it can be made even better if you use the services of Calvin Seng Co. This software development company in Singapore specialises in online marketing and web solutions, making simple designs that are eye-catching yet easy to look at.
They believe that the process of creating the ideas is as important as the results their clients would want to receive. Each step is equally important and critical.
The owner has over a decade of experience with entrepreneurship and technology, so rest assured that you're in great hands. Calvin Seng Co has worked with various brands and popular businesses from all over the world– they welcome all businesses with open arms.
Highlights
Speedy work progress
Great customer service
Personalised designs
Customer Reviews
Take a look at what a previous client had to say about their spectacular services and expertise as a software company in Singapore:
"We engaged Calvin Seng as our freelance web designer and online marketing consultant in Singapore. He delivers great results in a short time proven his knowledge in web development and getting our business rank fast and visible to the public was impressive and impeccable. Furthermore he understands Chinese metaphysics BaZi well that it is an integral to our branding design. What a holistic service provider!"
9. Robust Tech House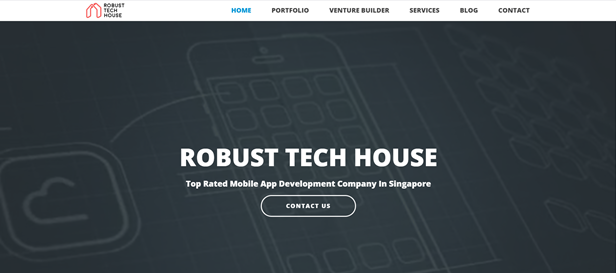 | | |
| --- | --- |
| BEST FOR  | Web and E-Commerce Development |
| WEBSITE | https://robusttechhouse.com/ |
| ADDRESS | 11 Keng Cheow Street #03-06 Singapore, Singapore 059608 |
| CONTACT DETAILS |  +65 97480484 |
| OPERATING HOURS | Daily: 9am–9pm |
Robust Tech House has been deemed one of the best companies for sotware development in Singapore. Their extensive process in creating each application is astonishing. What starts as an idea of yours will turn into a masterpiece with their help.
The creation process is criticised and checked thoroughly, with a final testing being conducted before the product is handed over. They pride themselves in having high standards in service, ensuring good communication and designs made with hard work and passion.
To ensure your satisfaction, they make sure that you're with them every step of the way.
Highlights
Reasonable Prices
Transparent Service
Honest and Responsive Staff
Customer Reviews
Robust Tech House is truly a Singapore software company that has been nothing short of amazing with their work as well as their services. Have a look at a customer's feedback about their performance:
"We had engaged RobustTechHouse to develop our in-house viewing execution app for our global roadshows – right from the start, what truly impressed us was the high quality work that had gone into our app. The wireframing stage using moqups and the effective management of UAT test items using Trello meant that RobustTechHouse were running an 'A game' during the development/deployment phase. We had nothing but praise for the very dedicated team of developers who were not only extremely responsive on Slack, but also worked well with our team to accommodate frequent change requests and troubleshoot issues to get the app up and running under 90 days from inception. It goes without saying that we would not hesitate to use them again for future projects and would highly recommend RTH to be your first-port-of-call if you are looking for web /mobile app development work to be done."
10. Originally Us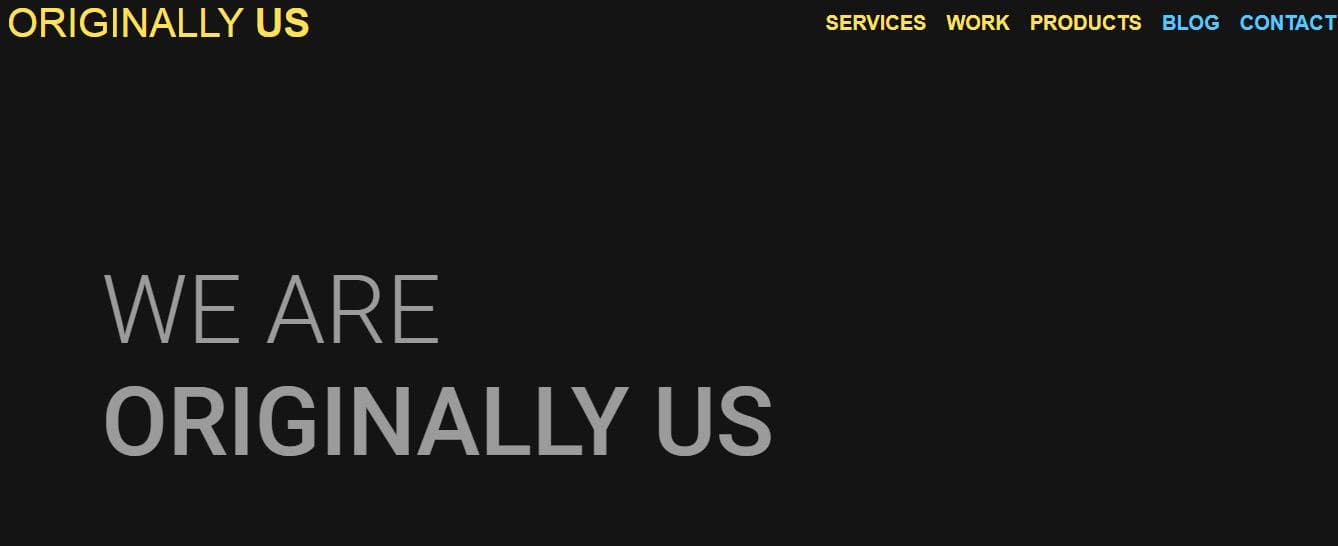 Originally Us has been featured on a lot of media publications for developing websites and mobile apps for well-known companies like Zalora, Resorts World Sentosa, and more.
Each of their masterpieces contains a harmonious combination of functionality and creativity, giving you the best software development in Singapore.
The main highlights of their work are mobile apps that helped many users find a job, search for the nearest bus stop, and be updated on traffic flow. With such products in their resume, you know that they have all the solutions that you need.
Highlights
E-commerce websites
Mobile app platforms
Customer Reviews
Clients were highly satisfied with the overall service, knowledgeable staff, and quality work of Originally Us. A client shared this story:
"got them to work on an app for our company, very satisfied with the whole work and also they are really great professionals in not just IOS but also Android apps. Not forgetting that the customer services was top notch, not just a hit and run outfit. Will work closely with them again!"
11. Edelo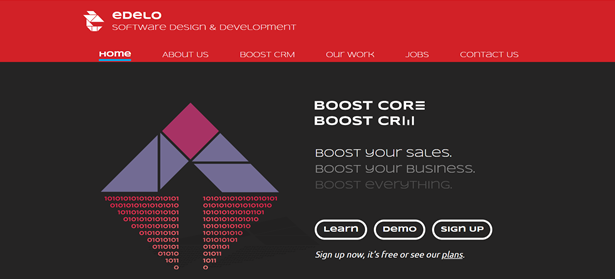 | | |
| --- | --- |
| BEST FOR  | Web (sites & apps) / Mobile Apps / CRM |
| WEBSITE | https://edelo.com.sg/ |
| ADDRESS | 115 King George's Ave, #03-02, Singapore 208561 |
| CONTACT DETAILS | [email protected] |
| OPERATING HOURS | Monday – Friday:        8:30am–6:30pm |
Edelo offers the latest technology in software development services in Singapore to help you integrate your enterprise as one in the digital world. Their software solutions are both high quality and affordable, so you don't have to worry about emptying your pockets just to have great assistance.
Their creations are customised to fit your needs, catering to every part of your business and leaving nothing unchecked. Their experience and expertise improve their efficiency– not only do you have less costs, you also get more bang for your buck.
Whether you're a big company or a startup, Edelo is sure to generate solutions for all you software problems.
Highlights
Excellent Service
Professional work
Great designs
12. MXGSoft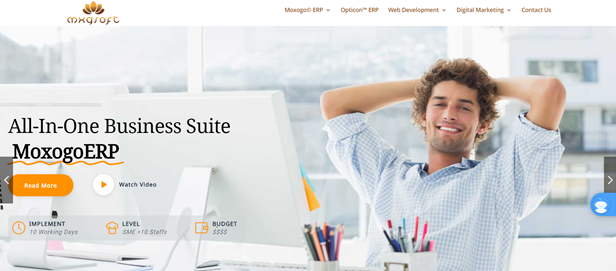 | | |
| --- | --- |
| BEST FOR  | Web Developments |
| WEBSITE | https://mxgsoft.com/ |
| ADDRESS | 20 Changi Business Park Central 2, #02 –02C Rigel Innovation Centre, Singapore 486031 |
| CONTACT DETAILS |  +65 6805 8999 |
| OPERATING HOURS | Monday – Friday: 9am–5pm |
MXGSoft provides software development services in Singapore and they are also here to help you grow as a business, ensuring that you're not only there in- store but also online, to cater to the needs of your customers that are unable to reach you physically.
They offer services such as Web Development and Search Engine Optimization. What sets them apart from your usual software company, however, is that they've created their own unique solution that might actually help you better.
MXGSoft's very own MoxogoERP is a one-stop application for SME's to understand how they can manage their business better and raise its digital connections to the next level. They also have RovingCRM and OpticonERP that can help with cloud-based recipients and help with automating and tracking information in real time.
Highlights
Passionate and Responsible Professionals
Unique Ideas
Advanced Technologies
13. MDrift Technologies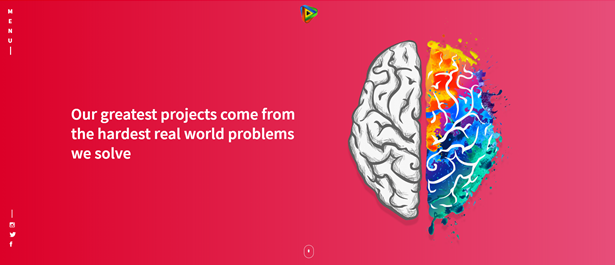 | | |
| --- | --- |
| BEST FOR  | Strategy and Design |
| WEBSITE | https://www.mdrift.com/ |
| ADDRESS | #71 Dunlop Street, Singapore – 209399 |
| CONTACT DETAILS | 6591364308 |
| OPERATING HOURS |   |
MDrift Technologies is a software development company that was established in 2013, but don't be fooled– they may not be one of the oldest in the field, but they are certainly one of the best.
They create software solutions with the help of new technologies and innovation, from simple tasks like creating a website to something more complex. They utilize their strengths in order to deliver to the best of their abilities, ensuring your satisfaction as a client and future patron.
You're sure to be surprised with how fast and easy it is to use the software they create. With every project you do with MDrift Technologies, you can be sure that each serves their own, spectacular purpose.
Highlights
Dedicated Group of Professionals
Successful Product Developments
Agile software work
Partner Ecosystem
14. Zuhlke Engineering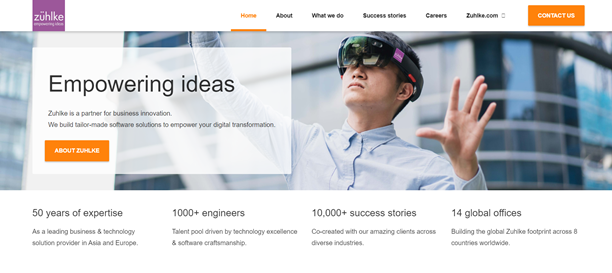 | | |
| --- | --- |
| BEST FOR  | Innovative Digital Solutions |
| WEBSITE | https://www.zuhlke.asia/ |
| ADDRESS | 80 Robinson Road #22-04, Singapore 068898 |
| CONTACT DETAILS |  +65 6921 7800 | [email protected] |
| OPERATING HOURS | "Monday – Friday: 9am–6pm" |
With over 50 years of experience and 14 global offices established, Zuhlke Engineering isn't one to take lightly when it comes to software problems. They're your best chance in creating the best solution for your business digitalization.
They offer to help clients create innovative products and services to compete with the norm of technologically-based businesses. With their knack for discoveries and integration, Zuhlke always makes sure that they bring the newest ideas to the table.
They've created over 10,000 projects alongside their partners, so you know that you're in the hands of an expert when you work with them.
Highlights
Fast software consulting & delivery
Turns data into value
Known Worldwide
Excellent Customer Service
15. 2359 Media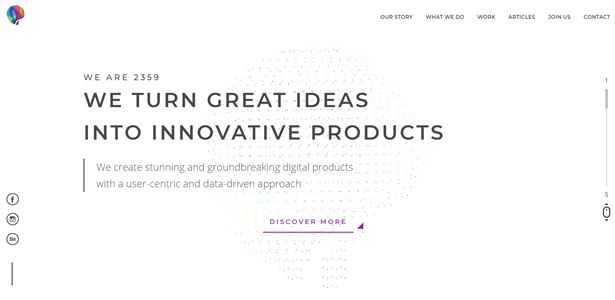 | | |
| --- | --- |
| BEST FOR  | Design Development |
| WEBSITE | https://2359media.com/ |
| ADDRESS | 3 Shenton Way, #20-09, Shenton House, Singapore 068805 3 Shenton Way, #20-09, Shenton House, Singapore 068805 |
| CONTACT DETAILS |  +65 6222 2359 |
| OPERATING HOURS | Daily: 9.30am – 6.30pm GMT +8 |
With partners like Apple, Microsoft, Java, and even Google– as well as serving clients like Samsung, Disney, and Fox– you will know that 2359 Media is definitely on top of the pyramid. They're considered a powerhouse in the media and digital world.
What helped them swiftly climb up the ranks in the last decade is their efficient work process. They embody the idea of working smart. Finding ways to lessen the time to do a job yet still assuring quality work is something they've already mastered.
2359 Media offers the best service when it comes to App and Web Development, as well as Strategies and Consultations. They're a well-rounded team of professionals who are passionate in what they do, which motivates them to ensure that what they do remains the best of the best.
Highlights
Use of the Latest Technologies
Robust Strategies
Unique Engagement Model
Flexible Resources
16. Data Cloud Consulting

Data Cloud Consulting is an agency that is great when it comes to software design and development. They're known for always having the latest groundbreaking tech and edgy ideas that would surely make your business stand out from the rest.
They ensure client learning and satisfaction from all the services they offer. Your best interests are in mind when it comes to this agency, as they enable each of their customers to benefit from the latest technologies and frameworks that will help a business become more efficient and cost-saving.
Highlights
Fast mobile app development
Sustainable web design
Cloud migration
Flexible services
Great customer handling
17. Applify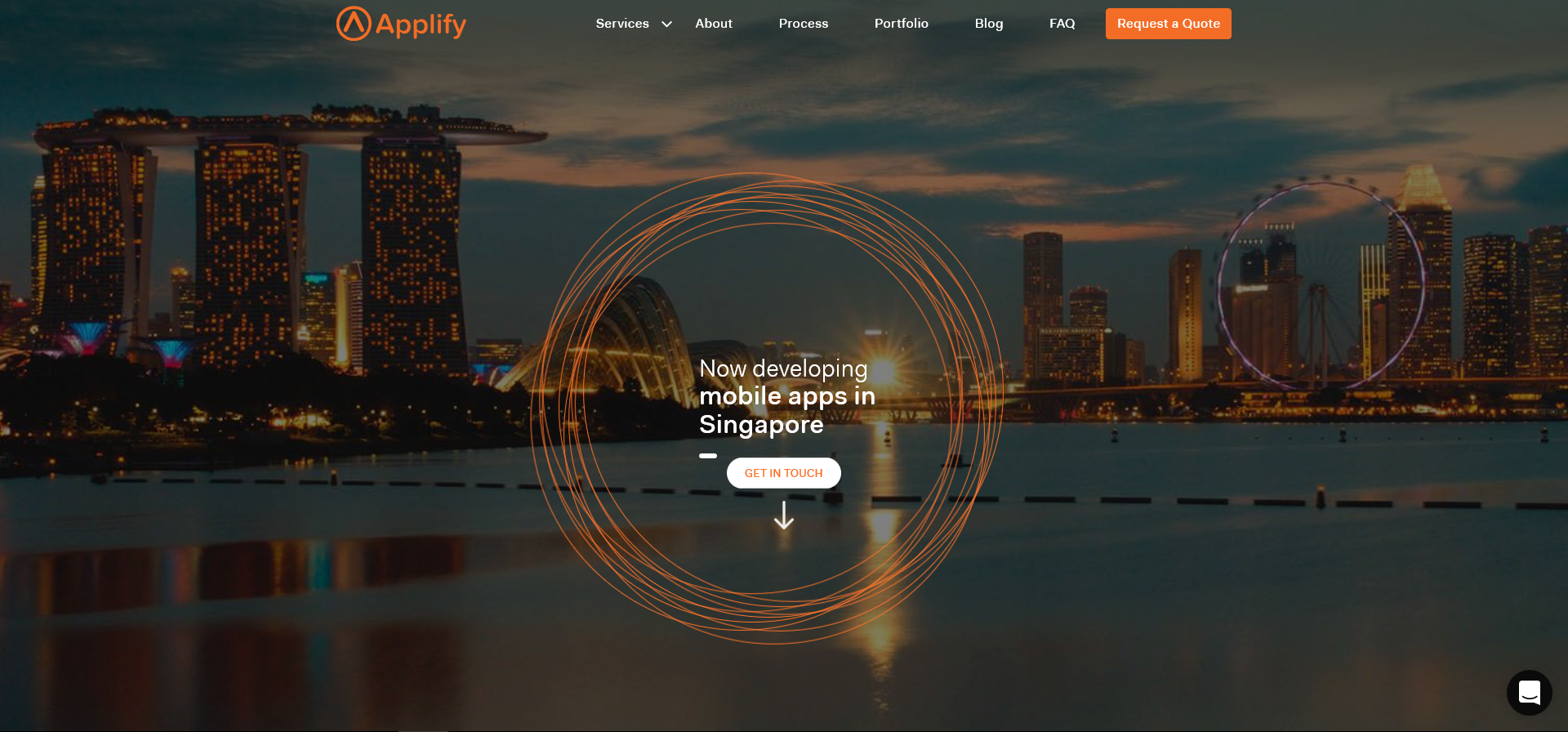 With Applify's intuitive solutions, they have become an award-winning web and mobile app development company. They want to become a universal provider of application needs for their clients. To help fulfill your demands as a client, they have a team of designers whose expertise is unparalleled.
Applify, unlike other companies, offers a comprehensive suite of services that are tailor-made to their client's needs. These complete set of services makes it easy to work with them– especially if you'll need their services again in the future.
Highlights
Mobile App Development
Mobile App Design
Strategy
Maintenance
Customer Reviews
Here is a review left by a very satisfied client:
"Great company. Highly recommended. A good place for learners and to start with software cycle. Awesome work environment & time flexiblity."
– Katherine Gelbart
18. Rioks
Rioks Corporation is a Singapore based marketing consultancy that handles B2B industries, SaaS product marketing, and E-commerce. Besides working locally, they also provide marketing consulting services internationally.
From their humble beginnings in 2012, they have become one of the leaders in the industry when it comes to strategic marketing planning, inbound marketing strategies, and search engine optimization campaigns. They can be counted on as a reliable provider of effective strategies.
They offer various services, from social media and marketing campaigns to custom-made web applications. Rioks Corporation also assists their clients in marketing technologies & automation, making their future marketing and campaign projects more effective.
Highlights
Marketing Department on Outsource
Account Based Marketing
Industry-specific Marketing Solutions
19. Swagsoft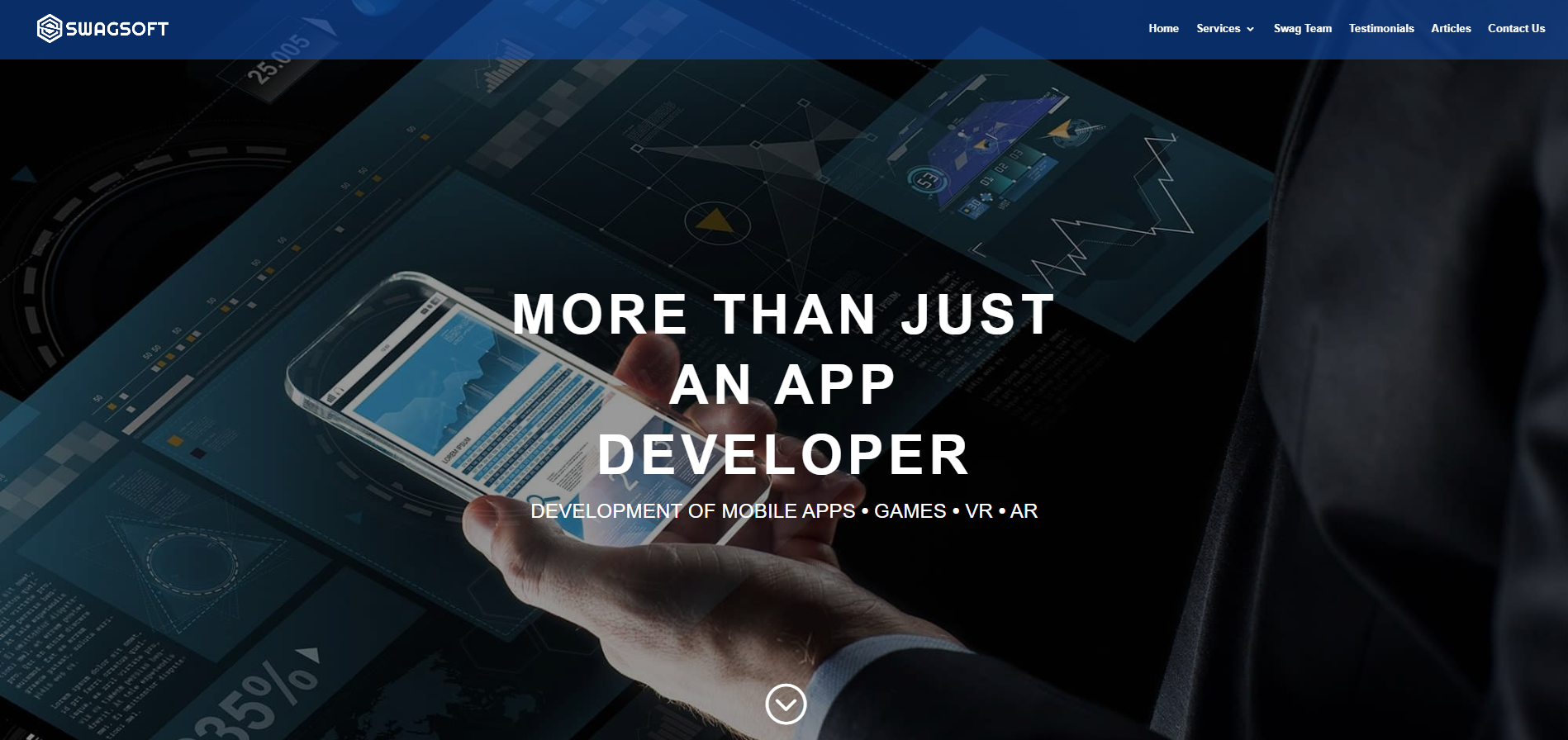 BEST FOR 
Comprehensive Suite of Services
WEBSITE
https://swagsoft.com.sg/
ADDRESS

150 Jalan Besar #02-01, 208868

CONTACT DETAILS
EMAIL
[email protected]
+65 9623 4947
OPERATING HOURS
10 AM – 7 PM Monday to Friday
Swagsoft is a software company that does more than developing software. Unlike other companies, they also use data analytics in the development process.
They offer a wide set of services ranging from app development to game development. Best of all, Swagsoft works closely with their clients to achieve the best result. Contact them now!
Highlights
More than 50 customers in Singapore
Successful collaborations with BMW, Caltex, Toyota, and government
agencies like the MDA and Singapore Air Force
A first-person shooter and free combat virtual reality video game Sairento
VR in collaboration with Mixed Realms
One Force – simulation game that increases awareness on the career
opportunities within the RSAF and allows players to learn about the RSAF
entertainingly
Apps are regularly featured in Top 10 on Play Market and App Store
20.

Nuvista Technologies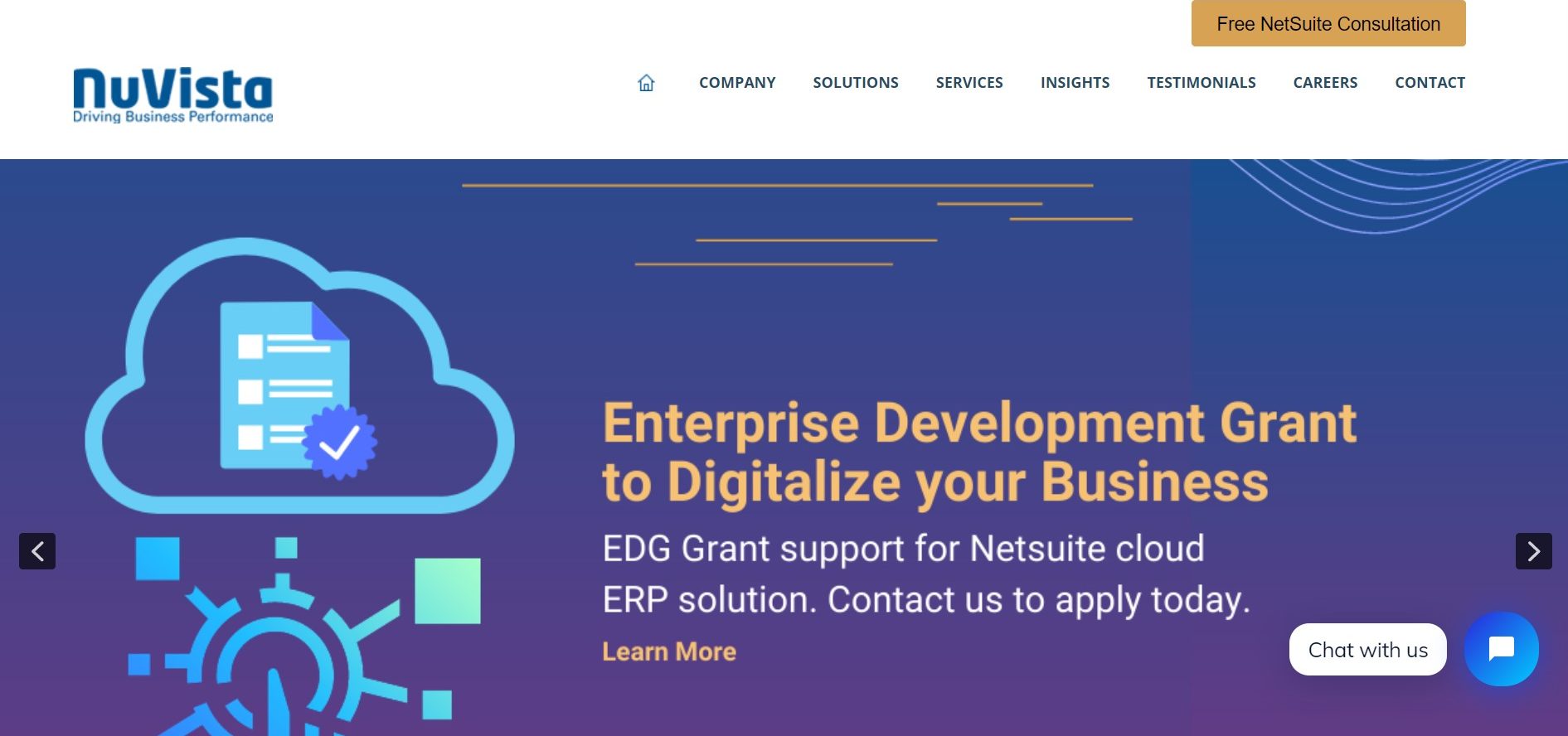 | | |
| --- | --- |
| BEST FOR | Cloud Solutions, E-commerce, Business Intelligence and Implementation |
| SERVICES | Professional Consultancy, Outsourcing services, Application Development |
| WEBSITE | https://www.nuvistastech.com/ |
| ADDRESS | 10 Ubi Crescent, Lobby B #03-24, Ubi TechPark, Singapore 408564. |
| CONTACT DETAILS | (+65) 6274 2290 | [email protected] |
| OPERATING HOURS | Monday – Friday, 9:00 AM to 6:00 PM |
If you're looking for the best provider for Cloud ERP/CRM/HRMS solutions, then it might be time to give NuVista Technologies a call. They provide cost-effective unified digital solutions that can be rapidly implemented to fast-track digital transformation successfully.
This team of developers have in depth experience across industries and verticals such as Wholesale Distribution, E-Commerce, Pharmaceutical, Medical, Professional Services, Marine and more. They are the preferred consulting and implementation partner of NetSuite. They also specialize in NetSuite implementation, integration, consulting and managed Services.
With over a decade of expertise, NuVista helps their clients focus on their core competencies while we take care of their IT and enterprise needs.
Highlights
Free NetSuite Consultation
Productivity Solutions Grant for SG SMEs
Cloud Solutions
Customer Reviews
Here are some testimonials from their previous clients:
"NuVista were there for us right through every step of a complex ERP implementation and roll-out of new business wide process changes. They know product very well and took the time to really understand our pain points and used their deep Certified NetSuite expertise to develop processes that fit our needs and allowed us to gain huge efficiencies from the system." – SV Gaming
Here's another review left on google:
"Mr. Vijay has been a pleasure to work with. Having dropped by his office for a meeting, Mr Vijay and his team has been extremely hospitable and warm.
Besides treating their guests well, Mr Vijay has shown deep understanding in the CRM Software space.
I am confident that NuVista Technologies will provide an amazing service to any business looking for a Netsuite Partner in Singapore."
21.

Amana Asia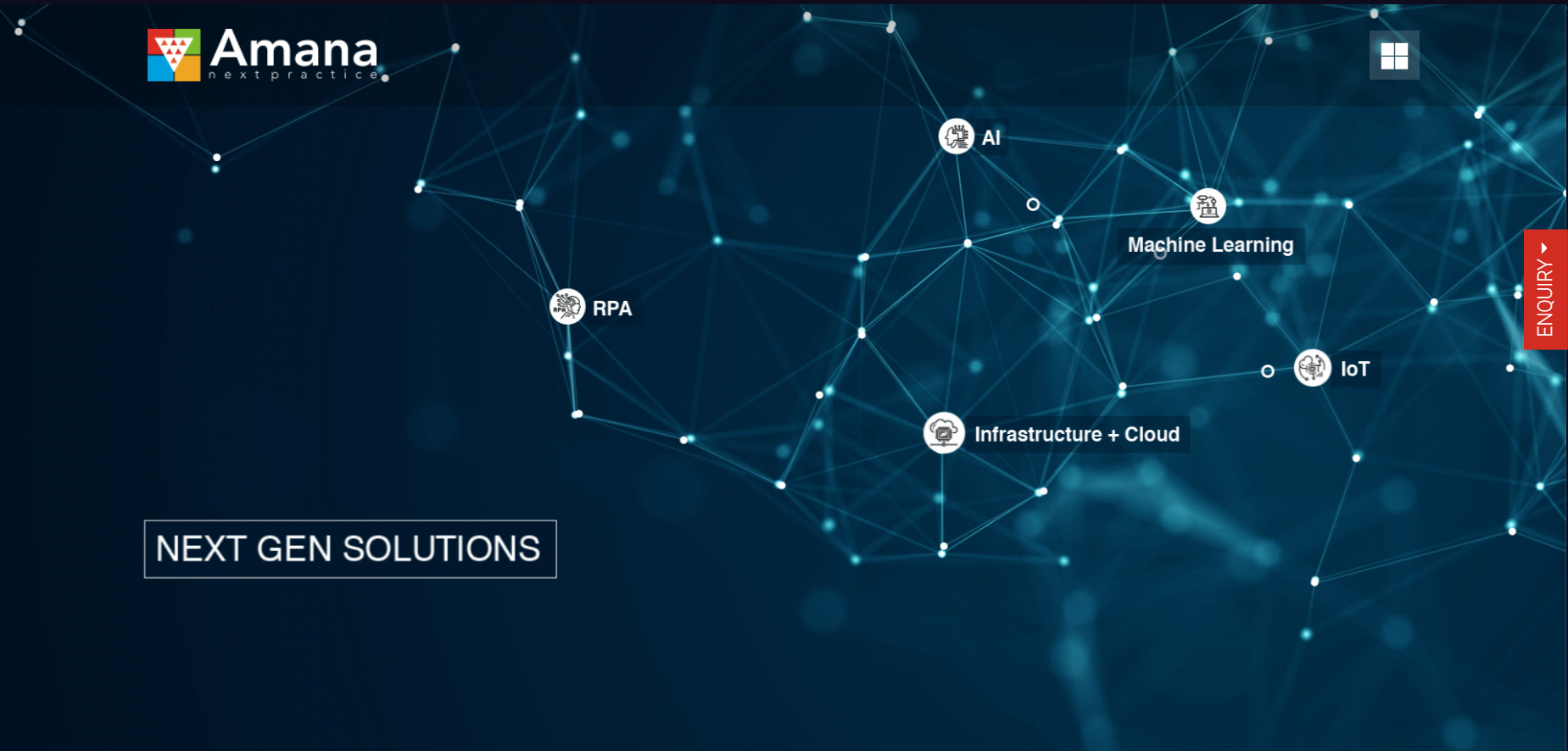 BEST FOR
Web and Mobile Application Development
SERVICES

Application Maintenance and Migration
Audit and Compliance
Blockchain Technology and Development
Cloud Migration and Deployment
Data Analytics and Business Intelligence
Desktop App Development
Business Transformation Consultants
IoT Development
Mobile Application Development
Onshore and Offshore Development
Open Source Solutions
Robotic Process Automation
System Integration Services
UI/UX Design
Web Application Development

WEBSITE
https://amanaasia.com
ADDRESS
No 8 Boonlay Way, #11-12 Tradehub 21, Singapore 609964
CONTACT DETAILS
[email protected]
+65 6255 2728 / 6352 2928
OPERATING HOURS
Monday – Friday
8:00 am – 5.00 pm
When it comes to Web and Mobile Application Development, Amana Asia is one of the best. They're one of the leading digital solutions providers in Singapore.
Their services range from application maintenance. system integration, and everything in between. As a client-focused company, you can count on their team to deliver only the best when it comes to your software needs.
They're dedicated to improving themselves wherever and whenever they can. You can rest assured that no matter what your software needs may be, Amana Asia will be able to create something that can solve that problem effectively.
Highlights
Wide range of services
Committed team
Swift delivery
Client-focused
22.

Verz Design

BEST FOR
Web Design and Web Development
SERVICES

UI/UX / User Experience Design
Web design
E-commerce development
Web application development
Mobile app development
Digital marketing

WEBSITE
https://www.verzdesign.com
ADDRESS
56 Kallang Pudding Road
#07-05/06 [email protected]
Singapore 349328
CONTACT DETAILS
+65 6841 1680
[email protected]
OPERATING HOURS
Monday to Friday: 9.00am to 6.30pm
Saturday, Sunday, Public Holiday: Closed
Verz Design is one of the top web design companies in Singapore. Their goal is to provide creative solutions to their client's web development needs, in the form of effective and satisfactory results.
Clients are the priority for their team of expert web designers. Most, if not all of their members are proficient in a certain aspect of design and development, such as multimedia, websites, mobile apps, and more.
Their efficient and transparent workflow will ensure that your commission is being handled how you want it, every step of the way. 
Highlights
Many years of experience 
Team of talented web savants
Creative solutions for web development needs
Intelligent and professionally-sound workflow
23.

IT Wonders Web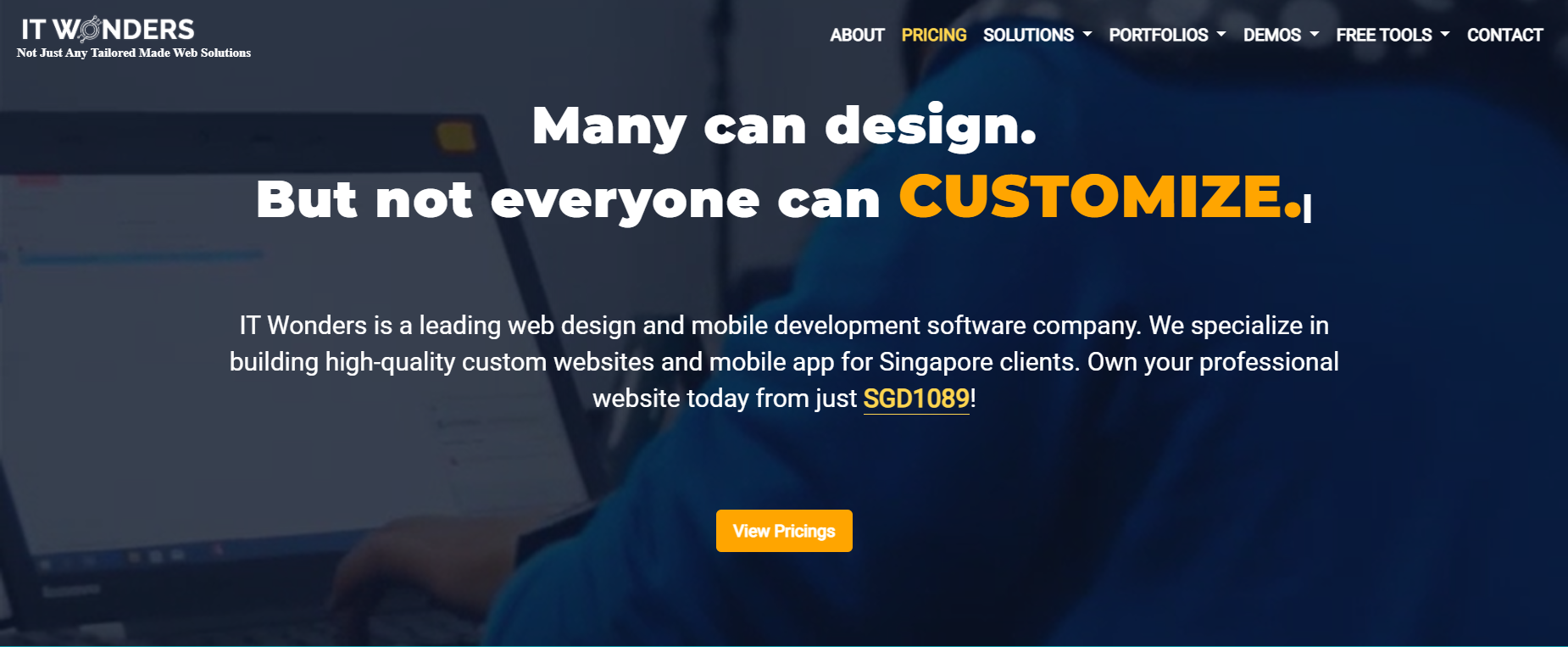 BEST FOR
Software and Web Development
SERVICES

Mobile Application
Web Design
Outsource Provider
E-Commerce
Enterprise System
Business Intelligence
Virtual Assistant

WEBSITE
https://www.itwonders-web.com.sg/home
ADDRESS
50 Chin Swee Road,
#09-04 Thong Chai Building
Singapore 169874.
CONTACT DETAILS
+65 90152042
[email protected]
OPERATING HOURS
Monday  – Friday: 9 AM – 6 PM
True to their name, IT Wonders brings tailor-made solutions to their clients in the form of customised web design and development services. They specialise in improving a brand's online presence in the market.
Unlike other companies, they make their solutions while considering the business data that they actually obtained. With this data-backed method, you can rest assured that they will bring you concrete and satisfying results.
No business is too big or too small for them. All they're concerned with is how you can reach the audience you want, as fast as possible.
Highlights
Customised services
Numerous solutions options 
Experienced with artificial intelligence and machine learning
Works with businesses of all sizes
24. Vouse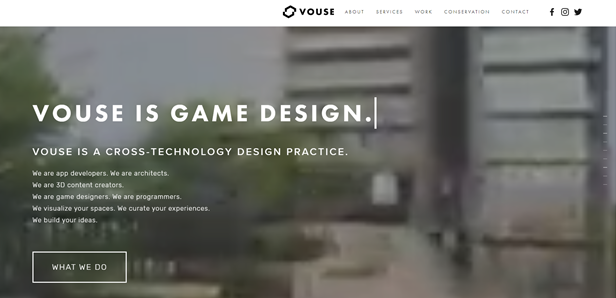 BEST FOR 
3D Content
WEBSITE
https://www.vouse.co/
ADDRESS
#07-87, CT Hub 2, 114 Lavender Street, Singapore, 338729
CONTACT DETAILS
 +65 6443 8893 | [email protected]
OPERATING HOURS
Mon – Fri                     10am – 6pm
Sat – Sun                     Closed
Public Holidays         Closed
Vouse believes that no two problems are the same, which leads to nonidentical solutions as well. They make sure to create a personalized project for each of their clients, using ideas that are unusual yet rewarding.
As engineers, they know the impact of a great design to a business, so they maintain a high level of performance in everything they do. Their knowledge is always up to date, which in turn becomes a strong foundation for their creations.
Their precision is uncanny and their skills are on par with even the best of the experts. They deliver only the best content for cloud technologies and modern frameworks, as well as their methodology.
Highlights
Curates personalized designs
Empowers the people
Visualizes architecture and space
25. Titansoft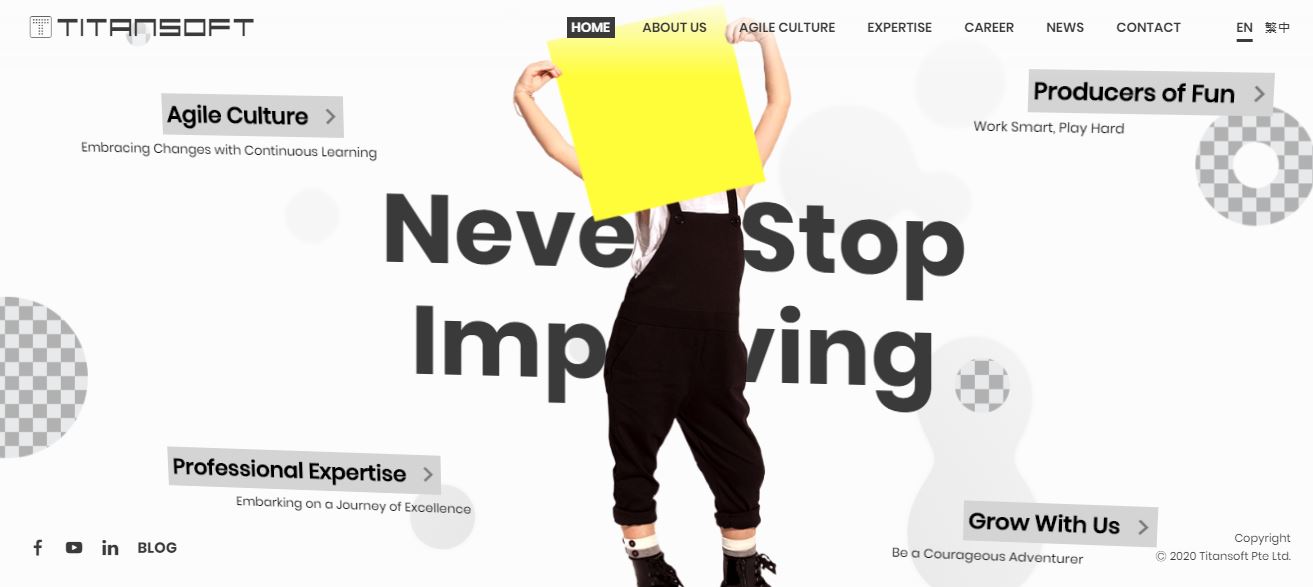 BEST FOR 
Project, business, and performance management systems
SERVICES

Web Hosting, Industry Analysis, Cloud Solution, Design and Programming, Creative and Design

WEBSITE
https://titansoft.com/en
ADDRESS
90 Eu Tong Sen Street #05-01, Singapore 059811
CONTACT DETAILS
+65 6396 6458 |

[email protected]

OPERATING HOURS
Weekdays: 9:30am–6:30pm
Titansoft showcases their expertise in software development and online platform maintenance. This includes project management systems, system performance monitoring, subscriber accounting systems, and more.
They're experts in creating cloud solutions to improve business efficiency, flexibility, and security. They also ensure that every platform is user-friendly and meets the requirements of each task.
Highlights
Online platform maintenance
Cloud solutions
26. EC Infosolutions Pvt Ltd

EC Infosolutions is a 35-member software development company based in Pune, India. They provide customised software solutions to clients in more than 10 countries, which include India, the USA, New Zealand, Australia, Canada, UK as well as countries across Europe and Asia.
They offer software development in various areas such as Web & Mobile Apps, Freedom Suites with CRM, eCommerce and have taken projects for Agribusiness, Manufacturers, Software Vendors and even Startups.
On top of this, choosing EC Infosolutions should put you at ease with their list of partnerships which include AWS Certified Solution Architects, Google Cloud, Shopify, Order Cloud Services.
In the end, EC Infosolutions's customized software development approach, you can rely on them to achieve more freedom for you, with less software.
Highlights
1-2 hours response time
14 years of experience
Global delivery & exceptional support
Customer Reviews
Previous clients left their review on the quality of their service on Google:
"EC Infosolutions LLC delivered a platform that satisfied stakeholders. The knowledgeable team provides valuable recommendations and addresses challenges with effective solutions that improve the product. Their efficacy and transparency result in a dependable partnership."
"EC Infosolutions LLC has delivered high-quality, bug-free solutions. Responsive and hard-working, their team has offered great project management throughout the development process. Their problem-solving skills and intelligence are very impressive."
27. SEA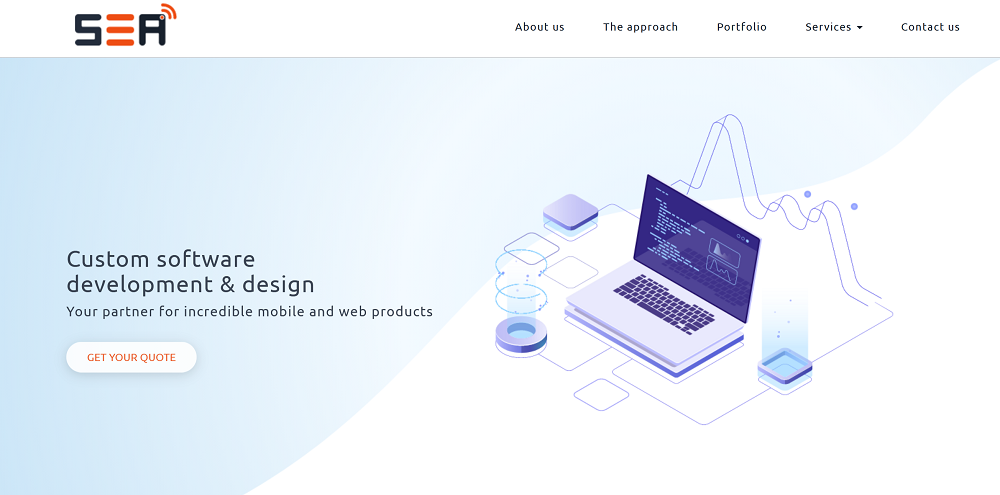 | | |
| --- | --- |
| BEST FOR | Customised Softwares |
| WEBSITE | https://www.sea.sg/ |
| ADDRESS | #07-02 A'Posh BizHub, 1 Yishun Industrial Street 1, 768160 |
| CONTACT DETAILS | (65) 9030 5959 | [email protected] |
| OPERATING HOURS | Contact for more information |
SEA or Singapore E-Commerce App is a one-stop IT solutions provider established in 2017. Since then, the firm has consistently provided comprehensive and effective business software solutions to clients all over South East Asia.
Aside from the diversity of its offerings, SEA is also known for its flexibility. To this day, SEA has been serving both small and medium enterprises (SMEs) and Multi-national Corporations (MNCs).
Regardless of the business size, SEA endeavours to provide personalised digital solutions that will benefit the current company they are working with. The expert team at SEA has years of experience creating software solutions, making SEA one of the best choices for the matter.
It's also worth noting that SEA is highly customer-centric. Meaning, they go out of their way to attain an incredible 100% satisfaction rate with each client they work with.
Given this, clients new and old should expect SEA to thoroughly study the companies the firm is working with to ensure that the curated software provided fits the company most.
Highlights
Prompt response
Wide array of digital solutions
Works with all business sizes
Creates apps for both Android and iOS
28. Creative Nation Art

| | |
| --- | --- |
| BEST FOR | Full Service and Creative Design |
| WEBSITE | https://creativenationart.com |
| ADDRESS | #07-14 Ho Ching Rd, Block 111, Singapore 610111 |
| CONTACT DETAILS | +65 81895430 |
| OPERATING HOURS | Contact for more information |
Sometimes, it's such a hassle having to go to several companies to acquire the services that we want. Fortunately, that wouldn't be the case with Creative Nation Art.
See, Creative Nation Art is a company consisting of freelances who are experts at their respective fields. These fields include but aren't limited to web design and development, application development, graphic design, video animation and editing, digital sketches, and many more.  
Aside from the range of services, Creative Nation Art also comes highly recommended because of its multi-national status. The company has offices not only in Singapore, but also in India (headquarters), Canada, USA, UAE, Greece, and other nations.
If we consider all of these, it's safe to say that Creative Nation Art is one of the most accommodating and accessible firms in the current market. If you're looking to boost your business today, why not consider Creative Nation Art?
Highlights
Prompt response
Multi-national company
Full suite of digital services
Excellent customer service
29. Hipster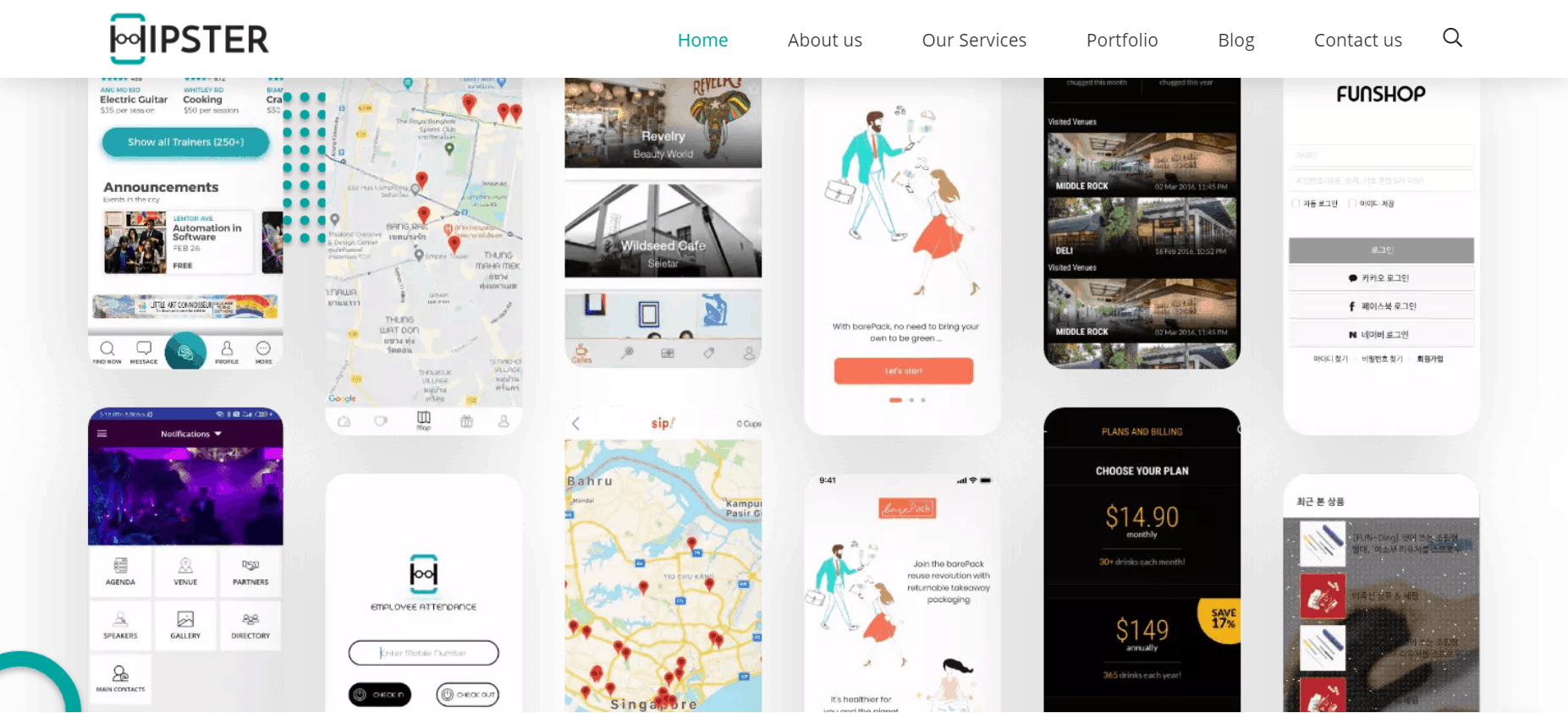 BEST FOR
IT Business
WEBSITE
https://hipster-inc.com/
ADDRESS
60 Kaki Bukit Place #08-13 Eunos Techpark Singapore 415979
CONTACT DETAILS
[email protected]
+65 82314107
OPERATING HOURS
Contact Hipster beforehand for consultancies
Hipster is a company built by techy entrepreneurs for their co-entrepreneurs. With their many years of experience, you can rest assured that they can handle all sorts of problems by creating a solution fit to what you will need.
The services you can acquire from Hipster include Software Development Service, IT Services, and Business IT Solutions.
Their expert team will ensure that you can get your money's worth and so much more when you let Hipster assist you in all your technology needs. Feel free to check out their portfolio to see if what they offer is suited to what you and your company requires. 
Highlights
Highly professional staff
End-to-end result
Great value for money
30. Octal Info Solution

BEST FOR 
Product development and database management solutions
WEBSITE
https://www.octalsoftware.com.sg/
ADDRESS
531A, Upper Cross Street, #04-95 Hong Lim Complex, Singapore (051531)
CONTACT DETAILS
+65 8420478 |

[email protected]

OPERATING HOURS
Weekdays: 9am–6pm
With over a decade of experience, Octal Info Solution is a software company in Singapore that has created countless digital platforms for businesses in various industries. Their team of developers and designers have wide technical expertise and this includes their professionals doing the best software development in Singapore.
Through analysing the scope of your business, they make sure to build an application service that'll perfectly fit your needs and give a dynamic user experience. They have an extensive range of custom applications curated with absolute security, ready for large-scale applications, and fitting detailed requirements.
They've developed solutions for education, retail, finance, travel, real estate, resource, media and entertainment, health care, and more industries. So whatever industry you're in, they can make the ideal platform for you!
Highlights
Software consulting
Wide range of custom applications
That's it for our list of the best software developments in Singapore! If you've got more options in mind, let us know as we may also add them to the list.
And if you're looking for payroll management systems in particular, see these best payroll services in Singapore! They specialise in providing reliable platforms that can keep track of every transaction.