One of the best ways of attracting customers to your business is having an attractive and informative website. If you're clueless as to how to design one, then it's time to seek help from the companies that can produce the best website design in Singapore.
Since there are lots of website designers in Singapore, we made sure to include only those with experience, affordable services, and positive reviews from customers. You don't want to waste your money on bad website designers right?
Anyway, here's our list of the best website designers on the island:
1.  Verz Design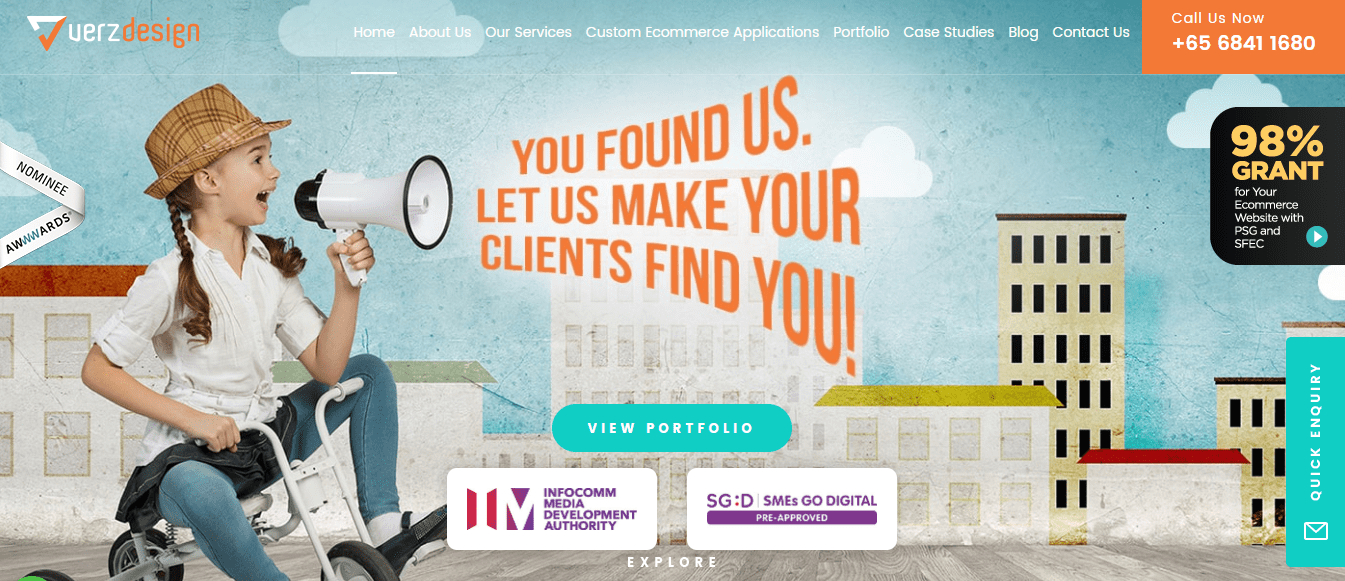 BEST FOR 
Creative Services
SERVICES
Website Design, Web Copywriting, Newsletters, Blogs, Advertising, SEO, Social Media Marketing, and Facebook Marketing
WEBSITE
https://www.verzdesign.com/
ADDRESS
56 Kallang Pudding Road #07-05/06 [email protected] Singapore 349328
CONTACT DETAILS
+65 6841 1680 |

[email protected]
If you want a website that allows clients to see your business faster and easier, then Verz Design has you covered! It has a team of experienced website designers who can whip up the best website design in Singapore that will make customers curious about your business!
One of its specialties as a web development company is corporate web design, so rest assured that it knows how to sell your business by using tools that go beyond pure aesthetics.
Verz Design also offers a wide range of web services, including copywriting, blog posts, search engine optimization, and even Facebook marketing.
Highlights
11 years of experience
Experienced web development team
Consultation services
Customer Reviews
Here are some of the reviews left by satisfied clients:
"This is not my first time and also won't be the last time working with Verz. More projects to come with Verz! Special thanks to PM Eric who is a passionate and dedicated IT folk. I have known Eric since 5 years back on my first corporate website project with Verz. He is a very responsible and experienced PM and tries his best to accommodate all the customer requests.  Great job and keep up the good work!" 
"Verz Design was very professional throughout the whole setting up process. They took the time to understand what we needed, and were able to execute accordingly in the required time frame. I particularly enjoyed working with Eric who was very responsive and patient towards all the problems we faced and enquiries that we had. thank you!"
2.  Ripplewerkz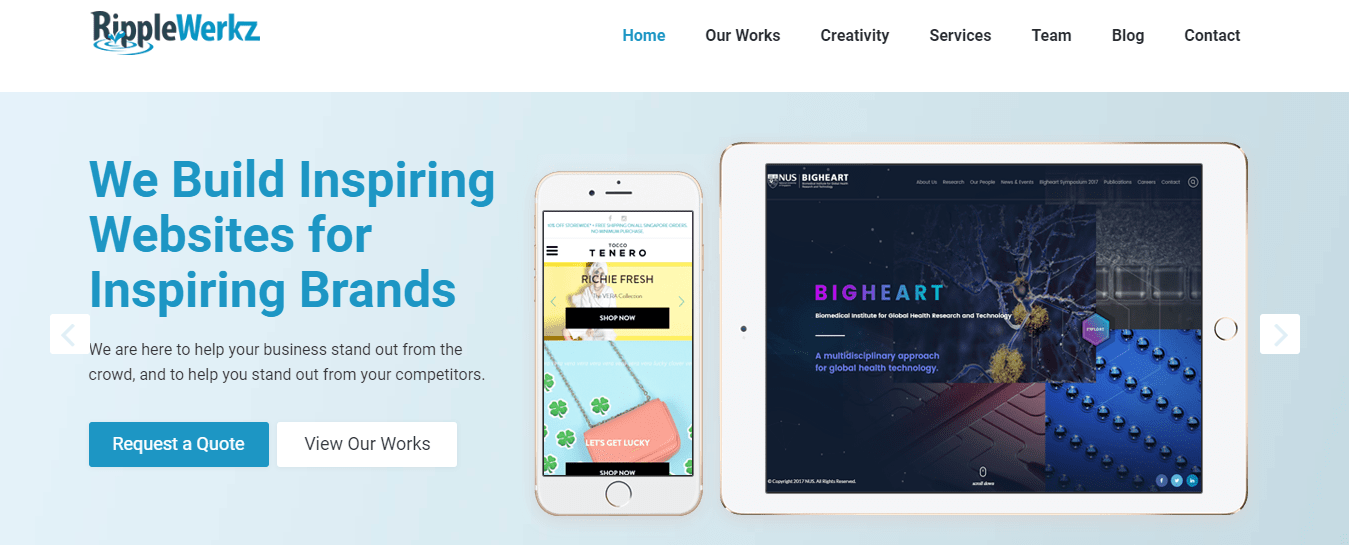 BEST FOR 
Brand Identity
SERVICES
Website Design, Web Development, UI/UX Design, Corporate Identity, Graphic & Print Design,
WEBSITE
https://www.ripplewerkz.com/
ADDRESS
267A Jalan Besar Singapore 208939
CONTACT DETAILS
+65 8817 9941 |

[email protected]
Ripplewerkz is considered one of the top media production houses in Singapore for its comprehensive online media solutions. Some of its services are web development, web consulting, corporate identity design, and graphic and print design.
In terms of web design, we believe that it has an experienced team that can create the best website design in Singapore. Its web design service comes in various packages that include ones for static websites, web applications, content management systems, mobile-friendly websites, and flash websites.
Anyway, Ripplewerkz is known for not only visually-impressive websites but client-friendly ones as well. That's a big part of why it made the list for companies doing the best website design in Singapore.
Highlights
Strong web presence
Corporate identity design
Professional web designers
3.  Novage

| | |
| --- | --- |
| BEST FOR  | Free Quotation |
| SERVICES | Website Design, Web Development, Web Maintenance, Digital Marketing, SEO, and Landing Page Design |
| WEBSITE | https://novage.com.sg/ |
| ADDRESS | The Commerze @ Irving 1 Irving Place, #09-01 Singapore, Singapore 369546 |
| CONTACT DETAILS | 67 444 064 |
With over 10 years of experience, Novage has helped thousands of clients in making their businesses more known to the public. It's one of the leading website design companies in Singapore that offer services beyond designing.
Among the services offered by Novage are web maintenance, domain and hosting, digital marketing, microsite design, and search engine optimization.
It prides itself on being a result-driven company, meaning it produces websites that drive more traffic and increase a company's sales — all thanks to its designers who know how to create the best website design in Singapore.
On top of that, Novage also offers 1 year of free local hosting, email account, and technical support.
Highlights
Effective website designs
Create web designers
1 year free selected services
Customer Reviews 
Here are what clients have to say about the services of Novage:
"The Novage Communication team is very committed to providing fast, thorough and customer oriented service. They are always available when needed. They provide thoughtful advice and well-designed websites. Our website is very user friendly and easy to navigate. They are considered part of our company's team and we have no hesitation recommending them to potential customers." 
"Great customer service! Very professional! They are always available when needed and will provide lots of advice to build up my website. Wynn and Yoga are very knowledgeable in their area of expertise. Working with them is a breeze. Great job guys!!"
4.  Firstcom Solutions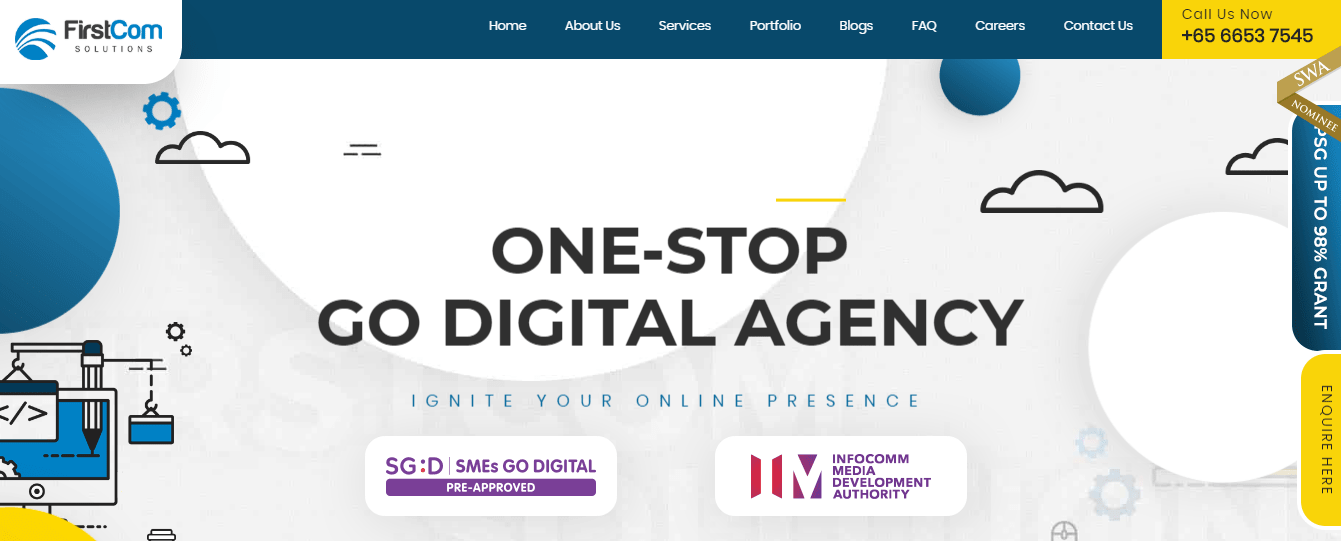 BEST FOR 
One-stop Digital Solutions
SERVICES
Website Design, Web Development, E-Commerce, Brands Strategy, Digital Marketing, Web Application, and Content Creation
WEBSITE
https://www.firstcom.com.sg/
ADDRESS
158 Kallang Way, #03-05 Performance Building, Singapore 349245
CONTACT DETAILS
(+65) 6653 7545 |

[email protected]
If you're looking for a digital agency that knows how to grow your company online, then Firstcom Solution is the right one for you! It's a one-stop digital agency that offers a wide range of digital solutions, including web creation, brands strategy, web development, and even digital marketing.
As one of the companies with the best website design in Singapore, it boasts a team of experienced and creative web designers who are well-versed in marketing different types of industries.
Firstcom Solutions has a studio that's armed with state-of-the-art technologies paired with experienced photographers and videographers.
Despite being in the business for only 9 years, it's grown into one of the most trusted digital solutions companies in Singapore for its dependable yet affordable services.
Highlights
9 years of experience
Full-equipped studio
In-house content and creative team
Customer Reviews
Firstcom Solutions has an average rating of 4.2 on Google Reviews based on 117 reviews. Here are some of the comments from its clients:
"We are happy to have Firstcom Solutions to work with us on our urgent project. The team assigned from consultation to actual team handle the project were professionally and timely. Firstcom have delivered urgent work without compromising on the details. They are able to meet deadlines and make the best use of our time to complete the project together. The team expertly prioritizes work without getting tangled in endless details and plan the details promptly if changes are to be made." 
"I would like to thank FirstCom Solutions for reaching us with the grant to embark on going digital to outreach a wider range of customers. This has definitely helped us to improve in the operational process more efficiently and effectively. Special thanks to Wei Li as he is knowledgeable and technically competent. He is able to understand and translate our website development needs and responded quickly to our requests"
5.  Lemonade

BEST FOR 
Creative Designers and Strategists
SERVICES
Website Design, Web Maintenance, and WordPress Website Creation
WEBSITE
https://lemonade-it.com/
ADDRESS
31 Woodlands Cl, #04-02, Singapore 737855
CONTACT DETAILS
+65 3158 3831 |

[email protected]
Lemonade is a website design company that knows not only how to create a visually appealing website but turn visitors into clients as well. It has a team of creative strategists, innovative designers, and trained web analysts.
In terms of expertise, Lemonade knows everything about WordPress website design. If you want a website that's easy to navigate on your end, then Lemonade knows exactly what you need.
And of course, Lemonade wouldn't be a revered company without its dependable customer service team. You won't have a problem dealing with them whenever you require help.
Highlights
WordPress design
Creative designers
Reliable customer services
6. EADC
EADC designs websites that amplify your business' goals and success. Team EADC designs and builds websites that are not only good looking, but also primed for business leads generation and optimized for search engine results.
They are a Singapore web design company and web design agency that focuses on functional and creative website design solutions for companies and businesses at affordable prices. Founded in 1999, they are trusted by a variety of businesses and brands across different industries in Singapore.
Highlights
Affordable
Provides fast loading, secure, searchable, mobile responsive and optimized websites
Pixel perfect and on point websites on all devices
7. Hei Web Creations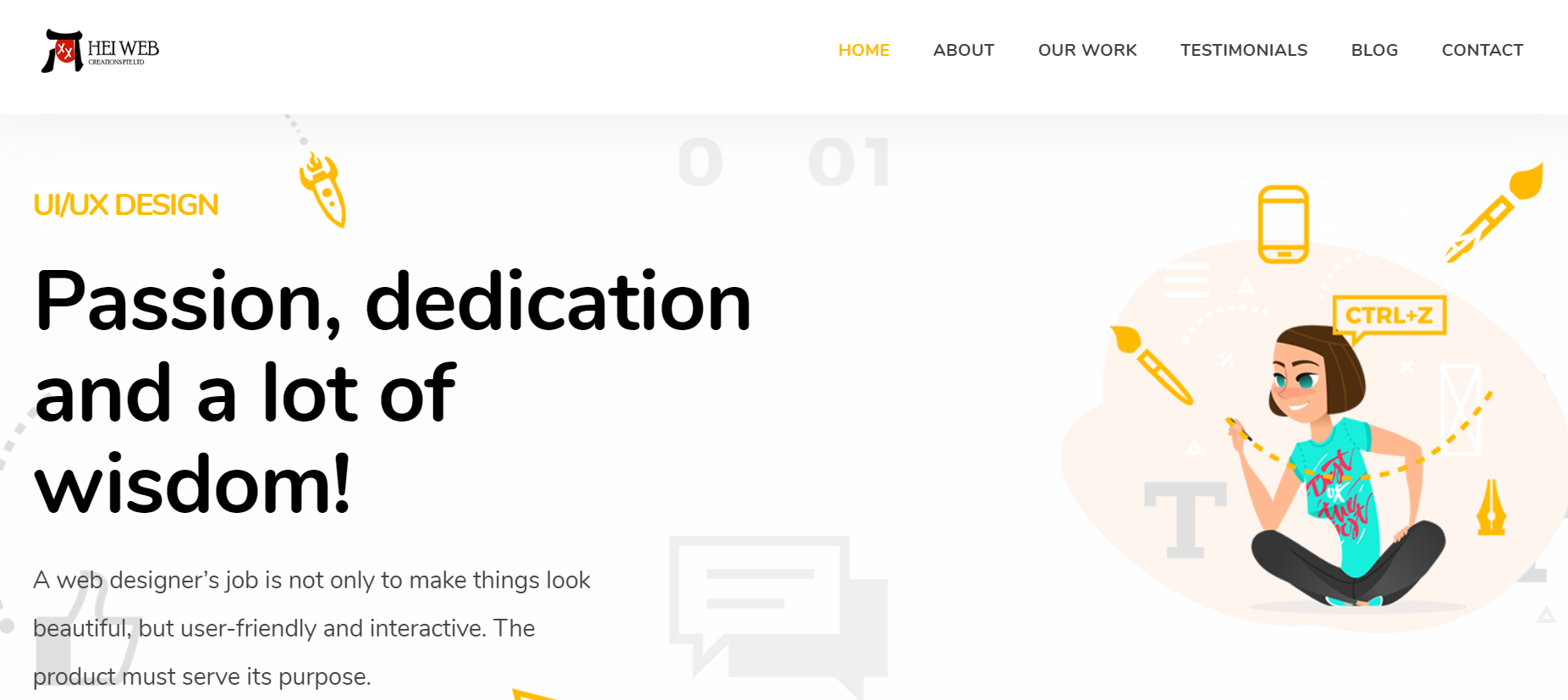 Hei Web Creations is an established web development and digital marketing company in Singapore. As fellow entrepreneurs, they intrinsically understand how to tailor their services after understanding your business needs.
From conceptualization to design, development to implementation, they work closely with business owners to create unique experiences for their clients and customers in the digital space. Hei Web Creations suggests and designs effective marketing strategies on social media and search engines (SEO and SEM) to create better brand awareness for your clients.
Highlights
Takes time to understand in detail the requirements and give solutions to the client.
Tells your branding story with an effective 2D/3D explainer or promotional video with their production team.
Editorial team offers expert copywriting as well as content writing solutions to meet your content marketing needs.
8. Subraa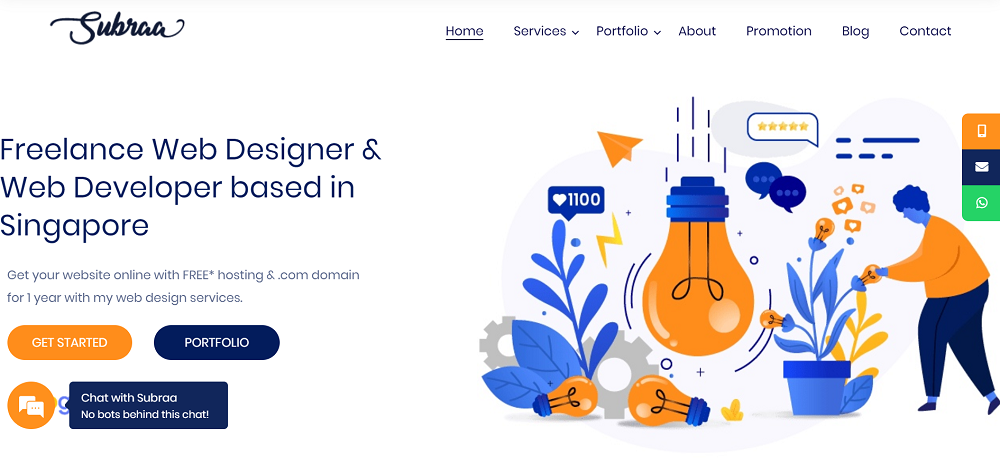 As a professional freelance web designer in Singapore, Subraa has helped many businesses create an online presence and with his proven strategies in SEO which have helped them rank in the first page of Google. Based in Singapore, it is easy for him to understand the business needs and customer requirements to design a website that converts.
Subraa believes that a professional look for your brand always wins and this web designer can more than deliver the results that you seek. Subraa also offers website maintenance service at a more affordable cost and you can choose between hourly or monthly schedule.
Highlights
High-quality outputs
Final results tailored to your wants
9. OasisWebAsia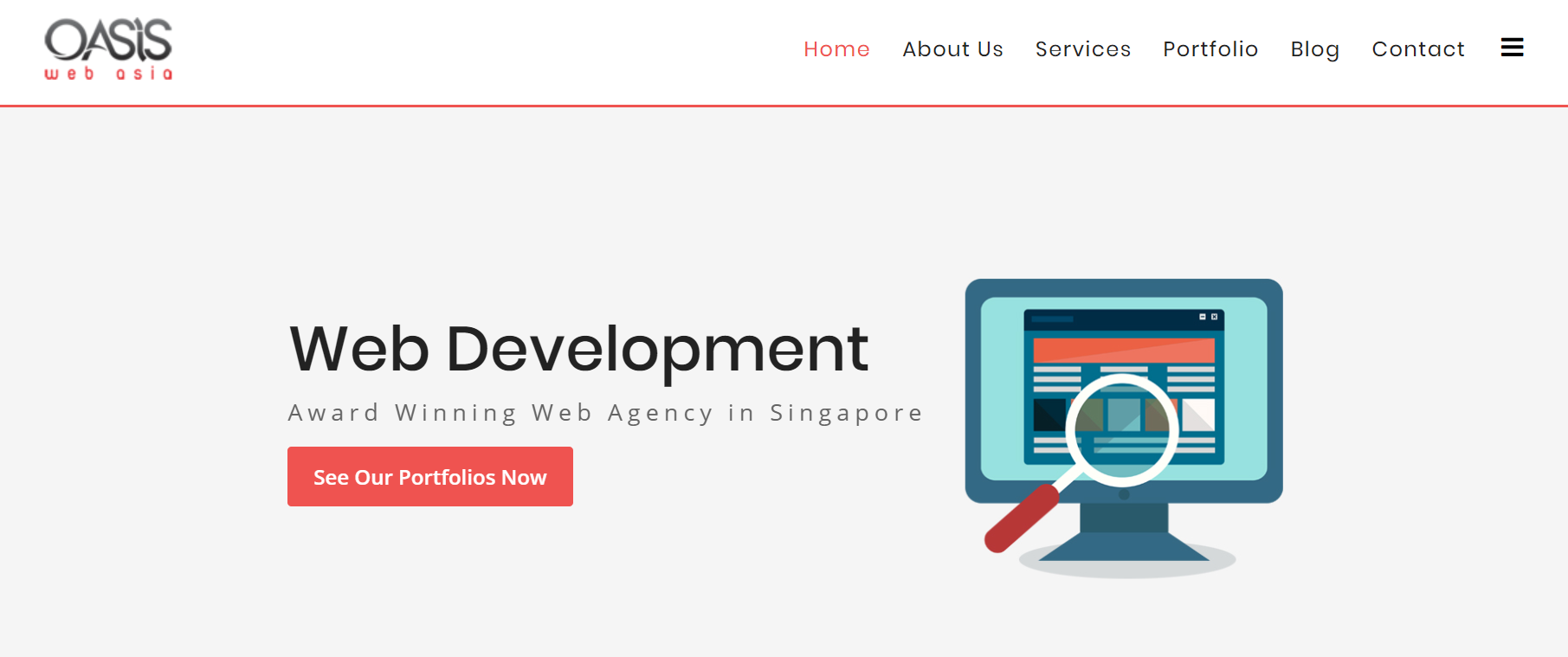 OasisWeb Asia specializes in bringing you Singapore's best web design and top web development services. They are a Singapore based web company who strongly believes in providing quality websites that help to improve your business.
Their services include Web Design, Web Development, CMS (Content Management System) development, Portal / Social Networking development, Microsite and E-Commerce development. In addition, they have quality portfolios in mobile development which include iOS, Android application development and mobile site development.
Highlights
Award Winning Web Agency
Responsive Website Design
Customised Web Development
Mobile App Development
Enterprise Solution Development
10. Iluma Design
Iluma Design was founded with a goal to help small businesses in Singapore make big impressions worldwide. They specialize in web design, product photography, and small business IT solutions.
Whether you're a new start-up trying to stand out from your competition, or an existing company with many years of experience under your belt trying to reinvent yourself, Iluma Design is confident that they can help take your business to the next level.
Highlights
Offers photography services that help your customers view your wares in the greatest detail
Helps with the maintenance and security of your website
Leverage on the latest technologies to ensure that our clients get the best of the best
11. DesignHows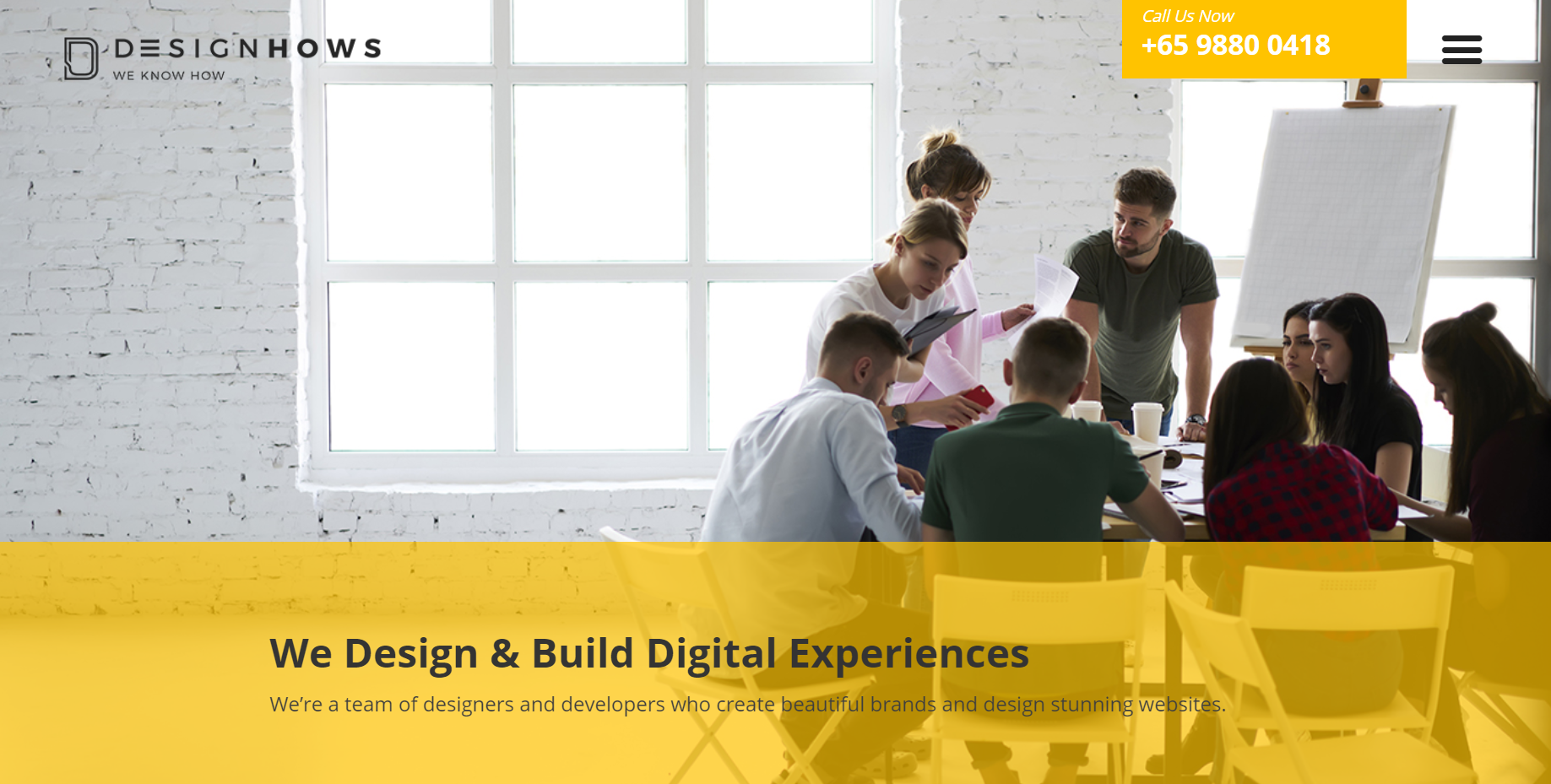 BEST FOR 
Website Design
SERVICES
Website Design, Web Development, E-Commerce, Brands Strategy, Digital Marketing, Social Media Marketing
WEBSITE
https://designhows.com/
ADDRESS
21 Bukit Batok Crescent Wcega Tower, #09-79

Singapore 658065

CONTACT DETAILS
LET'S TALK

+65 6897 3739

+65 9880 0418
DesignHows Pte Ltd is a Singapore based digital marketing agency, providing fresh, creative digital services to businesses who want to grow online. Focusing on results, we use our technical skill and industry insight to help you meet your digital goals.
Whether that's lowering your bounce rate with interactive web design or bringing brand new traffic and income streams to your website.
Over the years, we have designed a complete full-fledged website design for all businesses looking for their website and development needs.
Talk to us about your project to get started.
Highlights
7 years of experience
In-house content and creative team
12. Hymedia


BEST FOR



Creative Website Design & full suite of website services 


SERVICES

Website Design, Ecommerce Website Design, SEO,  Google Adwords Marketing, Facebook Marketing, Website Software Solutions 

WEBSITE



https://www.hymedia.biz/

   


ADDRESS



50 East Coast Road, Roxy Square,  Singapore 428769




CONTACT DETAILS

+65  6243 2480   |   [email protected]

We pride ourselves  in providing excellent and high quality website design & services for both small and large companies.  And we provide a full range of website services, from website design, e-commerce website, SEO, & marketing for your website via Google Search & other Social Media marketing.   
From large organisations to small startup companies, we are meticulous to provide the services to meet all your  business needs.   
And most important,  our prices for the services is extremely reasonable, and you would be extremely happy to stay with us for all your website needs.   
Highlights 
Highly skill & well experienced developers

High quality work assured 

One stop full services for all your website needs 

More than 7 years of happy customers  
Customer Reviews 
Here are some of our customer reviews on the services of Hymedia Website Design: 
"Very professional & provides  high quality service. Hymedia listens to our issues and solve them speedily. Would highly recommend to any company  who requires very professional work results."
"Hymedia was very professional. Very satisfied with the finished website. Have only been receiving good feedback from our users. "
13. WebPuppies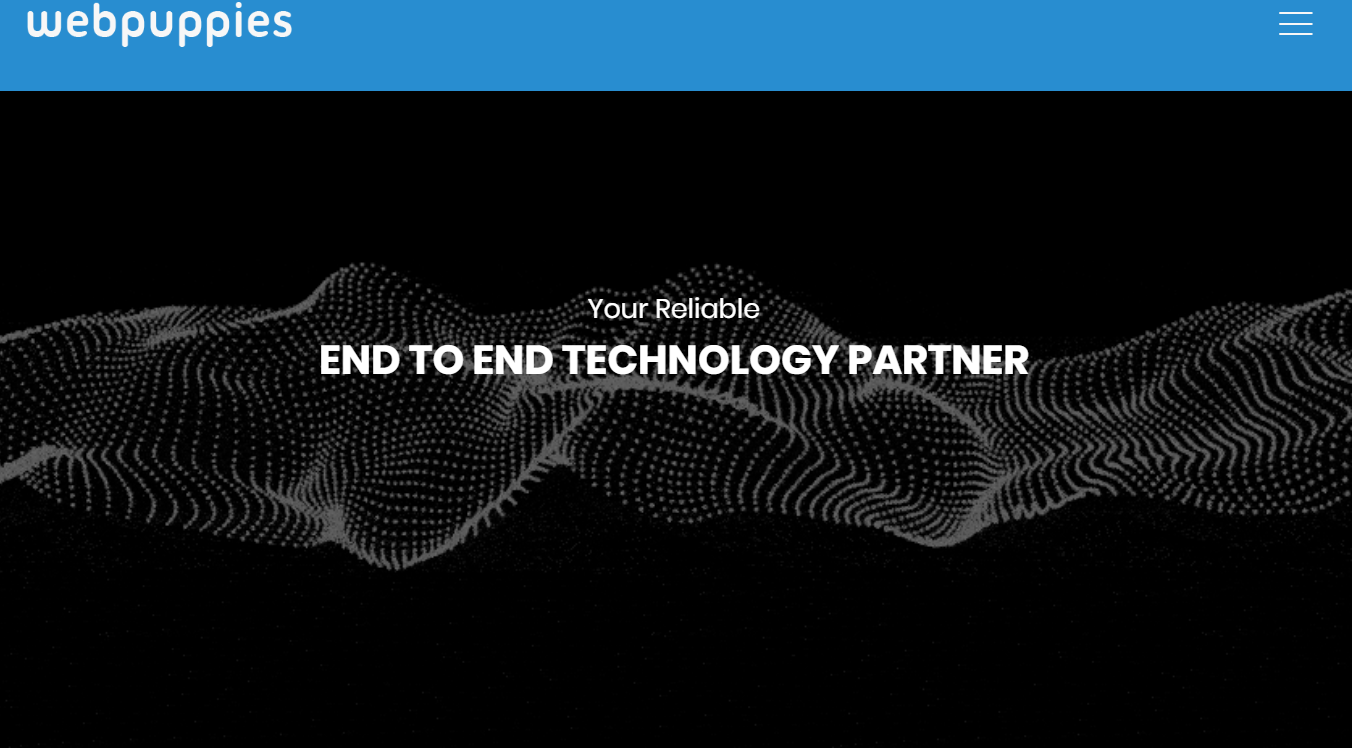 BEST FOR
Web Design and Development

SERVICES
Web Design and Development

E-commerce Website Development

Mobile App Development

System Integration

Custom Software Development

Virtual & Augmented Reality

User Experience Design

WEBSITE
https://webpuppies.com.sg/

ADDRESS
Oxley Towers 138 Robinson Road, #22-01 Singapore 068906

CONTACT DETAILS
 + 65 6741 1708| [email protected]
With 20 years of experience in the field, Webpuppies is one of the most trusted technology providers for multiple government organizations and big brands globally.
They enable companies that make use of their services to advance forward in the technology spectrum.
To do this, their team continuously strive to equip themselves with the latest digital know-how– a testament to how dedicated Webpuppies is when it comes to their work.
Highlights 
Award-Winning Digital Solutions
Multiple Government Organizations as Partners
Some of the Largest Brands in the region as Clients
14. 5ive Media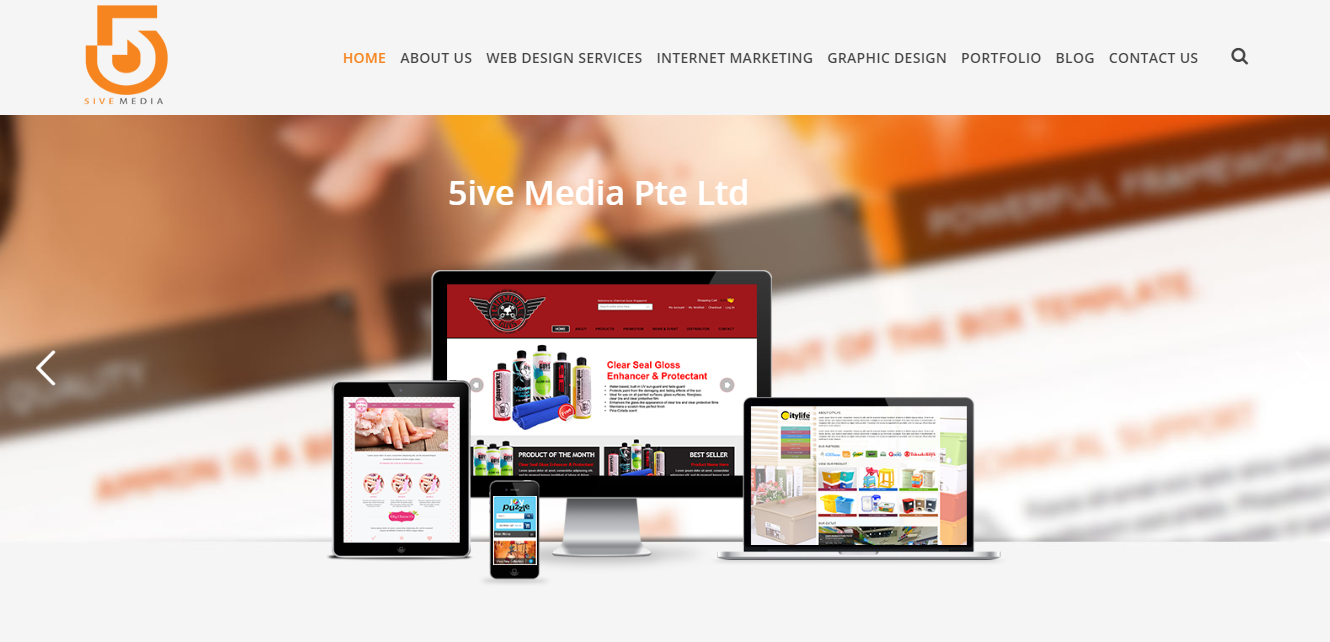 | | |
| --- | --- |
| BEST FOR | Graphic Design, Web Design and Internet Marketing |
| WEBSITE | https://5ivemedia.com.sg/ |
| ADDRESS | 2 Gambas Crescent, #06-03, Nordcom II Tower 1, Singapore 757044 |
| CONTACT DETAILS | [email protected] +65 6362 3937 |
| OPERATING HOURS | Weekdays: 8:00am–6:00pm |
5ive Media is an interactive digital marketing company that provides various information technology services dedicated to business success. The team at 5ive media is known to develop long-term relationships with their clients, a result of their stellar work.
If you're looking for a one-stop shop for online services, then 5ive Media is your best bet. They offer not only website design services to their clients, but other digital marketing services as well.
They are ready to cater all your needs, from the smallest to the biggest of projects, showcasing their technical expertise, providing the highest quality service.
Highlights
E-commerce website
Logo Design
Website Development
15. Aidentity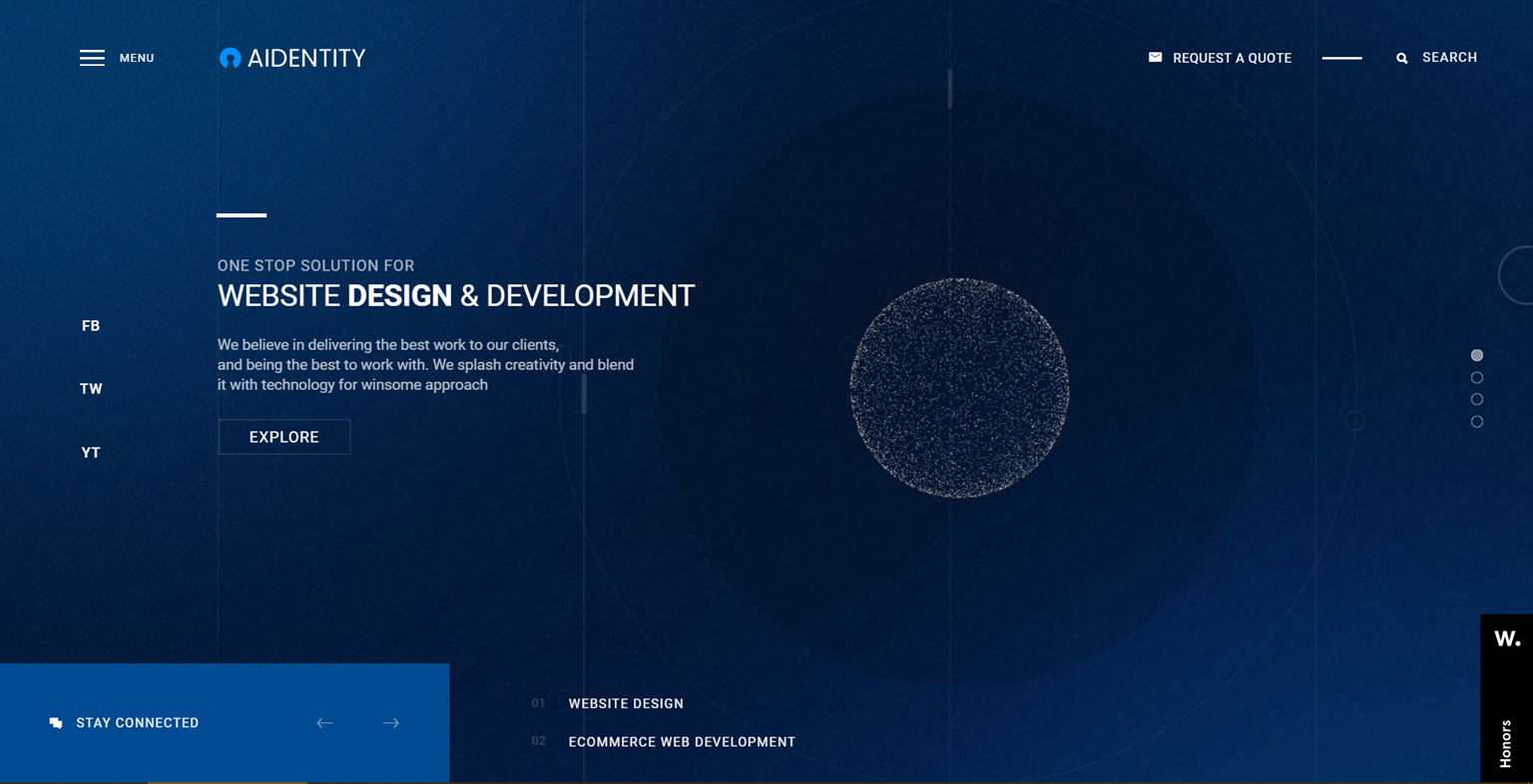 BEST FOR
Reimagined Digital Web Designs
SERVICES
Web Design & Development
E-Commerce Web Development
WEBSITE
https://www.aidentity.sg/
ADDRESS
92 Kaki Bukit Industrial Terrace Singapore – 416171
CONTACT DETAILS
Tel. +65 67441123 | [email protected]
Fax. +65 67483022
Aidentity is known to create web designs and developments that can help accelerate any establishments' online performance. It doesn't matter if you've just started your business recently or if you've been in the field for years– you'll surely receive amazing outputs and a major difference in your statistics.
They are a dynamic team that can hold their own against any challenge you may give them. They are experienced when it comes to last minute changes and sudden modifications.
Aidentity's over 10 years of experience is something to boast about, as they surely know what works and what doesn't. With them, you can rest assured that you're in great hands.
Highlights
Successful marketing strategies
Dynamic Work
Excellent Customer Service
16. PolarisHub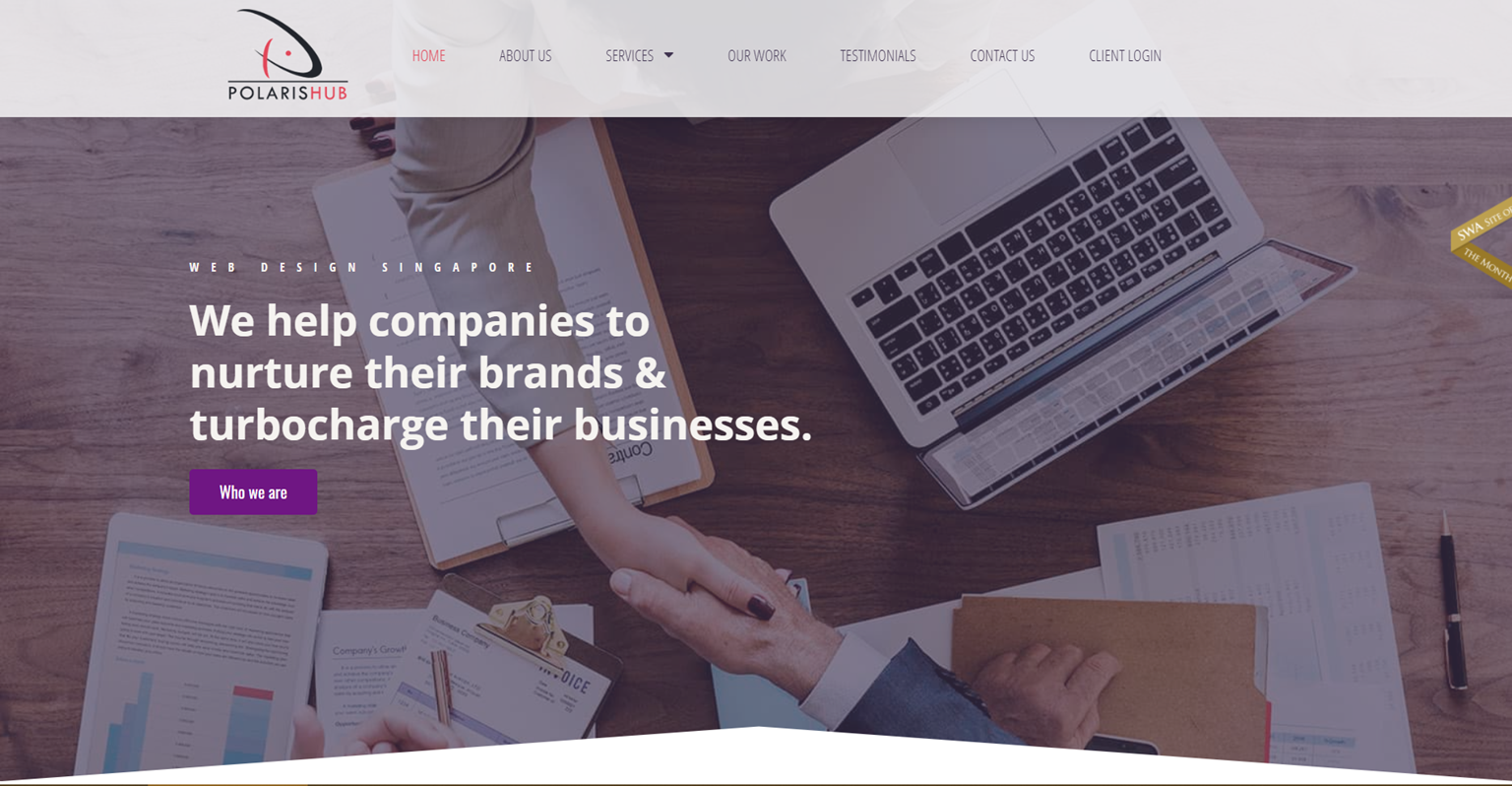 BEST FOR
E-Commerce Website Design
SERVICES
Web Design & Development
E-Commerce Website Design
Website Audit Services
Customised Web Development & Applications
SEO And SEM Services
WEBSITE
https://www.polarishub.com/
ADDRESS
300 Tampines Ave 5
Tampines Junction #09-02
Singapore 529653
CONTACT DETAILS
[email protected]
+65 64846248
PolarisHub aims to help businesses, both young and established, reach new heights by expanding their avenues through their websites. Their genuine and passionate work ethic is what sets them apart from any other agency, as they make sure that you receive nothing but the best designs and plans.
Their services include, but aren't limited to: Web Design and Development, E-Commerce Website Design, Customised Web Applications, Website SEO, and Website SEM.
All these services are available at affordable rates, so you will also be able to use your money on other investments that can benefit your company.
Highlights
Precise Work Details
Free Website Audit
Simple and Clear Designs
Customer Reviews
Below are some of the feedbacks left by Polaris Hub's customers on Google review:
"A few years ago, I worked with PolarisHub to create a website for my small business. The resulting website was not only aesthetically beautiful, but also extremely functional. When I wanted to revamp my website recently due to changing needs, I decided to work with Katherine and her team again.
On both occasions, Katherine took the time to know my business and how I run it. The questions that she asked during our meetings reflected her genuine desire to help my business. Her work has had a positive impact on the growth of my business. I am deeply grateful to PolarisHub for their constant support and guidance. I cannot recommend PolarisHub highly enough for their outstanding service."
"I had the pleasure of working with Katherine on a website for a client in my incubator program. She went above and beyond to make sure we were thrilled with the website. Her skills are fantastic.
If you are looking for a VERY nice website… Top end stuff… Get in touch with PolarisHub. You will be very happy with the results."
17. Page One Media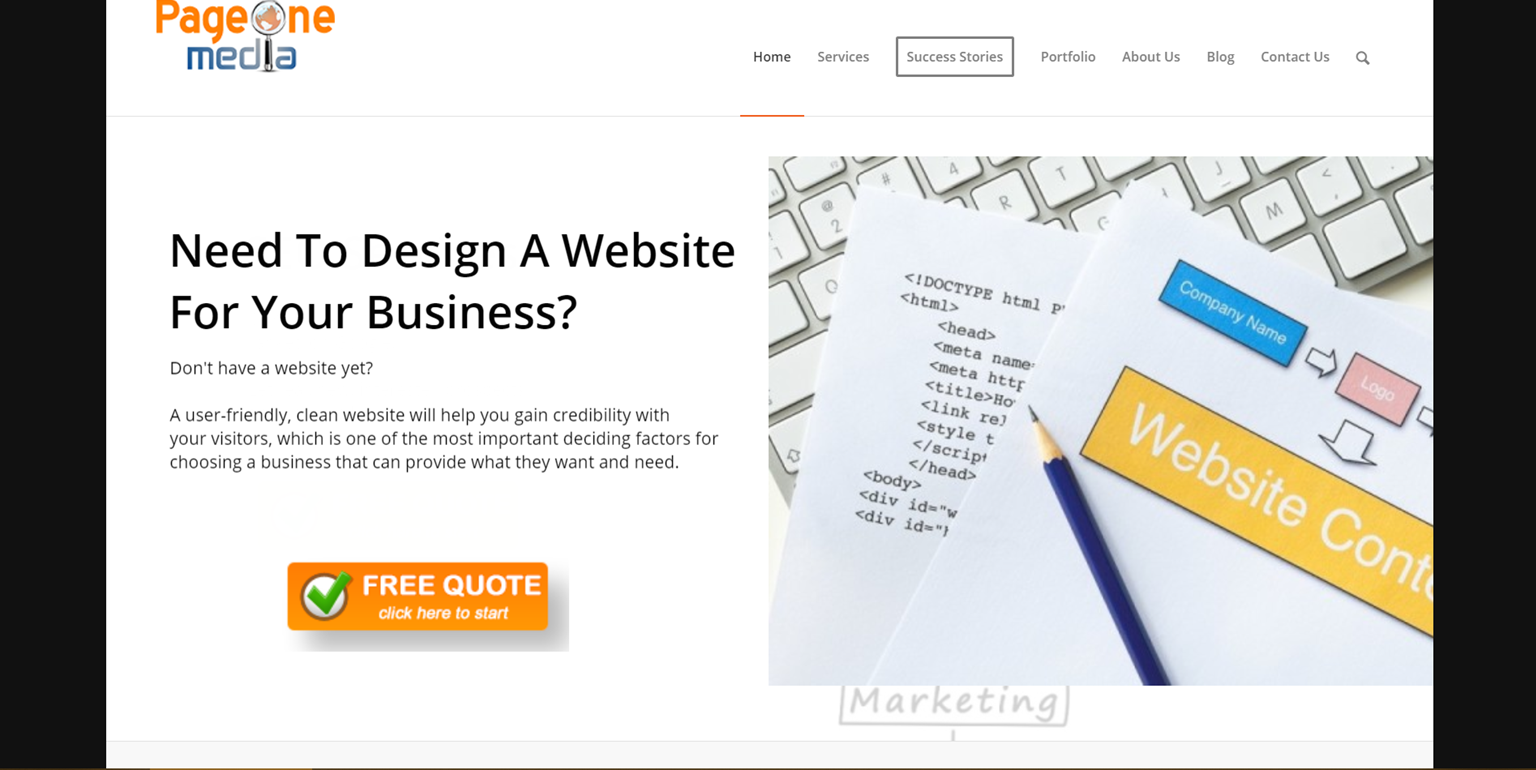 For Page One Media, your credibility as a business person is of utmost importance. They make sure to create the best looking and functioning website for you and your customers to use.
They were established in 2012, since then having many clients who, to this day, continue to regularly avail of their services. Their experience in the field is no joke, as they've helped hundreds of businesses grow steadily.
Page One Media is sure to be one of the best agencies you can go to, if you're ever in need of web design and development for your own establishment.
Highlights
Excellent Customer Service
Fast Loading Speeds
Advanced Search Engine Marketing Skills
Customer Reviews
With nothing but 5-star ratings on their belt, take a look at what some of their customers had to say about their services:
"PageOne Media's SEO Services have helped me to create my own branding online. When my clients typed in my name in Google, they can see me on the first page of the Search Results. This helps me to establish trust and authority with them!"
"Before this, we tried buying some ad space in a popular portal for our niche but it isn't generating any good results.
With PageOne Media revamping our website and managing our SEO campaign, our website are now on the first page of the search results for the relevant business search terms.
Thanks to PageOne Media, our enquiries received have increased by over 100% and sales have increased!"
18. RoquePress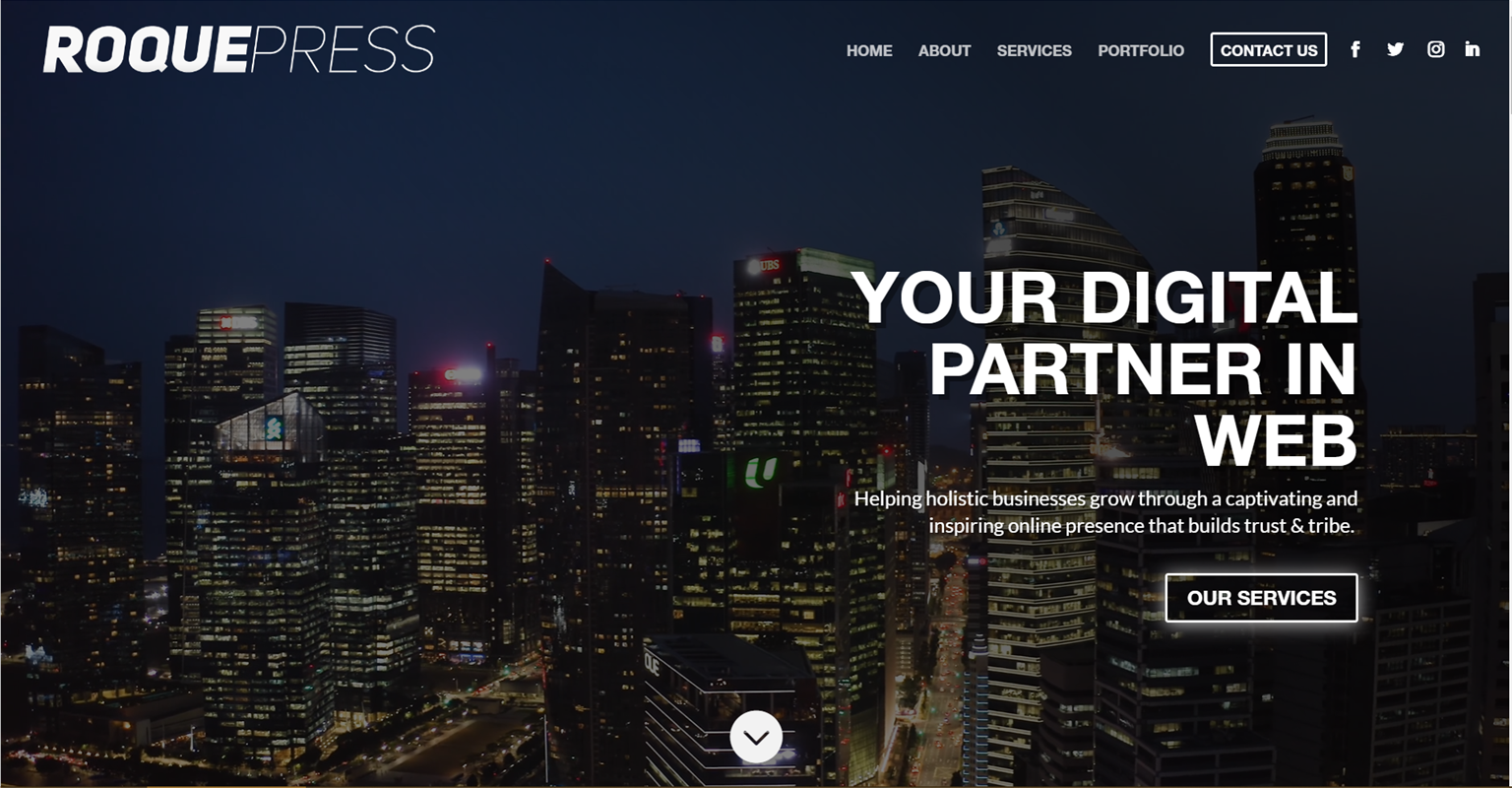 RoquePress believes that your website is your first and last shot at impressing a possible client. As some may know, a badly designed, glitchy website isn't going to attract customers– it can even drive them away. With their skills and expertise in website design and e-commerce, you'll never have that kind of problem again.
The agency ensures that your business website is made with the greatest attention to detail, leaving nothing unchecked. They plan, create, test, and re-test. At RoquePress, all you need to do is show them what you want– you can then relax as they give you the best version of your business website.
Highlights
Fantastic Web Coaching
Professional Designs
Strong Software Build
Customer Reviews
Take a look at what some of the clients of Roque Press had to say about their web designs and services:
"Thank you Roqupress for working through with me to set up my own website. It makes things really easy and simple for me to do editing in the future. Thank you Nazarene Daud for being so patient and appreciate your suggestions. Highly recommended."
"Fantastic coaching throughout the free web consultation offered by Jace and Nazreen.  Never imagine building a website could be made so easy with WordPress and customised template recommended by Roqueprsss!  Highly recommend to all my friends and business associates.  Blessings.
Ling, Independent Tea Distributor"
19. Best SEO Marketing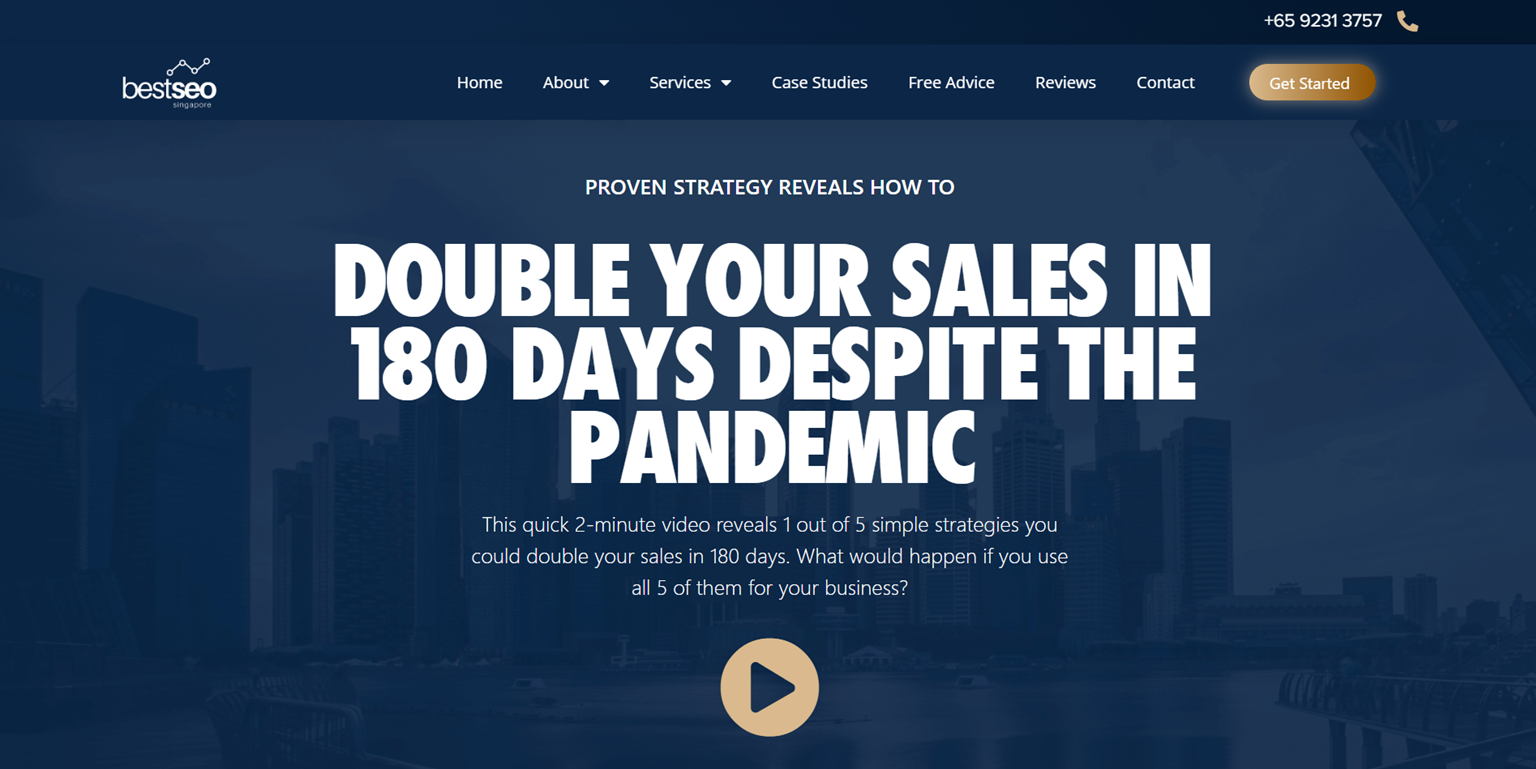 BEST FOR
Boutique SEO
SERVICES
Search Engine Optimization (SEO)
Search Engine Marketing (SEM)
Lead Generation
Content Marketing
Online Reputation Management
Website Design
Social Media Marketing
WEBSITE
https://www.bestseo.sg/
ADDRESS
30 Kallang Place, #03-18 Singapore 339159
CONTACT DETAILS

+65 9231 3757
Best SEO Marketing is a company that not only creates great web designs, but also ensures that your business will pop up on Google as one of the top suggestions. They focus on inbound leads for SEO that will have customers lining up for your business.
With their eCommerce Website Design service, you may choose between three rates, depending on the number of products you will be listing. It costs $4,997 for 30 products, $9,997 for 100 products, and $14,990 for 300 products listed. Whatever you choose, they're sure to offer the same quality of service you'll be happy with.
Best SEO Marketing is definitely the best choice if you're looking for an affordable and high quality web design service provider in Singapore.
Highlights
Cutting Edge Customized Designs
Attracts Only High Quality Customers
Customer Reviews
Read what a client had to say about their work:
"We worked with Jim and Catheryn for our company's website redesign. Jim and Catheryn's are professional and rendered impeccable services. We commend them for being prompt and timely in providing us a perfect solution for our website." 
20

. Creative-T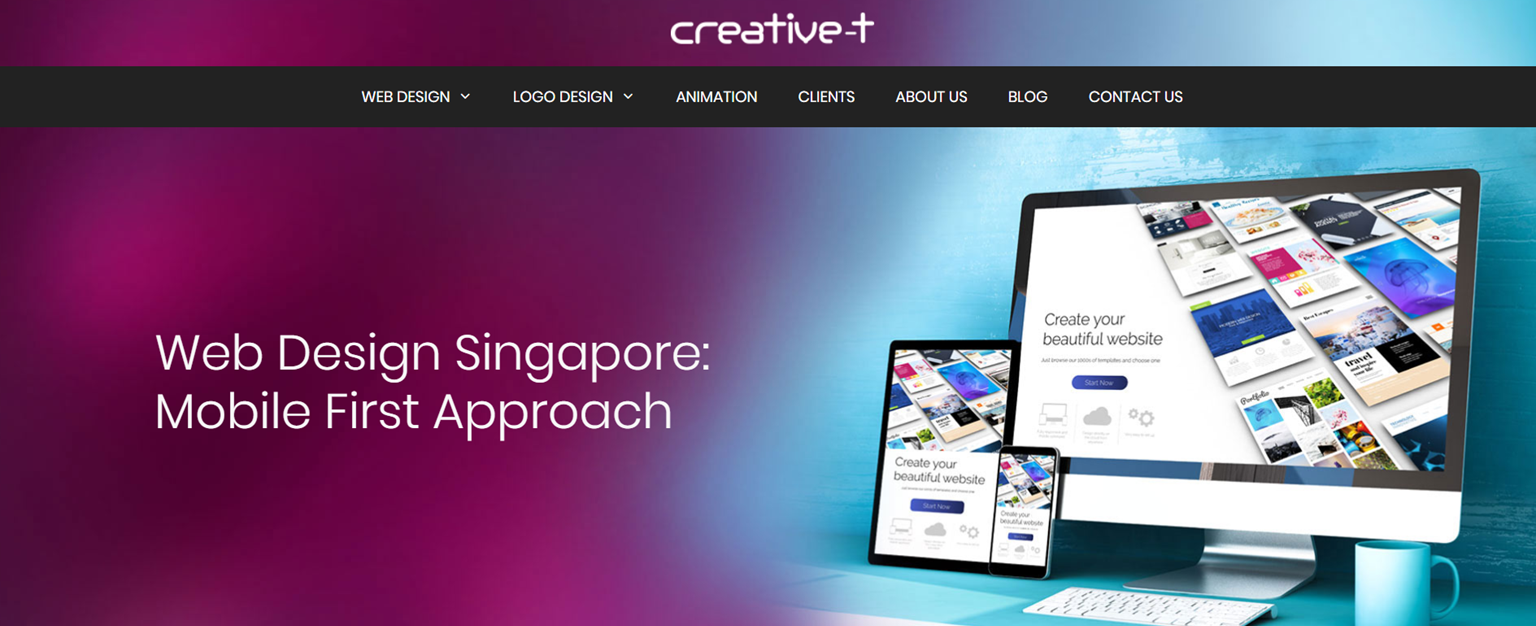 | | |
| --- | --- |
| BEST FOR | Mobile-first responsive website development |
| SERVICES | Web Design, Logo design, E-commerce development, Brand Identity, Animation & Video Production |
| WEBSITE | http://creative-t.com/ |
| ADDRESS | Creative-T, #08-01, Far East Finance, 114 Robinson Road, Singapore |
| CONTACT DETAILS | [email protected] |
Creative-T is a Singapore-based agency that creates fast responding websites– even through mobile use. They're recommended by many of their clients, which has led to them being considered as one of the best in web design.
They offer reasonable rates for premium quality services. They have packages for website design that are just under $1000, along with logo designs for just under $100.
Highlights
Mobile Friendly Websites
No Templates Used
Caters To A Wide Audience Range
Customer Reviews
Take a look at what a previous client of Creative-T had to say about their services:
"Very professional and creative. Actually our company were on tight deadline but creative-T and the team did a great job, Delivered in short time and with warranty and training…  Thanks guys !!!
Cheers..
Glen"
21

. East Side Mafia
East Side Mafia is a leading eCommerce website design agency in Singapore, known for using techniques that are unusual for a company in their industry. They not only create designs from scratch, but also make sure that their work piques the interest of the client company's target audience.
To achieve the customer's goals, they use processes like social media integration, google analytics, email marketing, and website search engine optimisation.
They're definitely one of the best in the field, thanks to their high quality work and low priced services. If you want to grow your business fast, you should definitely consider availing of their services.
Highlights
Secure Payment Integration
No Ridiculous Pricing
Mobile ecommerce ready
And with that we conclude our list of the options for the best website design in Singapore. If you've worked with any of these companies before, don't hesitate to share your experience with us.
Also, if you think that we missed out on other great website designers, drop a comment or line with their names and we'll check if we can add them to our list.
By the way, if you want to give your business an even bigger boost, then you should hire the best PR agencies in Singapore. No matter your business, these agencies know how to make the public more aware of it.