The 60 Options for the Best Website Design in Singapore
One of the best ways of attracting customers to your business is having an attractive and informative website. If you're clueless as to how to design one, then it's time to seek help from the companies that can produce the best website design in Singapore.
Since there are lots of website designers in Singapore, we made sure to include only those with experience, affordable services, and positive reviews from customers. You don't want to waste your money on bad website designers right?
Anyway, here's our list of the best website designers on the island:
1. Hachi Web Solutions
Hachi Web Solutions is a local web design company that has helped multiple SME companies and individuals. Do not worry on the type of company you have as they have encountered almost all types, some are retail, interior design, and fitness.
What makes them stand out from their competitors is how they can provide a professional Web Design for incredibly low prices. Apart from this, they only allow their clients to pay after the work is delivered.
If you are still a small company, their Savings Package is perfect for you. This includes 4 pages template wherein you can choose your own template, color, content, and images.
With licensed stock image and video provided, this will be ready in 5 to 7 working days.
However, one of the biggest benefits when working with them is how they are more than just a web agency.
Hachi Web Solutions is a sister company to a digital marketing agency, Incepte. This means that aside from having 100% in-house designers and developers, they can also help you improve your online presence if you want to.
Highlights
Mobile Responsive
Provides Manual Guide
Efficiently made
2. Wondertabs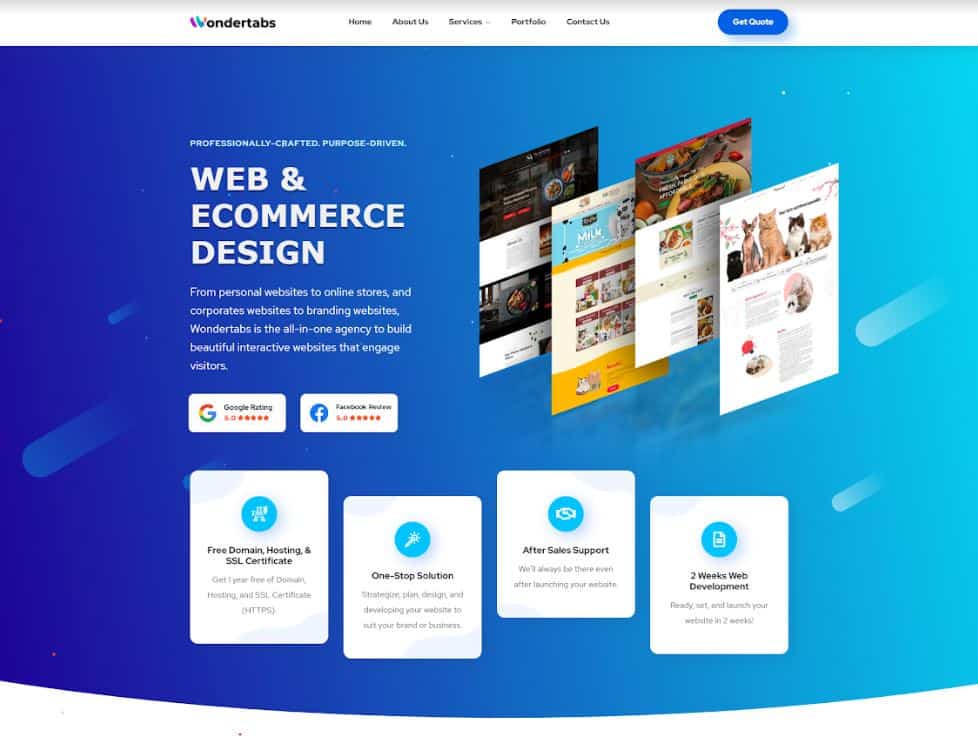 Wondertabs is one of the most reputed web design agencies in Singapore. They consist of highly experienced, dynamic and talented web designers who are always eager to use their creativity to come up with websites that are functional, readily accessible, easy to use, visually appealing and above all optimized for various devices.
Their designers always use the best designing tools and technologies to ensure that your site reflects your products, services, company and ultimately brand. In addition to that, all of their websites are SEO, mobile, and user friendly. These features can help your customers access your website easily and boost sales.
From all the 5-star reviews left by their clients, we really recommend them for they can do a fantastic job at a reasonable price. Plus, they are very easy to communicate with, meaning you won't have to go through the arduous process of waiting days and days for your service provider to respond to a concern or query you may have.
Highlights
Great Customer Support
Affordable Services
Experienced Design Agency
Customer Reviews
Here are some reviews left by their clients:
"Quality of work into my project was excellent and couldn't be done better. Meeting deadlines and scheduling zoom sessions with them was very efficient. They were always contactable and were able to keep up with my needs and wants for my project. The value add is so much more than i expected. Receiving quality work that exceeds expectations. They recommended and implemented ideas and added depth to my existing ideas. I recommend their services. All in all a quality company and team that goes the extra mile and puts in a lot of effort and initiative into your project."
"We're extremely happy with our new website and logo design from Wondertabs, fast turnaround, fair pricing and an outstanding result. Don't waste your time with other alternatives, they know what they are doing. Thanks for the GREAT work!"
3. Fenzo Digital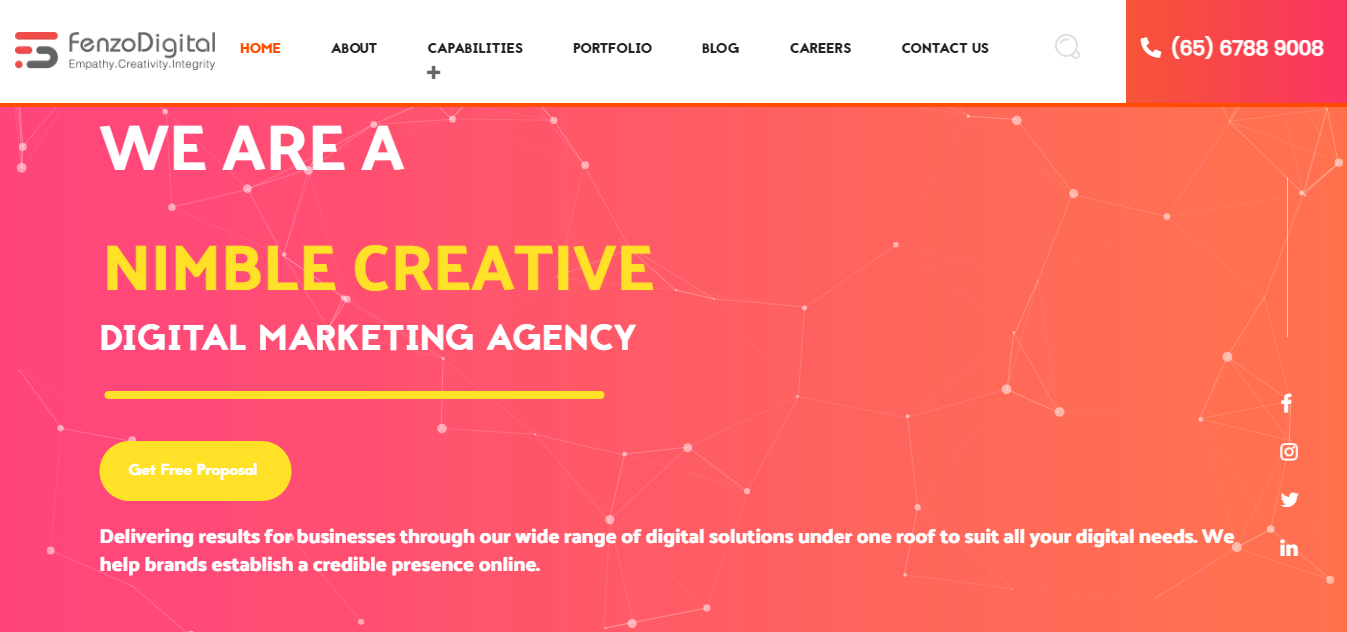 We believe that Fenzo Digital is the leading digital marketing agency in Singapore. In comparison to other agencies, they combine strategy, design, and development in order to create outstanding digital experiences.
Unlike others, their team is filled with young, yet experienced, professionals. They ensure that their candidates pass through different processes in order to get the job. This is to check if they really are qualified and can surpass the expectations of their future clients.
Working with them is so smooth and stress-free. From the review of a previous client of theirs, they mentioned that Fenzo Digital's team really lend their ear, that they involved them through every step of the way.
No matter how big or small your business is, they are always ready to help boost your online presence. To do this, they take their time to get to know about you and what type of business you have so that they can develop a customized solution that will definitely meet your needs and goals.
Highlights
Driven by passion and inspired by creativity
Gives updates about the proces
Professional paid tools
4. Roquepress

Roquepress believes that your website is your first and last shot at impressing a possible client. As some may know, a badly designed, glitchy website isn't going to attract customers– it can even drive them away. With their skills and expertise in website design and e-commerce, you'll never have that kind of problem again.
The agency ensures that your business website is made with the greatest attention to detail, leaving nothing unchecked. They plan, create, test, and re-test. At Roquepress, all you need to do is show them what you want– you can then relax as they give you the best version of your business website.
Highlights
Website Support & Maintenance
Professional Designs
One-stop Solution for Web
Customer Reviews
Take a look at what some of the clients of Roquepress had to say about their web designs and services:
"Very thankful for Naz and his team. They truly understood what we wanted and was able to accomplish it within such a short period of time.
Even after developing the website, they stayed and help to solve any technical issues that we faced without hesitation and this really showed how efficient they are. With good quality content that they give combined with great service, I truly recommend RP if you are looking for someone to work alongside with for your website. Respect to RP and Naz's team."
"Roquepress does high quality work, time and time again.
We wanted to have great layout / design, great back-end, and ability to make changes easily. The RP team has the skill, expertise, and knowledge to achieve all these areas quickly. They know what clients are looking for.
After the actual building, the RP team goes the extra mile to support clients in the following months for support and help.
Great quality work. Highly professional. Trusted to deliver great looking, well-functioning websites for multiple friends and clients that have been referred to them, from simple informational sites to more complex ecommerce stores.
If you're looking for a great website, they're one of the best around.
Thank you, RP team."
5. Page One Media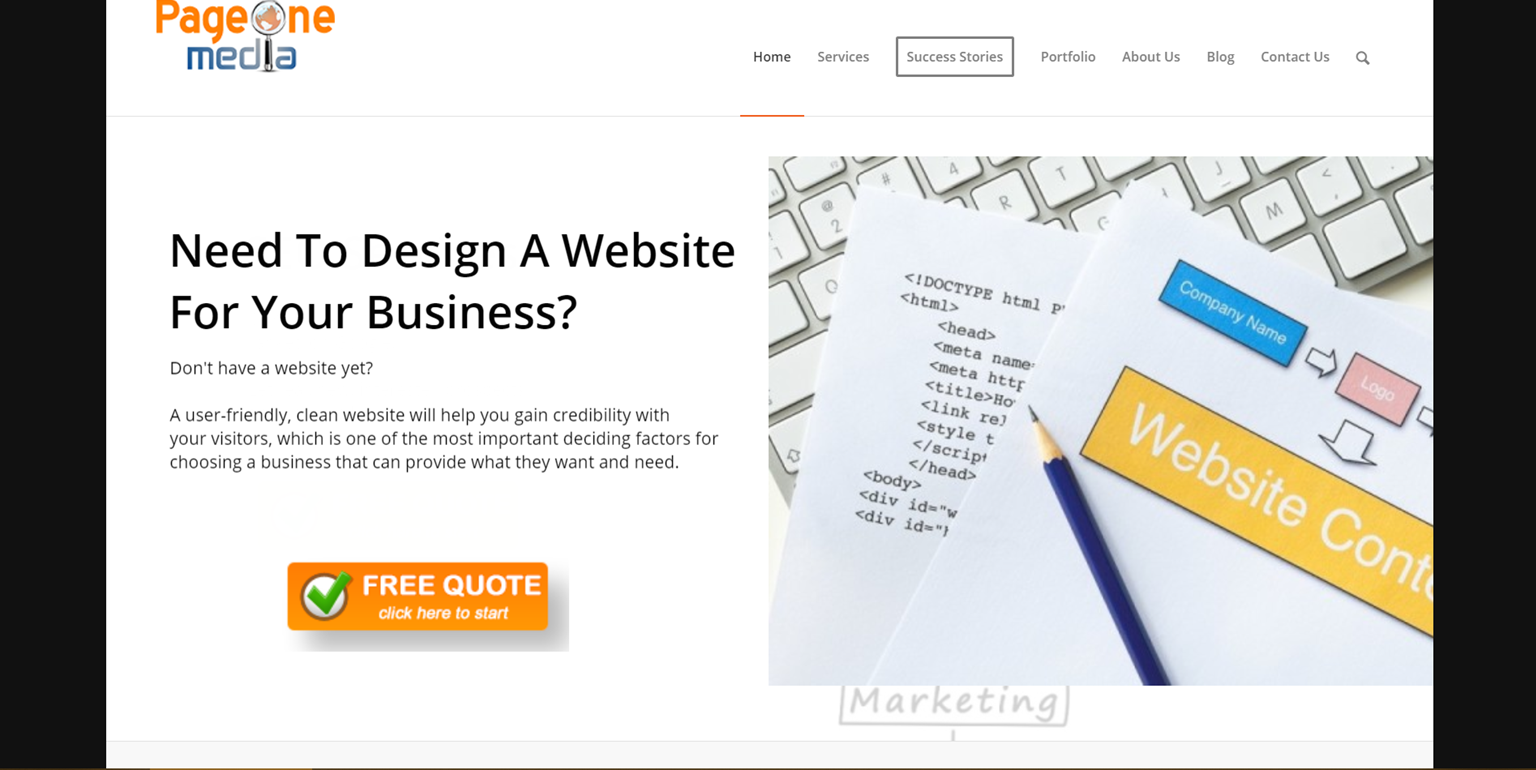 For Page One Media, your credibility as a business person is of utmost importance. They make sure to create the best-looking and functioning website for you and your customers to use.
They were established in 2012, since then having many clients who, to this day, continue to regularly avail of their services. Their experience in the field is no joke, as they've helped hundreds of businesses grow steadily.
Page One Media is sure to be one of the best agencies you can go to, if you're ever in need of web design and development for your own establishment.
In these difficult times, PageOne media is launching a FREE website setup services (for single page websites) exclusively for the Singapore readers of BestInSingapore.
How does the BISPROMO work? Basically, you provide your own text, images and logo, Pageone Media will help you to integrate into the template and "go-live" in a matter of days. (No customisation provided though.)
1. Get your contents and images ready. (We will show you where to find free images.)
2. Choose your own domain name and hosting. (We will recommend you if you are unsure.)
3. Choose your desired templates from a list of professionally developed ones.
4. Launch the site!
Fill up the contact form to learn more.
Highlights
Excellent Customer Service
Fast Loading Speeds
Advanced Search Engine Marketing Skills
Customer Reviews
With nothing but 5-star ratings on their belt, take a look at what some of their customers had to say about their services:
"PageOne Media's SEO Services have helped me to create my own branding online. When my clients typed in my name in Google, they can see me on the first page of the Search Results. This helps me to establish trust and authority with them!""Before this, we tried buying some ad space in a popular portal for our niche but it isn't generating any good results.With PageOne Media revamping our website and managing our SEO campaign, our website are now on the first page of the search results for the relevant business search terms.Thanks to PageOne Media, our enquiries received have increased by over 100% and sales have increased!"
6. Singapore Best Web Design (SBWD)
Ever since 2009, Singapore Best Web Design (SBWD) has stayed true to its name. Its team consists of creative experts whose goal is to make your business stand out online.
They are experts in all types of websites, from simple blogs to e-commerce online shops. Thus, they offer a variety of services to help grow your business, including website and mobile design, development, email marketing, and business consultancy.
Since its founding, SBWD has been able to successfully launch and maintain over 250 online projects for small and medium enterprises in Singapore and the Asia Pacific.
Highlights
Knowledgeable with WooCommerce and Google
Shopify partner
Expertise in design, development, and business
Customer Reviews
Chris Williams shared his experiences with SBWD through this review:
"Professional services and knowledgeable team. Would recommend them for any job large or small."
7. EADC
EADC designs websites that amplify your business' goals and success. Team EADC designs and builds websites that are not only good looking, but also primed for business leads generation and optimized for search engine results.
They are a Singapore web design company and web design agency that focuses on functional and creative website design solutions for companies and businesses at affordable prices. Founded in 1999, they are trusted by a variety of businesses and brands across different industries in Singapore.
Highlights
Affordable
Provides fast loading, secure, searchable, mobile responsive and optimized websites
Pixel perfect and on point websites on all devices
8. East Side Mafia
East Side Mafia is a leading eCommerce website design agency in Singapore, known for using techniques that are unusual for a company in their industry. They not only create designs from scratch, but also make sure that their work piques the interest of the client company's target audience.
To achieve the customer's goals, they use processes like social media integration, google analytics, email marketing, and website search engine optimisation.
They're definitely one of the best in the field, thanks to their high quality work and low priced services. If you want to grow your business fast, you should definitely consider availing of their services.
Highlights
Secure Payment Integration
No Ridiculous Pricing
Mobile ecommerce ready
9. Lemonade

Lemonade is a website design company that knows not only how to create a visually appealing website but turn visitors into clients as well. It has a team of creative strategists, innovative designers, and trained web analysts.
In terms of expertise, Lemonade knows everything about WordPress website design. If you want a website that's easy to navigate on your end, then Lemonade knows exactly what you need.
And of course, Lemonade wouldn't be a revered company without its dependable customer service team. You won't have a problem dealing with them whenever you require help.
Highlights
WordPress design
Creative designers
Reliable customer services
10. Hei Web Creations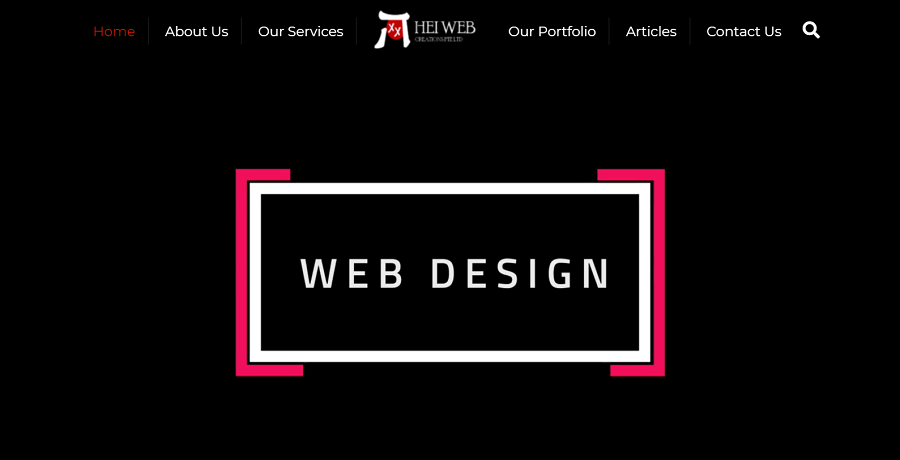 Hei Web Creations is an established web development and digital marketing company in Singapore. As fellow entrepreneurs, they intrinsically understand how to tailor their services after understanding your business needs.
From conceptualisation to design, development to implementation, they work closely with business owners to create unique experiences for their clients and customers in the digital space. Hei Web Creations suggests and designs effective marketing strategies on social media and search engines (SEO and SEM) to create better brand awareness for your clients.
Highlights
Takes time to understand in detail the requirements and give solutions to the client.
Tells your branding story with an effective 2D/3D explainer or promotional video with their production team.
Editorial team offers expert copywriting as well as content writing solutions to meet your content marketing needs.
11. Subraa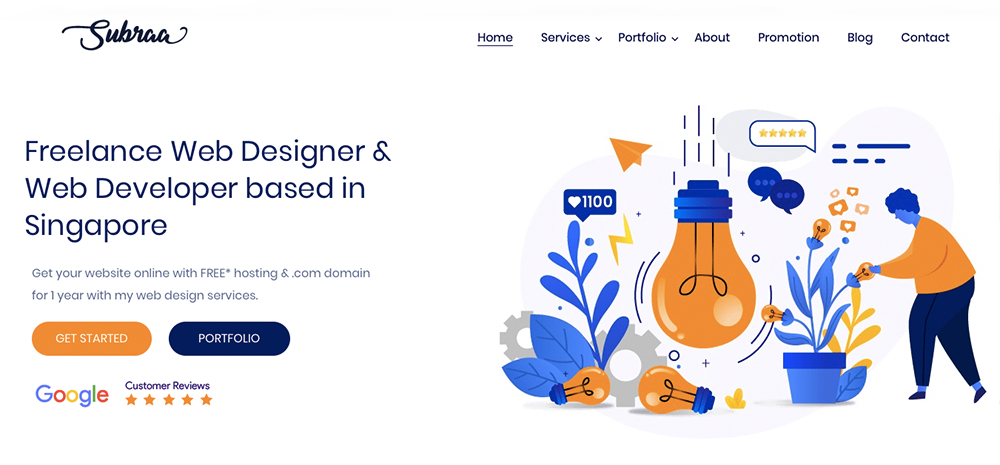 Subraa, a professional freelance web designer in Singapore. With his experience of over 12+ years he has helped many businesses create an online presence and has proven strategies Digital Marketing and SEO which has helped many clients rank in the first page of Google.
Subraa believes in a minimalist approach be it Web Design or Logo Design. Branding combined with design and development of best user experience and digital marketing, all in one go at Subraa. Also offers website maintenance service at a more affordable cost and you can choose between hourly or monthly schedule.
Highlights
Providing One stop solution for your Digital requirements
Affordable price with great quality and bespoke solutions
Plan, analyze before providing designs
Value business relationships and provide long term support
12. OasisWebAsia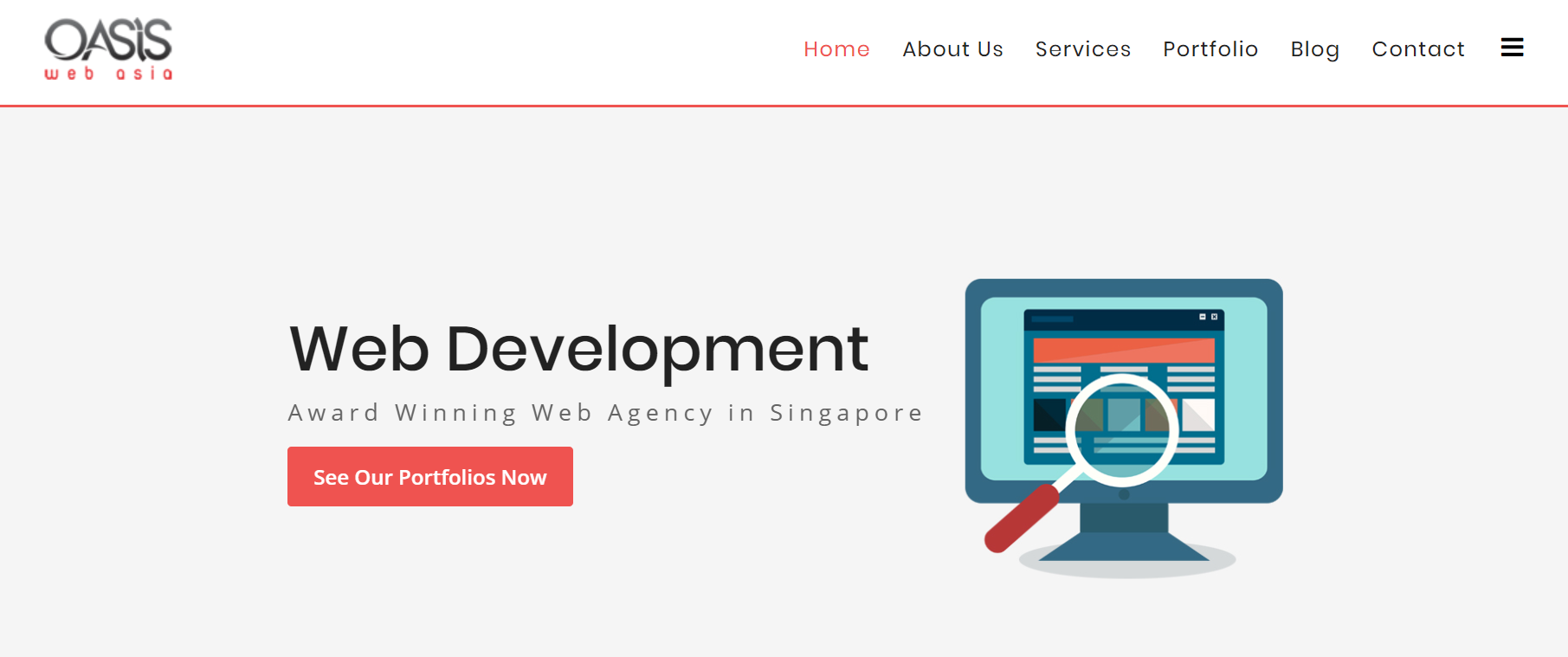 OasisWeb Asia specializes in bringing you Singapore's best web design and top web development services. They are a Singapore based web company who strongly believes in providing quality websites that help to improve your business.
Their services include Web Design, Web Development, CMS (Content Management System) development, Portal / Social Networking development, Microsite and E-Commerce development. In addition, they have quality portfolios in mobile development which include iOS, Android application development and mobile site development.
Highlights
Award Winning Web Agency
Responsive Website Design
Customised Web Development
Mobile App Development
Enterprise Solution Development
13. Corsiva Lab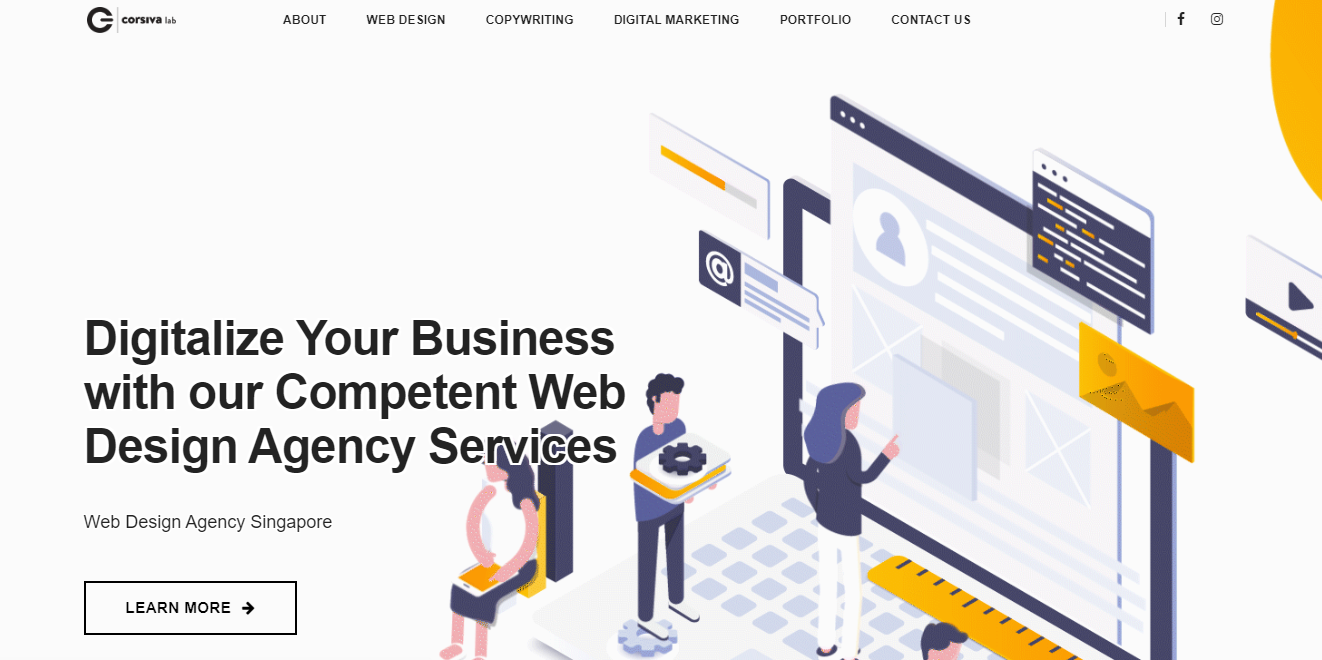 There is no other best assistant in building your business' website than Corsiva Lab! They offer a wide range of services that are customised specifically for your needs. They pride themselves in providing excellent website design with a price that fits your budget.
They have a team of highly skilled web designers and digital marketing experts who are flexible in meeting all of your needs and expectations while delivering exceptional results. They are dedicated and passionate about developing innovative ideas for your business that will surely grab your intended audience's attention.
Entrust your marketing into their expertise — they will see to it that your business will shine in the spotlight!
Highlights
Highly professional team
Affordable rates
Customised services
Customer Reviews
With an average of 4.2 out of 5 rating in their Facebook page. Here is a review of their clients:
"Perfect service & friendly team! Definitely will recommend."
14. DesignHows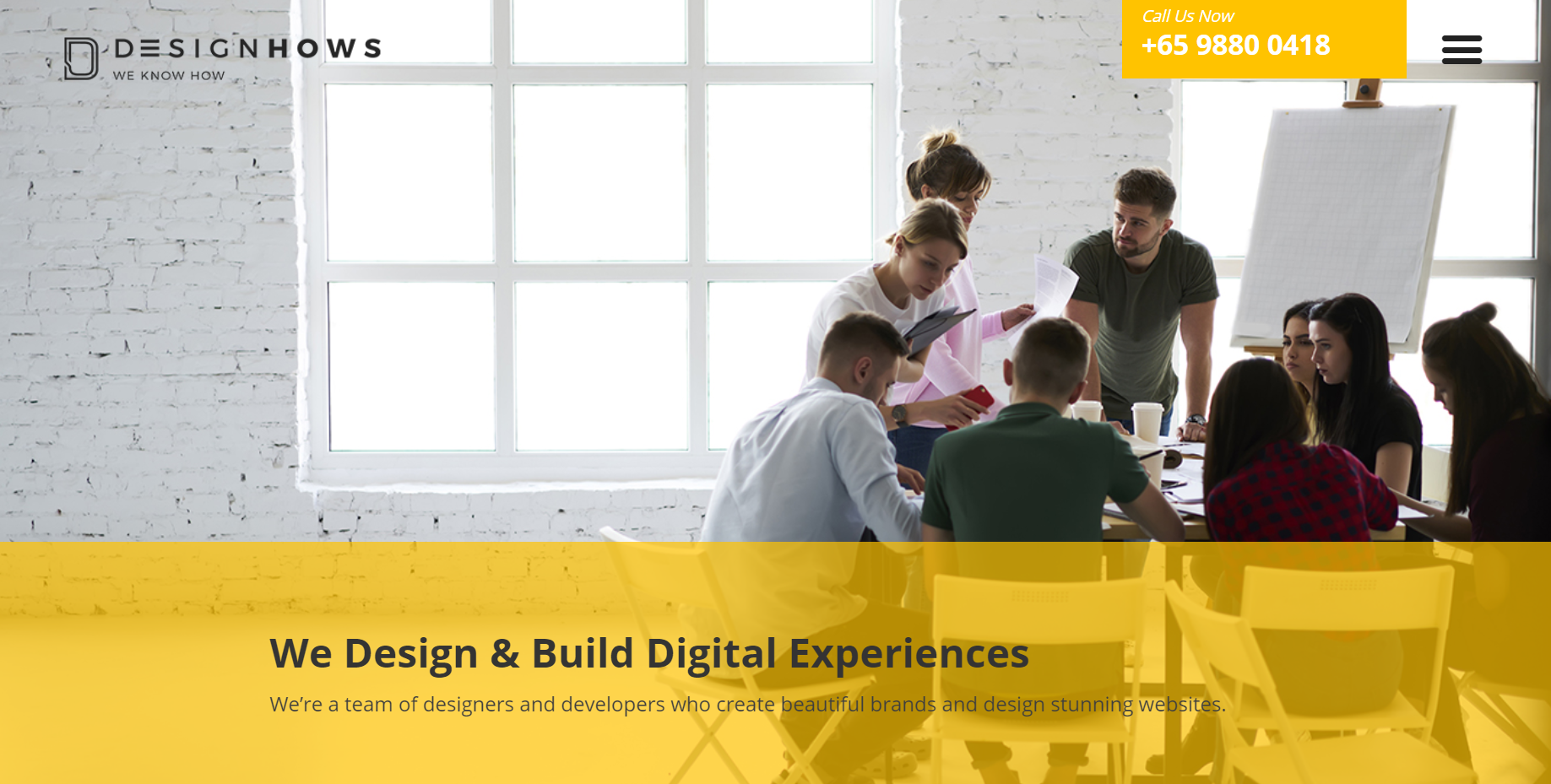 DesignHows Pte Ltd is a Singapore based digital marketing agency, providing fresh, creative digital services to businesses who want to grow online. Focusing on results, we use our technical skill and industry insight to help you meet your digital goals.
Whether that's lowering your bounce rate with interactive web design or bringing brand new traffic and income streams to your website.
Over the years, we have designed a complete full-fledged website design for all businesses looking for their website and development needs.
Talk to us about your project to get started.
Highlights
7 years of experience
In-house content and creative team
15. Hymedia

We pride ourselves in providing excellent and high quality website design & services for both small and large companies. And we provide a full range of website services, from website design, e-commerce website, SEO, & marketing for your website via Google Search & other Social Media marketing.
From large organisations to small startup companies, we are meticulous to provide the services to meet all your business needs.
And most important, our prices for the services is extremely reasonable, and you would be extremely happy to stay with us for all your website needs.
Highlights
Highly skill & well experienced developers
High quality work assured
One stop full services for all your website needs
More than 7 years of happy customers
Customer Reviews
Here are some of our customer reviews on the services of Hymedia Website Design:
"Very professional & provides high quality service. Hymedia listens to our issues and solve them speedily. Would highly recommend to any company who requires very professional work results."
"Hymedia was very professional. Very satisfied with the finished website. Have only been receiving good feedback from our users. "
16. WebPuppies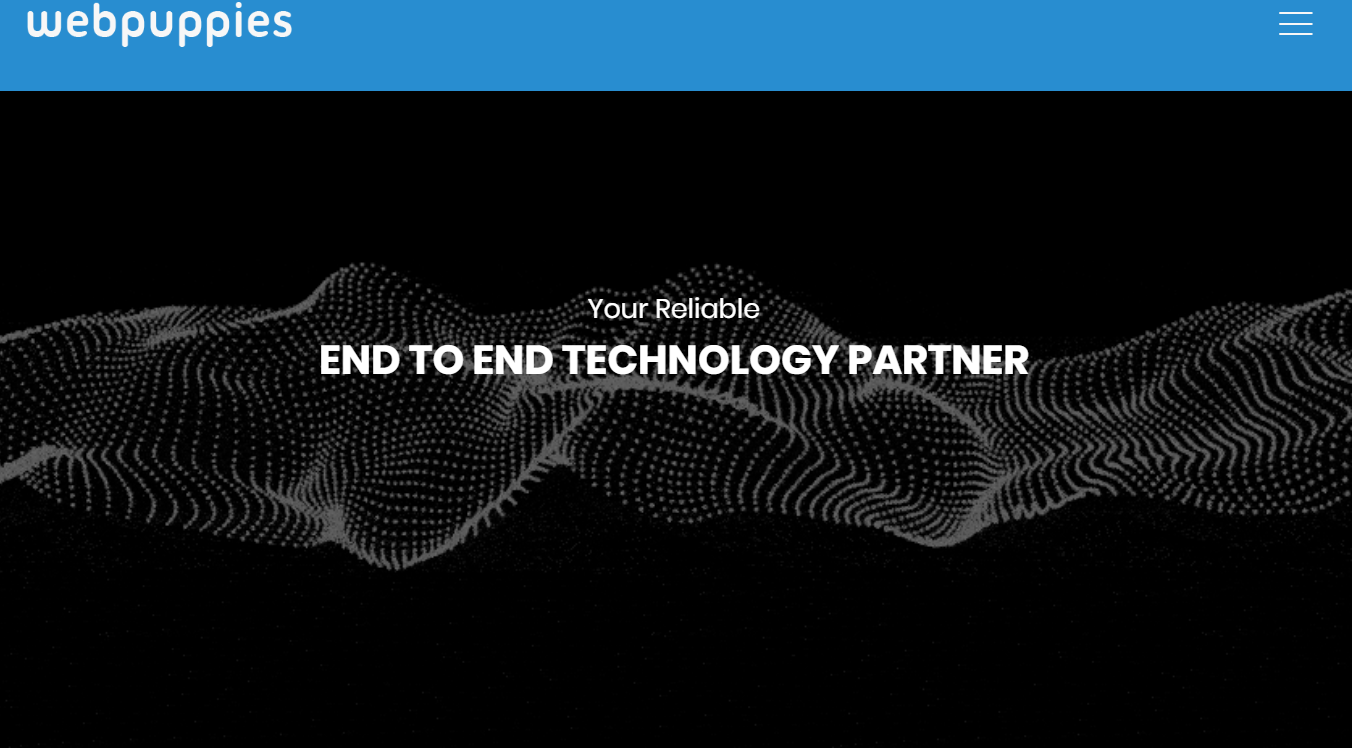 With 20 years of experience in the field, Webpuppies is one of the most trusted technology providers for multiple government organizations and big brands globally.
They enable companies that make use of their services to advance forward in the technology spectrum.
To do this, their team continuously strive to equip themselves with the latest digital know-how– a testament to how dedicated Webpuppies is when it comes to their work.
Highlights
Award-Winning Digital Solutions
Multiple Government Organizations as Partners
Some of the Largest Brands in the region as Clients
17. 5ive Media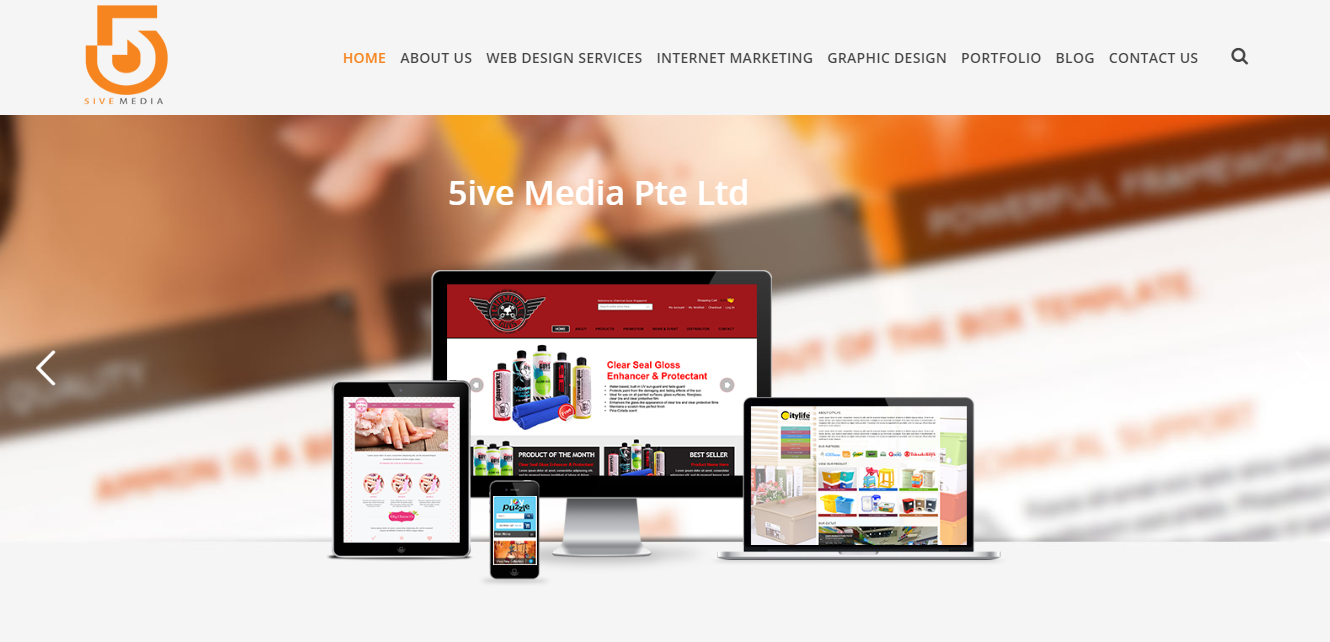 5ive Media is an interactive digital marketing company that provides various information technology services dedicated to business success. The team at 5ive media is known to develop long-term relationships with their clients, a result of their stellar work.
If you're looking for a one-stop shop for online services, then 5ive Media is your best bet. They offer not only website design services to their clients, but other digital marketing services as well.
They are ready to cater all your needs, from the smallest to the biggest of projects, showcasing their technical expertise, providing the highest quality service.
Highlights
E-commerce website
Logo Design
Website Development
18. Firstcom Solutions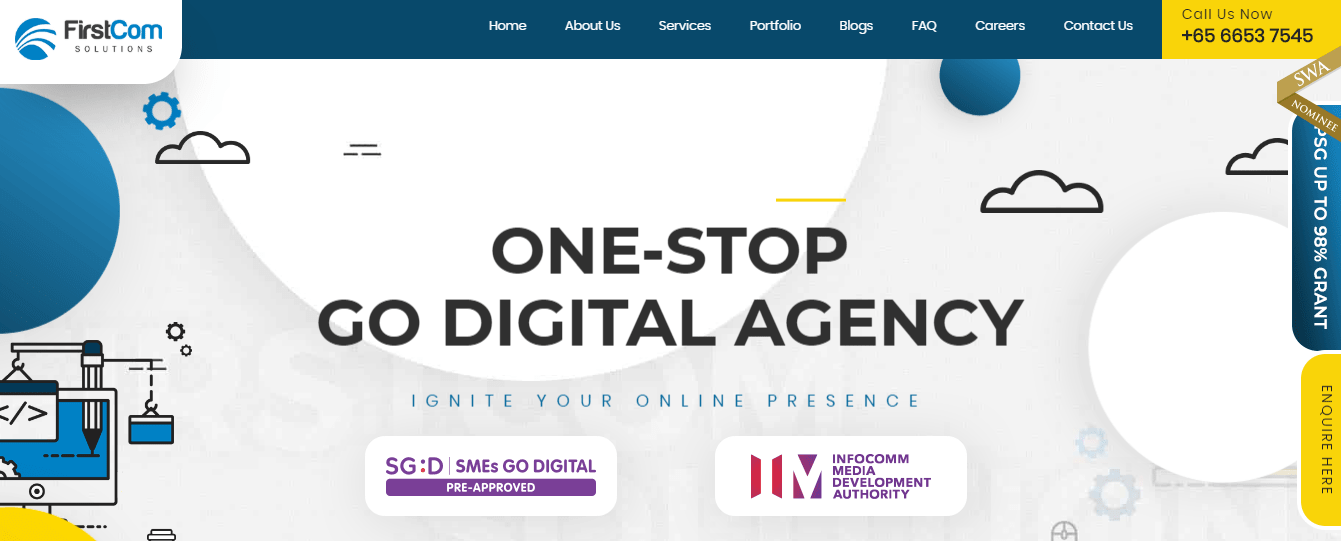 If you're looking for a digital agency that knows how to grow your company online, then Firstcom Solution is the right one for you! It's a one-stop digital agency that offers a wide range of digital solutions, including web creation, brands strategy, web development, and even digital marketing.
As one of the companies with the best website design in Singapore, it boasts a team of experienced and creative web designers who are well-versed in marketing different types of industries.
Firstcom Solutions has a studio that's armed with state-of-the-art technologies paired with experienced photographers and videographers.
Despite being in the business for only 9 years, it's grown into one of the most trusted digital solutions companies in Singapore for its dependable yet affordable services.
Highlights
9 years of experience
Full-equipped studio
In-house content and creative team
Customer Reviews
Firstcom Solutions has an average rating of 4.2 on Google Reviews based on 117 reviews. Here are some of the comments from its clients:
"We are happy to have Firstcom Solutions to work with us on our urgent project. The team assigned from consultation to actual team handle the project were professionally and timely. Firstcom have delivered urgent work without compromising on the details. They are able to meet deadlines and make the best use of our time to complete the project together. The team expertly prioritizes work without getting tangled in endless details and plan the details promptly if changes are to be made."
"I would like to thank FirstCom Solutions for reaching us with the grant to embark on going digital to outreach a wider range of customers. This has definitely helped us to improve in the operational process more efficiently and effectively. Special thanks to Wei Li as he is knowledgeable and technically competent. He is able to understand and translate our website development needs and responded quickly to our requests"
19. PolarisHub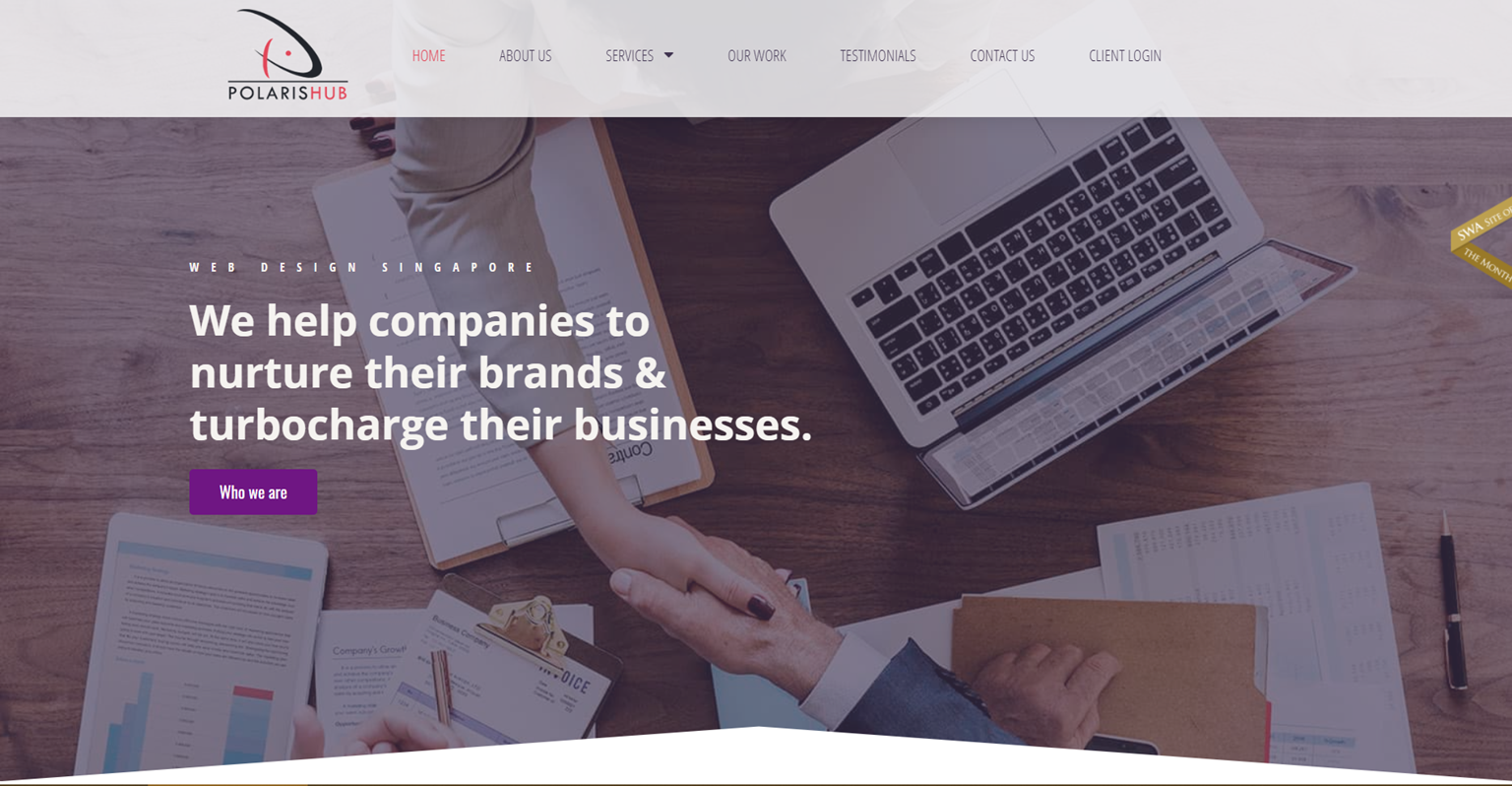 PolarisHub aims to help businesses, both young and established, reach new heights by expanding their avenues through their websites. Their genuine and passionate work ethic is what sets them apart from any other agency, as they make sure that you receive nothing but the best designs and plans.
Their services include, but aren't limited to: Web Design and Development, E-Commerce Website Design, Customised Web Applications, Website SEO, and Website SEM.
All these services are available at affordable rates, so you will also be able to use your money on other investments that can benefit your company.
Highlights
Precise Work Details
Free Website Audit
Simple and Clear Designs
Customer Reviews
Below are some of the feedbacks left by Polaris Hub's customers on Google review:"A few years ago, I worked with PolarisHub to create a website for my small business. The resulting website was not only aesthetically beautiful, but also extremely functional. When I wanted to revamp my website recently due to changing needs, I decided to work with Katherine and her team again.On both occasions, Katherine took the time to know my business and how I run it. The questions that she asked during our meetings reflected her genuine desire to help my business. Her work has had a positive impact on the growth of my business. I am deeply grateful to PolarisHub for their constant support and guidance. I cannot recommend PolarisHub highly enough for their outstanding service.""I had the pleasure of working with Katherine on a website for a client in my incubator program. She went above and beyond to make sure we were thrilled with the website. Her skills are fantastic.If you are looking for a VERY nice website… Top end stuff… Get in touch with PolarisHub. You will be very happy with the results."
20. Verz Design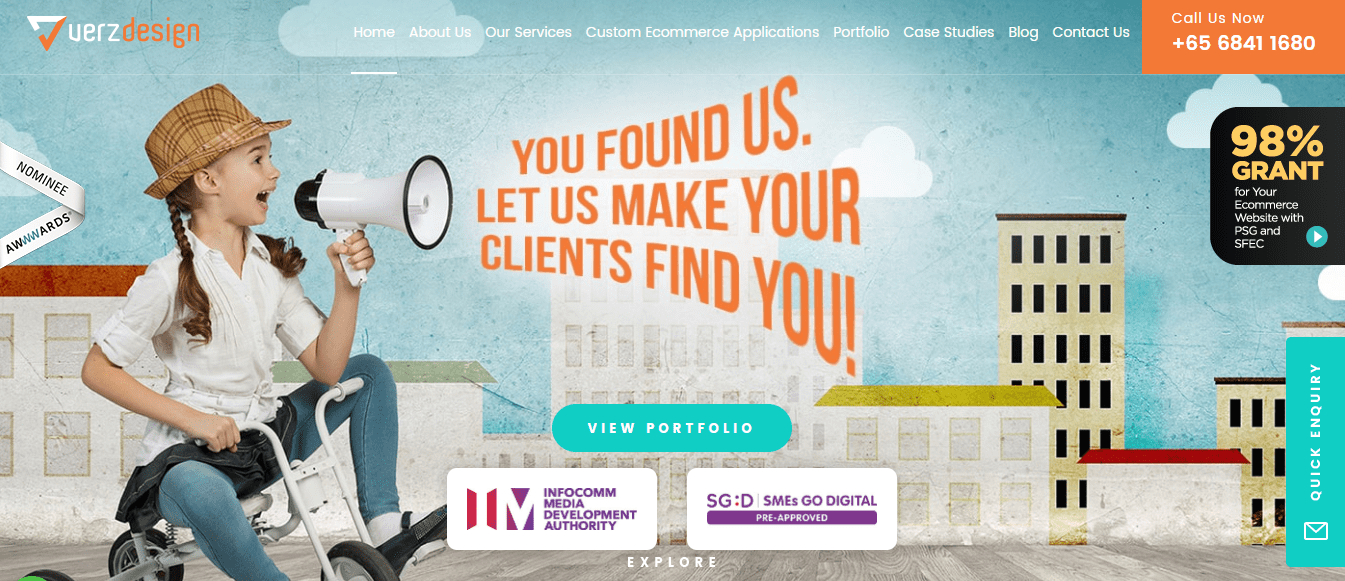 If you want a website that allows clients to see your business faster and easier, then Verz Design has you covered! It has a team of experienced website designers who can whip up the best website design in Singapore that will make customers curious about your business!
One of its specialties as a web development company is corporate web design, so rest assured that it knows how to sell your business by using tools that go beyond pure aesthetics.
Verz Design also offers a wide range of web services, including copywriting, blog posts, search engine optimization, and even Facebook marketing.
Highlights
11 years of experience
Experienced web development team
Consultation services
Customer Reviews
Here are some of the reviews left by satisfied clients:
"This is not my first time and also won't be the last time working with Verz. More projects to come with Verz! Special thanks to PM Eric who is a passionate and dedicated IT folk. I have known Eric since 5 years back on my first corporate website project with Verz. He is a very responsible and experienced PM and tries his best to accommodate all the customer requests. Great job and keep up the good work!"
"Verz Design was very professional throughout the whole setting up process. They took the time to understand what we needed, and were able to execute accordingly in the required time frame. I particularly enjoyed working with Eric who was very responsive and patient towards all the problems we faced and enquiries that we had. thank you!"
21. Best SEO Marketing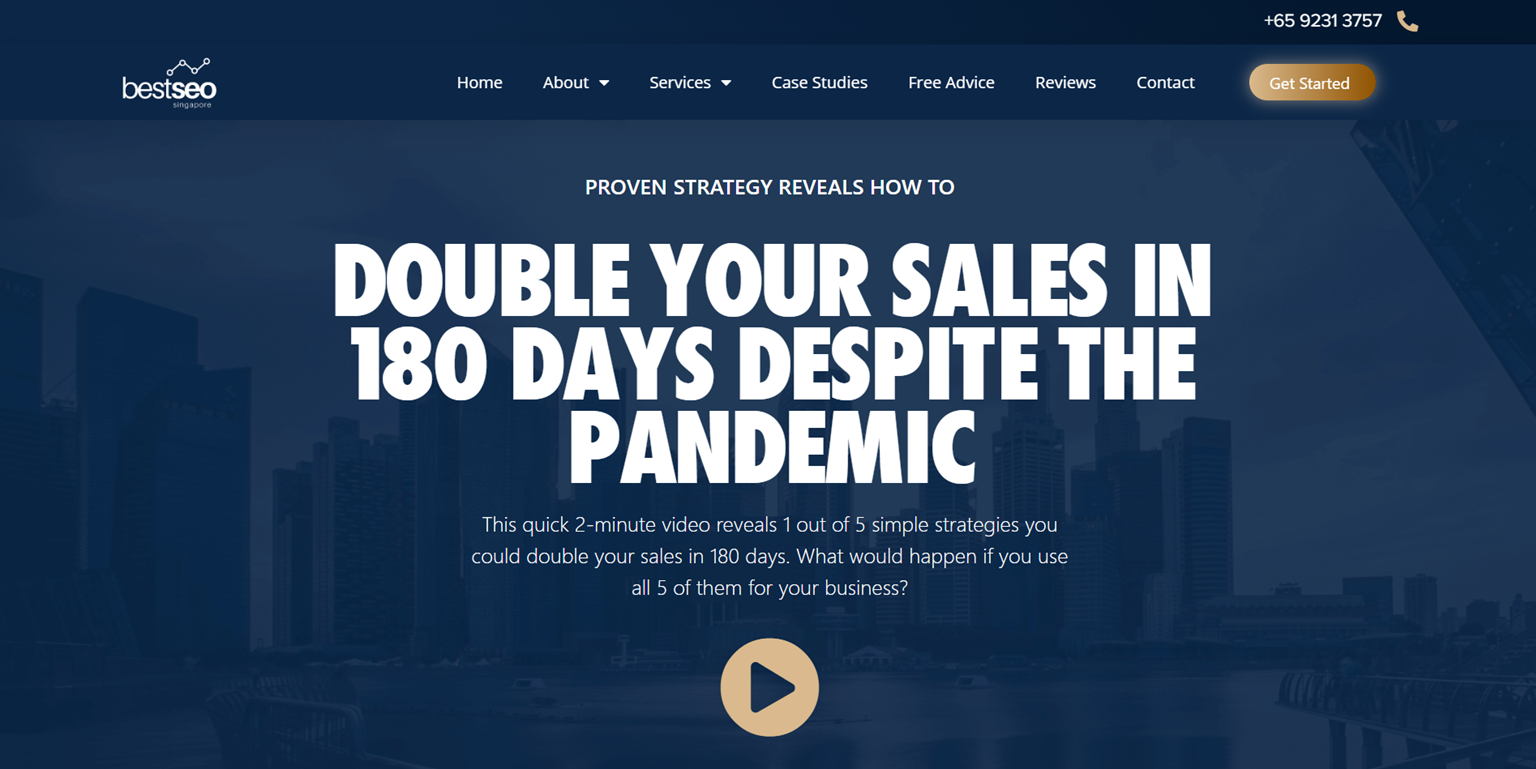 Best SEO Marketing is a company that not only creates great web designs, but also ensures that your business will pop up on Google as one of the top suggestions. They focus on inbound leads for SEO that will have customers lining up for your business.
With their eCommerce Website Design service, you may choose between three rates, depending on the number of products you will be listing. It costs $4,997 for 30 products, $9,997 for 100 products, and $14,990 for 300 products listed. Whatever you choose, they're sure to offer the same quality of service you'll be happy with.
Best SEO Marketing is definitely the best choice if you're looking for an affordable and high quality web design service provider in Singapore.
Highlights
Cutting Edge Customized Designs
Attracts Only High Quality Customers
Customer Reviews
Read what a client had to say about their work:
"We worked with Jim and Catheryn for our company's website redesign. Jim and Catheryn's are professional and rendered impeccable services. We commend them for being prompt and timely in providing us a perfect solution for our website."
22. Creative-T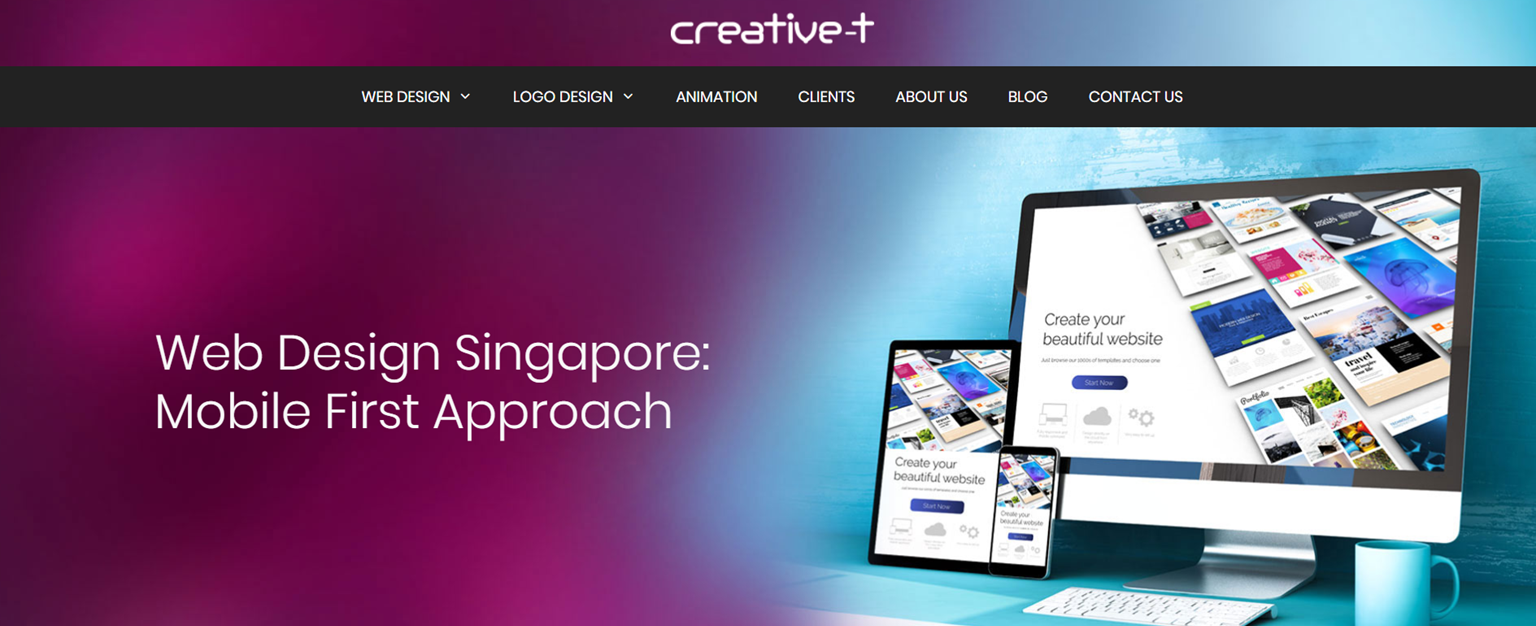 Creative-T is a Singapore-based agency that creates fast responding websites– even through mobile use. They're recommended by many of their clients, which has led to them being considered as one of the best in web design.
They offer reasonable rates for premium quality services. They have packages for website design that are just under $1000, along with logo designs for just under $100.
Highlights
Mobile Friendly Websites
No Templates Used
Caters To A Wide Audience Range
Customer Reviews
Take a look at what a previous client of Creative-T had to say about their services:"Very professional and creative. Actually our company were on tight deadline but creative-T and the team did a great job, Delivered in short time and with warranty and training… Thanks guys !!!Cheers..
Glen"
23. Novage

With over 10 years of experience, Novage has helped thousands of clients in making their businesses more known to the public. It's one of the leading website design companies in Singapore that offer services beyond designing.
Among the services offered by Novage are web maintenance, domain and hosting, digital marketing, microsite design, and search engine optimization.
It prides itself on being a result-driven company, meaning it produces websites that drive more traffic and increase a company's sales — all thanks to its designers who know how to create the best website design in Singapore.
On top of that, Novage also offers 1 year of free local hosting, email account, and technical support.
Highlights
Effective website designs
Create web designers
1 year free selected services
Customer Reviews
Here are what clients have to say about the services of Novage:
"The Novage Communication team is very committed to providing fast, thorough and customer oriented service. They are always available when needed. They provide thoughtful advice and well-designed websites. Our website is very user friendly and easy to navigate. They are considered part of our company's team and we have no hesitation recommending them to potential customers."
"Great customer service! Very professional! They are always available when needed and will provide lots of advice to build up my website. Wynn and Yoga are very knowledgeable in their area of expertise. Working with them is a breeze. Great job guys!!"
24. Notch Studio
Based in Singapore, Notch Studio is a boutique web design agency that produces quality work. After being founded in 2010, they now offer services from launching brands to creating beautiful, interactive, and functional websites.
Their strengths lie in their expert staff and integrated approach. They're also known for their great customer service, for they like to discuss their experiences with their clients and advise them about the latest trends and technology in web designing.
Notch Studio believes that creative and interactive elements need to be incorporated into web creation to foster and enjoyable browsing experience. They understand the needs of businesses, and they're able to translate their messages into unique visual web interfaces.
Highlights
Customized Website Design & Development
WordPress Implementation
E-Commerce Development
Web Maintenance & Retainer Jobs
Search Engine Optimisation
Graphic Design & Business Branding
Customer Reviews
Here is a review left by a very satisfied client:
"We engaged Notch Studio to create an animated quiz for us. The Notch Studios' team is extremely responsive and the designers were able to materialise our brief in an accurate manner. We are very impressed with the standard of work that was delivered and would highly recommend Notch Studio." – SIM Global Education
25. Pixel Mechanics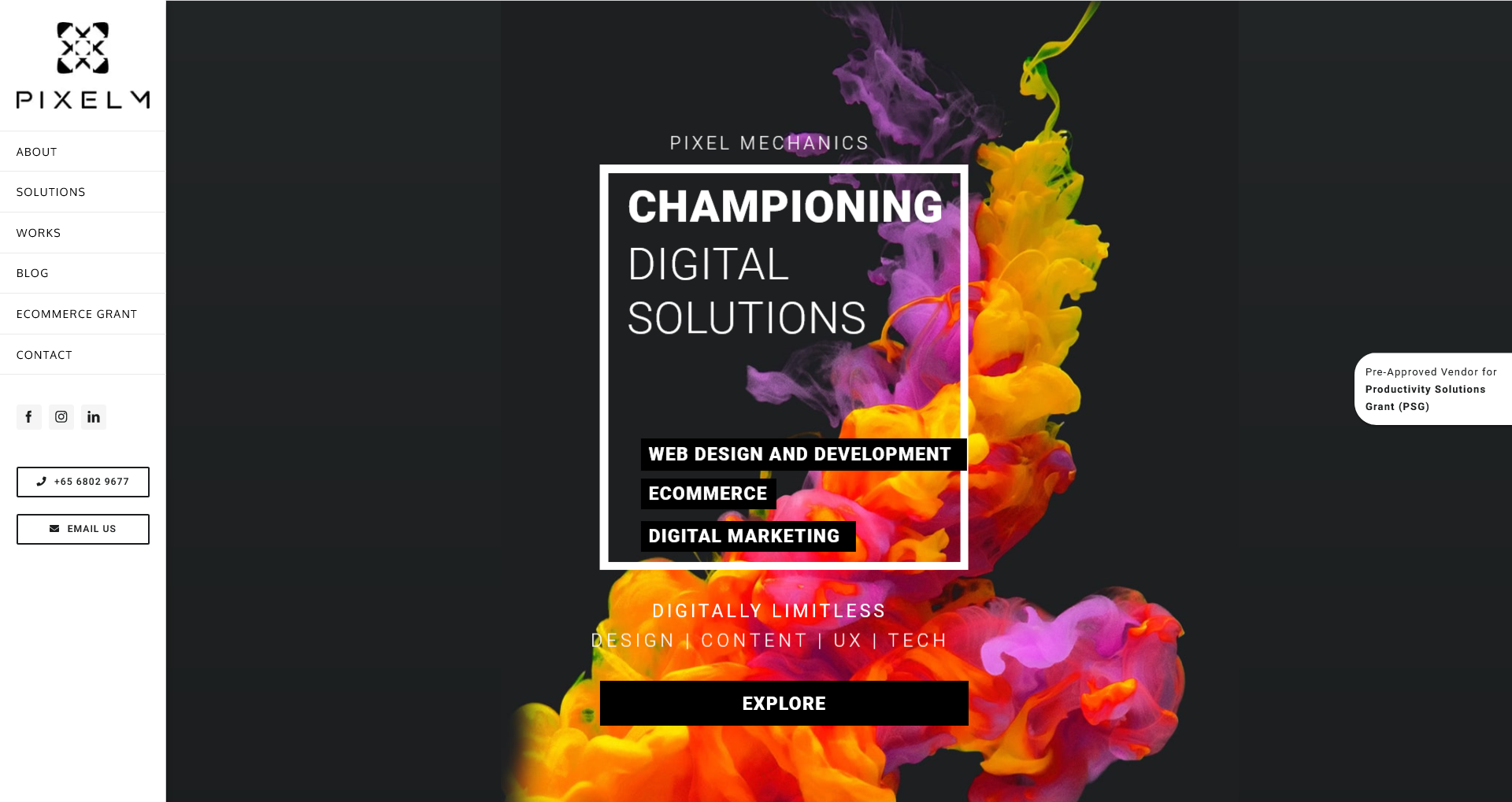 Through focusing on user experience, Pixel Mechanics has slowly become known as an award-winning digital agency. They strive to create meaningful user connections through compelling digital space strategies and innovation.
Even though they are a small studio, they have a deep understanding of their clients' brands. Using new media channels and emerging tech, they help businesses by providing web technologies that open up new valuable sources.
They are extremely strict about their projects as they are fervently committed to excellence when it comes to their output. They want to ensure that with their clients get the best value with their budget.
Highlights
Website
E-Commerce
Softwares and Applications
Search Engine Optimization (SEO)
Search Engine Marketing (SEM)
Social Media Marketing
Email Marketing (EDM)
Web Analytics
Brand Strategy & Consulting
Content Creation
Customer Reviews
Here is a review left by a very satisfied client:
"No doubt an A star web development agency, a great team behind providing end to end support services. Definitely a to-go amongst local agencies." – Edwin Ang
26. Web Imp

To grow your digital presence online and run your business efficiently, you need a competent company that will help you grow your business. This is what Web Imp exactly is.
Web Imp is a technology solutions company that builds comprehensive, custom solutions on the web for enterprises. They build custom websites, eCommerce platforms, mobile apps, CRMs, and ERPs.
They are passionate about their work and approach. They also strive to maintain their open culture, where everyone is a hands-on contributor and feels comfortable sharing their ideas and opinions. Finally, they combine their engineering expertise with their strong work ethic to deliver great results.
Highlights
SEO Services
Website Development
E-Commerce Development
Mobile Application Development
Web Application Development
Customer Reviews
Here is a review left by a very satisfied client:
"It has been a pleasure working with the trio of Wilson, Rain and Khairu for the last 3 months! They were able to grasp the concept of our business model and logic and turn the vision into reality! Friendly, approachable and totally professional! None of the sloppy excuses found in some agencies in Singapore. I would highly recommend Web Imp to any company looking for the services they provide." – Leslie Wong
27. StudioWorkz
StudioWorkz Production is a group of brand designers who come up with ideas that will resonate with your brand positioning. Their work involves not only graphic and web design, but also a little more than that.
Consisting of professional brand design consultants, designers, photographers, web developers, and content writers, their brand design team is dedicated to their work and experienced in the field.
They have been making brands look good for over 15 years, and they don't plan on stopping there. Conside giving their site a visit, especially if you want to give your brand a boost.
Highlights
Brand Design
Brand Management
Brand Workshop & Training
E-commerce Branding
28. Maple Tree Media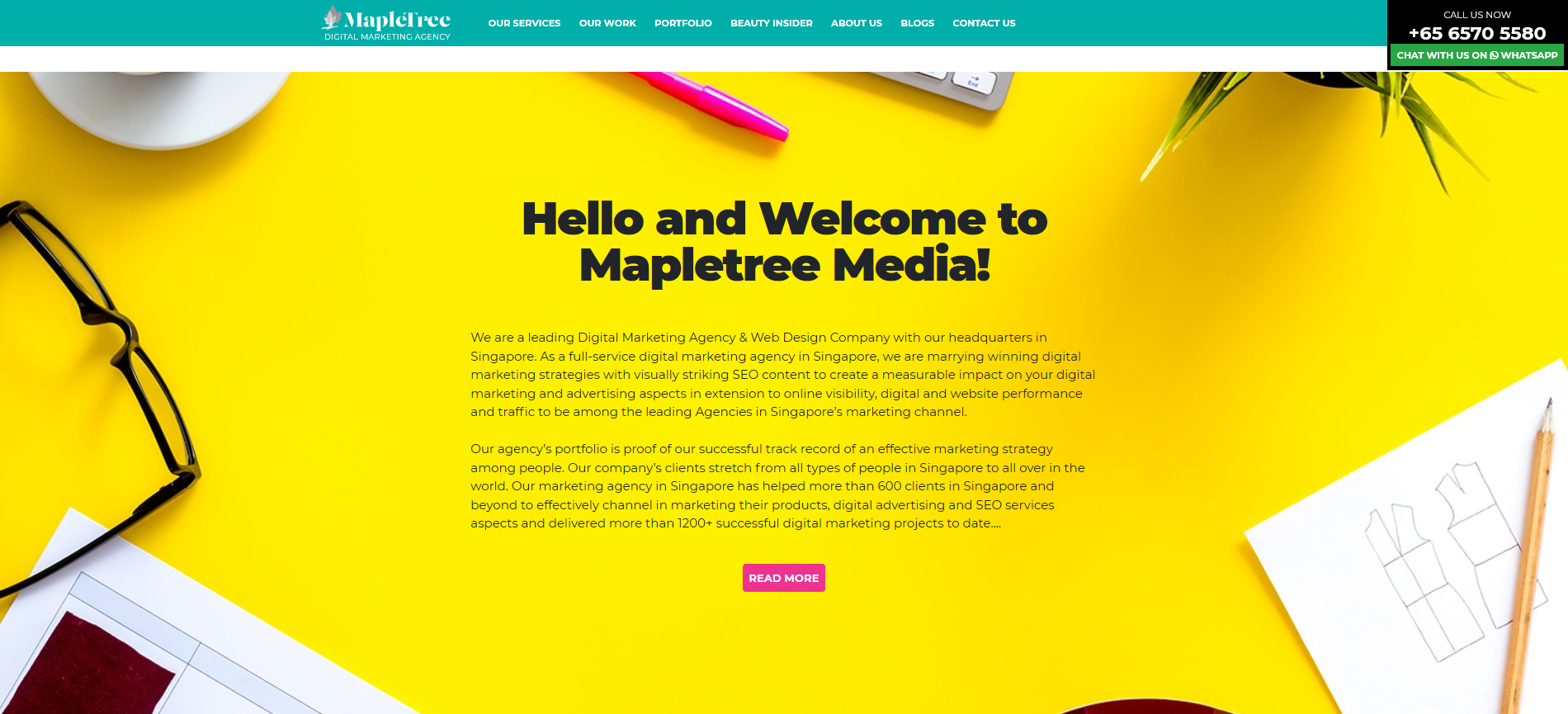 Mapletree Media is one of the leading Digital Marketing agencies and Web Design companies in Singapore whose mission is to serve customers with only the best quality service. With their team of digital marketing experts, they create online strategies that involve visually striking content and greatly impact their client's online presence.
They have been creating content even before "digital" became a catch phrase. After starting as print publishers in 2006, they have now created and distributed over 60 magazines and 7 coffee table books across Southeast Asia. Mapletree Media's biggest advantage is their knowledge of customer psychology– they know how to create content that will grab and keep the intended audience's attention.
Highlights
Digital Marketing Services
Website Design Services
SEO Services
Social Media Marketing & Management
Design & Copy Writing
E-commerce Development
Customer Reviews
Here is a review left by a very satisfied client:
"The Account Servicing was really impressive and I had Gio regularly speak to me and go over various rounds of changes with me. They produced a great looking site for my skincare launch and I have enjoyed working with their team and would be happy to recommend them to you for your future services." – Sandra Yeo
29. Fyreflyz
With 11 years of experience in the field, Fyreflyz has helped thousands of businesses in appealing to their customers and making them stand out in the long run. They are one of the best marketing companies in Singapore, as they always provide excellent and high-quality services for their clients.
Even though they have a small team, they are flexible in meeting all of your needs and expectations while delivering great results. They are dedicated and passionate in generating exceptional ideas for your business– ones that will certainly grab your intended audience's attention thanks to their highly skilled developers and designers.
Entrust your marketing to their expertise — they will see to it that your business will shine in the spotlight!
Highlights
11 years of experience
Highly skilled staff
Customer Reviews
Here is a review left by a very satisfied client:
"Fyreflyz culture is second to none when it comes to being passionate and innovative in what they believe in – solving problems in an unconventional way. They believe in their employees and never hesitate to invest in them ensuring that their professional development and welfare are well taken care of. Everyday is a learning experience, it's never the same."
30. MediaPlus Digital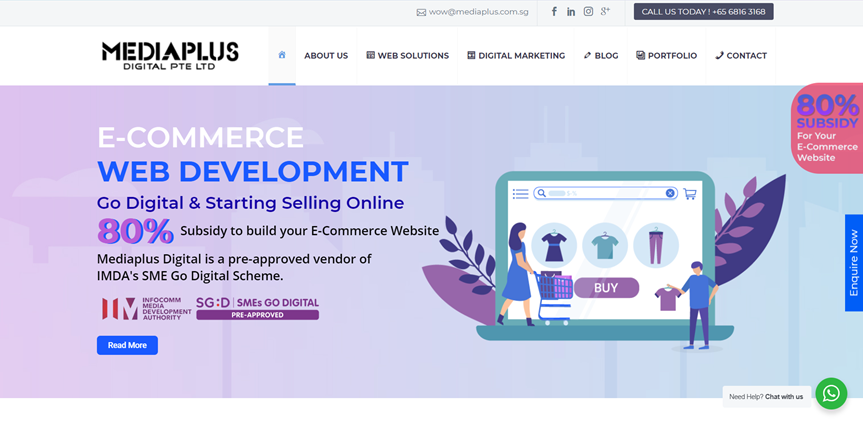 MediaPlus Digital is a marketing company whose goal is to create the best strategy for each of their clients. With their 10 years of experience in the industry, they've become well known as an all-in-one marketing company that offers comprehensive solutions for everybody.
Their range of services include Web Design, Ecommerce Web Development, Digital Marketing, and more. Their team of professionals also ensure that their quality of service remains the best no matter the situation.
If you're looking for a marketing company with experience and expertise, turn to MediaPlus Digital– you won't be disappointed.
Highlights
Great Web Designs
Very organized planning
Well-versed in their search engine marketing services
Proactive Team
Customer Reviews
Mediaplus has received nothing but good praises from their clients. Their fast and efficient service is truly among the best in the field. Look at what a business had to say about them:"Wonderful and efficient web design team! They were able to deliver as promised. The team is very friendly and achieve all our desired requirements.MediaPlus Digital is simply great to work with. A good team displaying great expertise in their field and we look forward to future collaborations!" – Triplex Studio
31. Iluma Design

Iluma Design was founded with a goal to help small businesses in Singapore make big impressions worldwide. They specialize in web design, product photography, and small business IT solutions.
Whether you're a new start-up trying to stand out from your competition, or an existing company with many years of experience under your belt trying to reinvent yourself, Iluma Design is confident that they can help take your business to the next level.
Highlights
Offers photography services that help your customers view your wares in the greatest detail
Helps with the maintenance and security of your website
Leverage on the latest technologies to ensure that our clients get the best of the best
32. Heroes of Digital

Website design is one of the most effective ways of digital marketing. To get the most engagement with your audience, however, you need to choose the right agency.
Heroes of Digital is one of the best choices when it comes to website design, as their data-based approach makes their work more effective. They also use machine learning programs, which makes for even better results.
Don't waste your time and resources experimenting with digital marketing agencies. Choose Heroes of Digital if you want to capture and keep your audience's attention.
Highlights
Google Ads
SEO
Social Media Marketing
Website Design
33. Concept Lab Communications Pte Ltd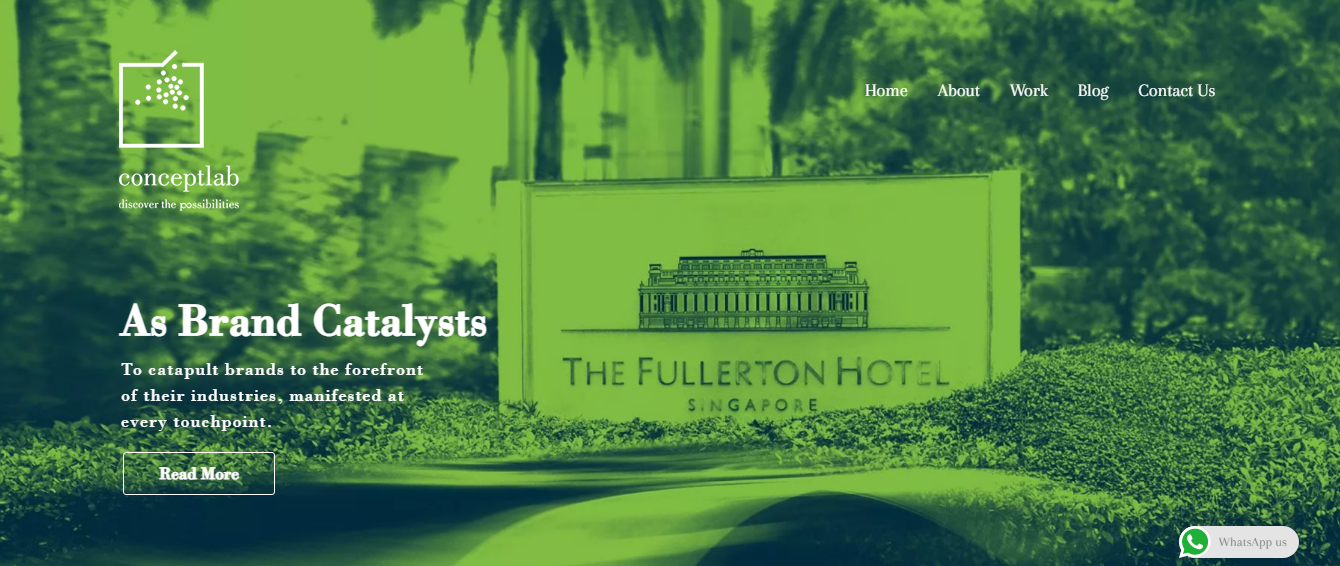 Due to today's innovation, we believe that having a well-created web design that represents you and your business will definitely make you stand out in the market.
Since 1997, Concept Lab Communications Pte Ltd is a Singapore-based design agency that has been creating a difference in the branding and website design industry.
As you can see, due to the decades that ConceptLab has, they have already established their name in the market and have developed 100 corporate and product logos as well as brand taglines for organizations and products refining a brand's look and feel.
With Zee as the Creative Director and Ze Ying as the Creative Consultant, together with their passionate team, this company will make sure that all of the concepts and ideas that you have in mind will come to life. They have a team that is specifically dedicated from Brand Catalysts, Design Alchemists to Digital Fusionists.
From design consultancy, conceptualization, layout to even packaging and delivery, they provide top-of-the-line service and quality of their output.
Compared with other companies, they have good attention to detail with out-of-the-box ideas suitable for you and your business which makes them a one-of-a-kind company.
So this means that if you will be choosing to work with them, you will be in successful hands.
They operate from 9 AM to 6 PM, with Saturday and Sunday closed.
Highlights
Years of experience in the industry
Years of experience with different kinds of businesses
Client-centered approach
Proven and tested high quality of service over the years
Customer Reviews
Here are some testimonials given by their customers.
"The importance of having Concept Lab as our business partner is because of various reasons, of which the most crucial one being that the team at Concept Lab takes a very serious, professional, and enthusiastic approach in every project regardless of size. This attitude is not just about meeting deadlines and producing desirable results, but rather the passion of these professionals who truly work on their creativity and commitment to create success in every project. The overall experience can be summed up in a simple statement: "Nothing is impossible when it comes to our needs in this area of work." – Aston Soon, CEO of Aston Food & Beverage Specialities Pte Ltd
"Concept Lab has been a valuable partner that has helped us with a myriad of marketing collaterals over the past 10 years. Throughout the years, Concept Lab has been a part of the integral success of the Raffles Hotel Brand. They have shown versatility with a wide range of marketing solutions both online and offline. Overall, Concept Lab has been an efficient, extremely accessible, and flexible resource that we trust. We view our work with Concept Lab as an excellent partnership and plan to continue our relationship with them well into the future." – Jean-Mark Poli, Hotel Manager of Raffles Hotel Singapore
"It was a pleasure working with Concept Lab… in developing Tyco Southeast Asia's first ever corporate profile, Tyco Calendar and our business marcoms materials. Concept Lab is apt at receiving feedback and they provide valuable perspective towards the development of our sales and marketing materials. Their expertise and experiences in the branding, marketing, and advertising industry value add to the business directions we are heading towards and we look forward to working with them in our future projects." – Danny Ong (Mr), Director, Security Solutions & Marketing, SEA of Tyco Integrated Fire & Security
34. inPixel Haus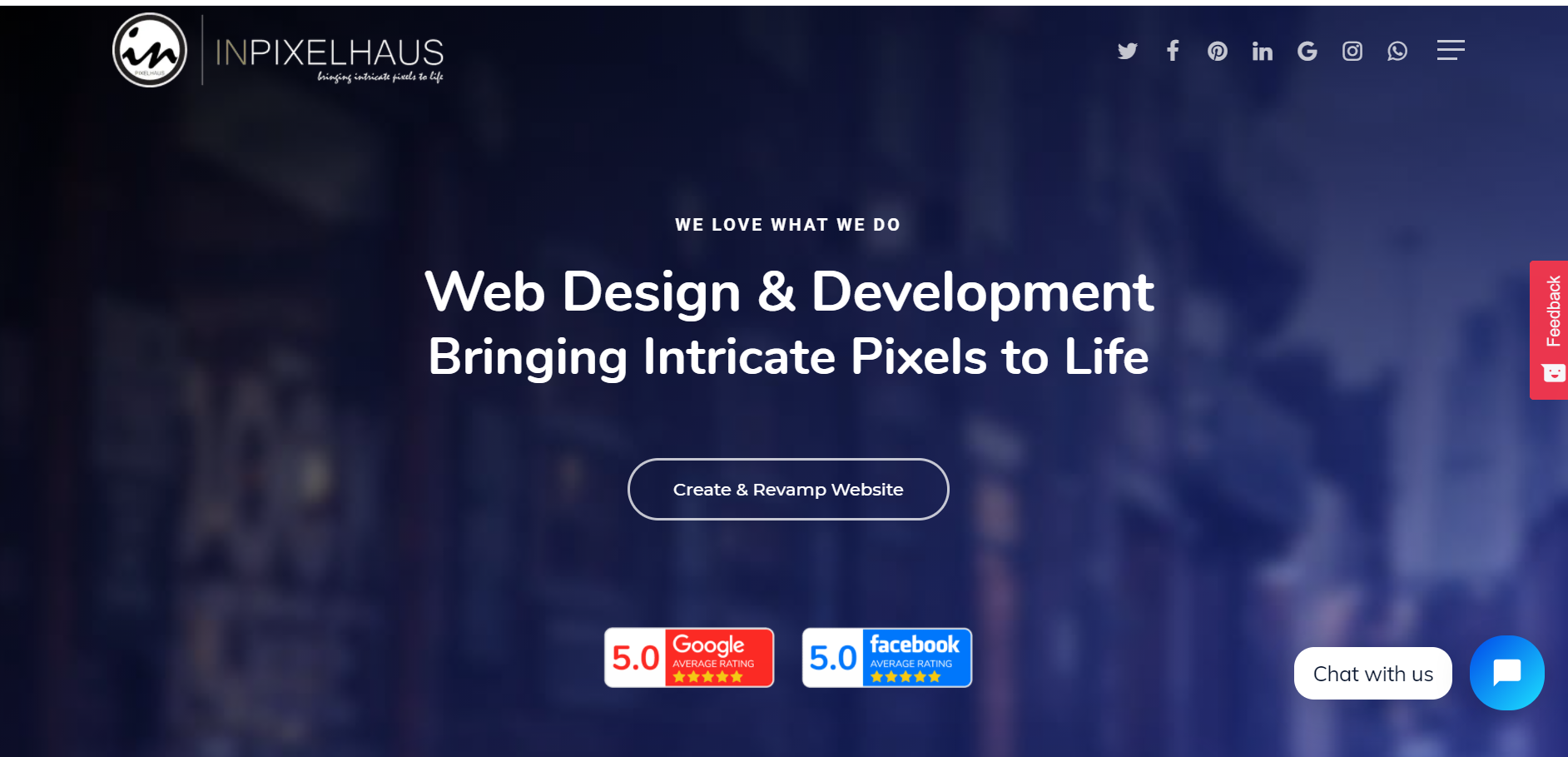 Create your very own identity with the help of inPixel Haus. As an established company in the field, inPixel Haus is known for their detailed mapping and constructing websites for different businesses.
They can optimise data and maximise the budget given to make a groundbreaking platform. Let them handle everything for you, contact inPixel today!
Highlights
Professional website platforms
Great communications
Amazing end products
35. EyeConz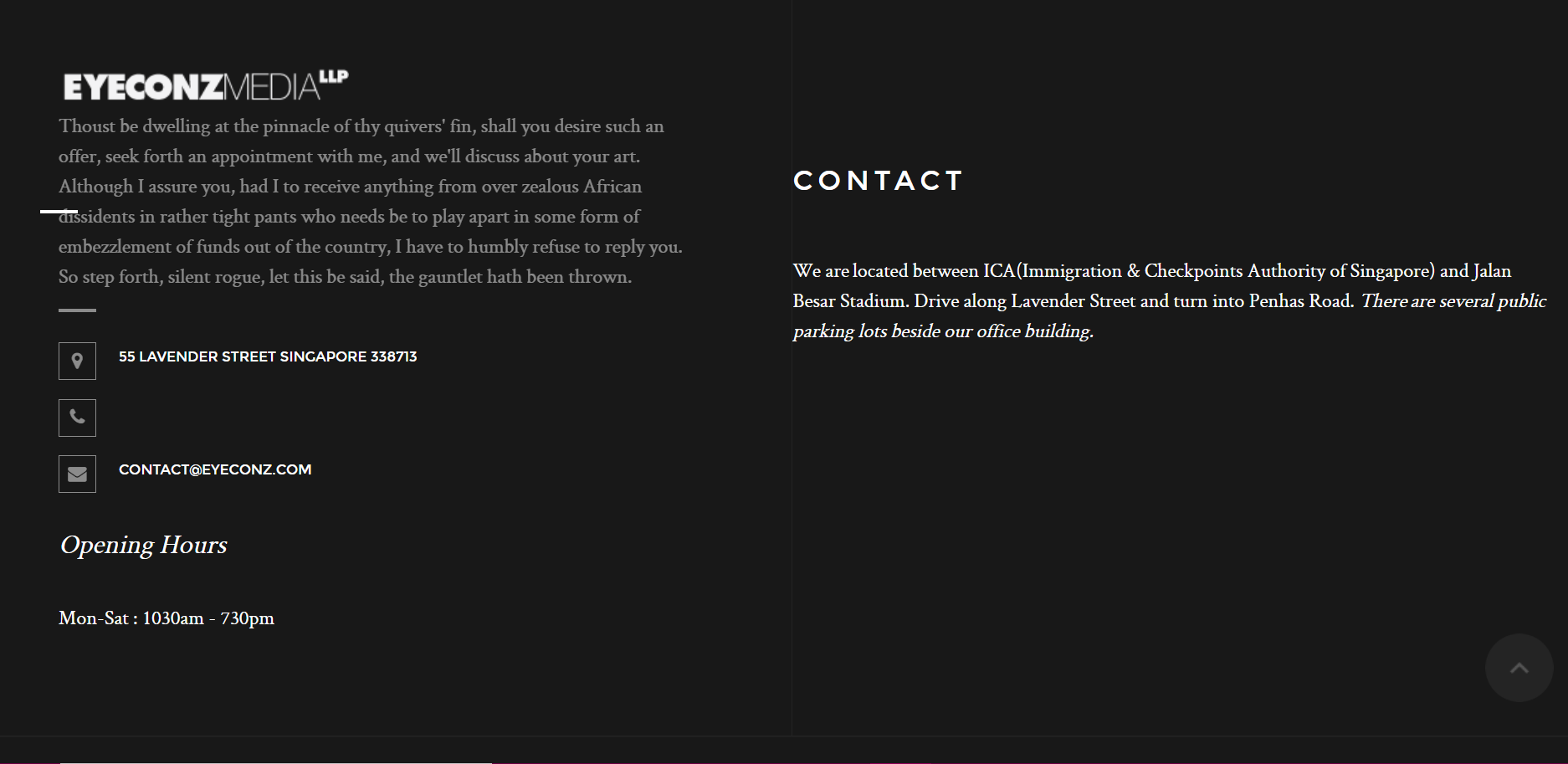 EyeConz helps make amazing websites to help businesses stand out in a more creative way.
They know the trends and works of every platform, ensuring that you get the best visibility and attraction.
Aside from website design, you can also take up EyeConz's other services, namely online advertisements like advertising and branding.
Make sure to check them out, simply click on their site!
Highlights
Makes accessible and approachable websites
Print development and strategies
Amazing marketing
36. AWANDKO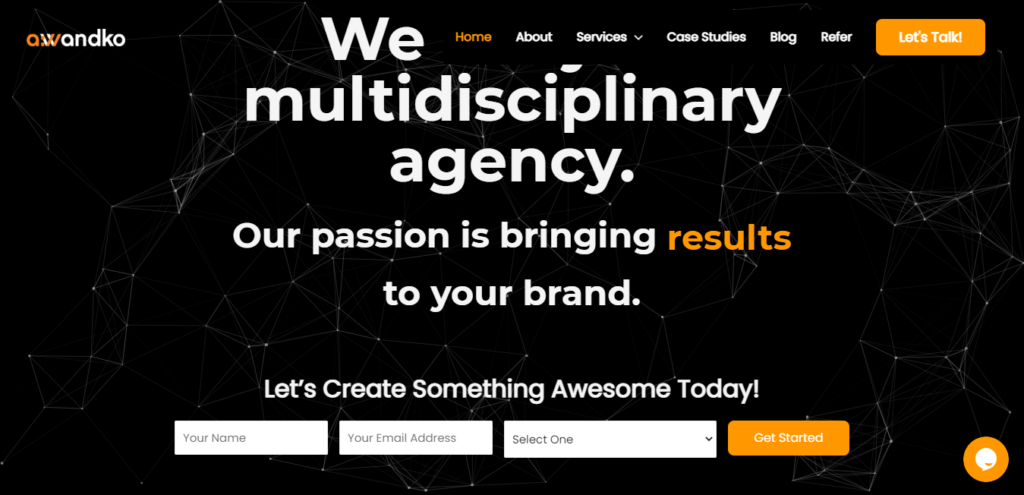 AWANDKO use their expertise in design and marketing to help you improve your business's reach and appeal. This multidisciplinary agency covers everything from creating a striking brand for your business to marketing you to large audiences.
They also combine their speciality in design and technology to customise and develop and website for added online platforms. AWANDKO can handle simple company websites to larger and more complex e-commerce online shops.
They guarantee to make your website SEO-friendly, user-friendly, and fast-loading. Because AWANDKO also helps with marketing efforts, they also offer video productions and outsourcing for campaigns.
Highlights
Video productions and other marketing services
Customised website design
SEO-friendly websites
Company websites and online shops
37. Hermes Infotech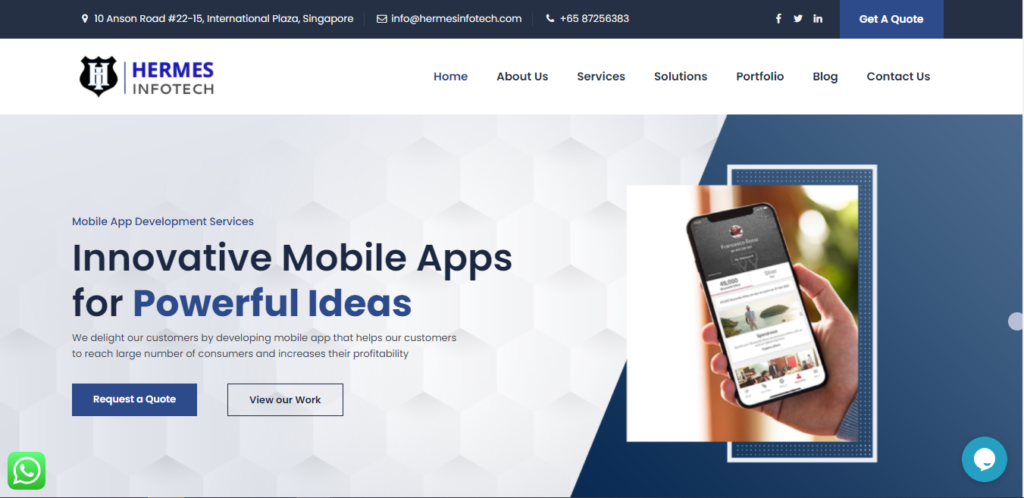 Hermes Infotech is a Singapore based IT Services company founded by a passionate team of experienced Industry Veterans. Excellence, reliability, and value-driven approach has helped Hermes Infotech to grow rapidly and become a leading IT Services company to partner with.
Their work guarantees satisfaction among customers by delivering high efficiency and superior performance.
They provide affordable web development, mobile app development, custom application development, and digital marketing services to customers globally.
Highlights
Website Design & Development
eCommerce Website Development
Mobile App Development (Android, iOS, Hybrid)
Web App Development
Enterprise app development
Customer Reviews
Here are just some of Hermes Infotech's customer reviews to tell you more:
"Excellent service !They always kept me updated about the status of my project and tried to find out best solution.Always delivered quality output in given deadline. I am highly impressed with the work quality and on time delivery ."
"Hermes Infotech delivered a streamlined platform with attractive designs that satisfied multiple audiences. The team was accessible and worked efficiently to successfully meet a critical deadline. They were responsive to feedback, which ensured a productive engagement and enables future collaboration."
38. Reed Tan Digital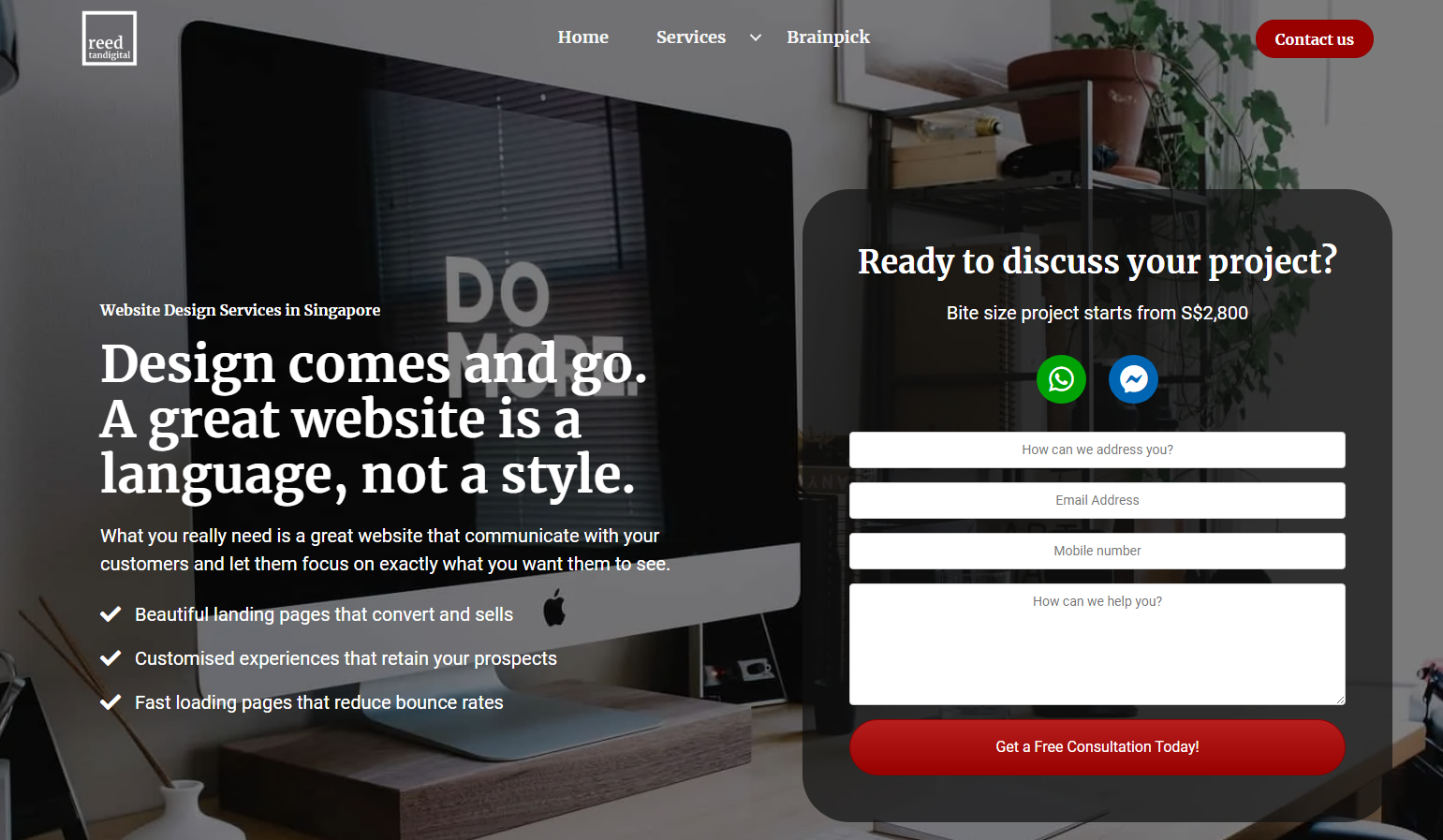 One of the leading digital marketing consultants in Singapore, Reed Tan and his competent team offers digital solutions, from marketing to web design, to clients looking to increase their exposure online.
Working with Reed Tan Digital means acquiring personalised services. Their team takes the time to take a deep dive and study the intricacies of one's brand before tailoring solutions that works best with said brand.
Highlights
Expert team of designers
Responsive and mobile friendly sites
Search Engine Optimisation
Website Speed Optimisation
Real time analytics reports
Lifetime free WP Rocket & Theme updates
39. WhooshPro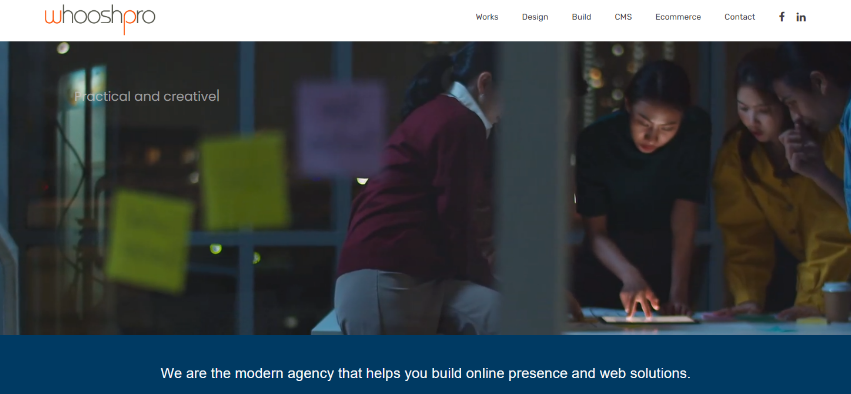 It's a given that a solid brand and a formidable online presence are needed to thrive in the digital space. If you're looking for a firm that can help you build both, then WhooshPro may be the right choice for you.
WhooshPro is a modern digital design and branding agency composed of skilled individuals who excel in design, content management, marketing, and e-commerce.
The team takes the time to consult with clients numerous times, reviewing and consolidating data, learning the intricacies of company backgrounds, before formulating digital solutions most suited for specific clients.
When it comes to marketing, they offer SEO, SEM, and Email Marketing.
While working with WhooshPro, you'll find that their services don't end once the web solution has been created. No, it continues long after since they give reliable support and maintenance to ensure continuity of the web solutions.
Highlights
Microsoft-certified partner
Custom modern web solutions
Excellent post-solution services
Great attention to detail
Customer Reviews
With a rating of 5 stars on Google Reviews, WhooshPro proves that they're professional and highly competent in their field. Previous clients wrote:
"WhooshPro is a very professional and experienced digital design agency! Perfect experience working with them! Interaction, communication and development of my webpage and blog was always flexible and on the spot. Not the cheapest but worth the quality they deliver. My high recommendation for all professionals!"
"Great experience working with the team. Quality output, attention to detail and going out of the way to provide solutions. We are absolutely satisfied with the genuine and professional service WP provided. Thank you!"
40. Outrankco
One of the leading digital marketing agencies in Singapore, Outrankco is known for creating custom solutions that can bolster their clients' presence in the digital landscape.
While they're most known for their SEO and SEM services, Outrankco also offers quality website design and development services. Their experience working with clients from numerous industries allows them to confidently and competently work on designs that cater to their clients' needs.
It's worth noting that clients take an active role in the entire process when opting for Outrankco services. This way, the Outrankco team can ensure that the website designs they create properly represent each client and show the target audience what the client has to offer.
All this without compromising both the aesthetics and functionality of the website design.
They're highly communicative and transparent in every job they take on. Not only that, but they go above and beyond to ensure their clients' online growth.
Highlights
Custom-fitted digital solutions
Money-back guarantee services
Customer Reviews
Learn more about what Outrankco has to offer through these testimonials:
"Initially we are very reluctant to spend more for another SEO service. Had been cheated before, and the SEO agency claim that they will rank us. But in the end, no rank then they just stop collecting payment from us and say will keep doing till we rank, and no news after that. For Outrankco, the reason we use them is that they provide a money-back guarantee for their SEO service and that is something that makes us feel confident to go with them. In the end, we are not disappointed. Special thanks to Hanwei. He is super responsive. As we are not really tech-savvy, whenever we got questions, he will explain to us patiently and make sure we understand the concept. Definitely recommend using their service."
"The SEO services provided by Outrankco SEO agency prove to be beneficial to our business. We experience a dramatic increase of web traffic to our website, and more importantly, the amount of qualified leads increases too. Chris is easy to work with and he is very informative and well-prepared."
41. Oangle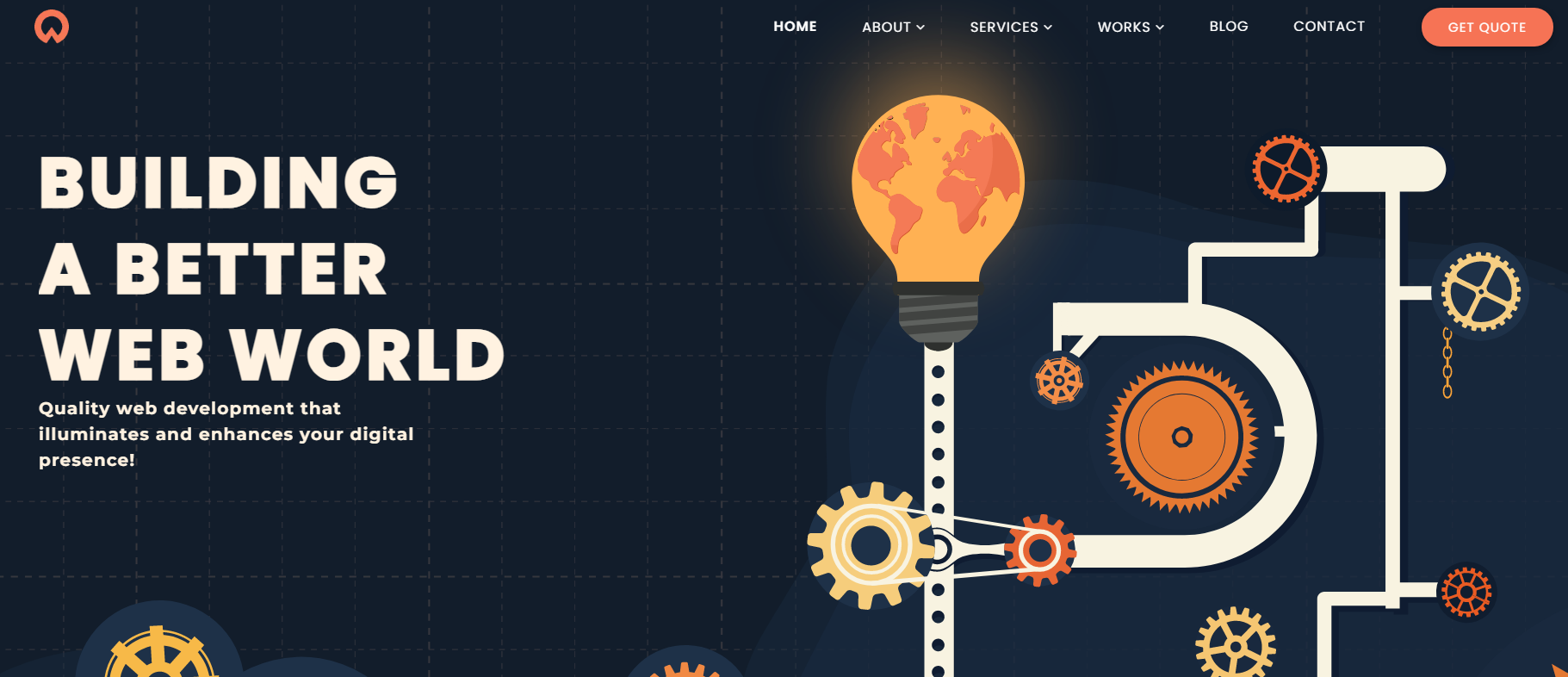 Oangle is a Singaporean web design and development studio founded in 2013. While the studio's team is small, consisting of less than 20 members, the diversity of their skills and expertise as well as the depth of their knowledge more than make up for it.
Clients will find that working with Oangle is a pleasant experience despite the professional setting.
The Oangle team is personable, patient, and professional. They offer consultations that allow them to learn more about the clients' needs, background, offerings, and target audience.
With all of these in mind, they craft personalised website designs that work best for specific clients. Every Oangle design is unique, but they all share commonalities in that they're functional, eye-catching, and highly interactive.
Highlights
Maintenance and website revamps
Interactive web development
WordPress website development
E-Commerce sites
Web UI and UX design
Customer Reviews
Learn more about what Oangle has to offer through this comment:
"The team at Oangle built the website for me clinic. The were a lot of moving parts in building this as we had very specific requirements and also considerable amounts of information that we wanted to het across through the website. Throughout the process, the team at Oangle exceeded expectations. Because of COVID we could not meet face to face but somehow they always understand what we were asking for and got the job done exactly as we expected. And to top it all off, they were also extremely efficient about it. I only have this to say: if you are looking for a top notch team to build your website, you wont go far wrong with Oangle. Special thanks to Yiqi and Lyla for their excellent work. Thank, thanks and thanks again!!"
42. 8Clicks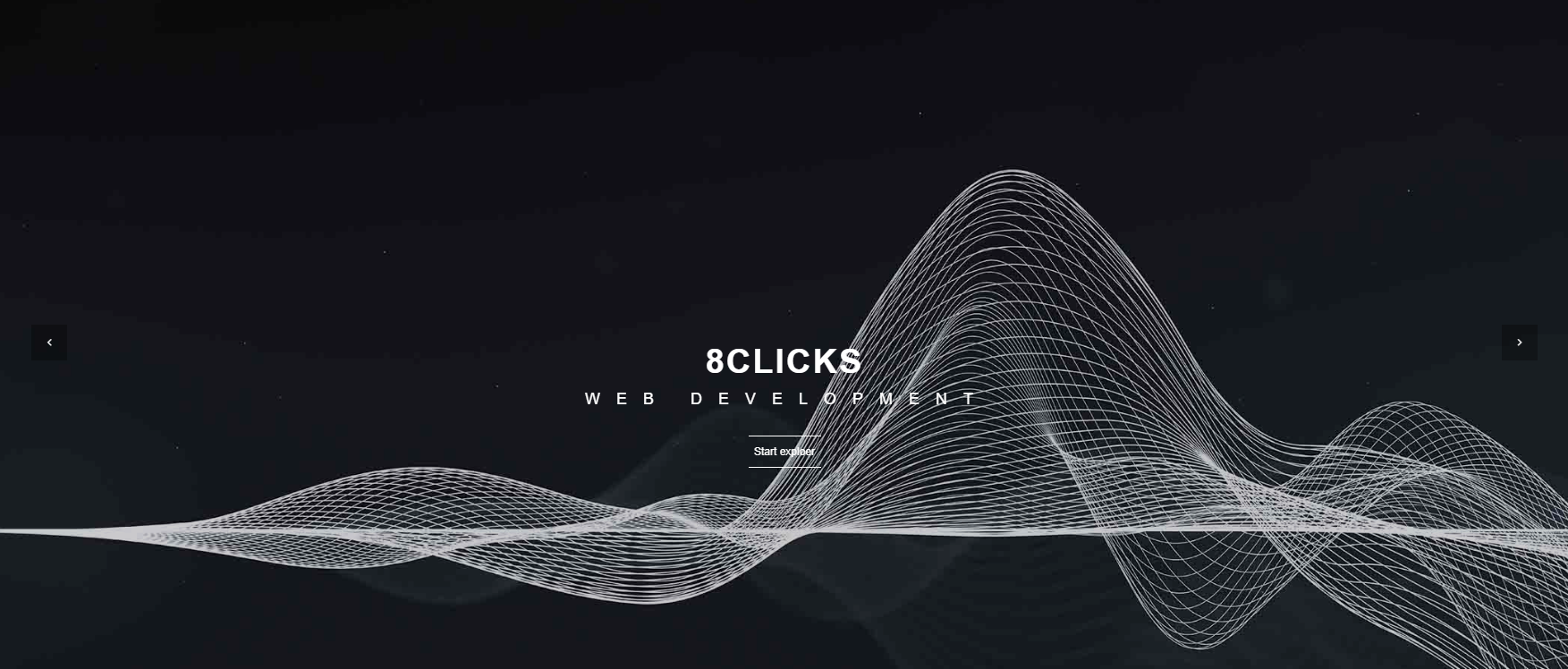 Make your online platform vision come to life with the help of 8Clicks.
Specialising in web design and development, 8Clicks is a small team of professional developers with experience in SEO and marketing. The combination of these expertise allows the 8Clicks team to create website designs that are also SEO-friendly.
The team is highly professional in all steps of the design and development process, which begins with taking into consideration the clients' wants and needs in terms of online platform. It's worth noting that the 8Clicks team works closely with their clients to ensure that the final, polished product is to their liking.
8Clicks' services are comprehensive, and also some of the most reasonably-priced in the market currently.
Highlights
Premium web designs
Personalised SEO and marketing services
Customised digital solutions
Customer Reviews
Learn more about what 8Clicks has to offer through these testimonials:
"Great experience! 8clicks provides an excellent web development & designing services with innovative ideas. The working environment is wonderful and their staff is friendly. They are delivering a truly outstanding mobile app development services. I highly recommend 8clicks to everyone!"
"Highly recommended team. Excellent consultant who understand our project and provide the web-solutions. Their designing team understand the Singapore market clearly. Also, understand eCommerce design and brings online our thoughts as per our requirement. Excellent Mobile app development team. Looking to hire them again."
43. Jankosoft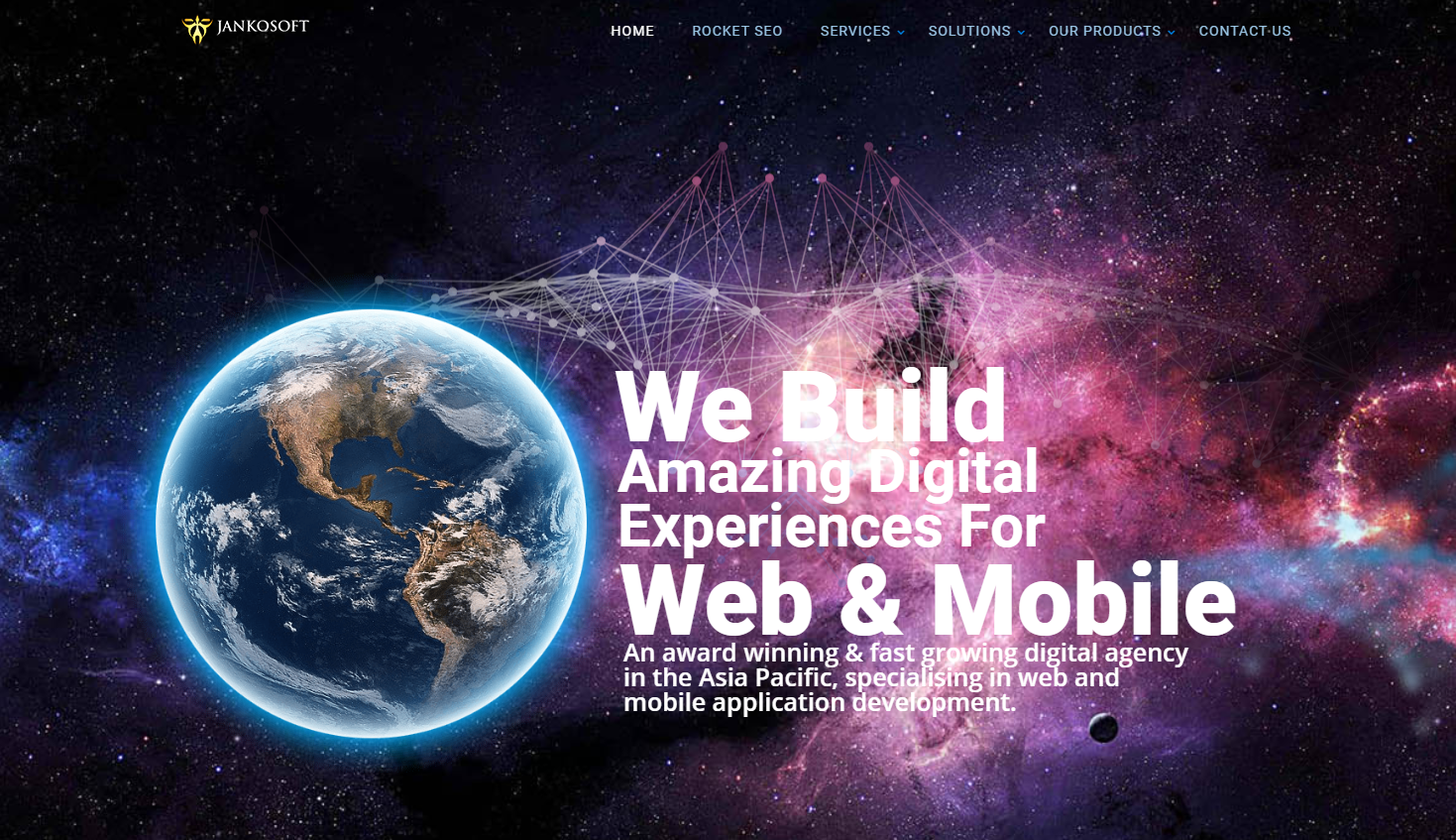 Jankos0oft is an award-winning digital agency in Asia Pacific most known for its work in web and mobile application development. However, it's worth noting that the agency's offerings don't end there.
Jankosoft also offers website refreshing, creation of content management systems, e-Commerce web development, customised applications, and SEO services.
Aside from the wide array of services, we also like the process that the Jankosoft team follows regardless of the project they are working on. It's straightforward and always takes into consideration the clients' opinions.
First, Jankosoft performs an in-depth study of the clients' brand, getting to know the brand, what it has to offer, who it's in competition with, and who it's targeting in the market. After that, the Jankosoft team goes into production, using various methods that work best with the specific project.
It's important to mention that the client will always have a say in the project. Jankosoft places great importance on customer satisfaction, so if clients would like to change any aspect, Jankosoft will do their best to deliver.
Now, Jankosoft's endeavours don't simply stop after the completion of the project, be it a website or an application. They also make sure that the final products are ready to be used and shown in the public.
In the off-chance that there are bugs, clients need not fret since Jankosoft is always ready to rectify the bugs encountered.
Jankosoft is dedicated to providing high-quality digital solutions, all the while following coding standards and offering transparent rates to all of their clients.
Highlights
Professional and highly skilled team
Excellent post-production support
Transparent rates
Customer Reviews
Learn more about what Jankosoft has to offer through these testimonials:
"Its very important to find a company that understands my business and technology. Jankosoft did a great job in sharing their industry insights, best practices in developing our tution center management system."
"One of the great OS Companies who understands the business and help to develop it."
44. Grooper

Companies looking for marketing solutions specifically catered to unique, medical products need not look further than Grooper.
Grooper is a digital marketing agency that offers solutions like social media marketing, advertising designing, copywriting, and pay per transaction solutions. The Grooper team tailor-fits these services to specific clients, ensuring that unique brands will get the best return for their investments.
Typically, clients that entrust their marketing to Grooper will find a boost in sales as well as traffic in their respective platforms. To learn more, contact the Grooper team today.
Highlights
Affordable, cost-effective digital marketing
Supports high-quality, unique medical products in Singapore
Prompt response
45. JS-Solutions

JS-Solutions Networks is dedicated to helping companies boost their businesses by offering a slew of digital solutions, which include web design and web hosting services.
Clients who avail of JS-Solutions Networks will find that the agency creates some of the most eye-catching, highly functional designs, both for regular websites and e-Commerce websites. To add on to that, JS-Solutions Networks' web hosting services is also top-notch, both reliable and very stable.
It's also worth noting that JS-Solutions Networks focuses in providing affordable, reliable and fully secure business-class hosting solutions for businesses and individuals. The agency also endeavours to be constantly professional and prompt with every client they take on, as a means of boosting customer satisfaction alongside their quality digital solutions.
Highlights
Professional web design
Reliable web hosting
Excellent customer service
46. Banah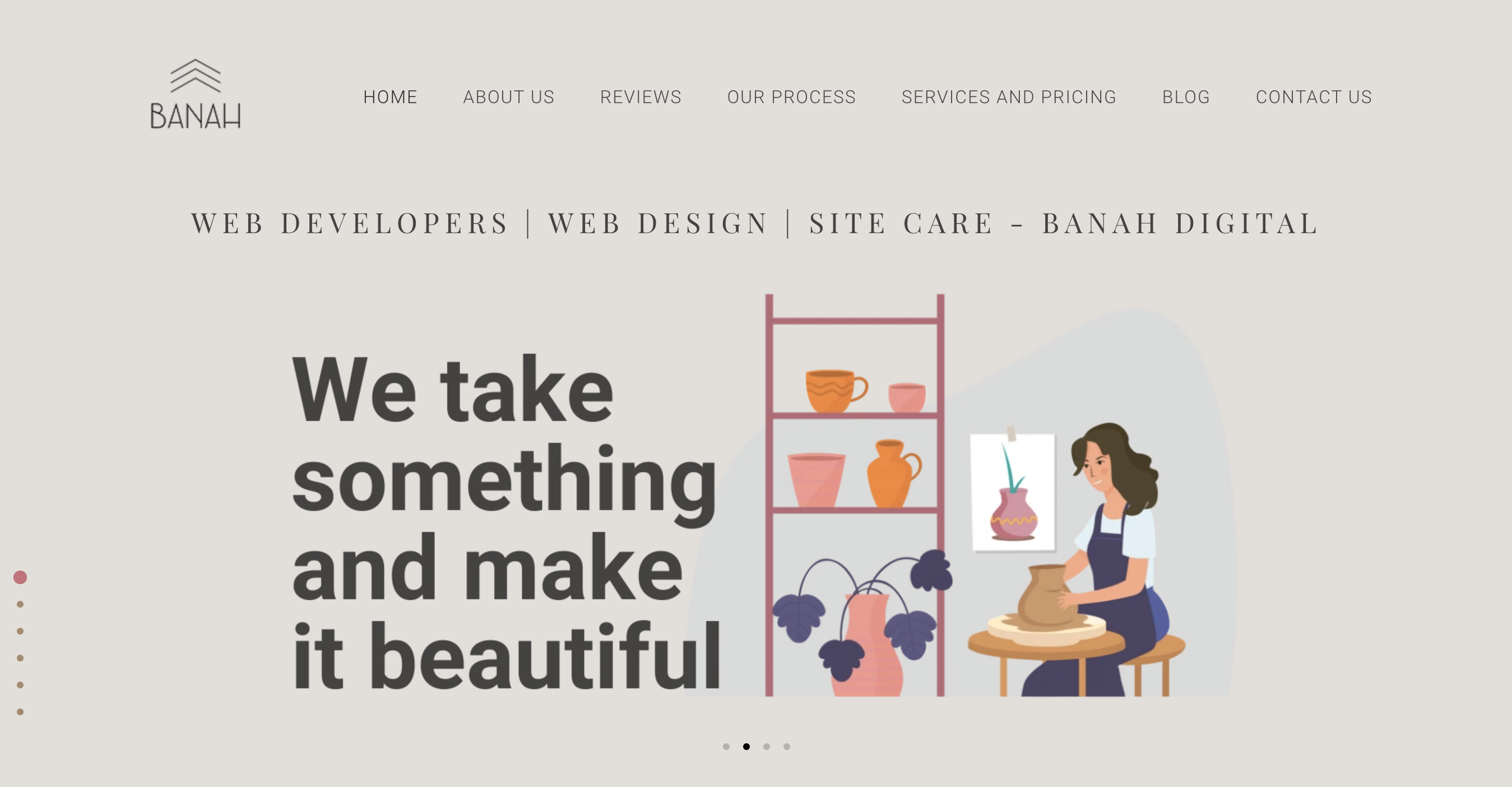 Banah Digital is a Singaporean-run, Thailand-based web design and care agency, but we are much more than that. While we are fully committed to providing quality web solutions, what really keeps us going is our passion is to empower youths through web design.
When you engage Banah's web design services, you are creating opportunities for Thai youths to hone their web development skills through real-world practice. In the process, they receive super-hands-on mentoring by an experienced web designer throughout the entire project so that you will always receive excellent results.
Furthermore, our Banah Process ensures that distance is not an obstacle to our commitment to quality. We pride ourselves in being a cross-cultural web design agency that excels in working remotely.
Highlights
Quality customer service
Top-notch support
Empowering the underprivileged
47. Triple W Media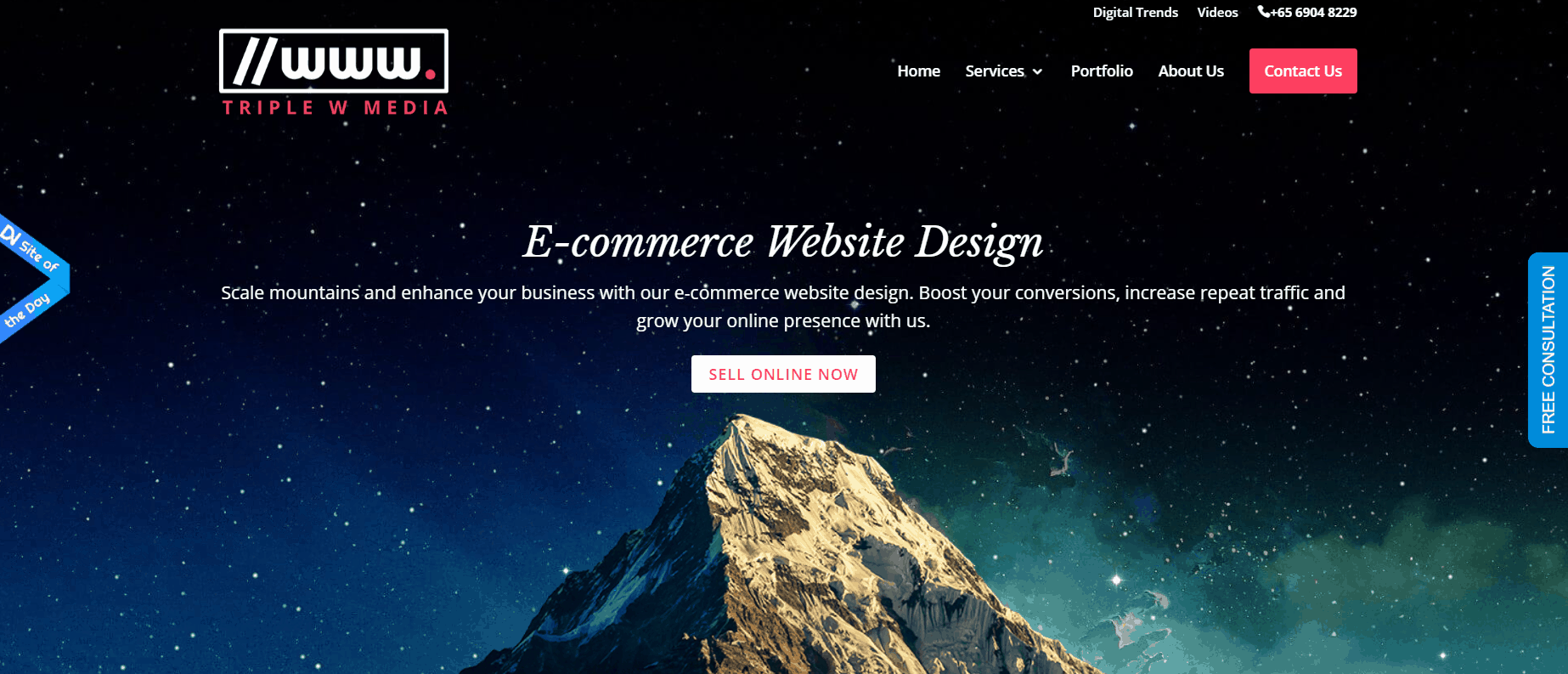 Nowadays, online presence can make or break a company, which is why small and big brands alike go out of their way to acquire digital solutions from experienced firms.
If you're looking for a full suite of digital solutions, including but not limited to web development, digital marketing, and creative design, then why not consider Triple W Media?
Triple W Media is a full-service digital media agency that develops customised strategies for each of its clients based on their needs and targets.
The Triple W Media team can accomplish such a feat thanks to the diversity of their skill sets. The team consists of designers, developers and marketers who concentrate on key metrics such as leads generation and revenue earnings to generate strategies that work best for their clients.
Best of all, their wide range of packages will be able to accommodate any of your digital needs, may it be maintenance, security, hosting, and more. With their assistance, growing your online presence will be easier than you think.
Highlights
Creates digital solutions for every platform
Constantly improving and developing firm
Team comprises field experts
Has worked with renowned brands and companies
48. Ripplewerkz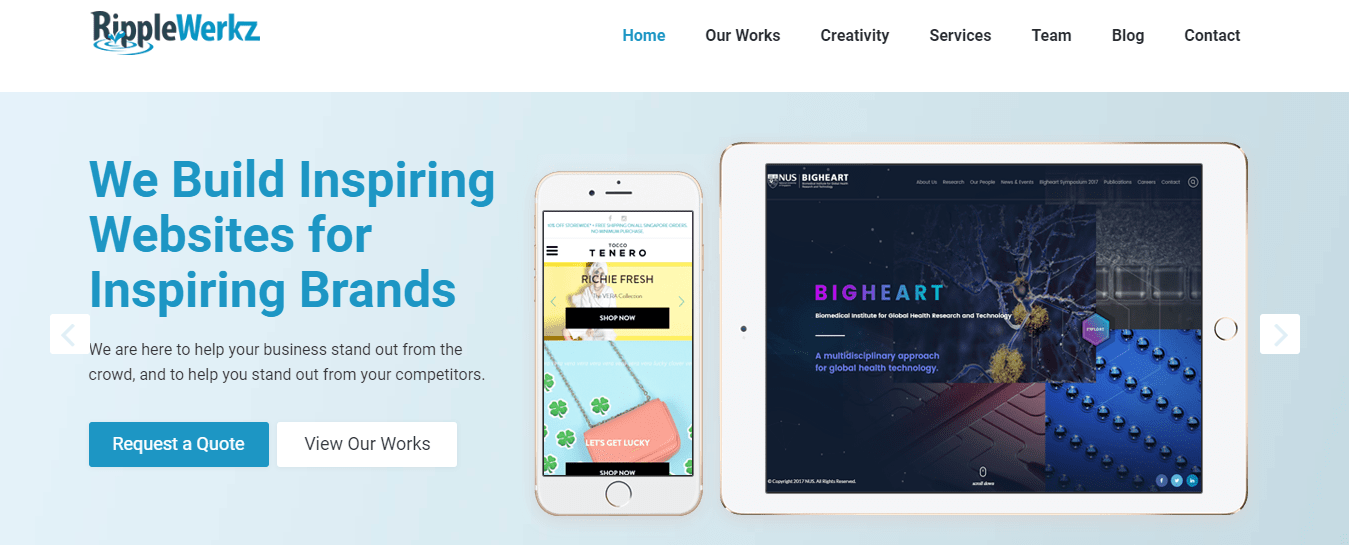 Ripplewerkz is considered one of the top media production houses in Singapore for its comprehensive online media solutions. Some of its services are web development, web consulting, corporate identity design, and graphic and print design.
In terms of web design, we believe that it has an experienced team that can create the best website design in Singapore. Its web design service comes in various packages that include ones for static websites, web applications, content management systems, mobile-friendly websites, and flash websites.
Anyway, Ripplewerkz is known for not only visually-impressive websites but client-friendly ones as well. That's a big part of why it made the list for companies doing the best website design in Singapore.
Highlights
Strong web presence
Corporate identity design
Professional web designers
49. Jnetwork Website Design

Jnetwork Website Design has experience and skill for simple websites and e-commerce sites alike. Additionally, Jnetwork designs software programs that companies can use for their payroll systems, product management, and human resource organization.
For its web design services, Jnetwork covers an array of services. From branding and planning to the digital marketing and product development aspects of web design, Jnetwork is there to help.
This web designer's main goal is to provide its clients with websites that are easy to navigate and maintain. Jnetwork also makes its websites as responsive as can be to improve a company's conversion and Google ratings.
It stays on top of the latest UI/UX trends and applies SEO practices to each website to achieve such goals. The best thing is that it can do all these for companies from just about any industry, whether medical, construction, or personal entertainment.
Highlights
Full range of services, from planning and designing to marketing
Expertise in numerous industries
Responsive and content-optimized websites
Customer Reviews
Read these reviews from previous individual and corporate clients to know more about Jnetwork's services:
"Excellent service, fast responsive team who complete a couple of websites for me within tight deadlines. An eye for great design but with very very reasonable pricing. Would definitely approach them again for all my clients who wish to do websites."—Bag of Bones
"Awesome web developer and thanks for servicing my laptop at the same time!"—Samuel Lee
50. PixelMusica

Established in 2012, PixelMusica is an independent firm made up of experienced creatives who wish to craft solutions that help clients connect with their target audience in meaningful ways.
These creatives have their own specialties, allowing the firm to offer services that have to do with branding, design, photography, videography, and web design and development. PixelMusica makes it a point to update themselves on the latest trends and technology, so clients can expect modern solutions that are highly effective.
Aside from their ranged of services, PixelMusica also comes highly recommended given the firm's flexibility. PixelMusica accommodates clients from different sectors and industries, many of which come from techology, engineering, finance, security services, and even the non-profit sector.
Highlights
Tailored services in branding, design, photography, videography, and web design and development
Operates five days a week
Accepts clients from a wide array of industries and sectors
51. Bolt Works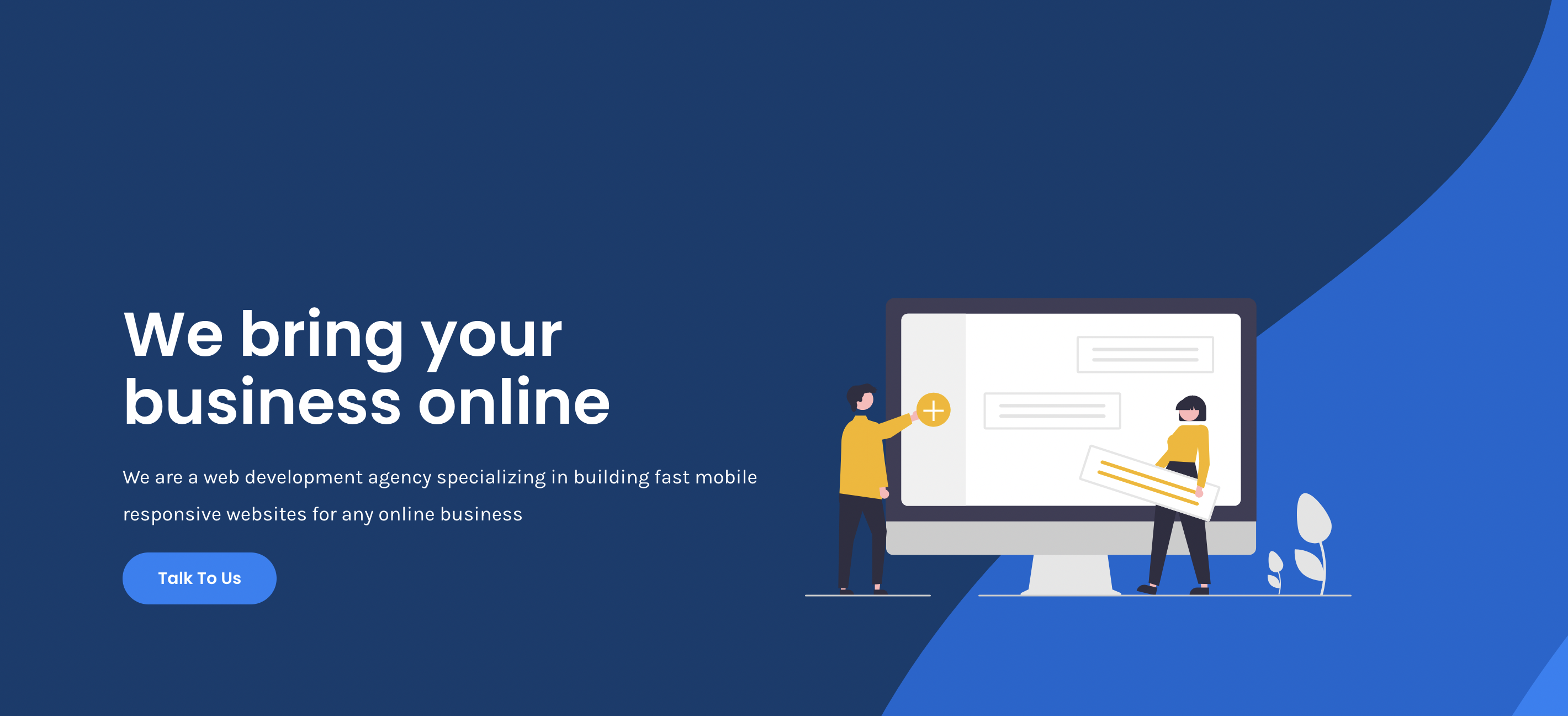 Like their moniker, this boutique web development agency focuses on building fast-loading websites for online businesses. When it comes to all matters concerning your website, they handle everything from the ground up, from web design and development to web hosting.
This means that they make an excellent choice for clients who are just about to kickstart their business's online presence. Otherwise, clients who are also looking to rebrand their business would benefit from their services too.
Speaking of branding, we noticed how clean and minimalist their approach is, which is consistent throughout their work. So if this is the aesthetic you're aiming for, we think that they make a great choice for that.
The lack of an actual office space may be a minor inconvenience for some, considering that they operate virtually only. On the plus side, they're open 24/7, which means that they're available for consultations around the clock.
Highlights
Open 24/7
Specialises in fast-loading websites
Ideal for small businesses/startups
Full range of web development/design services
52. Aidentity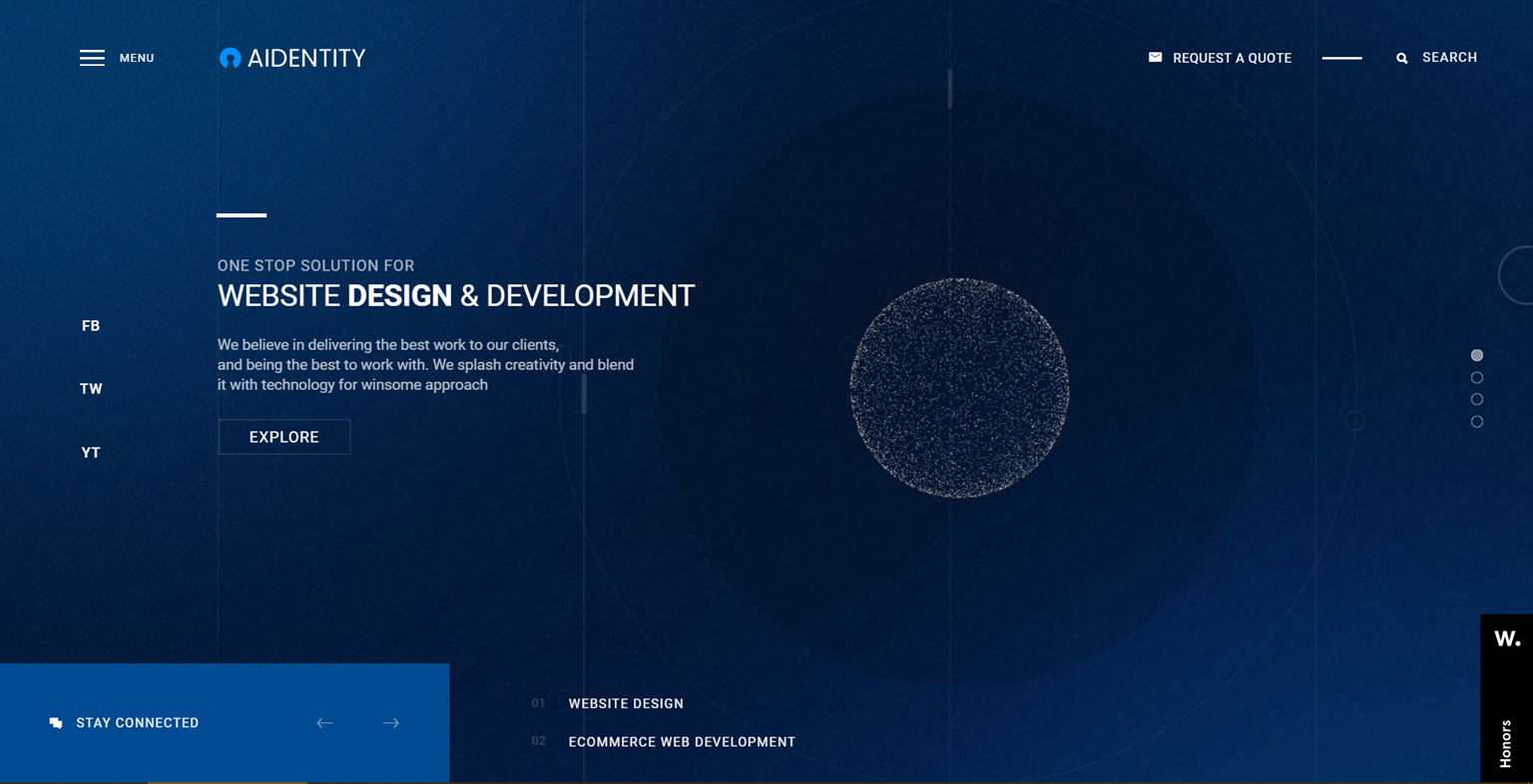 Aidentity is known to create web designs and developments that can help accelerate any establishments' online performance. It doesn't matter if you've just started your business recently or if you've been in the field for years– you'll surely receive amazing outputs and a major difference in your statistics.
They are a dynamic team that can hold their own against any challenge you may give them. They are experienced when it comes to last minute changes and sudden modifications.
Aidentity's over 10 years of experience is something to boast about, as they surely know what works and what doesn't. With them, you can rest assured that you're in great hands.
Highlights
Successful marketing strategies
Dynamic Work
Excellent Customer Service
53. Apsbay Pte Ltd
Apsbay Pte Ltd is a digital service agency that caters to businesses of all sizes. It is a local company in Singapore with the mission of providing impactful digital business solutions.
Its services include web design, photography, wideography, search engine optimisation (SEO), search engine marketing, graphic design, analytics, copywriting, and social media integration. A free quotation is available for request through their website.
Apsbay also offers five services in its digital shop such as 12 Months Advanced Web Maintenance and Concierge Service, Emergency Malware Removal, and Emergency Website Repair. Prices range from $299.00 to $6,500.00.
The company is also recognized by Singapore's Finest as one of the trustworthy web designers in the country.
It operates from 9 am to 5 pm every Monday to Friday and is closed during the weekends.
Highlights
Local-based
Experience with different kinds of businesses
Has an accessible digital shop
Customer Reviews
Here are some reviews of its clients:
"Apsbay has always taken care of our website and online store and kept it updated whenever we needed it to be. They even help us to fill in so much content for the products by doing research on their own when we were busy. Highly recommended." – Colin Tay, Founder of TSA Wines
"They were with us from the beginning and have really evolved our online presence as we grow. We will continue to use them because they are more like a partner to us. Give them a shout if you need a designer for your website or to create a great digital marketng campaign for your products." – Jeremy, Founder of Lionsforge Pte Ltd
54. Wishbone Digital Group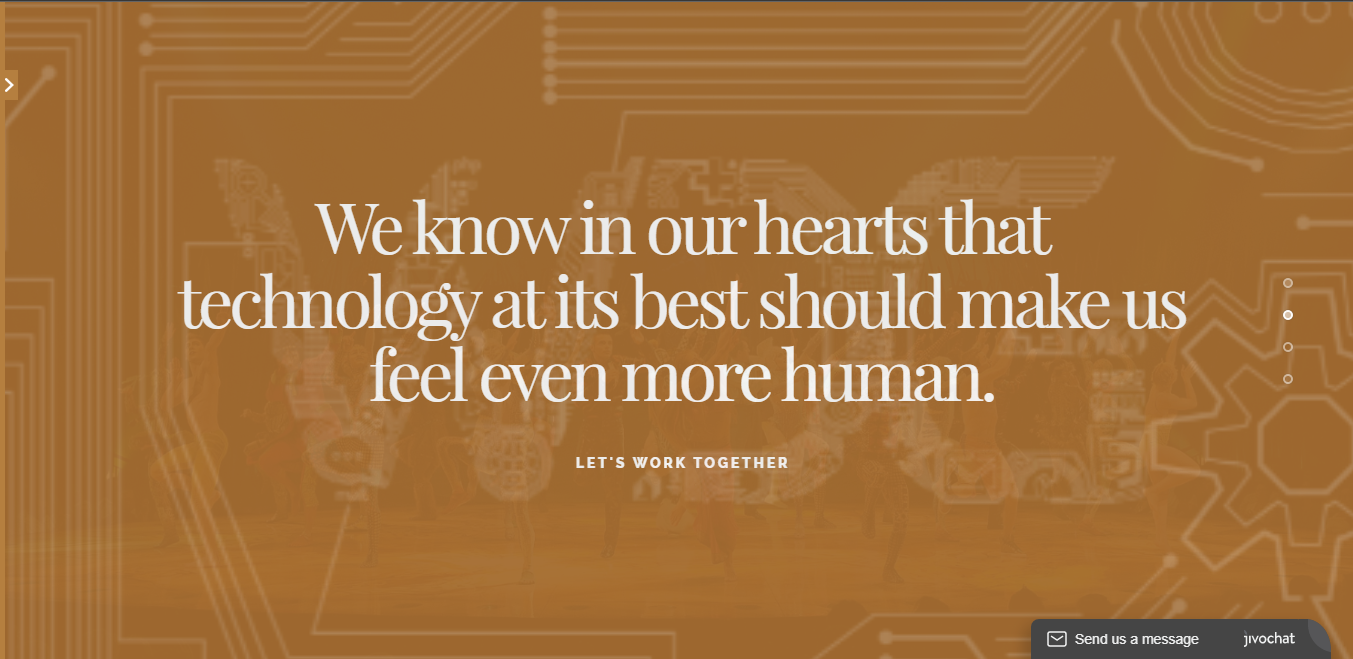 Wishbone Digital Group is a company that offers top-notch website designs for businesses to reach their designed audience and have more engagement with their clients. Founded in 1997, they can combine artistic excellence and technical knowledge in every job that they do.
From content creation, web application, and digital marketing services, they are a one-stop shop for clients who wish to have an impact online. Employing only tested and the latest strategies, they center on enhancing communication between the client's business and their customers.
Their websites are designed to be consumer-centered so that everyone that they produce is user-friendly and can achieve optimum user experience with every visit.
Aiming to converge aesthetics and usability in all their designs, final products can easily be accessed on their website so new clients can have a glimpse of what they can do.
With concrete knowledge and a multidisciplinary team employed, clients overall had a pleasant experience with them throughout every project that they handle.
Highlights
User-friendly websites
Employs latest strategies
Multidisciplinary team
55. Web Leads

Highlights
Multi-international company
Decades of experience in marketing
Trained over 50 companies
Educated more than 20,000 professionals on digital marketing
56. MediaOne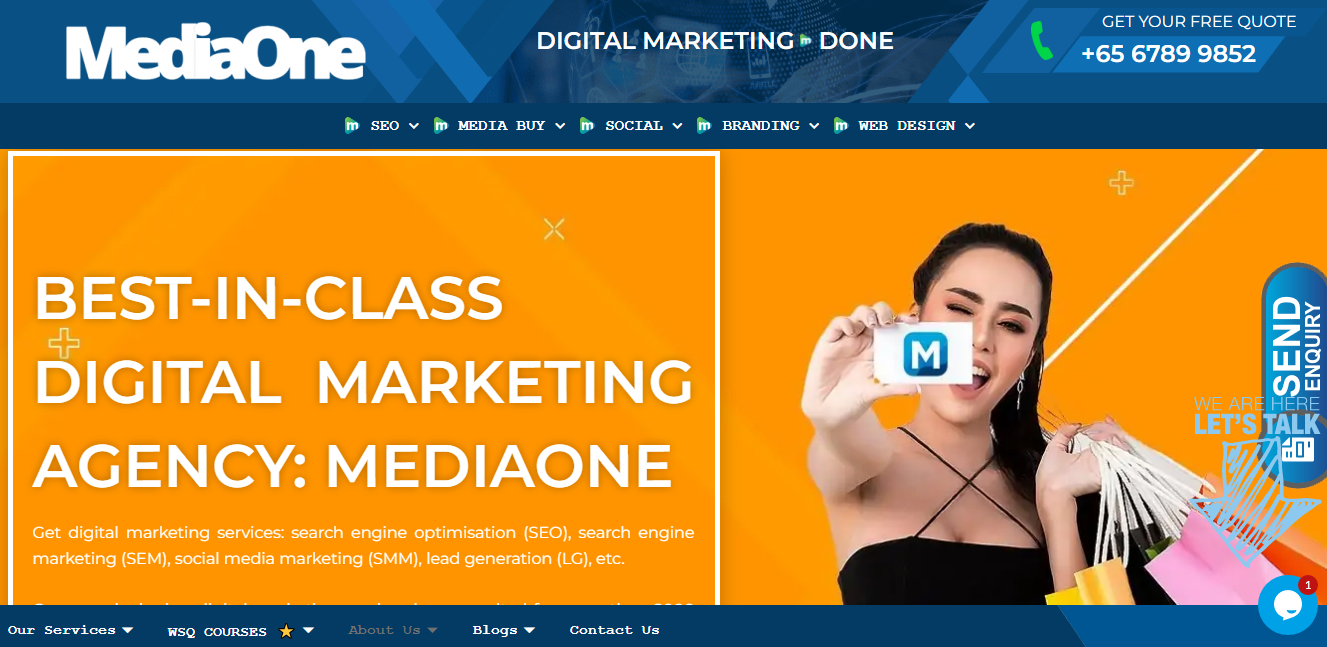 MediaOne is a digital marketing agency that offers various ways for clients to build their business online such as SEO services, SEM services, and SMM among many others. They are ISO certified in the country and have even been ranked the Best in Search by an International Ranking Body.
With a success rate of over 83% with over 2000 companies, they are able to provide their clients with cost-effective and pleasantly attractive websites that can help bring in potential clients.
What we find impressive is that they are able to provide both design and content creation services so that clients do not need to look for another company to make such media to be presented online.
Another thing we find exemplary with their web design is that they always feature an easy-to-use CMS, secured backend, and is specifically suit the needs of the client's business to ensure that all of the outputs they do are responsive to all devices.
With a highly interactive and informative website, their past clients found their services to be budget-friendly and their customer service to be professional and knowledgeable from day one.
Highlights
User-friendly website
ISO Certified services
Steadfast feedback system
Customer Reviews
Here are some reviews from their clients:
"This is by far the most transparent agency I've worked with. Huimin is professional and provides us updates timely. She spends time to walk us through any questions that we have and works with us to ensure our timeline and budget is met. Sebastian was also helpful in ensuring that we were able to achieve our targets during our Facebook campaign and provided insights from his experience as well as advice on how we can do better. In general, the team we deal with from Mediaone is forthcoming in their dealings and willing to help. I enjoy my dealings with them." – Huang Huiling, Senior Asst Manager, NUS Business Analytics Centre
"Simply amazed with how Annie is so humble and knowledgeable. It was amazing to work with her. Highly recommended for you to meet her in person to explore your options!" – Natalie Kang
57. Chillybin Web Design
Chillybin Web Design is an agency that offers clients not only attractive website designs but also multi-functional features. Able to work with both local and international clients, their services easily accommodate both small-scale and large-scale brands looking to launch their enterprise online.
We think that their approach to website design covers all essential factors to look for when operating online such as security, interactivity, and convenience for both the owners of the business and their potential clients.
Chillybin Web Design is also a specialist with service based businesses, and they are said to focus on purposeful user flows that help move visitors through the site which leads to higher conversion.
Another thing we find impressive is their accommodating customer service that is available 24/7 so clients don't need to worry about different time zones and markets since their staff makes sure to stay up to date with the essential knowledge to create stellar websites.
Though they have slight limitations on the platforms they use to create websites, they make sure that clients can easily revise, edit and personalize their website down to the smallest detail.
Overall, their past clients have had a pleasant experience with them and especially commends their professionalism and expertise in the field that educated clients and helped guide them through the whole process and has proved to be effective in the long run.
Highlights
24/7 customer service
Professional staff
Personalized web design
Customer Reviews
Here are some reviews from their clients:
"Chillybin is an excellent team that offers quality service to meet the demand. They are very friendly people who express their honest perspectives and advice. Their patience is first class in trying to understand what you want, and they will help you create your business website together with your vision. Thank you to Shaan Nicol (web designer), who personally helped me along with Jarrod (social media), Veena, and the whole team at Chillybin (: Keep up the great work." – Jonathan Mitchell
"We like Chillybin's design ideas and the logical step by step process of building a website. In the future, we are looking to engage Chillybin again to set up some forms for our website to help engage viewers and simplify the user experience and conversions. Throughout the process we were impressed with your methods and liked your efficiency and transparency across each step of the development process. We look forward to using your services again in the future and highly recommend your business to anyone looking for an edgy and innovative development agency." – Ginger Hsiao
58. Wiz Marketing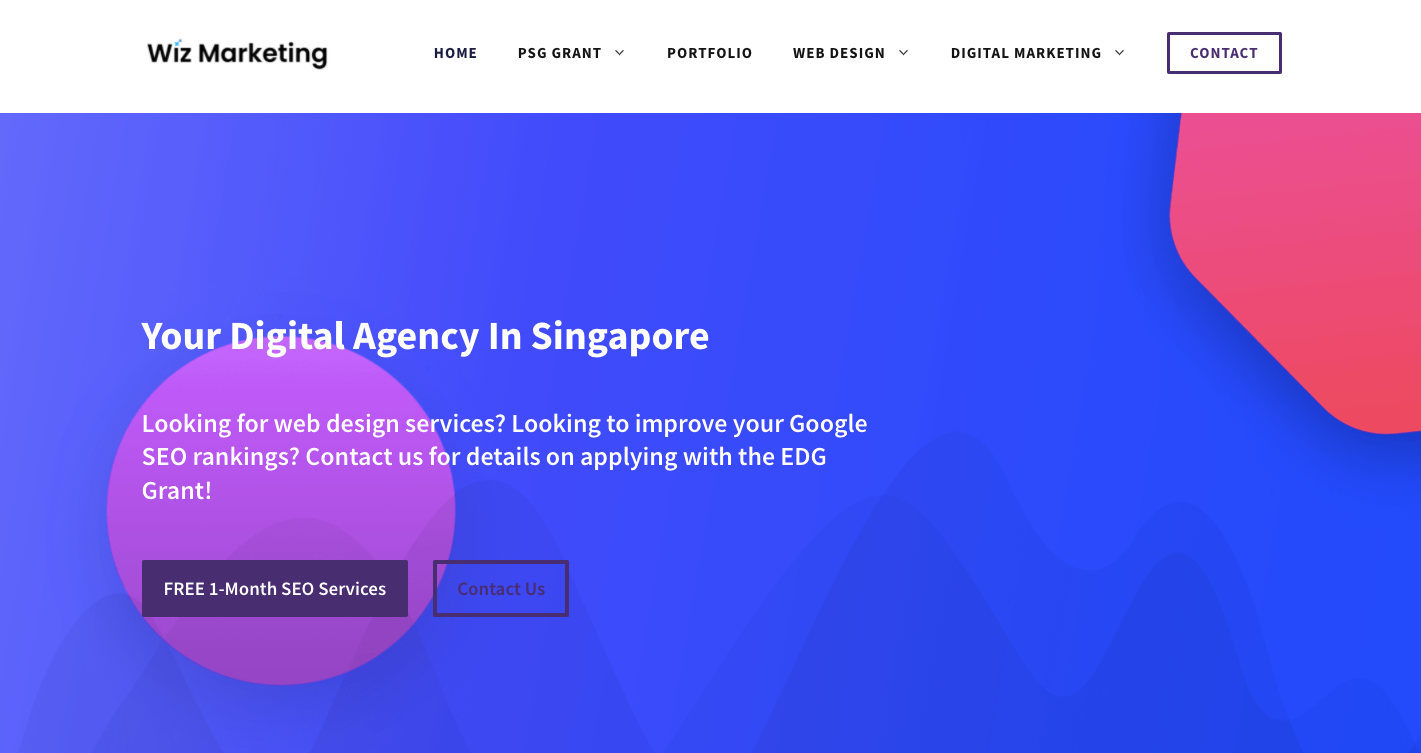 In this modern time and with the pandemic in the picture, almost everything seems to be happening online.
To strive, a lot of local businesses popped up in the past few years, may it be for retail, electronics and even in the food industry. In which of course for these businesses they needed to adjust with the lockdowns, no contact policy and safe distancing.
That is why what a better way to have your business be marketed is via the online web. To help you with that, we recommend Wiz Marketing to you.
Wiz Marketing is your One-Stop Digital Agency In Singapore that provides digital marketing and web design services wherein they specialize in SEO and web design.
Having the team of Wiz Marketing with you will give you an upper hand when launching your business without having to spend months optimizing your website and improving your SEO rankings.
They also provide PSG eCommerce web development and if you are a small business owner, you may contact them to receive your 80% subsidy.
Their assistance with you on SEM (Search Engine Marketing) and Facebook marketing can help you reach your target audience. You can reinvest your company's income into building your brand if you have the right knowledge. Furthermore, you may utilize SEM to quickly get your company's website to rank for your chosen search terms.
Highlights
SEO consultants are certified by Search Engine Academy
Professional Staff
Personalized Web Design
Customer Reviews
Here is one of the review from their clients:
Positive: Professionalism, Quality, Responsiveness, Value
"Wiz Marketing helped us with our web development. They even went out of their way to help restore our website when it was infected with malware and the FinestInCity team is incredible grateful. Thank you!" – Finest In City
59. Zensite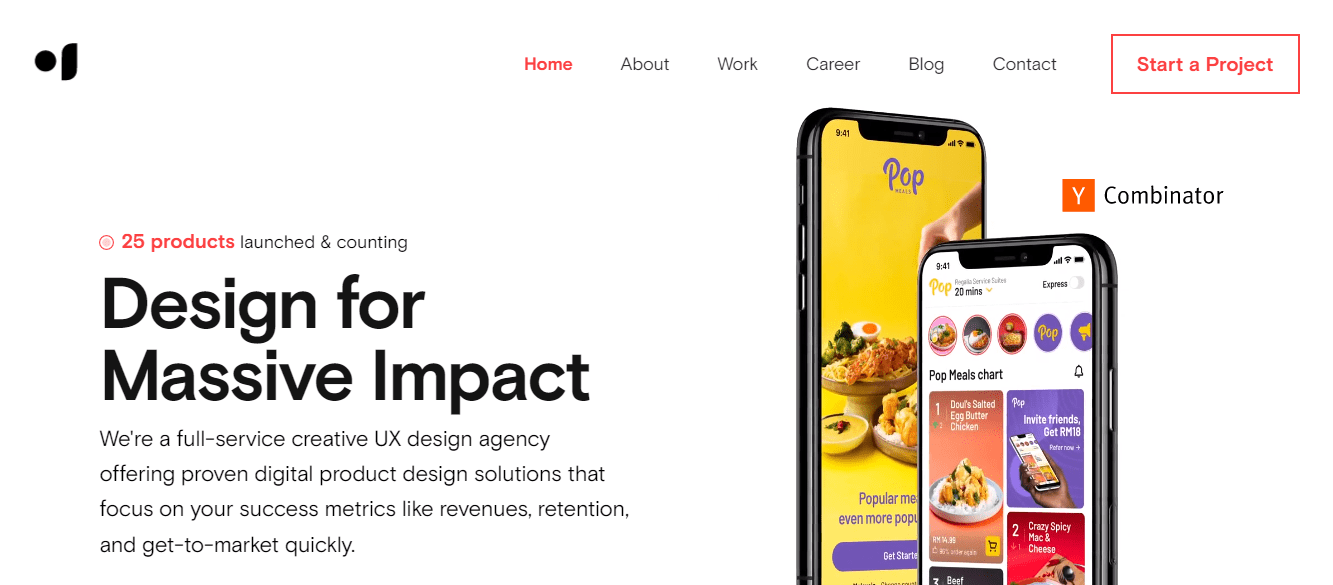 Zensite is a company established back in 2016 that has an incredible customer retention rate of 55%. Having been able to boost company revenues, their designs are geared for massive online impact for maximum potential client reach and accommodation.
Being a full-service creative agency, we find their approach and process to be exemplary since they make it to a point to properly immerse and orient themselves to each company they handle.
Along with this, their free consultation feature shows clients just what they can do to contribute in terms of strategy and creativity to help companies boost their online presence.
We also think that their team of developers and designers employs an effective communication system that ensures that clients stay up to date with the progress of their project.
Overall, garnering numerous positive comments about their thoughtful and highly smooth transactions with them, we recommend companies aiming for positive metrics that employ innovative business models in all that they do.
Highlights
Steadfast communication strategies
User-friendly websites
Highly customizable packages and designs
Customer Reviews
Here are some reviews from their clients:
"Zensite has been critical to the company's growth and completion of the project that we worked on. heir research and user experience design have been critical to the company's growth and completion of the project. The team are very conscientious and dedicated to his work. This sets a great example for the rest of the team and explains why everyone loves working with Zensite." – Sudhan HH
"Awesome team with awesome design! What I love about them is their ability to think out of the box to get best design out! 🙂 It is super easy to work with Zensite. I just give the idea and they start creating miracles. From the start to the end, they always keep me in loop and ask feedbacks which resulted to an amazing design. I am happy with the result that they have brought in. " – Sharian
---
And with that we conclude our list of the options for the best website design in Singapore. If you've worked with any of these companies before, don't hesitate to share your experience with us.
Also, if you think that we missed out on other great website designers, drop a comment or line with their names and we'll check if we can add them to our list.
By the way, if you want to give your business an even bigger boost, then you should hire the best PR agencies in Singapore. No matter your business, these agencies know how to make the public more aware of it.