The 15 Best PR Agencies in Singapore
Media communications are powerful enough to influence the opinions of the public, and can thus have a major effect on a business's reputation and success. This is the main reason many business owners are eager to find the best PR agency in Singapore.
A successful publication of PR tools such as press releases, business events, sponsorships, and more can help build a positive brand image and long-lasting impact on the audience.
For this reason, we've listed the best PR agencies in Singapore that are equipped with a well-experienced team who can take care of your business reputation for the long term.
1. Alexander PR Group by Marie Alexander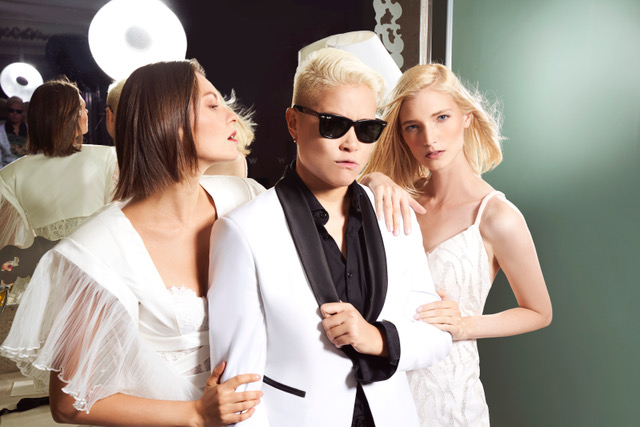 | | |
| --- | --- |
| BEST FOR  | Lifestyle & Luxury Brands – F&B, Beauty, Health, Automotive, Fashion, Interior, FMCG, Luxury |
| WEBSITE | http://www.aprgrp.com/ |
| ADDRESS | — |
| CONTACT DETAILS | (+65) 6719-5459  l [email protected] |
| OPERATING HOURS | Monday to Friday (9am to 7pm) |
Found at the heart of Orchard Road, APR Group is an easily accessible and reliable business development partner. It is currently one of the leading marketing agencies in Singapore, who has been expertly assisting numerous companies since 2004. Whether you have a large corporation or a small enterprise, they are the key to keeping your business in the limelight.
APR Group aims to boost your business in a wide range of aspects, may it be Business Branding Development, Public Relations, Digital Development, and more. With their help, you can protect and nurture the most valuable asset of your company– your brand.
They offer only the best services, tailored suitably for all of your needs. Expect your profits to soar and your client relationships to further deepen as they handle your business growth with the utmost priority. Become one of their partners today!
Highlights
Business and Brand Development
2.  Affluence PR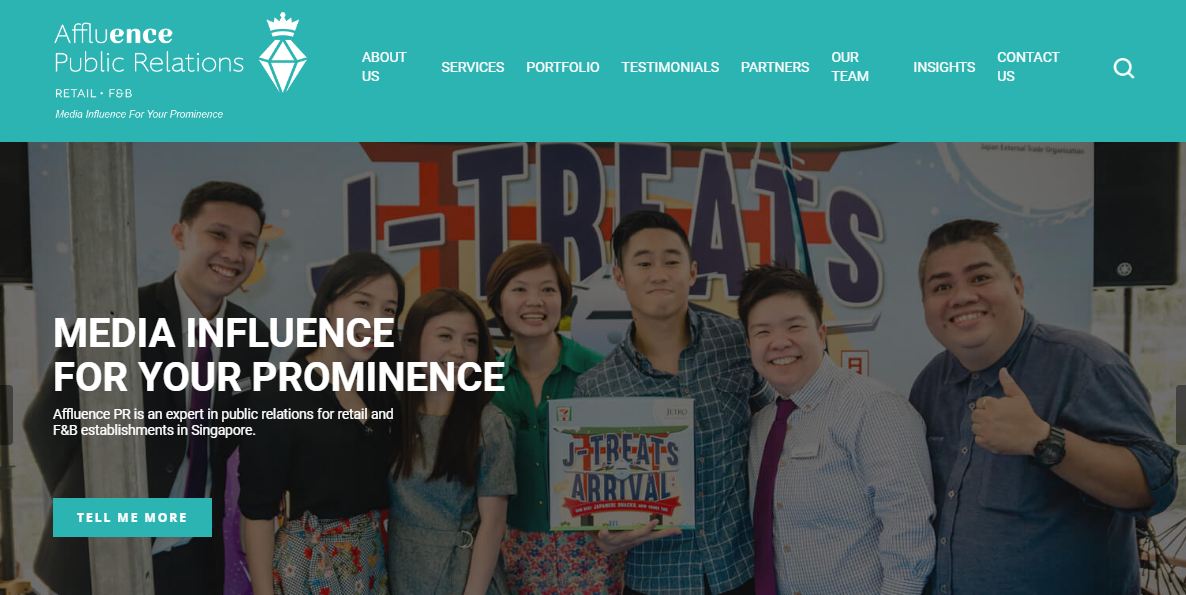 BEST FOR 
PR campaigns for retailers and restaurant owners
WEBSITE
https://affluencepr.com/
ADDRESS
20 Cecil Street #26-02 Plus Building Singapore 049705
CONTACT DETAILS
+65 3163 4653 |

[email protected]

OPERATING HOURS
Weekdays: 9am–6pm
Affluence is widely known in the public relations industry as a prominent agency that mostly caters to the leading retail establishments across Asia. They emphasize the need for PR campaigns in enhancing customer experience and maintaining long-term relationships with them.
The main reason behind their successful campaigns is their strong foundation and basic yet innovative strategies. They based their programs on the market trends, client and customer needs, and do creative networking across different industries.
They conduct press conferences, TV onsite interviews, radio station interviews, and media events. They're also partnered with several media outlets.
Highlights
Product launches and media interest event concepts
Public and media relations training
Customer Reviews
Clients shared that they've seen significant growth in their brand awareness ever since they started to work with Affluence. This is why many think them to be the best PR agency in Singapore.
A client posted this feedback:
"The Affluence PR team is full of ideas that help us reach out to a wider segment of consumers. As we run a lean team in RISIS, the good help we have from the extra arms and legs at Affluence PR are a welcome relief and we can do more for the brand, and more for our consumers."
3.  Edelman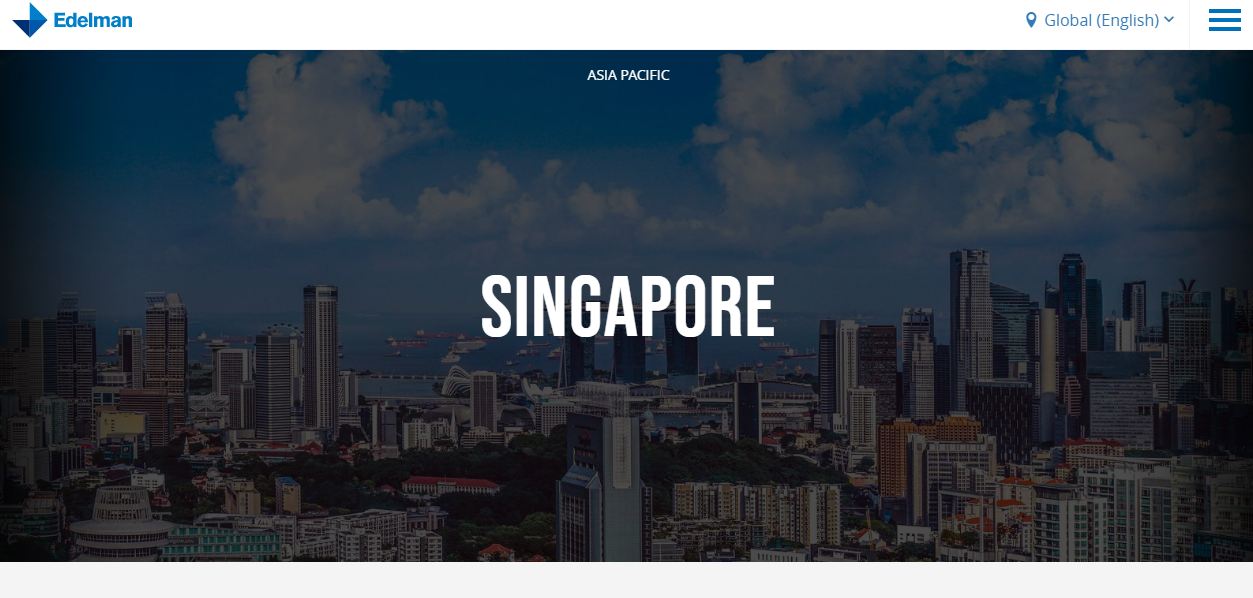 Edelman has established several global networks across Asia, Europe, the Middle East, and America. They're partnered with the biggest organizations to promote and maintain the brand reputation of their clients.
They've developed exceptional strategies and concepts that left a strong impact on the target audience and delivered promotions that can spread as fast as lightning.
They also have a group of talented people with expertise in areas such as brand journalism, multicultural engagement, public affairs, media relations, and more.
Highlights
Team of former journalists
Partnerships with the largest media outlets
4.  Brand Incorporated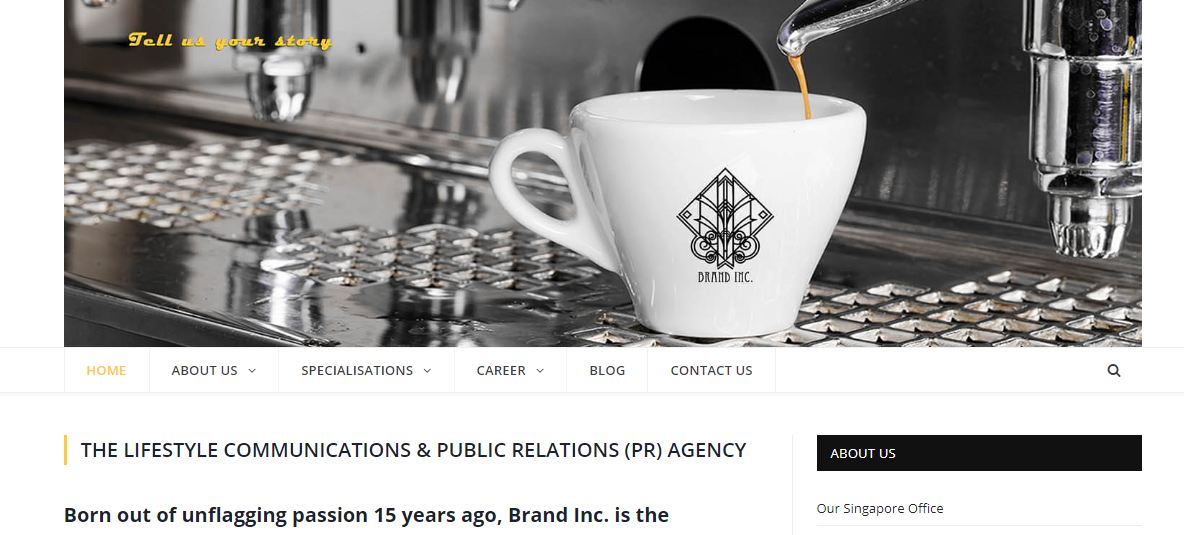 | | |
| --- | --- |
| BEST FOR  | Consumer lifestyle public relations |
| WEBSITE | https://www.brand-incorporated.com/ |
| ADDRESS | 71 Lor 23 Geylang Singapore 388368 |
| CONTACT DETAILS | +65 9773 5364 |
| OPERATING HOURS | Weekdays: 9:30am–6:30pm |
Brand Incorporated is famous for its unique campaigns. Their specialities mostly lie in certain industries including hospitality, tourism, and healthcare.
Their team consists of smart trendsetters who create PR campaigns with a clear vision of raising their clients above competitors.
Throughout a decade of service, they've established offices in Singapore and Malaysia — which is why they've become known to be the best PR agency in Singapore.
Highlights
Event public relations
Fashion public relations
5. Blue Totem Communications

Public relations is essential regardless of the industry you're in. Those who are not as adept and wish to have professionals handle promotions need not look further than Blue Totem Communications.
Blue Totem Communications is an agency that seeks to bridge traditional public relations with digital marketing. They provide no-nonsense advice and personalised services, both of which are crafted after extensive consultations with their clients.
They've worked with some of the biggest names in the world, such as The Singapore-MIT Alliance for Research and Technology (SMART), MIT's research enterprise in Singapore, Yahoo, and 7-Eleven.
Their team comprises professionals in the field of communications and marketing, allowing Blue Totem Communications to deliver integrated, inventive, and inspired campaigns that draw the public into their clients.
The agency itself is often booked and busy, but they welcome inquiries and new clients.
Highlights
Corporate communications
Strategic consultancy
Digital marketing
Media campaign management
Influencer management
6.  Elliot Communications
If you're searching for the best PR agency in Singapore that can manage effective and responsive promotional campaigns for startups and small businesses, Elliot Communications is the right place for you!
They firmly believe that a key tool to entrepreneurial success is a strategic way of telling the genuine story behind the brand. With their long-term relations with the media, they can help you build a strong brand presence and credibility.
Highlights
PR and marketing services at competitive prices
Wide connections to various media partners
7. Absolute PR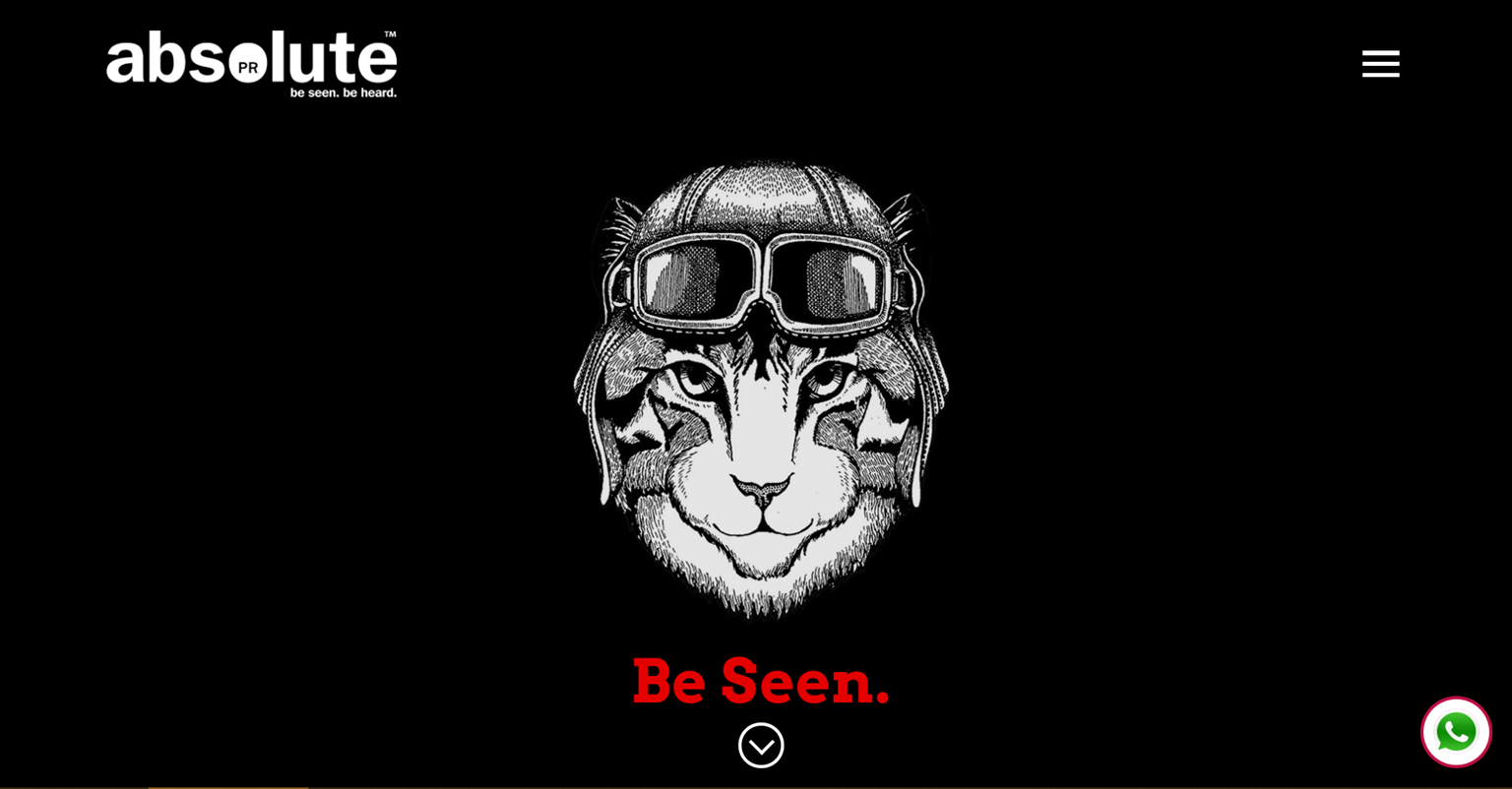 Established in 2005, absolute PR is an award-winning lifestyle PR agency with the purpose of enabling brands to be seen and be heard with its target audiences. They not only have major clients in Singapore, but also various clients around the world.
What makes them a trusted agency is their experience– absolute PR has clients in various industries, such as the FMCGs lifestyle group in aesthetics, beauty, fashion, F&B, lifestyle and wellness, and even prestigious institutions and luxury goods sectors. You name it, they're sure to have dabbled in it.
Their experience and expertise are unparalleled, something you'll need if you want a great brand identity and connections with the right media. To top it off, their great quality services are value for money with guaranteed deliverables.
Highlights
Great Communications Strategy
Mix of Traditional and Modern Marketing
Social Media with Influencers Management
Customer Reviews
Read what their clients had to say about absolute PR's amazing services:
"absolute PR was the first PR agency which THEFACESHOP had engaged to raise the profile of the company and products. absolute PR helped to seed out the suitable long/short media leads and lifted the profile for THEFACESHOP within a short period of time. They were very proactive in suggesting ideas and providing solutions, tailored specifically to meet our requirements. It has been a great experience working with the absolute PR team!"
"With SLOGGI undergoing a brand transformation and working towards our first global launch, we were in search of an experienced PR partner who could meet our short term needs to re-enter the market and secure top-of-mind recall when it came to the media. absolute PR was a delight to work with across both the Singapore and Malaysia markets. They were not only creative, accommodating and timely in their work but also had a great understanding of the retail scene across both markets. Kudos to the team!"
8. Litmus PR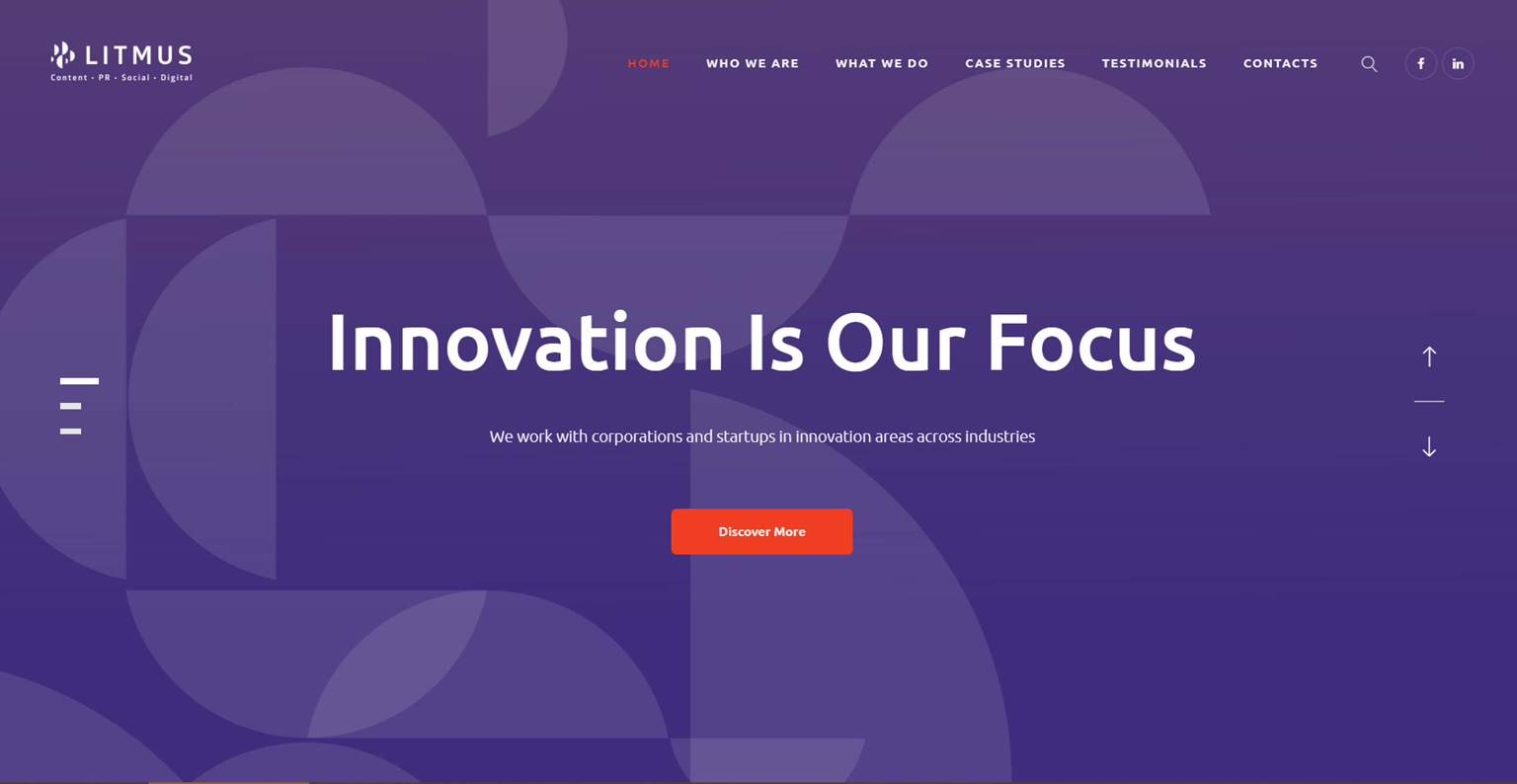 | | |
| --- | --- |
| BEST FOR  | Content. PR. Social. Digital. services for corporate, technology sectors. |
| WEBSITE | https://litmuspr.com.sg/ |
| ADDRESS | 5, Shenton Way, #10-01, UIC Building, Singapore 068808 |
| CONTACT DETAILS | [email protected] |
| OPERATING HOURS | Weekdays: 9am-6pm |
LITMUS is a public relations and communications firm based in Singapore, with the Content, PR, Social and Digital services and solutions to drive business success.
LITMUS works with established corporations and innovation-driven start-ups/growth firms across a variety of technology areas, including AI/ML, analytics, cloud, data, finance/fintech, payments, platforms, robotics, security, telco, and others.
They develop outcome-driven campaigns, providing communications strategy, content marketing, thought leadership, public relations, media management, social media, digital and design solutions.
Over the past 10 years, they have delivered campaigns at the national, regional, and global levels, helping them become one of the best agencies in Singapore.
Highlights
Content, PR, Social and Digital services
Innovation expertise
Strong APAC reach
9. The Hoffman Agency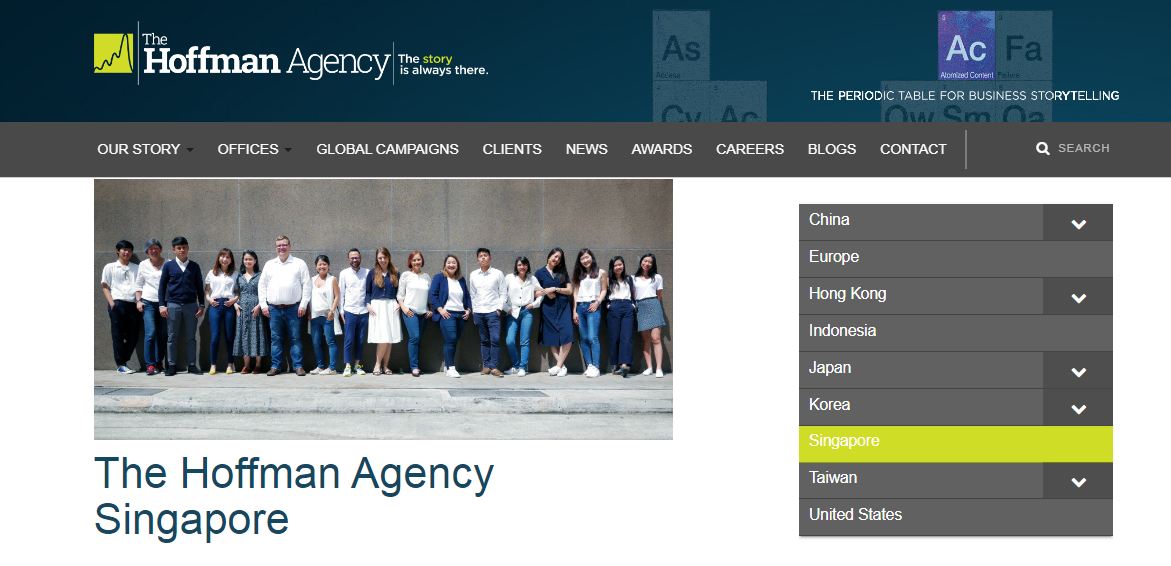 | | |
| --- | --- |
| BEST FOR  | Interactive PR campaigns |
| WEBSITE | https://www.hoffman.com/singapore-pr-agency/ |
| ADDRESS | 331 North Bridge Road #05-04/05 Odeon Towers Singapore 188720 |
| CONTACT DETAILS | +65 6721-9961 |
| OPERATING HOURS | Weekdays: 9am–6pm |
The Hoffman Agency has been publishing global campaigns over the past few decades. They gather all types of media platforms and carry out PR campaigns regularly, delivering progressive results.
To execute ideal promotions for their clients, they're equipped with professionals with a background in communication specialities. These campaigns are conveyed through the most suitable channels and at the right time.
They've covered a diverse array of organizations, from startups to public sector giants — proving that they're indeed one of the best PR agencies in Singapore.
Highlights
Regular publications of PR campaigns
Global network
10. DIFY Singapore

DIFY Singapore is a team of individuals with a vision of making solutions that help their clients to the fullest. They believe that communication is important for successful marketing, which is they prioritise talking with their clients before continuing towards the planning process.
They can cover all your marketing needs, as they're well-versed in many areas– from Blockchain PR to general social media management, and more. One of their goals for their clients is to make long-lasting connections for brands worldwide– supported by their dedicated and reliable customer service. They believe that every client is important, deserving of utmost priority and undivided attention.
Highlights
Digital Solutions
Public Relations
Events & Activations
Industries We Service
Some Proof of Work
11. Prospr Communications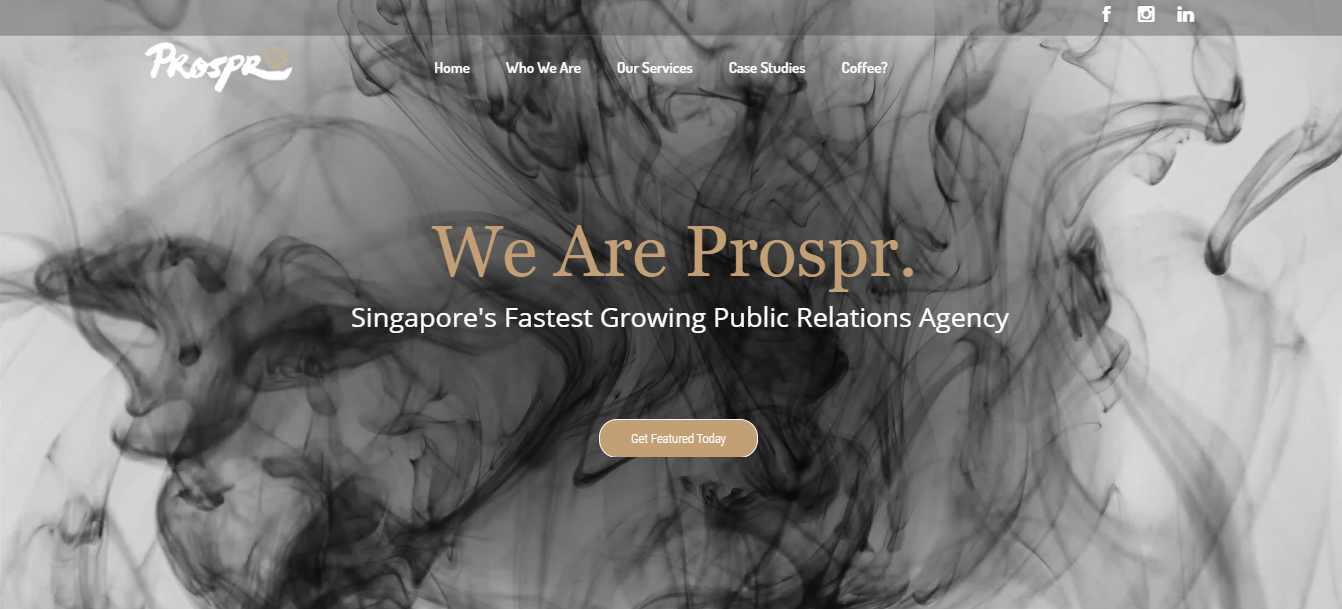 With over two decades of experience in PR, branding, and communications management, Prospr Communications has mastered the rules of the PR world.
Prospr Communications possesses innovation and integrity, which explains their success in this field. They never take the easy way out, but instead continue to deliver and exceed the client's expectations.
They offer a way for their clients to stand out to the public and reach your brand's maximum exposure. Best of all, Prospr Communications is an outcome-based startup firm and focuses on what you actually need– which means there will be no overcharging or hidden costs.
Highlights
No Paid Advertising
Pay Only For Outcomes
Elevates Brand Authority
Exceptional Client Experience
12. Wachsman

| | |
| --- | --- |
| BEST FOR  | Public Relations |
| WEBSITE | https://wachsman.com/ |
| ADDRESS |  99 Wall Street, Suite 2750, New York, NY, 10005, United States of America |
| CONTACT DETAILS |  +1 (212) 835-2511 / +353 (01) 511 12431 / +65 8733-5070 | [email protected] |
It was common in the industry to see a lot of starting companies crumble down. This was because of a lot of reasons– but most of all, it was because of lack of experiences and guidance. This is what Wachsman wants to help you avoid.
Wachsman's aim is to guide and lead tech companies and transform brands. They counsel and support the most fascinating companies and boldest ideas around the world.
They help companies by providing world-class communications and strategies that will help their clients move forward in the industry. If you avail of their services, they will serve as your trusted partners and strategic advisors.
Highlights
Media Relations
Strategic Counsel
Crisis Communications
Experiential Marketing
Customer Reviews
Here is a review left by a very satisfied client:
"Wachsman shines with an amazing team in two locations, extraordinary expertise in the Blockchain industry and widespread connections with the most important blockchain, fintech, and mainstream media. Since day one Wachsman has felt a part of Lisk HQ. The great efforts of David, Emma and the rest of the team have made a big difference in our PR and communications from the very beginning. The Lisk Foundation is extremely happy to be able to work together with Wachsman and we are looking ahead to a bright future for Lisk with this collaboration." – Max Kordek
13. Touch PR & Events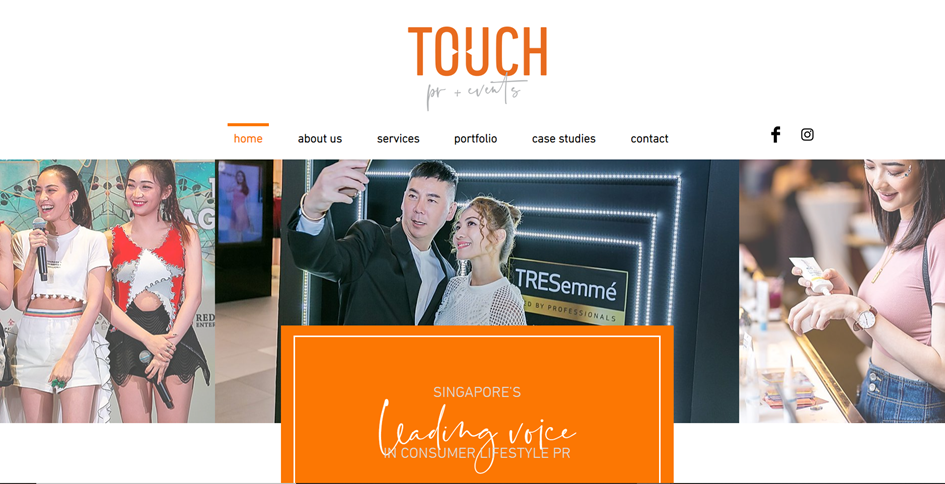 | | |
| --- | --- |
| BEST FOR | wide range of pr services |
| WEBSITE | https://www.touchpr.asia/ |
| ADDRESS | 380 Jalan Besar, #10-04/05, Singapore 209000 |
| CONTACT DETAILS | Tel: +65 6295 2077 |
Touch PR & Events brings a new view in media relations, offering a better strategy for influencers and brands to create their very own unique platforms. Authenticity is what they aim for, and they surely deliver.
Experts in various fields make up the team at Touch PR & Events. So, you can rest easy that regardless of your specialisation, Touch PR & Events will know what to do and how to help you.
Touch PR & Events has various services for you to choose from like Strategic Counsel, Event Management, Media Event Management, Social Media Content Creation, Media Pitching & Relations, Creative Press Kit Conceptualisation and Production, Crisis Communication, Influencer & KOL Relations, Brand & Product Launches, and Media Training.
So if ever you require assistance for media coverage and relations, make sure to contact them.
Highlights
Highly skilled team
Large area of expertise
Media Event Management
Crisis Communication
Media Training
14. KinetiqBuzz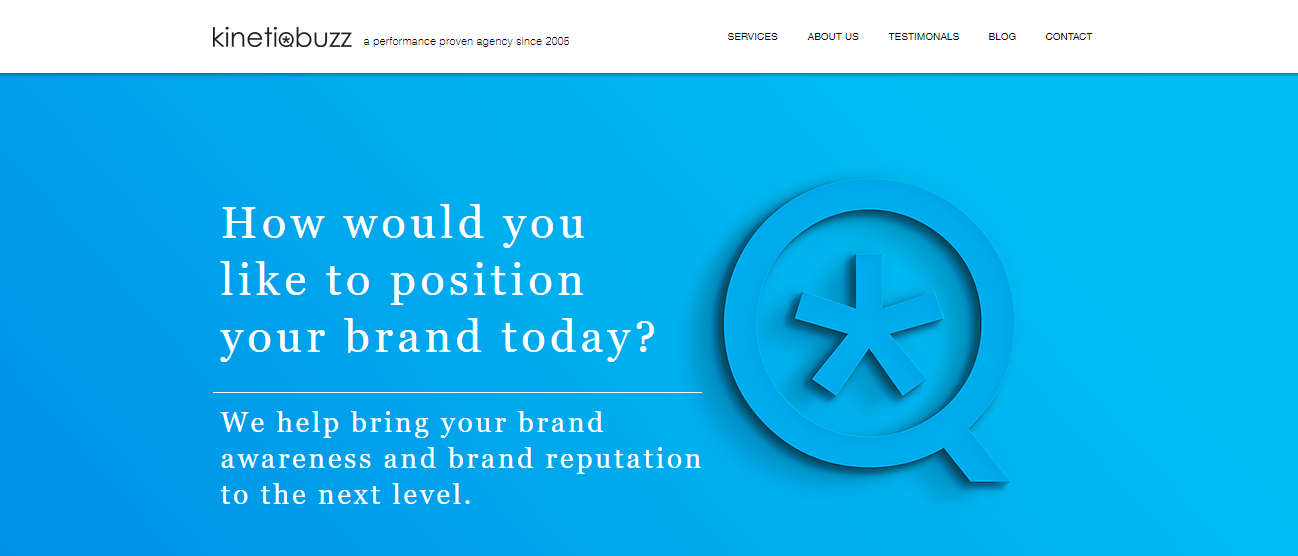 KinetiqBuzz is a public relations firm made up of talented individuals in the fields of PR and content creation, specifically, copywriting and design. Collectively, they also have 50 years worth of experience in brand and design, as well as knowledge regarding numerous industries.
Considering the diversity of skills, expertise, and experience in the KinetiqBuzz team, it only makes sense that they're up to the task when it comes to redefining and boosting the visibility of their clients' brands. Every project they take on is carefully crafted to suit the client's needs in terms of budget and promotion.
It's also worth noting that KinetiqBuzz works with small and big clients alike, endeavouring to provide clients with the best, most cost-effective solutions possible with no discrimination.
Highlights
Innovative, modern campaigns
Personalised services
Comprehensive branding and public relations services
Customer Reviews
KinetiqBuzz has received countless praise for the work they have done in public relations. One client wrote:
"PR is not new to me. I have always known how important it can be for businesses at different phases of its development. In the past, I have advised companies on engaging PR consultants. Working with Dean on our 4-year anniversary symposium brought back memories of those occasions we talked to about PR agencies. The huge difference now is the relevance and authenticity Dean brought to the table.
I did not feel the dizzying "spin" that many PR campaigns are generally known for. He was precise in the questions he posed to me at the start and during the campaign leading up to the TV, radio and newspaper exposure I received as a result of his strategic consulting. He also repositioned us in a more impactful manner. I have already started recommending Dean's services to several business owners, and I am confident those who make that decision to engage him will benefit from the experience."
Another one commented:
"I have worked with KinetiqBuzz since 2010. Throughout these years of partnership, KinetiqBuzz has always been maintaining its timeliness in delivery of service. The professionalism and enthusiatic attitude demonstrated by KinetiqBuzz team are reasons why I have enjoyed working with them. I would recommend KinetiqBuzz service to businesses that look for timely and responsible PR vendor."
15. Grow Public Relations
SERVICES 

Brand Reputation & Alignment

PR Strategy & Media Relations

Content Planning & Development

WEBSITE

growpublicrelations.com

ADDRESS
140 Paya Lebar Rd, #03-08 [email protected] Lebar, Singapore 409015
CONTACT DETAILS

Contact their website

+65 9328 0107

OPERATING HOURS

Monday – Friday, 9:00 AM – 6 PM
Grow Public Relations is a PR agency that specializes in helping start-ups and SMEs build their brands and punch above their weight. They take a results-driven approach and are focused on enabling their clients to become the go-to brand in their industry. The agency is lean, agile, and proactive, with a proven track record of success in various industries, including skincare, construction, and fintech.
One of the agency's strengths is their proactive and agile team. They don't just wait for stories to happen; they actively chase and follow up until stories happen. Their results-oriented approach means they take their clients' results personally and focus on making an impact through powerful stories.
Grow PR helps solve challenges that start-ups and SMEs often face, such as a lack of awareness about their industry, the need to differentiate their brand from competitors, and fast-tracking brand credibility among key stakeholders. The agency has worked with brands like Softbank Robotics and Shopback, and they bring their experience and expertise to each client they work with.
Highlight
Results-driven approach for start-ups & SMEs.

Proactive & agile team that chases stories.

Solves industry awareness and brand differentiation challenges.
Customer Reviews
Most effective PR firm in Singapore
"Christel and team are the best, most effective PR firm in Singapore we have worked with. Their warm and sincere approach is always a breath of fresh air too." – Aaron De Roza
Very useful insights that is highly practical
"She gave very useful insights that is highly practical and can benefit particularly business owners. If you are looking for someone to take care of your PR and media listing, grow public relations is the place to go. "  – Borwen Neo
And that's a wrap for our list of the best PR agencies in Singapore! Have you already found the right team for your ideal campaign? If you have, share with us your thoughts and tell us what you liked about their services.
However, if you want to explore more options, take a look at our list of the best advertising agencies in Singapore! They also consist of experts who adapt to the constant changes in market trends and consumers' needs to boost your brand.