29 Best Tailors in Singapore for the Perfect Suit (2021)
It's rare to find a well-crafted suit that will match your body perfectly. That's why many of the people we know end up looking for the best tailors in Singapore, just so they can get a bespoke suit for their needs.
If you're doing the same thing, you're in luck. Today, we've decided to list our best tailors in Singapore when it comes to fitting and creating classy formal and business outfits.
Regardless of your preferences, these tailors in Singapore can guide you to the ideal cut and fit for your body. Let's take a look at them now, so you can start mulling over your options for the best suit tailor in Singapore:
1. Edit Suits Co.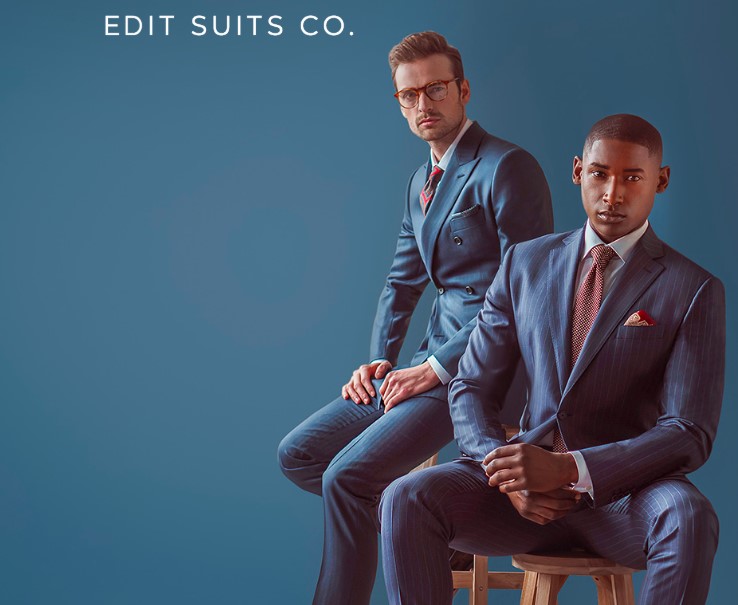 If youre after a bespoke tailor in Singapore that specialises in modern cuts and styles, Edit Suits should be on your list.
Edit Suits offers impeccably fitting made-to-measure suits with a modern cut and high-quality European fabrics (e.g., Dormeuil, Holland & Sherry, Vitale Barberis Canonico, and Ermenegildo Zegna) at ready-to-wear prices. As one of the tailors in Singapore that creates made-to-measure suits, they also offer a fit guarantee to ensure that you're satisfied and you won't risk anything when you order from them.
Service Highlights
Wedding suits for men
Convenient online (re-)orders
Perfect fit
Customer Reviews
Customers praised Edit Suits Co. products and stated that you will surely be in good hands with them. Callum Williams left this wonderful feedback on Google Reviews:
"I've had a few made to measure suits and the one's I have received from Edit are by far the best! I received my suit in around 3 weeks of ordering and it was an excellent fit (a lot better than ones I have had made elsewhere that were significantly more expensive). The friendly service was outstanding throughout the process and the quality of the product was exceptional. I would highly recommend to anyone out there looking for a great suit."
2. Picadilly Custom Tailors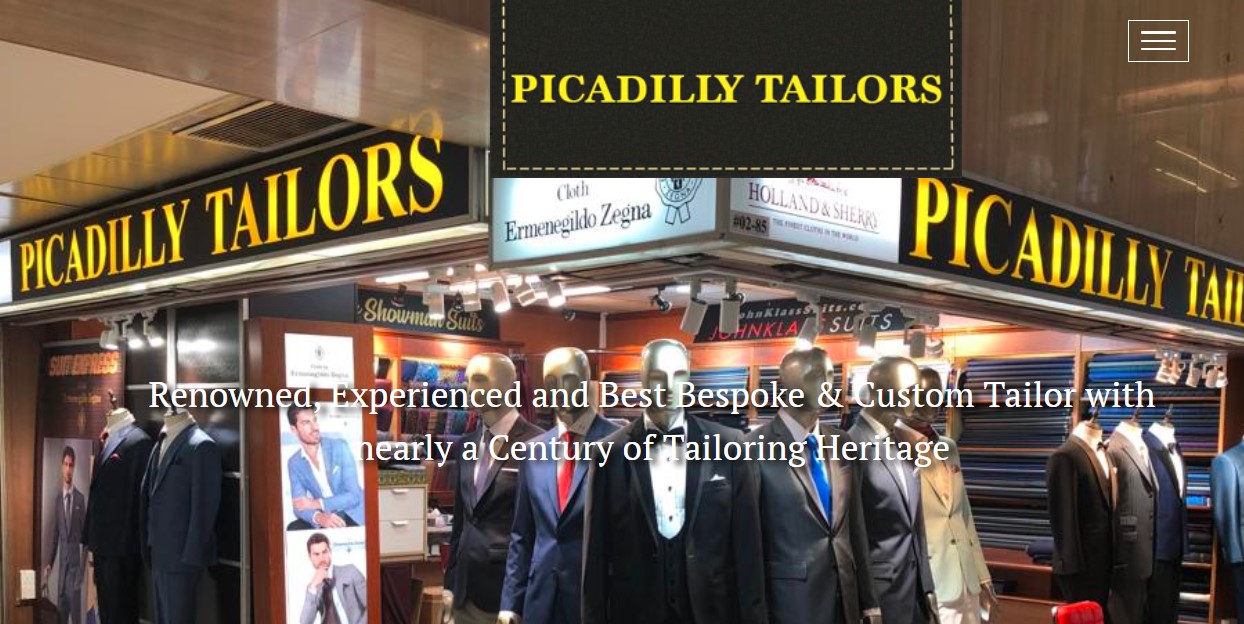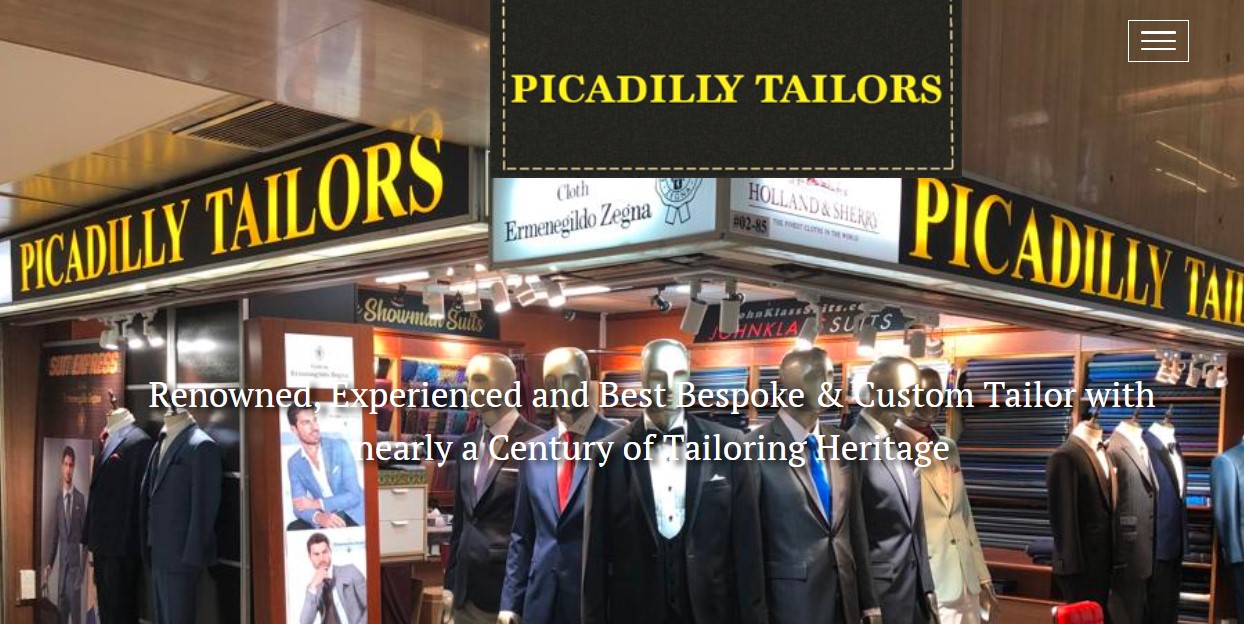 BEST FOR

Suits, shirts, and tuxedos

PRICING
100% bespoke (tailor made) suits available at SGD$259 upwards.
100% bespoke (tailor made) shirts available at SGD$59 upwards.
100% bespoke (tailor made) shirts available at SGD$59 upwards.
WEBSITE
https://www.singaporesuits.com/
ADDRESS
14 SCOTTS ROAD, FAR EAST PLAZA #02-85
CONTACT DETAILS
TEL: 6734 9990 EMAIL: [email protected]
OPERATING HOURS
Contact for more information
Picadilly Custom Tailors has a dedicated team of fashion consultants who are experts in recommending the perfect suit for the ultimate occasion. They can help personalise your outfit, whether it's a business suit, a wedding suit, a prom suit or a party suit.
Picadilly is the perfect option if youre looking for a tailor in Singapore for all occassions.
Service Highlights
Shirt, suit, and tuxedo tailoring
Customer Reviews
"Great suits – high quality fabric and detailed fittings at affordable prices. If you want a good suit skip the young startup tailors with what you feel are low prices and go directly to the best in the biz. Amazing advice and guidance to give you the best look that you deserve." – Anirudh Ayyala
3. Roy's Master Tailoring

BEST FOR
Mobile Tailor Services
SERVICES
Contact for more information
WEBSITE
http://roysabnani.com/
ADDRESS

211 Holland Avenue

#03-21 Holland Road Shopping Center

CONTACT DETAILS

Call Us: +65 9677 6140

OPERATING HOURS

Monday – Friday: 9:30 am – 7:00 pm

Saturday: 9:30 am – 6:00 pm

Sunday & Holidays: 10:00 am – 2:00 pm
Roy's Master Tailoring has been in the business for over two decades, having been founded in 1994. Since the time of its open until now, the shop has been known for its exquisite tailor work, crafting over 30, 000 formal wear — from suits to dresses to shirts and pants.
Aside from the impeccable tailoring, Roy's Master Tailoring is also known for the convenience it brings to customers. It offers mobile tailoring services, so clients won't need to stop by to get a tailored fit. For those who do have time to visit the shop, Roy's Master Tailoring is open seven days a week. 
Because of their flexibility and mobility, they are considered to be the best tailor in Singapore for those with a busy / hectic lifestyle.
Service Highlights
Open seven days a week
Uses quality fabrics and materials
Excellent customer service
Customer Reviews
Here are some verified feedback from previous clients:
"Roy is the absolute best!!!!! I only buy suits from Roy, now, and his fabric and fashion recommendations are far better than my requests. In fact, he just delivered custom-made shorts in a kakhi fabric and classic style i can't get ANYWHERE else. I bought from Marks & Spencer, wore twice, and gave away. Roy's shorts I just replaced (by him), since the ones I got 14 years ago totally wore out. I calculated that his shorts cost me about $7/year. Suits, shorts, business shirts, dresses, formal gowns – EVERYTHING I get from him is the best, and the best value. Thank you, Roy!" – From Google Reviews
"Roy was recommended to me by a friend and my experience with him was exemplary in every respect! I purchased two suits, three shirts, two pairs of pants, and three ties from Roy. I am completely satisfied with all of these purchases. Roy is mobile so I didn't have to leave home for the measurements and fittings, and Roy delivered the final products within days. The prices were also extremely reasonable. I cant possibly recommend Roy more highly." –From Google Reviews

4. Perfect Attire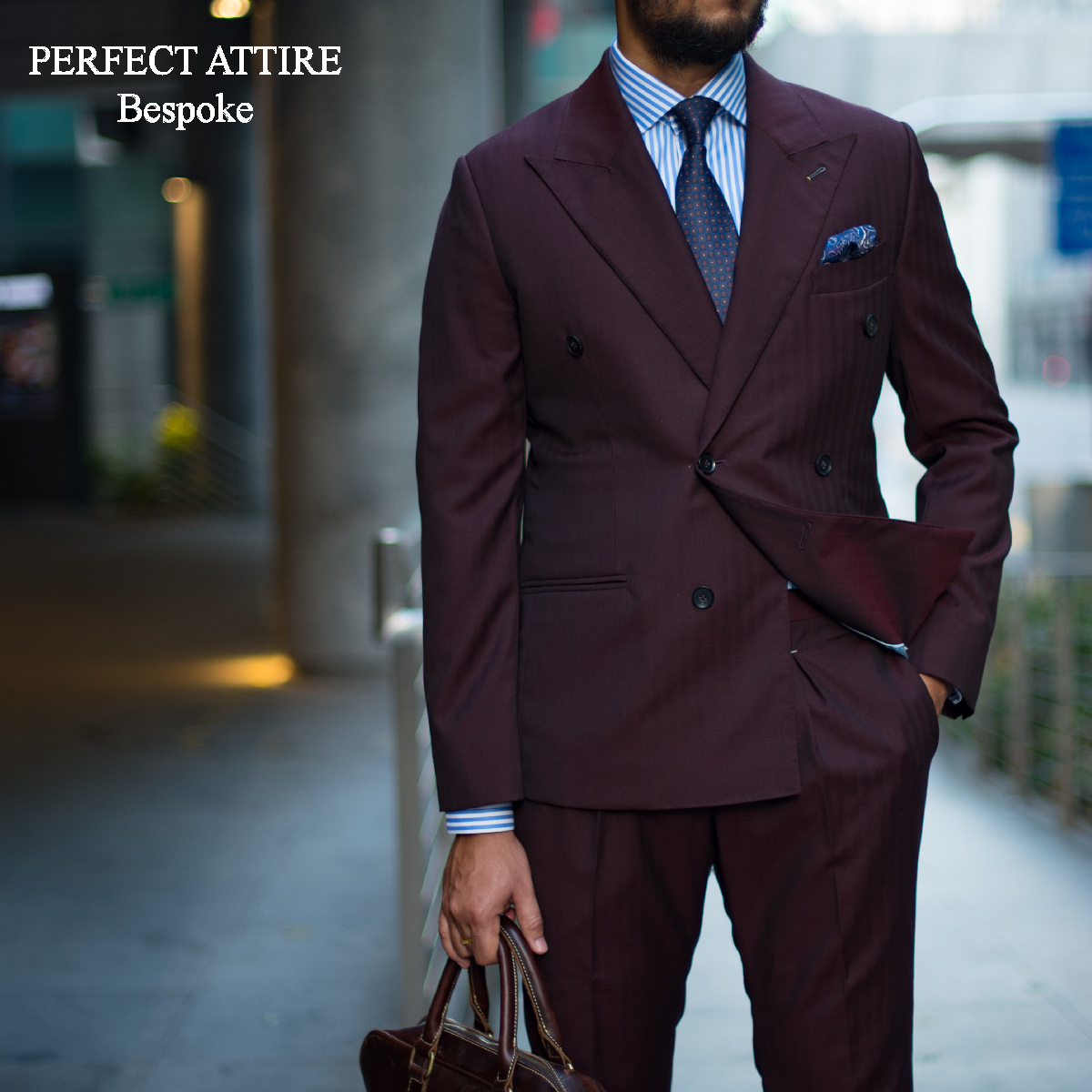 BEST FOR 
Bespoke Tailor Made Shirt and Business Shirts with 100% Fit Guarantee
SERVICES
Contact for more information
WEBSITE
https://www.perfectattire.com/
ADDRESS
Oxley Tower, Unit 03-38, 138 Robinson Road,
Central Business District, Singapore – 068906
CONTACT DETAILS
+65 98187062 | [email protected]
OPERATING HOURS
Contact for more information
If you're after affordable suits in Singapore for your workplace, Perfect Attire is a good match for you.
Perfect Attire specialises in handcrafted bespoke suits, custom shirts and tailored pants at accessible prices. Founded by Tulsi Kamath and Shriram Iyer, who both share a passion for tailored clothing, the store prides itself for giving its customers the full bespoke experience with two fittings: muslin and basted. Each jacket is fully canvassed and pad-stitched by hand in their own production unit, ensuring quality and consistency.
They are probably the only tailors in Singapore to provide bespoke suits using branded fabrics such as VBC & Drago under the SGD1000 mark.
For our readers Perfect Attire is happy to provide a complimentary pocket square and a Milanese Buttonhole on every premium suit commissioned. An absolute offer for those need a men's tailor in Singapore for everyday workwear!
They are exclusive partners of the Italian shirting fabric mill "Andreazza & Castelli" and their bespoke shirts start from SGD 100.
Customer Reviews
5-star Google review from Perry Chen:
"5/5 Great tailoring for suits, shirts and even casual wear (for both men and women) which makes you look good. Tulsi offers expert advice on color, pattern and style, and suggestions on how to match them well. She is not pushy and will do alterations on the final product until you are satisfied with the fit. I am a repeat customer (wedding, work and casual wear)."
5. CYC Made to Measure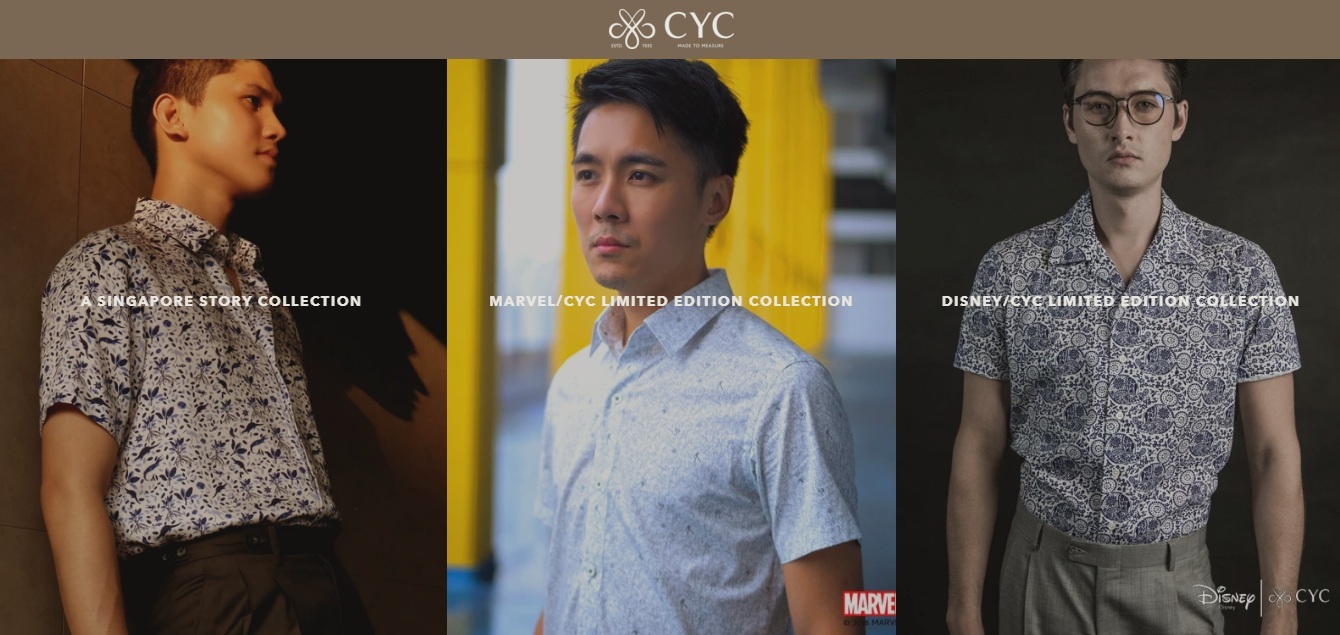 BEST FOR

Printed shirts and essential blazers

PRICING

Rates

WEBSITE
http://cyctailor.com/
ADDRESS

13 Stamford Rd, #01-12/13/14 Capitol Piazza, Singapore 178905

 

1 Fullerton Square, #01-06, Singapore 049178

994 Bendemeer Road, #04-05/06/07

Singapore 339943

CONTACT DETAILS

+65 6336 3556

 

+65 6538 0522

+65 6298 2001

OPERATING HOURS

At Capitol Piazza: Monday to Sunday, 11:00am-8:30pm

 

At The Fullerton Hotel: Monday to Friday, 10am-7pm; Saturday, 10:30am-5pm

At 994 Bendemeer Road: 9AM – 5.30PM
If you need a tailor made shirt for any occasion, CYC Made to Measure should be a must-visit in Singapore.
Since 1935, CYC Made to Measure has been one of the best and  most popular tailors in Singapore. The shop offers a series of outfit collection for everyday fashion and special, more formal occasions.
There are plenty of other brands who create tailored shirts in Singapore , but because of their years and decades of experience, CYC is considered by many to be a very trusted Singapore tailor.
Aside from showcasing their own brand, CYC also collaborates with some companies to make their products more sophisticated and unique. Currently, they feature their Disney Mickey inspired shirts and blouses that are highly fashionable.
The best catch is here they offer these items at a very affordable prices. So, there really is nothing to stop you from purchasing your next favorite shirt from CYC Made To Measure.
Service Highlights
Expert and professional team of tailors and designers

Affordable collection of garments

Accommodates overseas deliveries
Customer Reviews
The shop is praised for their wonderful collection of beautifully designed shirts and blouses, as well as the high quality fabric that they use. Many also rave about the affordable rates so it's definitely good news if you are on the hunt for cheap tailor in Singapore. 
Here's a comment left by Andrew Lim on Google Reviews:
"Shirts are amazing! I am extremely particular about cutting and they've got it on point. Quality of material is excellent as well. Definitely worth every dollar spent. Last but not least, the service is remarkable (: Will definitely come back!"
6. Assemble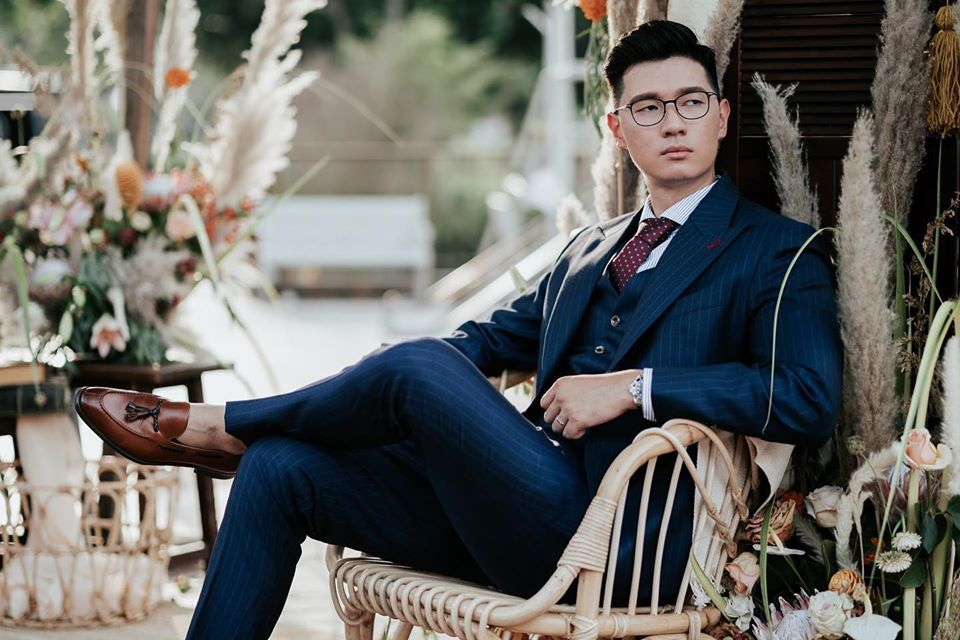 Assemble is a bespoke Singapore tailor that can provide you with concepts by a professional design team. They have a variety of stocked fabrics to choose from and after you have decided which one to use, they will take your measures precisely to ensure that all suits will fit.
Their online shop can be considered a one-stop solution, for they have a broad scope of products including casual wear, pomade, sportswear, leather accessories, and more. 
Service Highlights
In-house and customisable linings
Groomsmen package
Exclusive referral program
Customer Reviews
Regardless of the event and celebration (or even workout), Assemble offers everything you've been looking for. From the casual up to the fanciest gathering, clients say you can rely on their tailoring services.
Stephen Lee praised the craftsmanship of the team and wrote this on Google Reviews:
 "Top-notch Service and great craftsmanship from these lads. Although made to measure, they will deliver bespoke services and go way beyond their pay package to help me with my meddlesome needs. Initially pensive, they opted to let me try just a couple of shirts and pants, which fits me to the T and I recently decided to make a Suit with them. Highly recommended!"
7. Ehkay Corner Tailors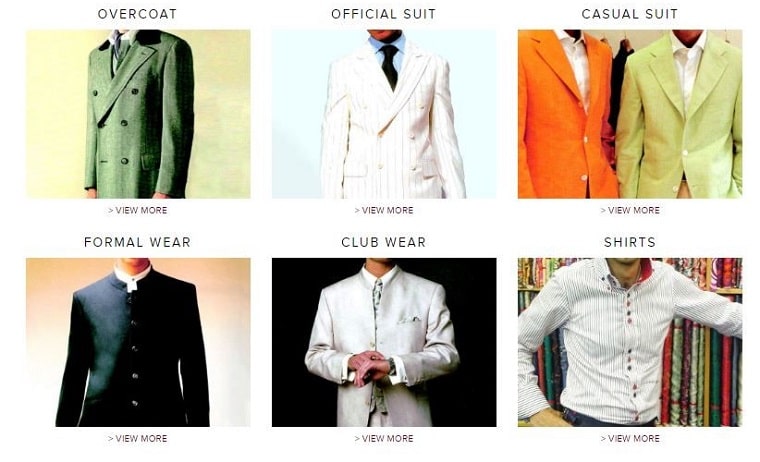 Ehkay Corner Tailors is a globally acclaimed brand due to its  international clients. Despite the rise of modern styles, they still manage to maintain many traditional tailoring designs and methods while also incorporating some new patterns.
Each suit is designed to make you comfortable, feel fit, and look sophisticated… even on a budget. Some will surely compare your overall look with the most famous brands if you go with this tailor.
Their products include overcoats, official suits, casual suits, formal wear, clubwear, and shirts. In case you can't visit the physical store, it's also convenient to contact your tailor in Singapore online or contact them personally and they'll go to your place to plan your customisation.
Service Highlights
Extensive catalogue of fabric swatches and designs
Worldwide mail orders
Free pickup and delivery
Customer Reviews
Customers gave their compliments on the brilliant tailoring, fabrics, competitive pricing, and excellent customisation of Ehkay Corner Tailors.
Ty Logan recommended their services and wrote this on the company's official website:
"The tailored suit and shirts arrived about a month ago and all fit perfectly. I've had a lot of compliments on the tailored suit, especially from younger folks like my daughters. Thank you again for your quality tailoring."
8. Maharaja's Gents & Ladies Custom Tailors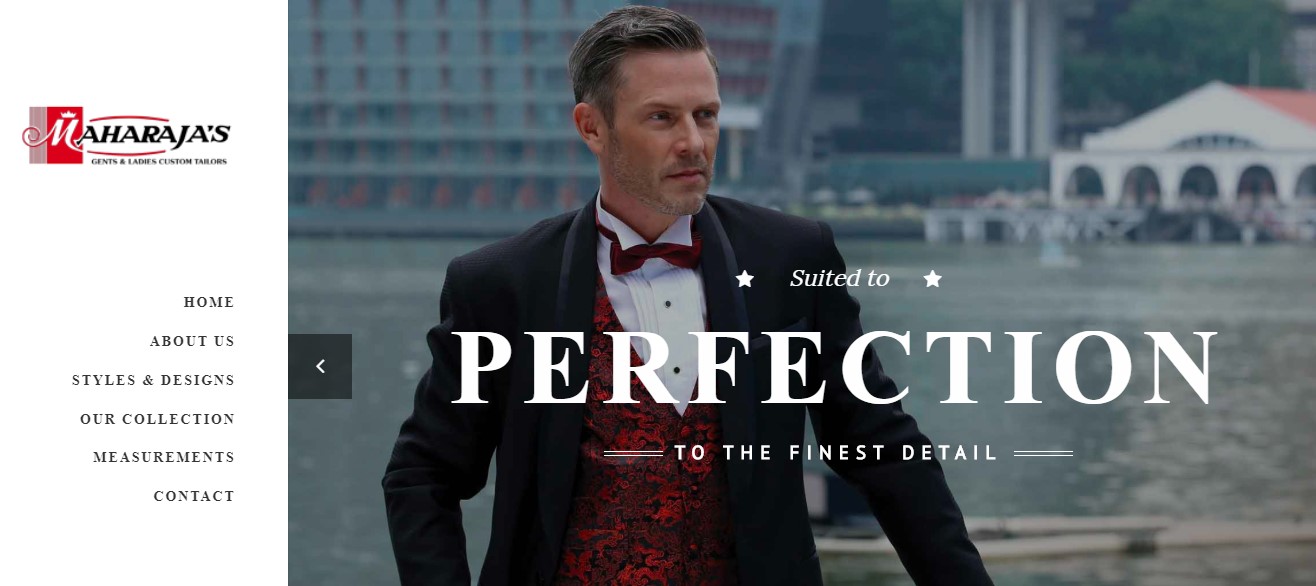 BEST FOR 
Customised tailoring
SERVICES
Quality tailoring services for both gents and ladies, as well as value-added services such as mail order service, alteration services, delivery services, and pickup services
WEBSITE
http://maharajas.com.sg/
ADDRESS
#04-00 Atrium Lobby

 

Marina Mandarin Hotel

6 Raffles Boulevard

Singapore 039594

 

Maharaja's Tailors

442 Orchard Road

#01-12 Claymore Connect

Singapore 238879

CONTACT DETAILS
Tel: +65-67376474 |

 

+65 63365501

Email:[email protected]

OPERATING HOURS
10AM – 8PM
Those who have had tailor pants in Singapore made will surely know about Maharaja's Custom Tailors. 
Tailoring since 1958, Maharaja's Custom Tailors was one of the first tailors in Singapore to offer custom-tailored suits and shirts.
They have experienced and knowledgeable tailors who are meticulous in their workmanship and quality control. Their shop also carries the finest and most practical fabrics in a wide range of styles and designs for customers to choose from.
Service Highlights
 Tailor-made clothes for men and women within 24 hrs
Widest selection of fabrics
Tuxedo rental & alteration services
Customer Reviews
Experience tells, as many of this atelier's customers will say to you. Here's a review from Chris Green posted on the company's site:
"Dear Mohan,
My first suit and shirt arrived today. All fit perfectly. I look forward to the rest of the order."
9. CHRISTIAN ARMANI LADIES & GENTS TAILORS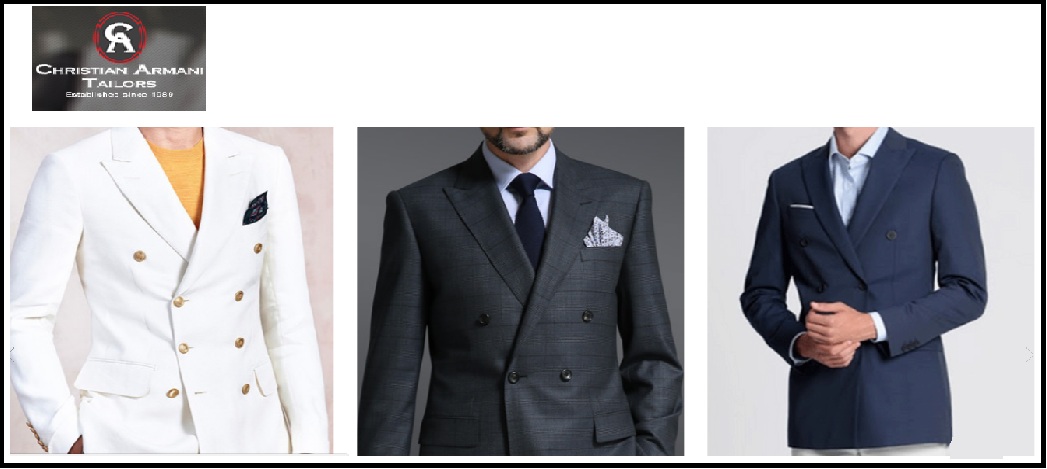 Christian Armani Ladies & Gents Tailors has been in the business of providing elegant suit for over 30 years. This started as a "home grown family tailoring business" and has now become one of the most prestigious shops in the industry. 
With their meticulous tailors and premium fabrics, they create extravagant suits and apparel for their customers. The shop ensures that you can still look good on your clothes without sacrificing your budget. 
That being said, every step of the way, they monitored the making and crafting of your suit. This is to guarantee that you will get what you pay for. 
Service Highlights
Custom made suits for gents and women

Mobile fitting (contact shop for home service)

Offers additional accessories
Customer Reviews
With its years in the business, you can never go wrong with choosing the shop to design your suit. However, if you're not still satisfied with the description above, here's a 5.0 review rating on Google:
"My experience here was simply amazing. Michael has an extensive knowledge on anything and everything to do with suit making and what impressed me the most was his keen eye for detail and recommending exactly what fits you the best. 
The workmanship on the suit was absolutely wonderful, it exceeded my expectations on what I imagined it to look like. I highly recommend coming here to get a suit or a shirt tailored to your needs, you definitely will not regret it! 
Will definitely come back again." – Randyne Neo
10. Meiko Tailor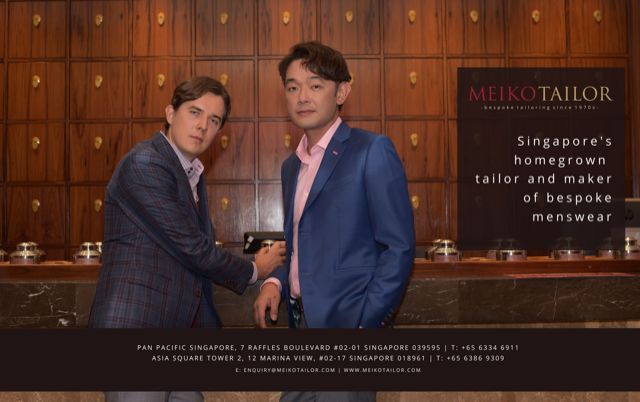 With over 50 years of experience, Meiko Tailor has been continuously providing the locality with their fine craft and premium fabric. Throughout the business, they have developed the style in suit crafting pants and shirts, particularly bespoke suit. Their resident styling advisor has been trained in Academy of ImageWorks (AIM) which largely influenced his work. The shop accepts overseas order via mail and door to door visit within a specific area. 
Service Highlights
Su Misura suits
Premium quality fabric from European and English fabric mills
Personal Styling & wardrobe consultation
Worldwide mail order
Customer Reviews
Meiko Tailor has perfected the art of customizing suits for their customers. This is evidenced by the good reviews the shop has been receiving.
"In only three days, from start to finish, I had a new suit and three shirts. Master Chung and Ms Adele, and everyone at the shop, were delightful. Great customer service, beautiful craftmanship, perfect tailoring, affordable prices. I live in the US, but will be buying from Meiko for many years to come, using email and their web site." – Dale Sanders
11. Kevin Seah Bespoke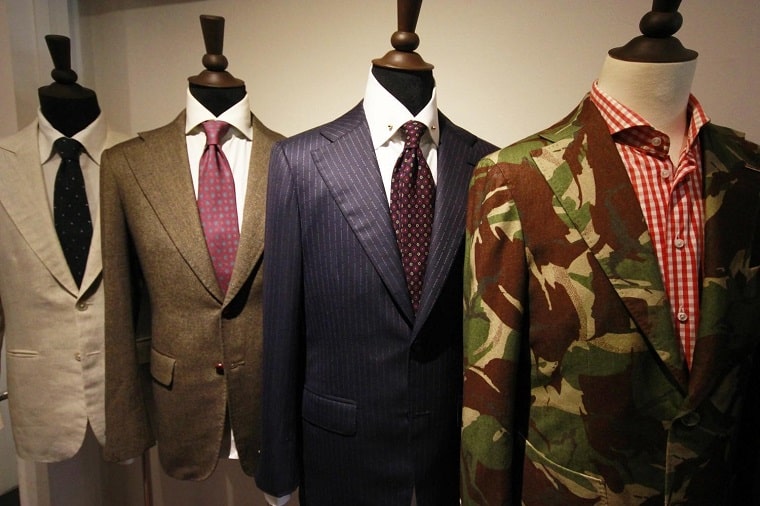 For over a decade, Kevin Seah Bespoke has been serving clients with premium outfits for men. The skills, talent, and years of experience have helped them establish themselves in the industry.
They offer a balanced combination of contemporary and classic suit styles. The company has also gained a lot of praise from the press and media, making them a trusted brand.
They also have their own online shop that sells their signature clothing brand. This includes shirts, shoes, ties, pocket squares, and socks.
They have even collaborated with famous brands such as CEET and Kongo. In other words, there are a lot of reasons why they're among the best tailors in Singapore, as far as we're concerned.
Service Highlights
Original clothing brand
Exclusive offers
Fixed rates and no hidden charges
Customer Reviews
Many customers recommend their services and say they are able to maintain comfort while establishing stylish designs. Alison Maree admired the designs of the brand and wrote this on Google Reviews:
"If quality and fine craftsmanship are what you're after, then owning a Kevin Seah piece is imperative! Kevin's artistry shines through every piece of clothing he makes. To date, I've purchased four shirts for my husband and they've become his absolute favourite pieces to wear! Will definitely be going back for more!"
12. Common Suits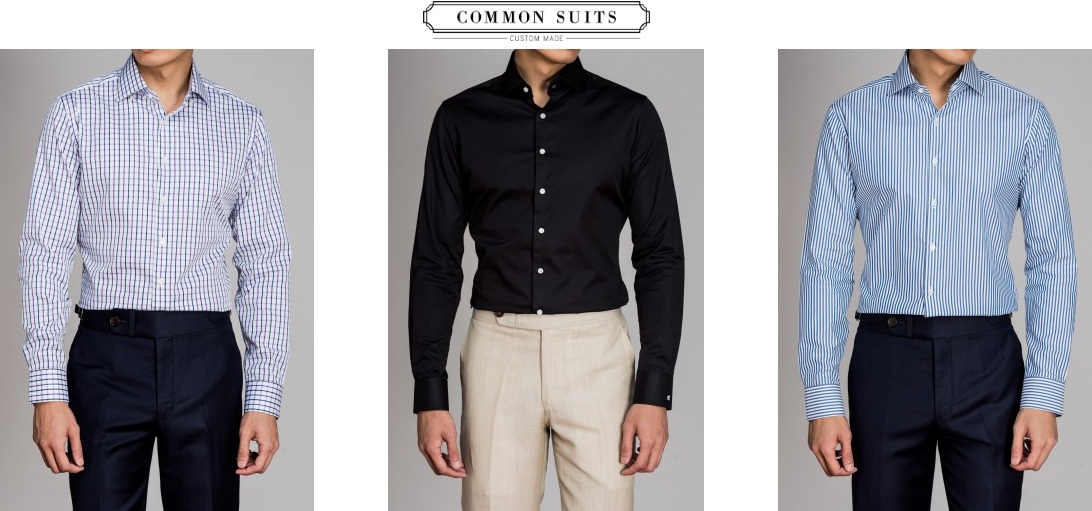 | | |
| --- | --- |
| BEST FOR | Custom made suits |
| PRICING | Rates |
| WEBSITE | http://commonsuits.com/ |
| ADDRESS | 50A Club St, Level 2, Singapore 069427 |
| CONTACT DETAILS | +65 8298 5224 |
| OPERATING HOURS | Monday to Friday, 11am-8pm; Saturday, 11am-6pm |
All men, regardless of status and background, deserve only the best especially when showing their style and masculinity through their permanent fashion.
Common Suits is known for providing one of the best suits in Singapore that really show off their core values of power, integrity, leadership, confidence, and resilience.
The shop has quite a huge selection for suits, shirts, and pants, and you can get to design or customize the color and pattern that you want and their team of creative tailors will happily create the garments for you.
Service Highlights
Custom-made suits and other garments to perfectly suit your preferences

Premium quality of fabric and accessories

Reasonable prices for high quality clothing
Customer Reviews
Common Suits is praised for their high quality fabrics and expert tailor and staff. Here are some of the reviews posted on Google Reviews.
"Got my first Common Suits suit in late 2018 and loved the cut and fit most compared with my suits from other tailors. Got my second suit from Common Suits in 2019. Definitely my go-to tailor now."
"Got recommended by a friend to come to Commonsuits. Quality and fit is top notch and Javin definately takes his time and knows what he is doing!"
13. Made Suits®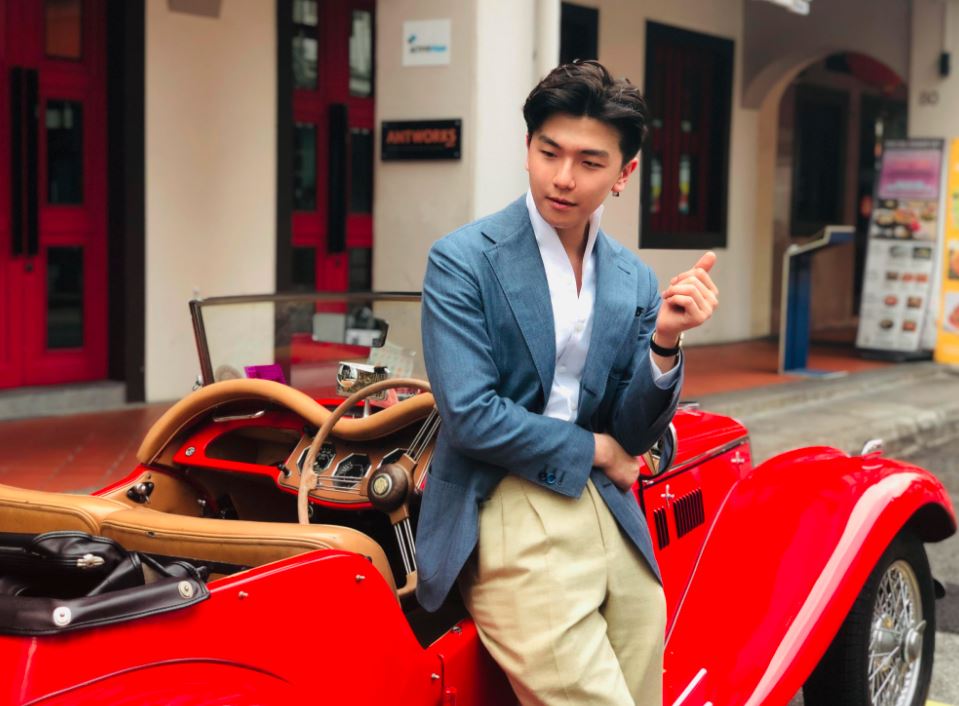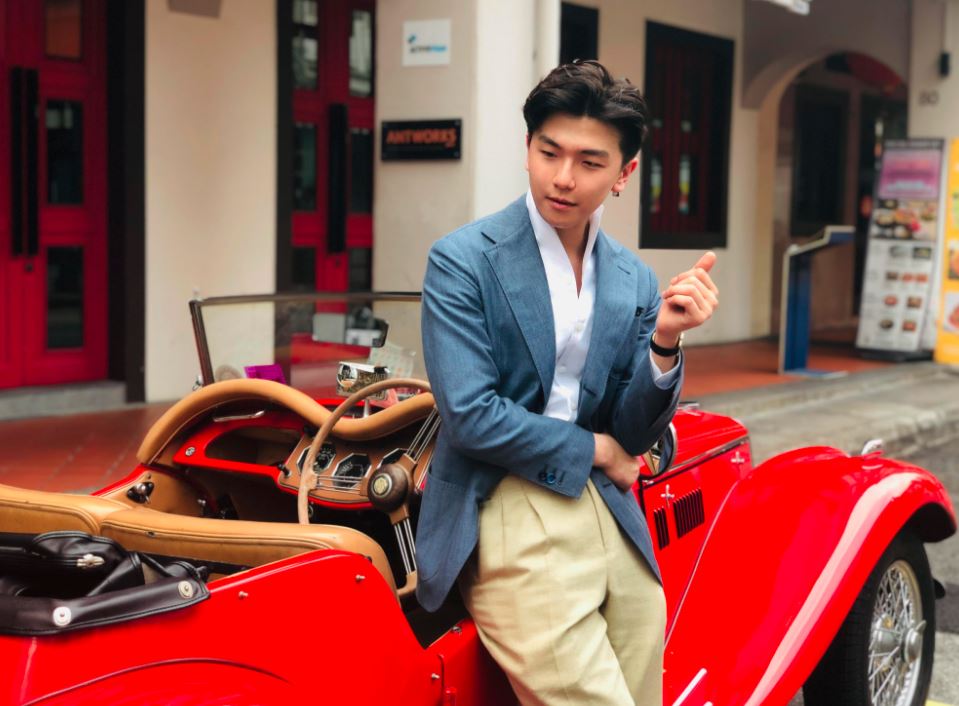 BEST FOR
Bespoke suit design, Precision Bespoke to-measure and service
PRICING

Rates

WEBSITE
https://www.made-suits.com/
ADDRESS
138 Robinson Road Oxley, Tower, Unit 02-09 Central Business District, Singapore 068906
CONTACT DETAILS
+65 9828 6746
[email protected]
OPERATING HOURS
Contact for more information
Made Suits® revolutionises the way men shop for clothing nowadays and people in Asia, who do not like to wear too much nor look like they would dress too casually. Have no idea what they want nor what they would like and what would suit them. They make use of simplicity yet contemporary style that would suit the majority of their clients while providing detailed consultation combine with impeccable sharp, tailored apparel in the most convenient and effortless way possible.
Service Highlights
By appointment only (for detailed consultation)

They offer custom-made suits
They also offer made-to-measure shirts for all occasions including wedding, work, and business
Customer Reviews
Customer review from Warren Tanudjaja: "Made Suits® Singapore provided such great service and understand the customers needs very well. Ben is very knowledgeable and understanding regarding the needs of a great suit. His recommendation is on point and the quality of work he does is amazing. Highly recommended for anyone who is looking for a great suit for any special events."
14. C. Armani Tailors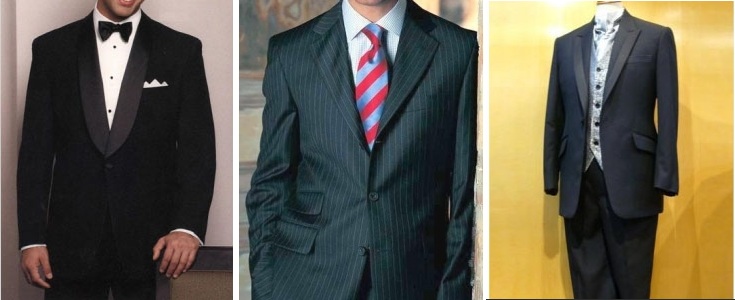 Armani Tailors was opened over 20 years ago as a small, family-owned custom tailoring business. With the team's collaborative efforts and their exceptional skills, it has eventually grown to be one of the most promising tailors in Orchard Road.
The shop has never failed to provide their clients with top of the line tailored suits, strictly made out of the finest fabrics. 
They have also allotted a page on their website specifically discussing the type and processes of measurements that they conduct in making their products so you'd have a pretty clear idea on how they come up with the final fitting.
Not only does C. Armani Tailors offer suits for men, but they have also expanded their collection to women's clothing. You can browse their selection through their website.
Service Highlights
High quality fabrics

Conducts individual measurements to secure fittings

Efficient and reliable delivery

Trusted professional consultation
Customer Reviews
The shop has dedicated a page where their clients can leave their feedback and testimonials and it clearly reflects how great the service of C. Armani Tailors is. Here is a comment given by Julie Cooper.
"Good morning Liza,
Just to thank you for your assistance and advice. I am delighted with the end result of my dress and my husband thinks it is lovely too! I will be back to see you in January when I return from the UK. In the mean time I wish you and your staff a wonderful holiday season. Thank you all once again."
15. A Gentleman's Tale

A Gentleman's Tale was founded in 2015 Kenneth and Lyn with the aim of combining their passion and skills in fashion and tailoring. 
The business initially started with only a cabin luggage a backpack at hand, while travelling around Singapore through public transport. They carry with them their fabric samples and tailoring tools to show their clients.
Eventually, they were able to secure a space at River Valley to provide a much more accessible and comfortable showroom for their beloved clients.
If you are looking for a tailor that can provide you with premium quality of products and services. A Gentleman's Tale can be one of your best options.
Service Highlights
High quality fabrics

Professional team of tailoring experts

Modern take in fashion

Reliable customer service
Customer Reviews
A Gentleman's Tale is one of the crowd's favorites when it comes to tailoring services. Their creations are truly top of the line, thus the satisfaction of their clients. Michael Aloysius has left this comment on Google Reviews.
"Best local tailor you can find! Humble and hardworking chap that will not hesitate to put in the hard work to accommodate your needs. Started off with only his mobile van which he travels and work in, reaching out to every of his clients directly at their office/house. This is a local talent that we must all support fully! You get what you pay for, the quality of his suits are TOP notch. Even at the lower ranges, Kenneth the magician will turn it into an exquisite piece that your colleagues or clients will be in awe for!
Keep rocking Kenneth and Lynn!"
16. T.J. Tailors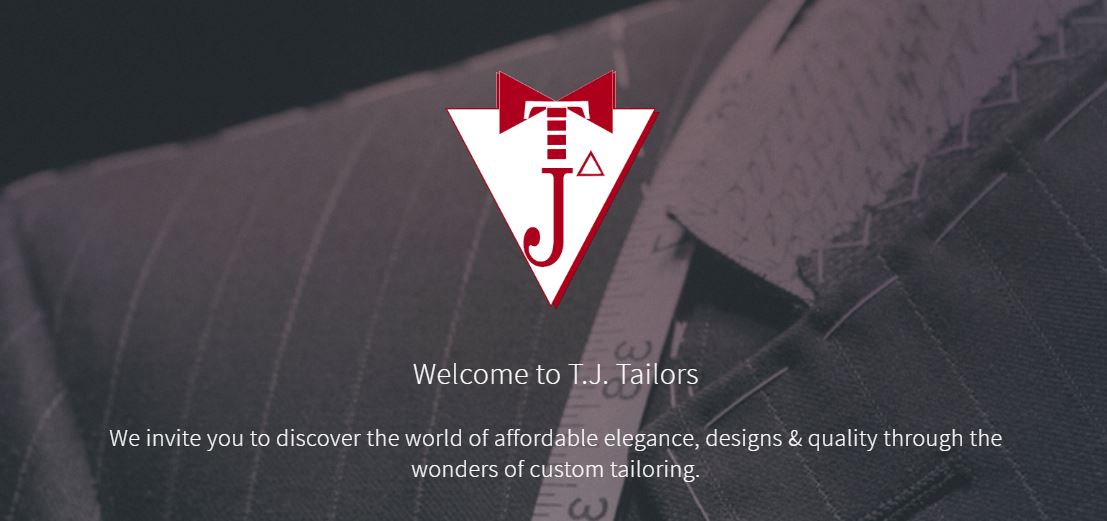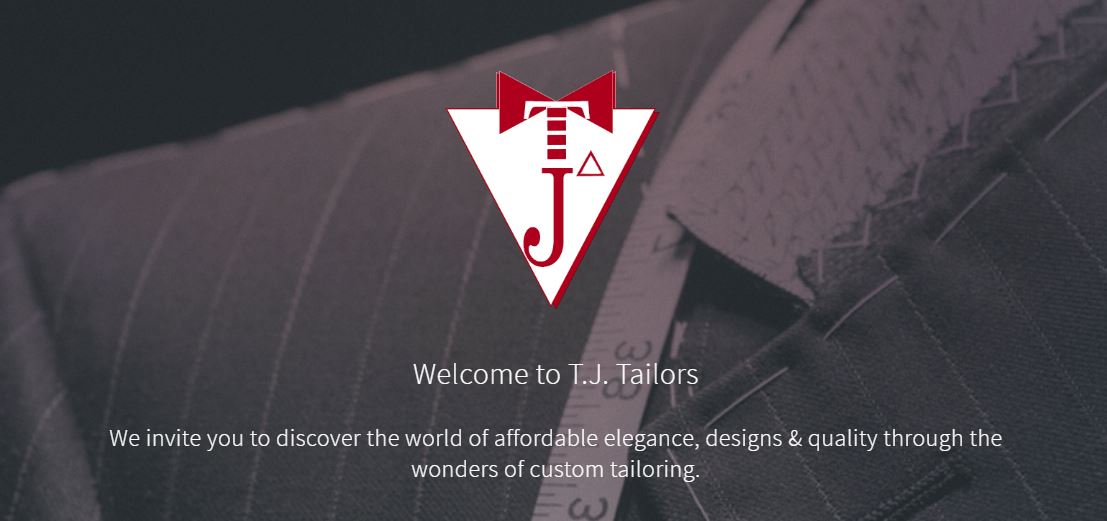 BEST FOR

Custom tailoring

SERVICES

http://www.tjtailor.com/#work

WEBSITE

http://www.tjtailor.com/

ADDRESS
#01-23 Clifford Cetre
24 Raffles Place (Opposite Guardian Pharmacy)
Singapore 048621
CONTACT DETAILS
Tel: +65 6534 0301
Fax: +65 6533 7292
Mobile (Des T.J.): +65 9663 1207
E-mail: [email protected]
OPERATING HOURS
Monday – Friday: 10.45am to 7.30pm
Saturday: 10.45am to 5pm
Sundays & Public Holidays: We are closed (Please call for an appointment)
T.J. Tailors was founded more than three decades ago. Since then, the company has developed an excellent reputation for high quality and service at competitive prices and is today considered one of the best tailors in Singapore.
Abiding with the best standards of tailoring and fabrics, they offer a large variety of latest fashion and personalised designs. They never compromise on quality, craftsmanship and time, even if it means late hours or delivery to your overseas address.
Service Highlights
Specialised tailoring for both ladies and gents
Customer Reviews
"Hello Des,
I hope you are doing fine. Being back in Germany it took quite a while until I´ve catched up with everything in work and private life again – that´s why I could only come back to you now. Your suits and shirts are already in daily use and I am very satisfied (my wife likes them a lot as well) – thanks for that and all we have done together during my stay, which I really enjoyed !!!
Special regards to all members of your nice family !!!
Your german friend,
Michael"
17. Q Menswear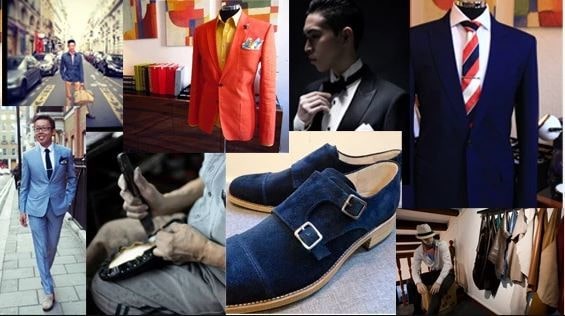 | | |
| --- | --- |
| BEST FOR  | Leather goods and wardrobe packages for menswear |
| SERVICES | Prices |
| WEBSITE | https://q-menswear.com/ |
| ADDRESS | 116A Telok Ayer Street Singapore 068585 |
| CONTACT DETAILS | +65 6636 6939 |
| OPERATING HOURS | Monday to Friday – 11am to 7:30pm , Saturday – 11am to 3pm |
Q Menswear is a famous brand catering to public figures, including celebrities, businessmen, and politicians. They have also been featured by the most prominent magazines for fashion in Singapore.
Their main pride is their vision that highlights the essence of career ventures rather than being a mainstream sales team. They tailor shirts, trousers, suits, and even wardrobe packages to help you have a full set of outfits.
Service Highlights
Professional suit consultations
Extensive fabric choices
Wedding inspirations 
Customer Reviews
Clients of Q Menswear commend their designs for their great fit and high customisability. Rae Yaw gave a 5-star rating and expressed these thoughts on the company's official Facebook.
 "Q Menswear is, in my book, the best, first class, bespoke tailor. They know what they are doing and they do it extremely well. They have a very wide selection of fabrics, and they can craft your clothing fast. The clothes usually fit well during the first fittings, requiring only minor adjustments, which speaks well of their ability to pay attention to details and their accuracy in design and fitting." 
18. Mohan Custom Tailors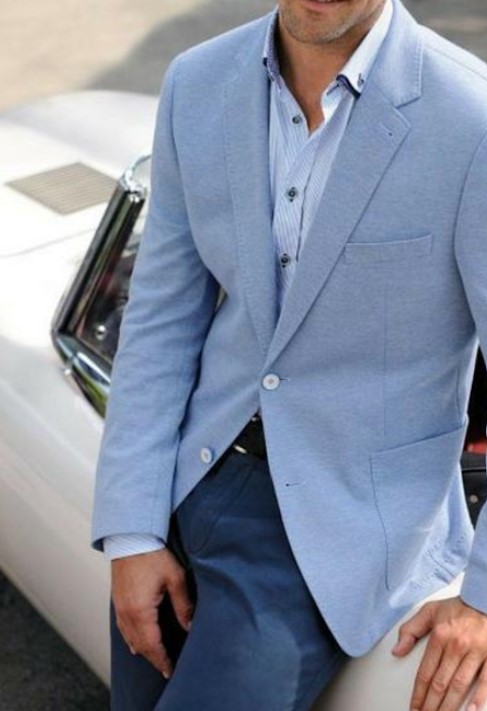 Mohan Customs Tailors is recognised as one of the longest-operating tailors in the country. They create original masterpieces for both men and women to explore the business world while wearing the perfect "armour".
Aside from formal suits, they also offer custom-made clothes such as shirts, skirts, dresses, blouses, and coats. Throughout the years, they have travelled all over the globe to meet with their loyal international clients and provide further services for them.
Service Highlights
Different kinds of high-quality fabric
Wide range of options for ladies and gentlemen
Corporate program
Customer Reviews
The clients of Mohan Custom Tailors range from startup business owners up to the most prominent leaders in the commercial industry. Oliver Bloomfield shared this story on Google Reviews:
 "Along time ago I ordered a suit from Max which I was very happy with, and now I needed some new shirts. I had one shirt made up, and when it arrived it needed some alterations which the staff pointed out and we made the needed adjustments. I wore it a few times to make sure everything was fine, then I went back to get more shirts made up. I would definitely recommend Max Mohan and his team. You can get shirts made up as good at other places, but you won't get: the quick service, the same value and quality, of course Max's sense of humor and charm! Thank you, and I will be back!"
19. Ron Master Tailors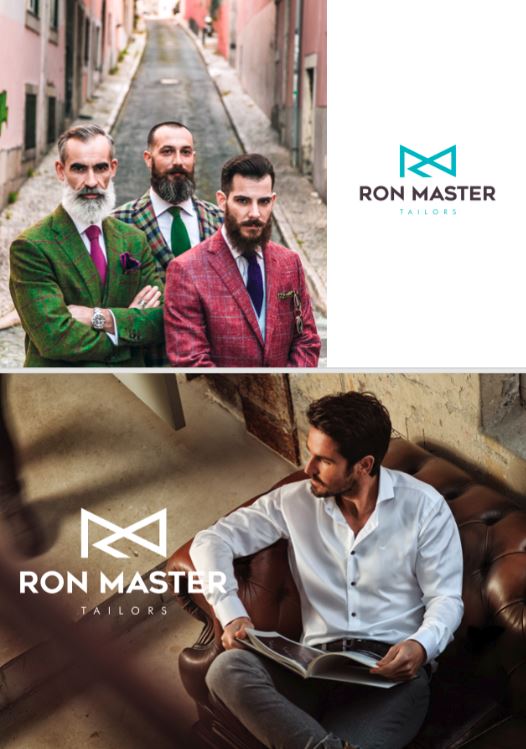 BEST FOR
BESPOKE SUITS FOR MEN/WOMEN. TRAVELLING OVERSEAS over 20 YEARS FOR MAIL ORDERS
PRICING
Contact for a custom quote
WEBSITE
http://ronmastertailors.com.sg/
ADDRESS
#01-02/ #01-14, 150 Orchard Rd, Orchard Plaza, Singapore 238841
CONTACT DETAILS
+65 9733 1012 | +65 6735 1992
[email protected]
OPERATING HOURS
Monday to Saturday
10:30 a.m. to 9 p.m
Sunday – 11 a.m. to 7 p.m
Ron Master Tailors helps you break free from the web of sparing choices by getting your outfits done by their custom tailors.  They also keep a range of customized leather belts and shoes to go with the formal and office women and men wear Singapore. You can enjoy seamless online customization from your home with Ron Master Tailor Singapore.
Service Highlights
TUXEDO/ SUIT RENTAL
ALTERATION SERVICES
CORPORATE UNIFORMS
Customer Reviews
"I would like to take this opportunity to comment on the quality and customer service that I personally and the organization that I represent has received over the years in terms of tailoring. Several years ago we brought a group to Singapore. I contacted Ron Master tailors to provide tailoring to our passengers. Our passengers were so pleased with the quality of the clothing purchased, and the customer service provided, that they requested that we engage his services for future cruises." – Customer testimonial from Jim Coleman, Executive Vice President for Special Marketing for Blue Travel Corp.
20. Joe's Tailoring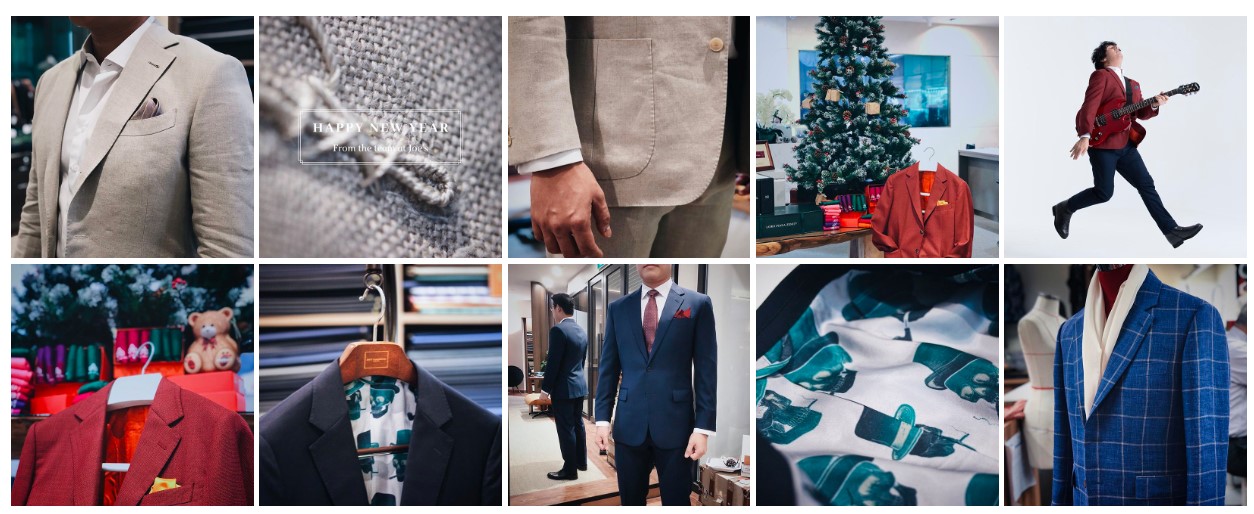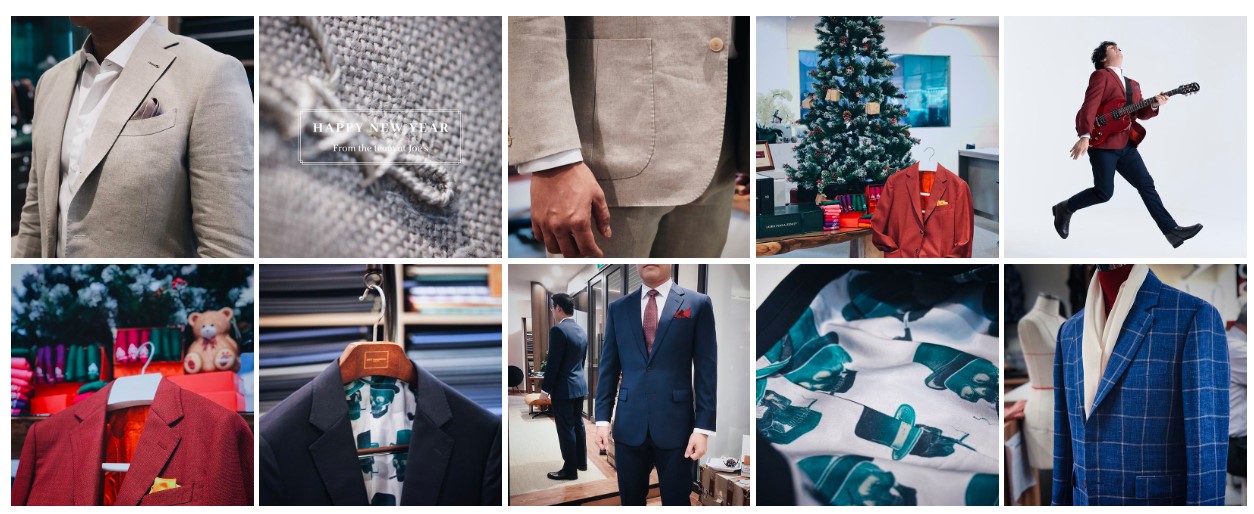 BEST FOR

Bespoke tailoring

PRICING
Contact for a custom quote
WEBSITE
http://www.joetailor.com/
ADDRESS
20 Cecil Street, #02-11/12/13
PLUS (GSH Plaza)
Singapore 049705
CONTACT DETAILS
+65 6225 0686
[email protected]
OPERATING HOURS
Contact for more information
Grounded in tailoring tradition since 1983, Joe's Tailoring is proud to serve every stage of your sartorial journey. They're backed by local cutters and tailors who have been with them from the start. They're a family-owned and operated bespoke tailoring house, priding themselves in creating suits centered on handwork and craftsmanship.
Service Highlights
Service begins before your first consultation and continues long after you collect your completed garments
They also have complimentary after-sales service which ensures every piece from Joe's Tailoring is maintained to the highest standards.
Customer Reviews
"Very impressed with the works of Joe's Tailor to convert the piece of material I bought more than 15 years ago from Vietnam into a lovely dress. They managed to keep all the prints as much as possible without having to lose its elegance." – 4-star Facebook review from Edna Lim-Jäkel
21. Suit Yourself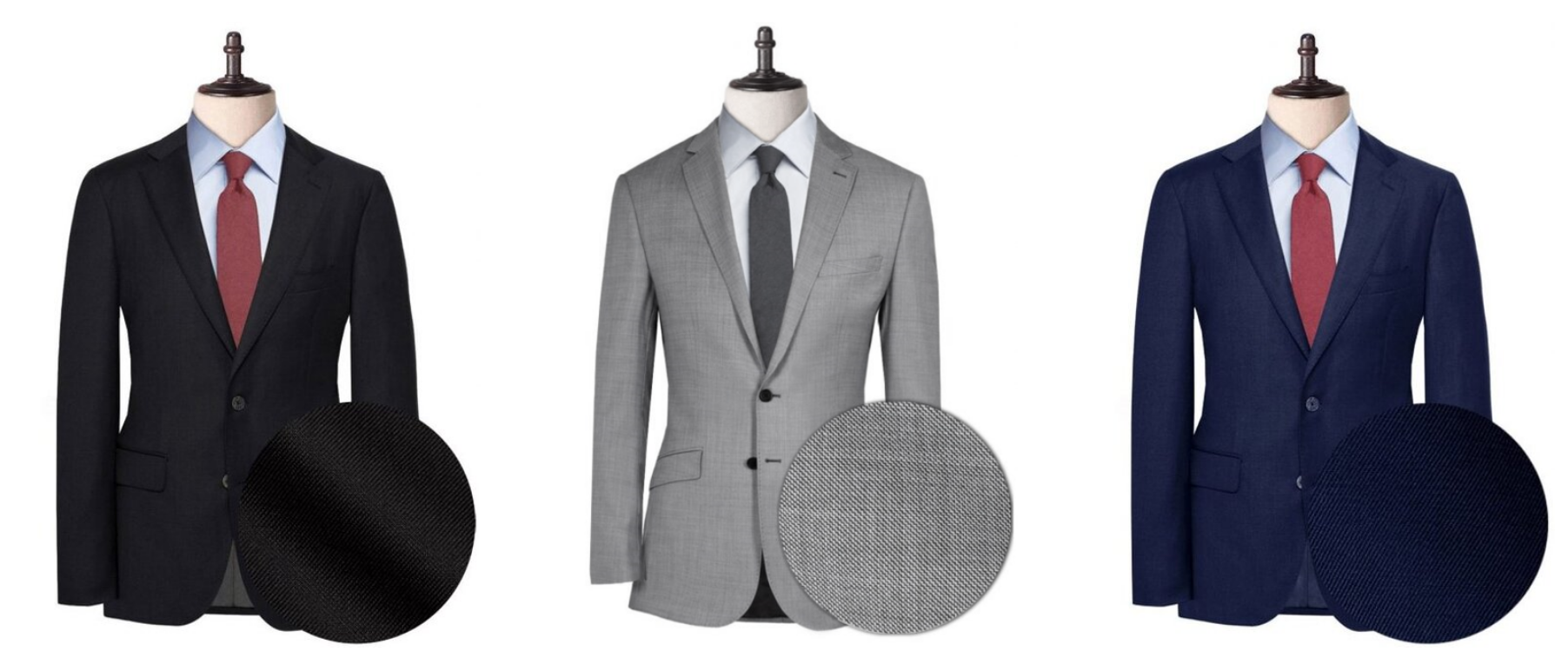 BEST FOR
Specialising in creating high-quality garments for your everyday and once-in-a-lifetime moments at affordable prices
PRICING
Made-to-order suits start at $290 and shirts from $75
WEBSITE
https://www.suityourselfsg.com/
ADDRESS
14 Scotts Road #02-54
Singapore 228213
CONTACT DETAILS
+65 9618 4587
OPERATING HOURS
Contact for more information
Instead of mass-produced standard sizes, Suit Yourself produces a unique size for every order and customer. The suit & shirt can be slim, loose or somewhere in between depending on your preference. Giving customers access to superior quality and fit of tailored clothing at a price comparable to off-the-racks, Suit Yourself also aims to make the sizing and ordering process as simple and straightforward as possible.
Service Highlights
Made to order suits and shirts, custom-fitted to every customer
They work directly with manufacturers and simply cut out wholesalers, other middle-men, and the expensive retail infrastructure that force traditional tailors to charge steep markups
Customer Reviews
"Visited 2 months ago. Service was excellent and their knowledge of suits as well. Did the body scan and more physical/manual adjustments by the staff as well. Gotten the suit 2 weeks later and it was a perfect fit.
Fast forward to a month later and had just worn the suit to my wedding. Everything was still a perfect fit and it was really comfortable. Quality is superb and the quality of the materials used was top notch (I had chosen the "finest" material). The vest was comfortable as well. Chosen the Teal Blue Solid color and it turned out great, looked sharp as well.
Many thanks to the team and wonderful service (guided me step by step what to expect, the current trend, materials, how to wear a suit, etc). Would definitely get another suit from you guys in the future!" – Facebook recommendation from Shawn Lee
22. The Prestigious Boutique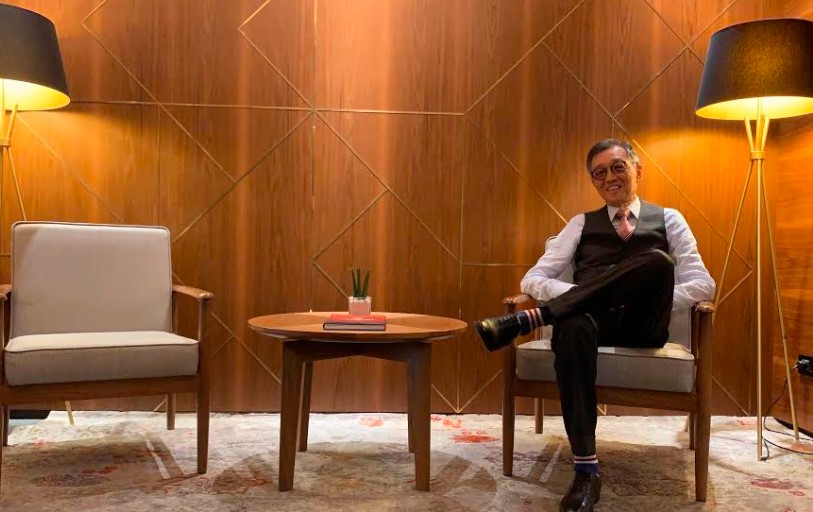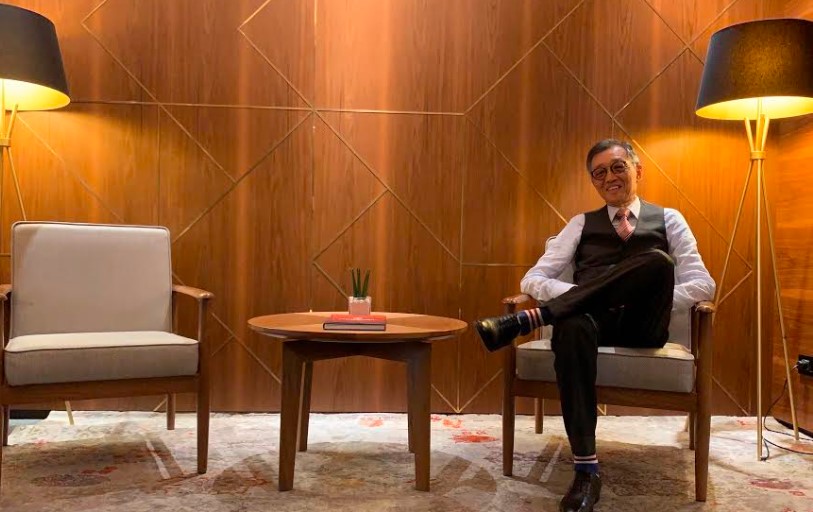 Step into The Prestigious Boutique and you will witness a full-scale atelier operation with all commissions done on-premise.
Whereas other tailors would outsource your commission, craft made at this award-winning establishment is undertaken by top graduates from fashion colleges and nurtured by Master Tailor and University Lecturer, Thomas Wong. The crafting and process is unique to The Prestigious and the result is always a stunning suit, second to none.
Priding itself in authentic quality craft and skill, the Prestigious Boutique has garnered many accolades from luxury and lifestyle publications and is recognised by the Singapore government as possessing "Singapore's Highest Skills Award" [SkillsFuture Fellowship].
In 2019, the entire team at The Prestigious were Singapore's only tailors to attend the World Federation of Master Tailors Conference in Verona, Italy in pursuit of advancing their skills and craft.
While the majority of its patrons are locally-based individuals, The Prestigious is able to accommodate commissions for foreign guests on short visits to Singapore. Suits take 6-8 weeks to commission, with 2 fittings planned in addition to the initial consultation and final collection.
Service Highlights
Largest team of tertiary-educated tailors and craftsmen
Commissions done in-house within its on-premise atelier
Recognised by leading luxury publications as being Best in Singapore, year on year.
Award-winning services garnering Best of Singapore (Best Bespoke Tailors) , Singapore Tatler  2017, 2018, 2019
Customer Reviews
There's little more that we can say about the quality of this service that all their awards haven't. Here's a 5.0-Rating Google Review from Yong Jian Mun:
"We always look forward to visiting Prestigious Tailor for my fittings. During my first appointment, it was a pleasant surprise when Mr Wong sat my wife and I down to personally share his experience on bespoke tailoring. Because of my body type, finding the right fit is challenging. Together with Alvin and Joyan, the entire bespoke tailoring experience was nothing short of first class. Nothing matters more than the final result, I was really happy with the fit, compared to other tailor made suits I have."
23. 3EIGHTH
BEST FOR

Fashionable customized tailorings

SERVICES

Custom Clothing, Tailoring

WEBSITE

https://www.3eighth.co/

ADDRESS

66 Circular Road, #02-01, Singapore 049420

CONTACT DETAILS

+65 8768 8577

OPERATING HOURS

Mon – Fri: 11 am – 8 pm

 

Sat: 11 am – 5pm
3EIGHTH owns some of the most glamorous and elegant clothing collections in Singapore. Their custom tailoring services allowed both their team and their clients be extra creative and sophisticated when it comes to the designs and choice of fabrics. Nonetheless, all garments are guaranteed to be in the highest qualities.
The balance of texture, color, and astyle has resulted in perfectly tailored clothes that 3EIGHTH really takes pride in. With their meticulous eyes for detail and high standard in quality, surely getting your clothes tailored by them will be great value for money.
Service Highlights
Customized tailoring

High quality fabrics

Exceptional clothing designs
Customer Reviews
Their 4.8-rating on Google cannot deny the fact that 3EIGHTH really does an exceptional job in providing customized tailoring services for all sexes. 
"Cheryl is top notch Taylor that can make your visions a reality. She has an incredible eye for detail and also a creative flair that she is dying to show you. She can source materials that aren't on display in her sample books and really after meeting her I felt there was little she could not do. If you want it she will find a way to make it happen and do so with style and flair."
24. ethan men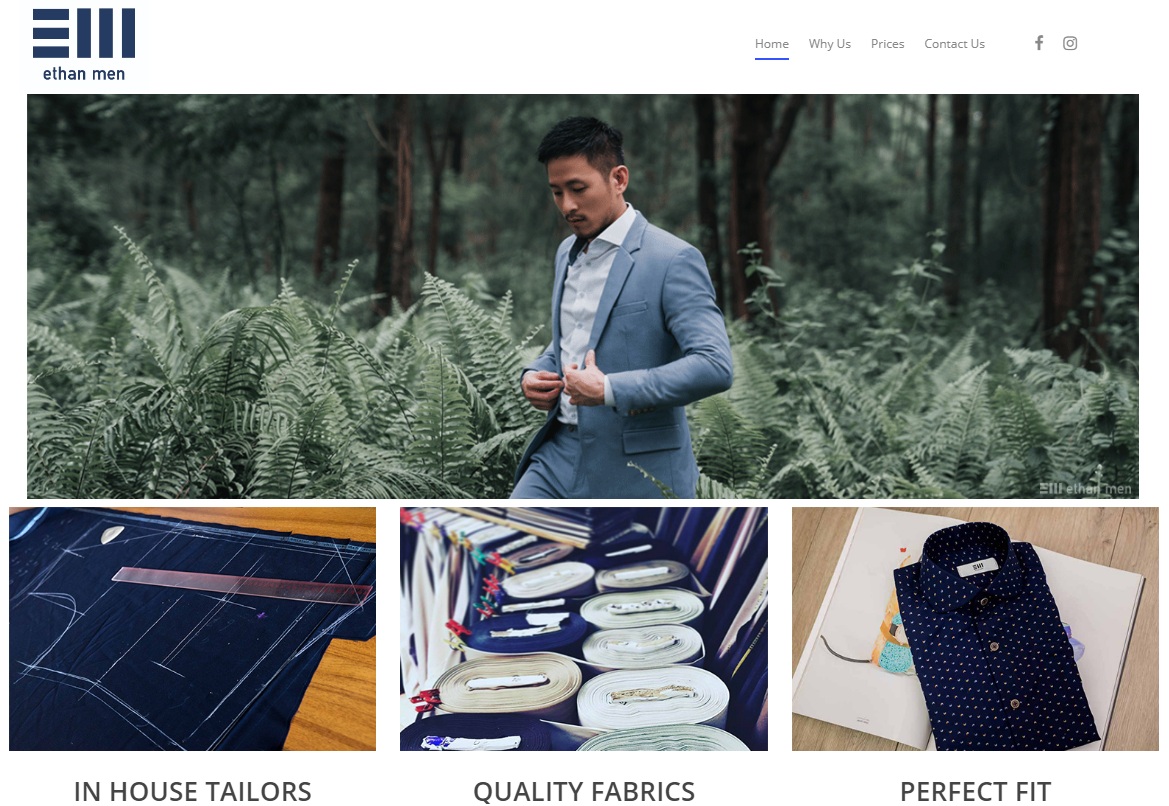 BEST FOR

High quality tailoring

SERVICES

Shirt, jacket, pants tailoring

WEBSITE

https://www.ethanmen.com/

ADDRESS

International Plaza 10 Anson Road #02-96 Singapore 079903

CONTACT DETAILS
+65 8778 0079 | [email protected]
OPERATING HOURS

Mon – Fri (Closed on Wednesday): 

 

11:00am to 8:30pm

(last appt: 7:30pm)

Sat / Sun / PH: 

11:00am to 6:00pm

(last appt: 4.30pm)
Ethan Men always eyes for the high quality standards. From the choice of fabric, measurement accuracy, to quality of design, everything must be done seamlessly. They are also not after the big trends, but rather they want to produce something that can last you for years.
They also avoid excess costs by eliminating middlemen and directly purchasing raw supplies from the factory, hence their affordable prices. Nonetheless, you are guaranteed with premium quality tailoring service at all times.
They produce a wide range of clothing from basic shirts to premium jackets so make sure to check them out.
Service Highlights
In-house tailors

High quality fabrics

Accurate fit
Customer Reviews
Ethan Men's high quality craftsmanship is well received by their clients. They also appreciate the shop's transparency especially when it comes to cost and their friendly customer service.
"Went to Ethan men for my tailor shirt a couple of times. Excellent service and quality craftmaship at reasonable price. They are very detail and overall experience is amazing! 
Will definitely recommend friends or anyone who looking for a reliable tailor shop. Cheers!"
25. Carl & Oak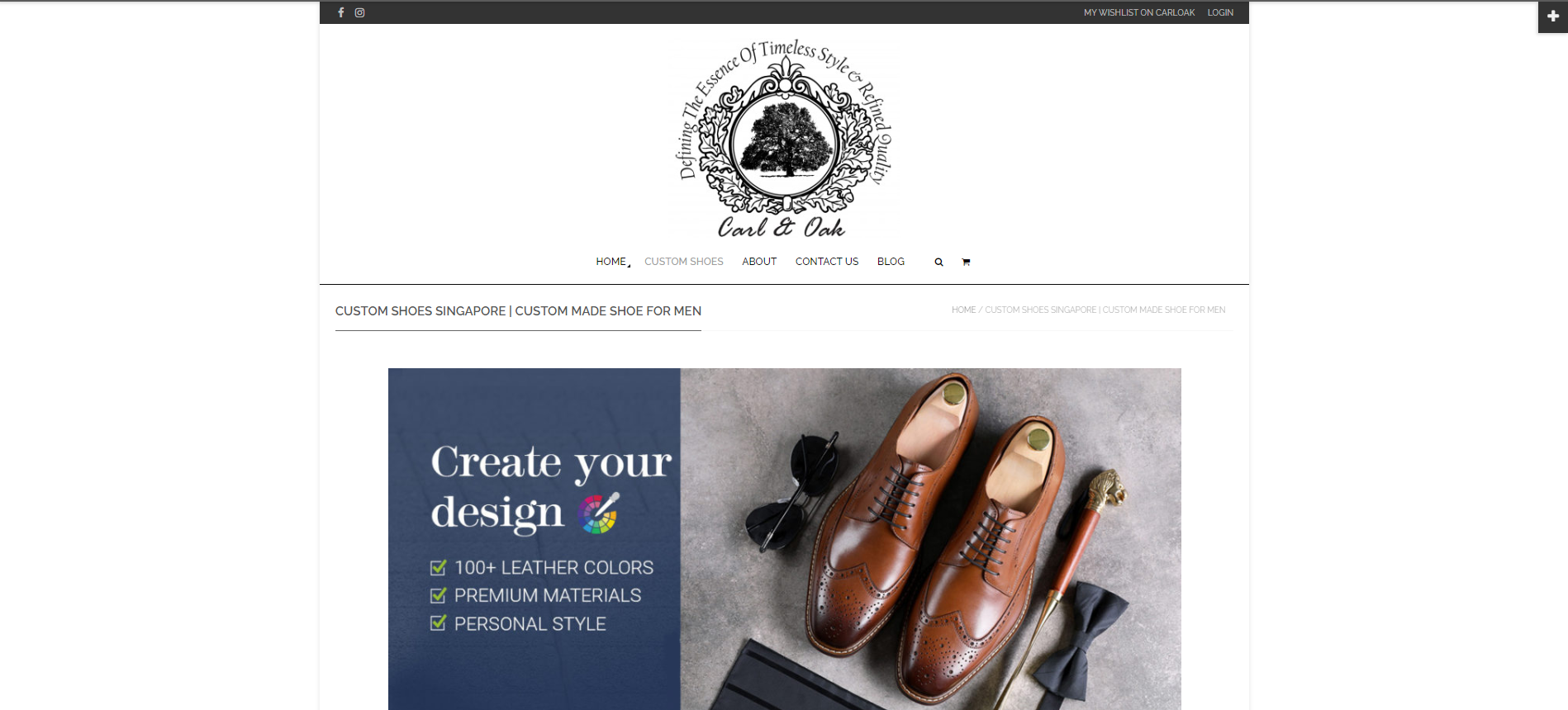 BEST FOR
Custom Made Shoes for Men
SERVICES
Shoes is from $98.00 to $239.00
WEBSITE
https://carl.sg/custom-shoes-men
ADDRESS
One Raffles Place #04-22 (Office) Singapore 048 616
CONTACT DETAILS
 +65 9626 2990 | [email protected]
OPERATING HOURS
Monday-Friday: 11:00am – 8:00pm
Saturday: 11:00am – 4:00pm
Sunday: Closed
Nowadays, it is quite hard to have custom made shoes without having to pay a huge sum of money. It is another problem to pair custom made shoes with your casual look.
If you seek comfort, style, and quality in a pair of footwear, you don't have to worry anymore, for Carl & Oak has got you covered! They provide stylish shoes that are personalised to the fullest– as footwear specialists, they incorporate the latest trends into quality shoes, so that you can make a style statement whilst still taking care of your precious feet.
With their footwear, you can be stylish but at the same time comfortable, knowing that your foot will not suffer from any problems. And to make things much more easier, the process for their footwear are quick, and isn't costly compared to other footwear stores.
Service Highlights
Each product is made from quality cow leather & other hides
A One-Stop Solution for the Requirements of all Men
Customer Reviews
Here is a review left by a very satisfied client:
"My feet size tend to be on the smaller side so getting a pair of shoes is challenging. So glad i found this place. Finally manage to get a pair of shoes in my size and they have a good range of designs and style. So far, i'm pleased with the shoes" – Alan Tan
26. Happy Harry's Tailor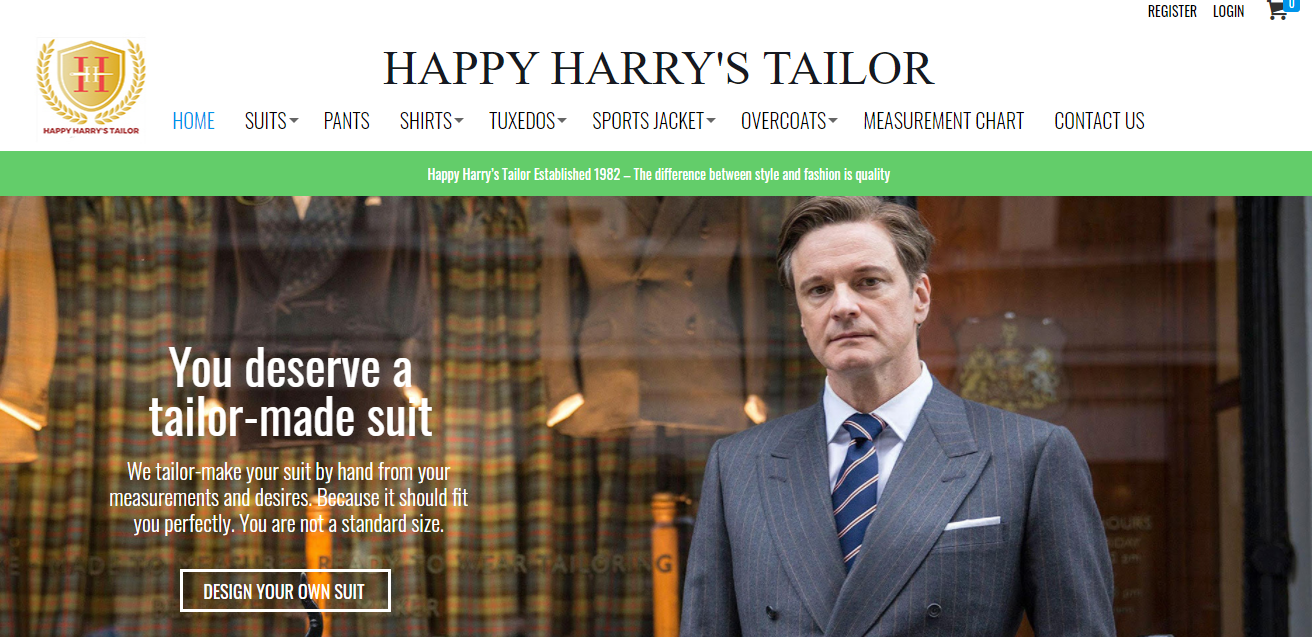 | | |
| --- | --- |
| BEST FOR | Tailoring services |
| SERVICES | Suits, Pants, Shirts, Tuxedos, Sports Jacket and Overcoats Tailoring |
| WEBSITE | https://happyharrytailor.com// |
| ADDRESS | 254 South Bridge Road, 01-01,Singapore 058803, Chinatown |
| CONTACT DETAILS | +65 6338 9296 or +65 9488 6888| [email protected] |
| OPERATING HOURS | Mon – Sat: 10am – 5pm Sun: Closed |
The workmanship of Happy Harry's Tailor is marked for its quality Italian fabric, its elegance, and most especially, for its compatibility with all customers. Yes, Happy Harry Tailor makes certain that its creations are custom-tailored to suit the body measurements of its clients.
You will be given the liberty to choose your preferred fabric, to provide your dream design, and to dictate your measurements. Happy Harry's Tailor offers a highly diverse range of cloths to choose from, as well as a good number of garment types such as suits, pants, shirts, overcoats, and more. All you have to do is take your pick and watch as Happy Harry's Tailor transforms your dream attire into a reality.
Whether you are having trouble deciding where to find something to wear on a special occasion, or simply hoping to treat a loved one to a new, exquisite shirt, you can always count on the craftsmanship of Happy Harry's Tailor. Drop your measurements and preferences, and its staff will take care of the rest!
Service Highlights
Working since 1982
Custom-tailored suits
Wide range of customisation
Customer Reviews
Most clients commended the quality of service and fabrics they have received from Happy Harry's Tailor. Take a look at some of the reviews left by clients on Google Reviews.
"Happy Harry provides very good service and makes sure that you feel comfortable. Prices are not exactly cheap, but quality is good. Convenient location in Chinatown."
"My husband and I had a suit made, my husband also had a shirt made. They are lovely, the fabrics are so beautiful and quality fabrics. Everyone remarks how good they look. Thank you Harry for these quality garments."
27. Mode Et Creation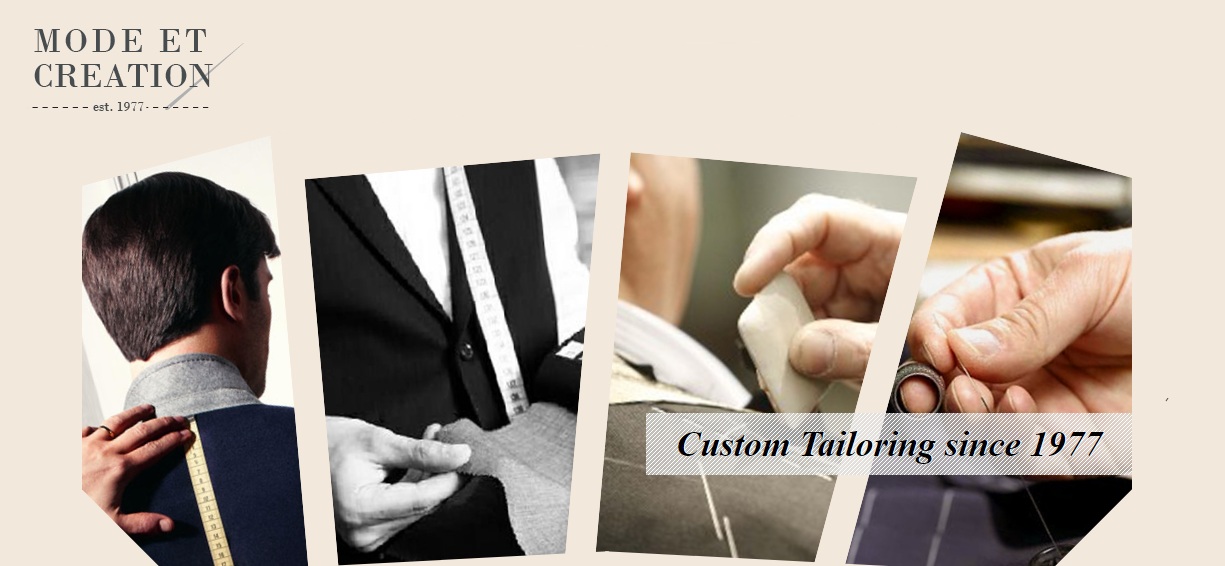 BEST FOR

Custom Tailor

SERVICES

Prices

WEBSITE

www.modeetcreation.com

 

ADDRESS

#04-02 Far East Shopping Centre, 545 Orchard Rd, Singapore 238882

CONTACT DETAILS

+65 6235 3202 

OPERATING HOURS

Mon to Sat, 10 AM to 6 PM
Mode et Creation Pte Ltd was established way back in 1977 by Master Tailor Mr Anthony Tan. Right after graduating from London's Tailoring and Design centre with a First Class Honours Diploma, Mr Tan started his own tailor shop in Singapore and has since serviced locals and foreigners with his expert and stylish tailoring prowess.
The shop's global clientele base is peppered with regular customers that insist on clothing made by Mr Tan, who still personally pays meticulous attention to all details in the construction of his products Mode et Creation's long history, together with its diverse clientele base, proves its ability to produce affordable bespoke gent's clothing of the highest quality
 Service Highlights
Bespoke Gent's clothing
All clothing personally crafted by Master Tailor Anthony Tan
Quality fabrics at reasonable prices
Customer Reviews
When it comes to custom-tailor, people are praising Mode et Creation for their attention to detail as well as their careful individual handling of each customer. Clothes that fit great and staff that'll treat you right, that's the Mode et Creation way.
"I just got back from Singapore where I got a suit and some shirts made. I went to Mode Et Creation at the Far East Shopping Centre with Mr Anthony Tan. Anthony is a real gentleman, very soft sell, very easy going and very knowledgeable. I'm not a clothing expert but my suit and shirts fit great, the material is excellent, the value is fantastic and the service was amazing. I highly recommend Mode Et Creation. I know I'll buy there again." – Mark via TripAdvisor
28. Ziya Fashion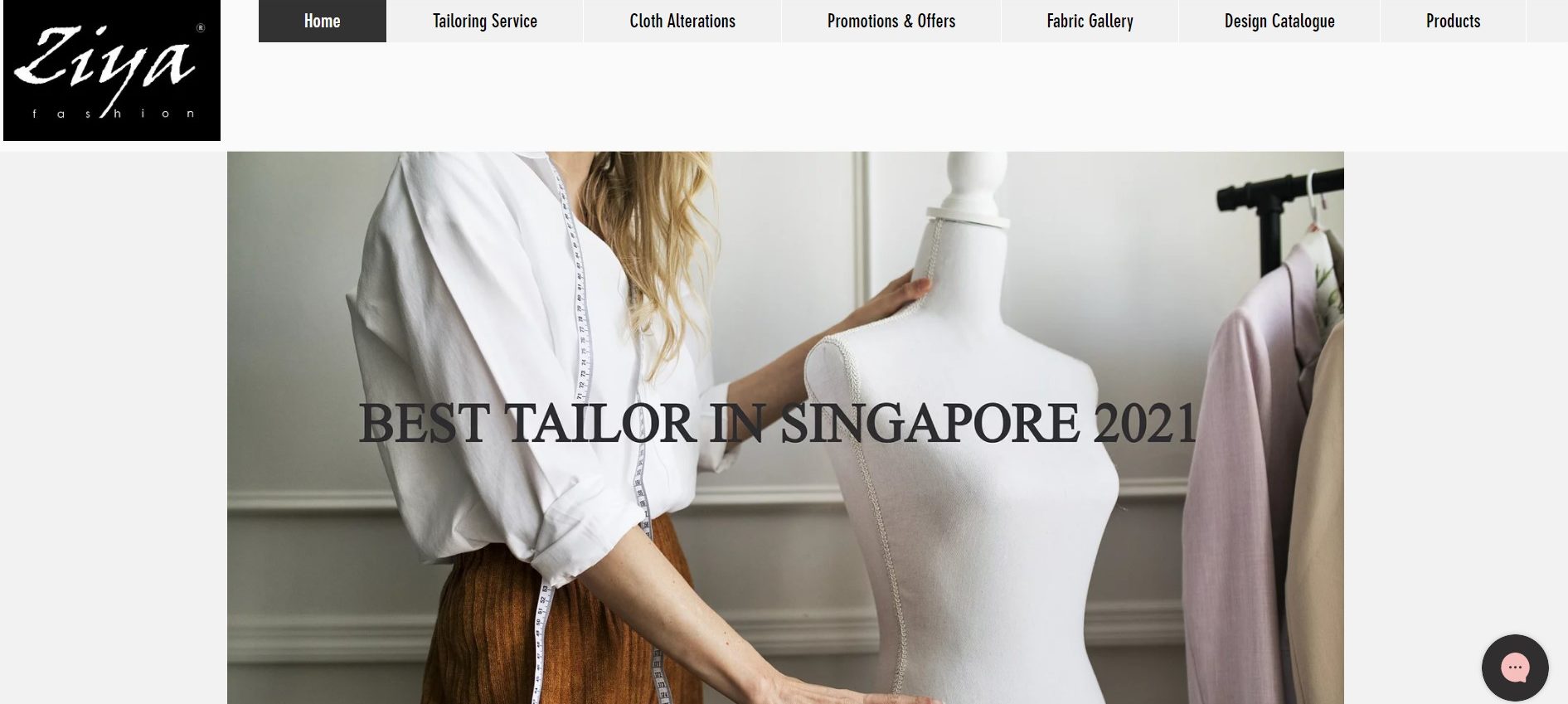 BEST FOR
Bespoke tailoring
SERVICES

Tailoring service, Cloth alterations, fabric store

WEBSITE
http://www.ziyafashion.net/
ADDRESS

02-18, Golden Landmark, 390 Victoria Street, Singapore 188061

CONTACT DETAILS
+65 8363 6036
[email protected]
OPERATING HOURS
Everyday: 11am – 7 pm
Ziya is definitely one of the best tailors in this day and age, recommended not only by the people in Singapore, but in different parts of the world. They're known for providing premium-quality suits and clothes that are still budget-friendly.
Aside from regular suit and formal wear, Ziya Fashion also offers Punjabi suits, made by some of the most talented Indian and Malay tailors in the shop.
They're definitely a one-stop shop, from purchasing fabrics, to having it made into a fine piece, and even for alterations.
Simply check out the website for any more inquiries or contact Ziya Fashion through email or their contact number.
Service Highlights
Made to measure suits
Pocket-friendly tailoring
Highly-experienced in traditional fashion
Customer Reviews
Ziya Fashion has received nothing but great reviews from their customers, always praising them for high quality suits that are longlasting and durable. To further check, below are some of the feedbacks left on their website:
"Great service – the visit to Ziya Fashion was definitely worthwhile, I feel that Ziya was very flexible and kind. She did our dress within 48 hrs and delivered to us at hotel on time. Thanks for your help."
— Shirley, Malaysia

" Ziya understood my design choice very clearly and presented the fabric right appropriate for the dress.
Her tailoring workmanships is very neat and experienced.
I was very pleased with the service and support provided."
— Elizabeth, UK
29. My Singapore Tailor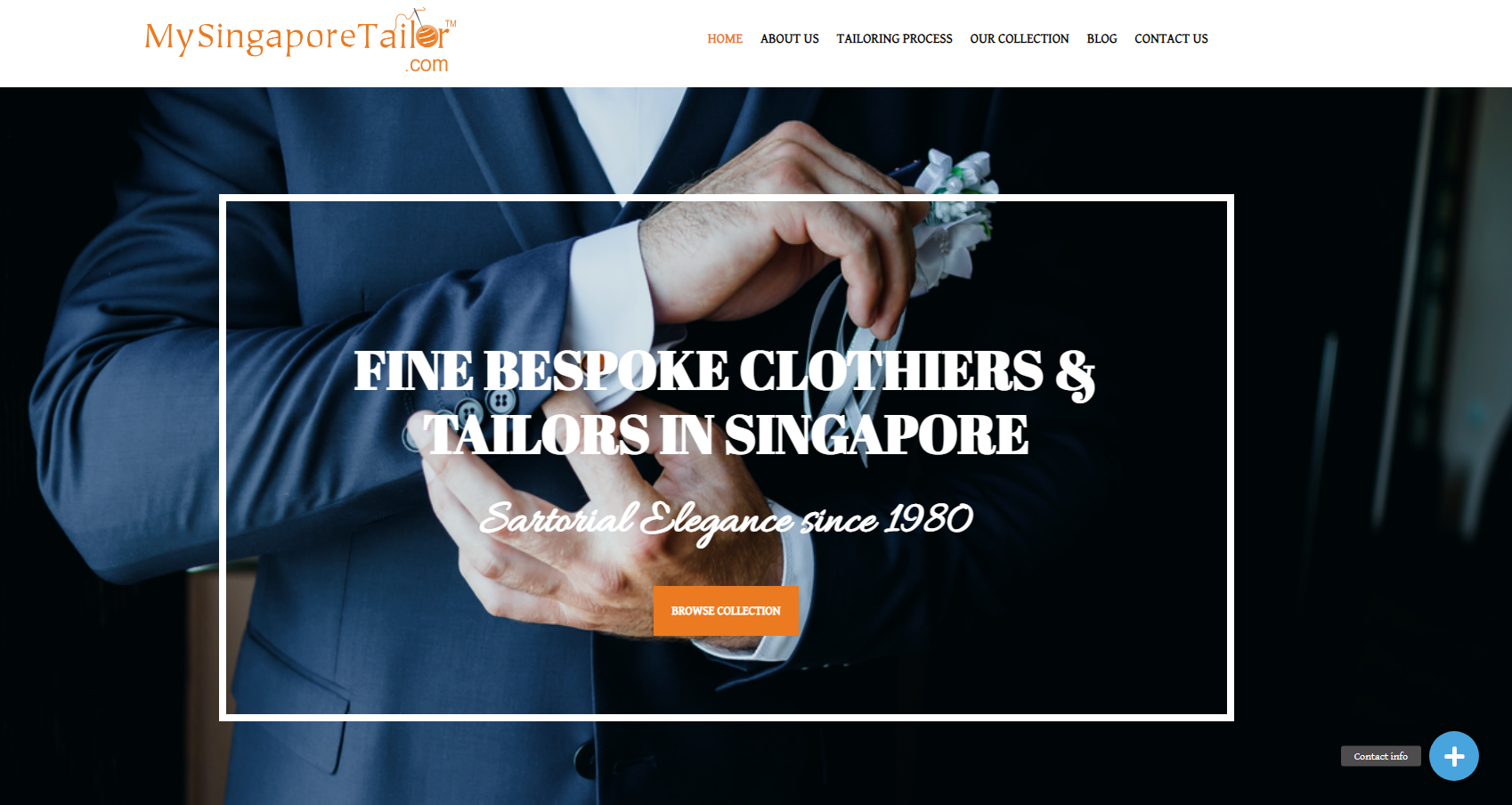 BEST FOR
Bespoke Men & Women Tailoring
SERVICES
Suits, Tuxedo, Dinner Suits, Black Tie Suits, Formal Suits, Jackets, Sports Coats, Blazers, Overcoats/Topcoats, Shirts, Pants/Trousers, Vests, Pant Suits, Skirt Suits, Dresses, Wedding Dresses, Evening Dresses, Prom Dresses, Cocktail Dresses, Skirts, Blouses, Corporate and Company Uniforms, Costumes and more
WEBSITE
http://www.my-singapore-tailor.com
ADDRESS
100 Orchard Road
03-01/02 Concorde Hotel and Shopping Mall
Singapore 238840
CONTACT DETAILS

Tel: +65-67385874
Tel: +65-94236784 (Master Tailor David)
Tel: +65-94516620 (Master Tailor Harsha)
Tel: +65-91891744 (Master Tailor Nisha)

Email: [email protected]

OPERATING HOURS
Monday to Saturday – 11am to 8.30pm
Sunday & Public Holidays – 12pm to 5pm (by appointments)
MySingaporeTailor.com, a family-owned business, has more than 40 years of experience in fine bespoke clothing for men and women.
Master Tailors Deepak, Harsha and Nisha Nandwani pay every little attention to the details and requirements of their clients. 
The tailors at MySingaporeTailor.com guide you through every step of the bespoke tailoring process – from the fabric to the fit, right to the finishing touches. Best of all, their top-notch clothing is available at affordable prices.
Not enough time to get a suit made? They also provide suit and tuxedo rentals and off-the-rack clothing for all your special occasions.
Service Highlights
Bespoke tailoring for men and women and custom-made formal accessories

 

Wide range of suit fabrics including luxurious selections from Ermenegildo Zegna, Scabal, Holland and Sherry, VBC etc.

 

Suit and tuxedo rentals and sale, rental of formal accessories
---
*Images are taken from each company's official websites/social media.
With tailors like these, you should find it a breeze to get the suit of your dreams. Any of these can create an elegant, custom-fitted suit that you can use for nearly any business or formal event.
By the way, don't forget to treat your suit right after you do get one made by one of these tailors. Only clean it in the way recommended, which usually means dry cleaning it.
If you don't know where to get your dry cleaning done, we have some suggestions for that too. Check out our list of the best laundry services in Singapore and look for the ones with dry cleaning!