The 9 Services for the Best Catholic Funeral in Singapore
Preparing for a funeral while still grieving the loss of your loved one is hard — it leaves you with barely any time for each task! That's why there are lots of funeral services that offer the best Catholic funeral in Singapore: so that you can grieve and leave the logistics to them instead.
We've listed some of the most recommended places that provide the best Catholic funeral in Singapore. They offer responsive services and affordable packages so you'll surely find the one that you've been looking for.
1. Empathy Funeral Services

Headed by Eugene Tan, Empathy Funeral Services works to lessen the pain of death by helping families prepare the final rites for their lost loved one.
Every funeral planned by Empathy Funeral Services is prepared with quality in mind. By ensuring that everything is in order, Empathy Funeral Services gives the client the opportunity to focus on grieving and honouring those who have passed.
Highlights
Affordable, quality services
Competitive pricing
Inclusive funeral packages
2.

Singapore Funeral Sanctuary

BEST FOR
Different religions' funeral services
SERVICES
Post-Funeral Matters
Casket Services
Funeral Package
Flower Arrangements
Live Band
Repatriation Service
Food Catering
Funeral Hearse
WEBSITE
http://www.funeralsanctuary.sg/
ADDRESS
Singapore
CONTACT DETAILS
Phone : +65 3129 2430
Email : [email protected]
OPERATING HOURS
Open 24 hours
Singapore Funeral Sanctuary is the best company to acquire funeral services in Singapore as they cater to almost every religion there is and even have services available for those who do not have any religion. They're flexible when it comes to offered assistance, and proven to be cheaper in rates.
The quality of service is assured to be the best as they hire skilled individuals and continuously train them to make sure that their knowledge is always up-to-date.
With experience of over 20 years, you're sure to experience the best and most hassle-free set-up for a funeral, only with Singapore Funeral Sanctuary.
Service Highlights
Religious and Non-religious services
Funeral packages
Sea burial and space burial is available
Buddhist 49/100 days
3. Casket FairPrice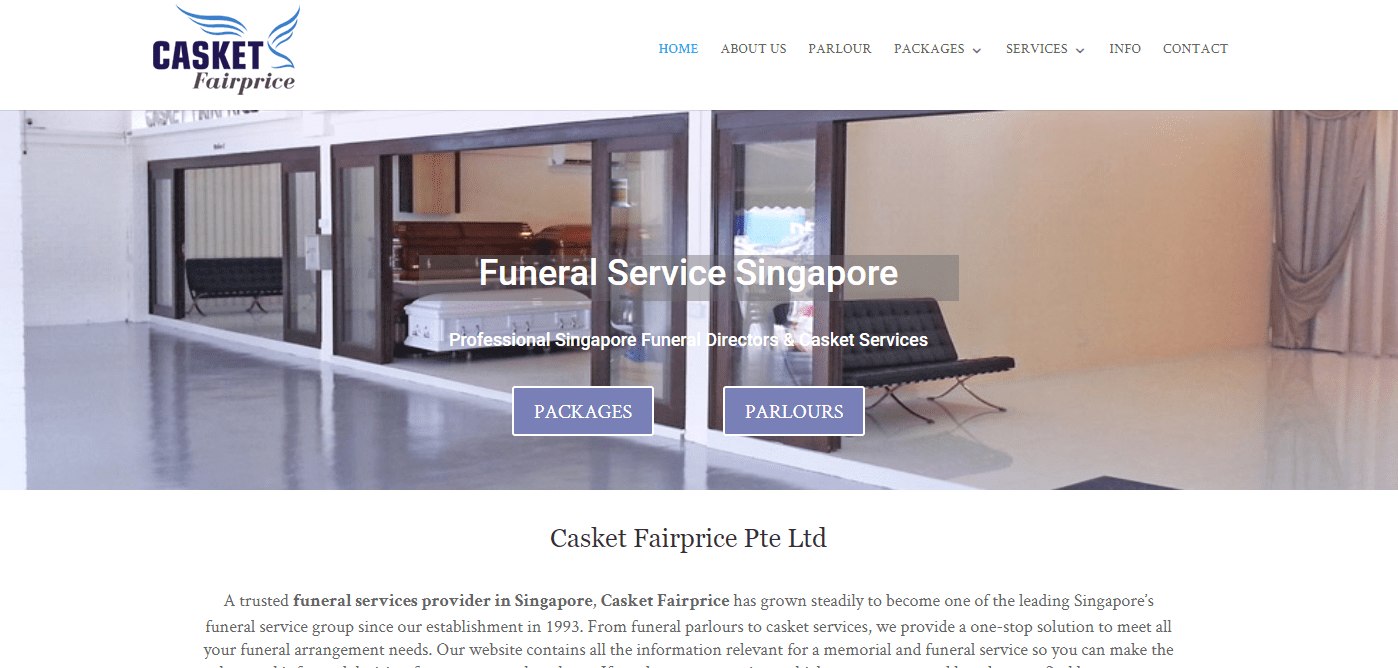 | | |
| --- | --- |
| BEST FOR | Canvas Tentage, HDB Void Deck Option, PA System |
| PRICING | Rates |
| WEBSITE | https://casketfairprice.com/ |
| ADDRESS | Blk 37 Sin Ming Drive, #01-571, Singapore 575711 |
| CONTACT DETAILS | 6455 9909 |
| OPERATING HOURS | Daily, 24 hours service |
Casket FairPrice offers 2 kinds of Catholic funeral packages: you can either choose to hold the wake at a funeral parlour or HDB void deck. Both packages provide casket, encoffining, and embalming services.
Preparations for memorial ceremonies, such as funeral decoration, photo enlargement, and floral arrangement are also part of their services.
Additional services like a condolence book and cash collection service are also included. With their HDB void deck packages, you can have a PA system and mobile toilet to accompany the guests.
This range of services is the reason they've become known for conducting the best Catholic funerals in Singapore.
Highlights
Funeral hearse
Ash collection service
Canvas tentage at the void deck
Embalming and casket services
Customer Reviews
Many clients have recommended Casket Fairprice due to the professionalism and sympathy of the whole team. They said that every staff member made sure that the funeral would go smoothly as planned, letting them have a peaceful wake.
A client wrote this feedback:
"I'm very impressed with Joseph and his team for handling all the wake and cremation services in a professional way. His vast experience is what mattered greatly and his kindness in answering my questions gave me a lot of assurance during my family's time of grief. I highly recommend Casket Fairprice for funeral services and recommend Joseph as a top notch Funeral Services Director. From: Mrs Chew"
4. Trinity Casket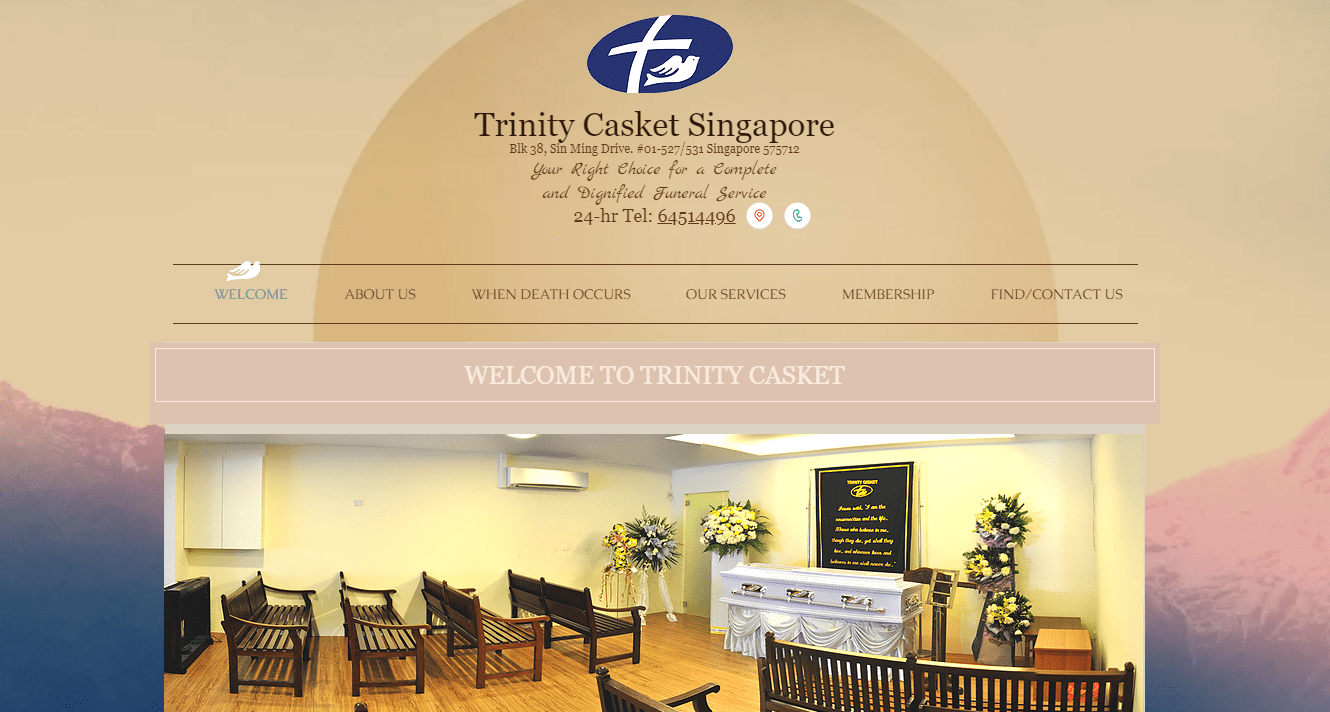 | | |
| --- | --- |
| BEST FOR | Membership Benefits, Varied Selections of Caskets |
| WEBSITE | https://www.trinitycasket.com/ |
| ADDRESS | Blk 38, Sin Ming Drive. #01-527/531 Singapore 575712 |
| CONTACT DETAILS | 64514496 |
| OPERATING HOURS | Daily, 24 hours service |
Trinity Casket is one of the longest-running funeral services in Singapore that conducts funerals for ministers and renowned businessmen. They've helped thousands of families all over the world by strictly following the traditions and performing the rituals.
Their offered packages are suitable for any family's needs and budget. Their service range includes casket supply, specialist embalming, transportation services, ash collection, and more.
Aside from this, they have a wide collection of caskets featuring simple, classic, or luxurious styles. To help you prevent excessive and unnecessary funeral costs, you can avail of their membership plan to get special discounts and benefits.
Highlights
Lifelong membership perks
Casket and embalming services
Transport services
Ash collection
Varied collection of caskets
5. Embrace Funeral Services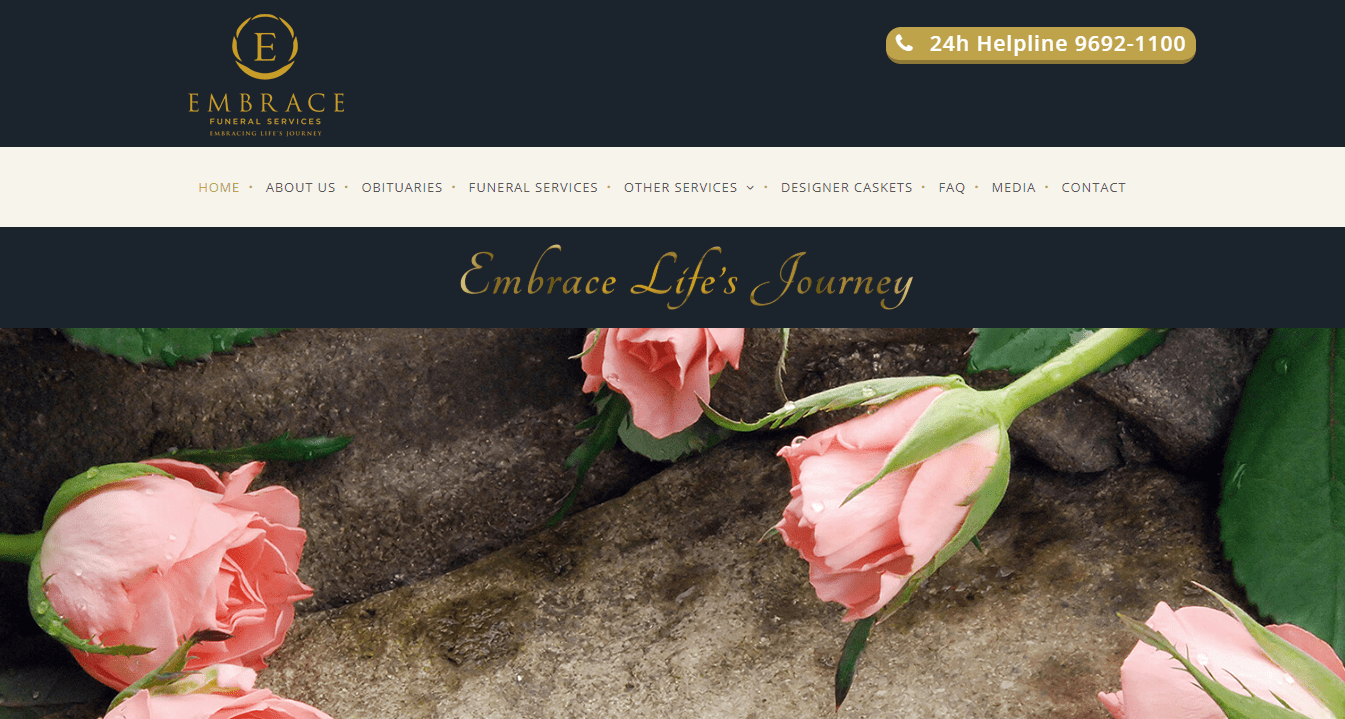 At Embrace Funeral Services, wake and vigil traditions, memorial mass and rites are all managed by professional funeral organisers. The team here always makes sure that each family will have a personalised and dignified funeral.
They can assist you with both pre- and post-funeral processes. With their pre-planning funeral services, you can relieve the financial burden by setting aside funeral funds in advance yet still be assured of receiving quality arrangements later on.
On the other hand, their post-funeral services include after-death care. This includes sea burial, tombstone and burial, urns and niches, and grave exhumation.
For families who are really in need, they offer pro bono funeral services as well.
Highlights
Pre and post-funeral services
Grave exhumation
Designer caskets
Customer Reviews
Most clients shared that Embrace funeral Services truly guided them and delivered a memorable funeral. They praised the team and said that they experienced the best Catholic funeral in Singapore thanks to them.
A client posted this review:
"A very professional team. When my father passed away, they took care of our needs and really guided us throughout the whole process. We felt really reassured that everything is handled professionally. They did not disappoint us when we once again engaged their service when my grandmother passed away. They did the ritual beautifully and with grace. I have to specially thank Jeffrey for the wonderful emcee that he done during the farewell ceremony. The way they conducted the Buddhist farewell ceremony was really meaningful and brought a nice closure to the funeral process. Good job to Jeffrey and their team."
6. Direct Funeral Services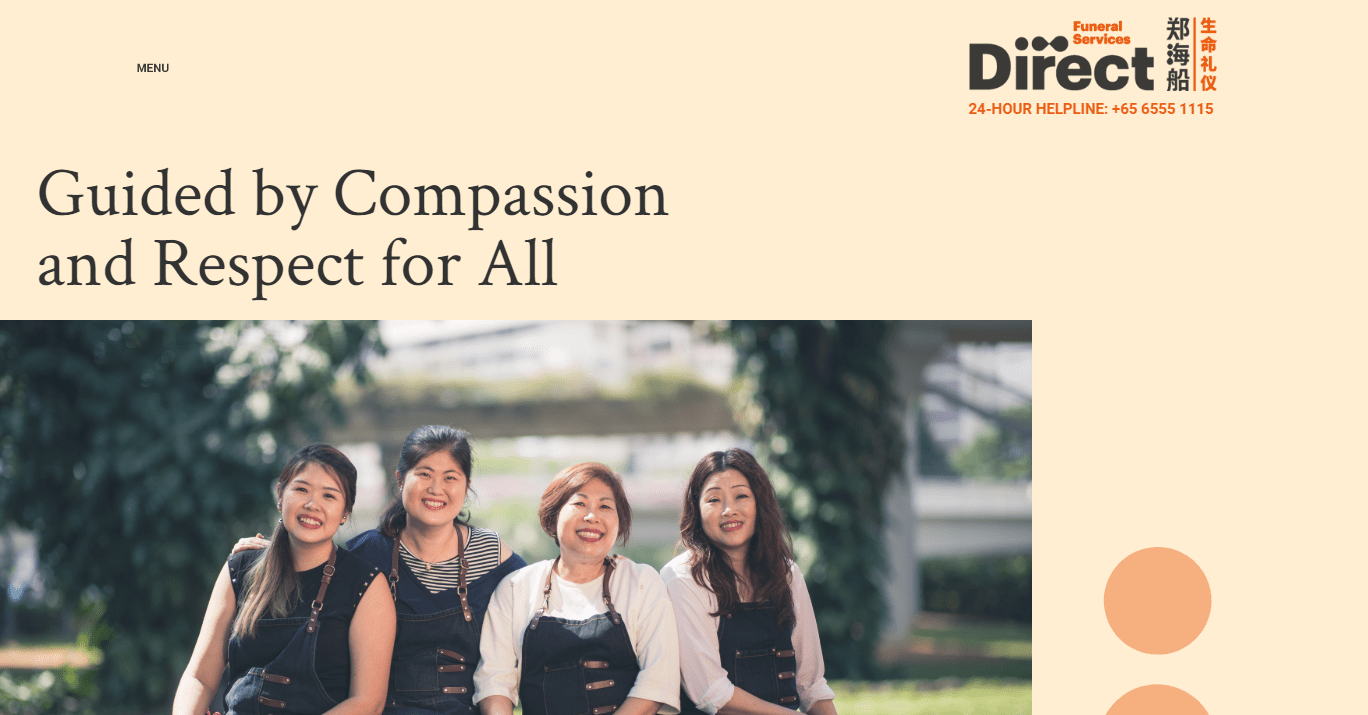 Direct Funeral Services offers 3 different Catholic funeral packages. Each package includes a comprehensive range of services, helping you have a peaceful wake.
Their offered memorial hall consists of an air-conditioned room, outdoor seating, restroom, security surveillance, sound system, and many more. It's also near public transport, so relatives and friends can easily find the place.
Their dedicated team offers embalming and dressing, emceeing, catering, and ground services. They also have a broad range of casket selections and curated floral arrangements.
Personalized services such as photo collages projected on a screen, a wishing tree with condolence messages, personalised excerpts, and more details are part of their services as well.
Highlights
Curated caskets
Funeral hearse
Post funeral services
Exhumation and remain relocations
Repatriation
Customer Reviews
Clients said that Direct Funeral Services was able to meet their needs and create a dignified funeral. They were satisfied with the overall services and state that the company is indeed known for conducting the best Catholic funeral in Singapore.
A client left this feedback:
"Direct funerals through Roland and Jammie created a dignified beautiful funeral for my late mother. They were efficient, respectful, professional and anticipated all my needs. The flowers I ordered were just beautiful and l couldn't have been happier. They provided all I asked for and even upgraded my mother's hearse to a premium model. I gave my mother the send off that she wanted with the help of Direct Funerals. They are not cheap but you get what you pay for.  Highly recommended."
7.  Funeral Services Singapore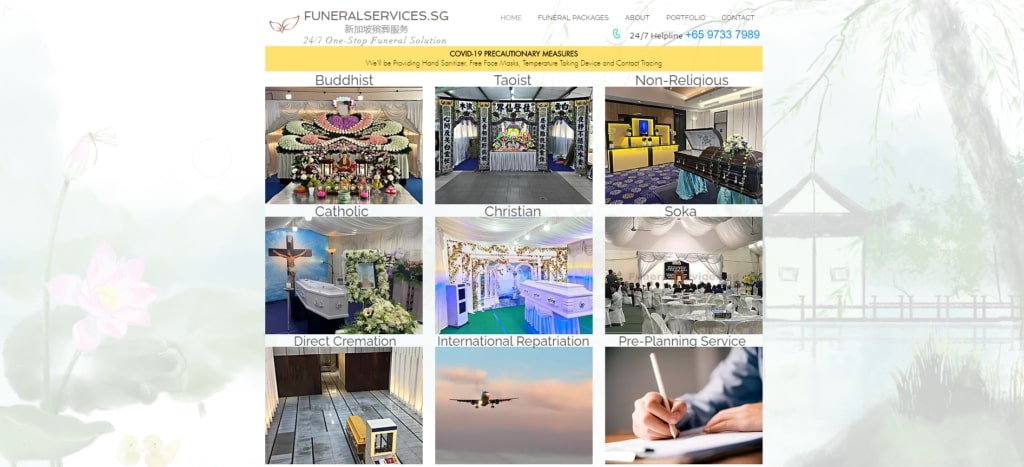 Funeral Services Singapore believes that a funeral need not be an expensive affair. With their funeral packages, you can see a loved one off without damaging your finances.
They provide both traditional and modern setups. If you contact them, you can expect prompt and attentive responses.
Highlights
Over 20 years of experience
Traditional and Modern setups available
8. Nirvana Memorial Garden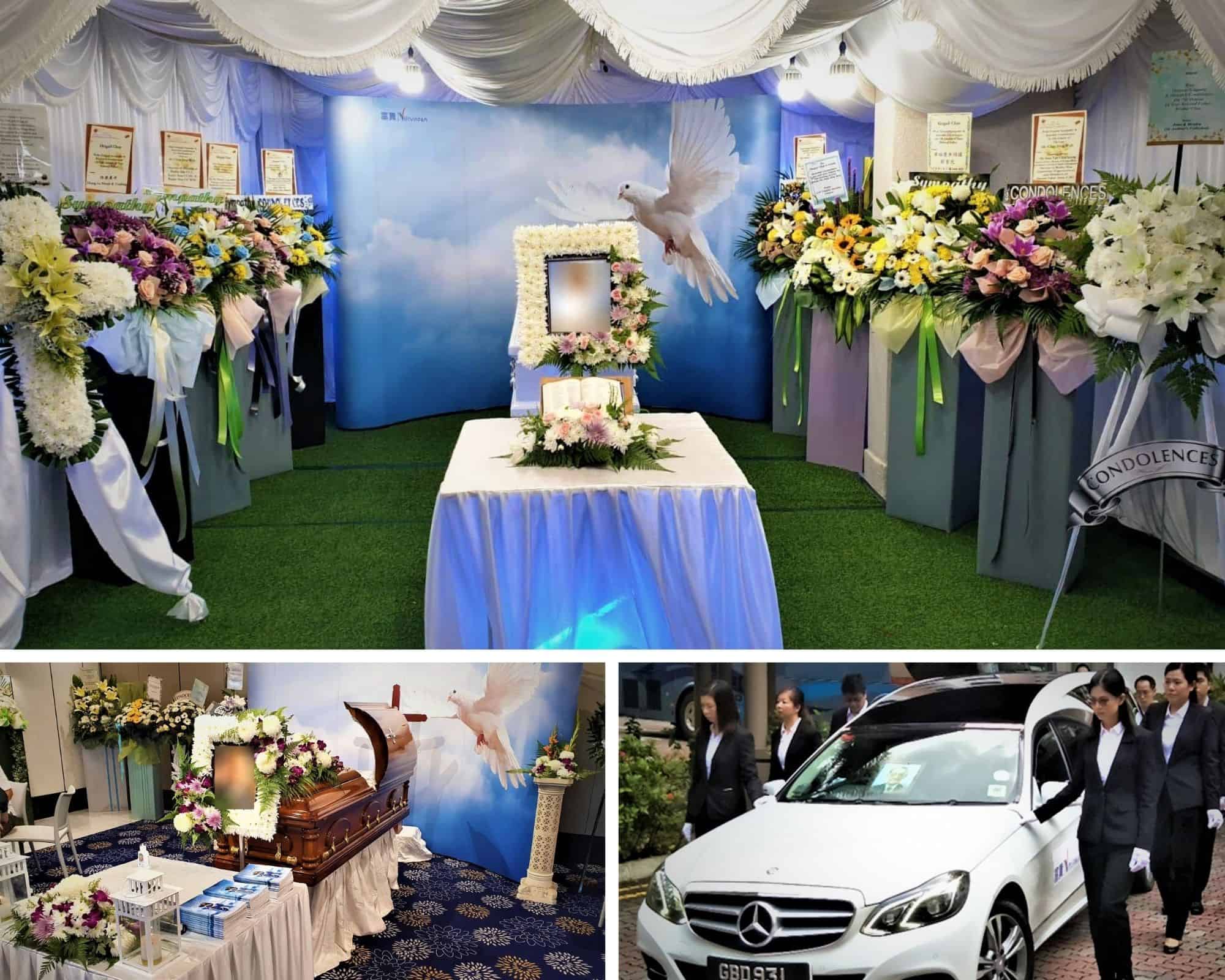 BEST FOR
Professional One-stop Funeral Services
WEBSITE
https://www.nmg.sg/
ADDRESS
950 Old Choa Chu Kang Rd, Singapore 699816
CONTACT DETAILS

Contact: 9660 3015

Email: [email protected]

OPERATING HOURS
Open 24 hours
Nirvana Memorial Garden offers personalized free-thinker funeral services, including casket, funeral hearse, coordination of memorial ceremonies, cremation urn, and ashes collection at the crematorium. Their funeral packages could be tailored to the customers' requirements, according to their respective cultures and practices.
They also have the free-thinker columbarium niches for urn placement. Their columbarium niches tend to be popular among those seeking an elegant final resting place in Singapore.
Nirvana Memorial Garden has a team of professionally trained female embalmers and beauticians. They are dedicated to provide sanitization, presentation, and preservation for the deceased body. It is their belief to have female embalmers to carry these tasks, as a form of respect especially to women.
Nirvana Memorial Garden promotes the funeral pre-planning and offers the monthly instalment at no interest rate. The price is transparent, and the checklist is followed and tracked from beginning till completion of funeral services.
They help minimise the stress of logistical matters the family has to go through during the funeral wake.
Highlights
One-stop funeral services
Lady embalmers
No hidden charges
Post funeral services
Free-thinker columbarium niches
9. Harmony Funeral Care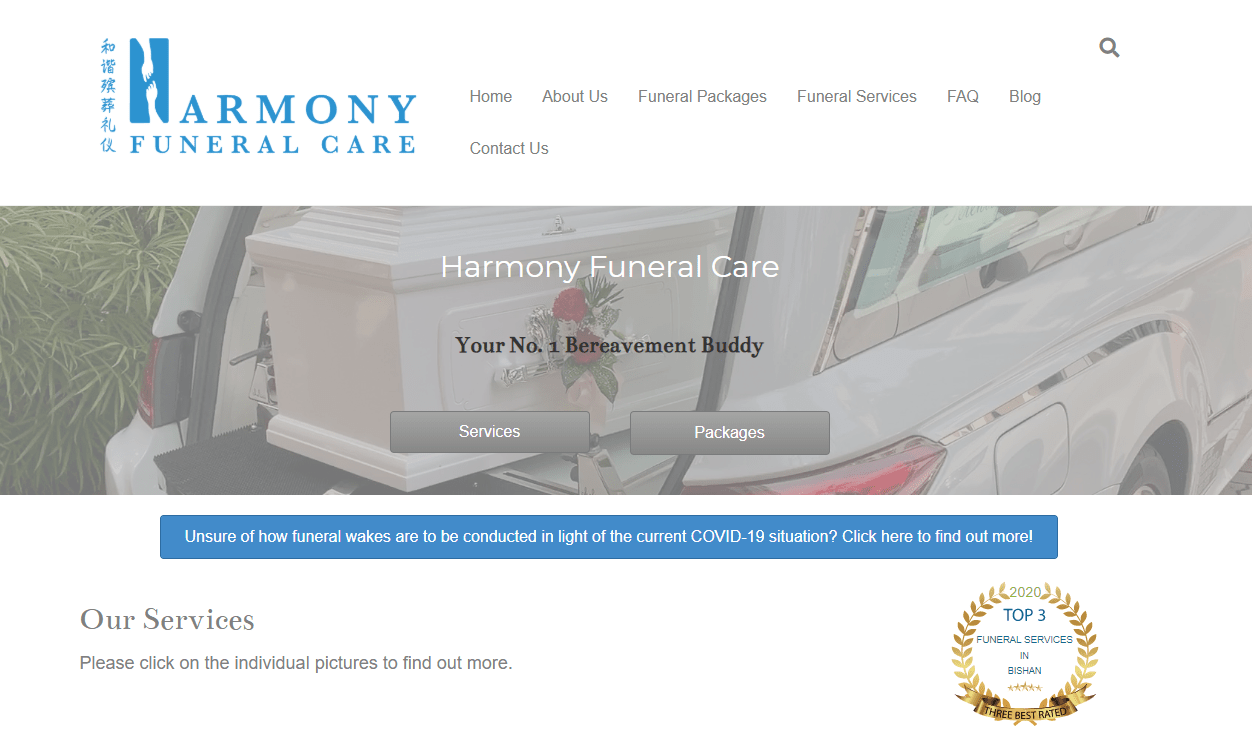 | | |
| --- | --- |
| BEST FOR | Volunteer Services from Churches, Application of Necessary Permits |
| WEBSITE | https://www.singaporefuneralservices.sg/ |
| ADDRESS | 38 Sin Ming Drive #01-523 Sin Ming Industrial Estate Singapore 575712 |
| CONTACT DETAILS | +65 9489 2424 |
| OPERATING HOURS | Open 24 hours |
Harmony Funeral Care provides en-coffining, burial, and cremation services with general Catholic traditions such as night prayers, final day mass, and final tribute.
For the families who are not sure which priest to have for the ceremonies, rest assured that they can engage volunteer services from churches. With their decades of experiences, they've never failed to offer tailored packages to meet the needs of families.
Their services include preparations for necessary permits, funeral venue booking, transportation of the dearly departed, embalming, casket provision, and many more.
You can also ask them to hold the funeral at an HDB void deck or a multi-purpose hall for privacy.
Highlights
Embalming services
Newspaper obituary publication
Ash collection service
HDB tentage set-up
Customer Reviews
Harmony Funeral Care has received a lot of positive feedback from their clients who said that the team was able to handle the whole process with ease. Clients also shared that they felt reassured with the guidance and support given to them.
That's why many locals claim that Harmony Funeral Care truly offers the best Catholic Funeral in Singapore. A client gave this review:
"My first experience with Harmony Funeral Care was during my uncle-in-law 's wake and was impressed by the team's good job. Therefore it makes me want to engage them for my father's funeral. Without failing, Harmony gave me advice during the pre-planned session and also worked towards my last minute changes/new request . Thank you Harmony for all the good work and turning my father's funeral into a memorable for my family & friend"
And that's our list of the funeral service companies you should go to for the best Catholic funeral in Singapore! Have you already decided which one you'll visit? Let us all know all about it!
And if you'd like to see more options, take a look at these best funeral services in Singapore. They also offer funeral services with certain religion needs, letting you and your family have a beautiful funeral for your loved ones who have passed away.