The 25 Best Funeral Services in Singapore
Organising the funeral of a friend or loved one isn't easy, especially when you're dealing with grief yourself. In cases like this, it's better to let funeral homes take care of everything to give yourself some room for grief.
Today, we're looking at the funeral homes known for arranging the best funeral services in Singapore. We know how important it is to give a loved one a proper funeral, so we took our time going through them before coming up with our recommendations.
We'll also go over how much funeral services typically cost here in Singapore to help you prepare for the expenses.
The Best Funeral Services in Singapore
If you want to give a loved one or a friend a funeral that they deserve, here's our list of trusted funeral homes in Singapore that can help:
1. Empathy Funeral Services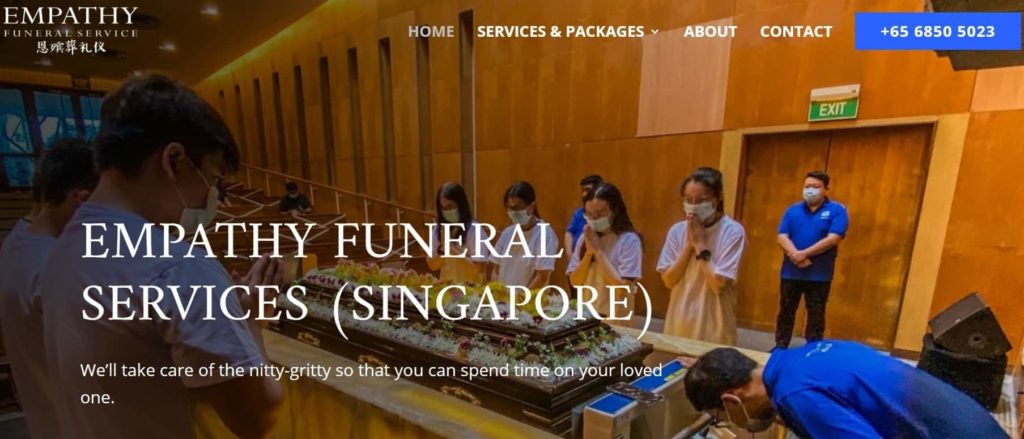 As suggested by its name, Empathy Funeral Services puts itself into the shoes of a grieving family to ensure that the funeral service will be as hassle-free and convenient as possible.
Every family will be able to take their time to grief because Empathy Funeral Services will take care of everything related to the funeral, down to details as small as the type of flowers and decorations used.
Aside from arranging the funeral, Empathy will handle the post-funeral services as well, something that not a lot of funeral homes do.
Empathy Funeral Services is open to arrange the funeral of everyone, regardless of the deceased's religious belief, even if he didn't adhere to a certain one.
We like that Empathy has an in-house team that handles everything, so the price is kept as low as possible. In contrast, it's common for other funeral homes to outsource its services, resulting in higher funeral costs because of middlemen fees.
Empathy is upfront when it comes to pricing too, so what appears on the quotation will be largely similar to your final bill. No grieving family will be tricked with last-minute charges and hidden fees.
For those who want to prepare for the death of a loved one, Empathy can help with that as well. It offers funeral pre-planning to families with old and terminally ill members.
2. Singapore Funeral Sanctuary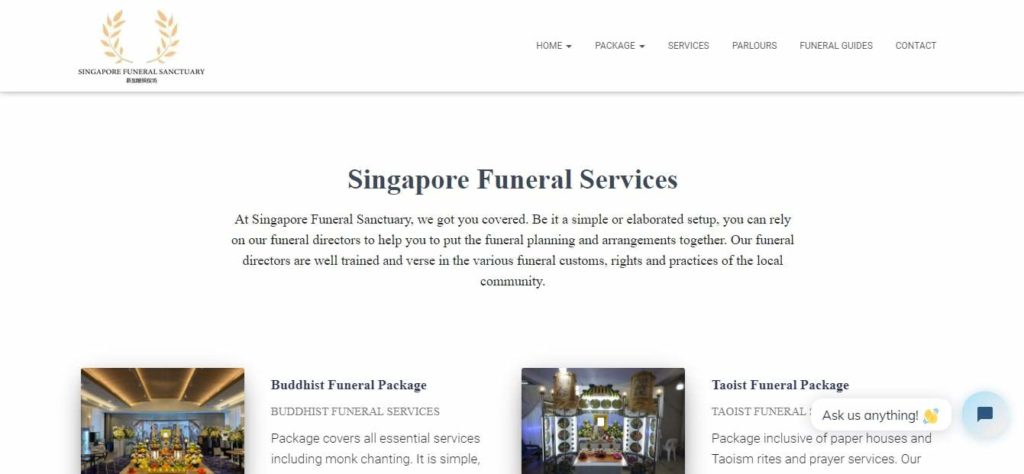 Operating 24 hours a day, Singapore Funeral Sanctuary has been working non-stop and tirelessly for 20 years now. It's a funeral company that can organise simple and grandiose wakes for all religions, including Christianity, Buddhism, Taoism, and more.
If you've lost a loved one or a friend due to COVID-19, you can get its funeral packages at a significantly lower price. It's one of the few Singapore funeral companies to do this, so we admire them for that.
Singapore Funeral Sanctuary's funeral packages are pretty loaded from what we've seen, but those can be customised according to family's preferences and the religious background of the deceased.
Despite dealing with multiple clients every day, Singapore Funeral Sanctuary makes sure that all questions and concerns of customers will be addressed right away. You can expect quick responses from them even during the wee hours of the night.
Singapore Funeral Sanctuary believes that everyone deserves a dignified wake and burial regardless of their financial capacity. In fact, it even provides pro-bono services to the underprivileged.
If you don't have a huge and flexible budget, worry not because its funeral directors can work around your budget, no matter how limited it is. No need to sign up for loans and borrow money from friends and relatives.
Customer Reviews
Take a look at these comments shared by previous customers:
"Price is very reasonable. The setup goes beyond my expectations and was beautifully set up. Our funeral director paid attention to every single detail from the start to end. Very appreciative of what has been done for us. Thank you" -Brody Ward
"Darron and Zick sprung into action when I called them at the last minute to help arrange my aunt's final rites. They were supportive, efficient and paid incredible attention to detail. When it came to arranging the wake in a dignified and beautiful manner, they accommodated our requests and actually came back on several occasions to check up on how everything was going. A very big thank you to Darren, Zick and their entire team for making my aunt's last journey a smooth and dignified one that she would have been grateful for." -Ruth Smalley
3. Nirvana Memorial Garden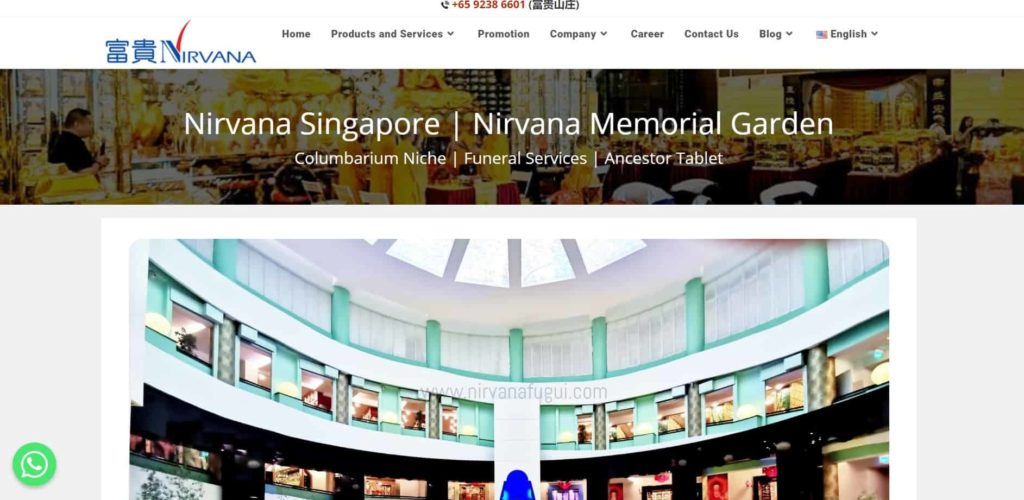 Nirvana Memorial Garden is a modern columbarium that features elements of Feng Sui and provides clients with comprehensive funeral services for locals. From ancestral tablets to prayer services, their facilities are specially designed to attract prosperity and energy which greatly benefits the ancestors resting inside their buildings.
We like that their fees are straightforward and transparent so that clients can enjoy 0% interest for installment payments and no management fees as well.
Furthermore, they make use of state-of-the-art facilities to ensure that both the departed and their loved ones feel comfortable and at peace throughout the whole service by also combining Chinese interiors with modern ones.
Note that though there are packages readily available, their rates aren't stated so clients may need to fill up their forms and expect a reply from them within 24 hours.
Nonetheless, with their elegant set-ups, professional personnel, inclusive packages, and highly modern interiors, we highly recommend them to clients looking for a peaceful resting place for their loved ones who have passed away.
Customer Reviews
Here are some reviews from their clients:
"I'm glad to have chosen 富贵山庄 and also really thankful to Keh Sin for all her services. She has helped to arranged and planned everything leaving my family free from worries during our most difficult time."
"Excellent service provided! Kehsin is meticulous in providing details on my afterlife planning without judging my young age. She spent time going thru different products and help me to understand the product that can fulfil my needs and to my best interest. In a service industry similar to insurance, this will be my last insurance in the lifetime and I'm very fortunate to have meet Kehsin and her team. I want to take a minute to compliment her dedication and high degree of working ethic, placing her client as priority. Highly recommended to anyone who is interested to engage in her expertise!"
4. Best Funeral Singapore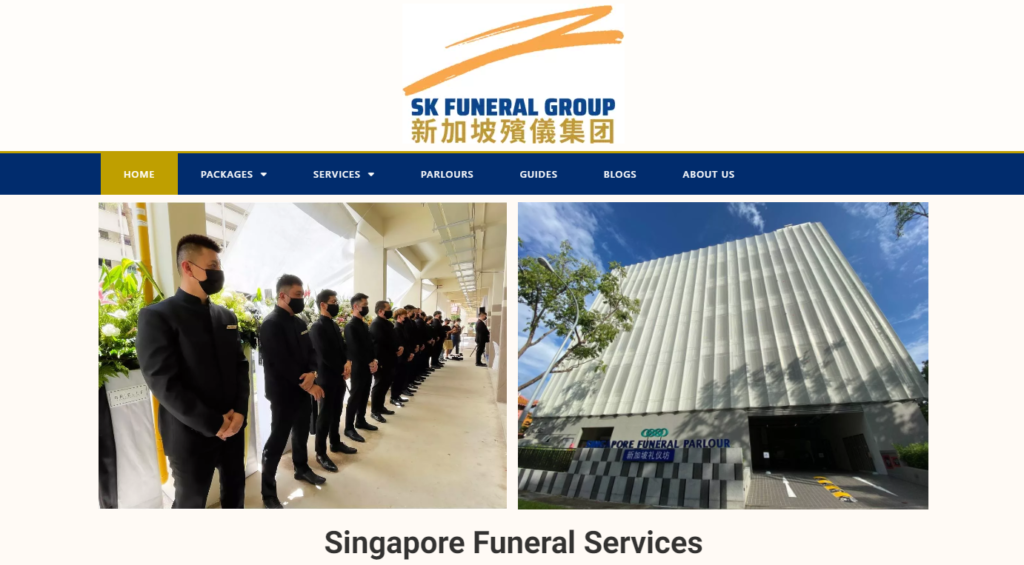 When it comes to funeral services in Singapore, there is no forgetting SK Funeral Group.
SK Funeral Group is one of the oldest funeral groups on this list, having served Singapore for over 30 years now. Throughout the years, SK Funeral Group has become a staple in the field, offering comprehensive funeral services to those who are in need of it.
One of the best things about SK Funeral Group is that it takes on jobs regardless of their client's origins and religion. This is very much evident in the company's service list, which includes funeral services for Buddhists, Taoists, Free Thinkers, Christians, and Catholics.
Aside from the extensive list of services, SK Funeral Group is also known for being a one-stop funeral service provider. SK Funeral Group supplies their own essential items for funerals, including traditional hearses, Mitsuoka hearses, and other essential items, as well as a group of dedicated crews.
It's also worth noting that SK Funeral Group prides itself on its transparent pricing and honest services. They offer competitive rates and provide a proper break down of expenses to each and every client.
For further details, SK Funeral Group can be reached via phone and email.
5. Holy Land Casket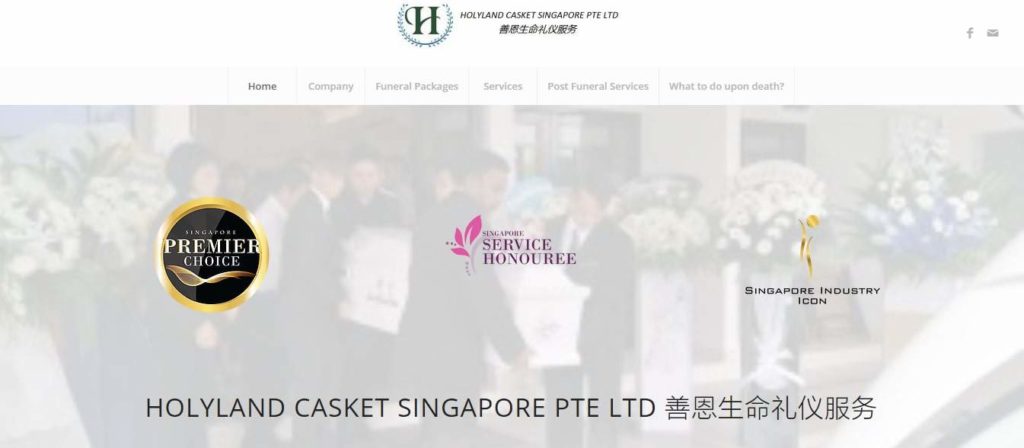 If you want a funeral package that can be customised according to your family's preference, that's Holyland Casket's forte! It's a funeral service provider that's open to everyone, no matter what their cultural and religious background is.
Holyland Casket, as of writing, has served more than 8,000 families and satisfied each and everyone of them, proving that it can can organise the best funeral services in Singapore
Best of all, it has an extensive range of funeral services that can be added to your funeral package if needed. These include embalming, nightguard, caskets, funeral photography, repatriation, and even catering.
We have a minor problem with Holyland Casket, though: its rates are slightly above average. However, other families tend to look past that given that there are no overtime charges and hidden fees.
Most families have commended Holyland's hospitality, sincerity, and patience when dealing with guests and relatives of the deceased, so we admire them for that.
For what it can offer, we stand by that it's one of the best when it comes to funeral packages that include almost everything you can think of and more.
Customer Reviews
Behind the comprehensive funeral services of HolyLand Casket Singapore is their team, which customers describe as being professional enough to plan and arrange everything in a proper service no matter the circumstances.
James Elvab shared his experience and wrote this feedback on Google Reviews:
"Angie, Justin and Jeremy were very understanding and helpful throughout the entire wake and service nights. They were very professional and humble throughout the entire journey. My family is very touched and grateful for their professional service."
6. Trinity Casket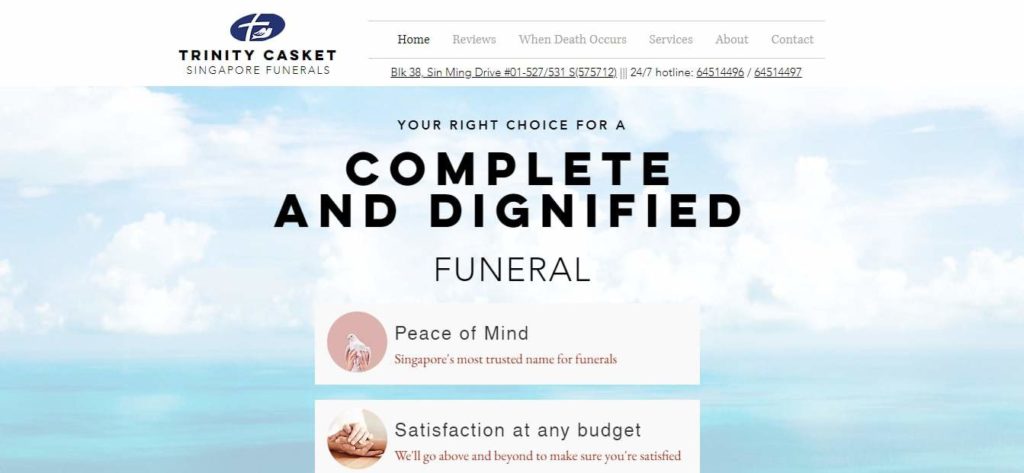 If you're looking for high-quality caskets, then there's no better option for you than Trinity Caskets. It's home to some of the finest caskets on the island, but we believe that its funeral services are worth checking out as well.
Trinity Casket may be primarily known as a source of first-rate caskets, but its funeral packages are nothing short of comprehensive. Some of the inclusions are transportation, funeral decorations, flowers, embalming, catering, and of course, a casket.
It's been around for almost 30 years and has helped more than 12,000 families, which serves as a testament to the quality of its funeral services. It wouldn't have survived three decades if there's nothing special about it.
Trinity Casket operates 24 hours a day, even on holidays, making it easier for people to get in touch with them. Its receptionist is always on standby and will walk you through the entire process.
There's no pressure of moving forward with their services too. You'll be given advice on how to move forward with the funeral even if you decide not to hire them, but this rarely happens though.
Customer Reviews
Here are comments posted on its website:
"Hi Angelo, the kindness you extended to us during my aunt's wake and funeral meant so much. Your professionalism made the planning and execution of the funeral painless and seamless. And you went above and beyond the scope of your duty to have the urn and ashes delivered to her son after his quarantine and for that I will be forever grateful to you" -Evelyn
"Moses was the best help I could ever ask for in a time of urgent need. He was sensitive, punctual, patient, aware, thoughtful and professional. For example, when it was time for the sea burial, our family completely forgot to bring the flowers. Moses, being ever thoughtful, brought along a basket of loose flowers for us to do so. Another example was when he hurriedly prepared umbrellas when it started to rain before the send off. Thank you from the bottom of our hearts, Moses. We are blessed to have received your assistance." -Jason
7. Gallant Garden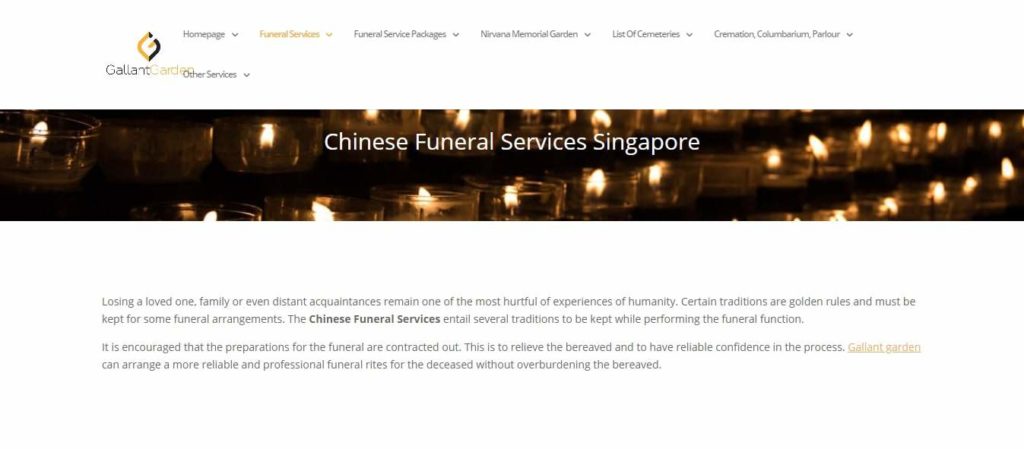 Gallant Gardens is a funeral company that operates round-the-clock from Monday to Sunday providing all types of religion-based funeral services. Here's why it earned a spot here:
First, it goes the extra mile to make funeral services more accessible for everyone, regardless of the financial capacity and religious background. It explains why its rates are slightly lower compared to other funeral parlours.
Second, no family member of the deceased will have to lift a finger because its funeral directors will take control of everything, from transporting the body to sourcing funeral decorations for the wake.
Some of the religious funeral services handled by Gallant Gardens include Catholic funeral, Christian funeral, Taoist funeral, Soka funeral, and Buddhist funeral, among others. It's a funeral company that accepts everyone, so to speak.
All in all, Gallant Gardens stands as an excellent choice for every family due to its inclusive funeral services, accessible funeral packages, and competitive pricing.
8. An Lok Funeral Services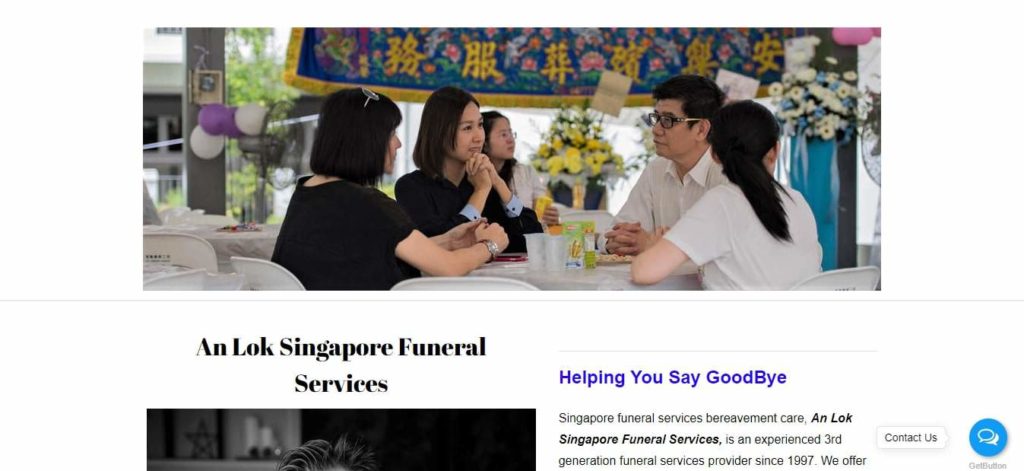 Founded in 1997, An Lok Funeral Services has grown into one of the most trusted funeral companies in Singapore for its comprehensive and competitively priced funeral packages.
It's one of few funeral companies on the island that can arrange a Baha'i Faith funeral, which is rarely seen here. Only a few individuals in Singapore practice it, but it's great that there's someone out there who can organise a wake that adheres to its customs.
Other religion-based funerals handled by An Lok are Buddhist funeral, Catholic funeral, Christian funeral, Soka funeral, Taoist funeral, and even free thinkers funerals. Its funeral directors will make sure that all rituals and traditions will be observed and respected.
For the location of the wake, it will be held either at a HDB void deck or a multipurpose hall, depending on the availability. Customers may ask for a larger funeral location to accommodate a large volume of visitors.
However, if the family wishes to skip the wake and proceed with the cremation, An Lok Funeral Services can arrange a direct cremation immediately as well.
We also like that An Lok is transparent when it comes to pricing, even if there are more services included in the funeral package than usual. You can expect that the initial quotation will be wildly similar to your final bill.
Customer Reviews
A previous customer named Kendy Loh shared the following comment:
"An Lok Singapore Funeral Services helped my bereaved family to cope with the loss of our loved one whilst ensuring that the wake was well-organised and dignified. In face of our sudden loss and grief, our beloved father still had a beautiful and respectful wake — this is only possible with the help of Alvin. He was transparent and honest with all charges and billables. He advised on what's practised traditionally and the difference in various rituals. He will always check the objective behind the family for the respective rituals and advise on what is practical and what is not necessary. He offered sincere options and not just whichever that is "best for business", it goes to show that An Lok practises good business ethics. Because Alvin was so reliable, honest and helpful, we engaged him for all of our beloved father's buddhist rituals (7th, 49th, 100th and death anniversary). An Lok is an honest and respectable business that prioritises the deceased and the bereaved family. I can not recommend their services enough. They are undoubtedly the best way to bid a loved one goodbye."
9. Singapore Casket Co Pte Ltd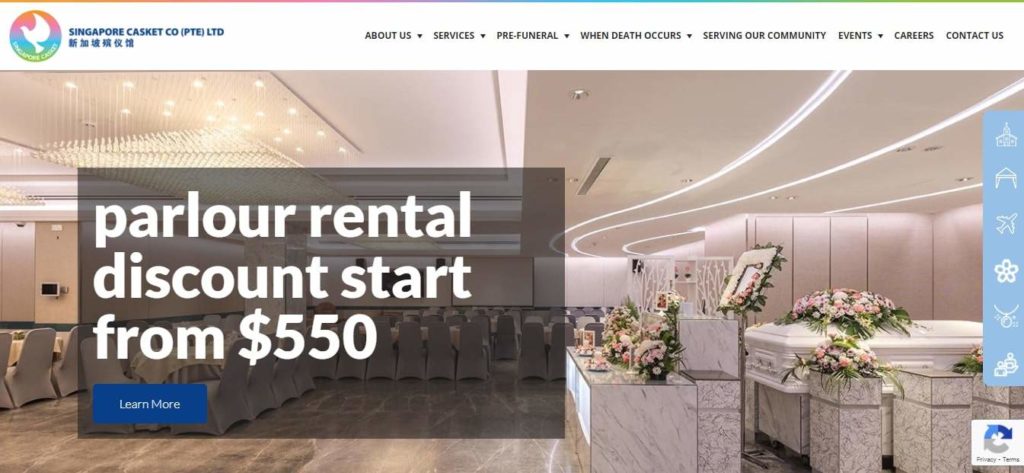 We have yet to encounter another funeral parlour with funeral packages as extensive as the ones offered by Singapore Casket, so it's no surprise it landed a spot here.
Aside from finding a funeral hall and sourcing funeral decorations, Singapore Casket can take care of the repatriation, embalming, make-up, obituary placement, food catering, and even the cremation of the deceased.
It's quite rare to work with a funeral company that can handle all these, but there's still more than Singapore Casket can do. For example, if you have relatives who won't be able to attend the wake, it can set up an online funeral live streaming for them.
Singapore Casket houses several funeral advisors who will guide the family throughout the course of the wak and provide post-funeral guidance if needed.
The immediate relatives of the deceased even have the option to hold the wake at a larger funeral hole. It'd be no hassle given that it has 13 funeral halls, including landed properties, HDB void decks, and open spaces.
If you're going to need help before and after the funeral, Singapore Casket won't go anywhere. It can arrange pre-funeral matters at no extra cost and provide post-funeral services like exhumation and relocation.
Customer Reviews
Take a look at these comments posted on Google Reviews:
"My family held my late grandmother's wake at Singapore Casket and we were impressed by the service provided. All the staff were polite and knowledgeable, which relieved a good deal of stress for us as we are not very well versed in funeral traditions. My grandmother's wake was held in the Sapphire Hall which was well appointed and comfortable. Everything went very smoothly, including the sea burial of my grandmother's ashes which was arranged by Singapore Casket as well."-M Leong
"One of the most reputable life services in central Singapore, tell them what you need, they will provide the whole package service. Very efficient and helpful. The price can be a bit pricey depending on what you choose but I recommend it if you are a foreigner."-Sin Hsin
10. Singapore Funeral Planner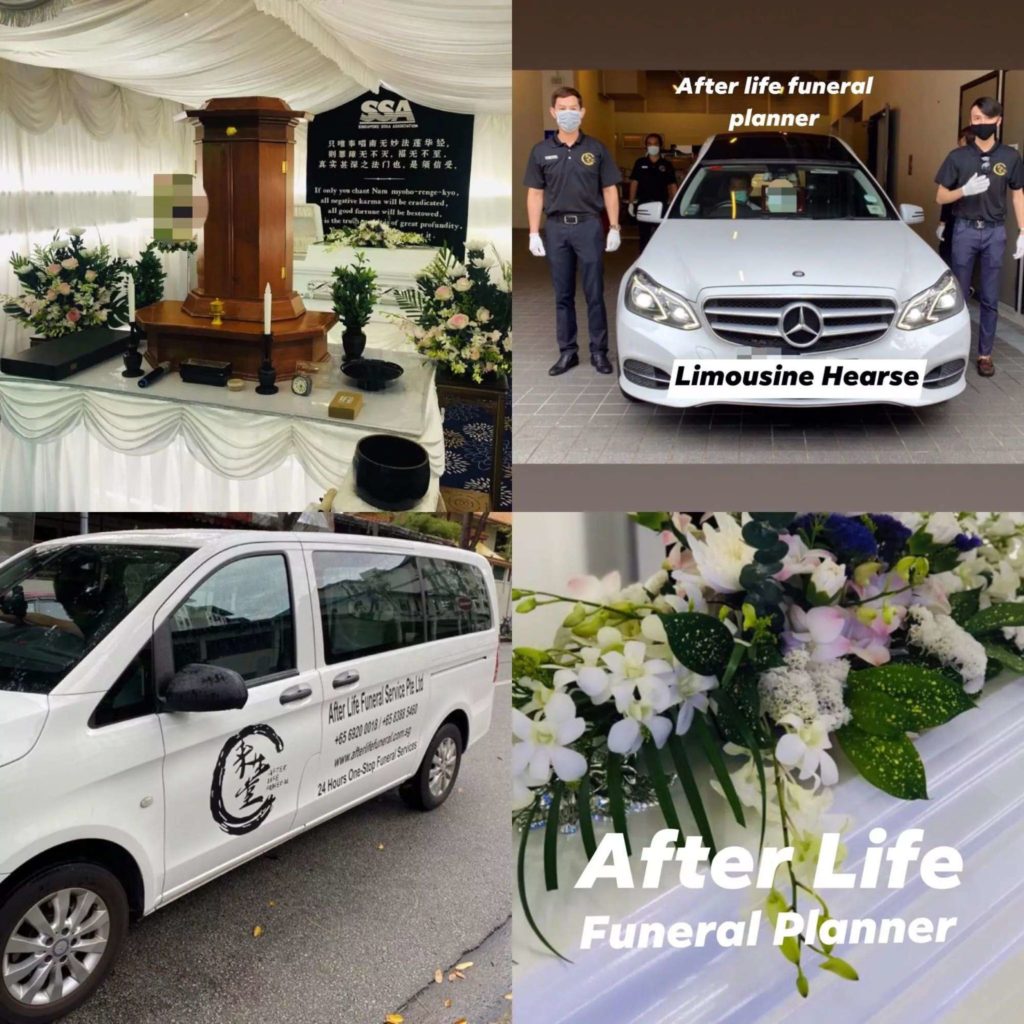 If you want a funeral company with a roster of experienced funeral directors, then we recommend taking a look at Singapore Funeral Planner. It's a one-stop funeral service provider that can handle all your funeral and burial needs.
Singapore Funeral Planner is open to families from different cultural and religious backgrounds, including those who chose not to practice a certain religion. It's been around for quite some time now, so it knows the traditions of most religions in Singapore.
We admit that it's a regular funeral company, so there's not much that makes it stand out from others. However, it does have a dedicated team that's available anytime and is more than happy to accommodate all your concerns.
Singapore Funeral Planner has also been praised for being detail-oriented, which is an important trait in a funeral organiser given that he observes the traditions and customers of a religious wake.
Customer Reviews
The team is praised for their good quality facilities and well-organized funeral services. Cirillo Hutsonaw left a comment on Google Review.
"The staff here are very professional.. they provide all you need in a package service. They are very efficient. Thank you!"
11. Harmony Funeral Care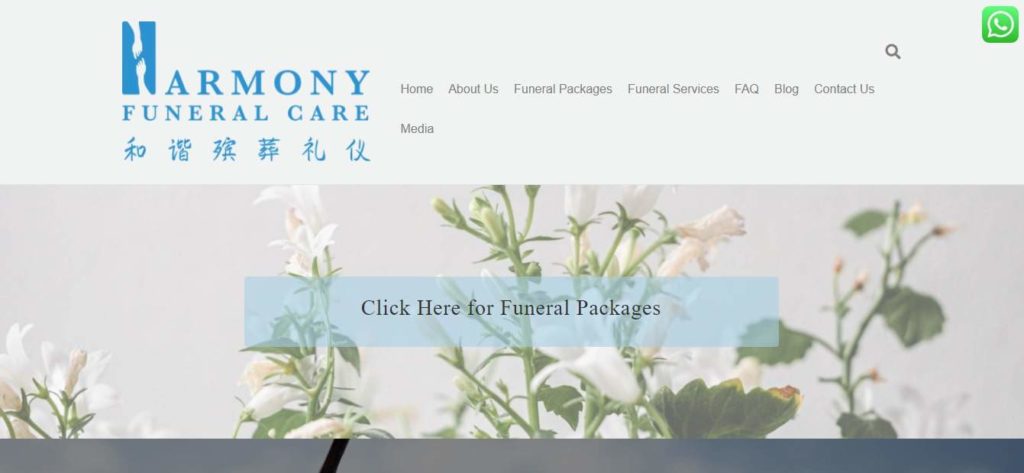 Harmony Funeral Care believes that sending off loved ones and friends shouldn't have to be financially draining, so it may be the cost-efficient funeral service provider you've been searching for!
As a family-operated funeral parlour, Harmony Funeral Care empathises with the family of the deceased by taking care of all funeral arrangements and giving them all the time and space to grieve.
Harmony Funeral Care's funeral packages contain all essentials, including transportation, flowers, funeral hall, funeral decorations, and food catering. If the deceased needs to be repatriated, the assigned funeral director will handle that as well.
If they choose not to, there's no need for the family to be involved in arranging the wake. Harmony Funeral Care will keep updated by sending them texts on the status of your loved one at every stage of the funeral.
It's worth noting that Harmony Funeral Care has been around for more than 60 years, so it knows every religious tradition and custom by heart. You can be sure that the rituals and practices will be observed properly throughout the wake.
Customer Reviews
Customers praised the funeral studio for the care and comfort that they gave during the burial. Here's a 5.0 review from Google:
"Was recommended to engage Harmony Funeral Care. Decided on them due to competitive pricing and good recommendations. They were able to have everything set up within the next day upon contact. I was really impressed with the speed of delivery and services provided. Harmony and her team assisted us throughout the 5 days mourning process up to the cremation. Today was the final day and everything went smoothly. I'm glad that I took up this recommendation. Thank you once again." -Joven Chan
"I engaged Harmony Funeral Care recently for a Christian wake and Funeral. It was a very pleasant experience. From the onset when Elizabeth came promptly and was able to explain clearly the packages and able to accede to some requests, they were able to comfort without being pushy. Well organised is the word to describe from the brochures which explained clearly the processes involved in the communication. I also like the set up which was clean and neat. On the final night of the wake, there was a briefing for us for the day of the funeral. The day of the funeral was a breeze as well. Thank you Harmony and team." -Melvin Koh
12. Sri Rudras Singapore Indian Funeral Services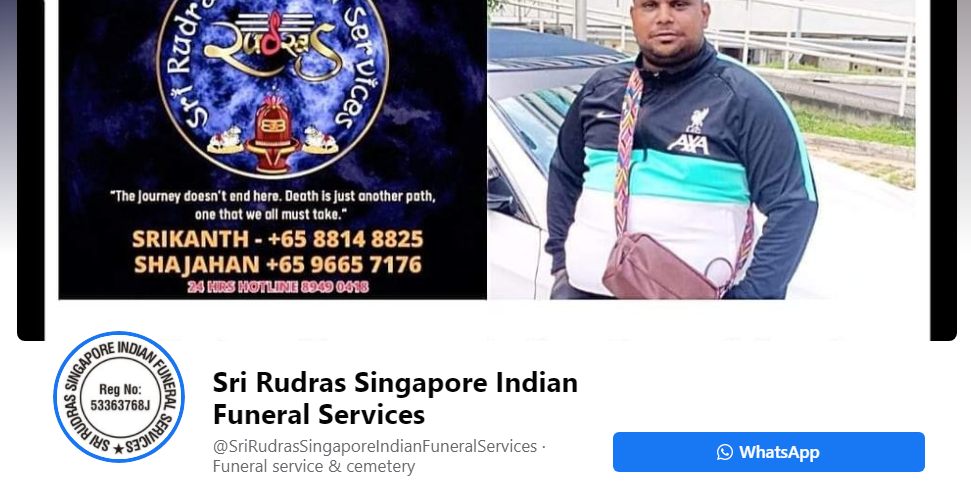 Mr.Srikanth is the founder and director of Sri Rudras Singapore Indian Funeral Services. He started learning this trade with passion at the age of 16.
He has gained immerse experience having been in this profession the past 24 years. Being a senior in the Hindu Funeral Service Industry in Singapore, you can ensure that your loved one's final rites and rituals will be conducted rightfully and respectfully by him and his experienced team.
In order to honor the precious final moments of your departed loved one, we can recommend Sri Rudras Singapore Indian Funeral Services for various reasons we will state below.
They are committed to working with utmost attention, dedication, care, and understanding to cater to all your funeral service requirements and to create a memorable service that your loved one truly deserves.
What's great about them is that they will completely understand that in times of bereavement, the family and loved ones of the decedent will be emotionally affected and to make decisions can be overwhelming. That is why they offer non-obligatory calls.
With this, you will be able to ask them for guidance and their range of Hindu Funeral Service Packages that may suit your requirements.
13. Jasa Budi Muslim Casket Services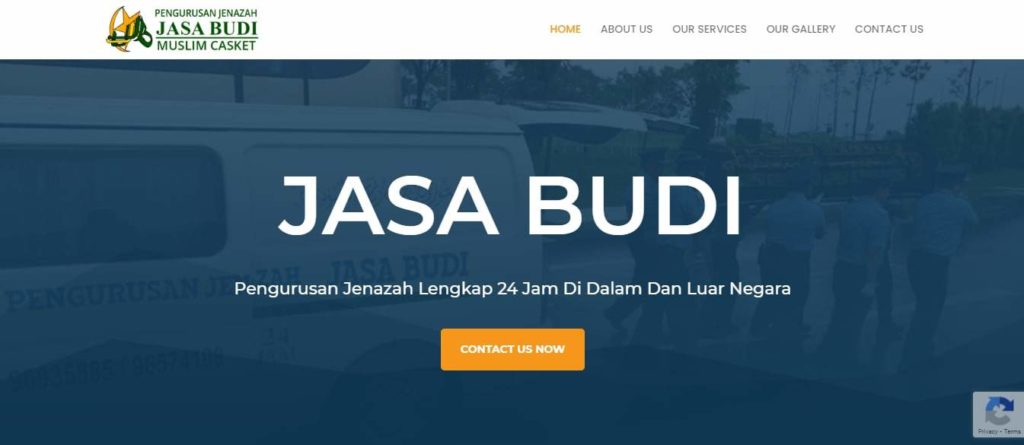 Jasa Budi Muslim Casket Services isn't exactly funeral company, but it earned a spot here because it's been helping not only the Muslim community here in Singapore, but in neighbouring countries as well.
If you have loved ones or friends that need to be repatriated into or out of Singapore, Jasa Budi Muslim Casket Services is the one to call. It's exported to and collected bodies from Indonesia, India, Vietnam, China, Australia, and even Cairo.
For bodies that don't need to be repatriated, Jasa Budi provides home/hospital packages that include transportation, cleaning and dressing the body, religious rites, grave maintenance, and drinks for the family.
There's no other burial-related ompany in Singapore that knows Muslim traditions and rituals better than Jasa Budi, so we highly recommended it to our Muslim brothers and sisters.
With only eight full-time staff, there's no doubt that Jasa Budi is a small company, but the quality of its services isn't to be underestimated. It doesn't outsource its manpower despite its limited staff and equipment.
14. Singapore Indian Casket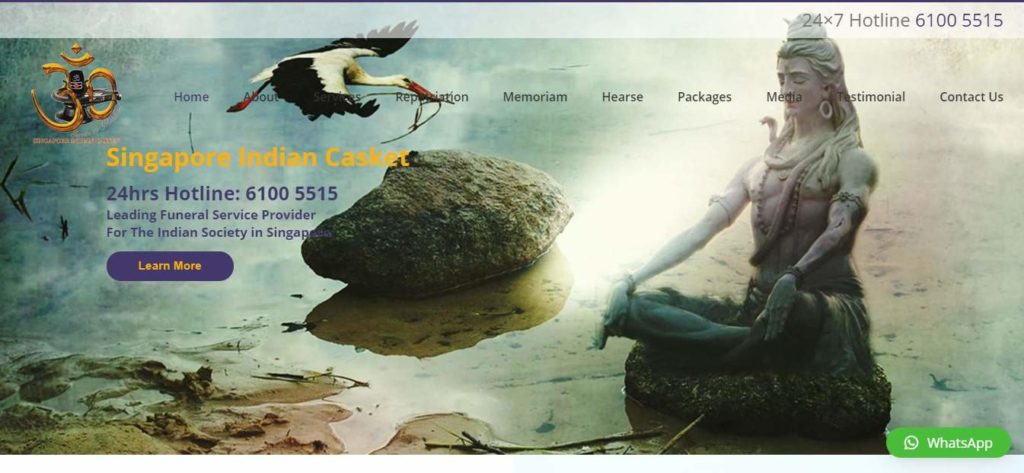 If you're an Indian living in Singapore, you've probably heard of Singapore Indian Casket because it's the leading Hindu funeral service provider on the island – and we're not surprised that it earned that title.
Singapore Indian Casket team is made up of a small group of local Indians with extensive knowledge of the Hindu culture and funeral rites. If you're going to let someone arrange your funeral, better leave it to someone who knows your culture by heart, right?
Another thing we like about Singapore Indian Casket is how loaded its funeral packages are. For its basic package, besides the casket and hearse, the flower decoration, bathing of the deceased, 45-seater bus, tables and chairs, and ash collection prayers are included.
You can even add embalming services and cremation to your package for a minimal additional cost. If you want a better casket and larger funeral hall, its funeral directors will take care of that as well.
We want to stress on the fact that Singapore Indian Casket has only been around for less than a decade, but it's managed to earn the trust of thousands of Indians living in Singapore.
Overall, Singapore Indian Casket serves the ideal option for Indians looking for someone who can arrange the funeral and burial of a loved one. It's efficient, dependable, and above all, owned by a fellow Indian.
Customer Reviews
Curious what previous customers had to say about it? Check out these comments:
"An extremely professional company led by Mr Kanthan. The entire team gave our grandma a beautiful send off on 19 Oct. They very patiently accommodated all our requests, some were last minute and some were tricky to execute but they made it happen. They treated our grandma like their own from day 1 till the ash collection day. We are extremely grateful to them for making our grandma's final journey smooth and fulfilling. Thank you very much Mr Kanthan, Mr Vinod and the rest of the team." -PLA
"I would like to thank Mr Kanthan & Mr Vinod(Buddy) for their funeral service of my beloved sister Saratha. They provided excellent service right from the beginning till the very last procedures. Was very clear with the instructions which were given by them and had been very patient in carrying out the process without any complications. Overall an excellent service provider that I would highly recommend to people who are intending to carry out a funeral service. Two thumbs up" -Ryan Irianto
15. Reliant Funeral Services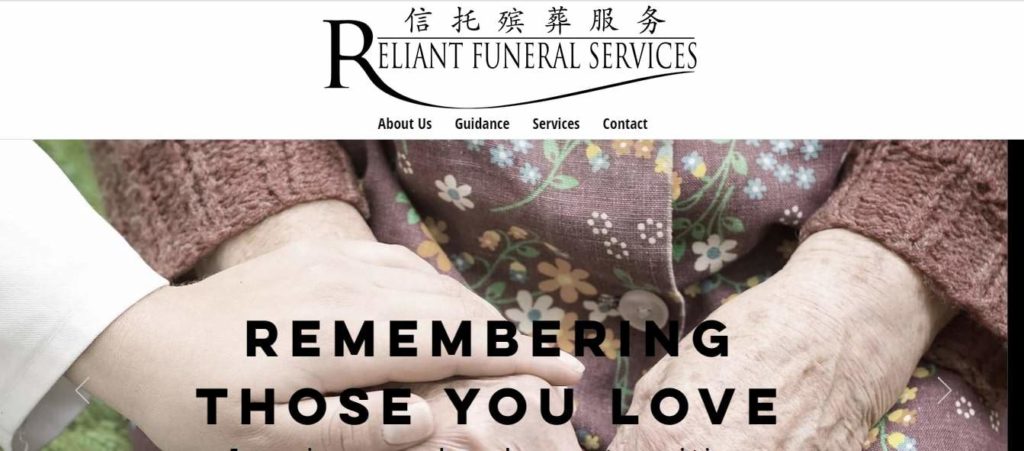 Founded in 2006, Reliant Funeral Services has guided thousands of families through the ordeal of losing a loved one. It may be a small funeral service provider, but its packages are packed with funeral necessities.
There aren't any complicated processes involved in hiring Reliant Funeral Services. All you have to do is call their hotline, pick a type of funeral, and let its funeral directors do all the work.
If other funeral companies will make you go through hoops and submit multiple documents first, consider Reliant Funeral Services different. With them, you will get all the time that you need to process the loss of a friend or loved one.
As with most funeral service providers in Singapore, Reliant Funeral Services accepts individuals from all cultural and religious backgrounds. Its post-funeral service even includes Gong Teck, a funeral ritual observed by the Chinese.
Family members who have dealt with Reliant Funeral Services have nothing but praises about how its team handled the entire funeral preparations for their loved ones. That reveals a lot about the quality of its services.
Customer Reviews
Take a look at these comments shared by a former customer:
"As its name suggests, Reliant was a strong pillar of support throughout my father's funeral. Being unfamiliar with Taoist funerals, we depended greatly on this wonderful company to guide us. On top of knowing exactly what they were doing and being efficient, they were also honest, trustworthy and sensitive in their interactions with us. Everything was handled beautifully, from the prayers to the collection of the ashes. Everyone was professional, friendly and easy to communicate with. It was also helpful that the team could speak English, Mandarin and Hokkien. Words can't sufficiently describe how grateful I am to Xiu Li and her team. I would strongly recommend this company if you're in the unfortunate position of having to plan a funeral for a loved one as I am certain that you will be in good hands." -Szu
16. Funeral Solutions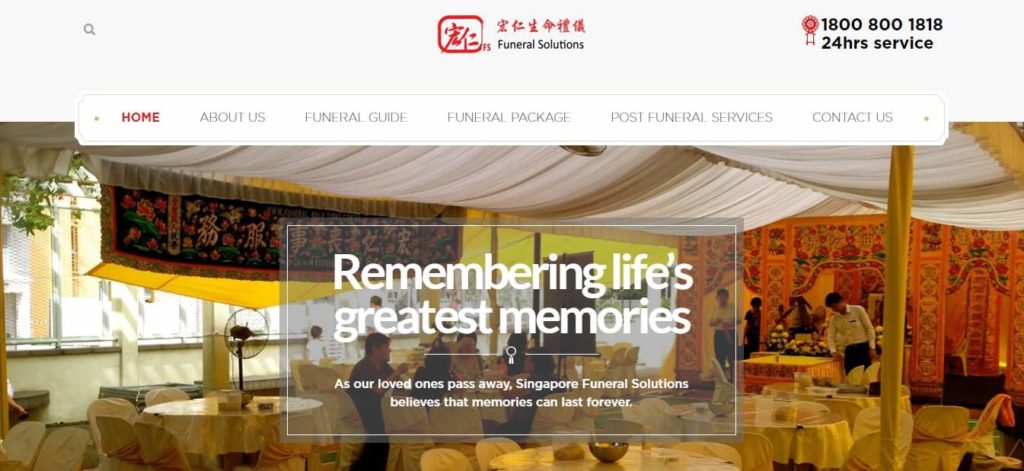 Funeral Solutions stands as the perfect choice for many Singaporeans seeking ordinary Buddhist and Taoist funeral services, nothing fancy and extravagant. It's a budget-friendly option too, so going over the budget is highly unlikely.
One thing we noticed about Funeral Solutions is that it strictly follows a fairly traditional process of arranging those services. For instance, your assigned funeral director will start by asking questions about the wishes of the deceased and your preferences.
After that, an explanation on each practice and package will be given. It even helps families distinguish the differences between the Buddhist and Taoist practices.
In line with that, there's a guarantee that all practices and beliefs of the deceased's religion will be strictly followed if you choose to hire Funeral Solutions. That's what we love most about it – the assurance.
If the presented funeral package doesn't work for you, Funeral Solutions allows family members to customise it according to their preferences and budget.
Lastly, keep in mind that Funeral Solutions can only arrange Taoist and Buddhist funerals and post-funeral services.
Customer Reviews
The personalised services of Funeral Solutions have warmed the hearts of family members who want to honour the lives of their loved ones. Dominic Lee gave a high-rated review on Google Reviews:
"Professional and affordable pricing, really no hidden cost! Honest!!!"
17. Singapore Funeral Sanctuary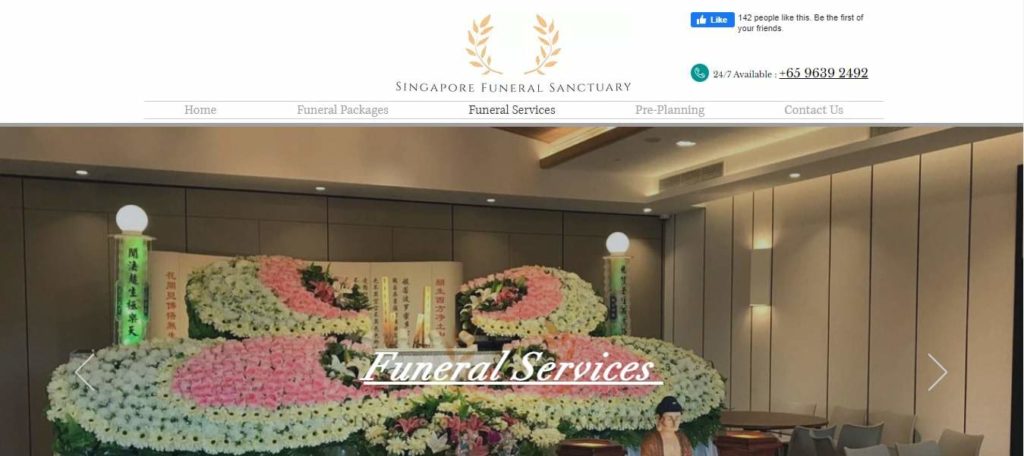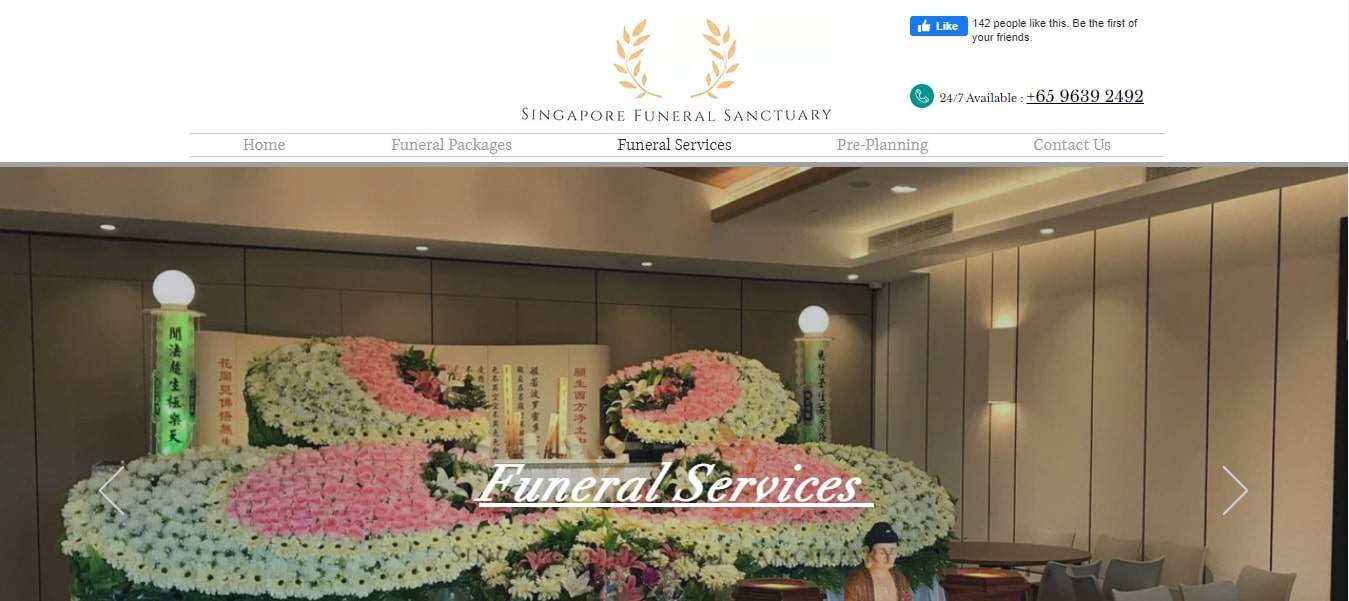 Singapore Funeral Sanctuary is another funeral parlour that caters to different religious and cultural backgrounds, including those who chose not to practice a religion. Here's why it earned a spot on our list:
Its funeral packages are some of the most comprehensive ones we've seen. Besides caskets, flowers, funeral decorations, and transportation, the family of the deceased may add food catering and recording of the funeral to the package.
Singapore Funeral Sanctuary has been around for more than 20 years and hasn't had a day of rest ever since, which says a lot about the quality of its funeral services. If you want experience, then this funeral parlour has that.
In terms of pricing, it's transparent when providing quotations and listing the inclusions of every funeral package. You can be assured that you're only paying for the services that you actually need – nothing less and nothing more.
Like most funeral homes, Singapore Funeral Sanctuary is open 24/7, from Monday to Sunday. Its hotline is accessible any time of the day too, even during the wee hours of the night.
The thing about Singapore Funeral Sanctuary is that it does more than arranging funeral services. It helps families take care of repatriation, reimbursement claims, estates, and even the deceased's inheritance.
Customer Reviews
Here's what previous customers had to say about Singapore Funeral Sanctuary:
"Darron and Zick sprung into action when I called them at the last minute to help arrange my aunt's final rites. They were supportive, efficient and paid incredible attention to detail. When it came to arranging the wake in a dignified and beautiful manner, they accommodated our requests and actually came back on several occasions to check up on how everything was going. A very big thank you to Darren, Zick and their entire team for making my aunt's last journey a smooth and dignified one that she would have been grateful for." -Ruth Smalley
"Funeral Sanctuary is reliable and good. Zick, our funeral director, always pays attention to details and the needs of my family members. He has helped us manage the entire funeral with superb coordination and we can rely on him to make the right choice for us. Strongly recommended for those requiring funeral services." -Md. Naimul Islam
18. Singapore Funeral & Casket Services

Singapore Funeral & Casket Services is the one to beat when it comes to funeral parlour facilities. Its eight funeral parlours are not only spacious, but each of them comes with a private shower and resting room for the comfort of the family as well.
Aside from that, its funeral parlours are found in a sacerdotal location surrounded by temples, far away from Singapore's busy districts, allowing the family of the deceased to grieve in peace and with privacy.
Another thing about Singapore Funeral & Casket Services that will give family members peace of mind is its inclusive funeral package. Every package essential services and materials for a dignified and proper send off.
In case your family doesn't want a wake, its funeral directors can arrange a direct cremation on your behalf as soon as possible.
Singapore Funeral & Casket Services has been praised for being responsive to the queries of its customers too, but that comes as no surprise as it's been around for more than two decades now.
It knows everything about what families from all cultural and religious backgrounds need before, during, and after a wake.
Customer Reviews
Here's a review from one of Singapore Funeral & Casket Services' clients:
"The young man, Zick, who was in charge of organising the funeral for my dad was very helpful. Fast response and very reasonable pricing. Minimum extra costs for it's package except for some red packets for helpers and monks and some prayer items." – Alex Puah
Here's another one:
"Highly recommended. Everything was well coordinated. Zick is very helpful and efficient. We had a peace of mind during this sudden difficult time. Great thanks to him and his team. I would recommend your services to others during their times of need." – Darren DH
19. A.Lifegrad Funeral Service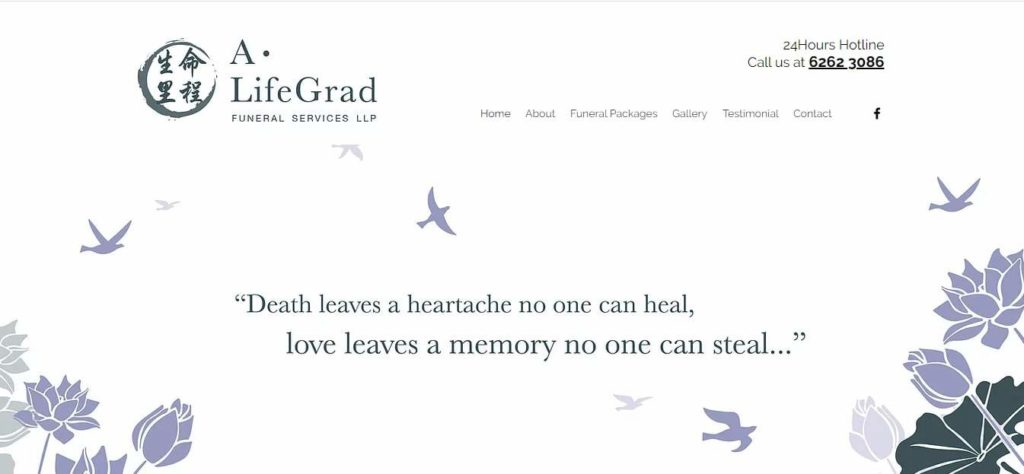 A.Lifegrad Funeral Service is a funeral service provider that caters to all types of religions. From funeral pre-planning to what to do after the wake, you can rely on them to arrange and deliver an honourable program for your loved one.
You know the folks over at A.Lifegrad are the real deal because the company has reached more than 15 years of non-stop service. If a funeral service provider can survive for years, that means there's something special about it.
In terms of prices, A.Lifegrad doesn't go beyond above the national average, so expect competitively priced funeral packages. Even the price of Taoist funeral package is quite reasonable, considering that it's generally expensive.
Besides funeral services, you can also hire A.Lifegrad Funeral Service for repatriations into and outside of Singapore, whether through land, sea, or air. It's a service that's available 24 hours a day, every day of the year.
Its funeral coordinators will handle everything, including flight booking, freight charges and translation so you don't have to worry about transporting your loved one's remains to your homeland.
Customer Reviews
Here's what a customer has to say about A.Lifegrad's services and professionalism:
"Thank you John , Vincent and staffs of A.life grad for doing such a serene and peaceful buddism funeral for my PoPo. The makeup of Popo recieved great compliment of looking natural , peaceful and beautiful. Modern and Greenery Setup was also complimented by many guest even thou they are not buddism. The staff professionalism and whole funeral services was something we had never seen before, thank you all🙏👍 Keep up the good work and all the best A.lifegrad peeps."
Here's another one for more details:
"They genuinely understand experiencing the death of a loved one for the first time can be confusing and scary and can lead to questions about death, death related rituals, and grief. No words can adequately expressed the immediate personalized attention Vincent has given at the time of need. Dear Vincent and Team, especially Bernie, (Funeral Advisor), we want to say a BIG thank you for being extraordinary in providing great comfort to my aunt and family and of conveying the serenity and gentle guidance with the death and funeral process."
20. Celebration of Life
Celebration of Life has only been in the business for less than five years, but it's managed to earn a spot here for its competitively priced funeral packages that fit every budget.
For example, the price of its standard funeral package starts at $2,980, against the national average of $3,500 to $4,500. Family members may even customise it to add services and materials excluded from the original package.
It may have some of the cheapest funeral services in Singapore, but that doesn't equate to inferior and mediocre funeral planning. The reason behind its low rates is that it doesn't have any high fixed overheads.
As a full-range funeral company, Celebration of Life can do more than just organising a proper funeral. It can arrange a repatriation and sea and inland ash burial, provide death certificates and transportation of family members as well.
From planning the funeral down to the last minutes of the burial, Celebration of Life is sure to assist you to its fullest capacity. You can rest assured that your loved one will be laid to rest properly, with the respect they deserve.
21. Nituo Funeral Services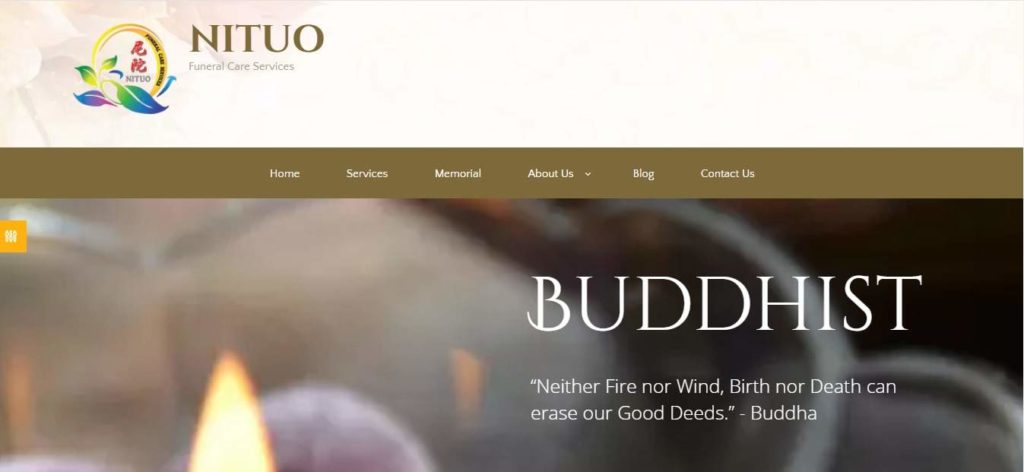 Nituo Funeral Services is one of the youngest undertakers on this list, but their quality of services show years longer than they have been open. This is because the put great care into every service they work on, never failing to keep in mind the business' values, which are sincerity, honest, and prudency.
Now, one may ask, how do these values come into play if I choose Nituo Funeral Services? Well, for one, Nituo serves each client, regardless of race and religion, with utmost care and sincerity.
They're aware that most of the people they encounter in the field aren't in the best state of mind, which is why they go the extra mile to ensure clients a meaningful and positive experience over the course of Nituo's processions.
Another thing worth noting is that Nituo Funeral Services is very transparent in the costs of their services. There are no hidden fees, a proper breakdown is provided, and the Nituo team will try to address all concerns in a timely manner.
Lastly, Nituo strongly believes that fair prices are a must in the funeral business. Costs should not be driven up simply because one client is part of a different income bracket.
So, you can expect that most of their offerings have fixed prices — prices that cover everything in the package with not a single cent wasted.
22. The Life Celebrant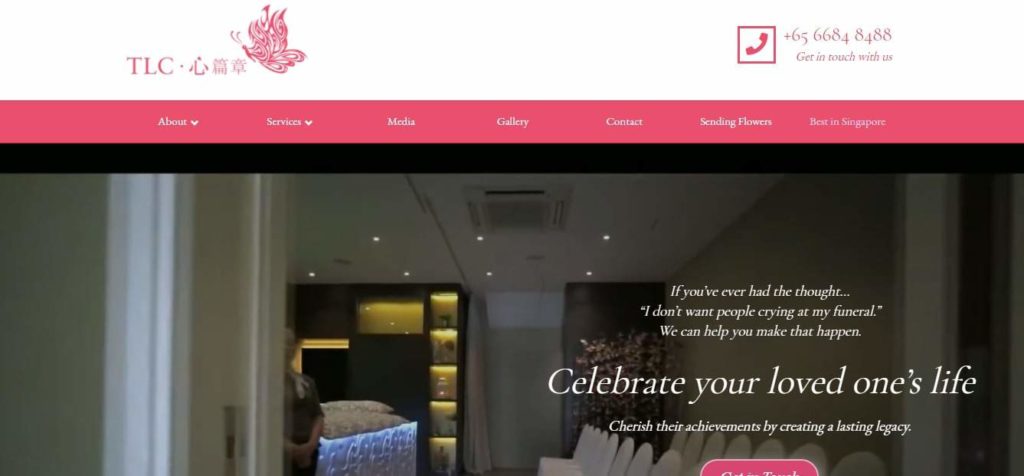 If you're looking for a customised funeral service in Singapore, we recommend taking a look at The Life Celebrant. It may be a small funeral company, but it's capable of celebrating the life of a friend or loved one through a dignified funeral.
The Life Celebrant offers comprehensive funeral packages that can be personalised according to the desires of the departed and the preferences of the family. No family member will ever have to lift a finger as its funeral directors will take care of everything.
One thing that stood out to us about it is the funeral ceremony called "Showers of Love." It's where families can perform final acts of love and filial piety for the departed, something that can help them manage their grief.
For parents who lost a baby, its funeral directors can arrange specialised funeral services catered to babies and children who departed before their time. They will work closely with parents to organise a funeral that reflects the personality of their baby.
Pet owners can also depend on The Life Celebrant to commemorate the life of their beloved pets either through a mass or cremation ceremony.
Customer Reviews
The shop is well-praised by its customers for the service that it can provide to the grieving family. This one particular review highlighted the quality of its service:
"A week ago, we entrusted TLC to conduct the funeral for our mother. From the first call, I was put at ease by Mr Denis Wee who assured me with his caring tone that everything will be well taken care of. What followed ran like clockwork. Who to do what at when went smoothly without hiccups. This was not my first encounter with TLC. It was the third time. I chose TLC again this time because of their reliability , care and professionalism. The staff members dressed elegantly. Wong KT is always smiling even though she was so busy. The wake area was set up elegantly with modern appearance without losing the traditional flavour of a Taoist ritual. All this came with reasonable cost. The charges are transparent. There was no hidden cost. I paid what I chose. We thanks TLC for making our experience less painful." -Chua Poh Keyong
23. Singapore Funeral Organisation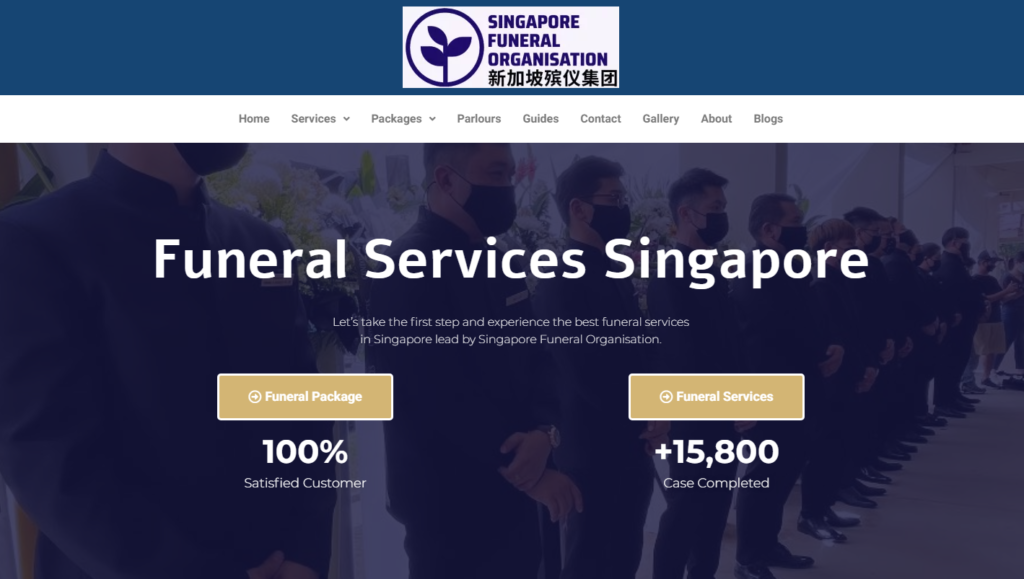 Next on our list is Singapore Funeral Organisation, one of the most highly regarded funeral service providers in Singapore.
One of the best things about Singapore Funeral Organisation is that it welcomes all people, and is ready to arrange funeral services no matter the race and religion.
Some of the services offered at Singapore Funeral Organisation include Buddhist funeral services, Taoist funeral services, Christian funeral services, and Free Thinker funeral services. They also offer post-funeral services like sea burials, memorial services, and prayer services.
Various funeral packages are available, most of which take into consideration how long the process will take. These packages include the location, embalming, casket, as well as a professional service team who will take care of the logistics to give clients the time to grieve.
24. Serenity Casket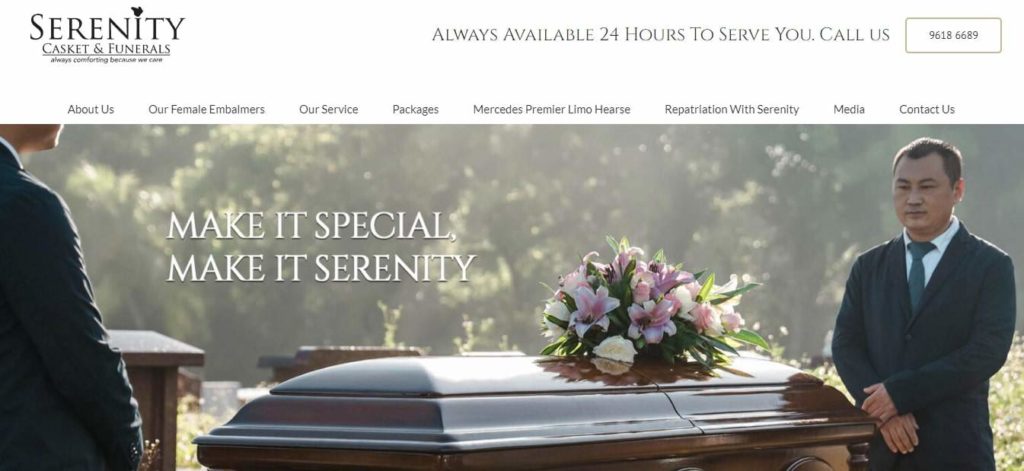 Another full-service funeral company worth checking out is Serenity Casket. We'll be the first to admit that it doesn't have the most budget-friendly funeral services, but with how inclusive its funeral packages are, you won't have to move a muscle yourself.
Serenity Caskets has only been around since 2009, notably younger than most of the funeral companies featured here. What we're sure of is this: the quality of its funeral services doesn't disappoint.
Its funeral hearse alone screams of elegance. If other funeral companies typically use ordinary sedans, Serenity Caskets takes it up a notch with a Mercedes-Benz Limo.
It's busy almost every day of the week, but no worries because it has a huge team made up of funeral directors, coordinators, logistics officers, and embalmers. All families will be assisted right away, even during midnight.
Serenity Caskets focuses on providing personalised funeral services, so whether you want to hold the wake at a church, HDB void deck, or your own home, its funeral coordinators will take care of the logistics.
It doesn't hesitate to go the extra mile to make the entire funeral convenient for the family of the deceased. If other relatives won't be able to attend, Serenity Caskets will set up an online livestream that can be viewed anywhere in the world.
Finally, if you want to keep the urn in a columbarium or scatter it into the ocean, Serenity Caskets will make the necessary arrangements to make your decision possible.
Customer Reviews
Serenity Casket has an average rating of 4.9 out of 5 on Google Reviews, making it one of the top-rated funeral service providers in Singapore. Here are some comments:
"Serenity provided top notch services and products that are above the market norm during the recent demise of our father. Elson and team are fantastic people to work with. Elson is super responsive, responsible, and understanding. He and his team worked tirelessly to ensure that every detail of the wake and funeral are taken care of so that we have time to grieve. The embalming is also professionally done and many of our relatives and friends commented that our dad looked so natural. The wake setup is beautiful and elegant. You can almost feel that they are in this business not just for the money but they really have a heart to serve others. They are also very transparent with their pricing which is very competitive. No hidden cost and they are upfront with what's included and what's not. Overall, it was a smooth and seamless process. I am so glad that we engaged Serenity to provide a dignified send off for our dad."-K Cheong
"Appreciated and thanks to Jacky and his team. Everything went smoothly from hospital to wake. All details were well taken care of by his team. Our dad's wake was beautifully set up and it is peaceful, soothing and comforting to all of us. Toilet was clean and spacious too. We were surprisingly pleased with the funeral hearse provided. During memorial service, staff was assigned to help up with seating arrangements and refreshments. Their service had really exceeded our expectations. Jacky and his team are really supportive, professional and awesome." -Apple Kow
25. Embrace Funeral Services Pte Ltd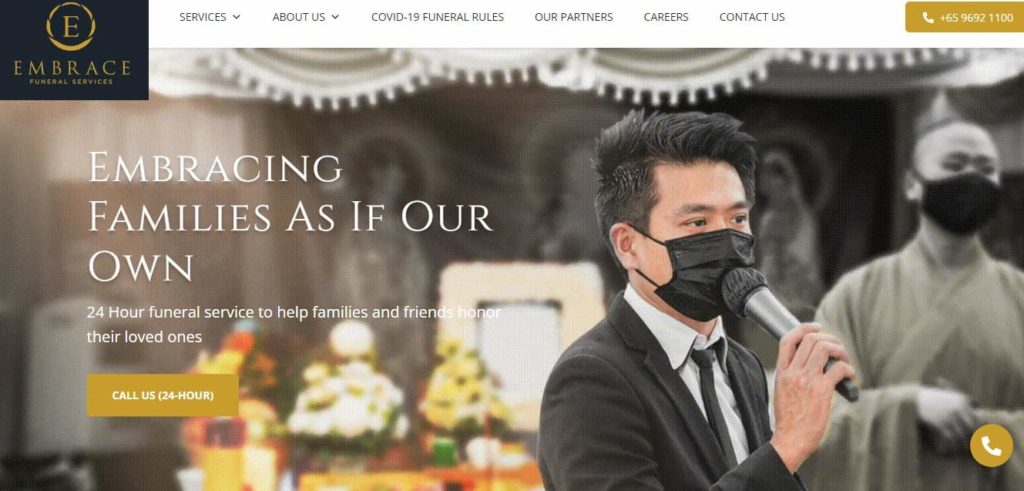 Embrace Funeral Services Pte Ltd is a company that offers 24-hour funeral services to clients all over the country for over 4 generations already. With over 20 years of individual experience, they have since then adopted continuously modernized funeral services that accommodate the contemporary time.
We find their consultations to be very accommodating since they do not offer a one-time plan for all clients but one tailored to the client's needs complete with the customs and practices of the family.
Another thing we think will make the experience with them and the client's departed loved ones more solemn and memorable is that they offer memorial keepsakes and prayer items.
Besides this, their packages are customizable as well but could entail additional rates should the client have additional needs when it comes to their requirements. However, they make sure to communicate this well so that the whole funeral service is within the budget of the client.
Overall, client commends their company for their services that have made the whole process stress-free and convenient for the family so that they can fully focus all of their attention on what matters the most – saying goodbye to their loved ones.
Customer Reviews
Here are some reviews from their clients:
"I will like to express our greatest gratitude to Jeffrey and his team for their preparation on my father funeral. They have come up with the online obituary that save us a hassle to inform all the relative during the hard time that they are experiencing. All small little details are clearly explain even during the wee hours during this difficult time. 5 star ratings and 5 thumbs up for the thoughtful service." – Jenessa Ng
"On behalf of my family, we would like to applaud Embrace for their excellent service. Everything was well-though and put in place before we even ask or think about in place before we even ask or think about it. Jeffrey and his team are very efficient and organized, which helped to take a huge load off us while we grieve the loss of my beloved grandfather. My family is very grateful for all the help and support you have given us throughout this difficult time.
Lastly, I would like to thank Jeffrey for taking the time to drop by every day to check on things. From the care you showed my family, it is evident that you are passionate about what you are doing." – Pauline Ng
FAQs about Funeral Services in Singapore
---
When we lose someone we dearly love, there are a lot of emotions to deal with and necessary rituals to manage. The funeral service companies above will help you lessen your worries and carry out this part of your mourning period peacefully.
In case you need flowers for your service, by the way, check out our list of where to get the best funeral flowers in Singapore. You'll find the florists with the most tasteful blooms for such occasions in that list.