By Lindsey Tan
Organising a funeral isn't easy , especially when you're already mired in grief and, at the same time, under tremendous pressure to "get things right". To save yourself the stress, it's better to go with one of the best funeral services in Singapore instead.
If you leave matters to the best funeral services in Singapore, you can rest easy in the knowledge that the deceased will still get the memorial they deserve. Meanwhile, you'll have time to properly deal with your grief and loss.
Because this is such an important thing, we took our time going through the island's funeral service companies before coming up with our recommendations. In the end, these were the funeral services we deemed most worthy of attention:
1. Empathy Funeral Services

Headed by Eugene Tan, Empathy Funeral Services works to lessen the pain of death by helping families prepare the final rites for their lost loved one.
Every funeral planned by Empathy Funeral Services is prepared with quality in mind. By ensuring that everything is in order, Empathy Funeral Services gives the client the opportunity to focus on grieving and honouring those who have passed.
Higlights
Affordable, quality services
Competitive pricing
Inclusive funeral packages
2.  Funeral Services Singapore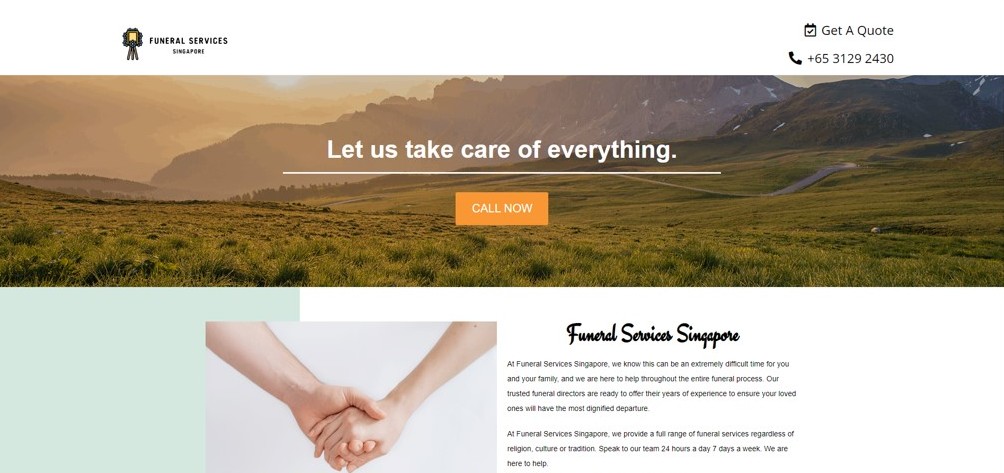 Funeral Services Singapore understands the difficulty of losing a loved one. So, to lessen the family's burden during this difficult time, Funeral Services Singapore will be there to help during the entire funeral process. They can connect you with trusted funeral directors who have years of professional experience to ensure that all your funeral service needs will be met with the utmost dignity and respect. They can also provide a full range of funeral services regardless of religion, culture or tradition.
SERVICE HIGHLIGHTS
24/7 assistance
Full range of funeral services regardless of religion, culture or tradition.
Licensed and professional independent contractors
3.  Singapore Funeral Group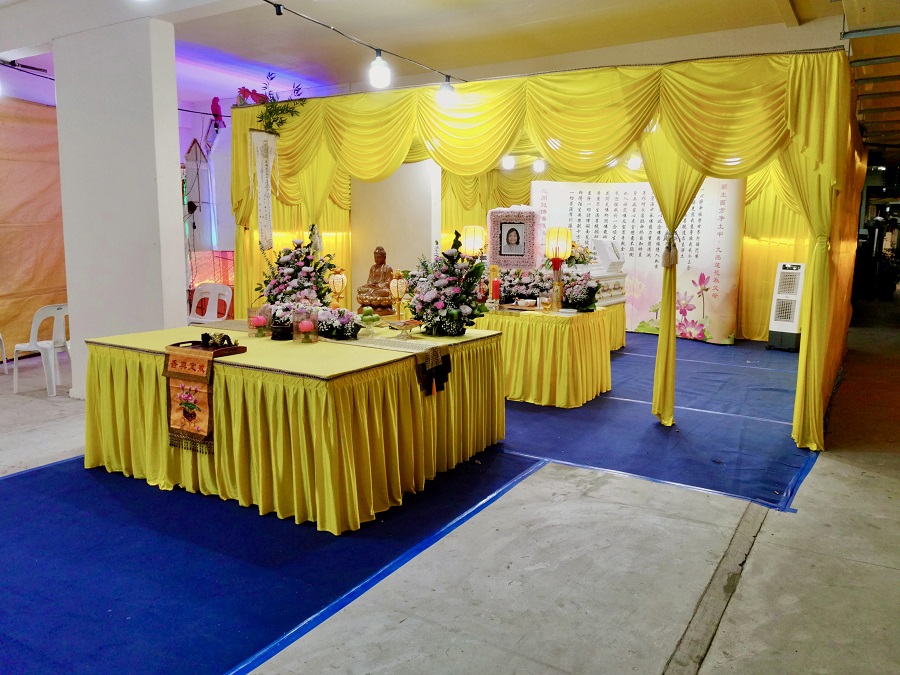 | | |
| --- | --- |
| BEST FOR  | Affordable funeral packages and additional services |
| SERVICES | Packages |
| WEBSITE | https://singaporefuneralservices.net/ |
| ADDRESS | Block 38, Sin Ming Drive #01-523 Singapore 575712 |
| CONTACT DETAILS | +65 6817 4288 |
| OPERATING HOURS | Daily, 24 Hours |
Singapore Funeral Group has years of experience in serving clients. For over a decade, they have been providing services and solutions for all races and religions.
They're known for being a service company able to understand clients' current situations and cultures. With their team, you can be sure that all ceremonies and rituals will be performed according to your traditions.
They're also known for being straightforward and transparent with their quotes and packages. Singapore Funeral Group's former customers have several reasons why they recommend the company's services, and these include fair treatment, competitive rates, and dependable arrangements and planning. 
SERVICE HIGHLIGHTS
Pre-planning funeral services
Catering services
Casket and repatriation services
4. Holy Land Casket

| | |
| --- | --- |
| BEST FOR  | Extensive funeral services with hospitality |
| SERVICES | Packages |
| WEBSITE | http://holylandcasket.com/ |
| ADDRESS | No.24 Sin Ming Lane, Midview City, #07-104 , Singapore 573970 |
| CONTACT DETAILS | +65 81275655 |
| OPERATING HOURS | 24-hour funeral service line |
HolyLand Casket Singapore has earned awards through its full range of funeral services. Their immediate assistance includes a one-stop solution to all of the arrangements needed, such as embalming, nightguard, caskets, funeral parlours, repatriation, catering, etc.
These services come with their basic planning so rest assured that each package will contain these. Most clients have commended their hospitality and sincerity when dealing with guests and members of the family.
SERVICE HIGHLIGHTS
In-house full-range funeral service
Post funeral services
No hidden charges
CUSTOMER REVIEWS
Behind the efficient and proficient services of HolyLand Casket Singapore is their team, which customers describe as being professional enough to plan and arrange everything in a proper service no matter the circumstances.
James Elvab shared his experience and wrote this feedback on Google Reviews:
"Angie, Justin and Jeremy were very understanding and help throughout the entire wake and service nights. They were very professional and humble throughout the entire journey. My family is very touched and grateful for their professional service."  
5. THE LIFE CELEBRANT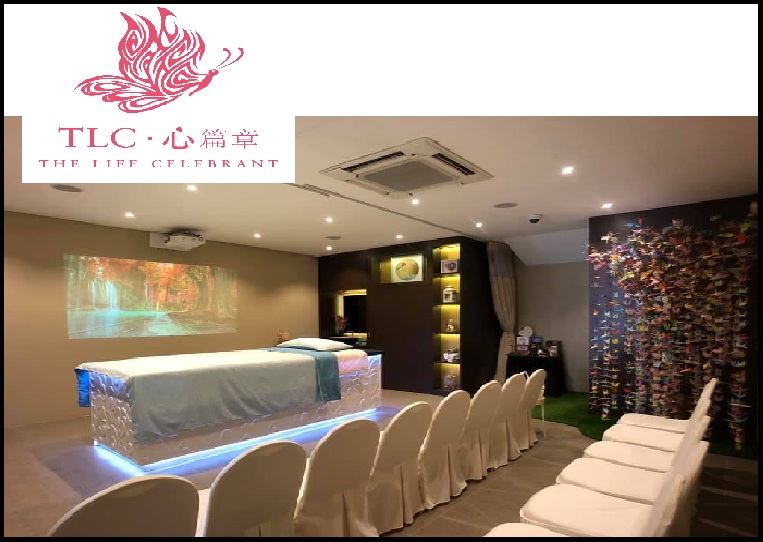 The Life Celebrant can help you celebrate your loved one's life by creating a lasting legacy in their memory.
They offer meaningful funeral packages that can be personalised according to the desires of the departed and the needs of the family. They help minimise the stress of logistical matters the family has to go through during the funeral wake.
Their services include the often-forgotten psychological and emotional support for the family of the deceased. They know how it feels to lose a loved one, so they will always try their best to make the funeral easy and meaningful for you.
HIGHLIGHTS
Full suite funeral service

Funeral for children

Pet burial
CUSTOMER REVIEWS
The shop is well-praised by its customers for the service that it can provide to the grieving family. This one particular review highlighted the service of the funeral home:
"The only Funeral service company that do "Showers of Love." A final act of service, an experience that will cherished and remembered by the bereaved family." – KarlosTen Consulta
6. Best Funeral Singapore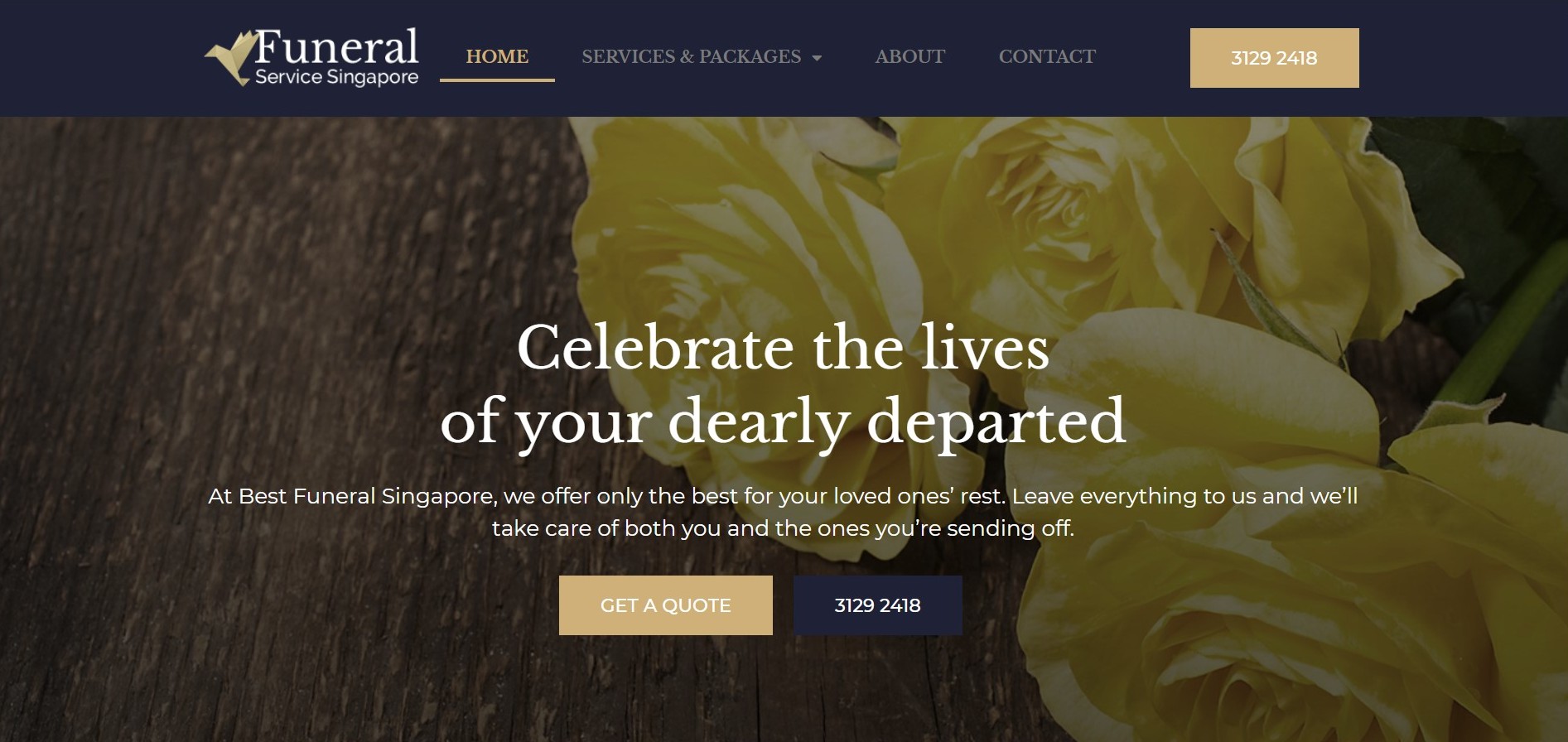 Best Funeral Singapore believes that every service needs to be personal and special for it to be a proper tribute to the life of your deceased loved one. To ensure the utmost respect and care for the funeral service, their funeral directors will guide you through the whole process. Funeral Service Singapore is very inclusive and can accommodate any culture, tradition, or religious rites you would prefer.
Their funeral packages also include both non-religious and non-ceremonial services. Plus, they are open 24/7 for all your queries, needs, and requests. Their friendly and professional personnel are always on standby if you need help understanding their processes and packages. They also have staff members ready on-site during wakes and services who can assist you.
SERVICE HIGHLIGHTS
Religious and Non-religious Services
Heart to Heart: Multiple financing options
Special Treatment
Personalized Service
7. Funeral Solutions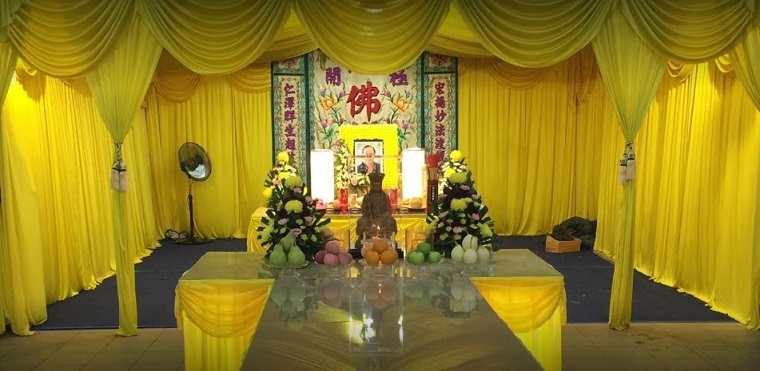 | | |
| --- | --- |
| BEST FOR  | Buddhist and Taoist funeral packages |
| SERVICES | Packages |
| WEBSITE | http://www.funeralsolutions.com.sg/ |
| ADDRESS | Block 38 Sin Ming Drive #01-523 Singapore 575712 |
| CONTACT DETAILS | 1800 800 1818 |
| OPERATING HOURS | 24 Hour Service |
Funeral Solutions is the perfect choice for many Singaporeans seeking traditional funeral services. They also follow a fairly traditional process of arranging those services.
For instance, they start by asking you some questions regarding the wishes of the deceased and your preferences. Then, an explanation on each practice and package will be given.
This will let you decide on what would be the most suitable service for your budget. Note that they focus on providing Buddhist and Taoist funeral services.
SERVICE HIGHLIGHTS
Direct cremation funeral service
Post funeral services
Rites and funerals
CUSTOMER REVIEWS
The personalised services of Funeral Solutions have warmed the hearts of family members who want to honour the lives of their loved ones. Dominic Lee gave a high-rated review on Google Reviews:
 "Professional and affordable pricing, really no hidden cost! Honest!!!" 
8. Trinity Casket

| | |
| --- | --- |
| BEST FOR  | Professional and tailored funeral services |
| SERVICES | Packages |
| WEBSITE | https://www.trinitycasket.com/ |
| ADDRESS | Blk 38, Sin Ming Drive#01-527/531 Spore 575712 |
| CONTACT DETAILS |  64514496 |
| OPERATING HOURS | 24hrs, 7 days a week, incl. holidays |
Trinity Casket is claimed to be one of the longest-running funeral service companies in the country.
Over the years, they have helped thousands of families to get through the most difficult time of their lives. They have also provided services for ministers and famous businessmen.
Their guidance and assistance are also available at any time of the day, so it will be convenient for you to contact and consult with them. All of their caskets and packages are customised based on your budget.
SERVICE HIGHLIGHTS
Repatriations and imports of deceased
Specialist embalming
Ash collection
CUSTOMER REVIEWS
When it comes to managing your budget, Trinity Casket always gives their utmost services by providing discounts and benefits. Customers note that with the life-long membership, you'll be able to avoid unnecessary costs.
A reviewer from Google Reviews wrote:
"I went there to see my sister's mother in law farwell. The service is good there are people to cater to all your needs like buffet flower transport etc. Professional service."
9. Holyland Casket Singapore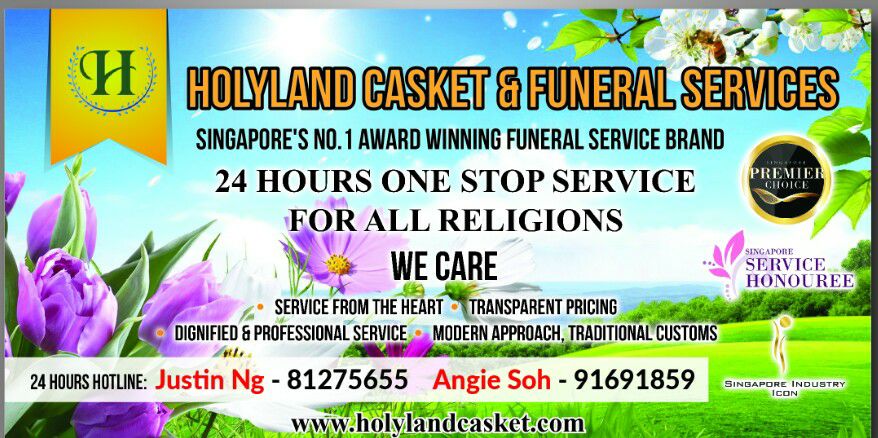 Founded in 2009, Holyland Casket is managed by Ms Angie Soh, former managing director of Promisedland Casket (Est.2003). Their professional funeral services are customised to fit clients' preferences, traditions, and religious beliefs.
SERVICE HIGHLIGHTS
No hidden charges, no GST, nett pricing
Immediate funeral assistance
All religions are catered to
1-stop in-house full-range funeral service
Service with a heart from planning to set up
CUSTOMER REVIEWS
Here's a review worth reading from Ms. Annie Song:
"Our beloved dad passed on and we were panicking as its too sudden. We came upon Holyland Casket's website and decided to give a call. Justin responded to us in just a rang. As my siblings were all free thinkers, we did not know what religion funeral to organise for my dad. Justin was quick and responsive to our queries and advice us about the religion and how to go about for the whole process. He visits us every night and with his advice and assurance, we were very thankful and he made the wake extremely comforting & at ease."
10. Gallant Garden

| | |
| --- | --- |
| BEST FOR | Extensive funeral packages with guaranteed premium service |
| SERVICES | Rates |
| WEBSITE | https://gallantgarden.com/ |
| ADDRESS | number 300, Mandai Rd, Singapore 779393 |
| CONTACT DETAILS | +65 6677 5520 |
| OPERATING HOURS | 24 hours |
Gallant Garden is a group of funeral service consultants committed to easing the life of their clients who had just lost a loved one. They extend their help and sympathy by offering them affordable and premium quality funeral services that are most appropriate for their culture and beliefs. 
Some of their services include Catholic Funeral Packages, Christian Funeral Packages, Buddhist Funeral Packages, Taoist Funeral Packages, Soka Funeral Packages, and other Non Religious Funeral Packages.
The team believes that societal status should not hinder one to have a decent funeral that is why they promise to provide a seamless and hassle-free funeral services for the peace of both the deceased and the bereaved.
SERVICE HIGHLIGHTS
Complete package of funeral services

Extensive options of funeral services

Great customer service
11. AN LOK FUNERAL SERVICES

BEST FOR

Spacious funeral parlor halls

SERVICES
Contact for more information
WEBSITE
http://www.singaporefuneralservices.org/
ADDRESS
38 Sin Ming Drive #01-525
Singapore 575712
CONTACT DETAILS
9477-7774
OPERATING HOURS
Contact for more information
As a trusted Singapore funeral services provider, An Lok (Singapore) Funeral Services offers affordable funeral services packages that do not mislead bereaved families into paying for items that are not required.
They also incorporate transparent pricing policy ​to all their funeral services packages, to ensure it's always affordable, yet comprehensive to families from all walks of life.
SERVICE HIGHLIGHTS
Exhumation packages

Funeral packages by religion
CUSTOMER REVIEWS
Facebook Recommendation from Louis Koh:
"Engaged their services for my papa last journey, Efficiency , friendliness and honesty is the best words to say about An Lok • 安乐.
Thank you very much for your help, appreciated!"
12. SINGAPORE CASKET CO PTE LTD

Singapore Casket is one of the most trusted funeral services providers in Singapore. Not only do they offer funeral and burial packages, they also prepare services for pre-funeral arrangements. This includes arrangements for the funeral, should the client wants to plan everything beforehand and even legal matters like will writing. They also got some funeral advisors for when you think you might be needing assistance regarding any funeral matters.
The team also hosts and organizes events related to funeral planning and enlightenment ceremonies to help and assist you in planning your or someone else's funeral when the time comes.
SERVICE HIGHLIGHTS
Regular enlightenment ceremonies

Expert and highly professional funeral advisors

Deluxe parlour halls that can cater huge number of visitors
CUSTOMER REVIEWS
The team is praised for their good quality facilities and well-organized funeral services. Cirillo Hutsonaw left a comment on Google Review.
"The staff here are very professional.. they provide all you need in a package service. They are very efficient. Thank you!"
13. Singapore Funeral Planner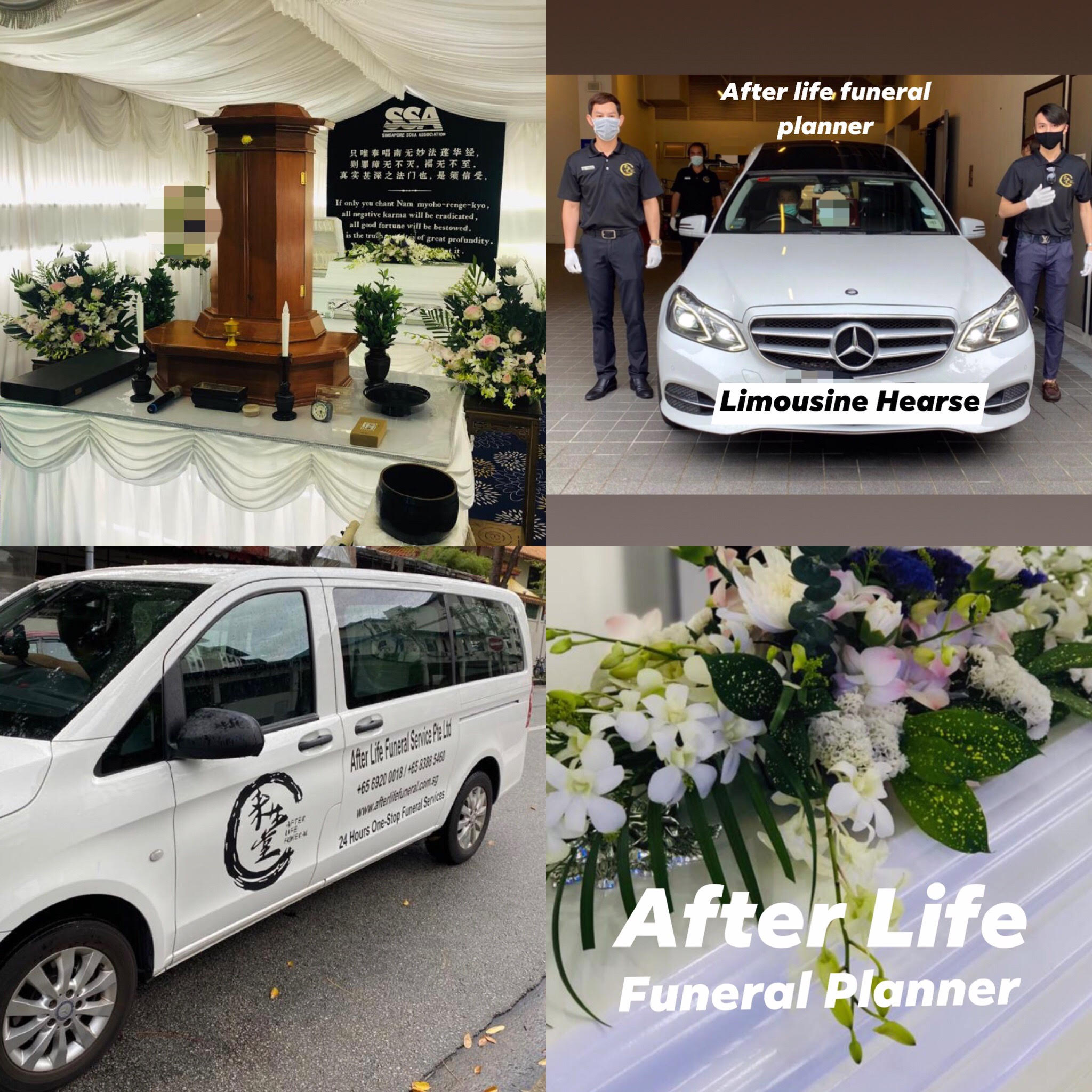 | | |
| --- | --- |
| BEST FOR | Professional & Extensive Funeral Planner |
| SERVICES | Buddhist I Taoist I Christian I Catholic I Soka Funeral Wake Arrangement |
| WEBSITE | http://www.singaporefuneralplanner.com.sg/ |
| ADDRESS | 2 Venture Drive, Vision Exchange Singapore 608526 |
| CONTACT DETAILS | 6717-7979 |
| OPERATING HOURS | Available anytime, 24/7 |
If you want a professional team that can handle a respectable funeral service from scratch, then Singapore Funeral Planner is the company to go to. This is Singapore's one-stop funeral service provider for all your funeral-related arrangements.
Their dedicated team is available anytime and is more than happy to collaborate with you for a more personal ceremony. They are detail-oriented so you don't have to worry about poor handling of guests and mismanaged setups. 
SERVICE HIGHLIGHTS
Funeral setup arrangements that cater to Buddhist, Taoist, Christian, and Catholic. 

Experienced team on standby 24/7

High-quality casket collection
Customer Reviews
Singapore Funeral Planner continues to excel in the funeral services mainly due to their conscious effort in delivering a funeral plan that caters specifically to the individual or family at hand. Customer communication is definitely key. Here's what one of their customers wrote in the review.
"We would like to thank you and all your staff for your invaluable assistance in preparing all the necessary funeral arrangements which you carried out so impeccably for my grandmother. We chose Singapore Funeral Planner on the recommendation of friends and we will likewise recommend your funeral services to others when the need arises. Once again, thank you guys and best regard!"
14. HARMONY FUNERAL CARE
Harmony Funeral Care believes that sending families or loved ones should not be expensive. Thus, they offer memorable and noteworthy funeral service at a reasonable cost. 
The funeral studio is a family owned and operated business. It mixes contemporary style with traditional way of holding burial. This is for the reason that they want to keep the service close to the heart of the bereaved.
SERVICE HIGHLIGHTS
Full package funeral service

Religion-based service

Affordable cost
CUSTOMER REVIEWS
Customers praised the funeral studio for the care and comfort that they gave during the burial. Here's a 5.0 review from Google:
"Was recommended to engage Harmony Funeral Care. Decided on then due to competitive pricing and good recommendations. They were able to have everything set up within the next day upon contact. I was really impressed with the speed of delivery and services provided. Harmony and her team assisted us throughout the 5 days mourning process up to the cremation. Today was the final day and everything went smoothly. I'm glad that I took up this recommendation. Thank you once again." – Joven Chan
15. SERENITY CASKET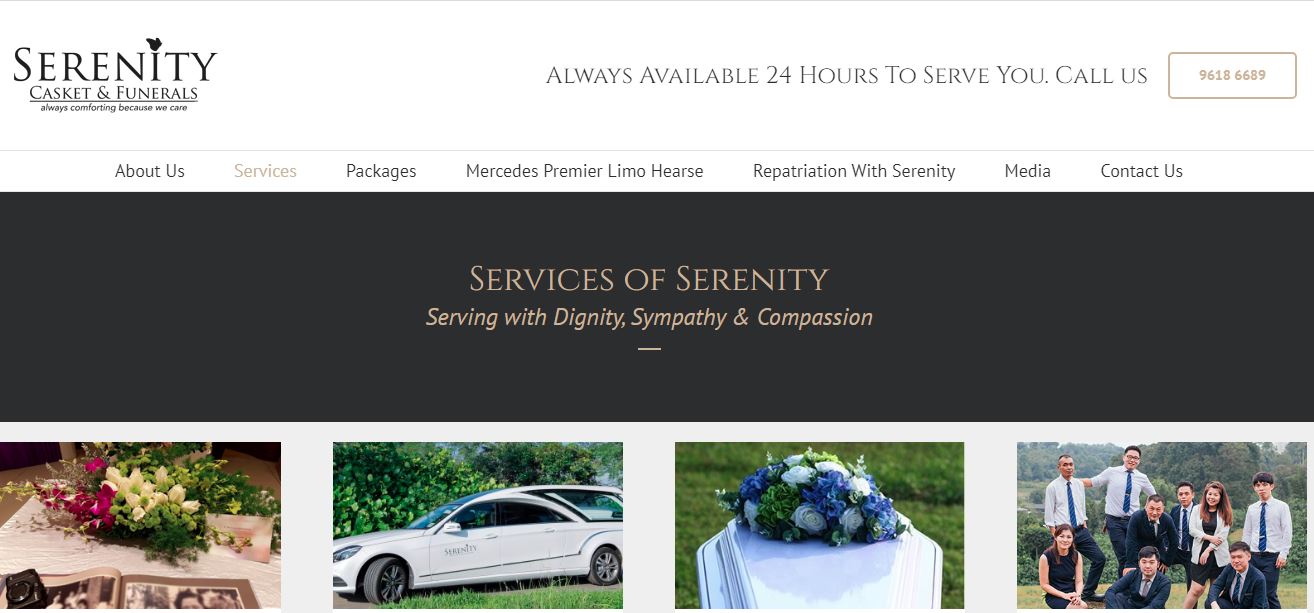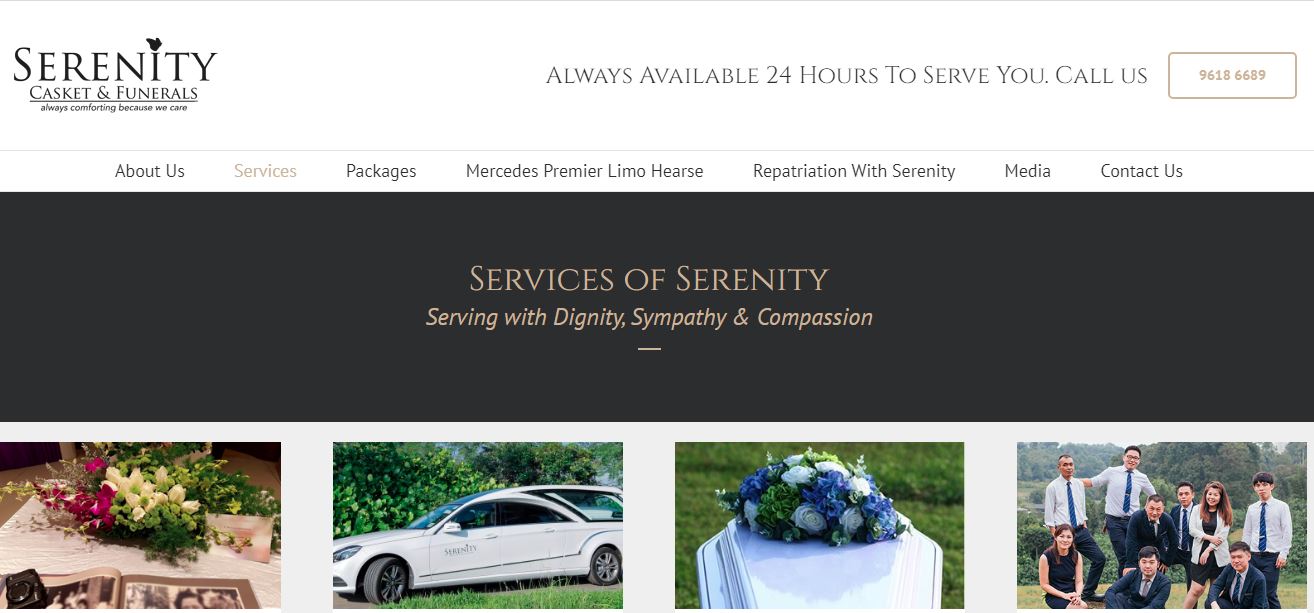 Serenity Casket is a local family run funeral company. They have experienced Funeral Directors and staff who will listen, understand the needs of the bereaved families and get the highest level of personal care. They serve dignity, sympathy, and compassion during these troubled times and are available 24 hours a day, 7 days a week for assistance.
SERVICE HIGHLIGHTS
Memorial Set Up & Tribute Arrangement
Mercedes Premier Limo Hearse Chelsea By Serenity
Casket
Service Team – Hospitality
Floral Arrangement
Repatriation with Serenity
Preparation Room For Embalming
After Funeral
CUSTOMER REVIEWS
5.0-star Google review from Benjamin Lam:
"Logistics and arrangements were taken care of and everything ran smoothly without a hitch. Thank you Serenity Casket team for helping my family and I send our sister off."
16. JASA BUDI MUSLIM CASKET SERVICES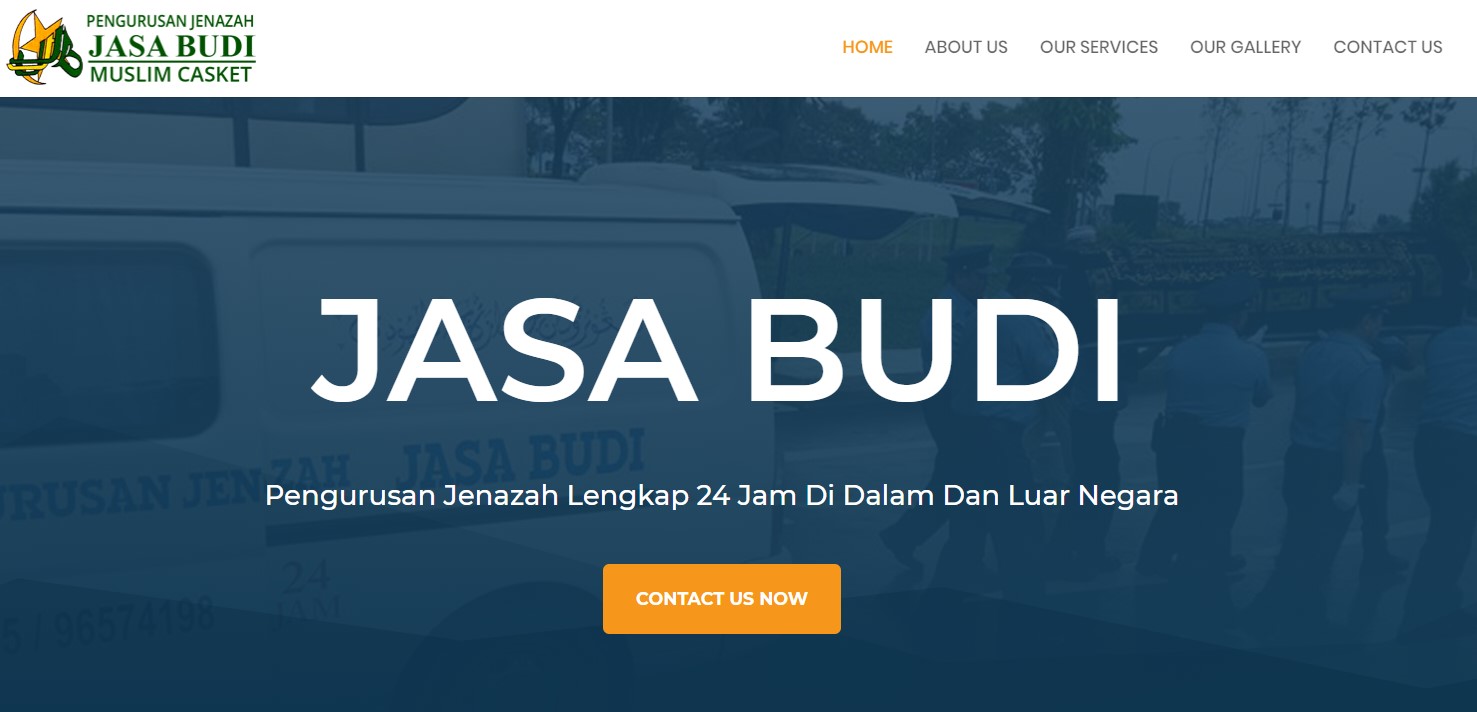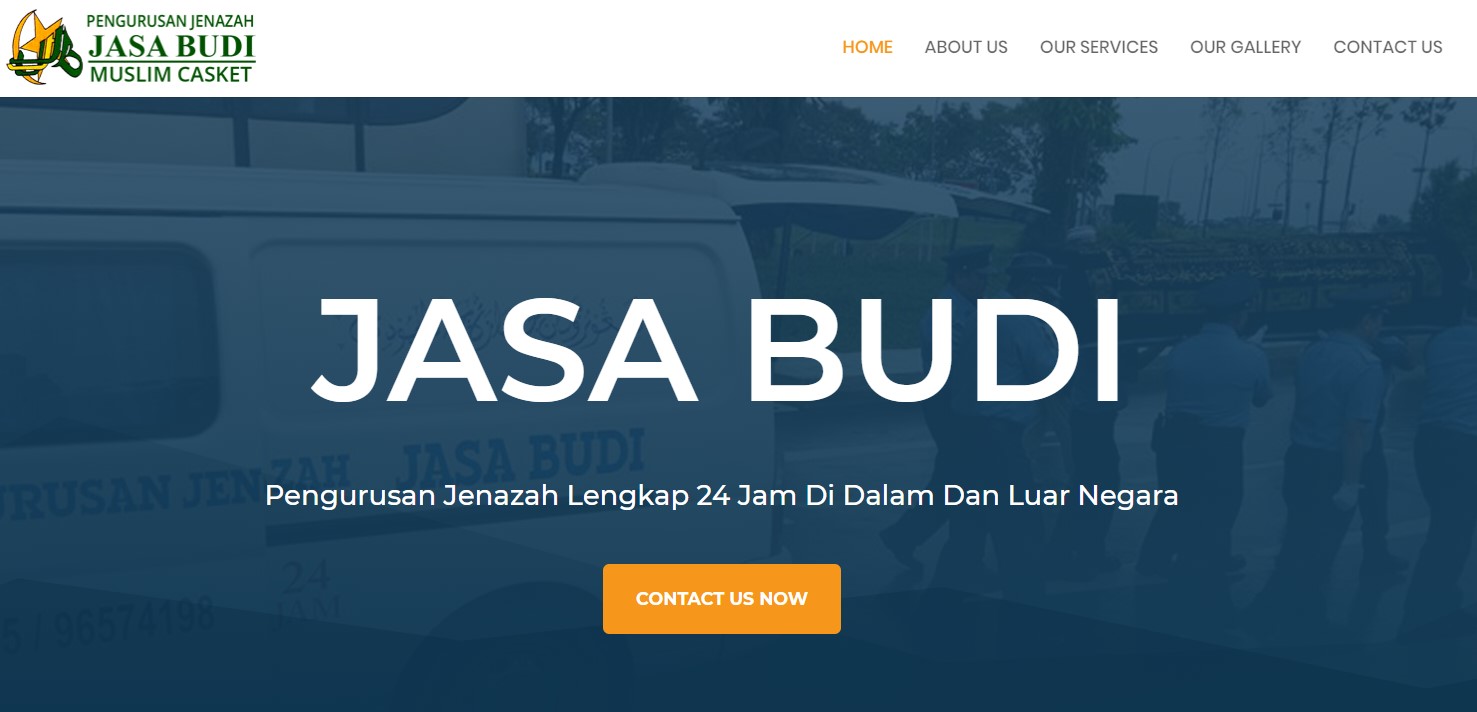 | | |
| --- | --- |
| BEST FOR | 24/7 Funeral Assistance |
| PRICING | Contact for more information |
| WEBSITE | https://www.jasabudimuslimcasket.com.sg/ |
| ADDRESS | 271 Pasir Ris Street 21, #04-464, Singapore 510271 |
| CONTACT DETAILS | +65 9693 5885 |
| OPERATING HOURS | Open 24 hours |
Jasa Budi Muslim Casket Services has been serving Singapore since Nov 1999. They have proven excellent service in both local and overseas, including import & export cases travelling to & fro on land to Malaysia and on Flight to other countries e.g Cario, Indonesia, India. They have also done collection from China/Australia, Vietnam and other countries.
SERVICE HIGHLIGHTS
Hospital / Home Service Package
Overseas Service Package
Grave Monument Construction
CUSTOMER REVIEWS
Facebook recommendation from Nurhanan Abdul Rahim:
"Good services and excellence staff"
17. Casket Fairprice Pte Ltd

BEST FOR

Extensive range of funeral services

PRICING

Contact to get a quote

WEBSITE

https://casketfairprice.com/

ADDRESS

Blk 37 Sin Ming Drive, #01-571, Singapore 575711

CONTACT DETAILS
6455 9909 |

[email protected]

OPERATING HOURS

Daily, 24 hours
Casket Fairprice offers comprehensive and unique funeral packages for all religious practice. From funeral supplies to the actual burial services, Casket Fairprice guarantees to deliver high quality work that will truly honor your parted loved one.
Should you refrain from availing their service packages, they can also provide you with retail funeral supply according to your needs and budget.
Highlights
Full range of funeral services for all religions

High quality funeral supplies

Client-oriented service
Customer Reviews
Casket Fairprice is praised for their high attention to detail and customer-oriented service that truly provides optimum comfort to the families and friends of the deceased. A review has been left on Google.
"We appreciate the services provided by Edward and his team during the tough period we were facing. The team was professional, resourceful and prompt in meeting our requests and needs throughout the day and night, and in providing advice in the various proceedings. Thank you."
18. Singapore Indian Casket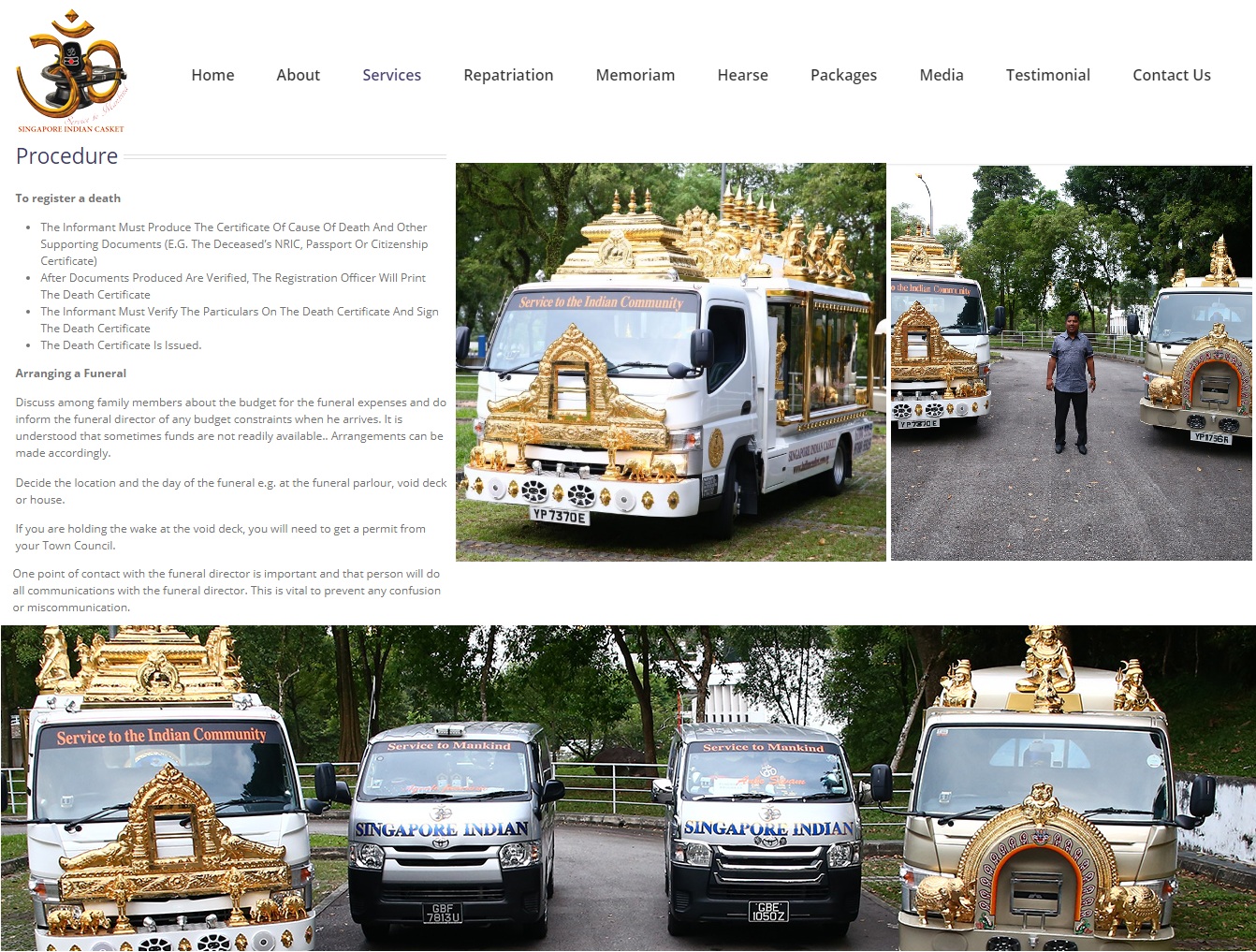 The Singapore Indian Casket team is a group of local Indians with proficient knowledge of the Hindu culture, funeral rites & rituals with 25 years of experience in the field. They understand the difficulty of losing a loved one, thus, providing guaranteed professional-quality services.
Clients are assured that the funeral directors will handle their situation professionally, with utmost sensitivity, and patiently answering all of their inquiries and attending to their requests.
SERVICE HIGHLIGHTS
24hrs Doctor on Stand-by for house-call & 24hrs Embalming services

Air-conditioned parlours available (Sin-Ming)

Various types of caskets for Burial or Cremation

Limousine Hearse available for Executive Clients

Table, Chairs & Tentages supply

24hrs Food Catering Available

Computerised Photo Enlargement Service

Floral Arrangements/Wreath/Garland Orders

8th Day/15th Night Karumathi House prayers packages available

Priest (Iyer) for 16-day Sea-side prayers available

International Repatriation Services (Export of Human Remains)
CUSTOMER REVIEWS
Satisfied customers have expressed their gratitude through SIC's Facebook page. One of them is Daniel Raj who wrote:
"A very good and friendly service from them… very professional and very flexible with the last wishes we have… they really helped out alot… they even recommend good veg food… it was more like friends then clients… cheers…"
19. Reliant Funeral Services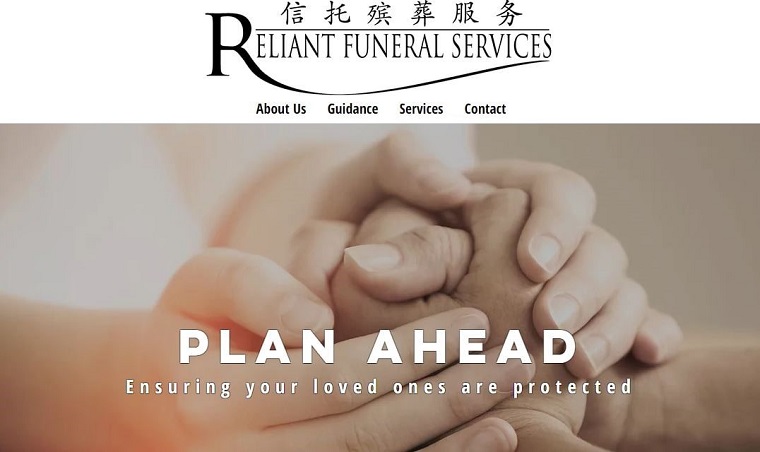 | | |
| --- | --- |
| BEST FOR  | Accessible funeral guides and additional aervices |
| SERVICES | Packages |
| WEBSITE | https://www.reliantfuneralservices.com/ |
| ADDRESS | Block 88, Geylang Bahru #01-2720 Singapore 339696 |
| CONTACT DETAILS | +65 9006 9632 |
| OPERATING HOURS | Daily, 24 Hours |
With simple and easy-to-follow steps, Reliant Funeral Services will be able to provide all the important information and arrangements that you need.
They provide a helpful guide to help you navigate your way through all the complications that may lie ahead of the funeral. Each of their packages are also categorised based on the religion and traditions of the family.
Aside from this, they also have other services which include Gong Tek, exhumation, and repatriation.
Family members who have acquired their services are very satisfied with the organised plans. They describe them as efficient and professional. 
SERVICE HIGHLIGHTS
Funeral guides
Funeral packages
Post funeral services 
20. NIRVANA MEMORIAL GARDENS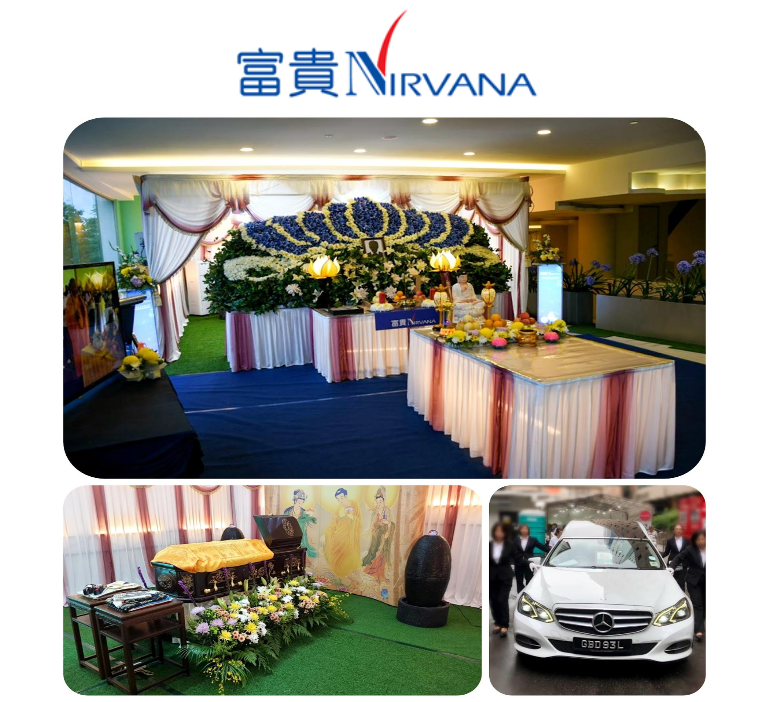 | | |
| --- | --- |
| BEST FOR | Professional One-stop Funeral Services |
| SERVICES | Funeral Services, Embalmers, Cremation, Columbarium Niche, Chanting Services |
| WEBSITE | https://www.nirvanafugui.com/ |
| ADDRESS | 950 Old Choa Chu Kang Rd, Singapore 699816 |
| CONTACT DETAILS | +65 92386601  |
| OPERATING HOURS | Open 24 hours |
Nirvana Memorial Garden offers one stop funeral products and services, including funeral urns, casket, coordination of memorial ceremony, cremation, ashes collection at crematorium, urns placement in our columbarium niches and chanting services. Their funeral packages could be tailored to the customers' requirements, according to their respective cultural and religious practices.
Nirvana Memorial Garden has a team of professionally trained female embalmers and beauticians. They are dedicated to provide sanitization, presentation, and preservation for the deceased body. It is their belief to have female embalmers to carry these tasks, as a form of respect, especially to women.
Nirvana Memorial Garden promotes the funeral pre-planning and offers the monthly instalment with no interest rate. The price is transparent, and the checklist is followed and tracked from beginning till completion of funeral services. They help minimise the stress of logistical matters the family has to go through during the funeral wake.
Nirvana Memorial Garden provides fully equipped facilities, a beautiful environment, and exemplary service from the heart; that serves to give peace and comfort to both the departed and their family. Their columbarium niches are elegant and well-maintained, highly recognized as the Final Rest Place for the departed loved ones.
SERVICE HIGHLIGHTS
One-stop funeral services

Lady embalmers

No hidden charges

Post funeral services

Beautiful columbarium niches
CUSTOMER REVIEWS
Nirvana Memorial Garden is the award winner for the title of "Largest Bereavement Company in Singapore" by Singapore Books of Record (SBOR) in 2018. 
The customers sent the following messages after the services: 
"Thank you for your professionalism just now and just wanted to let you know my parents really appreciate it. Thanks a lot. "  
"Thank you for your professionalism. We are grateful for your service."
21. Singapore Funeral Sanctuary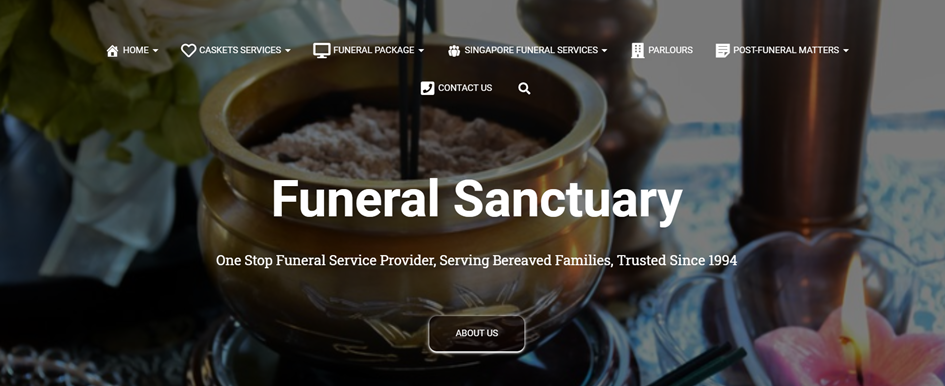 BEST FOR
Different religions' funeral services
SERVICES
Post-Funeral Matters
Casket Services
Funeral Package
Flower Arrangements
Live Band
Repatriation Service
Food Catering
Funeral Hearse
WEBSITE
http://www.funeralsanctuary.sg/
ADDRESS
Singapore
CONTACT DETAILS
Phone : +65 9639 2492
Email : [email protected]
OPERATING HOURS
Open 24 hours
Singapore Funeral Sanctuary is the best company to acquire funeral services in Singapore as they cater to almost every religion there is and even have services available for those who do not have any religion. They're flexible when it comes to offered assistance, and proven to be cheaper in rates.
The quality of service is assured to be the best as they hire skilled individuals and continuously train them to make sure that their knowledge is always up-to-date.
With experience of over 20 years, you're sure to experience the best and most hassle-free set-up for a funeral, only with Singapore Funeral Sanctuary.
SERVICE HIGHLIGHTS
Religious and Non-religious services
Funeral packages
Sea burial and space burial is available
Buddhist 49/100 days
22. Filial Piety Funeral Services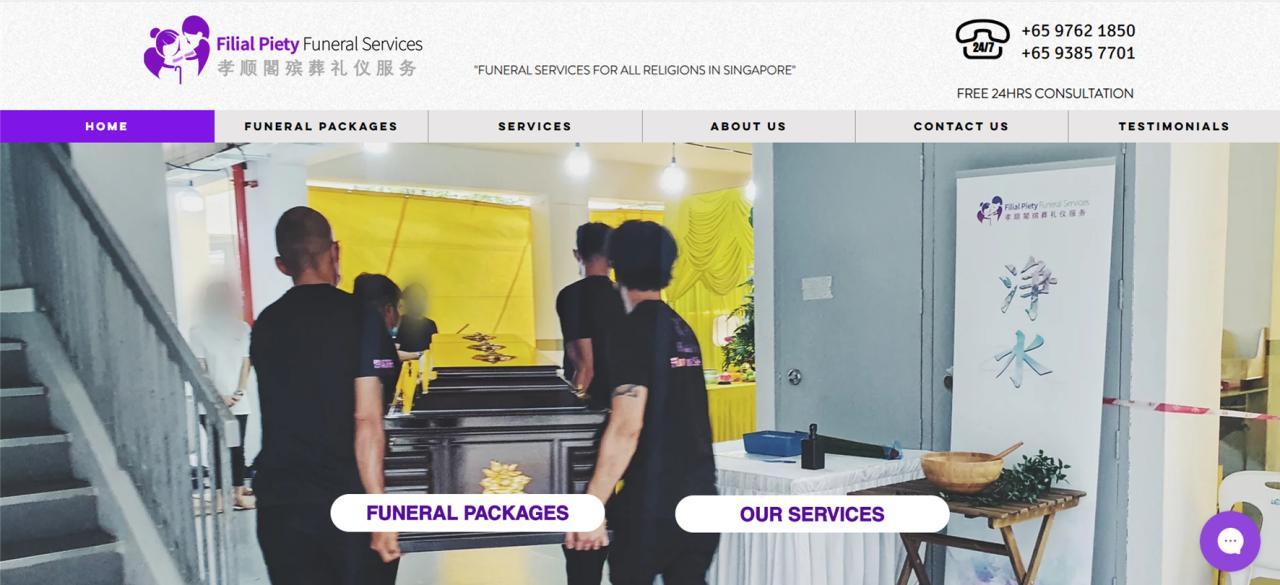 BEST FOR
Comprehensive range of funeral services
SERVICES
Buddhist Funeral Services
Taoist Funeral Services
Catholic Funeral Services
Christian Funeral Services
Soka Funeral Services
Free Thinker Funeral Services
WEBSITE
https://www.filialpietyfunerals.com/
ADDRESS
Singapore
CONTACT DETAILS
+65 9762 1850
[email protected]
OPERATING HOURS
Open 24 hours
Filial Piety Funeral Services is a company servicing the people of Singapore for more than 30 years. Through their decades of experience, they can assure you that seamless processing is in order if you decide to acquire their assistance for a funeral.
What's more, is that the company offers funeral packages to help lessen the amount spent on the whole ceremony. From the caskets or urns to the marble plaque, tombstone and columbarium location, you won't have to worry about anything else as Filial Piety Funeral Services will fix all of that for you.
Contact them for future funeral services needed and they'll be sure to accommodate you.
SERVICE HIGHLIGHTS
24-hour servicing
Free non-obligatory consultation
More than 30 years of experience
When we lose someone we dearly love, there are a lot of emotions to deal with and necessary rituals to manage. The funeral service companies above will help you lessen your worries and carry out this part of your mourning period peacefully.
In case you need flowers for your service, by the way, check out our list of where to get the best funeral flowers in Singapore. You'll find the florists with the most tasteful blooms for such occasions in that list.
---
*Images are taken from each company's official websites/social media.