6 Picks for the Best Free Thinker Funeral in Singapore
Organising a free thinker funeral? Despite the absence of religious elements, it can still be quite challenging. Having a professional funeral director known for arranging the best free-thinker funeral in Singapore would be a great help.
Non-religious funerals are focused on celebrating the lifetime and milestones of the deceased. There's usually no script or tradition to follow for these — which can mean a lot of decision-making for the bereaved. Unfortunately, during times of grief, the smallest decisions can be difficult to make.
To help you plan a meaningful funeral for your free-thinking loved one, here are few of the most well-known services that provide the best free-thinker funerals in Singapore.
1. Empathy Funeral Services

Headed by Eugene Tan, Empathy Funeral Services works to lessen the pain of death by helping families prepare the final rites for their lost loved one.
Every funeral planned by Empathy Funeral Services is prepared with quality in mind. By ensuring that everything is in order, Empathy Funeral Services gives the client the opportunity to focus on grieving and honouring those who have passed.
Highlights
Affordable, quality services
Competitive pricing
Inclusive funeral packages
2. Nirvana Memorial Garden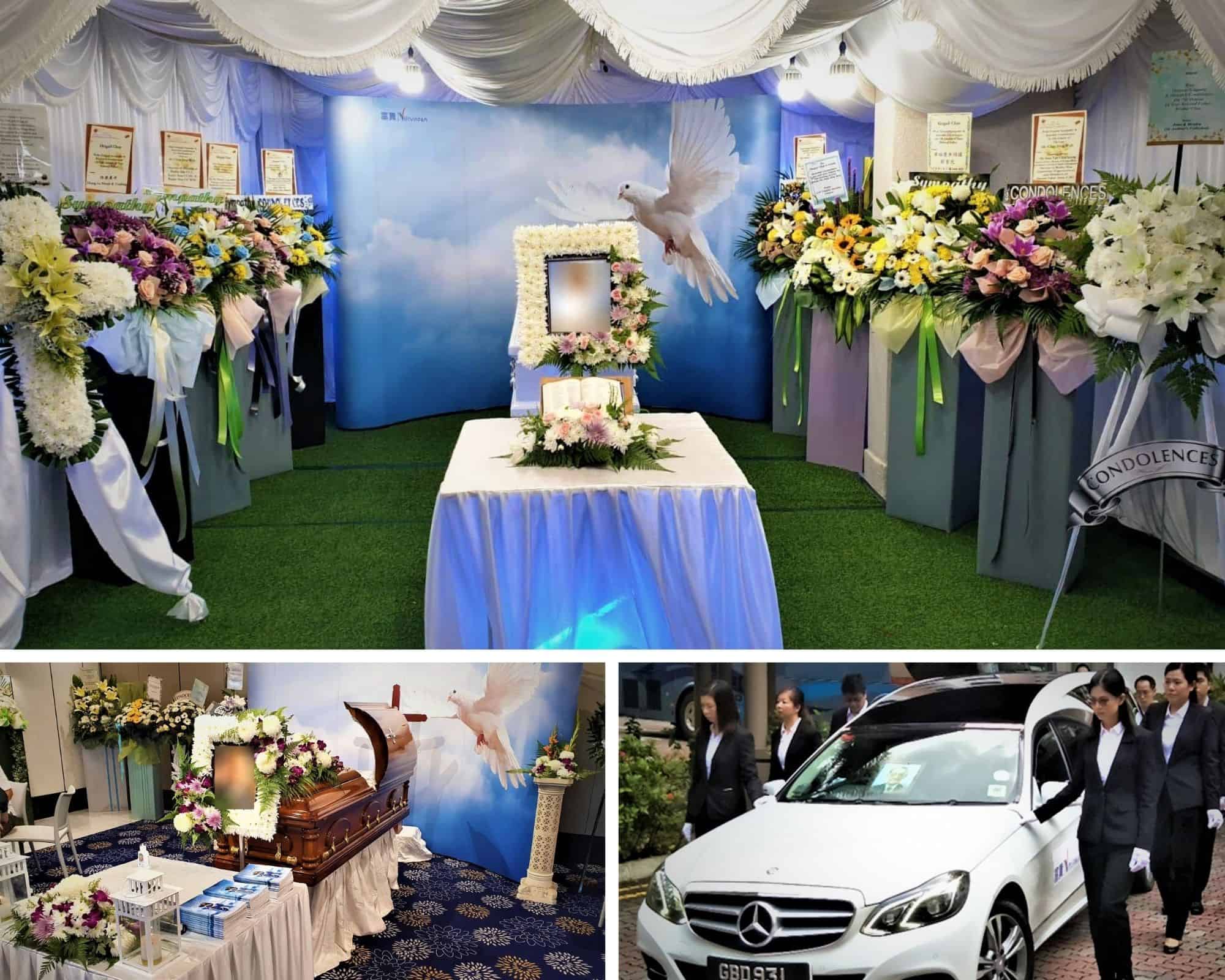 Nirvana Memorial Garden offers personalized free-thinker funeral services, including casket, funeral hearse, coordination of memorial ceremonies, cremation urn, and ashes collection at the crematorium. Their funeral packages could be tailored to the customers' requirements, according to their respective cultures and practices.
They also have the free-thinker columbarium niches for urn placement. Their columbarium niches are elegant and well-known as the final resting place in Singapore.
Nirvana Memorial Garden has a team of professionally trained female embalmers and beauticians. They are dedicated to provide sanitization, presentation, and preservation for the deceased body. It is their belief to have female embalmers to carry these tasks, as a form of respect especially to women.
Nirvana Memorial Garden promotes the funeral pre-planning and offers the monthly instalment at no interest rate. The price is transparent, and the checklist is followed and tracked from beginning till completion of funeral services. They help minimise the stress of logistical matters the family has to go through during the funeral wake.
Highlights
One-stop funeral services
Lady embalmers
No hidden charges
Post funeral services
Free-thinker columbarium niches
3. Harmony Funeral Care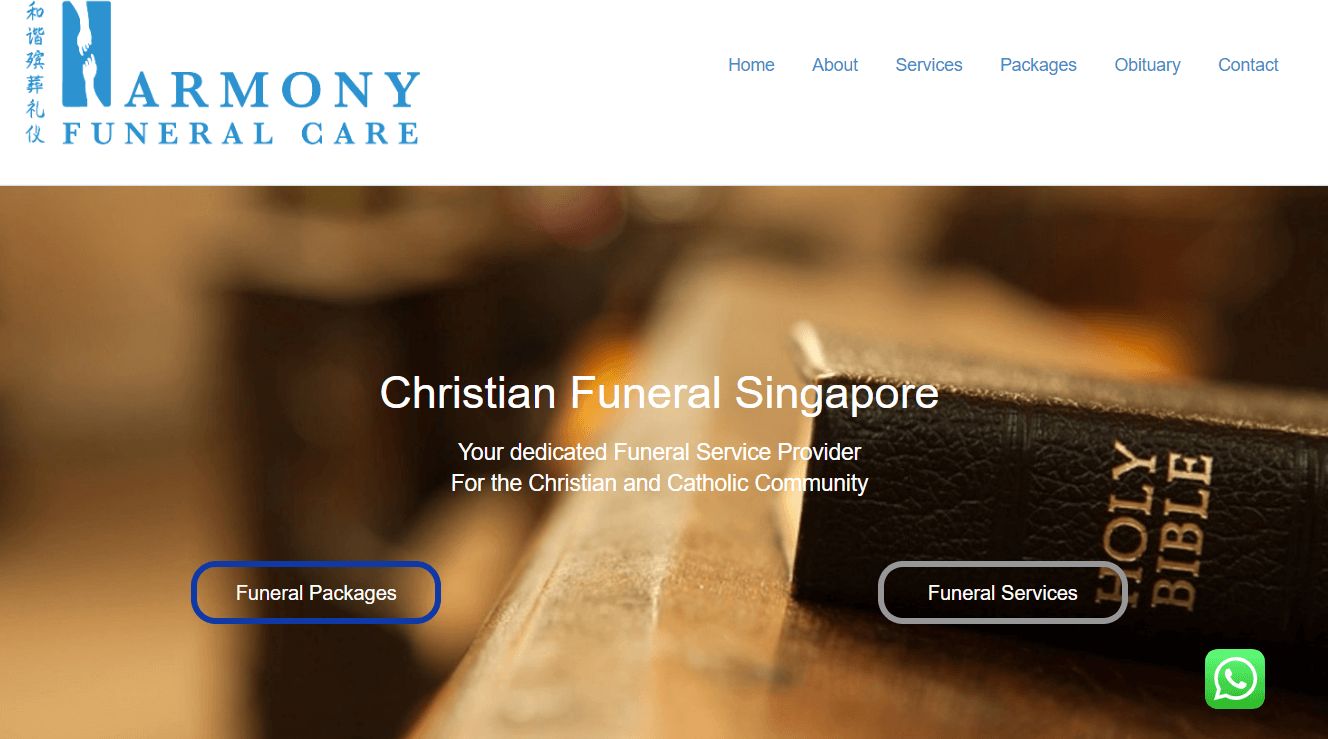 | | |
| --- | --- |
| BEST FOR  | Pre and Post Funeral Services |
| WEBSITE | https://www.christian-funeral-singapore.com/ |
| ADDRESS | 38 Sin Ming Drive #01-523 Sin Ming Industrial Estate Singapore 575712 |
| CONTACT DETAILS | +65 8254 1441 |
| OPERATING HOURS | Open 24 Hours |
At Harmony Funeral Care, you can have a full personalised package so when the visitors enter the hall, they'll be reminded of their beloved friend.
Their offered package for the best free thinker funeral in Singapore includes collection of the dearly departed, funeral preparations, funeral setup, and post-funeral services as well.
Embalming, dressing, and make-up services, the casket, enlarged photographs, and advice on wording and placement of press notices are also part of the package.
Apart from this, you can also have coordination of service plans, a glass funeral hearse, and an air-conditioned coach. They'll also take care of the ash collection service and application of funeral reimbursement claims.
Highlights
Funeral at void decks
Placement of press notices
Ash collection service
Application of funeral reimbursement claims
4.  Ang Chin Moh Funeral Director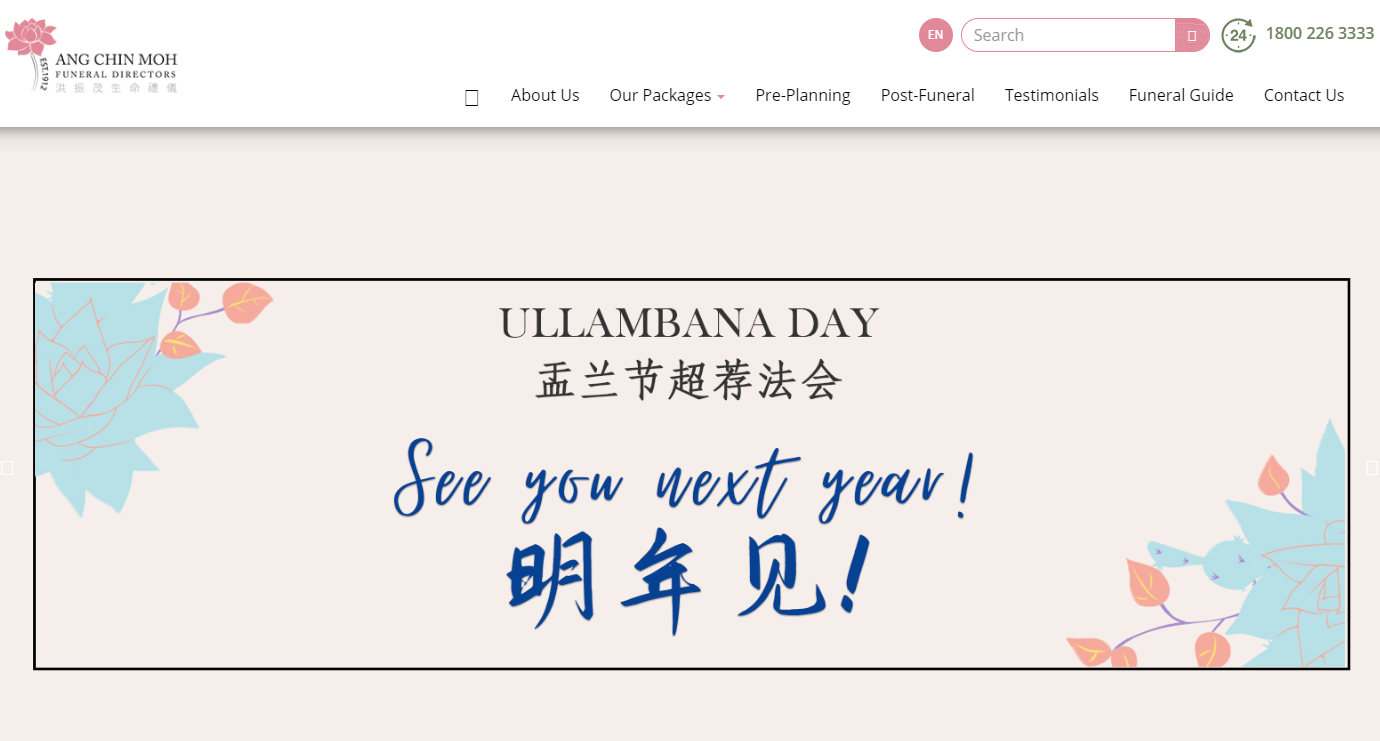 | | |
| --- | --- |
| BEST FOR  | Overall Funeral Coordination |
| WEBSITE | https://www.angchinmoh.com.sg/ |
| ADDRESS | Blk 88 Geylang Bahru #01-2724 Singapore 339696 |
| CONTACT DETAILS | 1800 226 3333 |
| OPERATING HOURS | Open 24 Hours |
Ang Chin Moh Funeral Directors is a business that handles funeral packages for families with either religious or non-religious beliefs. For non-religious families, they provide simple yet meaningful funeral arrangements.
With their best free thinker funeral in Singapore, you can have a full bundle of services or opt for additional services. They'll help you with the overall funeral coordination, and you'll be assisted by an ACM and night service team.
For transportation, they offer a limousine hearse. Before cremation, you can choose from their post-funeral options including columbarium, sea burial, keepsake jewellery, and many more.
Highlights
ACM and night service team
Limousine hearse
Ash collection service
Customer Reviews
Clients were impressed with the overall services of Ang Chin Moh Funeral Directors. A client posted this review:
"Thank you to all the team at Ang Chin Moh for the funeral arrangements for my mother. The team was professional, thoughtful and sensitive at all times. The immediate family and close friends who paid their respects also shared that the service was extremely well organised. We are very appreciative."
5.  Embrace Funeral Services
Embrace Funeral Services has a group of professional and experienced staff who will help you commemorate the life of the deceased and honour their memories. They'll guide you in every step of planning and organising the ceremony.
They provide an affordable and comprehensive package where all necessary funeral items are included. From the transportation up to the actual graveside services, they'll make sure to provide a peaceful wake for your loved one and for the whole family.
After-death care is also part of their offered services. You can choose between sea burial, tombstone, urns and niches, or grave exhumation.
Highlights
Pre and post funeral
Grave exhumation
Customer Reviews
Embrace Funeral Services has received a lot of positive responses from clients saying that they received full support and sympathy from the team. This is why they've become known for their the best free thinker funeral in Singapore.
A client wrote this feedback:
"THis review is dedicated to Embrace Funeral Services for delivering such a smooth and professional service for my late father. The team was attentive and very responsive in their replies. During the funeral, we sat down with Jeffrey a couple of times and he gave us useful tips on the funeral proceedings and provided other necessary advice. The funeral was done beautifully with the altar set up nicely and everything was executed promptly. It was undeniably a beautiful and dignified send off for my late father. Thank you once again for your team's service!"
6.  Casket Fairprice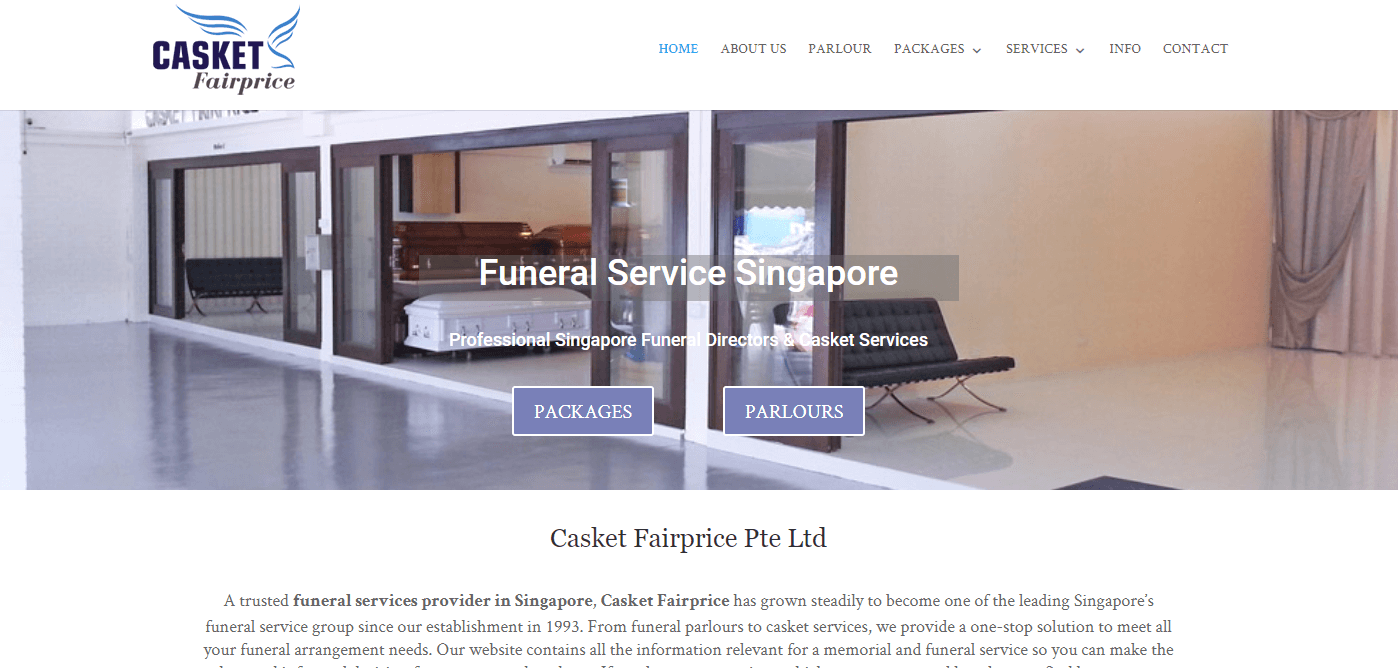 | | |
| --- | --- |
| BEST FOR  | Void Deck and Parlour Packages |
| PRICING | Rates |
| WEBSITE | https://casketfairprice.com/ |
| ADDRESS | Blk 37 Sin Ming Drive, #01-571, Singapore 575711 |
| CONTACT DETAILS | 6455 9909 |
| OPERATING HOURS | Daily, 24 hours service |
Casket Fairprice can help you prepare a funeral setup at a parlour or HDB void deck. Their best free thinker funeral in Singapore includes premium tentage setup with decorations, a full glass casket, and a funeral procession.
With the HDB void deck package, tables and chairs, curtain and carpets, as well as fans and general lighting are all included. Funeral hearses, air conditioners, buses, and a mobile toilet are also part of their services.
With this range of services, they can truly provide the best free thinker funeral in Singapore.
Highlights
Premium tentage setup
Caskets and funeral supplies
Funeral procession
And that's the end of our list of places with the best free thinker funeral in Singapore. Have you already decided which service you'll use? Tell us all about it!
And if you'd like to see more options, here are some of the best funeral services in Singapore. These are generally flexible enough to provide free thinker funerals upon request as well.