The 12 Schools for the Best Tennis Lessons in Singapore
Are you thinking about learning another sport? If so, you might want to consider signing up for the best tennis lessons in Singapore offered by none other than the premier sports academies on the island.
If you're in the dark about which schools have the best tennis classes in Singapore, fret not because we've taken care of it! We combed through the entire island in search of exceptional and affordable tennis lessons for all ages.
Here, you'll get to know more about them, the range of their services, and how excellent their tennis coaches are.
1.  Banana Tennis Academy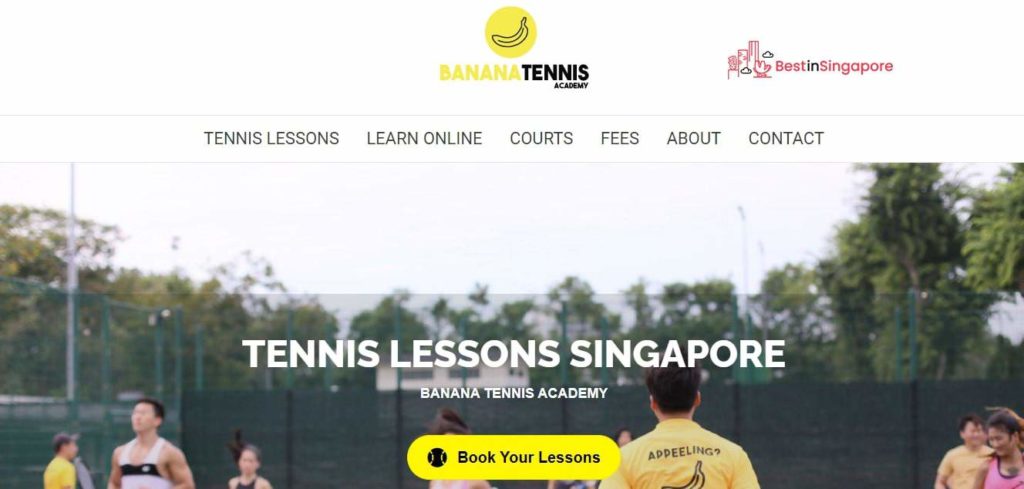 BEST FOR   
Beginner-friendly tennis lessons
SERVICES
Kids tennis classes, adult tennis classes, private classes, and group lasses
WEBSITE
https://www.tennissg.com/
ADDRESS
537 Serangoon North Ave 4, #04-139, Singapore 550537
CONTACT DETAILS
+65 9831 5983

[email protected]

OPERATING HOURS
Monday – Sunday: 7:00 AM – 10:00 PM
Banana Tennis Academy is highly recommended for those who haven't picked up a tennis racquet or played a sport in their entire life. It's a tennis school that provides beginner-friendly tennis lessons to students of all ages to make sure that no one gets left behind.
Some of its students have praised how friendly and approachable all of its tennis coaches are. Well, that comes as no surprise as Banana Tennis Academy hires only professional tennis coaches who love teaching and being with students on the court.
In terms of prices, Banana Tennis Academy offers its private and group classes at an affordable price to make it more accessible to everyone. This is why we consider it one of the top options for the best tennis lessons in Singapore.
Highlights
Professional and friendly coaches
Reasonable priced classes
Singapore's first online tennis classes
Customer Reviews
Here are some feedback shared by parents who enrolled their kids in Banana Tennis Academy:
"My children Victoria and Nicholas have been learning tennis for over a year and they are always looking forward to their weekly lesson with Banana Coach! He engages with my kids by teaching techniques in a fun manner, and reminding them to be resilient and not to give up easily. I would highly recommend Banana Tennis to all parents keen to send their kids to tennis lessons."
"My son is being coached by one of the Coaches from Banana Tennis. He really enjoys playing tennis with the coach. The coach makes the game fun for kids and at same time tries to teach different techniques. My son looks forward to his tennis class each week."
2.  SITA Tennis Academy Centre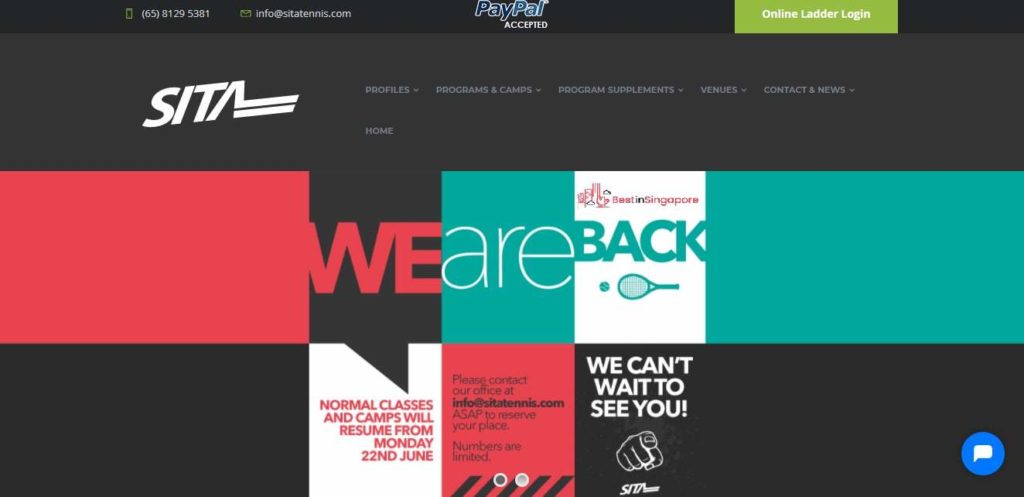 | | |
| --- | --- |
| BEST FOR    | Professional tennis coaches |
| SERVICES | Kids tennis lessons and adult tennis lessons |
| WEBSITE | https://www.sitatennis.com/ |
| ADDRESS | 130E Harding Rd, Singapore 249543 |
| CONTACT DETAILS | +65 8129 5381 |
| OPERATING HOURS | Monday – Sunday: 7:00 AM – 10:00 PM |
SITA Tennis Academy aims to provide a one-of-a-kind tennis experience to students of all ages. They do this by putting students under the supervision of a global team of professional tennis coaches and ATP ranked tennis players.
In fact, some of its coaches come all the way from Europe, America, Australia, Africa, and other continents.
If you're a parent with a kid who wants to pursue tennis professionally, then there's no better tennis school than SITA Tennis Academy. Its tennis coaches can come up with developmental strategies that will help young aspiring tennis players achieve their goals in the future.
If you're only planning to learn the sport for fun, then SITA Tennis Academy should still be one of your top choices. All of its classes—whether private or group—are tailored to every student's individual needs and goals.
Another reason we call it one of the top schools with the best tennis lessons in Singapore is its full-range tennis facilities. Everything that you need for playing tennis will be provided.
Highlights
Global team of coaches
Personalised classes
Complete facilities
3.  SOPHIAANSGTENNIS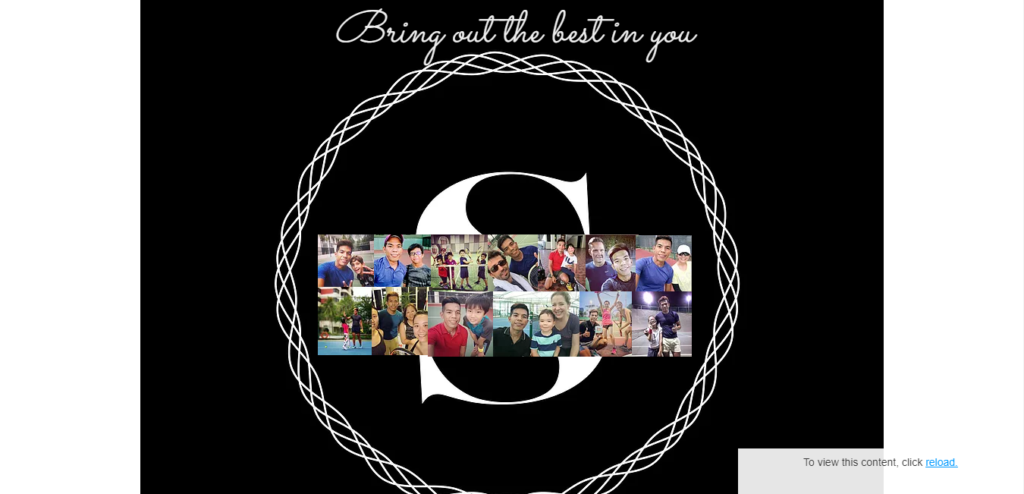 | | |
| --- | --- |
| BEST FOR    | Passionate and patient instructor |
| SERVICES | Private tennis lessons, group tennis classes, corporate tennis clinics |
| WEBSITE | https://www.sophiaansgtennis.com/ |
| ADDRESS | 11 Bedok North Street 1, Singapore 469662 |
| CONTACT DETAILS | +65 8366 3670 |
| OPERATING HOURS | Monday – Sunday: 7:00 AM – 10:00 PM |
SOPHIAANSGTENNIS provides personalised tennis classes. Sophiaan Abd Wahab, the owner of this tennis school, teaches with enough passion to help you improve your weaknesses and reach your personal goals.
To cater to all types of learners, SOPHIAANSGTENNIS offers private lessons and group lessons, whichever you think would best help you learn and enjoy tennis. The tennis school is also available for flexible plans such as corporate tennis clinics.
Besides, Sophiaan is among the top 20 rated players in Singapore and has been qualified for various international tournaments. With these experiences, you can trust that he knows how to help you improve.
He also collaborates with two other tennis professionals to provide you with diverse coaching. They are all trained in first aid and AED-certified.
Highlights
Group and private lessons
Flexible tennis classes and corporate tennis clinic
Among the top 20 tennis players in Singapore
Customer Reviews
Customers appreciate Sophiaan's passion and patience for tennis enthusiasts. Here are reviews who have felt positively about SOPHIAANSGTENNIS's classes.
"Very happy to have found my boy a patient, dedicated and passionate tennis coach in Sophiaan by serendipity, who has a positive influence on him. Ian always looks forward to his weekly lessons with Sophiaan and frequently shares what he has learned from him!"—Diana Quah
"Sophiaan is a passionate coach who is really responsive and responsible not only for his students but also for himself. Thanks to him, tennis became the most favorite and enjoyable sport for my boy. I am so glad I found him out!!"—Miyoung Cho
4. SPIN Tennis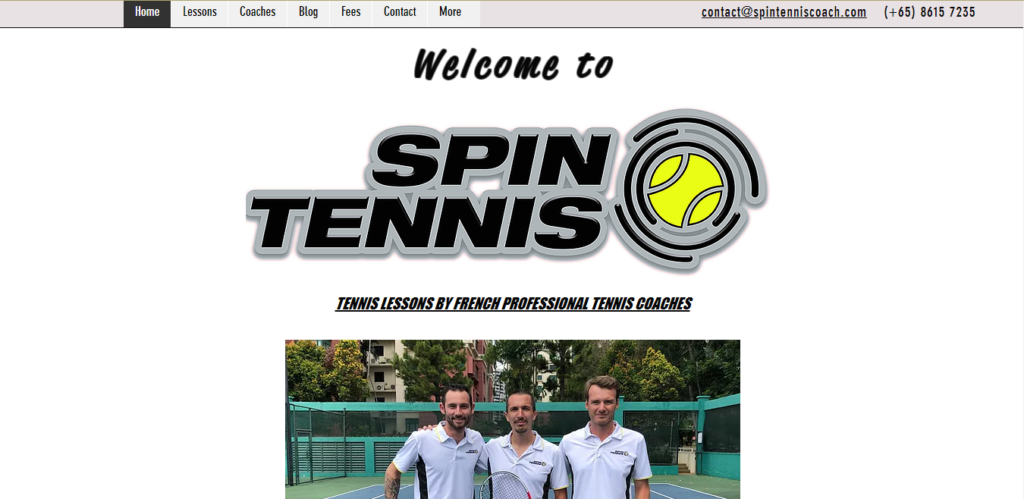 BEST FOR   
Goal-based tennis training
SERVICES
Individual coaching, pair coaching, group coaching, kids tennis academy, ladies tennis clinic
WEBSITE
https://www.spintenniscoach.com/
ADDRESS
143 Serangoon Avenue 3 Singapore, Singapore 556121
CONTACT DETAILS
+65 8615 7235


[email protected]

OPERATING HOURS
Contact for availability
SPIN Tennis is a professional tennis coaching academy in Singapore that caters to all types of players, from beginners to competitive players. It has coaches with a French Tennis Confederation coaching certificate.
The coaches are thus able to coach in either English or French. Together, they offer individual, pair, or group private coaching where you can play tennis at your own condo grounds or public courts.
They even have a tennis academy where they teach and oversee over 120 young tennis enthusiasts. SPIN Tennis also has tennis camps and sports clinics for women.
One of their newest coaches is also an expert in coaching for fitness training and wheelchair tennis. With these advantages, SPIN Tennis can break any boundaries you may have when it comes to tennis.
Highlights
French Tennis Confederation coaching certificates
Personalised classes
Fitness training and wheelchair tennis
Customer Reviews
Here are just some of the positive feedback customers have left on SPIN Tennis's Facebook page:
"Alex is a truly great teacher! My 10yo daughter really enjoys her lessons with him. He is precise and persistent. He notices all mistakes and cares about correcting them 😀. Great job, coach Alex! We can't wait to continue."—Nadia Lavrentieva
"Spin tennis is one of top tennis academy in Singapore. All instructors are very professional, with lot of experience. I tried a group lesson with them and I decided to come back every Sunday because I will be sure to improve all my tennis skills. Thank you Vincent"—Fab Rice
5. Savitar Tennis Centre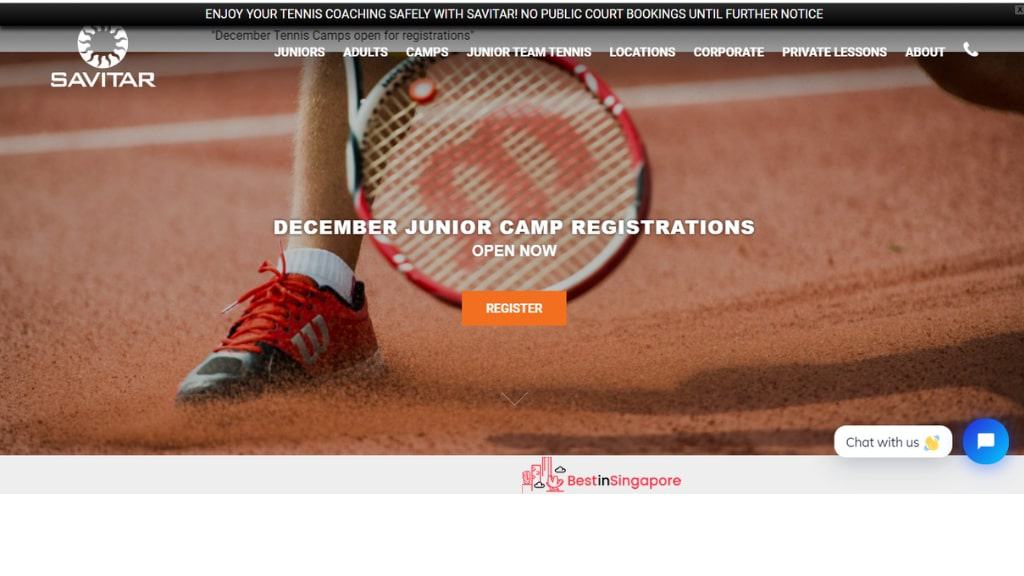 | | |
| --- | --- |
| BEST FOR    | Tennis lessons for children |
| SERVICES | Junior tennis lessons, adult tennis lessons, group tennis lessons, tennis camps, and corporate tennis classes |
| WEBSITE | https://savitar.sg/ |
| ADDRESS | 80 Bras Basah Rd, Singapore 189560 |
| CONTACT DETAILS | +65 6431 5201 |
| OPERATING HOURS | Monday – Sunday: 9:00 AM – 10:00 PM |
Savitar Tennis Centre wouldn't be considered one of the top tennis schools in Singapore for nothing. Apart from its wide range of tennis classes for all ages, it houses some of the best tennis coaches in Singapore, all of whom have a wealth of coaching experience.
Speaking of experience, all of its coaches have an internationally recognized coaching certification, so rest assured that you or your kid will be in the most capable hands. Its fees may be a bit more expensive compared to others, but you'll definitely learn a lot by the end of each class!
Savitar Tennis Centre can provide ladies clinics, men's tennis, corporate workshops, and team tennis training. If you're planning for the next team building session with your colleagues, then we suggest signing them up for a group tennis session!
Highlights
Experienced coaches
Wide range of classes
Multiple locations
Customer Reviews
As one of the top tennis schools on the island, it's received mostly praise from its students. Here's a comment by one of its students:
"I attend the Adult Tennis Bootcamp and my future self would thank me for it. The class is fun but also rather intense. Coach Jim is great as well. Every drill we do touches upon different aspects of tennis.  My fitness level increases from couch potato to tennis court potato and I can now run left and right at least twice without feeling like I need to throw up and faint at the same time. The class pushes me and I always leave feeling happy regardless of how my days went. Highly recommend both Coach Jim and the tennis bootcamp to anyone!"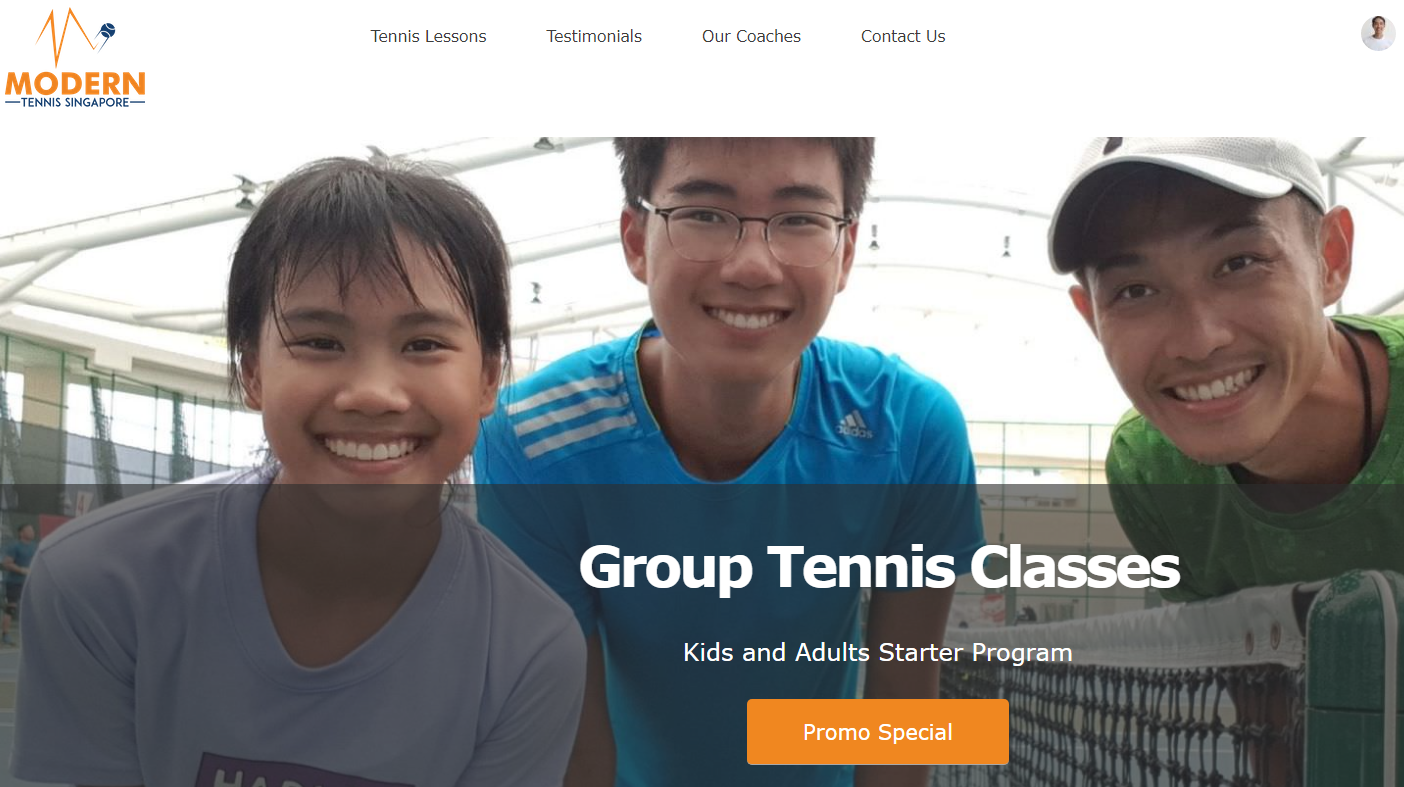 | | |
| --- | --- |
| BEST FOR | Private coaching programs |
| SERVICES | Private, Semi-Private, and Group classes |
| WEBSITE | http://moderntennis.sg/enquiry |
| ADDRESS | 65, #04-06 Sims Ave, Singapore 387418 |
| CONTACT DETAILS | WHATSAPP: 65 8660 0943 |
| OPERATING HOURS | Monday-Sunday: 7:00am-10:00pm |
Junboytennis is definitely a place you should consider if you want to learn tennis because it's handled by a former full-time competitive tennis player. Jun, the founder and one of the coaches of Junboytennis, aims to provide quality lessons at the best price, ensuring that his students leave with new knowledge on said sports.
When you enroll, you can choose among the eight of his trusted coaches available. Let them help you practice on footwork, handwork, and techniques.
Sign up at junboytennis soon!
Highlights
Professional tennis players as coaches
Individual and group lessons
Lessons for kids
On-site tennis lessons
Future Sports Academies focuses on teaching kids the best way to play tennis. They aim to show their students how to best enjoy the sport and how to play in a way that will contribute to their health.
Their coaches are composed of professionals who are quite experienced in playing the sport. With their passion for the sport, there's no doubt that they will do their utmost to teach their students all there is to tennis.
As the premier tennis academy in Singapore, one of the most essential skills they teach enrollees is movement fundamentals. They can teach any student, young or old, why tennis is such an enjoyable sport.
Highlights
Premier tennis academy in Singapore
Teaches the correct way to play tennis
Focuses on building fundamental movement skills
Tennis coaches are professionals with years of expertise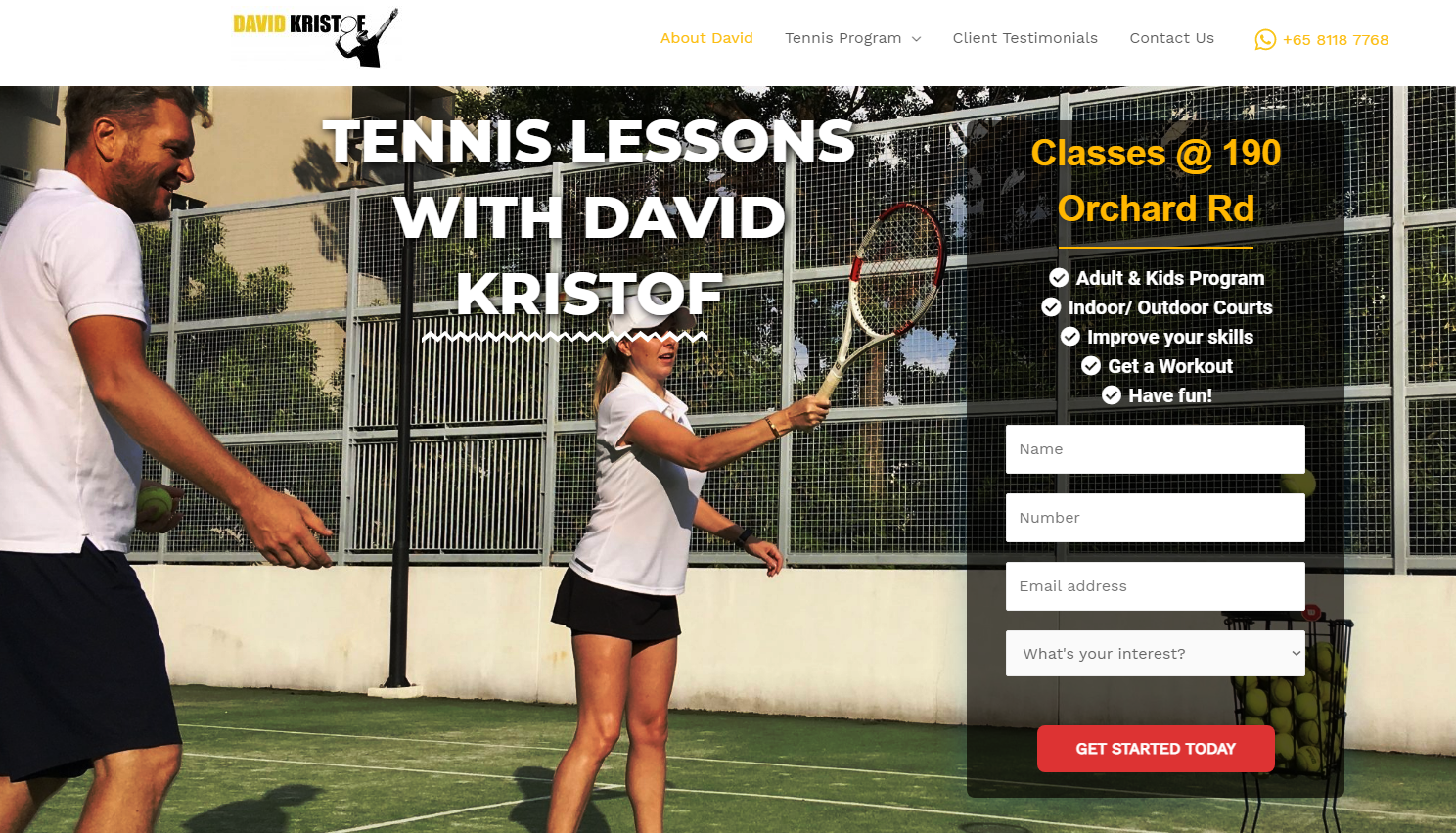 David Kristof is the right coach to work with if you're just starting out with tennis. He's an experienced tennis player with years of experience and certification from Tennis Canada, Peter Burwash International, and Oscar Wegner's Modern Tennis Methodology to back up his skills and expertise.
He offers group classes for both kids and adults. Here, he teaches the fundamentals and encourages students to partake and singles and doubles practices. 
Those who prefer a more individualistic experience can sign up for private or semi-private classes, with the latter allowing one more companion to learn with. 
Highlights
Tennis lessons for kids ages 6 to adults
Private lessons available
Accessible location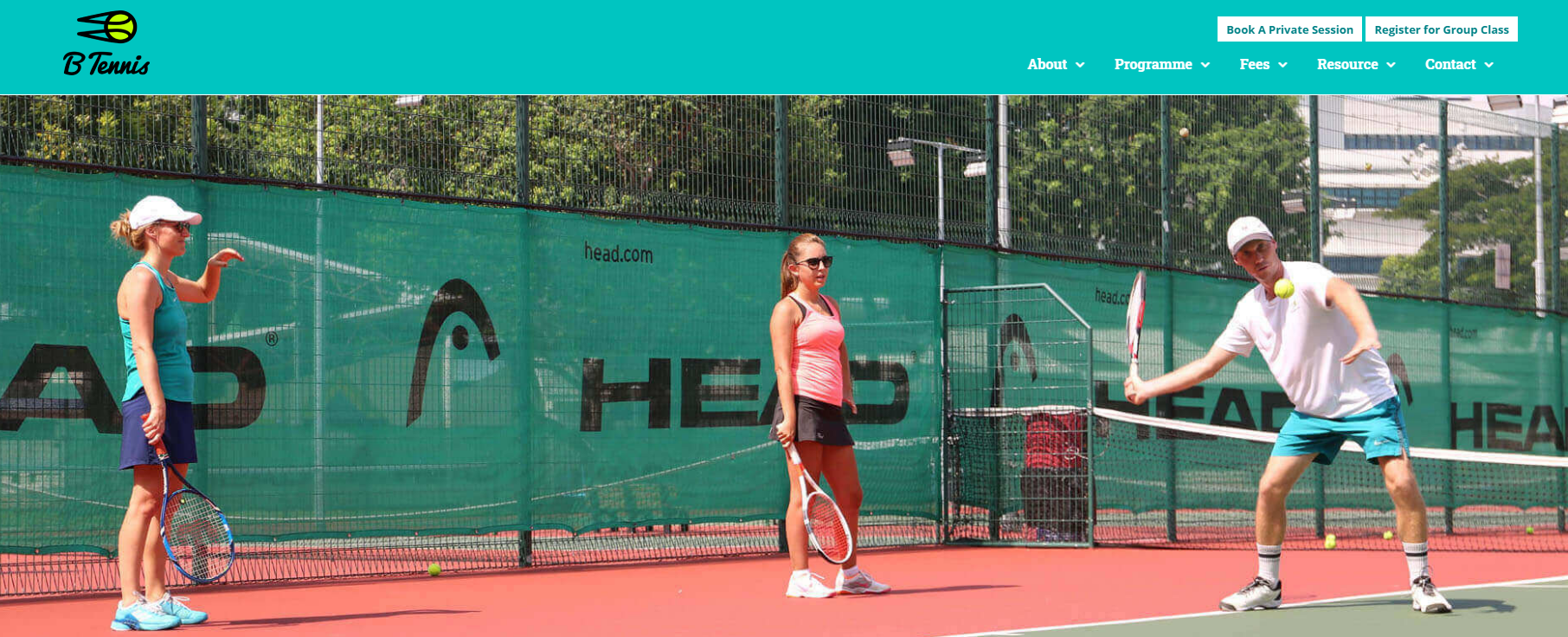 | | |
| --- | --- |
| BEST FOR | Young Kids, Families and Group Sessions for Adults |
| SERVICES | Private and Groups Sessions, Holiday Camps, Colour Certification |
| WEBSITE | https://btennis.sg/ |
| ADDRESS | 3, St Michael's Road, #17-06, Singapore 328007 |
| CONTACT DETAILS | 94255647 |
| OPERATING HOURS | Monday to Sunday: 7am to 10pm |
That's the end of our list of the schools with the best tennis lessons in Singapore. Have you made your pick already? Tell us all about it in the comments section!
If you know other tennis schools in Singapore worth checking out, share them with us and we'll check if we can include them in our roster.
If you need a bag that can carry all your tennis essentials, then you might want to take a look at our picks for the best duffel bags in Singapore. We tried these duffel bags ourselves and we all love them!