The 7 Best Duffle Bags in Singapore For Sports & Travel
The best duffle bags have great storage capacity, can take rough usage, and look great with most clothing… which is why we think the best duffle bags in Singapore will never go out of style!
It doesn't matter if you're using your duffle bags to carry gym paraphernalia, camping supplies, or other things. What matters is that your duffle bags tick all the boxes for practicality and quality.
To help you out, we've combed the market and put together a list of the best duffle bags in Singapore at the moment. Try these out if you need a go-to bag for your activities!
1. UA Undeniable Duffle 4.0 Small Duffle Bag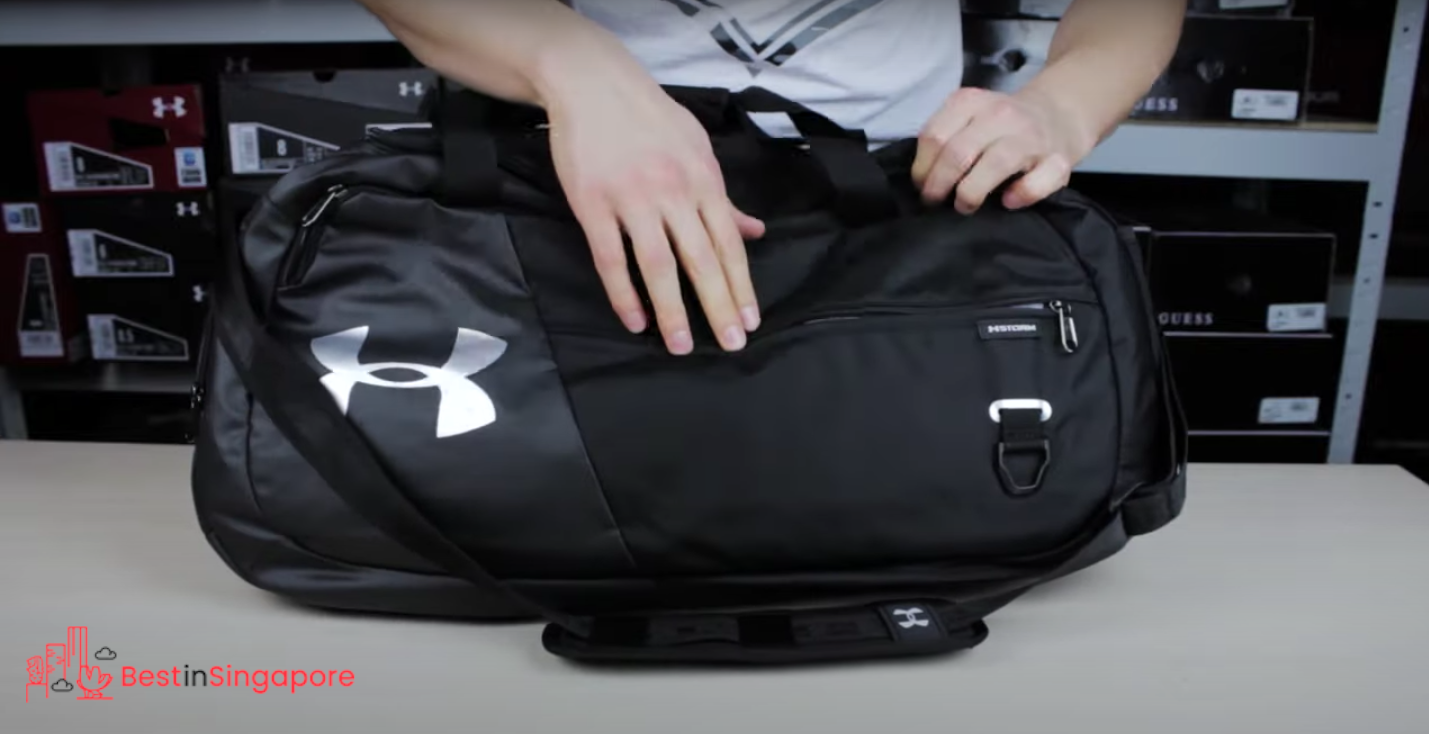 Price: $34.90
If you're looking for a duffle bag in Singapore that's compartmentalised to keep your stuff neat, then you need to look at this one. The UA Undeniable Duffle 4.0 may be built with a compact design. Despite that, it has full-sized compartments you can use to store your items and keep them organised.
Its small structure also makes it easier to carry, and will surely save some space in your car. Furthermore, this duffle has a water-resistant finish that means your stuff will be safe even if the bag gets rained on while you're travelling.
The materials include cotton, polyester, and elastane. The design features two different side panels for accessible pockets, an abrasion-resistant bottom, two large front pockets, D-rings for other attachments, and more.
Like most of the items in our list of the best duffle bags in Singapore, it's also suitable for any gender! 
Highlights
Adjustable shoulder straps
Padded grab handles
Water-resistant
Customer Reviews
Users say you can't go wrong with UA Undeniable Duffle 4.0 because it has almost everything people look for in a bag. From the style to the design and functionality, they believe it's truly impressive. Not surprisingly a favourite duffle bag in Singapore among travellers. 
That said, some also note that if you prefer you to have shoulder pads, this might not be your best bet. 
A tennis player left this review on the brand's official website:
"This is an excellent duffle except for one major flaw IMO. This really needs a shoulder pad on the strap. If you put anything weighty in the bag it digs deeply into your shoulder. Very uncomfortable in that respect. I prefer the old version of the duffle's shoulder strap. I love the design of the bag and adding a shoulder pad would make it a 5-star bag. I have the Camo version and love the pattern. It would be nice if UA would sell a pad separately to add on to the bag. I will try to retrofit one in the meantime. Look forward to an updated version in the future."
2. Adidas Convertible 3-Stripes Duffle Bag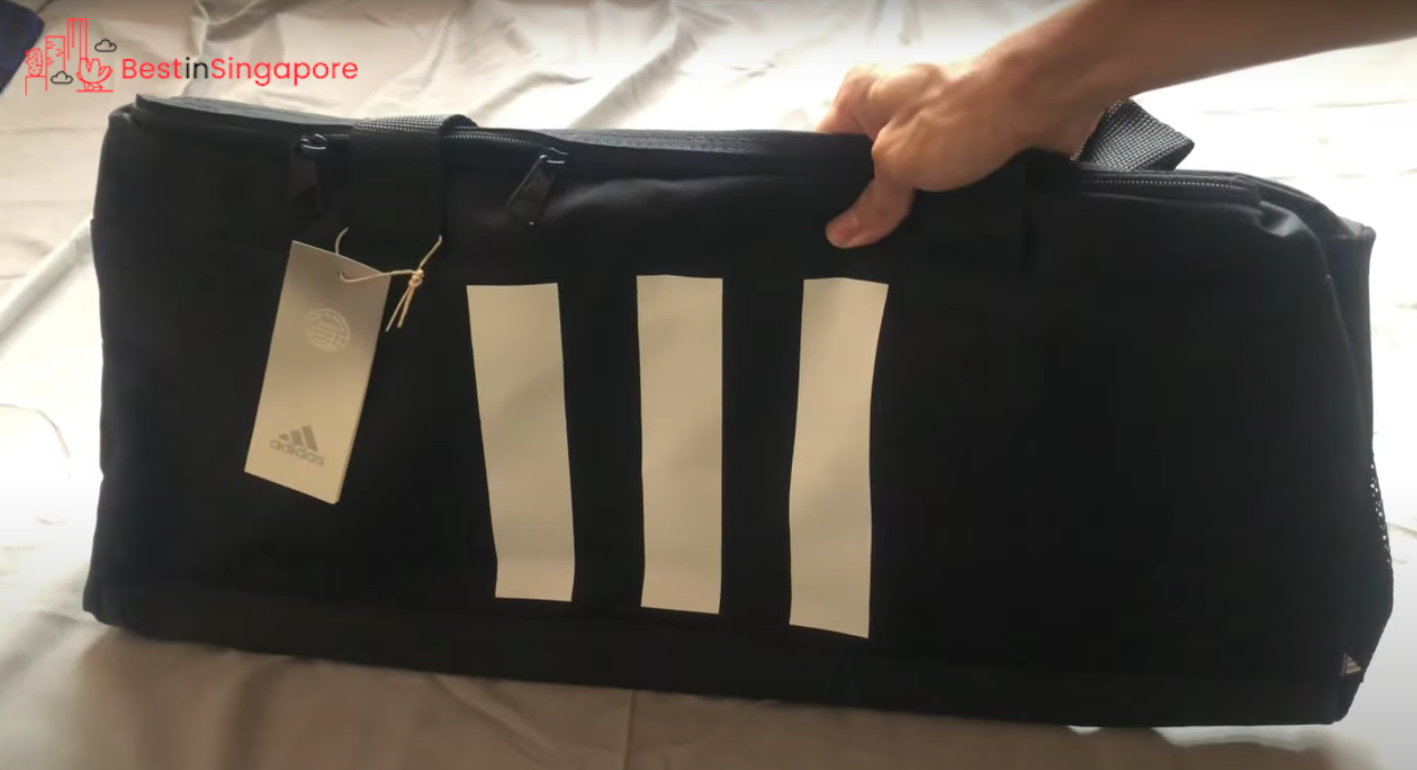 Price: $55.90
As we all know, Adidas is famous for its products that cater to the needs of athletes and sports lovers. As such, we doubt anyone's surprised that one of its bags made this list of the best duffle bags in Singapore.
One special feature of the Convertible 3-Stripes Duffle Bag is that it can be used as a backpack. That's something most of its competitors don't offer.
This bag also has a padded shoulder strap (which is also adjustable) and the carry handles are air-mesh-padded as well. It also has several pockets to keep your stuff organised.
The components of this bag are made of polyester and are coated for long-time use. The shoe pocket is also ventilated to prevent bad odour.
This is easily a candidate for the best duffle bag in Singapore for sporty people. Adidas is a trusted brand too, which speaks to the quality of the bag!
Highlights
Transforms into a backpack
Durable design
Customer Reviews
Being one of the best duffle bags in Singapore, the Adidas Convertible 3-Stripes Duffle Bag has a simple yet functional design that many owners love.
However, there are still caveats. For example, for those who are on the tall side, the backpack feature might not work out perfectly.
Still, most owners seem to love the bag. A reviewer gave this feedback on the brand's official website:
"It's spacious for a small size bag and the separate shoe compartment is a nifty addition. Quality is good, but my only gripe is that the adjustable straps were kinda short for converting into a backpack especially since I'm kinda on the big and tall side. But otherwise perfect as a small duffel sling bag."
3. Eagle Creek Cargo Hauler Duffle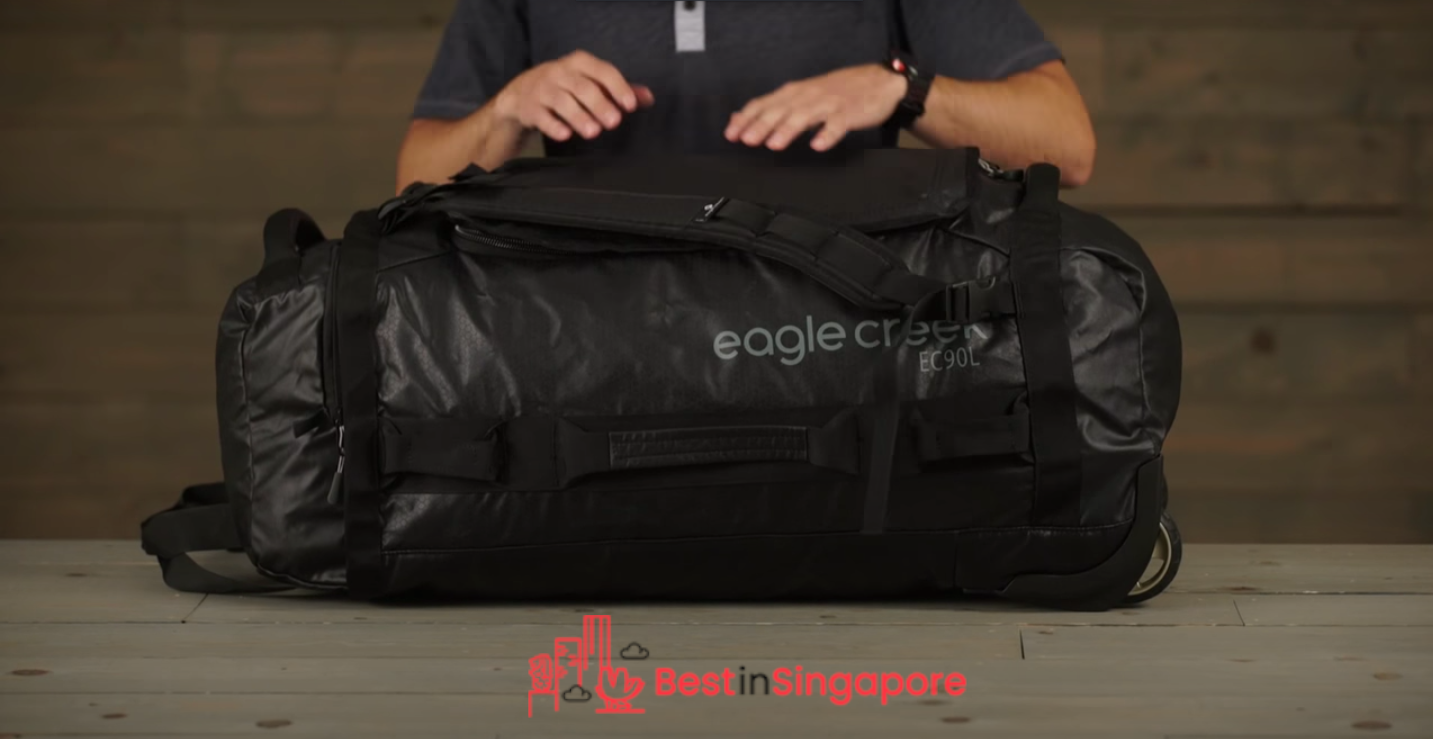 Price: $209.00
Compared to most other options, the Eagle Creek Cargo Hauler Duffle might be a little pricey. Still, you'll see that it's worth it once you've tried this ultra-light, durable, water-resistant bag!
This is the best choice for those going on a long trip since the bag itself is fairly light. Most of what you'll carry will be your own belongings, weight-wise.
It also has gear pockets, tie-down daisy chains, grab handles, and removable backpack straps. The main compartment can be opened easily too, thanks to a U-shaped lid.
This is a medium-sized bag with more storage space than you might expect from just looking at it. Moreover, it's designed to be abrasion-resistant.
If it suddenly falls into the ground, your items will be completely protected too, thanks to a foam-padded bottom. It's also designed so you can connect it to a roof rack — conveniences like these are why it's claimed to be one of the best duffle bags in Singapore.
Highlights
Ultra-lightweight
Finger-friendly pulls
High durability
Reflective design elements make it easy to see at night time and in dim places
Customer Reviews
Most owners love the features of the bag, especially the design and lightness. Some noted that it may not be ideal for very rough hiking trips despite its durability, however.
On the other hand, most travelling users called it a great partner during long-term vacations. Here's a review from Amazon that's worth a read:
"I bought this bag for a week-long trip to Thailand. Plenty of space! It easily fit a week's worth of clothing (for two climates), with plenty of room to spare. I was even able to pack my backpack and its contents into the duffel when I only wanted to carry one bag. Fits very nicely into overhead bins. Super lightweight and very attractive bag. I bought black and I like the shiny look to it. The end pockets make it very easy to access items during a flight when the bag is overhead. The backpack straps are great for carrying this bag longer distances but started to slide when I wore them on one shoulder only. This wasn't an issue of the straps falling off, it just made them crooked." 
4. Samsonite Red Fultun Boston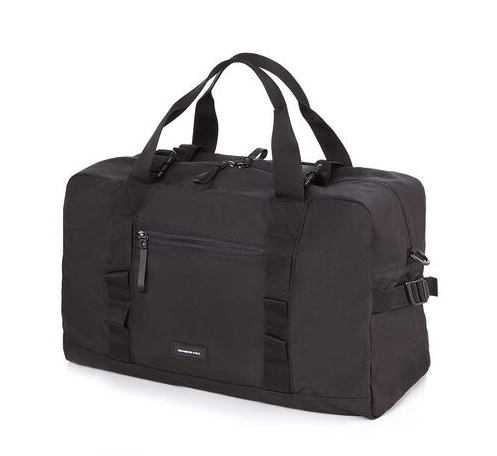 Price: $140.00
It can be hard to find the best duffle bag in Singapore when you just want something for your journey from home to work and vice versa. The Samsonite Red Fultun Boston does provide a quick solution, though.
This bag is on the pricier side compared to the others here, admittedly. Despite that, it's still a great choice for the active commuters out there.
This bag is mainly designed for office-based workers. It has a sporty look with front compartments so you can easily access your stuff and it also has top buckles to secure them.
An additional packable pouch is provided so that you can have a cross bag in case you need a separate bag for your other essentials. If you're currently searching for a small duffle bag in Singapore, this is a must-have!
Highlights
Additional mini cross bag
Detachable and adjustable shoulder strap
5. Buffalo Overnighter Duffle Bag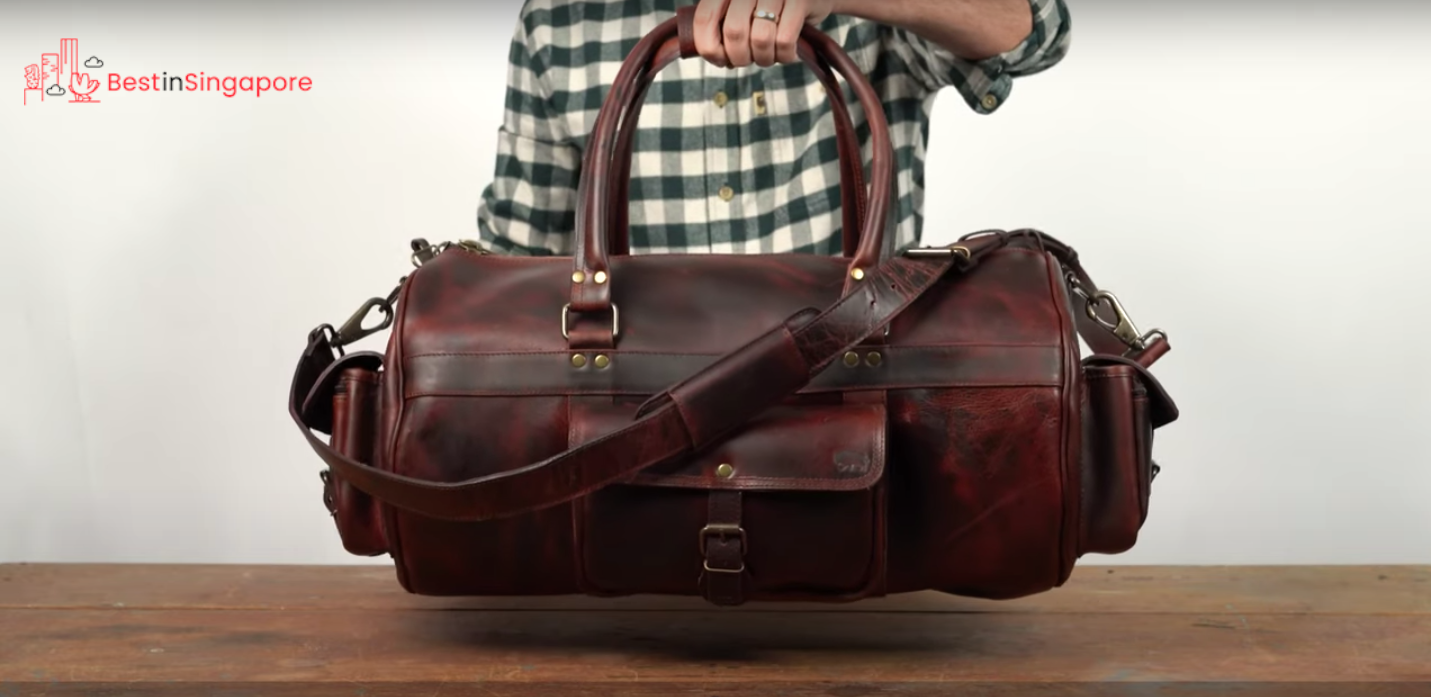 Price: $69.99
Out of all the options in this list of the best duffle bags in Singapore, Buffalo Overnighter Duffle Bag has the biggest storage space. It lives up to its name, for you can store an extensive amount of clothes and other items in it for long-term trips.
The most practical feature of this bag is the button closure design that helps you customize the way you use it. For that alone, it deserves a spot on the list of the best duffle bags in Singapore.
It has plenty of internal pockets as well. And when it comes to appearance, it has a luxurious style that can complete your fashionista look.
Be it for overnight or long-term travel, this is the best duffle bag in Singapore for trips and long weekends!
Highlights
Button closure
Many internal pockets
Customer Reviews
 Most customers have complimented its style, especially the choice of a material similar to real leather, which makes it fancier and more elegant than most of its rivals.
Here are some reviews from the company's official website:
 "Oh my I LOVE this overnight duffle bag, I have to travel for my daughter to see doctors and this has so much space for both of our clothes!"
 "The only downside to the brown buffalo overnighter duffle bag is the strap is black and looks a little odd against the colour of the bag"
6. Twenty Eight Shoes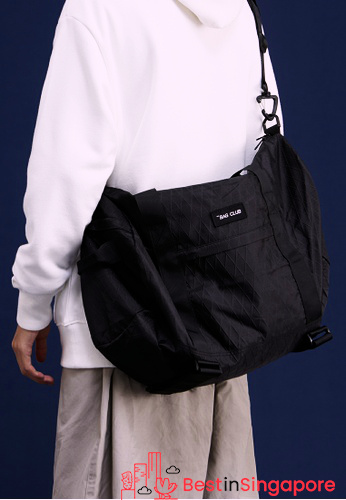 Price: $89.00
Twenty Eight Shoes Duffel Bag is more than just your carry on storage, but it is also designed to level up men's fashion while on travel. It is a double-style duffle bag which you can carry in two ways— through adjustable padded shoulder straps or padded carry handles.
The entire bag is made of durable nylon canvas with zip fastening mechanism which you can use for quite a long time. It has a dimension of L55cm x H30cm x W28cm so you could fit in your travel essentials and may have some room for extra items.
It also has various compartments so you can easily organize your stuff without having to stack everything all at once. 
Twenty Eight Shoes Duffel Bag is certainly a must-have!
Highlights
Available in black and gray

Durable and premium quality material

Highly fashionable
7. Luggage Outlet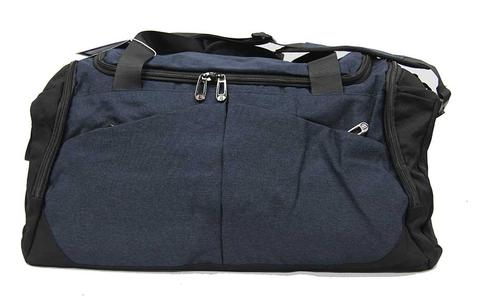 Price: $29
Luggage Outlet's Sporty duffel bag may be lightweight with only 700g of weight, but it can hold up to 30 litres worth of clothes and other goods. Its dimensions 51cm x 23cm x 26cm.
Its exteriors even have straps so you can attach it to a trolley shaft for easier carrying. So , this duffel bag can function either as a travel bag or a gym bag.
But what makes Luggage Outlet's duffel bag suitable for travel is that it has a dedicated shoe compartment, two front pockets, a back pocket, and smaller pouches inside. With these many divisions, you can separate your belongings properly instead of just mixing them together in one big duffel bag.
But what we really love about this duffel bag is that it's waterproof! So, you can even take it anywhere, even on long beaches and camping trips.
All of these versatile qualities of Luggage Outlet's duffel bag only comes at $29. You won't even have to spend much on the shipping because Luggage Outlet delivers for free all around Singapore.
Highlights
Lightweight
Waterproof
External straps for trolley shaft
Numerous pockets, complete with shoe compartment
Free delivery within Singapore
And there you have it! The absolute best duffle bags in Singapore.
The greatest thing about the best duffle bags in Singapore is that they are for the whole family and can be used on just about any kind of trip. If you've used one of them for an excursion, why not leave a comment on it below?
If you originally came here because you need a bag for gym use, though, you might want to follow this by looking at our list of the best gym memberships in Singapore. Paired with the right duffle bag, these can help you along in your active, sporty lifestyle!