The 7 Best Mosquito Repellents In Singapore To Prevent Bites and Disease
If you're going on a trip to marshland or just live in a mosquito-prone area, you need a way to counter these bite-happy pests. That's where the best mosquito repellents in Singapore enter the picture.
The best mosquito repellent in Singapore can protect you from these insects and the diseases they transmit. On the other hand, weak repellents will barely bother the pests.
To ensure you don't entrust your health and comfort to a weak (or unsafe!) insect repellent, we've gone over the options on the market. Here are the best mosquito repellents that you can buy in Singapore right now!
1. Tiger Balm Mosquito Repellent Spray
Price: $6
For outdoor activities, the small and lightweight Tiger Balm Mosquito Repellent Spray is the perfect mosquito-repellent choice. It contains a combination of common Tiger Balm formula (which has organic and non-toxic ingredients) and citronella oil.
Since it's a spray bottle, you can apply it to your shirt instead of having it directly on your skin. Make sure to have it on hand before you start on your adventurous trip!
Highlights
DEET-free
Safe to use
Travel-friendly
Customer Reviews
From the healthy formula up to the efficient packaging, there's a lot to like about this first entry on our list of the best mosquito repellents in Singapore. That's why many buyers have approved this product and continue to use it.
However, users also warn to use only small amounts. This is because the smell can be strong and may cause some inconvenience for the people near you.
A reviewer from BeautyMNL says:
"If mosquitoes love you as much as they love me, this is a good spray for you. Anti-bug lotions like Off can feel too heavy and hot on the skin. Tiger Balm spray feels much lighter on the skin. The smell can be a bit bothersome (it does remind you of their balm), but it is not overpowering. It works well for several hours (maybe 4-6 hrs). Try not to put too much because the texture can be quite oily. I suggest you spray on your elbows and knees and then spread to the arms and legs from there. Will repurchase when I run out."
2. NetCare Serai Wangi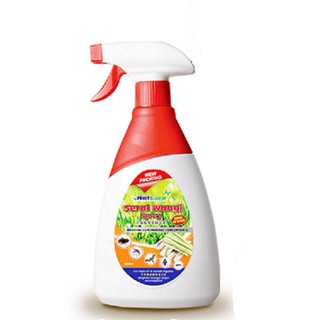 Price: $13.16
Having problems with insects flying and going around your furniture, kitchen area, bathroom, or any place at your home?
NetCare Serai Wangi will help you eliminate these pests as it is a one-stop solution that can repel mosquitoes, flies, rats, cockroaches, termites, and many other toxic pests.
It can be used as a stain cleaner and air freshener too. Furthermore, it's safe to use, dries quickly, is environmentally-friendly, and has a long-lasting pleasant fragrance.
With this repellent, you can protect your home from insects and keep it stain-free at the same time. With that sort of multifunctionality, it's no wonder it's considered one of the best mosquito repellents in Singapore.
Highlights
Aromatic fragrance
Anti-slip protection
Customer Reviews
Apart from the given features, this product also smoothens and gives off an additional shine on surfaces like flooring. Hence, most customers are highly satisfied with it.
Here are some 5-star rated reviews for it from Lazada:
"Great product. Help to get rid of lizards"
"Great love the smell"
3. OFF! Active® Insect Repellent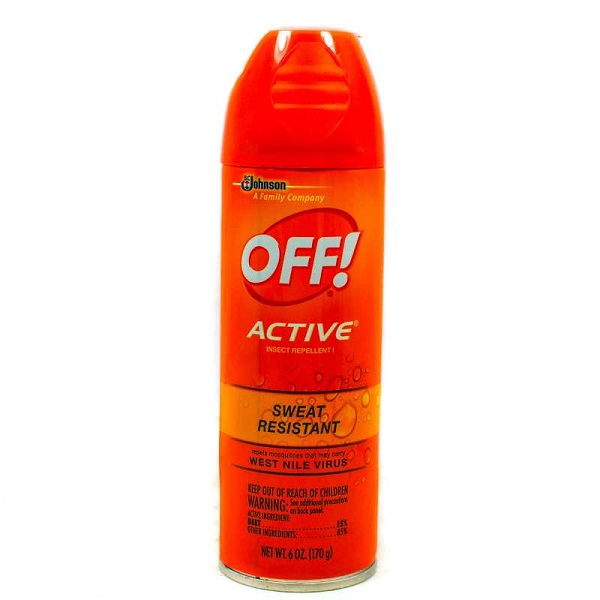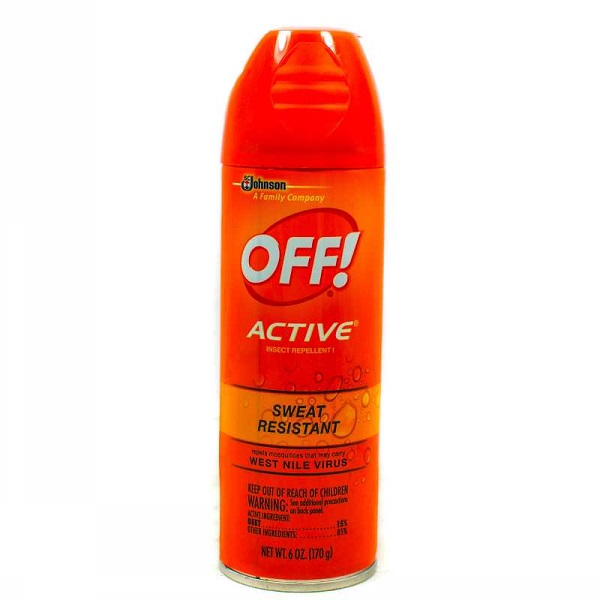 Price: $9.20
OFF! Active® Insect Repellent is an aerosol spray that you can use on your skin and clothing. Unlike the previous example of the best mosquito repellents in Singapore, though, it's not usable on furniture.
Despite that, it has its strengths. For instance, it's the ideal product for those who like to do extreme sports because it's sweat-resistant.
That gives it a big edge even among the top mosquito repellents in Singapore. Most of them tend to be ineffective when paired with sweat.
Thus, this is among the best mosquito repellents in Singapore if you're fairly active. It's also recommended for those in hot or humid environments.
Highlights
Sweat-resistant protection
Maximum of 5 hours protection
Customer Reviews
Customers have complimented this product for containing less odour than most others. They also report it as useful during long hours of exercise and intense activities.
Alex, a reviewer, left this feedback on the company's official website:
"I ordered this off active via amazon, I live in Germany and we have autan dry spray, which is good too, but not sweat resistant. Although this season, the mozzies are really annoying and aggressive, so I ordered off active and doesn't regret it. It is so effective, even at high humidity and when I sweat. Because autan brand is also made by SC Johnson, I really hope that this "15% DEET Off Active" formula will be market here in Germany next season. I don´t like the picaridin options, because they are not as good as DEET, plus sweat resistance. This off active is my new friend."
4. California Baby Natural Bug Blend

Price: $27.40
If you're looking for an insect repellent that will secure your babies and children against harmful pests, you should have the California Baby Natural Bug Blend. It's a non-toxic bug repellent that has plant-based ingredients safe for babies' skin.
This is one of the best mosquito repellents in Singapore due to the safety of its ingredients. It's DEET-free and contains pure essential oils of citronella, lemongrass, and cedar.
These oils don't just repel insects but also smell nice on the skin. This is a suitable mosquito repellent for any skin type and thus, for the whole family.
Highlights
Skin-friendly Formula
No Synthetic Fragrances
Customer Reviews
All of the California Baby products are allergy-tested and cruelty-free so parents can rest assured that children will be in good hands. Angel wrote this review on the company's official website:
"My family and I just went camping and we used this bug repellent the whole time and none of us got bit by any bugs. I love that it doesn't have a "chemically smell" and it isn't greasy. I was worried that it wasn't going to last our whole trip for our family of 5 but a little bit really goes a long way and we still have more than half of the bottle left after a 4-day camping trip. Would definitely purchase again!"
5. Baygon Liquid Electric Mosquito Repellent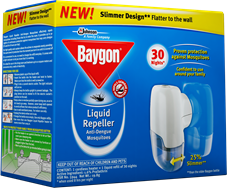 Price: $8.60
This is a little different from most of the other mosquito repellents in Singapore we've listed. Baygon Liquid Electric Mosquito Repellent isn't an aerosol spray or lotion, you see.
Instead, it's a small electric diffuser that will guard and protect your place against mosquito bites.
If you want to keep your windows open at night without worrying about pests, this is the perfect choice among the best mosquito repellents in Singapore.
It's effective for a total of 30 nights, has no odour, and also has no intrusive zapping sound… so you'll be able to sleep tightly even as it works.
It's strongly recommended for families who want to go camping or those who simply want to stay protected at night.
Highlights
Easy to use and set up
Constant protection
Customer Reviews
Baygon Liquid Electric Mosquito Repellent is well-loved by many, who obviously believe it to be among the best mosquito repellents in Singapore. They say it's because it's effective, efficient, and low-cost.
Most notably, customers keep coming back for this product despite it not being applicable to the skin and clothing. A reviewer from Webbline wrote:
"What I like about Baygon Electric Mosquito Killer is it does not require a complicated preparation or setup. I do not need to prepare other materials prior to its use. All I need to do is put the mat in it, plug it in the outlet and presto! Mosquitoes cannot touch me for hours! This is perfect to use at night. There is no single mosquito that dares to bite me or at least buzz around my ear. I can sleep peacefully. I strongly recommend Baygon Electric Mosquito Killer to those people living in dengue-prone areas. It is a modern device to get rid of mosquitoes. With this electronic mosquito killer, no more hassle; no more itchiness; no more terrible mosquitoes!"
6. Sawaday Mos-Bye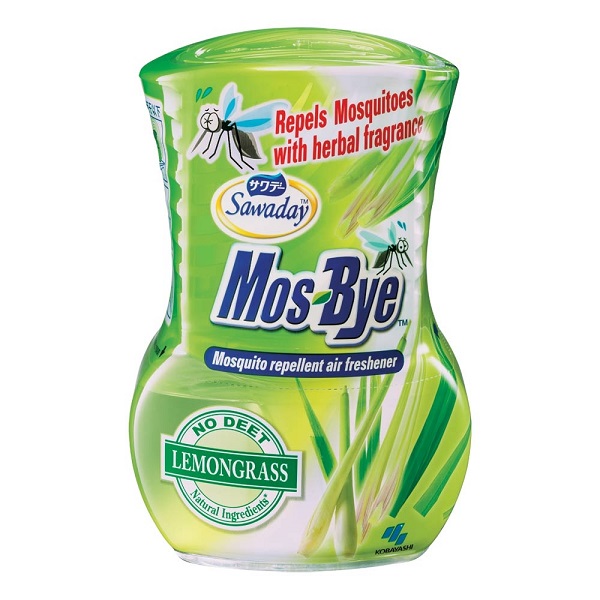 Price: $5.95
Sawaday Mos-Bye is both a deodorizing air freshener and mosquito repellent, so apart from keeping your house fresh and odour-free, it's also capable of protecting your place from mosquitos.
It has organic ingredients and an aromatic scent that provides a refreshing environment all around your house. This makes it one of the most pleasant of the best mosquito repellents in Singapore.
Highlights
Customer Reviews
Sawaday Mos-Bye repels mosquitoes with an herbal fragrance that many customers seem to appreciate. Here are some reviews from Qoo10:
"Nice smell air refreshener, wish will have a good anti-mosquito effect."
"Interesting product – smell is good, have to see if it keeps mozzie's away."
7. Himawari Mosquito Repellent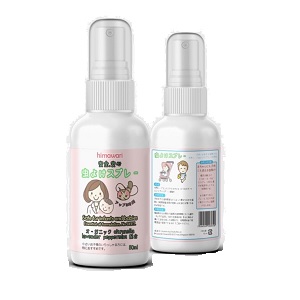 Price: $9.70
Finding a mosquito repellent that is suitable for most expectant mothers is quite hard. Fortunately, it's not downright impossible.
Himawari Mosquito Repellent contains natural ingredients and is thus one of the best mosquito repellents in Singapore if you have concerns about chemical toxins. It's perfectly safe for use by pregnant women and babies as well.
It also has a blend of lavender, citronella, and even peppermint essential oils. Keep in mind that you can only use it on clothing and other materials, though.
Highlights
Natural ingredients
Safe for use by pregnant women and babies
Customer Reviews
Many users seem to attribute part of this product's quality to its country of origin. They believe that a lot of the best mosquito repellents in Singapore are actually made in Japan, where high-quality products of this type have long been produced.
Himawari Mosquito Repellent has mostly positive reviews online. Here's the feedback from Lazada:
"Good for family use and better coverage than those mosquitoes patch. Use it most recently for our family night safari trip. The kids like the essential oil scent"
Anyway, that's the end of our list of top mosquito repellents in Singapore. If you're planning to brave the elements or nature any time soon, be sure to take one of these with you!
If you're looking for mosquito repellents in Singapore because you're going on a trip, incidentally, make sure you look fresh and radiant throughout the journey. Try these best primers in Singapore, for example, to keep your skin hydrated the whole way!