10 Best Primers in Singapore for Flawless Skin
Singapore's humid weather makes your choice of makeup primers hugely important. Unless you use the best primers in Singapore, you won't get full coverage and may end up with an  uneven look.
The best primers give you the perfect canvas for your cosmetics without making you feel like there's pancake on your face. They should look natural and feel lightweight — and, if possible, do a lot to minimise issues like gaping pores or skin spots.
We went looking for the top-rated primers on the island to help you find the right one for you. With this list, you should be able to get the best primer in Singapore for your skin type and makeup preferences!
1. Hourglass Veil Mineral Primer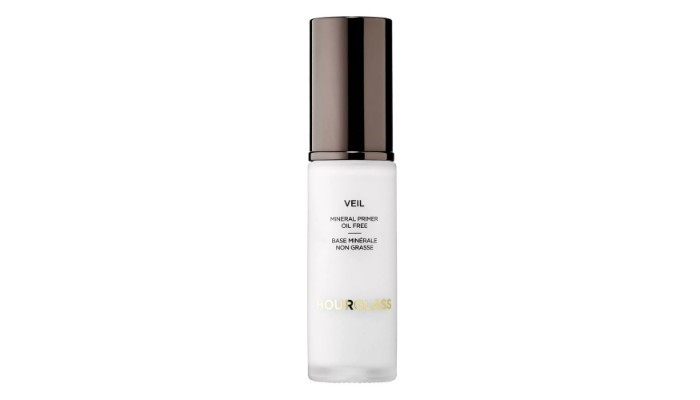 Price: $28.00 for the travel size bottle
With Hourglass Veil Mineral Primer, you pretty much get rid of the need to do frequent touch-ups. It is a multipurpose primer that conceals visible pores, redness, fine lines, and imperfections.
What's more, the oil-free and vegan-friendly formula makes it applicable for all skin types! That's a serious consideration for a lot of buyers.
Even when the sun is getting more intense, it lasts longer than you expect. It doesn't have a dry and greasy feel when applied too, which is what we like in a primer.
It provides a smooth and lightweight base for all-day makeup wear.
In sum, this is a great primer for those who prefer light options that won't make them look greasy. This magical primer will help you look fresh while being kissed by the sun.
Highlights
Protects skin against UV damage
Minimises the appearance of pores
Customer Reviews
Users of this product say it offers perfect coverage for large pores, is long-lasting, and is applicable to mixed skin types. The only downside of it is that it might be a bit on the expensive side.
On the other hand, its quality does mean you will not regret buying this primer. Ai Jia left this 5-star review on Sephora:
"No matter how many other primers I try, I always come back to this Hourglass one. There is no other primer I've tried that can compare to it. The consistency is just right, super spreadable and absorbs almost immediately to the skin, leaving a perfect matte canvas for foundation and other makeup; no white sheen, no cakiness/residue. I always balk at the price when I have to get it but it is so worth it and the Jumbo one does goes a long way. Highly recommended!"
 2. VDL Lumilayer Primer 3D Base
Price: $19.00
The VDL Lumilayer Primer 3D Base nourishes and enriches your skin while providing you with a great makeup base.
One of the most outstanding features of this primer is the luminous deep hydration, which leaves the skin smoother and healthier.
With the violet lumilayer pigment, it also moisturises the skin for a glowing look while giving you protection against extreme heat.
Highlighting your facial features will not be a problem if you're using primer. We found that it gives an instant brightened and defined appearance with a luminous look.
On the whole, this primer is an excellent choice for those who want to have a perfect radiant look without having to consume a lot of time doing touch-ups.
Highlights
Provides smooth and glossy skin
Long-lasting makeup protection
Customer Reviews
Satisfied customers praise this primer for the radiant glow it imparts, as well as its hydrating effects. However, if you have hypersensitive and oily skin, this might not be an ideal option for you, particularly as it's designed for dry skin types.
Regardless of that, here's positive feedback from an Amazon reviewer to show why we like it:
"In terms of the product, it's really light and gives a nice luminescence to the skin in sunlight to give you that healthy glow look. Texture is really light like a moisturizer and not pasty like some other primers I've used and smells nice."
3. Laura Mercier Foundation Primer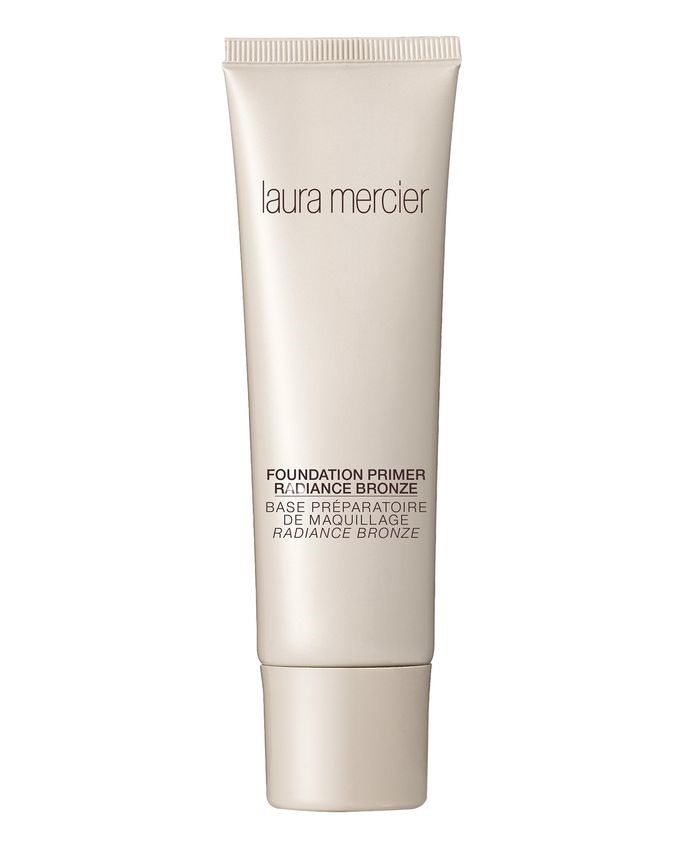 Price: $50.30
The Laura Mercier Foundation Primer makes the skin look naturally flawless. With its soft-focus optics effect, it also creates fair visuals by reducing the blemishes caused by the dark marks.
This may be the most luminous primer in Laura Mercier's lineup. We like it for its lightness and the almost-not-there texture.
Highlights
Suits light to medium skin tones
Provides a weightless matte finish
Customer Reviews
This stunning primer received countless compliments for its ability to be absorbed by the skin quickly and its compatibility with all skin types. It is also recognised for its soft and light texture.
Longtime users say that a little bit of use goes a long way with this product. Just keep in mind that it doesn't go well with BB creams or cushion foundations, though.
A reviewer from Influenster stated this:
"One of my favorite primers. It doesn't feel very "silicone" based like a lot of other primers. I feel like makeup sinks into my skin and it makes my large pores look smaller. I have extremely oily skin and I've been very impressed with this!"
 4. Maybelline Baby Skin Pore Eraser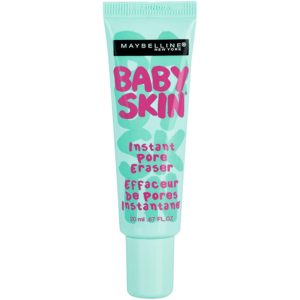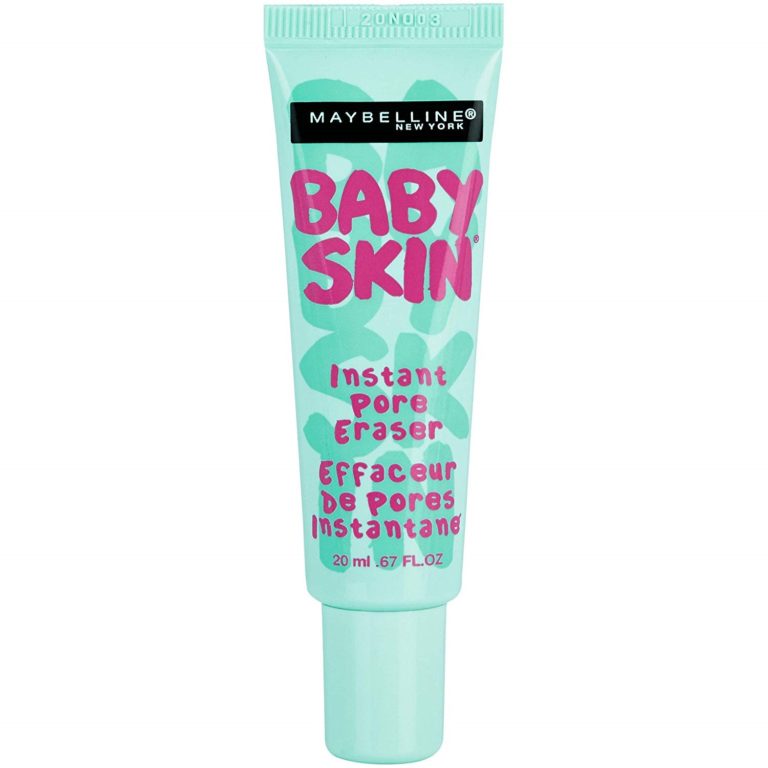 Price: $17.52
Maybelline Baby Skin Pore Eraser helps you keep track of the shiny lines caused by oily skin. Its pigment-free formula ensures that your makeup coverage will have a flawless matte finish.
Aside from lessening the visibility of pores, it also allows your skin to breathe well. In fact, it's so light that it's practically invisible when applied!
Highlights
Reduces pore appearance
Low visibility once applied
Customer Reviews
This Maybelline product is known for its good quality behind an economical price. A lot of users also praised its ability to soften and make the skin look smoother while blurring out the pores instantly.
Just a little reminder that it works better with a foundation that is not water-based, though. Reviewers from Influenster gave this helpful feedback:
"Love this product, it lays nice on the skin and really reduces texture under makeup which is great! However, you want to check ingredients when using this or any silicone based primer with your foundation's ingredients. It's amazing with foundation's without a water base, though if they are water base it doesn't last nearly as long and becomes greasy."
 5. NYX High Definition Primer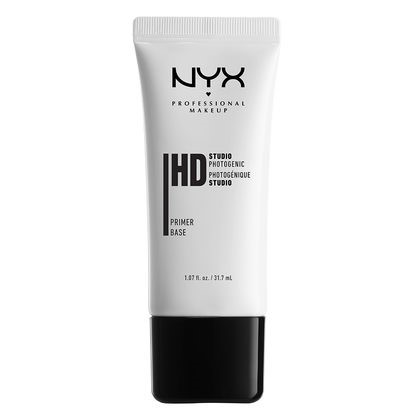 Price: $24.00
The NYX High Definition Primer is claimed to be the best primer for sensitive skin because it works well for those who have skin types that react negatively to makeup. Its chemical-free formula also has an absence of silicone, paraben, and talc.
This primer is great for giving you a healthier-looking complexion. We like its evenness and the fact that you don't have to worry about breaking out or having a bad reaction when using it.
Highlights
Contains silicone-free formula
Suitable for sensitive skin
Customer Reviews
This primer was found to be easy-to-blend, refreshing, moisturising, odourless and lightweight by many users. It may not be suitable for very light and fair skin tones, however, so make sure to check if it is compatible with your skin colour.
Bryce left it this top-rated review on Nyx Cosmetics:
"I bought this item a month ago and I must say, its a winner. I use before applying my foundation, on my oily skin, it makes my skin look smooth and matte. It fills in the imperfections and allows your foundation and powder to glide on your skin… added bonus is that it smells great!!! It exceeded my expectations!!!"
6. Bobbi Brown Primer Plus Mattifier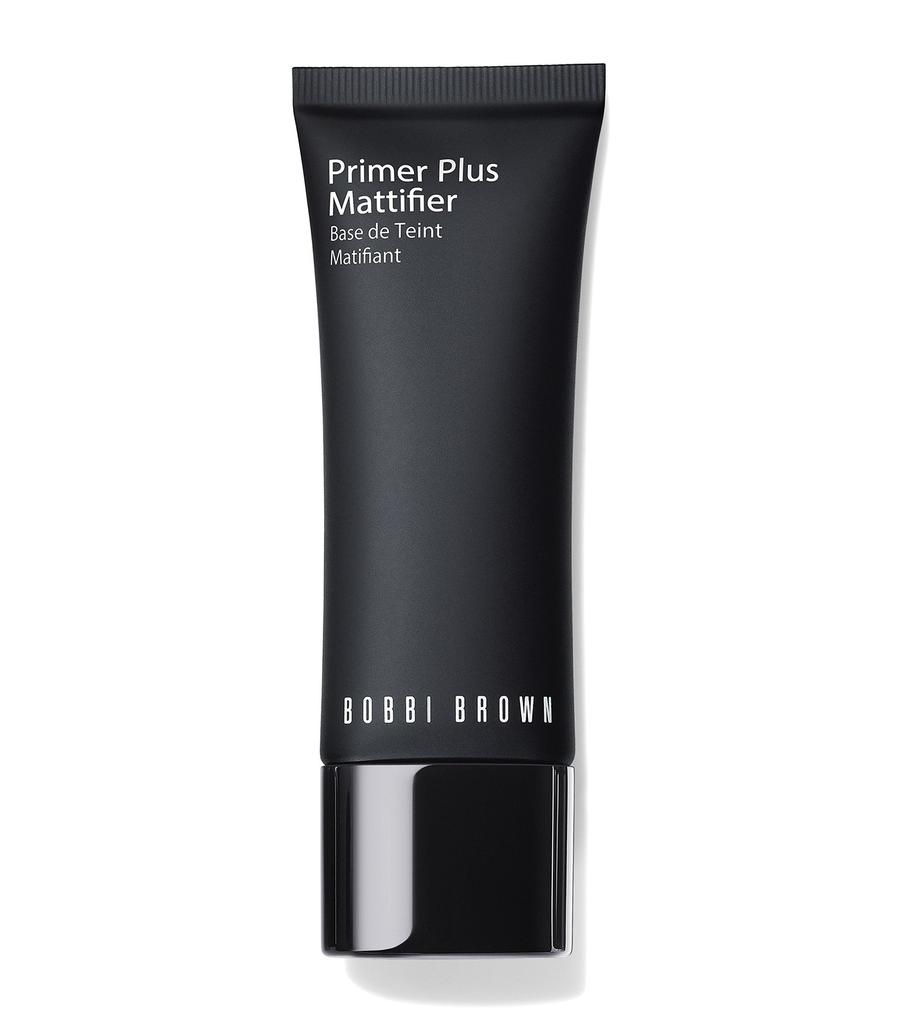 If you have oily or combination skin and have been frustrated at getting your makeup to still look fresh at the end of the day, this could be the primer you need all this time. 
With Sodium Hyaluronate as its active ingredient, the Bobbi Brown Primer Plus Mattifier controls and absorbs facial oil production and extends the wear of your foundation. This makes it a perfect primer for those with oily or combination skin, or if you have an event that you anticipate will last for several hours.
This primer is also great for occasions with plenty of photo-ops, as the mattifying element of this primer lessens the oily and sleek facial look prevalent in flash photography.
Pros
Paraben-free
Sulfate-free
Mineral-oil free
Cons
Can be drying for normal / dry to sensitive skin
Customer Reviews
Bobbi Brown Primer Plus Mattifier has plenty of great reviews online, most of them praising its longevity. Here's one review written by Za:
I looove this primer alot !! Finally i've found a primer that is suitable for my oily skin . I am in my mid 30s and I really think this primer really gives a flawless coverage on my face . My make up does stay longer too. 
7. Huda Beauty Water Jelly Hydrating Primer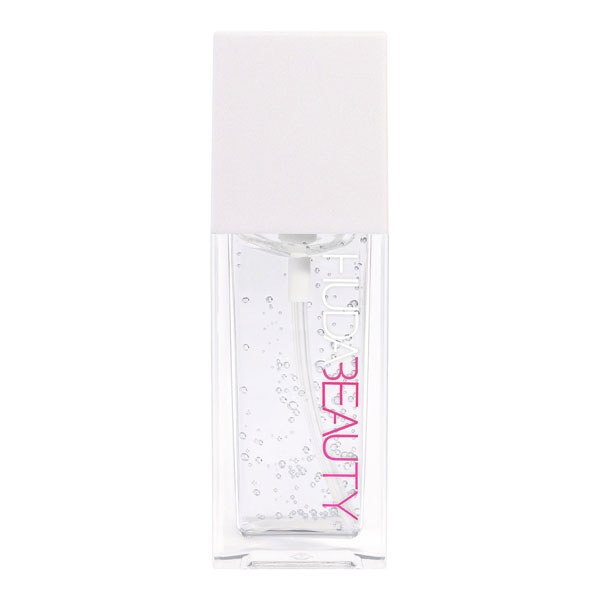 Those who have dry skin know the perils of having foundation turn flaky or patchy after a couple of hours of wearing makeup. Huda Beauty's Water Jelly Hydrating Primer puts that dilemma to an end. 
This primer's unique jelly texture adds moisture to skin, acting as an ultra-hydrating veil that primes and plumps dry skin without getting it too oily. It also smoothes and fills fine lines and wrinkles, making the skin a perfect canvas for makeup. 
This moisturising primer is perfect for dry skin, or skin with fine lines that need a little filling.
Pros
Hydrates without making skin oily
Great for mature skin
Cons
May not suit oily / combination skin
Customer Reviews
Huda Beauty's Water Jelly Hydrating Primer has earned plenty of reviews from users, many commending its ability to keep their skin supple and moisturised while keeping their makeup in place. Many say it's their choice of best makeup primer in Singapore. Here's a review written by one of user who remains anonymous:
The consistency of this primer is unlike any other primer I've tried! It's so hydrating and refreshing. I've noticed a difference in how my face makeup application goes on. I no longer have to deal with my skin feeling cakey. My makeup lasts all day whenever I use it!
8. Bobbi Brown Primer Plus Protection SPF 50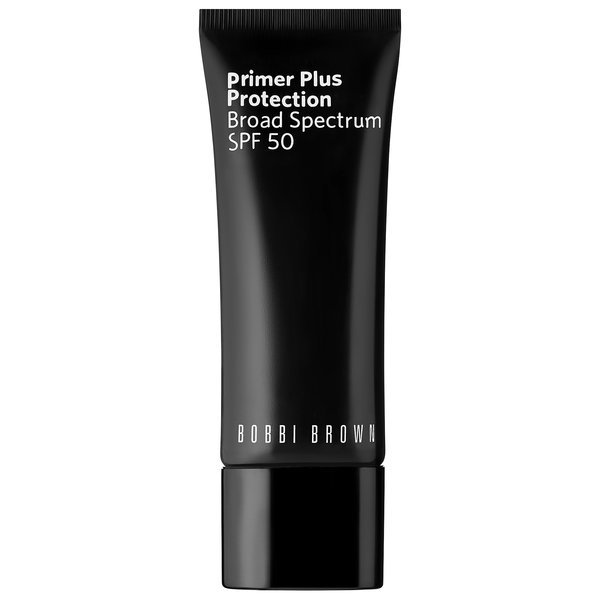 If you need to be outdoors and would like to wear makeup, this primer is for you. Many sunscreens give off a white cast even when placed under makeup. Another problem is sunscreens sometimes make makeup more slippery, not to mention that you wouldn't want to pile up on tons of makeup product layers when you're about to head out under the sun.
Bobbi Brown's Primer Plus Protection SPF 50 takes care of that scenario. It has a fast-absorbing formula which ensures that skin is protected from the sun while acting as a face primer in Singapore so makeup won't budge even under the sun.
Pros
High SPF protection
Broad Spectrum
Can be worn even without makeup
Cons
Slightly more expensive than other primers
Customer Reviews
We found plenty of reviews online for Bobbi Brown's Primer Plus Protection SPF 50. Here's one of them from a customer named Uma:
Honestly I just love this… I use it more as a sunscreen than a primer… Literally glides under make up so well but my face does get oily after few hours, still my make up stays still… Even include this as my skincare regime as well..
9. Dior Backstage Face & Body Primer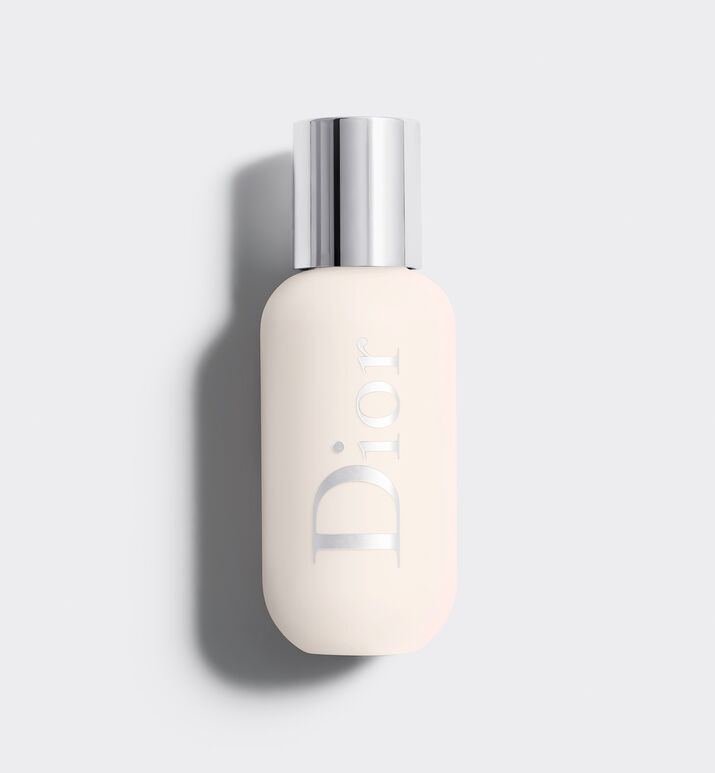 | | |
| --- | --- |
| BEST FOR | Skin radiance / body makeup |
| PRICE | SGD 59.00 |
| WHERE TO GET IT | Sephora Singapore |
True to its name, Dior Backstage Face and Body Primer is what Dior uses on its models for their runway shows. This lightweight primer provides radiance underneath makeup while making it last. It also gives a blurring effect which is needed for making blemishes less visible. 
This primer can also be used on the body so this works when you need to wear foundation on your neck / shoulders on those days when your face skin tone does not match your neck and chest area. It's also great if you need some covering up in any part of your body like scars or tattoos. 
Pros
Lightweight
Great at hiding imperfections
Cons
Customer Reviews
Based on the customer reviews left for Dior Backstage Face & Body Primer, it seems that many recommend this primer to be used alongside the Dior Foundation. Having said that, a lot of customers also enjoy this primer with their favourite foundation brand. Here's one review written by one of their users, Candi:
This Dior Backstage face and primer would have to be my favourite Dior product so far. It's high quality is evident with it's ability to extend the life and quality of your foundation. I use it with the recommended Dior Backstage Foundation but also that it worked just as well with my Lancôme foundation that I am just wanting to use up so it's not waisted. Very versatile and effective with what it does. I will definitely be purchasing again and have been converter to Dior for my makeup needs!
10. Fenty BeautyPro Filt'r Instant Retouch Primer

Fenty, the makeup line owned and developed by singer Rihanna, not only accommodates various shades for people of colour, but they also recognise the needs of modern people. For those who are always on the go, need their makeup to last yet also need to touch-up every now and then, this might just be the best primer in Singapore for you.
This travel-sized primer creates a soft matte base, but unlike most mattifying primers, this is ultra-lightweight so it does not feel heavy on the skin. It also has a soft cushion applicator which makes things convenient for those who need to touch up on primer / makeup on the go. 
Pros
Lightweight
Moisturising
Pore-diffusing
Cons
Might not suit those with sensitive skin
Customer Reviews
There are over 3,000 reviews of this primer online and many users swear by it, calling the Fenty BeautyPro Filt'r Instant Retouch Primer their holy grail. 
Here's one review left by one customer named Nicole:
It is a lovely texture and fills the pores and smooths the skin very well. Can't go without this primer, money well spent. My foundation never pools in my pores, it never looks heavy and it doesn't start to separate. If you've been thinking of trying this I highly recommend it! I think it would be great for all skin types.
Choosing the right primer for your makeup routine should be easier now that you have our list of the best primers in Singapore.
Have you tried any of these yet? Let us know what you think and how it worked out for your makeup!
And in case you need more cosmetics, try our other makeup lists. For example, we also have a list of the best eyeliners in Singapore.
If you're more concerned about protecting your skin from the sun, though — and everyone should be! — try our list of the best sunscreens in Singapore instead. Those should help you fight the effects of Singapore's sunny climate.