Our Favourite Skin Specialists in Singapore
Are you searching for ways to improve the condition of your skin? If so, then we highly recommend that you check out the best skin specialists in Singapore who can provide the right skin treatment for you!
Searching for the best skin specialists in Singapore isn't going to be easy because they're all over the island. But we did the work ourselves and narrowed them down to the ones worth checking out.
So, without further ado, here are the best skin specialists in Singapore who can make you even more beautiful!
(Note: This list is in no particular order.)
Dermatology & Co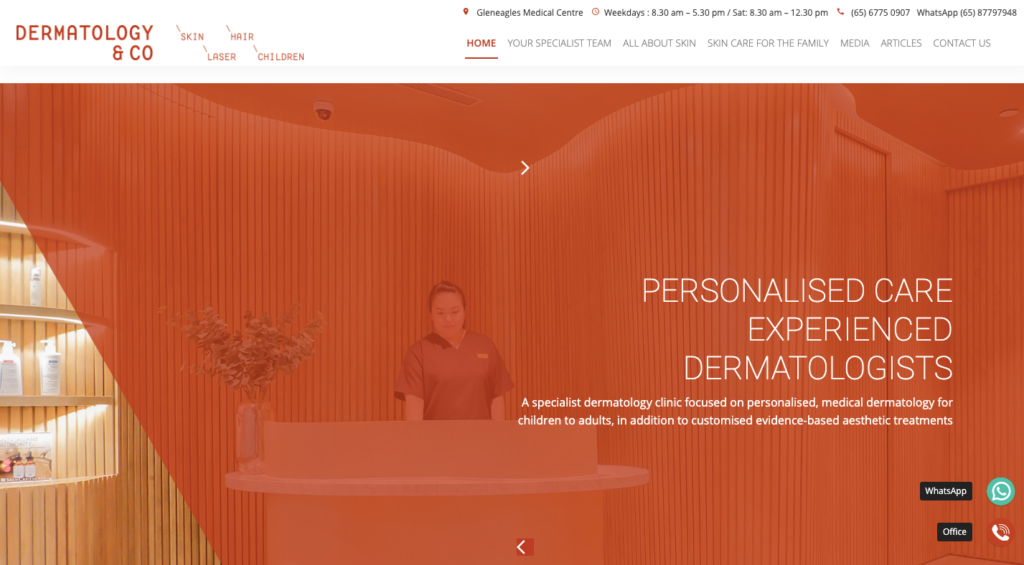 BEST FOR
Personalized Care Experienced Dermatologists for the whole family
WEBSITE

https://www.dermatologyandco.sg/

ADDRESS
6 Napier Road #09-07 Gleneagles Medical Centre Singapore 258499
CONTACT DETAILS

Tel: (65) 6775 0907

WhatsApp: (65) 8779 7948

Email: [email protected]

OPERATING HOURS

Weekdays: 8.30 am – 5.30 pm

Saturdays: 8.30 am – 12.30 pm

Sundays, Public Holidays: CLOSED
Dermatology & Co is run by experienced dermatologists Dr Ker Khor Jia and Dr Tan Wei Sheng. The duo provide some of the most highly regarded dermatological services on the island, and are particularly well-known for their way of making patients feel comfortable.
The clinic offers services for those suffering from various skin complaints, from common issues such as eczema to even rarer ones like immune-system-related disorders.
Highlights
Dermatological services range from paediatric to advanced-age offerings
Emphasises private and personalised tailored integrative dermatologic care
Fully equipped with a treatment/laser room
Has a separate recovery area to maximize privacy
Two experienced dermatologists
Latest aesthetic dermatology treatments for maximum results with minimal downtime
Soothing clinic
Specialists Skin Clinic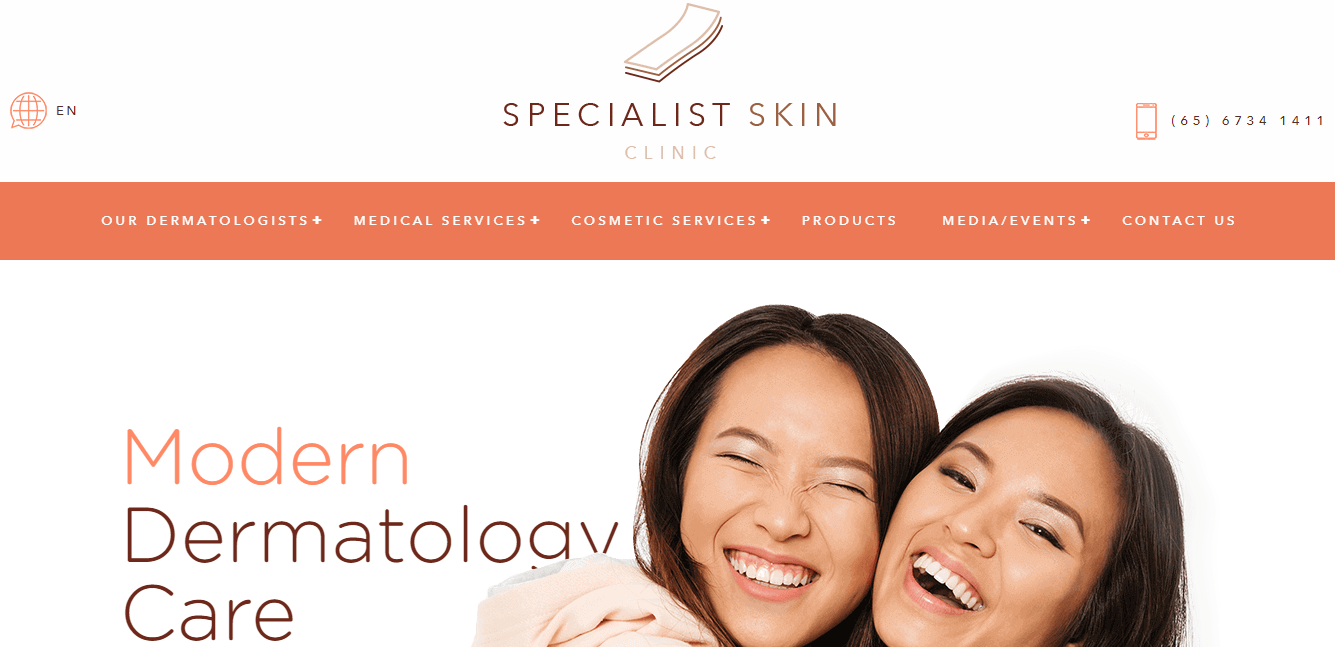 BEST FOR 
Cosmetic Services
SERVICES
Acne and Acne Scars Treatment, Photodynamic Therapy, Skin Tightening, Photorejuvenation, Microdermabrasion, Smoothbeam Laser, and Laser Treatment for Veins
WEBSITE
https://www.specialistskin.com.sg/
ADDRESS
1 Grange Road #06-04, Orchard Building, Singapore 239693
CONTACT DETAILS
(65) 6734 1411 | 

[email protected]

OPERATING HOURS
Monday – Friday, 8:30 AM – 5:00 PM
Specialists Skin Clinics is known for providing clients with holistic skincare treatments that can improve skin inside and out. It's also one of the first skin specialists established on the island, dating back to over 60 years ago.
It has a team of professional and experienced doctors and nurses, and that's why we consider it one of the best skin specialists in Singapore. Among the beauty procedures offered are fillers, skin tightening, acne scar removal, and many more.
It also uses the best and most advanced skincare technologies available in the market today, assuring customers that they will see the results they paid for.
Highlights
60 years of experience
Dedicated team of doctors
Non-surgical methods
TWL Specialist Skin & Laser Centre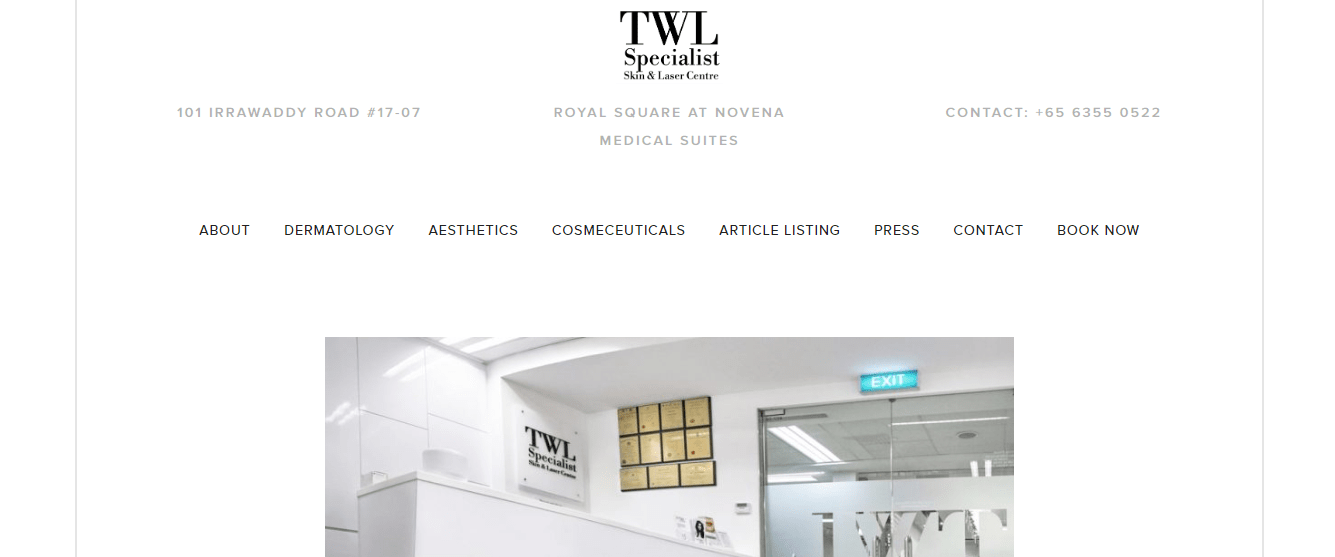 | | |
| --- | --- |
| BEST FOR  | Easy Appointment |
| SERVICES | Facial Treatments, Hair Treatments, Botox, Fillers, Acne Scar Removal, Skin Tightening, and Rejuvenation |
| WEBSITE | https://www.twlskin.com/ |
| ADDRESS | 101, #17-07 Irrawaddy Rd, Royal Square At Novena, Singapore 329565 |
| CONTACT DETAILS | +65 6355 0522 |
| OPERATING HOURS | Monday – Friday, 9:00 AM – 5:30 PM |
TWL Specialist Skin & Laser Centre is among the few derma clinics that specialise in advanced dermatology. It provides all types of cosmetic, surgical, and medical derma treatments, so it's indeed a one-stop skin specialist.
We consider it one of the best skin specialists in Singapore because it houses some of the best dermatologists on the island. It also uses state-of-the-art skincare devices to make sure that customers will be satisfied at the end of a procedure.
Moreover, it has also been featured in beauty magazines such as Harper's Bazaar, Daily Vanity, Men's Health, and many more.
Highlights
Advanced dermatology
Friendly doctors
World-class equipment
Edwin Lim Medical Aesthetic Clinic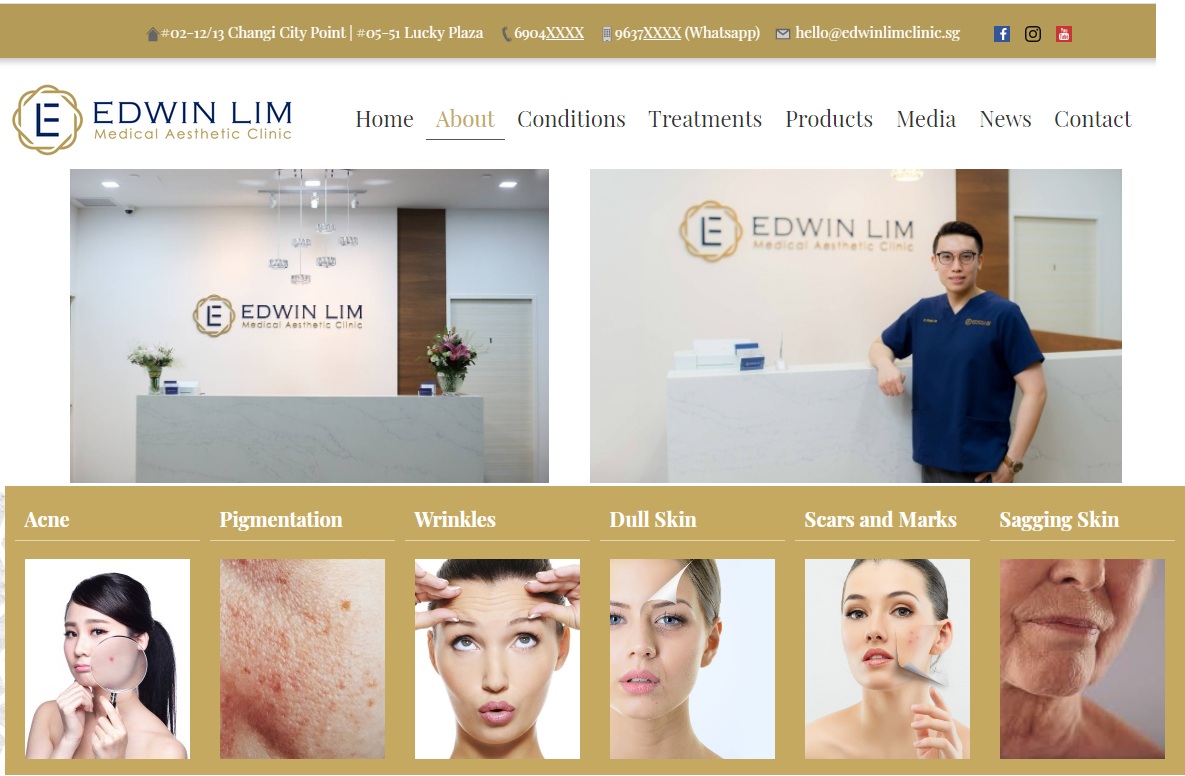 BEST FOR

HIFU facelift

SERVICES

Injectables, Laser, Medi-Facials and Fat Freeze, HIFU treatment

WEBSITE

https://edwinlimclinic.sg/

ADDRESS

#02-12/13 Changi City Point | #05-51 Lucky Plaza

 

 

#05-51, Lucky Plaza, 304 Orchard Road Singapore 238863

CONTACT DETAILS
[email protected]
OPERATING HOURS
Monday – Friday:

11:00 to 8:00 pm

 

 

Saturday and Sunday: 11:00 am to 6:00 pm
Edwin Lim Medical Aesthetic offers an extensive and comprehensive aesthetic service for their clients. They are equipped with the modern and latest technology which they use for their procedures. Their aim is to lessen and minimize the pain or discomfort felt by their patients. 
They have two branches located at Changi City Point and at Lucky Plaza. These two can be easily located and have ample parking areas for their clients. Thus, you are always welcome to visit their clinic at any time. 
Highlights
Comprehensive medical aesthetic service

Minimal discomfort and pain
Dermatology Associates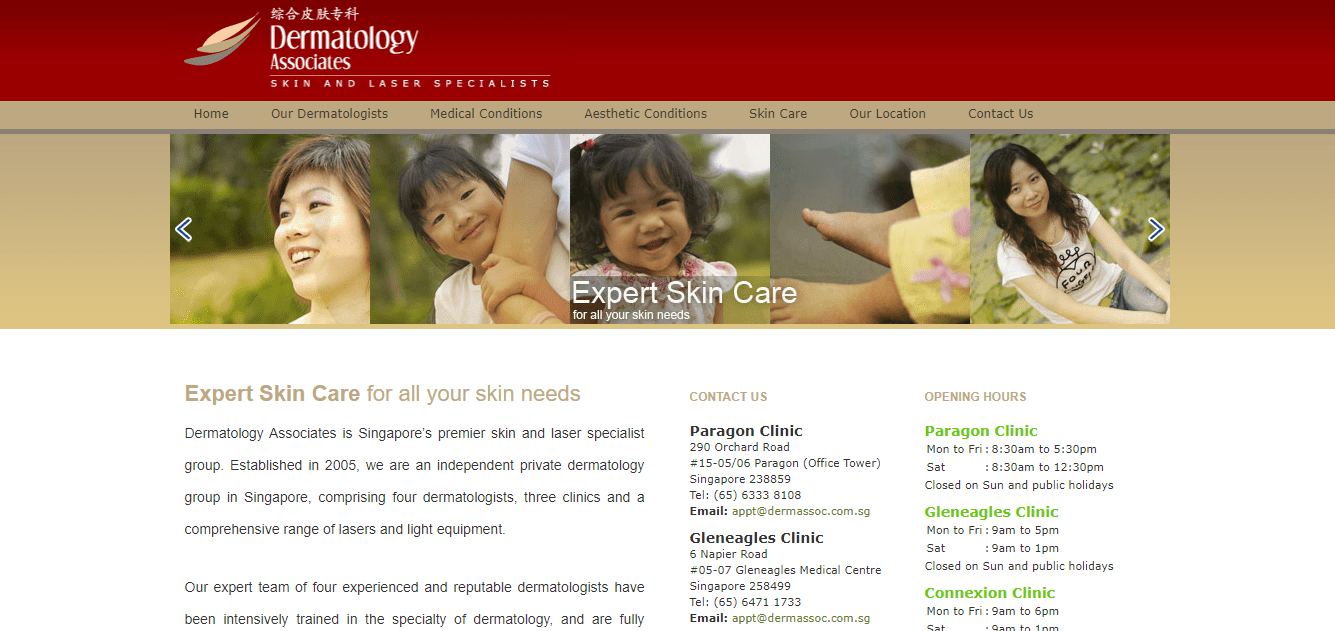 BEST FOR 
Multiple Clinics
SERVICES
Acne Phototherapy, Chemical Peel, Filler Injections, Skin Tightening, Cryotherapy, and Filler Injections
WEBSITE
http://dermassoc.com.sg
ADDRESS
290 Orchard Road #15-05/06 Paragon (Office Tower) Singapore 238859

 

 

6 Napier Road #05-07 Gleneagles Medical Centre Singapore 258499

1 Farrer Park Station Road #12-02 Farrer Park Medical Centre Connexion

CONTACT DETAILS
(65) 6333 8108 | 

[email protected]

OPERATING HOURS
Monday – Friday, 8:30 AM – 5:30 PM
Dermatology Associates has a total of 3 branches in Singapore: one in Paragon Clinic, and another two in Gleneagles Clinic and Connexion Clinic. Its being an extremely accessible clinic is why we consider it among the best skin specialists in Singapore.
Like the previous option, it can also deal with both medical and aesthetic skin problems. However, its aesthetic treatments remain its most famous service.
For the benefit of patients, it only uses eco-friendly, safe, and non-toxic skincare products and technology. Patients will also get to enjoy a comfortable and cosy environment inside their clinics.
Highlights
Non-toxic products
Accessible locations
Non-invasive treatments
Joyce Lim Skin & Laser Clinic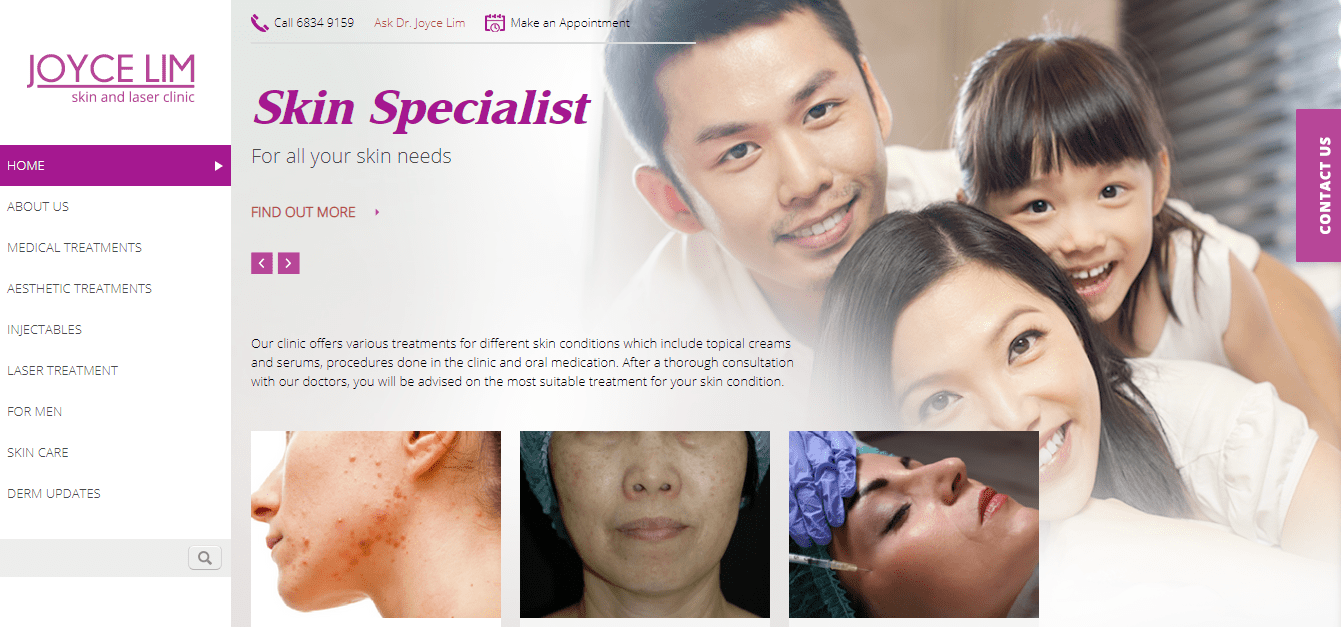 BEST FOR 
Laser Treatments
SERVICES
Medical Treatments, Aesthetic Treatments, and Injectables
WEBSITE
http://joycelim.com/
ADDRESS
290 Orchard Road #11-16/20, Paragon Medical Suites Singapore 238859
CONTACT DETAILS
6834 9159 | 

[email protected]

OPERATING HOURS
Monday – Friday, 8:30 AM – 6:15 PM
There's no denying that Joyce Lim is one of the best skin specialists in Singapore. It offers a wide range of services that target medical and aesthetic concerns.
Some of these treatments provide solutions for eczema, skin tags, oily skin, dry skin, acne, wrinkles, skin infection, and even skin cancer. Its doctors will ensure that patients will receive utmost care during the entire procedure.
You may also consult with their specialists to know which treatment is perfect for you.
Highlights
Injectables
Skincare for men
Minimal consultation fee
Thomson Specialist Skin Centre

BEST FOR 
Experienced Dermatologists
SERVICES
Medical Dermatology and Aesthetic Dermatology
WEBSITE
https://thomsonspecialistskincentre.com/
ADDRESS
10 Sinaran Drive, Novena Medical Center, Square 2, #10-05, Singapore 307506
CONTACT DETAILS
(65) 6397 6006 |

[email protected]

OPERATING HOURS
Monday – Friday, 8:00 AM – 5:00 PM
If you're looking for a skin specialist that can deal with medical and aesthetic concerns, then Thomson Specialists Skin Centre would be a perfect match for you!
It's ideal for people who want to know the condition of their skin and at the same time receive a treatment to make their skin look better, which is why it's one of the best skin specialists in Singapore.
It's headed by Dr. Tan Hiok Lee and Dr. Audrey Tan Wei Sha, both of whom have local and international experience. Among the services offered by this clinic are laser treatments, dermal fillers, chemical peels, microdermabrasion, skin tag removal, eczema treatment, and many more.
Moreover, it also boasts a committed team of medical support staff who help specialists with each procedure.
Highlights
Medical dermatology
Aesthetic dermatology
Skin cancer management
Tangs Clinical TCM
BEST FOR

Herbal medicine treatment

SERVICES

Skin diseases treatment

WEBSITE

https://tangsclinical.com

ADDRESS

470 North Bridge Road #05-01, Bugis Cub, Singapore 188735

CONTACT DETAILS
+65 6333 4066| [email protected]
OPERATING HOURS
Monday – Friday:

9:00 am to 4:00 pm
If you're looking for a natural way to treat your skin disease, then Tangs Clinical is the right choice for you. This clinic was founded in 1971 which since then, has been using natural products to treat patients. They assure its clients that no additives or chemicals are added to their medicines or ointments. Further, the clinic does not use steroids and immunosuppressant ingredients for their medical treatment. 
In any way, Tangs Clinical uses herbal products to help you fight off skin diseases. Together with researchers, medical specialists formulated medicines and made it for reproduction.
Highlights
Natural medicine 

Budget-friendly

Medicine has no known side effects

100% natural compound
The Dermatology Practice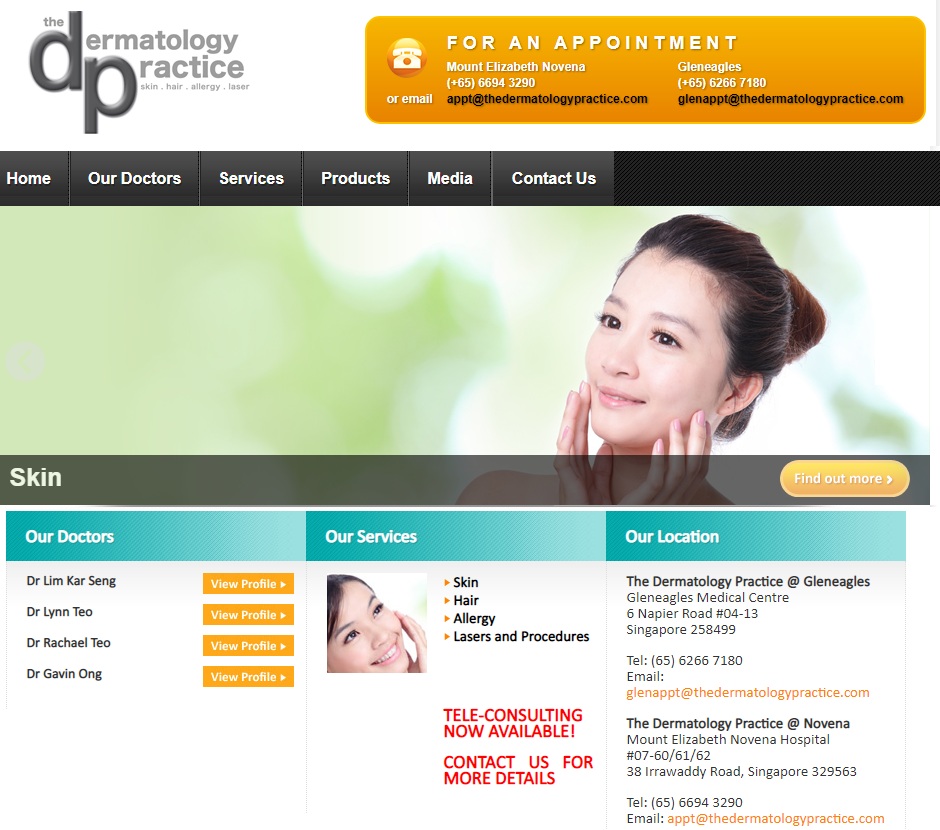 BEST FOR

Comprehensive skin approach

WEBSITE

http://www.thedermatologypractice.com/

ADDRESS

Gleneagles Medical Centre 6 Napier Road #04-13 Singapore 258499

 

 

Mount Elizabeth Novena Hospital #07-60/61/62 38 Irrawaddy Road, Singapore 329563

CONTACT DETAILS

(65) 6266 7180/

[email protected]

 

 

(65) 6694 3290/ [email protected]

OPERATING HOURS
Monday – Friday:

9:00 am to 5:30 pm 

 

 

Saturday: 9:00am to 12:30pm
The Dermatology Practice offers a range of services when it comes to dermatological concern. They provide services for skin, hair, allergy and there are also laser and other procedures. The clinic believes that their client is the number one priority so they aim to provide quality service with their medical procedures.
Aside from their medical services, they also have aesthetic products for sale. For example, you can buy cleanser, serum, antioxidant, and nourishing cream from them. Simply visit their website to see the list of their items.
Highlights
Offers comprehensive range of dermatological services

Provides beauty products
Renaissance Dermatology Specialist Clinic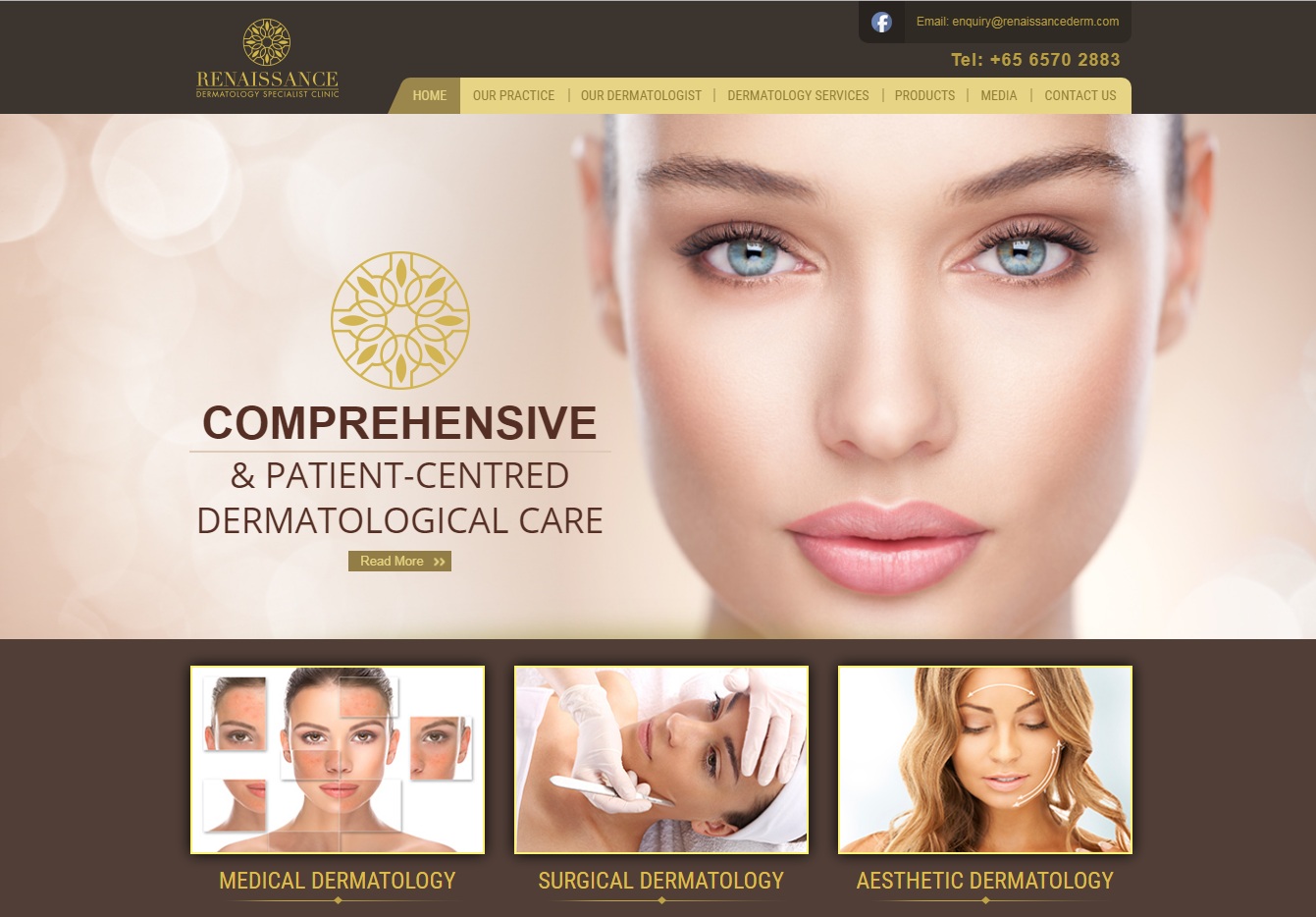 Renaissance Dermatology Specialist Clinic promises to provide you with superior quality skin care and treatment services that will give your skin a natural and beautiful glow without resorting to harsh chemicals and products.
Aside from their state-of-the-art facilities and clinically-approved dermatological products, the clinic also takes pride in their team of extremely dedicated professionals who aim to give their clients a comprehensive range of services suited perfectly for their skin needs.
Some of the services that the clinic offers include but are definitely not limited to Facial Fillers, Non-Surgical Face Lifting & Tightening, Electrosurgery, Mole Removal, Treatment for skin infection, psoriasis, and viral warts.
Highlights
Wide range of dermatological treatments

Surgical and non-surgical procedures

Guaranteed safe and effective
Freia Medical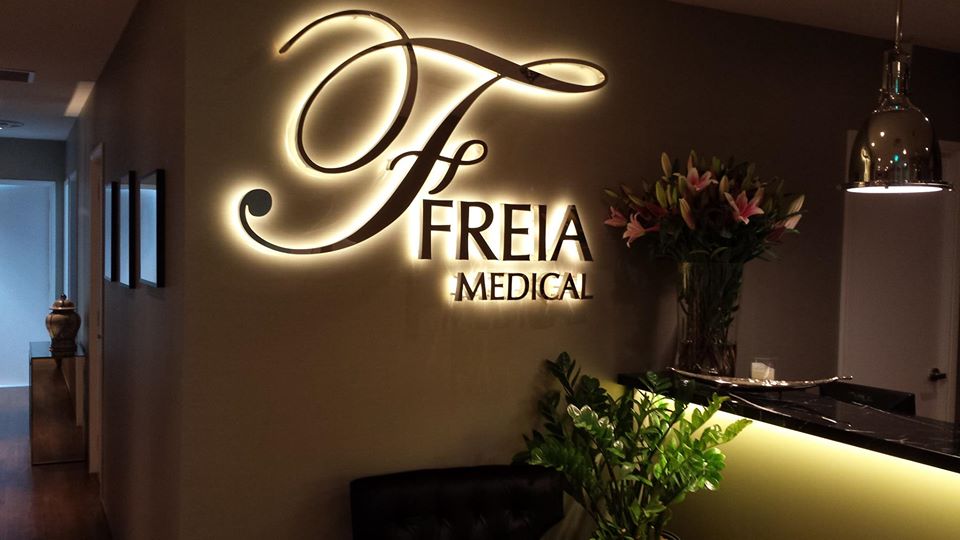 BEST FOR 
Aesthetic Services
WEBSITE
https://freia.sg/
ADDRESS
435 Orchard Road #19-03 Wisma Atria Office Tower Singapore 238877
CONTACT DETAILS
+65 6735 8180
OPERATING HOURS
Weekdays: 9am – 7pm

 

 

Saturday: 10am – 3pm
Freia Medical is a one-stop-shop when it comes to aesthetic services. They specialise in providing minimally invasive aesthetic treatments for both the head and body.
Their professional staff is proficient in aesthetics healthcare. They make sure to use science-backed procedures in their treatments, so you can rest assured that you will be delivered the best aesthetic solution possible.
Do you have stubborn tattoo pigments? If so, then you must visit Freia Medical. They offer a powerful Picosure laser method that can eliminate strongly inked tattoos.
You can also opt for the traditional method, making it one of the clinics that has laser tattoo removal in Singapore for those who want many options. This clinic assures you that they can remove any tattoo colours and sizes!
For their other services, they offer hair, facial, eyes, and more body treatments!
Highlights
Comfortable, stylish, and luxurious clinic
ANG Skin & Hair Clinic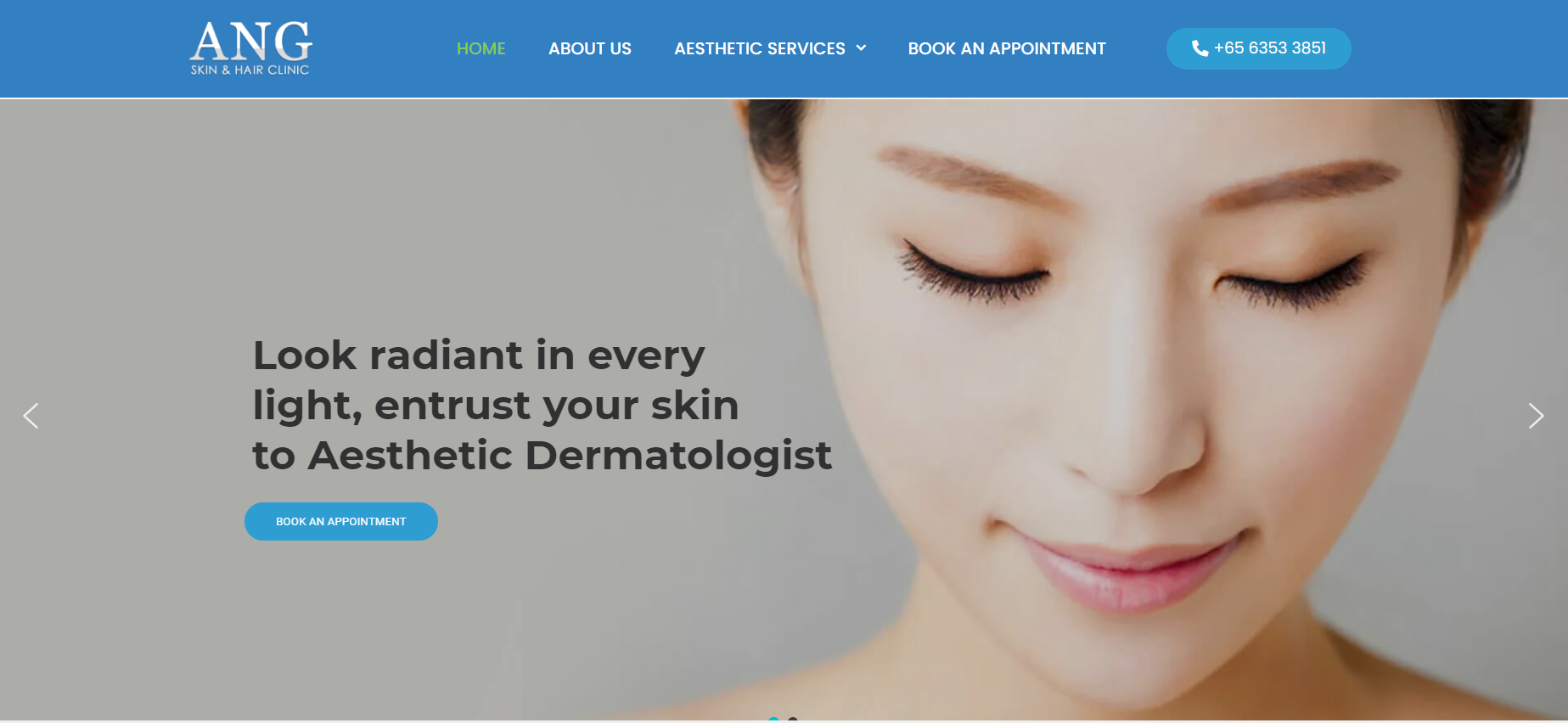 BEST FOR 
Skin and Hair Aesthetic Services
WEBSITE
https://angskin.com.sg
ADDRESS
Block D, Mt Alvernia Medical Centre (Carpark Block), 820 Thomson Road, #06-51, Singapore 574623
CONTACT DETAILS
+65 6353 3851
[email protected]
OPERATING HOURS
Mon: 11am – 1pm, 2:30pm – 5pm
Tue: 10am – 1pm, 2:30pm – 5pm
Wed: 10am – 1pm
Thu: 11am – 1pm, 2:30pm – 5pm
Fri: 10am – 1m, 2:30pm – 5pm
Sat: 10am – 1:pm
Sunday & Public Holiday: Closed
For patients experiencing skin and hair problems, ANG Skin & Hair might have the solution you need. They specialise in treating cosmetic skin problems, such as acne, pigmentation, age related skin problems, and more.
Their main dermatologist is Dr. Ang, a professional with many years of experience under his belt. He believes that the best way to guide a patient to the best treatment is through telling them what they need to know about their condition and helping them make an informed decision.
His dedication to helping a patient improve their self-image drives him to continuously improve himself and his methods. With his help, any skin or hair problem you are experiencing will be tackled with respectful, understanding, and professional care.
Highlights
Specialises in cosmetic skin problems
Patient-tailored treatments
Helps patients make informed decisions
Dedicated professional 
Illumia Medical
BEST FOR 
Medical Aesthetics and Plastic Surgery
WEBSITE
https://www.illumiamedical.com
ADDRESS

501 Orchard Road, #05-12 Wheelock Place, Singapore 238880

CONTACT DETAILS

Tel: +65 6454 5465

Whatsapp: +65 9656 5464

Email: [email protected]

OPERATING HOURS
Mon to Fri: 10.30am – 8.30pm | Sat 10:30am – 3pm, Sun & Ph: Closed
Illumia Medical aims to meet their patient's aesthetic needs with the use of the latest technology and techniques available in the industry. Their surgeons are skilled and knowledgeable in restoring the skin's youthful look and bringing out its natural beauty.
They have a variety of treatment plans available for their patients, from face lifts to skin rejuvenation and everything in between. Moreover, they only use products known to bring many benefits to the skin. 
Their Rejuran Healer treatment is particularly noteworthy. It uses polynucleotides, a component that increases collagen secretion, to heal the skin, make it smoother, and make it more dewy looking.
It can be used on various areas of the face with no adverse effects. While slight swelling and redness is to be expected after injection, you won't need to worry about Rejuran triggering any immune responses.
The number of treatment sessions needed for their Rejuran Healer Skin Boosters  may vary depending on your skin condition. No matter the duration, they will do their best to provide you with aftercare and follow up reviews for as long as you need it.
Highlights
State-of-the-art centre
High performance
Self developed technologies
Latest proven technologies from all over the world
Dr Priya Sen Skin & Laser Centre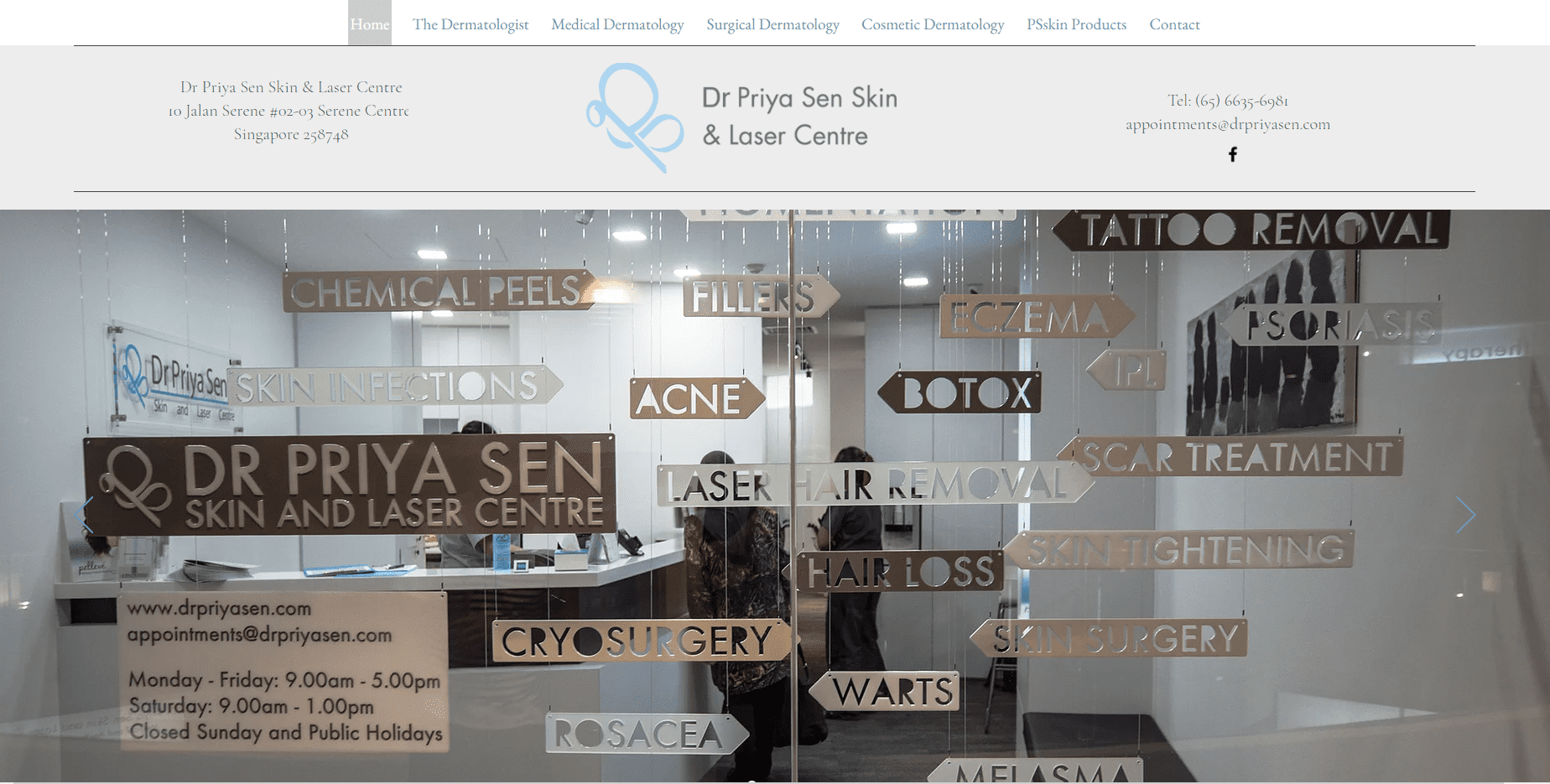 BEST FOR 
One-Stop Dermatology Solutions Provider
WEBSITE
drpriyasen.com
ADDRESS

Dr Priya Sen Skin & Laser Centre

10 Jalan Serene #02-03 Serene Centre

Singapore 258748

CONTACT DETAILS

Tel: (65) 6635-6981

Email: [email protected]

OPERATING HOURS
Monday – Friday: 9 AM – 5 PM
Saturday: 9 AM – 1 PM
Closed on Sundays and Public Holidays
Dr Priya Sen Skin & Laser Centre is a clinic that serves as a one-stop solutions provider for people in need of medical, surgical, and cosmetic dermatology services. It is primarily run by Dr Priya Sen, a professional known by many to employ a holistic approach to dermatology.
As someone who's been in the practice for many years, Dr Priya has experience handling various cases of acne, eczema, skin pigmentation, skin cancer, and surgery. She's especially skilled in skin pigmentation, anti-ageing, hair removal, and scar treatments.
Unlike other dermatologists, Dr Priya considers one's lifestyle and diet in her patient's treatments. This not only provides more effective and long-lasting results, but also ensures that no issues or complications appear in the future.
Given her wealth of experience and comprehensive services, it's no surprise that Dr Priya Sen is considered by many as a reliable dermatologist for any skin problem under the sun. She's an excellent choice to consider if you're looking for a skin specialist that provides nothing but the best dermatological care that's tailor-fit to your situation.
Highlights
Holistic care
One-stop solutions providers
Wide range of services
Personalised treatments
ENOK TCM Clinic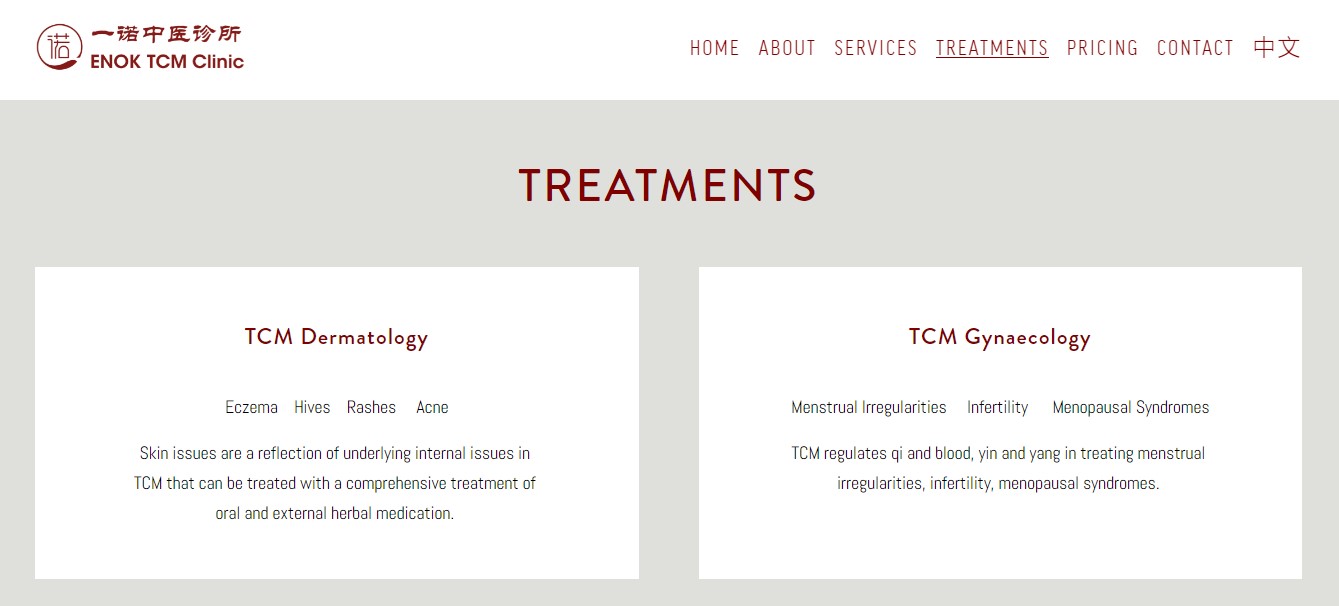 ENOK TCM Clinic has been restoring health with the use of Chinese medicine since 2006. The physician of the clinic is Esther Wang and she is a registered TCM practitioner.
In comparison to other clinics, she already has 20 years of experience and is specializing in acupuncture and natural medicine.
What's great about TCM Dermatology is that they are focused on solving Eczema, Hives, Rashes, and Acne. With ENOK TCM Clinic, they will offer you a comprehensive treatment of both oral and external herbal medication.
As a clinic, they make sure to review the medical history of the client first before providing a diagnosis. this allows them to make sure that their patients feel welcome, safe, and taken care of.
What we love about them is how their prices are easily available on their website. You may also check with your insurance agencies if they can cover traditional Chinese medicine.
Unfortunately, they are closed on Fridays and Sundays. 
Highlights
Can also help with digestion issues, respiratory illnesses, common illnesses, and pain injury & management
Open until evening 
Non-invasive treatments
And with that, we end our list of the best skin specialists in Singapore. We hope you were able to pick one that you think can improve the overall condition of your skin.
If we missed some skin specialists in Singapore, don't hesitate to share their names with us, of course! We may add them to our list!
For more options, you may want to read our list of the best aesthetic clinics in Singapore. Say goodbye to ugly skin with these reliable aesthetic clinics!