Our 17 Favourite Clinics for HIFU in Singapore
Have you always wanted to have a facelift treatment to tighten up your skin but worried about the risks and the costs? Well, the best HIFU in Singapore is another great option to make your skin look stronger and healthier!
HIFU (High-Intensity Focused Ultrasound) is a facelift treatment with a noninvasive procedure, making it safer and more affordable than traditional facelifts. This is why many aesthetic clinics are offering this treatment.
To help you find which centres are the most recommended and reliable, we've listed the top places that can give you the best HIFU in Singapore!
(Note: This list is in no particular order.)
Become Aesthetics Clinic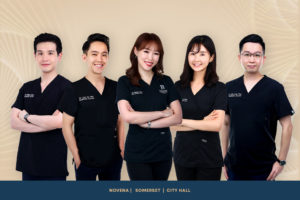 BEST FOR 
V Shape Face Lifting, Laser for Scars, Pigmentation, Skin Brightening, Pore Refinement, Hair Restoration
SERVICES
https://becomeaesthetics.com.sg/services/
WEBSITE
https://becomeaesthetics.com.sg
ADDRESS

NOVENA

101 Irrawaddy Road #16-07/08
Royal Square Medical Centre Singapore 329565

SOMERSET

111 Somerset Road #04-17
TripleOne Somerset Singapore 238164

CITY HALL

13 Stamford Road #B2-29/30/31/32
Capitol Piazza Singapore 178905

CONTACT DETAILS
OPERATING HOURS
Mon – Sat: 10:30 am – 8:30pm
Closed on Sun & Public Holidays
Become Aesthetics offers one of the best HIFU face lift treatments in Singapore. They utilize medical-grade ultrasound energy to help their clients achieve their desired youthful appearance.
They also offer innovative solutions for saggy skin, dark eye circles, dehydrated skin, and acne scars. You can also consult with them if you want a V-Shape Face procedure or even double chin removal.
They also have extensive understanding of different skin types and know what procedures and treatments will work best for you. A lot of their previous clients have praised them for their excellent service and post-therapy recommendations.
We highly recommend booking an appointment with them in advance though, as they're closed during Sundays and public holidays.
So if you're looking for a clinic with a superior level of patient care and support, then Become Aesthetics is the one for you.
Service Highlights
Safe and evidence-based treatments with little downtime
Three branches all over the country
Wide variety of post-therapy skincare products
The Clifford Clinic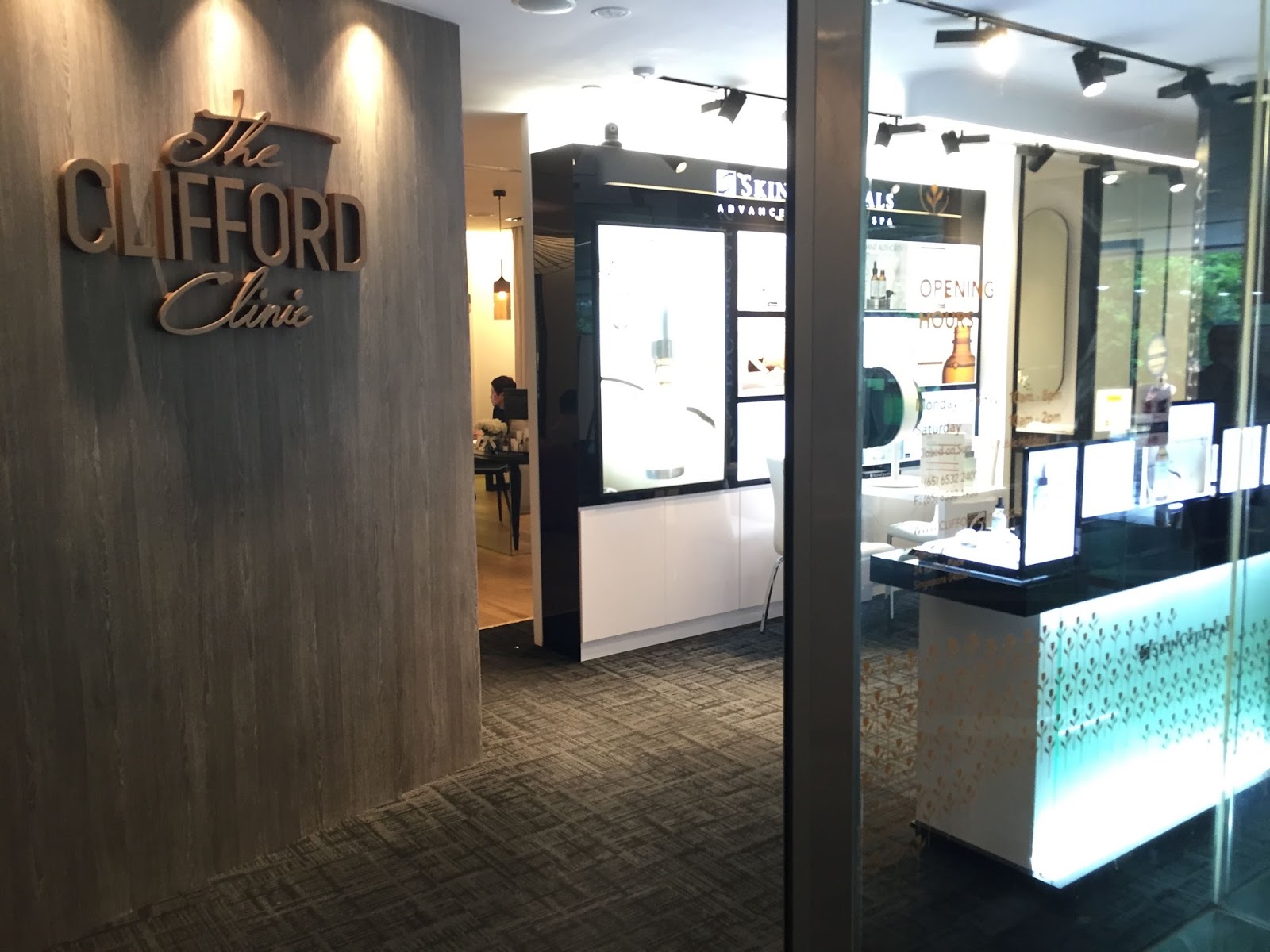 The Clifford Clinic has the best HIFU in Singapore and mainly caters to those in need of facial rejuvenation, wrinkle reduction, and facial remodelling. It can also lessen facial fats, leaving you with a slimmer jawline and reduced double chins and jowls.
They also offer their HIFU therapy with a body treatment that'll reshape your abdomen, hips and legs. Aside from these services, they have other skin care and even hair treatments.
Highlights
Treatment packages
Hair treatments
Dr. Lee Mun Heng – Cambridge Medical Group
BEST FOR
Non-invasive therapeutic programme
SERVICES
Ultra Skin HIFU, Liquid Face Lift, Lunchtime Nose Lift, Glow & Radiance, Laser Hair Removal
WEBSITE
https://www.aesthetic-clinic-singapore.com/hifu-heng/
ADDRESS
391B Orchard Road, #08-05A1, Tower B, Ngee Ann City, Singapore 238874
CONTACT DETAILS
+65 6432 8215


[email protected]

OPERATING HOURS
Mon to Wed, and Fri 10am – 6pm
Thurs 10am – 8pm
Sat 10am – 3pm
Sun and PH Closed
Cambridge Aesthetic Clinic provides holistic treatments to make you beautiful inside and out. This boutique medical and laser aesthetic clinic provides medically sound and comprehensive aesthetic care in a comfortable and private environment.
Cambridge Aesthetic Clinic uses FDA-certified and approved machines, as well as Korean technology, to provide a comprehensive range of customised non-invasive therapeutic treatments for all their patients. Their range of services include laser and resurfacing therapies, radiofrequency, light and ultrasonic based treatments, botox and filler injections, chemical peels and various facial and body wellness treatments.
They will help you become the best version of yourself. With their experience and expertise, every treatment recommendation and program will be personally and specifically tailored to you, to ensure optimal results and outcome.
Highlights
Customised treatment programs
FDA-certified and approved machines
Comprehensive range of non-invasive therapeutic treatments
Sozo Clinic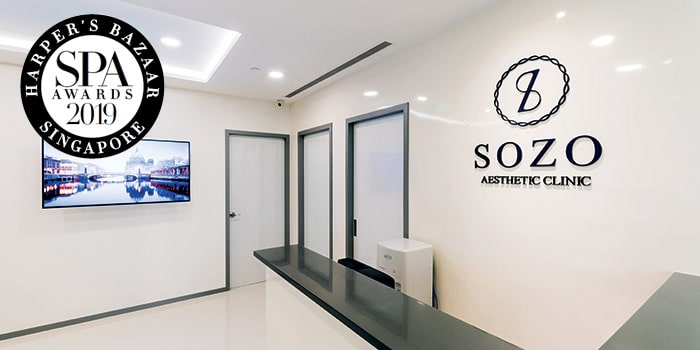 BEST FOR
Affordable treatments
WEBSITE
https://sozoclinic.sg/
ADDRESS
1 Raffles Place #05-12/13 One Raffles Place (Shopping Mall) Singapore 048616
CONTACT DETAILS
6935 1811
OPERATING HOURS
Weekday: 7am – 5pm

Weekend & Public Holiday: 7am – 7am
Whether it's saggy skin, double chin, dark circles, or wanting to have a V-shape, you can rely on Sozo Clinic as they offer one of the best HIFU in Singapore. Their treatments are for the chin, jawline, neck, eyelids, and other face parts.
Their procedures can last up to 12 months, which is quite efficient and they even offer one session for a lower price of $300. These are the reasons many locals claim they have the best HIFU in Singapore.
Highlights
Customised solutions
Affordable rates
Mizu Aesthetic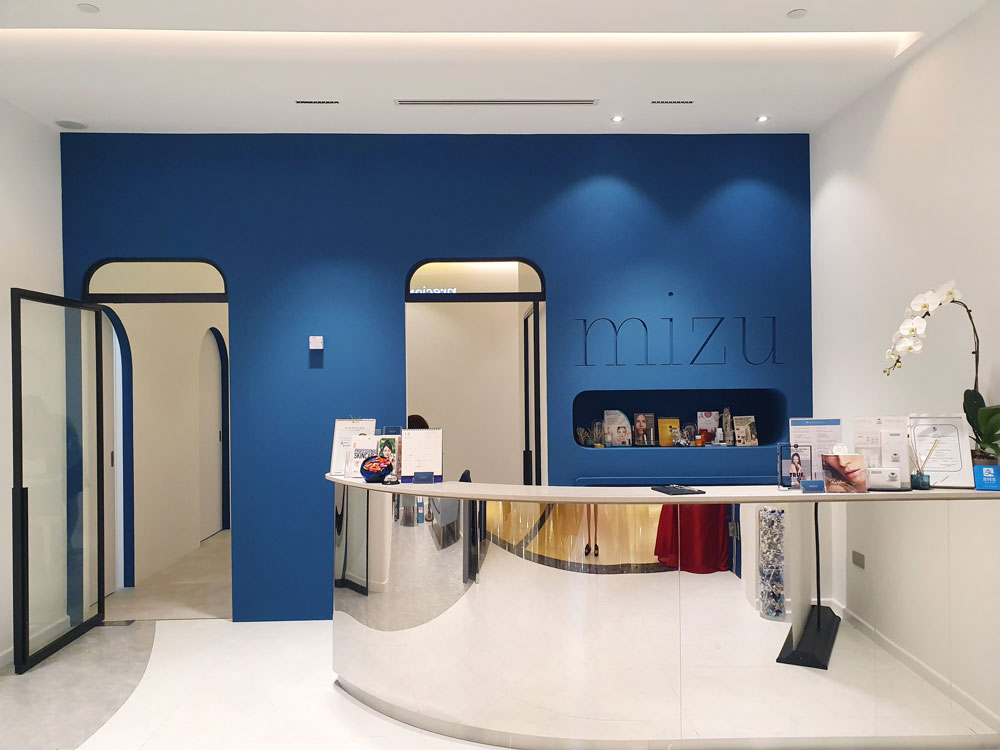 BEST FOR
Innovative HIFU techniques
WEBSITE
https://www.mizuaesthetic.com/
ADDRESS
8A Marina Boulevard #B2-12 Marina Bay Link Mall Singapore 01898
CONTACT DETAILS
+65 66344033
OPERATING HOURS
Weekdays: 11am – 8pm

Saturday: 11am – 5pm
The HIFU treatment at Mizu Aesthetic treats the deepest skin layers with triple-layer lifting effect, giving you the longest possible tightening results that you could ever have. This procedure takes an hour to finish and any redness will disappear after a few hours.
They take pride in providing their signature techniques for more personalised treatment. Their innovative techniques treat facial skin and also help reduce double chins and jowls.
With their treatments that are made to prioritise efficacy and safety, they've proven to have one of the best HIFU in Singapore.
Highlights
Facial and body treatments
Available trial sessions
Customised solutions
Affordable rates
V Medical Aesthetics Laser Clinic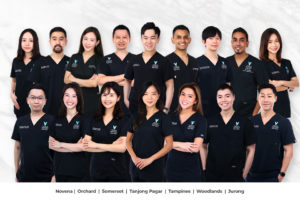 BEST FOR

Non Surgical V Shape Face Slimming

Non Surgical face Lifting and Double Chin Removal

Pigmentation Removal

SERVICES

Pico Laser, Fractional CO2 Laser, Fotona 4D Laser, Carbon Laser Peel, Acne Scar Treatment, HIFU Face Lift, Ultherapy, Double Chin Reduction, Jaw Slimming Injection, Wrinkle Reduction, Dark Eye Circle Injection, Upper Eyelid Lifting, Skinboosters, Dermal Fillers, Hair Growth Laser, Tattoo Removal and more.

WEBSITE
https://www.vaestheticsclinic.com.sg
ADDRESS

Tanjong Pagar: 160 Robinson Rd, 05-09/10 SBF Center, Singapore 068914

Woodlands: 6 Woodlands Square #09-07 Woods Square Tower 2, 737737

Tampines: 2 Tampines Central 5, 05-07 Century Square, Singapore 529509

Somerset: 111 Somerset Rd, #04-09 TripleOne Somerset, Singapore 238164

Orchard: 360 Orchard Rd. #04-06 International Building, Singapore 238869

Novena: 101 Irrawaddy Road, #11-01/02/03 Royal Square Medical Centre, 329565

Jurong: 1 Jurong West Central 2 #02-21/21A, Jurong Point Shopping Centre, Singapore 648886

CONTACT DETAILS

Call or WhatsApp: +65 9860 9990

Email: [email protected]

OPERATING HOURS

Monday to Saturday: 10:30 am – 8:30 pm

Closed on Sunday & PH
V Medical Aesthetics & Laser Clinic is one of Singapore's leading aesthetic clinics, specializing in non-surgical v-shape face slimming, facelifts, and pigmentation removal.
Given their expertise, they are the best with Pico Laser, HIFU Face Lifting, and V Shape Face Slimming, which garnered positive comments from their clients. Besides these, they provide treatments for a variety of skin and facial conditions such as. dehydrated skin, enlarged pores, and aging. 
For clients who'd like to avail beauty products, V Medical Aesthetics & Laser Clinic has serums, creams, sunblock, and other beauty products aside from aesthetic treatments. These are also good alternatives to maintain the beauty of their skin.
On a good note, their clients have praised the price of their services, as well as the courteous staff and excellent customer service thus far. We appreciate that they provide high-quality services at reasonable pricing for more inclusivity.
With 7 facilities across the island, they belong to the biggest chain of aesthetic clinics in the industry. Their branches are strategically located in Novena, Orchard, Somerset, Tampines, Woodlands, Tanjong Pagar, and Jurong for the convenience of their clients.
Highlights
Expert in V-shaped face slimming, pigmentation removal

7 clinic outlets located near MRT across Singapore

Safe and effective customizable treatments by 16 accredited doctors

Affordable and transparent pricing, with more than 4000 reviews across platforms
Edwin Lim Medical Aesthetic Clinic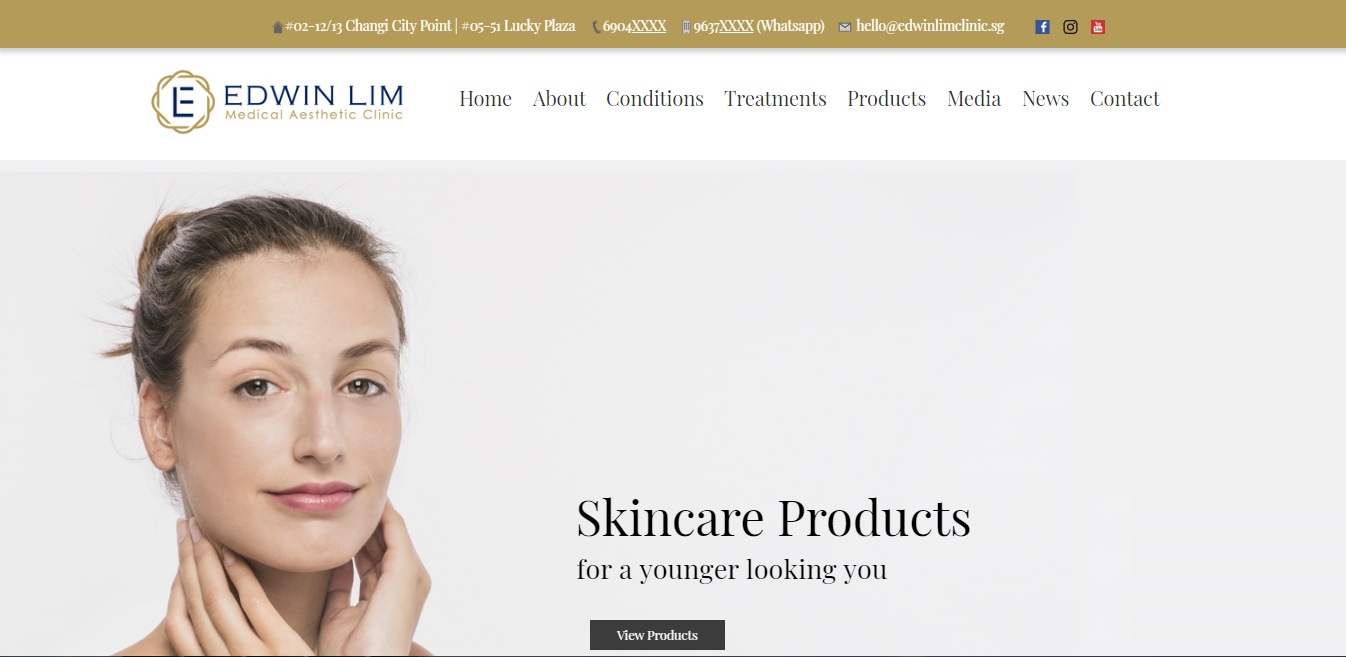 BEST FOR

Latest HIFU technology

WEBSITE

https://edwinlimclinic.sg/

ADDRESS

#02-12/13 Changi City Point | #05-51 Lucky Plaza

 

#05-51, Lucky Plaza, 304 Orchard Road Singapore 238863

CONTACT DETAILS
[email protected]
OPERATING HOURS
Monday – Friday:

11:00 to 8:00 pm

 

Saturday and Sunday: 11:00 am to 6:00 pm
You can also rely on Edwin Lim Medical Aesthetic Clinic for your non-invasive face lifting. Their HIFU treatment provides a natural looking skin lift result. Further, it can remove eyebags by removing the fats stored under your eyes. Cellulites and stretch marks are also treated during the process. 
In order to lessen the pain and discomfort of their clients, the clinic prescribes painkillers. They also apply numbing cream for half an hour before doing the procedure. Don't worry because their doctor will discuss everything with you, as their patient. 
Highlights
Customized solutions for each skin type
Halley Medical Aesthetics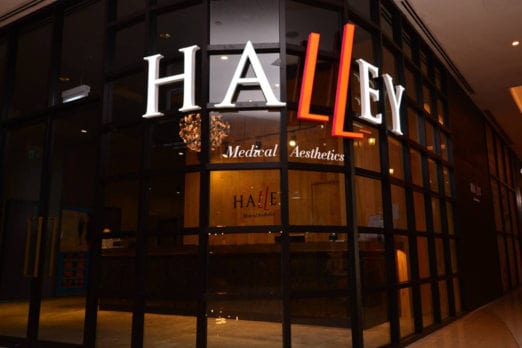 | | |
| --- | --- |
| BEST FOR | Skin-firming treatment options |
| PRICING | Rates |
| WEBSITE | https://www.halley.com.sg/ |
| ADDRESS | 277 Orchard Road #03-15 Orchard Gateway Singapore 238858 |
| CONTACT DETAILS | 6737 8233 |
| OPERATING HOURS | Daily, 10am – 9pm |
Halley Medical Aesthetics is one of the most well-known clinics that offer Ultherapy, which is a famous skin-firming treatment. They also have HIFU treatments for those who want less downtime.
When it comes to their facial treatments, they offer a broad range of services including facial contouring and rejuvenation. Due to their brilliant procedures along with their skincare products, they truly have some of the best HIFU in Singapore.
Highlights
Skincare products
Wide range of options
Shiro Aesthetic Clinic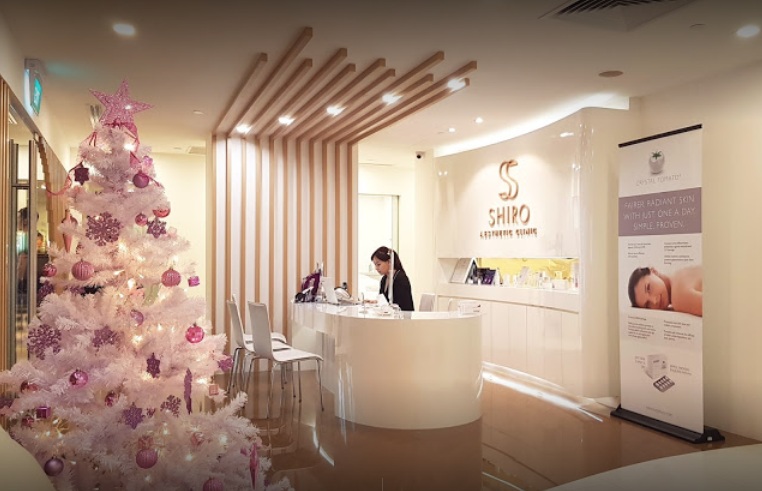 Shiro Aesthetic Clinic provides both men and women premier aesthetic treatments that are uniquely tailored to address their respective face and body concerns. One of the treatments that the clinic showcases is their HIFU Toning.
Their HIFU Toning is designed to be non-invasive, without pain and no downtime so you are always comfortable while in the hands of Shiro Aesthetic Clinic. Their HIFU Toning is also applicable to a slightly wide range of areas like Eye Corners (Crowfeet), Brow Areas (Droopy Eyelids), Saggy Heavy Cheeks, Double Chin, Jawline (Facial Contouring), etc.
Highlights
State-of-the-art facilities

Non-surgical procedures

Face and body contouring
Bio Aesthetic Laser Clinic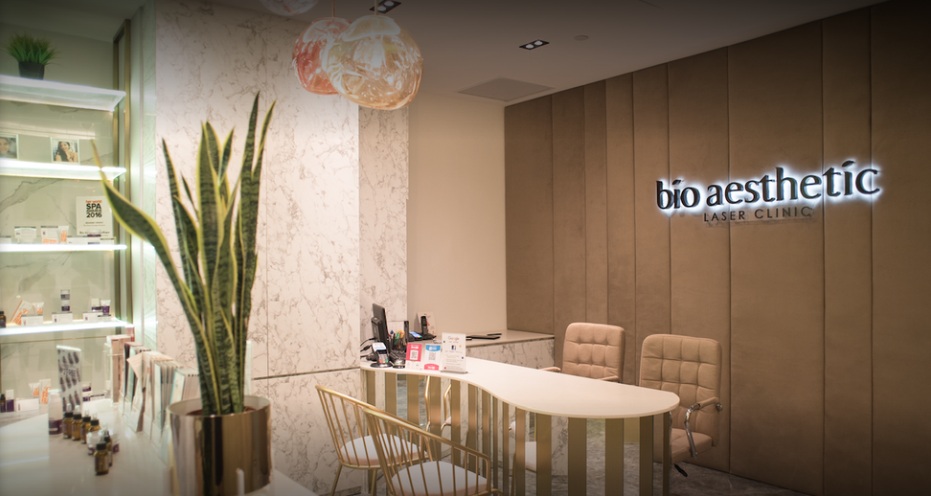 BEST FOR

Multi-awarded spa

SERVICES
Lip Fillers, Hydrating Booster for Intense Hydration, Chemical Peel Express, Fractional RF Skin Tightening, PhytoPeeling Hulk Acne Therapy, Opsis EyeLift Antitox, Thavma Wrinkle Control Therapy

Fat Freezing

WEBSITE
https://baclinic.sg/treatments/sygmalift-hifu-face-lift-singapore/
ADDRESS

Palais Renaissance, 390 Orchard Road #03-01 Singapore 238871

CONTACT DETAILS

+65 6333 4566

OPERATING HOURS

Mon- Fri 11am to 8.30pm

Sat: 10am to 6pm

Sun & Public Holidays Closed
Bio Aesthetic Medispa is a multi-awarded clinic offering an extensive range of aesthetic treatments that redefine and achieve beauty goals of all shapes and colors. They provide numerous procedures from the face down to the body.
One of the services they offer is the Sygmalift HIFU that tightens loose skin without any pain.
Their clinic is completely equipped with the latest technology to ensure the quality of their work as well as the safety and comfort of their clients. They also feature some of today's most sought after beauty brands.
Highlights
Wide spectrum of aesthetic services

Medically Designed Treatments

Experienced Aestheticians
Lux Aesthetic Clinic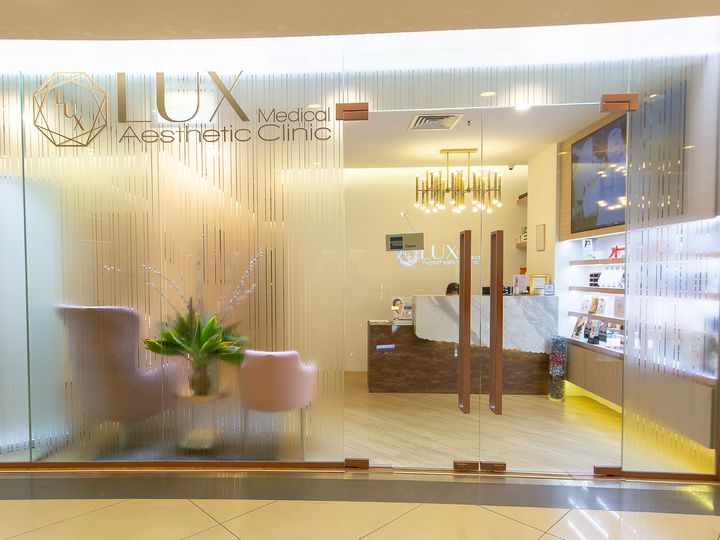 BEST FOR
Signature HIFU therapy
PRICING
Rates
WEBSITE
https://luxaestheticclinic.com/
ADDRESS
The Cathay, 2 Handy Road #02-09 Singapore 229233
CONTACT DETAILS
+65 6815 9922
OPERATING HOURS
Monday – Friday: 10:30AM – 8:00PM

Saturday: 10:30AM – 4:00PM
Compared to the previous option, Lux Aesthetic Clinic provides more advanced treatments with their two kinds of HIFU therapy. They have the latest Ultraformer and they also introduce their V-Lift HIFU therapy, in which both serve certain purposes.
The Ultraformer, quite commonly used in most clinics, targets the mid-face as it tightens up the sagging skin and fat under the chin and jawline. It also helps to improve jowls and laugh lines.
The other treatment focuses on enhancing eye corners, forehead and brow areas, upper neck, and more. With this signature therapy, they've become known as one of providers of the best HIFU in Singapore.
Highlights
Different types of HIFU treatments
Special programs
Dr. Chio Aesthetic and Laser Centre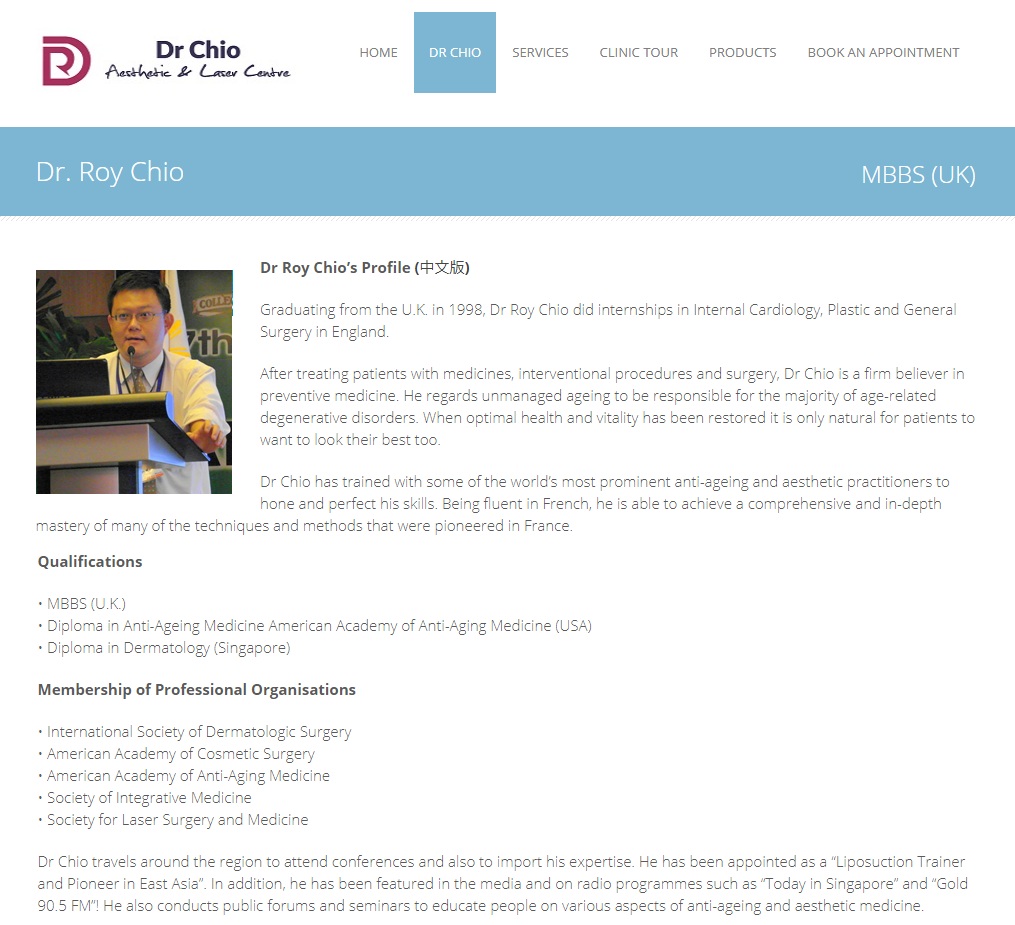 Dr. Chio Aesthetic and Laser Centre is one of the most trusted clinics across Singapore that caters to an extensive range of aesthetic concerns. From skin care to complex treatments, you can trust the team to bring out the best in you.
One of the services that many of their clients avail is their HIFU. This non-surgical skin tightening treatment of the clinic is backed with an advanced medical tool that helps induce collagen production with no downtime.
This treatment can be done in different parts of the face from forehead to jawline.
Highlights
Immediate visible effect just after one treatment

Relatively painless.

No downtime
Dr Justin Boey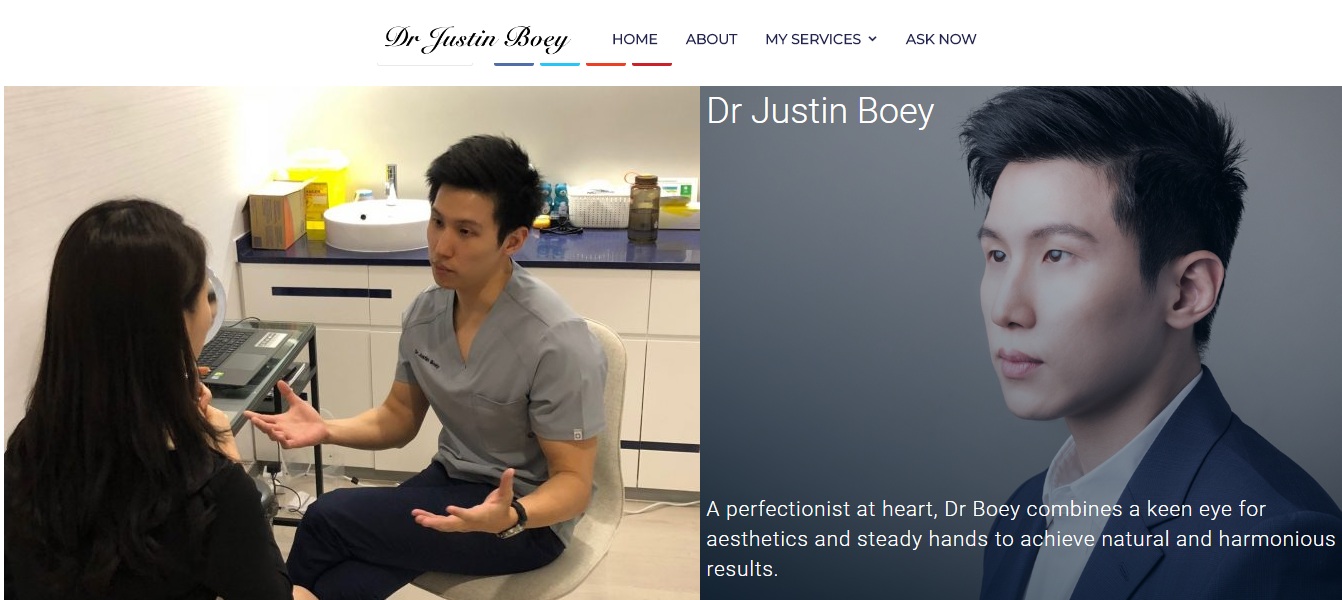 Dr. Justin Boey uses Ultraformer 3 HIFU, the latest generation of HIFU treatments that tightens and lifts the sagging skin of your face without any needles or scalpels.
Compared to other anti-ageing treatments or products, this has been proven to give instant results in just one session. So, if you think about it it really is a more practical way to get rid of those sags.
The combination of Dr. Boey's expertise and Ultraformer 3 HIFU provides promising results that will definitely give the best value for your money.
He has also dedicated some sections in his website on various articles discussing everything you need to know about HIFU so make sure to check those out.
Highlights
Competitive rates

Large scope of aesthetic treatments

Highly-qualified specialist
8 Medical Aesthetic Clinic
BEST FOR
Complete Aesthetic Treatments
SERVICES
Skin Treatments, Face Treatments, Body Treatments
WEBSITE
https://www.8medicalaesthetic.com/
ADDRESS
SOMERSET BRANCH
51 CUPPAGE ROAD, #06-22, SINGAPORE 229469

DHOBY GHAUT BRANCH
2 HANDY ROAD, #04-19/20 THE CATHAY, SINGAPORE – 229233

CLEMENTI BRANCH
41 SUNSET WAY, #01-05, CLEMENTI ARCADE, SINGAPORE 597071

TAMPINES BRANCH
TAMPINES PLAZA, 5 TAMPINES CENTRAL 1 #03-01 S529541

CONTACT DETAILS
Tel: +65 3157 5947

SMS/WHATSAPP : +65 9151 9017
8 Medical Aesthetic offers a diverse set of medical aesthetic procedures. They primarily offer non-surgical treatments.
They have high standards of quality, from their doctors to their equipment. 8 Medical Aesthetic is a clinic you can count on to fulfil any of your aesthetic needs.
Highlights
Excellent attention to detail
FDA approved technology
Illumia Medical
BEST FOR
Medical Aesthetics and Plastic Surgery
WEBSITE
https://www.illumiamedical.com
ADDRESS
501 Orchard Road, #05-12 Wheelock Place, Singapore 238880
CONTACT DETAILS

Tel: +65 6454 5465

Whatsapp: +65 9656 5464

Email: [email protected]

OPERATING HOURS
Mon to Fri: 10.30am – 8.30pm | Sat 10:30am – 3pm, Sun & Ph: Closed
Illumia Medical is a clinic that offers a wide variety of aesthetic services and surgeries to their clients. With the use of the latest technology in aesthetics, they provide outcomes that look natural and last for a long time.
For their HIFU treatment, they have the HIFU Face Lift Ultraformer 3.
This non-invasive procedure uses precise ultrasound waves to tighten the facial tissues without any risk of damaging them. Moreover, it's an almost painless treatment that offers progressive results after each session.
Patients can expect slight redness and swelling to occur for a few days after the procedure. If you need help with the aftercare, their doctors will advise you on how to minimise your discomfort as you recover.
Highlights
State-of-the-art centre
High performance
Self developed technologies
Latest proven technologies from all over the world
SL Aesthetic Clinic
BEST FOR
Aesthetic Services for the Entire Body
WEBSITE
https://slclinic.com.sg/our-treatments/face/hifu-v-sculpting/
ADDRESS
Causeway Point
1 Woodlands Square,
#04-11, Causeway Point S(738099)
Junction 8
9 Bishan Place, #04-02B/C,
Junction 8 S(579837)
Jurong Point
63 Jurong West Central 3, #B1-32
Jurong Point Hse 2 S(648331)
Plaza Singapura
68 Orchard Road, #04-08B,
Plaza Singapura S(238839)
Tampines 1
10 Tampines Central 1, #04-30/32
Tampines 1 S(529536)
Wheelock Place
501 Orchard Road #04-04,
Wheelock Place S(238880)
Westgate
3 Gateway Drive, #04-22
Westgate S(608532)
CONTACT DETAILS
Causeway Point
Tel: +65 6877 0144
Junction 8
Tel: +65 6262 5898
Jurong Point
Tel: +65 6316 2556
Plaza Singapura
Tel: +65 6336 1106
Tampines 1
Tel: +65 6634 8102
Wheelock Place
Tel: +65 6235 8403
Westgate
Tel: +65 6358 4588
OPERATING HOURS
Contact clinic for more information
Next on our list is an aesthetic clinic known for the range it has to offer its clients. SL Aesthetic Clinic has been serving the people of Singapore for over a decade now.
The clinic's team consists of highly skilled and knowledgeable individuals whose main goal is to make customers happy with their services, all while empowering them to be the best versions of their selves. As a result, SL Aesthetic Clinic is always updating its services, ensuring that they are non-invasive as well as FDA-approved, CE-marked, or HSA-approved.
Some of these services include derma fillers, mole removal, ultherapy, skin boosters, eyebags removal, pigmentation treatment, and more. When it comes to aesthetic clinics that caters to the aesthetic needs of various parts of the body, SL Aesthetic Clinic comes highly recommended.
Now, it's also worth noting that all of these services, including the ones that aren't mentioned, are performed by doctors who are all medically trained. Plus, they have the needed certifications of competence recognised by the Singapore Medical Council's Aesthetic Practice Oversight Committee (APOC).
Aside from being highly talented, skilled, and knowledgeable, these doctors are committed to helping clients look their best selves. So, it isn't all too surprising that they take the time to consult with each client, learning more about their aesthetic history and needs before moving forth with any service that they are in need of.
All in all, SL Aesthetic Clinic makes an excellent choice because of its range of services, team of doctors, and dedication to customer service.
Highlights
Offers a wide range of aesthetic services
Constantly updates aesthetic services
Minimal downtime depending on the service chosen
Multiple locations available
Professional and friendly staff
Mendis Aesthetics Clinic
BEST FOR
Non-invasive Treatments
SERVICES
Cosmelan
Rejuran
HIFU (UltraSkin)
Microdermabrasion
Laser Skin Treatment (Mosaic)
Chemical Peels
Transdermal Anti-Ageing Facial
HA Hydrating Facial
EMSCULPT
D-Actor
Exilis
Threadlift
Thermage CPT
Dermal Fillers
UltraShape
WEBSITE
https://www.drmendis.com/
ADDRESS
333A Orchard Road, Mandarin Gallery, #04-17, Singapore 238897
CONTACT DETAILS
Tel: +65 6235 1728 | SMS : +65 88580810
Email: [email protected]
OPERATING HOURS
Monday – Friday: 10am – 8pm
Saturdays: 10am – 4pm
Closed on Sundays & Public Holidays
Mendis Aesthetics Clinic is simply one of the best choices to consider if you're looking for the highest quality botox services. It's owned by the highly esteemed Dr. Rohan Mendis, one of the foremost aesthetic doctors in Singapore.
Dr. Mendis has been in the field for over 20 years, and has mastered the art of advanced medical aesthetic technology. With their skills and experience, Mendis Aesthetics Clinic has continuously placed in the top ranks of aesthetic centers in the country.
Alongside the doctor's expertise, Mendis Clinic offers a wide range of services besides HIFU, including Laser Skin Treatments, Threadlifts, Fillers, and the like.
Whatever the beauty service you may need, they'll be able to provide. They make sure that you can achieve the look you want and help you gain more confidence– all at a very reasonable price.
Highlights
Helps slow down aging process
Minimal downtime
Highly skilled doctor
Dr Chua Cheng Yu


BEST FOR
Knowledgeable and Patient-Oriented Doctor
SERVICES
Medical Aesthetic Services
WEBSITE
https://www.drcychua.com/en/
ADDRESS
Singapore
CONTACT DETAILS
+65 8858 6689
[email protected]
OPERATING HOURS
Monday – Friday: 11 AM – 8 PM
Saturday & Sunday: 11 AM – 6 PM
Dr Chua Cheng Yu is an aesthetic doctor whose goal is to provide safe and effective services to his patients. He strives to do that, and more, by educating the general public about all there is to know about aesthetic medicine.
He is skilled in administering various aesthetic treatments, from fillers to bodysculpting and everything in between. His HIFU treatments, in particular, are praised by many for their effectiveness and lifting effects and long-lasting results.
Dr Chua uses the latest Ultraformer 3 machine which allows for stronger, more effective, yet less painful HIFU treatments. Ultraformer 3 is also better than Ultraformer 2 at treating fine lines and narrow areas like eye bags.
HIFU treatments are far from simple, given their required intensity and time for administering. Fortunately, Dr Chua Cheng Yu is a reliable doctor that will be able to give you a HIFU treatment that's worth its price.
Highlights
Fully registered local NUS MBBS Graduate
MRCS from Royal College of Surgeons Edinburgh
Numerous areas of expertise
Many years of experience
Aesthetics by KBL Healthcare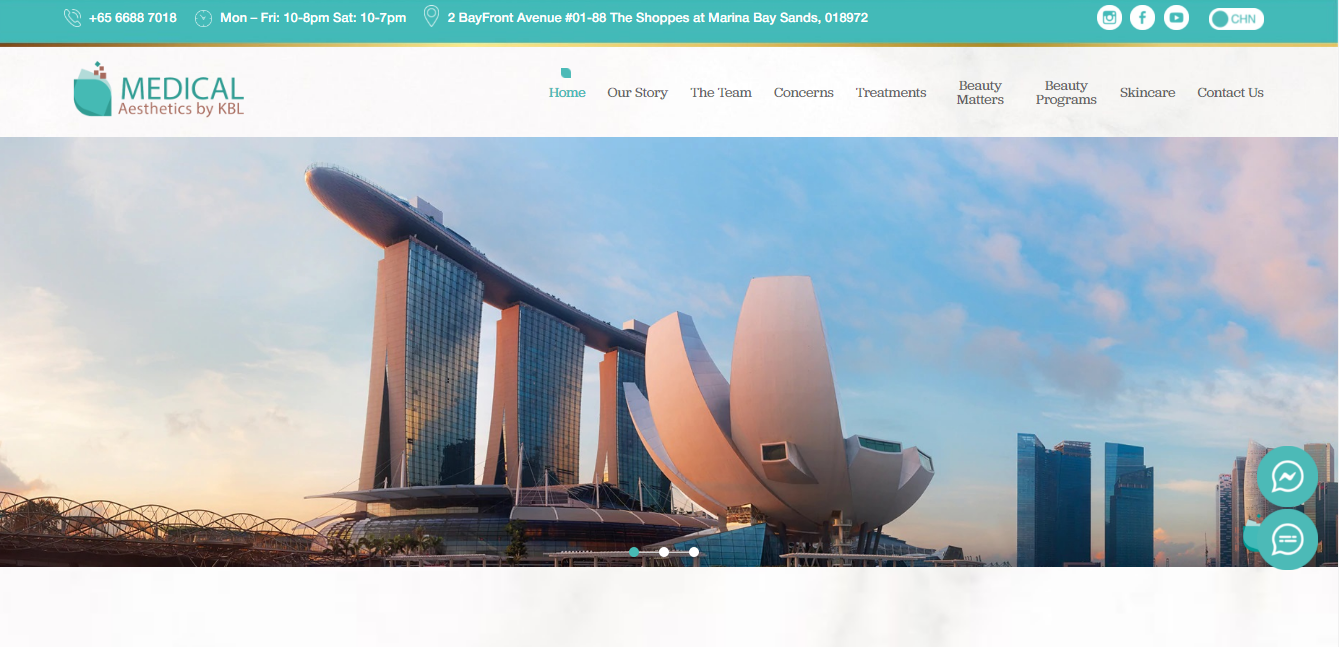 KBL Healthcare Aesthetics is a division of KBL Healthcare, which is a leading provider of all-around aesthetic services focused on skin, face, and body wellness. Each of their services is centered on recovering one's youth and regaining confidence through specialized care.
Each of their products offers a wide range of benefits in terms of general performance and procedure requirements, ensuring that all treatments are completely safe and approved.
Clients can also have a relaxing experience with them because their facilities and customer service are designed to make clients feel at ease and provide a tailored pampering experience.
While their website is informative and contains a detailed description of the treatments they provide, they do not include price ranges or bundles, which would have been an excellent resource for evaluating their services.
Their methodologies are all medically grounded and founded on scientific study, and they are carried out by only the most qualified personnel. Clients will be able to benefit from high-quality results and services in the long run.
Highlights
Personalized treatments
Medical-based methodologies
Certified professionals
Did we miss out on a great and must-visit clinic in our list of the centres with the best HIFU in Singapore? Share with us your own favourite picks and let us know why you love their services!
For more options, you may want to look at the best aesthetic clinics in Singapore. They offer a full range of facial treatments, giving you extensive selections to choose from.