By Lance Teo
Warts are some of the most unflattering things that can grow on our skin, most especially on our face. If you have hideous warts that you want to be rid of, then we recommend that you drop by the top clinics that offer the best wart removal in Singapore.
Searching for the right aesthetic clinic can be a bit difficult because only a few offer wart removal in Singapore. Since we want to make your life easier, we did the work ourselves and compiled the top clinics for the best wart removal in Singapore.
Check out our list of the top clinics with the best wart removal now to know which one can provide quality beauty treatments.
(Note: This list is in no particular order.)
1. Dr. Ker – Dermatologist Singapore

Helmed by duo Dr Ker Khor Jia and Dr Tan Wei Sheng, Dermatologist Singapore is among the best-known dermatological practices on the island. They're especially popular for their meticulous approach to providing dermatological care, so those who want to be sure nothing is missed should go here.
Dr Ker in particular was trained in the US and now specialises in a long list of dermatological treatments and procedures. She offers both laser and skin surgical procedures that are among the best in Singapore, for example — perfect if you need expert wart removal.
Highlights
Specialists in wart removal
Emphasises private and personalised care
Customer Reviews
The doctors here are known for inspiring confidence in patients thanks to both their abilities and bedside manner. Here's a testament that indicates how patients feel about them:
Had a laser treatment for my skin abd the experience was wonderful! I have always been very mindful on the pain but the service and professionalism that the doctor and nurse has shown were absolutely wonderful. they were mindful and knowledgeable in what they are doing. thumbs up to them! Dr Ker, Dr Tan and Nurse Jen! keep it up and thanks!!! – Edwin Cheng
2.  APAX Medical and Aesthetic Clinic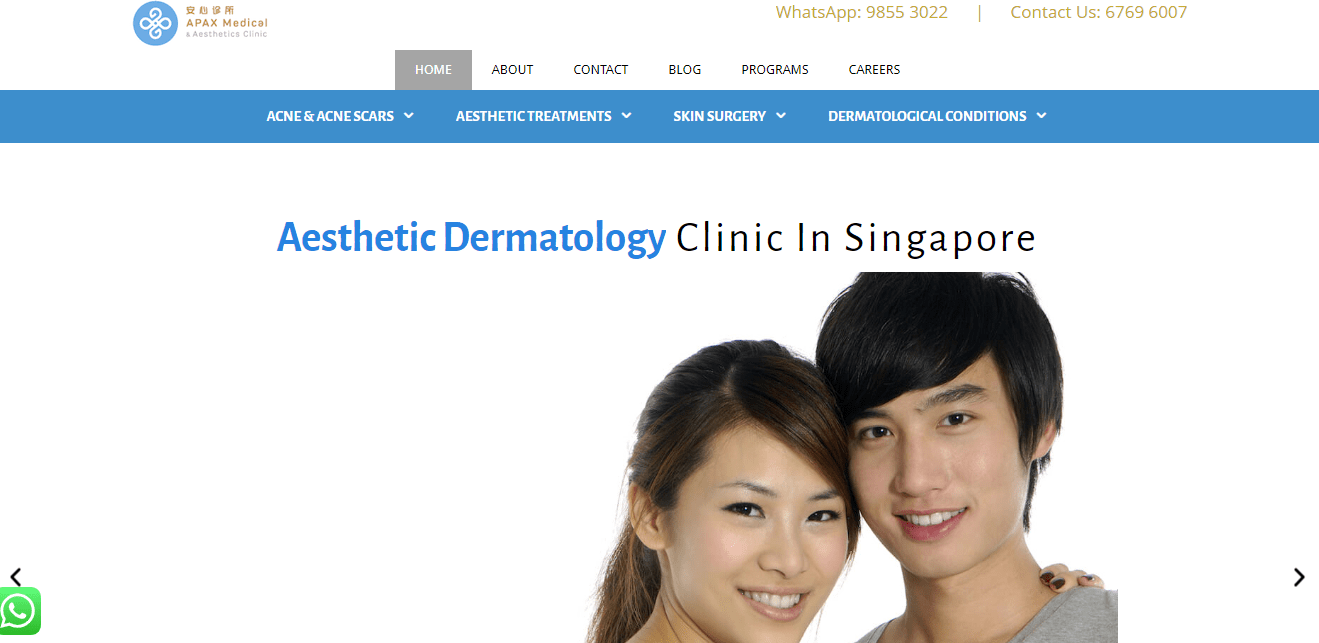 | | |
| --- | --- |
| BEST FOR  | Acne and Acne Scar Treatment |
| SERVICES | Wart Removal, Chemical Peels, Skinboosters, Face Thread Lift, Rejuran Healers, Nose Thread Lift, Skin Surgery, Laser Acne Treatment, and Dark Eye Circles |
| WEBSITE | https://apaxmedical.com |
| ADDRESS | 212 Hougang Street 21, #01-331, Singapore 530212 |
| CONTACT DETAILS | 9855 3022 | 6769 6007 |
| OPERATING HOURS | Monday – Friday, 10:00 AM – 5:30 PM |
If you're looking for an aesthetic clinic that caters to various skin problems, then APAX Medical Clinic and Aesthetic Centre would be a perfect match for you.
It offers a wide array of services such as wart removal surgery, chemical peels, skinboosters, acne treatments, dermal fillers, face and nose thread lift, and a whole lot more.
It's a preferred clinic by most locals because its beauty treatments are known to be safe, effective, and above all, affordable. With APAX Medical Clinic and Aesthetic Centre, you will never have to struggle paying for the beauty procedure that you think you deserve.
Moreover, APAX can deal with all sorts of warts, including those caused by human papilloma virus.  It also makes use of various treatments such as liquid nitrogen, imiquimod cream, and salicylic acid.
If you want a more advanced method, then you may opt for its wart removal laser surgery. Those unflattering warts will be gone in a matter of minutes!
Highlights
Non-invasive
No downtime
Experienced doctors
Customer Reviews
Here are some of the comments on the services of APAX Medical Clinic and Aesthetic Centre:
"Introduced by a friend to this clinic in Singapore. Communication with clinic staff before making an appointment was convenient. The nurses were helpful and the doctor was professional. One of the things that really stood out was the pricing and service. Pricing is reasonable although not the cheapest compared to my home country. Doctor did more than what was requested and I'm very thankful for the kindness. The follow up was a nice touch to make sure I was doing well as I had traveled."
"Been visiting Dr Moses Ng at Junction 10 outlet since March for acne scar removal treatments and so far I am really pleased with the results! Unlike other acne clinics who are out there to pull a fast one on most patients, I was pleasantly surprised when Dr Moses advised me to not waste money on unnecessary topical creams and only prescribed to me the ones that I truly needed. In addition, the staff are also really helpful and friendly, especially Joan who has been helping me with the procedures. All in all, highly recommended to anyone who is facing an emotionally tough battle against Acne!"
3.  Nu.Reflections Medical Aesthetics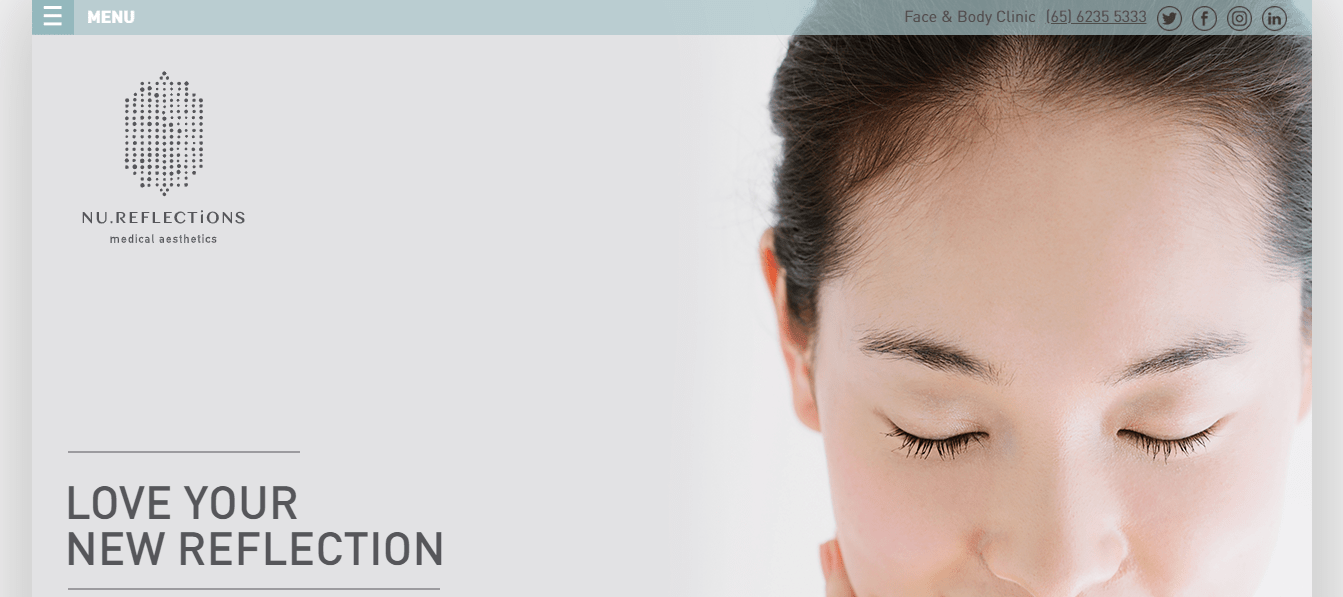 BEST FOR 
Easy Online Appointment
SERVICES
Wart Removal, Acne Management, Botox, Cellular Laser, Derma Lift, Fillers, Laser Hair Removal, and Mole Removal
WEBSITE
https://nu-reflections.com/medical-aesthetics/
ADDRESS
#05-12 Regency House, 123 Penang Road, Singapore 238465
CONTACT DETAILS
(65) 6235 5333 |

[email protected]

OPERATING HOURS
Monday – Friday, 10:00 AM – 8:00 PM
Considered one of the top aesthetic clinics on the island, Nu.Reflections has served more than 30,000 patients since the start of its operations in 2000.
It prides itself on being a clinic that offers FDA-approved, comfortable, and safe beauty procedures that almost all customers go back to.
In addition, all its beauty treatments require minimal downtime. So, you should be able to go back to your daily activities after 3-5 days as if nothing happened!
One of its areas of expertise is wart removal, and that brings us to why we think it's among the top clinics that offer the best wart removal in Singapore. It makes use of a method called electrocautery, which can remove warts in no more than 5 minutes!
Highlights
Minimal downtime
FDA-approved procedures
Customer Reviews
Previous clients of Nu.Reflections have commented on the professionalism and efficiency of its doctors. Patients will not feel intimidated and scared throughout the procedure because its doctors calm them down and make sure they're comfortable.
Here's a review left by a patient:
"Nu.Reflections has helped me shed off a total of 43Kg from 2 pregnancies. I returned to my pre pregnancy weight within 4 months after the first delivery; returned to pre pregnancy weight within 7 months after the 2nd delivery, all via their good mix of slimming treatments, including lipocontrast, Indiba, LPG, Maximus, etc etc. I am totally pleased with their quality services & experiences in beautifying ourselves!"
4.  LE Private Clinic

BEST FOR 
Facial Treatments
SERVICES
Wart Removal, Acne Scar Removal, Pigmentation, Botox, Derma Fillers, Nose Thread Lift, Face Thread Lift, and Chemical Peels
WEBSITE
https://www.leprivateclinic.com/
ADDRESS
Scotts Medical Centre 9 Scotts Road (Pacific Plaza) #08-04 Singapore 228210
CONTACT DETAILS
+65 6733 5755 |

[email protected]

OPERATING HOURS
Monday – Friday, 10:00 AM – 7:00 PM
 LE Private Clinics offers a wide range of beauty procedures that target acne scars, pigmentation, fine lines, wrinkles, sagging skin, fine veins, and a whole lot more. It's also one of the few boutique aesthetic clinics that provides truly personalised and private aesthetic care.
In terms of affordability, Le Private Clinics can lean towards the high-end side. However, you get what you pay for — it uses only the best equipment and has a team of experienced doctors who facilitate every procedure.
More than this, it's also equipped with state-of-the-art skincare technologies and facilities to ensure that clients will see the results that they paid for.
We also consider it one of the top clinics for best wart removal in Singapore due to it being a quick procedure with zero pain and minimal downtime.
Highlights
Painless procedures
Experienced doctors
Zero to minimal downtime
5.  Telok Blangah Clinic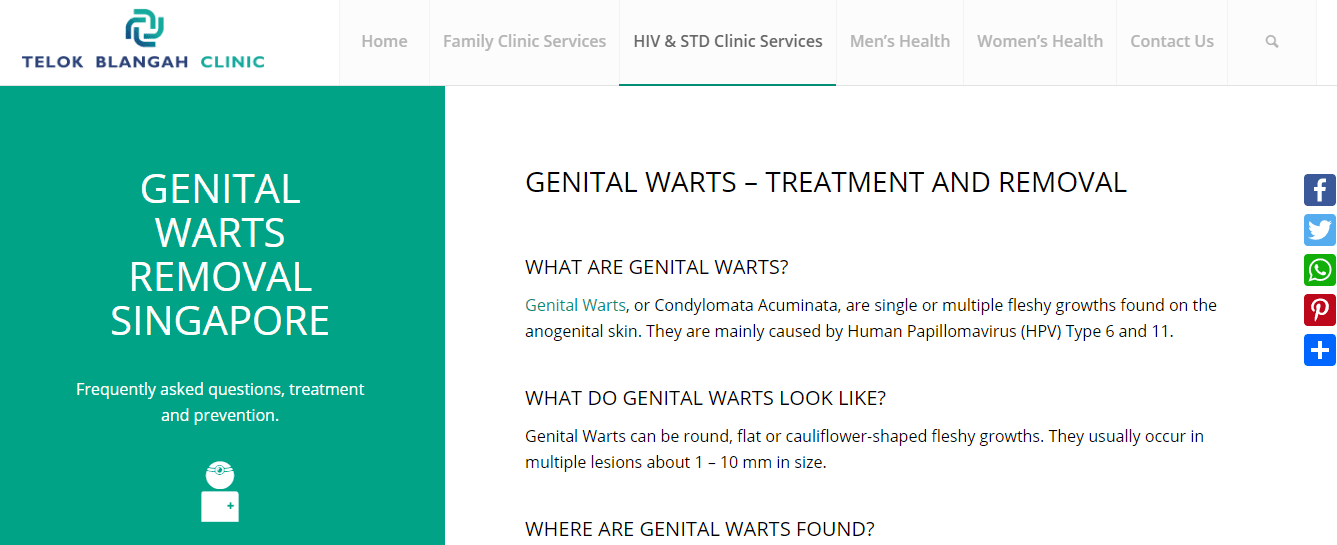 BEST FOR 
General Medicine
SERVICES
Wart Removal, Health Screenings, HIV Testing, Minor Surgeries, Vaccinations, and Cancer Screenings
WEBSITE
http://telokblangahclinic.com/
ADDRESS
Blk 78B Telok Blangah St, 32 #01-20 Singapore 102078
CONTACT DETAILS
+65 6250 5115 | +65 9818 1169 |

[email protected]

OPERATING HOURS
Monday – Friday, 9:00 AM – 5:00 PM
If you're seeking a clinic that goes beyond beauty and aesthetics, then consider checking out Telok Blangah Clinic. It's a medical clinic that specialises in general medicine, health screenings, and even STD & HIV Testing.
Moreover, it's the ideal clinic for people suffering from genital warts. It has different methods for treating such warts including liquid nitrogen, topical treatment, and therapy, making it one of the top options for the best wart removal in Singapore.
After the procedure, you may also consult with its resident doctors on how to avoid contracting warts and other sexually transmitted diseases.
Highlights
With doctor consultation
Professional specialists
Painless procedure
6.  Dr. Tan & Partners Clinic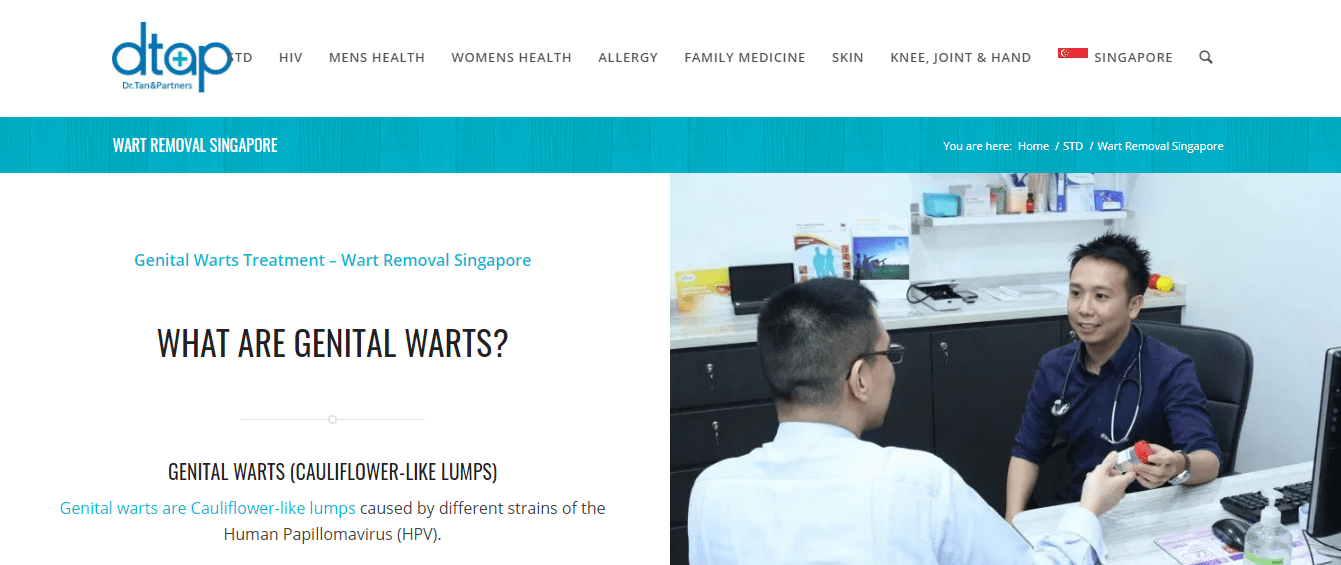 | | |
| --- | --- |
| BEST FOR  | STD Testing and Screening |
| SERVICES | Wart Removal, STD Testing, STD Screening, Anal Papsmear, Genital Warts Treatment, HIV Testing, and HPV Vaccination |
| WEBSITE | https://www.dtapclinic.com/ |
| ADDRESS | 20 Cecil St, #02-01 PLUS, Singapore 049705 |
| CONTACT DETAILS | +65 6962 7144 |
| OPERATING HOURS | Monday – Friday, 8:00 AM – 5:00 PM |
Dr. Tan & Partners is one of the leading medical clinics in terms of STD & HIV prevention and treatment. Likewise, it also provides treatment to sexually transmitted diseases such as genital warts.
Dr. Tan & Partners makes sure that it offers treatments that won't cause more pain to its patients with genital warts. You may also opt for a surgical method if you want a faster and more effective procedure.
Moreover, patients may also get themselves vaccinated against genital warts with Dr. Tan & Partners, and that's why we believe it's one of the top options for the best wart removal in Singapore.
Highlights
Surgical procedure
Painless procedure
Vaccinations
7. Lim Clinic And Surgery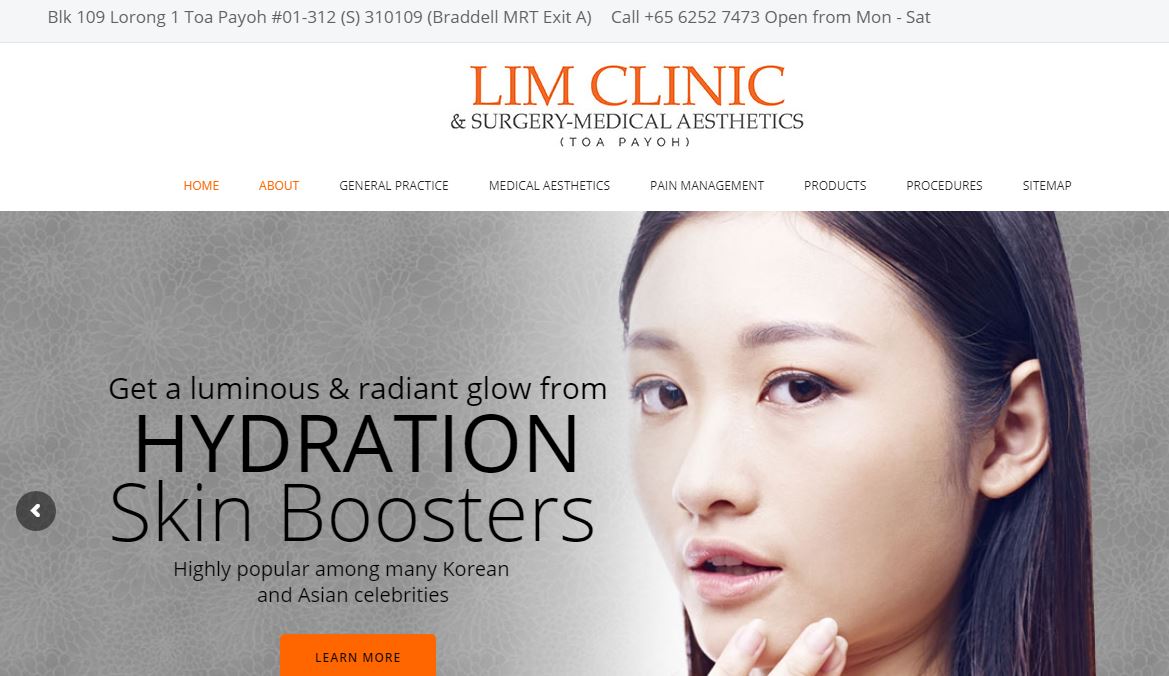 BEST FOR
Warts, moles and Skin tags removal,Lip fillers,HIFU Facelift ,Nose Thread Lift ,Pigmentation, Acne scars removal, anti-aging. nose fillers, Botox, Chemical Peel, Facelift, Dermal Fillers, Body Slimming
WEBSITE
https://www.limclinicandsurgery.com/
ADDRESS
Blk 109 Lorong 1 Toa Payoh #01-312 (Braddell MRT Exit A) Singapore 310109
CONTACT DETAILS
Tel +65 6252 7473
Whatsapp +65 8587 8865
OPERATING HOURS
Monday to Friday 8.00am to 12.30pm
2.00pm to 4.30pm6.30pm to 9.00pm ( Except Wed nights closed)Saturday 8.30am to 3.00pmSunday and PH Closed
Warts are skin growths caused by virus and can occur on any part of the body. 
Lim Clinic and Surgery offers different methods to remove warts like salicylic acid, Surtron RF and CO2 Laser. Their treatment is quick and almost painless and definitely affordable and safe.
Lim Clinic And Surgery also offers a wide variety of aesthetic procedures to treat warts,moles, skin tags, acne scars, pigmentation, wrinkles, fine lines etc. Treatment .
They offer treatments with no downtime, it is very suitable for those customers who have very busy schedules but still want to enhance their beauty.
Highlights
First-class aesthetic treatments
Personalized procedures
Advanced technologies and luxurious facilities
And with that, we conclude our list of the top clinics with the best wart removal in Singapore. Any of these clinics can end your days of suffering with those ugly and sometimes painful warts!
If you know other clinics that offer the same service, then don't hesitate to share their names with us! If they're great, we'll definitely add them to our list.
Since most warts are caused by an STD called human papillomavirus, by the way, we believe it's best that you regularly get tested for STDs. If you don't know where to get tested, then check out our list of the best STD testing in Singapore.