SINGAPORE'S DIGITAL LANDSCAPE: Internet Penetration and Online Behavior of Singaporeans in 2021
Key Insights
---
We are now living in two different worlds: one is offline and the other online. The latter is growing. In fact, there are more than one million new Internet users every day!
In Singapore alone, 5.29 million people or 90% of the total population are now online. This is according to the "Digital 2020 in Singapore" report by We Are Social.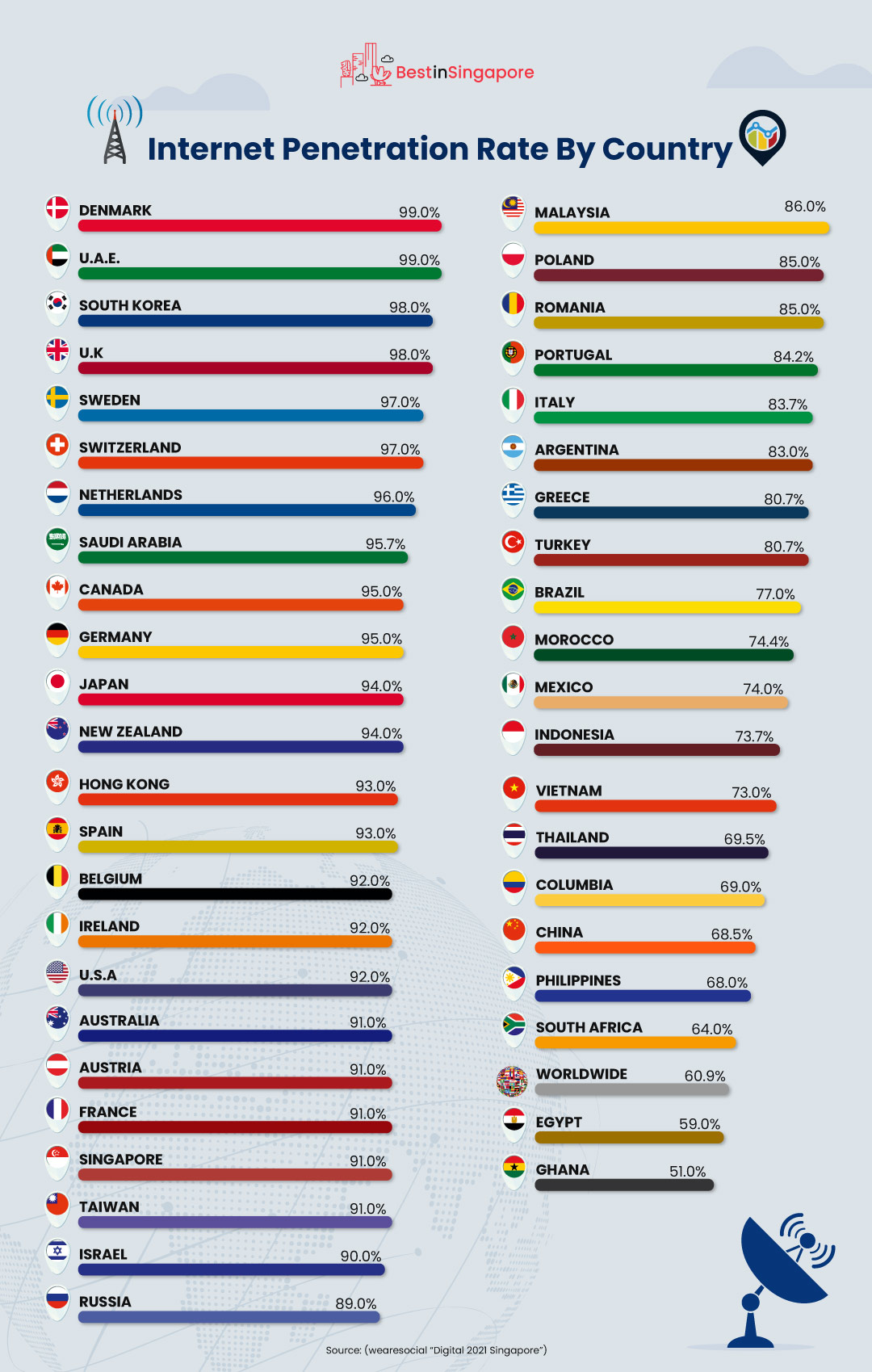 This may be partly because due to enhanced digital infrastructure, such as 4G networks and fibre connections, Singapore has one of the highest Internet penetration rates in the world.
In addition to this, it also has the second-highest penetration rate in the Southeast Asian region, which has an average Internet penetration rate of about 71%.
Given the high online presence of Singaporeans, it's no surprise that there's also strong social media penetration in the country. Of the 5.29 million Internet users, 4.96 million are active social media users.
From this 4.96 million, 4.9 million or 98.8% have reported accessing social media platforms through their mobile devices.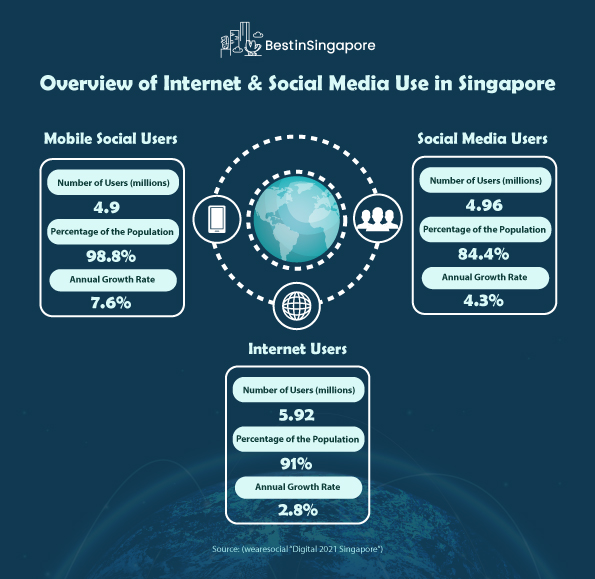 SINGAPORE'S DIGITAL INFRASTRUCTURE
Singapore tops global ranking of Internet speed
Singapore has the highest speed in We Are Social's global ranking of fixed Internet connections. It's at 262.20 Mbps versus the global average of 110.24 Mbps.
The country also placed among the top 20 countries for mobile Internet connection speed (91.75 Mbps vs. 56.74 Mbps global average).
This impressive speed makes it easy and convenient for Singaporeans to access the Internet any time of the day. In fact, 93% of users access the Internet every day.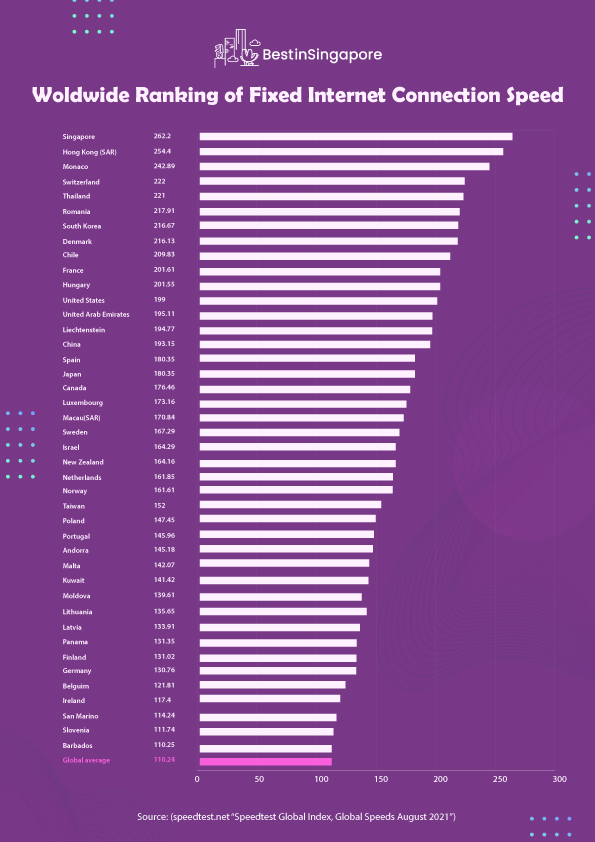 One of the reasons for this impressive speed is the excellent infrastructure in place and its accessibility to Singaporeans.
According to the Annual Survey of Infocomm Usage of Infocomm Media Development Authority (IMDA), fibre broadband remains the top Internet connection of choice at 94% as of 2019. That represents a 16% increase from 2017.
This access to high-speed Internet means households are continuing to shift activities into the digital space, including financial transactions, shopping, gaming, and leisure.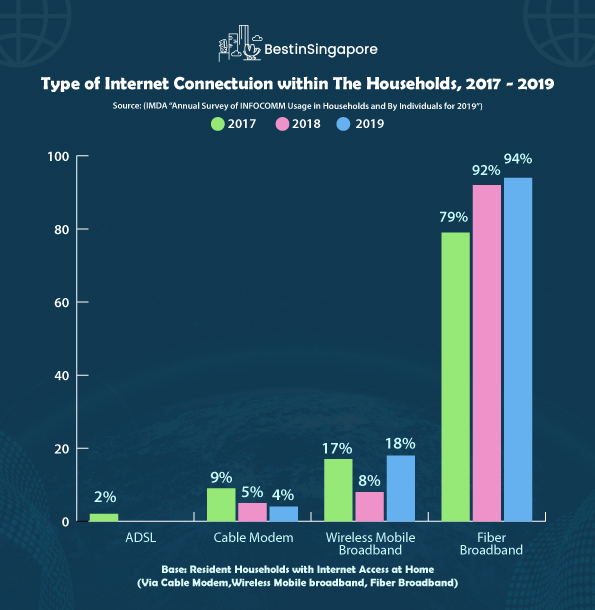 According to IMDA, mobile devices remain the top equipment of choice for accessing the Internet after overtaking laptops and desktops in the previous year.
The same finding is supported by data from We Are Social's report citing 98.8% of Internet users going online via mobile phones. 99.2% of those mobile connections use Broadband (3G, 4G, and 5G) connections.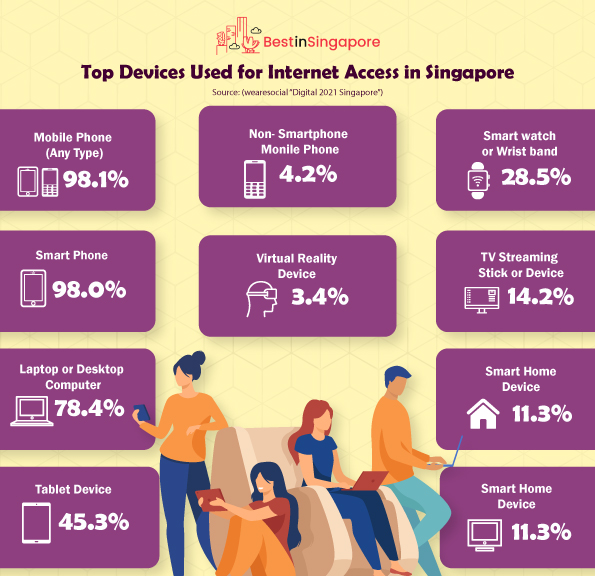 The rise of 5G in Singapore
As of May 2021, Singtel (the country's largest telco company) officially unveiled the first 5G network in Singapore. With its launch, citizens can enjoy connection speeds that far exceed those of 4G networks.
Theoretically, this new network can reach speeds of up to 1.2 gigabits (Gbps), making it 10 times faster than 4G. But realistically, current projections put Singtel's 5G speed at 100Mbps.
If these projections come to pass, Singapore's mobile connection speed will still improve by 9%, going from 91.75Mbps to a supposed 100Mbps. Now, since it is relatively new, 5G coverage in Singapore is still lacking.
Along with this, signal strength can also fluctuate as a result of underdeveloped infrastructure. At the moment, the Central Business District is one of the few places in Singapore with a reliable 5G connection.
However, as time passes, this network is expected to grow and remedy various connectivity and coverage issues. With the dawn of 5G, consumers will be able to shop, search, and surf the Web at much faster speeds.
This will undoubtedly lead to further developments in terms of user behavior in Singapore.
Internet ACTIVITIES & ONLINE USE
Communication & leisure are top reasons for Internet usage in Singapore
Singaporeans spend about 8 hours and 7 minutes every day on the Internet. Communication, entertainment, and information-gathering are the top 3 Internet activities for Singaporeans, according to IMDA.
Leisure activities include watching videos and streaming content as well as gaming. For mobile Internet users, the top Internet activities are instant messaging (90%) and social networking (78%).
Since online activities via mobile devices are showing the most growth after overtaking traditional laptops and computers, attitudes and behaviors are also shifting.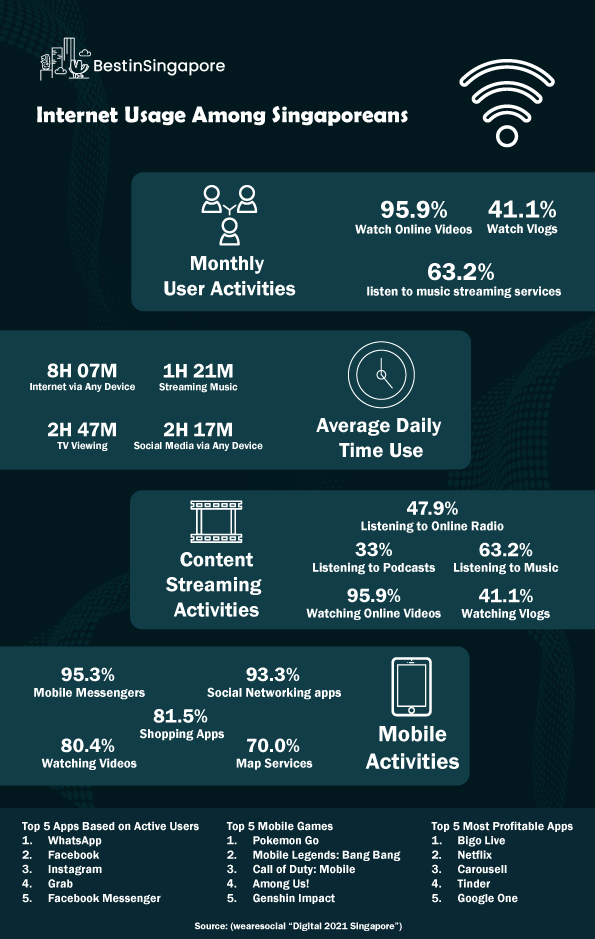 Online shoppers focus on food, fashion, and digital music
With the recent pandemic, online shopping has risen substantially. Currently, the country's total online expenditure sits at around 3.21 billion SGD.
As in previous years, Internet users aged 25-34 continue to do the most online shopping, making up 34.3% of all online consumers. But due to the recent lockdowns, buying habits have shifted towards self-sustaining goods.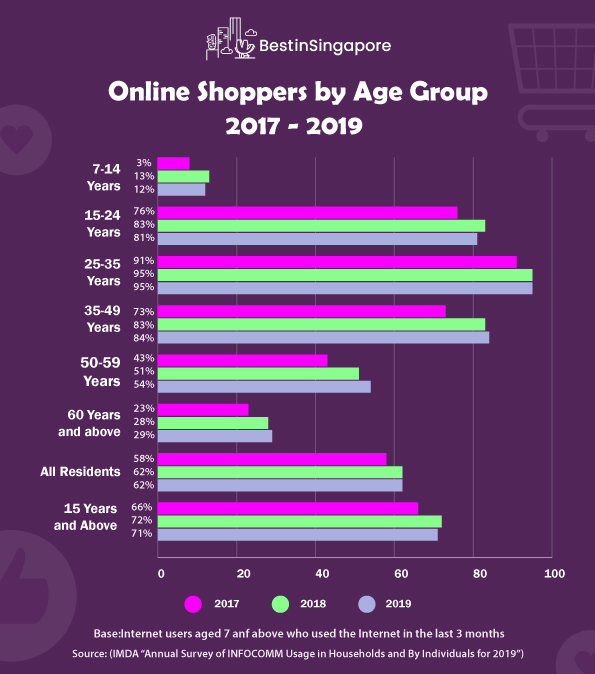 This year, the markets that showed the most online growth were digital music and food & personal care with growth rates of 39.7% and 37% respectively.
Aside from shifting spending habits, online payment methods have also changed to reduce face-to-face transactions. At present, 65.3% of all online transactions were carried out with cards.
At a far second place in terms of usage were e-wallets making up 20.4% of all online payments. The lowest percentage of online payments at 3.5% was cash on delivery transactions.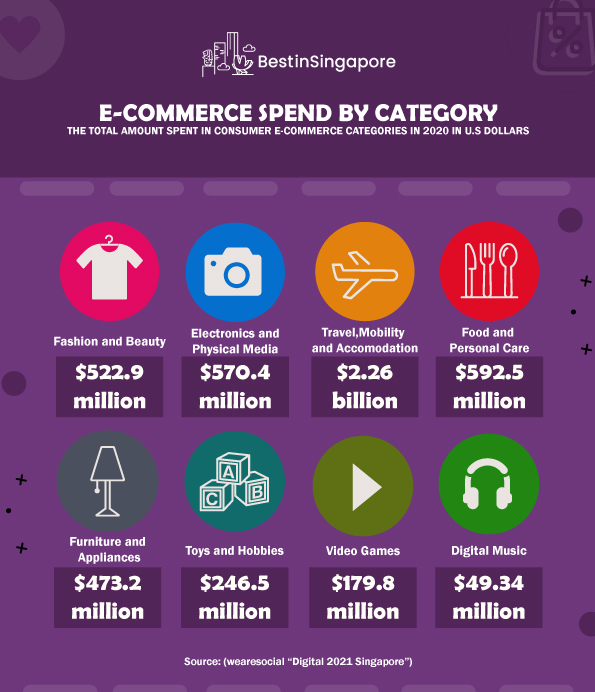 Singapore has one of the highest social media penetration rates in Southeast Asia at 84.4%. At the regional level, the country is second only to Malaysia, with a social media penetration rate of 86%.
YouTube, Whatsapp, Facebook, Instagram, and Facebook Messenger are the topmost active social media platforms in Singapore. With this in mind, businesses would do well to adapt their marketing tactics.
According to We Are Social's Digital 2021: Singapore report, the majority of user audiences for advertisements at 34%, are between 25 and 34 years old.
Since YouTube is by far the most-used social media platform, YouTube ads have become extremely useful for marketing purposes. In addition to this, the attention of millennials can also be captured with other social media ads.
Because most of Facebook's user base resides in the 25 to 34-year-old demographic, ads on this platform have a high level of exposure to Singapore's largest body of Internet users.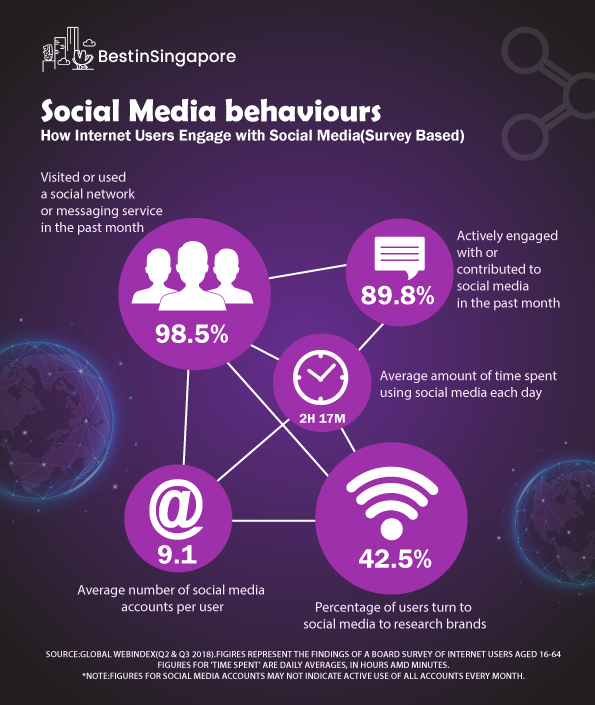 Instant messaging apps continue to be popular amongst many Internet users. Though WhatsApp remains the top communication app, Telegram has overtaken Skype for 2nd place.
Following these two apps in terms of popularity are Facebook Messenger, WeChat, and LINE.
PROFILE OF INTERNET USERS
More senior citizens going online via mobile phones
The latest Annual Survey of Infocomm Usage shows that more and more elderly Singaporeans continue to use the Internet, with a 5% increase from the previous survey's results.
Smartphones are also still the preferred device among elderly Singaporeans, with 76% choosing smartphones for Internet surfing activities. Compared to the previous year's recorded value this is equivalent to a 2% increase overall.
This increase is largely due to the easy-to-use nature of wifi-enabled smartphones. Along with this, many elderly users can also be taught by younger, more tech-savvy household members which in turn makes smartphones more preferable.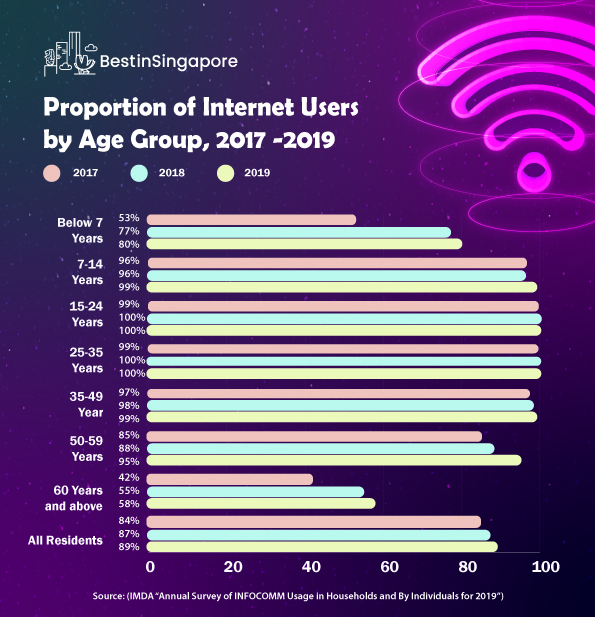 Internet access is also higher in households with children going to school (100%). Of the households without a computer or Internet, 38% cited "a lack of skills" as the main reason.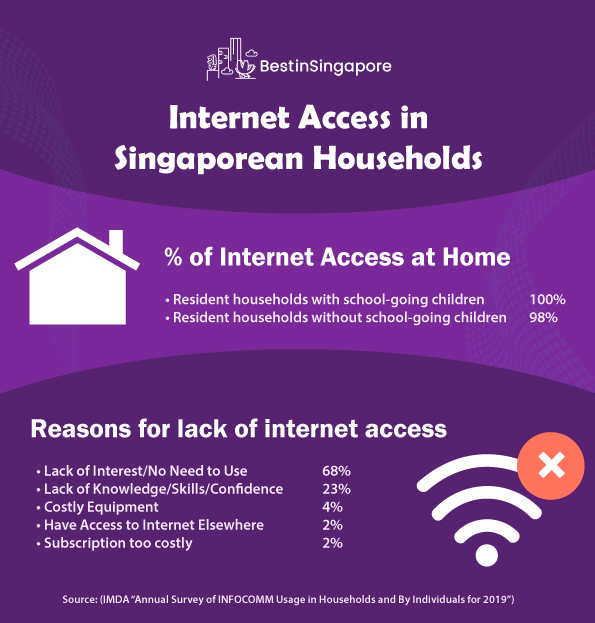 Across all generations, instant messaging continues to be the most common activity. Following this is social network usage for all but two of Singapore's age groups.
The two age groups that do not often use social networks are the 7 to 14-year-old group and the 60+ group.
CYBERSECURITY & ONLINE RISK
Singaporeans report increased levels of cybercrimes
As previously stated, the recent pandemic has caused a serious rise in online transactions. With higher Internet usage, Singaporeans are more vulnerable to cybercrimes.
Taking full advantage of the isolation and anxiety caused by the pandemic, scammers have ramped up efforts to take advantage of users via social media platforms.
In one particular case of identity fraud, an unfortunate victim lost over $360,000 after their banking information was captured. The scammer made use of a hacked account in order to impersonate a family member.
Adult Singaporeans aren't the only ones at risk during online activity either. Based on an article by Incontact, at least 3 in 4 Singaporean teens have reported experiencing cyberbullying.
Additionally, 54% of Singaporean children are said to be exposed to at least 1 cyber risk. These can come in the form of harassment, predators, and malware.
When it comes to social media platforms, certain apps experience higher rates of cyberbullying. Currently, the two platforms with the highest rates of cyberbullying are Facebook and Instagram.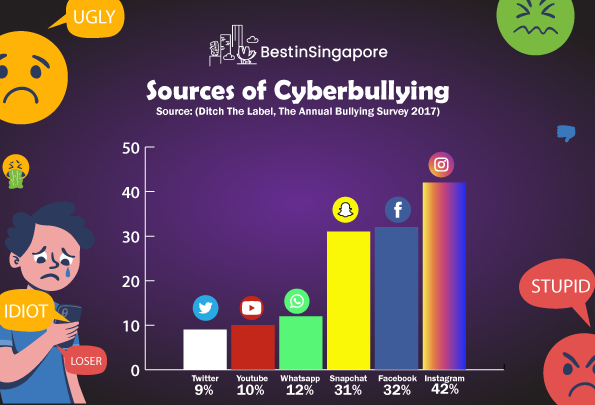 As further evidence of the increase in online hostility this year, Microsoft's Digital Civility Index (DCI) reports an all-time high for scams, hate speeches, and online discrimination.
Cyber Risks Faced By Singaporeans
This index aims to explore people's online interactions and their various responses to online risks. In this sense, digital civility can be defined as politeness and courtesy through online interactions.
Overall the DCI measures online risk exposure with lower scores equating to lower risk factors. Thus, a lower score on the DCI will also entail a higher level of digital civility.
With the index defined, 3 in 10 users felt that digital civility was worse during the COVID-19 pandemic. Thankfully, despite seeing higher levels of cyber harassment and crime, Singapore's score for the Digital Civility Index has improved by 4 points.
Last year, Singapore produced a 63% on the DCI with the global average sitting at around 67%. This year, the island city-state has produced a score of 59% which makes it the 4th most courteous country in online interactions.
Just 8 points lower at 51% is the Netherlands which currently holds the title as the world's most digitally civil country. Of course, even with these improvements, Singapore still sees its fair share of negative online interactions.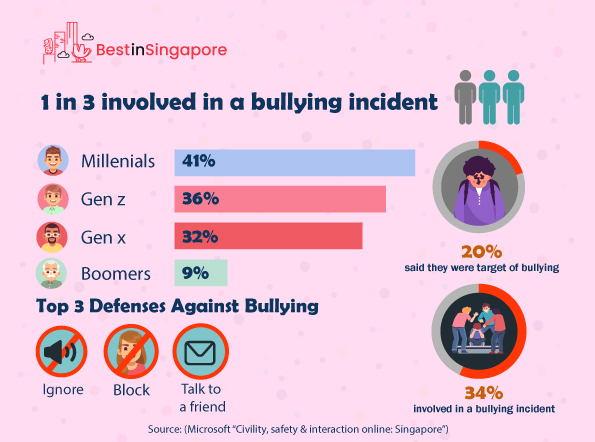 At present, 1 in 3 users reported being the victim of a cyberbullying incident. Among Singapore's user demographics, millennials were the most affected by cyberbullying making up 41% of all incident reports.
To counteract these negative interactions experts urge users to block their attackers, ignore messages, and speak to a friend. By taking these measures, users will be less likely to experience negative psychological effects from cyberbullying.
With all these negative interactions, many users in lower-ranked countries still experience far worse. In South Africa, the most digitally hostile country, 6 in 10 users will often fall victim to cyberbullying.
Overall, though the behaviour of online users has changed, Singapore's digital landscape has shown promising developments. With the recent health lockdowns, the country now has a stronger online presence.
Online shopping is extremely common, and users of all ages from children to senior citizens are spending time on the internet. With next-level cellular networks in development, users will be able to surf, chat, browse and interact faster than before.
If Singapore maintains its trend of improvement in digital civility and technology, then its digital landscape will likely flourish into a "digital oasis".