Singapore's Digital Landscape: Internet Penetration and Online Behaviour of Singaporeans in 2019
---
Key Insights
4.92 million Singaporeans, or 84% of the population, are now online. 4.6 million of those Internet users are active social media users.
Singapore ranks 1st globally when it comes to fixed Internet speed (190.94 Mbps) and 2nd for mobile Internet connection speeds (60.95Mbps). Singapore users choose fibre broadband as their Internet connection of choice at 92%.
Mobile devices have overtaken laptops and computers as the equipment of choice for accessing the Internet. 91% use smart phones, while only 71% use laptop or desktop computer to go online.
Communication, leisure and getting information are the top three reasons for Internet use. Top online activities for mobile Internet users are instant messaging, watching videos, gaming, banking and using mobile map services.
Millennials take up majority of online shoppers, though Gen Z is not far behind. Travel, electronics, fashion & beauty are the top three categories for online shoppers in Singapore.
YouTube, Facebook, Instagram, Twitter and LinkedIn are the top social media platforms in Singapore with Millennials dominating these spaces. For instant messaging, Singaporeans spend the most time on WhatsApp, this is followed by Messenger, Skype, WeChat and LINE.
More senior citizens are using the Internet, with mobile (73%) phones as their equipment of choice.
Millennials (69%) and teenagers (66%) encountered the most online risk in their lifetime.
---
We are now living in two different worlds, one is offline and the other online. In fact, there are more than one million new Internet users every day! In Singapore, 4.92 million people are now online or 84% of the total population. This is according to the "Digital 2019 in Singapore" report by We Are Social. Due to enhanced digital infrastructure, such as 4G networks and optical fibre, Singapore has one of the highest Internet penetration rates in the world. Singapore also dominates the Southeast Asian region which has an average Internet penetration rate of 63%.
Given the high online presence of Singaporeans, it's no surprise that there's also a strong social media penetration in the country. Of the 4.92 million Internet users, 4.6 million are active social media users and 4.2 million of those users access social media on mobile.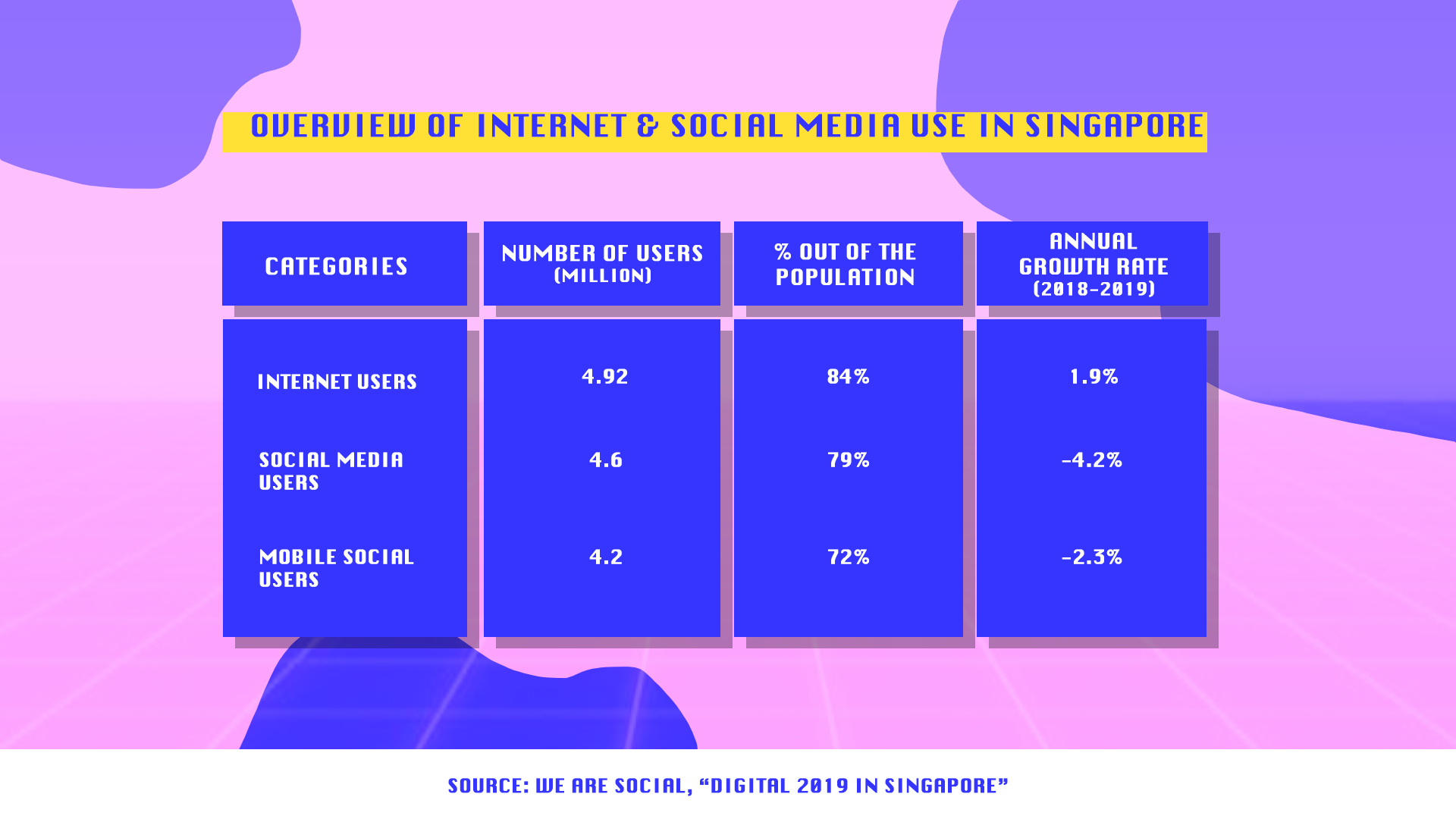 SINGAPORE'S DIGITAL INFRASTRUCTURE
Singapore tops global ranking of Internet speed
Singapore has the highest speed in We Are Social's global ranking on fixed Internet connection at 190.94 Mbps versus the global average of 54.33 Mbps. The country also placed second for mobile Internet connection speed (60.95 Mbps vs. 25.08 Mbps global average). This impressive speed makes it easy and convenient for Singaporeans to access the Internet any time of the day. In fact, 93% of users access the Internet every day.
One of the reasons for this impressive speed is the excellent infrastructure in place and accessible to Singaporeans. According to the Annual Survey of Infocomm Usage of Infocomm Media Development Authority (IMDA), fibre broadband remains as the top Internet connection of choice at 92% as of 2018; a 13% increase from 2017. This access to high-speed Internet means households are now shifting more and more activities into the digital space, including financial transactions, shopping, gaming, among others.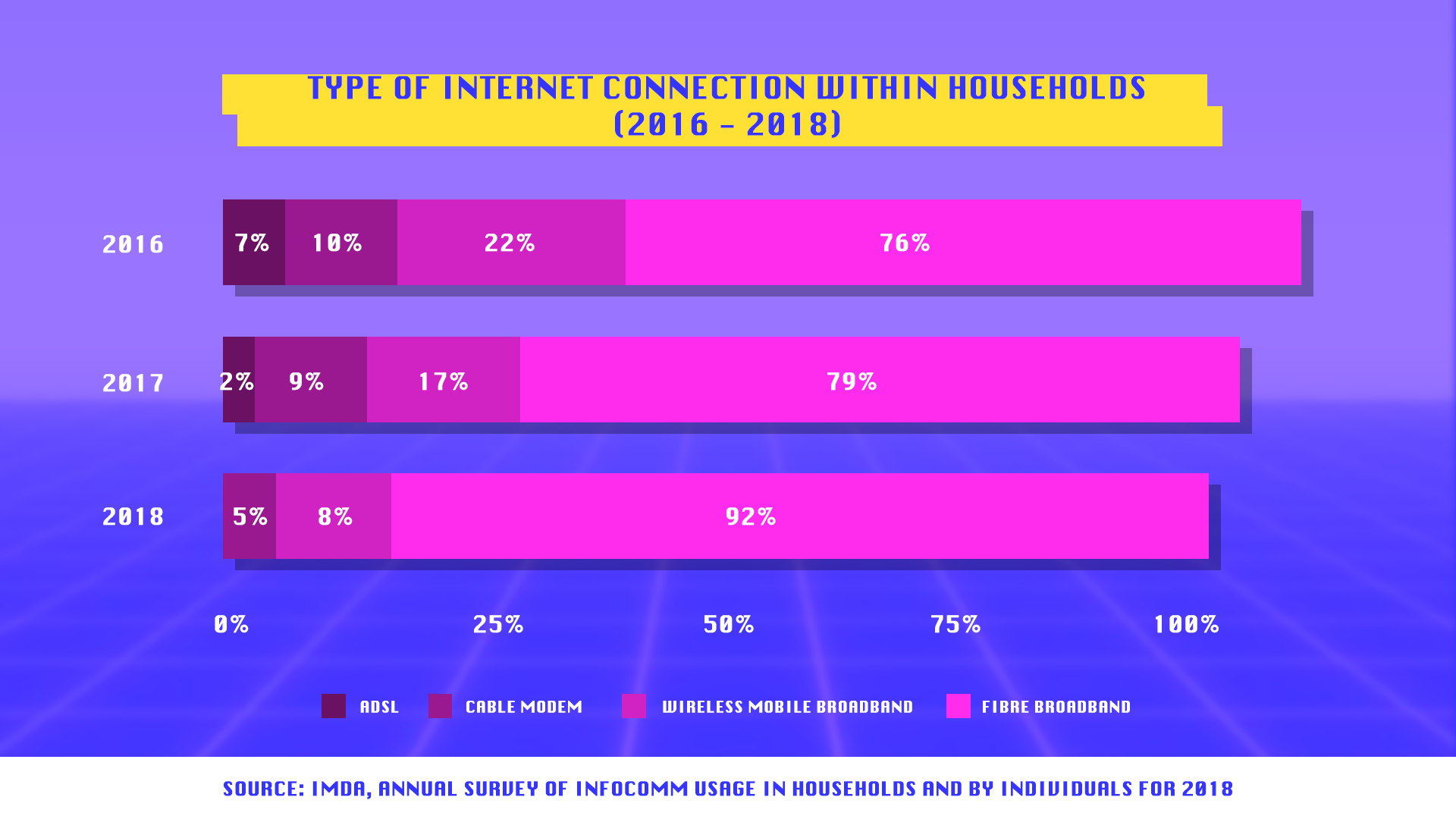 Mobile devices have overtaken computers as the top equipment of choice for accessing Internet at home, according to IMDA. The same finding is supported by data from We Are Social's report citing 95% of Internet users going online via mobile phones. 99% of those mobile connections use Broadband (3G & 4G) connection which is one of the fastest in the world.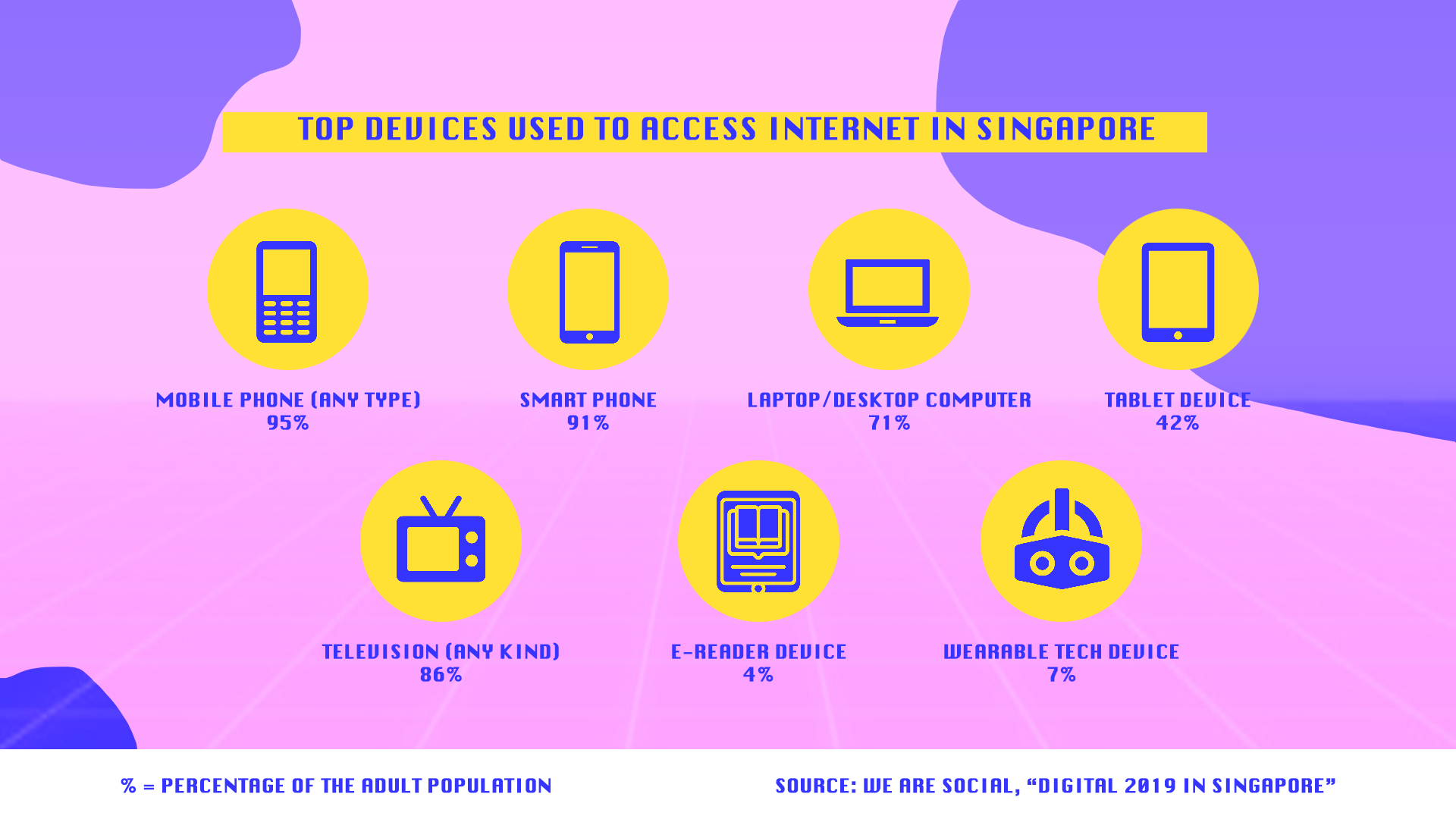 INTERNET ACTIVITIES & ONLINE USE
Communication & leisure are top reasons for Internet usage in Singapore
Singaporeans spend about 7 hours every day on the Internet. Communication, leisure and getting information are the top 3 Internet activities for Singaporeans, according to IMDA. Leisure activities includes watching videos, streaming content as well as gaming. For mobile Internet users, the top Internet activities are instant messaging (88%) and social networking (75%). Since online activities via mobile devices are showing the most growth and overtaking traditional laptops and computers, attitudes and behaviours are also shifting.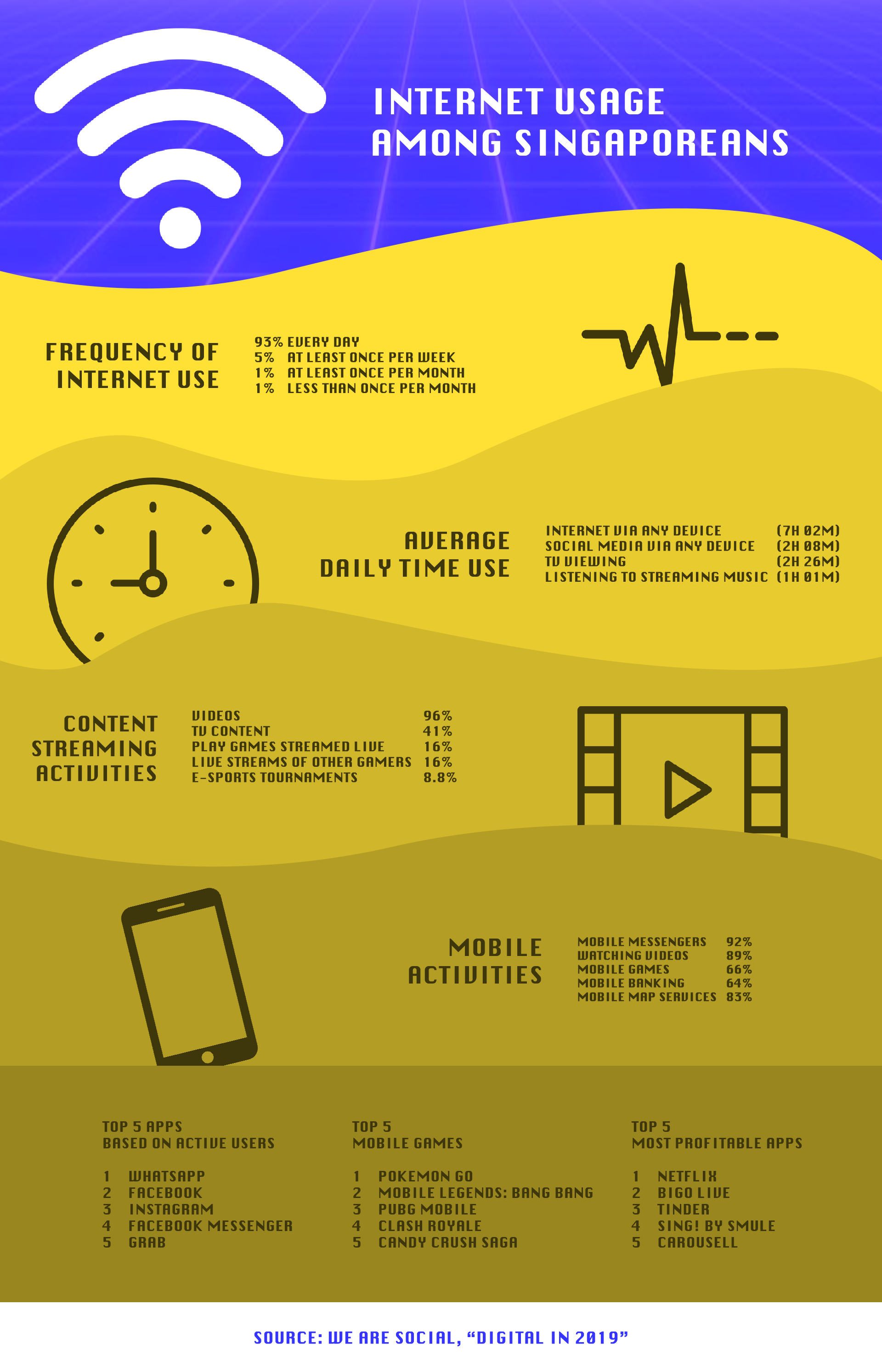 Online shoppers splurge on travel & gadgets
Online shopping continues to rise. Internet users aged 25-34 are the ones doing the most online shopping, though the 15-24 age group is also growing rapidly. This trend validates IMDA's finding that there is higher confidence seen among younger residents in making online transactions. In fact, about 9 in 10 reported they trusted that their privacy will be respected when performing online transactions.
Alongside this growth is the increase in credit card users. Eight in 10 online shoppers paid for online purchases using credit cards. Overall, credit card payment was the preferred choice of payment for buying goods and services online. This account for 78% of the overall online shoppers in 2018. This mode of payment was followed by direct debit and mobile wallet, accounting for 25% and 16% of the overall shoppers respectively.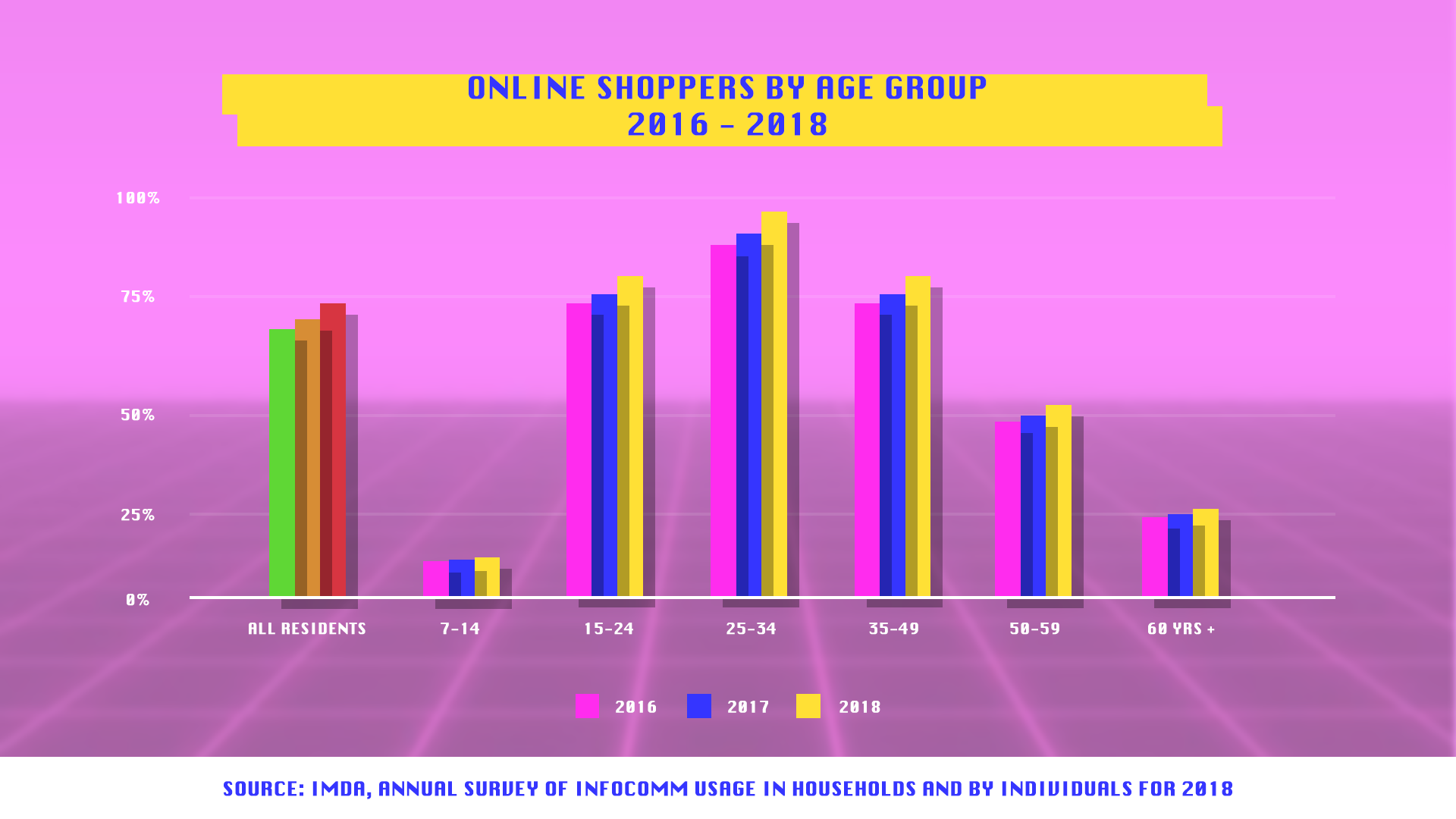 So, where exactly do Millennials spend their hard-earned dollars when shopping online? According to We Are Social, travel, electronics and fashion & beauty are the top categories for online shopping in Singapore. Although, the largest growth in spending is in food & personal care at 47%, followed by toys, DIY & hobbies (40%) and furniture & appliances (35%).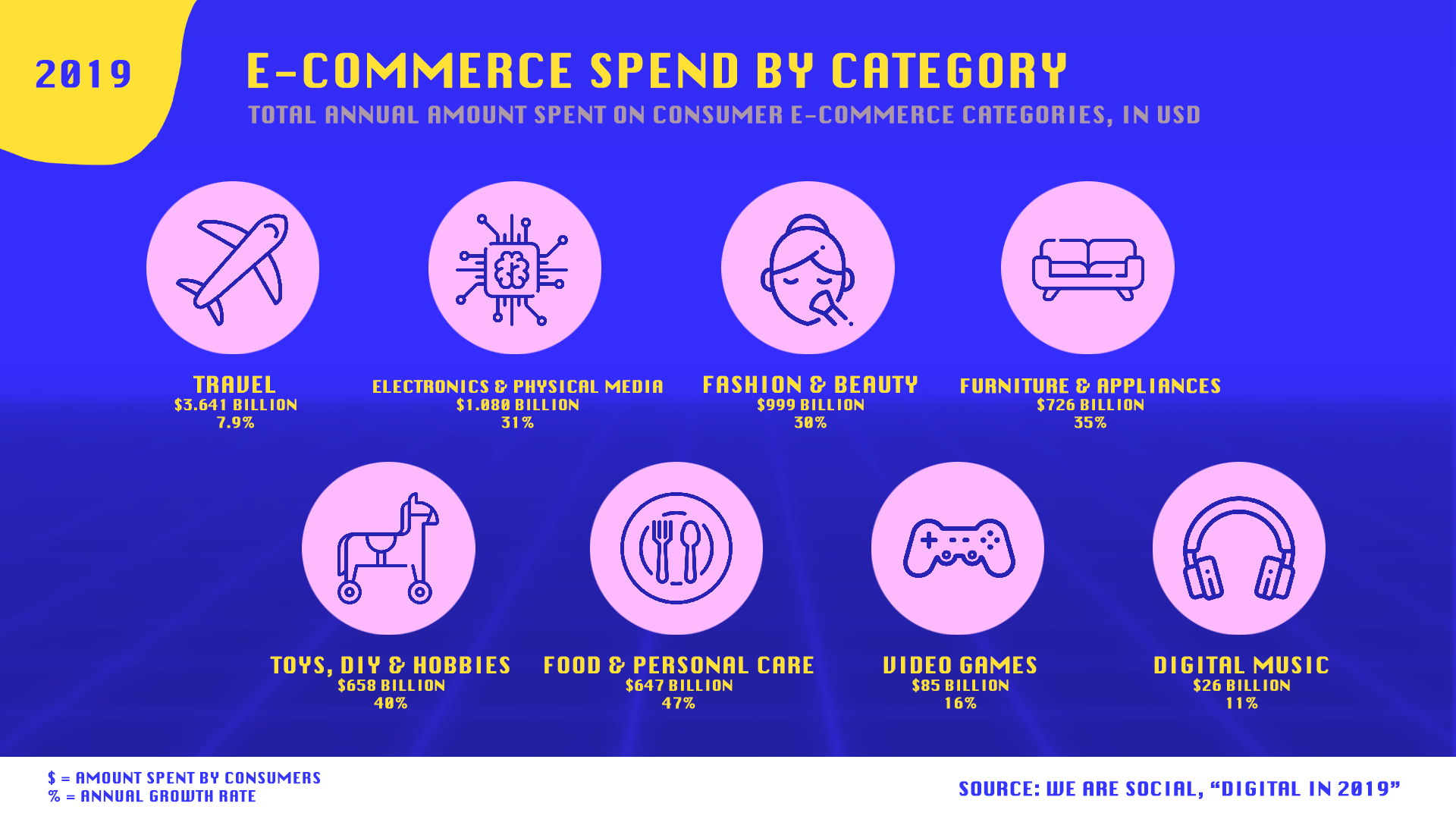 Millennials dominate social media
Singapore ranks high in global social media penetration at 4th place after UAE, Taiwan and South Korea. YouTube, Facebook, Instagram, Twitter and LinkedIn are the top most active social media platforms in Singapore. This means businesses and marketers would do well to adapt their strategies based on Millennial's online activities for maximum reach. According to Tech in Asia, they can focus more on reviews rather than ads because millennials put more trust on customer reviews and user-generated content rather than online ads. Millennials' desire for belongingness can also be harnessed by brands, such as encouraging their followers to tag them for a chance to be featured on their feed. Another growth potential in social media use is Generation Z which marketers can reach more effectively through mobile marketing because this is the first generation that grew up connecting to the Internet via smartphones and tablets.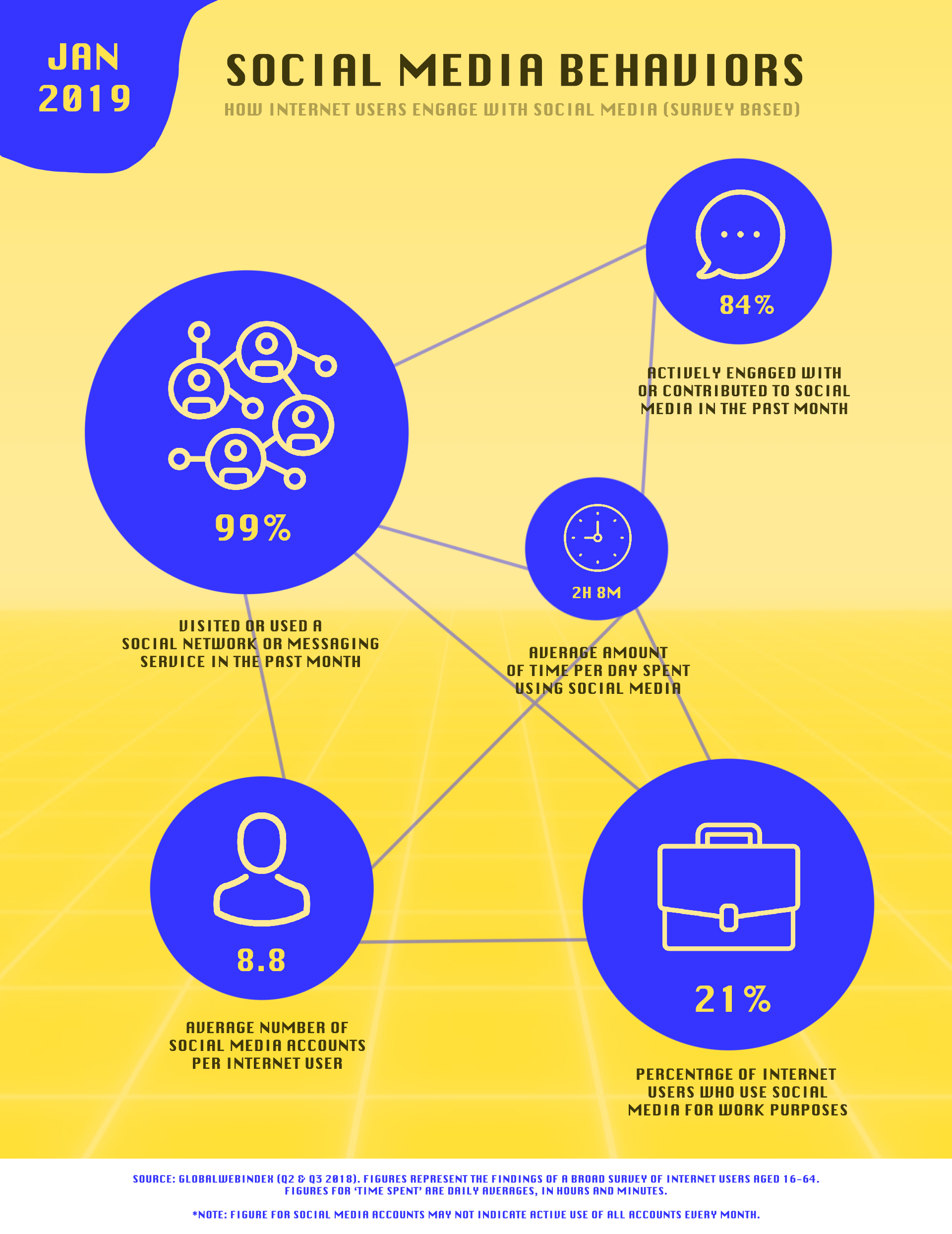 Instant messaging is another arena where Internet users congregate on the Internet. WhatsApp, Messenger, Skype, WeChat and LINE are the top instant messaging apps in Singapore. So, experts recommend making your brand more accessible to consumers via chat.
PROFILE OF INTERNET USERS
More senior citizens going online via mobile phones
The latest Annual Survey of Infocomm Usage shows older people have been slowly joining the fold as Internet usage rose significantly from 2016, especially among young children and senior citizens. Furthermore, most senior citizens (73%) use mobile phones to access the Internet, an increase of 17% from 2017.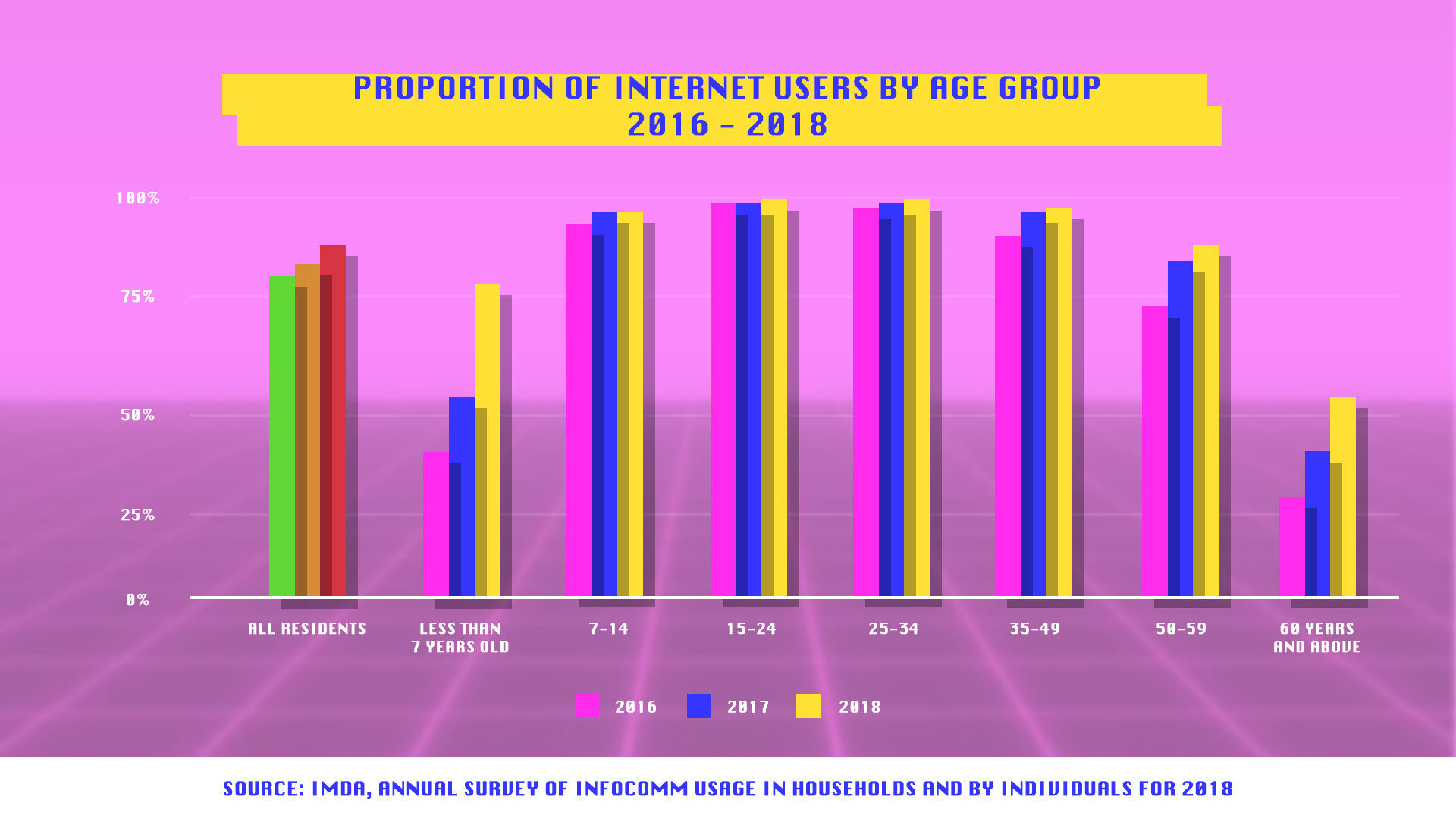 Internet access is also higher in households with children going to school (98%). A lack of interest or need to use as well as lack of knowledge are the top two reasons for households without Internet access since 2016.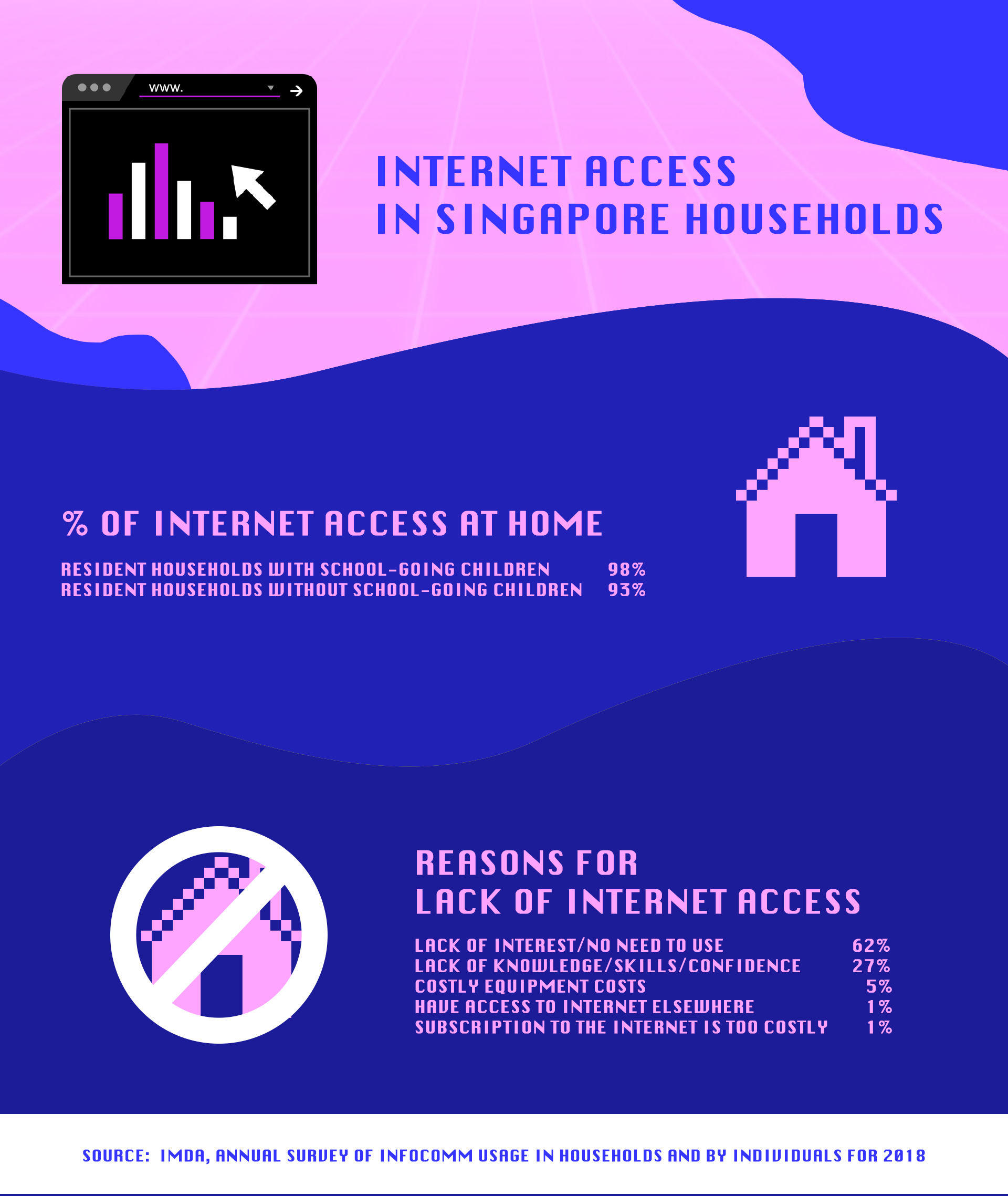 There's not much difference in online activities between younger and older generations. Across all age groups, messaging and social networking are the top two Internet activities. As for the third most cited activity, Millennials tend to do more online shopping (92%), while all other age groups cite general web browsing as their 3rd most common Internet activity.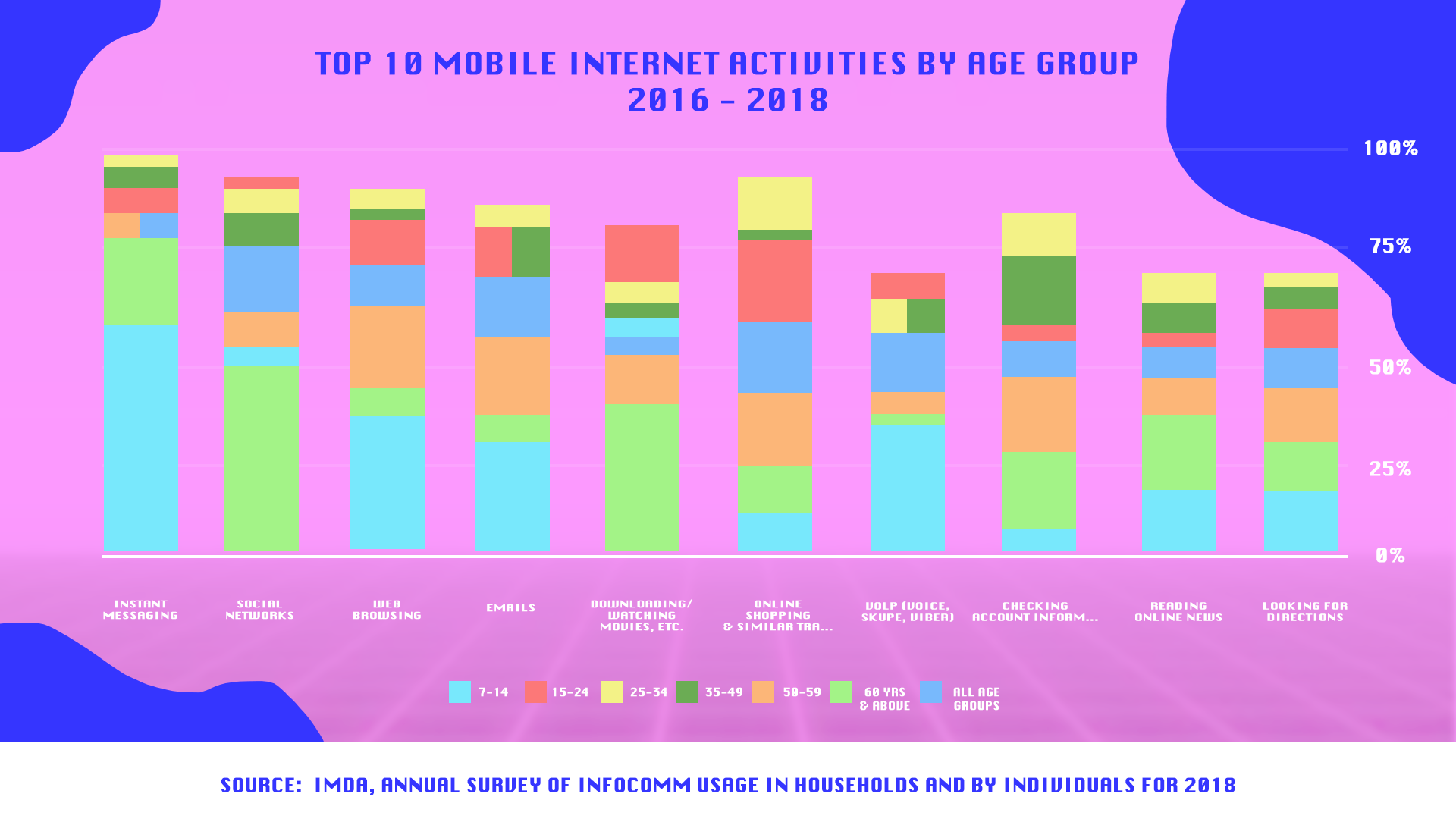 CYBERSECURITY & ONLINE RISK
Millennials and teenagers most at risk online
With increased Internet use comes privacy and security concerns. Scammers have migrated from email to social media and even dating apps to extort money out of unsuspecting users. Online shopping and transactions are also vulnerable to phishing and similar attacks which would compromise sensitive data.
According to the 2019 Microsoft Digital Civility Study, 69% of Millennials and 66% of teenagers in Singapore have encountered at least one form of online risk in their lifetime, including exposure to unwanted contact; hoaxes, scams and fraud; behavioural risks and sexual risks. In comparison, Generation X encountered 59%, while Baby Boomers was at 48%. Teenage girls are also more vulnerable, with 3 online risks on average compared to 2.2 for boys.
Globally, Singapore ranks 10th out of 22 countries surveyed when it comes to overall rate of exposure to online risks.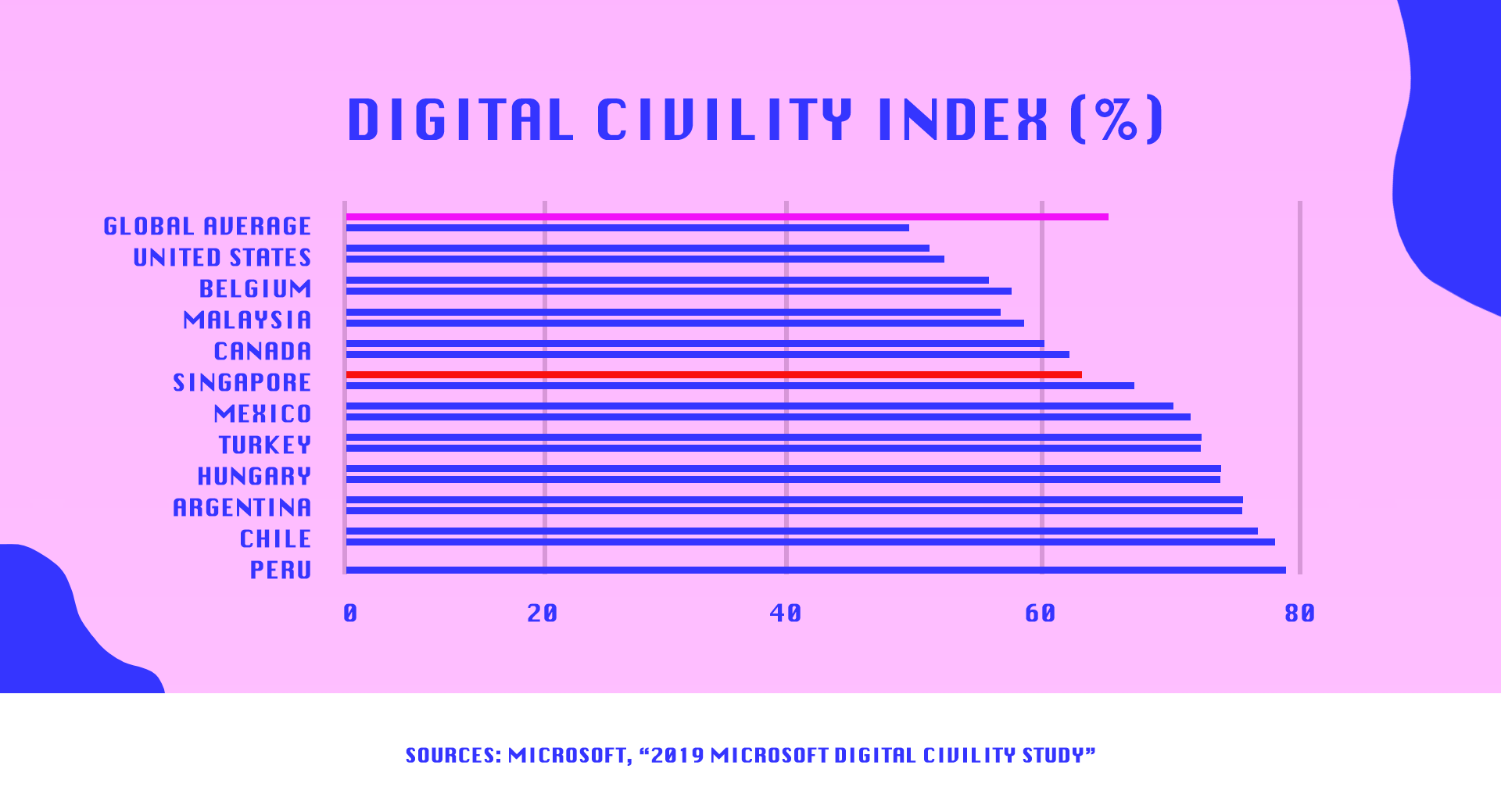 Some of the more salient risks reported by Singaporean include receiving offensive or obscene content, encountering fake news, and being called offensive names. Surprisingly, the report finds that "while 29 percent of the online risks encountered by Singapore respondents came from strangers, 41 percent of these risks came from people that the respondents knew, including online acquaintances, casual acquaintances and co-workers. Additionally, 24 percent of the online risks encountered by Singapore respondents came from their own family and friends."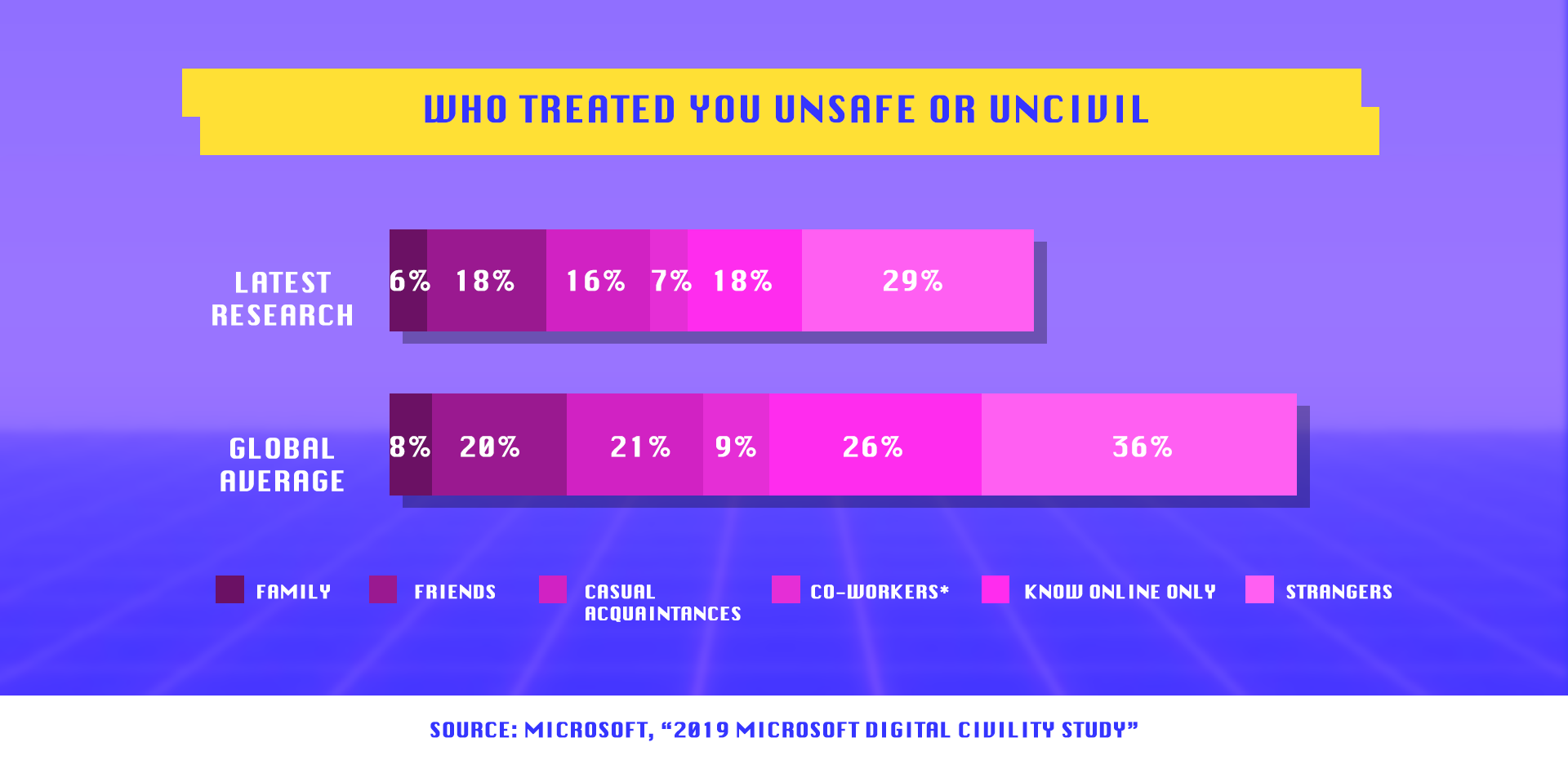 When it comes to reporting incidents to authorities, "only 55 percent of Singapore teens would reach out for help following an online risk encounter." In addition, only 32 percent of Singapore teenagers would ask their parents for help, which is lower than the global average of 42 percent. Shame may be part of the reason. Culturally, Singapore, like most Asian cultures, place importance on saving face. This just underscores the need for protection when it comes to the more vulnerable members of society.