Online Shopping Statistics in Singapore
Key Insights
In 2020, Singaporeans spent roughly $6 billion online across all industries
This year, the previously leading source of online expenditure, travel and mobility, saw a 47% decrease in online market growth
COVID-19 has caused a drastic shift in e-commerce purchases from travel and mobility to food, personal care, and other goods
The product categories that showed the most growth were digital music and food & personal care
The product category that showed the least growth was travel, mobility & accommodations
In 2020, Shopee was the most popular e-commerce platform with 10.88 million monthly visits
Following Shopee are Lazada and Qoo10 with 8.5 and 7.5 million visits respectively
Among Singapore's age groups, the largest number of purchases came from users who were 25 to 34 years old
In 2020, Singaporeans spent an average of 440 SGD on e-commerce platforms
60% of Singaporeans shop through their mobile phones
60% of Singaporeans primarily use Google for info on products
---
In January of 2021 alone, Singapore reported a total of 5.29 million Internet users. This is equivalent to roughly 90% of the entire country's population!
Pair this figure with a blistering average Internet speed of 238.59 Mbps (twice the global average) and an increasing interest in online shopping. That's why it isn't so surprising that total e-commerce expenditure for the island now reaches billions of Singaporean dollars or SGD each year.
To put things in perspective, the following line graph represents Singapore's online expenditure over the course of four years: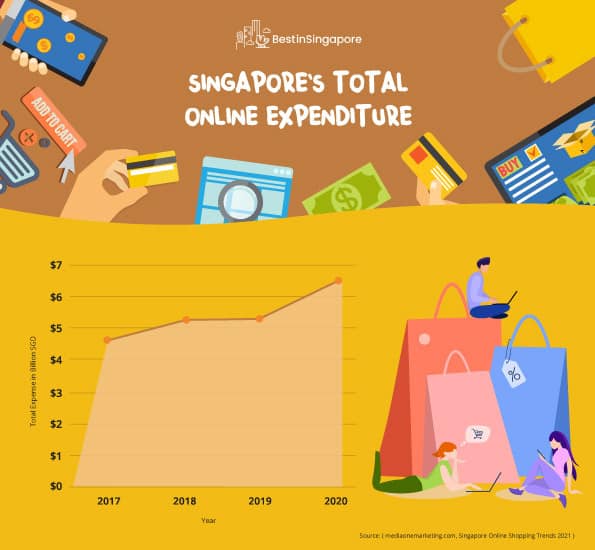 As indicated by the graph, Singapore's online spending has grown steadily from 2017 to 2020. This coincides with the rise and development of various shopping platforms as well as the improvement of data connections.
At present, Singapore's total expenditure for 2021 stands at 3.21 Billion SGD. However, the growth seen in previous years is expected to slow in the future as a result of the COVID-19 pandemic.
Singapore's Online Spending Habits
Despite the aforementioned slowdown, consumers have still managed to spend a large sum of money on e-commerce platforms in recent times. Most of this money has gone towards travel, mobility, and accommodation expenses.
Following travel expenses, Singaporeans spent the most money online on food and personal care products. Coming in at a close third are electronics and physical media.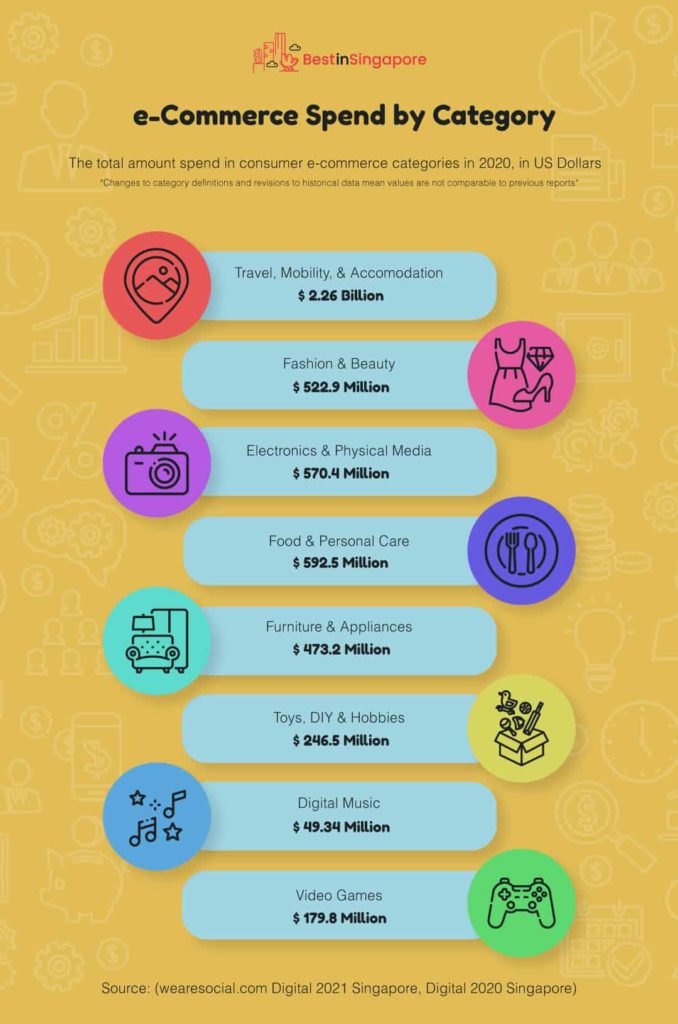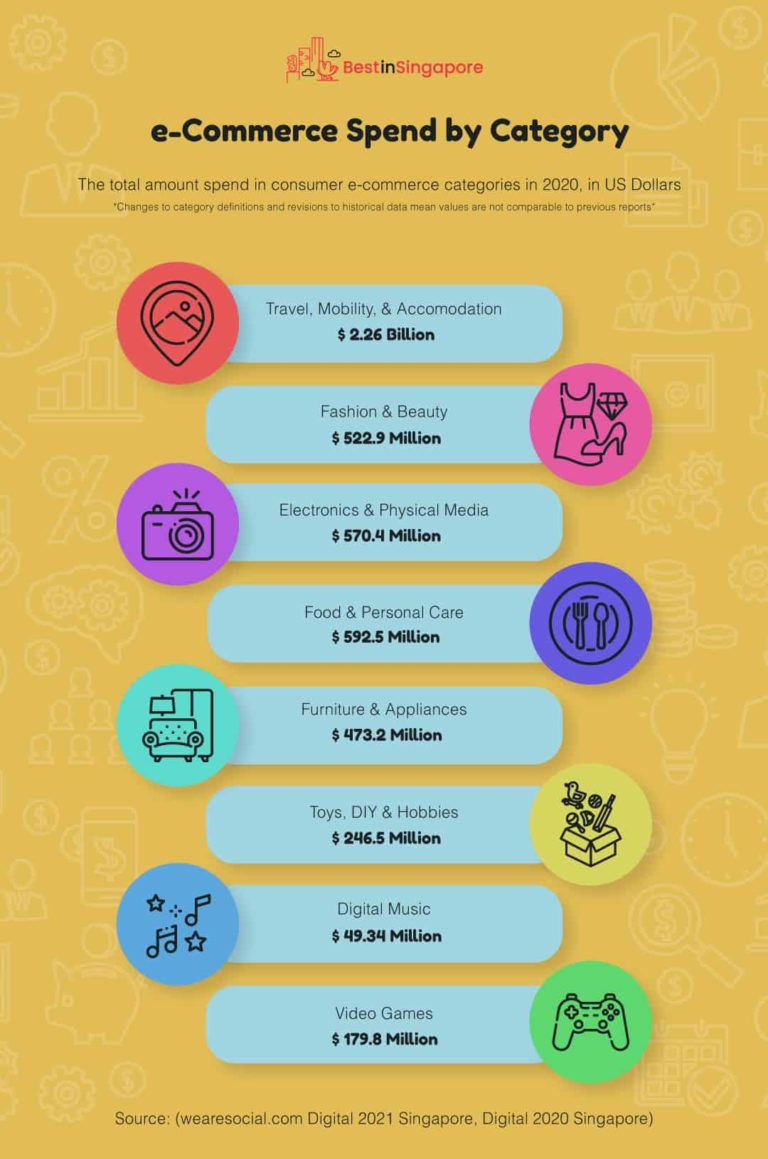 Upon delving deeper, it becomes clear just how much COVID has affected the spending habits of Singaporeans.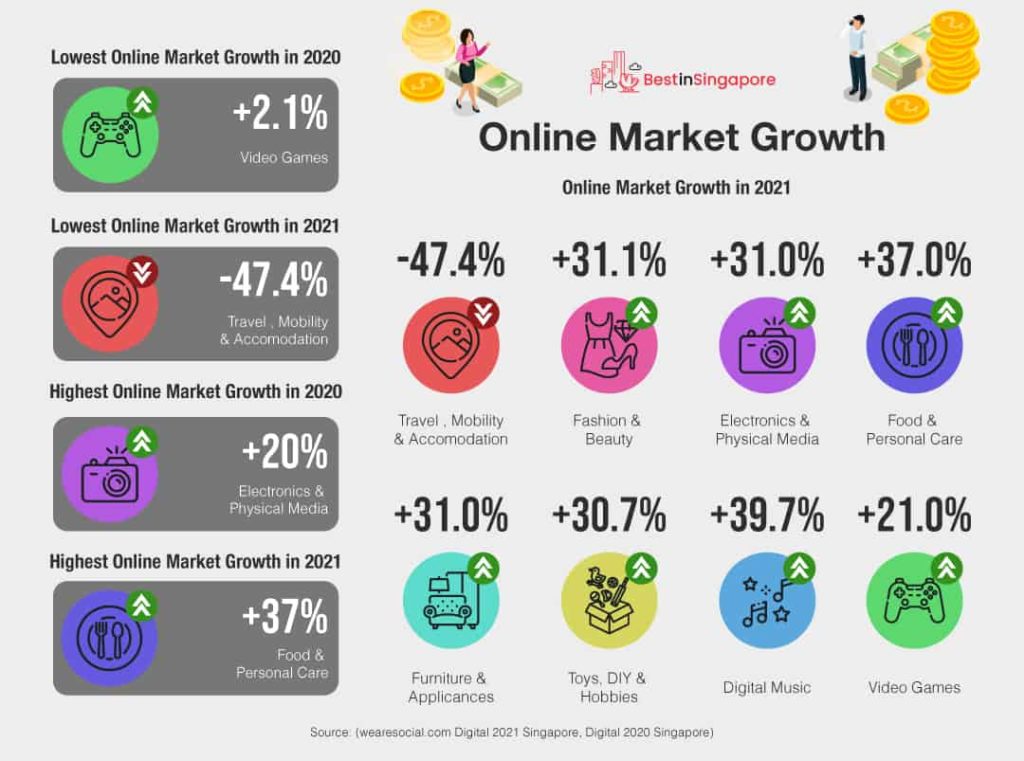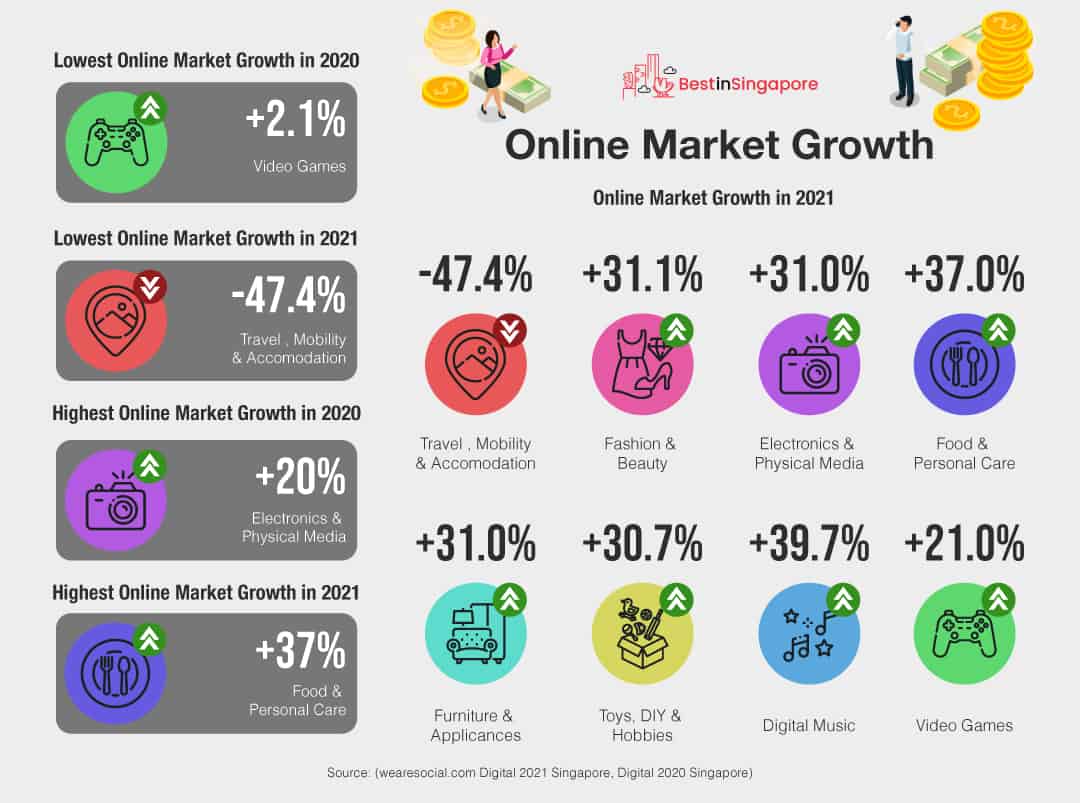 In the previous year, the e-commerce sector that showed the least growth was the video game segment. Fast forward to 2021, and the sector with the least growth is now travel products.
This is largely due to the perceived risks associated with traveling during a global pandemic. As a means to preserve health and safety, consumers are now less inclined to travel and risk exposure.
On the opposite end of the spectrum, the sector that shows the most growth has also changed.
In 2020, the highest growth was seen in electronics and physical media at an additional 20% growth.
This year, however, the highest growth is seen in digital music products as well as food/personal care at 39.7% and 37% respectively. This change indicates a shift in consumer desire that focuses more on self-sustaining products and activities.
Online Shopping Tools
To purchase billions of dollars in goods each year, Singaporean consumers make use of three major e-commerce platforms. These include Shopee, Lazada, and Qoo10.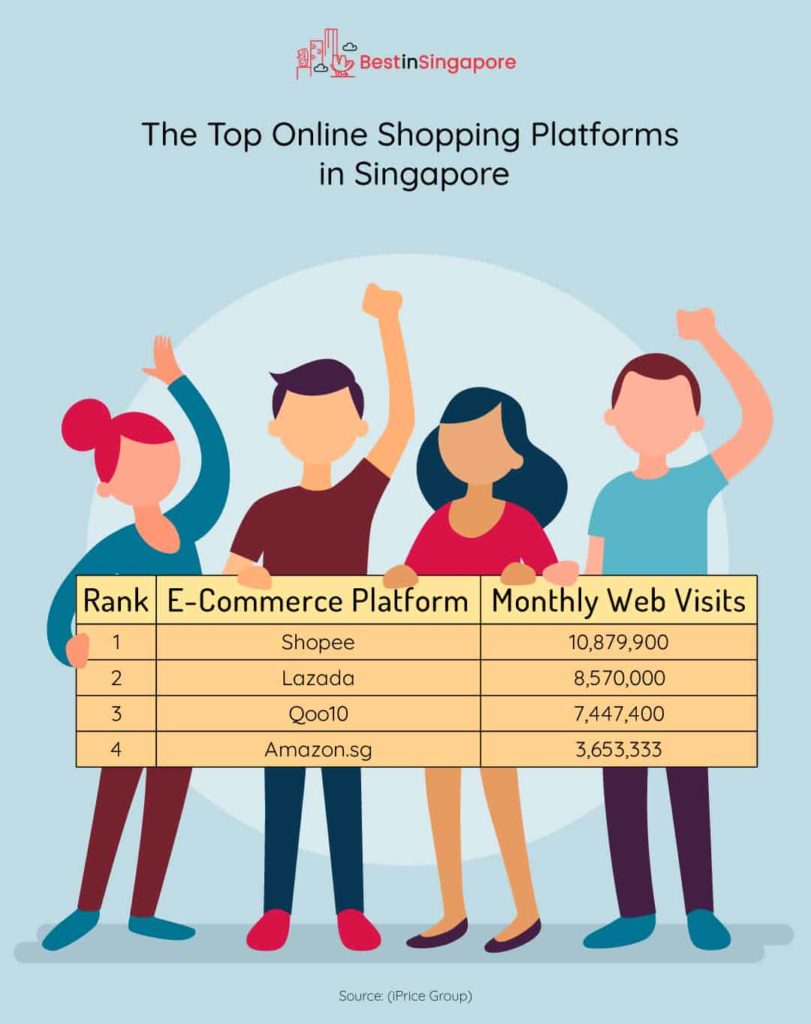 Shopee leads with the most users by far, averaging 10.8 million visits every month. Lazada and Qoo10 also follow closely with 8.5 and 7.4 million views… and in a far 4th place lies Amazon Singapore with 3.6 million monthly visits.
These findings serve to underline the strong dependence that consumers have on e-commerce platforms. By making products readily available and providing convenient payment channels, these tools become valuable assets to online shoppers.
When it comes to paying for online products, Singaporeans also tend to lean towards specific channels.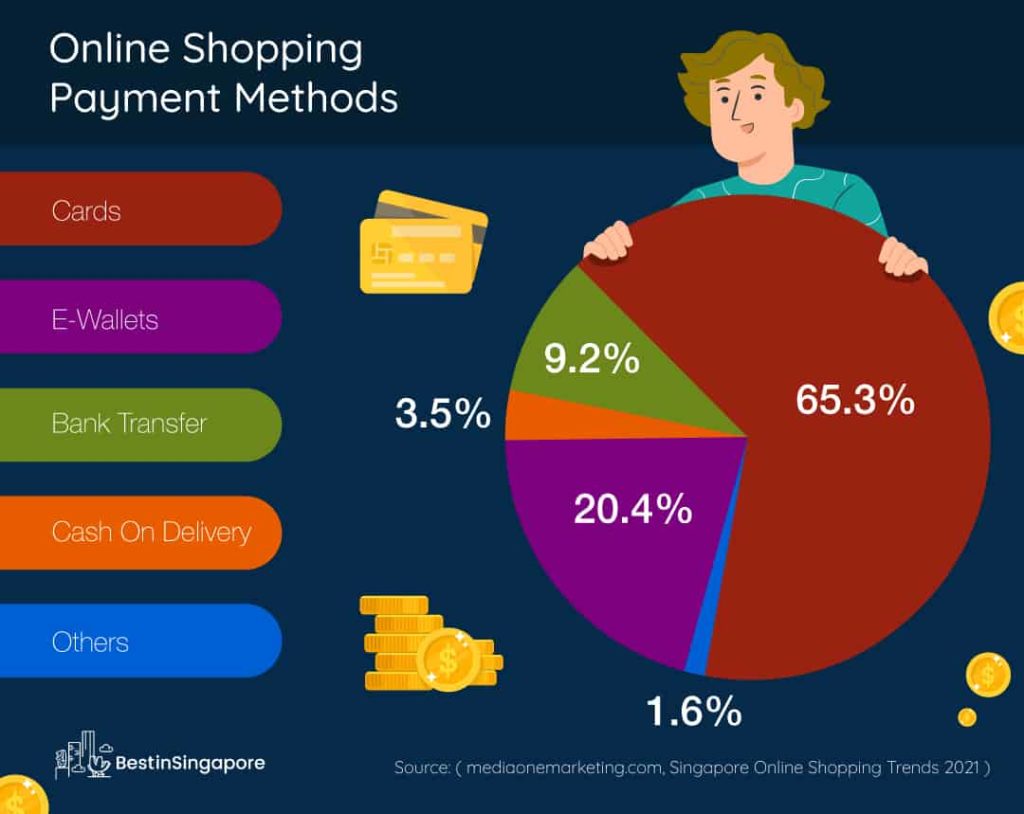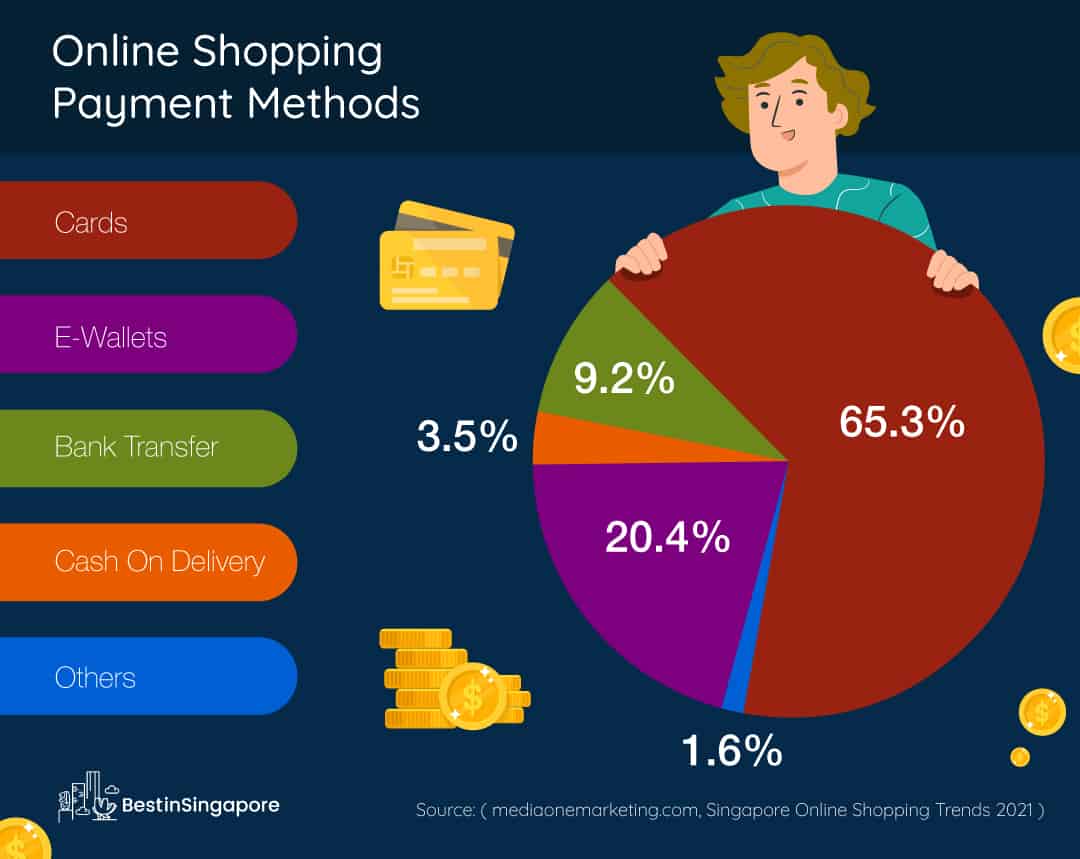 Over 65% of online shopping transactions are completed through the use of cards. Second to this at a significantly lower volume are e-wallet payments.
Both of these payment methods capture the essence of online shopping by being convenient and accessible. Consumers who do not possess cards or e-wallets will typically conduct payment through cash on delivery.
Because it is less convenient than online payments, cash on delivery is only used by 3% of online shoppers. Along with this, the need to present cash upon delivery also invites a level of inefficiency.
With the rise of more and more e-wallets, the online marketplace is sure to see a rise in the number of e-wallet payments for all types of products. Consequently, this may also lead to the absence of cash-on-demand options altogether.
The Curious Shopper's Best Friend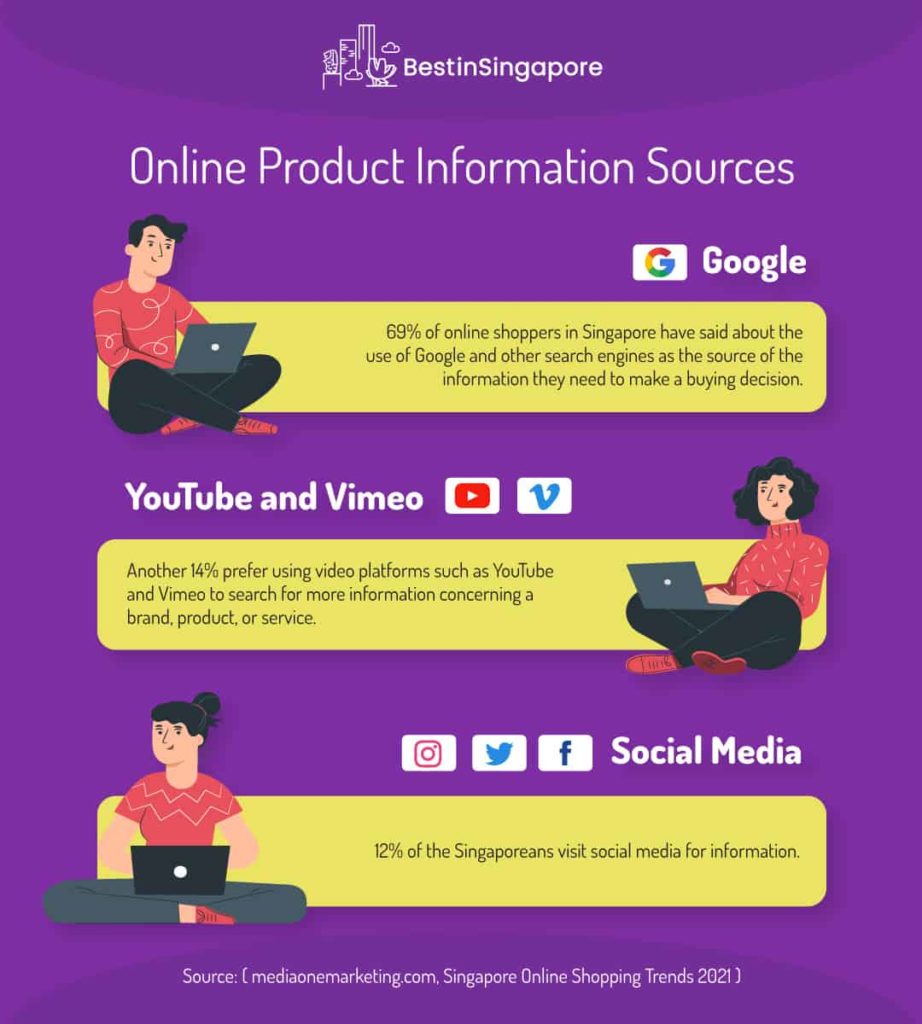 Traditional products are often sold by sales representatives and commercials. But in the case of online shopping, consumers often take to the Web to be sold on a product.
This usually leads around 70% of shoppers to Google. From this site, consumers gather essential information that will shape their buying decision.
Other sources of product information include the video-sharing platforms Youtube and Vimeo. On these websites, 14% of Singaporeans search for virtual reviews and similar content as a means to get a feel for a product.
Even social media has become a place to gather sound product information. On platforms like Facebook, 12% of consumers scour message boards for first-hand feedback on certain items.
Numbers like these point to the reality that online shoppers essentially sell themselves on a product. The role that online sellers take has slowly transitioned from advertising and marketing to general information disclosure.
Because so many consumers make use of Google, it has become evident that search engine optimization (SEO) is now essential to e-commerce. Along with this, online shoppers now show a stronger preference for legitimate product reviews as opposed to flashy ads and features.
A Diverse Crowd of Online Shoppers
The online marketplace caters to shoppers of all ages. However, certain factors have created a strong concentration of users in specific age groups.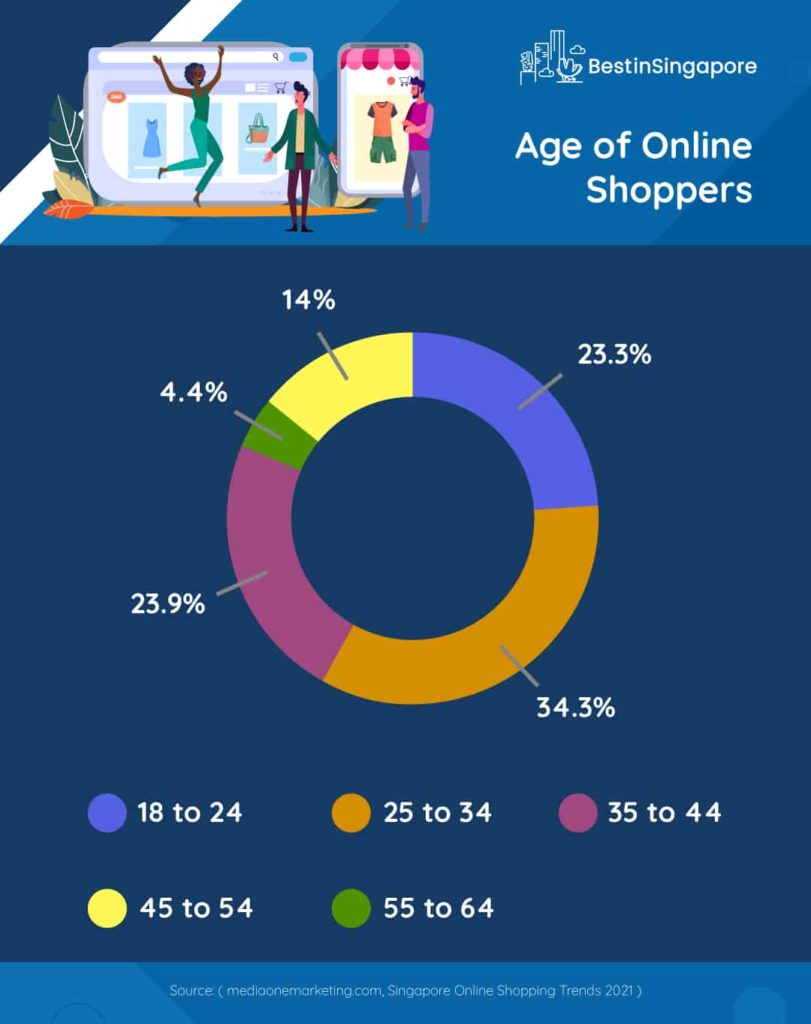 As indicated by the figure above, the bulk of Singapore's online consumer crowd is composed of people between 25 to 34 years old. In contrast, we see the lowest concentration of shoppers is found in the 55 to 64-year-old segment.
More interesting still is the almost identical percentage of users aged 18 to 24 and 35 to 44. This similarity is most likely due to the knowledge that teenagers and middle-aged users have regarding electronic platforms.
Furthering this idea is the low percentage of late-middle-aged online shoppers. Due to a combination of the technological gap in generations, as well as a lack of familiarity, these users have become less of a target market for e-commerce platforms.
To maximize the potential for profit, the online market has set its sights on millennials. These consumers possess a blend of technological know-how and financial capability.
Ultimately this enables millennials to contribute the most to e-commerce as a whole. In fact, altogether, millennials make up over 80% of Singapore's online consumers.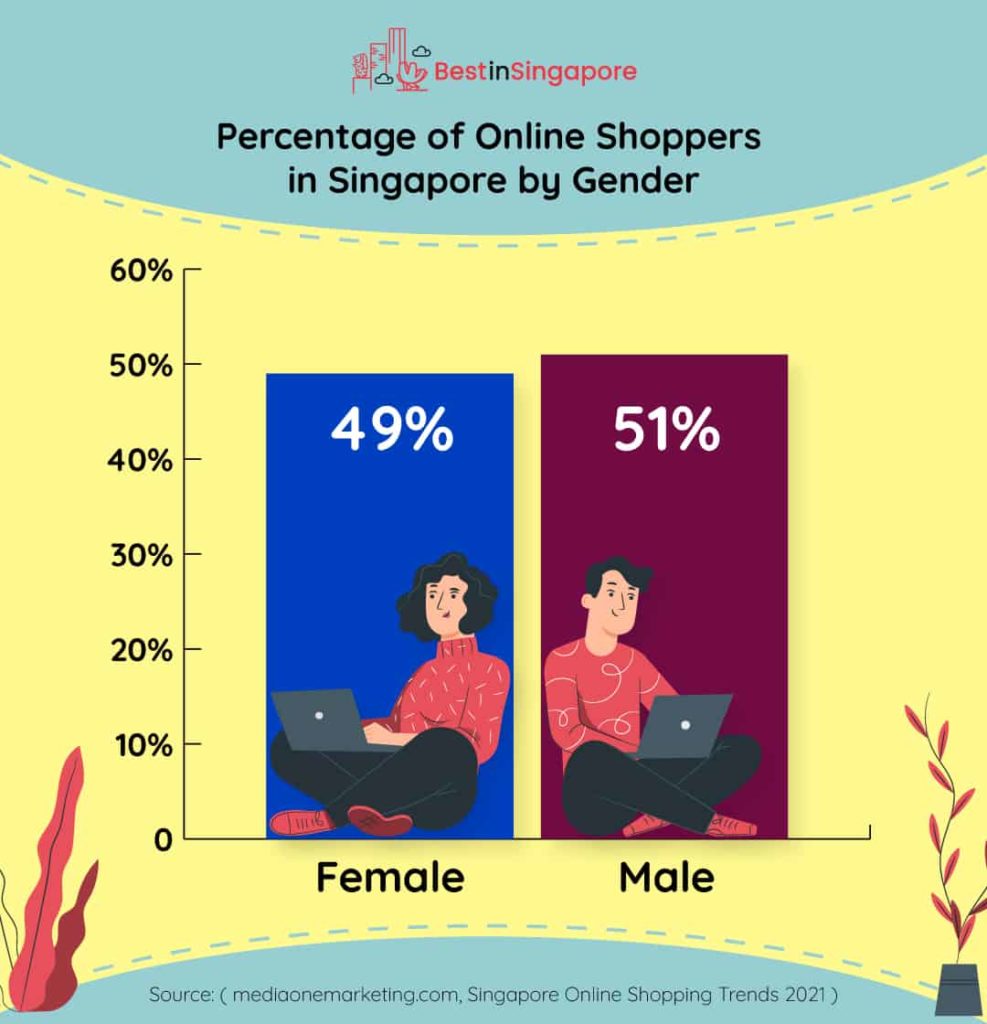 In terms of gender, 51% of Singapore's online shoppers were male, while the other 49% were female. This similar volume of consumers serves to indicate that both males and females are equal in terms of their online shopping habits.
Such a finding is understandable given the variety of online shopping products that can be found online. Whether it be recreational products or fashion and cosmetics, the online market has something for all types of consumers.
The Future of Online Shopping
Singapore's online market has grown very quickly over the past few years. Even with the rise of a global pandemic, e-commerce is still expected to develop at a rapid pace.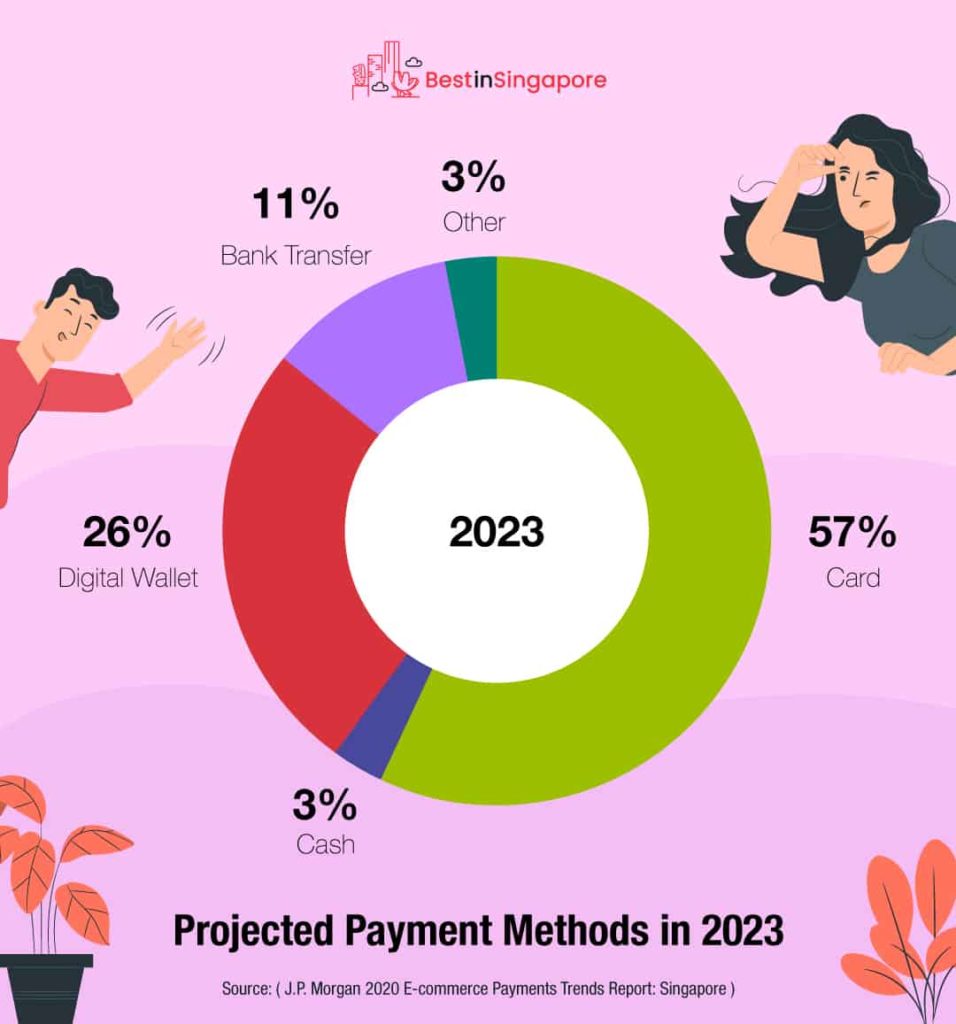 One such development is the rise in popularity of digital wallet payments. According to a projected analysis of online payment methods in 2023, e-wallet payments are expected to rise from 20.6% in 2020 to 26% in 2023.
In turn, card payments are projected to decline by 8 percent from an initial percentage of 65.3. This is no doubt due to the convenience presented by digital wallets as well as the encouragement of e-commerce platforms.
To reward the use of digital wallets, many online shopping sites such as Shopee and Lazada offer shopping credits. Essentially, the credits serve as a form of cashback after a certain number of products have been purchased.
Along with this, certain cards may charge a service fee for online transactions whereas e-wallets associated with a platform will have no extra charge.
Interestingly, The Singapore Payments Council has also influenced online payments to a certain degree. This is due to the launching of a QR code payment system that makes use of funds from bank accounts and online wallets.
On the whole, QR payments present a unique alternative to traditional cash-on-delivery options. As a result, the market may also see a rise in "other" payment options in 2023.
Along with payment habits, the sheer number of online shoppers is also expected to change within the next few years.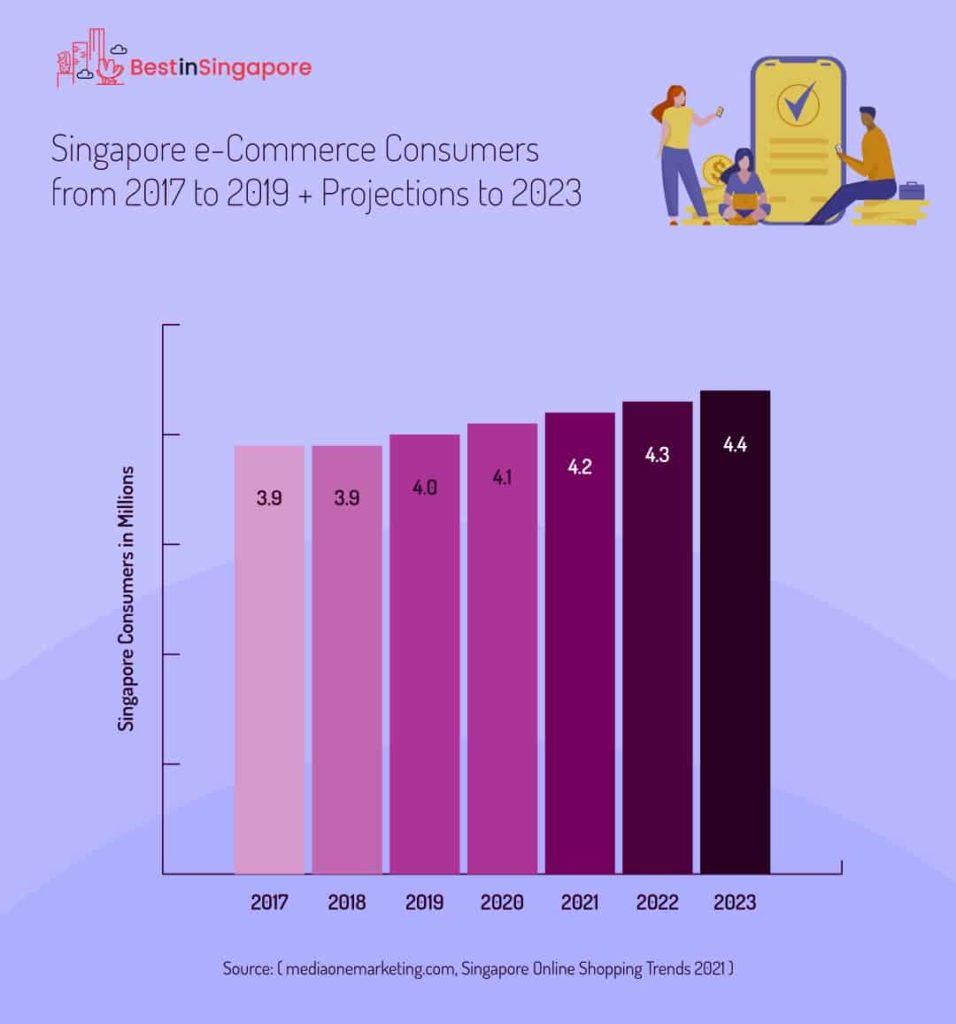 In 2017 and 2018, Singapore's e-commerce consumers remained at 3.9 million users. However, beginning with 2019, there has been a steady upward trend that is projected to reach 4.4 million users by 2023.
The reason for this growth is due in large part to increased accessibility. From better phones to more comprehensive platforms, and even social media integration, online shopping is far easier now than in previous years.
Each facet, from product selection up to payment, has been optimized to allow users a quick and often seamless process for online purchases.
Why Shop Online?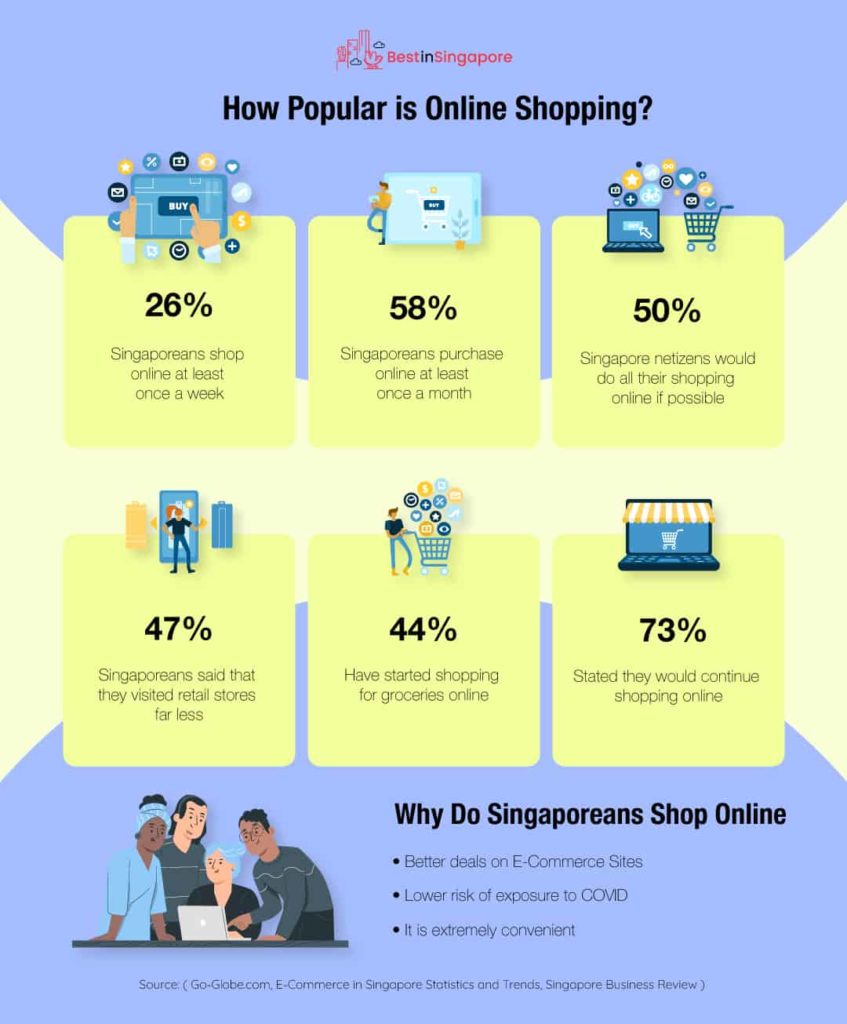 While it is certainly clear that online shopping has become popular in Singapore, one often wonders, to what degree?
Upon being interviewed, 26% of Singaporeans stated that they shopped online at least once a week. Along with this, almost 60% stated that they purchased products online at least once a month.
When offered the option to do all of their shopping online, half of the entire survey population said they would do so. Together, all these findings provide insight into just how prevalent online shopping has become.
In a separate survey, 47% of Singaporeans said that they visited retail stores far less. Alternatively, 73% stated they would continue shopping online and 44% have even begun shopping for groceries online.
When faced with the question of why they shop online, the majority of Singaporeans stated that they wished to receive better deals through e-commerce sites.
In the midst of the pandemic, consumers have also taken to online shopping to lower the risk of becoming sick through exposure.
Singapore's Online Shopping From a Global Perspective
Many of Singapore's online consumers order from foreign markets.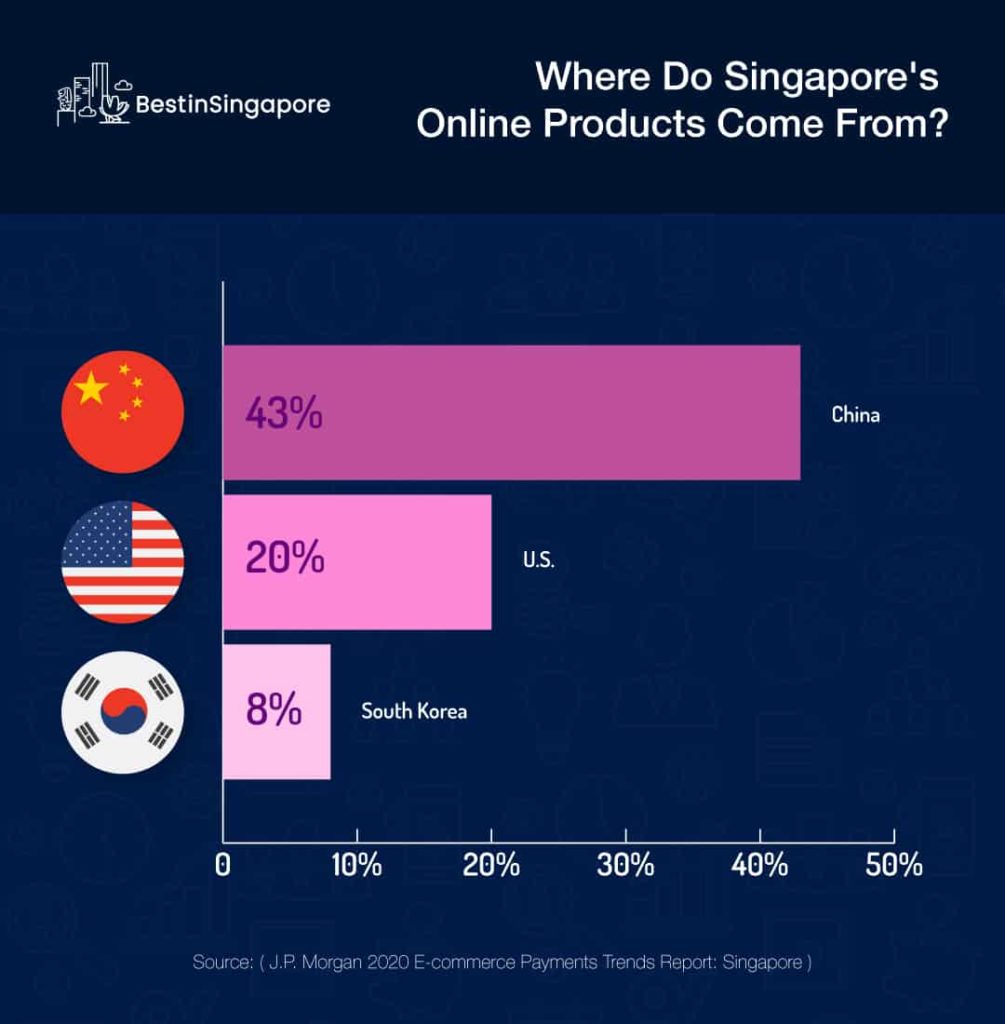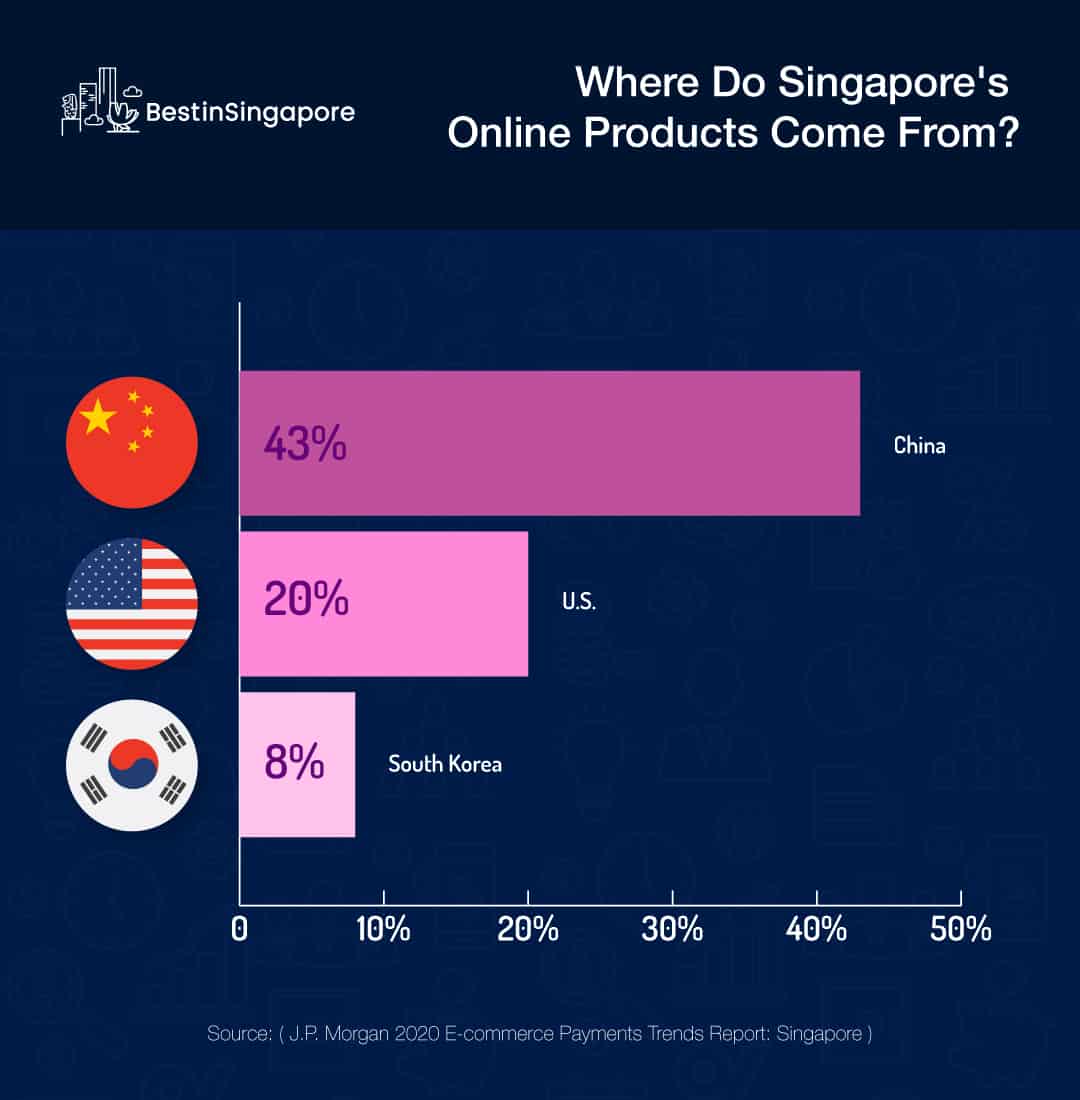 Source: (J.P. Morgan 2020 E-commerce Payments Trends Report: Singapore)
As indicated by the figure above, 43% of Singapore's ordered products originate from China, while a much lower 20% originates from the US.
These figures show a consumer preference for large, well-developed e-commerce markets. This is often due to the quality of products as well as their overall price and diversity.
Though the city-state spends billions on online products, Singapore produces significantly less online shopping revenue than other countries. To provide some perspective, this table compares Singapore's online shopping revenue with global averages: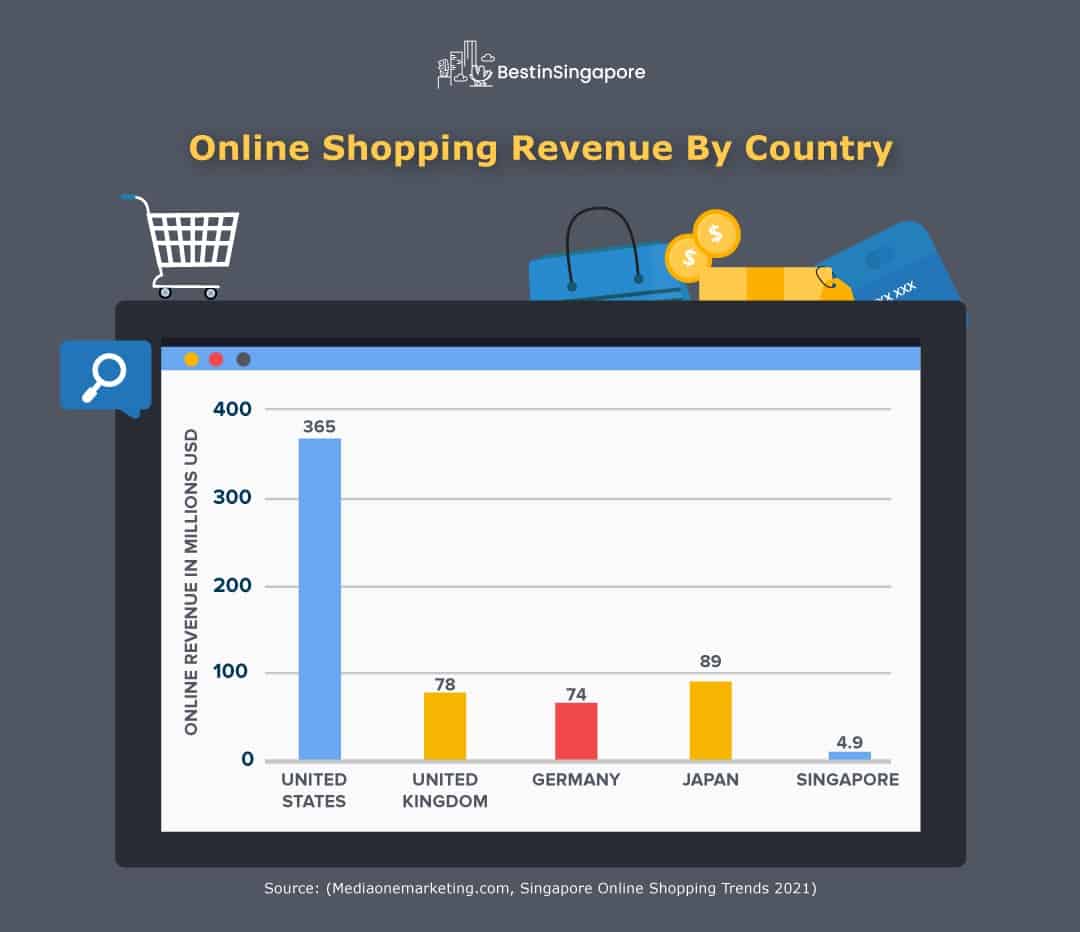 On a global scale, Singapore's 4.9 million dollar revenue is extremely low compared to giants like the United States. This is due to the lack of development in Singapore's own e-commerce sector.
But, with such a strong online consumer base, this may very well change in the future. As a well-developed nation with a strong technological sector, Singapore's online market could one day be on par with countries like Japan, Germany, and the U.K.
Sources:
Ecommerce detail: Consumer goods-2019&text=The annual sales value of,e-commerce spend in Singapore.