Our 18 Favourite Clinics for Skinboosters in Singapore
Does your face constantly look tired and dull due to stress? If so, you can still bring back the glory days of your skin with the aesthetic clinics that offer the best skinboosters in Singapore!
It's no secret that our confidence gets boosted whenever we see our skin looking brighter and softer. Good thing that there are aesthetic clinics out there that provide all types of skin treatments that can restore the beauty of our skin.
Looking for aesthetic clinics with the best skinboosters in Singapore can get difficult. But we're here to help you out with our list of aesthetic clinics worth checking out.
So, without further ado, here are the top aesthetic clinics with the best skinboosters in Singapore.
(Note: This list is in no particular order.)
The Clifford Clinic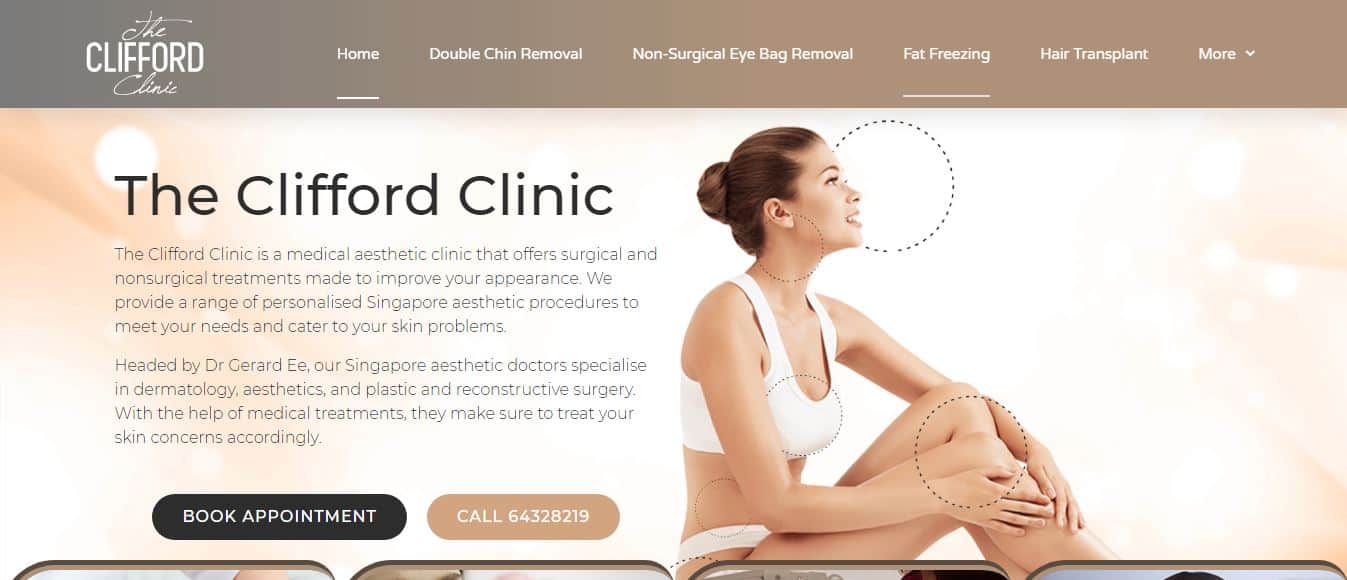 The Clifford Clinic is an excellent choice for skin booster treatments. The treatment that the clinic offers can help restore the plumpness of skin, resulting in a more radiant look.
Dr. Gerard Ee, their head dermatologist, works with his team of expert aesthetic doctors in delivering the best services. With his interest in minimally invasive surgery and aesthetic medicine, you can rest assured that any treatment you undergo in Singapore Aesthetic Practice will go well.
Highlights
Minimal Downtime
Minimal Scarring
Safe Procedure
Accurate Treatment
APAX Medical & Aesthetic Clinic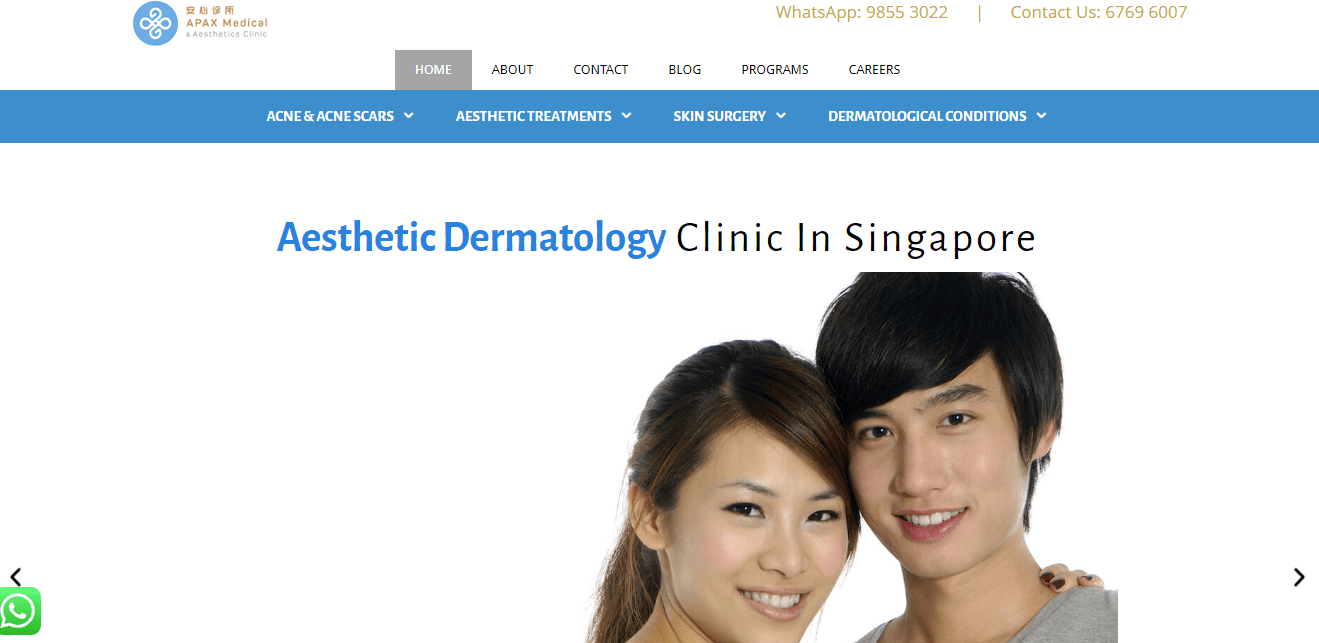 | | |
| --- | --- |
| BEST FOR  | Acne and Acne Scar Treatment |
| SERVICES | Skinboosters, Face Thread Lift, Rejuran Healers, Nose Thread Lift, Skin Surgery, Laser Acne Treatment, and Dark Eye Circles |
| WEBSITE | https://apaxmedical.com |
| ADDRESS | 212 Hougang Street 21, #01-331, Singapore 530212 |
| CONTACT DETAILS | 9855 30226769 6007 |
| OPERATING HOURS | Monday – Friday, 10:00 AM – 5:30 PM |
Considered one of the top aesthetic clinics in Singapore, APAX Medical and Aesthetic Clinic offers full-range services that can resolve all your skin problems. It specialises in a lot of treatments but its skin surgery and cosmetic dermatology treatments are worth noting.
What's more, it's also deemed the top option for the best skinboosters in Singapore. It has a team of professional dermatologists who can keep your skin nourished and hydrated for the next 12 months.
With its skinboosters, your skin will be rejuvenated inside and out, making it look fresher and brighter than before. It will only take 45-60 minutes, so it won't eat up much of your time.
Highlights
Affordable skin treatments
Professional and experienced staff
Quality medical devices
Edwin Lim Medical Aesthetic Clinic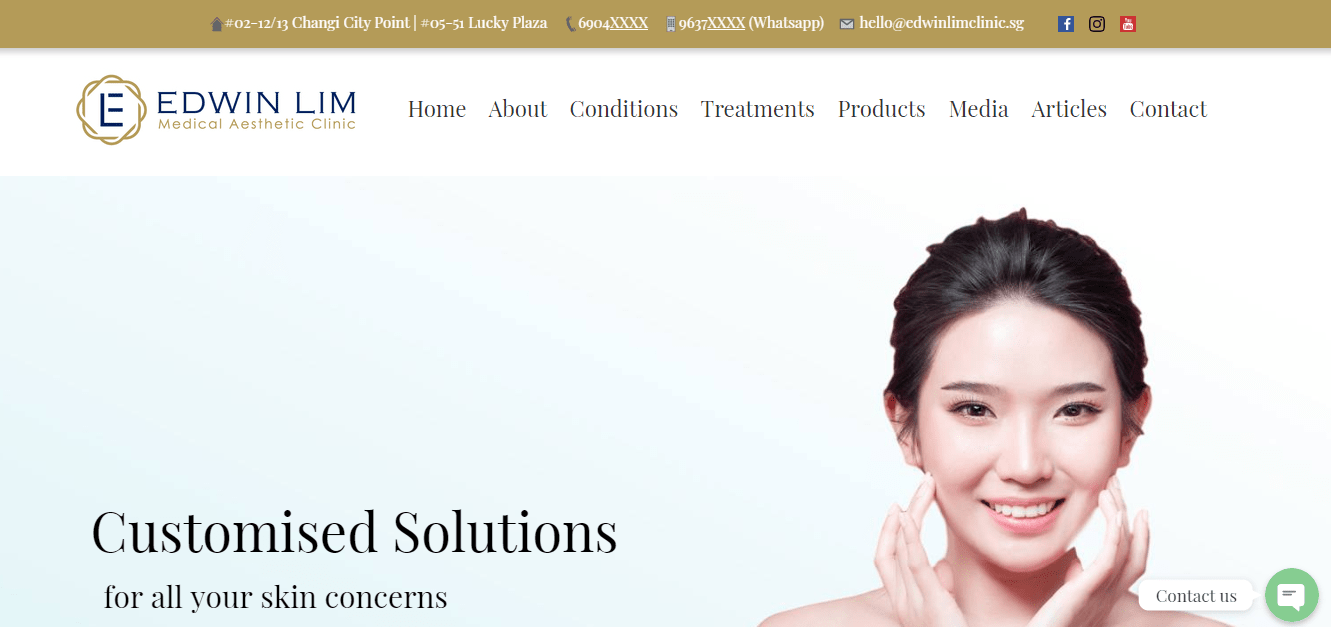 | | |
| --- | --- |
| BEST FOR  | Personalised Skin Treatments |
| SERVICES | Skinboosters, Wrinkle Treatment, Nose Fillers, Rejuran Fillers, Acne Laser Treatment, PICO Laser, Hair Removal Laser, Fat Freezing, and Chemical Peels |
| WEBSITE | https://edwinlimclinic.sg/ |
| ADDRESS | #05-51, Lucky Plaza, 304 Orchard Road Singapore 23886302-12/13 Changi City Point 5 Changi Business Park Central 1, Singapore 486038 |
| CONTACT DETAILS | +65 [email protected] |
| OPERATING HOURS | Monday – Friday, 11:00 AM – 8:00 PM |
Edward Lim Medical Aesthetic Clinic has two branches on the island — one in Changi and another in Lucky Plaza, so accessing its treatments should be very easy. It offers a wide range of skin treatments that target not only the face but the entire body as well.
It's headed by its namesake, Dr. Edward Lim, who has years of experience studying and practising dermatology. As a customer, you get to be confident that the person touching your skin is among the most qualified persons to do the task.
In terms of skinboosters, past clients who have availed of it can attest to its effectiveness and safety. Before the procedure, Dr. Lim will apply painkillers for 30 minutes to minimise discomfort.
During the treatment, Dr. Lim will be as gentle and careful as possible to ensure that customers will not feel any pain and discomfort. So, if you're looking forward to painless skinboosters, make sure to check out this aesthetic clinic!
Highlights
Experienced doctors and nurses
Minimal discomfort during treatments
Effective skin products and equipment
The Aesthetic Centre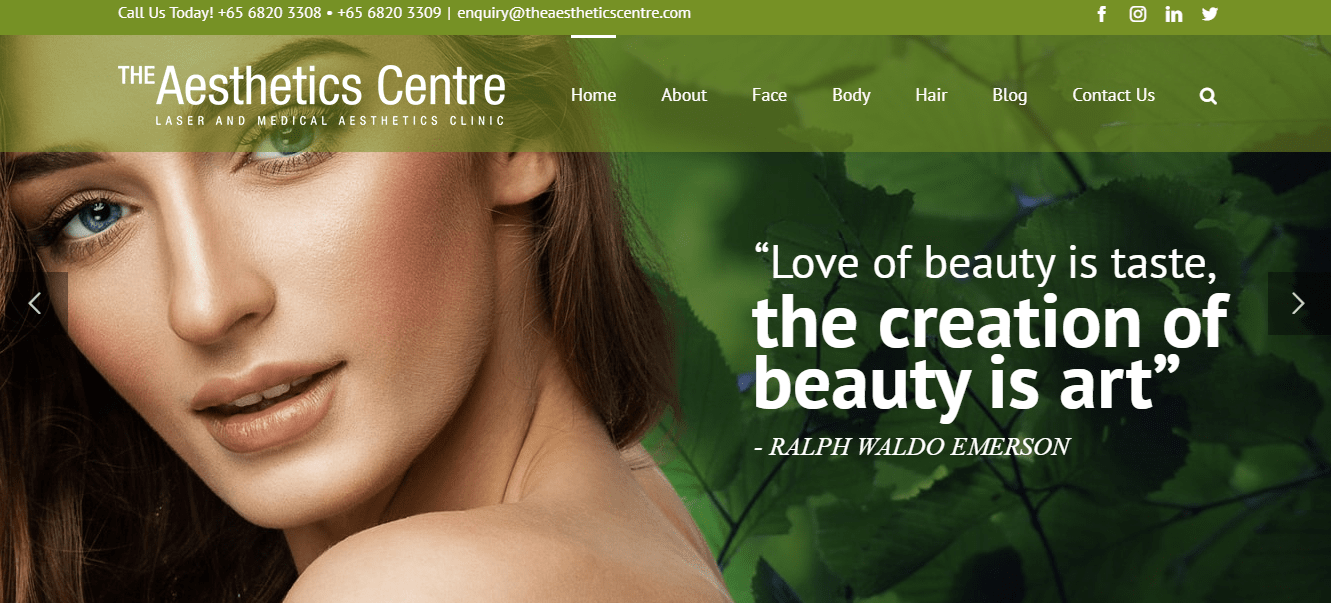 BEST FOR 
Anti-Aging and Skin Rejuvenation
SERVICES
Skinboosters, Dermal Fillers, Thread Lifts, Photofacial IPL Treatment, Body Contouring, Shockwave Therapy, Hair Restoration, and Laser Tattoo Removal
WEBSITE
https://theaestheticscentre.com/
ADDRESS
#01-137 Great World City (Office Tower, 1 Kim Seng Promenade, Singapore 237994
CONTACT DETAILS
+65 6820 3308

 

 

+65 6820 3309

OPERATING HOURS
Monday – Friday, 11:00 AM – 8:00 PM
Established in 2007, The Aesthetic Centre has grown into one of the trusted names in skincare. It has also amassed a huge following of customers from different walks of life who can attest to its quality skin and body treatments.
In terms of services, The Aesthetic Centre doesn't fall short. Its scope of treatments covers the face, skin, body, and even hair, making it one of the few aesthetic clinics with such a wide range of services.
If you're afraid of going under the knife, drop those fears now, because The Aesthetic Clinic only does non-surgical treatments, including its skinboosters.
Its skinboosters treatment has been proven to be capable of reducing plumpness, evening skin texture, restoring skin elasticity, and many more.
Highlights
Non-surgical treatments
Safe and effective services
Certified medical professionals
Mizu Aesthetic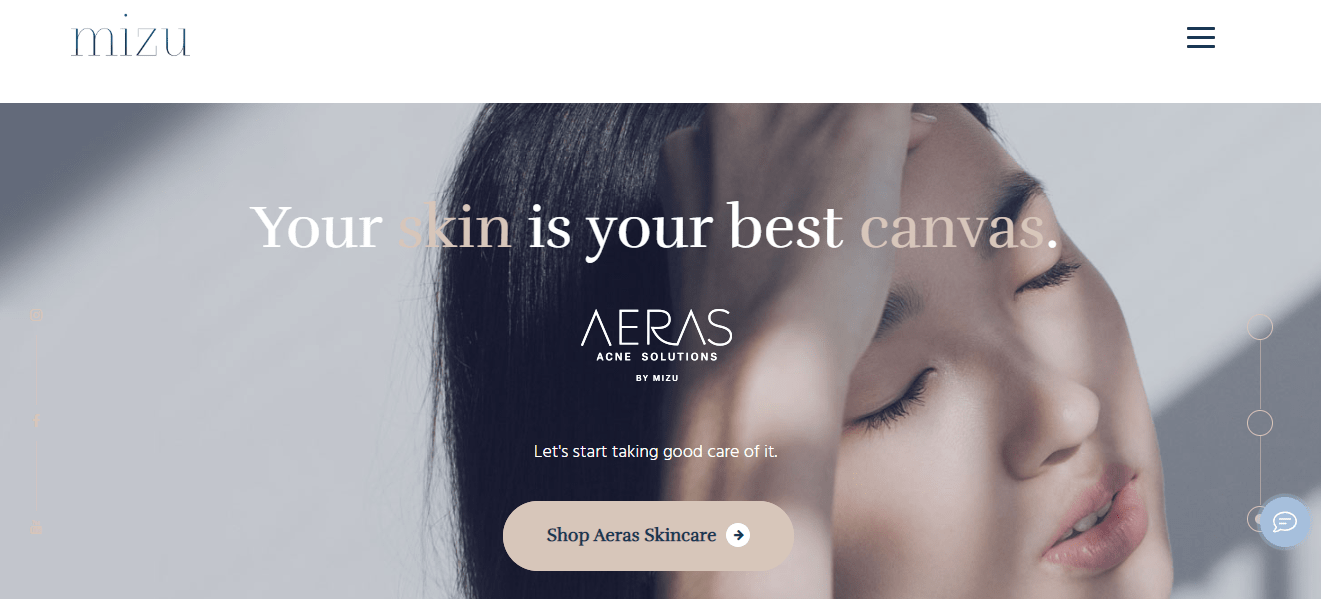 BEST FOR 
Face Treatments
SERVICES
Skinboosters, Pico Laser, Rejuran Healers, Laser Peel, Chemical Peel, Fillers, Nose Thread Lift, Face Thread Lift, Eye Bags Treatment, Body Acne Treatments
WEBSITE
https://www.mizuaesthetic.com/
ADDRESS
8A Marina Blvd, #B2-12 Marina Bay Link Mall, Singapore 018984
CONTACT DETAILS
+65 66344033

 

 

+65 9384 8915

OPERATING HOURS
Monday – Friday, 11:00 AM – 8:00 PM
Mizu Aesthetic is one of the most recent aesthetic clinics on the island, operating since 2015. Despite being new to the business, it has garnered attention from the public through its safe and effective beauty treatments
Some of its popular treatments are eye treatments, nose fillers and threads, pigmentation lasers, and skinboosters. Every treatment is facilitated by a professional doctor who has years of experience in conducting all types of beauty treatments.
Mizu Aesthetic knows that skinboosters can be a bit intimidating, that's why its doctors will first explain the basics of the procedures and how they improve the overall appearance of your skin. You will also learn through this consultation the type of skinboosters that matches your skin type.
Highlights
Experienced doctors
Comfortable and cosy clinic
Minimal pain and discomfort
Lux Medical Aesthetic Clinic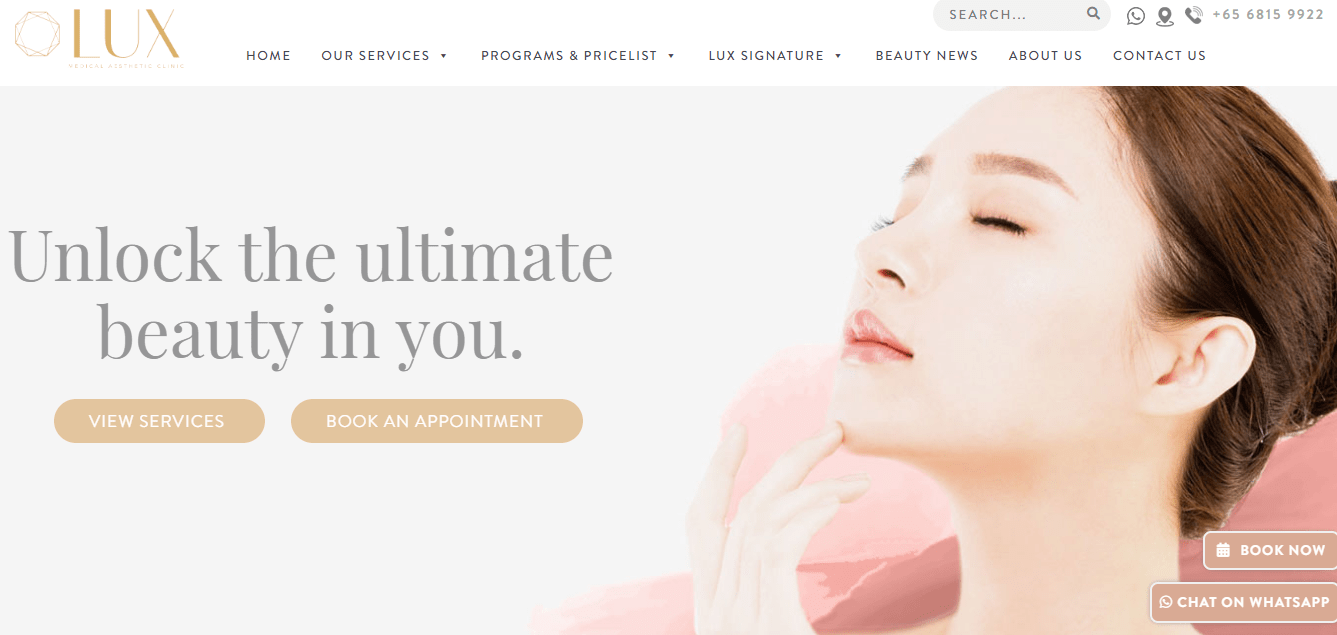 If you're looking for an aesthetic clinic that's willing to adjust to provide you with the right treatment, then Lux Medical Aesthetic Clinic is the right one for you. All its treatments are customised to fit the varying skin types and needs of customers.
What's more, its treatments are also backed up by research and data to ensure that they will be effective, and above all, safe. Every treatment is also facilitated by licensed & experienced dermatologists.
Lastly, what makes us consider it an aesthetic clinic with the best skinboosters in Singapore is its competitive pricing. Despite having cheaper rates compared to other clinics, it doesn't sacrifice the quality of this treatment.
Highlights
Trained dermatologist
Personalised treatment
Face Shower Bar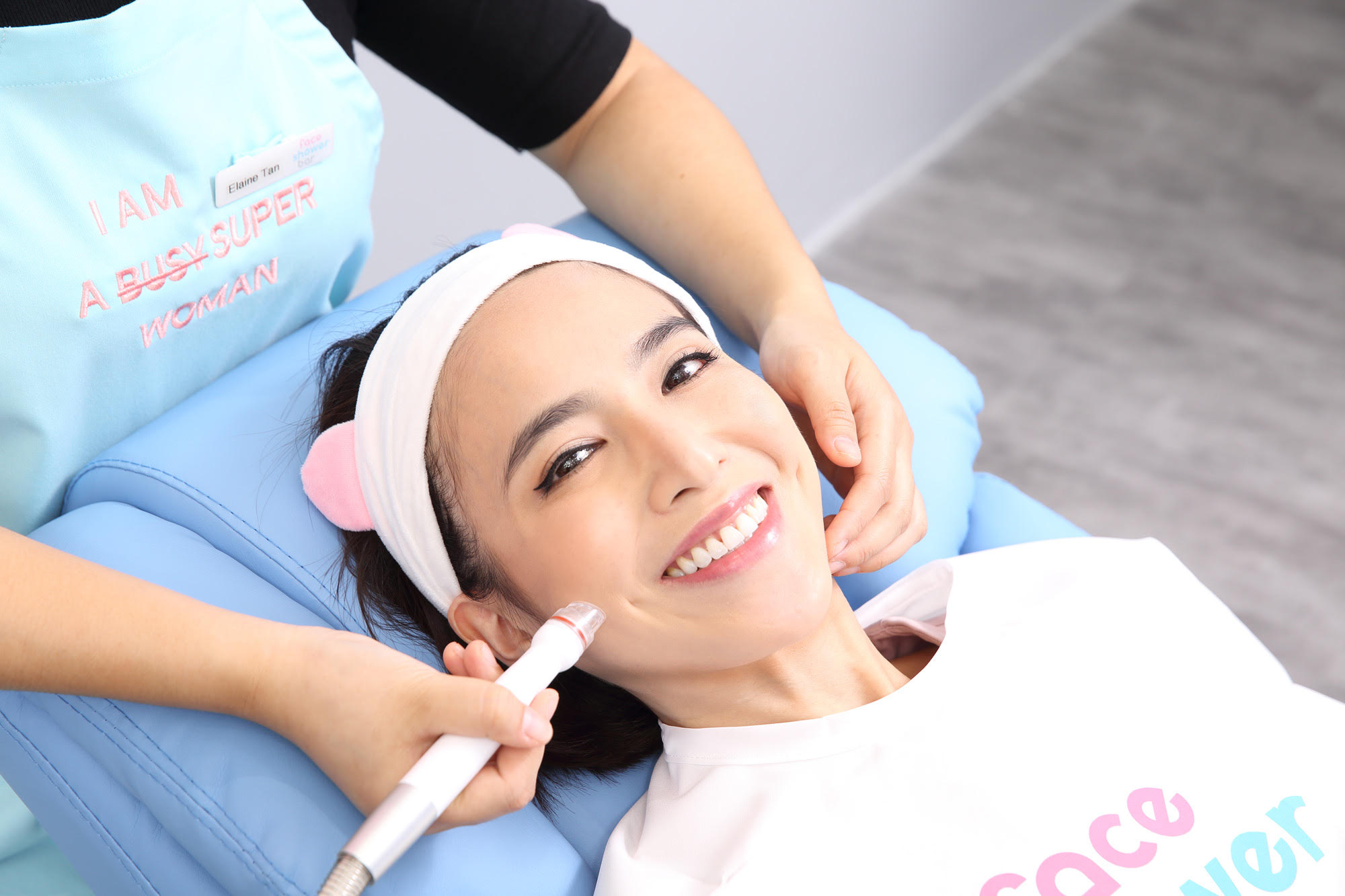 BEST FOR

Personalised skincare products

SERVICES
Hydra Facial, Skin Renewal Facial, Brightening Facial, Acne Buster Facial, Facial Boosters
WEBSITE

https://faceshowerbar.com/

ADDRESS

One Raffles Link #B1-17A

 

 

Citylink Mall (Near Marina Square Exit)

Singapore 039393

CONTACT DETAILS

+65 6222 8080 |

[email protected]

Operating Hours 

Monday

11am–9:30pm

 

 

Tuesday 11am–9:30pm

Wednesday 11am–9:30pm

Thursday 11am–9:30pm

Friday     11am–9:30pm

Saturday 11am–9:30pm

Sunday 11am–9:30pm
Face Shower Bar established their own R&D laboratory to make various facial treatments and unique skin care products with the help of collaboration with A*STAR. 
They are very fastidious in choosing their experts and skin instructors, they undergo intensive training at their internationally accredited Japanese beauty school before they can perform a service to a customer.
They also make maintenance easier for their clients are they openly share with them which products are best suited for their skin type and condition including the specific ingredients so they can DIY it at home.
Highlights
Qualified Skin Instructors

Unique Skin Care Products

Scientifically-Clean Japanese Skincare
Trinity Medical Centre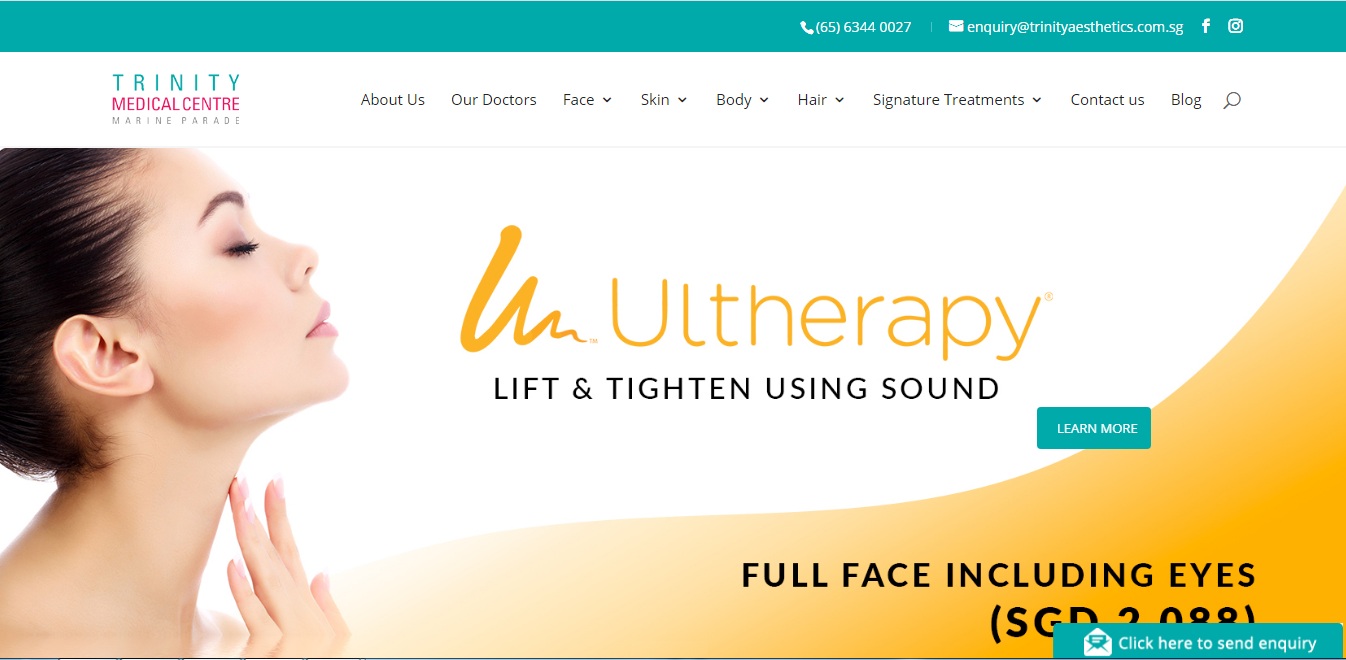 BEST FOR

Dr Tommy Ng Signature Acne & Acne Scar Removal

SERVICES
Acne & Acne Scar Treatment, Rejuvenation, Laser Peel, Aqua Facial Therapy, Tattoo Removal, CO2 Laser, Chemical Peel
WEBSITE

http://sgtrinityaesthetics.com/

ADDRESS

87, Marine Parade Central, #01-503, Singapore 440087

CONTACT DETAILS
(+65) 6344 0027 /[email protected]
OPERATING HOURS
Monday – Friday

: 10:00 am to 8:00 pm

 

 

Saturday: 9:00 am to 3:00 pm
If you're searching for a well-established clinic, then Trinity Medical Centre should be your choice. They take pride in their various FDA-approved medical equipment which are used in treating their patients. Further, all their surgical procedures are performed by competent and professional doctors. 
Their head doctor, Dr. Tommy Ng, has been in the medical field for over a decade. And throughout the years, he honed his skills and perfected his aesthetic skills. In fact, one of their popular treatments is Dr Tommy Ng Signature Acne & Acne Scar Removal. Most of their patients refer to them to get this procedure. 
The clinic assures its patients that all their treatments are safe. Moreover, their downtime is minimal as well as the maintenance after the procedure. 
Highlights
FDA-Approved technology

Tailor-made prescriptions

Professional and expert doctors
Radium Medical Aesthetics

BEST FOR

Non-invasive medical aesthetic treatment

WEBSITE

https://radium-aesthetics.com/

ADDRESS

3 Temasek Boulevard #03-325/326 Suntec City Mall, Singapore 038983

CONTACT DETAILS

+65 6837-0507/ +65 9630-3022

OPERATING HOURS
Monday to Saturday:

10:30am to 8:00pm (Last appointment at 7pm) 

 

 

Sunday: 10:30am to 3:00 pm (Last appointment at 2pm)
Radium Medical Aesthetics always make sure to use modern and latest technology when it comes to treating their clients. They offer different treatments which are designed to enhance and rejuvenate your skin. One of which is their Skinboosters treatment. 
The clinic is renowned for its non-invasive procedures Thus, you will only suffer minimal pain during the process. Their end goal is to make their clients look and feel better about themselves. 
Headed by Dr Siew Tuck Wah, the medical staff of the clinic provides excellent performance and efficient service. This is how the clinic established their reputation and integrity in the industry. 
Highlights
Non-invasive treatment

Customized skincare procedure 

Minimum discomfort and pain
S Aesthetics Clinic

BEST FOR
Face fillers
SERVICES
Popular Treatments, Face Treatments, Skin Treatments, Eye Area Treatments, Hair Aesthetics Treatments, Body Treatments
WEBSITE
https://saestheticsclinic.com/
ADDRESS
9 Scotts Road #07-07
Scotts Medical Centre (Pacific Plaza)
Singapore 228210
CONTACT DETAILS
Email: [email protected]
Telephone: +65 6235 0338
WhatsApp: +65 90207234
OPERATING HOURS
Mon-Fri: 10am – 8pm
Sat: 10am – 6pm
Sun & Public Holidays: Closed
S Aesthetics Clinic is praised for their aesthetic services, particularly due to their high quality and pain-free experience. They have a diverse set of treatments for both the face and body.
Their skin booster services are one of the best, where they ensure that the patient is as comfortable as possible. Besides using numbing cream, their skin booster formula also contains anaesthesia. Under their capable hands, you're sure to achieve the aesthetic results that you want.
Highlights
Expert aestheticians
Great customer service
High quality equipment and materials
8 Medical Aesthetic Clinic
BEST FOR
Complete Aesthetic Treatments
SERVICES
Skin Treatments, Face Treatments, Body Treatments
WEBSITE
https://www.8medicalaesthetic.com/
ADDRESS
SOMERSET BRANCH
51 CUPPAGE ROAD, #06-22, SINGAPORE 229469DHOBY GHAUT BRANCH
2 HANDY ROAD, #04-19/20 THE CATHAY, SINGAPORE – 229233CLEMENTI BRANCH
41 SUNSET WAY, #01-05, CLEMENTI ARCADE, SINGAPORE 597071TAMPINES BRANCH
TAMPINES PLAZA, 5 TAMPINES CENTRAL 1 #03-01 S529541
CONTACT DETAILS
Tel: +65 3157 5947

 

 

SMS/WHATSAPP : +65 9151 9017
8 Medical Aesthetic offers a diverse set of medical aesthetic procedures. They primarily offer non-surgical treatments.
They have high standards of quality, from their doctors to their equipment. 8 Medical Aesthetic is a clinic you can count on to fulfil any of your aesthetic needs.
Highlights
Excellent attention to detail
FDA approved technology
DermClear Aesthetic and Laser Clinic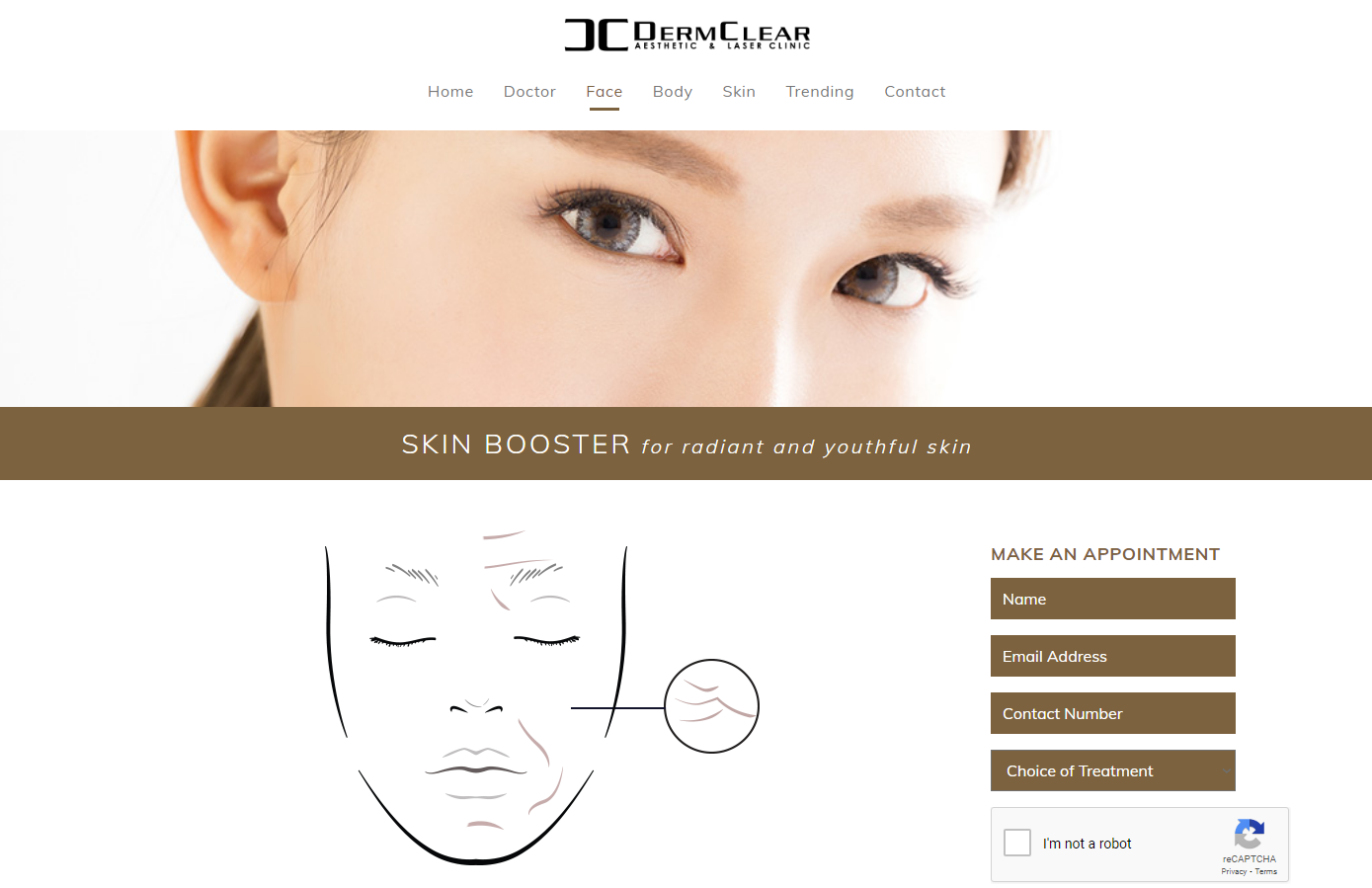 BEST FOR
Individualized minimal downtime skin rejuvenation proceduresSignature anti-ageing topical formulations
SERVICES
Ulthera & HIFU
Threadlift (Korean and European absorbable threads)
Pigments
nose threads
acne and acne scars
Dermal Fillers
Botulinum A toxin or Botox/Dysport
SkinBoosters (HA & Rejuran Healer)
Cord Stemcells infusion
Eye rejuvenation (non surgical)
Body treatments
WEBSITE
https://www.dermclear.com.sg/face/skin-booster/
ADDRESS
1 Grange Road, Orchard Building #10-03
(above the H&M Orchard flagship store)
Singapore 239693
CONTACT DETAILS
Tel: +65 6356 5005
Email: [email protected]
OPERATING HOURS
10.30am – 7pm (Mon-Fri)
10.30am – 3pm (Sat)
Closed on Sun & Public Holidays
DermClear Aesthetic and Laser Clinic is able to expertly combine minimally and non-invasive scientifically proven procedures with bespoke topical formulations to achieve superior outcomes. The clinic has a steadfast reputation of offering highly effective and safe procedures that are performed by senior doctors who are established pioneers in the medical aesthetics field.
Highlights
Latest FDA approved products with additional bio-stimulatory benefits
Value maximization with minimal risks
Complementary therapies to achieve maximum rejuvenation outcomes
Lee Na Young


Lee Na Young is one of the first clinics in Singapore that offer both beautician and beauty consultation. Their BIOJET Supersonic Hyaluronic Acid Booster is certainly something to consider.
The aforementioned skin booster treatment uses needle-less injection technique to first atomise the hyaluronic acid booster into sprays of tiny particles which promote easier and faster absorption by the skin. This is then followed by low gaseous pressure to spray the stream of atomised hyaluronic acid droplets deep into the dermis and muscle layers of the skin and muscle.
The BIOJET Supersonic Hyaluronic Acid Booster helps maintain moisture in the skin, improves its radiance, and restores youthfulness. Moreover, the procedure has almost no downtime, pain or discomfort — perfect for those looking for painless treatments.
You can also expect instant results after just one session.
Highlights
Treatment finished after just 30 minutes
Instant results after 1 session
Tiffiny Yang Skin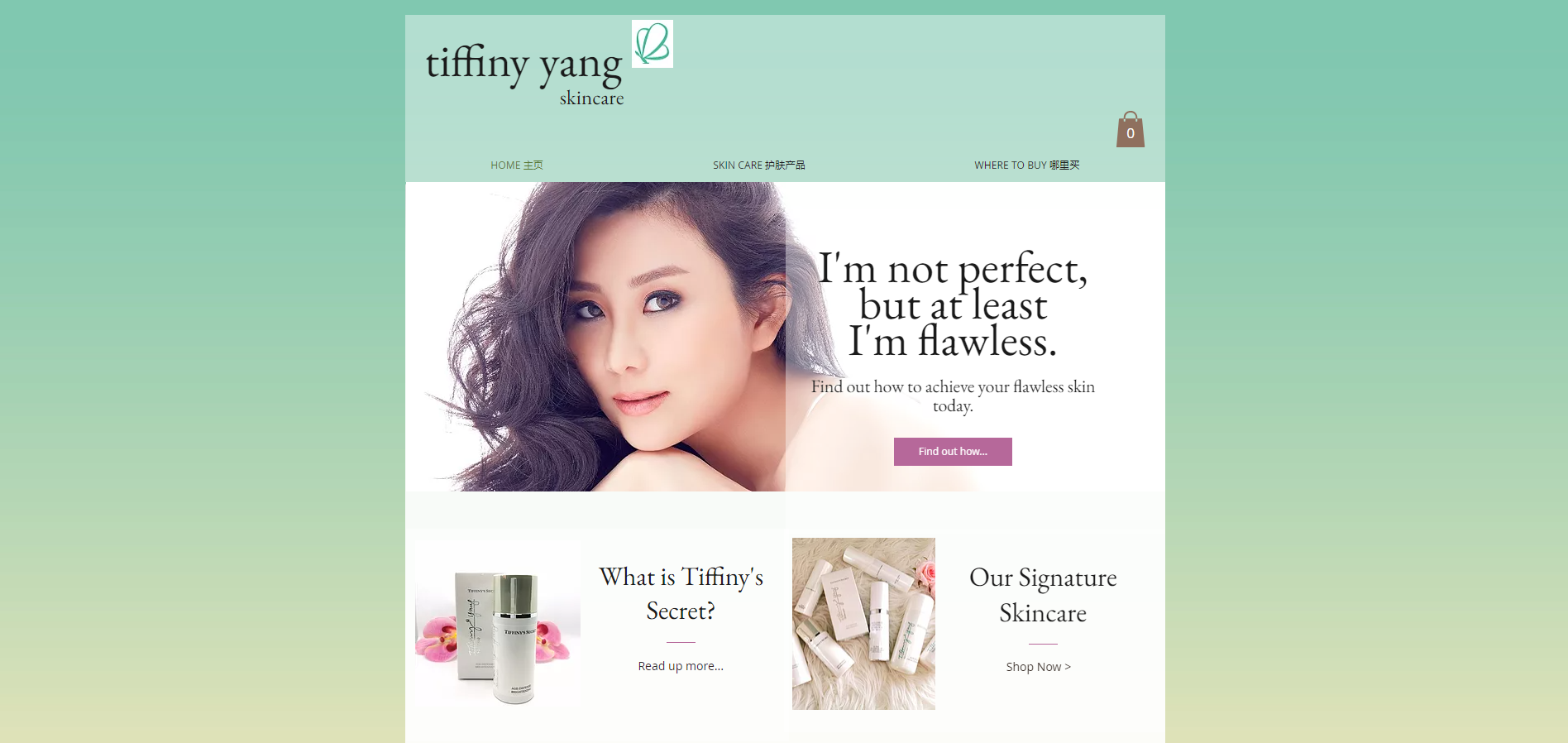 BEST FOR
Effective Skincare
SERVICES
Cosmetic treatments for various parts of the body
WEBSITE
https://www.tiffinyyangskin.com/
ADDRESS
Orchard Building #12-02, 1 Grange Road
Singapore 239693
CONTACT DETAILS
+65 9186 0805 (Whatsapp) / +65 6338 9448
[email protected]
Tiffiny Yang Skincare is a shop of Tiffiny Yang Aesthetics, a well-known cosmetic treatment provider in Singapore. They offer a wide variety of skincare products, such as sunblock, cleansers, and whitening creams.
They use only the best quality ingredients to create effective products. If you're looking for an effective skinbooster, then you should check out their website.
Highlights
Top-quality ingredients
Effective products
Bio Aesthetic Laser Clinic

Penetrate under skin to automate skin healing by itself is what Bio Aesthetic Laser Clinic's Rejuran Healer Skin Booster offers. The secret ingredient in Rejuran Healer is salmon DNA that is used for more anti-aging and regenerative effects.
Rejuran rejuvenates the skin cells by stimulating receptors and accelerate the skin's natural healing process. It is also good at reversing skin damage ang increasing collagen production.
Rejuran Healer stimulates cell growth and transforms the skin allowing to reverse the signs of aging. Come in for a skin assessment as their experienced doctors and aestheticians are always ready to help achieve skin goals.
Highlights
Safe and compatible.
Anti-inflammatory properties.
Improves skin health.
Theresa

Theresa's 水光针 skin booster is one often requested in Korean aesthetic clinics, having the power to give the patient hydrated skin upon continual sessions. 
It also offers the added benefits enhancing the patient's complexion, refining pores, and improving wrinkles. 水光针 is minimally invasive and requires little to no down time from the patient to recover. 
Highlights
Short, frequent sessions
Same day recovery
Illumia Medical
BEST FOR 
Medical Aesthetics and Plastic Surgery
WEBSITE
https://www.illumiamedical.com
ADDRESS

501 Orchard Road, #05-12 Wheelock Place, Singapore 238880

CONTACT DETAILS

Tel: +65 6454 5465

Whatsapp: +65 9656 5464

Email: [email protected]

OPERATING HOURS
Mon to Fri: 10.30am – 8.30pm | Sat 10:30am – 3pm, Sun & Ph: Closed
Illumia Medical aims to meet their patient's aesthetic needs with the use of the latest technology and techniques available in the industry. Their surgeons are skilled and knowledgeable in restoring the skin's youthful look and bringing out its natural beauty.
For their skinboosters they have two options: their Rejuran Skin Healer and Profhilo Skin Booster. The former is best for healing the skin, while the latter is more suited for minimising skin aging.
Both options are administered through selected points on the skin for maximum effectiveness. They also have no adverse effects, as they are biocompatible with human DNA.
After treatment, Illumia Medical's doctors will also provide topical numbing and aftercare medication if needed. All in all, you can expect a holistic skinboosting experience that is free from any discomfort or pain.
Highlights
State-of-the-art centre
High performance
Self developed technologies
Latest proven technologies from all over the world
SL Aesthetic Clinic
BEST FOR   
Aesthetic Services for the Entire Body
WEBSITE
https://slclinic.com.sg/our-treatments/skin/skinboosters/
ADDRESS
Causeway Point
1 Woodlands Square,
#04-11, Causeway Point S(738099)
Junction 8
9 Bishan Place, #04-02B/C,
Junction 8 S(579837)
Jurong Point
63 Jurong West Central 3, #B1-32
Jurong Point Hse 2 S(648331)
Plaza Singapura
68 Orchard Road, #04-08B,
Plaza Singapura S(238839)
Tampines 1
10 Tampines Central 1, #04-30/32
Tampines 1 S(529536)
Wheelock Place
501 Orchard Road #04-04,
Wheelock Place S(238880)
Westgate
3 Gateway Drive, #04-22
Westgate S(608532)
CONTACT DETAILS
Causeway Point
Tel: +65 6877 0144
Junction 8
Tel: +65 6262 5898
Jurong Point
Tel: +65 6316 2556
Plaza Singapura
Tel: +65 6336 1106
Tampines 1
Tel: +65 6634 8102
Wheelock Place
Tel: +65 6235 8403
Westgate
Tel: +65 6358 4588
OPERATING HOURS
Contact clinic for more information
Next on our list is an aesthetic clinic known for the range it has to offer its clients. SL Aesthetic Clinic has been serving the people of Singapore for over a decade now.
The clinic's team consists of highly skilled and knowledgeable individuals whose main goal is to make customers happy with their services, all while empowering them to be the best versions of their selves. As a result, SL Aesthetic Clinic is always updating its services, ensuring that they are non-invasive as well as FDA-approved, CE-marked, or HSA-approved. 
Some of these services include derma fillers, mole removal, ultherapy, skin boosters, eyebags removal, pigmentation treatment, and more. When it comes to aesthetic clinics that caters to the aesthetic needs of various parts of the body, SL Aesthetic Clinic comes highly recommended.
Now, it's also worth noting that all of these services, including the ones that aren't mentioned, are performed by doctors who are all medically trained. Plus, they have the needed certifications of competence recognised by the Singapore Medical Council's Aesthetic Practice Oversight Committee (APOC).
Aside from being highly talented, skilled, and knowledgeable, these doctors are committed to helping clients look their best selves. So, it isn't all too surprising that they take the time to consult with each client, learning more about their aesthetic history and needs before moving forth with any service that they are in need of.
All in all, SL Aesthetic Clinic makes an excellent choice because of its range of services, team of doctors, and dedication to customer service.
Highlights
Offers a wide range of aesthetic services 
Constantly updates aesthetic services
Minimal downtime depending on the service chosen
Multiple locations available
Professional and friendly staff
A.M Aesthetics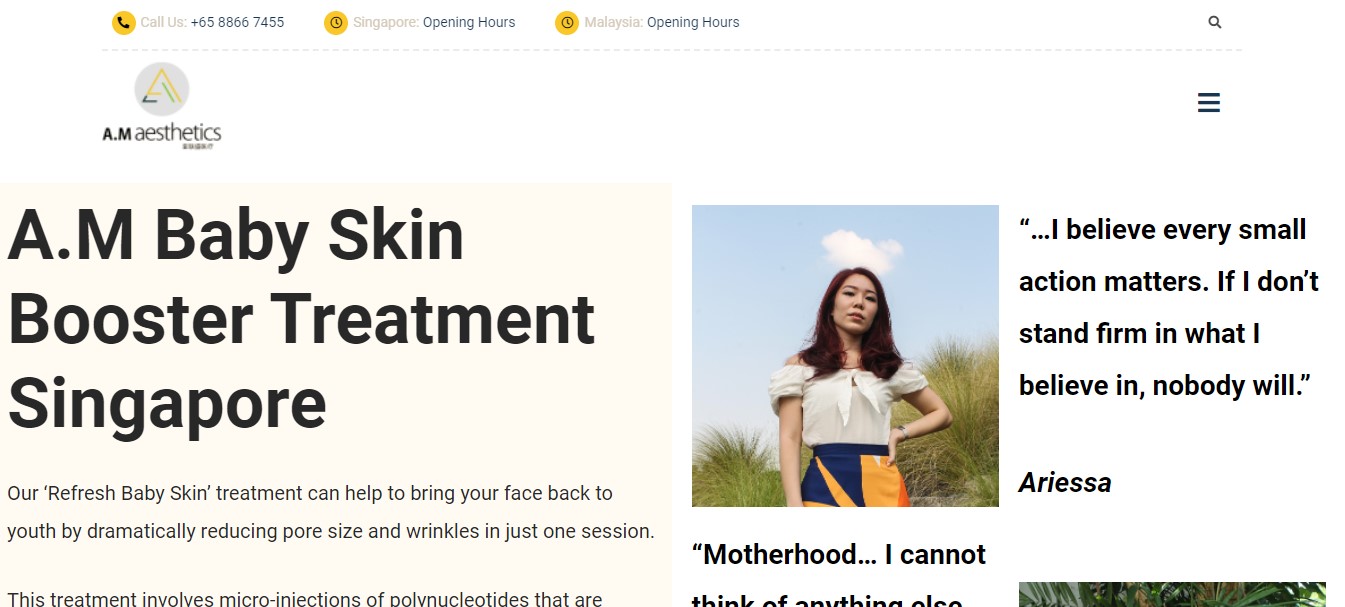 BEST FOR 
Having an extensive range of services
WEBSITE
https://www.amaesthetics.com.sg/am-baby-skin-booster/
ADDRESS

Bedok Mall 

311 New Upper Changi Rd, Singapore 467360 #B1-12



TPY HDB Hub 

510 Lorong 6 Toa Payoh, 319398 #B1-30



LOT 1

21 Choa Chu Kang Ave 4, Singapore 689812 #02-26 



SingPost Centre Paya Lebar

10 Eunos Rd 8, Singapore 408600 Singpost Centre #02-140



Clementi Mall

3155 Commonwealth Ave W, Singapore 129588 #04-50 



Serangoon 

Blk 253 Serangoon Central Drive 550253 #01-193



Raffles City

252 North Bridge Rd, Raffles City #B2-06/07 Singapore 179103

CONTACT DETAILS

 

Bedok Mall 

Tel: 68449768 HP: 88660399

TPY HDB Hub 

Tel: 62592860 HP:88667411

 

LOT 1

Tel:62199819  HP:88669020

 

SingPost Centre Paya Lebar

Tel: 67411038 HP: 88662247

 

Clementi Mall

Tel:69081917  HP:88662990

 

Serangoon 

Tel: 62413869 HP: 88666140

 

Raffles City

Tel: 62556109 HP: 88666420

OPERATING HOURS
Mon-Fri: 11.00am-8.30pm
Sat: 11.00am-7.30pm
Public holidays & Sun: 11.00am-7.00pm
A.M Aesthetics treats clients in a customized manner that is based on each individual's skin. They conduct analysis and series of discussions with their clients first in order to understand their goals and lifestyle.
If you already have some age and you want to bring your face back to your, a baby skin booster session will do the trick.
This treatment is known to reduce your pore size and wrinkles in just a session!
Do take note that this procedure is minimally invasive as their professionals will inject you with polynucleotides that are compatible with your body.
You will not regret getting this treatment from them as after treatment will be seen instantly. Your skin texture will definitely improve, dermal cells will slowly, but surely, repair themselves, and the appearance of your scars will reduce.
Highlights
Pricelist is available here
Big team of doctors
Open during public holidays
And that's it for our list of the aesthetic clinics that offer the best skinboosters in Singapore. Any of these aesthetic clinics can restore the beauty of your skin and boost your confidence significantly.
If you know another aesthetic clinic that has the same service, don't hesitate to share its name us and we'll check if we can add it to our roster.
For more options, you'd want to read our list of the best aesthetic clinics in Singapore. With the right aesthetic clinic, you're one step closer to getting the skin and body that you've always wanted!