A Look at Cancer Statistics in Singapore – 2021
Key Insights
Between 2014 and 2018, around 40 Singaporeans were diagnosed with cancer daily.
From 2014 to 2018, there were 74,536 reported cases of cancer in Singapore.
Of these cases, 48.5% were reported in females and 51.5% were reported in males.
For 2020, there were 75 recorded cases of cancer in children ages 0 to 14 years old.
From this period, the majority of males at 16.9% were diagnosed with colorectal cancer, the second-most-common cancer was recorded as prostate cancer at 14.8%, and following this was lung cancer at 14%.
For the female demographic, the most prevalent form of cancer was breast cancer at 29.3%, the next-most-prevalent cancer was colorectal cancer at 13.3%, and the third-most-common cancer was lung cancer at 7.5%.
The most common cancer in children 0 to 15 years old was leukemia, with 35% of all newly-diagnosed child patients having the disease.
On average, between 2014 and 2018, cancer claimed the lives of 15 Singaporeans every day.
In 2018 alone, there were a total of 13,093 deaths in Singapore as a result of cancer.
Given that the total number of new cases in 2018 was 26,164, this is equivalent to 50% of all new cancer patients.
Today, cancer is regarded as Singapore's top killer, and it is responsible for 28.4% of all deaths in the country.
---
Cancer is a disease that plagued humans long before the rise of modern medicine. It is one of the world's leading causes of death and is perhaps the greatest challenge currently faced by the medical industry.
It is expected that 1 in 4 Singaporeans will be diagnosed with cancer by the age of 75. This is due to the fact that since the 1970s, cancer cases among citizens have risen at an alarmingly quick pace.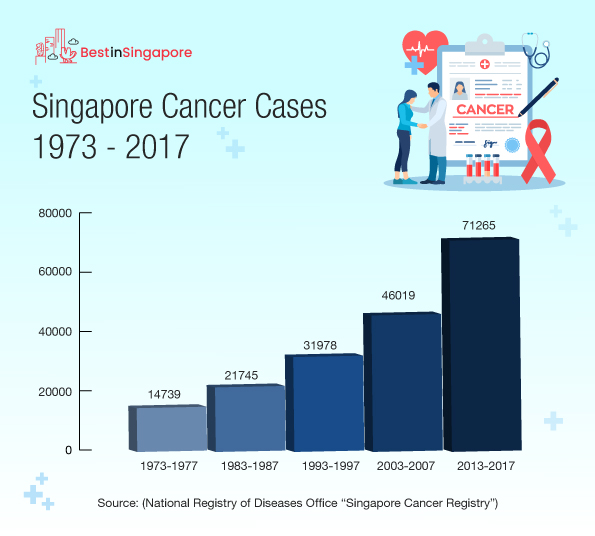 As indicated by the figure above, the rate of increase is so high that the current total is more than 4 times the number of cases seen in 1973. One of the most troubling things about this disease is the fact that its causes are relatively unknown.
While there are many aspects of cancer that are not fully understood, there is an abundance of statistics gathered from years upon years of research. By examining these statistics, one can identify certain trends and see the overall effects of cancer on Singapore and its people.
Common Types of Cancer in Singapore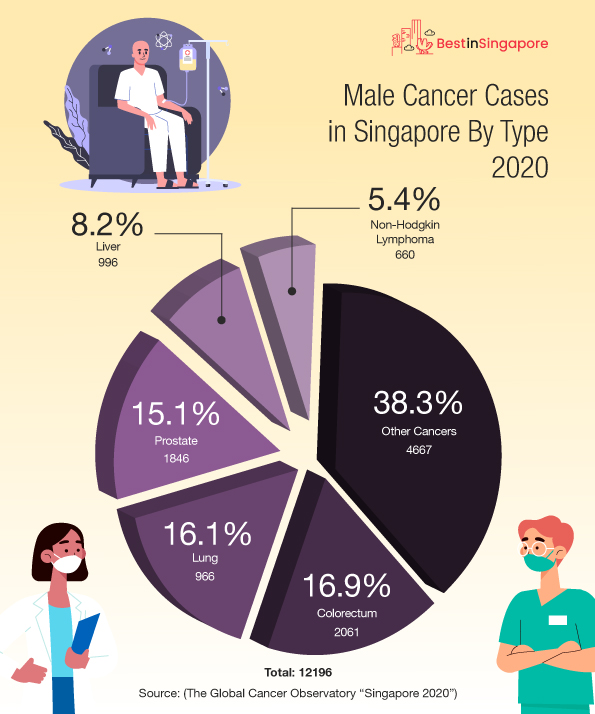 Of the 12,196 new cases of male cancer reported in Singapore for 2020, 2,061 cases or 16.9% were recorded as colon-rectum cancer. Following this, 16.1% of new cases in men were found to be lung cancer.
Finally, the third-most-common form of cancer among men was reported to be prostate cancer, with a prevalence of 15.1%. This is slightly different from 2018's stats, wherein prostate cancer was the second-most-common form of cancer with a prevalence of 14.8%.
The higher rate of lung cancer for 2020 has yet to be explained by Singapore's medical community. Later on, however, this article will cover the general causes of cancer to a certain degree.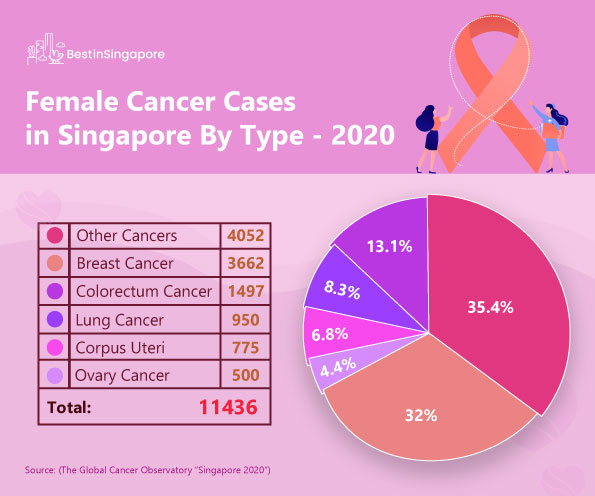 In the case of female cancer cases for 2020, an astounding 32% of all new cases were reported as breast cancer, which amounts to 3,662 new cases. Following this, the second most common cancer among women was found to be colorectal cancer, with a prevalence of 13.1%.
In third place for prevalence among women is lung cancer, with a rate of 8.3%. Among both men and women, colorectal cancer and lung cancer were by far the most common, with an overall prevalence of 15.1% and 12.3% respectively.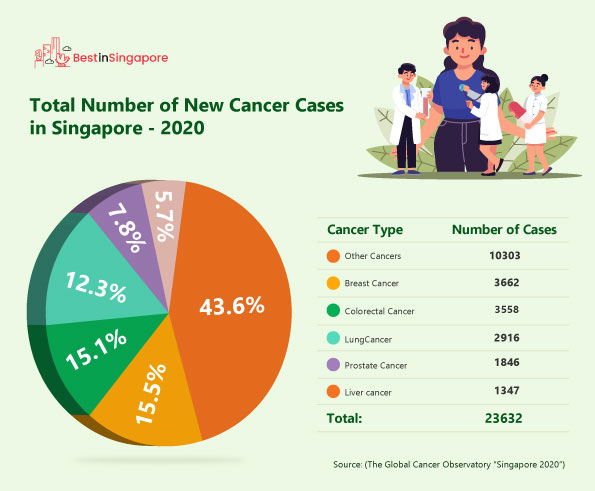 Though the figure above represents breast cancer as the most prevalent among both sexes, this is mainly due to the immense number of women who suffer from breast cancer. For cancer that largely affects both sexes, colorectum and lung cancer are still the most prevalent.
The common forms of cancer seen in Singaporean children are extremely different from those seen in adults. Today 35% of all new cancer cases in children are reported as leukemia, a cancer of the blood and bone marrow.
Second to leukemia are brain tumors with a prevalence rate of 20%. Following this is lymphoma, which accounts for 10% of all new childhood cancer cases.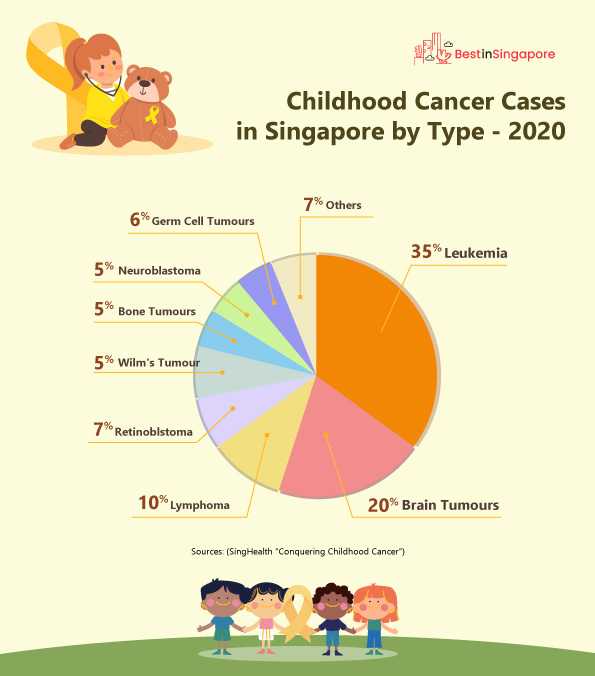 There are several other cancers that commonly affect children, as indicated by the chart above. Among all of these, however, the three previously mentioned types are the most common in children by far.
Trends Among Cancer Patients in Singapore
According to the Singapore Cancer Registry, the majority of male cancer cases between 2014 and 2018 were seen in the 60 to 69-year-old age group. In contrast to this, the lowest number of cancer cases were seen in men below the age of 30.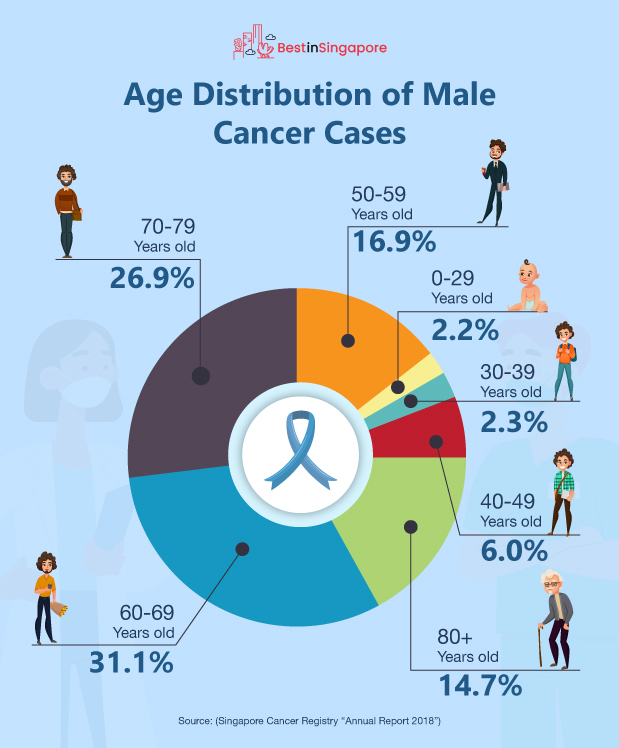 For women, the data is quite similar, with most cancer cases being found in the 60 to 69-year-old age group. As was the case with males, the lowest number of cancer cases among women were observed in those below the age of 30.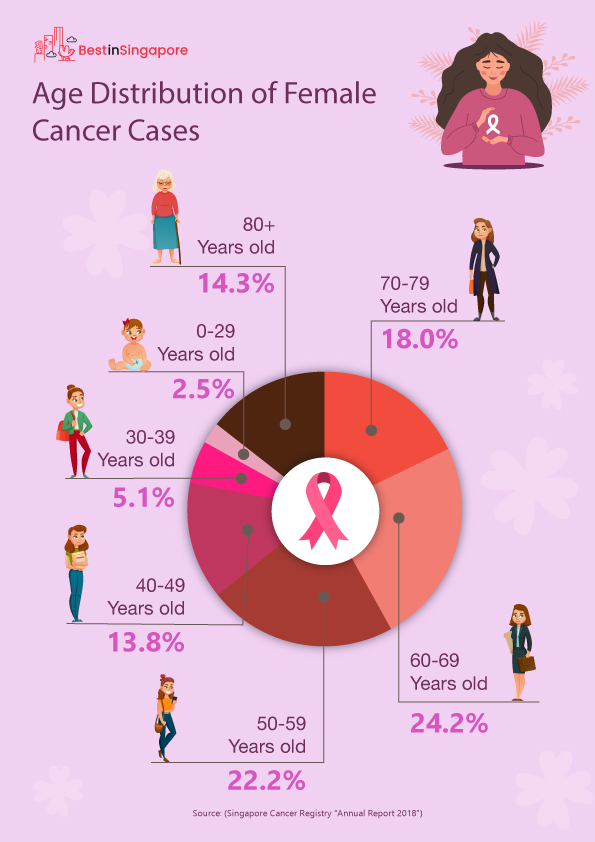 The reason older individuals tend to develop cancer is due to the fact that cells can be damaged over time. As people grow older, cancer-inhibiting cells also tend to break down, leaving fewer natural defenses against rampant cancer cells.
Through various studies, it has been determined that age is one of many factors that can increase cancer risk. In Singapore, people from certain ethnicities actually present different forms of cancer at much higher rates than other ethnicities.
Among Chinese men and women in Singapore, for example, the two most common forms of cancer overall were colorectal cancer and lung cancer. The number of cases for each type of cancer was 9,554 and 6,708 respectively.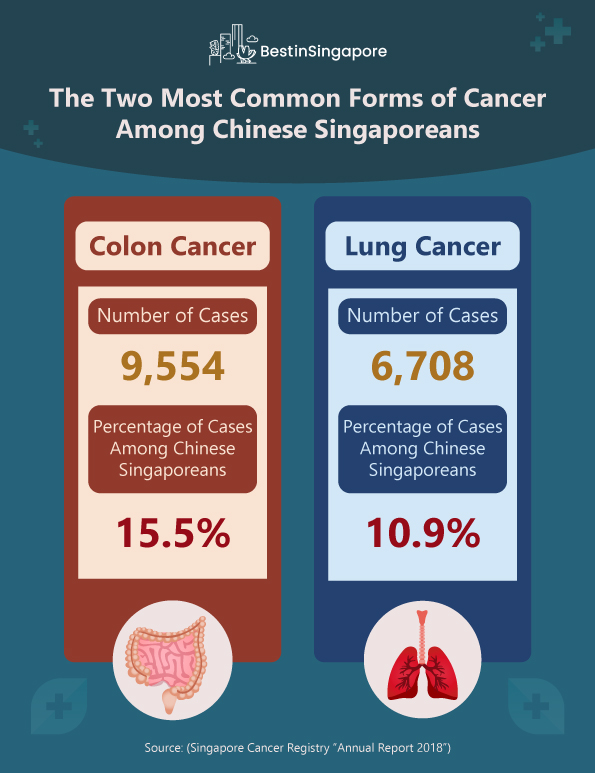 For Malay Singaporeans, the most common form of cancer between both genders was also colorectal cancer and lung cancer. However, compared to Chinese Singaporeans, Malays only presented 1,022 cases for colorectal cancer and 812 cases for lung cancer.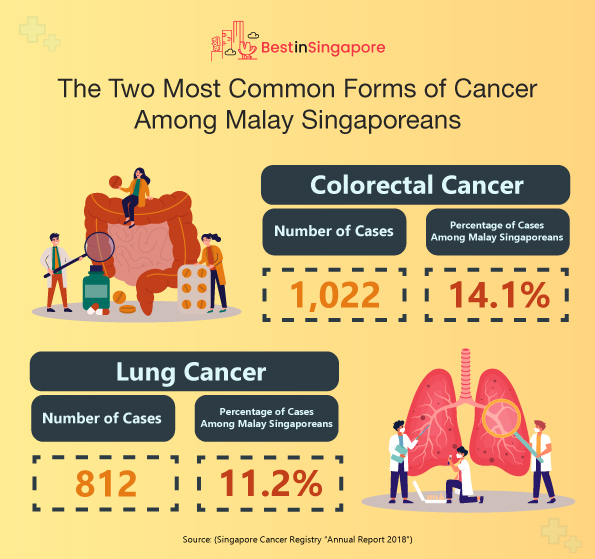 As the third-largest ethnic group in Singapore, Indians presented the fewest number of cancer cases. But this is partially due to the differences in population sizes among all three ethnicities.
The most common forms of cancer among Indian Singaporeans were colorectal cancer and lung cancer. The former presented 448 cases while the latter presented 275 cases.
It is worth noting that for the Indian ethnic group, the number of lung cancer cases and lymphoid neoplasm cases were extremely close. There were only three more cases of lung cancer compared to lymphoid neoplasms.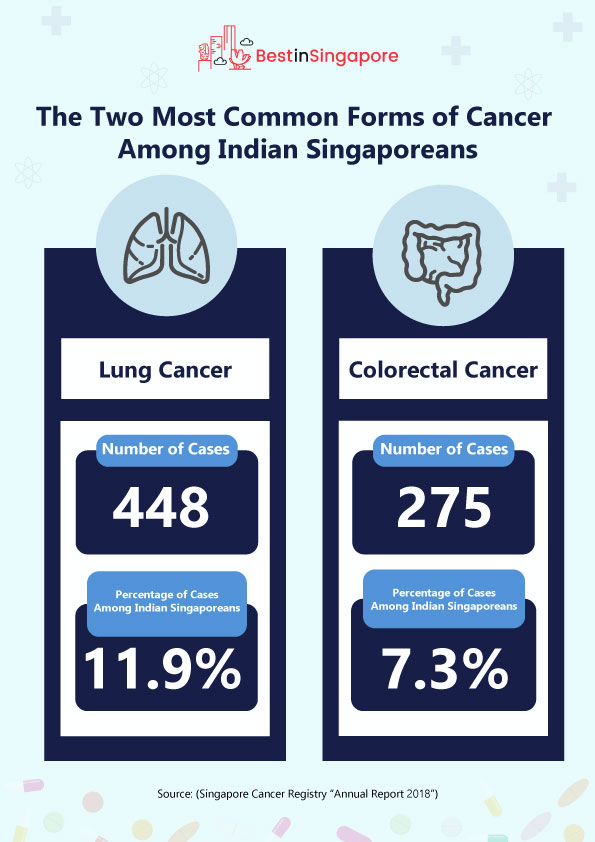 Despite all the data available, experts are still researching the exact cause of the cancer trends observed among the three largest ethnic groups in Singapore. Many believe that socio-cultural differences and lifestyles are responsible for the resulting patterns.
To a degree, this idea holds some merit as certain ethnicities consume different foods and follow different lifestyles. One notable example is the fact that Malay men were the most likely to present lung cancer.
This is likely due to the fact that in previous years, Malays were found to have the highest daily smoking prevalence. Regardless of ethnicity, one thing is certain though: that is the extremely high prevalence of colorectal cancer among all Singaporeans
Colorectal Cancer Among Singaporeans
While breast cancer is extremely prevalent in Singaporean women, the incidence rate of colorectal cancer is particularly high across all of Singapore. Among both sexes, colorectal cancer made up 15.1% of all new cancer cases in 2020.
With each year, the country reports approximately 1,865 new cases of this cancer. From an alternative perspective, this amounts to 5 Singaporeans being diagnosed with colorectal cancer every day.
The majority of colorectal cancer cases are usually men between the ages of 35 and 64 years old. For women, those beyond the age of 50 are more likely to be diagnosed with colorectal cancer.
Overall, the frequency of diagnosis for colorectal cancer has increased substantially over the past few decades. But as with breast cancer, the rate of survivability for colorectal cancer has also increased to 62% overall.
Similar to other forms of cancer, colorectal cancer can be treated through surgery, chemotherapy, targeted therapy, and radiation therapy. For the most part, the stage upon diagnosis and the patient's age will greatly affect the effectiveness of treatments.
While prevention isn't always possible due to pre-existing conditions and other health factors, it is certainly possible to lower one's risk for colorectal cancer. To lower one's risk, experts recommend limiting alcohol intake, exercising daily, and increasing dietary fiber intake.
Cancer Mortality Rates in Singapore
In 2020 the total number of new cancer cases in Singapore was reported to be 23,632. Of these cases, 12,196 were males and 11,436 were females.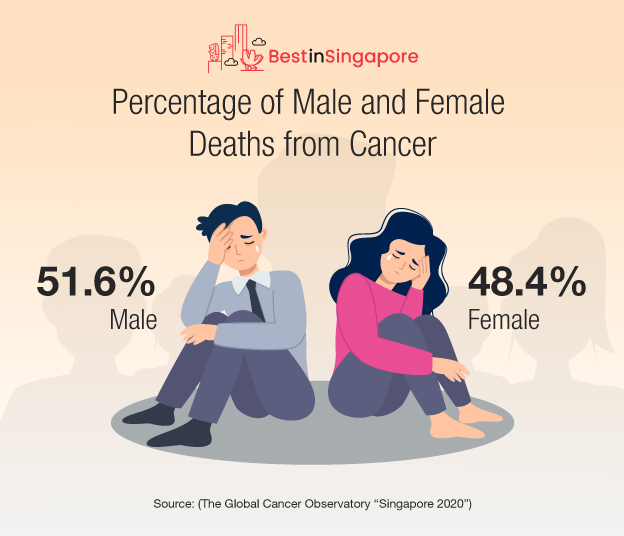 Unfortunately, in the same year, there were 12,130 deaths reported due to cancer. Taken as a percentage of the total number of prevalent cases in Singapore (69,267), this amounts to 17% of all current cases.
A large majority of deaths due to cancer in 2020 were caused by lung cancer, liver cancer, colon cancer, breast cancer, and pancreatic cancer. The figure below has been created to provide a better understanding of the lethality of each type of cancer.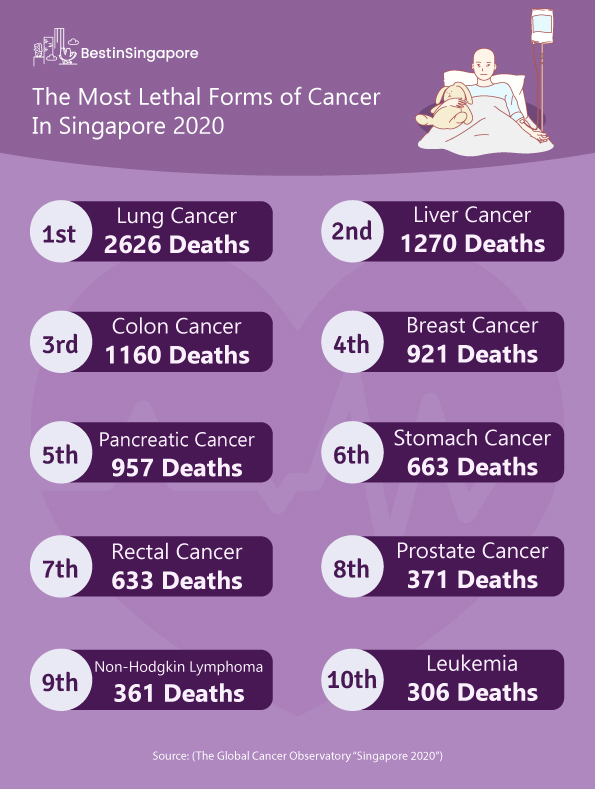 As shown by the table above, the most deaths in Singapore due to cancer were a result of lung cancer, liver cancer, colon cancer, and breast cancer. Collectively, these four forms of cancer are responsible for almost 6,000 deaths – nearly half of all cancer-associated deaths in the country.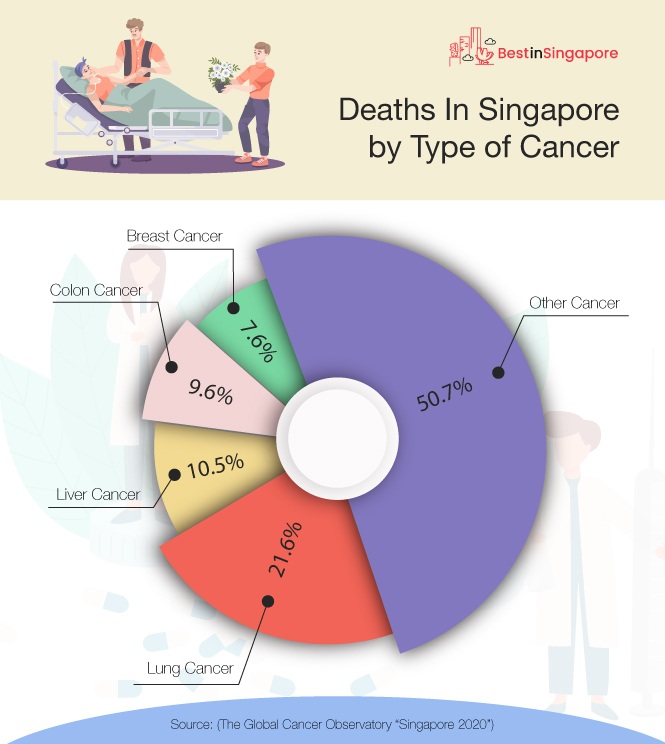 For the sake of comparison, the three most lethal types of cancer worldwide were reported to be lung cancer, colorectal cancer, and liver cancer. The death tolls: 1,796,144 for lung cancer; 935,173 for colorectal cancer; and 830,180 for liver cancer.
Given these worldwide statistics, it can be said with clear certainty that lung cancer is one of the deadliest forms of cancer.
The High Cost of Cancer Care
Depending on the type of cancer being treated, a patient can end up paying anywhere from $100,000 to $200,000 for late-stage care. This high cost is a result of the expensive cancer drugs used in a large majority of treatments.
In 2019 alone, Singapore spent a whopping $375 million on cancer treatment drugs. Overall, this figure represents a 20% growth rate for national expenses on cancer drugs.
This is over three times higher than the 6% growth rate for national expenses for non-cancer drugs. Many experts believe that if this rate of growth continues, the country may end up paying upwards of $2 billion by 2030.
Fortunately, the Ministry of Health is slated to add 33 cancer drugs to the Medication Assistance Fund. As a result, Singaporeans with extremely low income could qualify to receive a 75% cost reduction in many essential treatment drugs.
To further reduce the treatment cost of cancer, the Singaporean government has also revised certain policies in order to subsidize more treatments. These changes are expected to allow roughly 90% of patients to have their treatments fully covered by medical insurance.
These policies not only apply to cancer drugs but also various surgeries and therapies. This means Singaporeans can have a wider scope of treatment at a much lower cost.
Though there is still much to research about this life-altering disease, the abundance of gathered data and available treatments brings hope to many patients. As survival rates continue to rise, the future of cancer care in Singapore shows much promise.
---
Sources:
Breast Cancer. (n.d.). Retrieved September 23, 2021, from https://www.gleneagles.com.sg/facilities-services/centre-excellence/cancer-care/breast-cancer#:~:text=Almost 1 in 16 women,of 40 and 69 years.
Cancer Statistics //. (n.d.). Retrieved from https://www.nccs.com.sg/patient-care/cancer-types/cancer-statistics
Conquering Childhood Cancer //. (n.d.). Retrieved from https://www.singhealth.com.sg/patient-care/patient-education/conquering-childhood-cancer
Lai, L. (2021, August 18). Why S'pore spends so much on cancer treatment and how MediShield Life changes aim to tackle this. Retrieved September 23, 2021, from https://www.straitstimes.com/singapore/health/why-singapore-spends-so-much-on-cancer-treatment-and-how-changes-to-medishield-life
Lim, A. (2021, April 17). 10 Important Cancer Statistics in Singapore (Updated 2021). Retrieved from https://smartwealth.sg/cancer-statistics-singapore/
Why is Colorectal Cancer So Common in Singapore? (n.d.). Retrieved from https://www.mountelizabeth.com.sg/healthplus/article/colorectal-cancer-common-symptoms-causes