5 Best Doorbell Cameras in Singapore Reviewed and Tested
For those who want to upgrade their security surveillance at home, the best doorbell camera in Singapore would be a great addition! This smart doorbell will let you know that there's somebody at the door, even when you're not at home!
Digital doorbells come with an advanced camera feature and built-in microphones and speakers for two-way communication. This way, you can receive alerts, see who is in front of your home without opening the door, and talk to them without going to the front door.
It can also be useful whenever you have an unexpected visitor as it'll still send a notification even when you're away. Therefore, it has become one of the must-have security devices at home.
We've rounded up the best doorbell cameras in Singapore that provide reliable and responsive performance. But how will you know which model is the right one for your needs?
Let's answer that first! We'll start off by guiding you through selecting a good doorbell camera suitable for your daily needs.
How to Choose the Best Doorbell Camera
There are tons of doorbell cameras that feature varied specifications. Here are some of the things to take into consideration when picking one.
1. Resolution
For high-definition quality and sharper image, you should opt for 1080p resolution. To have a well-balanced lighting and clearer shots, you should also check if the unit offers different lighting levels.
2. Night Vision
As doorbell cameras provide 24/7 surveillance, your chosen unit must have excellent night vision. Since most unfortunate events or crimes happen at midnight, you should always be on alert and clearly see who is in front of your door — be it day or night.
3. Field of View
To capture every event happening outside of your home, you must choose one with a 180-degree view. With a wider view, you can see and record every angle, allowing you to have a detailed look and accurate evidence when needed.
4. Motion Detection
This feature varies by model. Most units will send alerts when there's someone approaching or leaving your door.
There are also more advanced units through which you can set a specific zone to be monitored. This is an ideal option for those who live near a busy street and want to avoid receiving alerts every time someone passes by.
5. Source of power
Doorbell cameras fall into 2 different categories: you can choose between a battery-powered or handwired unit. Handwired smart doorbells are perfect for those who already have a regular doorbell at home.
On the other hand, battery-powered units are for homeowners who don't have a traditional doorbell — so there's no need to stress yourself out with the installation process.
6. Cloud Storage
Having larger storage capacity will let you keep records for at least 1 month so you can easily find old footage. You must also be able to choose between an event-based or continuous recording so you can easily manage the storage.
The Best Doorbell Cameras in Singapore
It's now time to see some of the best doorbell cameras in Singapore! We've carefully picked each item based on their versatile features and long-lasting build!
1.   Eufy Video Doorbell 2K (Wired)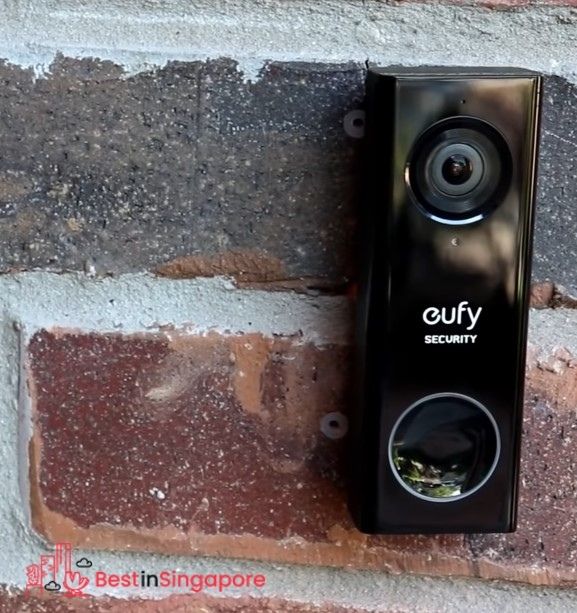 Price: $299.99
Unlike the previous option, the Eufy Video Doorbell 2K (Wired) offers flexible and quality features without any required subscription fees.
It has crystal-clear image and video quality with distortion correction to ensure that you'll always have a high-definition view. Due to its smart sensor, you can immediately know if someone's at your door, even without pressing the doorbell.
All footage will be stored on your local drive with military-grade encryption. You can record and set instant responses to interact with visitors and give instructions — this comes in handy whenever you're not at home.
It also shows a few seconds of footage before the initial alert so you can have an accurate record of the event. Moreover, you can customise the areas where the camera will detect motion: this way, you'll only receive alerts from relevant areas at home. 
Overall this is the best doorbell camera in Singapore if you live somewhere busy and expect plenty of people to pass by your place.
Pros
Great motion detection
High-resolution video
Works with Alexa and Google command
No subscription service required
Cons
Lacks IFTTT support
No integrations with Eufy or third-party smart devices.
Customer Reviews
Most users said that the Eufy Video Doorbell 2K (Wired) has high-quality video, precise motion detection, and an affordable price as well, making it one of the best doorbell cameras in Singapore. A user gave this feedback:
"A high-resolution camera and HDR imagery make the Eufy Video Doorbell a solid choice for anyone looking to beef up security around the outside of their home. It's relatively easy to install and configure, delivers sharp video, does a good job of differentiating between human motion and objects, and supports voice commands. That said, it doesn't integrate with other Eufy products or any third-party smart devices for that matter, nor does it offer support for IFTTT applets."
2.   Arlo Video Doorbell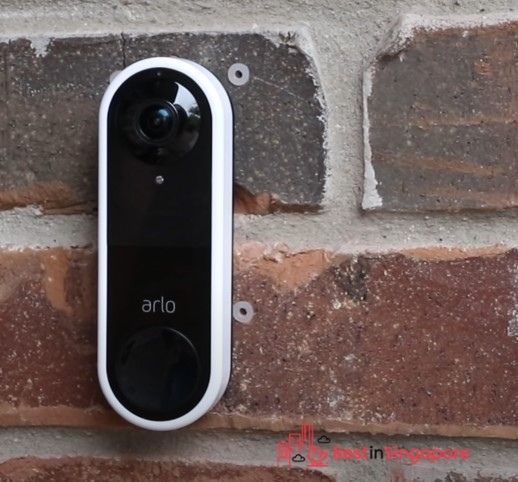 Price: $196.33
The Arlo Video Doorbell features HDR video quality to capture more refined details and optimised 180-degree diagonal viewing angles so you can see the visitor from head to toe. Whenever your doorbell is pressed, it'll send direct notifications by calling your phone so you can be sure that you'll never miss a visitor.
When someone is at your door, it'll automatically detect them and you'll immediately receive alerts, letting you watch a live stream video so you can know what's currently happening in front of your home.
It also has a 2-way audio feature where you can speak with the visitor or just respond via pre-recorded messages. For emergency purposes, it has a built-in siren that will automatically turn on during an event or that you can also trigger remotely.
We think this is the best doorbell camera in Singapore if you live alone or if you don't feel secure in your neighbourhood. 
Pros
HDR video
Wide viewing angle
Works with Alexa voice command
Easy to install
Customizable motion-detection zones
Cons
Requires wiring
A bit bulky
Requires subscription for video recording and smart notifications
No Google Assistant report
Customer Reviews
Many reviewers complimented the sharp high-resolution and stylish design of the Arlo Video Doorbell. A user gave this feedback.
"The Arlo Video Doorbell has a top-notch feature set, excellent performance, and a moderate price tag. Like most products in its class, you'll need to pay for a subscription to get the most benefit from it, but the long list of benefits—especially the person/animal/package detection—that you get for your investment renders it worthwhile. And if you're already using other Arlo cameras, you might already be paying for it. Until something better comes along, this is our new favorite wired video doorbell."
3.   Google Nest Hello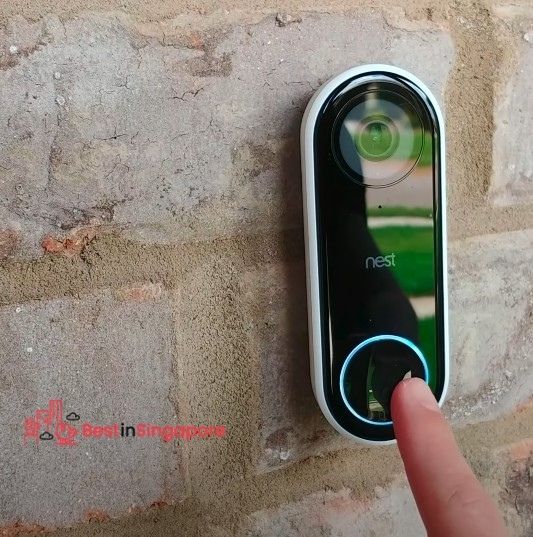 Price: $496.00
The Google Nest Hello is fully equipped with features through which you can do 24/7 live streaming — so you can always stay on alert even when you're not at home. It'll even automatically send you an alert whenever someone approaches your door.
You can have a full 160-degree view, which is better than what most doorbell cameras have. The best thing about it is that you can install an additional wedge on the backplate, letting you tilt your camera 15 degrees so you can have a better view — this is an ideal option if your doorbell is in an awkward spot.
It also has a sharing access feature so other family members can set their own preferences for notifications. This best doorbell camera in Singapore is resistant to rain, water spray, and dust and can withstand varied weather conditions.
Because of its durability, we think this is the best doorbell camera in Singapore if your door is exposed outdoors.
Pros
High image and video quality
Smart platform integrations
Sleek and stylish design
Precise AI recognition
Cons
A bit expensive
Subscription is required
No local storage
Customer Reviews
The Google Nest Hello has gained a lot of positive reviews due to its high-quality camera, accurate facial recognition, and flexible activity zones feature. A reviewer recommended the product and wrote:
"Overall, we think the Nest Hello is a truly high-end video doorbell. The hardware itself was impressive, with its superb camera and stylish design. On top of that, it offered a compelling set of smart features, like person alerts, facial recognition, and activity zones. And with the new Nest Aware subscription, it's now a lot more practical to add cloud storage to the Nest Hello and other Nest cameras. Sure, the Nest Hello is one of the more expensive video doorbells you can buy, plus it requires a monthly fee if you want access to its full features, but in our expert opinion, the Nest Hello is well worth it."
4.   Ring Video Doorbell 3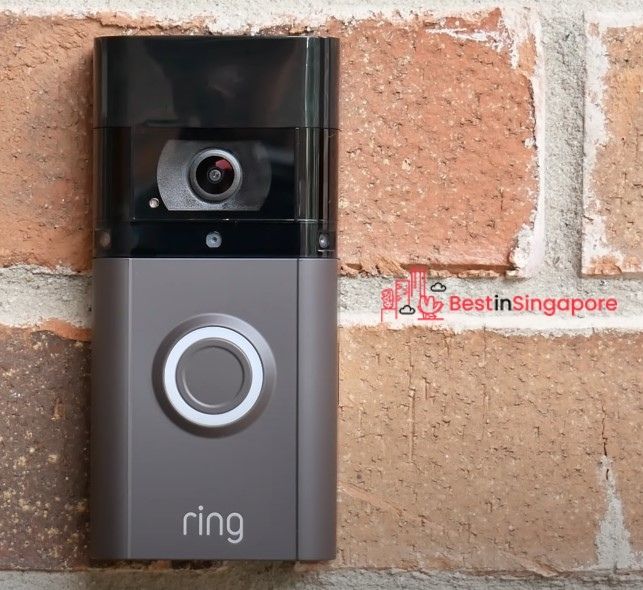 Price: $369.00
The Ring Video Doorbell 3 is an upgraded version of the original Ring Video Doorbell, featuring enhanced security features such as more precise motion detection and improved WiFi connection.
With this best doorbell camera in Singapore, you can customise the motion settings to focus on key areas at your home, ensuring absolute protection against unwanted access.
You'll get real-time notifications regardless of whether the visitors pressed your doorbell or not. This way, you can see if someone stops by at your house.
It's also built with a strong WiFi connection so you'll be notified immediately if it detects motion, preventing any unfortunate events from happening without your notice.
Compared with other options, this one is a battery-powered device that comes with a quick-release battery pack so it can stay charged all the time.
Pros
Simple setup
Live video streaming
Full HD video quality
Great motion detection
Affordable
Cons
No Google Assistant integration
No pre-roll video
Customer Reviews
Users were highly satisfied with the video recording and photo capture function as well as the advanced motion detection of the Ring Video Doorbell 3. A user posted this review:
"You'll get the same 5.0 GHz Wi-Fi band and advanced motion detection that the Plus model has, but you'll save about $30. You also won't get the Pre-Roll feature, but it's still a solid upgrade overall."
5.   Ring Peephole Cam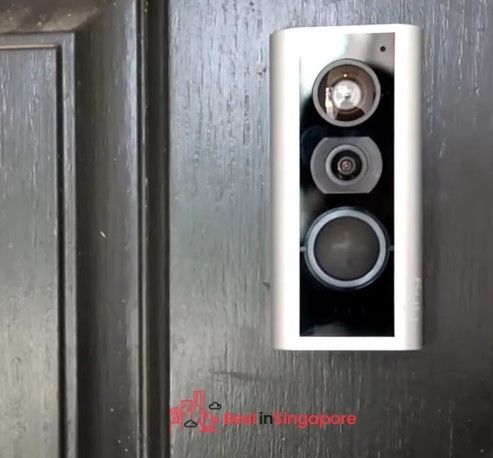 Price: $199.00
Among all the top options, the Ring Peephole Cam has the most compact design, so it's best for homes/apartments with a compatible peephole. It features motion-activated notifications: once it senses knocks, it'll send you an alert, and will let you see who the visitor is.
With its two-way talk feature, you can interact with the visitor — so whenever a delivery has arrived, you can simply let them know where to put your packages.
And when you're not at home, you can still talk directly to the unexpected guests via mobile app! So this is why we think this is the best doorbell camera in Singapore if your house is mostly unattended during the day.
Its motion detectors can also be customised, allowing you to focus only on key areas at home. Moreover, you can activate private zones and disable audio recording for more relevant details.
Pros
Easy installation
Clear audio
HDR video quality
Wireless device
Knock detection
Cons
Slight distortion
Subscription required
No Google Assistant support
Customer Reviews
Most users were impressed with the easy setup, knock detection, and high-definition video quality of the Ring Peephole Cam. A user left this feedback:
"You get all of the features and reliability that we've come to expect from Ring, in a package that can be installed in a matter of minutes. For those that can't fit a regular doorbell or that aren't allowed to drill holes, there's nothing that works this well. There are a few minor issues, including recordings that just show a blanked out privacy zone and the fact that the doorbell moves with your door, giving some odd footage and preventing the outside from being monitored while the door is open. For these reasons, we'd go with a fixed doorbell where possible. That all said, if you need the flexibility that this doorbell offers, there's nothing better."
And that's our list of the best doorbell cameras in Singapore! Do you already know which one fits your needs the most? Let us know all about it!
And for more smart home security devices at home, take a look at these best home IP security cameras in Singapore! With these devices, you can monitor every event happening outside of your house, even when you're away.