The 5 Best Exercise Balls in Singapore for Core Stability
Starting some fitness exercises at home? Or perhaps you're just searching for a new exercise tool to include in your regular routine? Whichever it is, the best exercise ball in Singapore would be a great addition for beginners and fitness experts alike!
With an exercise ball or a yoga ball, you can improve your balance and posture, strengthen your core muscles, develop your flexibility, and even relieve back pain. It also makes the workouts more fun, for you can bounce in between reps!
Now, you can easily find these balls at fitness stores… but how can you be sure that you've got the right one for your needs?
Well, to help you with that, we've listed some of the most important things that you look for when buying an exercise ball. Read our guide to buying one before you go on to our lists of the best exercise balls in Singapore.
How to Choose the Right Exercise Ball
There are lots of different exercise balls on the market and each one offers certain health benefits.
To determine which one suits you the most, here are the essential features that you must consider while selecting an exercise ball for your regular fitness routines.
1. Size
First of all, make sure that the size of the ball matches with your height. For the beginners, it's ideal to choose a slightly larger one so you can keep it a little soft and make your exercises easier.
With different sizes of exercise balls in Singapore, you can try a variation of exercises and have progressive routines. Here are the standard measurements:
55 cm: 4'11" – 5'4″
65 cm: 5'5″ – 5'11"
75 cm: 6'0″ – 6′ 7″
2. Weight
Each exercise ball supports a specific weight range. The weight limit for most exercise balls is 133kg, which is great for basic aerobic and light weight training.
There are also some models with up to 136kg weight capacity. These are perfect for fitness experts who want to try challenging workouts.
3. Anti-Burst Feature
Exercise balls in Singapore with anti-burst technology provide safety when you're doing basic/advanced exercises. This feature will help resist compression under load, allowing the ball to slowly deflate so you won't fall flat on the floor.
The ideal anti-burst rating is 500kg. That should serve for most people, but if you plan on using additional weight, then you need to opt for a higher rating.
If the rating is not stated, then it's most likely to fall between 100kg to 200kg. This is lower and might not be safe to use, especially for those who are heavyweights.
The Best Exercise Balls in Singapore
It's now time to see our picks for the best exercise balls in Singapore! We've rounded up the most recommended models in the market, suitable for both basic and advanced workout sessions.
1.   TheraBand Exercise Ball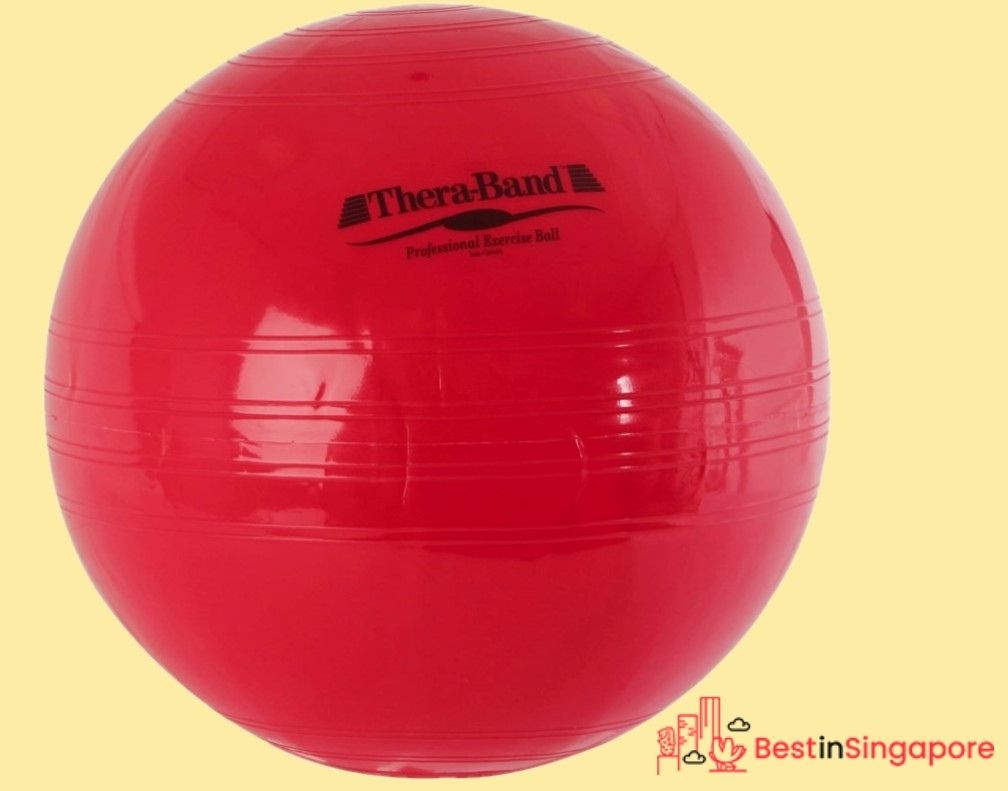 Price: $113.00
The TheraBand Exercise Ball is perfect for beginners who want to learn various rehabilitation and fitness exercises for muscle development and even for recovery.
First, it deflates evenly and comes with two plugs to make sure that you can safely lie, sit, and kneel on it while exercising.
It can also help improve the range of motion in the back, core, arms, shoulders, and legs. Aside from this, you can use it to achieve improved balance, posture, and even flexibility especially when used as a yoga ball. 
Yoga and Pilates activities can also be done with this best exercise ball in Singapore! It's easy to clean and it comes with an inflation adapter so you can quickly use it.
Pros
Maintains its shape and holds air well
Slow-deflate technology for safety
Best for basic fitness routines
Can be used for recovery
Cons
2.   URBNFit Exercise Ball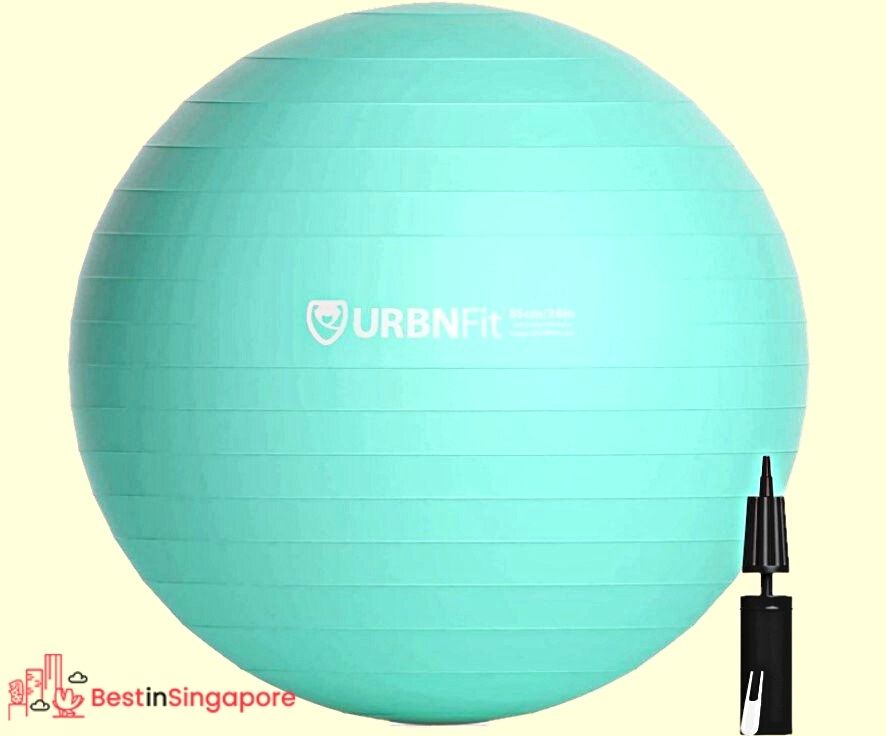 Price: $36.44 – $271.34
For an extreme body workout, you must try the URBNFit Exercise Ball! It's made with a 2000lb anti-burst rating, which means that you can do some superior abs and core exercises to level up your routine!
It comes with an easy-to-use hand pump through which you can inflate the ball quickly as well as deflate it easily for instant storage and travel use.
Similar to the previous option, you can also try some Yoga and Pilates activities with it, but since it has a higher anti-burst rating than the other ball, you can practice more difficult movements.
It's also recommended for pregnant women, as it helps with relaxation and can also strengthen the back and legs. There's no need to worry about possible falls too because it has an extra grip that provides comfort during prenatal stretches. Because of this, we think this is the best exercise ball in Singapore for expectant mothers.
Pros
Stays inflated for a long time
Great to use as a yoga supplement
Best for weighted exercises
Cons
Slight unevenness when placed on the floor
Customer Reviews
Many customers admired the durability and fast and long-lasting inflation of the URBNFit Exercise Ball. A customer wrote this feedback:
"I purchased exercise balls for my mother and stepfather and they absolutely love them. They said they were incredibly easy to inflate with the pump which comes included and they were very happy with the quality of the product and the experience thus far. Thank you!"
3.   Trideer Exercise Ball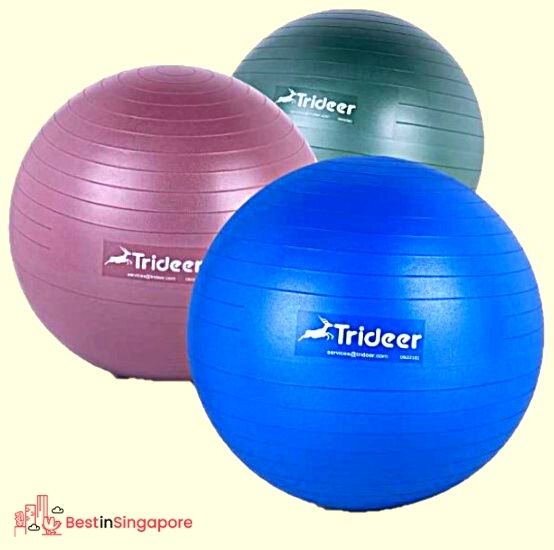 Price: $18.49 – $34.99
Trideer Extra Thick Exercise Ball offers a fantastic anti-bust rating of 2200lbs, making it an ideal option for most professionals. It's not only great for Pilates and yoga, but good for abdominal training, pregnancy gymnastics, and even low-impact exercises as well.
It also has a slip-resistant exterior front for weighted exercises, flexibility workouts, and other workouts that require sustained balance.
Unlike most exercise balls, it comes with a quick foot pump so you can avoid buying a separate one. For long-lasting inflation, it also has 2 more air stoppers.
So if you have multiple users or you think this will be used regularly, this could be the best exercise ball in Singapore for you.
Pros
Doesn't need to be inflated often
Foot pump is included
Holds air well
Durable build
Cons
While trying to deflate it, you may get the smell of strong chemicals
No exercise guides included
Customer Reviews
Due to its ultra-thick form, many customers were impressed with the high durability of the Trideer Extra Thick Exercise Ball that can withstand heavy use and extremely challenging workouts. A customer wrote this review:
"The material feels durable especially when you sit on it. Also, when sitting on it, the depression of the ball isn't so big that your hips would sink into the ball. It feels sturdy and safe to have the body weight rest on the ball (be it sitting, lying or resting). The ball size is also just right for me, despite the general recommendation of stability ball size for my height should be 55cm (for reference, I'm 160cm tall). Apart from the pump, it also comes with a paper ruler, 2 extra stoppers and extra nozzles for the pump, which I thought it's quite thoughtful. Love the pop colour of the ball, definitely adds some vibrancy to the house/ room. However, I noticed there's some glue stain near the air hole area, and tried cleaning it up but there's still a slight stain mark on it. Luckily the stain isn't too obvious, it's alright."
4.   Vibora Exercise Ball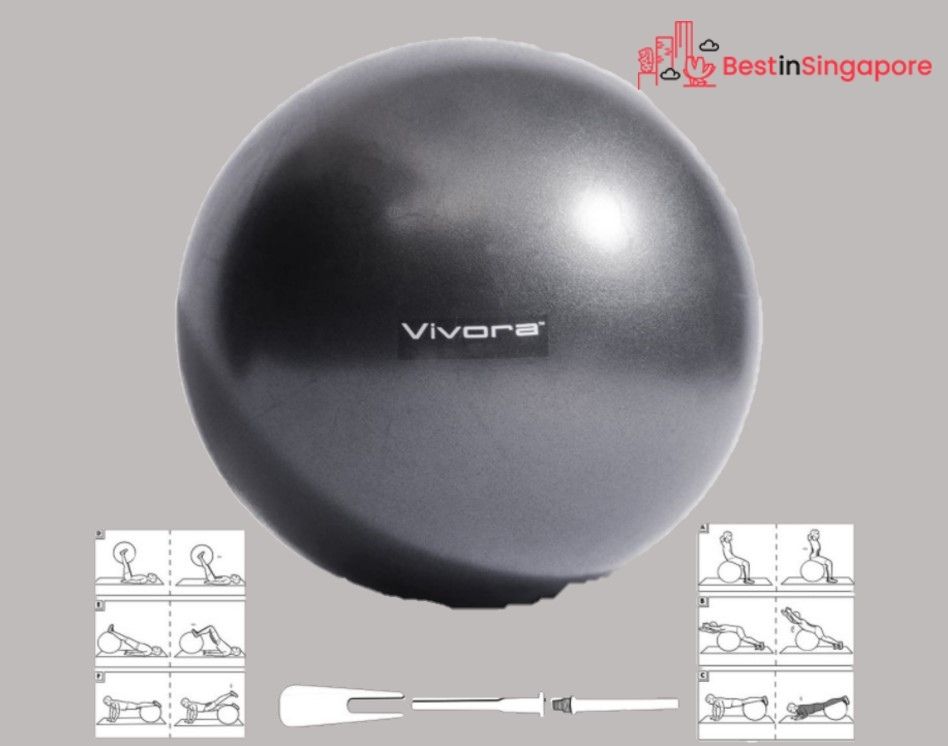 Price: $30.88
With the Vibora Exercise Ball Chair, you can try abdominal exercises, squats, balancing, pregnancy, and even labour posture training. It's a ribless exercise ball that can be used on any exercise environment and also offers a weight capacity of 2000lbs.
Moreover, you can strengthen your pelvis and stabilize your core due to its firm and large form, suitable for all types of workouts. It's already packaged with a manual hand-pump, spare plugs, and bike pump adapter for convenient use.
This best exercise ball in Singapore even has detailed workout guides for pregnant women, allowing them to do fetal exercises and have a healthier fit.
Pros
Slip-resistant
Great thickness
Rolls up nicely
Cons
Doesn't come with an inflation tool for automatic and faster inflation
5.   Gaiam Kids Balance Ball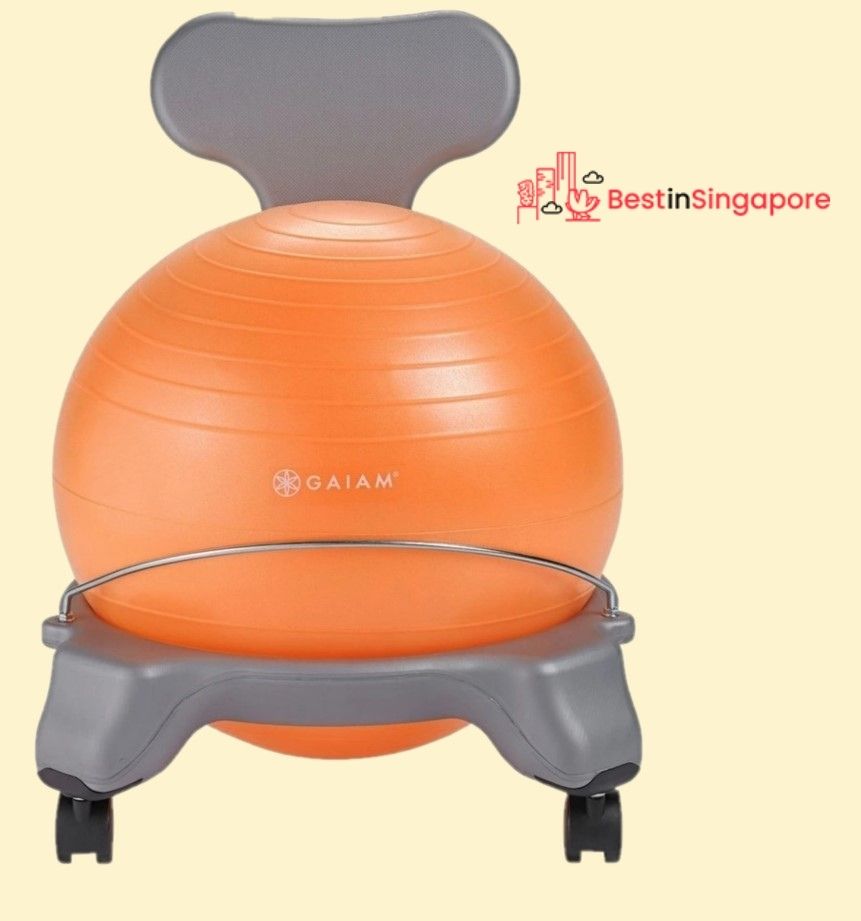 Price: $90.19
For all the parents out there who want their kids to have fun and do some simple exercise at the same time, then the Gaiam Kids Balance Ball is a great choice! It's a colourful and child-sized ball that can help build proper posture and improve balance.
It can also increase blood flow to the brain, resulting in better focus. It's suitable for ages 5 to 8 years old so if your kids fall between this range, then they'll surely love bouncing and playing with it!
An easy inflation pump is already included for quick setup at home. With this best exercise ball in Singapore, you can work out with your children, letting you have more bonding moments!
Pros
Constant movements
Child-seized 45 cm
Helps build healthy posture
Durable
Great chairs for kids
Cons
Slightly difficult to inflate because of the strong PVC material
And that's the end of our list of the best exercise balls in Singapore! If you've got some recommendations in mind, we'd also like to hear them!
And for additional exercise tools to include in your daily routine, you might be interested in the best dumbbells in Singapore! They can help increase muscle mass and arm strength!