The 4 Best Dumbbells in Singapore for Home Workouts
If you're thinking of complementing gym workouts with basic home workouts, then we highly recommend getting your hands on the best dumbbells in Singapore to see results faster!
Luckily for you, we've just created our list of the best dumbbells in Singapore that are perfect for home workouts! These will allow you to catch up on your fitness routine in case you don't have the time to consistently hit the gym.
Anyway, before we show you our picks, we'll share a few tips that will help you choose the best dumbbells in Singapore for you. That way, you won't waste money on something that won't be the right fit for what you're trying to achieve, body-wise.
Let's start, shall we?
Factors to Consider Before Buying a Pair of Dumbbells
Overall, dumbbells may look plain and uncomplicated on the surface, but there are lots of things to consider before buying a pair if you want to make sure that it'll be worth your money.
For example, since the best dumbbells in Singapore are mainly used for arm workouts, one of the first things you should take note of is the weight.
Beyond that, the type, coating, and shape & grip are also worth considering if you want to maximise the functions of your dumbbells.
Let's discuss each point below.
1. Weight
Buying any type of gym equipment always begs the question: "How much weight is perfect for you?" And we're here to help you answer that.
If you're planning to use dumbbells to increase arm strength, we believe that a pair of 10 to 15 kilogram dumbbells should be enough. After all, your priority is strength, not increasing the size of your arms.
On the other hand, if you're intending to use it for a full body workout, then going for a pair with slightly heavier weight is the right way to go. Going for a slightly heavier weight is perfect for lower body workouts.
Always remember that if you don't know your weight limit, it's best to settle on a lighter weight. If you're able to curl a 7 kilogram dumbbell, you might want to increase the weight by only a bit, say 8 to 10 kilogram ones.
2. Type
There are two common types of dumbbells: adjustable and fixed-weight. Let's elaborate on their differences.
Adjustable dumbbells are the perfect choice if you have a tight and small space because they're compact and portable. In terms of weight, they can range from 3 to 25 kilograms, much lighter than most fixed-weight dumbbells.
Meanwhile, as the name suggests, the weight of a fixed-weight dumbbell cannot be changed or adjusted. If you're not sure what one looks like, it's what people who do aerobics usually use.
In terms of weight, a fixed weight dumbbell can range from 1 kilogram and can go all the way up to 30 kilograms. It's the ideal type of dumbbell to use if you're planning on increasing your muscle mass.
3. Coating
Dumbbells can also be classified based on their coating, but we believe that this one will ultimately boil down to the preference of the user.
At any rate, the three common types of coating are solid metal, rubber, and vinyl, all of which have their own unique purpose.
Vinyl-coated dumbbells usually come in bright colours as they signify a particular weight. For example, pink weights are usually 1 kilograms while blue ones have 5 kilograms weights.
Rubber coatings, on the other hand, are used for protection to prevent the dumbbell being dropped by the user. Rubber and vinyl ones usually have an easier grip, unless the user has sweaty hands.
Solid metal dumbbells are the most industrial-looking ones. These are the black-coloured ones with silver handles that are commonly seen in neighborhood gyms.
4. Shape and Grip
A lot of gym goers tend to forget that a dumbbell's shape and grip have an impact on their workouts.
You might notice that most dumbbells have either a circular or hexagonal shape. If you don't want your dumbbell rolling around while you're resting after a set, then we strongly suggest going for the hexagonal-shaped ones.
Grip is important as well because that's how you handle the weights. If the grips cause discomfort, you will not be able to exercise properly.
So, the best advice we can give regarding this is to personally have a feel of the grip and see which one you prefer.
The 4 Best Dumbbells in Singapore
And that's it for our tips on how to find the best dumbbell for your needs. Now, you're probably ready to see our picks.
So, without further ado, here's our list of the best dumbbells in Singapore.
1.   Adjustable Dumbbell Set
Best for High Quality Materials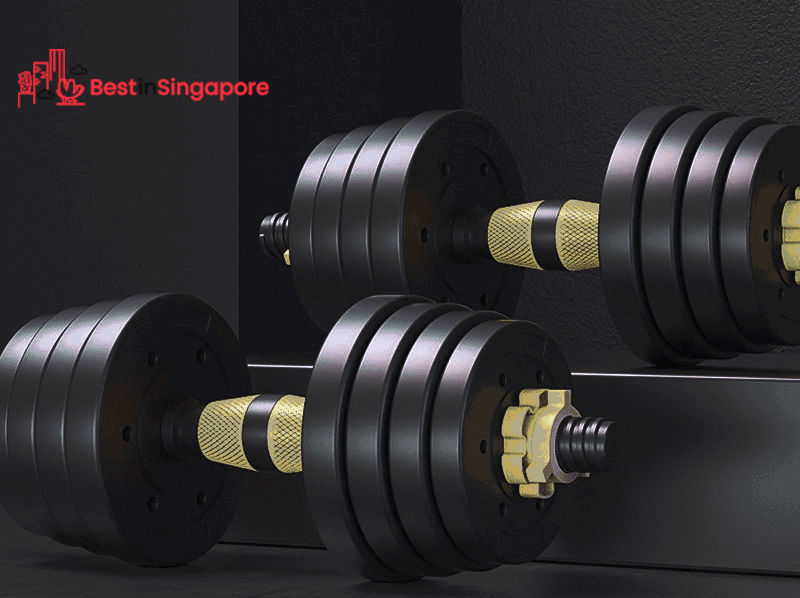 Price: $69.00
If you're looking for a dumbbell set that's perfect for intense weight training, then look no further than the Adjustable Dumbbell Set. Its weight can range from ten kilograms up to forty kilograms, making it the ideal option for those wanting to increase their arms' muscle mass.
What's more, each dumbbell is made from premium, high-quality materials, so durability won't be an issue with this one. It also comes with a tight safety lock to prevent the plates from falling out.
Another reason we consider it one of the best dumbbells in Singapore is the fact that it can be converted into a barbell, which adds variety to your workouts. It also comes with a feature that relieves neck and shoulder pressure to make workouts more comfortable.
Highlights
Durable
Safety lock
Heavier weights
Relieves neck and shoulder pressure
2.   Hexagon Dumbbell
Best for Overall Value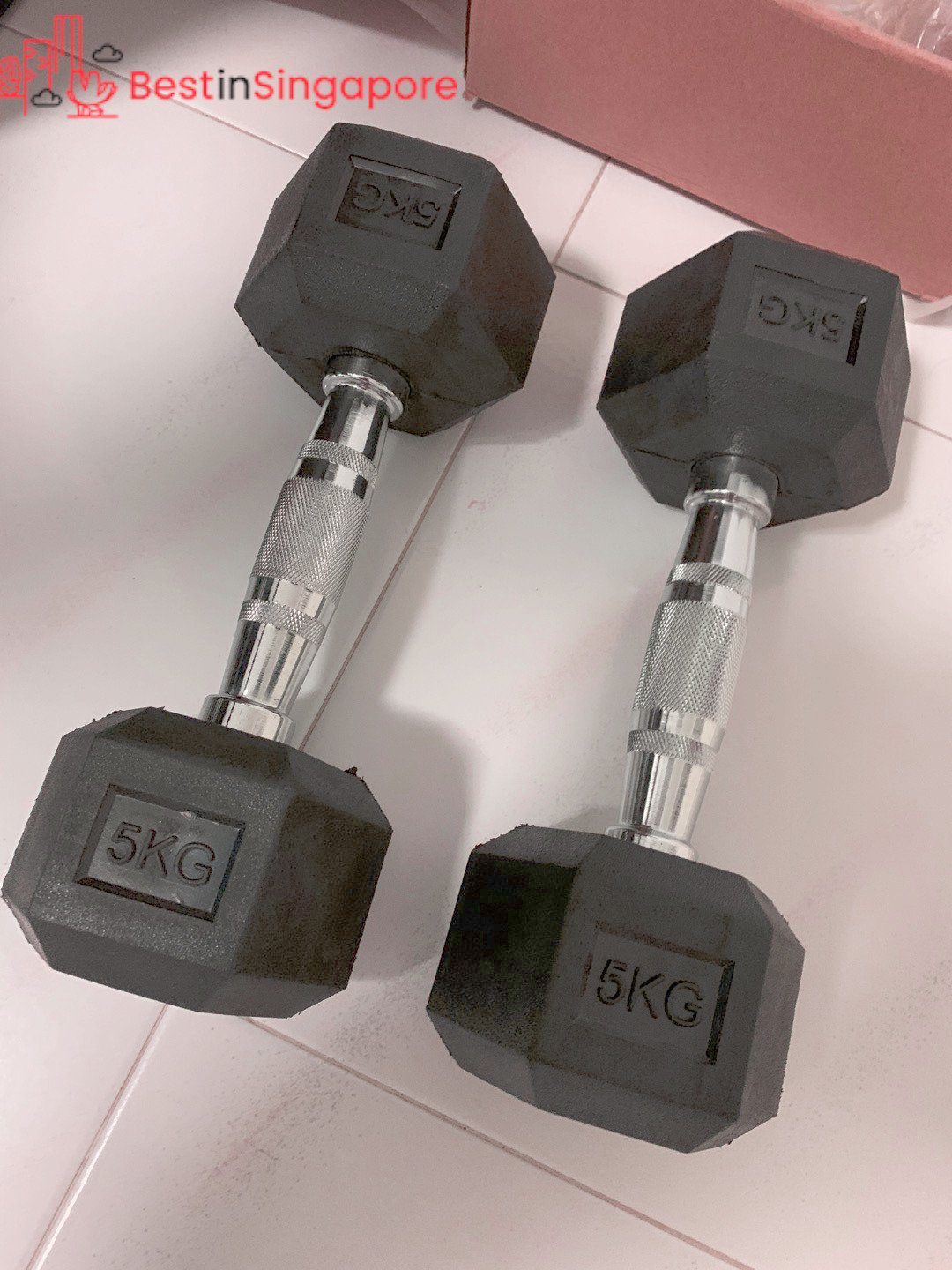 Price: $64.00
The Hexagonal Dumbbell Set is probably the most used and familiar gym equipment on the island as it's used by the majority of gyms and fitness centres, making it one of the best dumbbells in Singapore.
One reason it is used by a lot of gyms is that it's affordable and durable compared to other dumbbells. For no more than $30, you can get a pair of dumbbells that will help increase muscle mass and arm strength.
What's more, it comes with a hexagonal shape that prevents it from rolling around when not in use. It's also made from rubber, which makes wiping off the dirt and sweat easier.
Highlights
Rubber coating
Hexagonal shape
Durable materials
3.   JIJI Black Versatile Dumbbell Set
Best for Strength Training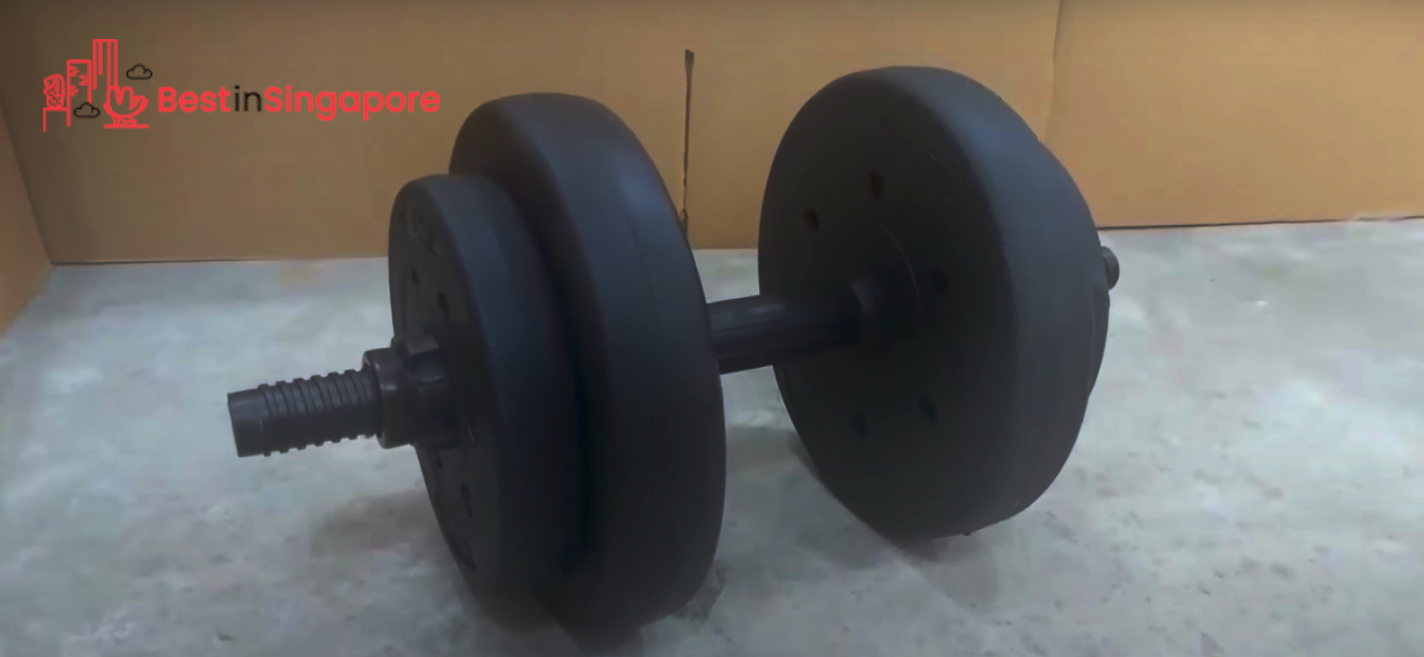 Price: $99.90
Since JIJI is one of the most trusted home and gym equipment brands on the island, we couldn't help but include one of its dumbbells in our list. Here's the JIJI Black Versatile Dumbbell Set, and we believe it's among the best dumbbells in Singapore.
For one, it comes with a durable iron cast that makes it look brand new even after 2 years of usage. This also makes it extremely durable, so rest assured that it can last beyond 2 years of everyday use.
It also comes with a carrying case perfect for easy storage. If you're just starting to lift weights, you may also choose your preferred weight from a wide range of weights, from ten kilograms to 30 kilograms.
Above all, it can also be used for full body workouts because it's convertible into a barbell. It's among the best dumbbell sets for your money's worth.
Highlights
Convertible into a barbell
Durable materials
10 kilograms to 30 kilograms
4.   Bowflex Style Dumbbell
Best for Body Building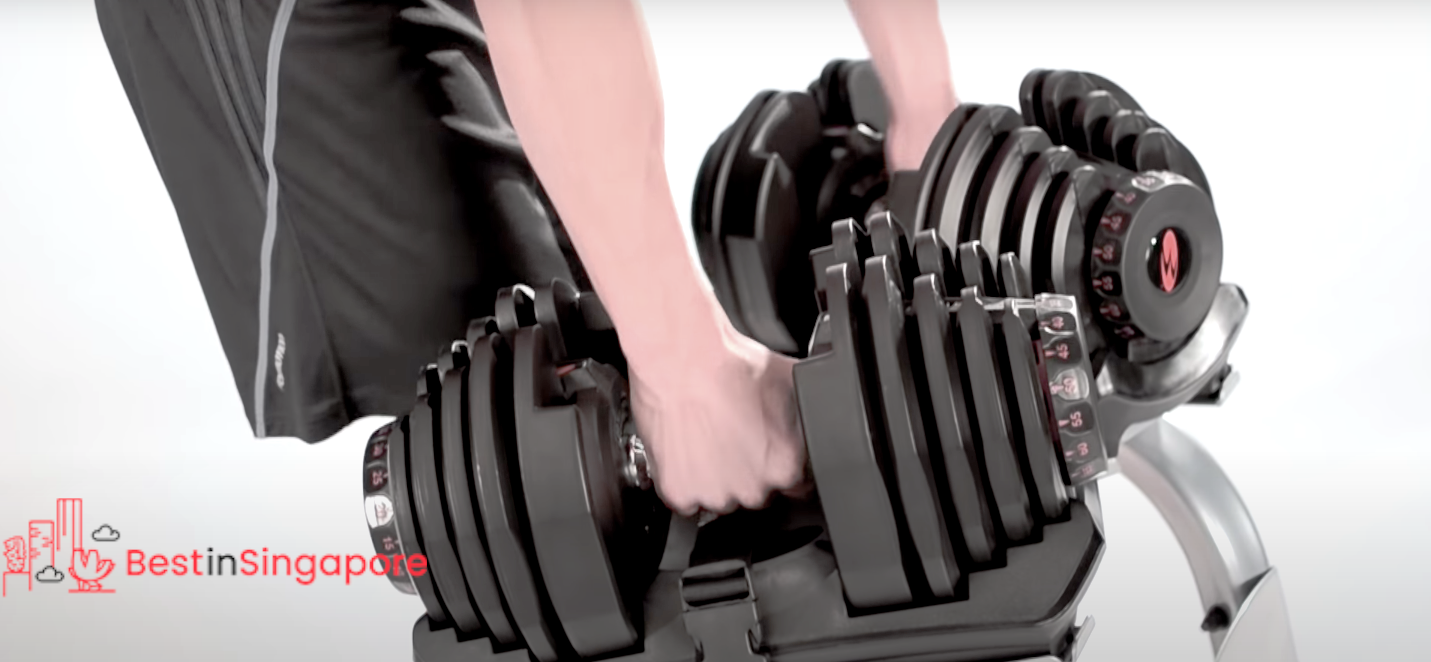 Price: $426.00
If you have money to spare on a really nice dumbbell set, you might want to get your hands on the Bowflex Style Dumbbell. Its heavy price tag is understandable as it's more recommended for pro gym goers and body builders.
What makes it one of the best dumbbells in Singapore is that it's both adjustable and fixed. All you need to do to increase or decrease the weight is turn the dial.
In fact, it can go from 3 kilograms to 25 kilograms in just a turn of the dial. No need to pick up other plates if you want to reach your desired weight.
Above all, since the weight can be easily adjusted, you can do more exercises than just bicep curls. You can also do shrugs, lunges, and raises with the Bowflex Style Dumbbells.
Highlights
Adjustable weight
Durable finish
Allows varied exercises
And that's it for our list of the best dumbbells in Singapore. All you need to do is get your hands on any of these dumbbells if you want to see better results!
Anyway, if you want to see muscle growth faster, you should consider drinking workout supplements. Luckily for you, we know some of the places that sell the best workout supplements in Singapore.