8 Best Exercise Bikes in Singapore for Indoor Workouts
Trying to stay fit despite a busy schedule? With the best exercise bike in Singapore, you can do simple or intense exercises at home instead of going to the gym and forcibly adding workout classes on your weekly routine.
Just by doing cycling exercises, you can instantly have a full-body workout to improve your stamina and endurance and burn some calories. However, with the endless options that you have, it may not be easy to find the right exercise bike for your particular fitness goals.
That's why we've narrowed down the selections and listed the most in-demand bike models in the market.
But before we take a look at some of the best exercise bikes in Singapore, there are some things that you must keep in mind first so you can have the perfect bike for your needs. We'll cover those too!
What to Look for When Selecting an Exercise Bike
To fully enjoy the convenience and health benefits of an exercise bike, it's extremely important to choose a good bike — or more specifically, the right bike for your situation.
So, here are the essential key features to consider before you buy an exercise bike.
1. Type of Exercise Bike
First of all, you must know that exercise bikes may fall into any of 2 different types. These are the recumbent type and traditional upright bike.
The upright exercise bike is similar to the classic outdoor bike in which you can have a great cardio workout. They're designed with a compact form and can easily fit within tight areas — so if you have a small workout space at home, this can be an ideal option for you.
When it comes to the recumbent bikes, they have better lower back support compared to the upright bikes, offering a better lower body workout. This type mostly provides an ergonomic workout where you can easily adjust the seating and monitor your heart rate as well.
2. Size
The size will mainly differ according to one's height and it'll also depend on the possible size adjustment settings.
Fortunately, most bike models have a range of height options: simply check if your height falls within the range, so you can do some adjustments without feeling any discomfort at all.
You also need to make sure that the bike size will fit into your allocated space at home, of course, so that's another thing to think about here.
3. Resistance Levels
Exercise bikes also come with varying levels of resistance. For those who are not really physically fit, the lowest resistance level must match your stamina — this way, you won't feel too worn out after the exercises.
But if you're fit, choose one that offers advanced resistance levels so you can do more challenging workouts.
4. Pedals
A good exercise bike must have highly functional pedals that allow fluid movement so you can comfortably cycle even for extensive sessions. They must also be designed to prevent possible incidents like slippage.
It'd be better to buy one that has pedal straps, letting you have smooth pedalling and protecting your feet from possible injury.
5. Weight Capacity
Along with considering the size of your bike and your space, there's also a need to check the bike's weight capacity. Your weight must fit within the offered weight range of your chosen bike.
Note that exercise bikes typically have 250- to 300-pound weight limits.
6. Built-in Programs
With an exercise bike that has excellent built-in programs, you can quickly find out which workout routine is best for your stamina. The recommended routines will be based on gender, weight, fitness, and goals, so you can surely have a great workout session.
The most important program that an exercise bike must have is one linked to a built-in heart rate monitor. Most exercise bikes also have LCD displays that show the calories burned, workout duration, and distance covered.
This feature can help you determine the intensity of your workouts and track your performance levels.
A List of the Best Exercise Bikes in Singapore
Now that you already know which features to note while buying an exercise bike, you may see our picks for the best exercise bikes in Singapore! We've found you some high-quality yet affordable exercise bikes below.
1.   Sunny Health & Fitness Belt Drive Indoor Bike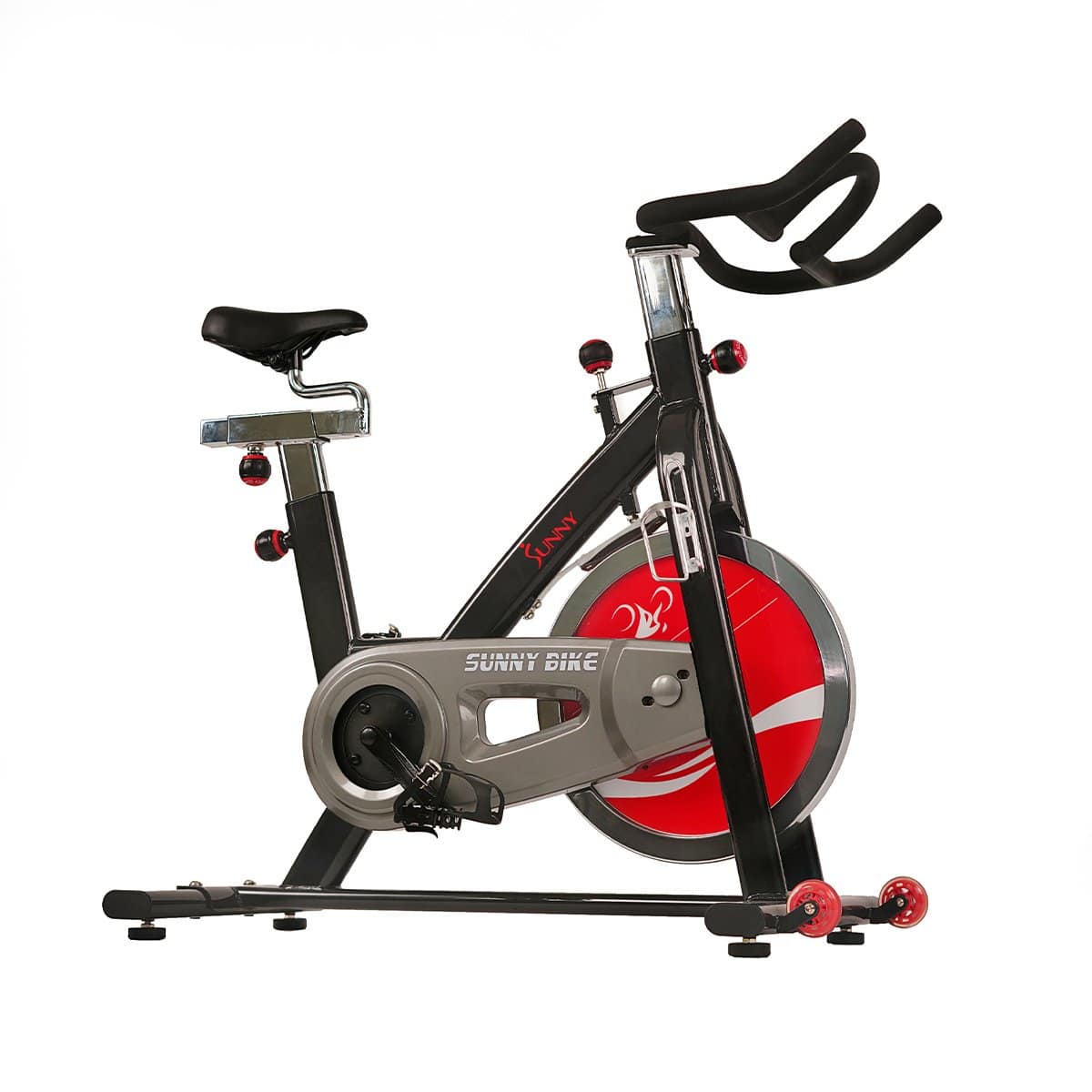 Price: $2,585.90
Whether you're an experienced cyclist or a novice who wants to take on cycle class at home, the Sunny Health & Fitness Belt Drive Indoor Bike has everything you've been looking for.
With its heavyweight flywheel, you'll feel like you're riding an outdoor road bike, giving you a smooth ride without worrying about speed or resistance level.
It also features flexible settings where you can adjust the handlebars, seat, and resistance level as well. This way, you can have full control of every workout.
To engage yourself in different workout routines, you can simply adjust the resistance by twisting the tension knobs. It also has a 4-way adjustable seat allowing multiple people of every height to comfortably use the equipment.
Moreover, it's designed with a caged pedal to prevent foot slippage during high levels of speed and intensity. Another feature of this bike are the built-in transportation wheels that mean you can instantly roll it away when it's not in use — perfect for those who don't have enough space at home.
Pros
Realistic and stable-feeling ride
Easy and quick assembly
Good height range
Quiet operation
Easy to transport and move from storage
Cons
Doesn't come with a console
Lack of resistance level indicator
Handlebars can't be adjusted horizontally
Customer Reviews
Many beginners and pro cyclists have approved the quality and capacity of the Sunny Health & Fitness Belt Drive Indoor Bike. They said that it truly offers a durable build, excellent stability, and smooth cycling motion.
They also mentioned that despite the lack of workout tracking, it's still one of the best exercise bikes in Singapore with which you can have a full-body workout.
A reviewer gave this verdict:
"It's the perfect addition for the person who wants to exercise in the comfort of their own home, but doesn't have a lot of space. It's also the perfect starter bike. Even though this model doesn't have a fancy computer system or monitor, it doesn't make it any less of quality especially structurally. It's not fancy but it is a good bike. Overall, this cycling bike has been noted as helping you achieve your fitness goals, as long as you stick with it. If you want to start out cycling, you need to make sure your bike is comfortable and fits the needs of your body. The seat and the handlebars on this bike are both adjustable for comfort and safety. The resistance knob allows you to be in complete control of your workout and the flywheel gives you a smooth ride so you can feel like you're hitting the open road every time."
2.   DeskCycle-2 Under-Desk Exercise Bike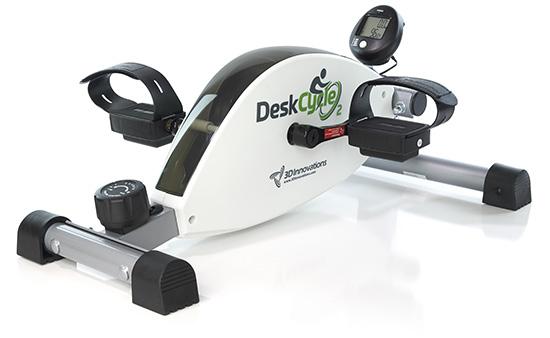 Price: $447.07
The DeskCycle-2 Under-Desk Exercise Bike is the ideal choice for seniors who want to maintain physically fit and active even when at home. Unlike the typical exercise bike, this one has adjustable pedal height so there's no need to lift the feet too much during use.
This best exercise bike in Singapore has a magnetic resistance setting. Since it's under-desk equipment, it can be used while you're watching television, reading a book, or using your phone.
It may not offer a full-on sweaty workout but it has many health benefits and it's great for general exercise and physical therapy.
Pros
Mobility
8-level resistance range
Extremely quiet
Separate console
Low-profile design
Adjustable pedal height
Cons
Needs a better grip
Display resets
Not the best for tall people
Customer Reviews
Many reviewers shared that using the DeskCycle-2 Under-Desk Exercise Bike provides an excellent way to easily include short and simple exercise in a daily routine. They also said that's easy to operate, which makes it a great choice for seniors.
A customer wrote this feedback:
"Love it so far. Received it a week ago and have been using it daily. I am a senior female, 4'10" and it is just right for me at my table doing paperwork or on my iPad. I am still at Tension #1 and cycled over 50 miles yesterday. Will progress to Tension #2 tomorrow — let's see how far I'll go. The scenery stays the same — bummer. My only complaint is that it doesn't have a handle for moving it — have to get help to move it. Very quiet — it does not make a sound. I am very happy with this purchase."
3.   Marcy Upright Exercise Bike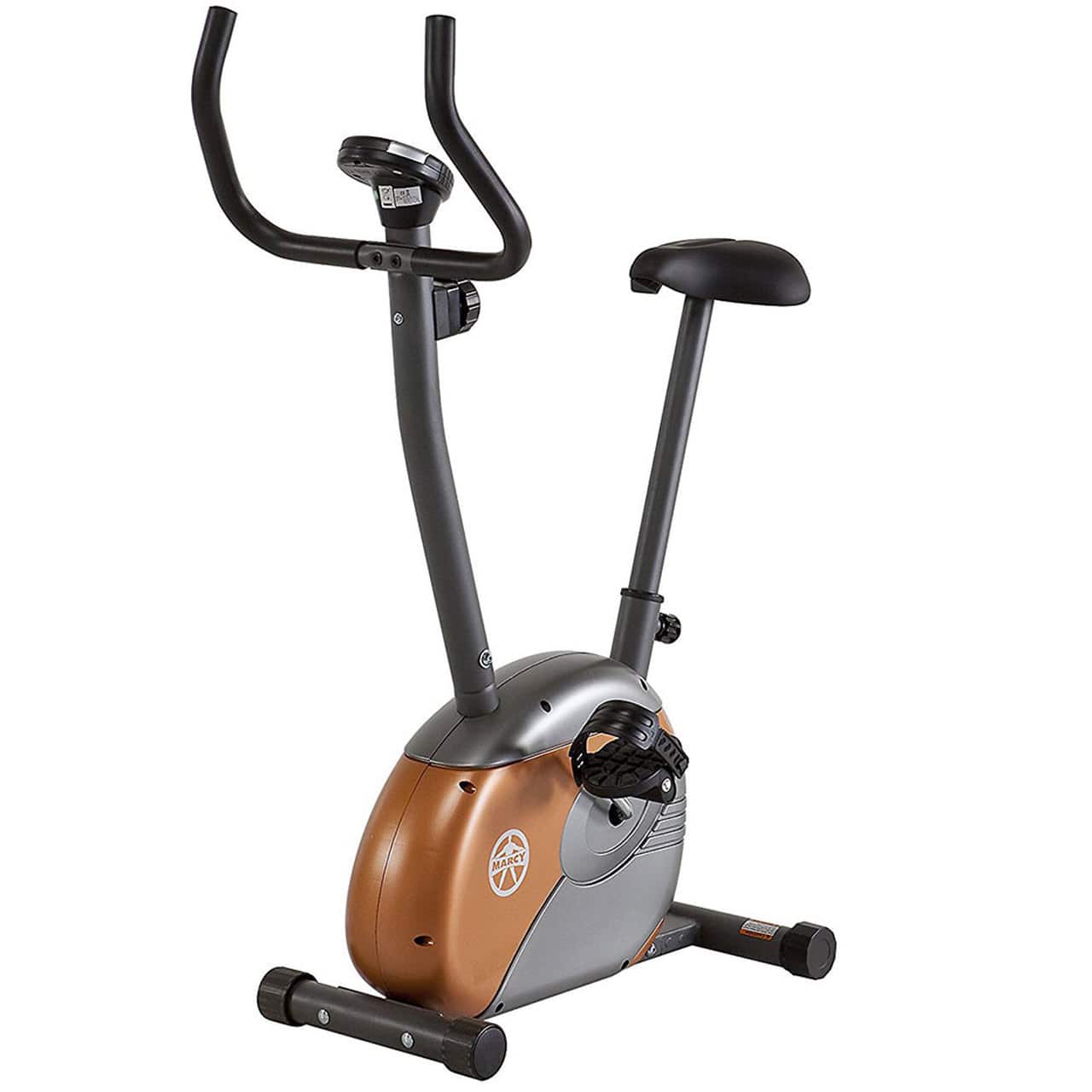 Price: $321.11
The Marcy Upright Exercise Bike offers a dynamic range of fitness workouts with its 8 preset manual resistance levels. You can quickly adjust the workout intensity with the tension control and you can also track your progress with the user-friendly display.
It provides absolute comfort with the height-adjustable seat, foam-padded grips, and counterbalanced pedals. The pedals come with straps to fully secure your feet while doing heavy workouts.
When you're finally done with your workout session, you can easily store the transport wheels, making the best stationary bike in Singapore for those looking for a space-efficient exercise equipment at home.
Pros
Compact frame design
Wide range of resistance configurations
Silent and smooth drive
Fast assembly
Adjustable rear backing end caps
High-tech LCD monitor
Cons
Seat can get uncomfortable after long hours of cycling
Customer Reviews
Most customers said that the Marcy Upright Exercise Bike is made for a proper sitting position that provides full back support. They were also impressed with the tension adjustment that's more than enough for their desired workout routines.
A reviewer shared these thoughts:
"Overall, The Marcy Upright Mag Bike is a high-quality exercise bike for a product in its cost range. This bike is an invaluable investment for any customer that wants to improve heart training without emptying your wallet. Although expensive options offer more level of resistance, this design is best suited for weight loss on a product in this price range. The Marcy Upright is considerably larger than many other models; however, it provides visible results in an acceptable period. This bike is protected with a two-year limited assurance and is designed using a powerful frame. The bike provides a healthy exercise and a simple to use process. This bike is beneficial for any customer that wants to burn fat without damaging or stressing the muscles."
4.   Stamina Recumbent Exercise Bike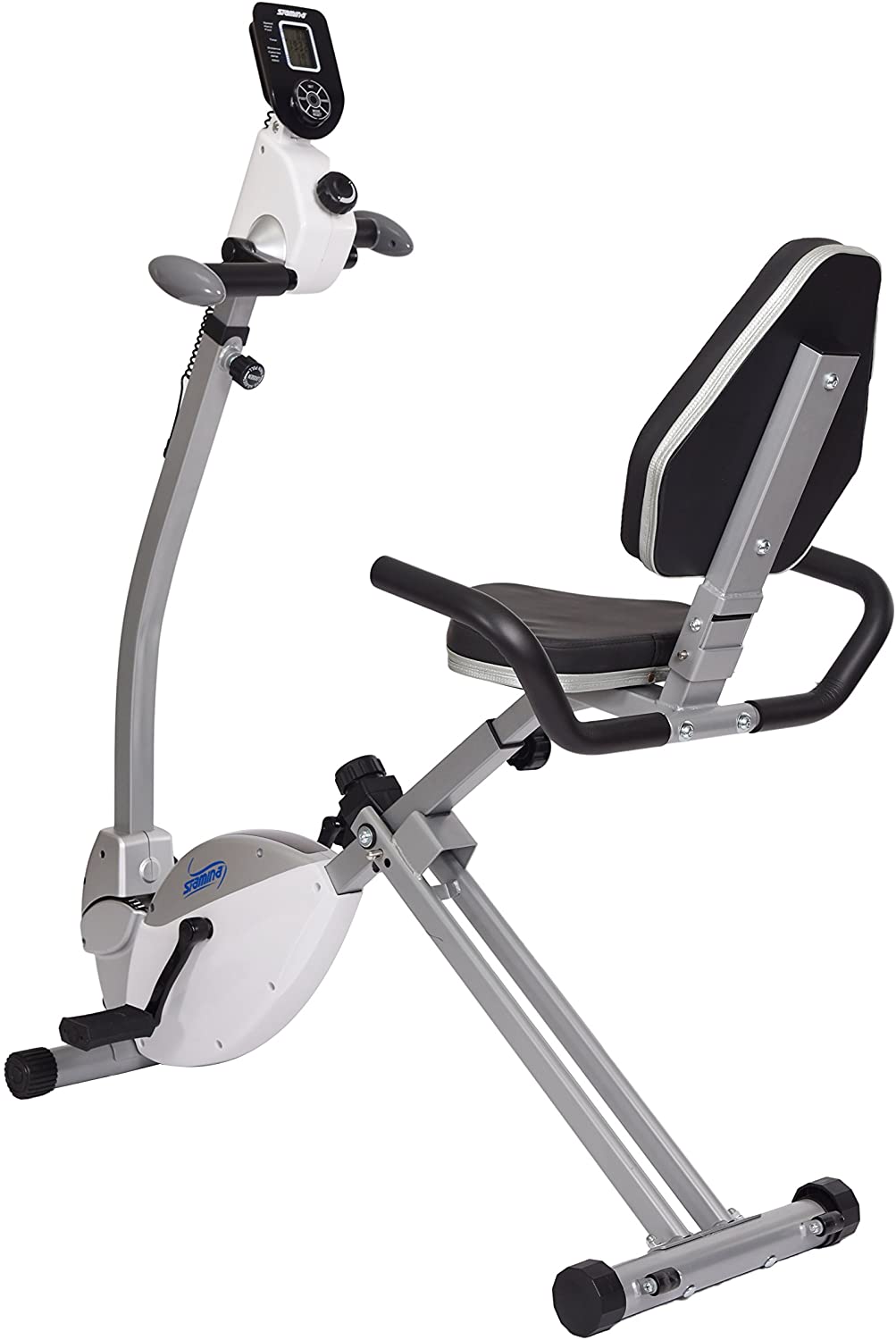 Price: $934.79
The Stamina Recumbent Exercise Bike With Upper Body Exerciser offers upper and lower body workouts where you can enhance your cardiovascular endurance, strengthen your arms and legs, and burn calories.
It has a specific tension dial for the upper body, providing more customisable settings. Even when you're using it at the highest resistance level, this best exercise bike in Singapore remains quiet so it won't cause any disturbance at home.
To reduce the risks of wrist strain, this bike even features multiple grip positions. It also has stationary handles for secured stability during lower body exercises.
You can also customise the seat height to ensure comfort while doing intense workout sessions. Unlike other options, it comes with a foldable frame and wheels so you can save space at home.
Pros
Lower and upper body workout
Ergonomic upper body handles
Tension dial resistance
Multifunctional monitor
Textured foot pedals
Foldable steel frame
Cons
No preset programs
No heart rate monitoring
Customer Reviews
The Stamina Recumbent Exercise Bike has gained positive reviews because of its sturdy build, portability, and progress tracking. A reviewer posted this feedback:
"While there are many Recumbent Bikes available in the market, only a few offer both the lower body as well as upper body workout. Stamina Recumbent Exercise Bike with Upper Body Exerciser offers a full body workout at a very reasonable price. It has adjustable features offering a lot of customization and allowing multiple members of the family to take the benefit of a single exercise bike. If you are looking for a budget exercise bike for home use, you can go for this lightweight recumbent bike. That not only offers strengthening of lower body muscles but also the upper body muscles."
5.   Schwinn Airdyne AD6i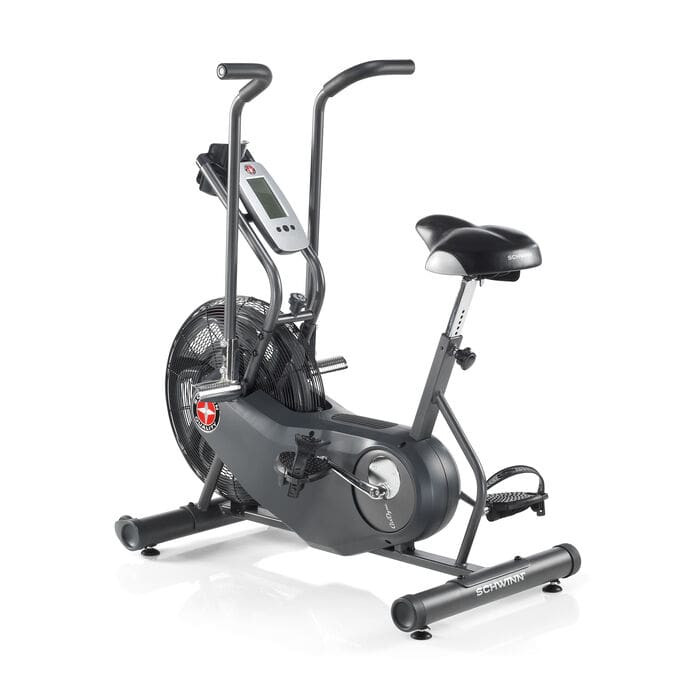 Price: $1,499.00
For a full-body workout, the Schwinn Airdyne AD6i is the best exercise bike in Singapore that you must have at home! It has a wind-resistance technology as a signature feature that lets you control your workout intensity.
As you do the challenging workouts, you can be sure that it won't cause any disturbing noise because it has an optimised fan designed for high resistance. It also offers flexible settings with its universal rails and clamp seat system.
It even has an advanced RPM gauge that's perfect for interval training. For maximum support and stability, it has 4 contact levellers that can withstand heavy workout exercises.
Pros
Smooth ride with fan air
Unlimited resistance levels
Footrests
Data monitor
Transport wheels
Moving handlebars
Cons
No user profiles
Seat only just vertically
Lack of quality control
Customer Reviews
Most customers were highly satisfied with the unlimited resistance levels and fan-like breeze from the flywheel of the Schwinn Airdyne AD6i, allowing them to stay cool while doing intense workouts. A reviewer left this feedback:
"The Schwinn Airdyne AD6 is a classic bike with some very distinct benefits – which is probably why it keeps selling year after year. You get unlimited resistance, total body workout (including arms) and a great cooling breeze while you ride it. There are a few drawbacks in that you don't get all the bells and whistles that other bikes give you and the console is not as bright as it could be. But if you just want a classic, wind-resistance exercise bike that won't break the bank, then the AD6 is worth considering."
6. Nautilus R628 Light Commercial Recumbent Bike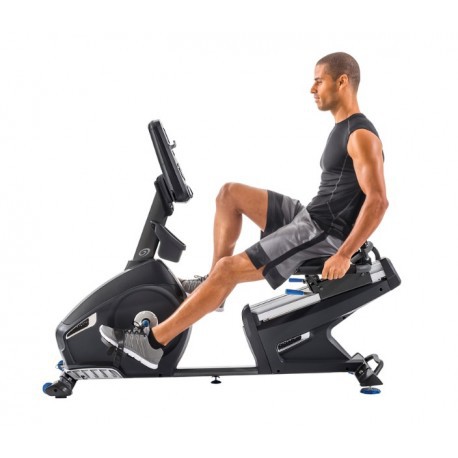 | | |
| --- | --- |
| Best for | Advanced / serious levels |
| Features | 29 workout programs / monitor / heart rate monitor |
| Price | $1519.00 |
| Where to get it | Shopee Singapore |
If you are quite serious about your indoor cycling journey, would like to take your fitness to a higher level, or are an advanced indoor cyclist overall, this could be the best exercise bike in Singapore for you.
The Nautlius R628 is designed for serious cyclists, armed with 32 levels of resistance, 29 workout programs, can have up to 4 user profiles, and is Bluetooth ready with an app.
The entire bike weights 40.6 kilograms so it's not that heavy but at the same time solid enough for one to have a serious sweat session without the bike budging.
The seat is a Sliding seat rail / Dynamic recline / Nautilus Gel™ which provides comfort while challenging the user to perform better.
Pros
Comes with a 1 year warranty
Has premium weighted pedals
Has a heart rate monitor
Cons
One of the more expensive models
Customer Reviews
Despite its reputation as an indoor bike in Singapore for serious users, we found that plenty of users online find the Nautilus R628 to work great for the family.
Here's what one verified user named Nick D had to say about this well-loved indoor exercise bike in Singapore:
Great product, easy for all the family to use and monitor your activity with the app. Also good for a little competitive family, checking each other's profiles to see who has done the best workouts at the end of the week.
7. Reebok A4.0 Upright Bike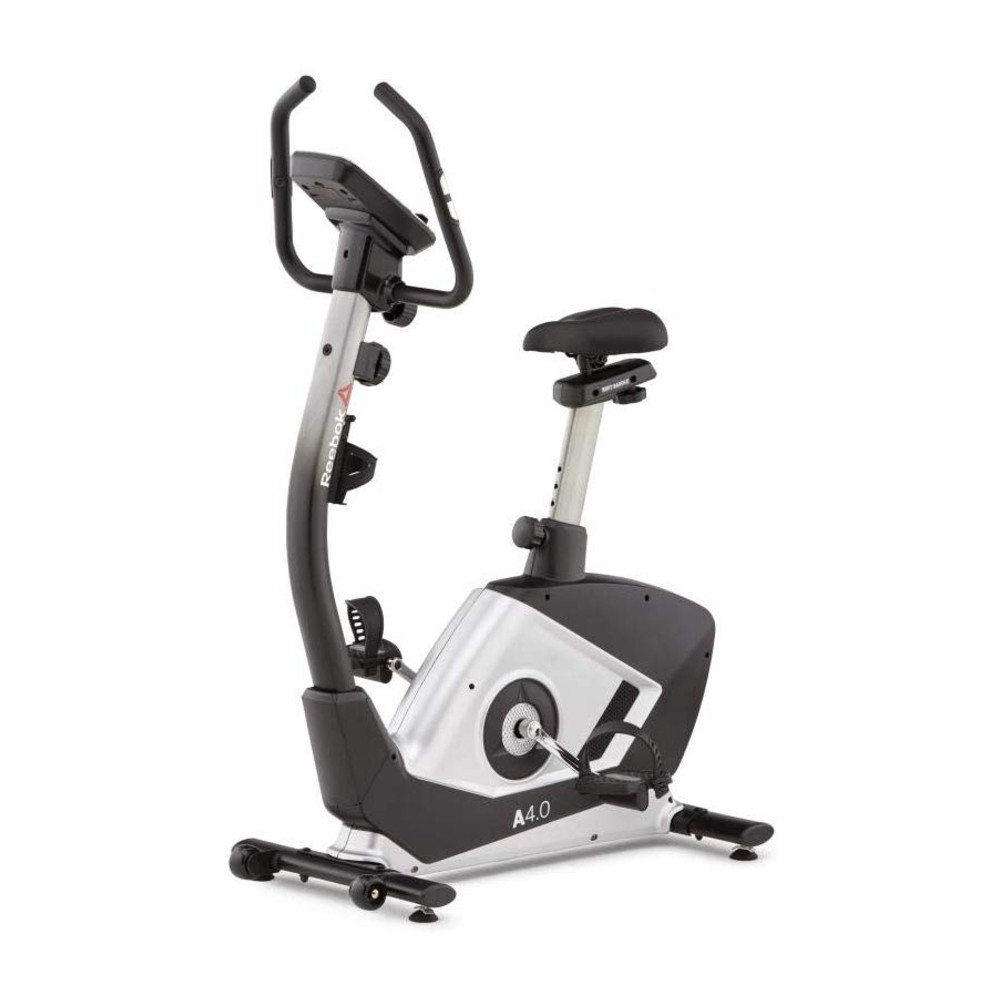 | | |
| --- | --- |
| Best for | Portability / those with small living space |
| Features | Hand pulse sensors |
| Price | $474.00 |
| Where to get it | Shopee Singapore |
Those with limited or small living spaces, read up– this could very well be the best exercise bike in Singapore for you.
The Reebok A4.0 Upright Bike is quite compact and comes with transportation wheels, so it's perfect if you are always on the go and want to either take your exercise bike with you or perhaps you simply want different views / corners to have your indoor bike training session.
This indoor exercise bike comes with a dual adjustable padded saddle, so it provides comfort while you are engaged in long sessions of indoor cycling.
You will definitely not get bored with this indoor exercise bike: it offers 3 target programs (time, distance, and calories-based), so fit for both steady-paced and endurance workouts.
Pros
LCD display
hand pulse sensors for heart monitoring
8 levels of resistance
1 year warranty
Cons
Can only accommodate users below 80kg
Customer Reviews
A cursory browse of the Reebok A4.0 Upright bike shows that one thing people love the most about this product is that it is noiseless. So if you live in a flat or with someone sensitive to noise, this is one of the best indoor exercise bikes in Singapore for you.
Here's a review from a verified buyer and user:
Great exercise bike and makes no noise. I sometimes cycle while on zoom calls and watching TV.
8. Exerwork Adjustable Desk Folding Exercise Bike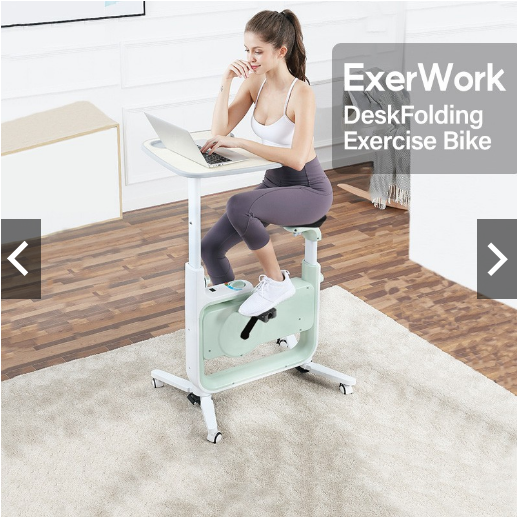 | | |
| --- | --- |
| Best for | Multitaskers |
| Features | Comes with a desk |
| Price | $ 376.60 |
| Where to get it | Shopee Singapore |
If you have a desk job and simply dislike all those hours of sitting down but could barely squeeze in a workout due to your busy schedule, this is the best indoor exercise bike in Singapore for you.
The Exerwork desk Folding Exercise Bike is extremely portable and weighs only 23 kilograms. It also comes with wheels that have a stopper so moving it around is easy.
Best of all, it comes with an adjustable desk that you can actually place your tablet or laptop on so you can do your work while getting your workout in.
Admittedly, this is not an indoor exercise bike in Singapore to get if you want to get some serious sweat session in, but this is perfect to keep those muscles and joints moving throughout the day.
We think this is the best exercise bike in Singapore for busy individuals or those who want to get some light workout done during the day.
Pros
Adjustable height
portable
can easily be part of one's work routine
Cons
Have you already decided which one from our list of the best exercise bikes in Singapore suits your fitness goals the most? Let us know all about it!
And if you'd like to add even more exercise equipment at home, you may try these best pull-up bars in Singapore! They can help improve arm muscle strength and they're also easy to install so you can instantly have a simple workout at home!