The 6 Best Whiskeys in Singapore
After spending a long day at work, wouldn't it be nice to treat yourself to some good drinks at home? If you think so, then whiskey would be a great choice — but not just any whiskey, of course. What you want is the best whiskey in Singapore!
Of course, there are thousands of whiskey brands coming from different distilleries all over the world. So, it might be a bit hard for you to know which one suits your taste.
This particularly true if you're just beginning to take interest in whiskey. So to help you find the right bottle to pour during your days off, we've listed some of the most important things to look out for when buying a whiskey.
After that, we'll take you through our picks for the best whiskeys in Singapore. Let's begin!
Factors to Consider When Selecting a Whiskey
If you're a beginner when it comes to whiskeys, you should know that each one of them comes with different types and offers various flavours.
To know more about the things that you must consider, see the list below.
1. Age
For whiskeys, it's better to choose one that's 10 years or older because of the maturity of its taste. As it gets older, the rough flavours of alcohol will eventually break down and the taste will become even smoother.
If the whiskey doesn't come with any age statement on the bottle, you may consider it anywhere between 3 to 9 years old. Unless you're 100% sure that your chosen young bottle of whiskey is good, it'd be wiser to choose an older one.
2. Types of Whiskey
Whiskeys are categorised into several types and you may end up totally confused if you don't know the differences between them.
Each type comes with a certain flavour and taste: by knowing all the types, it'll be easy for you to find the one that suits your preferences.
Irish Whiskey
This type of whiskey is made from a mash of malt and is distilled with water and caramel colouring, producing a smoother taste compared to other types.
It's aged in wooden casks for at least 3 years, resulting in an easy-to-sip and neat taste. It can also be used to make cocktails, perfect for blending mixed flavours.
Scotch Whiskey
Scotch Whiskey is either made with malt or grain and it's casked in an oak barrel for at least 3 years.
According to the laws in Scotland where this type of whiskey originated, each Scotch whiskey bottle must have an age statement — so if you opt for this type, you can quickly choose the best one.
It's also a great choice for an after-dinner drink because of its refreshing taste.
Japanese Whiskey
Though they've a similar taste to Scotch whiskey, Japanese whiskeys are known for their higher standards, making them a finer choice than most other types.
Japanese whisky is mostly used for mixed drinks or with a soda.
Canadian Whiskey
Like Japanese and Scotch whiskey, this type is also distilled in oak barrels for at least 3 years.
However, most Canadian whiskeys have a higher percentage of corn, resulting in a light and smooth taste. Aside from corn, it may also feature rye, wheat, or barley.
Bourbon Whiskey
This American-style whiskey is mostly made of corn and is distilled in new oak barrels. Being the main ingredient in most cocktails, it has become one of the most well-known types of whiskey.
Tennessee Whiskey
Tennessee whiskeys are classified as bourbons but some distilleries in the state use their own style to define a different taste. Unlike bourbon, a Tennessee whiskey is processed with a filtering step before the ageing of the whiskey starts.
Rye Whiskey
Rye whiskey is also another American-style drink with rye, corn, and barley. It has a spicier and smoother flavour than bourbon.
Blended Whiskey
This one is a mixture of all types of whiskeys, producing a variety of colours, flavours, and grains.
This is perfect for cocktails because it's highly blendable with other drinks — it's also a much cheaper option than the other types.
Single Malt Whiskey
This type has malted barley as the main ingredient and is made from one batch of Scotch. Some distilleries use rye as an alternative to barley.
Most whiskey lovers claim that the single malt type offers the highest quality among all whiskey types.
3. Alcohol Strength
A whiskey with 40-50% alcohol by volume (ABV) is made with added water before it is bottled. Those with 51% and above alcohol content are called cask-strength and get no additional water during the process.
Higher alcohol content doesn't necessarily mean higher quality. That said, most cask strength whiskey tends to be consistently good.
It's also highly recommended to add water during the actual drinking stage to reduce the strong alcohol content and have a well-balanced drink.
Best Whiskeys in Singapore
As you take the above factors into consideration, let's see some of the best whiskeys in Singapore! We've selected different types that are aged for more than 10 years, giving you a high-quality range of whiskeys!
1. Chivas Regal Extra
Price: $90.00
You'll absolutely love the fruity sweetness of the Chivas Regal Extra that's filled with deep aroma and intense flavour. This award-winning whiskey is crafted in sherry casks, resulting in a rich combination of fruits, coffee, milk chocolate, and a little bit of ginger.
You can also taste a hint of vanilla caramel, cinnamon sweets, and almonds as you savour its flavour. It's made with a warm amber glow and enriched with a long and fulfilling finish, revealing a classic style.
This Scotch whiskey drink is best enjoyed with extra cocktails of Chivas such as Chancellor, Hoots Mon Spritz, and Silver Fox Fizz.
Pros
Sweet and creamy mouthfeel
Clean and fruity blend
Steady drink
Cons
A bit subtle in terms of flavour
Customer Reviews
Many whiskey lovers shared that they've enjoyed the rich and soft sweetness of the Chivas Regal Extra. They also said that it has a deeper aroma but the flavour was a bit subtle; still, it's a great moderate drink for relaxation.
A customer gave this feedback:
"there's a nice balance between the spicy explosion and the later sweet notes. Even though the finish is short and dry, leaving some gentle dark chocolate notes on the palate. In the end, Chivas Regal Extra is just another Chivas Regal expression: fresh, light and balanced. The one that won't disappoint the brand fans, but also won't draw attention for the rest of whisky lovers."
2.   Ballantine's 21 Years Old Scotch Whiskey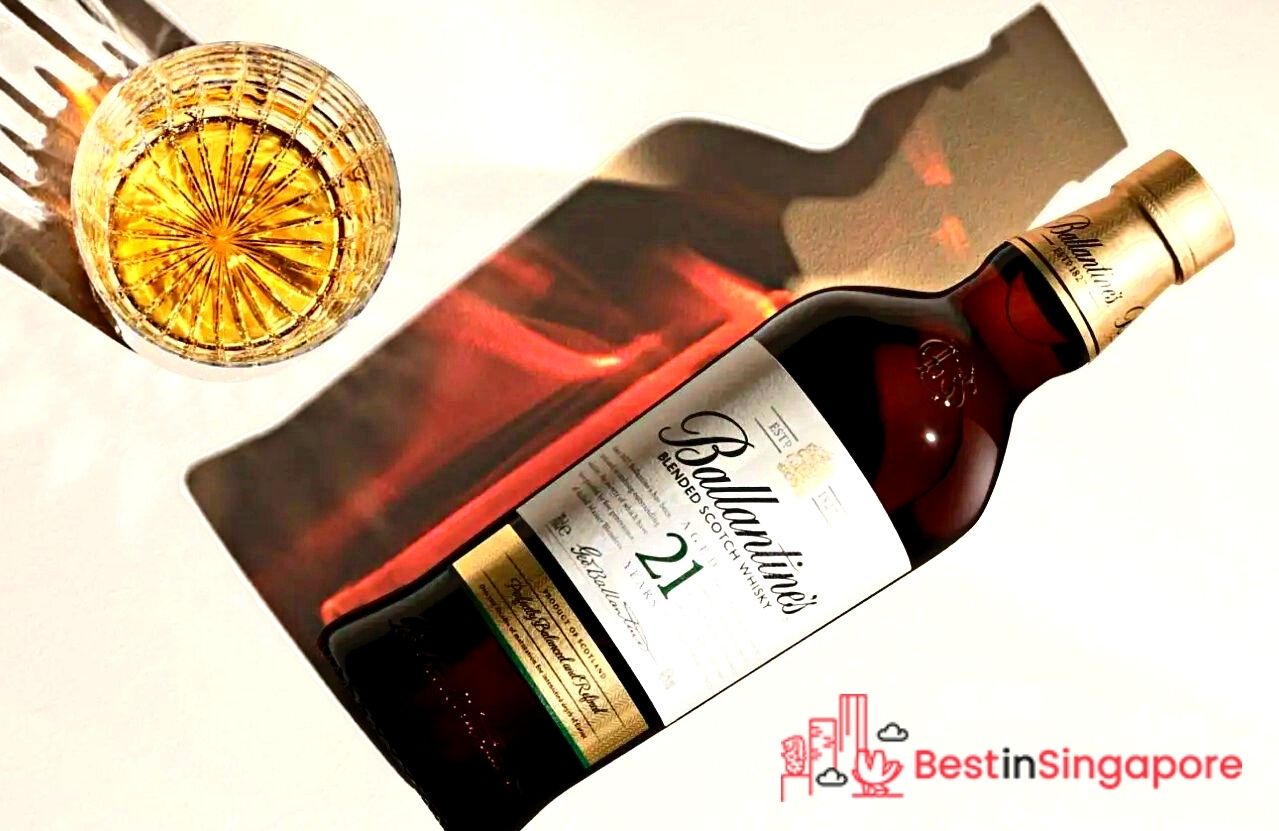 Price: $166.92
Ballantine's 21 Years Old Scotch Whiskey offers a taste of smooth spice, perfect for celebrating special occasions at home. It's rich with an intense spiced flavour that'll warm you up on the coldest nights.
It's mixture features honey-sweet ingredients with apple and floral aromas, containing rich reddish-gold colour. Its harmonious blend has been matured in oak casks for a deep aromatic taste.
This best whiskey in Singapore has a soothing, long, and mellow finish with some dried fruit hints. Since it has lower than 50% alcohol content, you can enjoy this drink without having to add water.
Pros
Intense spiciness
Luxurious colour
Low ABV
Long and sweet finish
Cons
A bit stale in terms of aroma
Customer Reviews
Customers had a refreshing drinking experience with the Ballantine's 21 Years Old Scotch Whiskey as they complimented the well-balanced sweet bitterness taste and spices as well.
A customer left this feedback:
"This edition of Ballantine's 21 year old really benefits from its additional 3% ABV. The alcohol uplift helps deliver a viscous well-weighted mouthfeel, as well as ensuring a good definition of fruits, sugars and spices. The blend overall is exceedingly well-balanced as well as being highly drinkable with plenty of aromas and flavours that ably represent a classic style. Worth bookmarking on auction sites – you might well find this for cheaper than the current 21 year old offering – and if you do, it's totally worth a punt."
3. Buffalo Trace Kentucky Straight Bourbon Whiskey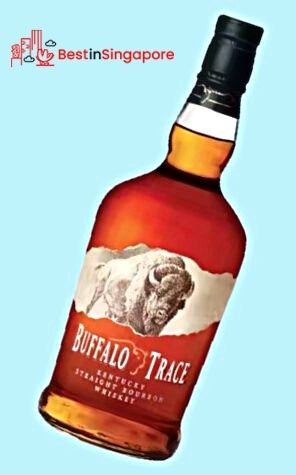 Price: $88.00
Coming from one the most famous award-winning distilleries in the world, the Buffalo Trace Kentucky Straight Bourbon Whiskey is produced with the finest corn, rye, and barley mart. It ages in new oak barrels at historic old warehouses until the peak of maturity, so you'll certainly taste the rich intensity of its flavour.
It has a mixed blend of vanilla, toffee, and candied fruit, giving you a complex yet flavourful taste. It features a good length finish with some sweet spices and cinnamon, making it a great cocktail companion.
Moreover, it's the ideal drink for both beginners and pro drinkers — so if you're looking for a nice drink to reward yourself, this can be the best whiskey in Singapore for you!
Pros
Perfect mixture of aroma
Spicy and masculine whiskey
Smoky taste
Cons
A little too sweet
Slightly hard to find
Customer Reviews
Most customers said that the Buffalo Trace Kentucky Straight Bourbon Whiskey has a full flavour that blends well without losing the genuine bourbon spirit. Some even claim it as the best everyday bourbon that they've ever tried.
A customer posted this review:
"Everything about this bourbon feels like it's been masterfully engineered to be the perfect example of what a bourbon should be. It's hard to find any faults with this one and that's by design. A flagship brand needs to appeal to everyone while maintaining a good value. Sometimes that description can bring with it a negative connotation since mass appeal and quality doesn't always go hand in hand. In this case, Buffalo Trace Bourbon is a solid bourbon that will appeal to any level of whiskey drinker. For someone new to bourbon, it's extremely accessible with its sweet nose and palate, and a finish that introduces a perfect mix of oak and spice. Although it may not challenge a seasoned bourbon drinker's developed palate, they'll still appreciate its overall quality and great value. This could easily become anyone's everyday bourbon."
4. Glenfiddich 15-Year-Old Whiskey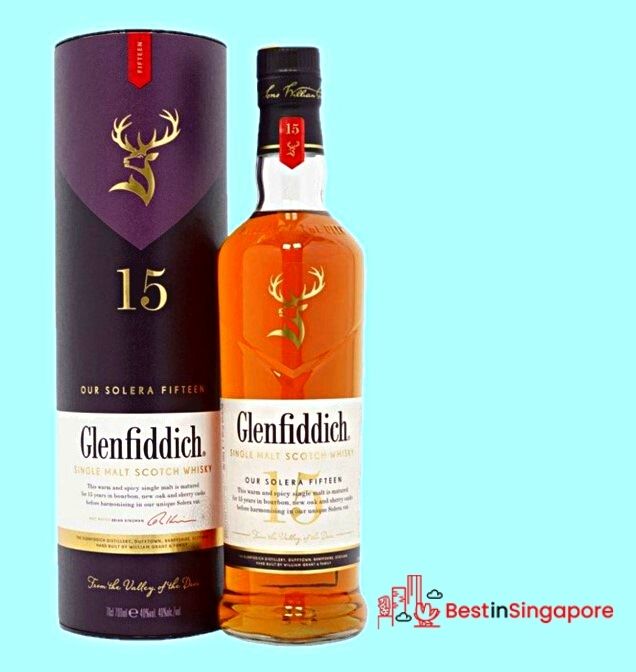 Price: $99.00
The Glenfiddich 15-Year-Old Whiskey is another award-winning drink that serves warm spices, sweetness, and fruity taste. It's distilled in two different oak casks, producing amazing aromas and flavours.
Its sweetness comes from the mixture of vanilla fudge and honey while its fruitiness embodies rich dark fruit. The buttery aroma lingers all throughout the drinking experience, satisfying your palate with a great drink.
It has also been included in many lists of the top ten best selling single malts, which truly makes it one of the best whiskeys in Singapore.
Pros
Silky smooth taste
Right amount of sweetness
Soft and buttery aroma
Cons
Little smoke and subtle heat
Slightly bitter fishing
Customer Reviews
The Glenfiddich 15-Year-Old Whiskey has earned a lot of high-rated feedback because of its fresh and delicate taste that perfectly blends with its long finish and lingering aroma. Here's a review from a customer:
"Compared to the mass-produced 12-year-old Single Malt, Glenfiddich 15 Solera Vat is definitely a step up in quality. Rich and delicate fruitiness dominates the nose, in particular ripe apples, banana and grapes. Fresh spiciness and sherry cask influence add to the complexity of the malt. On the palate, the fruity notes are more subdued. Vanilla cream and honey sweetness are complemented by mild spices, most notably cinnamon. The finish is moderately long, bittersweet and spicy but not very substantial. High demand for casks has obviously taken a toll."
5. Bulleit Bourbon Whiskey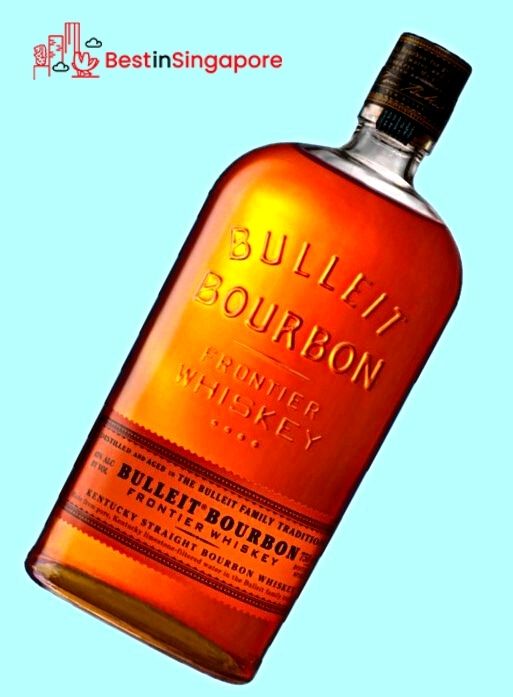 Price: $63.90
The Bulleit Bourbon Whiskey features the highest quality ingredients, offering a unique and complex blend of corn, rye, and barley malt. It's also specially made with strains of yeast and limestone-filtered water for a cleaner taste.
If you opt for a bold and spicy character with a smooth finish, this can be the best whiskey in Singapore for you! With this high rye content, you can enjoy a satisfying and gentle spiciness.
It has a little bit of maple and nutmeg and its aroma comes from sweet oak. Meanwhile, its colour shows a classic medium amber.
It has also won various awards because of its complementing mixture of spicy and sweet tastes, along with a long and satiny finish.
Pros
Clear and transparent colour
Strong scent of oak
Spicier and bolder flavour
Cons
Doesn't deliver any smoky flavour
A bit hard to swallow
Customer Reviews
Many customers said that due to its sharp impact, the Bulleit Bourbon Whiskey is the best for drinkers who enjoy the strong taste of whiskey. They also said that it must be sipped slowly to fully savour the taste.
A customer wrote this review:
"Bulleit Frontier is a good bourbon to try, as it gives a unique drinking experience most other whiskies do not provide. At 90 proof, it is comparatively light for a whiskey and has a diverse flavor profile. The overall taste is deep, full, and is a terrific example of what whiskey ought to taste like. Increasing the rye to make this whiskey was a great choice, and it is the factor most responsible for making Bulleit such a memorable bourbon."
6. Hibiki Japanese Harmony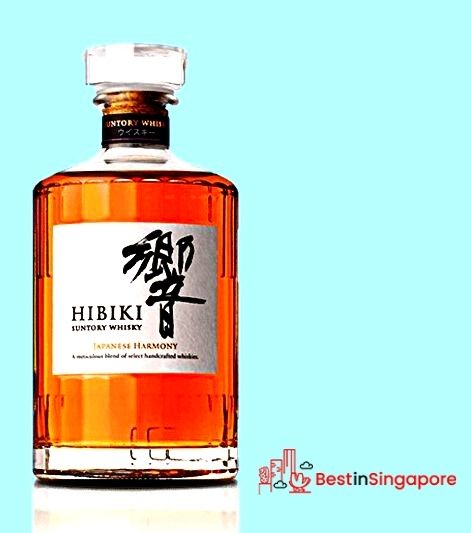 Price: $177
The Hibiki Japanese Harmony is a combination of malt whiskies from the Yamazaki and Hakushu distilleries, combined with grain whiskey from the Chita distillery. The whiskies are drawn from five types of casks, some of which include American white oak casks, Sherry casks, and Mizunara oak casks.
These elements combine to form an elegant expression alongside wafts of honey, orange, herbs, and light oak. It's definitely something you should try.
Pros
Elegant taste
A pleasant combination of malt and grain whiskeys
Cons
Pricier than most whiskeys
And that's our list of the best whiskeys in Singapore! If you'd like to recommend more fine and classic whiskey drinks, share them with us for we may also include them with our selected picks.
But if you prefer to go out and have a good time with a scenic view or cosy atmosphere, you may visit these best cocktail bars in Singapore! These places offer timeless whiskey collections from all over the world, giving you a delightful drinking experience!