The 20 Best Cocktail Bars in Singapore
Dropping by a bar after work to have a quick drink is one of the most effective ways to destress after a full day. It becomes even better if you're drinking at one of the best cocktail bars in Singapore!
If you don't know where to find the best cocktail bars in Singapore, then you've come to the right place because we have a list of what you're looking for. We combed through the island in search of the best cocktail bars worth visiting after work.
So, without further ado, here's our list of the best cocktail bars in Singapore.
1.  Manhattan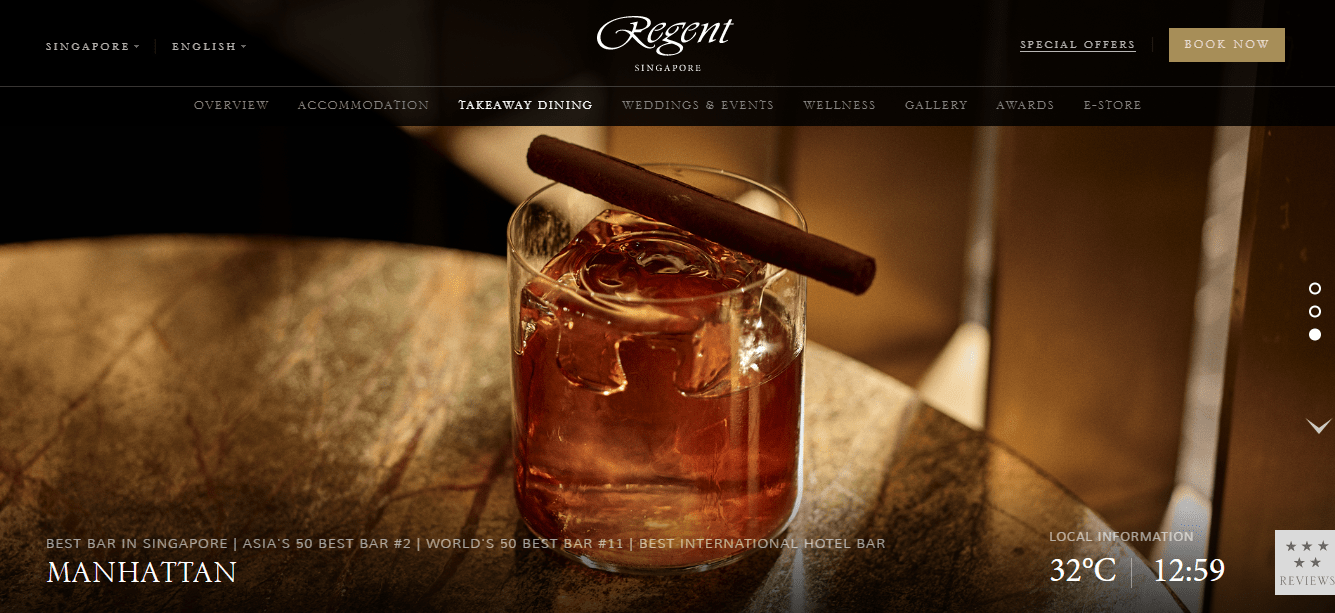 Regent Hotel's Manhattan Bar is known for its signature cocktails and delectable food. It's one of the top places for workers in dresses and suits to go after a stressful day at work — which is why we consider it one of the best cocktail bars in Singapore.
Some of its crowd favourite cocktails include Scarface, Bada Bing Bada Boom, and its namesake, Manhattan. Customers will also be met with a wide selection of bar bites such as Whiskey-pulled Burgers, Dachshund Coney Island Hot Dogs, Bourbon-smoked BBQ, and a whole lot more.
Manhattan Bar's menu can be a bit expensive for some, but customers will definitely fall in love with everything that it has to offer, including the best bourbon in Singapore. From cocktails down to ambience, what more can you ask for?
Highlights
Signature cocktails
Professional bartender
Alcohol-infused American cuisine
Customer Reviews
Here are some of the reviews of its frequent customers:
"Housed within the Regent, this bar is one among the 5 best for a reason and it's quite evident from the time you step-in. But what took us by surprise is the Beef Burger. Perfectly cooked and Meaty, easily the best Burger in Singapore. Hospitality is Top -Notch and we wouldn't mind going back for a drink or two, whenever we shall visit next time."
"This is a great bar. Not only is there a diverse and amazing selection of cocktails, the staff is very friendly and makes you feel good about being there. The bartenders are helpful with advice about the cocktails, and it's fun taking a trip through New York City's history. Definitely recommend a visit here if you're able. Worth going out of your way to go here."
2.  The Other Room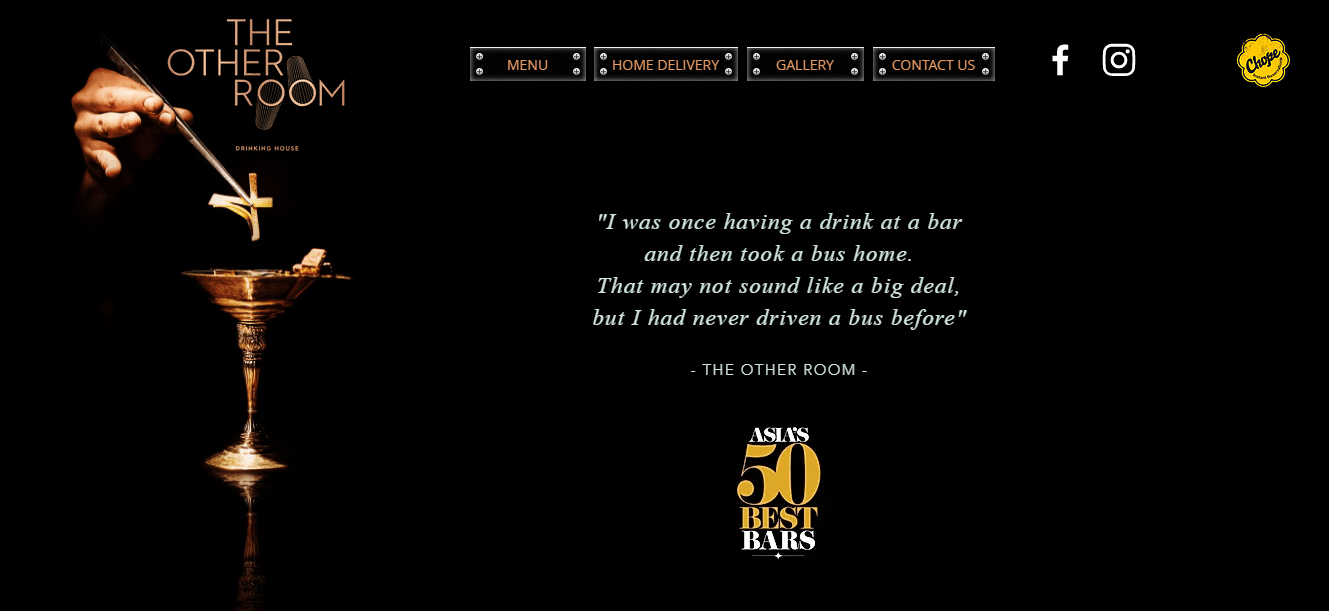 BEST FOR 
Vintage Cocktails
MENU
Cocktails and Tapas
WEBSITE
https://www.theotherroom.com.sg/
ADDRESS
320 Orchard Road, #01-05 Marriott Tang Plaza Hotel, Singapore 238865
CONTACT DETAILS
+65 6100 7778 |

[email protected]

OPERATING HOURS
Monday – Sunday, 6:00 PM to 4:00 AM
If you're looking for a cocktail bar with a great crowd and ambience, then The Other Room could be the right bar for you. Besides its signature and vintage cocktails, it's also known for its mouth-watering Iberico Ham, Sirloin Steak, and Tapas, which are what the majority of customers order.
Despite being one of the best cocktail bars in Singapore, it's very easy to book a table at The Other Room. It's also open from 6 in the evening to morning of the next day, making it the perfect spot for weekend drinking with friends.
Highlights
Professional bartenders
Delicious bar bites
Convenient table booking
Customer Reviews
Take a look at what customers have to say about the services of The Other Room:
"Great bar. Totally worth a visit – or really, more than one visit. Lots of interesting and well-considered cocktails on the menu. Staff are knowledgeable and friendly. You wouldn't generally expect a slightly edgy speakeasy in the lobby of a Marriott hotel, but they've done it and made it work. Reservations are recommended, but you might be able to walk up particularly in the early hours or on quieter days." 
"A very nice hidden bar in the lobby of the Marriott – the bar is hidden so you need to find the door first and ring the bell to get access. Once inside you are transformed into a different world – very welcoming friendly staff greet and seat you and then your on your journey through the years of cocktails, lots to choose from plus heaps of different infused spirits – it's no surprise it's in the top 50 bars in Asia – it is a must visit when in the area, won't be disappointed!"
3.  The Spiffy Dapper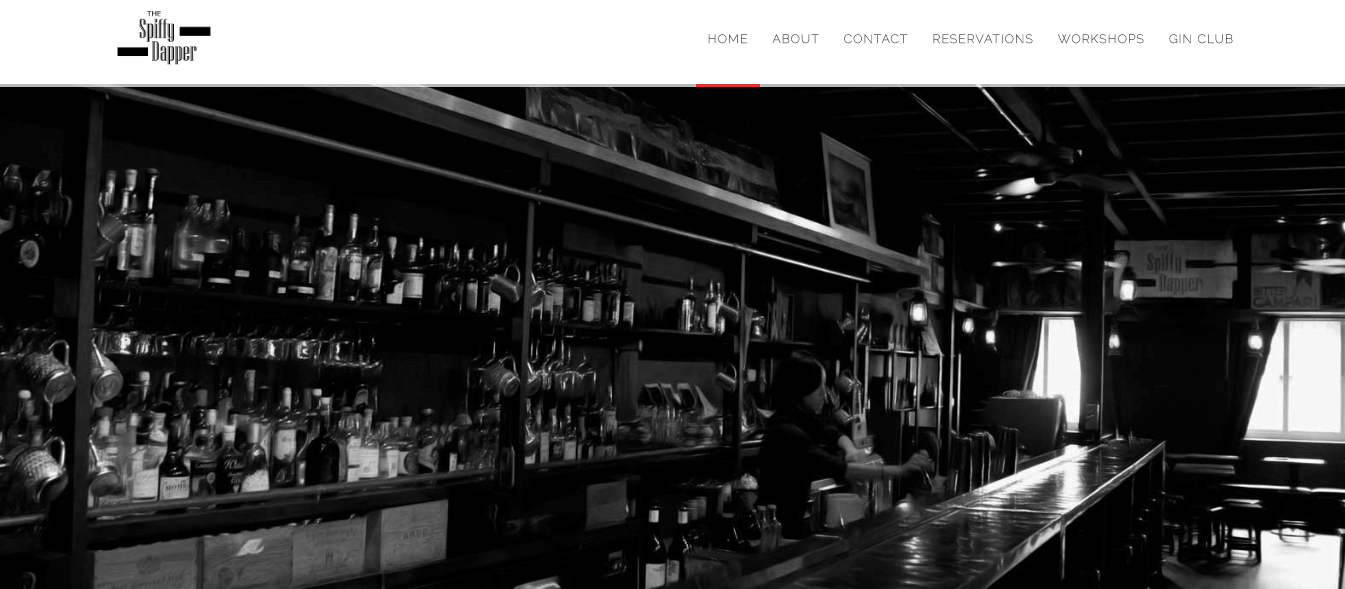 | | |
| --- | --- |
| BEST FOR  | Trained Bartenders |
| MENU | Cocktails |
| WEBSITE | https://spiffydapper.com/ |
| ADDRESS | 73A Amoy Street Second Floor, Singapore 069892 |
| CONTACT DETAILS | +65 8742 8908 |
| OPERATING HOURS | Monday – Sunday, 6:00 PM to 5:00 AM |
The Spiffy Dapper has been fulfilling Singaporeans with their cocktail fix every night after work for the past 7 years, making it one of the most-visited cocktail bars in Singapore. It started as a simple hole-in-the-wall but has grown into a hugely popular bar that serves some of the best-tasting cocktails on the island.
It's no surprise that it's named one of the best cocktail bars in Singapore because it has a team of trained bartenders who are all experienced in mixology. Its bartenders are known for being warm and friendly to customers.
If you want to learn how to mix cocktails on your own, The Spiffy Dapper also holds occasional mixology workshops that are open to everyone.
Highlights
Trained bartenders
Signature cocktails
Mixology workshops
4.  Bitters & Love
If you're in the mood for day drinking, then Bitters & Love is the perfect cocktail bar for you! It's already open as early as 9 in the morning and operates until 10 in the evening, making it an ideal place for people who like to have a quick drink during daytime.
On top of its signature cocktails, Bitters & Love also serves coffee, tea, snacks, breakfast food, and even lunch and dinner meals. It's the perfect cocktail bar to visit any time of day because it offers food and drinks that can be consumed every hour.
What's more, it also delivers right to your doorstep if you're craving its signature cocktail but can't go out of your house. See, it really does have everything that you might need!
Highlights
Cocktails and coffee
Delivery and pickup
Customer Reviews
If you want to know what customers have said about Bitters & Love, read these comments:
"I rarely frequent bars pubs or drink cocktails. Coffee is my thing. But the bartender mixed up a concoction of coffee and cocktails which is amazing. Place is casual and puts you at ease after a stressful day. Definitely too chill."
"This place is amazing. I literally had the time of my life! The music brought back so many old school feels and the vibe was exactly what I was needing! The drinks were really good and the staff was super accommodating! Would definitely make this a regular stop."
5.  The Horse's Mouth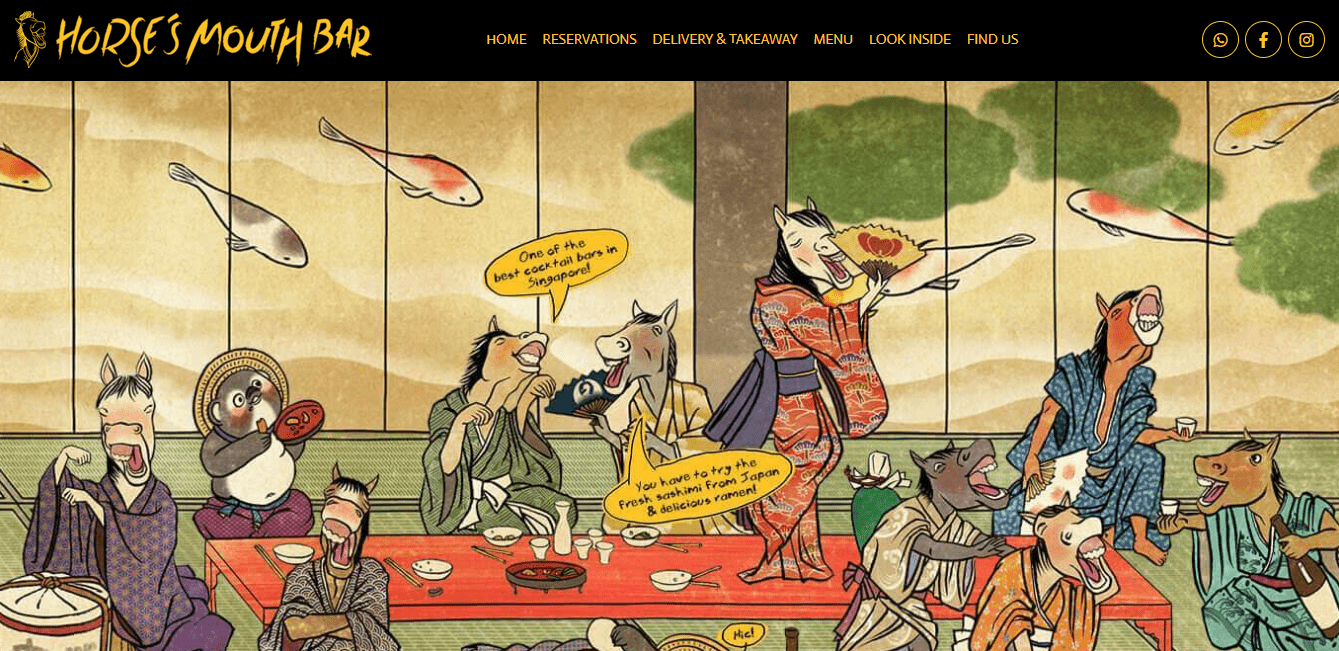 BEST FOR 
Japanese Food
MENU
Cocktails, Sake, Bar Bites, and Uma Uma Ramen
WEBSITE
https://horsesmouthbar.com/
ADDRESS
583 Orchard Road, Forum the Shopping Mall, #B1-39, Singapore 238884
CONTACT DETAILS
+65-8188-0900 |

[email protected]

OPERATING HOURS
Monday – Saturday, 6:00 PM to 12:00 AM
If you're into Japanese food, sake, and cocktails, then we highly recommend dropping by The Horse's Mouth. It's one of the few cocktail bars in Singapore that serve Japanese ramen along with a variety of great signature cocktails.
Despite it being famous, getting a table at The Horse's Mouth isn't that hard because it has a total capacity of 50 persons. It also never feels overcrowded even during Fridays and weekends.
Highlights
Japanese menu
Large seating capacity
Great crowd
Customer Reviews
As one of the best cocktail bars in Singapore, The Horse's Mouth has received lots of positive feedback from customers. Here are some comments from satisfied customers:
"A nice speakeasy in the Forum mall. Lots of interesting drinks and some great bar food as well. They kindly accommodated a walk-in party of 6 when we came in around 11pm. I would definitely recommend this place, though you will have to search for it a bit! But that is part of the fun."
"Nice hidden bar with 3 separate discrete entrances. Nice ambience and great spread of spirits. Has an interesting menu of cocktails and a wide selection of foods provided by the ramen shop above and the Japanese restaurant next door. Easily located down orchard road with convenient parking nearby as well. Well worth a visit!"
6. Hopscotch
Hopscotch's business philosophy is simple. That is, good times can be had if patrons have good food and drinks alongside good company. Hopscotch can provide you with whimsical beverages and mouthwatering meals, just bring the company.
Looking closely, you'll find that Hopscotch proudly features Singaporean culture in all of their menu items. On the other hand, their drinks menu is anything but traditional. You'll find yourself pleasantly surprised with how they've managed to shake things up when you choose to have something alcoholic during your visit.
Highlights
Grilled menu items
Available for private events
Unique drinks
7. Maison Ikkoku
BEST FOR
Cocktail Bar
MENU
Menu
WEBSITE
ADDRESS
20 Kandahar Street, Singapore 198885
CONTACT DETAILS
[email protected]
Tel: +65 6294 0078
OPERATING HOURS
Sunday to Thursday
6:00pm – 1:00am
Friday, Saturday & Eve of PH
6:00pm – 2:00am
Maison Ikkoku is founded by Director, Chef and Mixologist, Ethan Leslie Leong. He conceptualised the interior of the bar, blending timeless serenity with the unique 2-in-1 experience. Their bespoke drinks promote a sense of "openness" and encourage interaction between people.
Maison Ikkoku boasts an organic-meets-trendy feel with the ambience their place exhibits. They have been awarded with the Best Cocktail Bar voted by the people of Singapore.
If you are looking for a chic restaurant serving modern Japanese cuisine and Bespoke Cocktail Bar, Maison Ikkoku will surely be a perfect go to bar and restaurant.
Highlights
Cosy Ambiance
Bespoke Cocktails
Japanese Cuisine
Customer Reviews
"This was everything I could hope for in a small bar. The drinks were unique and innovative. The ambiance was clean, classy and stylish. The soft jazz in the background made conversation easy. If you are looking for a place to hang with friends and not have to yell to each other while you catch up, I can't imagine a better choice then Maison Ikkoku."
"Best bespoke cocktails, customised to exactly how I liked mine. Fantastic ambiance great for a night out with friends but still romantic enough for couples to hangout by the bar. Love it!"
8. Employees Only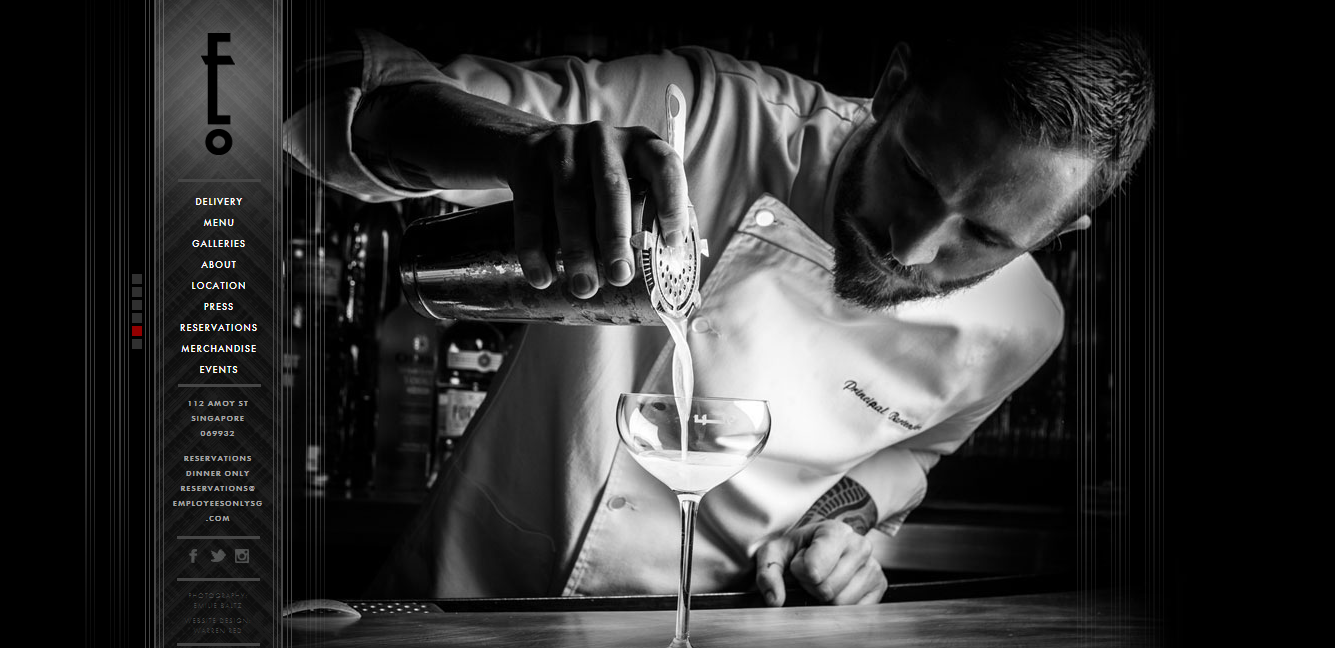 Employees Only has become the industry standard for a hospitality-inclined cocktail bar starting way back 2004 in New York. In June 2016, the second outpost in Singapore of Employees Only was born.
Employees Only way back in New York has been honored with several awards such as Best American Bar Team, World's Best Cocktail Bar and more. Employees Only in Singapore outdone itself as well as it received multiple recognition, Asia's 50 Best Bars for a consecutive of 3 years.
Surely Employees Only is a must try bar and restaurant for all those who desire a sensual curving bar with elevated back dining room that is suitable for dinner, drinks and dancing.
Highlights
Great ambiance
Excellent staff service
Large selection of cocktails and Drinks
Customer Reviews
""Loved the ambience at Employees Only – A mix between a bar and club. Staff was efficient and prompt – drinks came out relatively quick despite being a busy night! Drinks are a tad more expensive than other cocktails bars, but I wouldn't mind. Tried the corn dog too and it was great! Can't wait to head back!"
"Absolutely gorgeous place. Simple, old school class, with modern cocktails and food. Amazing service. Pleasant music, lovely atmosphere.
I think might be our new spot."

9. Tess Bar & Kitchen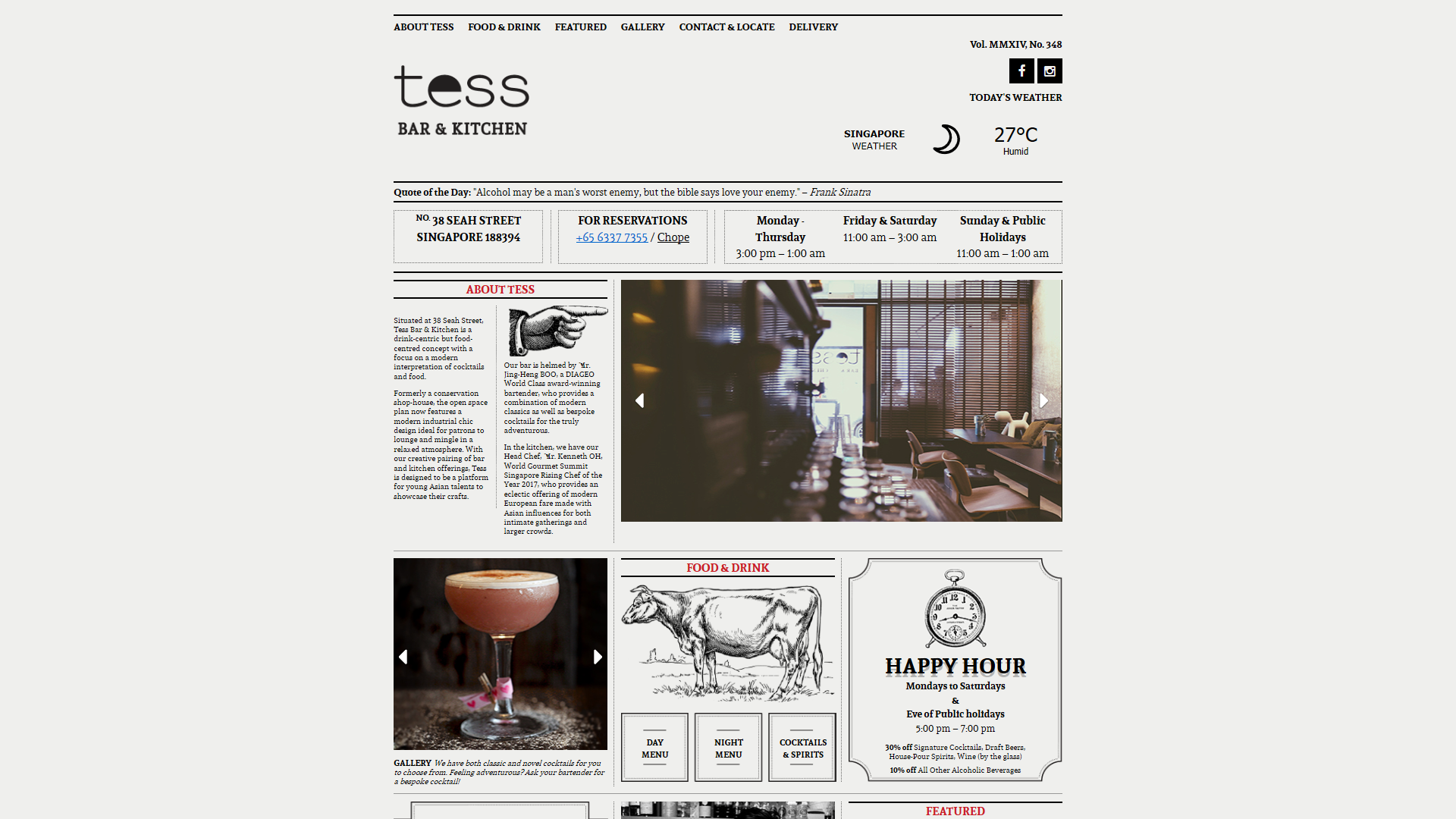 | | |
| --- | --- |
| BEST FOR  | Cocktails and Food |
| MENU | Cocktails, Pizza, Pasta |
| WEBSITE | http://www.tessbar.com/ |
| ADDRESS | NO. 38 SEAH STREET SINGAPORE 188394 |
| CONTACT DETAILS | (+65) 6337 7355  l  [email protected] |
| OPERATING HOURS | Daily 11AM – 1030PM |
Looking for a different twist and modern interpretation of cocktails and food? You might want to try Tess Bar & Kitchen. The bar provides an eclectic offering of modern European fare made with Asian influences, which is why it is loved by the people.
Their location was formerly a conservation shop-house– now it's a bar that serves both drinks and food. It was also designed to be a platform for showcasing the talents of young Asians.
Their place is one of the reasons why their regulars keep coming back, as the relaxed atmosphere is ideal for patrons to lounge and mingle. For an interesting touch, they offer creative pairings of bar and kitchen offerings.
Highlights
Creative Cocktails
Cozy Atmosphere
Stylish Interior
Customer Reviews
Here is a review left by a very satisfied client:
"Excellent! Ordered last week for a wonderful Saturday dinner! Super delicious! We had 2 sides, 3 pasta and 1 meat main! EVERYTHING IS SOOOO GOOD! We also had 3 cocktails that detoured and came slightly later! But no worries, it was for a much needed nightcap! Highly recommended!!!"
"Food was good and great for sharing. We ordered mostly the small plates and cocktails. They made special effort to perfect the salted caramel espresso martini for my companion. The drinks and food deal after 11pm is amazing and great value. Their whisky sour surprised me in a good way. And service was good too. Special kudos to Peirong for taking care of us the entire evening. Will be back soon!"
10. IB HQ Singapore

| | |
| --- | --- |
| BEST FOR  | Cocktails |
| MENU | Cocktails |
| WEBSITE | https://www.ibhqsingapore.com/ |
| ADDRESS | 76a Duxton Road, 089535 |
| CONTACT DETAILS | (+65) 9152 4550 |
| OPERATING HOURS | Tuesday – Saturday 5:00 pm -12:00 am |
IB HQ is a cocktail bar located in Singapore. They serve their customers from Tuesday to Saturday, starting at 5 pm and closing at 12 midnight.
Once a brick and mortar place, IB HQ now showcases the research done by the Indigenous Bartender. It was a platform created for like-minded bartenders (and foodies) looking to explore the uses of locally sourced ingredients.
Besides being a cocktail bar, IB HQ also serves locally made food. Their creative approach to cuisine attracts a lot of customers.
Highlights
Creative cocktails
Friendly bartenders
Fun Atmosphere
Customer Reviews
Here is a review left by a very satisfied client:
"Great vibe, excellent knowledgeable staff and a fun atmosphere! Such a fun bar!!
11. Artemis Grill and Skybar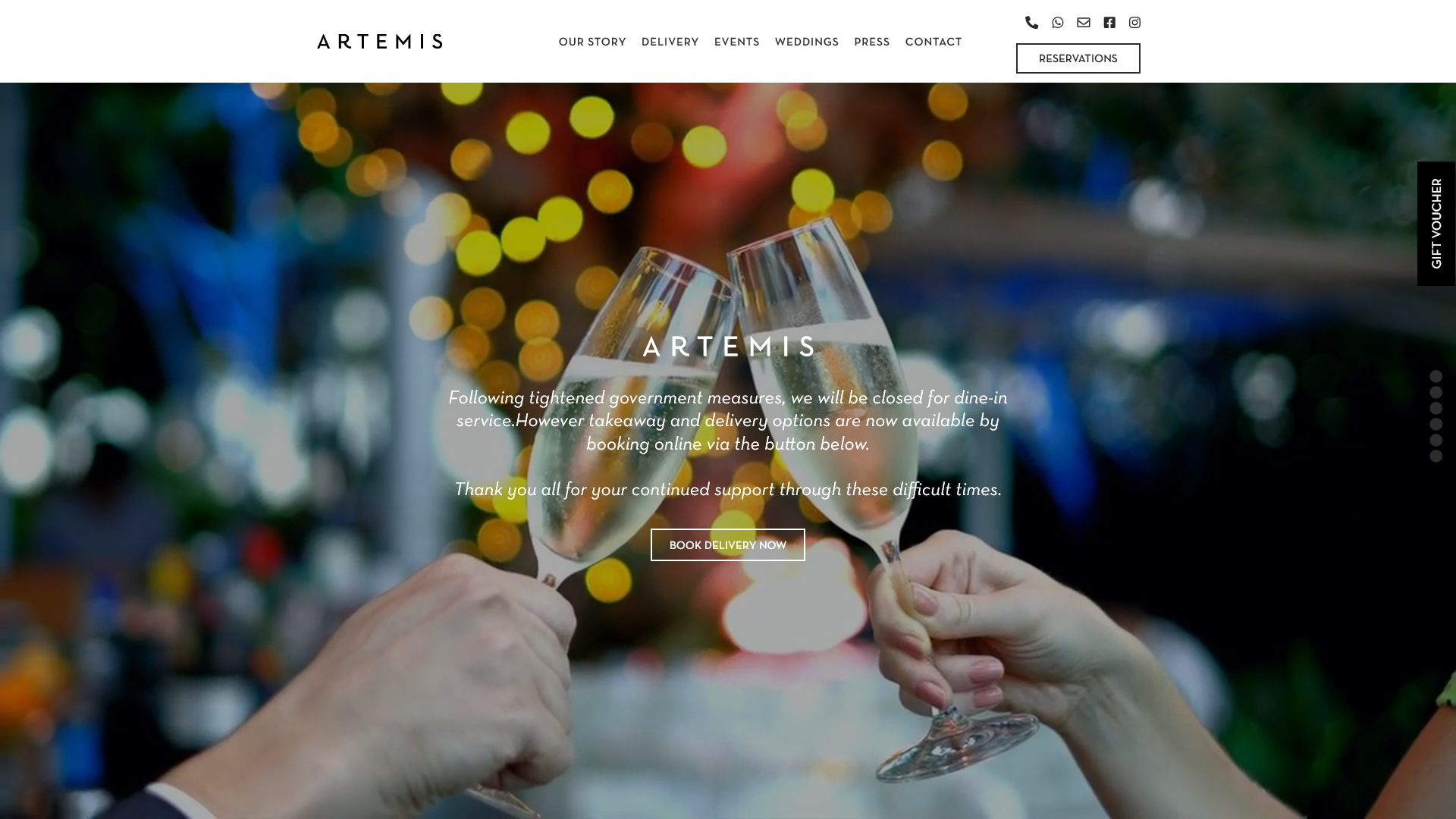 | | |
| --- | --- |
| BEST FOR  | Mediterranean Cuisine |
| MENU | Cocktails, Grilled Meat |
| WEBSITE | https://artemisgrill.com.sg/ |
| ADDRESS | 138 Market Street, CapitaGreen Rooftop (Level 40), Singapore 048946 |
| CONTACT DETAILS | (+65) 9850 7954/ (+65) 6635 8677  l [email protected] |
| OPERATING HOURS | 8:00AM – 6:00PM |
Artemis Grill is known for their exquisite Mediterranean cuisine– they will let you experience its diverse culinary heritage. Mediterranean cooking is known as one of the healthiest cuisines in the world. It typically includes seasonal vegetables, fresh seafood or grilled meat, and olive oil.
To top it off, you can dine in an outdoor rooftop space and admire the stunning, panoramic view of the Marina Bay– allowing you to enjoy a great atmosphere while eating good food.  It's also worth noting that they have been recognised as one of the best rooftop bars in Singapore in 2020.
Highlights
Scenic views
Grilled menu items
Comfortable Atmosphere
Customer Reviews
Here is a review left by a very satisfied client:
"Excellent high-end delivery for when you want to splash out compared to Deliveroo in these locked down times. The food was fantastic, fresh and packed with flavour. I've heard some horror stories of more expensive restaurants that are still charging $200+ for a meal for 2, but haven't managed the transition to delivery well. Artemis have made that switch, and well worth a try."
12. The Single Cask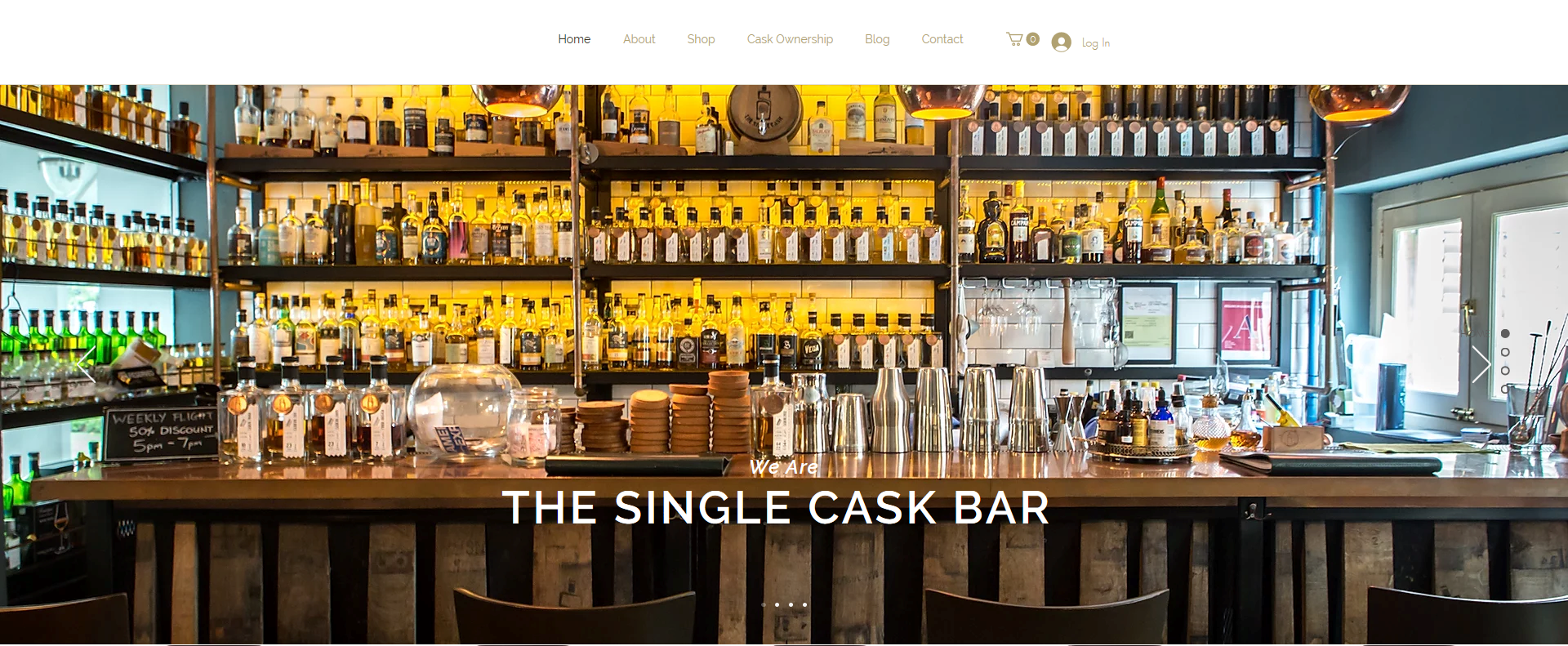 | | |
| --- | --- |
| BEST FOR  | Whiskies |
| MENU | Whisky and Cocktail |
| WEBSITE | https://www.thesinglecask.sg/ |
| ADDRESS | 30 Victoria Street, Caldwell House CHIJMES #01-25, Singapore 187996 |
| CONTACT DETAILS | (+65) 6837 0953  l [email protected] |
| OPERATING HOURS | 8:00AM – 6:00PM |
Founded by Ben Curtis, The Single Cask was built on the belief that the search for the perfect dram never ends. They host an impressive collection of exclusive single cask whiskies, which also includes single malts from family owned and operated distilleries.
The Single Cask has made it their mission to seek outstanding individual casks and bottle them as naturally as they can– without filtration, dilution, or colouring. This gives it an organic feel, something their customers really love.
It is important for them to provide good whisky to each of their customers, as they know that its exceptional taste is something anyone will be happy to have in their home. Accredited as the first Whisky Ambassador in Singapore, they also conduct courses regularly to inform and engage their patrons.
Highlights
Cosy Atmosphere
Friendly Staff
Wide Selections of Whiskey
Customer Reviews
Here is a review left by a very satisfied client:
"One of my favorite bars in Singapore. Small and intimate venue. Best to call ahead if you have a bigger group. All of the staff are great and can help you find a whisky based on what you like. Whisky selection is expansive and will never run out of new things to try."
"This is a small whiskey bar tucked in the corner of the bustling Chijmes outfit. Not as easy to find for a first timer, but do ask around the restaurants and shops and they can easily point out the place for you. They do "bring your own food" policies, as long as you get some drinks from them. Prices are a little high at around 80+ for a tasting flight of 4 drinks, but the happy hour is half the price – which makes it very much more reasonable. If you're looking to try new and exotic whiskeys, this could jolly well serve what you need."
13. The Old Man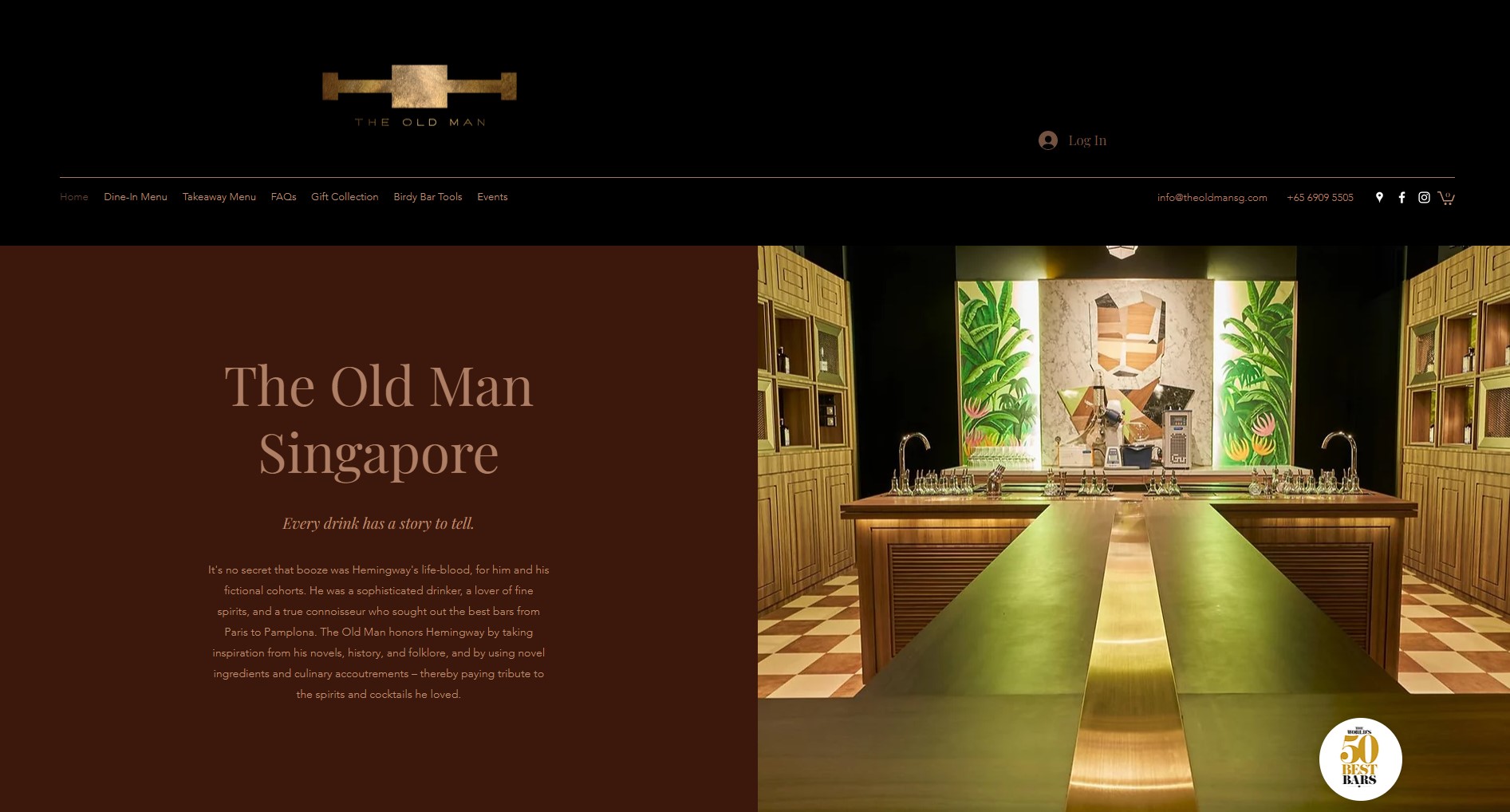 BEST FOR 
Cocktails
MENU
Cocktails
WEBSITE
https://www.theoldmansg.com/
ADDRESS
55 Keong Saik Rd., #01-04, Singapore 089158
CONTACT DETAILS
+65 6909 5505 | [email protected]
OPERATING HOURS
Monday – Saturday: 5 PM – 12 AM
Closed on Sunday
The Old Man is named after Ernest Hemmingway's novel, The Old Man and the Sea. The bar started as a passion project by Agung Prabowo, Andrew Yap, James Tamang, and Roman Ghale. Under their motivated supervision, it has since then become renowned as one of the World's Best 50 Bars.
Tucked into the heart of Singapore's buzzing Keong Saik Road, they offer top-notch hospitality alongside their innovative cocktails. Hemmingway fans and drink connoisseurs alike can stay here and try out their various concoctions, all made in the memory of a brilliant writer and cocktail enthusiast.
Highlights
Creative Cocktails
Professional bartender
Affordable Prices
Customer Reviews
Here is a review left by a very satisfied client:
"Very attentive staff, especially the mixologist who holds court at the head of the "chef's (community) table." Cozy space that fosters interaction amongst the patrons who were lucky enough to successfully locate the place! Specialty cocktails are the focus, but they will happily serve a traditional cocktail if you're not interested in the novelty drinks named after Hemingway's books."
14. Tantric Bar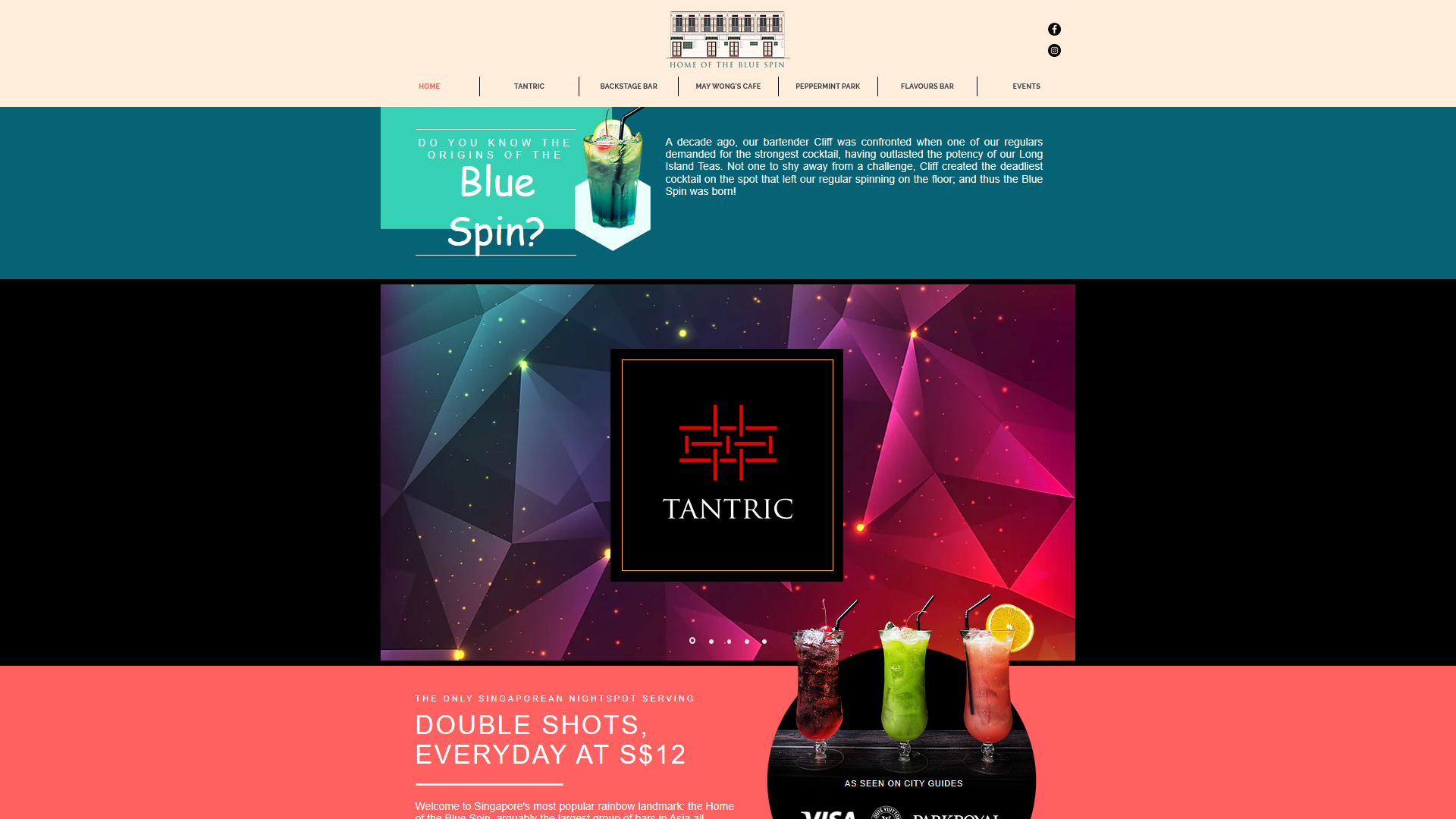 Working for over 16 years in the industry, the Tantric Bar is undoubtedly one of Singapore's hottest destinations. Boasting immense weekend crowds, there's no better place to mingle while enjoying their sexy mix of upbeat pop music.
During the weekdays, however, the bar transforms into a cool and friendly relaxation stop– perfect for catching up with friends and colleagues. The bar also features outdoor and indoor areas, which gives every customer and opportunity to mingle with other fellow patrons.
The bar offers a large selection of cocktails, wines, beers, and champagnes, all ideal for any type of occasion. After being served by their skilled bartenders, you'll discover the reason why they are famous when it comes to drinks!
Highlights
Friendly Staff
Creative Cocktails
Affordable Drinks
Customer Reviews
Here is a review left by a very satisfied client:
"Love the friendly staff's service and the atmosphere, music was not bad and something that we can dance to. YASSS, keep it up you guys!!! definitely recommending to all my gay friends!!"
15. Three Blind Pigs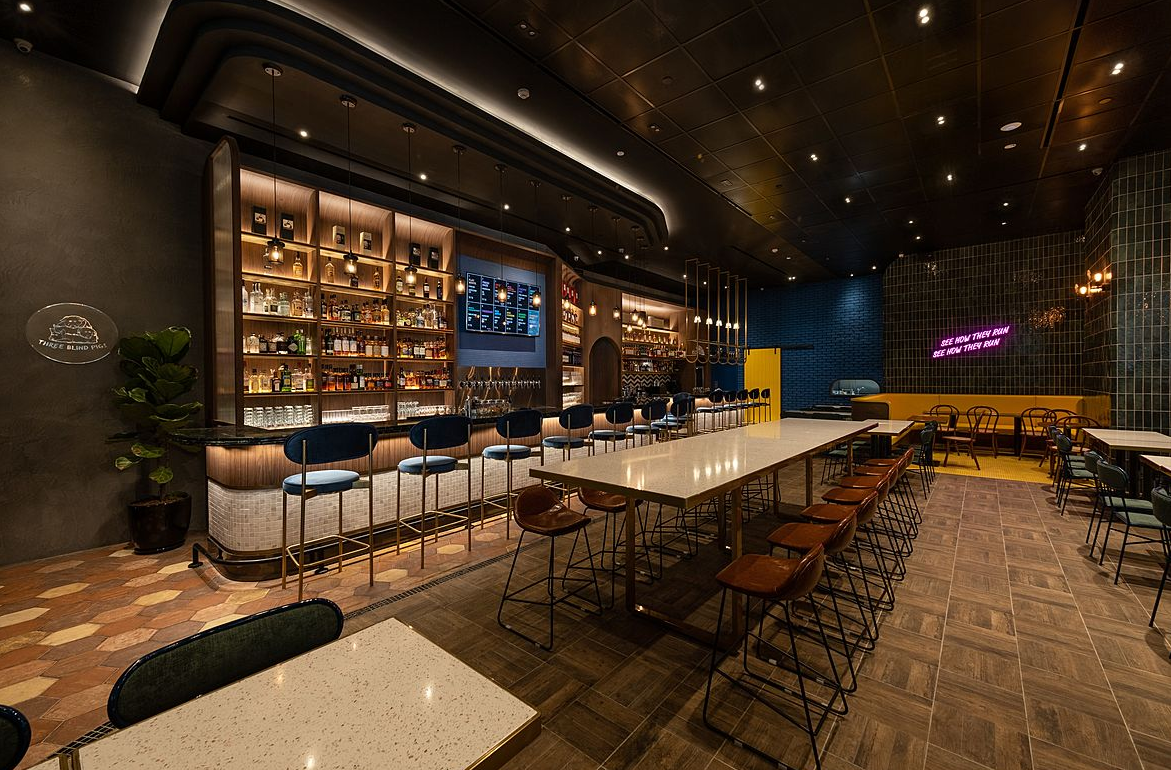 As you might have expected from its name, the Three Blind Pigs is an establishment that takes inspiration from the popular children's tale. It endeavours to provide a cosy, casual environment where customers can easily relax and unwind after a long day.
Aside from the comfortable interior, the Three Blind Pigs also offers its customers an extensive menu, which showcases pages upon pages of drinks as well as scrumptious dishes to go alongside them.
Customers can take their pick from champagnes, red and white wines, hard drinks, cocktails, and mocktails. There are also coffee and tea for those who are uninterested in alcoholic drinks. 
As for the food itself, the Three Blind Pigs is most known for their juicy burgers, which comes with the classic beef patty, chicken patty, fish patty, or pulled pork. There are also other mains available on the menu as well as pastas and hand foods.
For those who are unable to go out, but still wish to have a good time, don't fret. Three Blind Pigs also delivers island-wide and offers an easy way to order through its website. 
Highlights
Online orders available
Island-wide delivery
Extensive food and drinks menu
Cosy ambience
16. Bar Stories SG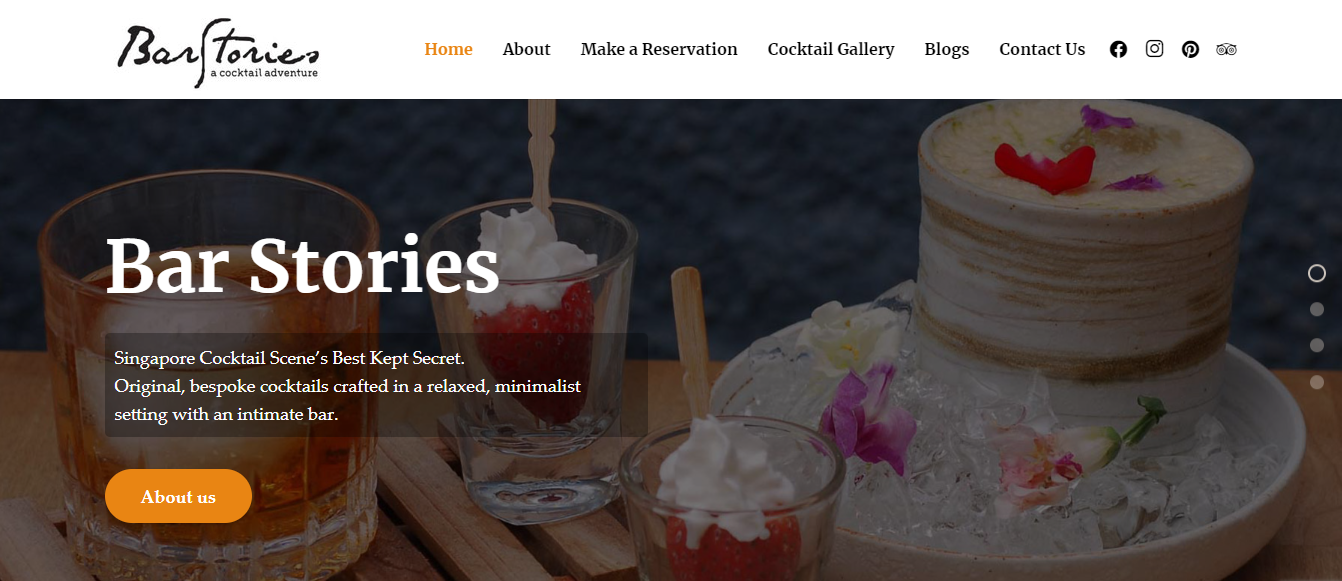 | | |
| --- | --- |
| BEST FOR  | Bespoke Cocktails |
| MENU | Cocktails, Seafood Dishes |
| WEBSITE | https://barstories.sg/ |
| ADDRESS | 55-57 A Haji Lane, Singapore 189248 |
| CONTACT DETAILS |  +656 298 0838 |
| OPERATING HOURS | Mon-Sun from 5:00pm to 2:00am |
Bar Stories is not just any typical cocktail bar with ready-made menus, as they prioritise their customer's own taste. They are well known for not having a menu for their cocktails– instead, they base the drink off from their customers preferences and work their magic right before you.
Bar Stories has been around for 10 years, highly admired in the industry and followed around since then. Today, they continue to operate as a hole-in-the-wall, nestled in the beautiful scenery of Singapore.
If you love new experiences, surprises and great company, head over to Bar Stories and let them craft what your mood, taste and palette desires.
Highlights
Personalised Crafted Cocktails
Accommodating and Friendly Staff
Customer Reviews
Here is a review left by a very satisfied client:
"This place is a gem! Personalized drinks based on your own preferences and flavor profiles. Awesome place for drinks with friends. The staff is so friendly and interactive that you wouldn't be alone if you're out for solo drinks. Try it… you'll like it!"
"Bar stories is a unique place where they have no drink menu's. You describe the flavours you'd like to taste and the experts get doen to business. Loved the cocktail that was made for me. Id asked for something a bit spicy (gingery spice) and the flavours that were added were great ! Definitely going back sometime."
17. Ah Sam Cold Drink Stall
Ah Sam Cold Drink Stall is a beloved go-to place for regular locals who go back for the warm, easy hospitality and the delicious cocktails. They can be found tucked away in a second-story shophouse along Boat Quay.
Their atmosphere is by no means stuffy nor formal– their guests are always greeted by a relaxed, cozy ambiance every time they enter the place. With their casual-rustic decor, any Singaporean stepping in would instantly be at ease with the familiarity of the place.
Their menu is also what sets Ah Sam Cold Drink Stall apart from the others. They have local-inspired cocktails and local dishes that are served in generous portions— paying tribute to the Singaporean culture.
Highlights
Cozy Atmosphere
Generous portions of Local Dishes
Local-inspired Cocktails
Customer Reviews
Here is a review left by a very satisfied client:
"Used to come here regularly when I was interning nearby . Still visit a few times a year for high quality cocktails and impeccable service . It has been a favourite place to introduce friends both local and foreign to this bar. Each and every one of my friends has given exceptional reviews (except the slightly steep prices) . Everything from the ambience to the snacks to the drinks to the service is top notch. A bit pricey for me to drop by more often but Highly recommended nonetheless."
18. DON HO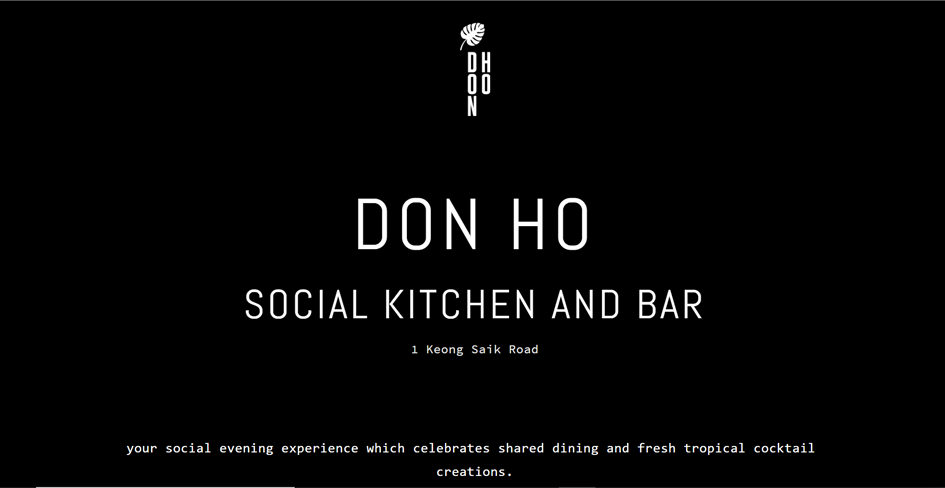 Don Ho is the perfect place to unwind after a week's worth of hard work. Starting with an amazing selection of food, the restaurant boasts gourmet dishes you can only get with them. From crispy eggplant and aubergines to scallops and short ribs, you'll never get tired of trying something new.
Their drinks are also a must-try. Along with their food, Don Ho's cocktails are something of refreshing and satisfying to indulge in. They offer a wide range of flavours for you to share with peers, each ensured to taste as great as the next one.
All in all, Don Ho is truly a place you should try if ever you're near the vicinity. Seats are limited as the restaurant is always booked with people, so make sure to book ahead of time.
Highlights
Instaworthy location
Mouthwatering food
Classy cocktails
Customer Reviews
Here's what customers have to say about Don Ho:
"We've been here for brunch and also for dinner. Both were enjoyable experiences. They have great cocktails, and use fresh ingredients to create conceptually-interesting fusion dishes. Ambience is also excellent, with a garden-like feel even inside. Highly recommended!"

"Unique concept of amazing cocktails and Asian fusion tapas. Most dishes are tapas-like, small and for sharing, but they offer some larger meat dishes as well. Food was great and the service friendly and dynamic."
19. CIN CIN
BEST FOR
Boutique Gins
MENU
https://www.cincin.com.sg/en/menu
WEBSITE
https://www.cincin.com.sg
ADDRESS
100 Peck Seah Street
#01-02 Singapore 079333
CONTACT DETAILS
T: 6385 2604
F: 6385 5207
OPERATING HOURS

Monday to Friday
5pm to 10.30pm
(Last order at 9.30pm)

Saturday
3pm to 10.30pm
(Last order at 9.30pm)
CIN CIN is where you can find the most extensive collection of gins available in Singapore. Patrons can enjoy over 200 G&Ts combination as well as 12 signature cocktails to choose from.
Curious tipplers and gin enthusiasts alike will find something to enjoy from their menu. They also serve bar grubs such as the signature Spicy Sriracha Buffalo Wings, Mac and Cheese and Fox Platter, that pair perfectly with your favourite drinks.
Their Gin Treasury buffet is also worth checking out. If you're planning to wind down for the week, their happy hour is from 5PM to 8PM daily, featuring 1-for-1 on the house gin, house wines and Asahi beer as well as four of the new cocktails at a special price of $16++.
Highlights
Extensive collection of well-loved and boutique gins
Over 200 G&Ts combination and 12 signature cocktails
Happy Hour from 5 PM – 8 PM, daily

Gin Treasury Buffet available on every Saturday

 
20. ZIGGY'S Karaoke & Cocktail Bar 
Do you want a different bar experience? Something that does not involve a dance floor or a DJ booth but still has lively music and, better yet, music of your own choice? Take our advice and visit ZIGGY'S Karaoke & Cocktail Bar for the best karaoke experience one can have in Singapore.
ZIGGY'S features a full-fledged cocktail bar as well as various luxuriously appointed karaoke rooms discreetly hidden away from plain sight. Relax in the comfort of one of the many private rooms available and enjoy a drink from their extensive list of premium liquors and craft cocktails while you sing your favorite songs in the company of your friends.
What sets this karaoke bar apart from the rest, besides the high-quality sound system and extensive song selection, are the impeccable service standards of the staff. Besides going out of their way to attend to any requests from customers, they also provide costumes, fancy dress, and props so that guests can just let loose and have an amazingly fun night out. A night at ZIGGY'S is a unique experience – best described as karaoke re-invented for grown-ups. 
Highlights
Full range snacks and cocktail options
Luxurious karaoke rooms that suit any occasion, some rooms can fit up to 40 guests
Extensive range of snacks, liquors, and cocktail available
Perfect venue to celebrate special occasions or to hold corporate events
Customer Reviews
The bar has a 4.4-rating on Google and the common words their customers used to describe them are comfortable, sophisticated, and enjoyable.
"Clean, classy karaoke bar with best drinks selection I've ever seen in a karaoke. Not expensive either, 10 of us had 3 bottles of whisky between us and it only came to $80 each. Busy on weekends, best to book online in advance."
And that's it for our list of the best cocktail bars in Singapore. If you've been to any of these places before, don't forget to share with us what your experience was like
By the way, if you want a cocktail bar with a relaxing view at night, then check out our list of the best rooftop bars in Singapore. These rooftop bars offer an amazing view of Singapore that can really elevate your drinking session with friends.