The Top 9 Places for Best Burgers in Singapore
Getting used to that same old burger that you always order from famous food chain restaurants? Then you'll enjoy a food adventure in search of the best burger in Singapore!
There's so much more to burgers than just a simple patty sandwiched between two bread buns. Many restaurants are creating their signature burger recipes to make it even tastier and healthier!
So without further ado, here's our list of the joints serving the best burgers in Singapore, where you can try different cuisines and styles, giving you a delightful dining experience!
1. 25 Degrees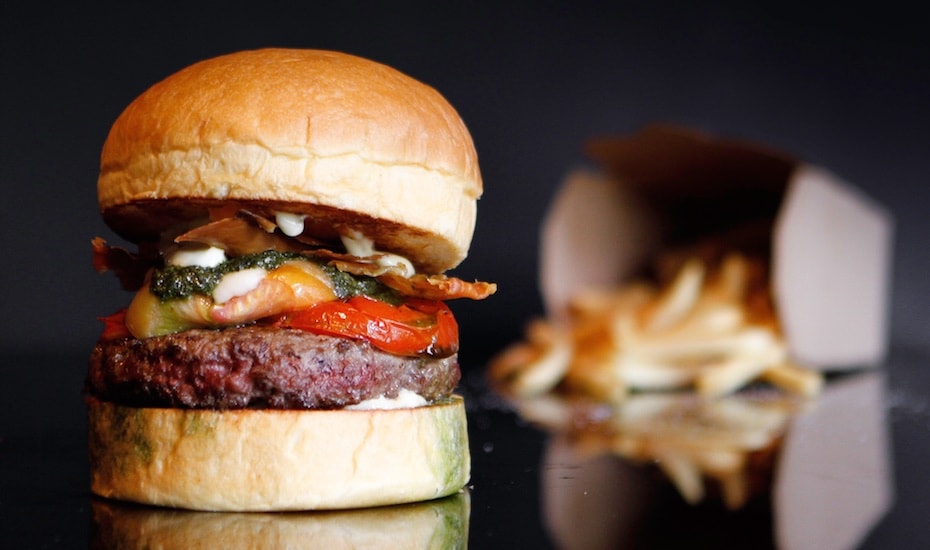 Being recommended by many Hollywood celebrities, 25 Degrees has become a well-known bar that makes some of the best burgers in Singapore. Their place is styled with a classic and glamorous but comfortable setting.
They're famous for their West Coast flavour features on their unique burger collections. Their burgers have different fillings including beef, bacon, avocado, chicken, and more.
They also have vegan burgers filled with a veggie patty, mushroom, & jalapenos, for which they use gluten-free buns. You also get to create your own burger by choosing your preferred meat, extra fillings, sauces, and type of cheese.
Highlights
Signature burger specials
Customised burger style
Customer Reviews
Most customers complimented the special buns of the burgers from 25 Degrees. They said that they've experienced a fresh and juicy meal during their visit.
A customer gave this feedback on Google Reviews:
"Best burgers I've had, period. Everything is fresh, including the brioche-type bun the burgers are served on. I've had the regular burger, tuna burger and the new lamb burger and can't pick a favorite. The espresso here is straight out of Italy."
2. Wolf Burgers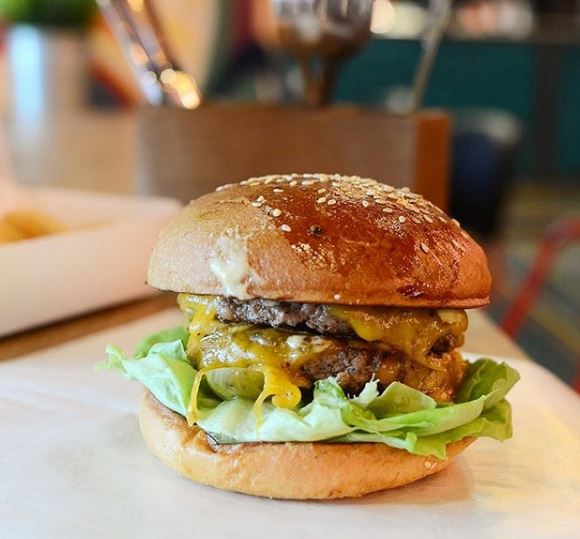 Wolf Burgers take pride in their signature burgers that feature wagyu beef, salmon, fried fish, chicken, and more. They also have platter sets that have a combination of burgers, fries, and drinks.
Meat-free alternatives, salads, butter corns, and pasta are also included on their menu. For their beverages, they have coffee, tea, smoothies, sodas, and beers.
Highlights
Catering services
Accessible locations
Online ordering
Island-wide delivery on Oddle
Customer Reviews
After visiting Wolf Burgers, customers had their own favourites that made them keep coming back. They also recommended the other dishes and mentioned the friendly staff service.
A customer posted this review on Google Reviews:
"Burgers are done just right especially Wagyu Burger has that small hint of beef fat flavor and tenderness. Truffle fries have just the right amount of flavours. The staff that served us were polite, patient and still served us with genuine smiles. Well done."
3. Omakase Burger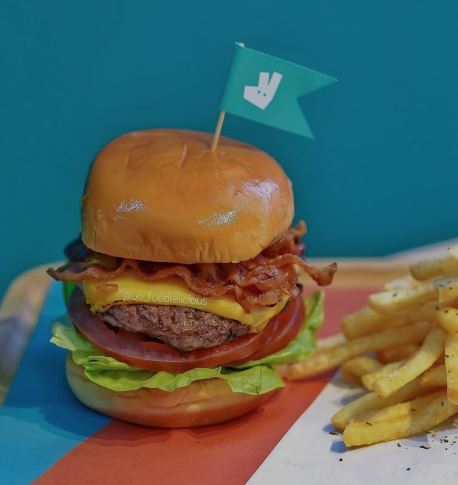 | | |
| --- | --- |
| BEST FOR | Plant-based burgers |
| PRICING | Menu |
| WEBSITE | https://omakaseburger.com/ |
| ADDRESS | 435 Orchard Road, #03-15 Wisma Atria, Singapore 238877 |
| CONTACT DETAILS | +65 6734 8352 |
| OPERATING HOURS | Mon – Sun: 11:00 am – 9.30 pm |
If you're a vegetarian, you'll love the plant-based burgers of Omakase Burger, as they are rich in protein and low in cholesterol. They offer omakase and super sets — both have premium sides and drinks.
You can have some fries, onion rings, and salad as side dishes. When it comes to their drinks, they have root beer float, lemonade, juice, and beers.
They've also been featured on various media publications, proving that they truly have the best burgers in Singapore!
Highlights
Online orders
Accessible locations
Customer Reviews
Omakase Burger has received a lot of positive comments because of their juicy beef patties that make customers satisfyingly full even with just one burger. A customer from Google Reviews wrote:
"BEST burgers ever! The juiciness of the beef patty is hard to beat. With 1 bite the juices trickle down your hands and your mouth is filled with beefy goodness. Eating a whole meal always makes me way too full. My favourite go to meal after a long and tiring day :')"
4. Burger Labo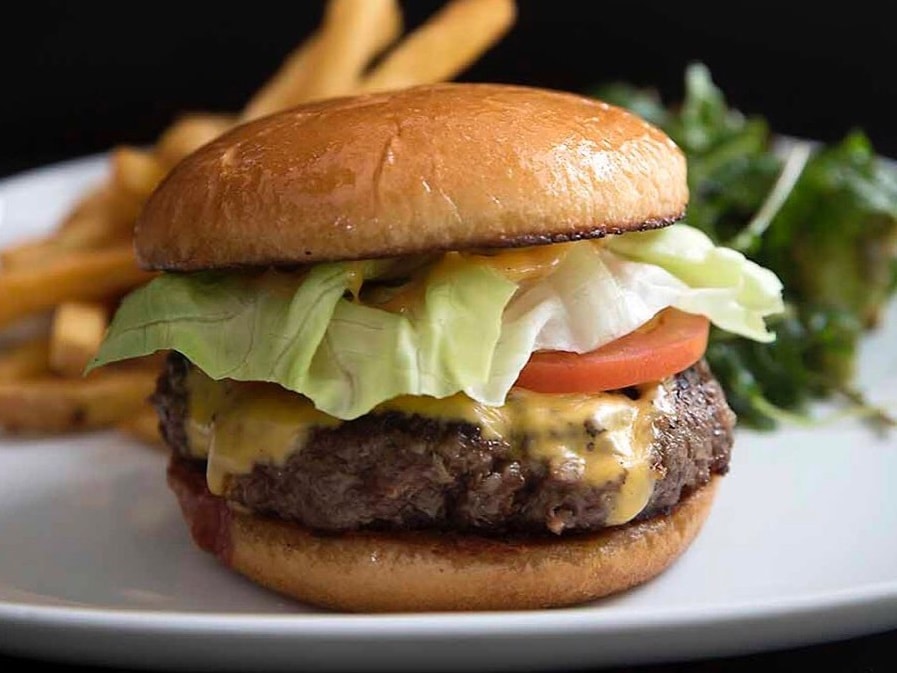 BEST FOR
Locally sourced ingredients
PRICING
Menu
WEBSITE
http://www.burgerlabo.com/
ADDRESS
Block 41 Malan Road, Gillman Barracks Singapore 109454
CONTACT DETAILS
6694 0940 – Please call after 4pm
OPERATING HOURS
Tuesday – Thursday : 5pm – 11pm (last order at 10pm)
​Friday – Saturday & eve of PH : 5pm – 2am (last order at 1am)
Closed on Sundays & Mondays
Burger Labo also opts for a healthier meal as they use organic and grass-fed ingredients, giving you the best burgers in Singapore. You'll also like their special lobster rolls together with their locally made burgers.
They also have a broad range of drinks including their signature cocktails, wine, beer, sake, and milkshakes. If you're used to having desserts after a meal, they offer sorbet, ice cream, and more.
Highlights
Customer Reviews
Customers were fully satisfied with the burger menu options of Burger Labo. A customer posted this feedback on Google Reviews:
"Great burgers. Whether it's the basic , the wagyu, the chicken or the lobster rolls. You can't go wrong. Great cocktails and wines too."
5. Three Buns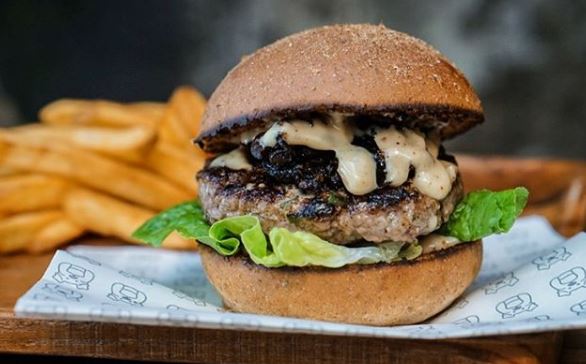 Three Buns proudly offers their cultural gourmet burgers with innovative styles and tastes. Their best burgers in Singapore are filled with juicy and high-quality meat and amazing homemade sauces.
They use organic ingredients for their 100% all-natural burgers and they even have vegan burgers for healthier options. Other dishes such as salads, fries, and sweetcorn are also part of their menu.
They also have perfectly curated cocktails that are homemade — their main highlights are frozen colada and artisan soda. Coffee and tea are also available on their drinks menu.
Highlights
Vegan options
Signature cocktails
Customer Reviews
Customers were amazed by Three Buns's unique range of burgers filled with authentic flavours. A customer from Google Reviews wrote this feedback:
"Amazing service, great location and most of all very good choice of burgers. Tried the range Impossible burgers (Dream and Cheddar) and was pleasantly surprised at the authentic flavours. Great preparation and fresh ingredients added to the quality too."
6. Black Angus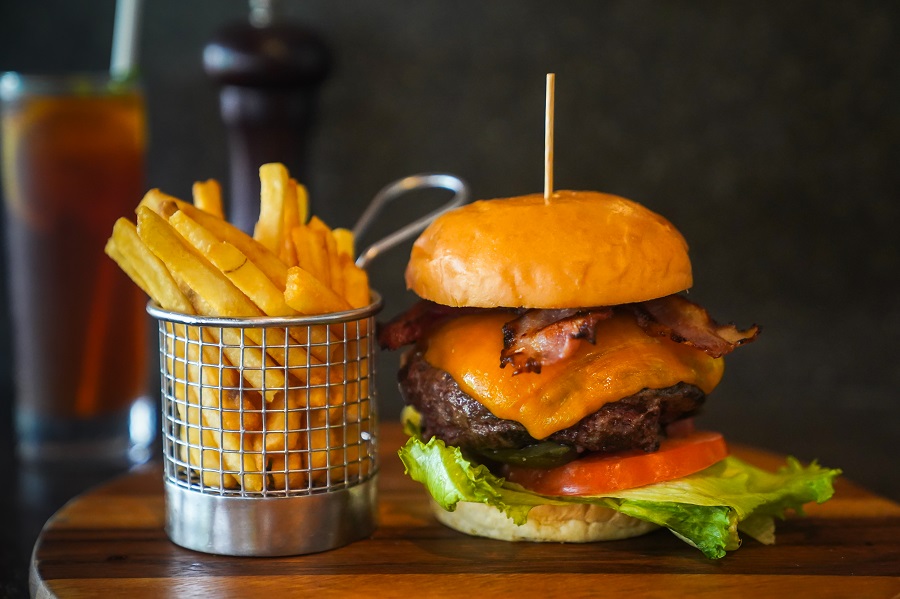 BEST FOR
Burgers and steaks
PRICING
Menu
WEBSITE
http://www.blackangussg.com/
ADDRESS
1 Tanglin Road, #01-08 Orchard Rendezvous Hotel, Singapore 247905
CONTACT DETAILS
67341181
OPERATING HOURS
Monday: 11.00 am – 3.00 pm & 6.00 pm – 11.00 pm

Tuesday to Sunday: 11.00 am – 11.00 pm
The Black Angus first opened its doors to the Singaporean public in 1997. Since then, the restaurant has dedicated itself to providing tantalising food to all of their customers.
The restaurant's extensive menu features high quality steaks alongside other American menu items like burgers and sandwiches. Everything on the menu is also best suited for large groups, which makes the Black Angus the perfect destination for family gatherings or reunion of friends.
Good food, good ambiance, and good value are the key elements of Black Angus — check out their restaurant at Orchard Parade Hotel to get the full experience today.
Highlights
Cosy ambiance
Only franchised Black Angus steakhouse licensed by the U.S. Principal
7. Fat Papas
BEST FOR
Halal food items
PRICING
Menu
WEBSITE
https://www.fatpapas.sg/
ADDRESS
17 Bali Lane, Singapore
CONTACT DETAILS
+65 6291 8028
OPERATING HOURS
Opening hours: 12- 10pm

Fri/Sat/Eve PH/PH: 12 to 10.30pm
Fat Papas is a flagship restaurant born out of owner Haikel's desire to introduce more flavours to the Muslim community in Singapore.
The restaurant was inspired by FatBoys burgers, evident in the offerings featured on Fat Papas' sizable menu. If you're looking for the perfect restaurant that not only provides tasty burgers and drinks alongside a comfortable and casual dining experience, the Fat Papas should be your next food destination.
Highlights
Offers the option to build your own burger
Halal-certified menu
Affordable meals
8. Burger Frites
BEST FOR
Classic steak burgers
PRICING
Menu
WEBSITE
http://www.burgerfrites.sg/
ADDRESS
340 Joo Chiat Road, Singapore 427592
CONTACT DETAILS
(+65) 9116 3304 l [email protected]
OPERATING HOURS
TUE. – FRI. : 5PM-11PM
SAT., SUN. & PH: 12PM-11PM
Craving for a classic steak burger that is rich in taste? Then look no further, as Burger Frites is here to bring back the good old American burger on the platter. They offer a choice of three patties, namely, Angus Beef, Crispy Tender Chicken, and Breaded Brie Cheese.
Driven by his apprentice experiences in restaurants across all cities, founder and owner Alexander Pini strives to exemplify the same feeling of worldwide culture in Burger Frites. Moreover, they also provide customised service for their burgers, to make sure that you will eat only the most flavourful food. They are highly committed to their pledge to only use high-quality and fresh ingredients for their food.
Great food, nice ambiance and good customer service are the core elements of Burger Frites – make sure to visit their restaurant today for a full range of burgers and dishes that you will surely like!
Highlights
Cosy ambiance
Excellent customer service
Delicious taste
Customer Reviews
Customers were amazed by Burger Frites's unique range of burgers filled with authentic flavours. A customer from Google Reviews wrote this feedback:
"Craving for a good burger tonight and saw Burger Frites as one of the top places to order from so gave it a shot. My word! No regrets at all! It's by far one of the best burgers "I've ever had the pleasure to put in my mouth! We both ordered the Angus beef burger with cheese add on Turkey bacon for me. hubby also loves it and hes not one to rave when it comes to food! Fries were great but the star was for sure the burger! The beef patty is massive and juicy.. with the combination of mustard and ketchup it's one very delectable and tasty burger. Looking forward to my next meal here. Hopefully once CB is over we can have a proper meal in store! My belly is full and happy!! :)"
9. Two Blur Guys
BEST FOR
Asian Fusion Burgers
PRICING
Menu
WEBSITE
https://twoblurguys.asia
ADDRESS

387 Jalan Besar
Singapore 209002

CONTACT DETAILS
[email protected]
Tel: 6636 4183
OPERATING HOURS
Daily from 11am to 10:30pm
[Last Order at 9:30pm]
Good food doesn't need to be overtly expensive. This is proven true by Two Blur Guys, a hole in the wall restaurant located in Jalan Besar.
The menu at this restaurant packs a heavy punch. Two Blur Guys offers a wide array of burger options, including beef burgers, chicken burgers, pulled pork burgers, and even vegan options for those who prefer no-meat meals.
These burgers come with a side of salad and fries, completing the scrumptious, hearty meal. What we love about Two Blur Guys, aside from the options they have on the menu, is how they make their burgers.
While juicy, Two Blur Guys' burgers aren't very greasy or oily, making it easy to go through one burger without feeling like you've made a mistake after. In fact, post-meal at Two Blur Guys' is always a treat, especially if one were to order their dessert options.
For those who would like non-burger meals, you don't need to look far, either. Two Blur Guys' also features fish and chips, chicken salad, seafood pasta, ramen, yakitoris, and many more on their menu.
If you're looking for sides to complete your meal, or perhaps amazing drinks to pair it with, Two Blur Guys' still has your back. They have beer, in-house drinks, wings, wedges, and fries to share available for purchase.
Highlights
Vegan options available
Tea, hot and cold beverages available
Open Monday to Sunday
And that's a wrap for our list of the best burgers in Singapore! If you know of more places that offer delightful burger collections, let us know as may also add them to our list!
You might also love these best cafes in Singapore, as they also make great burgers and other meals and snacks!