Where to Find the Best Rooftop Bars in Singapore
There's nothing better than having a nightcap with friends with an overlooking view of Singapore's gorgeous skylines. If a breathtaking view is what you're after, then we highly recommend that you drop by the best rooftop bars in Singapore!
If other bars can offer amazing live bands, the best rooftop bars in Singapore can offer customers a beautiful view that can drain all their stress from work. What's more, these rooftop bars also have varied menus to cater to the varying taste buds of their customers.
If you're curious to find out where these rooftop bars are located, then don't stop reading just yet! We have a list of the best rooftop bars in Singapore worth checking out after a long day at work.
1.  Lantern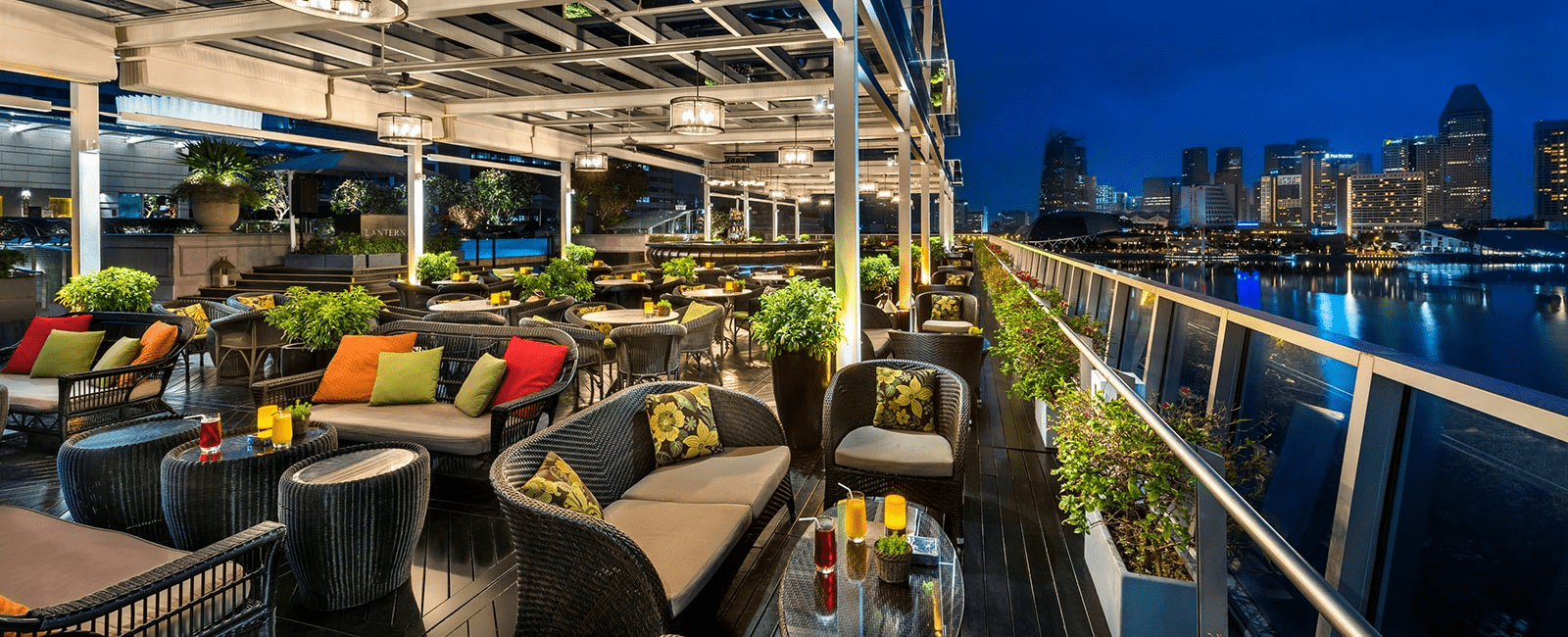 If you're looking for a rooftop bar that serves cocktails and meals, then consider checking out Lantern at the Fullerton Bay Hotel! It has a wide variety of lunch and dinner menus, along with signature cocktails that come at a discounted price during their Happy Hour.
It's open as early as 10 in the morning and operates until 12 midnight, so if you're in the mood for day drinking, then it's the perfect spot for you! It's also among the reasons we call it one of the best rooftop bars in Singapore!
Since it's open for almost the entire day, booking a seat won't be much of trouble. Even on weekends, it can still accommodate a huge crowd of people.
Highlights
Signature cocktails
Delicious meals
View of the city's skyline
Customer Reviews
Despite its heavy price tag, Lantern has been noted for its delicious menu and excellent and friendly staff. Here are what customers have to say about it:
"Fabulous hotel roof bar and restaurant. By day a relaxing place to be dipping in and out of the pool. By night an exceptional view of Singapore at night provides wonderful views of the light displays. The bar and restaurant area can get very busy and service can be a little slow. Staff are polite and friendly."
"Wow. What a spectacular venue on the rooftop of the Fullerton Bay hotel. Bring your camera as amazing views over Marina Bay and beyond. Service was excellent making for a perfect place to relax. Prices are consistent with Singapore 5 star hotels. So not cheap, but you are paying for an amazing venue and top service."
2.  Southbridge
BEST FOR 
Seafood
MENU
Gin & Tonics, Cocktails, Spirits, Wines, Beers, Oysters, and Seafood Bar
WEBSITE
http://www.southbridge.sg/
ADDRESS
80 Boat Quay, Level 5, Rooftop 049868
CONTACT DETAILS
+65 6877 6965 | 

[email protected]

OPERATING HOURS
Monday – Sunday, 5:00 PM to 12:00 AM
Southbridge is the perfect spot for those craving seafood, specifically oysters. While it's primarily known as a seafood bar, customers frequently return to drink its extensive list of signature alcoholic drinks.
What's more, it offers an amazing selection of oysters from all over the world, making it the only rooftop bar in Singapore that specialises in oysters. Previous customers have noted how delectable the oyster dishes are, despite leaning towards the expensive side.
It's also the ideal place to hang out after work and during the weekends because the crowd is smaller compared to other rooftop bars, which is why we've added it to our list of the best rooftop bars in Singapore.
Customers also love its quiet and intimate ambience, which makes it a perfect site for conversation with friends.
Highlights
Intimate ambience
Seafood menu
Signature alcoholic drinks
Customer Reviews
Take a look at some of the feedback from customers on Google Reviews:
"Love this place for its ambience and cocktails. Love the Beautiful view, but make a reservation to get seats with the better view of the Singapore river! This is the view from the back seats, which was not too shabby. And the kind waiter was nice enough to offer us front seats but a pity we were already leaving. Appreciate it though!"
"This bar is just around the corner at South bridge road. Maybe difficult to find at first. But once you get into the lift to get to level 5 where the bar is, the spectacular view of boat quay and the skyscrapers this place offers, worth every bit. The drinks are on the pricey side (expected as the location is kickass) so make the most of it by spending good time here. Service was the best, I totally appreciate the staff. We were 5 of us on a Friday evening and they got us a table by the corner, which offered us an amazing view."
3.  Artemis Grill & Sky Bar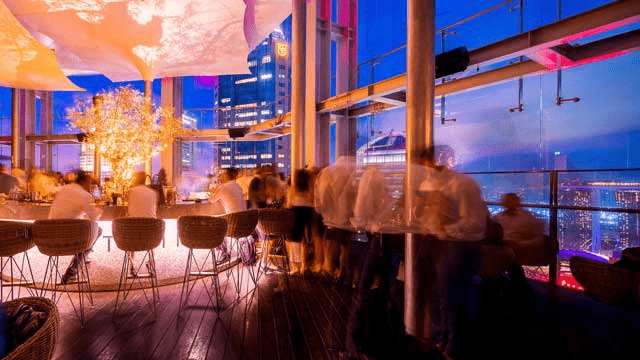 Artemis Grill & Sky Bar is among the few rooftop bars in Singapore that exclusively offer Mediterranean cuisine. Every dish served is rich with seasonal local vegetables, grains and legumes, grilled meat, and seafood, which is why we consider it one of the best rooftop bars in Singapore.
More than this, Mediterannean cuisine is deemed to have some of the healthiest foods in the world, so rest assured that you're not breaking your diet when you dine in at Artemis Grill & Sky Bar.
In terms of the view, customers will get to enjoy the panoramic view offered by the Marina Bay. A perfect match for the great food!
If you want discounted drinks, then drop by Artemis Grill & Sky Bar during its Happy Hour. All their signature cocktails are offered at a much lesser price!
Highlights
Healthy dishes
Experienced chef
Happy hour
Customer Reviews
Here are some comments left by satisfied customers:
"Amazing restaurant with a very attentive and helpful staff. Each element of the place is well designed and we can notice the care of details ! We were three people and took two starters and three mains. Both the quality of the ingredients and the dressing were perfect, and I appreciated very much the complimentary dessert served at the end of the meal. Those details make the difference between normal restaurants and high class ones like Artemis. Furthermore, with the rainy weather in Singapore during these days, it is nice to still enjoy the view but from inside."
"Hosted a get together with client to celebrate the completion of project and thank them too. 14 of us were settled into a nice corner at the open bar. We tried the bar food – beef steak sliced, fries, popcorn chicken, grilled chilli peppers, BLT sandwiches, cheese and cherry tomatoes. The drinks menu offered a good range of beer and stout. We were there from 6 plus to 8 plus. Crowded at first. Music was on the loud side but things got quiet and comfy around 7 plus. Service staff was very friendly, responsive and helpful and patient. Left a good experience for most of us who are first time visitors."
4.  Screening Room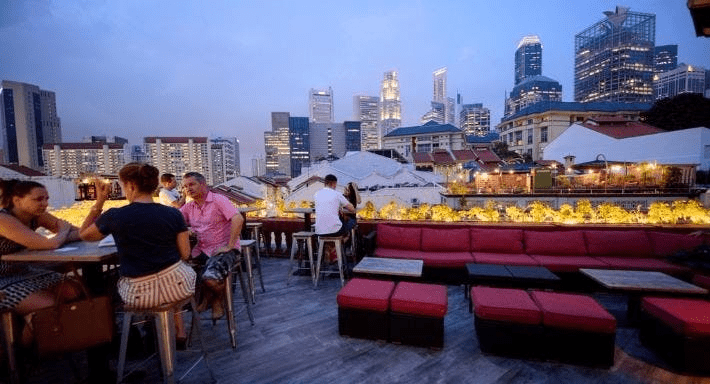 If you're in the mood to watch a movie with friends while sipping on cocktails, we have exactly what you're looking for! Here's the Screening Room, a boutique film theatre that doubles as a rooftop bar.
On top of hanging out with friends after work, the Screening Room can also be used as a place for meeting clients. It has some of the most delicious cuisine and cocktails, which help make meetings more productive.
What's more, it plays great music that goes well with any mood, no matter how serious or fun the atmosphere is. It's also the perfect spot to meet new friends as it's known to have a quiet yet amazing crowd of millennials.
It's also perfect for those who want a chill nightcap after work because it has a relaxing and intimate vibe that can help get rid of the stress caused by work. And that's just some of the reasons we call it one of the best rooftop bars in Singapore.
Highlights
Film screenings
Relaxing vibe
Excellent customer services
5. LeVeL33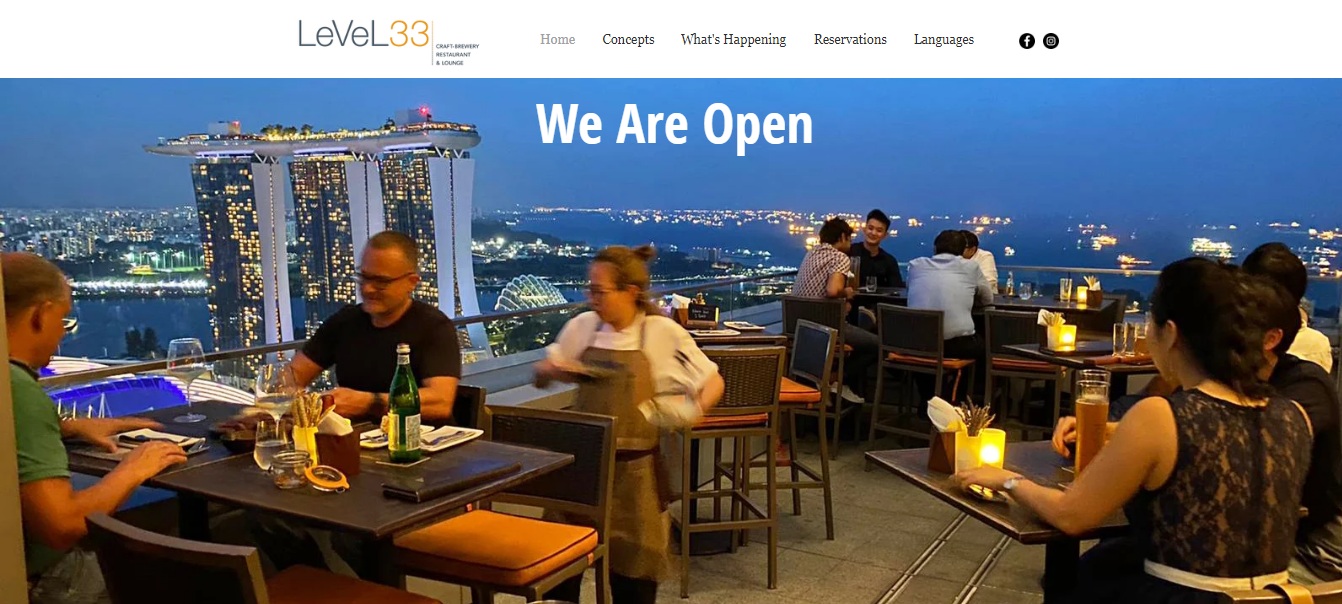 BEST FOR

Craft brewery

MENU

https://www.level33.com.sg/menu

WEBSITE

https://www.level33.com.sg/

 

ADDRESS

8 Marina Boulevard #33-01 • Marina Bay Financial Centre Tower 1 • Singapore 018981

CONTACT DETAILS

+65 6834 3133 |

[email protected]

 

OPERATING HOURS

Mondays – Thursdays: 11.30am – 11pm

 

Fridays: 11.30am – 12mn

Saturdays: 12.00pm – 12mn

Sundays and Public Holidays: 12.00pm – 12mn

Eve of Public Holidays: Till 1.00am
Take your drinking session literally to the next level by hanging out at the rooftop bar of LeVeL33. Aside from their luxurious ambiance and a rooftop bar that allows you to be mesmerized by the beauty of Marina Bay, they also take pride in their work of art which is their craft beer.
These craft beers are best enjoyed with a sizzling hot barbeque while dancing to their upbeat music. A perfect Friday night scenario after a week-long of hard work.
Aside from their ala carte menu, they also have an "all you can eat" package and many other packages that you will definitely enjoy.
Highlights
Exclusively made craft beers

Stunning overlooking view

Food and drinks promotions and packages
Customer Reviews
LeVeL33 has a 4.3-rating on Google with 1,186 reviews, all filled with positive feedback. Here's one of them.
"Always ranks high when it comes to Marina Bay view for Singapore. Balcony is decent when they open it up but can be tight when it's closed to dining only. Nice if you get a table outside otherwise the view is usually covers by people but that interior is also nice. Beer was decent for local. IPA was very light but enough for drink. Highest micro brewery in the world. Food was nice but only and a few apps . Enjoy the views , drinks and apps .. then catch the light show for 8 and 9pm"
6.  Zafferano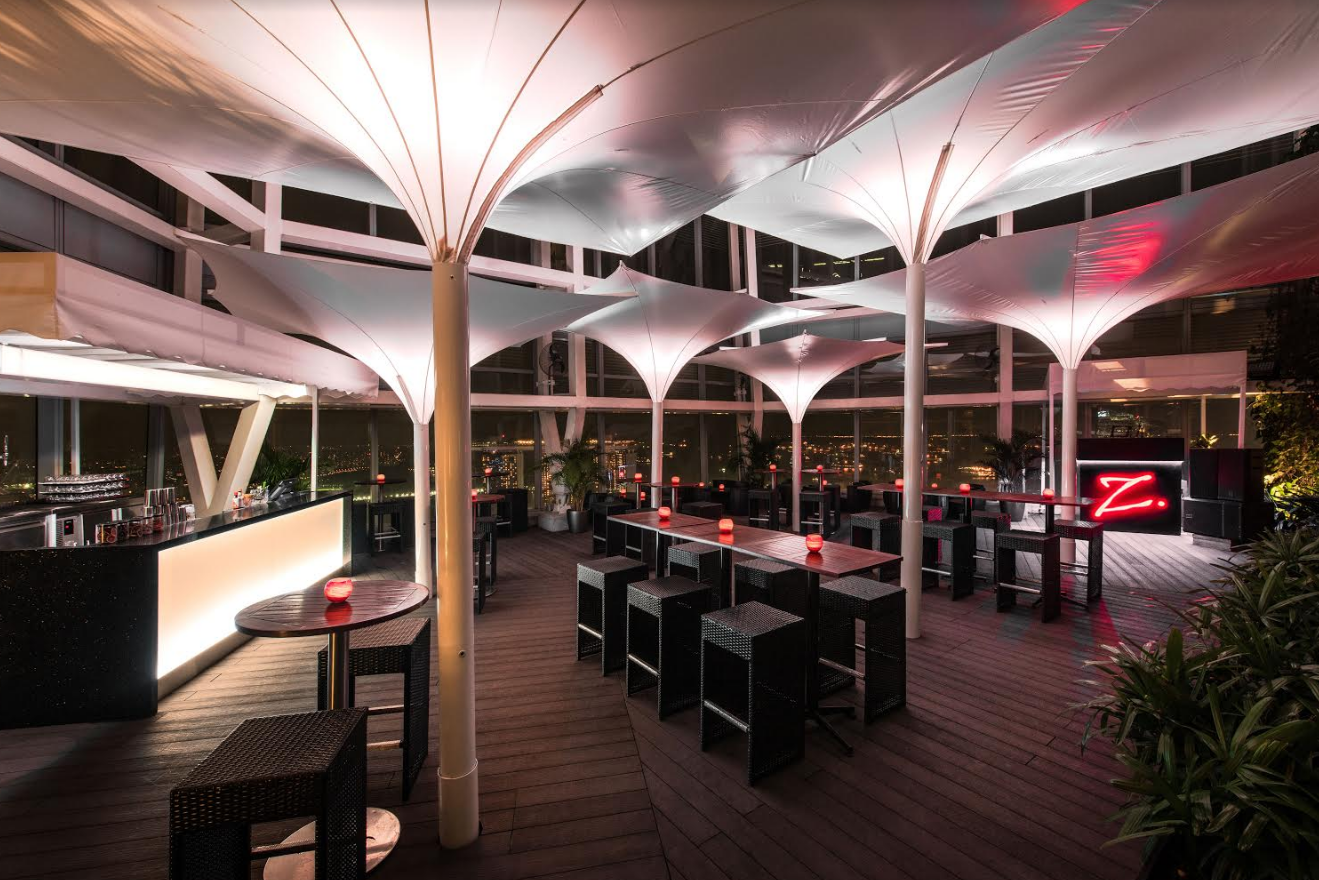 BEST FOR 
Italian Cuisine
MENU
Click Here
WEBSITE
http://www.zafferano.sg/
ADDRESS
Ocean Financial Centre, Level 43,
10 Collyer Quay, Singapore 049315
CONTACT DETAILS

+65 6509 1488

OPERATING HOURS

Monday – Sunday: 12pm – 3pm and 6pm – 11pm
Zafferano is a restaurant that has good food and an even better view. Enjoy the picturesque scene of Singapore at night while indulging in various culinary creations.
Best of all, Zafferano uses only the freshest ingredients in preparing their food, guaranteeing its high-quality. Visit their website and book a reservation now!
If you want to enjoy a gorgeous view while eating Italian food, then Zafferano is the perfect restaurant for you! It's located on the 43rd floor of Collyer Quay, offering customers a picturesque view of Singapore's skyline at night.
Zafferano is also quite famous with office workers who are looking forward to delicious food after a stressful day. Fridays and Saturdays are the busiest days for Zafferano, so be sure to book ahead to get a spot in one of their numerous tables.
What's more, Zafferano uses only the freshest and finest produce in crafting its menu, so rest assured that customers will be treated to the best Italian food that they've ever tasted. It also has a wide selection of cocktails and wine that can be enjoyed while observing the stunning view.
Highlights
Contemporary Italian cuisine
Breath taking view
Extensive wine list (more than 600 labels)
Excellent service
Customer Reviews
From cuisine and liquor collection to its breathtaking view, customers always feel satisfied with Zafferano's services. Here's a customer review to tell you more:
"At the top of one of the highest buildings in Singapore, it is one of the rare places from where you can see the Marina Bay from above. Furthermore, the western cuisine has nothing to envy to the best restaurants in Europe ! The chef is a real artist and will make you travel from the starter to the dessert !"
And that's it for our list of the best rooftop bars in Singapore worth checking out after a long day at work! We guarantee that any of these rooftop bars can help anyone destress from work.
If you know other great rooftop bars in Singapore, don't hesitate to share their names with us! If we find them also well recommended by customers, we'll add them to our roster!
Are you aware that there are also bars in Singapore that offer live music to customers? If you're into that, check out our list of the top spots with the best live music in Singapore.