The 16 Best Singapore Magicians
Preparing for your child's birthday party or an upcoming company event? To entertain your guests with amusing performances, the best Singapore magician provides outstanding shows that both children and adults can enjoy!
If you're in a rush and don't have enough time to talk with every professional magician and see which one of them fits your criteria, don't worry because we already did the hard task for you! We picked the most in-demand and best Singapore magicians who can surprise and amaze any audience!
1. Jellybean Party

BEST FOR
Magic shows and Interactive game hosting
WEBSITE
https://www.jellybeanparty.sg/
ADDRESS
300 Tiong Bahru Road, Singapore 168731
(By Appointment Only)
CONTACT DETAILS
Email: [email protected]
Phone: +65 9230 5911
OPERATING HOURS
(Operation Hours: Mon – Fri 10:00am – 6:00pm)
With the help of Jellybean Party, every party is the best celebration ever. The firm offers top-notch magician services that will surely wow the guests both young and old.
Aside from the magical aspect of their services, Jellybean Party also offers game hosting, special mascot appearances, and even bouncy castles! If you want your little guests to have the best time of their lives, make sure to check out Jellybean Party today.
Highlights
 Fuss-free package available
Wide array of services offered
Food stations
Hassle-free booking
2. Experience Magic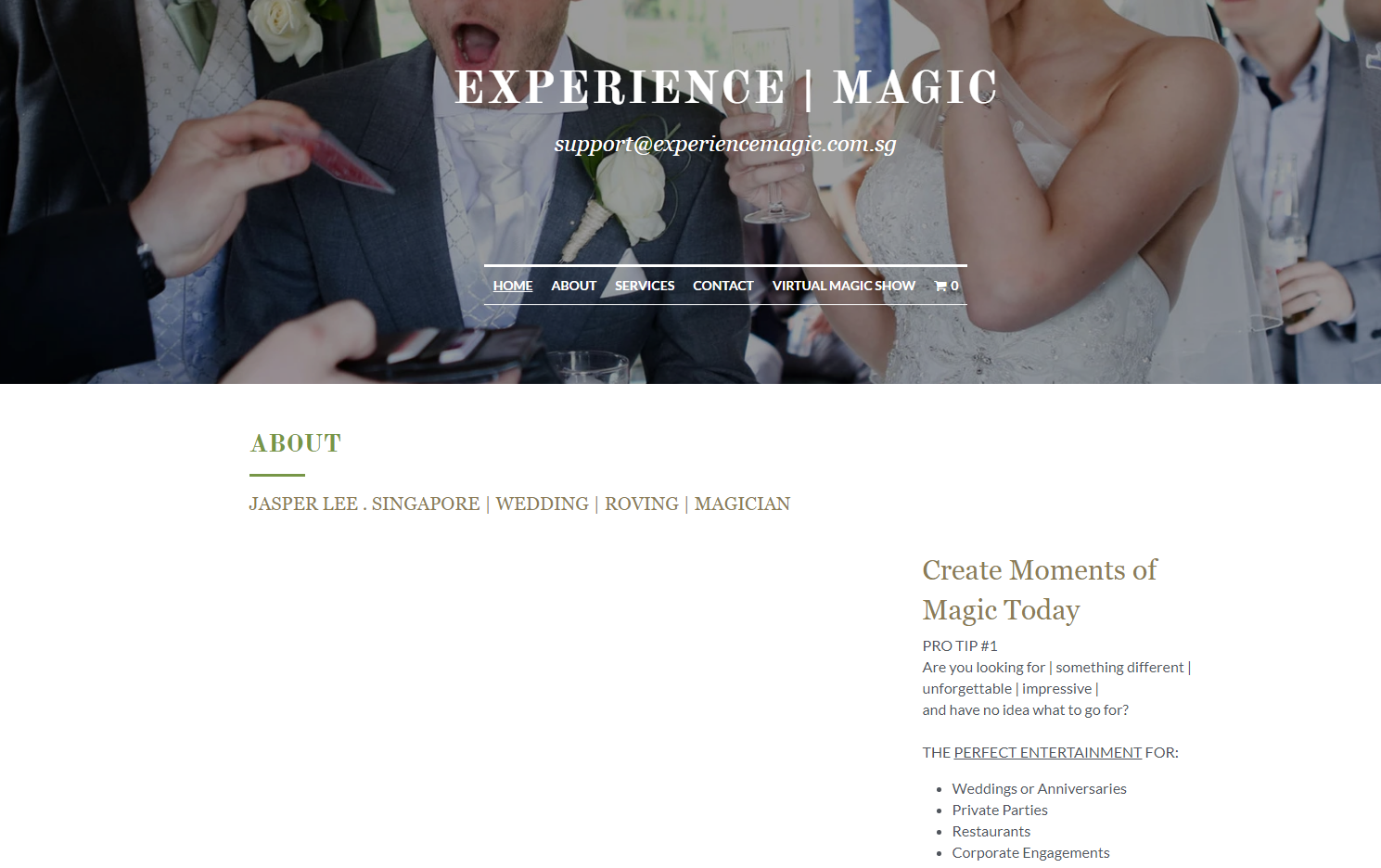 Experience Magic, represented by Jasper Lee, is an entertainment provider most known for the diverse magical performances it has to offer. Jasper Lee himself is highly proficient in the art of close-up magic, with several awards proving his skills and expertise. 
Clients have several performances to choose from, one of which is Roving Magic — a type of performance that entails walking around the function. It's less daunting, less formal, and allows for more interaction with the crowd, a perfect ice breaker for events. 
Experience Magic also offers magic performances for weddings and corporate events, a sure way to entertain guests and get them engaged. Those who wish to introduce guests to magic or would like to do a little bit of magic themselves can also count on Experience Magic and its magic workshops.
Other services also include non-magical endeavours such as emcee services, caricature artists, photo booth services, and photography and videography. 
Highlights
Award-winning magician
Various additional fringe activities available
Offers other entertainment options
3. Derek Magic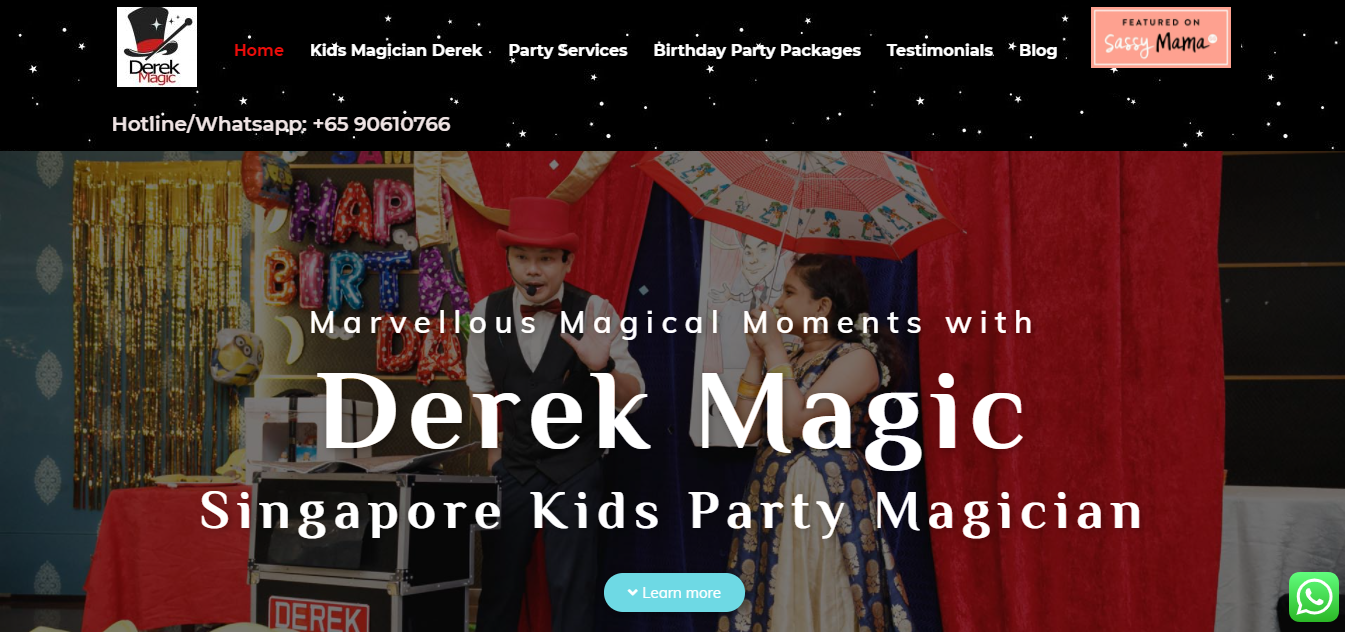 Over the years, Derek Magic has built a reputation in Singapore as one of the best magician that performs magic shows in birthday parties and family events.
People love Derek because of his capabilities, charm, and commitment to entertaining people during their special day.
Derek specializes in 2 types of shows, kids magic shows and close-up magic show.  
Click this link to get a peek on one of their parties!
Highlights
Magic shows, magic workshops, balloon sculpting, face painting
Live and virtual options available for magic show and magic workshops
Competitive rates
Charming with kids
Healthy blend of comedy and magic tricks
Customer Reviews
Here are some reviews from their previous clients:
"Derek Magic is an amazing magician and entertainer. HIs magic shows are funny, entertaining and engaging. Derek is also a very skilled balloon entertainer and can host games very well. Thank you Derek for bringing so much joy to us."
"Derek Magic provided fun laugh out loud entertainment for my 5 year old birthday party. He was good with the children and provided a variety of services within his packages such as games, balloon sculpting and magic show. His before and after service was fantastic. Thank you Derek Magic!"
4.  Magic Joe Yu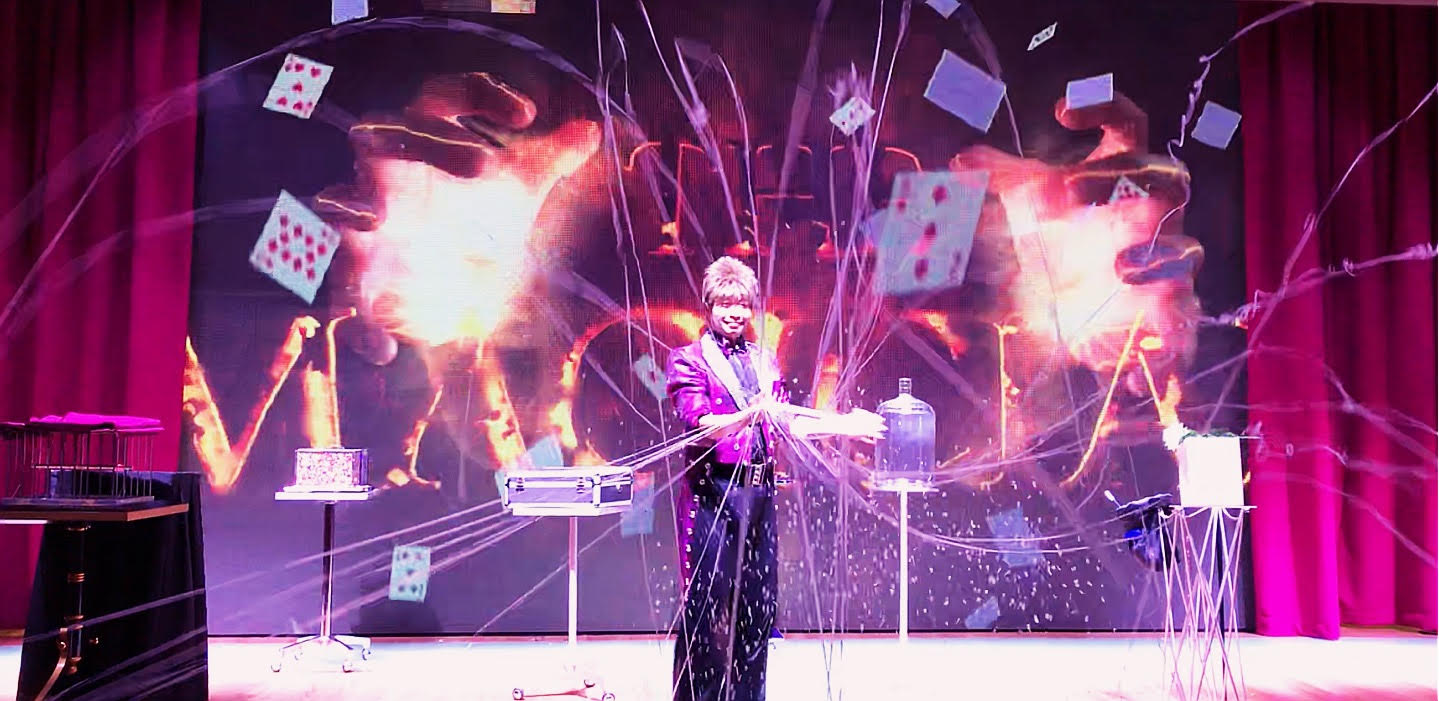 The Magic Joe Yu is a multi-award-winning team that has been recognised by both international and local audiences. It all started with the magician and illusionist, Joe Yu, who created the well-known live animals magic and illusion show.
In their shows, you can see well-trained birds, show-breed rabbits, and more. Your guests can even take a photo with the cute animals!
If you want a big and spectacular show on your grand celebration, then they're the best Singapore magicians that you've been looking for. With their high-technology props and amazing effects, you can experience a magic show with Broadaway and Las Vegas style!
They use flashy costumes, fire effects, theatrical backdrops, and other dazzling features to give guests an ultimate magic show that they've never seen before!
Highlights
Stage and close-up magic
Family day magic show
Dove act
Balloon sculpting
Customer Reviews
Many local and international celebrities have watched their show, saying that The Magic of Joe Yu's show has a lot of surprises from the start till the end of the whole performance.
Clients also said that their family and guests were in awe after the show and also impressed with the realistic effects.
A client gave this review:
"Joe and his team of dedicated performers did an excellent job for our kids' party at school. All kids were extremely excited with every magic trick and interaction performed by Joe. His balloonist did a swell job as well, doing balloon sculptures for every single kid and even helping out with the cake cutting. Highly RECOMMENDED!"
5.  The Magic of Markson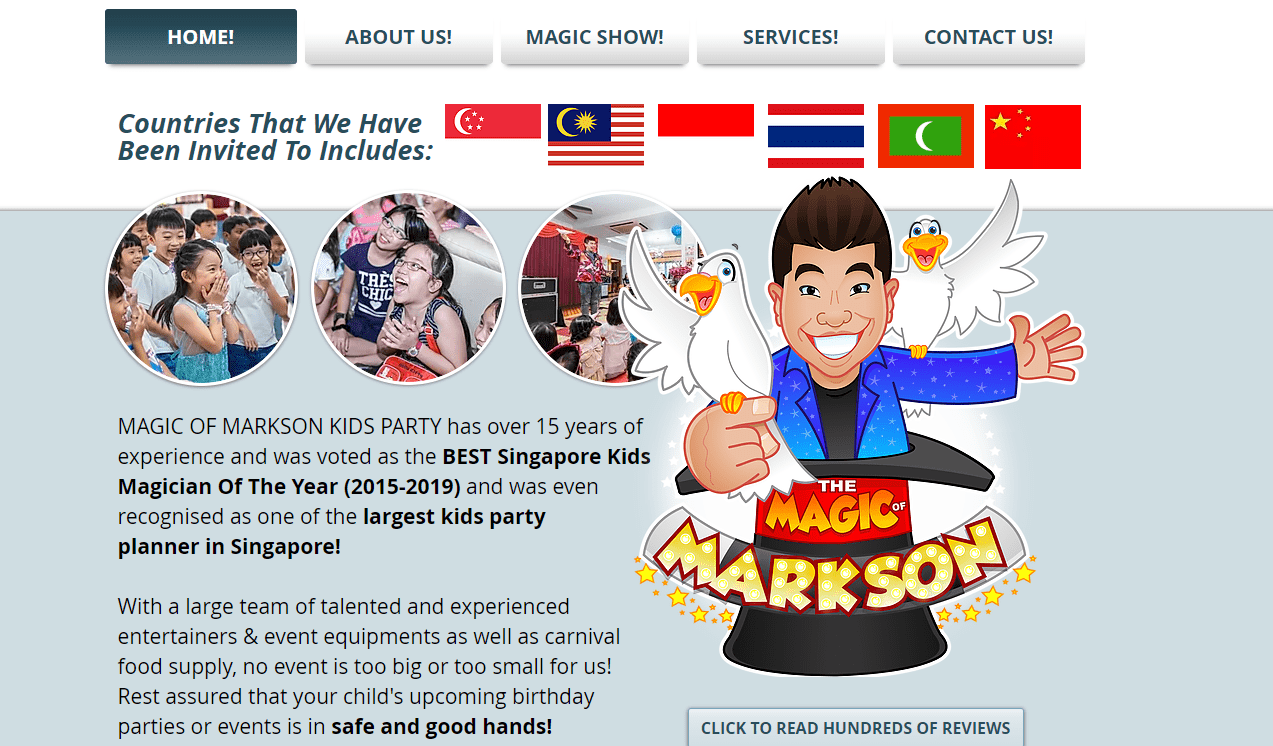 | | |
| --- | --- |
| BEST FOR  | Party events and services, Special magic show packages, Carnival equipment rental and food stalls. |
| PRICING | Packages |
| WEBSITE | https://www.magicofmarkson.com/ |
| ADDRESS | 520 Miltonia Close, Singapore 768122 |
| CONTACT DETAILS | +65 9369 4164 |
| OPERATING HOURS | Open 24 hours |
The Magic of Markson is another award-winning team that has been voted as the best Singapore magician for two consecutive years!
The man behind the team, Markson, has joined numerous competitions, performed in several countries, and entertained thousands of kids. With their services, you can be sure that your child's birthday party will be one of the most memorable moments in his/her life.
They offer 2 kinds of magic shows: Markson's award-winning show and Kid's Comedy Magic Show. With Markson's show, everything will be grand, including the fast-paced music, fabulous costumes, animatronics, special effects, and even live birds!
On the other hand, the comedy magic show is for those who are on a tight budget but still want to have quality entertainment. It's also not performed by Markson and doesn't come with the animals but the comedic style of professional magicians will bring joy and excitement to the kids.
Highlights
Magic show livestream
Party equipment rental and services
Live birds appearances
Special party packages
Customer Reviews
Most parents complimented the entire team of The Magic of Markson and said that they were really satisfied with the overall services and impressed with magic shows.
A client left this feedback:
"Excellent professional service! Performance was awesome and all guests were amazed and enjoyed it very much. Magic of Markson brought life to my daughter's party and will definitely engage them again in future. Price was also very reasonable. Crew was very punctual as well. Highly recommended!"
6.  Party Empire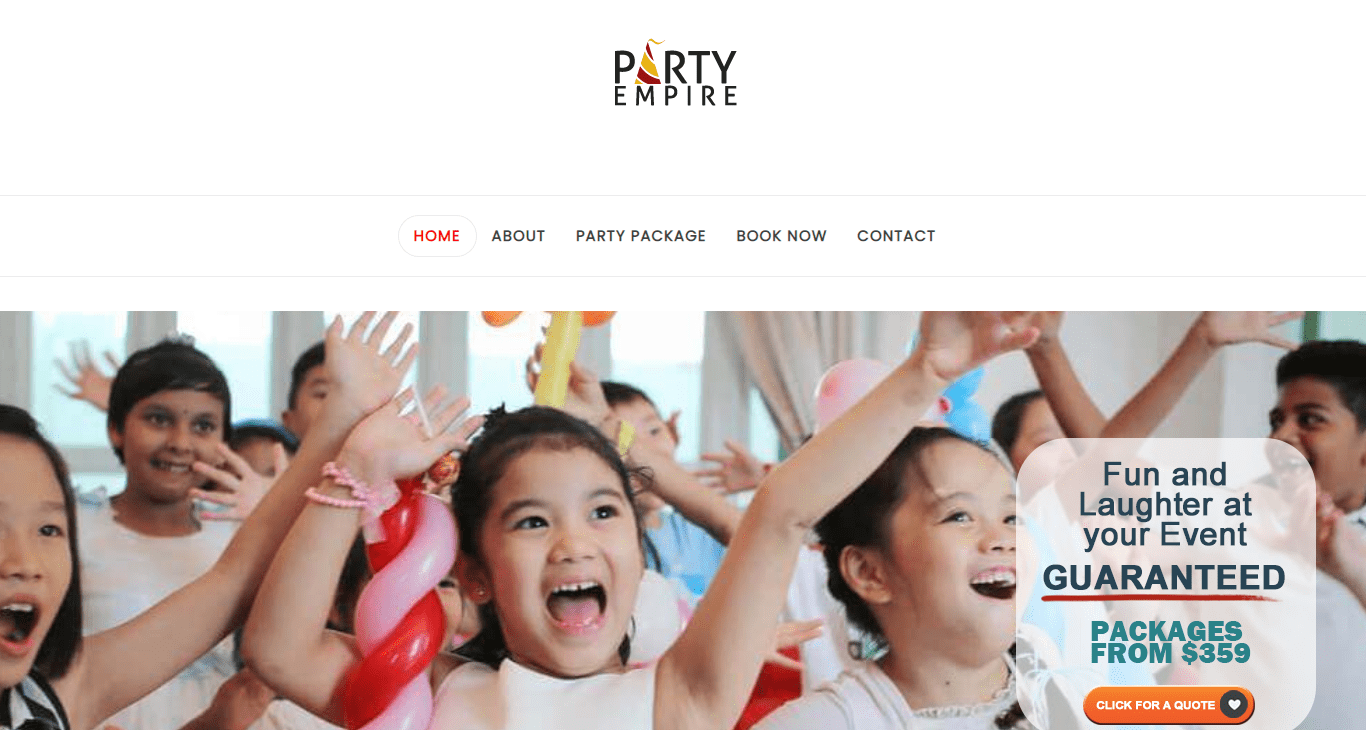 | | |
| --- | --- |
| BEST FOR  | Complete end-to-end birthday party solution |
| PRICING | Packages |
| WEBSITE | https://www.partyempire.sg/ |
| ADDRESS | 300 Tiong Bahru Rd, Singapore 168731 |
| CONTACT DETAILS | +65 9846 9815 |
| OPERATING HOURS | Weekdays: 10am–6pm |
As we all know, birthday parties can be chaotic once the kids start to play around the venue, But with Party Empire, rest assured that you'll have a well-organised birthday event with the best Singapore magicians who can catch the attention of every kid through amazing magic shows.
With their magic acts, you'll be able to see award-winning coin magic tricks, illusion drawings, and a puppet show!
They offer fun-filled birthday packages featuring signature comedy magic shows, balloon sculpting, cake cutting ceremonies, interactive action games, and many more!
With the premium package, they provide a complete end-to-end birthday where the magician will host the party for a full 90 minutes — parents can even join and have fun with the kids!
Highlights
Interactive party games
Balloon sculpting
Free cake cutting
Customer Reviews
Many parents were so thankful for the Party Empire because the team fully accompanied them from the start until the end of the event. A client shared this experience:
"The Magic show was fantastic. All kids and even the adults enjoyed it. I was also quite amazed with the variety of balloon sculptures that were done during the party. Overall a great experience for everyone. Both kids and adults had an enjoyable time with Jasper!"
7.

True Vine Kids Magic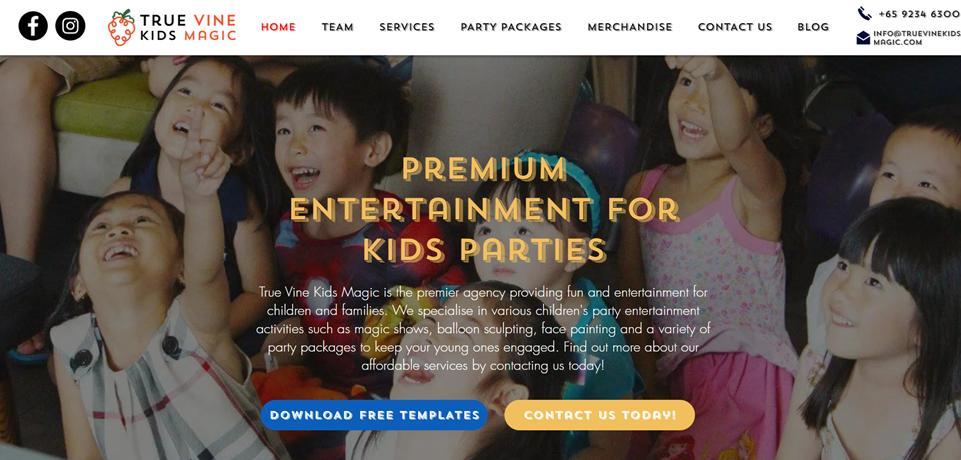 True Vine Kids Magic is the company to call for premier entertainment and fun for kiddie parties! Have your guests and family enjoy amazing magic shows and interactive games.
Starting at $249, you get to experience True Vine's expert take on magic. Take a look at more o their services and offered packages on the website for the best rates.
If ever you want their services for a more formal event with older people, just let them know and they'll whip up sophisticated sleights-of-hand even the most serious guests will enjoy.
Contact True Vine Kids Magic via telephone or e-mail for more inquiries and information.
Highlights
Free rental of professional sound system & backdrops
Stage Magic Show
Virtual magic show
Carnivals
Gospel illusions
8. Magic of Ian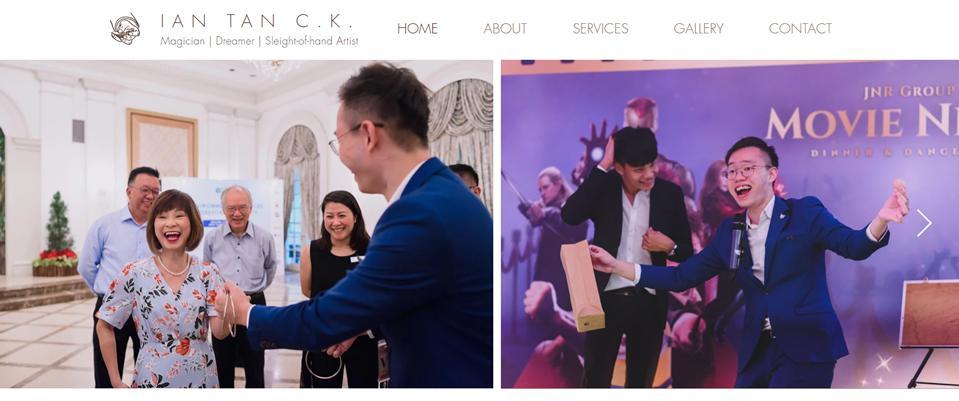 With little to no set-up time needed, Magic of Ian is the best choice for seamless magic shows you can conduct at any place for any event.
From the moment your guests step in the party, they'll be sure to be entertained with incredible magic tricks and get welcomed by the kindest emcees.
Check out Magic of Ian's magic packages on their website to get a better grasp of what they offer, and see how much you can save if you decide to acquire their services.
Highlights
Roving/strolling magic
Dinner table show
Customised projects
9. Magician Singapore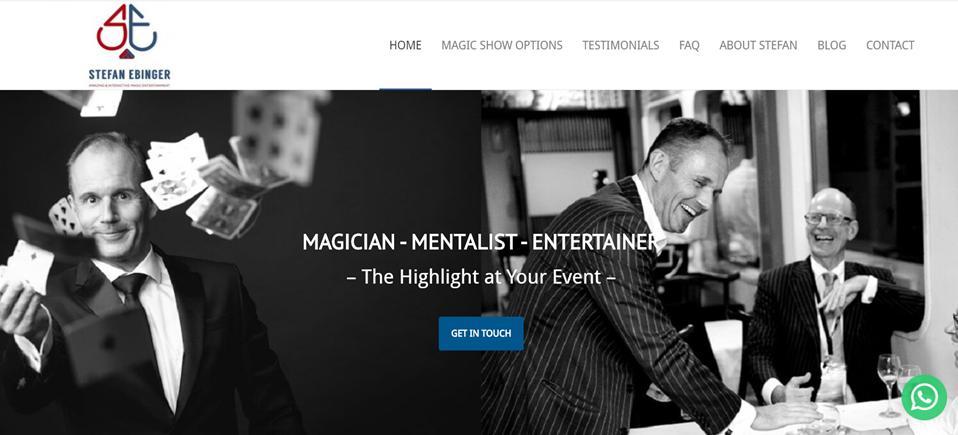 BEST FOR
Mind Stunts
PRICING
WEBSITE
ADDRESS
20 Maxwell Road #09-17
Maxwell House
Singapore 069113
CONTACT DETAILS
Call: +65 81 88 27 17
[email protected]
OPERATING HOURS
Monday – Friday: 8am–8pm
Saturday: 10pm–12am
Sunday: 12am–3pm
Magic Singapore ensures that there are no dull moments in your event. From start to finish, rest assured that they'll keep your guests on their toes, excited than ever.
Have a feel on mind-reading, comedy magic, entertaining ice breakers, mind stunts, and the likes, as all of these are offered by the company.
With a unique blend of psychology and sleight of hands, you're sure to enjoy every bit of the party when it's Magician Singapore that's performing.
Highlights
Virtual magic show
Mind reading
Strolling magic
Stage shows
10. Frederick Mentalism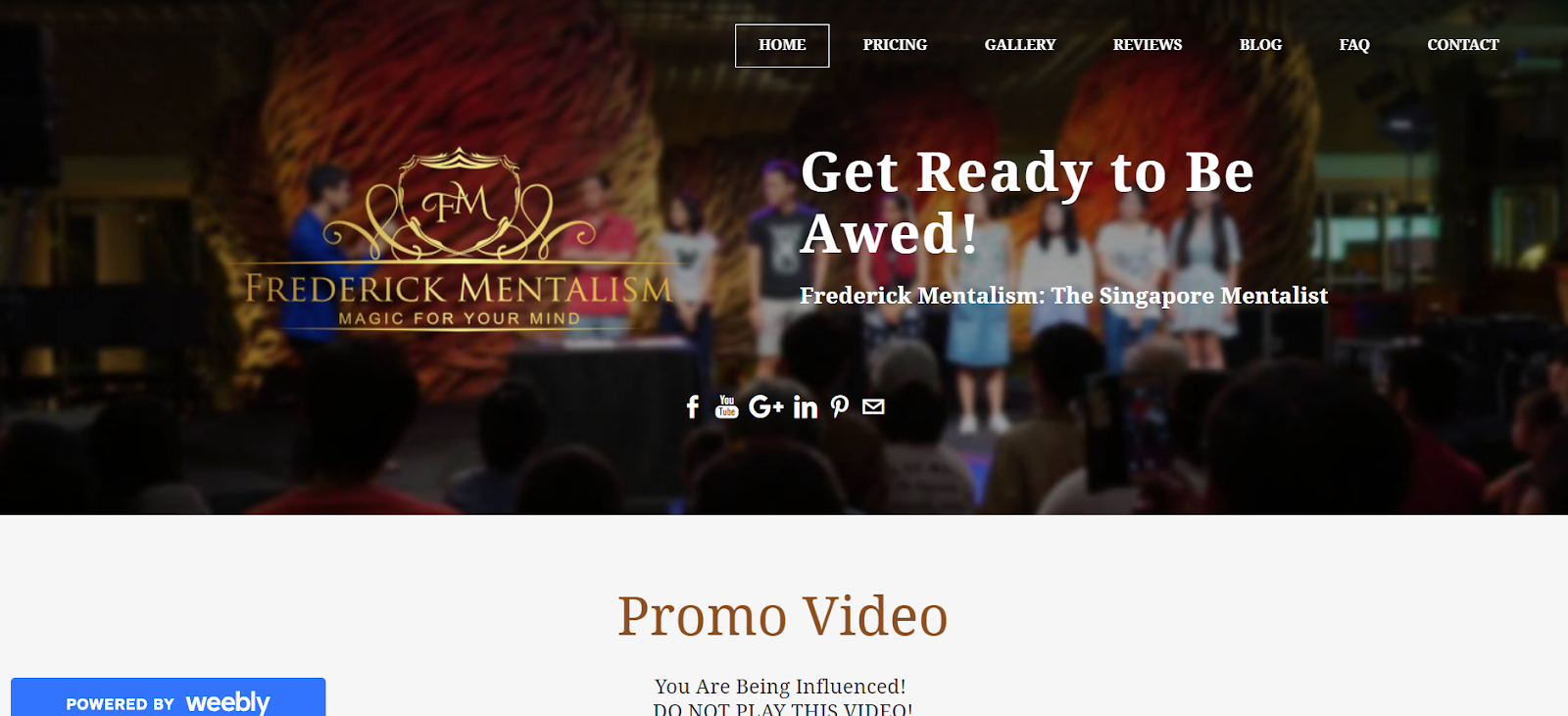 Frederick Mentalism should be your go-to guy if you're looking for a magical corporate entertainer. His performances are geared towards adult audiences only, showing you that he takes his acts seriously.
You can contact him for a customized show and even integrate your company or event's theme into the performance. Visit his site to learn more!
Highlights
Customized performances

Tailored towards adult audiences

Both mentalism and magic acts
Customer Reviews
Here's a review from one of Frederick Mentalism's clients:
"Gotten to know Frederick through a friend's recommendation! He managed to incorporate client's (Harvey Norman) brand messaging into his stage performance. Was impressed!
Here's another one:
"Frederick's unique mentalism performance blew my mind away. He was creative and witty, leaving the audience wanting for more. If you book him, expect the unexpected!"
11. Mr. Bottle's Kids Party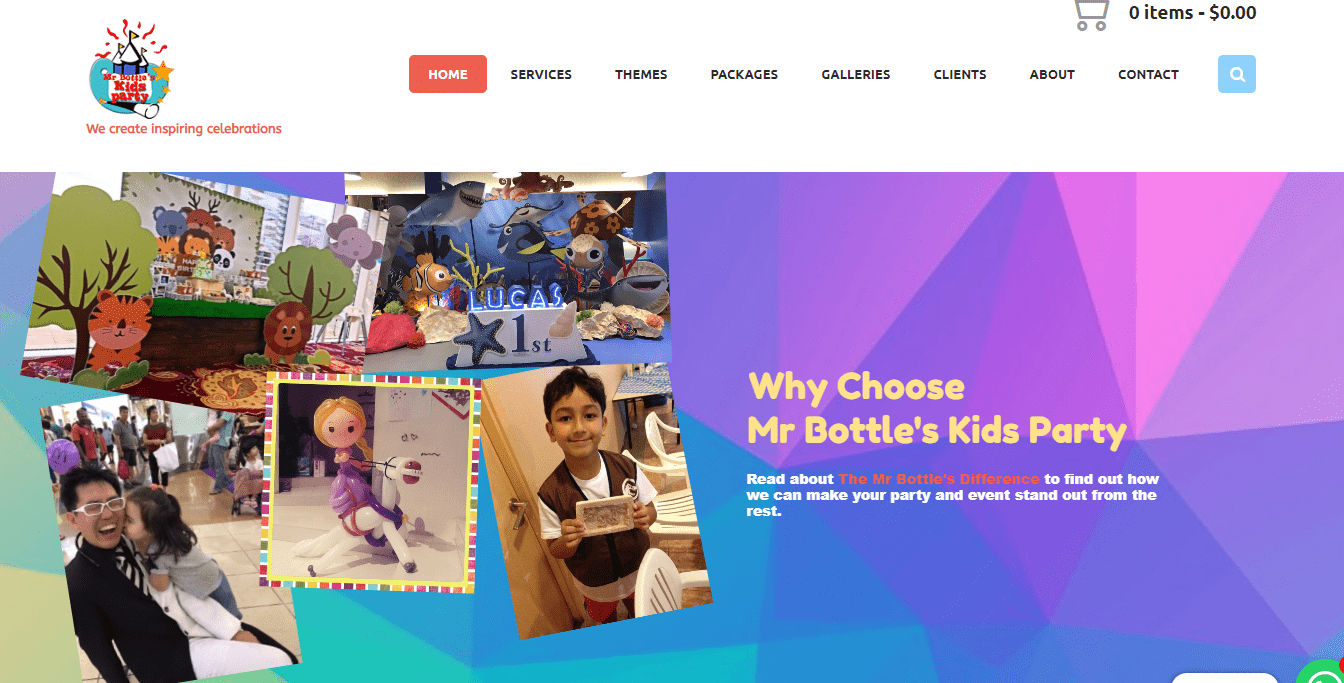 | | |
| --- | --- |
| BEST FOR  | Signature magic performances, Customised magic shows |
| PRICING | Packages |
| WEBSITE | https://kidsparty.com.sg/ |
| ADDRESS | 59 Ubi Avenue 1 #05-10 Singapore 408938 |
| CONTACT DETAILS | +65 6515 5921 / 97397503 |
| OPERATING HOURS | Weekdays: 9am–6pm |
For one-stop party solutions, Mr. Bottle's Kids Party offers a wide range of event services and this includes some signature magic shows!
The shows are full of interactive performances. One of the best acts of Mr. Bottle is where he draws a person or a thing, then it'll suddenly come to life and start to sing or have a conversation with the magician!
They have a variety of magic shows, including close-up magic shows, educational customised shows, as well as Chinese New Year, Halloween, and Christmas magic shows.
Aside from this, they also do storytelling with role-playing performed with costumes and props, bringing the kids to an imaginative world and stimulating young minds!
Moreover, their creative team specialises in organising unique party concepts.They've worked with top corporate clients like PayPal, Facebook, and more.
You can try one of their in-demand concepts like a dinosaur theme party, science-themed party and princess theme party. If you've already thought of a theme, they can also customise the event for you!
Highlights
Interactive games
Stay-home packages
Special occasions packages
Online decor shop
Learning toys
Customer Reviews
Clients loved the one-of-a-kind acts of Mr. Bottle Kids Party, saying that they've watched performances they've never seen on most magician's shows. This is why the pros here have become known as some of the best Singapore magicians.
A customer wrote this feedback:
"Of all the magicians in Singapore, I have never seen one who can instantly charm all the kids in an instant even before the show begins! Mr Bottle has a natural appeal to kids and his carefully produced magic shows demonstrated his passion to make all magic elements flow and captivate to the fullest, such that for years after, kids and even adults still hold the memory of amazement and wonder at the magical experiences. Mr Bottle is witty and responsive to his audiences that made him stand out as an extremely talented performer in all. Highly recommend!"
12. Magic Atom
BEST FOR

Psychological Magic

PRICING

Enquire for pricing

WEBSITE

http://www.magicatom.com/

ADDRESS
 
CONTACT DETAILS

(+65) 6681 6664 | 

 

OPERATING HOURS
 
Magic Atom is a team of highly-trained magicians who's magic performances are blended with a psychological twist. 
Their main speciality is mentalism and offers world-class contemporary magic services to customers ranging from politicians, celebrities, and corporate companies.
Highlights
World-renowned

Psychological magic

Customizable performances
Customer Reviews
Here's a review from one of Magic Atom's clients:
Magic Atom has given magic performances to some of the most high profile personalities in the country such as Prime Minister Lee Hsien Loong, celebrity Jaime Teo, and DJ Vernon A. These performances are a testament to their top quality magical acts and mentalism performances! 
13. Amazing Productions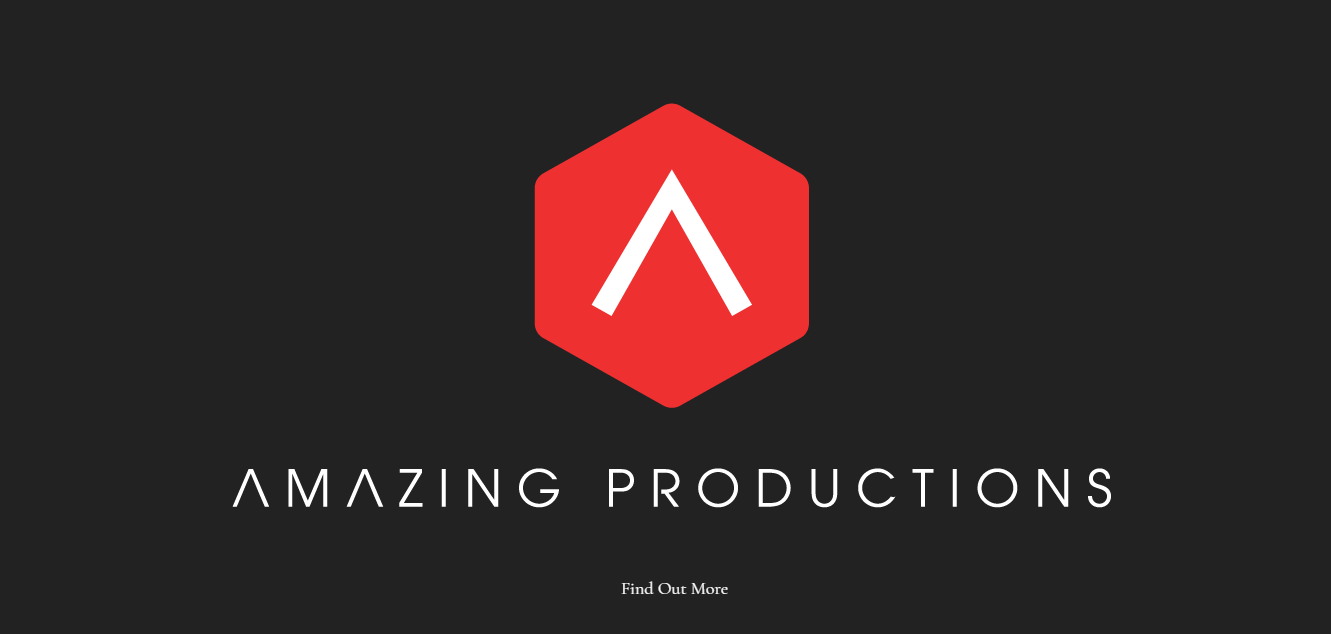 Amazing Productions is a community of Singapore-based magicians. These talents endeavour to plant smiles across faces and sow seeds of unspeakable joy into the hearts of the audience through magic.
Amazing Productions primarily focuses on the creation of personalised magical experiences and is a purveyor of quality magicians for formal functions. As the name suggests, Amazing Productions guarantees an amazing level of satisfaction at reasonable rates.
Magicians at Amazing Productions will rotate from table to table and effectively engage guests during the event — keeping them thoroughly entertained. This form of magic is highly recommended for cocktail receptions, private functions and corporate events.
Highlights
Also provides emcee and photo and video services
Top-notch magicians and entertainers
Reasonable prices
14. Magic Essential

Every special event is never complete without a touch of magic. This is made possible by great food, lovely music, and the presence of wonderful people, but you could also spice things up further with the help of Magic Essential.
Magic Essential is devoted to providing only the best of entertainment in any important occasion. You wouldn't have to worry about keeping the night alive; all you have to do is sit back, relax, and marvel as a magician sweeps you and your guests off your feet!
Whether it is an emcee or an entertainer that you are looking for – or both – you can always rely on Magic Essential. Contact them today and transform any function into one you would never wish to forget.
Highlights
Best rouing close-up magician in Singapore
Experienced magician and emcee
Customer Reviews
MagicEssential is dedicated to give their clients the best even they could ever had. Here are some of the testimonials:
"Thanks Martin and Chen Hui Shi for hosting my wedding dinner on 18 Jan 2015. Your acts were entertaining and interesting." – Wee Yong
15. Creative Magic Inc.

The best magicians are not only skilled with magic, but also know how to keep their audience's attention. Creative Magic Inc is someone that is more than capable of doing both.
MagicMan Hongwei is the main frontrunner for their events. He is experienced in performing for various events, from birthday parties, to roadshows, and everything in between.
If you're interested in taking your event to the next level, you might want to check out their face painting and balloon sculpting services. Their expert event team is sure to make your event, whatever it may be, a resounding hit for attendees.
Highlights
Good combination of magic and humor
Award-winning magician
Various event packages available
Face painters and balloon artists available
16. Tricky Patrick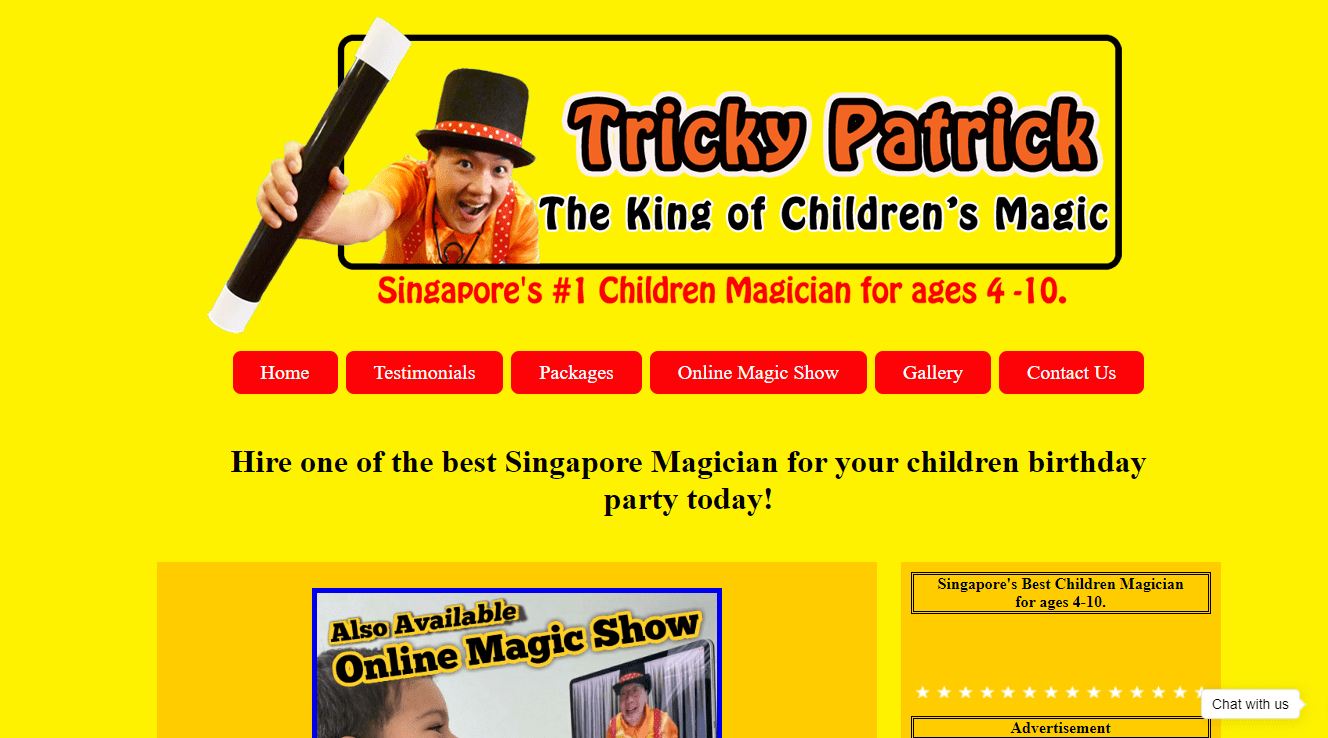 | | |
| --- | --- |
| BEST FOR  | Comedy magic show |
| PRICING | Packages |
| WEBSITE | https://www.trickypatrick.com/ |
| ADDRESS |  201 Hougang Street 21, #04-11, Singapore 530201 |
| CONTACT DETAILS | +65 9846 6609 |
| OPERATING HOURS | Open 24 hours |
Want your kids and their friends to have fun by giving them exciting magic shows? If you do, then Tricky Patrick can give you the best party entertainment that you've ever experienced!
Tricky Patrick is known to be one of the best Singapore magicians: he's performed for many major children's events with company giants like Media Corp.
He has showcased his talents and creativity for Kids Fiesta, BabyCare festival, and more!
He has also been invited by celebrities to their kids' birthday parties! He has over a decade of experience and is capable of performing hundreds of shows in a year.
Apart from the magic shows, he has also teamed up with some of the greatest entertainers like balloon twisters, face painters, and game masters as well!
Tricky Patrick has been featured on various media sites and broadcasting channels, proving that the team has truly captured the interest of many audiences.
Highlights
Online zoom package
Face painting
Party games
Learn a free magic trick for your child
Customer Reviews
Customers also shared that Tricky Patrick was friendly while staying professional and the whole team was able to entertain the crowd with flawless magic tricks and natural comedy.
A client posted this feedback:
"We had such an interesting evening watching Tricky Patrick's online magic show. Amusing, interesting and engaging. My 4 years old daughter enjoyed so much throughout the show with laughter and even scream of excitement! Strongly recommend!"
And that's it for our list of the best Singapore magicians! Do you already have an ideal theme in mind that'll go well with a magician performance? Tell us all about it!
And if you're also in search of a venue that can accommodate the number of guests that you have on your list, here are some places where you can hold the best birthday celebration in Singapore! These venues can accommodate both casual and grand events!